A Delicious Meal from Hell ・ Heavenly Onsen-Steamed Food from Beppu's Hot Spring Hells
Want to try a taste of the underworld? Take a trip to Kyushu to find this local specialty!
Steaming Food at Beppu's Onsen Hells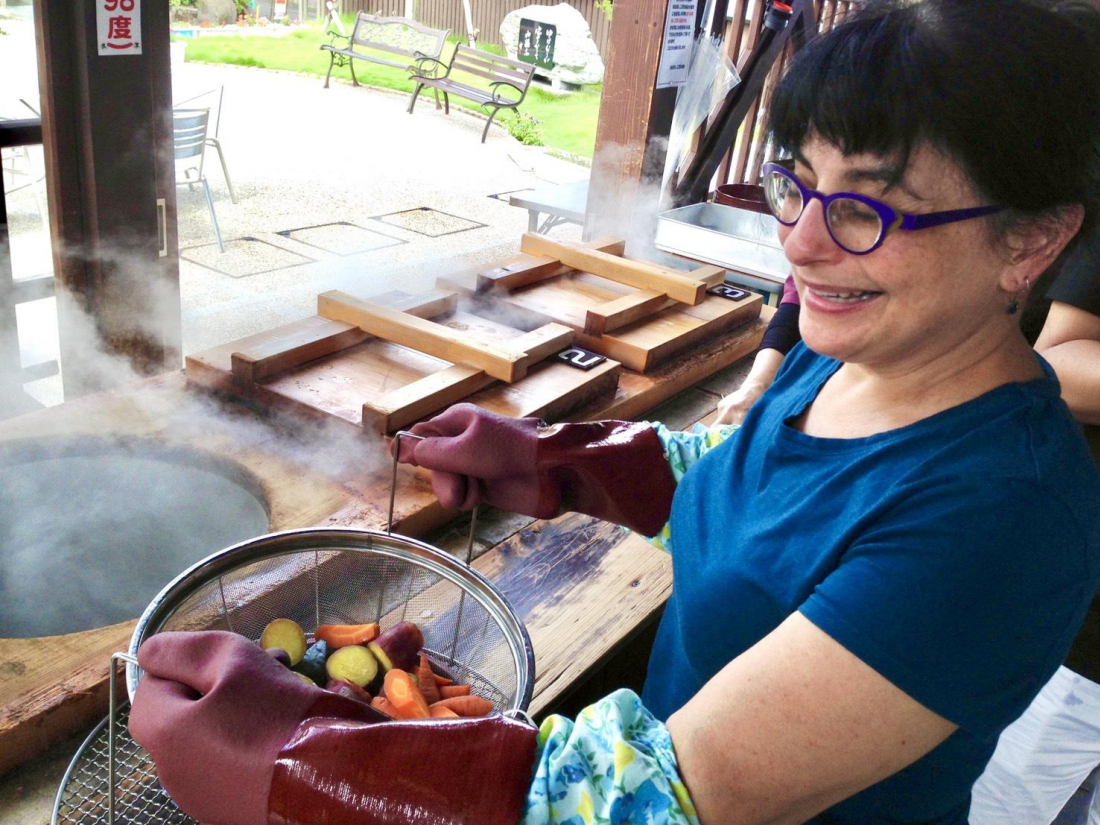 Down on Japan's southern island of Kyushu, in rural Oita Prefecture, Beppu is a city known throughout the country for spectacular onsen. Beppu is bordered by a small cluster of mountains on one side, and the ocean on the other, and everything in between is warm, bubbling hot springs. In fact, Beppu is so full of them, that the hills seem to be steaming throughout the day and night, and onsen mists settle over the city. While most travelers visiting the city beeline for the ryokan and bathhouses that offer relaxing onsen experiences, that's not the only way to enjoy Beppu's bounty of hot water―put the steam to work, and let it cook lunch for you too!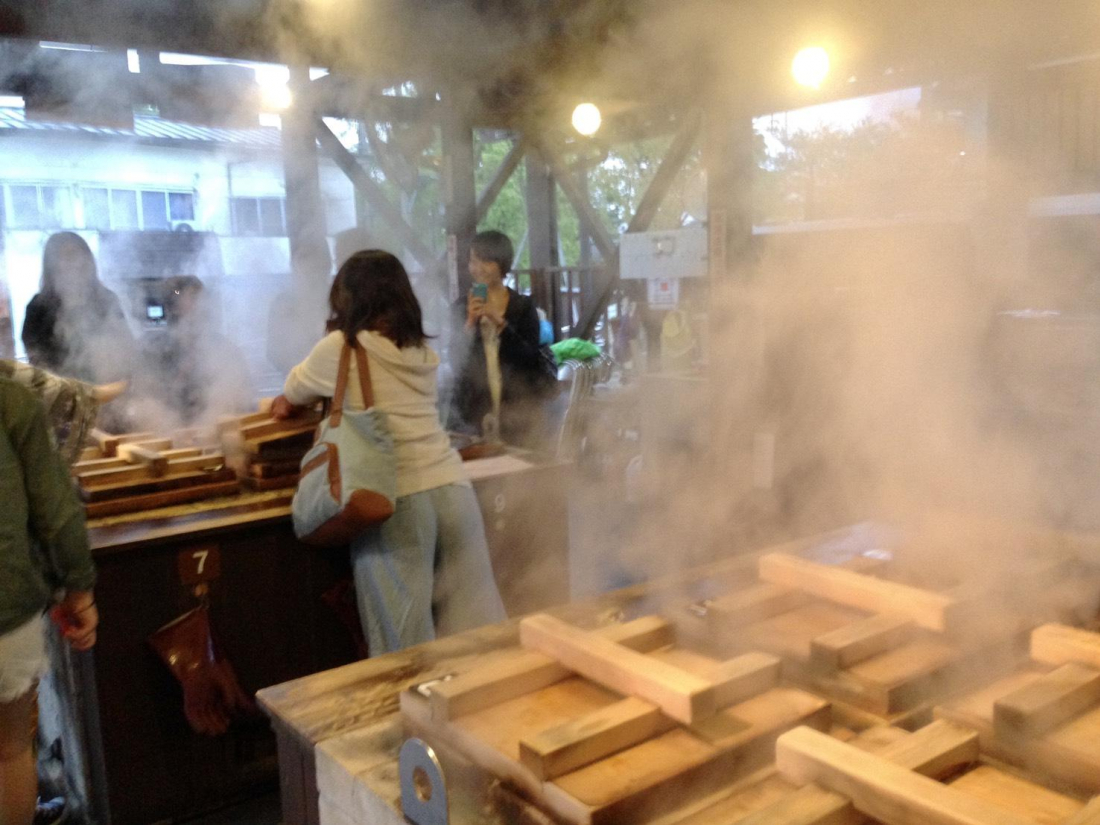 The "Hell Steaming Workshop Kannawa," commonly referred to by it's Japanese nickname Jigoku Mushi (地獄蒸し), is a little restaurant in Beppu's Kannawa neighborhood. The Kannawa area is a go-to destination as the location of Beppu's famous "hells" (called jigoku/地獄 in Japanese), a series of extra-hot onsen with unique colors and facilities, made not for bathing but for sightseeing. Jigoku Mushi is just down the street from these hot spring hells, and the restaurant has rows of traditional steaming cauldrons set up over the same naturally heated onsen water.
Arrive at Jigoku Mushi, and you'll find quite a few options on the menu. There's only one cooking method at this restaurant, but when it comes to what you steam, the world is your oyster! If convenience is a priority, you can choose one of their meal sets, where they provide a pre-chosen variety of meat, vegetables, and seafood. They also offer quite a few ingredients a la carte. But if you want to really experience Jigoku Mushi like the locals, then the way to do it is to bring your own ingredients! Quite a few little mom-and-pop stores in the area sell veggies out front, close but a little overpriced, but nearby supermarkets will give you the best possible selection of meat and vegetables, and they also sell lots of tasty dipping sauces to try. Since Oita is off in the countryside, there's plenty of agriculture nearby, and even big supermarkets often have quite a bit of local fresh produce available! (Do as the locals do: stop in at the large Marushoku supermarket nearby to grab your ingredients before walking over!)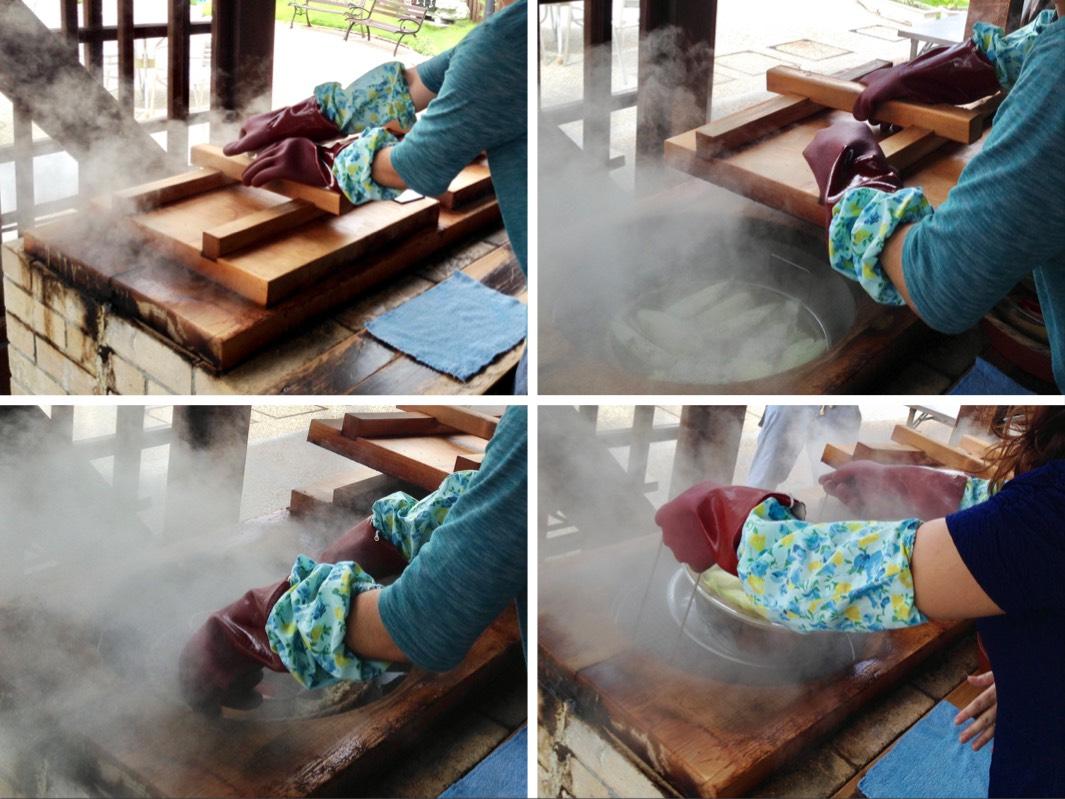 Once you decide what to eat, the staff at Jigoku Mushi will either get your chosen set meal ready or prepare the ingredients you brought to the restaurant, slicing up the vegetables for you and laying out the meat so it's ready to steam. The prepared food goes into large metal baskets, which are lowered into the steaming depths (of hell), before a heavy wooden lid is placed over the gaping maw while your food cooks. The staff keep track of all the cooking times to ensure it's all steamed to perfection, and when the food is ready to return to world of the living, they call you over so that you can take the baskets out yourself! Before you can reach into the steam, you have to put on heavy-duty rubber gloves to protect your arms from the scalding heat!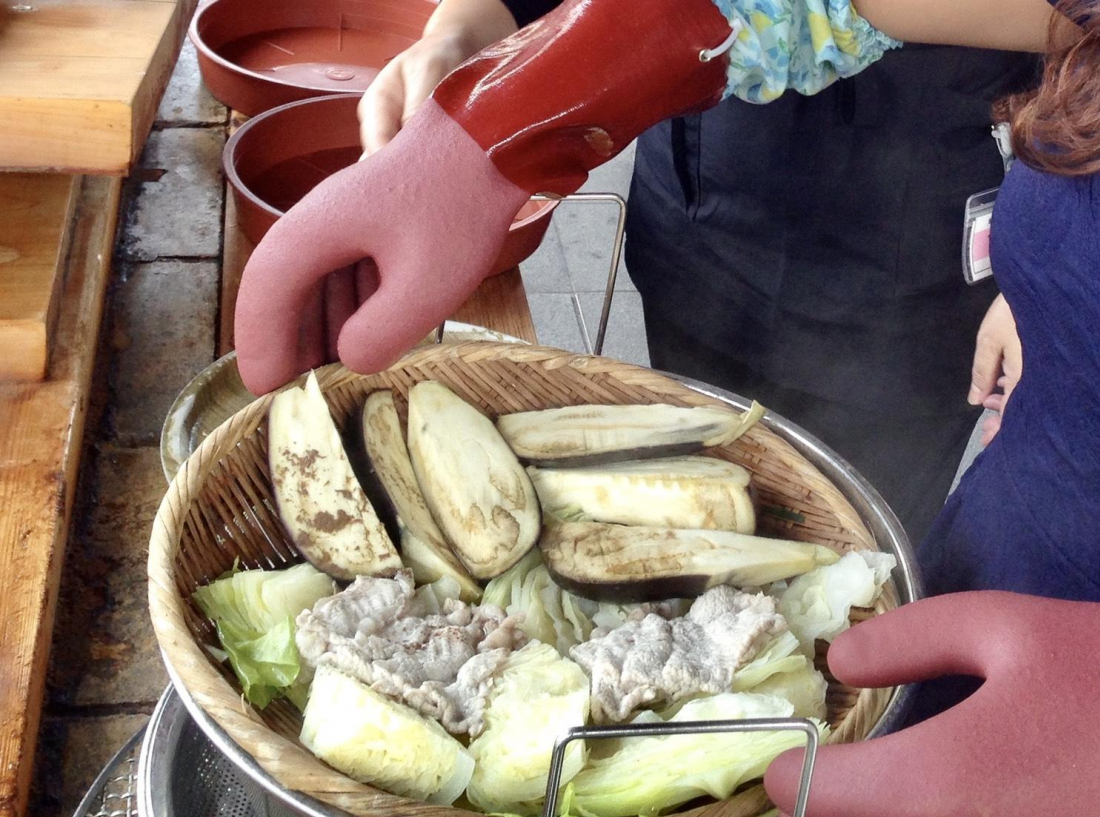 The cooked ingredients are dished out onto plates or served on the large bamboo dishes, and brought to one of a handful of tables inside or out in front of the restaurant, ready for you to savor the flavors of each ingredient (and perhaps try out a new dipping sauce, if you brought one). Maybe it's the skill of the Jigoku Mushi staff, who know exactly how long to steam each ingredient to maximize flavor and get that perfect texture, maybe it's the fun atmosphere, or maybe it really is something about the steam of a natural hot spring, but something about the food steamed at Jigoku Mushi just makes it better than you would ever imagine simple, unseasoned steamed ingredients could be. It's truly delicious!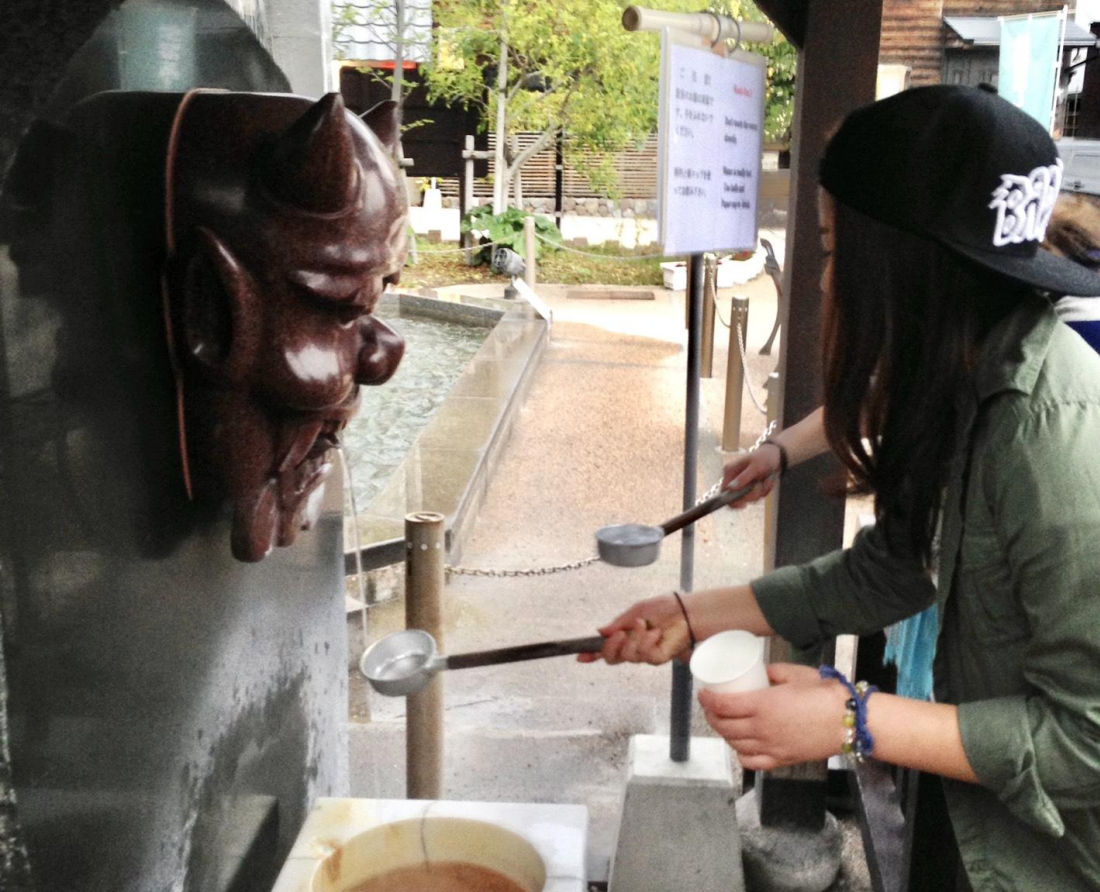 While you're there, don't forget to "take the waters" and try a sip of Beppu onsen water you can drink! This fountain of hot spring water doesn't taste amazing, but it might just cure what ails you.
Jigoku Mushi "Hell Steaming Workshop Kannawa" (地獄蒸し工房鉄輪)
Hours: 9:00 – 20:00 (closed the 3rd Wednesday of the month)
5 Furomoto, Beppu, Oita
Official Website (jp)
Getting to Beppu's Onsen District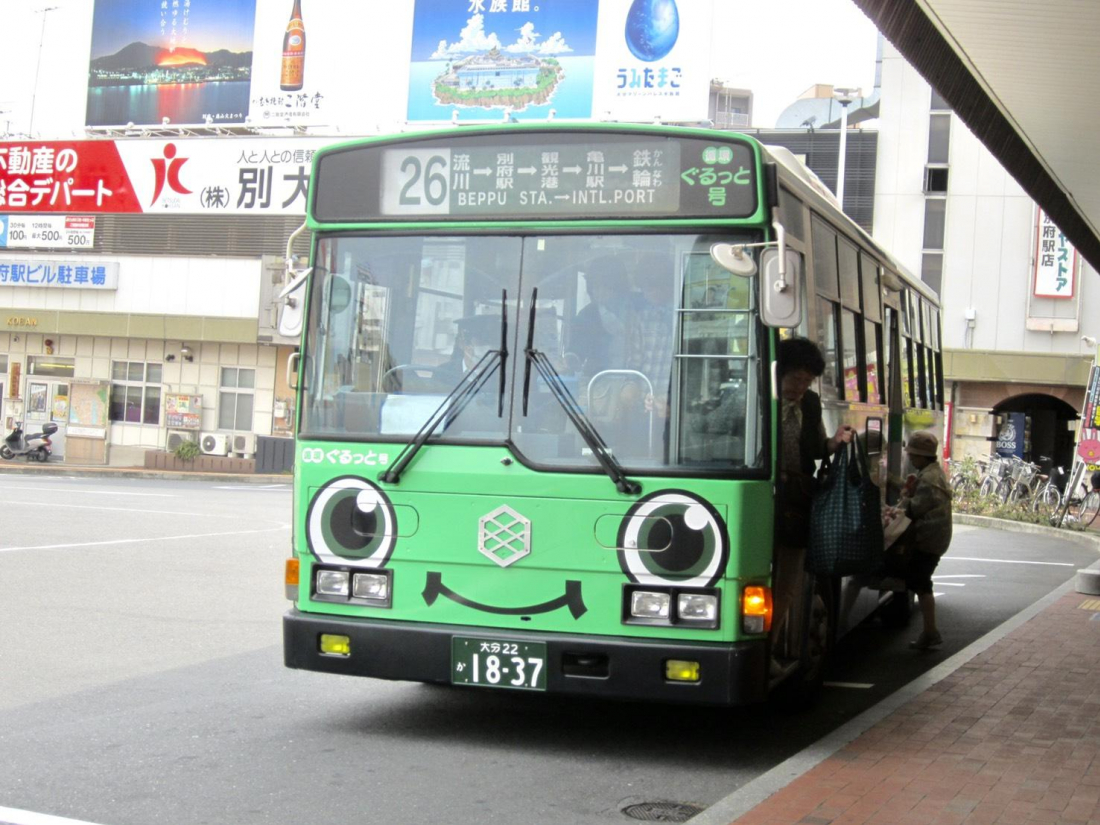 Ready to get steaming? Fortunately, Jigoku Mushi is quite easy to get to from Beppu Station! If you want to go straight there, any bus marked Kannawa (鉄輪) will take you to the Kannawa bus stop, which is just a minute or two from the restaurant. If you'd like to stop at the supermarket first, you can take one of those same buses and get off at Kitajumachi bus stop (北中町) instead, which is closer to the nearby Marushoku. From the supermarket, it's less than ten minutes walk to Jigoku Mushi!
After your meal cooked in hell, you'll definitely want to tour Beppu's many "jigoku" onsen! A tour of the hells is called a "jigoku meguri," and there are some pretty unique hot springs in Kannawa. From the bright blue waters of Umi Jigoku (above), to the bubbling mud of Oniishibozu Jigoku, and even the real-life crocodiles bathing in the waters of Oniyama Jigoku, this area is one unique sightseeing destination!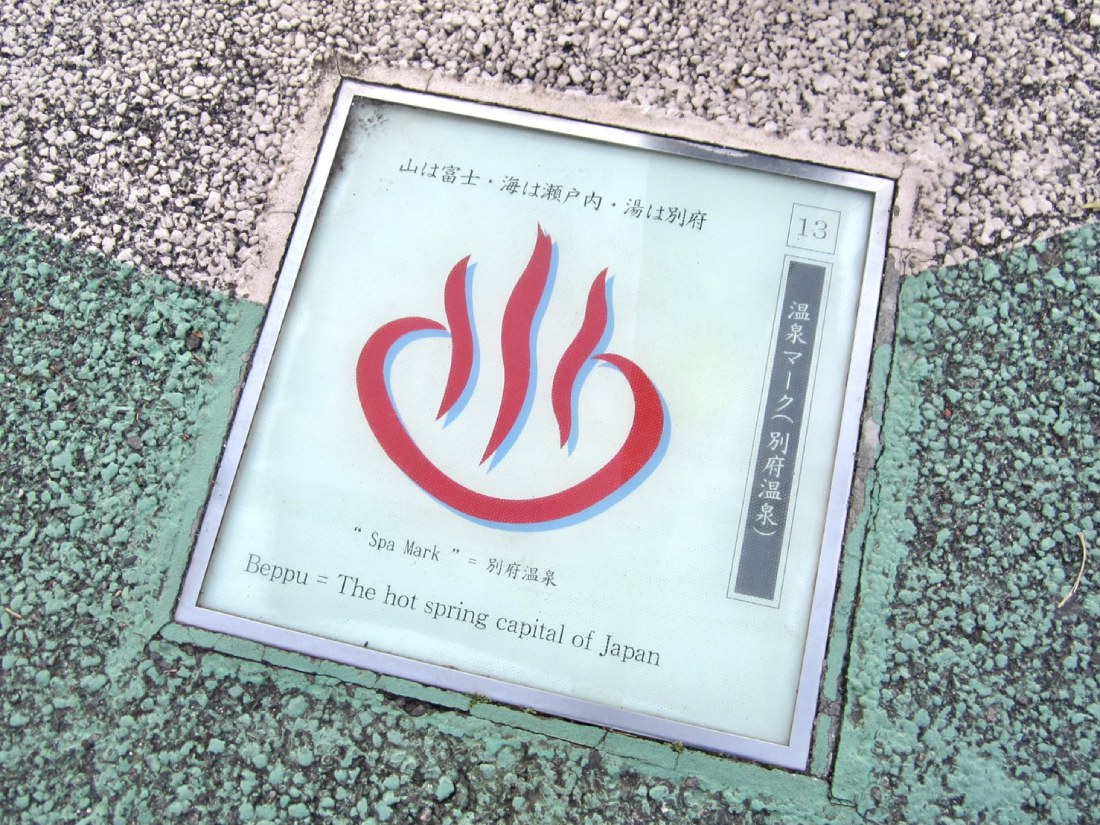 Next time you make it to Japan, don't forget to stop by the country's "hot spring capital," for a day of steaming baths, hot spring sightseeing, and truly delicious onsen food!
---
Basic Info
Name: Jigoku Mushi (地獄蒸し工房鉄輪)
Address: 5 Furomoto, Beppu, Oita
Station: Beppu Station (別府駅)
Website: http://jigokumushi.com/
---
For more info and updates from Japan, check Japankuru for new articles, and don't forget to follow us on Twitter, Instagram, and Facebook!
Source: JAPANKURU
---
---