Meet the Gods and Monsters of Japan in San'in, the Land of Love: Sightseeing, Food, and More in Tottori and Shimane
San'in is a place where the gods of Japan gather, the footprints of history linger, yokai spirits make their homes, and true love is found. To experience the myths and legends of Japan, head to the San'in area!
Central San'in: A Trip Through the Realms of Gods, Humans, and Yokai
The region known as Central San'in spans multiple Japanese prefectures, and includes areas like Yonago, Daisen, and Sakaiminato in Tottori Prefecture, along with Yasugi, Matsue, and Izumo in Shimane Prefecture. Travelers flock to the central part of the San'in area thanks to a wealth of beautiful natural destinations, along with spiritual and historical spots linking the realms of Shinto gods, everyday people, and "yokai" (妖怪), or traditional Japanese mythological spirits or monsters. This is the region of the grand shrine Izumo Taisha, where the gods gather and bring human sweethearts together, and the region of historical and cultural treasures like the Yonago Castle Ruins, Matsue Castle, and Adachi Museum of Art. Plus, Central San'in is also where you'll find a world of yokai, thanks to the classic manga Gegege no Kitaro, living along Mizuki Shigeru Road. Traveling through San'in almost feels like you're following a path through the world of the living and realms of gods and monsters!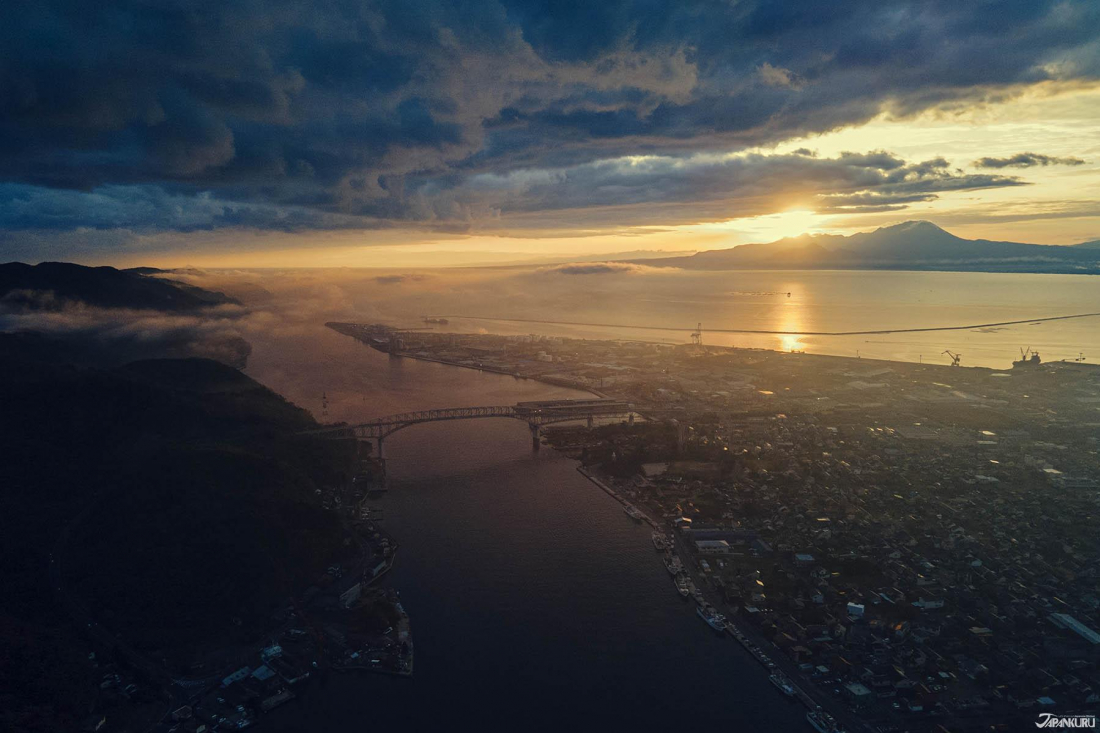 A Place of Gods' Celestial Gatherings and Soul Mates
Izumo Taisha Shrine: Gods and True Love
Izumo Taisha Shrine, also called the Izumo Grand Shrine, is home to gods of matchmaking and prosperity, and this old shrine was established so long ago, it's described in the ancient calligraphy of Japan's oldest historical record. Every year, during the 10th month of Japan's ancient calendar (modern-day November), it's said that all the eight million gods of Japan gather together at Izumo Taisha, earning Izumo the nickname "Land of the Gods" and attracting plenty of human visitors as well. Thanks to the shrine's strong association with matchmaking, happy couples and those looking for love come from all over Japan (and beyond) to receive a little extra luck in the love department. On the imposing shrine grounds, the front shrine building (拝殿, haiden) with its enormous braided shimenawa rope (しめ縄) is so imposing it almost blocks the main sanctuary (本殿, honden) from view, hiding away its centuries of history. But the road from the main gate to the shrine hall is a rare downhill slope, making it a lovely place for a leisurely walk in a colorful kimono and take a peek at all the shrine buildings.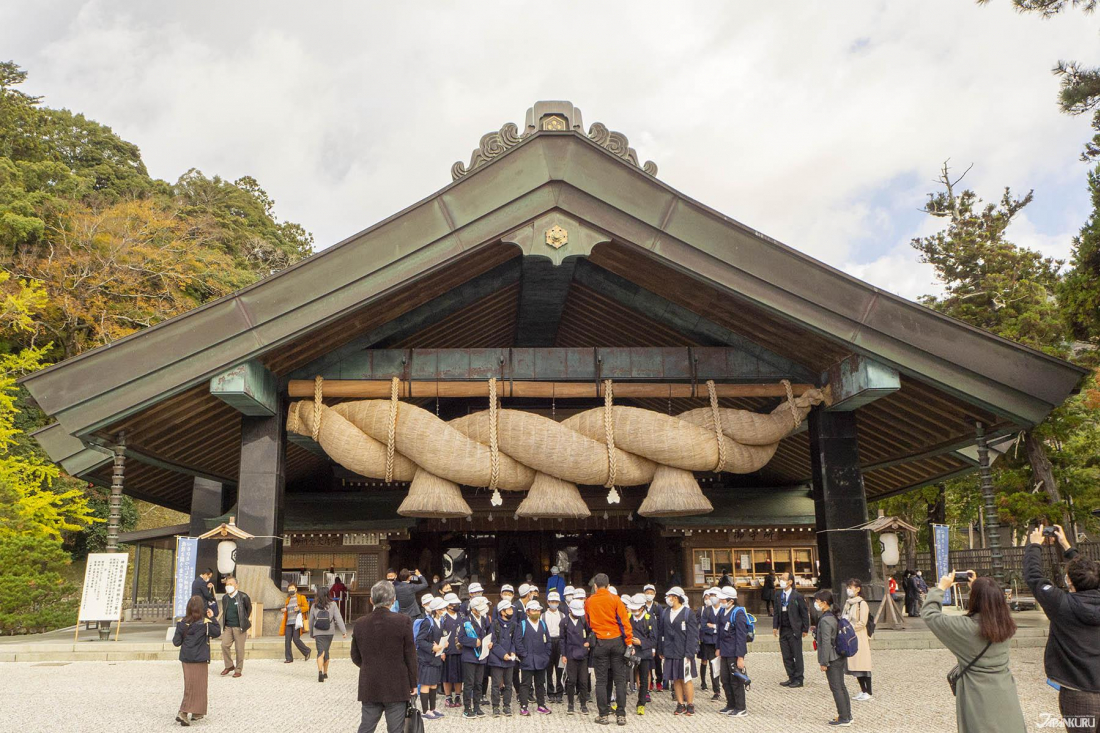 Izumo Taisha Shrine (出雲大社)
195 Taishacho Kizukihigashi, Izumo, Shimane
Access: From Izumo-shi Station, take a bus to Seimon-mae (Izumo Taisha) bus stop.
Hours: 8:30 – 17:00
Official Website (jp)
Michikusa Cafe & Sweets: Izumo Zenzai for You and Your Sweetheart
As a shrine famous for matchmaking, it's no surprise that Izumo Taisha is surrounded by shops offering romantic souvenirs and snacks. Among those edibles, zenzai (ぜんざい) and warigo soba (割り子そば) are the standout options, and on this trip we tried the zenzai at a shop along the path leading to the shrine. The two toasty little mochi dumplings floating in this sweet soup of adzuki beans are a standard Izumo addition, symbolizing soul mates and destiny, but our choice of special matcha-flavored zenzai was more unusual! The addition of green tea went great with the red bean soup, and the mochi was crisp on the outside but wonderfully soft and elastic at the center.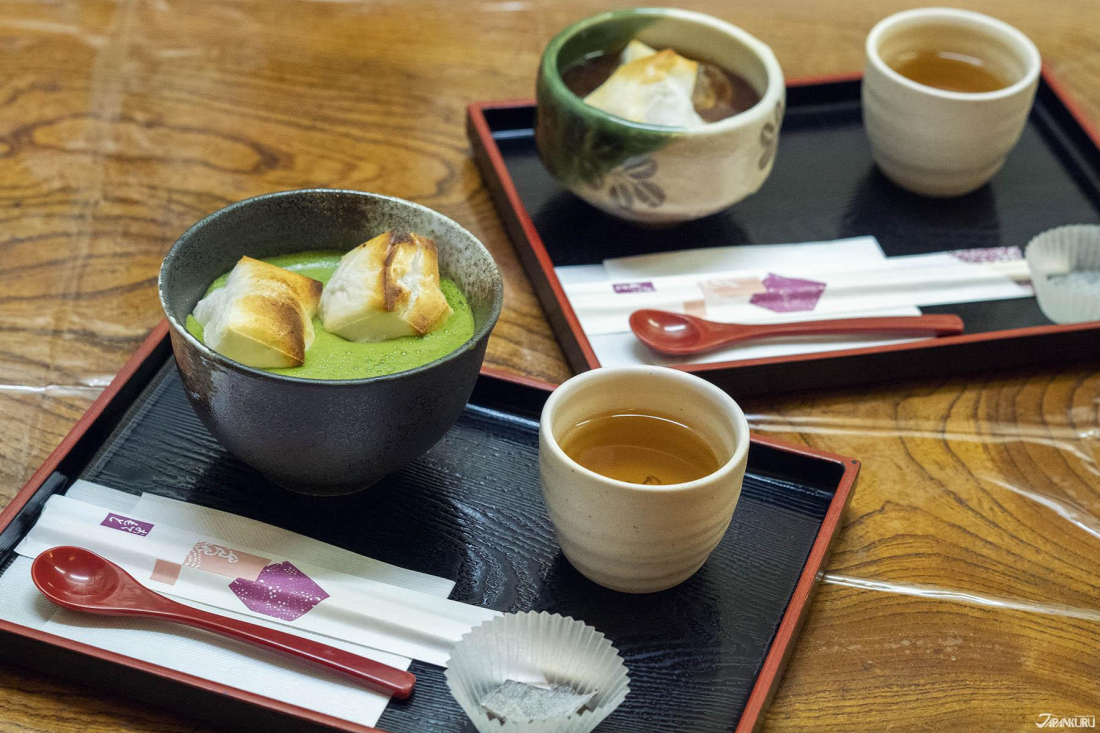 If you've finished your zenzai and somehow find your sweet tooth unsatisfied, there's always Michikusa's heart-shaped monaka (最中) wafers, filled with colorful ice cream and other sugary treats. It's almost too cute to eat!
Michikusa (みちくさ)
859-3 Taishacho Kizukiminami, Izumo, Shimane
Hours: 10:00 – 18:00
Official Page (jp)
Haneya Kenjo Soba: Authentic Izumo Warigo Soba from the Edo Era
There are places to try Izumo's famous warigo soba near the shrine, but we went a little out of our way for the most authentic soba around. Haneya has been cooking up handmade soba noodles since the end of Japan's Edo period (1603-1868), carrying on a long-lived tradition of "kenjo soba" noodles (献上そば), literally "tribute" soba. Why kenjo soba? When Emperor Taisho visited Izumo just about a century ago, Haneya's soba was presented to him as a tribute! The emperor praised the flavor as "reflecting the aroma of the countryside," and gave permission for the noodles to be called tribute soba.
Standard warigo soba is available all around Izumo, though, and warigo (割子) refers to the stacked boxes used to serve the noodles. They recommend starting by pouring the dipping sauce (called "tsuyu", つゆ) and other toppings on the top level, then topping the next dish of noodles with whatever remains, like a delicious relay.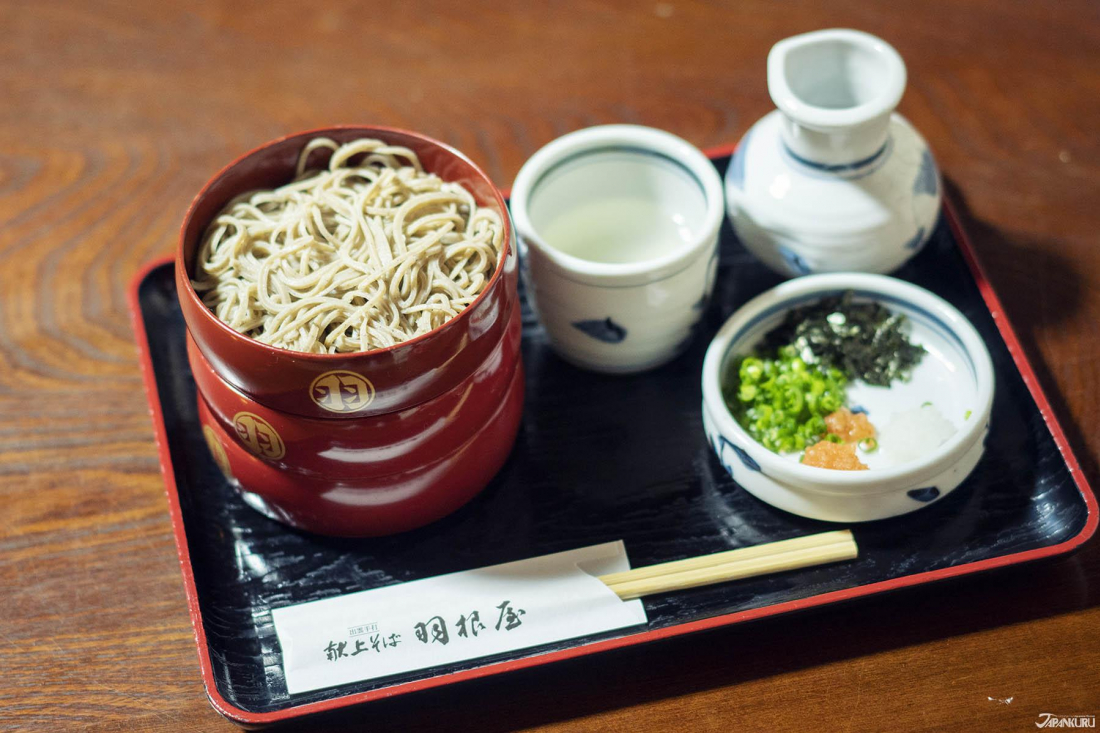 Haneya Kenjo Soba (献上そば羽根屋 本店)
549 Imaichicho, Izumo, Shimane
Hours: 11:00 – 15:00 / 17:00 – 19:30 (Or whenever they run out of soba for the day.)
Official Website (jp)
Hinomisaki: A Holy Land of the Setting Sun
In April 2017, Hinomisaki (sometimes called Cape Hino) was named an official Japan Heritage spot. Recognized as a place of contemplation for the people of Izumo, who regard the setting sun as particularly spiritually important, Izumo's Hinomisaki was named a "Sacred Place of Sundown" (日が沈む聖地出雲). It's no wonder travelers gather on this western edge of the Shimane peninsula to watch the sun sink into the sea each evening.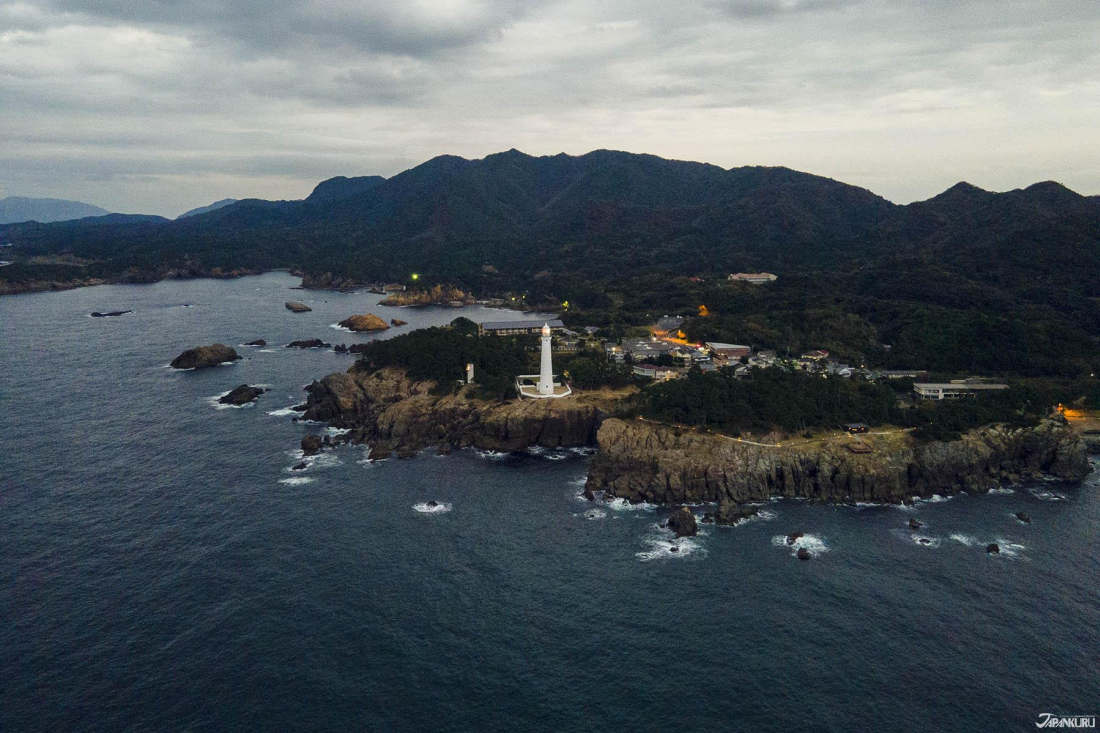 One of Hinomisaki's landmarks is the Hinomisaki Lighthouse, established in 1903, which is Asia's tallest stone lighthouse, at almost 44m (143ft) tall. For brand new couples, a moment holding hands and gazing at the sacred sunset from the lighthouse's observation deck is sure to bring luck to the new relationship.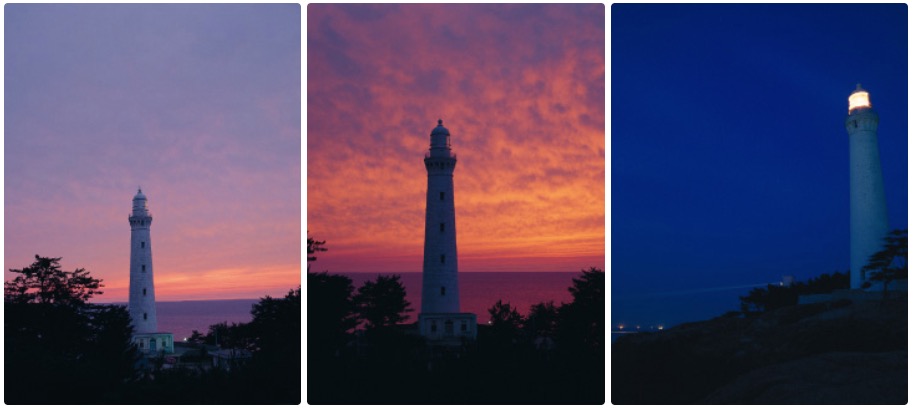 Nearby is Hinomisaki Shrine, also known as "Hishizuminomiya" Shrine―loosely translated as the Sundown Shrine. That's because Hinomisaki Shrine is said to guard the setting sun and nighttime in Japan, whereas the Grand Shrine of Ise in Mie Prefecture guards Japan's daylight hours. In Hinomisaki, the gods hang around late into the night!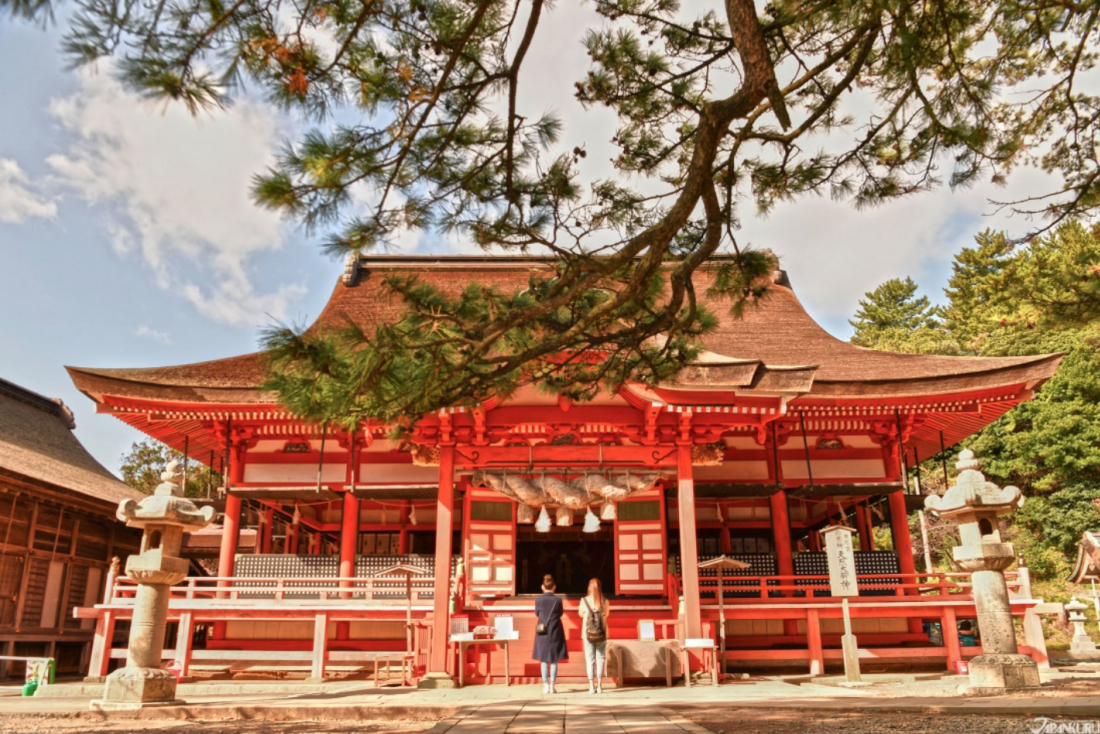 Izumo Hinomisaki Lighthouse (出雲日御碕灯台)
1478 Taishacho Hinomisaki, Izumo, Shimane
Access: From Izumo Shrine, take a bus to Uryuwakare bus stop.
Hours: 9:00 – 16:30 (March to September weekend and holiday hours ~17:00)
Hinomisaki Shrine (日御碕神社)
455 Taishacho Hinomisaki, Izumo, Shimane
Beauty, History, and Art in the World of People
Matsue Castle: Ruling Over the Land of Love
Matsue Castle is one of just 12 original castles throughout Japan that have been preserved through the centuries. Many of Japan's most famous castles have been destroyed and rebuilt many times over, and frequently the buildings are actually quite new constructions. Matsue Castle, alongside famous fortresses like Hikone Castle and Himeji Castle, are national treasures, even among the very few castle towers that have been beautifully preserved from the Edo period or earlier (Japan's golden age of castles).
Matsue Castle's domain is famous for matchmaking gods (the ones in Izumo), and this national treasure just happens to be famous for the many little unexpected hearts found hidden around the castle. How many hearts will you find on these ancient castle grounds?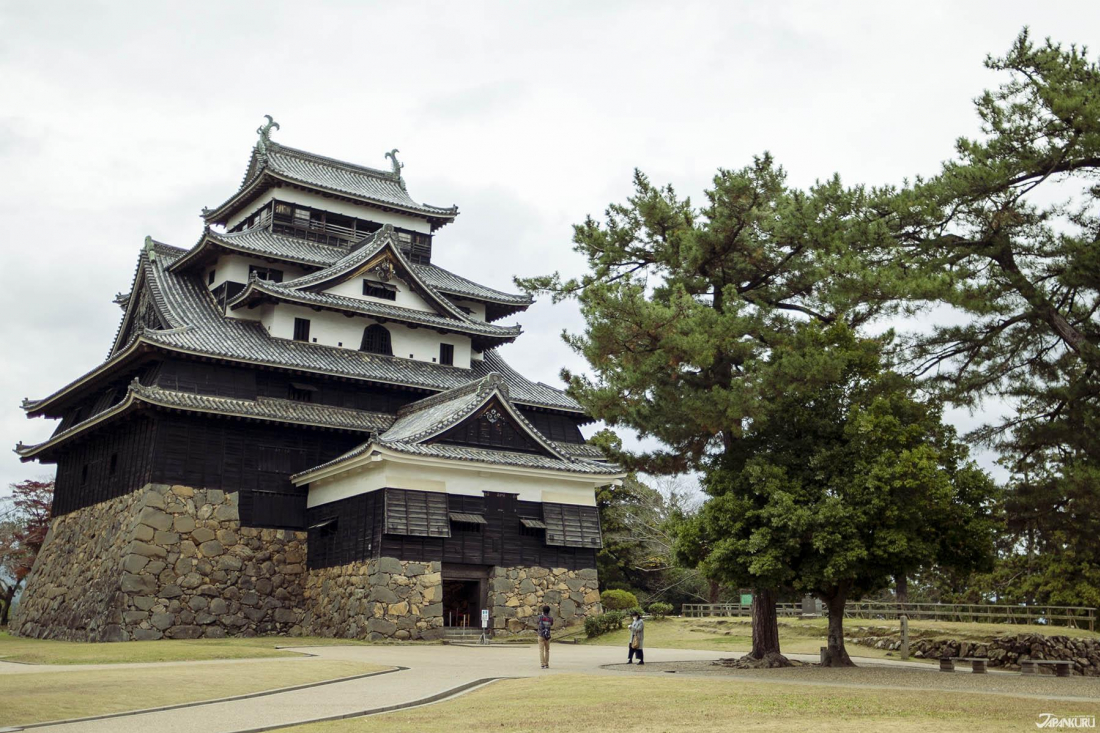 The splendid stone walls of Matsue Castle. Among the many stones left standing since Japan's Sengoku period (1467-1615), there's one heart-shaped stone hiding in the crowd! Can you find it while you make your way to the castle entrance? It's one thing to read about the castle's many hearts on the internet, but finding them yourself is sure to give you some extra good luck.
There are hearts lurking throughout the structure of the castle tower. This time we even spotted a heart in the grain of the wood! It's a little dark inside the castle, and it might be hard to spot this heart without a hint, so here are some directions for finding it: Enter via the basement floor of the castle, climb two flights of stairs, and look for a statue of Matsudaira Naomasa, the first feudal lord of the Matsudaira clan, heading into battle for the first time. On the opposite side of a wooden column diagonal to the statue, you'll find the heart! If you still can't find it, though, don't worry. At the castle entrance tourist center, and again at the castle tower reception, you can always grab a pamphlet with a rough map showing heart locations.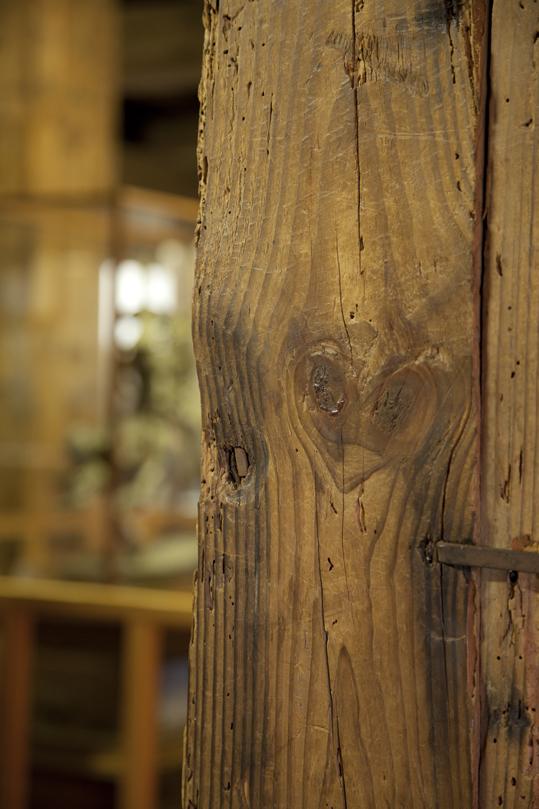 Matsue Castle (松江城)
1-5 Tonomachi, Matsue, Shimane
Access: From Matsue Station, take a bus to Kencho-mae bus stop.
Castle Tower Hours:
  Apr – Sept 8:30 – 18:30 (Entry by 18:00)
  Oct – Mar 8:30 -17:00 (Entry by 16:30)
Castle Grounds Hours:
  Apr – Sept 7:00 – 19:30
  Oct – Mar 8:30 – 17:00
Official Website (jp)
Yuushien Garden: Illuminated Gardens, Nighttime Autumn Colors, and Floating Peonies
Yuushien Garden is spread out over a grand 40,000m² (430556ft²) around a garden pond, with areas inspired by Izumo's many landscapes. In spring the floating peonies draw crowds, and in fall the colorful leaves are especially popular at night, but during our visit, we got to see their exquisite illumination event "Garden of Light" (光の庭園).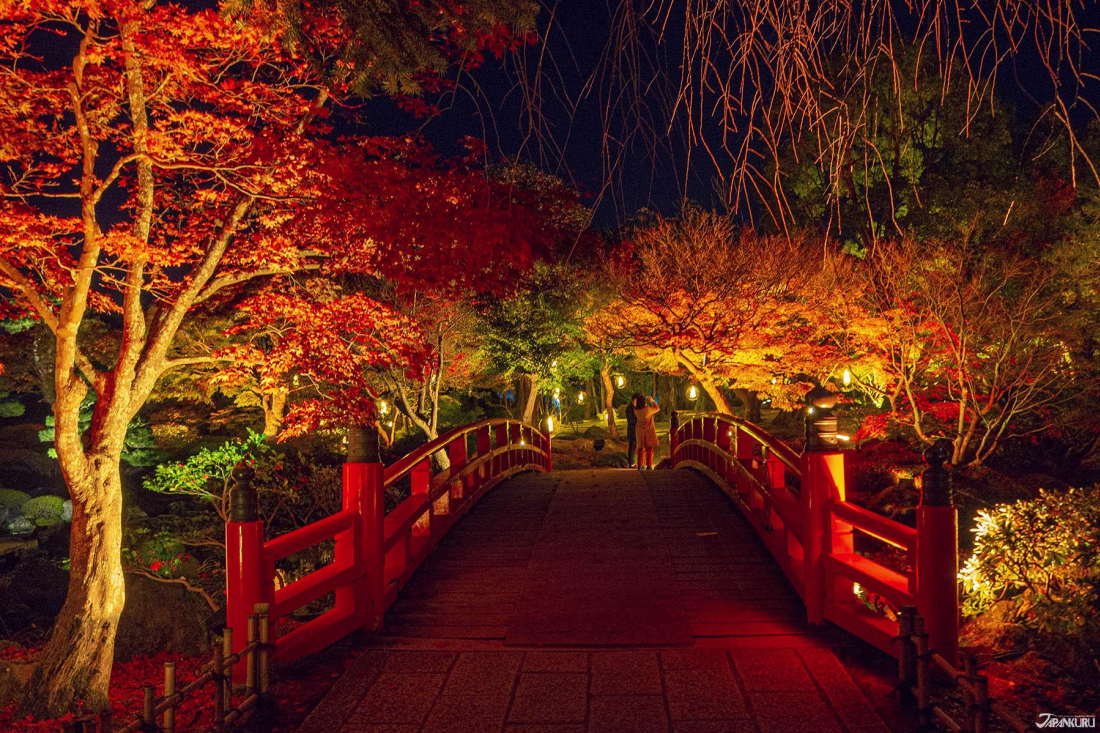 Looking at the breathtaking harmony of lights and projection mapping, adding to a garden already famous for nighttime views, we could see for ourselves the product of much careful planning between garden staff and designers, and plenty of trial and error.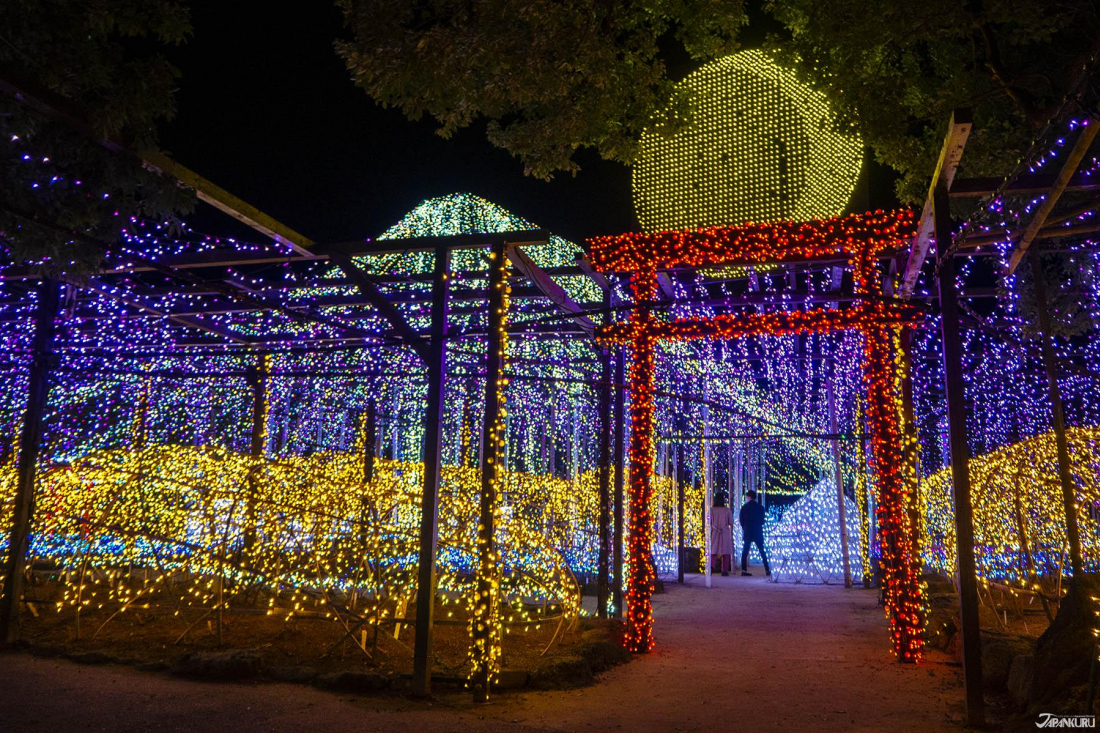 Visitors can even sip tea or dine at the garden cafe while gazing at a Japanese-style light display, looking out the cafe's many windows to view the garden painted with light―an experience worth the ticket price on its own.
During the fall and winter illumination event period, they also bump up the ease of access, with a free shuttle bus going between Matsue Station and Yuushien Garden.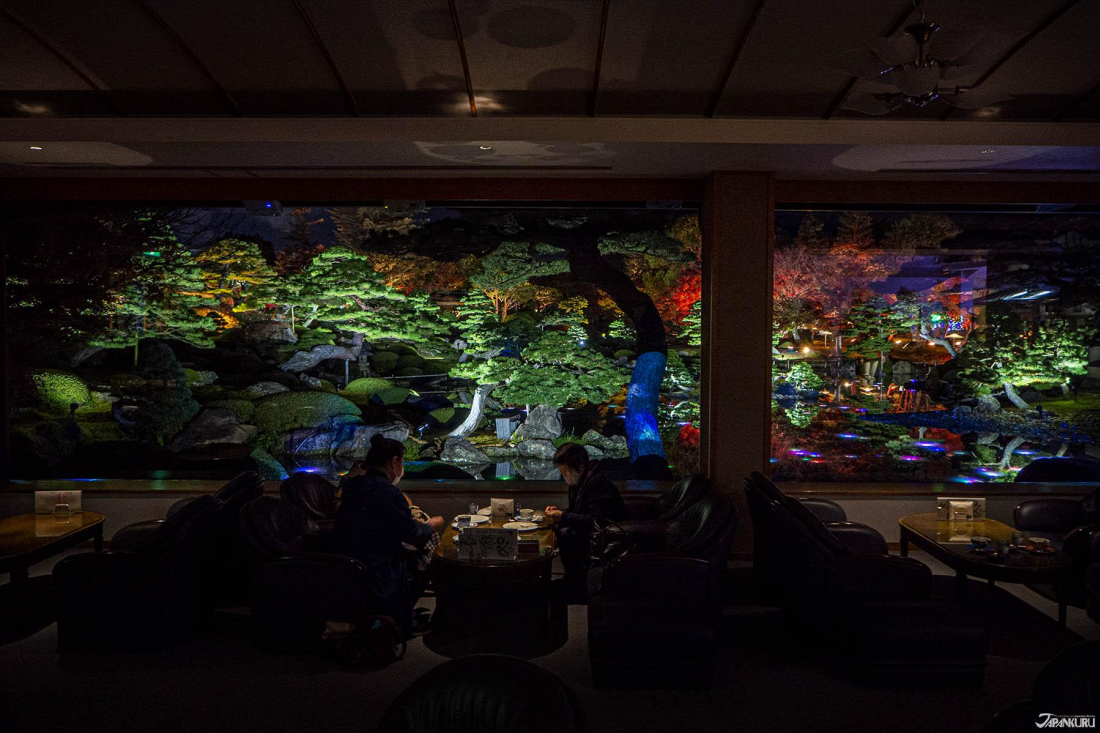 Yuushien Garden (由志園)
1260-2 Yatsukacho Hanyu, Matsue, Shimane
Access: Shuttle bus from Matsue Station (25 min) or Sakaiminato Station (16 min).
Hours: 9:00 – 17:00 (Find details on extended fall/winter hours here.)
Official Website (en)
Minami Garden Teahouse: Photoshoot-Ready Sea Bream Rice
When it comes to local specialties in Matsue, you won't go wrong with "tai-meshi" (鯛めし), literally rice with sea bream. And in an ancient town like this one, we recommend visiting a restaurant with its own long history. Minami Garden Teahouse, run by a long-established local ryokan inn, is a wonderful place to enjoy a taste of local sea bream while admiring a small traditional Japanese garden out the window―you can stroll around the garden after your meal, too.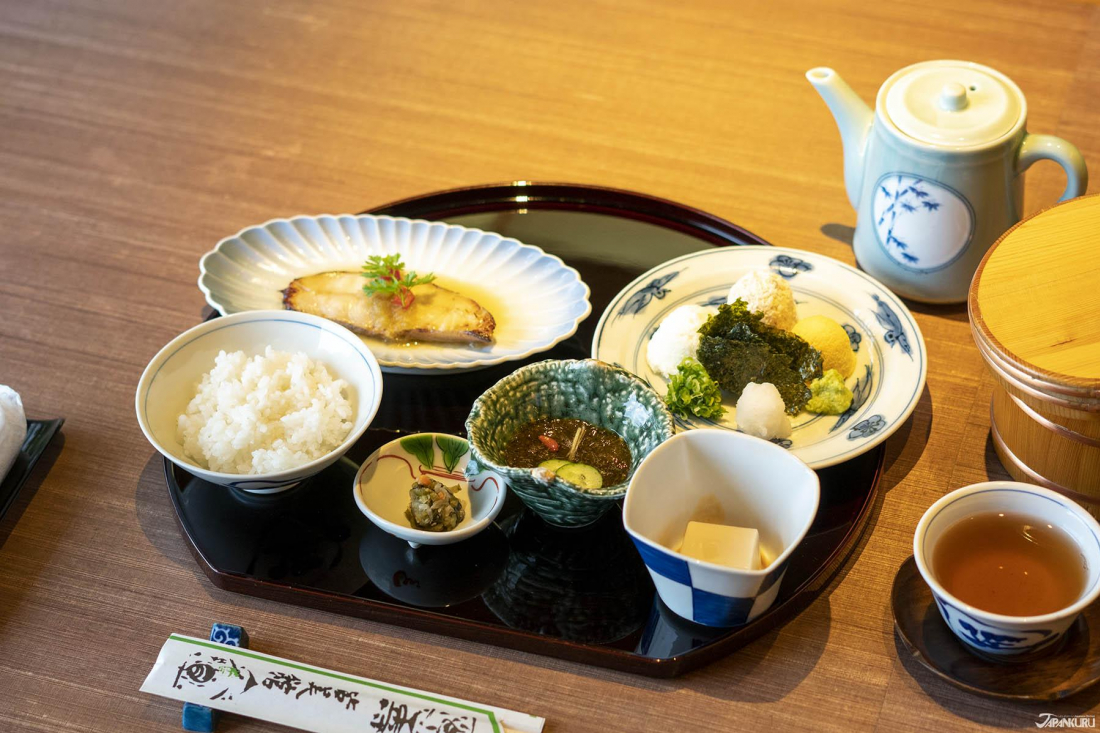 For most Japanese diners, the phrase "taimeshi" brings to mind images of rice cooked with small bits of fish. But the sea bream rice at Minami is eaten like the Japanese dish "ochazuke," and diners place their fish and other toppings on the rice before adding a healthy pour of a simple broth. Seasoned minced sea bream, chopped egg white and smoothed yolk, wasabi, grated daikon radish, green onions, and nori seaweed all come together with a dashi broth on top of the rice. The secret that really completes the dish is the broth, a secret recipe utilizing top-quality bonito flake stock and local Matsue soy sauce. With all the little plates arranged carefully on the tray, it almost looks like a selection of traditional sweets, and pictures from the restaurant are popular on social media.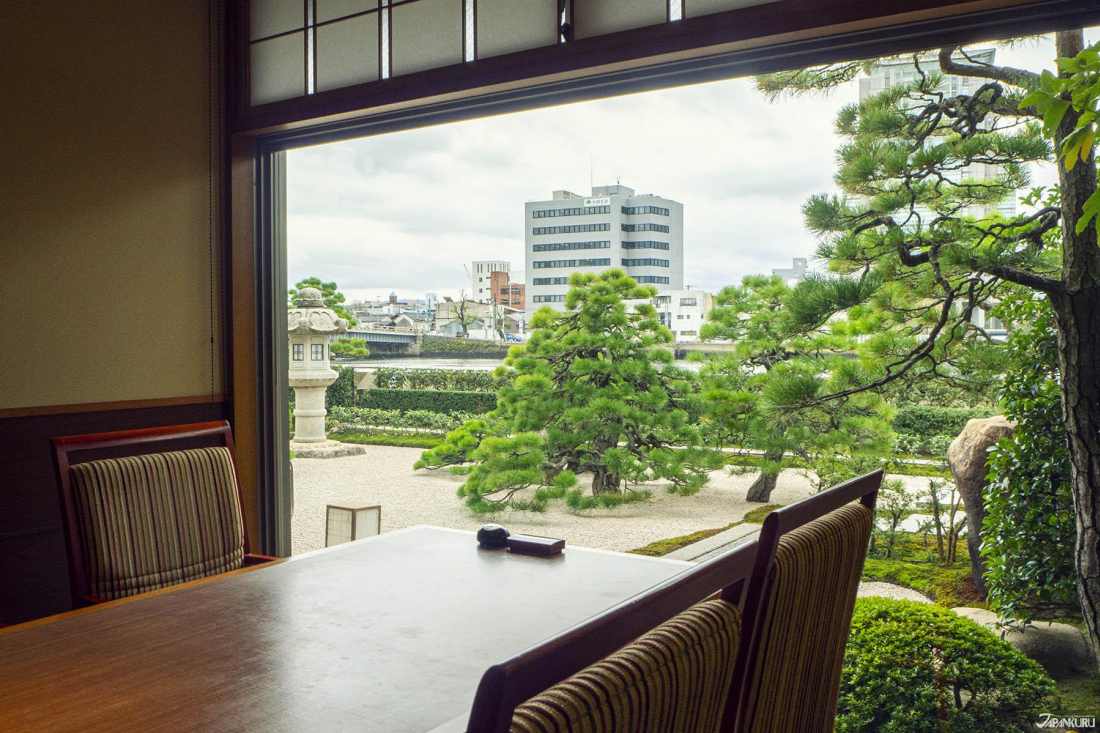 Minami Garden Teahouse (庭園茶寮 みな美)
14 Suetsuhuhonmachi, Matsue, Shimane
Access: From Matsue Station, take a bus to Ohashikitazume bus stop.
Hours:
  Weekdays: 11:30 – 15:00
  Weekends/Holidays: 11:30 – 15:00 / 17:30 – 21:00
Official Website (jp)
Tamatsukuri Onsen: Springs for the Gods, Springs for Beauties, and One Enormous Outdoor Mixed Bath
Since the Nara period (710 – 794), this onsen has been known as a hot spring of the gods, and when a feudal lord from the Matsudaira clan arrived during the Edo period to convalesce, the onsen was given the name "Yunosuke" (湯之介) and management was established. The onsen's common name, Tamatsukuri (玉造), is a little unusual, and literally means "precious stone making." It actually comes from the region's history of mining and crafting with stone agate from nearby Mt. Kasenzan. It's even said that the famous jewel "Yasakani no Magatama" (八尺瓊勾玉), a part of the Imperial Regalia of Japan (one of the Three Sacred Treasures), was made at Tamatsukuri Onsen.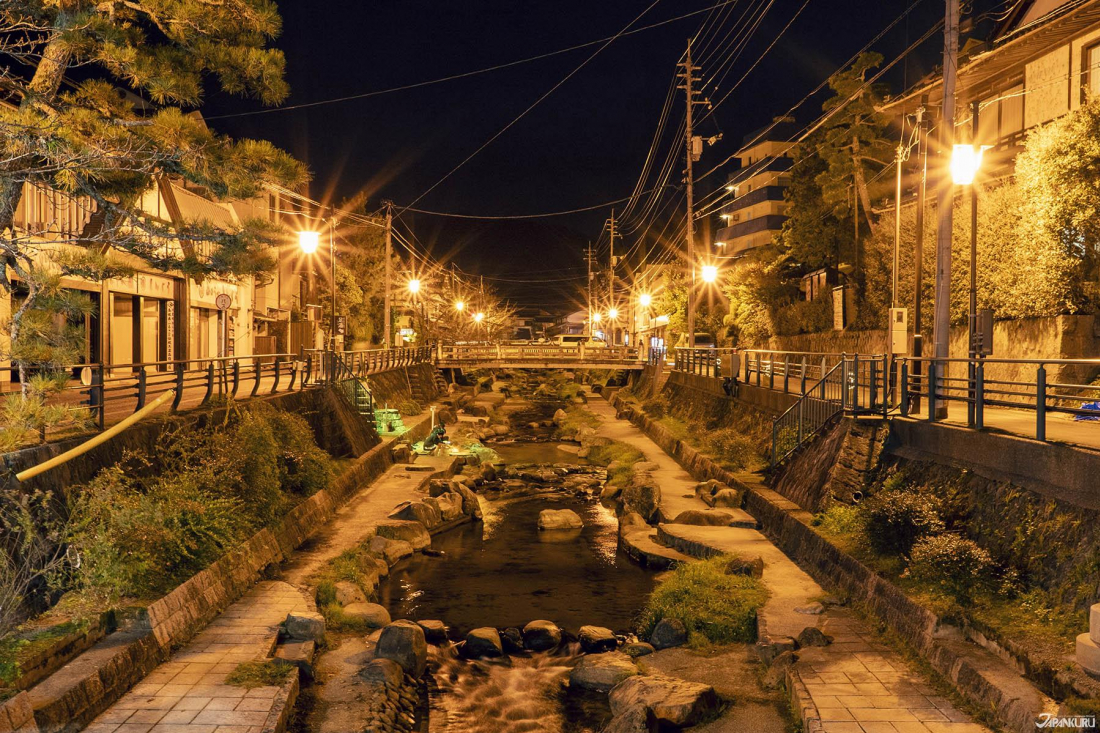 The onsen is also famous as a "bijin no yu" (美人の湯), said to make you beautiful, and the area is home to Japan's largest mixed outdoor bath. The "Ryugu no Yu" (龍宮の湯) open-air garden bath has become extremely popular over the past century, and it's been recognized as Japan's largest outdoor mixed bath for the past ten years. If the idea of a mixed bath makes you nervous, don't worry, they provide bathing-wear to put on while you soak! (For lodging guests only.)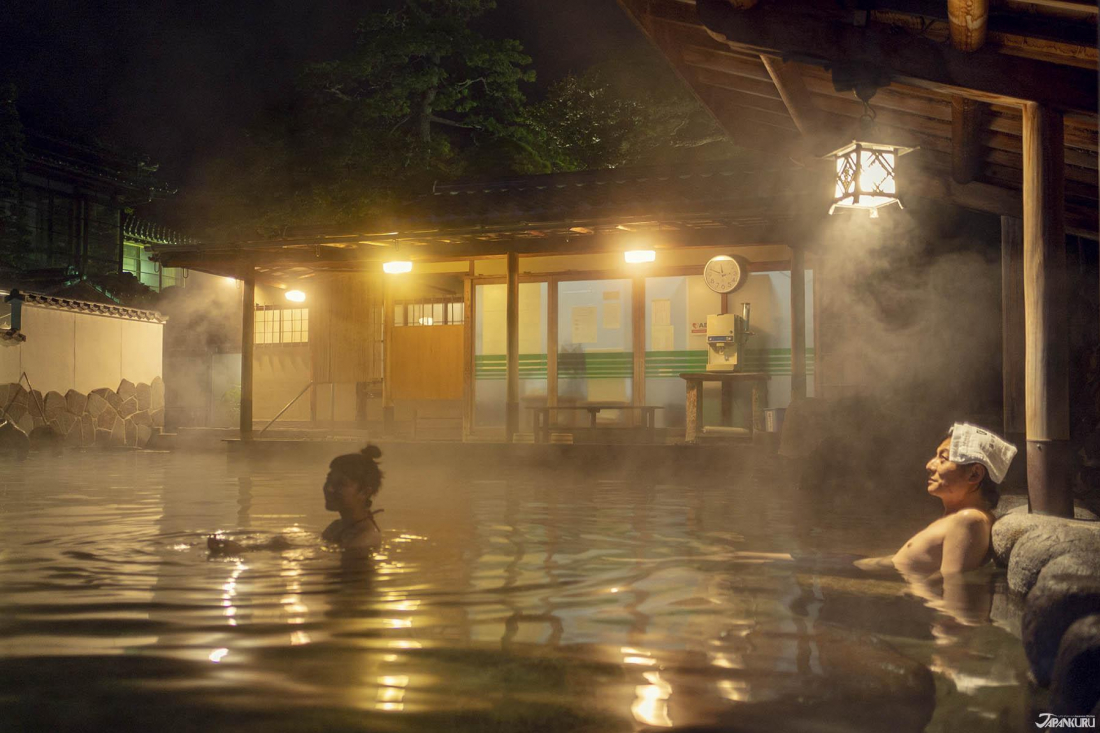 Chorakuen Ryokan & Onsen (湯之助の宿 長楽園)
323 Tamayucho Tamatsukuri, Matsue, Shimane
Access: From Tamatsukuri Onsen Station, take the Chorakuen shuttle bus.
Official Website (jp)
Adachi Museum of Art: A Garden in Harmony with the Mountains
We've already introduced you to Yuushien Garden and a garden teahouse, but there's still more gardens to come! Why more? Well, if you're looking to stroll through a beautiful Japanese garden, this one is a must-see. Not only is it an internationally famous traditional rock garden (called 枯山水庭, "The Dry Landscape Garden"), but with the gorgeous mountains forming a backdrop, the view goes on and on. For 18 years in a row, the garden at the Adachi Museum of Art has consistently been ranked the most beautiful garden in Japan in publications like the American "Sukiya Living Magazine: The Journal of Japanese Gardening," and over 600,000 people visit each year to admire the facilities.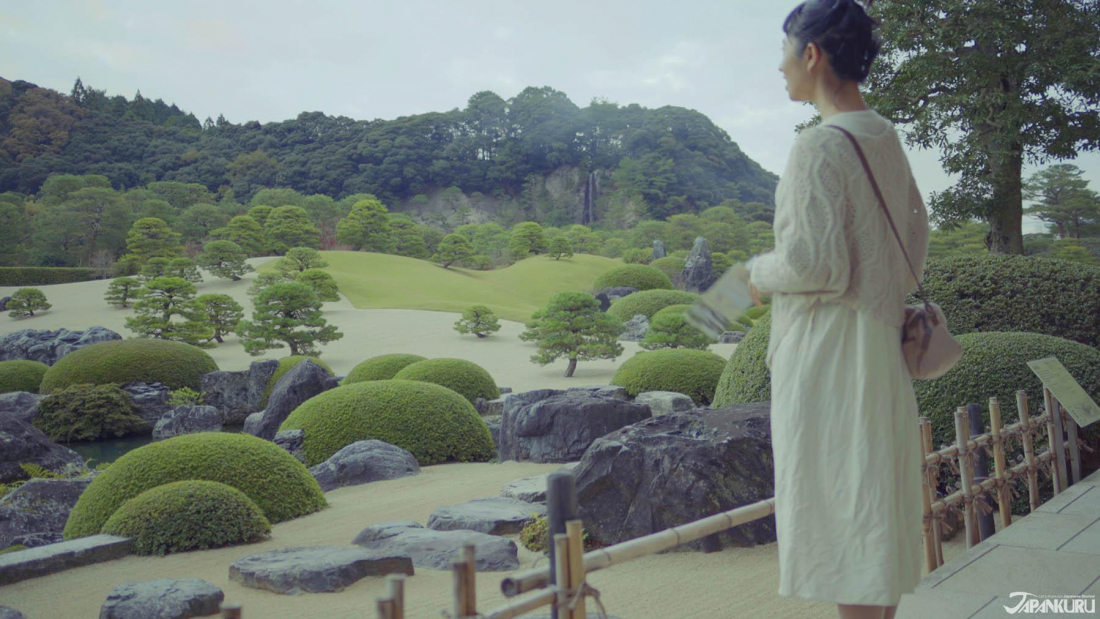 Successful early-20th century businessman Zenko Adachi established the Adachi Museum of Art before his death to show gratitude to his hometown. While the museum exhibits focus largely on Japanese "Nihonga" paintings, especially by artist Yokoyama Taikan, the garden is also a key feature. Zenko Adachi constructed the Japanese garden with the hope that visitors, after experiencing the natural beauty of the four seasons on their way into the building, would be able to more deeply understand the beauty of the paintings as well.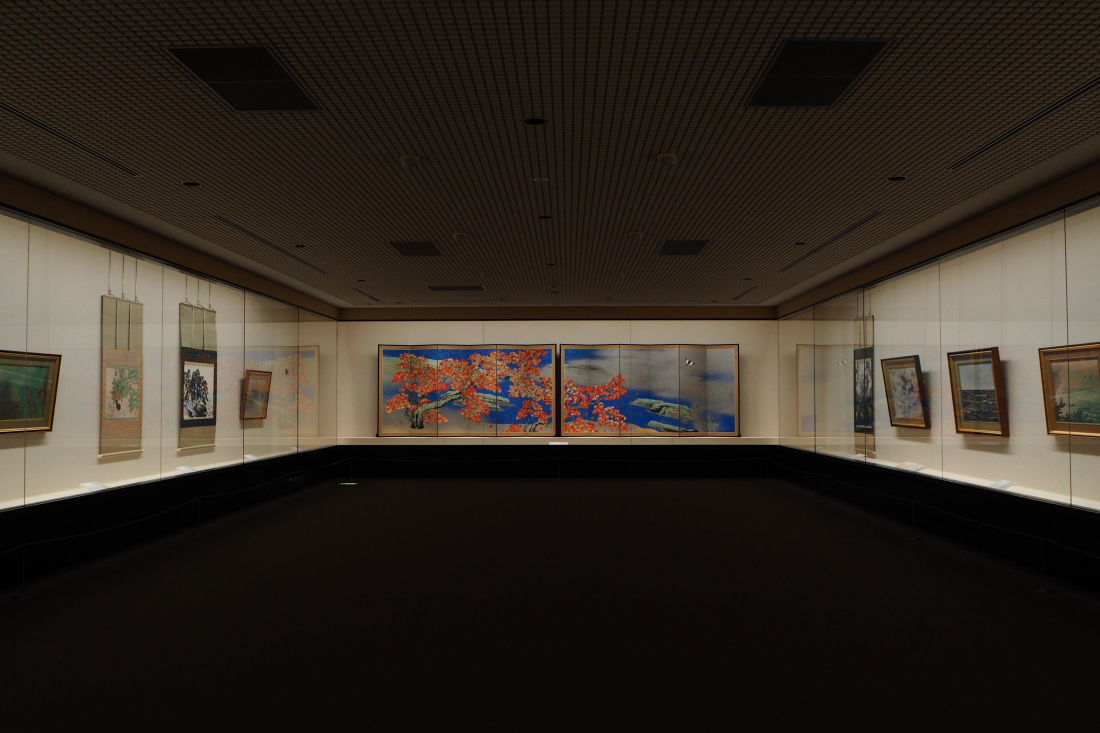 Believing that the garden was another work of art in its own right, Adachi gave the museum a unique setup, adding ways to enjoy views of the garden among the paintings as the seasons turn. Windows open up onto specific views of the outdoors and are given names like "Natural Framed Picture" ("生の額絵"), making it a museum where visitors can take in new "famous pieces" as the weather shifts and seasons change.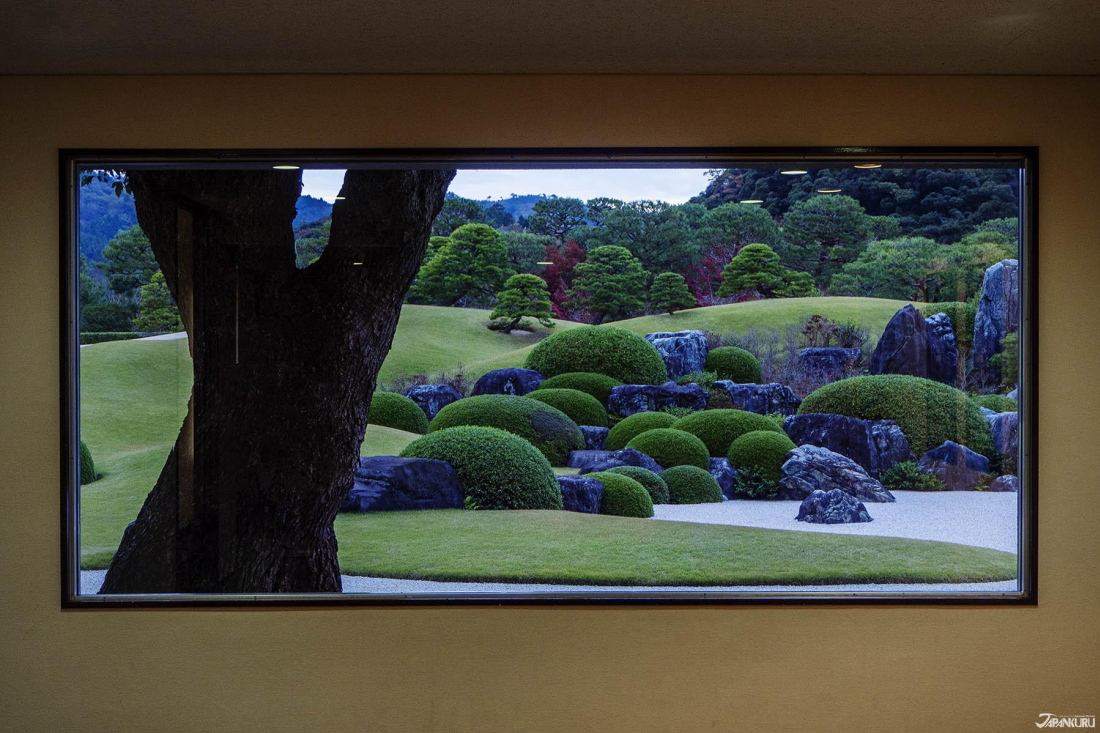 Adachi Museum of Art (足立美術館)
320 Furukawacho, Yasugi, Shimane
Hours:
  Apr – Sep 9:00 – 17:30
  Oct – Mar 9:00 – 17:00
Access: From Yasugi Station, take a free shuttle bus.
Official Website (en)
Yonago Castle Ruins: Stone Walls Steeped with History, and a Panorama of the City and the Sea
Ten years after Sengoku-era military commander Kikkawa Hiroie constructed a four-story watchtower in the year 1591, Nakamura Kazutada arrived in 1601 from the old province of Suruga to rule over the province of Hoki (present-day western Tottori) from his new seat in Yonago, erecting a five-story castle tower: the famous Yonago Castle of San'in. Now, only the stone walls of the castle remain, but those impressive stone structures and the spectacular view make for an atmosphere perfect for a great snapshot or two.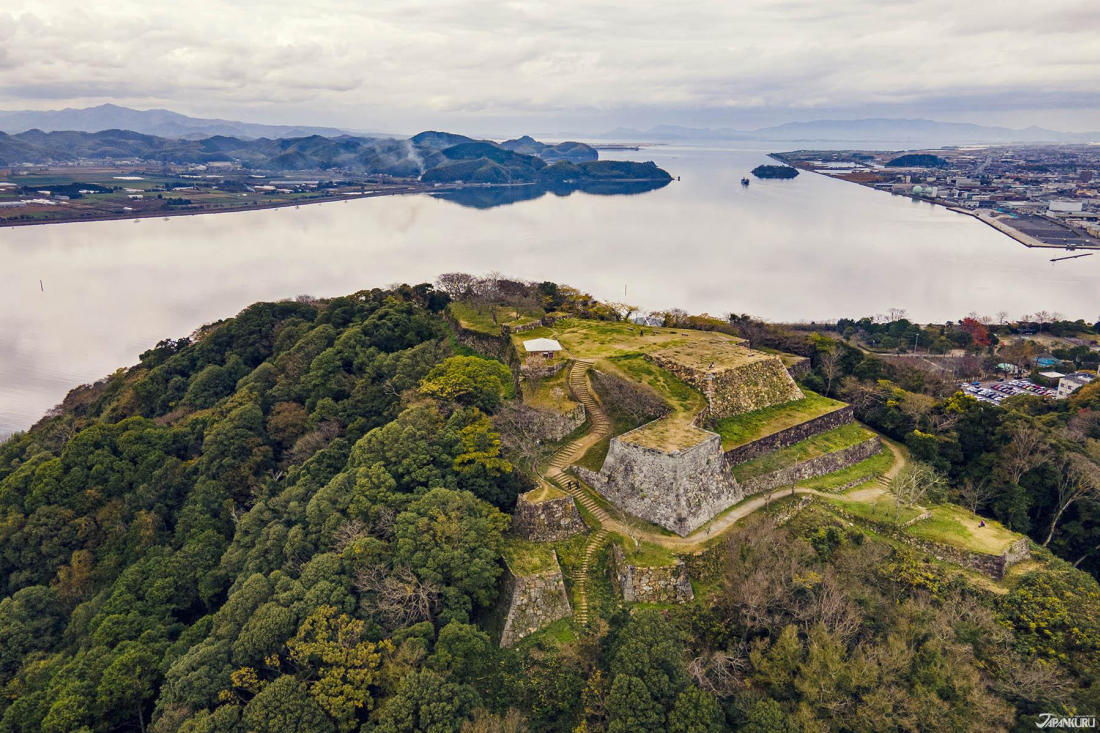 Spend 20 minutes climbing the mountain paths and stone steps, and you'll find yourself at the top of a 90m (~300ft) rise, with a look out at Yonago's urban streets and the ocean beyond in the north, the cobalt blue lake of Nakaumi to the west, and an unblemished view of Mt. Daisen in the east. A perfect panorama with nothing in the way!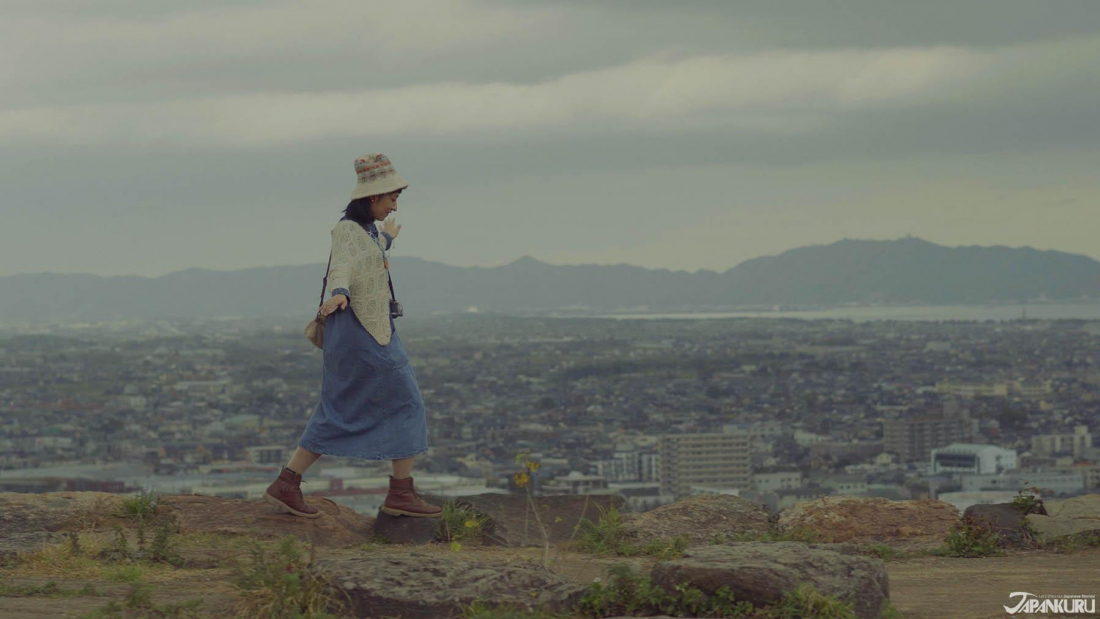 Yonago Castle Ruins (米子城跡)
Kumecho, Yonago, Tottori
Access: From Yonago station, take the Yonago Loop Bus to Minatoyama Koen bus stop, or walk 15 minutes.
Official Website (jp)
Tottori Hanakairo Flower Park: Mt. Daisen and Oceans of Flowers at One of Japan's Largest Flower Parks
When traveling to Japan, there's one traditional activity that shouldn't be missed, and that's hanami (花見)ーflower viewing! Tottori Hanakairo Flower Park, one of the biggest in Japan, gives visitors a chance to admire new flowers each season, and the garden lights up the night each summer and winter with light display events, all surrounded by the beautiful mountain scenery of Mt. Daisen.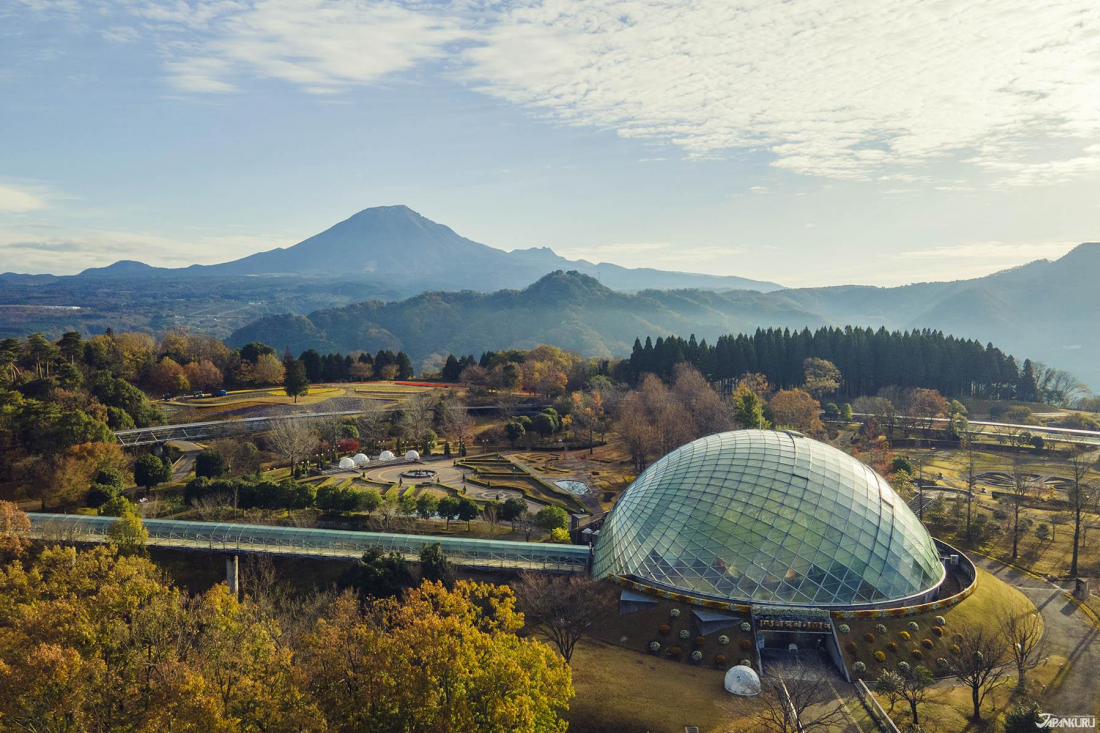 Tottori Hanakairo Flower Park (とっとり花回廊)
110 Tsuruda, Nambu, Saihaku District, Tottori
Hours:
  Apri – Nov 9:00 – 17:00 (Closed Tuesdays in July & August)
  Dec – Jan 13:00 – 21:00 (Closed Tuesdays)
  Feb – March 9:00 – 16:30 (Closed Tuesdays)
Official Website (en)Welcome to the World of Japanese Yokai: Monsters, Spirits, and Legends!
Mizuki Shigeru Road: Enjoy Kitaro's Street, Sunup or Sundown
The street stretching between Sakaiminato Station and the Mizuki Shigeru Museum is called "Mizuki Shigeru Road," named after the famed classic manga author Shigeru Mizuki, and the sidewalk is dotted with 177 bronze statues of yokai characters from his popular manga Gegege no Kitaro. Along the 800 meter stretch you'll also find a number of unique destinations, like a yokai shrine, a kappa well, streetlights modeled after the character Medama-Oyaji, and shops overflowing with Kitaro merchandise. It's a mysterious little street, but your camera shutter won't stop clicking!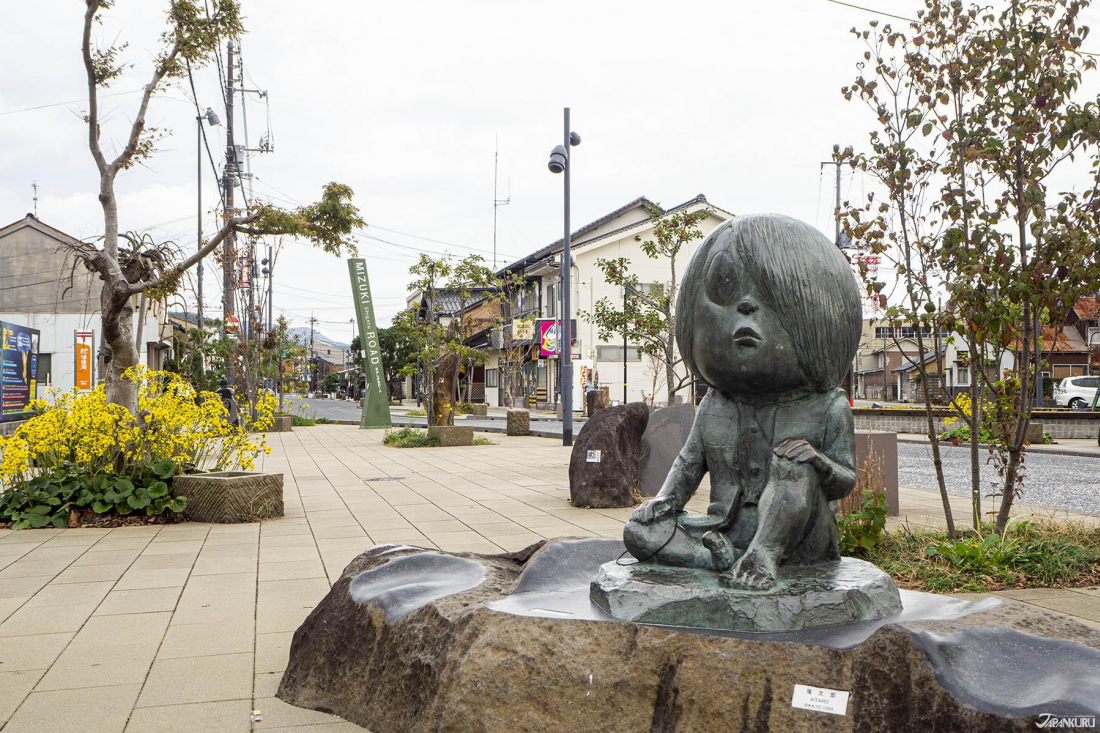 The yokai shrine isn't actually a real Shinto shrine, but in front you can watch a huge stone eyeball swivel creepily as you wash your hands, instead of the standard fountains of a normal shrine, and they offer special omikuji fortunes… better preparing you to enter the world of monsters and spirits, perhaps.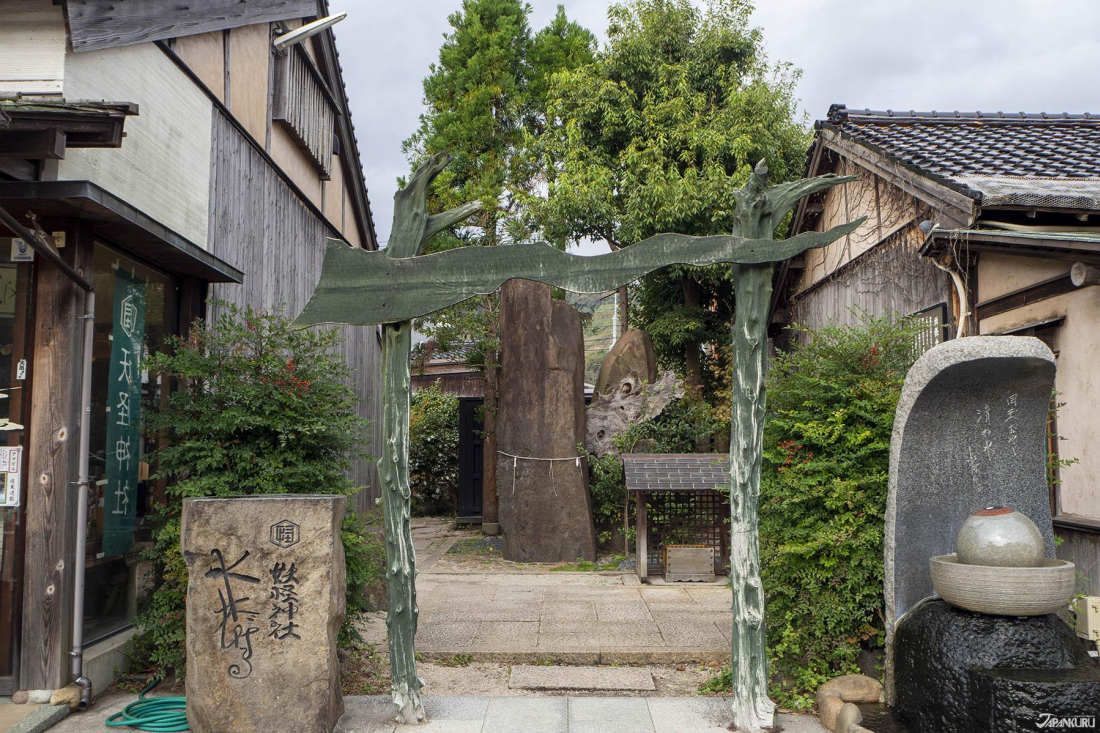 For souvenirs, we recommend Yoka Medama-Oyaji. You might need a little extra courage to take the first bite out of these manju cakes, since they're shaped just like Kitaro's father Medama-Oyaji, a slightly terrifying eyeball man! But these traditional sweets are actually made by a wagashi (和菓子, Japanese sweets) specialty shop that's quite famous in San'in, so they're pleasantly sweet, and would go great with a cup of green tea.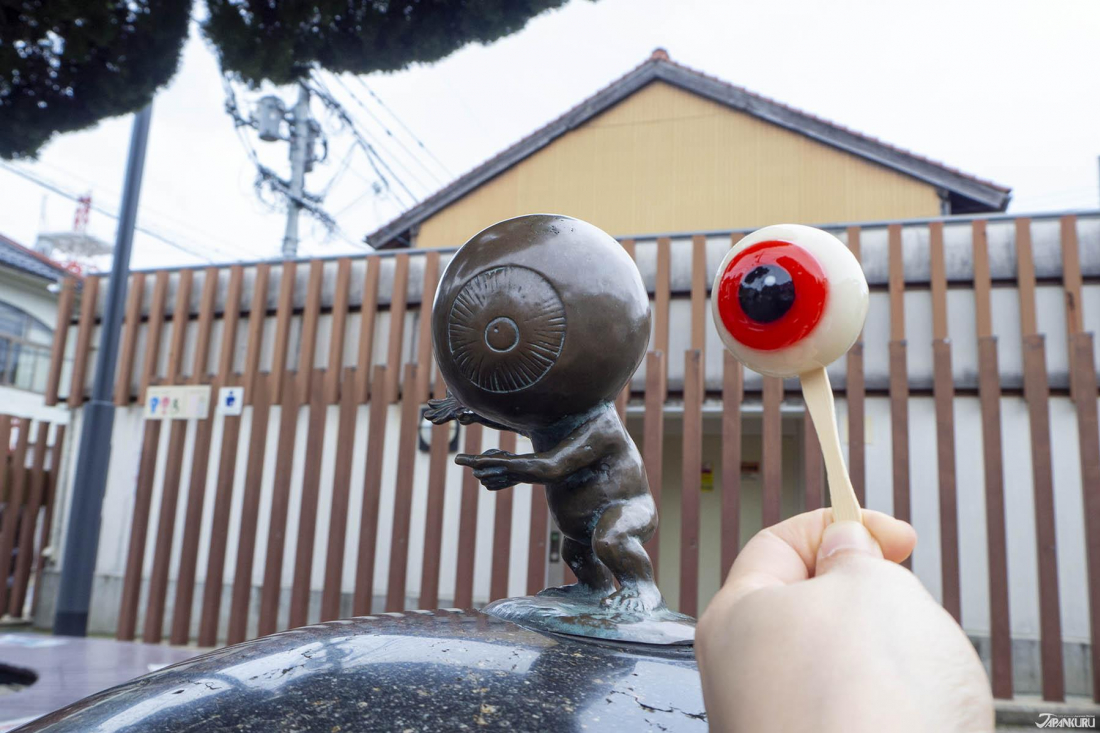 Nighttime in yokai land. In Gegege no Kitaro, they like to sing a song that goes "at night we have a field day in the graveyard," and Mizuki Shigeru Road changes accordingly every night. When the sun sets the yokai party begins on this eerie path, as light displays illuminate the night and projection mapping brings the monsters to life. The road might be fun during the day, but sundown brings it to a whole new level!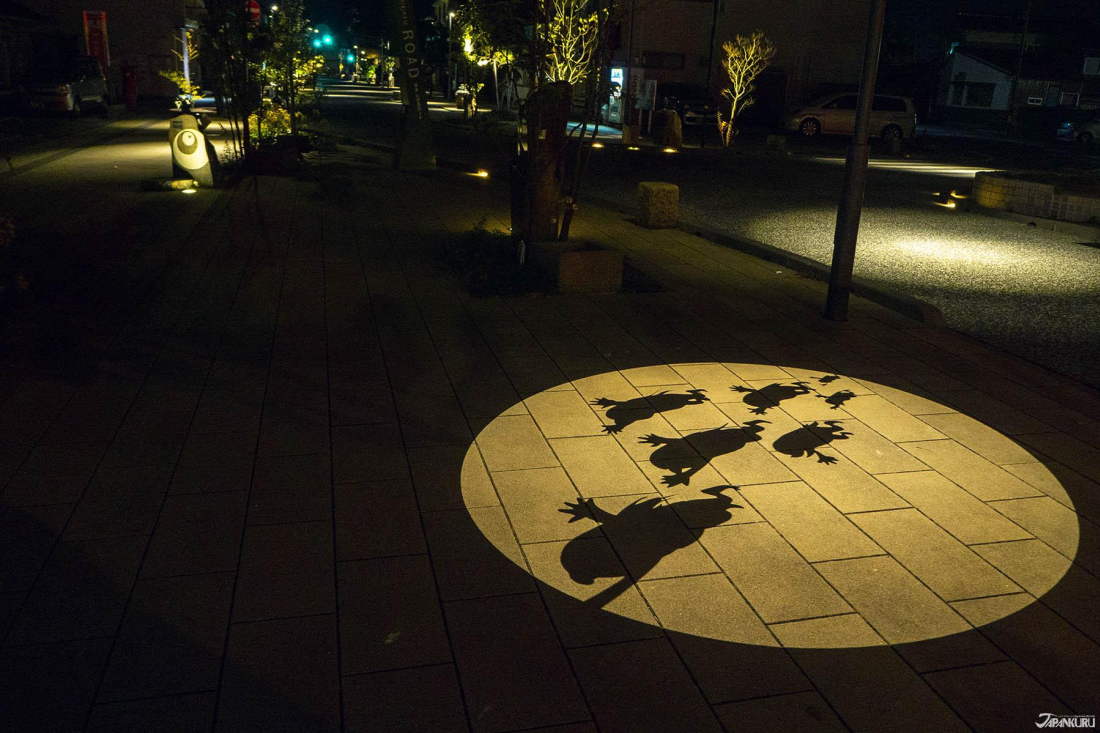 Mizuki Shigeru Road (水木しげるロード)
Taishomachi/Matsugaecho/Honmachi Area, Sakaiminato, Tottori
Access: Directly in front of Sakaiminato Station
Official Website (en)
Tairyo Fish Market Nakaura: Sample Gourmet Snow Crab, and See More Kitaro
On the San'in area to-do list, there's one thing that is an absolute must: trying a taste of the local snow crab, a species known in Japanese as "matsuba" crab (松葉ガニ). At Tairyo Fish Market Nakaura, where a huge Kitaro statue stands guard out front, they say that you'll find just about any of the seafood delicacies caught in the Sea of Japan, and the fishmongers offer up rows of dried seafood, fresh fish, and of course snow crab.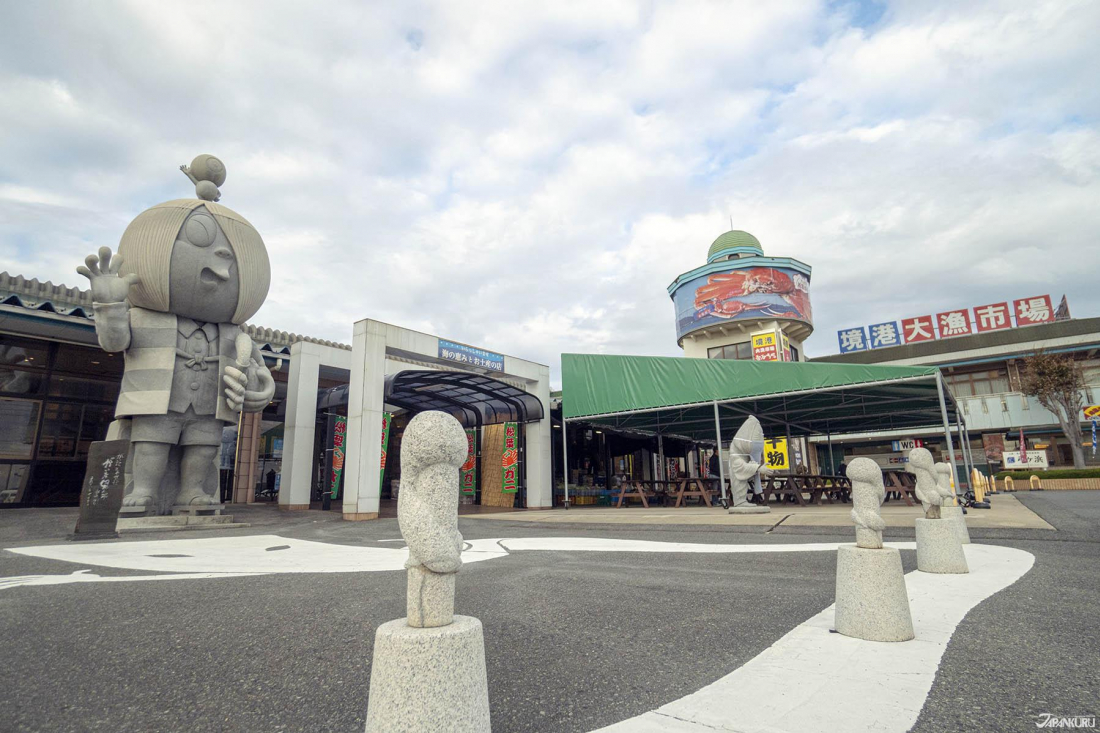 You don't need your own kitchen to try the wares, though; there's a restaurant right in the fish market for enjoying a taste of local seafood. We eagerly awaited our meal of matsuba crab at the restaurant Yumigahama, where they recommended we order their specialty "kanitoro-don" (カニトロ丼) a rice bowl topped with juicy crab, nori seaweed, wasabi, raw egg, and a splash of soy sauce. When mixed all together, each bite brought out the sweetness of the crab and its rich aroma. If you're not quite hungry enough for a full meal, but you'd still like to try a taste of matsuba crab, the crab shumai dumplings are a good choice too!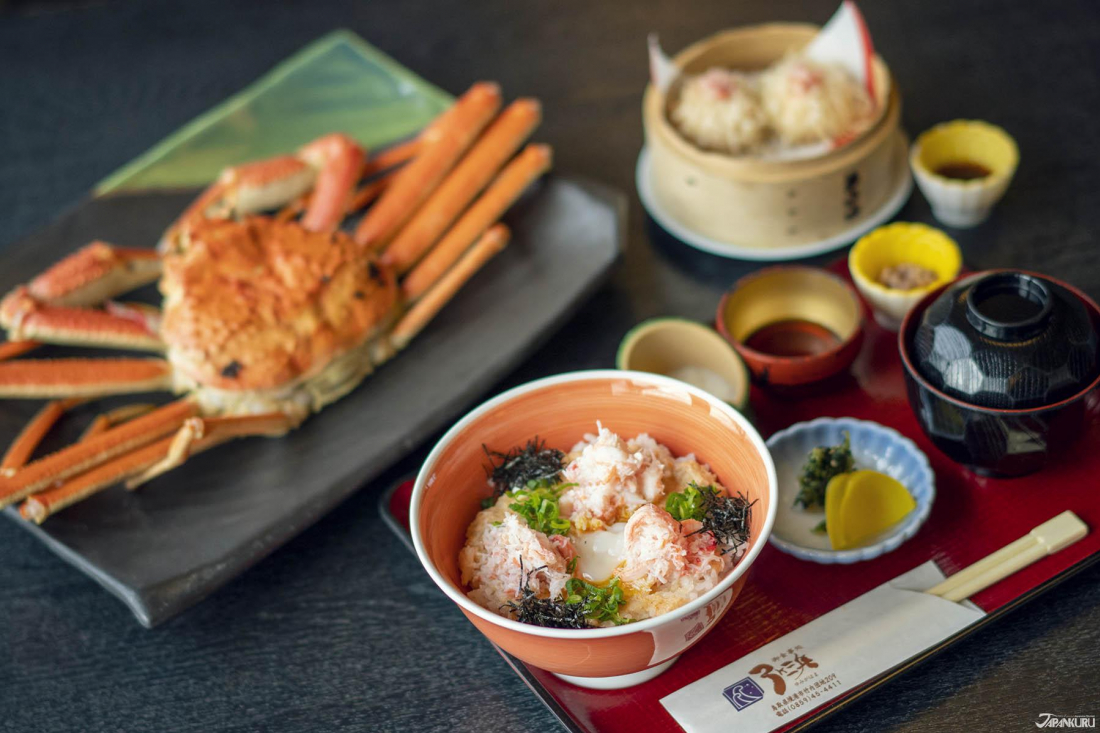 Tairyo Fish Market Nakaura (大漁市場なかうら)
209 Takenouchidanchi, Sakaiminato, Tottori
Access: From Sakaiminato Station, take a bus to Mihochoiriguchi bus stop.
Hours: 8:15 – 16:30
Official Website (jp)
Yumigahama (御食事処 弓ヶ浜)
Hours: 11:00 – 15:30
Which World Will You Dive into First?
The power of the gods, the history and beauty of humans, and the mysterious fun of yokaiーone of the best things about central San'in is getting to enjoy it all! Feeling a little empowered by the strength of the Shinto gods, we toured the tasteful art and tasty recipes of the San'in locals, and let the monsters hidden away in our imagination come out to play! We truly traveled our way through the many realmsーwhere will your journey begin?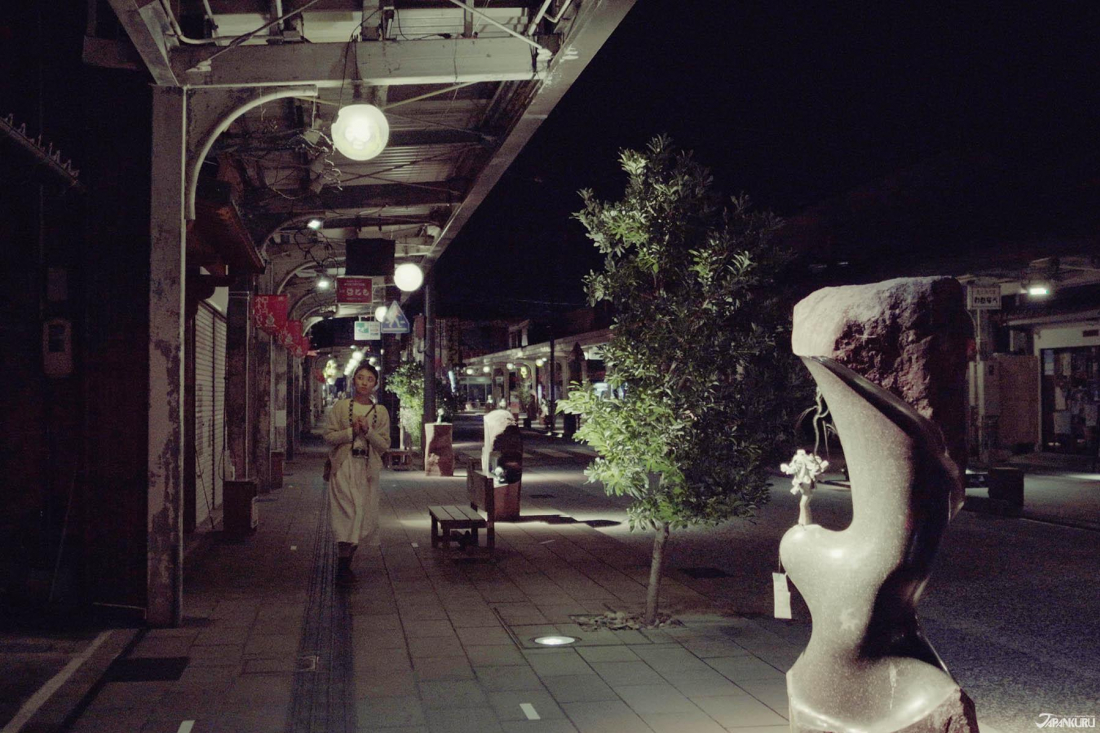 *Business hours and holidays may have changed since the time of publication. Please check these details before heading to your destination.
Source: JAPANKURU