Saitama's Kinbue Shoyu Park ・ A Unique Soy Sauce Experience
The venerable Fueki Soy Sauce brewery has been making "shoyu" in Saitama for centuries, and now you can attend "Soy Sauce School" to find out more at their soy sauce park!
Fueki Soy Sauce Brewing & Kinbue Shoyu Park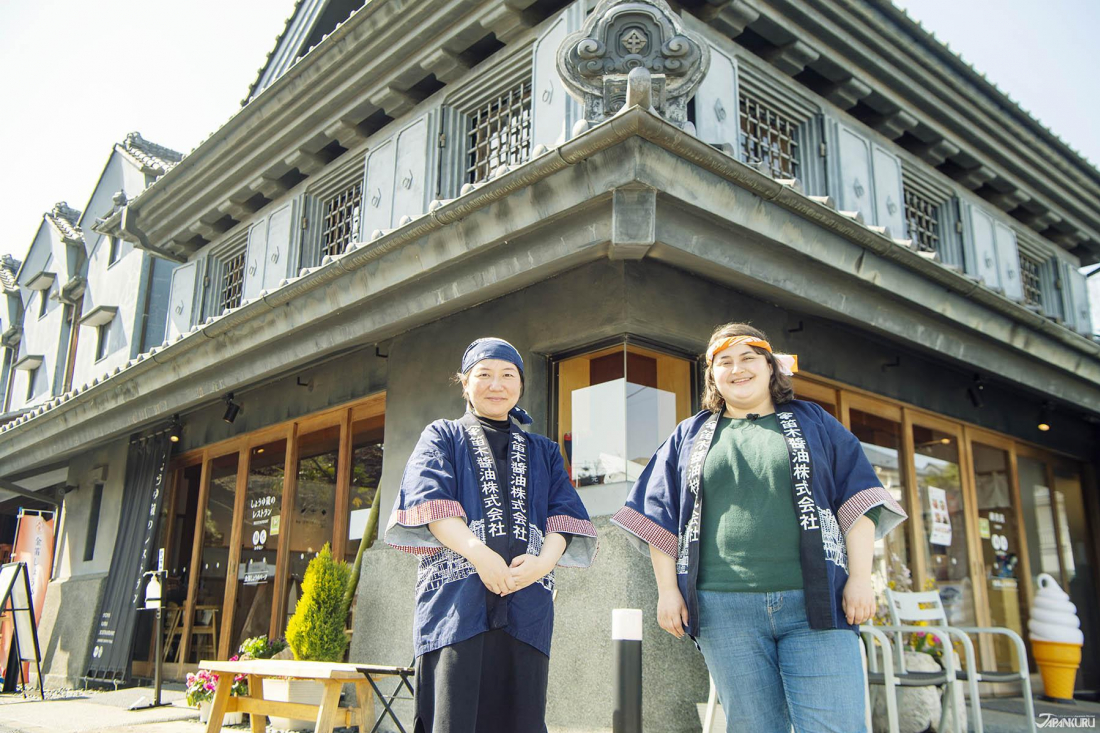 How do little beige soybeans become fragrant brown soy sauce? The Fueki family have been brewing soy sauce for 230 years and 12 generations, and now they're letting everyone in on the secrets of "shoyu" (醤油, soy sauce, sometimes written "syoyu") at the Kinbue Shoyu Park in the town of Kawajima, Saitama Prefecture. Formed around the still-functional Kinbue Soy Sauce brewery buildings, some of which have been used to make soy sauce for over 100 years, Kinbue Shoyu Park is a unique travel destination where visitors can learn all about the brewing process at "Soy Sauce School," see the brewing in action, sample soy sauce varieties, and more! If you've got a taste for soy sauce, this park will help you explore the depths of this rich topic.
Saitama, of course, is not just an anime characterーit's a whole prefecture that sits north-west of Tokyo. In the past, Saitama was nicknamed "Edo's kitchen," thanks to the region's history of providing fresh food for the people of Tokyo. Some of the ingredients that have flourish here are also important ingredients in soy sauce, so thanks to that natural abundance, Saitama has also been called a "soy sauce production zone."

The town of Kawajima itself, home to Kinbue Shoyu Park, is right next to popular tourist destination of Kawagoe, a city where travelers often dress up in kimono to walk down the old-fashioned streets lined with traditional warehouses. Coming from Tokyo, it's actually an easy trip to Kawagoe, and to Kinbue Shoyu Park from there. From central Tokyo, you'll first want to take JR or the Tobu-Tojo Line to Kawagoe Station, or the Seibu Shinjuku Line to Honkawagoe Station. From those stations, you can take a Tobu Bus―either the Kawagoe 02 bound for Higashimatsuyama/Hachimandanchi or the Kawagoe 03 bound for Konosu Menkyo Center―and get off at Igusa Shogakkou-mae Bus Stop, which is right around the corner. (Or just take a taxi from Kawagoe!)
Kinbue Shoyu Park (金笛しょうゆパーク)
(or Kinbue Syoyu Park)
660 Kamiigusa, Kawajima, Hiki District, Saitama
Tours: 9:30 – 16:00 | Restaurant: 11:30 – 17:00 (weekdays ~15:00)
Official Website (en)
Soy Sauce School (The Factory Tour)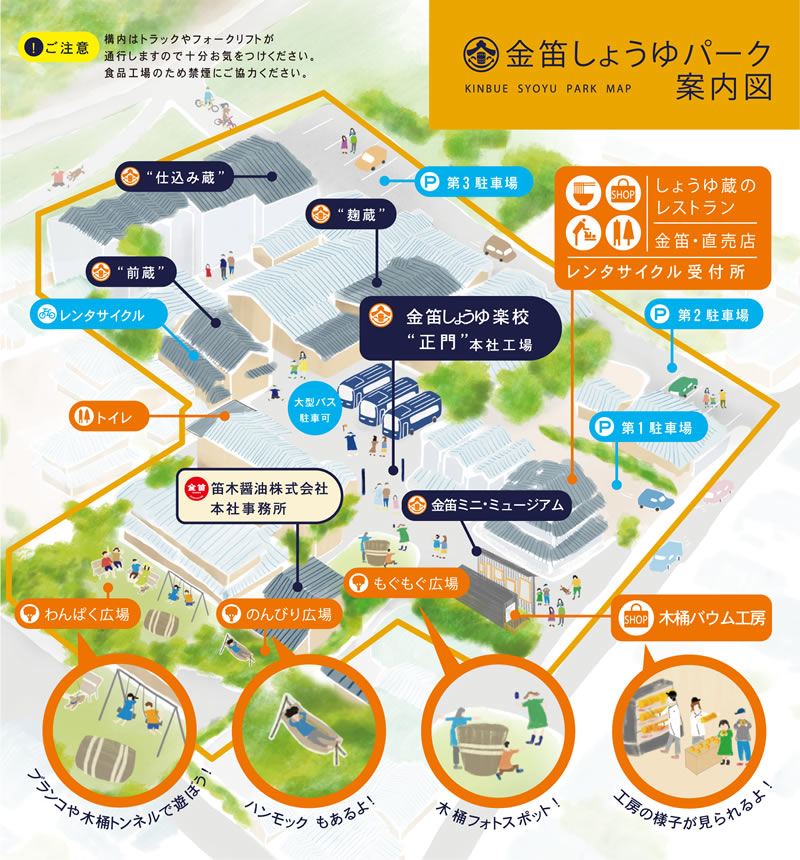 Kinbue Shoyu Park was built around the soy sauce brewery for visitors to learn, to eat, to play, and to shop, and you're encouraged to tour the brewery buildings, grab a bite to eat (and sample the soy sauce) in the restaurant, spend some time relaxing in the green spaces, and then grab a bottle of soy sauce (or two, or four) as a souvenir. Whether you want to learn the ins and outs of how soy sauce is made via the brewery tour (nicknamed "Soy Sauce School"), or just spend some time hanging out inside an old giant soy sauce barrel, it really is a bit like a soy sauce theme park.
Preparation: Soy, Wheat, and What Else!?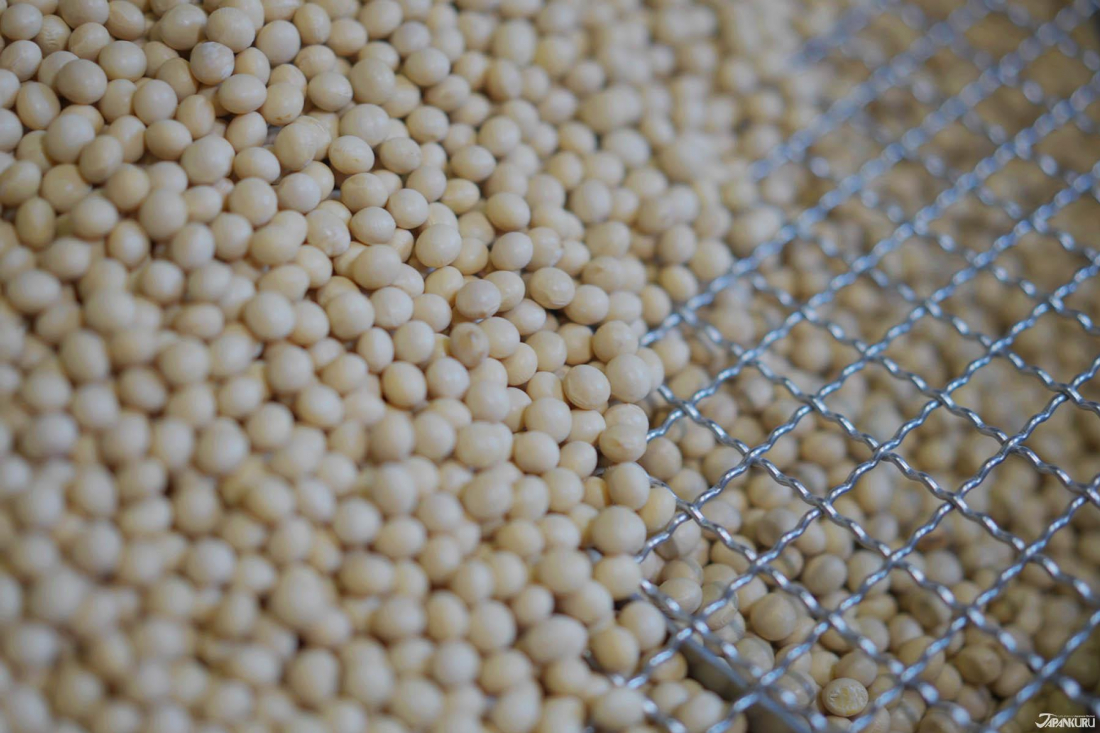 Whether you want to call it first period at Soy Sauce School, or just the first stop on the brewery tour, things start at the front warehouse, where the brewery's raw ingredients are stored. Soybeans are the most obvious ingredient in this unique brew, and a vitally important part, but there are two more ingredients used to make soy sauce: wheat, and salt. The same local wheat that has been grown in Saitama to help feed the people of Tokyo is used to make Kinbue soy sauce, and they store the sacks of grain and soybeans in this warehouse that's been in use for over a hundred years. Thanks to the good old-fashioned construction, it naturally stays nice and cool throughout the year without any air conditioning, keeping the ingredients fresh even through Saitama's warm summers.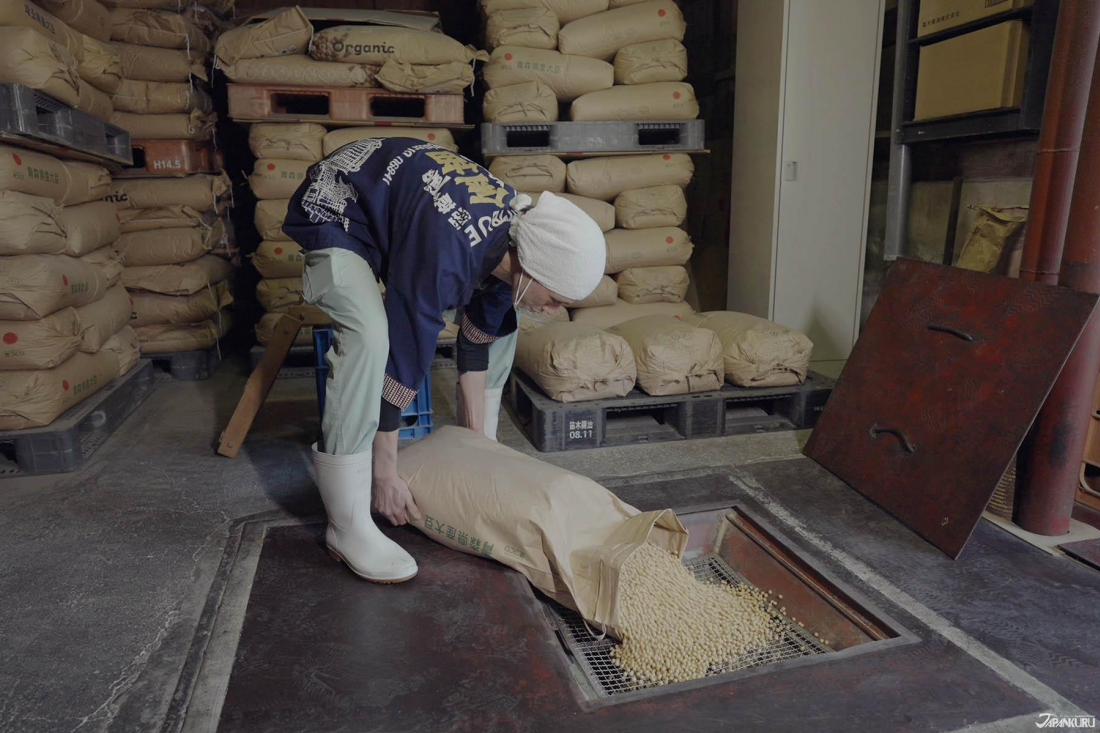 Students at the Kinbue Soy Sauce School receive a very special "textbook" before touring the brewery, and written on those pages are some pretty interesting soy sauce secrets. One of those has to do with the brewery architecture itself, and visitors might just notice it when they enter the storehouse: there's a trapdoor! It's not there to trap any potential soybean thieves, though. The door opens up to reveal a chute where wheat and soybeans are poured in batches of 1,000 kilos of soybeans plus another 1,000 kilos of wheat! All that wheat and soy gets vacuumed up, pushed through big red pipes outside, and pumped into other buildings, where staff can start steaming it all and kicking off the brewing process!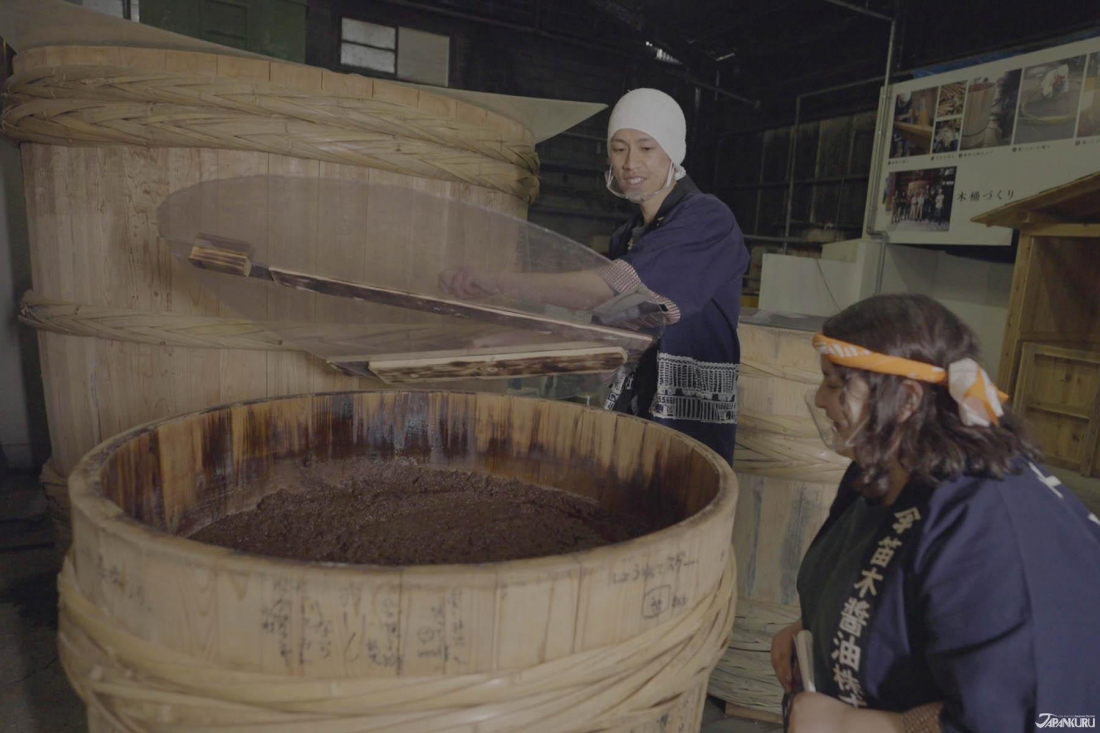 The magic behind soy sauce's delicious flavors actually comes from the fermentation. (If you've ever eaten a plain steamed soybean, you know that flavor definitely isn't there from the start!) The process of making soy sauce is actually a lot like making sake, which is fermented rice, or even the miso that goes into miso soup! All of these delicious Japanese products take time to ferment, whether they use rice or soybeans, and to develop the depth of flavor that makes them delicious. But there's actually one more secret ingredient behind that fermentation sake, miso, and soy sauce, and it's an essential part of the process.
The secret ingredient is called "koji," or sometimes "koji mold." Don't worry, this mold is where the magic starts! Koji is added to the steamed and mashed soybeans and wheat, where it grows and helps to break down the ingredients and produce sugars with a little koji magic. Mix it all up with plenty of salt water, and you've got "moromi," which is a step closer to the deep brown soy sauce we're waiting for.
Shoyu Brewing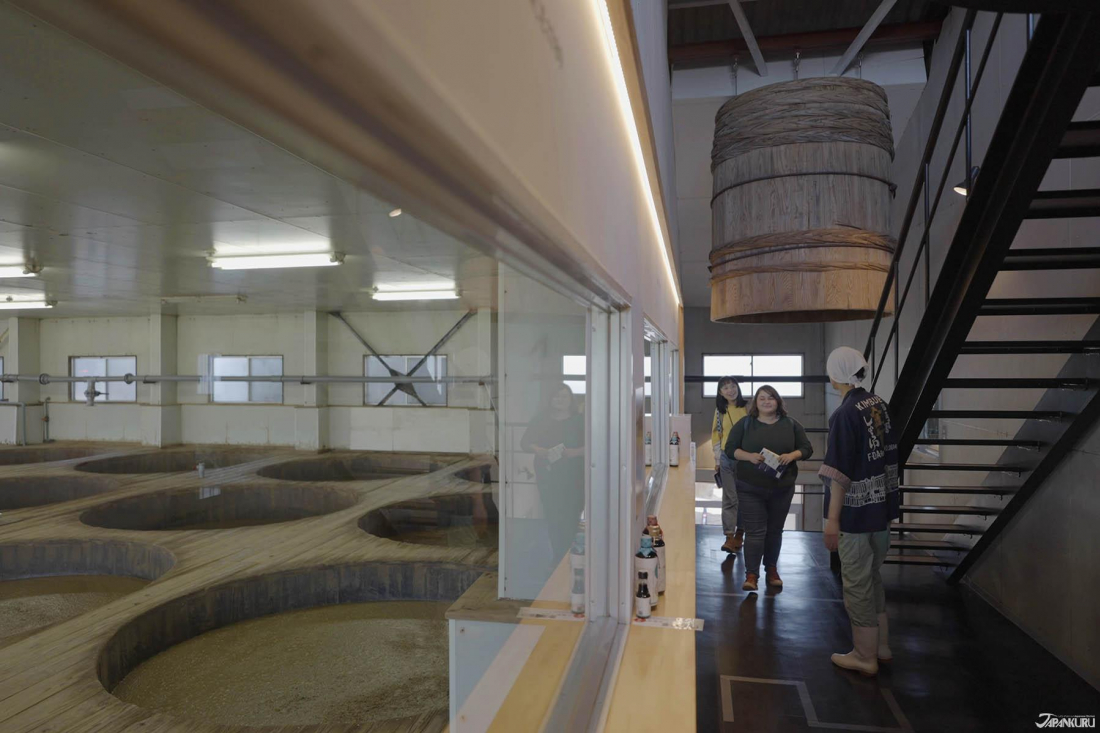 Our next classroom is one of the most exciting parts of the whole brewery: a warehouse of enormous vats, each full of moromi ready to age into soy sauce. These 38 huge vats are actually traditional wooden barrels, the same kind that have been used for centuries, with a platform built on top for easy access! Some of the wooden barrels at Kinbue Shoyu Park have been in use since the Meiji period (1868-1912), which means that the oldest ones are well over a hundred years old!
At Kinbue, they use the same "natural brewing" methods that have been passed down for generations. In these big barrels, the koji continues to break the soy and wheat down into sugars and amino acids, which invites helpful yeasts and lactic-acid bacteria into the mix, and produces flavorful compounds. This process lends soy sauce the flavors it's known for, from the intense savoriness we all love, to the touches of sweetness and acidity, and of course an aromatic scent. Soy sauce is an umami bomb thanks to the work koji does in this warehouse! Because they let the building's temperature fluctuate naturally, with the changing of the seasons, they can't rush the brewing process, and some of their brews ferment in the warehouse for years. But using the same wooden barrels for so many decades means that everything becomes thoroughly infused with the natural brewer's yeasts that make this local soy sauce special and unique!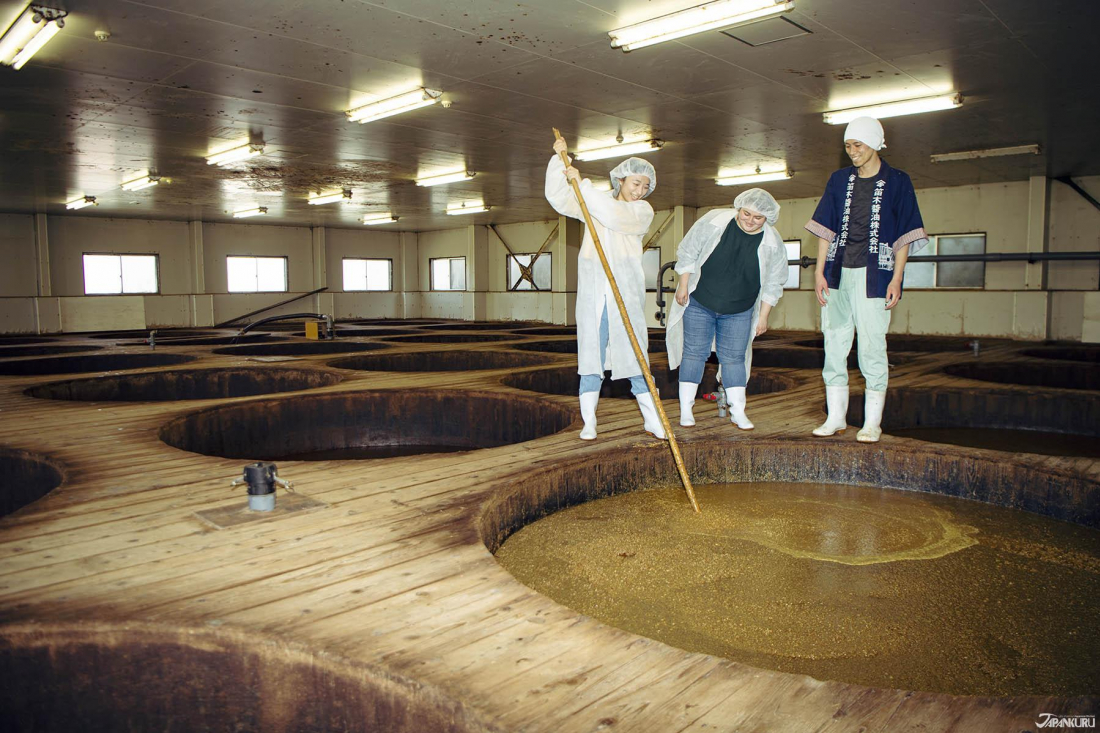 Just looking at the different batches, you can see the changes that result from the slow process of fermentation. Fresh batches of moromi are visibly bubbling with active fermentation, whereas aged batches are darker, with lots of the liquid evaporated off over the years.
When the brewery finally deems a batch ready, it's taken off to be strained and bottled, destined for sushi platters, stir-fries, or whatever else needs a little salty umami.
The Final Product (And Some Products for Sale)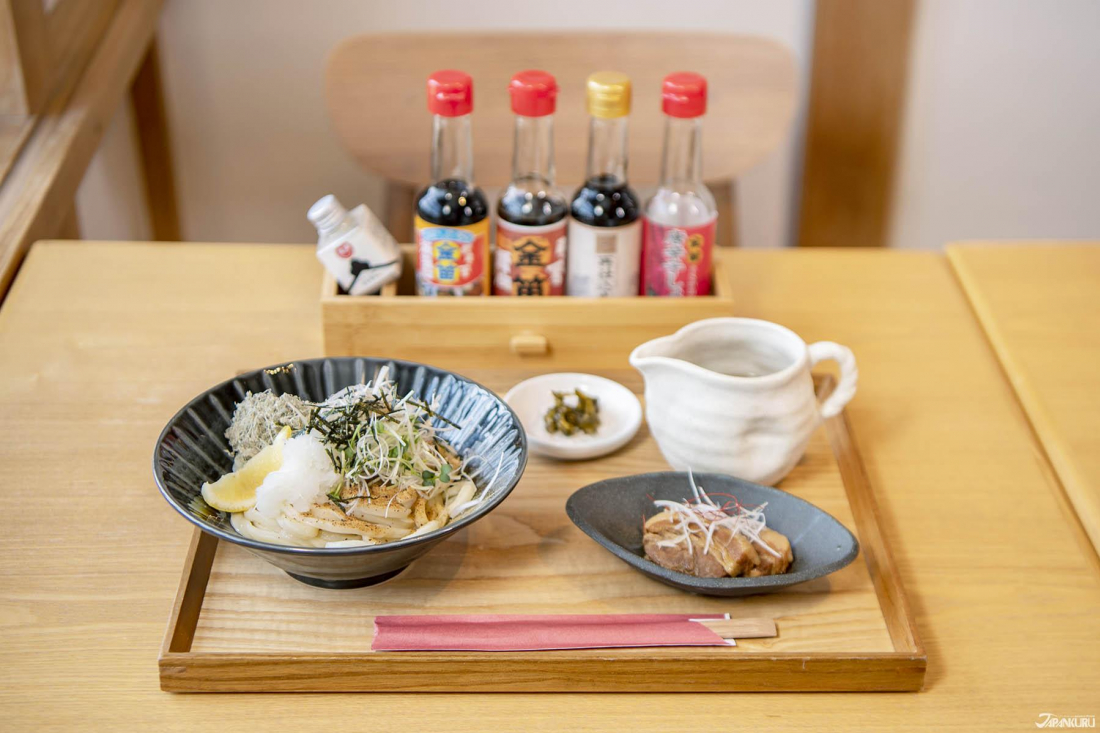 The brewery makes all kinds of soy sauce, and for visitors who are just about ready to dive into the barrels for a taste, there's the brewery restaurant! They even offer a special dish of "soy sauce tasting udon," which is ideal for sampling each of the 5 kinds of soy sauce found standard on the restaurant's tables. The soy sauce tray holds Kinbue's normal soy sauce, a reduced-sodium version, a soy sauce with added chili pepper, powdered soy sauce (perfect for keeping tempura extra crunchy!), and then their special "raw" soy sauce. When soy sauce is taken out of the barrels, it's first pressed to separate out all of the solids, but then it's usually boiled to extend its shelf life. But the raw version is left unboiled, essentially unpasteurized, which means it's extra flavorful. You don't get many chances to try raw soy sauce, so it's a rare treat! Although you can of course buy a bottle to take home, too.
(If you grab a meal during your visit, the Japankuru recommendation is to get the noodles with the kakuni pork, which makes the dish extra delicious.)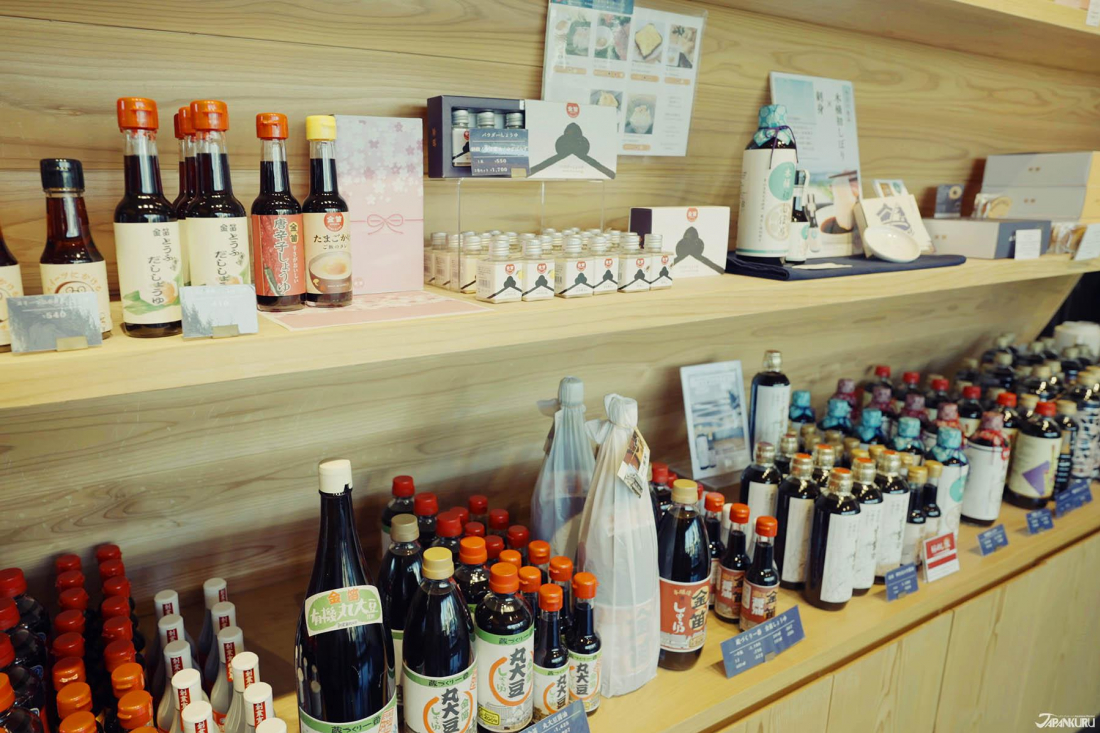 The gift shop is stocked with abundant soy sauce varieties, in bottles of all shapes and sizes. Want the perfect soy sauce for pouring on top of raw egg and white rice (AKA tamago-kake gohan, 卵かけご飯)? How about a particularly local brew, made with all local ingredients to suit local palates? Soy sauce made to pour over sweets and desserts? They've got it!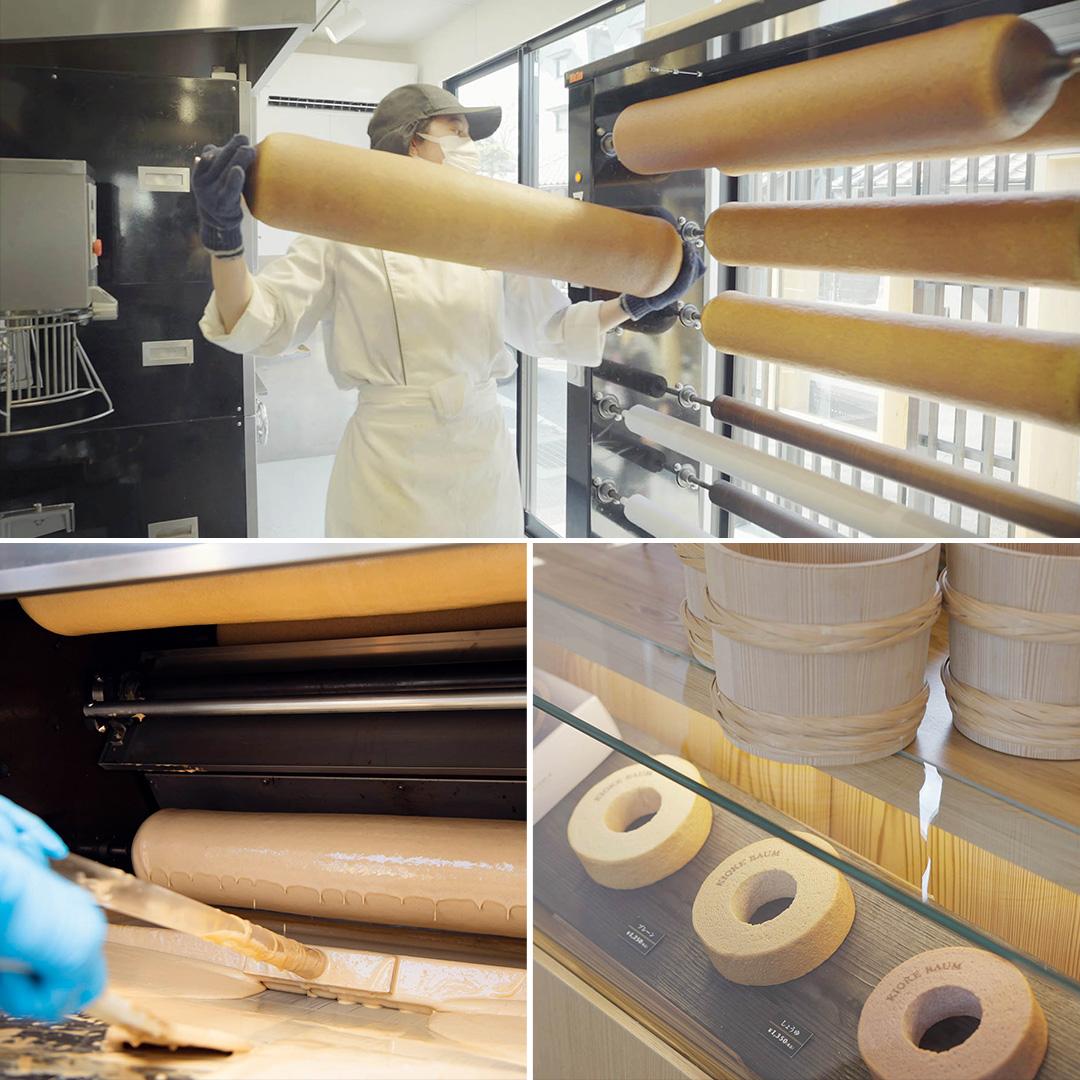 The newest addition to Kinbue Shoyu Park is a little trailer, built for one very special purpose: to bake baumkuchen. This traditional German cake baked in many thin layers is quite popular in Japan, but the cake here is extra special. Kinbue makes their own "Kioke Baum," which means "wood-barrel baumkuchen," and they bake up a soy-sauce flavored version! It's a totally different way to sample the flavor of their soy sauce, which adds just a kiss of umami flavor to the cake.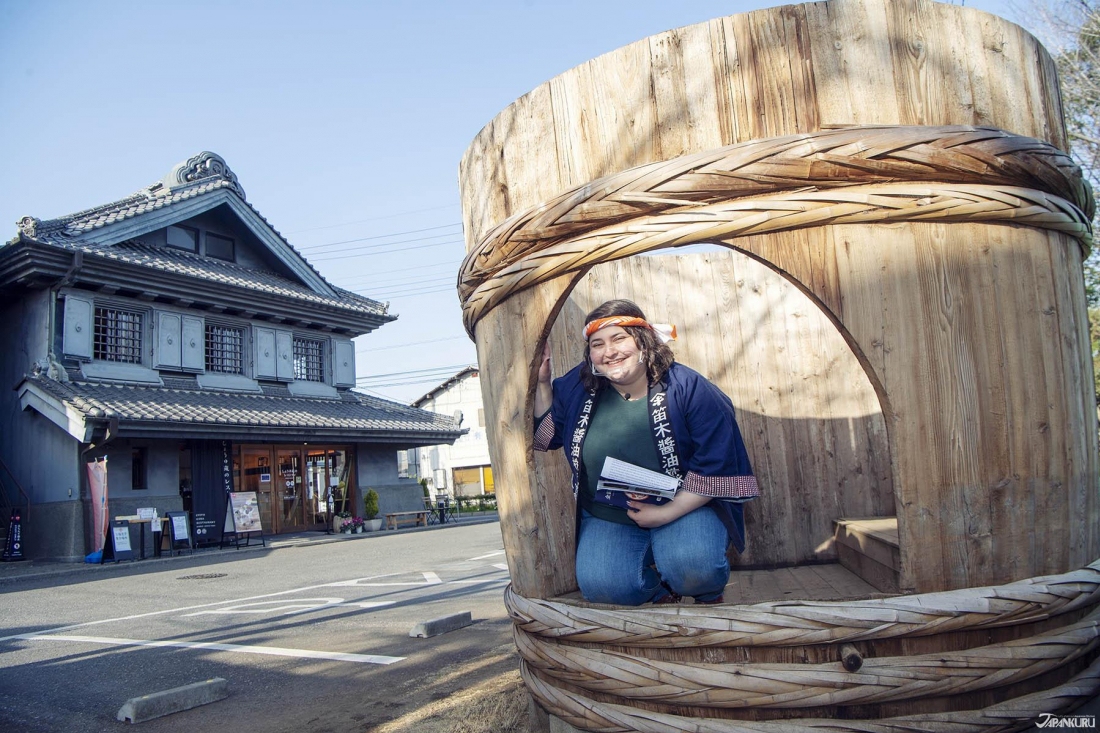 For visitors all stuffed with udon, cake, and plenty of soy sauce, Kinbue Shoyu Park has a few nice places to take a break and just hang out. The "nonbiri hiroba" is a space that's really just meant for relaxation, complete with a hammock in the shade, and nearby is a playground for kids.
And don't forget to take a photo inside the wooden soy sauce barrel when you visit! This barrel is just like the ones they use to brew the soy sauce, so you can pretend you're a fresh bubbly batch of soy sauce and pop up over the edge! Or less energetic photo subjects can always pretend to be a calm three-year brew, contently fermenting deep inside the barrel.
See More of Kinbue Shoyu Park
While you brainstorm what kind of soy sauce pose you'd like to make while inside the wooden barrel, don't forget to head north to Saitama on your next trip to Tokyo, and become a student at Kinbue Shoyu Park's Soy Sauce School!
For more info and updates from Japan, check Japankuru for new articles, and don't forget to follow us on twitter, instagram, and facebook!
Source: JAPANKURU