Top 5 Things to Do in Ueno, Tokyo
From pandas and broad park paths, to narrow alleys filled with local nightlife, this is Ueno!
A Quick Look at Ueno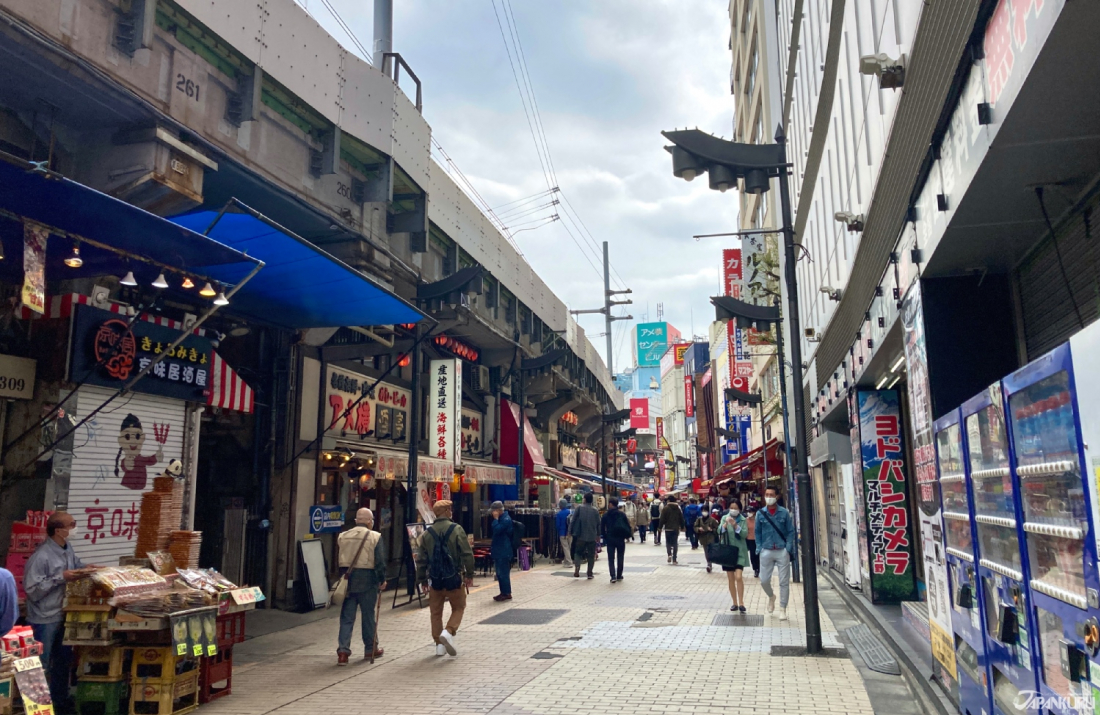 Like so many parts of Japan, the Ueno neighborhood is a unique mix of new and old. Ueno Park was once the site of politically-driven samurai battles, but the area has always been part of Tokyo's lower-class "Shitamachi" area, encouraging the growth of lively markets and down-to-earth nightlife. Nowadays, travelers flock to the wide, flower-filled avenues of Ueno Park, not to mention its popular zoo and many museums, but the crowded alleys like Ameyoko are also filled with a diverse variety of shops, bars, and restaurants, making Ueno an ideal hangout spot for just about any kind of traveler!
① Browse the Wares Along Ameya Yokocho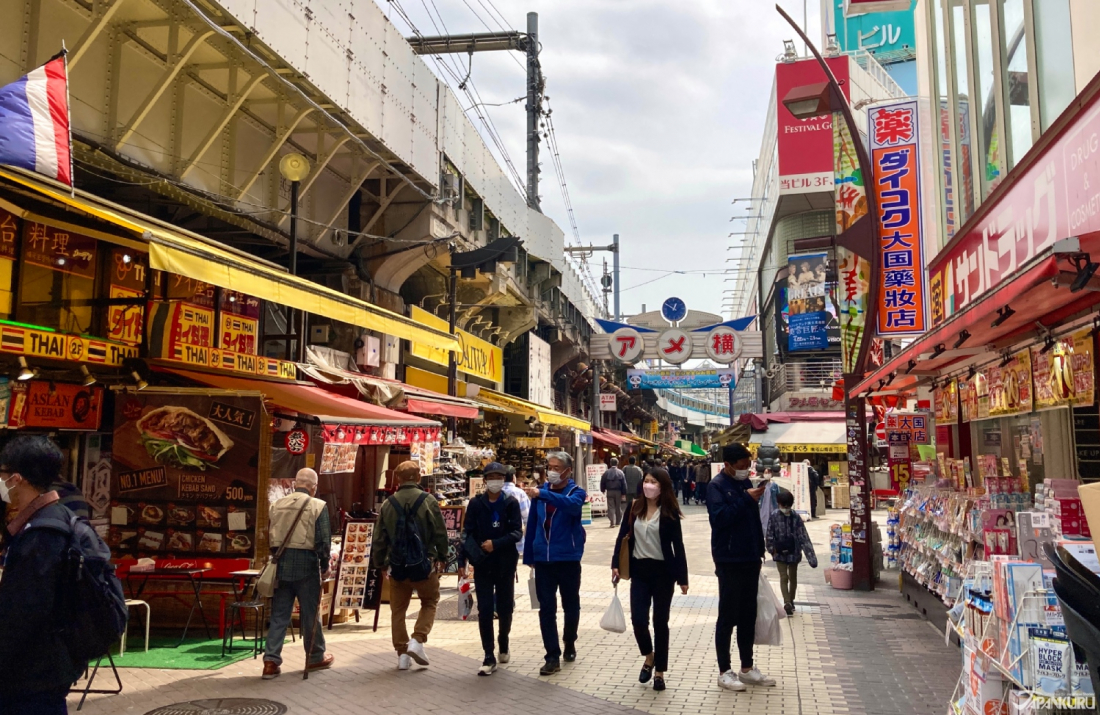 For a glimpse of Ueno history, there's no better destination than the market street of Ameya Yokocho, or Ameyoko as the locals call it. Ameyoko is a crowded pedestrian street running along the train line from Ueno Station to Okachimachi Station, lined with shops selling cooked street food and fresh seafood, enormous bags of tea and huge sacks of dry goods, imported delicacies and traditional Japanese snacks, plus clothes, shoes, accessories, and just about anything else you might want. Ameyoko originally sprang up after the war, taking over the bombed ruins of a previous shopping and residential area, and the unique mix of Shitamachi residents built up their temporary stalls into the frenzied marketplace found today. It's only about a 10-minute walk from one end of Ameyoko to the other, but with all the delicious smells, unique goods, and crowds of pedestrians there to catch your attention, it's easy to spend hours wandering through the market.
Ameya Yokocho/Ameyoko (アメヤ横丁/アメ横)
10 Ueno, Taito City, Tokyo
Official Website (jp)
Want a little Ameyoko trivia before you go? The name Ameya Yokocho dates back to the market's early days, but there are actually two theories regarding the name's origins. Some say this Yokocho (alley) was named after the many shops that sold candy (ame/飴 in Japanese) in the postwar period, despite Japan's sugar shortages. Others think the street was named after the American army surplus stores that popped up around the same time!
② Relax in Ueno Park
Ready to finally venture into the famous Ueno Park? This large urban park sports broad paved paths, shady trees, and cool ponds full of lotus flowers and lilypads, all of which make it a popular oasis throughout the year. Joggers run past early in the morning, and the two cafes near the park's large fountain fill throughout the day with customers who come to sip their coffee in the fresh air. But Ueno Park is undoubtedly most popular during the spring, when the yearly cherry blossom festival draws enormous crowds to revel under the flowers. More than 800 cherry trees explode into bloom during late March and early April each year, and the tree-lined road running through the center of the park is one of Tokyo's must-see hanami spots. (Even during the COVID-19 pandemic, when cherry blossom viewing picnics have been temporarily banned, the park still sees a huge influx of people during cherry blossom season, enjoying the beauty of this open-air event.)
Ueno Park (上野恩賜公園)
Uenokoen, Taito City, Tokyo
Official Website (en)
③ Meet the Pandas at Ueno Zoo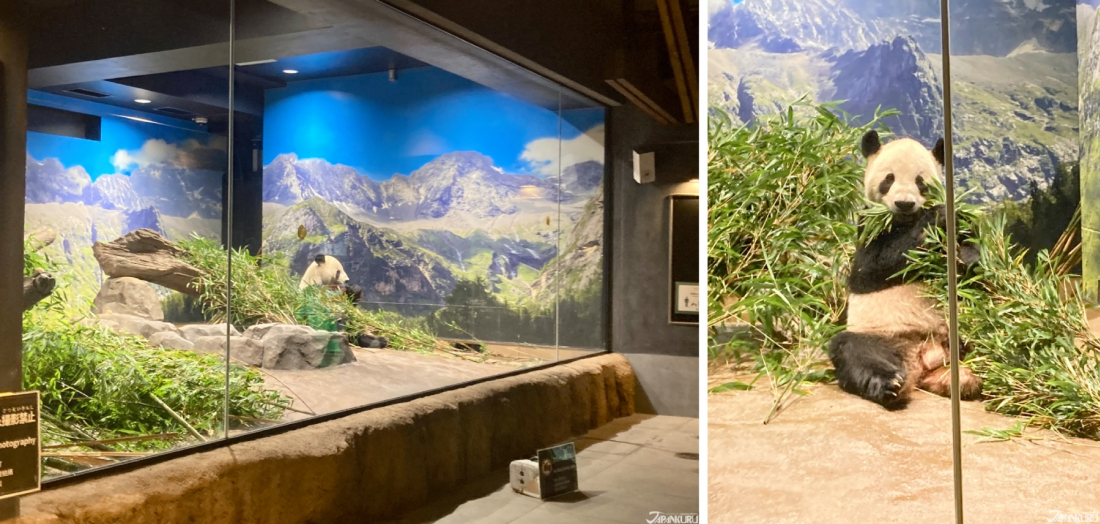 Ueno Zoo is the oldest in Japan, and since its establishment in 1882, the zoo has grown to house over 3,000 animals from 400 different species. While the urban location (right inside Ueno Park and just steps from Ueno Station) has kept the zoo moderately compact, animal lovers young and old can appreciate the many different areas and animal exhibits found right in the middle of the city, from huge elephants to little Japanese macaques. Of course, the most popular residents of the zoo are more recent arrivals! The first giant pandas came to Ueno Zoo on loan from China back in 1972, and a series of furry friends have followed. The zoo's current breeding pair are Ri Ri and Shin Shin, who gave birth to daughter Xiang Xiang in 2017, and then to new twins (Xiao Xiao and Lei Lei) in 2021! There's nothing more relaxing than watching Ueno's content pandas climbing tree branches and munching on enormous piles of bamboo, and the charismatic black-and-white bears have become a symbol of Ueno. Plus, with fairly reasonable ticket prices (about 600 yen for adults and free for children), Ueno Zoo is a popular destination for families and anyone looking for a fun activity out in the fresh air.
Ueno Zoo (上野動物園)
9-83 Uenokoen, Taito City, Tokyo
Official Website (en)
④ Visit One of the Many Ueno Museums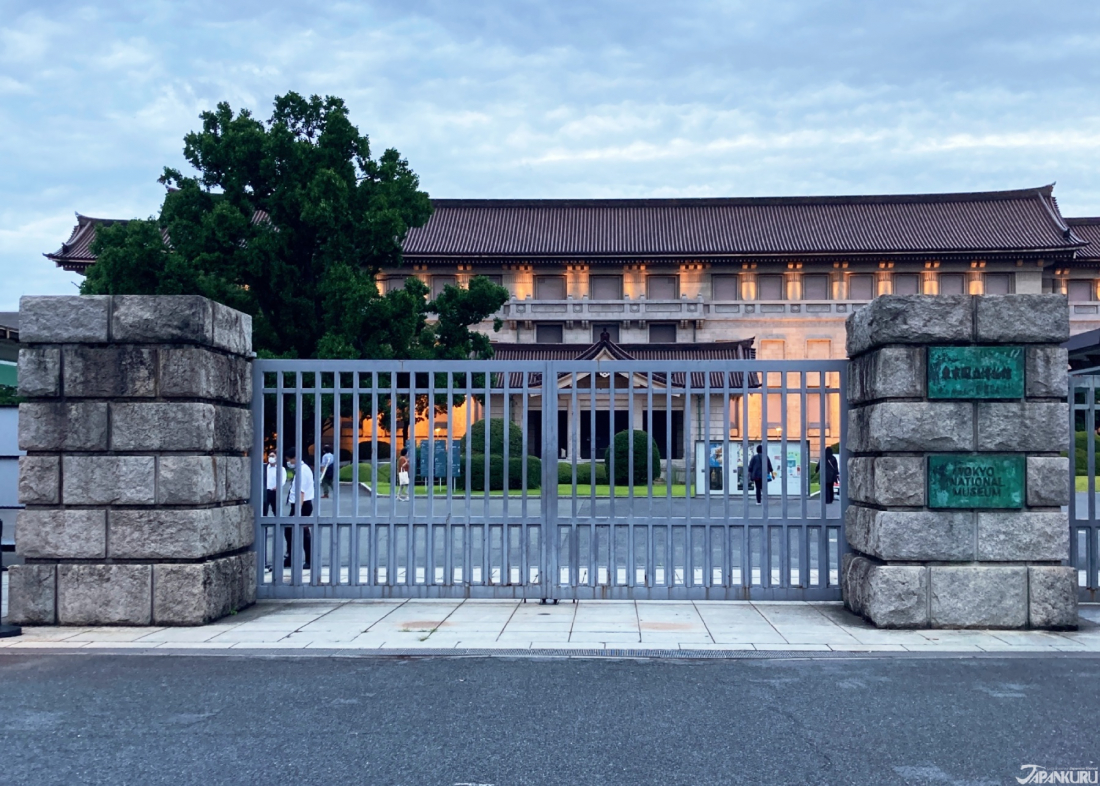 No matter where your interest lies, Ueno is heaven for museum lovers, with half a dozen different institutions clustered around Ueno Park, each sporting its own permanent collections and temporary exhibitions. Just the Tokyo National Museum alone has five different buildings, each displaying different collections of art and antiquities from Japan and other parts of Asia, with frequent traveling exhibitions visiting the Heiseikan building. On the northwestern corner of Ueno Park, the Tokyo Metropolitan Art Museum is always changing up its collections, often displaying work from lesser-known Japanese artists, national art competitions, local caligraphers, or even the thesis work of nearby Tokyo University of the Arts students.
On the other side of the park's large fountain, three museums (plus the Bunka Kaikan concert hall) border the eastern side of the park. The National Museum of Nature and Science has dinosaur fossils, rooms dedicated to Japan's rarest species, and exhibitions on the evolution of both life and technology. After major renovations that closed the National Museum of Western Art for a year and a half, the museum is finally back to presenting the public with a collection of Western art mainly focused on art from the past couple centuries, featuring Renoir, Van Gogh, Picasso, and Monet. The Ueno Royal Museum was established to shine a light on new generations of artists, and it does often feature contemporary work, but it also provides space for a wide variety of unique traveling exhibitions.
For a different kind of museum experience, head to the southern tip of Ueno Park to check out the Shitamachi Museum, which is all about the history and culture of Tokyo's Shitamachi area, shining a light on the lives of normal people living in the city. Whether your tastes tend towards art, history, or science, there's a museum in Ueno for you!
⑤ Eat, Drink, and Be Merry Under the Train Tracks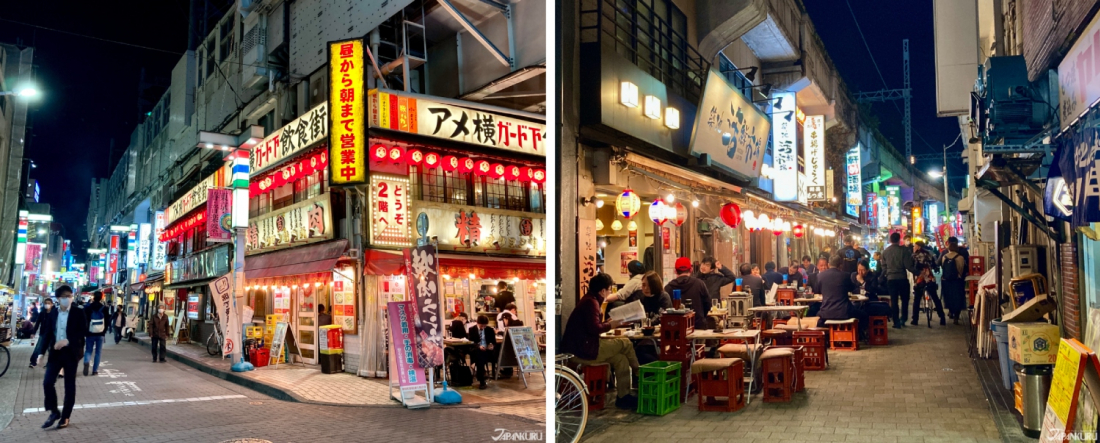 After a full day enjoying the park, the zoo, the museums, and the market, Ueno is an ideal place for a cold drink and a bite to eat. The area is known for casual nightlife, and on top of the many shops and stalls along Ameyoko, there are quite a few restaurants, bars, and izakaya crowded into the criss-cross of alleys. Head under the train tracks for local favorites, serving yakitori and other hearty otsumami ("drinking snacks") to go with draft beer and whisky highballs, and flimsy seating spilling out the door onto the path out front. Or explore the side streets for quieter spots, family-friendly restaurants, and a couple of more high-brow bars serving fancy cocktails.
Around Ueno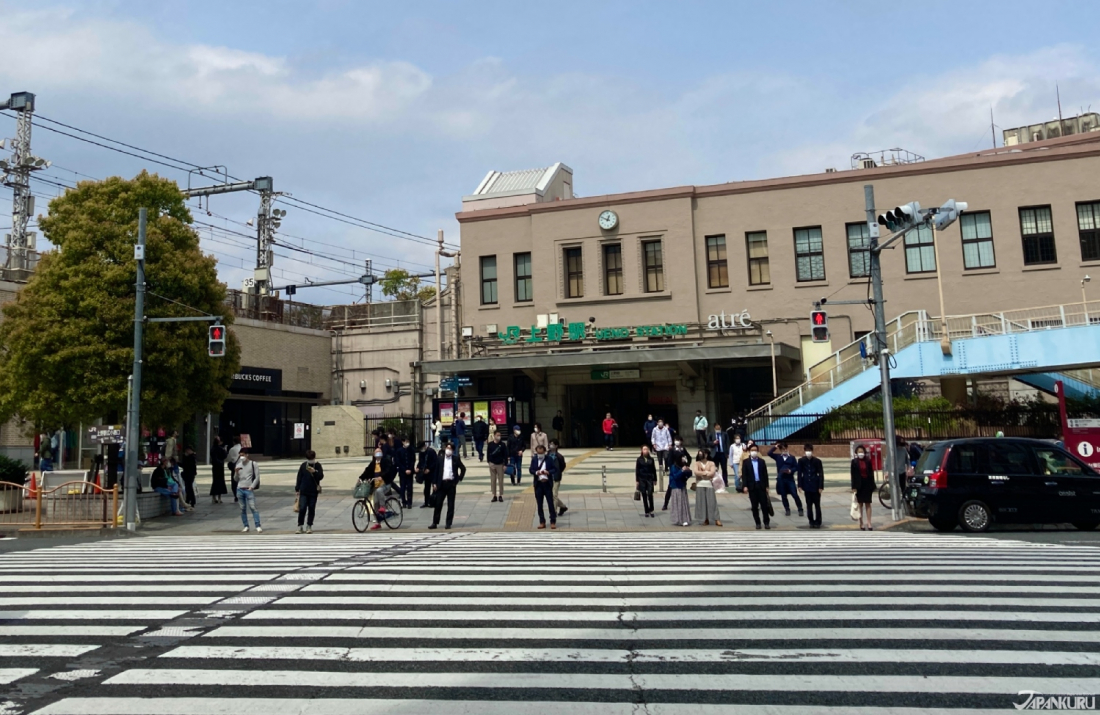 Ueno's past has shaped it in unique ways, leaving a history-filled park studded with cherry blossoms, museums, and a famous zoo, just across the street from a bright postwar marketplace with lively bars and eateries. It's an easy spot to while the time away, but for anyone looking to see as much of Tokyo as they can in a limited amount of time, Ueno is also quite conveniently located. To the east, the Asakusa area and its famous Sensoji Temple are just a 5-minute subway ride (or 30-minute walk) away, and from Asakusa the towering Tokyo Skytree is easily accessible. To the west, the Yanesen area has become increasingly popular among young travelers in recent years thanks to a number of trendy new shops, restaurants, and cafes, alongside the enduring retro-cool of the Yanaka Ginza shopping street. Finally, just 3 minutes on the train or 20 minutes on foot heading south, you'll find Tokyo's center for arcades, anime goods, technology, and all things nerdy: Akihabara. With so much to see in the area, you might end up spending much more than a day in and around Ueno!
---
Basic Info
Name: Ueno (上野)
---
For more info and updates from Japan, check Japankuru for new articles, and don't forget to follow us on Twitter, Instagram, and Facebook!
Source: JAPANKURU