Gunpla Beginners Welcome! A Guide to Starting Your Own Gundam Adventures
Gunpla is short for "Gundam plastic models," and this time, I'll be talking about how to begin with this new hobby – and why!
All About Gunpla
Last time, I wrote all about Mobile Suit Gundam, and a little about the famous Gundam plastic robot models. This time, I'm here to talk a little more about this addictive hobby!
As the name implies, Gunpla are plastic models sold by the Bandai company, and when they say "plastic model" they mean it, since standard Gunpla models are entirely free of any metal pieces. That makes them light and easy to move, so that you can pose them in whatever cool positions you can dream up! Recent models, in particular, have been made with movement and manipulation in mind, so that you can accurately recreate scenes from the Gundam anime, and get that post just right. Gunpla models can be made and moved however you like, and you can do it at your own pace, in your own way, which is one reason why they're so popular. You can follow the instruction manual word for word, or you can just tackle the project in whatever way feels right for you. Plus, the feeling you get while you put your Gunpla together step by step, watching it come together from start to finished product, is one that you just can't replicate with premade plastic figures. There's just nothing like that glowing sense of accomplishment you get from admiring a finished Gunpla model that you made yourself. For me, that's the very best thing about Gunpla!
Why You Should Love Gunpla Too
Gunpla fans might love being able to move and pose the finished models, but that's not all there is to love. When it comes to the modern models, they're also easy to put together, and manufactured at a quality level made to please even perfectionist model-makers. The very first Gunpla kits sold in the '80s only came in one or two solid colors, and model makers had to carefully paint each part to recreate the color schemes and patterns seen in the anime. These days, all the parts come in different colors, meaning they'll look just like the anime as soon as you put them all together, plus all the fiddly parts keep getting easier and easier to cut apart and fit together. These days, there's nothing for beginners to fear!
Start to finish, from the time spent admiring all the cool box art on the store shelves, to the moment you choose the perfect kit and open the box in anticipation as soon as you get home, all the way through the construction until you can pose your finished plastic model, every part of the Gunpla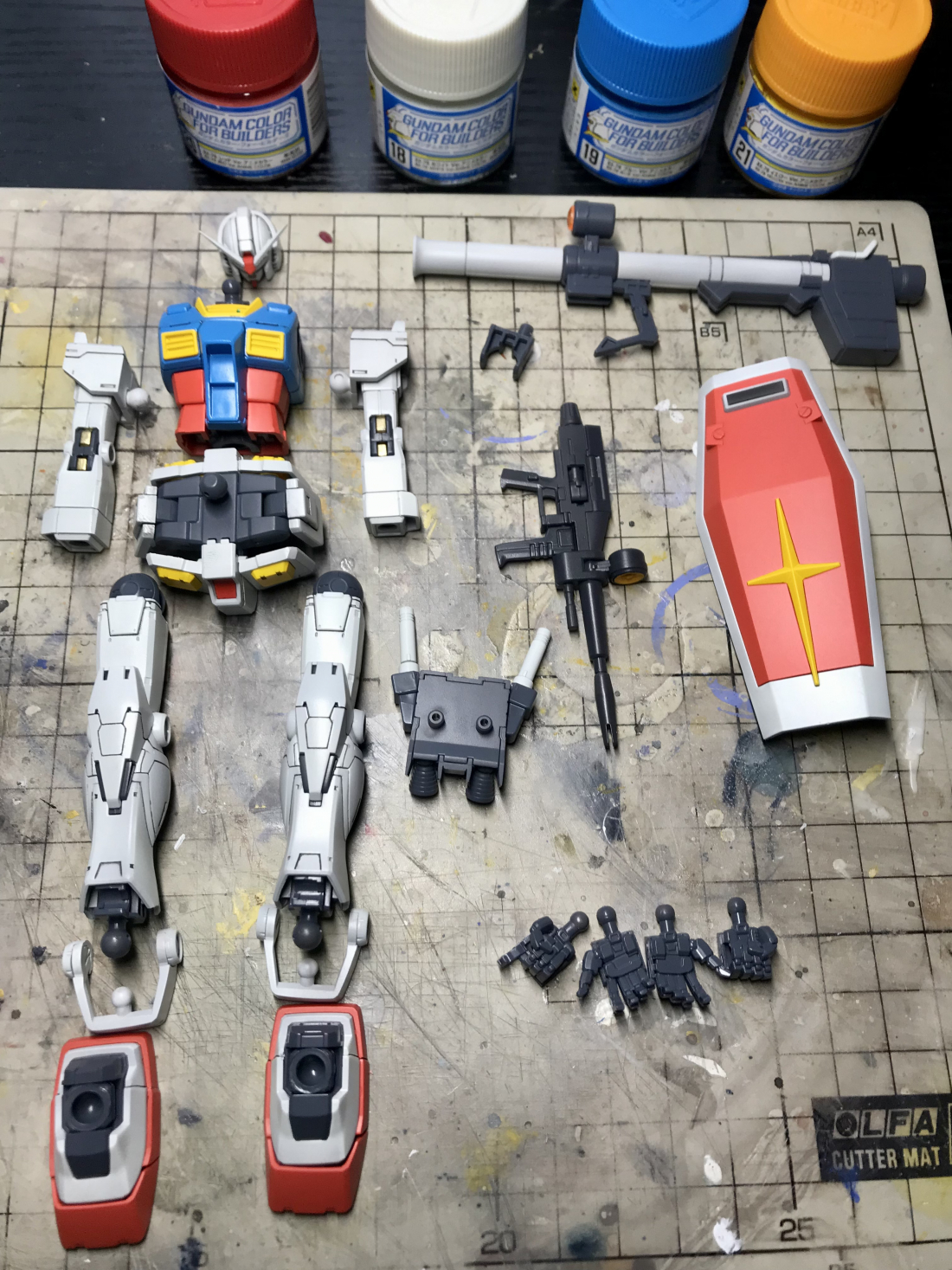 Gunpla Sizes
Gunpla sizes can be a little confusing to beginners, because the numbers you see aren't usually the model height, but are actually "scale." As in, 1/100 models are 1/100th of the size of the giant robot depicted in the anime. These are the standard sizes, from smallest to largest:
●SD: about 80 mm
●1/144 Scale HG (High Grade)/RG (Real Grade): about 125 mm
●1/100 Scale MG (Master Grade)/"RE/100″ (Reborn-One Hundred): about 180 mm
●1/60 Scale Perfect Grade: about 300 mm
●1/48 Scale Mega Size Model: 375 mm
The model sizes are separated into different brands, but the most popular of those brands are the HG and MG lineups, which encompass a wide variety of products.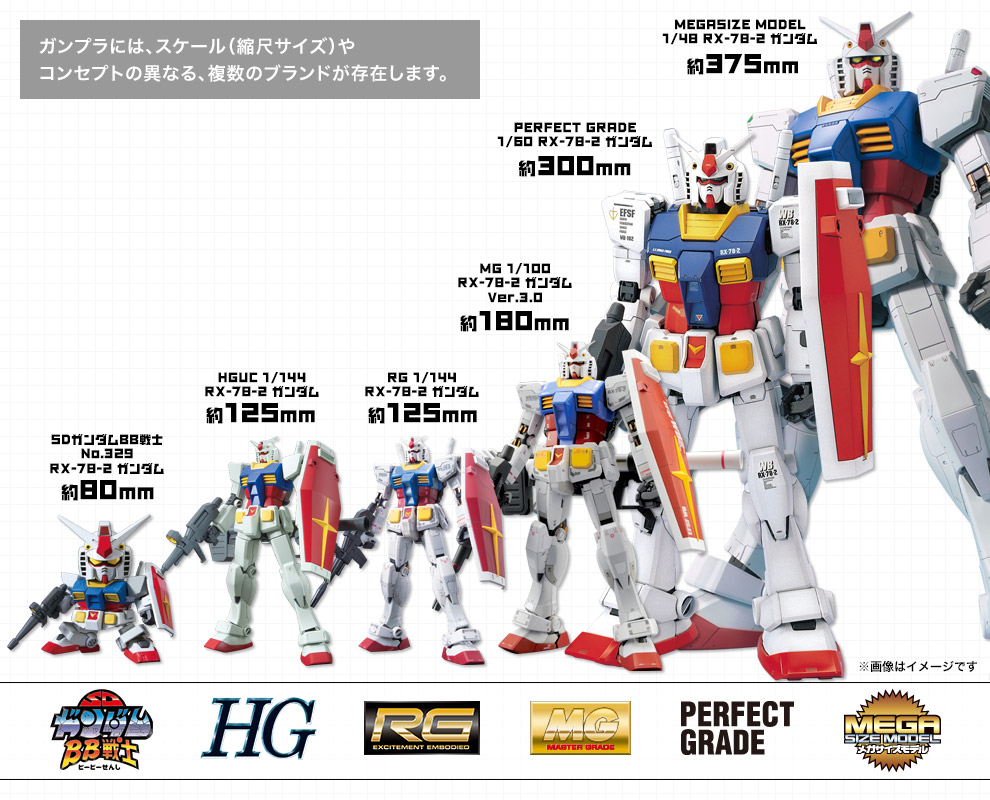 Where to Start With Gunpla
Now you might be thinking, "there are so many different brands and models, where do I even start?"
An excellent question!
Getting started can be the hardest part for a hobby like Gunpla. Of course, there are plenty of books and magazines all about Gunpla, so you should give them a look before you start. If you see something you want to tackle, then go for it! But if you're still not sure, I'd recommend an "EG" model.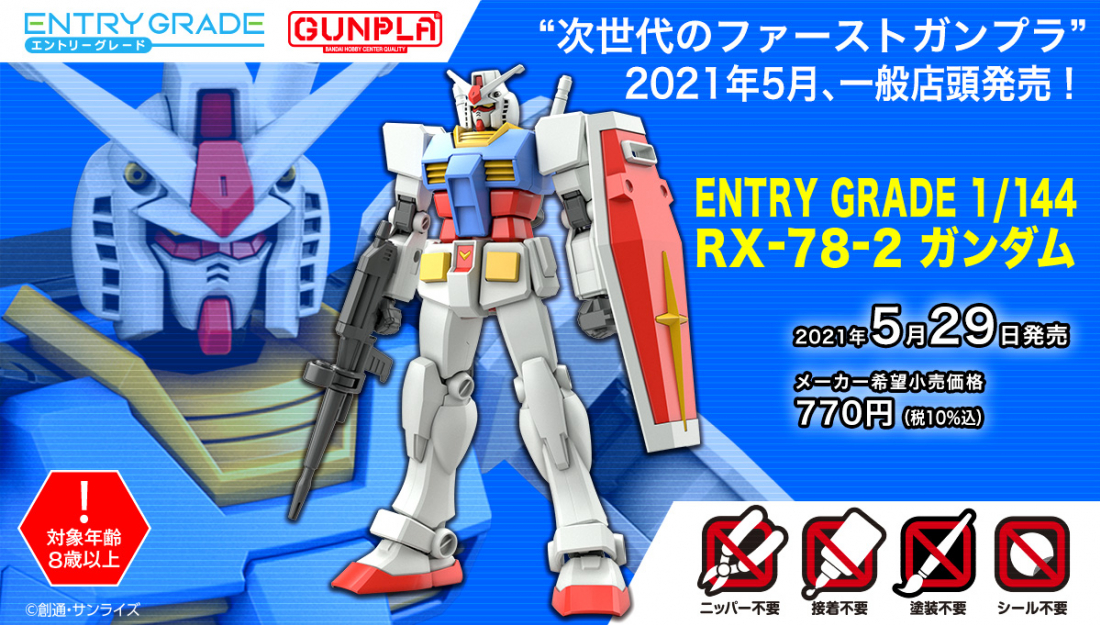 Why Start With EG (Entry Grade) Gunpla?
Entry Grade Gunpla, standardly referred to as "EG," are a new addition to the plastic model lineup, and they only hit store shelves in 2021. As the name implies, these entry-grade kits are made for newcomers, so they're fairly low-priced, and best of all, they can be put together without a single model-making tool! The standard toolkit for plastic model making usually includes things like nippers/wire cutters and a craft knife, but you don't need any of that for these EG models, which use parts that can be pulled from the runners (the frames that model parts come in) by hand, and then easily popped together. The models come together in a series of satisfying snaps thanks to the "snap-fit" adhesive-free system, which has just about become standard for Gunpla in recent years.
As of fall 2022, the EG lineup includes the 1/144 RZ-78-2 Gundam, the 1/144 Strike Gundam, and the 1/144 ν Gundam. Since it's a new Gunpla brand, this might seem like a disappointing number of options, but since each of the models plays a major role in the anime, they're pretty popular! The EG brand has actually proven popular enough that they've started producing Doraemon and Kamen Rider plastic models as well.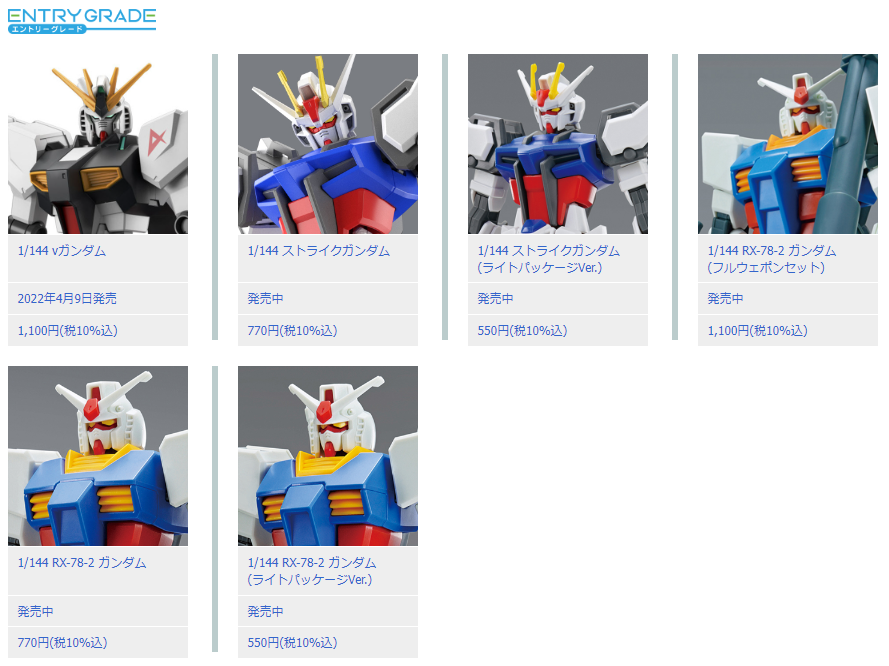 EG Gunpla models are nothing if not simple to put together! Since you don't need any special tools, you just pull the runners out of the box, and follow the instructions in the box to fit the pieces together. They tend to keep the number of different parts to a minimum, as well, so with an EG kit you can build yourself a cool new Gunpla in just an hour!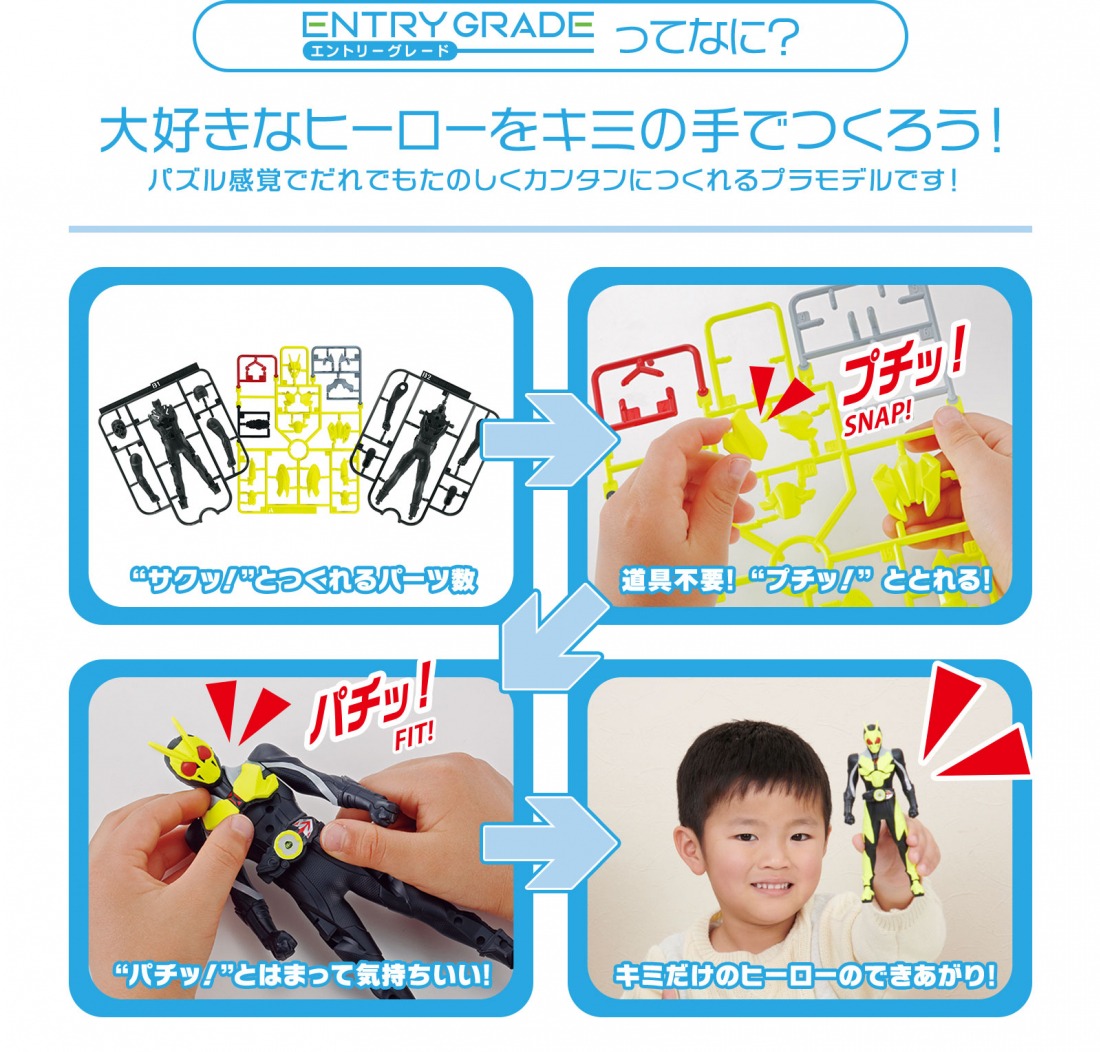 Getting The Most Out of Your Gunpla
EG Gunpla are easy to put together, so they're ideal for beginners, but I'd recommend them for more experienced plastic model hobbyists as well. The reason? Because these extra-simple models are perfect for customization! The fun of Gunpla isn't over when you finish putting together the model – the real fun begins when you take that Gunpla and "remodel" it to match your own tastes, really making it your own! You can tweak proportions, and repaint sections to match the "original colors," and much more – but that's a topic for another day. Suffice it to say, the simplicity of an EG model makes it a great candidate for customization! But it's already cool without any extra modding, so what you do with it is up to you!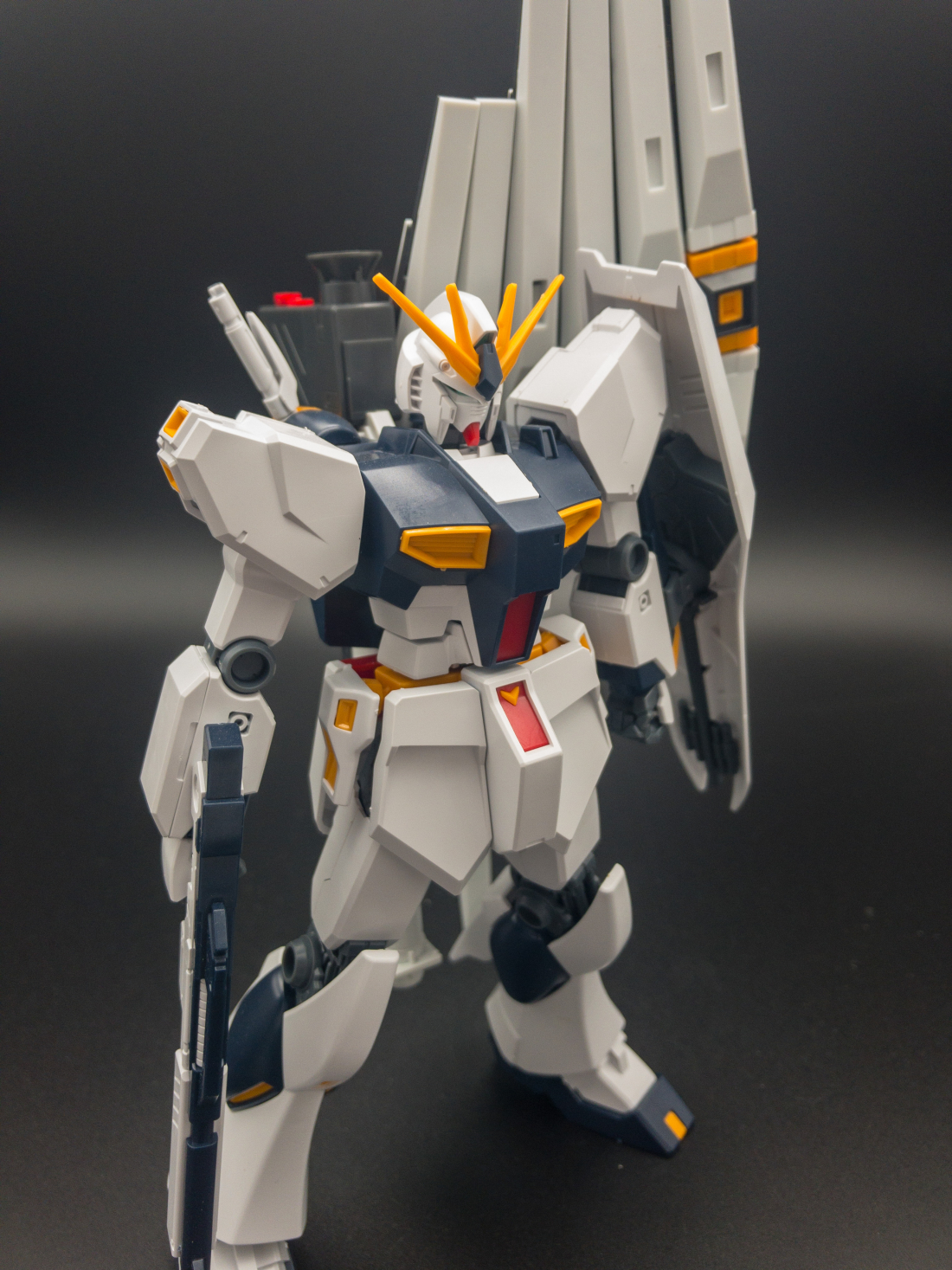 In Conclusion
Once again, this is starting to run a bit long, but before you go I'd like to show you the EG v Gundam model that I put together. I did a little bit of "remodeling" on this Gunpla, but none of it was very difficult. I just painted on a little bit of extra detail!
Readers, one and all, I wholeheartedly invite you to make your own debut in the world of Gunpla!
And for now, be sure to check out my Twitter for new posts about Gunpla every day!
Talk to you again soon!