The Ghibli Museum vs. Ghibli Park's Grand Warehouse: Which to Visit in Japan
Love Ghibli but strapped for time while visiting Japan? Here's how to decide between the Ghibli Museum and Ghibli Park!
Ghibli Destinations in Japan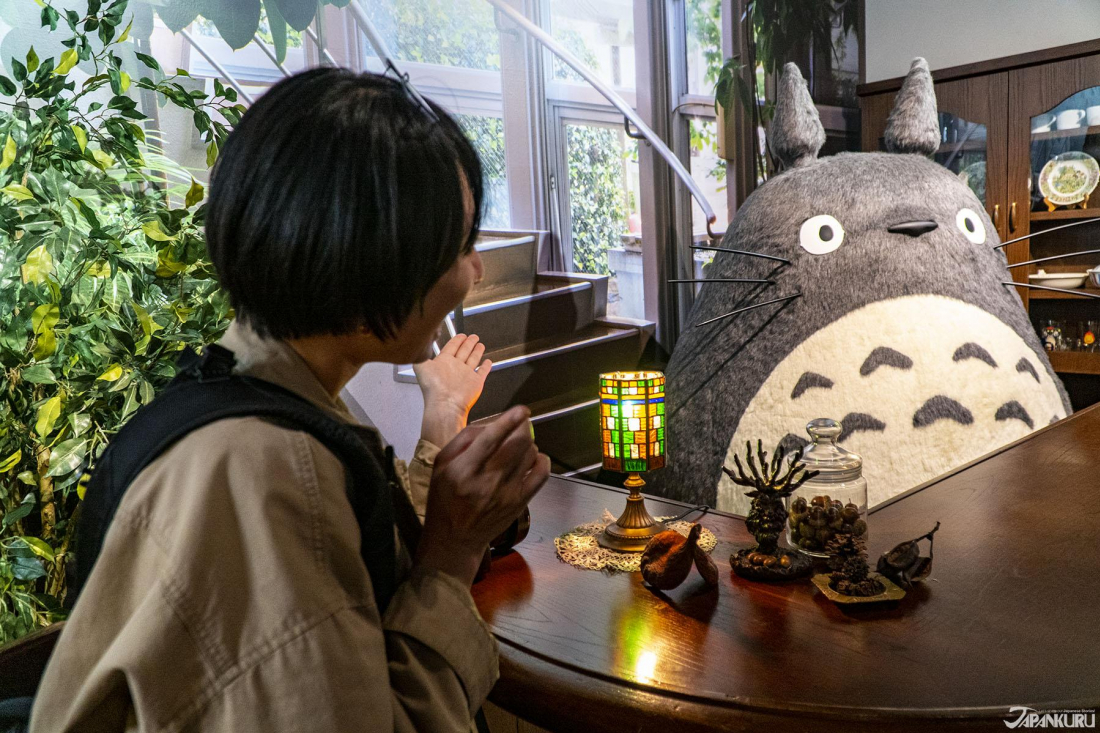 For fans of Studio Ghibli, and all of the studio's famous animated films (My Neighbor Totoro, Spirited Away, the list goes on…), there's no doubt that a trip to Japan is a once-in-a-lifetime opportunity to bask in Ghibli heaven. The country is packed with everything Ghibli, from the real-life spots that inspired the directors and background artists, to shops selling the cutest possible Ghibli merchandise, and – until recently – one must-see Ghibli-themed destination: the Ghibli Museum. But the recently-opened Ghibli Park facilities have stolen the throne from the museum, taking its place as the most talked-about Ghibli spot in Japan, and causing travelers to ask, "if I can only visit one, which Studio Ghibli destination should I choose?" Especially now in the early days of the park's opening, with only the Ghibli Park Grand Warehouse (just one section of Ghibli Park) open to ticket-purchasers abroad, it's hard to know which to visit if you only have enough time in the itinerary to spend one day on Ghibli. So, the Ghibli Museum vs. Ghibli Park and the Grand Warehouse, which to choose?
Location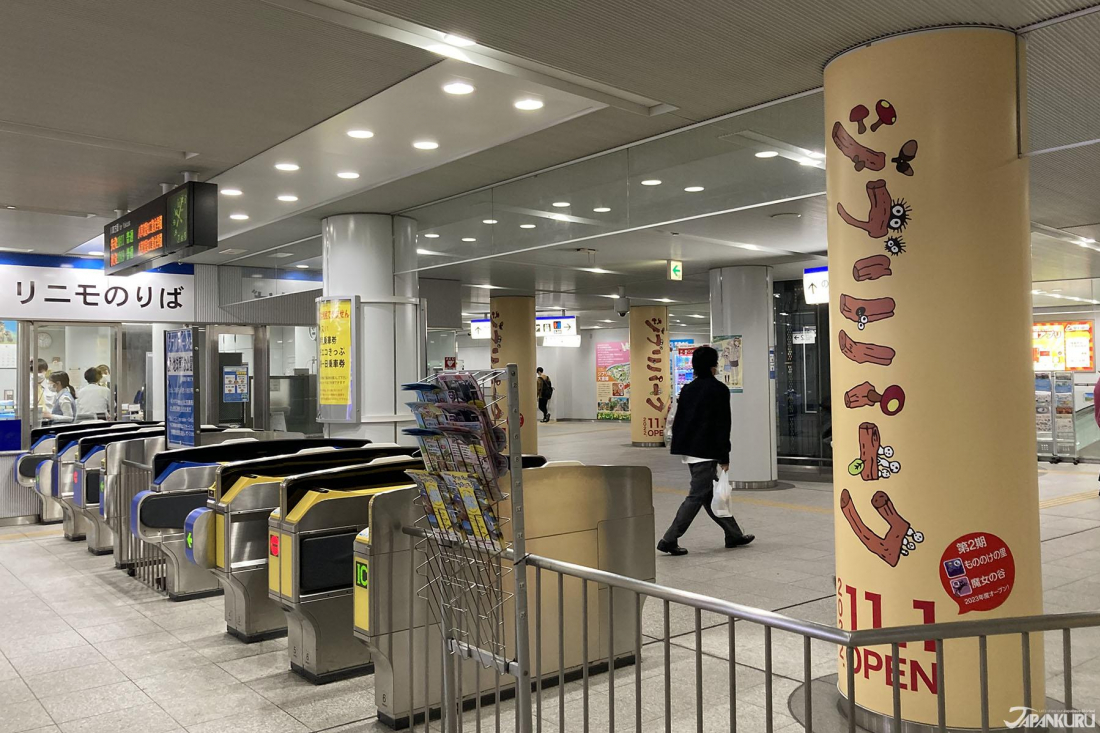 Perhaps the easiest deciding factor for many travelers will be the location. Simply put, the Ghibli Museum is in Tokyo, and Ghibli Park is in Aichi Prefecture – a separate region of Japan, hours away by train. (See more on how to get to Ghibli Park here!) Of course, for committed fans, this might not be all that much of an obstacle. And it only really matters if you're spending most of your time in Tokyo, anyway. In practice, starting from a central location like Tokyo Station, the Ghibli Museum is about 45 minutes and 700 yen away (it's in a slightly suburban area), whereas transportation to Ghibli Park is about three hours and 11,600 yen. Is that too much for Ghibli? That's for you to decide.
Plus, there's always the option of staying in Nagoya while you visit Ghibli Park. This central-Japanese city is less of a tourist magnet than Tokyo or Kyoto (about 1.5 hours in either direction via the shinkansen), but it has lots more to offer travelers than just Ghibli Park. A few days in central Japan is never a bad addition choice when traveling through Japan!
Size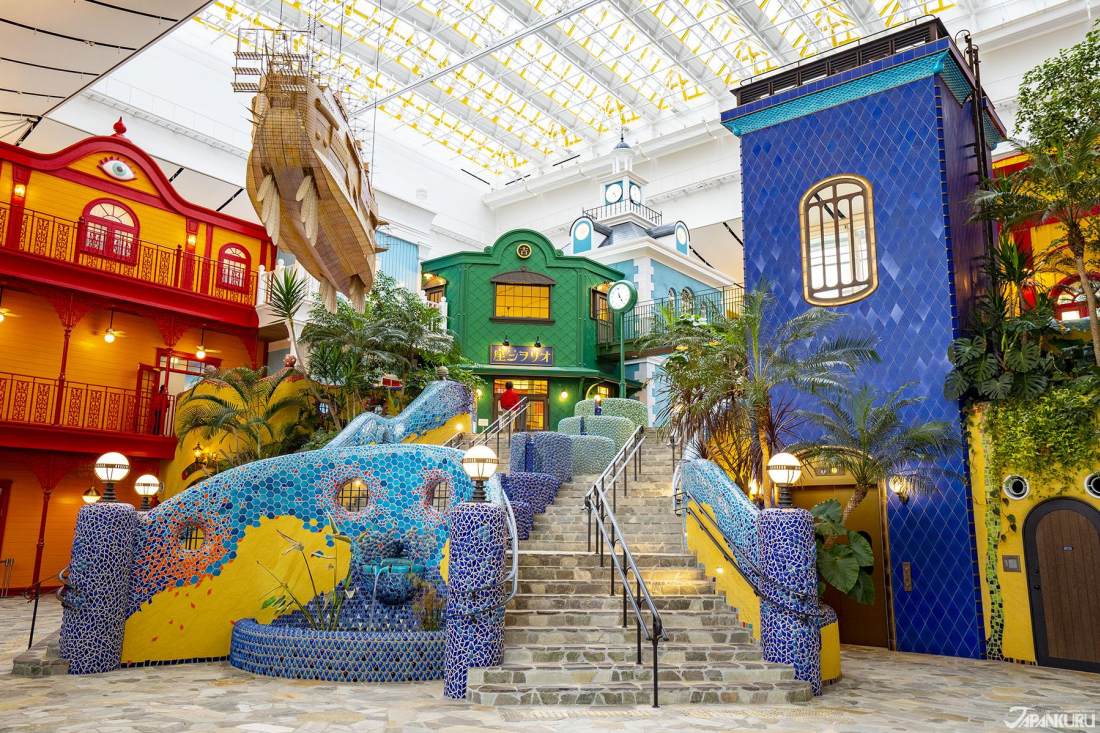 If the location has you thinking that the Ghibli Museum is the obvious choice, then not so fast. Because when it comes to size, Ghibli Park definitely has a leg up! Tokyo's Ghibli Museum, nestled into a corner of an urban park in one of the most crowded cities in the world, is densely packed with things to see, but it's not very big. Unless you're the kind of Ghibli fan that plans to spend hours closely inspecting each exhibition and combing the walls for easter eggs in the stained glass, it's entirely possible to take a quick loop through the museum in just half a day without feeling like you missed out on anything major. Ghibli Park, on the other hand, has multiple areas spread out over the entire Expo 2005 Aichi Commemorative Park, and even just the Ghibli Park Grand Warehouse is big enough to keep you dashing to and fro from morning to closing time without much trouble. That is, the expansive size of Ghibli's Grand Warehouse is enough to entertain you all day so long as you like everything the warehouse has to offer, which brings us to the next deciding factor…
Exhibitions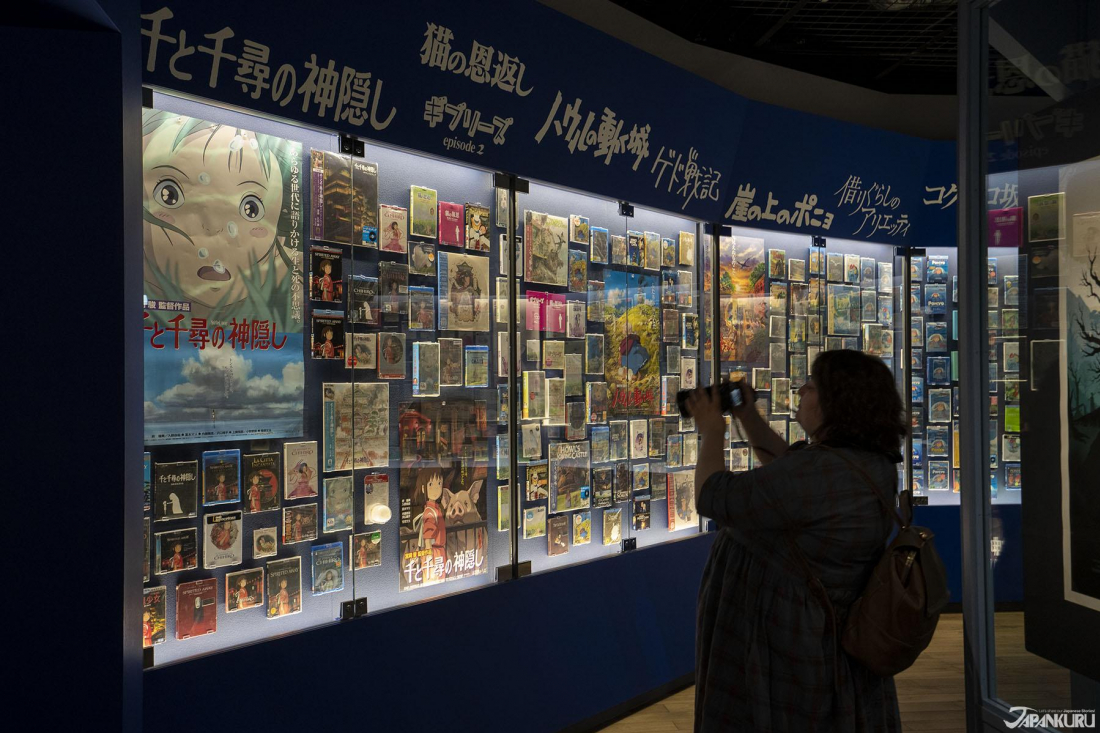 Both the Ghibli Museum and the Grand Warehouse have three main exhibition spaces, but the exhibits within are fairly different. The Ghibli Museum was clearly built to introduce Ghibli fans, young and old, to the magic of animation. In addition to a temporary exhibition room with periodic new themes, one museum room shows off historical animation methods, from zoetropes to celluloid sheets, and another takes a peek into the desks and workspaces of an animator, from the tools they use to the sketches that really helped make Ghibli films a reality. One exhibition room at Ghibli's Grand Warehouse is similar to the museum – in fact, the Delicious! Animating Memorable Meals exhibition is actually an expanded version of a former temporary exhibition shown at the museum back in 2017. The other exhibitions, however, are mostly focused on drawing you right into the world of Ghibli animation… and taking pictures while you're there. The Becoming Characters in Memorable Ghibli Scenes exhibition in particular is basically one photo-op after another, with backgrounds straight from Ponyo, Princess Mononoke, and other popular films, and massive three-dimensional constructions made to let you walk right into scenes from your favorite movies… plus lines to take pictures at each one. You better be ready to take a lot of pictures.
Photo-Taking Opportunities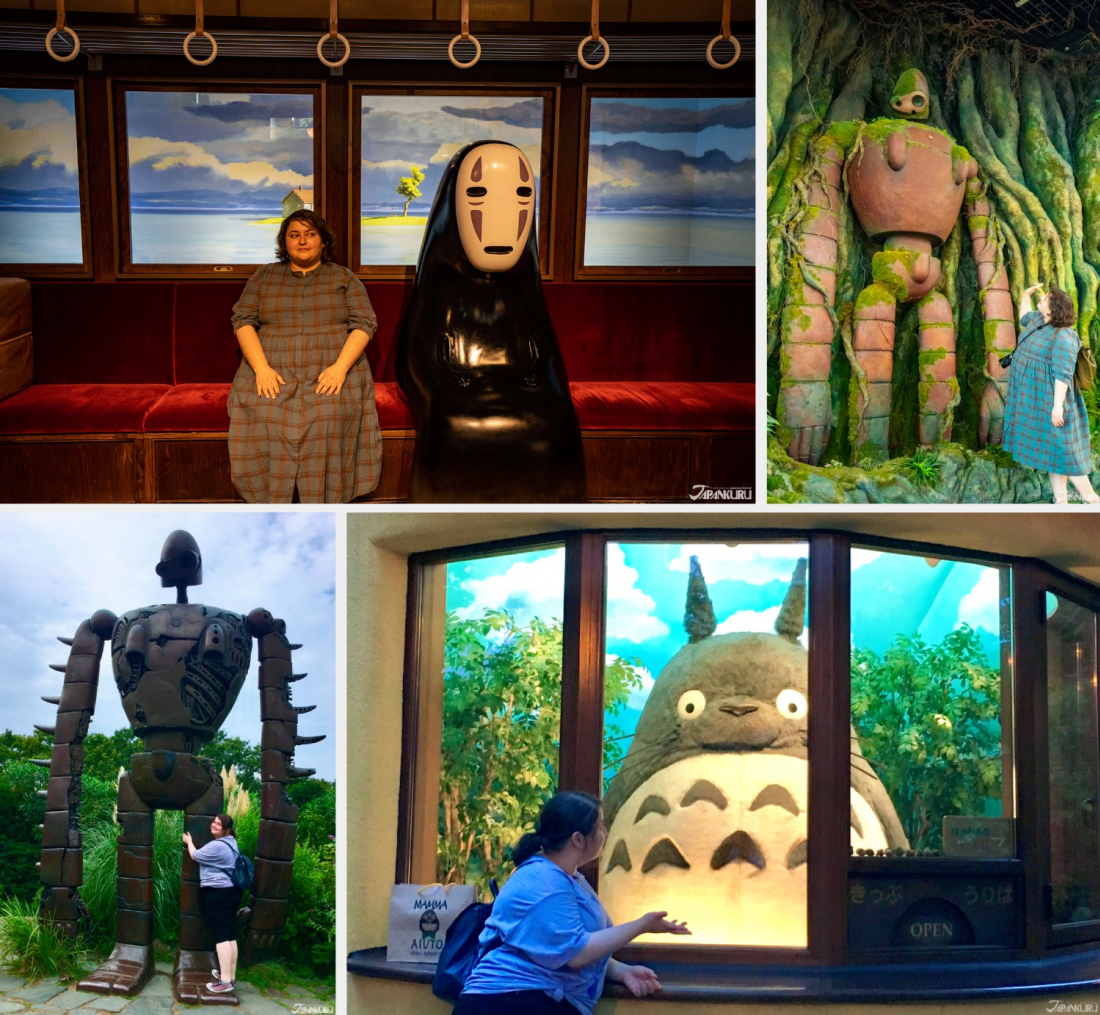 The final decision factor is all about those commemorative photographs. Ghibli Park's Ghibli Grand Warehouse not only has one exhibition dedicated entirely to taking pictures, but also another one with a photo-friendly catbus room and a "Totoro bar" where you can pose with the forest spirit himself. Plus, the rest of the building is scattered with places ripe for snapshots. Get in front of the camera and wave up to the robot soldiers from Castle in the Sky, take a selfie with Yubaba in her office, or pretend to be Arietty in her garden as you climb inside a human-sized jar. By the end of the day at Ghibli Park's Grand Warehouse, you'll have taken hundreds of pictures, and – hot tip – if you want to be in any of those pictures, you probably won't want to go alone. There are so many places to take pictures that asking a stranger for a picture at each opportunity is bound to make you miserable in no time. So if you choose Ghibli Park, bring a friend who's willing to swap picture-taking duties with you.
Of course there are some cool places to take pictures at the Ghibli Museum too… but fewer than you might think. The entire indoor space is actually a no photography zone, and pictures are only allowed outside, which means out in front of the building, on the deck surrounding part of the museum, or in the rooftop garden. Most people grab a snapshot with the museum's own Castle in the Sky robot soldier, who stands tall on the museum roof, and with the somewhat intimidating Totoro set up to look like he's selling tickets out front. But the other side of that coin is that you can use all your time at the museum to actually concentrate on the content of the exhibitions, without having to wait for people to finish taking their pictures and get out of the way. It's a trade-off that you might not mind making!
Which One Will You Choose… First?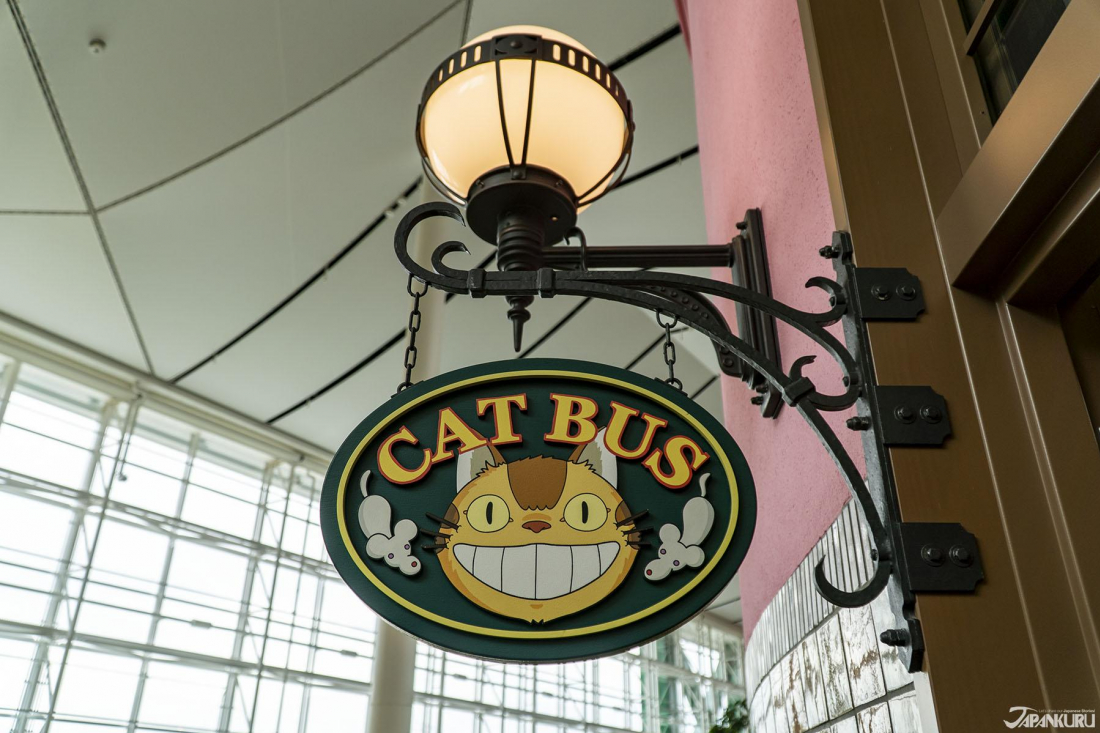 Near or far, big or small, photoshoot bonanza or fascinating day at the museum – it's hard to say whether Ghibli Museum or Ghibli Park's Grand Warehouse is the "better" place to go, because it all depends on what you want from your own special Ghibli adventures when you visit Japan. The convenient Ghibli Museum in Tokyo's Mitaka neighborhood is cute and cozy, giving visitors a chance to learn all about Ghibli animation, whereas the Ghibli Park just outside of Nagoya is spread out and full of surprise photo spots, and feels like diving into the movies themselves. Both destinations have their own charms, and as long as you're a fan of Studio Ghibli, you're bound to have a great time no matter which you choose to visit! Who knows, maybe on your next trip to Japan, you can complete the set.
For more info and updates from Japan, check Japankuru for new articles, and don't forget to follow us on Twitter, Instagram, and Facebook!