Japanese Fashion Trends – Japanese Streetwear from a Rabbit Cameraman with a Skewed Worldview: #FR2
#FR2: A world of photography, born from social media, with powerful images and straight-to-the-point messages – this brand has made a big impact in Japan's streetwear scene.
Meet Japan's Sexiest Rabbits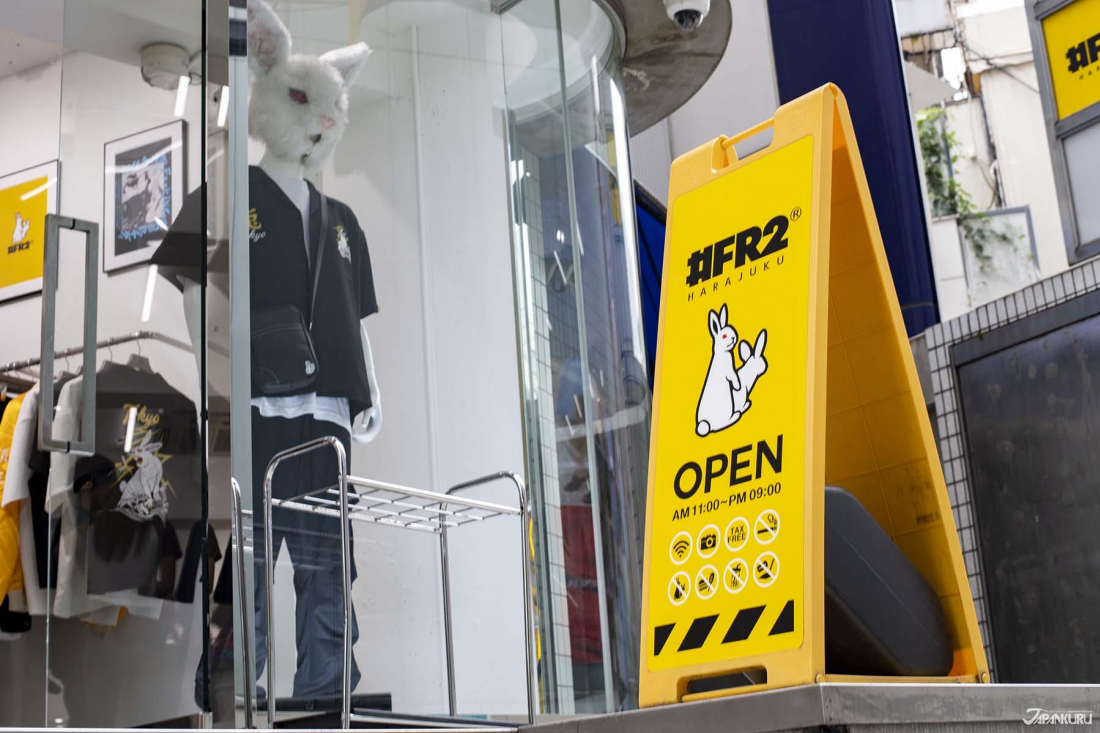 Venture down the back alleys of Harajuku, into the stylish neighborhood known as Urahara, and one particular pair of cute characters is sure to catch your eye. At first glance you might just see a couple of nice little bunnies, but take a closer look, and you'll see that these rabbits are up to something unexpectedly… X-rated. Called the "Fxxcking Rabbits," these bunnies are the mascots (or perhaps the "main characters") of streetwear brand #FR2. (And as you might be able to guess from the name, the brand has a sense of humor.)
Through enthusiastic word of mouth recommendations, #FR2's t-shirts featuring passionate (?) rabbits or their signature "Smoking Kills" logo have quickly become big among streetwear lovers throughout Asia and the rest of the world. Since its establishment in 2014, #FR2 has been spearheaded by Ryo Ishikawa – a major presence in the Tokyo/Shibuya fashion scene known for being the creative director behind VANQUISH – and the brand has made a name for itself through the use of innovative social media marketing. That popularity has helped #FR2 grow and find fans all over the world, far beyond Japan's borders, entering the market in China, Taiwan, Hong Kong, Thailand, the Philipines, Singapore, Malaysia, New Zealand, America, England, France… even Saudi Arabia.
Finding an Unlikely Harmony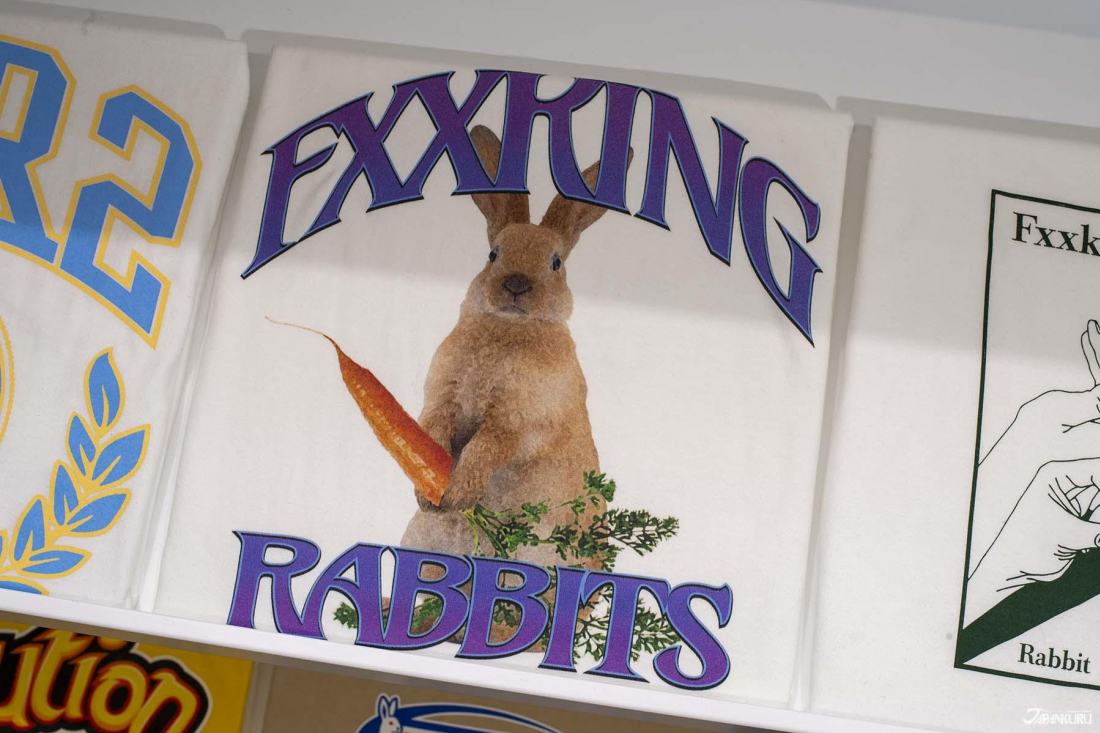 Thanks to customers that come calling from all over the world, #FR2's unique designs are clearly popular, and the one-of-a-kind graphics are a big departure from what you'll see anywhere else. Wear an #FR2 outfit for a day, and the brand's bold appeal will start rubbing off on you. You might find yourself thinking…
"It took a little audacity to really pull off this style, but it's so effortlessly cool, so casually cute, and makes such a statement! Why do I suddenly feel like the coolest kid on the block?"
When it comes to their designs, #FR2 finds a careful balance that draws people in.
It's no wonder that Ryo Ishikawa, famous in the industry, has some interesting things to say about the brand, explaining: "I was born in the year of the rabbit (1975), and I'd been going at it like a rabbit in heat, and that's what brought #FR2 to life. The 'SMOKING KILLS®︎' logo is something I picked up from the warnings on cigarettes overseas. This text logo found explosive success as soon as we turned it into a design, and with fans all over the world, it's become a signature #FR2 logo."
Fashion for Photographers!?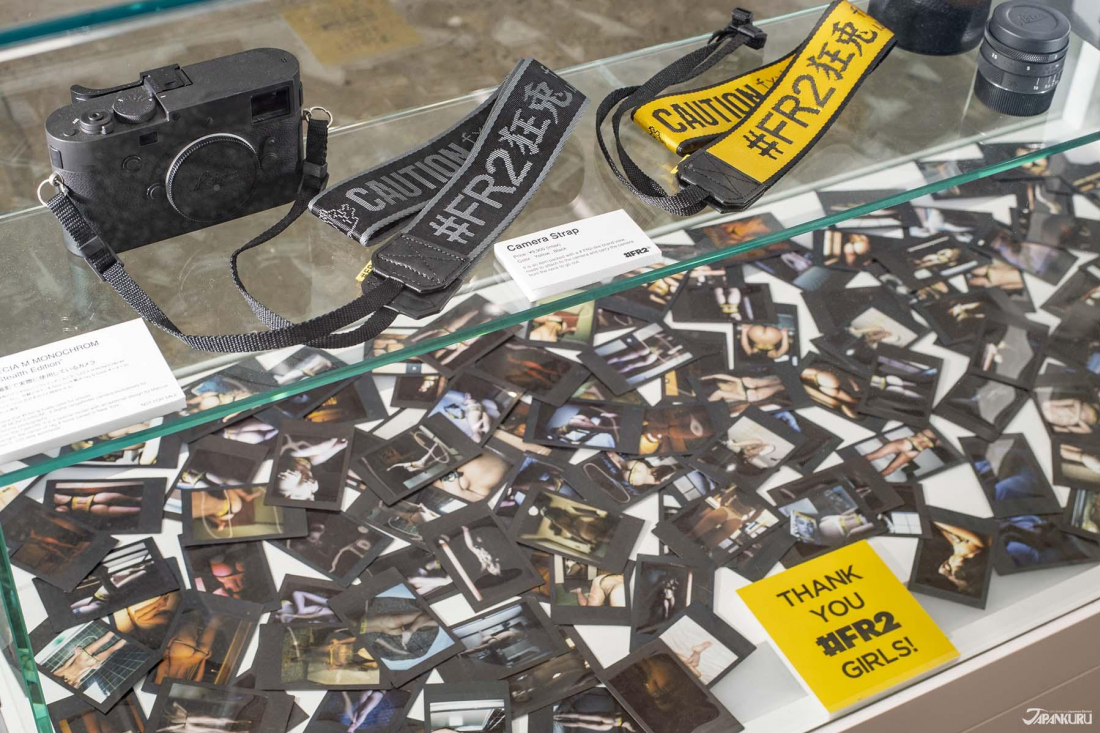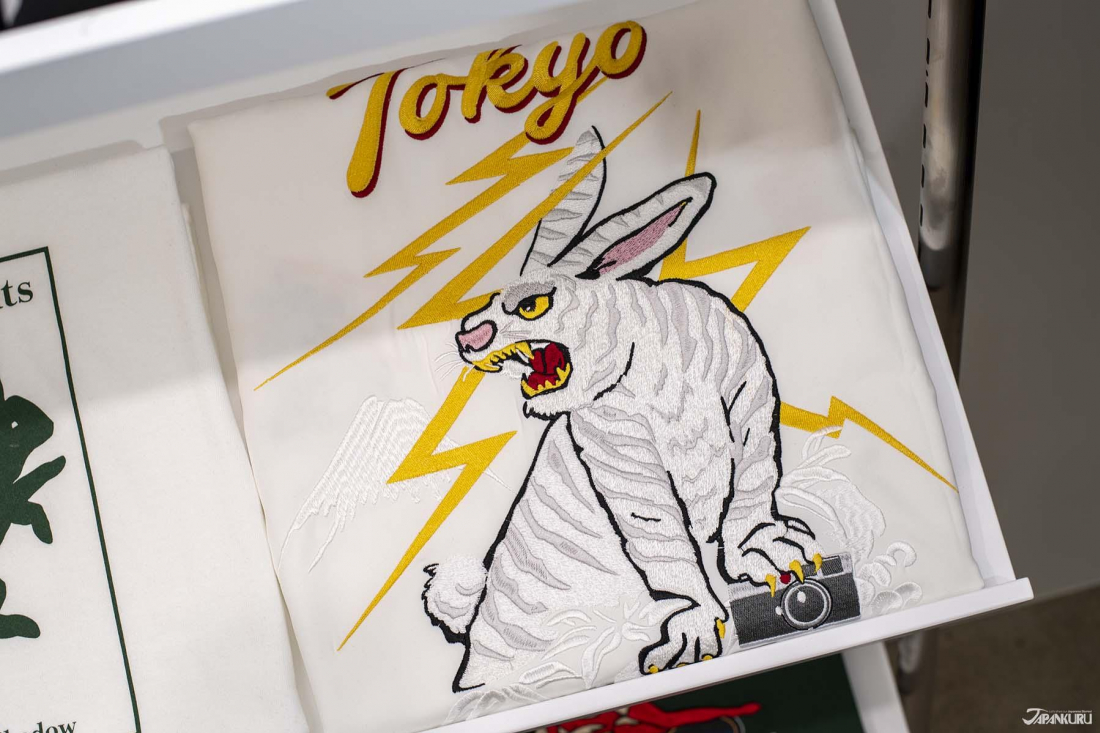 From the very beginning, the story that drives #FR2's brand concept has always revolved around a "rabbit who takes pictures," so "clothes that a photographer might wear" can be found all over the brand's catalogue. To build the character identity of this rabbit cameraman, some items feature Leica cameras and figures taking photos, while a number of the brand's t-shirts are printed with original black and white photographs (including, of course, some 18-and-over shots).
Browse the Store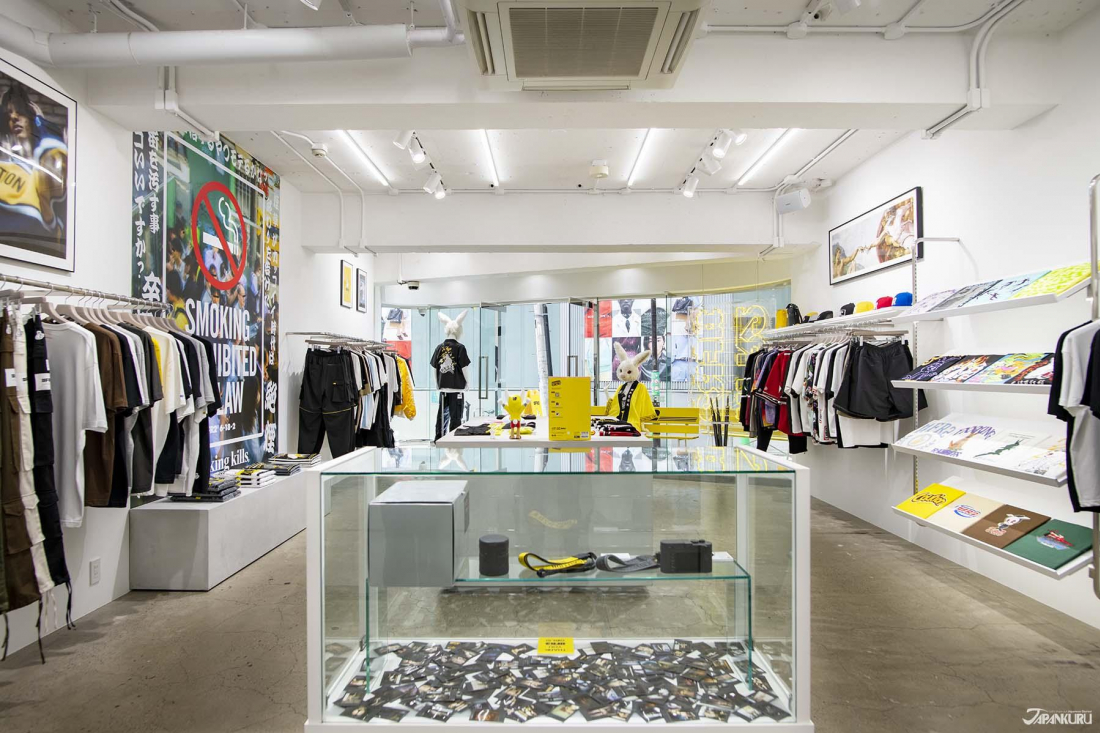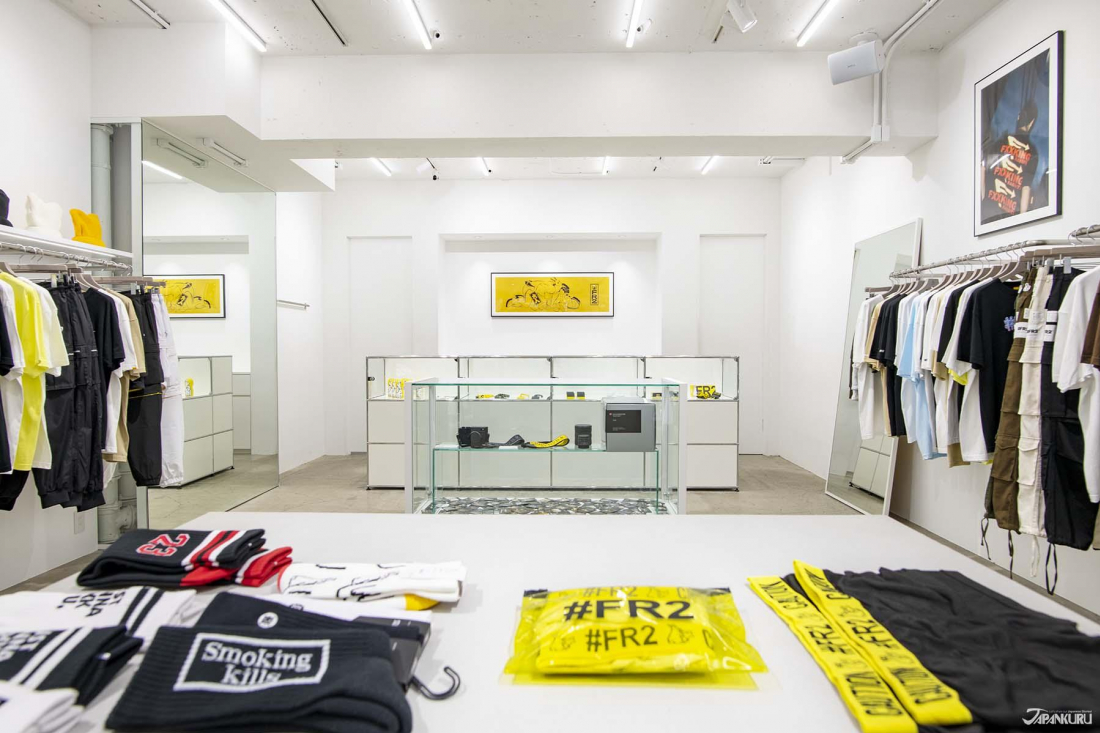 #FR2's boutiques are as much art galleries as they are clothing shops. The fresh white walls create an elegant backdrop for framed pictures and items on display, many of which stand out quite clearly thanks to the use of #FR2's signature color combo, yellow and black. Get a good look, and you'll find plenty of details for a mature audience here too.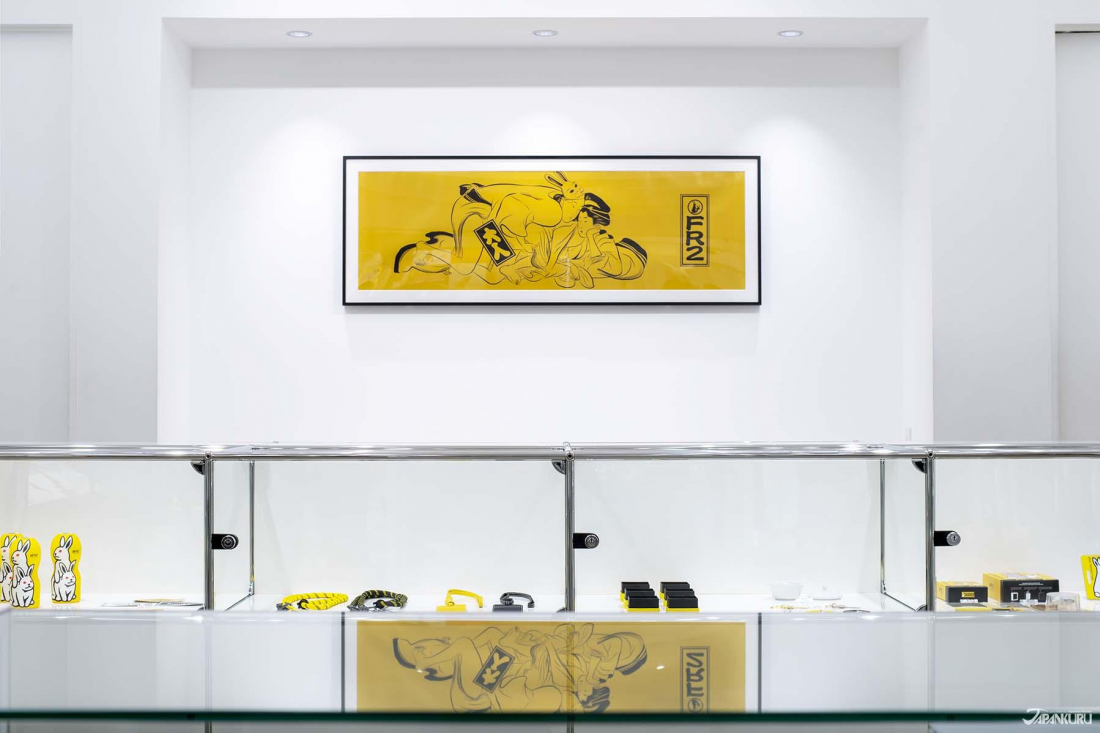 #FR2's signature yellow and black really stands out!
But if you get a chance to study this particular work of art, you'll notie that it's actually distinctly inspired by shunga (春画)… Japan's classic erotic art. Yep, that's #FR2 for you!
Check Out the Wares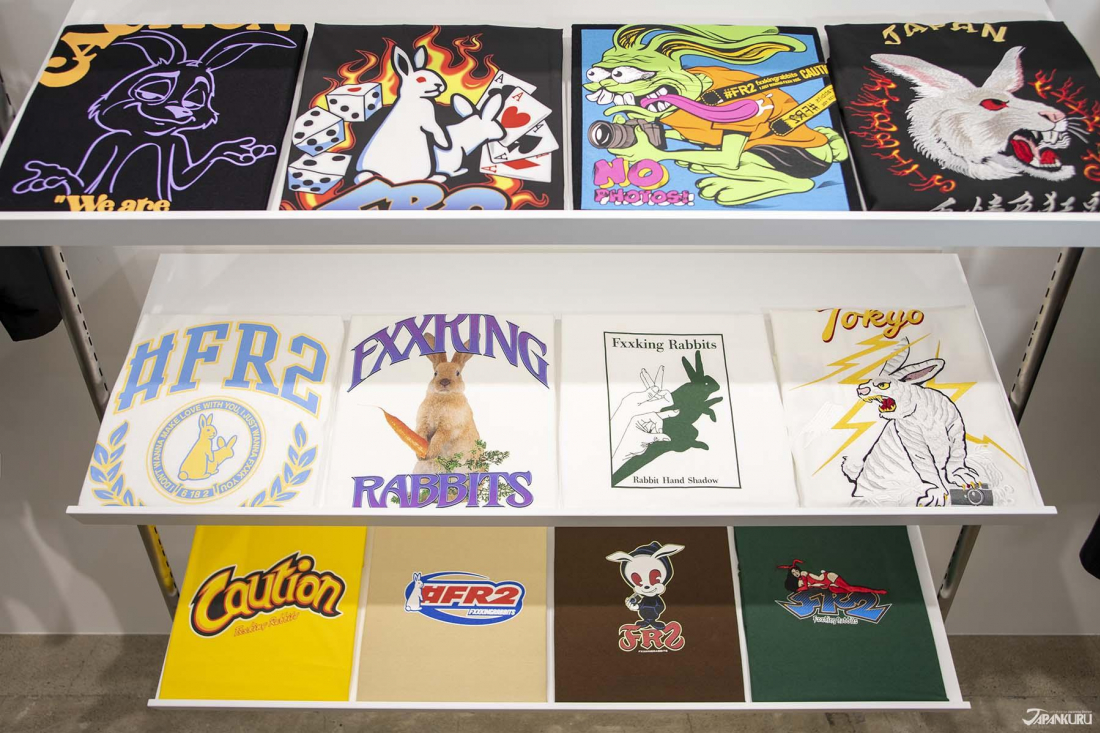 #FR2's t-shirts come in a wide array. New graphic designs hit the shelves every season, each one with its own wit and appeal.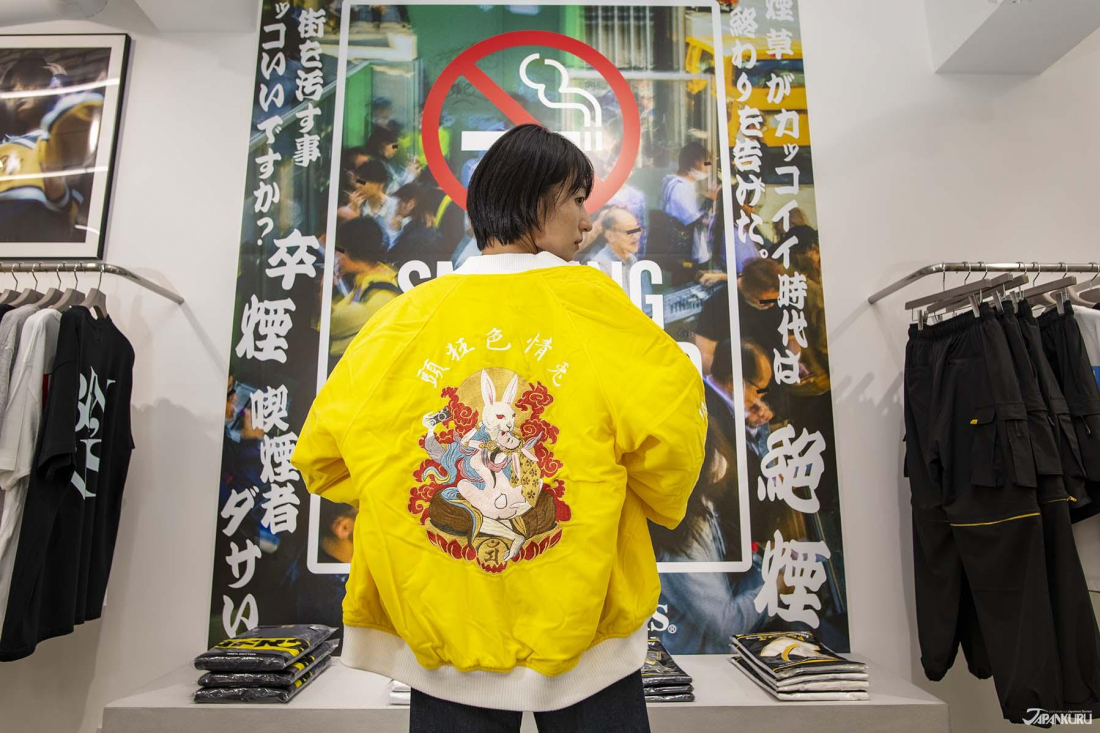 These iconic embroidered varsity jackets are called sukajan (スカジャ) in Japan, borrowing the "suka" from the city of Yokosuka where they originated, and they're a staple among the fashion brands launched by Ryo Ishikawa (VANQUISH, #FR2, LEGENDA). This #FR2 version features a totally surreal scene of passion, sure to be the center of attention.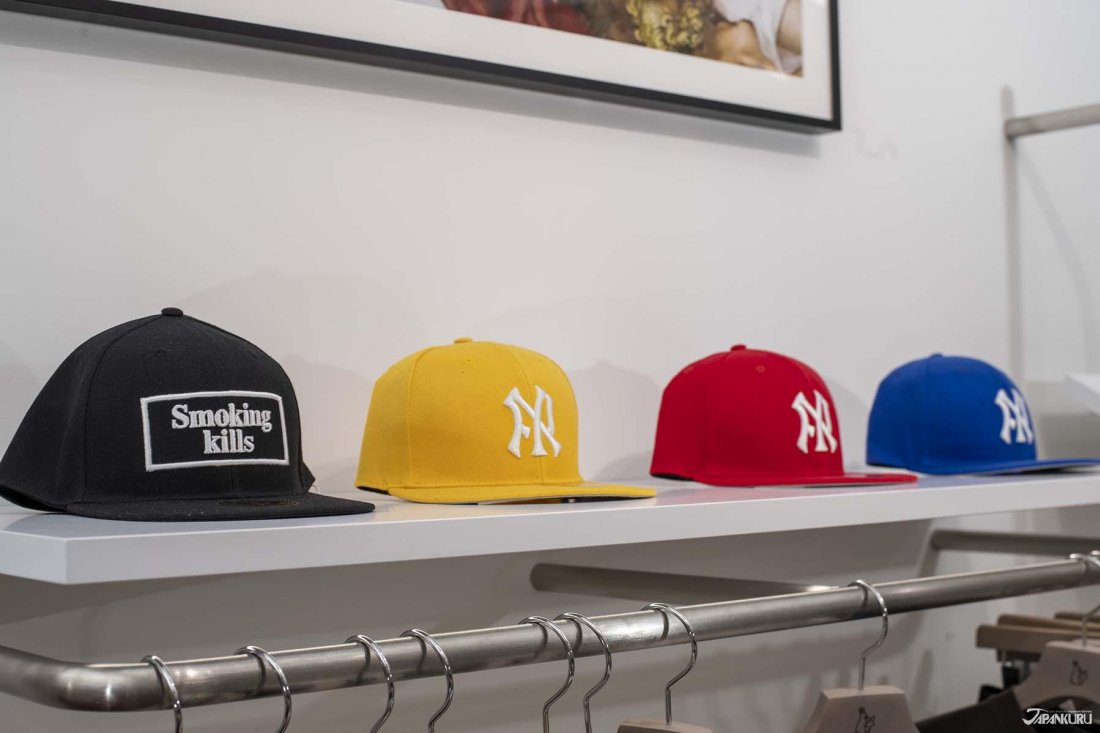 It's no exageration to say that the "Smoking Kills" logo made #FR2 the brand it is today, but they're also pushing some new designs these days, like this playful baseball cap. (Look closely – it's actually "FR" instead of "NY"!)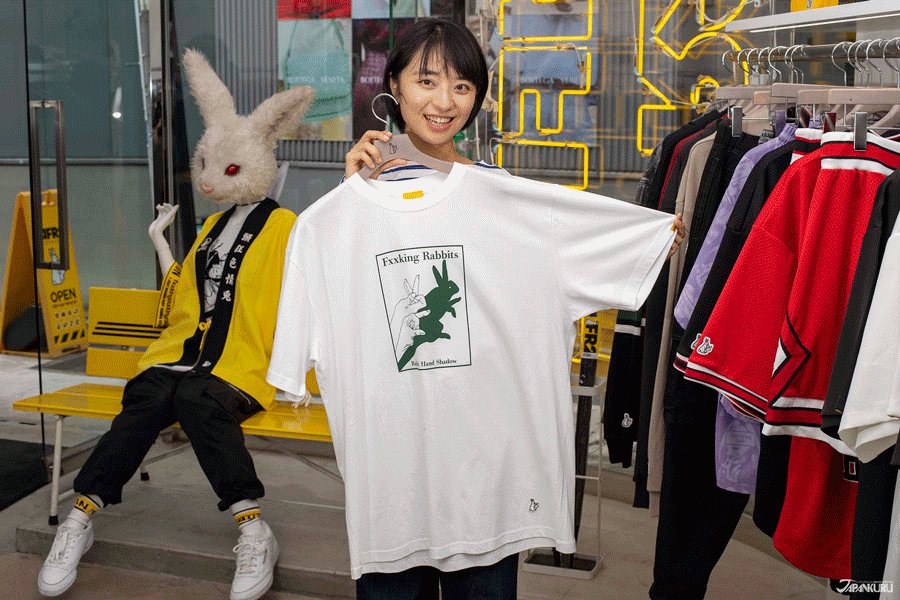 Strong Images, Clear Messages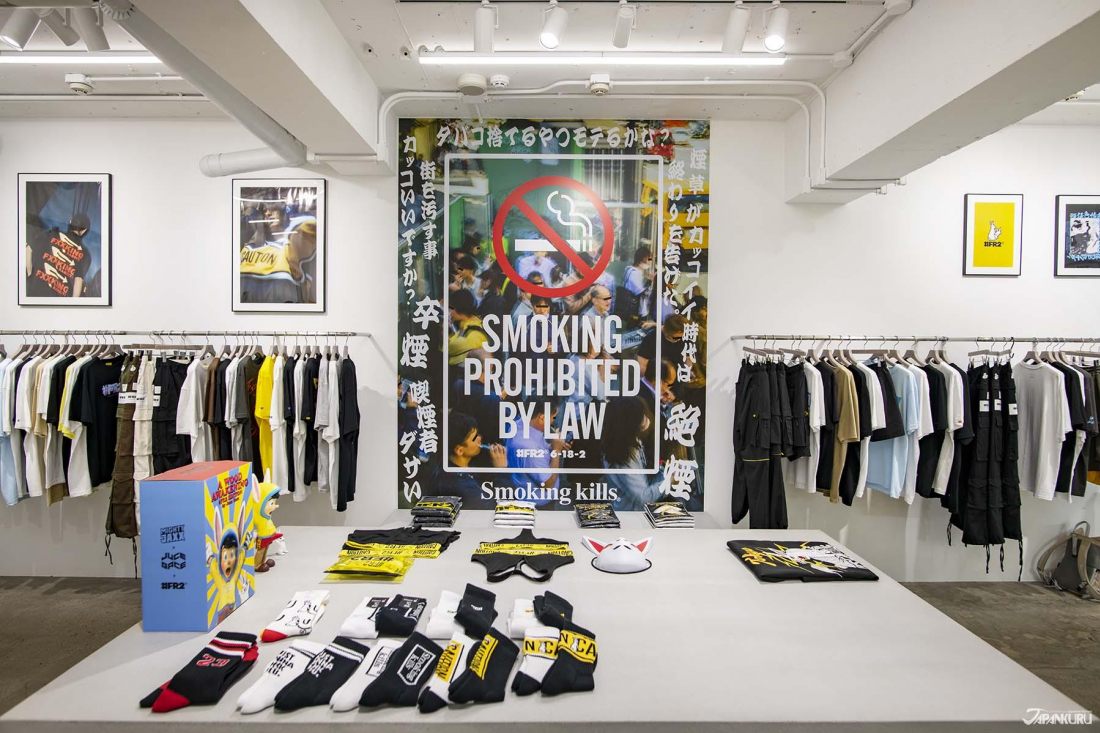 Every season, a new enormous poster becomes the focus of one of #FR2's shop walls, strongly declaring the brand's latest message to the world. This season, in honor of WHO's World No-Tobacco Day, the poster spotlighted a huge no-smoking symbol, surrounded by Japanese comments like "the days when smoking was cool are over." In contrast with their "Smoking Kills" logo, often taken as something of a joke by heavy smokers, this time the message is quite serious.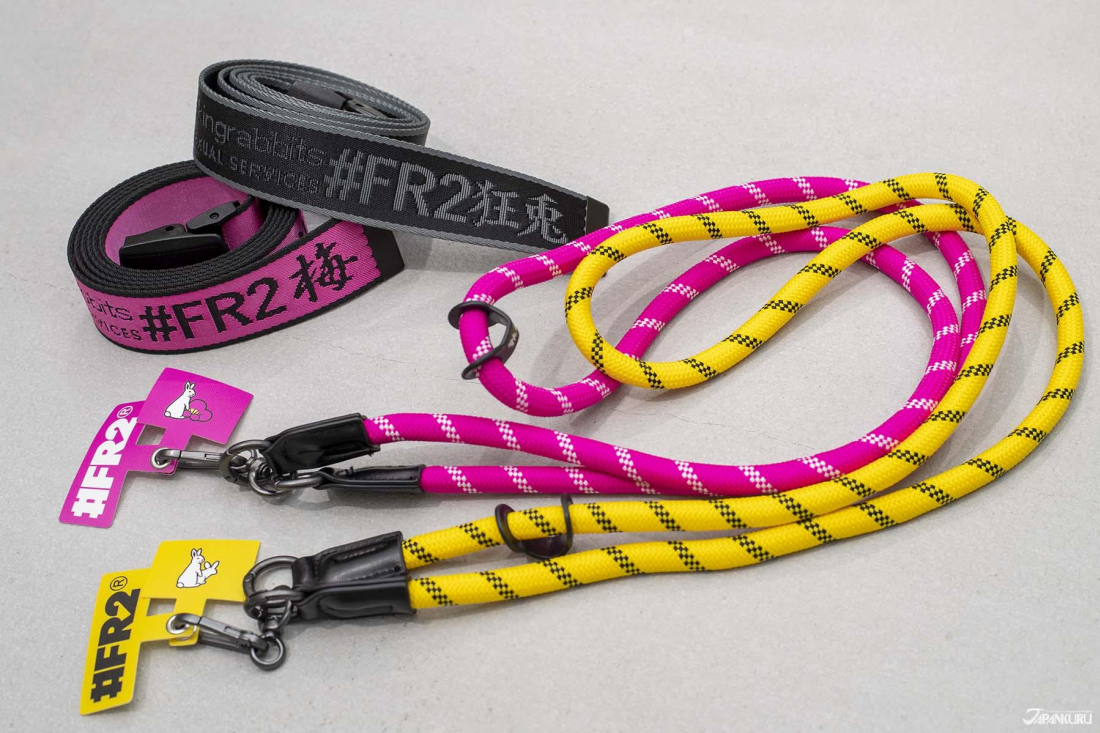 #FR2 is fundamentally a unisex brand, but they've also got a sister brand that offers more feminine styles. For plenty of hot pink, like the items seem above, you'll want to head to…
#FR2 UME (#FR2梅)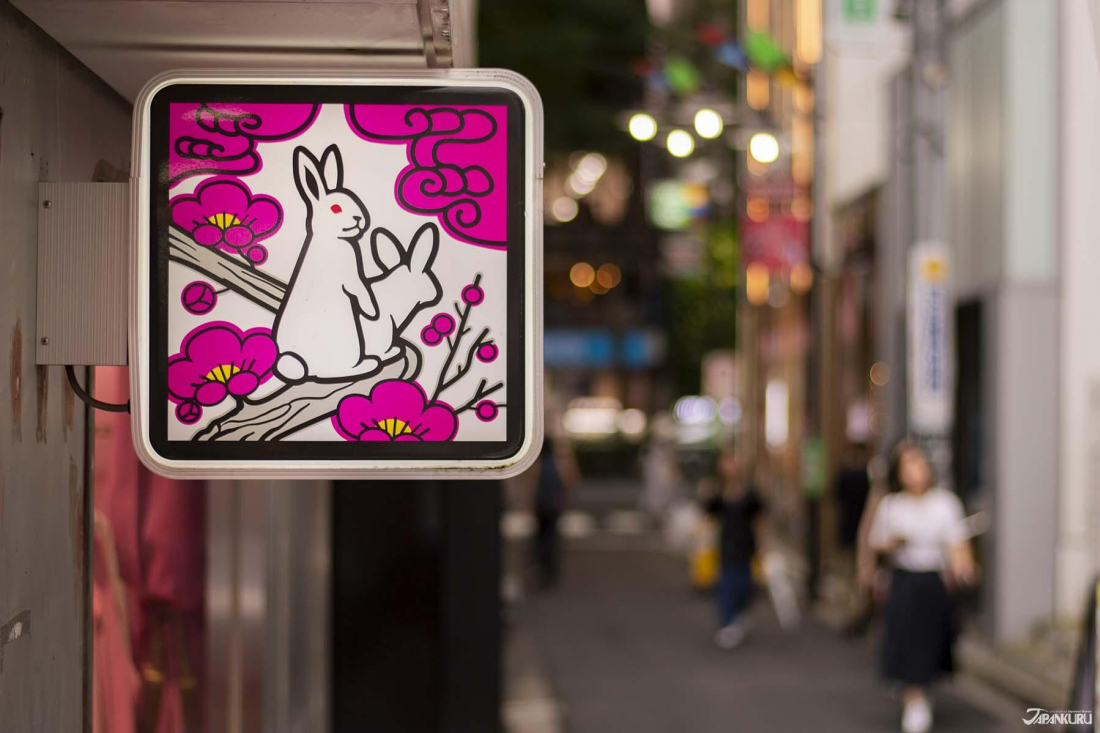 #FR2's sister brand is called #FR2 UME, referring to Japanese ume plums. Located just about across the street from the #FR2 Harajuku boutique, the shop is crammed full of items just as alluring as the pink plum blossoms that mark the beginning of spring in Japan.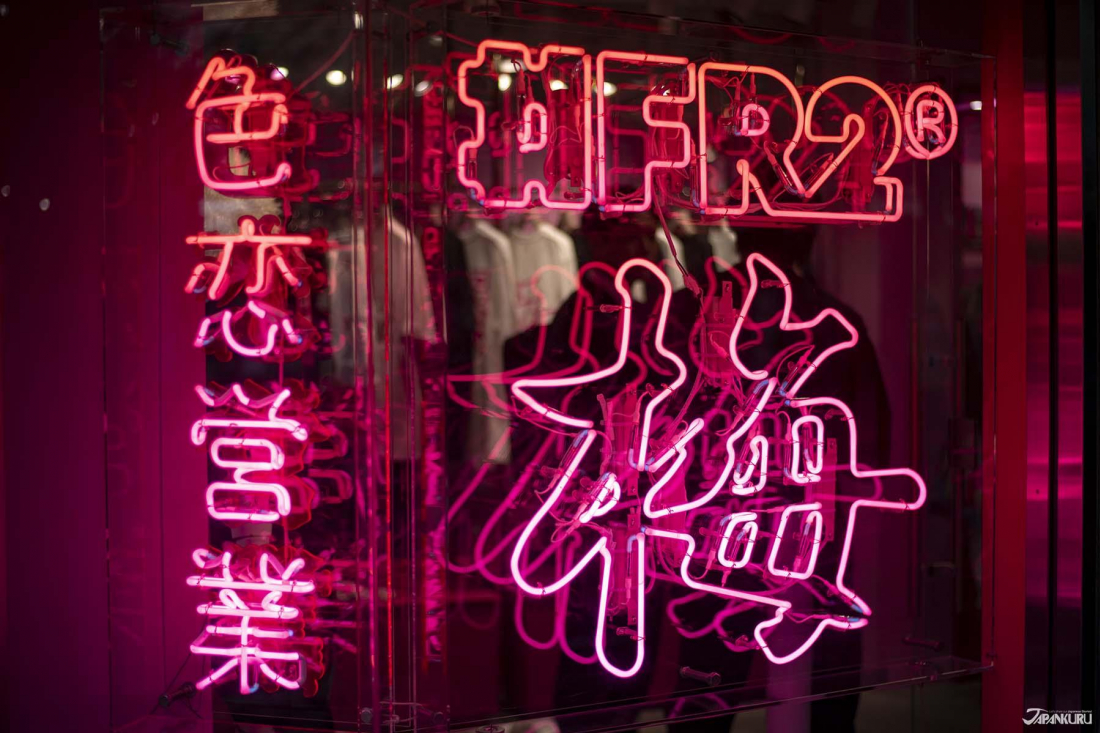 #FR2 actually has a number of sister brands, each with their own themes and signature colors, like the ocean-blue "Getto" found in Okinawa, Kanazawa's orange "Yanagi," Kyoto's purple "Nadeshiko," and Mie Prefecture's leafy green "Tsuki."
NO SEXUAL SERVICES
Get a glimpse of #FR2 UME, and the pink interior with its enticing neon lighting might make the shop look like the kind of establishment found in a red light district, at least at first glance. But the facade clearly announces "NO SEXUAL SERVICES" with the help of a large sign posted outside – their way of broadcasting that not only is #FR2 UME not in the sex work business, but that they oppose the commodification of women altogether. The phrase has even made its way onto many of the products inside.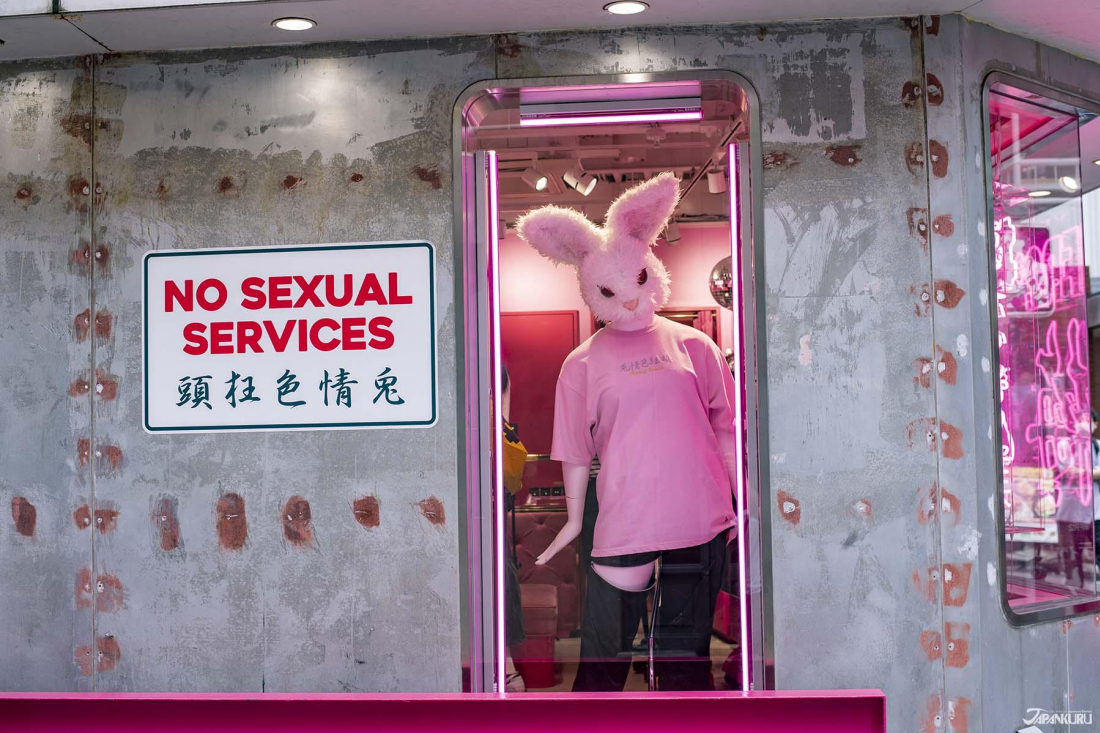 Not that sort of establishment.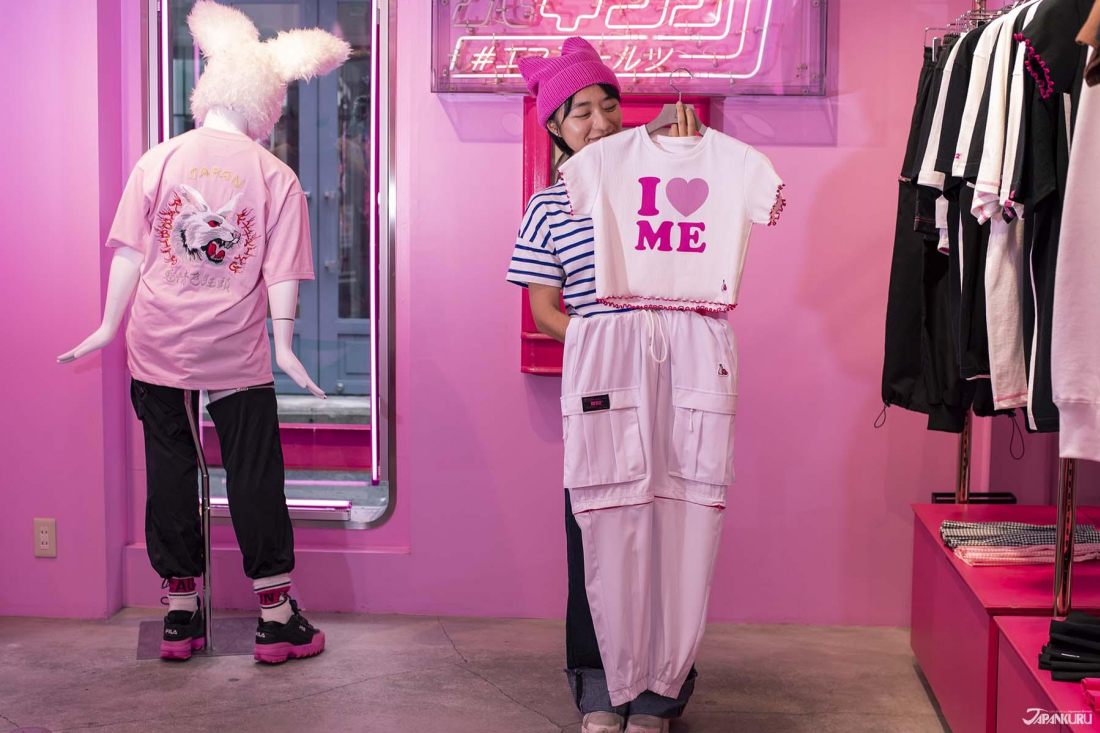 In the same vein, their "I ♥ ME" shirt is both cute and loaded with meaning.
Like a Retro Boutique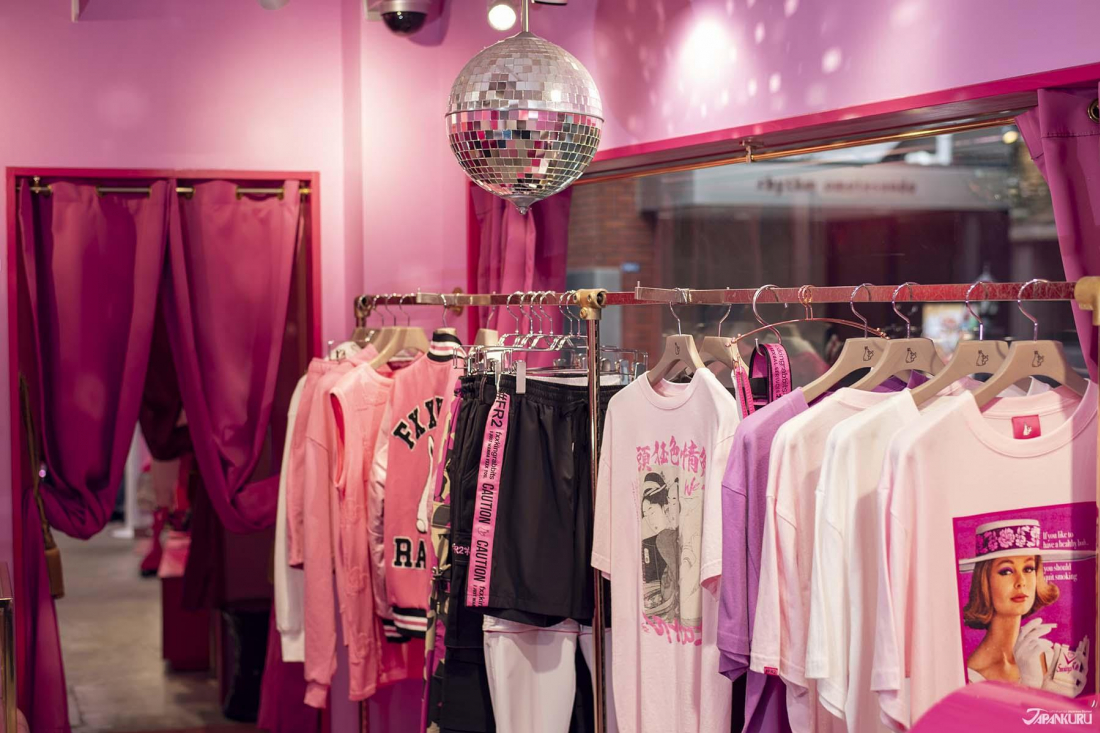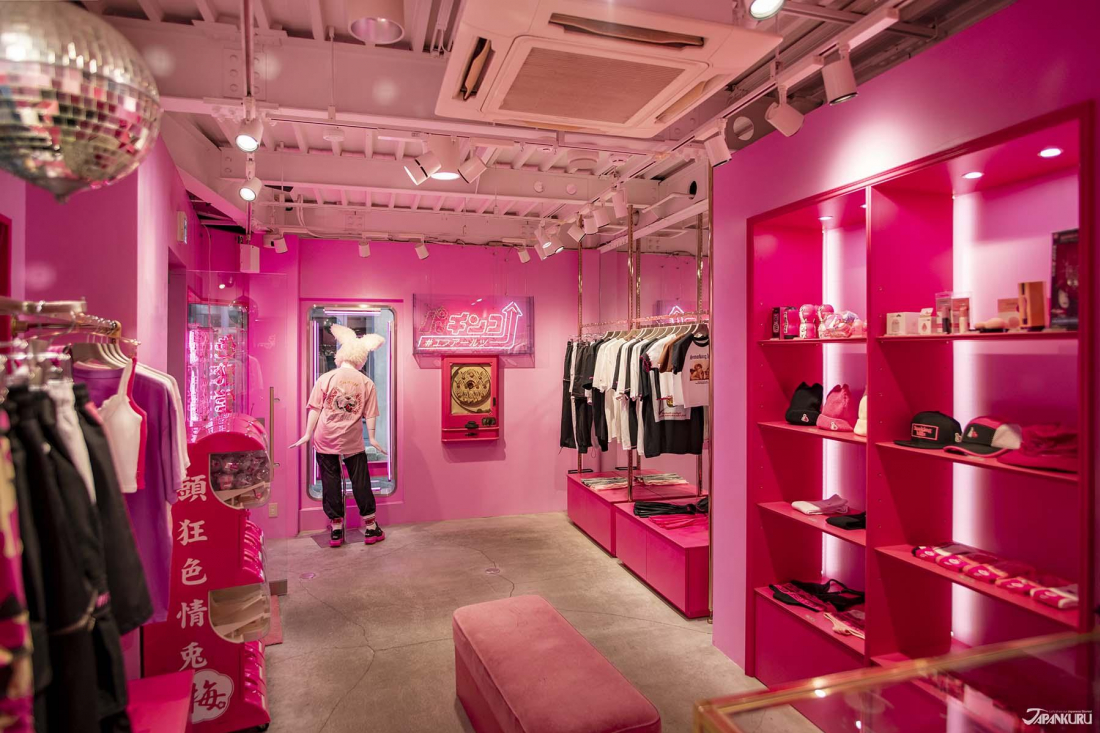 Cute and cozy with a touch of sex-shop-chic! #FR2 UME has a unique atmosphere, amplified by clothing and accessories lining the walls in a color scheme of mainly black, white, and pink in a variety of shades.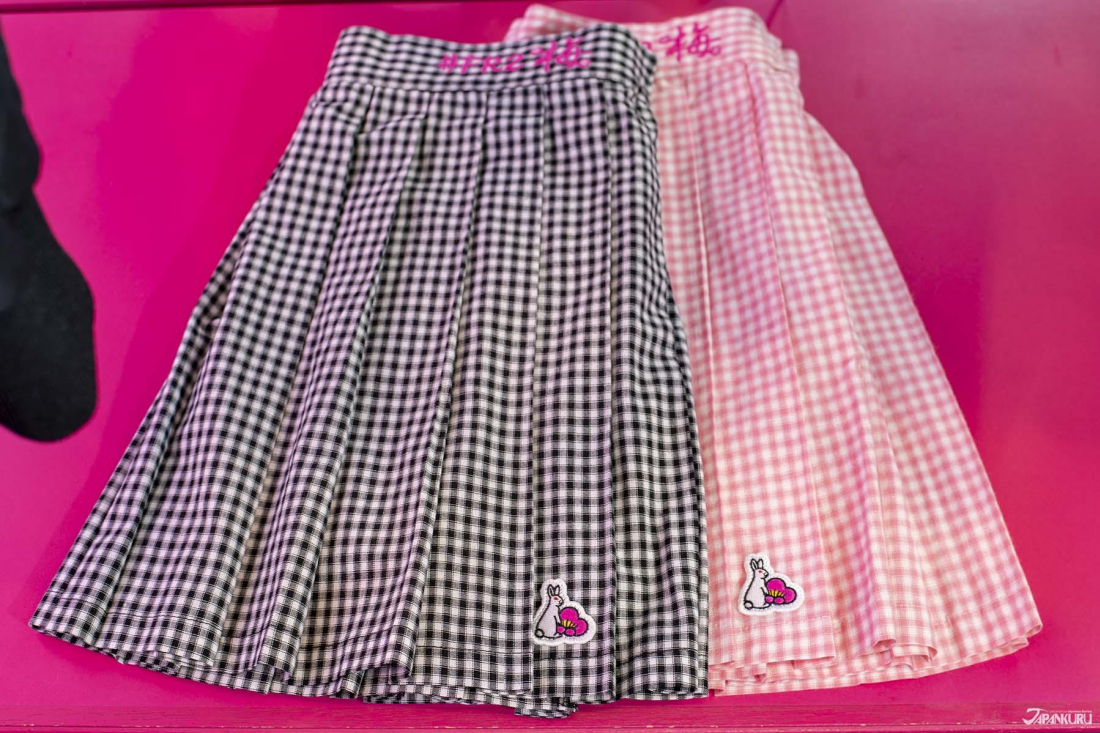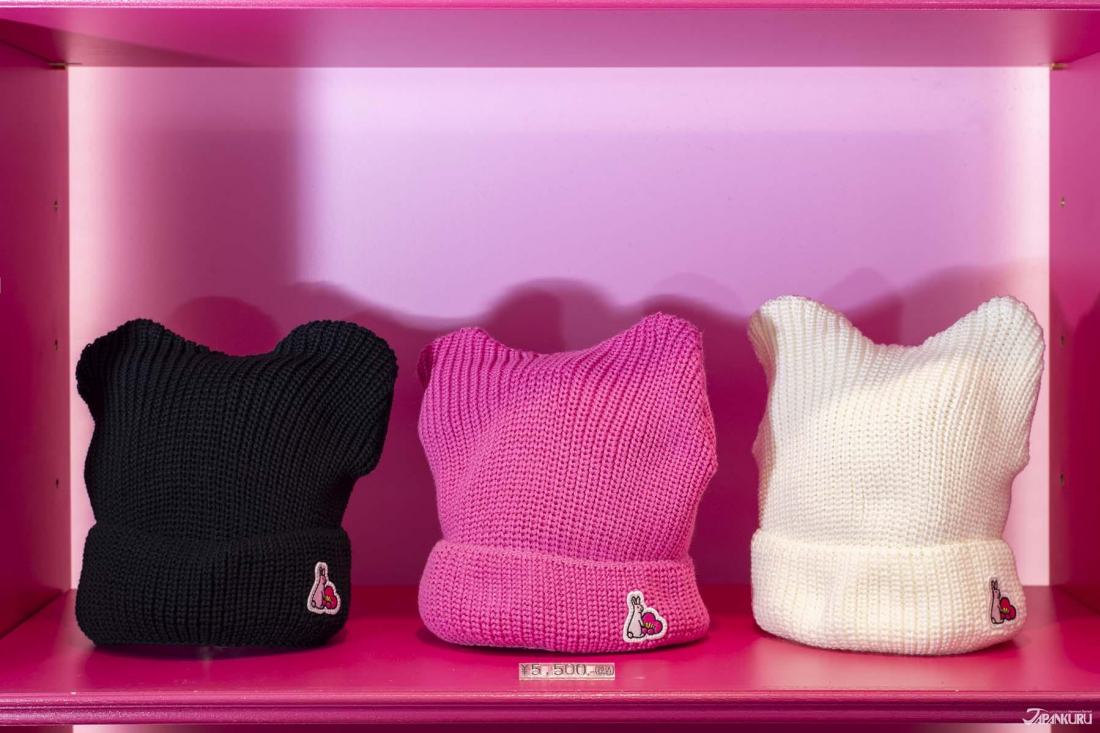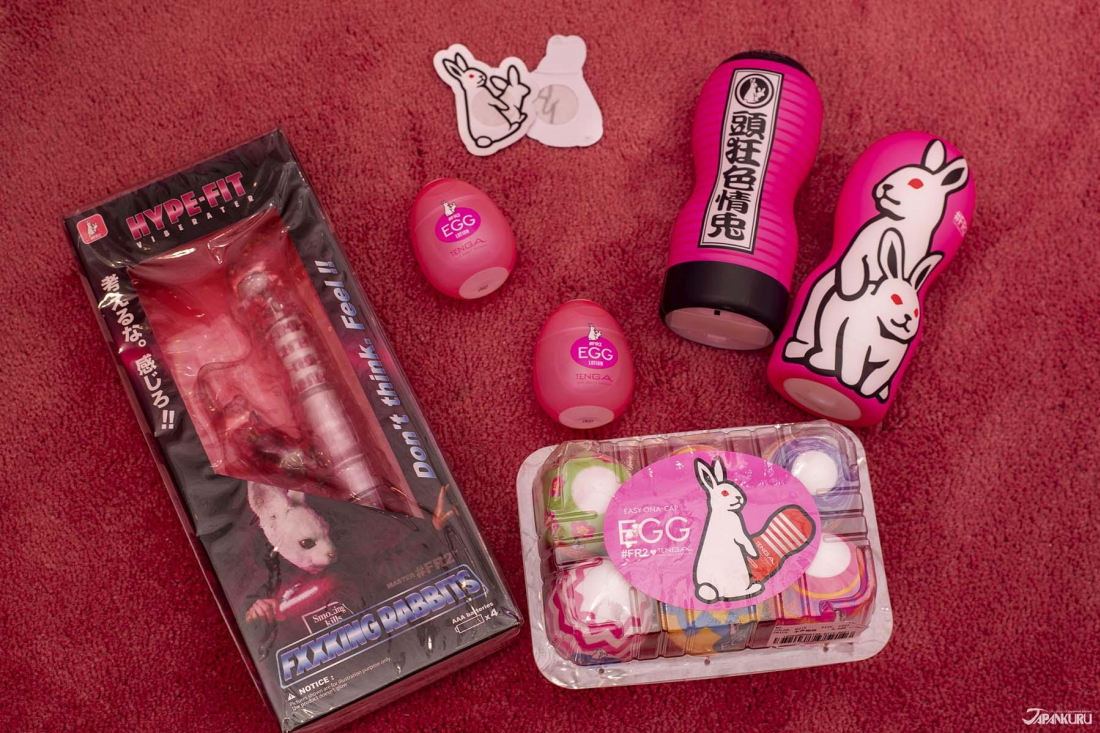 They really stuck to the concept! To the point that you can purchase these actual adult items as well.
Favorites From #FR2 UME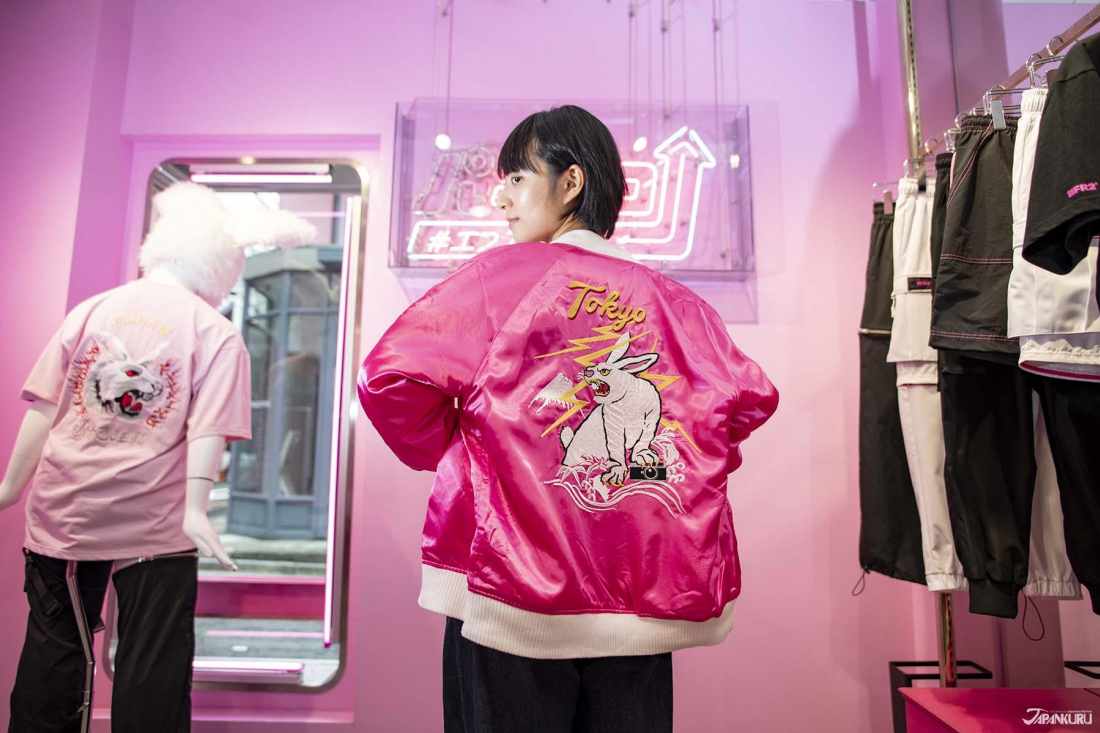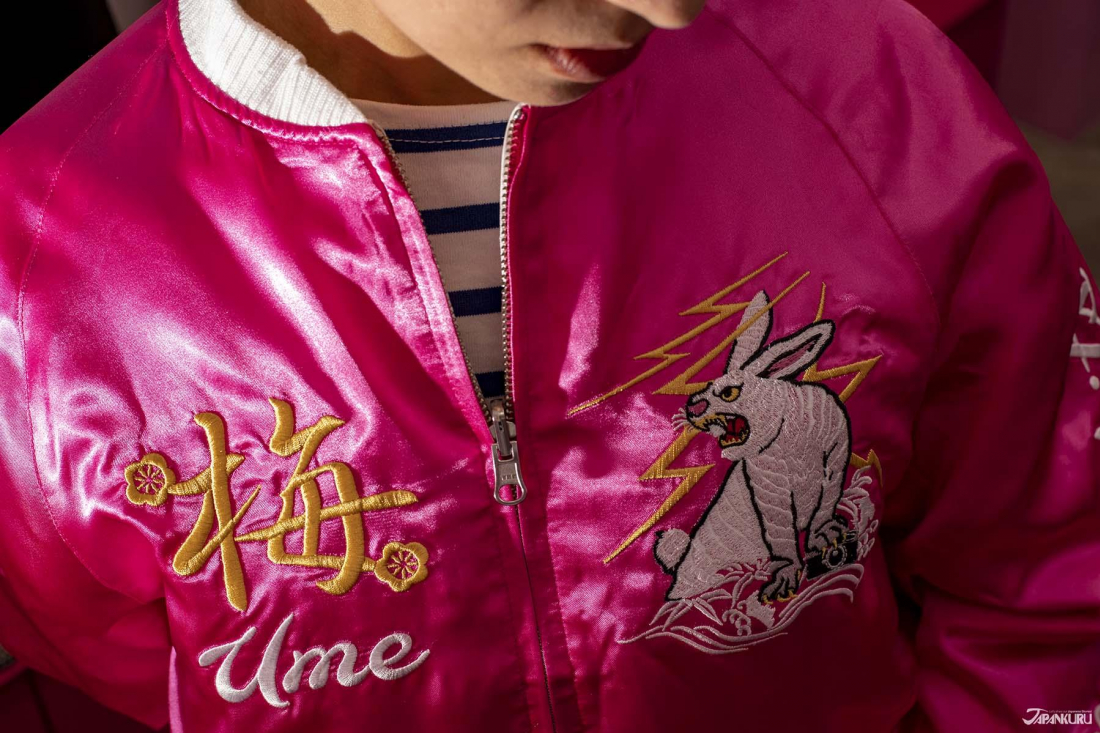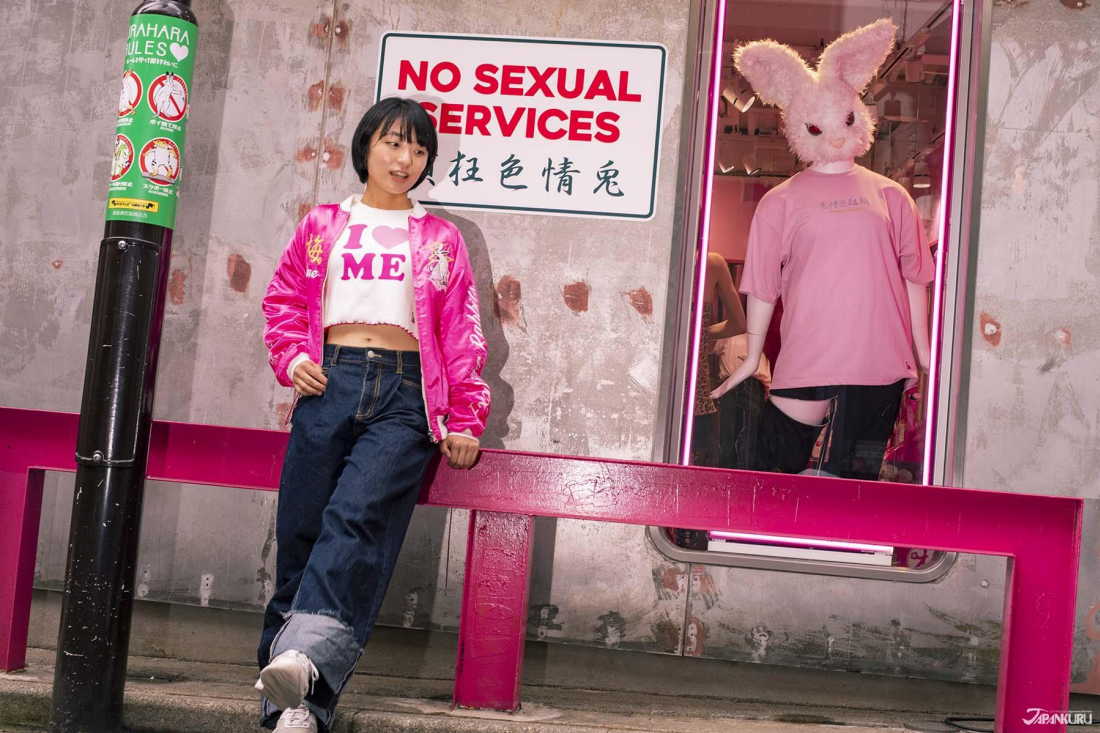 Cropped t-shirts, baggy cargo pants and jeans, short mini-skirts – there are plenty of trendy items to choose from, but again it's a sukajan jacket that stood out from the crowd. It might look like this sukajan is all about the hot pink satin and bunny-themed embroidery, but it's actually reversible, with a simple white quilted fabric on the other side! There's no extra stuffing between the two layers of fabric, so it's light enough to wear throughout the seasons – this is one surprisingly versatile jacket.
Streetwear That's Hard to Look Away From… #FR2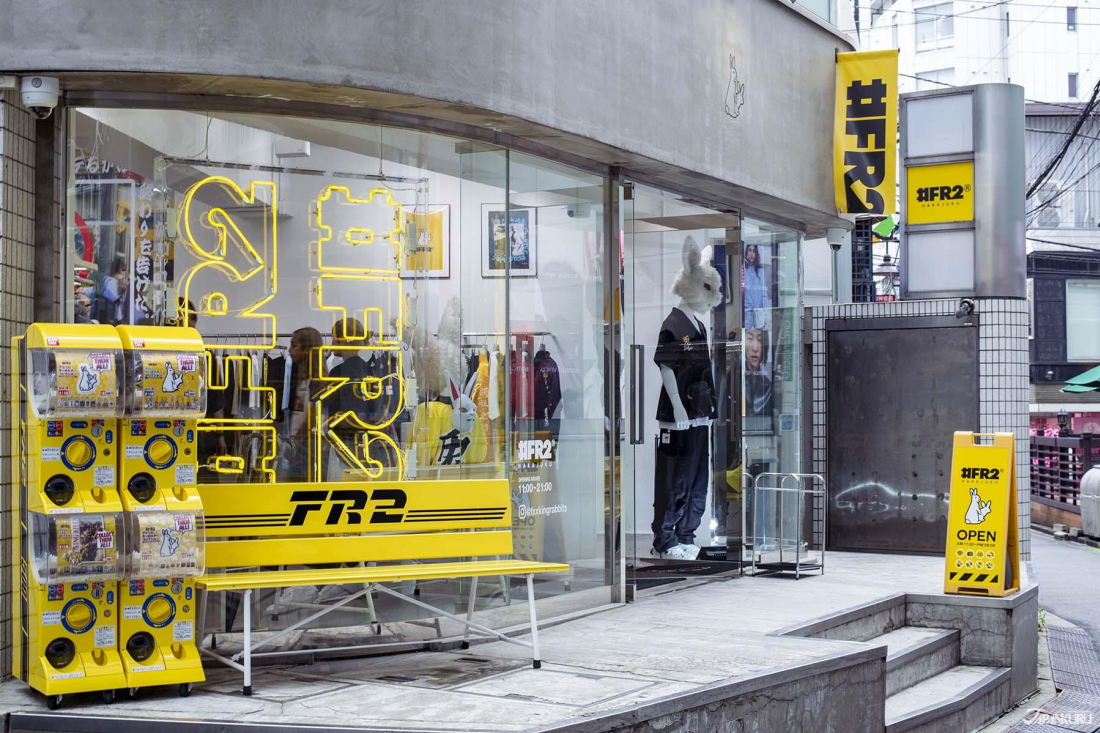 Streetwear has found its way onto the streets of cities around the world, and this trend isn't likely to die down anytime soon. As people's pants get more and more baggy, and their t-shirts get more and more flashy, in this day and age finding a brand that really stands out from the crowd is one of the joys of fashion. With its sordid charm and a tendency to blot out people's prejudices with cute bunnies, #FR2 and its sisters like #FR2 UME are brands to look out for.

#FR2 Harajuku Boutique/#FR2 UME
4-31-6 / 4-29-7 Jingumae, Shibuya City, Tokyo
Hours: 11:00 – 21:00
Official Website (jp)