New Summer 2023 Japanese Makeup Recommendations from Canmake – Fresh Outdoorsy Beauty vs Summer Festival Glamour
This season, do you want to glow under the summer sun, or glitter under the sparkling fireworks? Day or night, mountain hike or evening festival – what do you want your summer to look like?
What Cosmetics Will You Use for Your Best Summer Looks?
When you think of a summer trip to Japan, what comes to mind? Green mountains, blue seas, camping trips, and outdoor adventures? Or maybe your mind jumps to Japan's spectacular firework displays, and the summer festivals that really heat up after dark? Whether you prefer one or the other (or you just love everything about summer), each event and every occasion is a new chance to put together the perfect summer makeup look! On afternoons in the bright sunshine, it's all about creating a fresh, natural face, using products to give you glowing skin and protection from those harsh rays. After dark, it's your time to shine, with bright colors that glimmer in the moonlight.
Today we're looking at all the new Canmake products you need to achieve these two looks, so you know exactly what to bring (or buy) on your adventures this summer!
① Sunshine and Glowing Skin: Products for a Refreshing No-Makeup Makeup Look
Strolling through the sunshine on a bright summer day, a light touch and a natural look is just the thing, but choosing the right products is vital. Not only do you want UV protection to keep away the harmful rays, but light breathable cosmetics can also help you avoid feeling hot and sticky despite the heat. This year, Canmake has released a number of new products that are perfect for summer, from moisturizing Mermaid Skin Gel UV sunscreen with derivatives of vitamin C to Medicated Secret Beauty Powder that's extra gentle on the skin. Let's take a look at what we need for our first look.
Base Makeup | Mermaid Skin Gel UV – [C02] Sunny Yellow & [C01] Cica Mint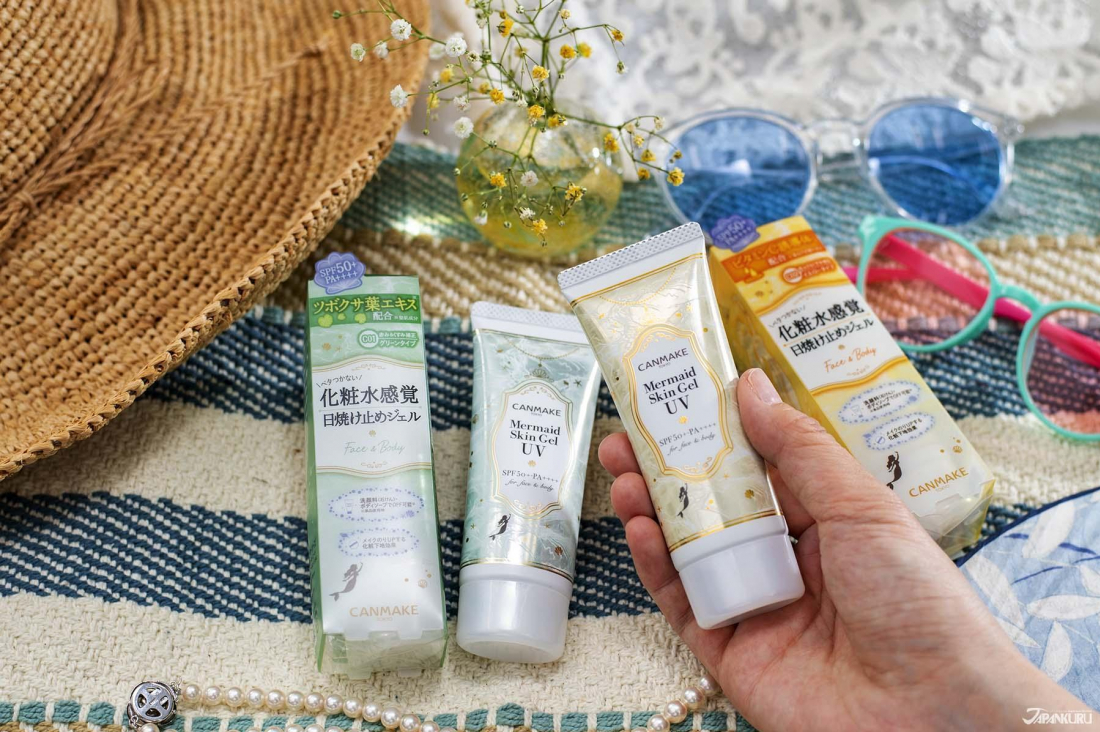 Vitamin C has long been a popular ingredient in cosmetics thanks to its skin-brightening and anti-oxidation properties, and in recent years it's become an increasingly popular addition in sunscreens as well. So this year, the new additions to Canmake's classic Mermaid Skin Gel UV line included the [C02] Sunny Yellow version, which uses vitamin C derivatives to give the formula extra stability. On top of a base strength of SPF 50+/PA++++ (defined as "extremely high UVA protection"), this Mermaid Skin Gel UV protects your skin with the extra strength of vitamin C! Plus, the texture is as silky as any lotion, without any of the stickiness left by similar products, and the yellow tint helps even out your skin tone.
In addition to yellow, the Mermaid Skin Gel UV also comes in [C01] Cica Mint, which uses "cica" extract from the Asian pennywort (or centella asiatica) plant. Not only does it have a refreshing herbal scent, but the mint color is great at reducing redness.
The whole Mermaid Skin Gel UV line is also easy to remove at the end of the day, coming off with just your everyday face wash or body soap. You can use it on your face, or anywhere on your body that you want to protect from the sun, without worrying about the need for makeup remover.
Base Makeup | Secret Beauty Powder [Medicated] – [M01] Clear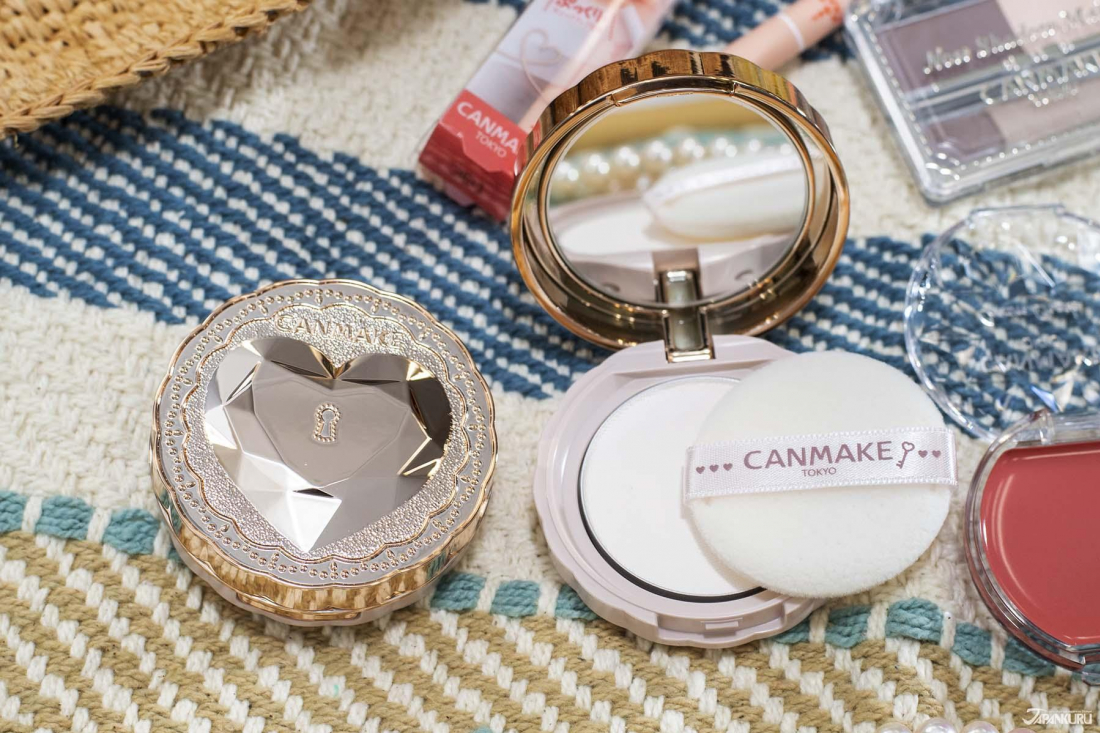 After a layer of easy-on-the-skin sunscreen, we recommend following it up with Canmake's new medicated Secret Beauty Powder. The two original varieties of this translucent powder, "clear" and "natural," have long been customer favorites for setting a fresh face of makeup, or touching it up throughout the day. This new medicated version of the powder is more gentle on the skin than ever, making it great for avoiding skin irritation or breakouts. Day or night, this powder gives you that natural, glowy, fresh-faced look you're aiming for. It's also great for days when you don't feel like wearing a full face of makeup, but you still want your skin to look its best.
Base Makeup | Nose Shadow Maker – [01] Greige Yellow & [02] Grayish Pink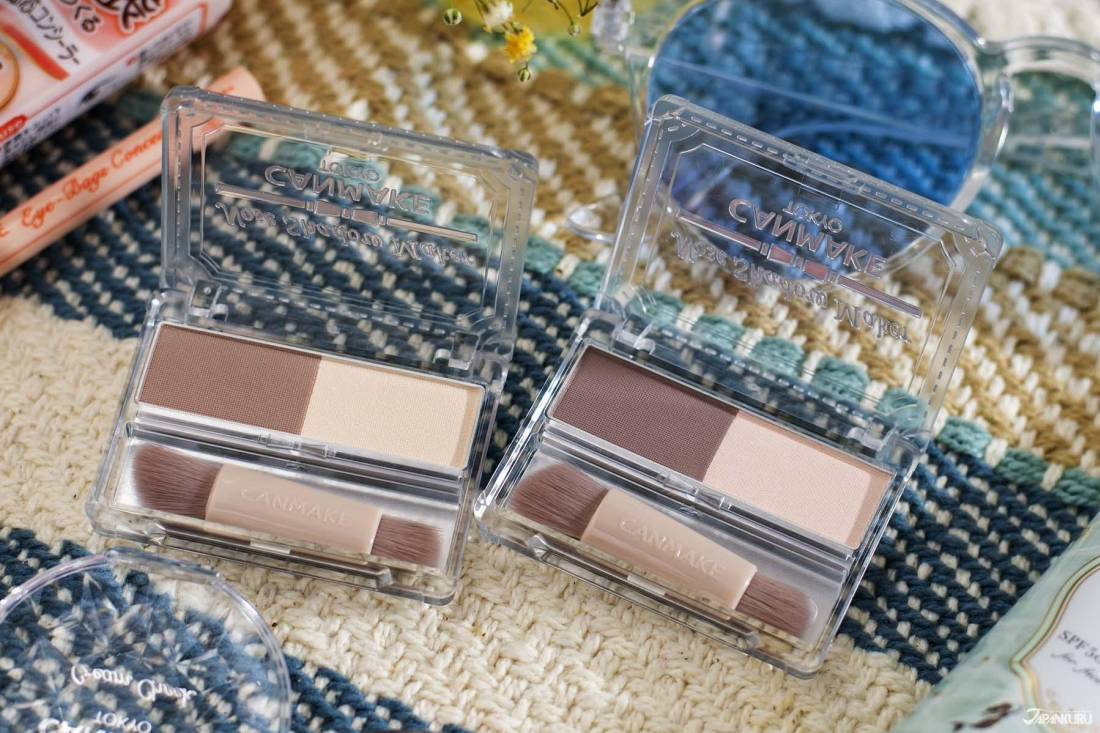 Light sunscreen and powder will give your skin the glow you want, although you can always add a layer of foundation for good measure, but to give your face a little definition you'll need to do some contouring. Canmake's Nose Shadow Maker comes in two color palettes, [01] Greige Yellow and [02] Grayish Pink, to suit a range of skin tones, and each compact includes a special double-ended brush engineered specially for nose contouring! The solid formula has four different moisturizing ingredients, but no mineral oil, artificial colors, or fragrances, so it won't irritate your skin, either.
Blush | Cream Cheek – [05] Sweet Apricot, [19] Cinnamon Milk Tea, & [21] Tangerine Tea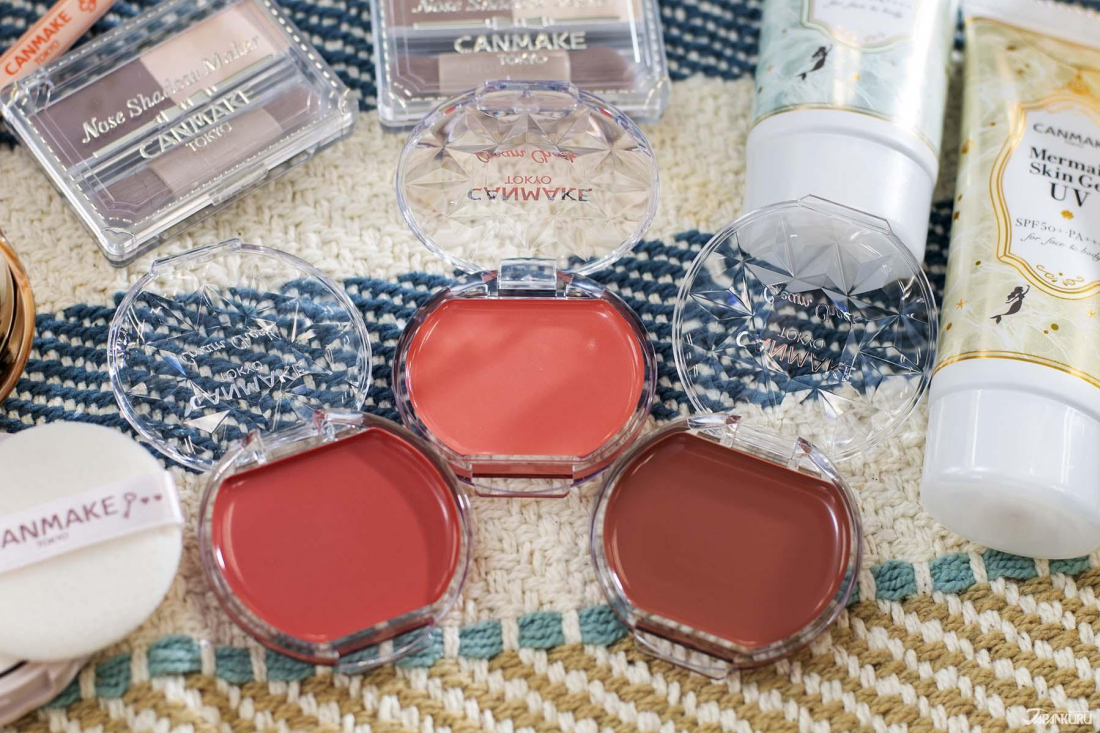 The best addition to any no-makeup makeup look is a little color in the cheeks, and if your own complexion isn't quite giving you everything you were hoping for, then all it takes is a dab of a natural-colored blush to level-up your look. Canmake's Cream Cheek blush has been a best-seller ever since it landed on shelves, thanks to its convenient cream formula and the fantastic variety of colors to choose from. To boost your natural complexion, [05] Sweet Apricot is a cute, innocent pink and [19] Cinnamon Milk Tea gives a slightly more elegant impression, but [21] Tangerine Tea is the newest addition to the series – making it a fun new option to try out. Choose the color that best matches your own skin tone, test out a color that matches the latest trend, or go crazy and try out all the different options.
Optional Addition | Eye-Bags Concealer – [03] Peach Orange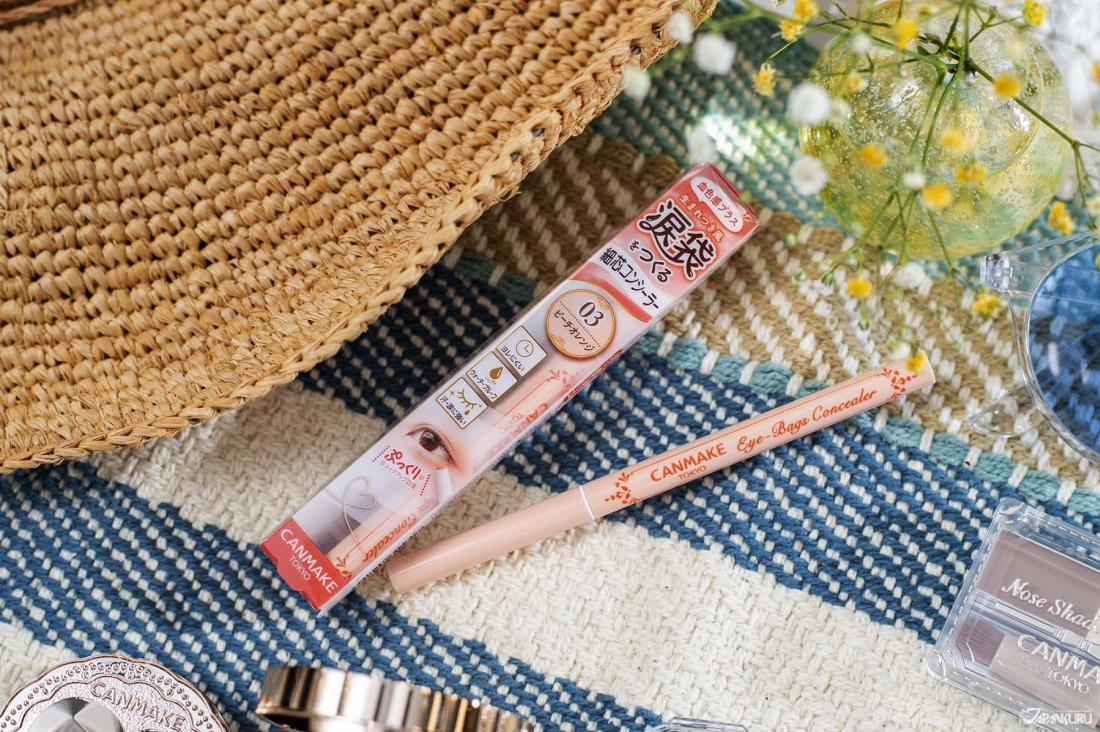 To add a trendy touch to this natural face of makeup, try recreating "aegyo sal," the youthfully soft "eye bags" that are so popular in Korean makeup. With a narrow 3 mm (1/8″) tip, Canmake's Eye-Bags Concealer is the perfect tool for the job! The smooth formula is gentle on the skin, easy to blend, and effective at concealing too, on top of being waterproof and long-lasting. It won't just rub away at the slightest touch, so you can have fun at the beach or hiking up mountains without worrying about your makeup! This summer, the new [03] Peach Orange color is available for a limited time, for an extra dose of color.
② Twinkling Eyes in the Moonlight: Products for That Sexy Summer Glamour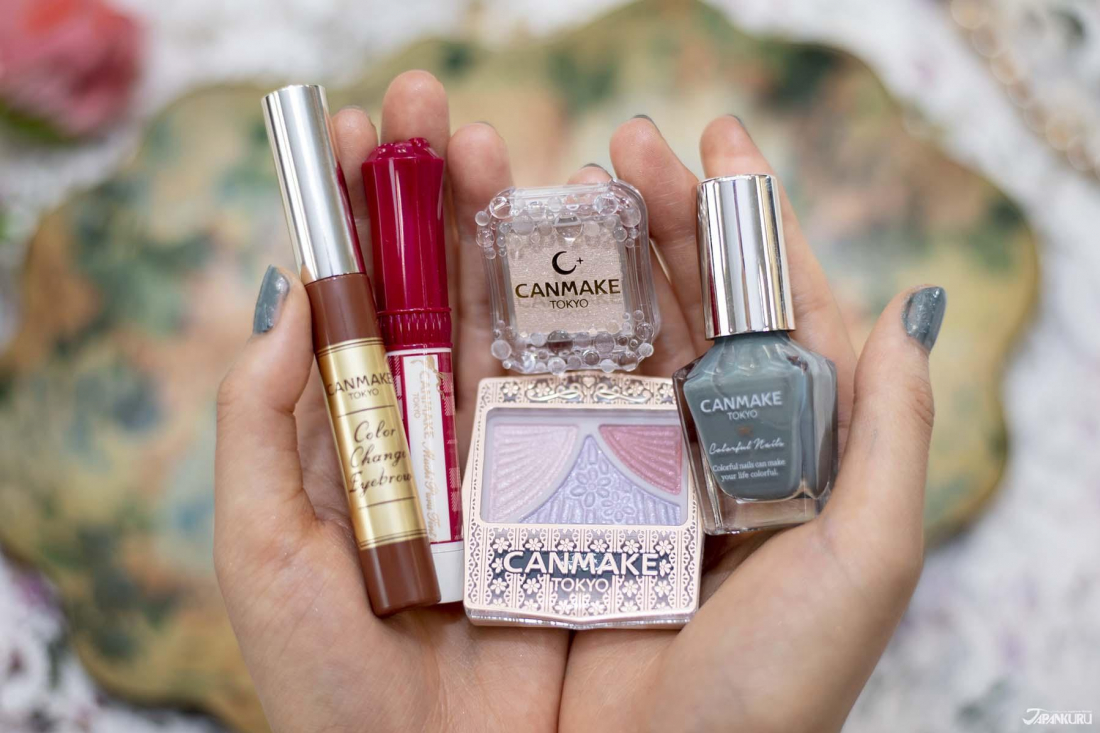 On the hottest days of the year, once the sun sets, it's time for that summer romance – or at least a lovely stroll in the cool night air. In Japan, summer nights are when you'll come upon some of the year's most exciting events, like traditional festivals and massive fireworks displays. So to prepare for these glittering events after dark, you'll want to make sure you're shining just as bright as the fireworks in the night sky! This summer, Canmake is offering a selection of new produces that seem made just for that purpose – take a look at the brand's new eyeshadow options and moisturizing lip colors.
Lips | Muchi Puru Tint – [01] Butterscotch, [02] Peach, & [03] Wine Berry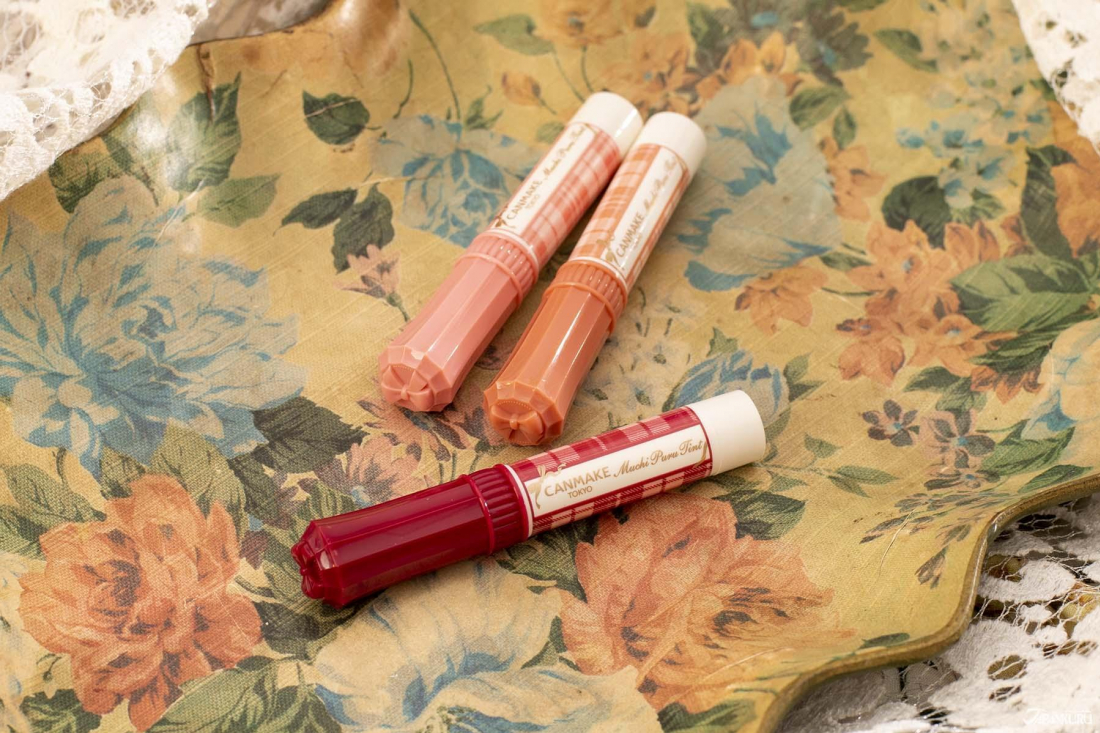 When it comes to makeup, you might call a good lipstick the basic of all basics. Even for those of us without the motor skills to pull off fancy eyeshadow or careful contouring, just a touch of lip color adds a little something extra. And the Muchi Puru Tint from Canmake not only looks great, but the six different moisturizing ingredients work almost like a lip serum. The formula keeps your lips moisturized and smooth, and the bright, juicy colors look sexy all night long.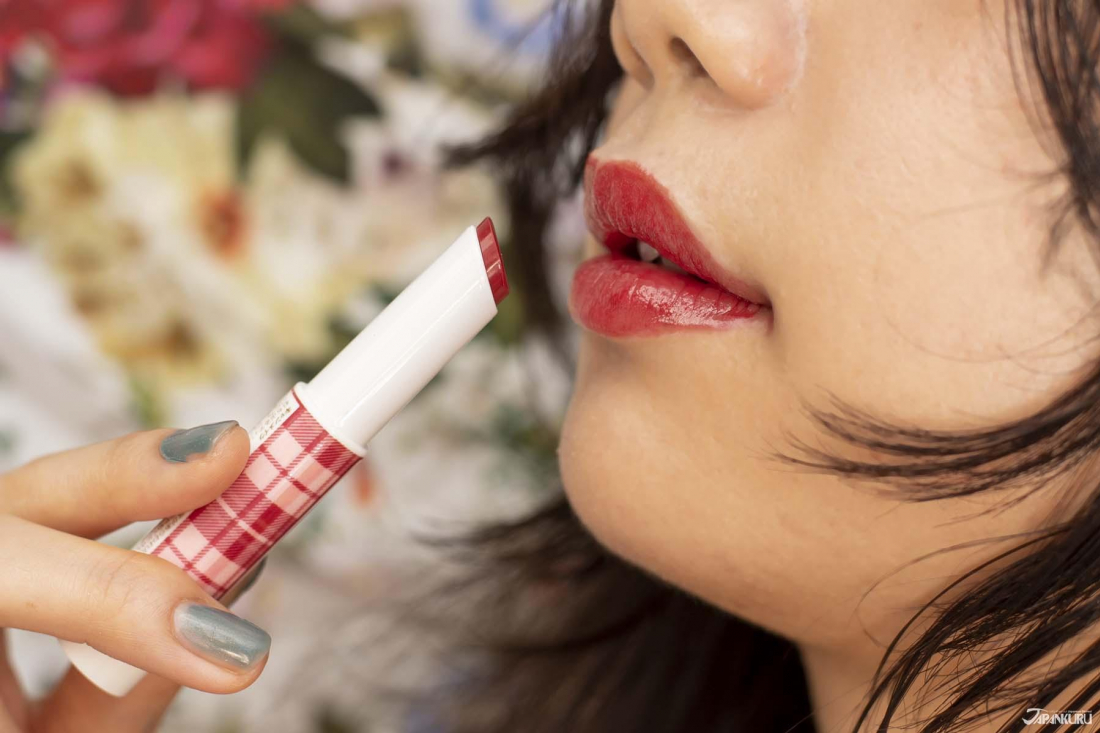 Despite being a lipstick, the Muchi Puru Tint has a soft texture and a shiny finish, melting into the heat of your lips for a long-lasting shine. You don't have to worry about added fragrances or alcohol irritating your delicate lip skin, either. Choose from the three colors – [01] Butterscotch, [02] Peach, and [03] Wine Berry – to bring out the best in your own luscious lips.
Eyes | Juicy Pure Eyes – [15] Sunset Kiss & [16] Silhouette Sunrise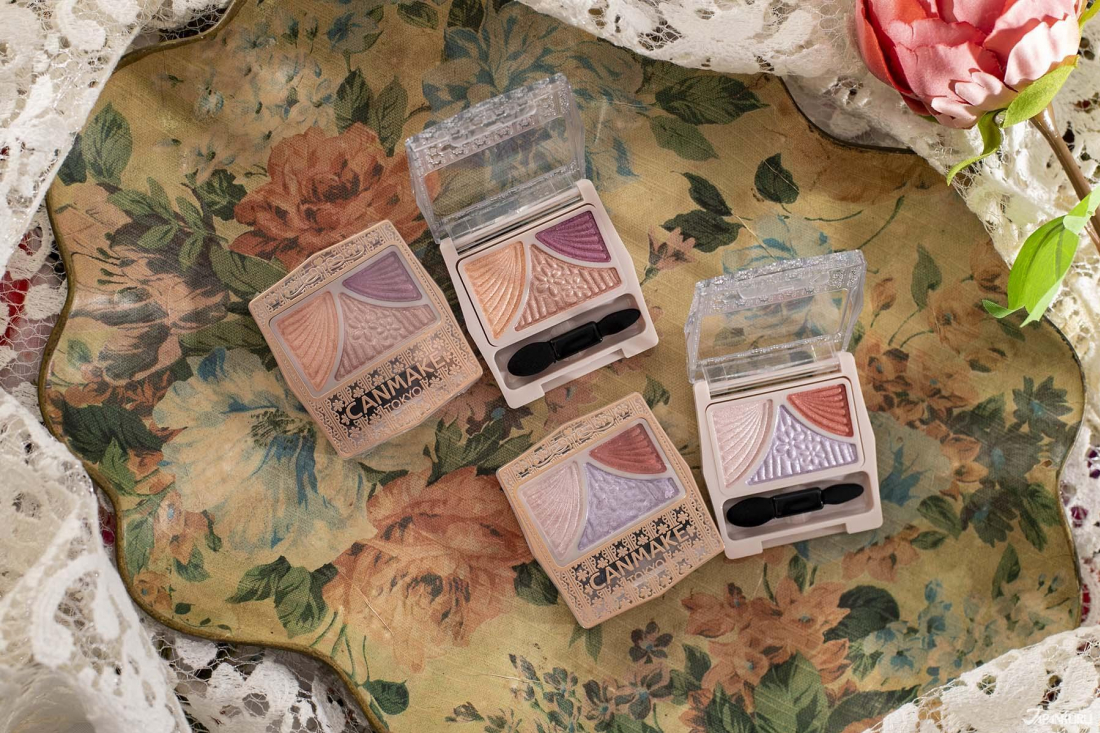 A colorful blend of eyeshadows is the key to nailing all kinds of makeup styles, and the shimmer of a good eyeshadow never looks better than it does in the flickering light of candles, lanterns, and moonlight. Thankfully, these Juicy Pure Eyes eyeshadow palettes are a Canmake staple, and this summer's new colors – [15] Sunset Kiss and [16] Silhouette Sunrise – add even more tempting colors to choose from.
Not only are the palettes compact and portable, but each one contains a complete look, with a main color, a liner color, and a layering color for extra depth and shimmer. The moisturizing oils in the eyeshadow formula also help to keep the pigment on your lids through the night, and also to give the eyeshadows a little extra shine, although the pearlescent and glitter shadows are the flashiest of all. They'll leave you glittering long after the sun sets.
Eyes | City Lights Eyes – [03] Orchid Mauve & [05] Moon Diamond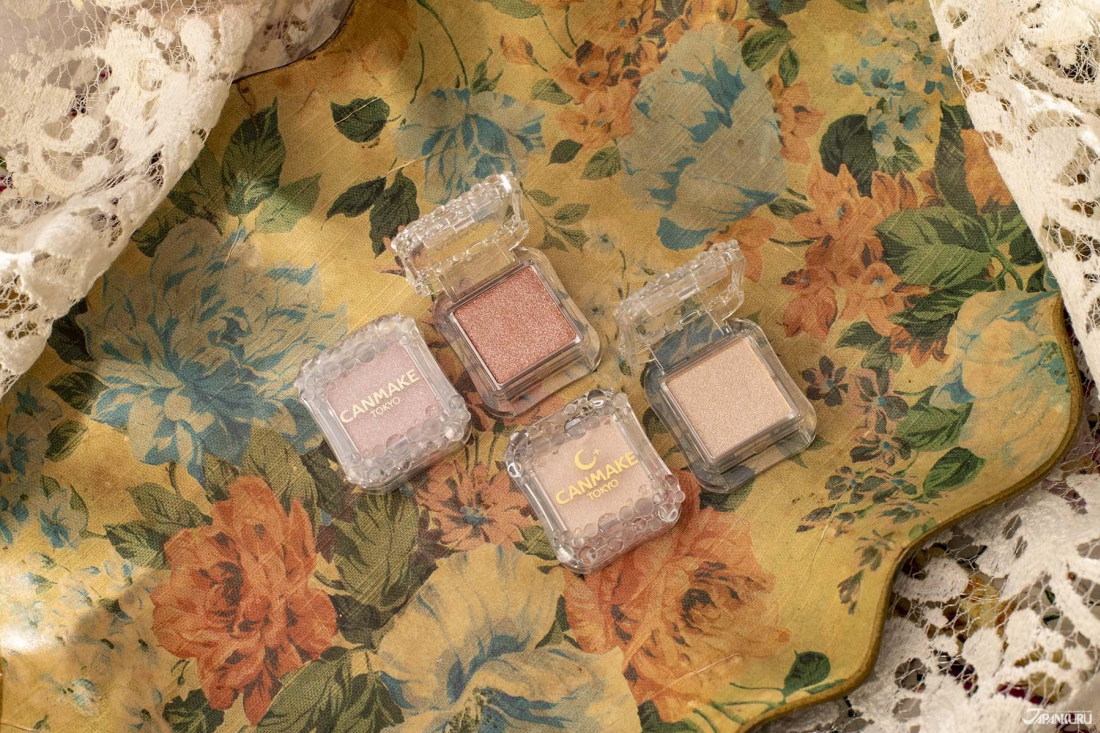 For makeup lovers who prefer their eyeshadows in single colors over larger palettes, this year's limited edition colors of Canmake's City Lights Eyes eyeshadows are worth checking out. All it takes is a quick glance at the name to see how well this particular Canmake product goes with our look for the night. Formulated to look like a glittering city skyline after dark, these shimmering eyeshadows use a fine glitter for maximum sparkle, and have added moisturizing ingredients to stay on all night and still leave your eyelids feeling good.
City Lights Eyes comes in four basic colors – [01] Russet Brown, [02] Sphinx Amber, [03] Orchid Mauve, and [04] Chamois Pink – and Orchid Mauve is a perennial favorite, but this year they're re-releasing shade [05] as well, called Moon Diamond. Shining in their compact cases with all the glitter of a night sky, these little eyeshadows make great gifts, for a friend or for yourself.
Brows | Color Change Eyebrow – [08] Almond Brown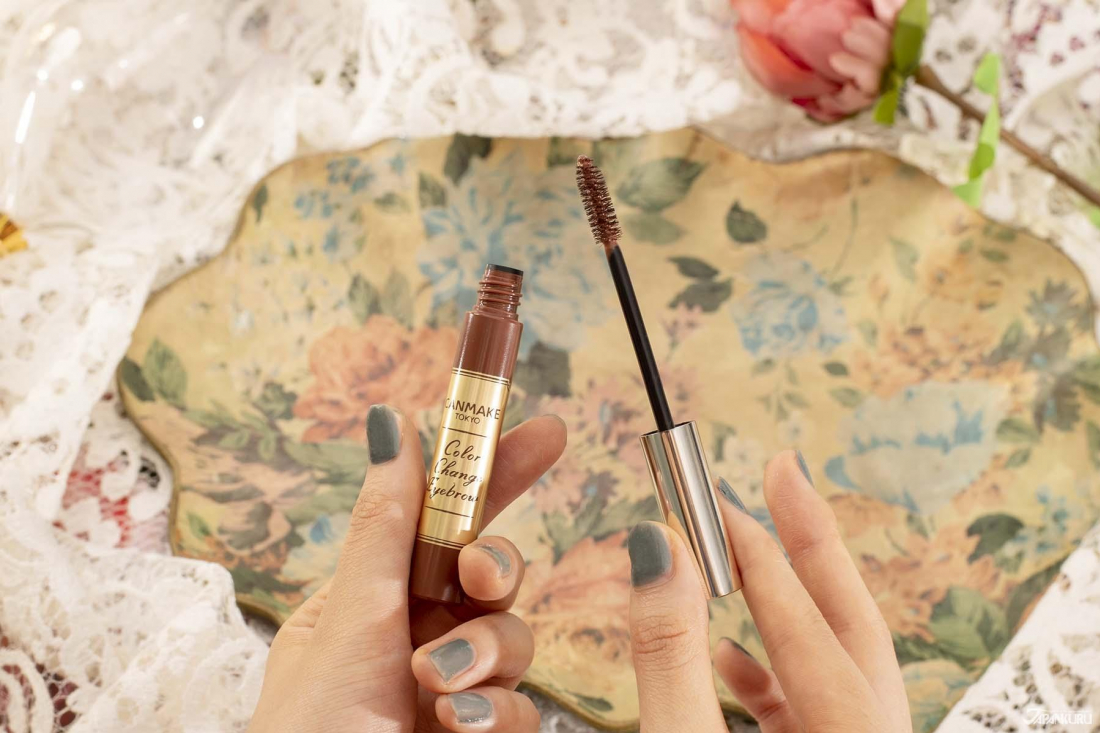 Tinted eyebrows are more and more popular on the Japanese makeup scene these days, using a slight change in shape or color on the brows for maximum effect. For different makeup styles, a small shift in how you do your brows can make a big impact, boosting the rest of the look. This new color for Canmake's classic Color Change Eyebrow, with the slightest reddish tinge, will give you more options than ever.
Canmake's Color Change Eyebrow comes in a variety of colors for different looks, and despite the beautifying formubeing sweat-resistant, it washes off easily with a little hot water. Use the brush's thick bristles to create soft, defined, and natural-looking eyebrows, perfect for any summer makeup look.
Optional Addition | Colorful Nails – [N83] Moon Ray & [N84] Hazy Rain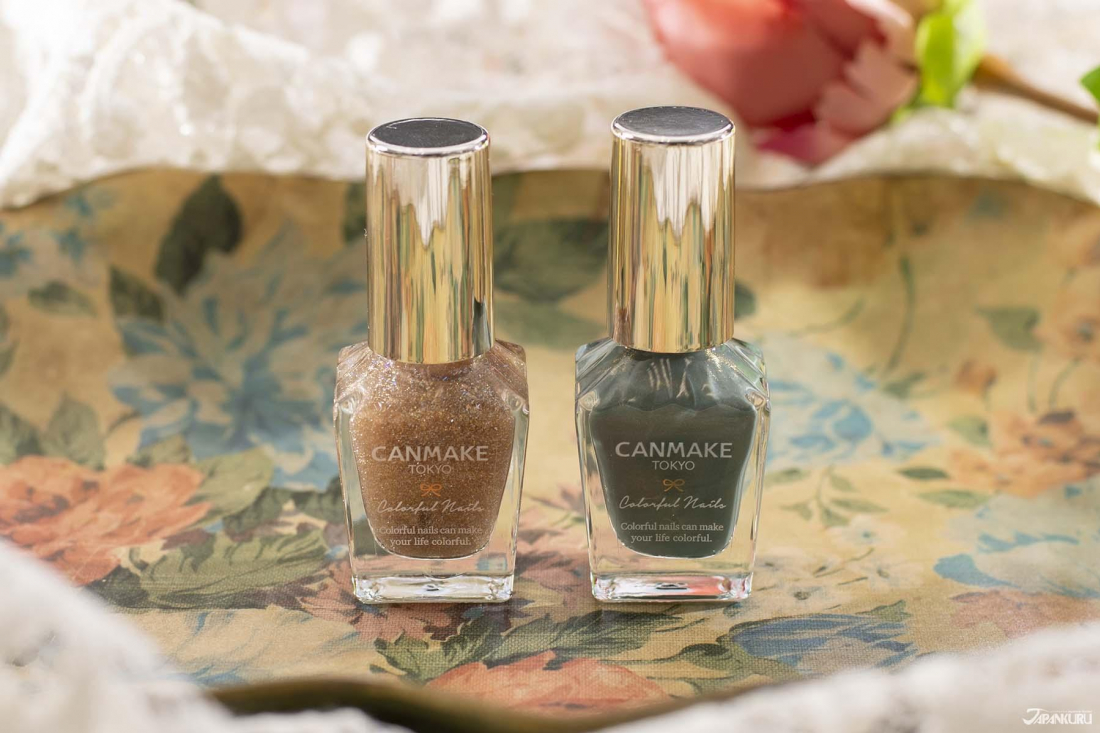 In addition to Canmake's many makeup products, their nail polishes are also a fan favorite – the huge selection of colors from their Colorful Nails line is hard to resist! To add to the temptation, this summer's new and limited edition colors include [N83] Moon Ray and [N84] Hazy Rain – perfect additions to your glittering summer night look.
The golden glitter of Moon Ray calls to mind the warm glow of city streetlamps, while Hazy Rain looks exactly like fresh summer rainfall feels – they make perfect summer gifts! This nail polish formula dries quickly with a glossy finish, meaning you and your friends will be ready to head out and hit the town in no time.
A Summer Beauty Haul, Just in Time for Summer Travel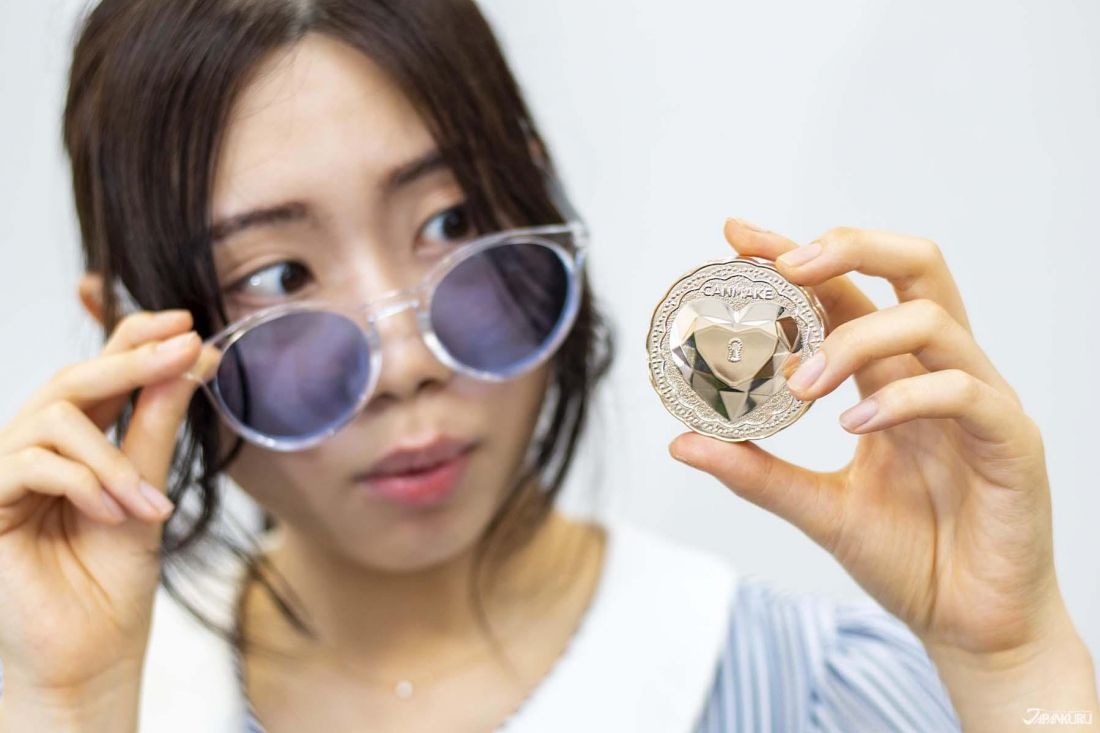 Do you have plans for the summer yet? Which of these summery Canmake makeup looks do you like the best – and which would fit in with your own summer vacation style? No matter which one you choose, we wish you a summer full of glitz, glamour, and plenty of adventure! And if you want to know more about the popular Japanese cosmetics made by Canmake, you can read more in our article on Canmake's spring releases.
For more info and updates from Japan, check Japankuru for new articles, and don't forget to follow us on Twitter, Instagram, and Facebook!