Q-pot CAFE.'s Harry Potter Menu ・ Tokyo's Most Tempting Treats & Magical Potions of the Summer
This summer's Harry Potter menu at Q-Pot CAFE. is an enchanting collection of drinks, sweets, and even afternoon tea.
Harry Potter at Q-pot CAFE.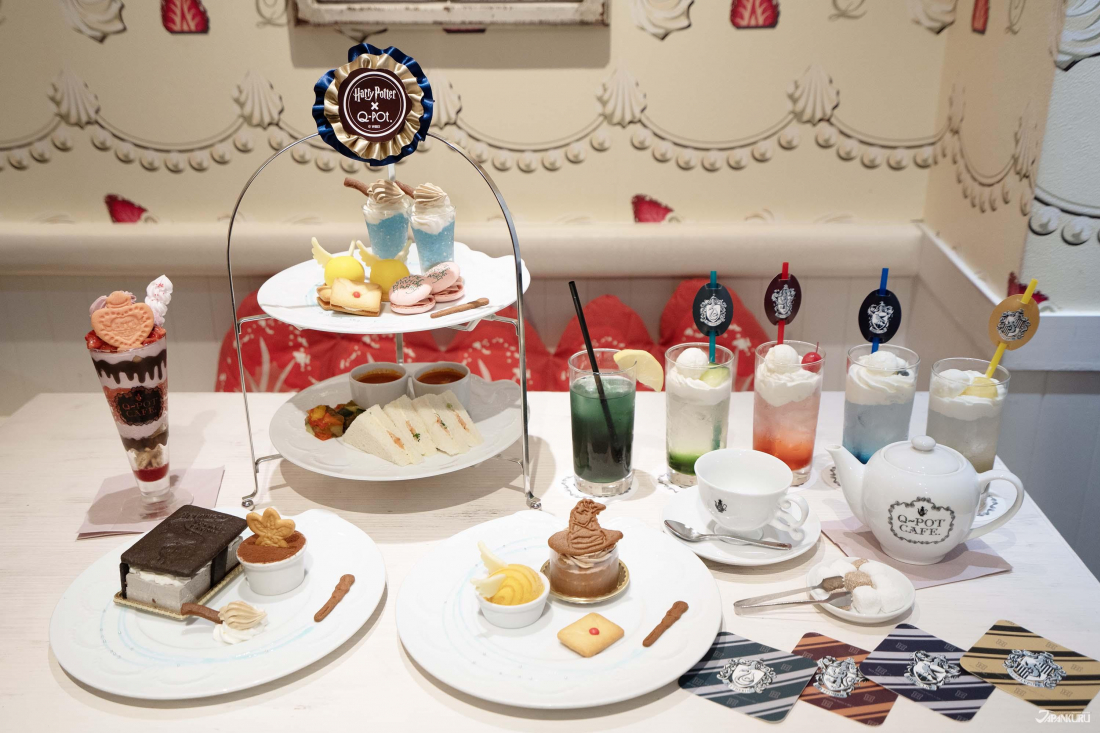 Q-pot., Japan's most sugary-sweet accessory brand, has a history of fabulous collaborations with the Harry Potter series when it comes to their adorable accessories. So Harry Potter fans will be happy to hear that this summer the proven partnership has finally made its way to the Q-pot CAFE., Q-pot.'s Omotesando cafe and boutique. From fizzy drinks as glittery as a vial of felix felicis, to Sorting Hat cakes that tell you your true Hogwarts house, the options available on this limited-time-only Harry Potter menu are as tempting as anything you might get from Honeyduke's.
The Harry Potter fans on the Japankuru team couldn't resist a trip to the cafe as soon as we heard the news, and we think other Potterheads in Tokyo will definitely want to make a reservation ASAP to try this year's cutest Harry Potter-themed cafe treats at Q-pot CAFE.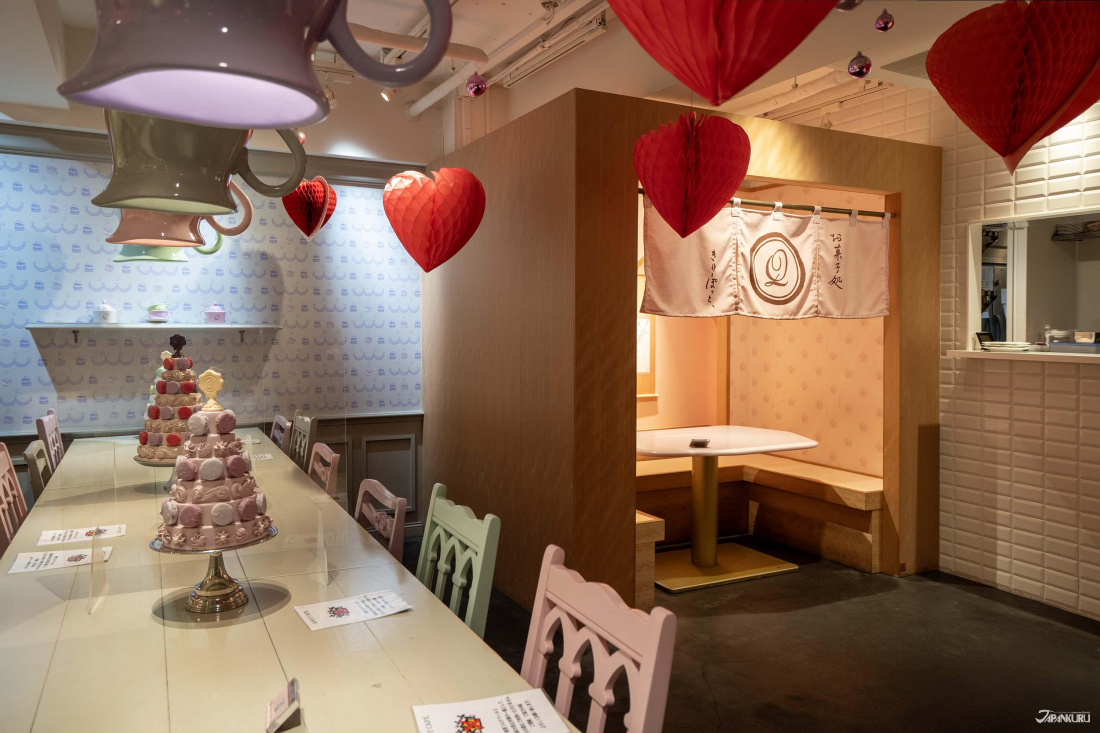 Q-pot CAFE.
3-4-8 Jingumae, Shibuya City, Tokyo
Hours: 12:00 – 20:00
Official Website (en) | Reservations
*Harry Potter menu available July 4th to September 5th, 2023.
A Menu to Rival Florean Fortescue's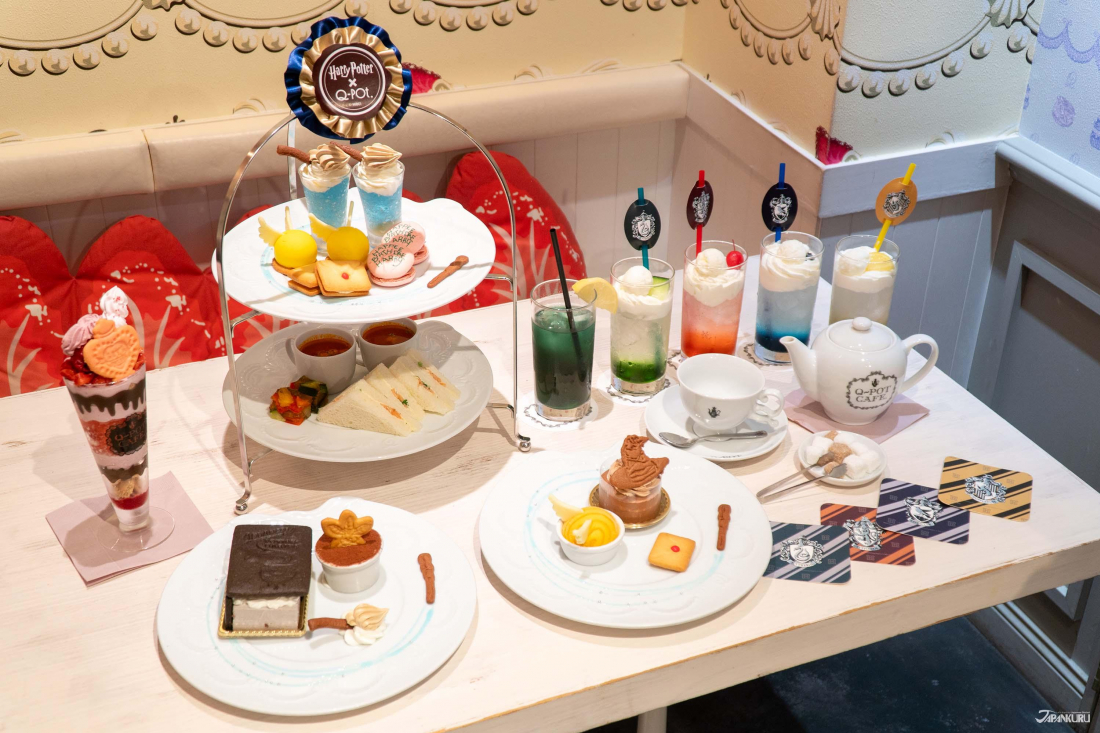 Not sure what to order at Q-pot CAFE. this summer? You could always copy the Japankuru team, get one of everything, and leave the cafe as stuffed as Harry after a Hogwarts feast! But if you insist on being reasonable, each option on this special menu has its own touch of Harry Potter charm, while still being totally delicious.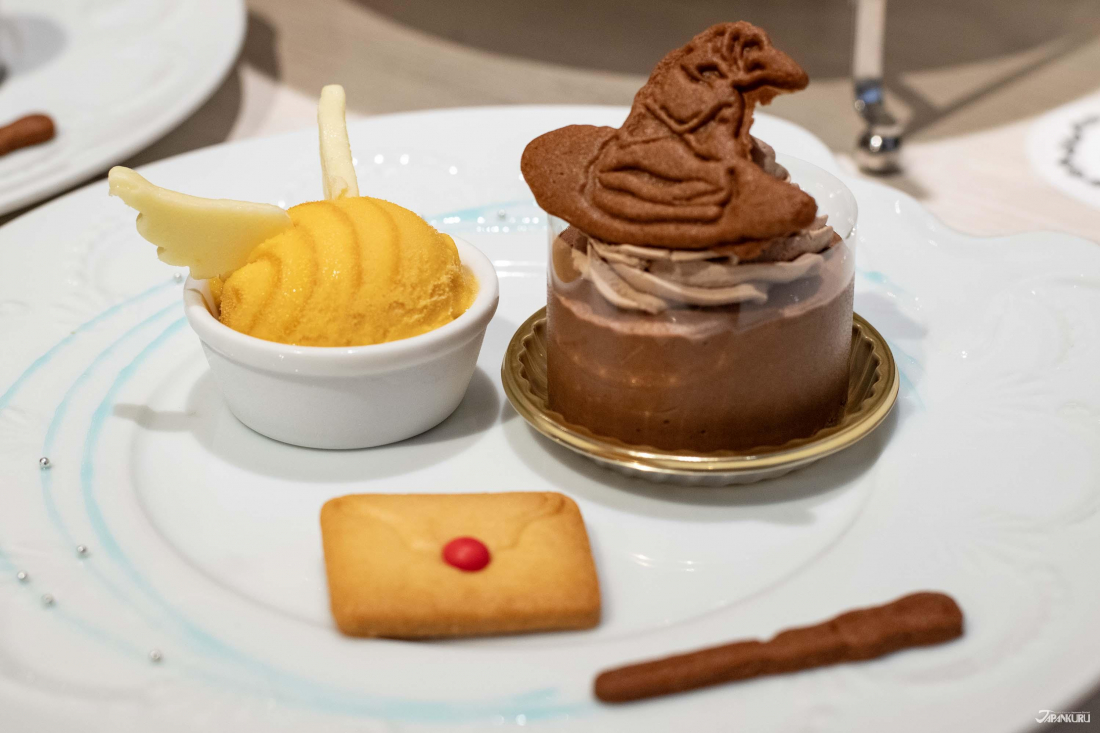 For newer initiates to the Harry Potter fandom, the Sorting Hat Cake Plate might be the perfect way to choose a house. The Sorting Hat Cake itself is a rich chocolate mousse, and nestled into the very center is a colorful cream in one of four flavors: pale red raspberry for Gryffindor, golden mango for Hufflepuff, sky-blue blueberry for Ravenclaw, and an intense green matcha mousse for Slytherin. The plate also comes with a scoop of mango ice cream with white chocolate wings, as tempting as Harry's first golden snitch, and a little envelope cookie. Perhaps you need to be a real witch or wizard to find your Hogwarts acceptance letter inside, because we just found more tasty cookie crumbs.
Despite two determined Ravenclaws being the ones to investigate our Sorting Hat Cake and cut into the center, the Japankuru team ended up with Slytherin. We certainly wanted a word with the Sorting Hat after that! Too bad we'd already eaten it.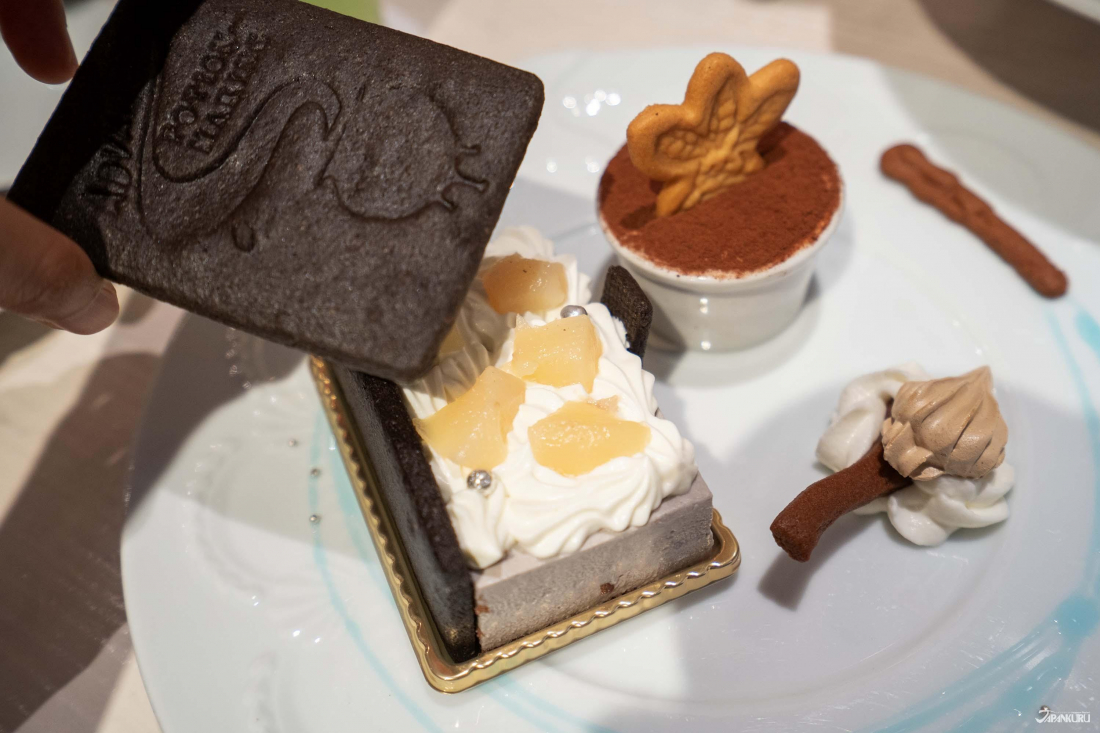 The other cake plate is the Hogwarts Lesson Plate, which covers Hogwarts classes from throughout Harry's academic journey. You'll find the broom from his very first flying lesson (in the form of a cookie and a little meringue), alongside a mandrake (or mandragora) cookie buried in a pot of chocolate mousse with berries at the bottom, a fond memory from Harry's 2nd year. Fortunately, it will not cry out and kill you with its terrible scream. Unfortunately, it also does not have any magical curative powers. Guess we'll have to be satisfied with its magically delicious taste instead.
The centerpiece of this plate is a cake masquerading as an Advanced Potion-Making textbook, with black cocoa cookie book covers, and "pages" of cheesecake, whipped cream, and peaches!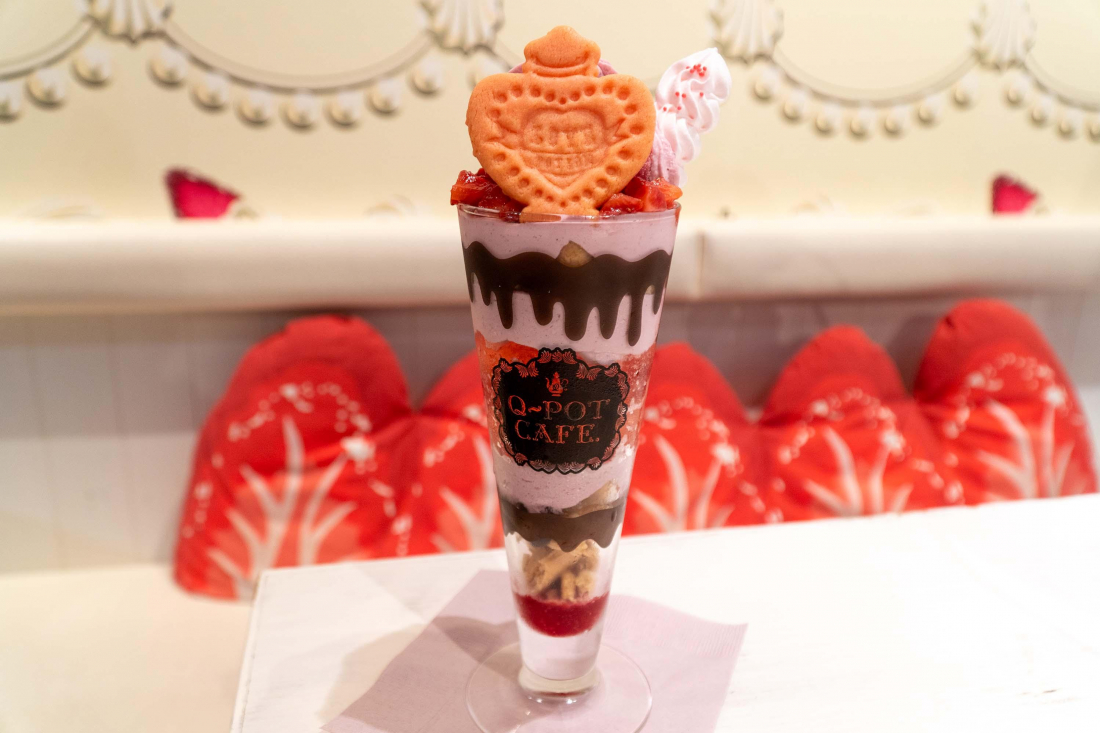 The "In Love Parfait" is a Q-pot CAFE. classic, thanks to certain features it shares with parfaits on the cafe's standard menu. But this version is dressed up with a love potion cookie that will leave you dreaming of Romilda Vane. Ah… Romilda Vane… just as sweet as the strawberries atop this decadent parfait.
Other layers include rose jelly, cookie crumbles, raspberry sauce, and some truly delicious blackcurrant ice cream. It certainly had us falling in love… with parfaits, at least.

For a series about the United Kingdom, Harry Potter has surprisingly few scenes dedicated to decadent afternoon tea, but that doesn't mean you shouldn't treat yourself. The Hogwarts Afternoon Tea Set comes with a selection of savory and sweet bites, including little tea sandwiches, cups of chilled tomato soup, golden snitch mango mousse cakes, and pink macarons decorated to look like the birthday cake Hagrid made for Harry the day they met.
Drinks as Alluring as Amortentia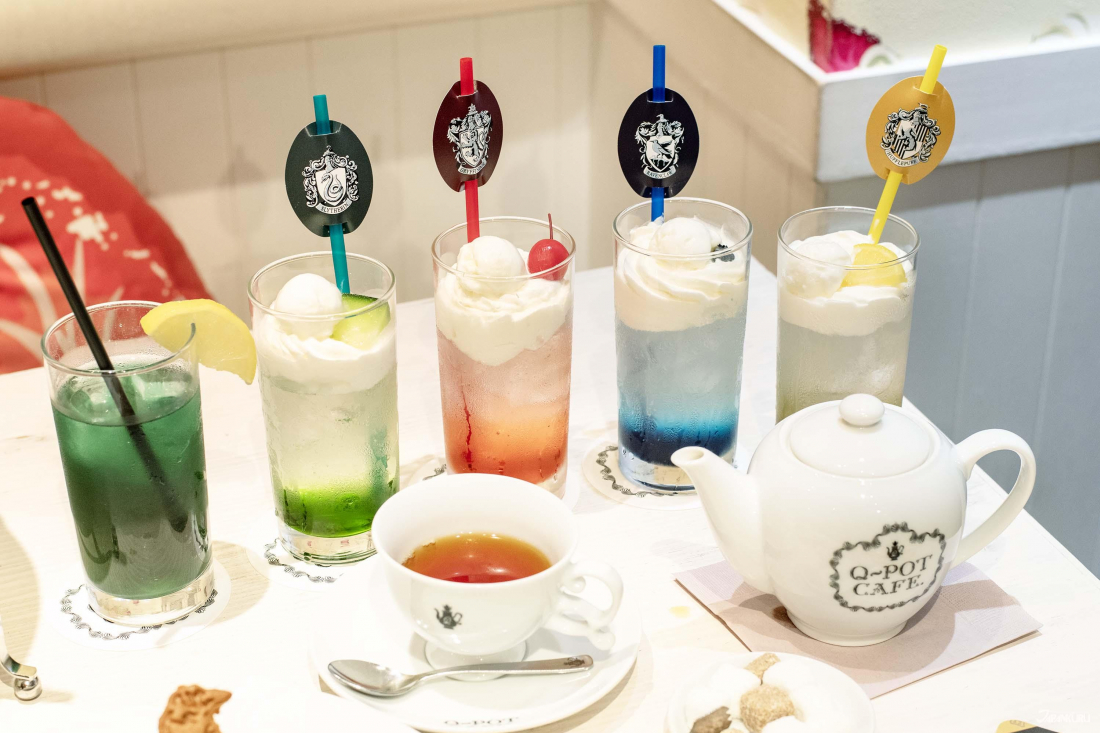 Are you the kind of Harry Potter fan who chooses their drink based on their house, or just their favorite flavor? The Q-pot CAFE. Hogwarts House Cream Sodas come in four flavors: cran-raspberry for Gryffindor, (blue?) lemon for Ravenclaw, pineapple for Hufflepuff, and melon for Slytherin – each topped with a fruit garnish, whipped cream, and a scoop of salty-sweet milk ice cream. And they come with matching coasters!
For those with more of a dark streak and a love for the head of Slytherin house, the Professor Snape Dark Lemonade might be more your style. The dark green drink is made with lemon juice and a mix of fruity syrups for a mysterious fusion flavor, and added pearlescent powder really does make the drink look like a potion straight from Snape's cauldron. Perhaps a new recipe scribbled in the margins of the Half-Blood Prince's potions book?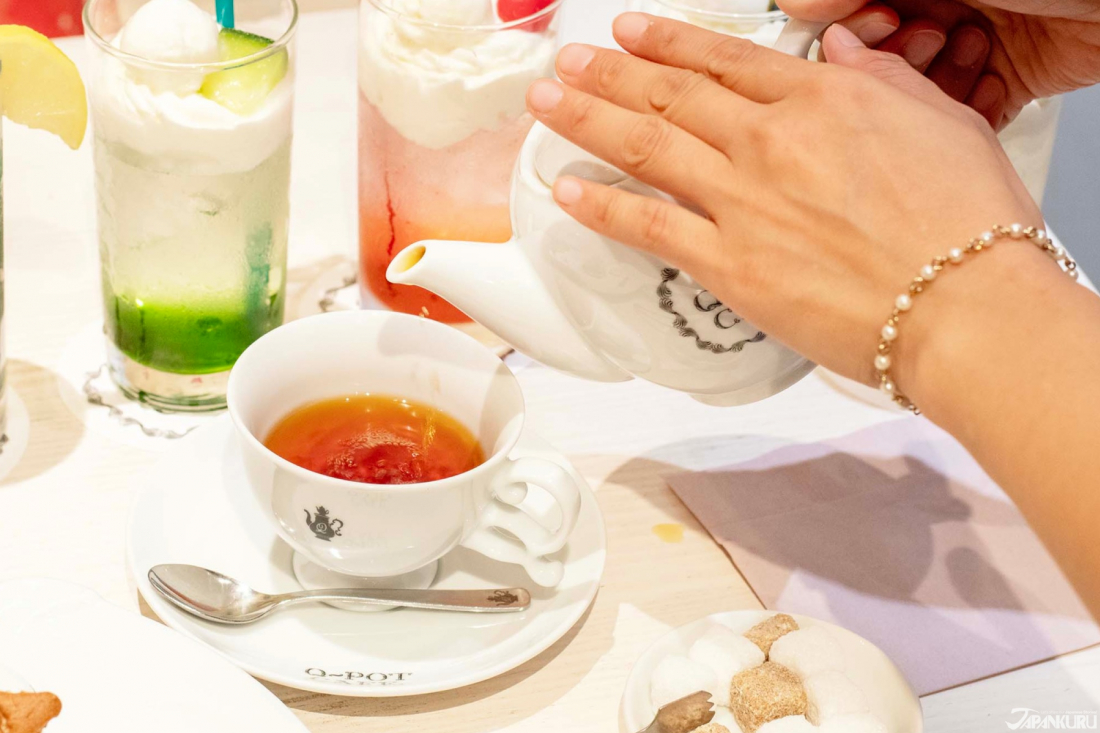 For tea lovers and chocolate lovers alike, we wholeheartedly recommend Q-pot CAFE.'s special tea blend for the Harry Potter menu. Named the Hogwarts Chocolat Tea, this mix of black tea and cocoa nibs results in a beguiling drink that smells and tastes almost like hot chocolate… but with the refreshing mouthfeel of a cup of tea. It's delicious without any sugar at all, but the cafe provides plenty of sugar cubes!
Bring a Little of the Magic Home with You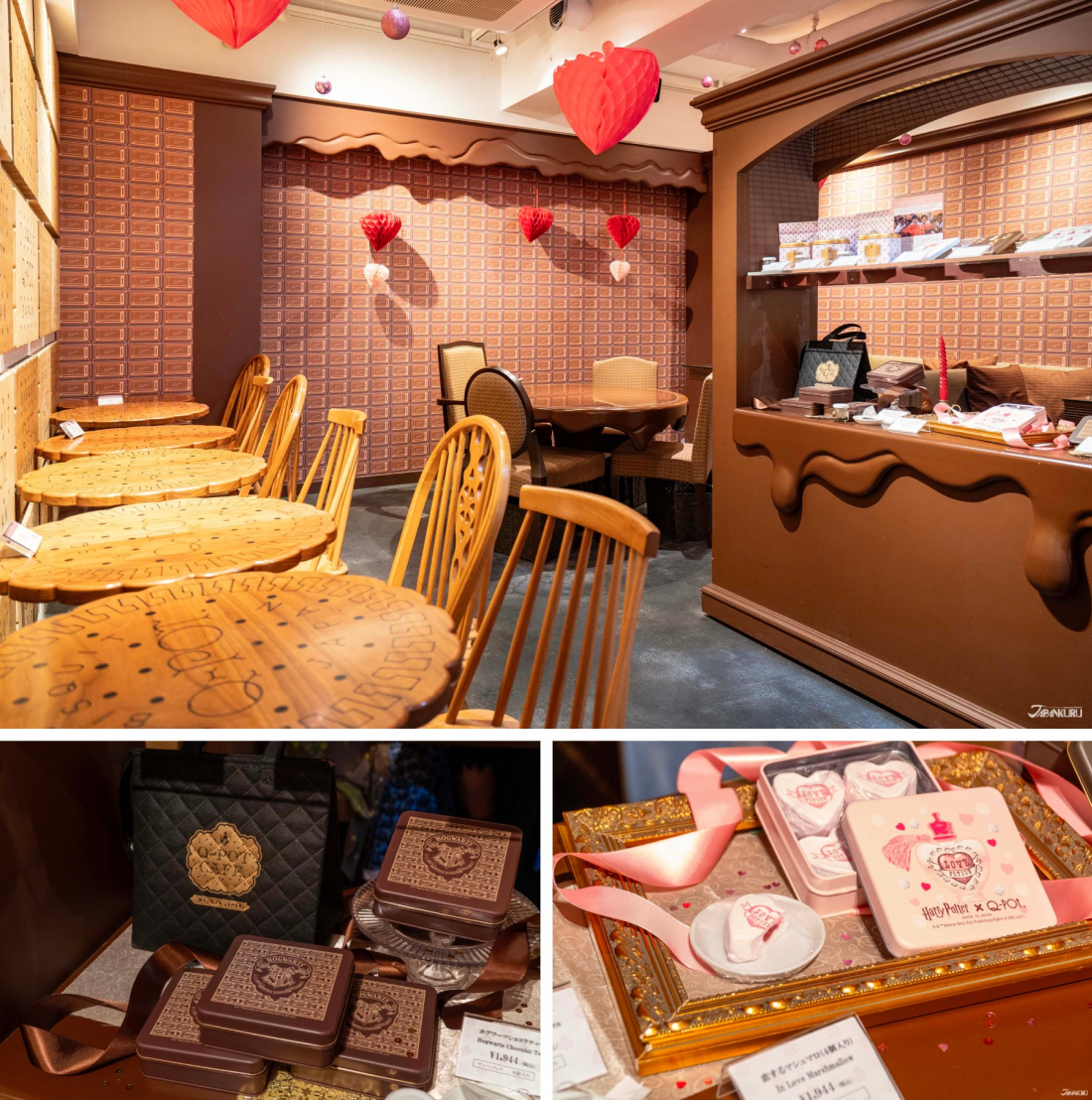 When visiting the Q-pot CAFE., it's wise to come ready to splurge on souvenirs, because this cafe/boutique has a lot to offer. As a part of the Harry Potter cafe menu, the cafe is selling adorable tins of Hogwarts Chocolat Tea, romantic pink In Love Marshmallows filled with strawberry jam, and traditional Japanese wasanbon sweets in a love potion box.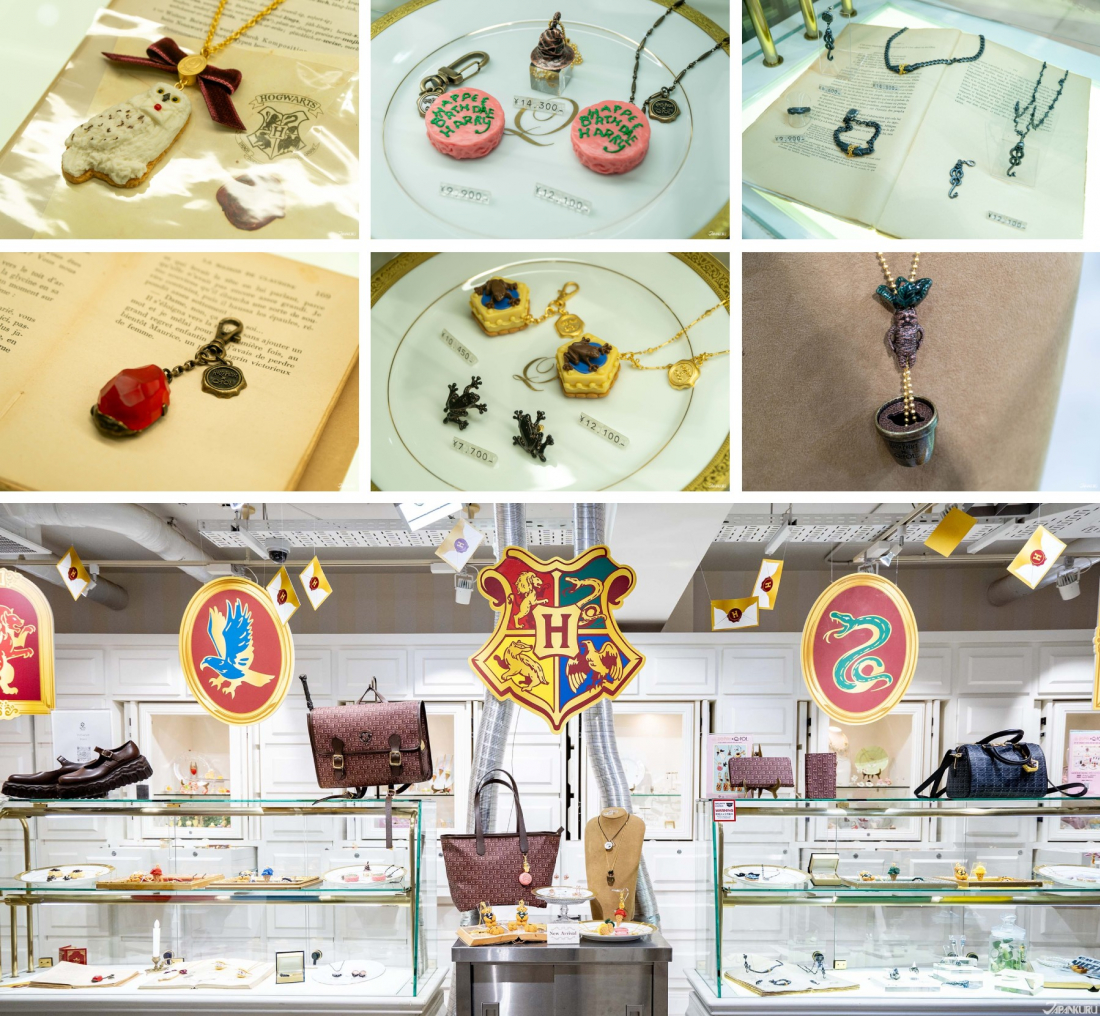 Above the cafe, Q-pot. has multiple floors of boutique space, currently displaying a huge number of truly tempting Harry Potter items. Birthday cake charms, mandrake root necklaces, chocolate frog keychains – there's even a necklace pendant containing the very cup of tea that Professor Trelawny looks into when she finds "…THE GRIM!" And this year, for the first time, Q-pot. is also releasing a line of Harry Potter leather goods. Anyone with a love for Japan's kawaii culture and the wizarding world of Harry Potter will have no problem finding plenty to buy.

Harry Potter fans in Tokyo this summer won't want to miss the special Harry Potter menu at Q-pot CAFE. – or all the great merchandise, either!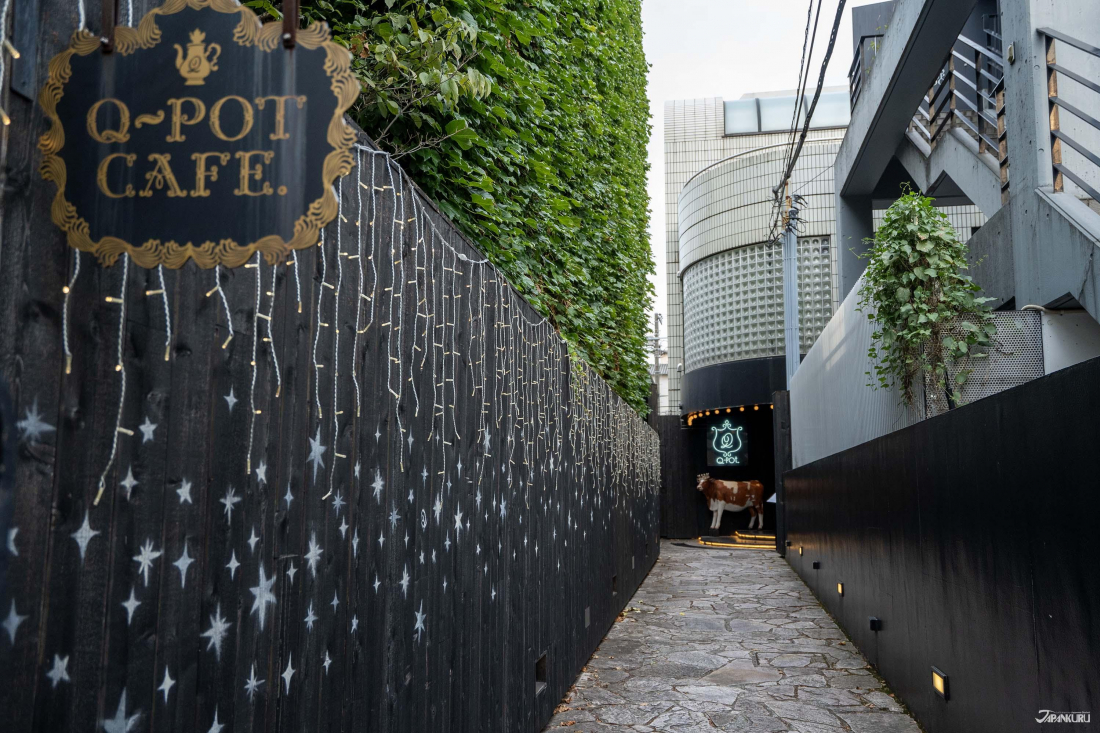 For more info and updates from Japan, check Japankuru for new articles, and don't forget to follow us on Twitter, Instagram, and Facebook!