Tokyo Designer Shopping – Visiting Vivienne Westwood's Omotesando Aoyama Boutique with Rui (Koneko)
This Tokyo Vivienne Westwood boutique is a must-see for fashion lovers, fans of the British designer Vivienne Westwood and her eponymous brand, or anyone with a flair for wild design.
Vivienne Westwood: The Boundary-Pushing Eternal Godmother of Punk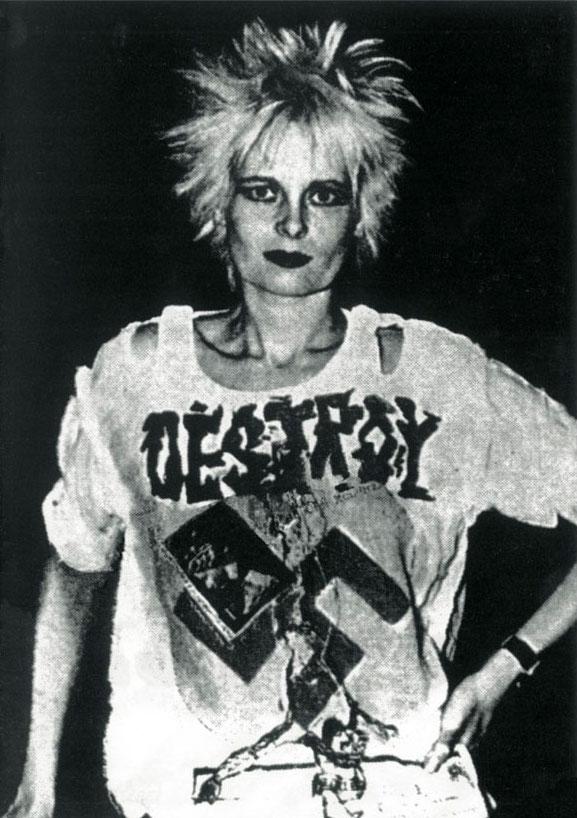 Designer Vivienne Westwood (1941-2022), known as the Godmother of Punk and the Queen of British Fashion, shaped the history of fashion all over the world for half a century, becoming a leading figure in the British fashion industry along the way. Westwood's own story as a designer starts early, with a love for designing clothing and creating her own accessories visible even during her childhood, but the harsh reality of making a living in fashion convinced her to become a school teacher instead… at first. Of course, Vivienne Westwood's passion for fashion still burned deep in her heart, and when she met future Sex Pistols' manager Malcolm Malaren, the two of them birthed the punk fashion craze that swept across the country, and throughout the world. Their London punk boutique where Westwood first sold her original designs, now a part of the Vivienne Westwood brand, is still a place of pilgrimage for punk rockers and fashionistas.
The Vivienne Westwood brand began with items created by the designer's own two hands, using safety pins, metal studs, straps, chains, and effortless rips and tears to embody the bold rebelliousness of the punk scene. She artfully added in British iconography, from the flag to plaid suiting, to show the contradictory nature of the scene, and add her own unique flair. Always a punk at heart, Vivienne Westwood tackled social issues and made sure her thoughts were reflected in the clothes she made, ignoring criticism from fashion's mainstream. Her fashion sense and keen eye on society made her an icon, still recognized by the British Royal Family, with fans all over the world.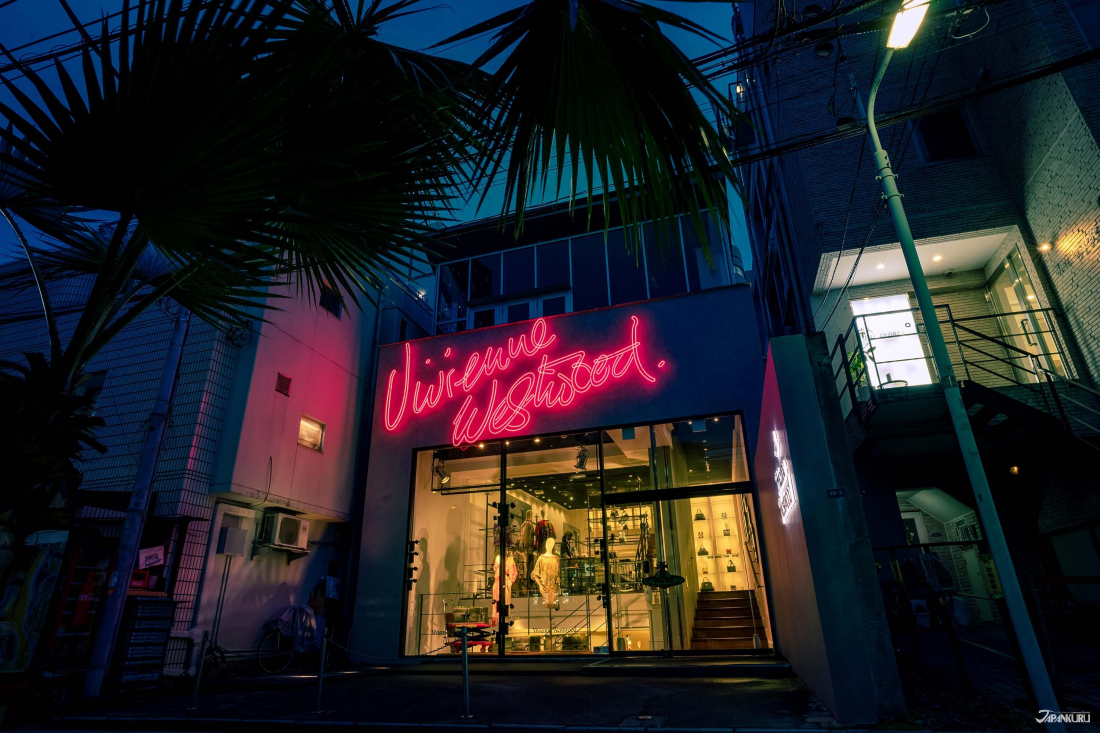 These days, the Vivienne Westwood brand has boutiques in Japan and around the world, and each shop has a unique selection and atmosphere shaped to match the surrounding area. Tokyo's Omotesando/Aoyama area is a hotspot for high-end designer brands, so Vivienne Westwood set up a classic boutique with chic interiors.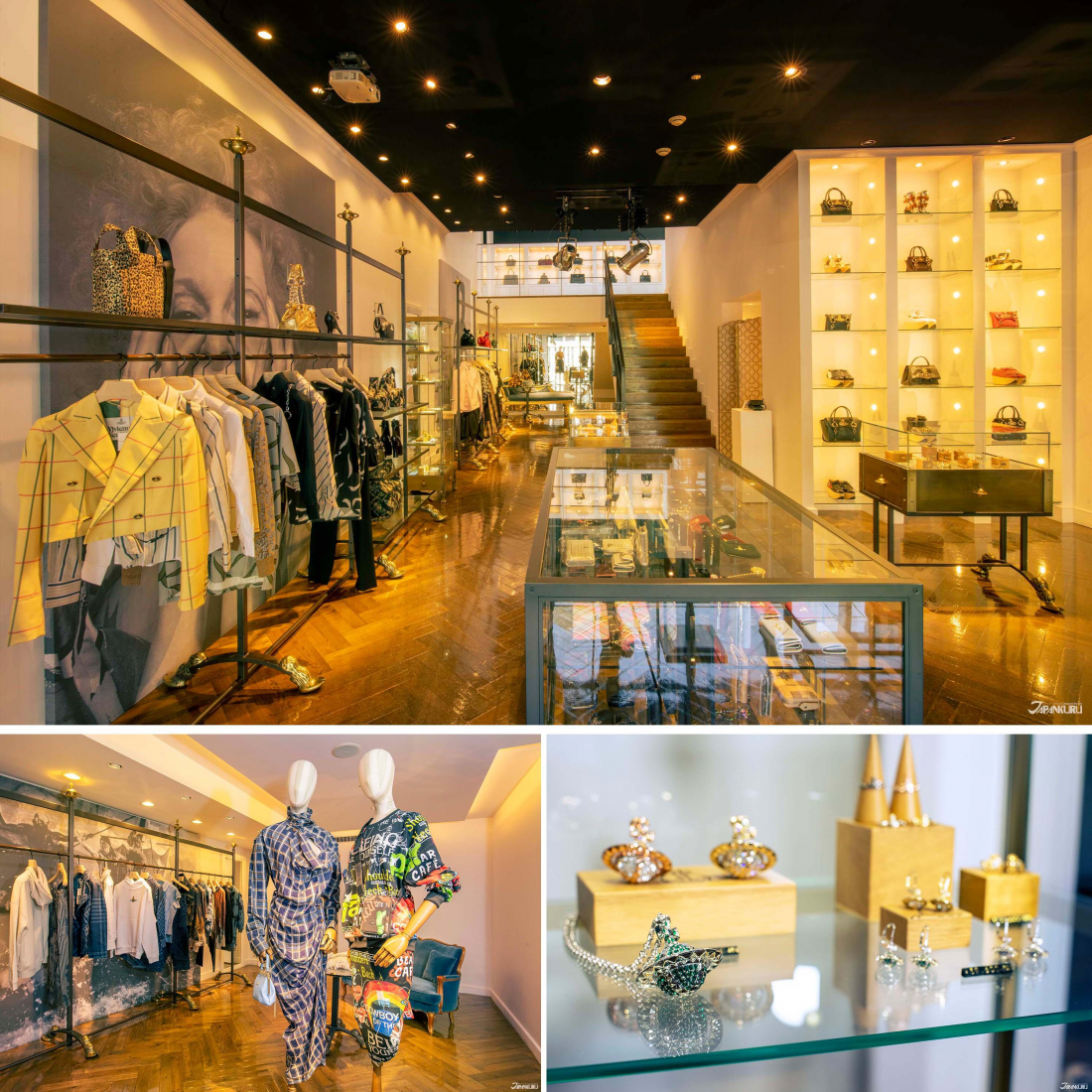 The Vivienne Westwood Aoyama branch, located on a side street just off the bustling Omotesando, has two floors plus a small loft, with brightly lit displays that make the products look like art in a museum. The lineup includes the latest seasonal designs along with classic Vivienne Westwood styles, and even a few products that are entirely exclusive to Japan. For the upcoming 2023 F/W season, the designs are a tribute to Westwood's long and varied career, following the concept of a nomad collecting different textures and silhouettes throughout the eras, moving through closets of vintage furs and quilted throws.
For this article, we worked with Taiwanese social media influencer Rui, also known as Koneko (小貓), who is based in Tokyo and loves to show off the city. To start, we're looking at a few of her favorite pieces and recommendations from Vivienne Westwood's Aoyama location.
Rui's Choice ① A Classic Retro Plaid Suit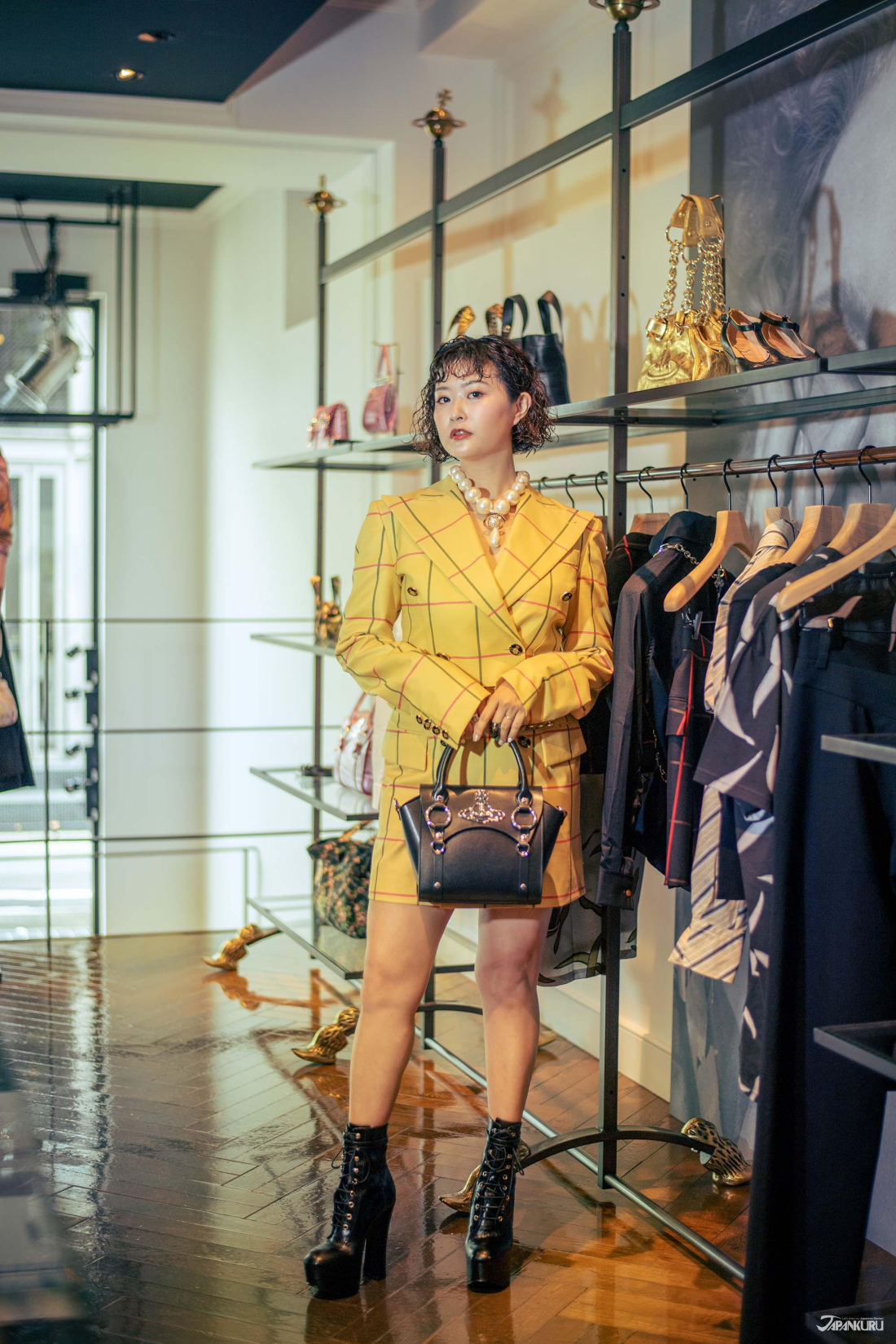 Scottish plaids and women's suits are essential elements in the Vivienne Westwood lookbook, and this set made from a simple yellow plaid for the autumn and winter just exudes Westwood style. It's already one of this season's must-have looks.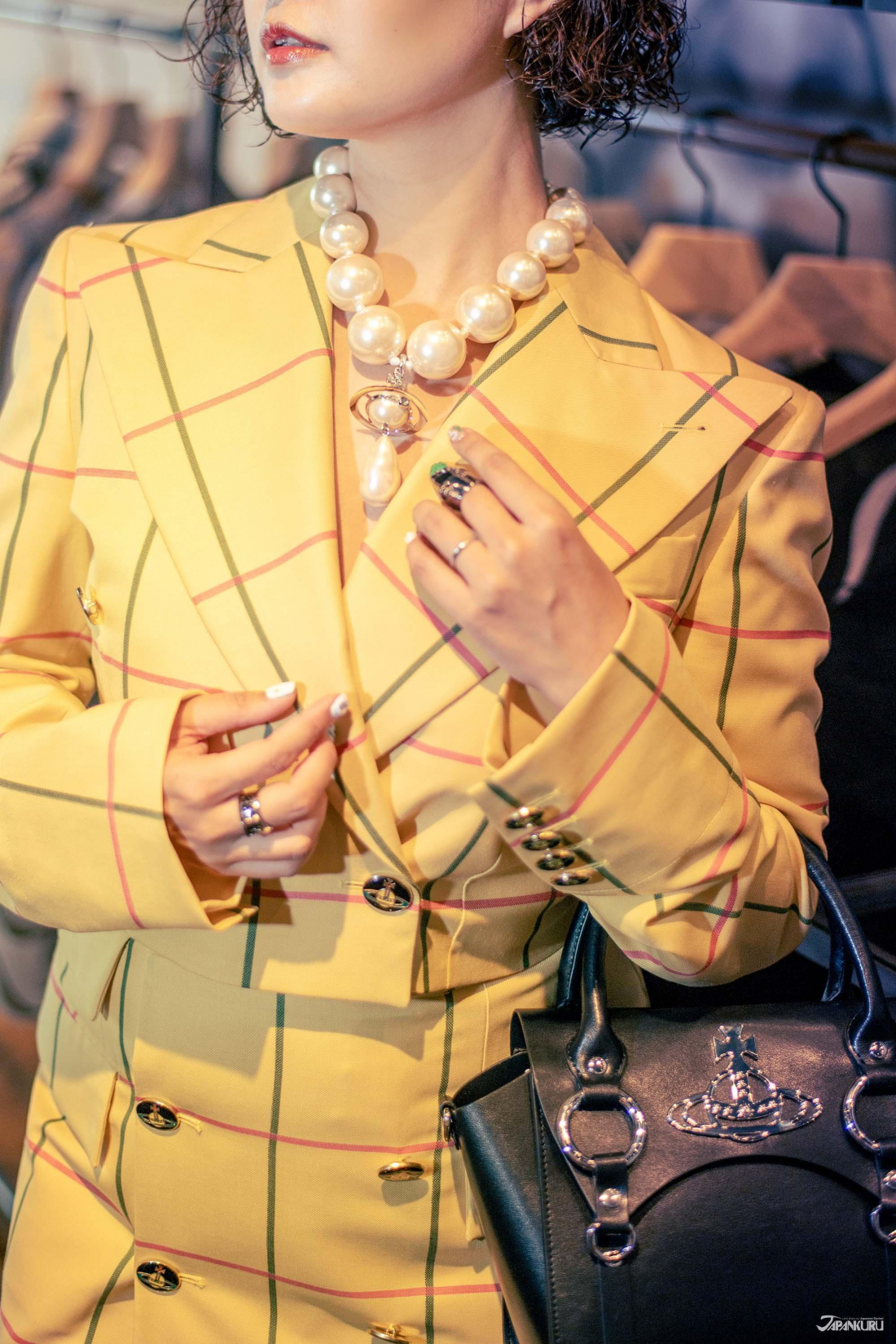 The strong retro shoulder pads and straight-cut skirt lend the outfit a sweet, preppy air, a la Clueless, but the addition of super high-heeled platform boots and a black Betty handbag give the finished look a sexy rock and roll edge. The suit also comes in black and grey, resulting in similar outfits with totally different vibes.
Rui's Choice ② A Hand-Dyed Rabbit Cardigan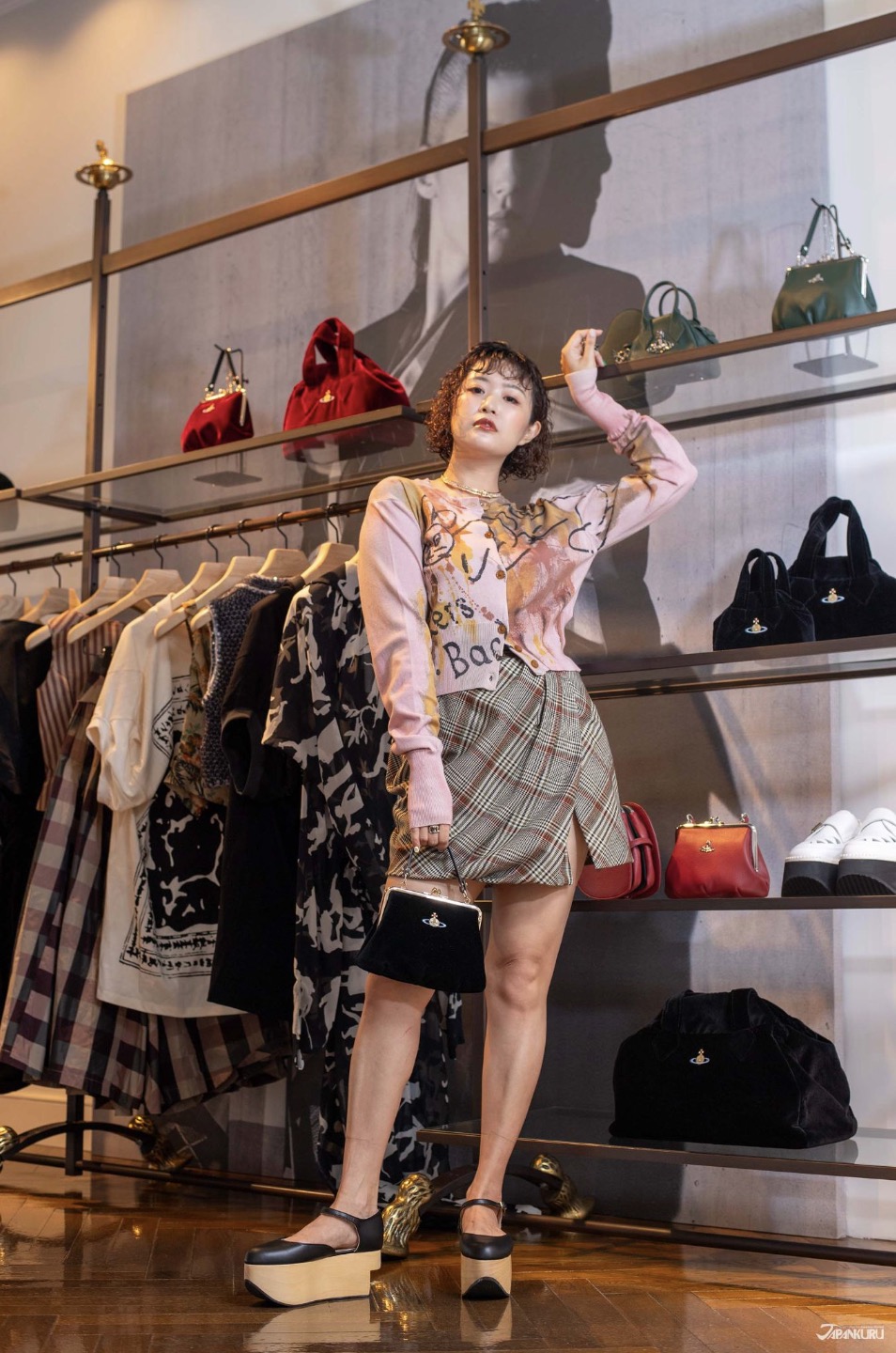 As the year of the rabbit, it only makes sense that Vivienne Westwood released this unique knit cardigan for 2023! Each cotton cardigan is hand-dyed with what the brand calls their "Meaningless" print, a playful combination of pink splatters and bunny-shaped scribbles, and the nature of the dyeing process means that each item is one of a kind.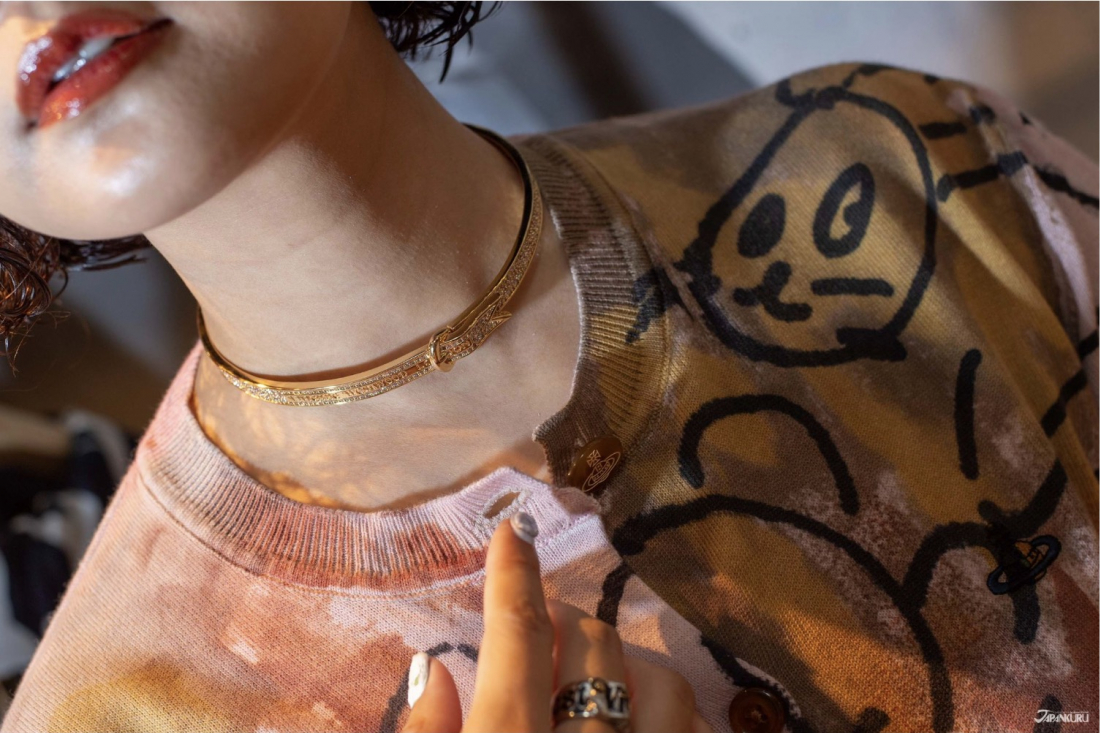 Rui decided to pair the cute bunny design (also available in a simple knit sweater) with a kilt-like plaid skirt, a gold necklace, and classic Vivienne Westwood thick-platformed rockinghorse shoes, for a cute but chic look.
Don't Miss: Classic Platforms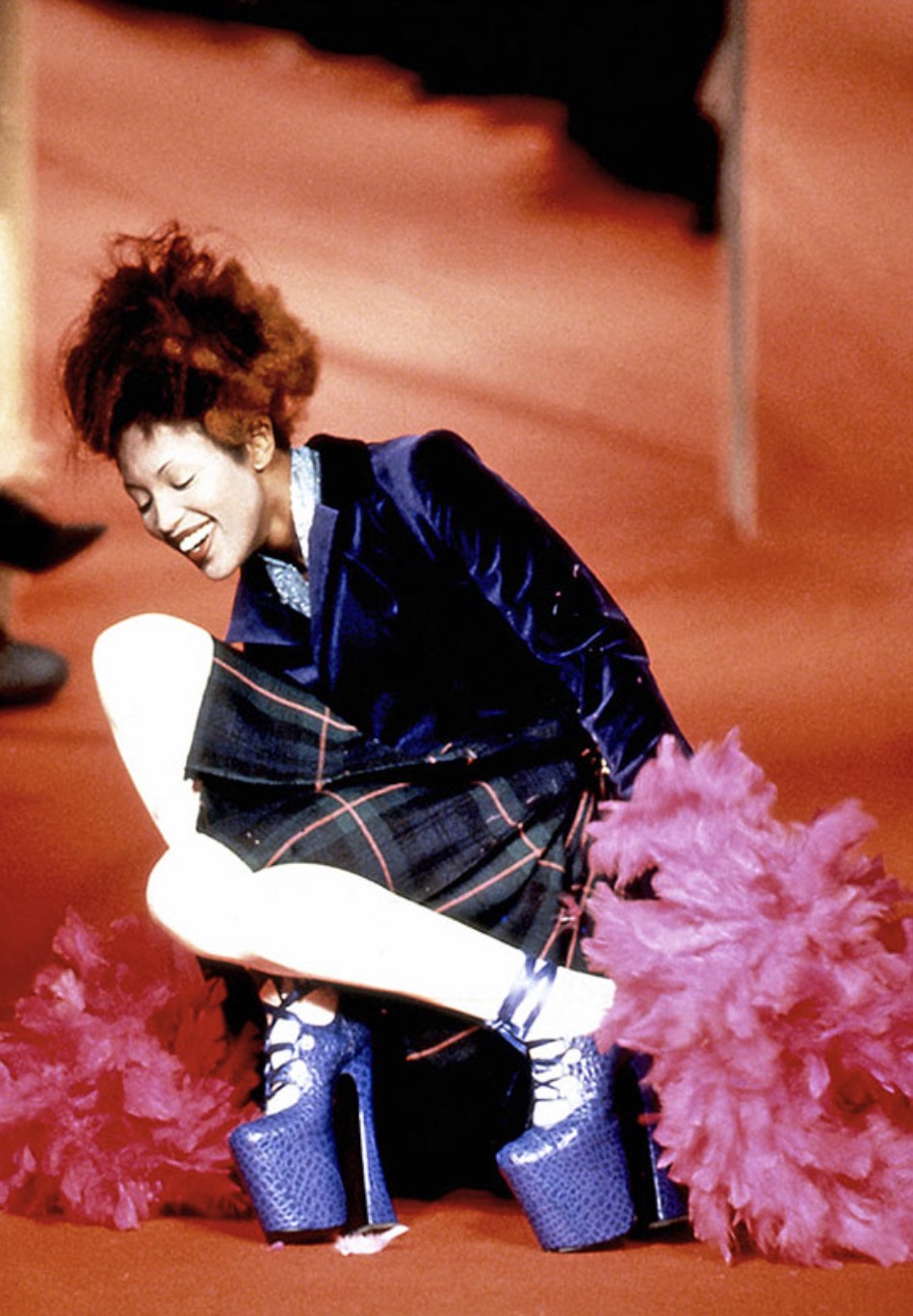 The history of high heels is a long one, but Vivienne Westwood took the style and made them her own, turning them into a fashion statement on the runway. When supermodel Naomi Campbell wore high heels that raised her a full foot (30 cm) off the ground in Vivienne Westwood's 1993 fashion show, the "Super Elevated Ghillie" shoes were a masterpiece, and Campbell's long fall to the ground was unforgettable in its own way.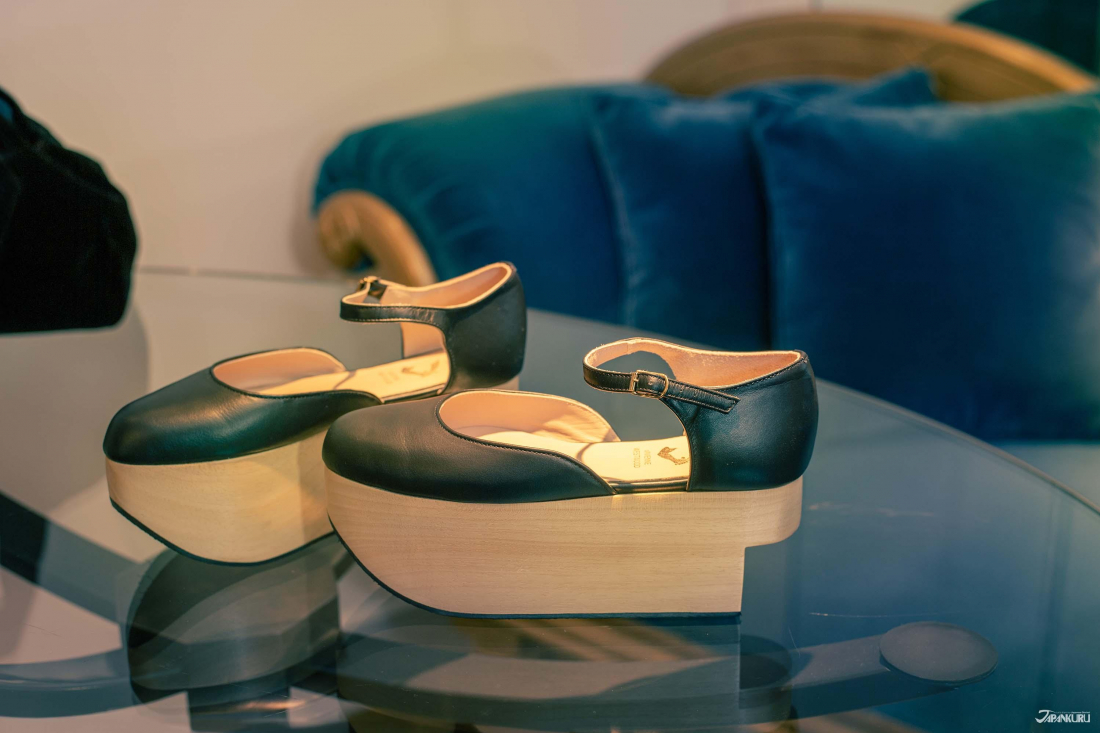 Among Vivienne Westwood's many high-heeled and platformed shoe designs, the rocking horse shoes are a fan favorite. Not only do the uppers come in a variety of styles and colors, but the carefully shaped and rounded soles are made with real natural wood, which means that the color and grain of each pair is just a little bit unique in the most understated way.
Don't Miss: Vivienne Westwood's Orb Logo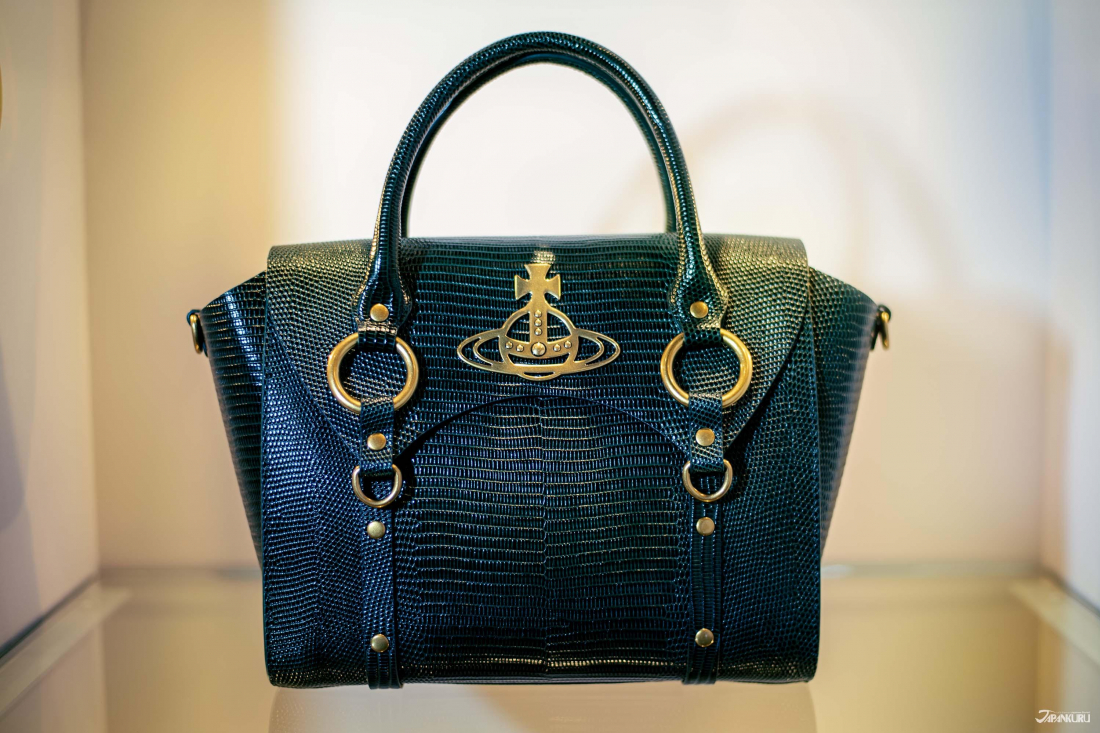 Sprinkled across Rui's two looks you might have noticed this logo that looks like something from outer space. The logo, officially called the "Orb," is often used on Vivienne Westwood's buttons or found decorating bags, and it's an iconic part of the brand's style. It originally comes from a fusion of two symbols: the inside is an orb inspired by the British crown jewels, just like the ones once held at British coronations, and the outer rings are borrowed from the rings of Saturn. The logo represents Vivienne Westwood's unique way of combining tradition and innovation, borrowing old styles and turning them into something brand new.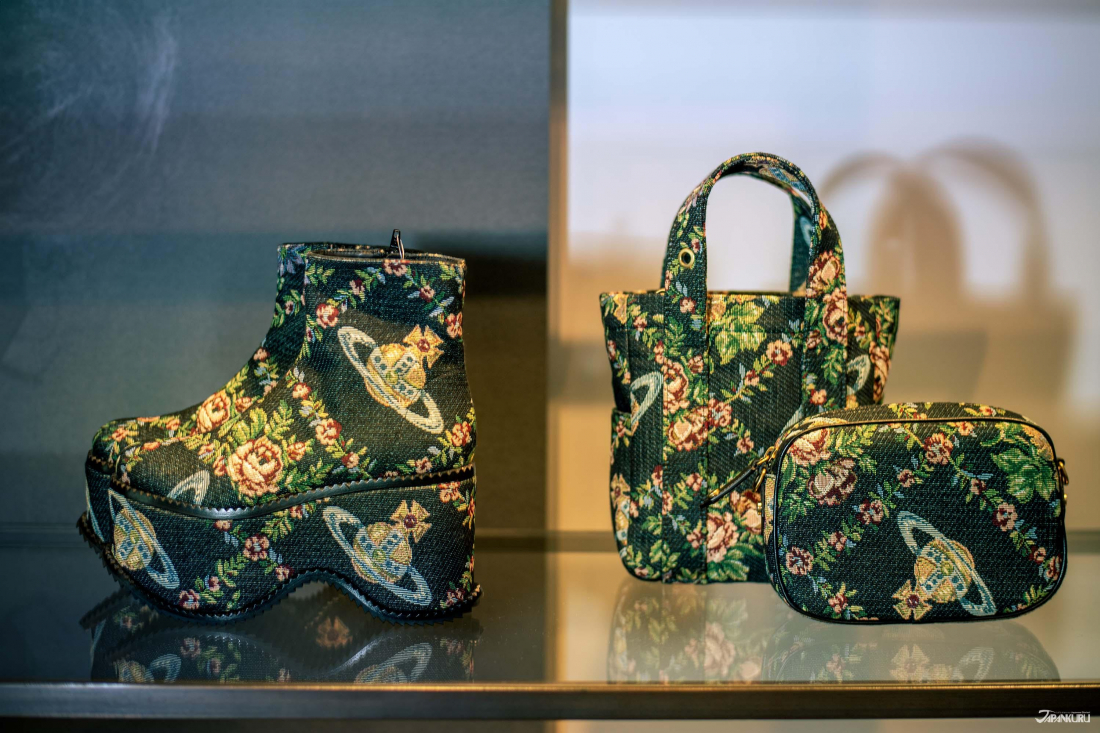 The Orb logo is incorporated into a variety of the brand's products, where it varies from a simplified shape to a detailed illustration, like the golden orb and pale rings found woven into the gobelin fabric of their new line inspired by European furnishings. The unique logo is a fun surprise amidst the traditional floral fabric pattern.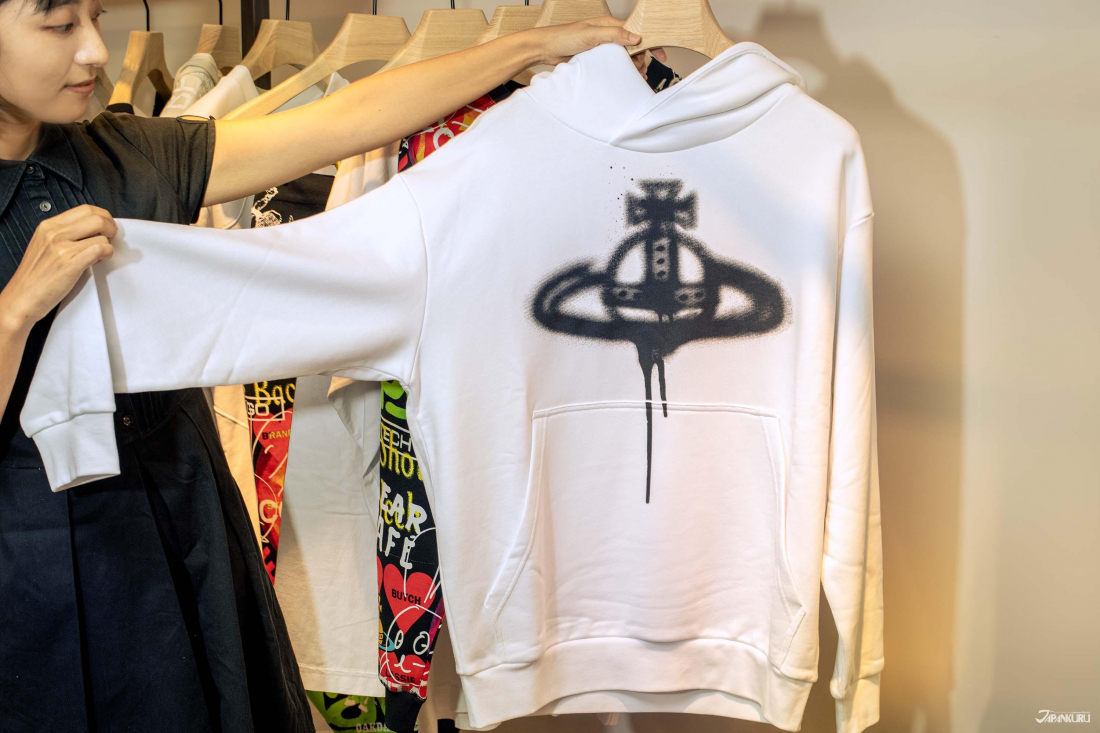 The spraypainted look of this Orb logo is a refreshingly casual take on the logo, which makes it feel a little rebellious.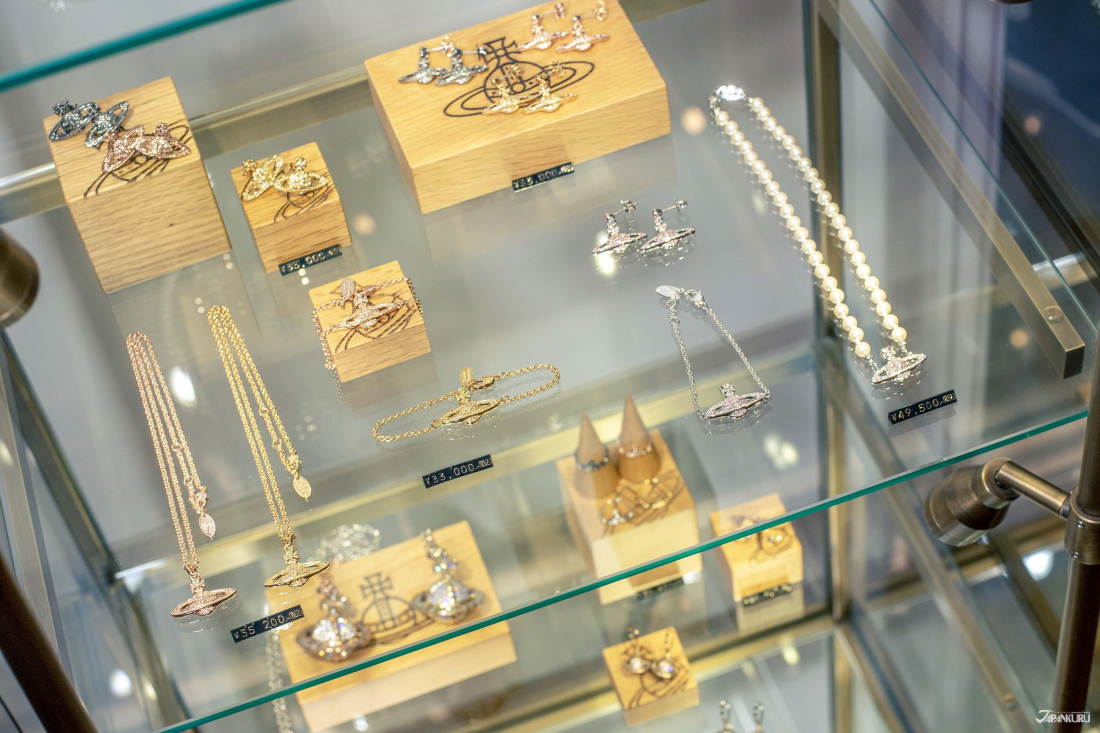 When the Orb is used as a base for jewelry and small accessories, it becomes simple and cute, while still being instantly recognizable for fellow Vivienne Westwood lovers! It's even more fun to shop for Orb products once you know the symbolism behind it, too.
Don't Miss: Practical Accessories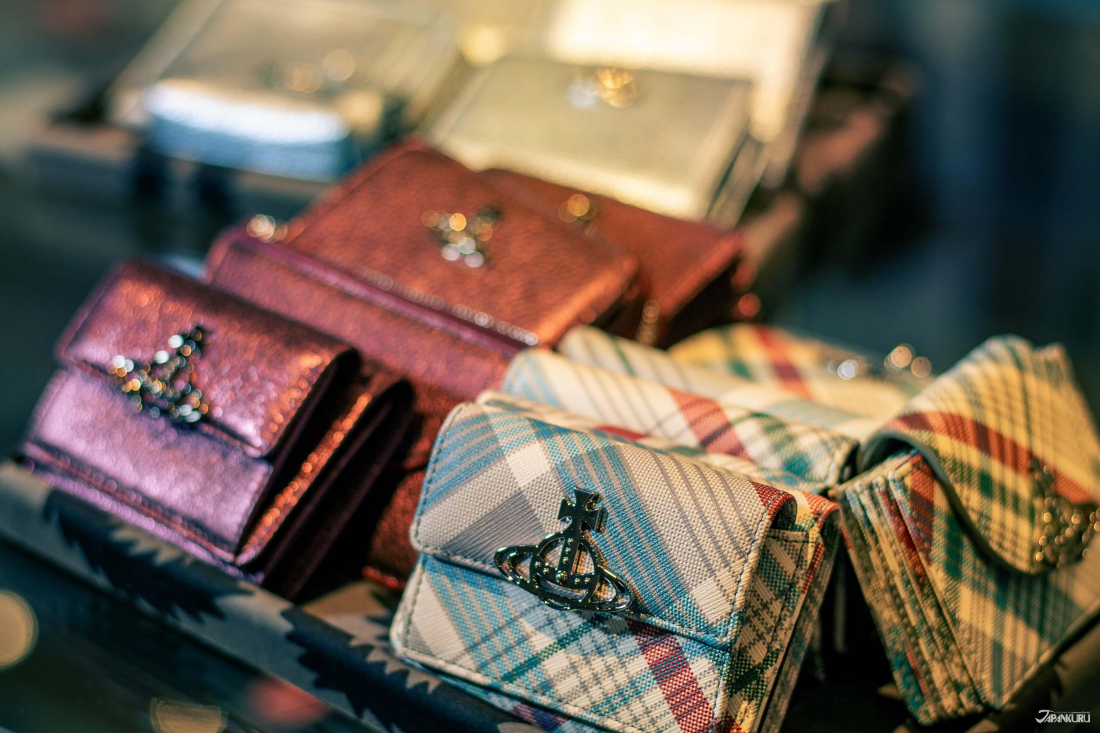 Vivienne Westwood's simple, sweet, and practical wallets and pouches are always popular, and this season's plaid designs paired with the Orb logo are hard to resist. There are both short and long wallets, along with card cases and similar items.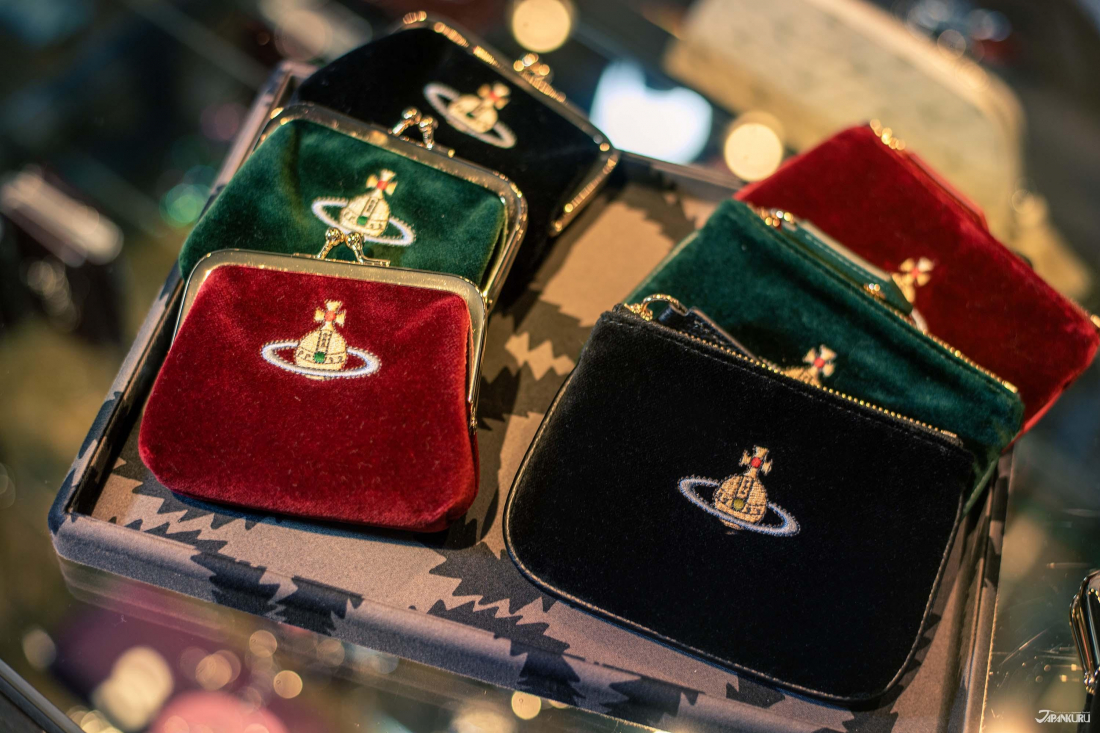 These cozy velvet pouches are the perfect little accessory to pick up for the cold months to come, and the rich red, green, and black velvets with their embroidered Orbs lend the simple style of the pouch a little extra luxury.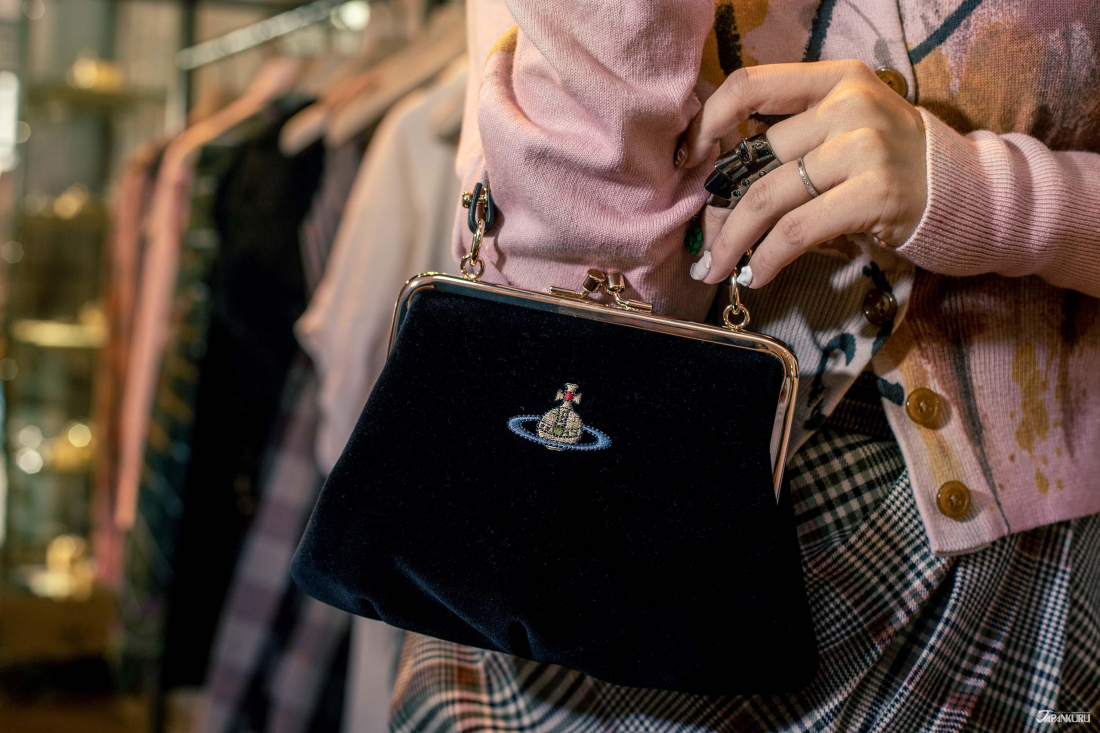 The same line of velvet accessories also comes in a larger size that makes a great little purse or cross-body bag. It's a sophisticated way to show off your love for Vivienne Westwood this season – check it out during your visit to Vivienne Westwood's Aoyama branch.
Don't Miss: Japan's Limited Edition Kiss Me Kitty Series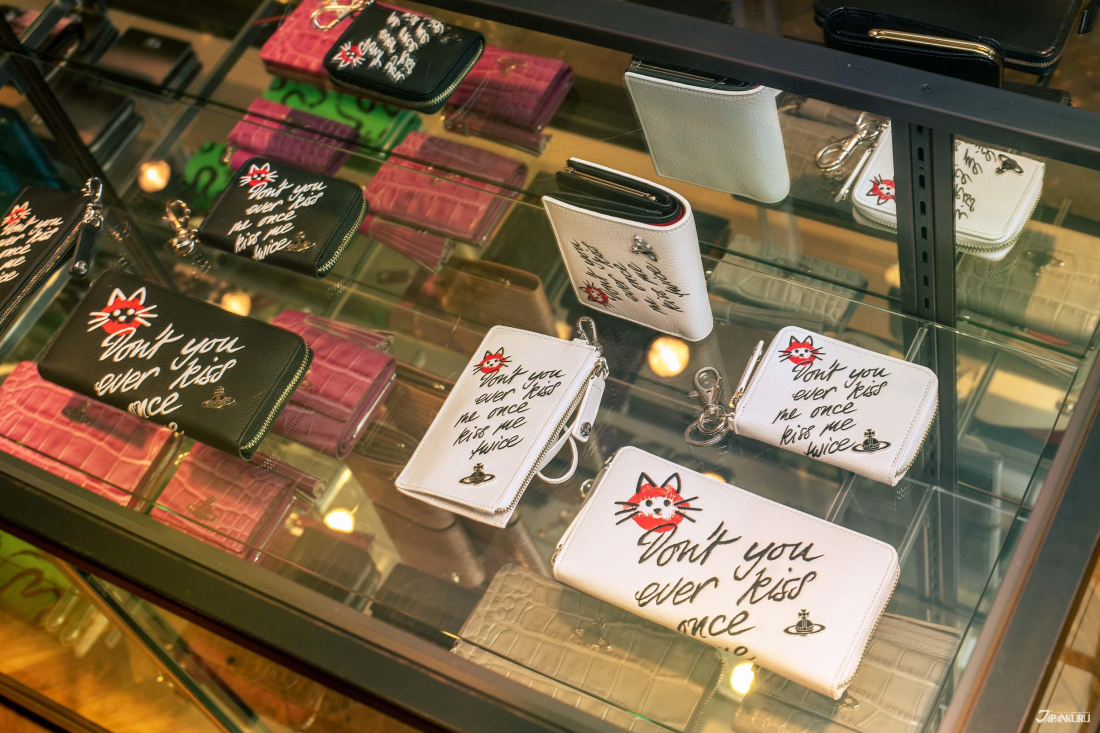 The Kiss Me Kitty series available at the Aoyama boutique is a Japanese limited edition line, found only at Vivienne Westwood shops in Japan. The designs feature red lipstick prints turned into a cute kitty cat courtesy of a few scribbled lines, accented with lyrics from the Elvis Presley song Treat Me Nice.

The cute image of the Kiss Me Kitty series goes perfectly with this season's charming hats. The beret and cloche styles are made of warm, fuzzy wool in pretty marled browns and a soft shade of periwinkle.
Meeting the Godmother of Punk in Omotesando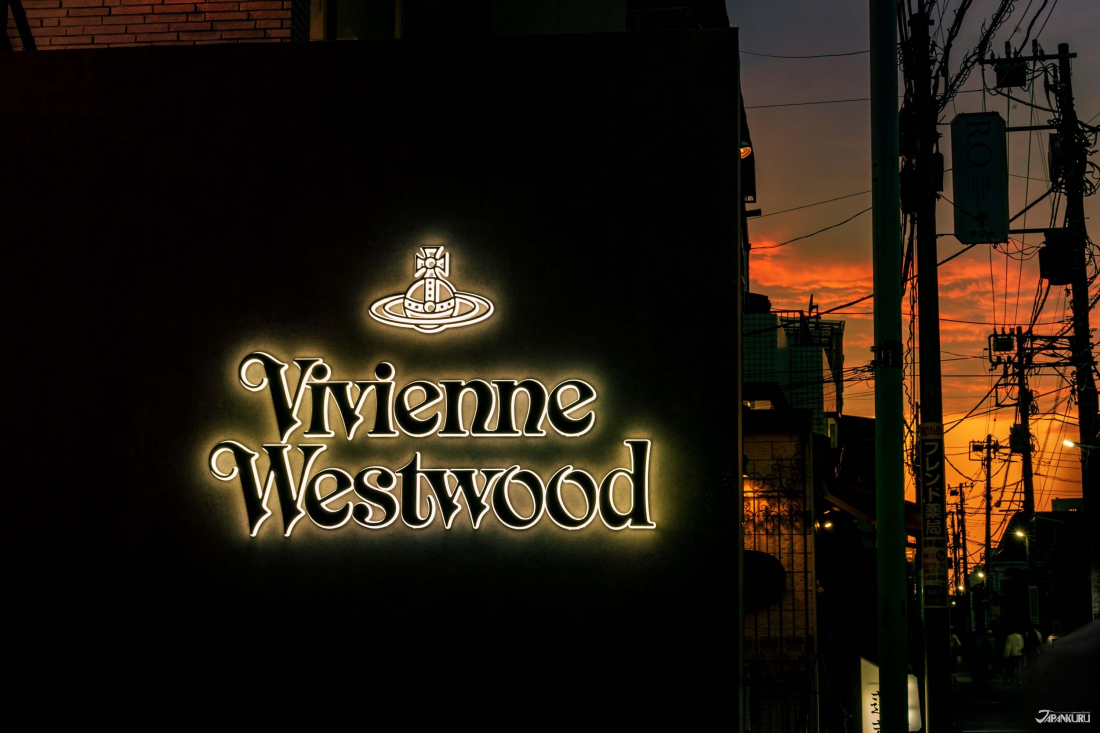 The passing of Vivienne Westwood in late 2022 was a sad moment for the world of fashion. However, the designs and stories she left behind, along with her undying punk passion for justice, will continue to inspire people for generations to come. Whether you're a fan of Vivienne Westwood and her work, a fashion lover ready to see something new, or a creative person looking for inspiration as you break boundaries, you won't want to miss the Vivienne Westwood Aoyama branch on your next visit to the fashion hub of Omotesando.
Plus, with the yen so weak, there's never been a better time for foreign tourists to come take advantage of both the exchange rate and tax-free discounts. Add a stop to your Tokyo itinerary, and come see the legacy left by the Godmother of Punk and the Queen of British Fashion!
Vivienne Westwood Aoyama Branch (ヴィヴィアン・ウエストウッド 青山店)
5-49-2 Jingumae, Shibuya City, Tokyo
Hours: 11:00 – 20:00
Access: 3 min from Omotesando Station (exit B2)
Official Website (jp)