Top 2023 Recommendations From The Popular Japanese Makeup Brand Canmake | Everything You Need for Japan's Hottest Beauty Trends
You can't talk about Japan's beauty scene without mentioning Canmake! Known for their sweet, fresh-faced looks, Canmake is a popular buy for travelers visiting Japan, and a must on any Japanese cosmetics shopping list. Check out some of the latest Canmake products you'll want to get your hands on!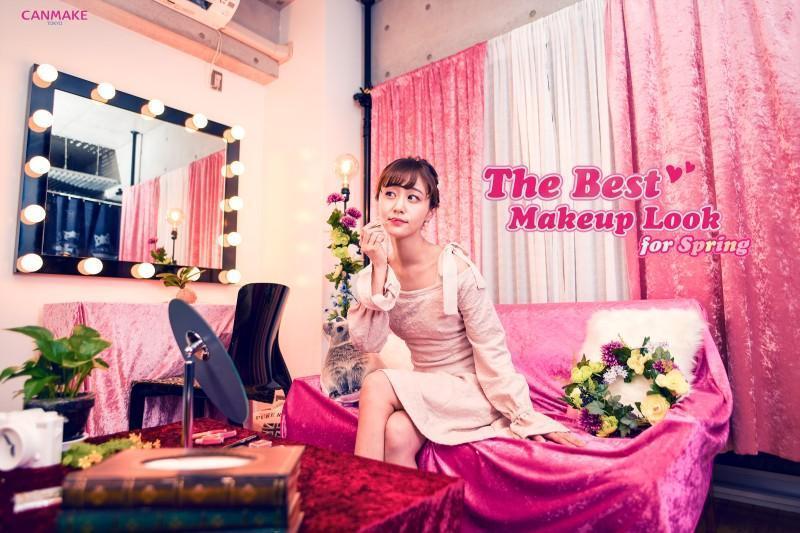 Beauty lovers who like to shop Japanese cosmetics brands are probably no strangers to Canmake, which is a mainstay of the Japanese makeup market. The cute pink packaging stands out on the drugstore shelf, like an invitation to try all the latest products. It can be hard not to stop and test out each new shade and formula! Although the brand mainly targets young women, they offer a wide variety of products for the face, eyes, and even nails, plus plenty of limited-edition items – with so many options to choose from, Canmake is actually quite popular and well-reviewed among a much broader audience. The high-quality (made in Japan) products and the reasonable prices make this makeup a great deal no matter your budget, helping Canmake to meet the unique needs of all of Japan's makeup lovers.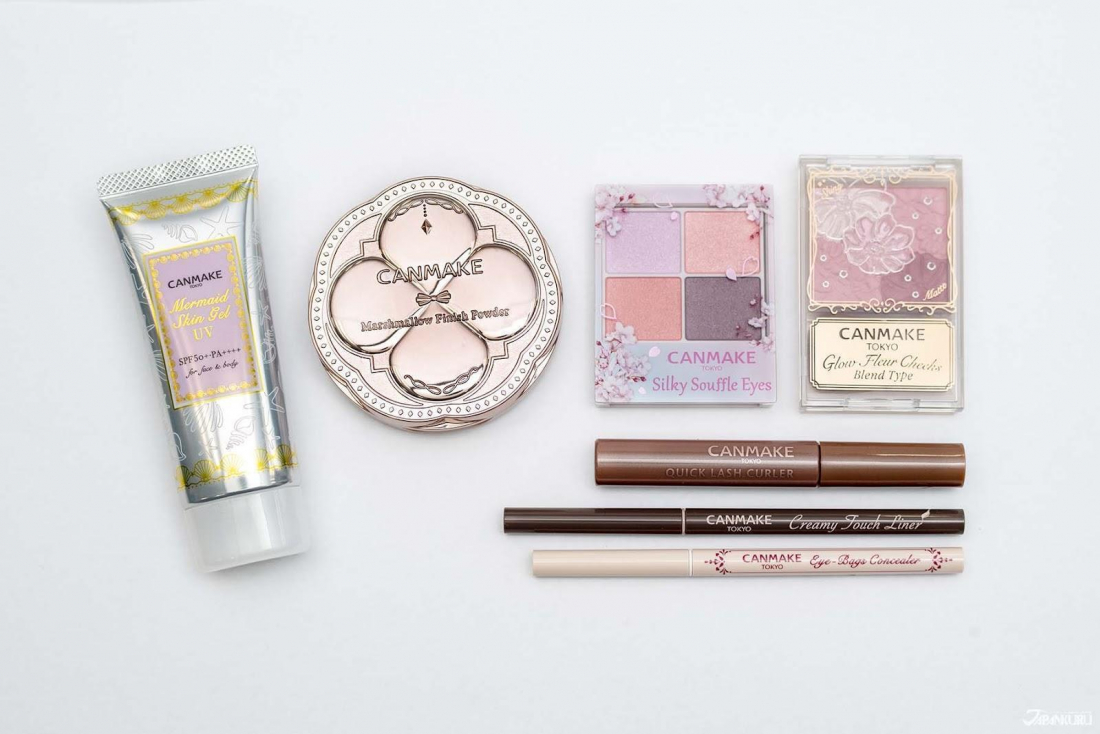 First, we'll be going over three of Canmake's most popular products, including an item whose cute limited-edition packaging has it flying off the shelves!
Canmake's Top Products
Marshmallow Finish Powder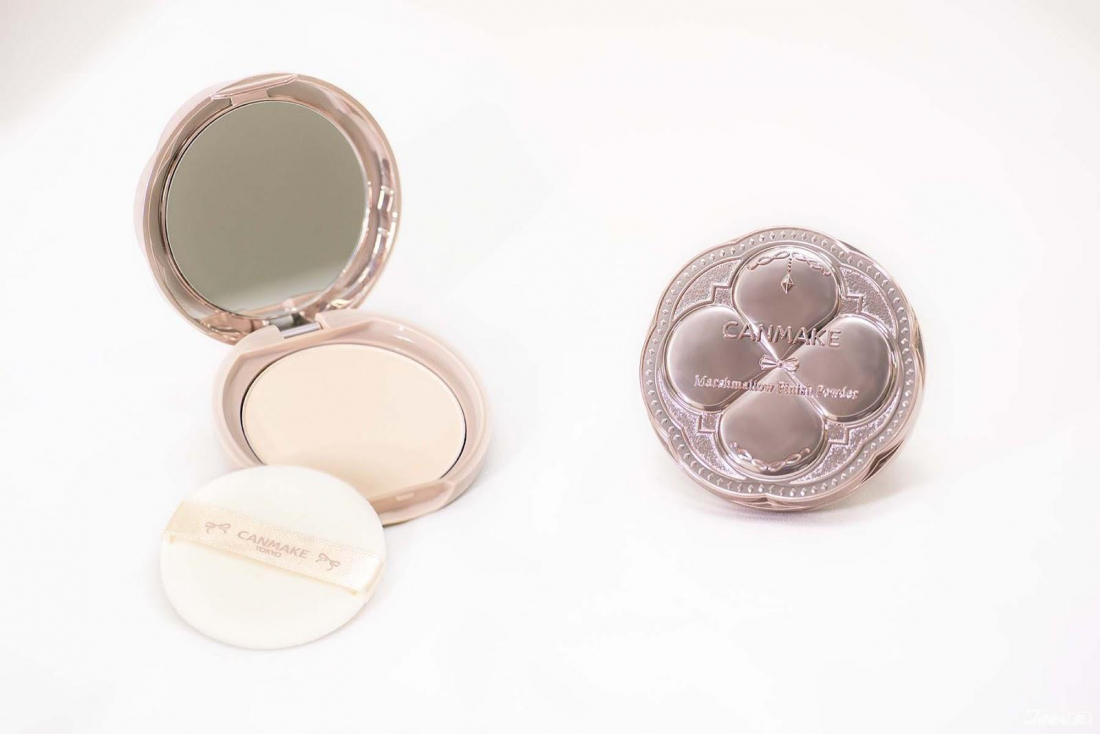 Canmake's Marshmallow Finish Powder has been a best-seller for a very long time thanks to its excellent setting properties, which help your makeup base stick around for hours on end. The ultra-fine powder results in a smooth, marshmallow-soft finish, and moisturizing ingredients help to ward off dry skin, keeping it well-hydrated. The Marshmallow Finish Powder also feels light on the skin, as well as giving the end results a translucent, natural look.
Fans of the powder will rave over its concealing power and its ability to limit shine, while keeping skin nice and smooth. Just applying it over a layer of BB cream gives a surprisingly flawless, natural result. If you're looking for an easy way to achieve a soft, silky finish that will last for hours, it's definitely worth picking up a compact of the Marshmallow Finish Powder and giving it a try. With the adorable limited-edition packaging now available for purchase, there's no time like the present.
Creamy Touch Liner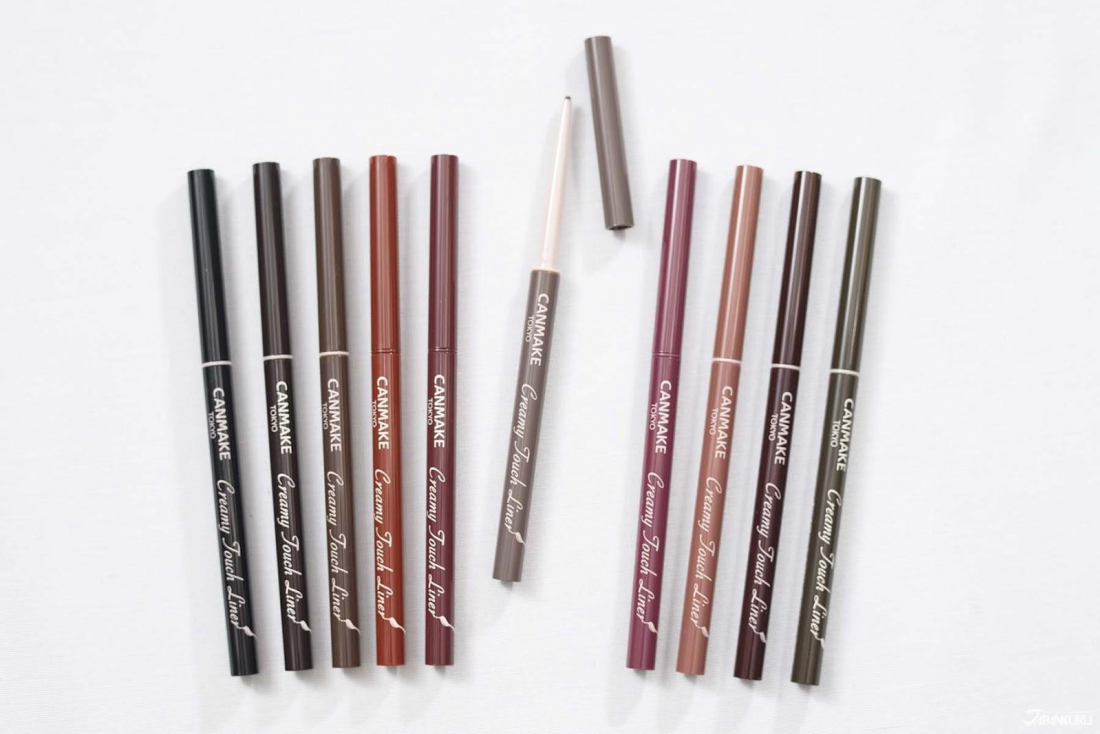 The ultra-slim tip of Canmake's Creamy Touch Liner measures in at only 1.5 mm (less than 1/16th of an inch), and the smooth texture makes it easy to draw fine, highly-pigmented lines, even on the waterline. The extremely soft core of the eyeliner glides easily over other makeup, with rich color and consistent texture that still stands out even when layered over other pigments. Plus, the long-lasting formula is waterproof, so it's not going anywhere, even on humid, sweaty days. With a wide selection of colors, this is an eyeliner made to suit a variety of different looks for different occasions.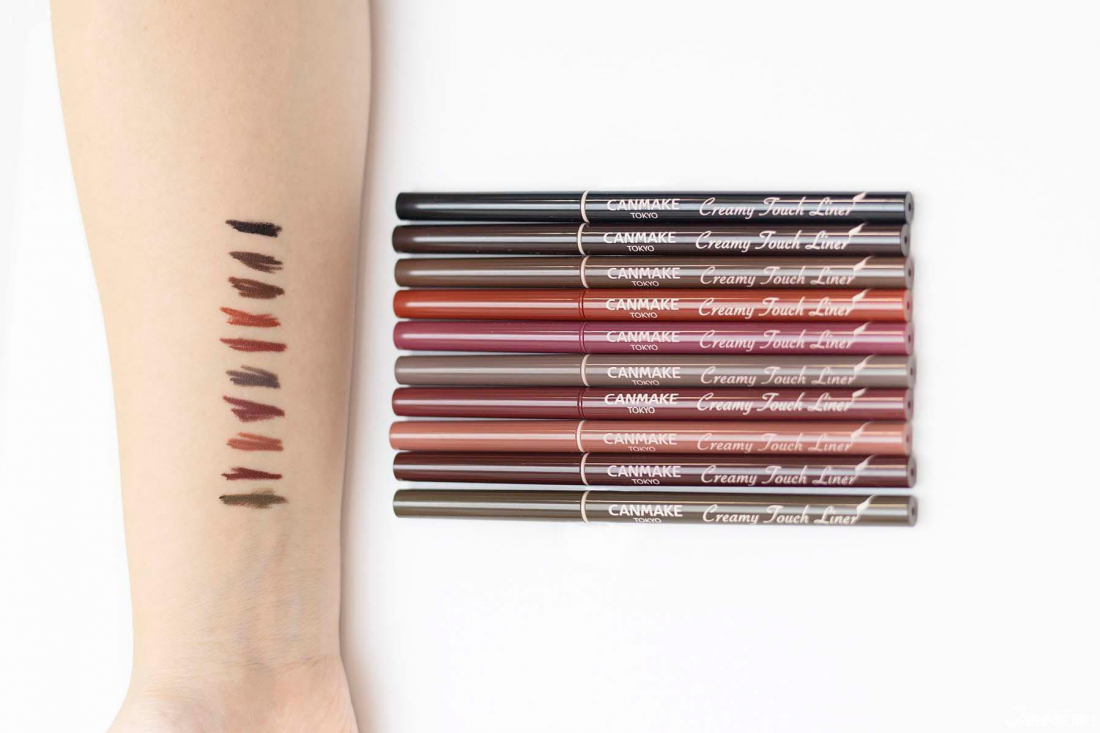 This gel eyeliner is a hot topic online within the Japanese beauty community, and fans of the product note its smooth, creamy texture, and how well it lasts on the skin. The various brown shades have received particular praise, thanks to the sweet, natural looks that the colors help to create. With an affordable price that's not likely to break the bank, the Creamy Touch Liner is a good choice for makeup beginners, or anyone on a budget.
Eye-Bags Concealer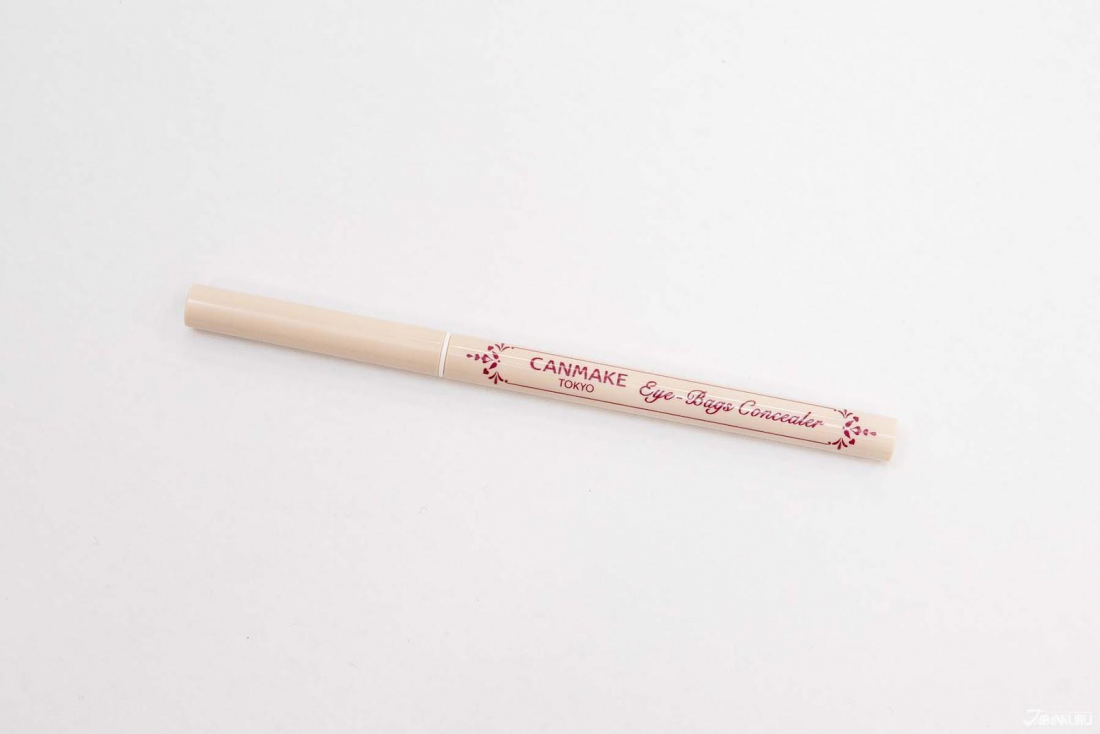 This Eye-Bags Concealer is just the tool for creating the kind of youthful "eye bags" that are often referred to using the Korean term "aegyo sal," hiding dark circles and giving the under-eye skin a bright, healthy look. With the concealer's narrow 3 mm (1/8″) tip, you can easily give yourself the plump, natural eye bag look often found in Japanese makeup! The velvety, easy-to-blend concealer glides right on, and sticks to the skin for a long-lasting finish. The biggest benefit of using Canmake's Eye-Bags Concealer is its ability to stand up to the water in sweat and tears, as well as oily skin, and the normal wear and tear of daily life – all while using a formula that's gentle on the skin.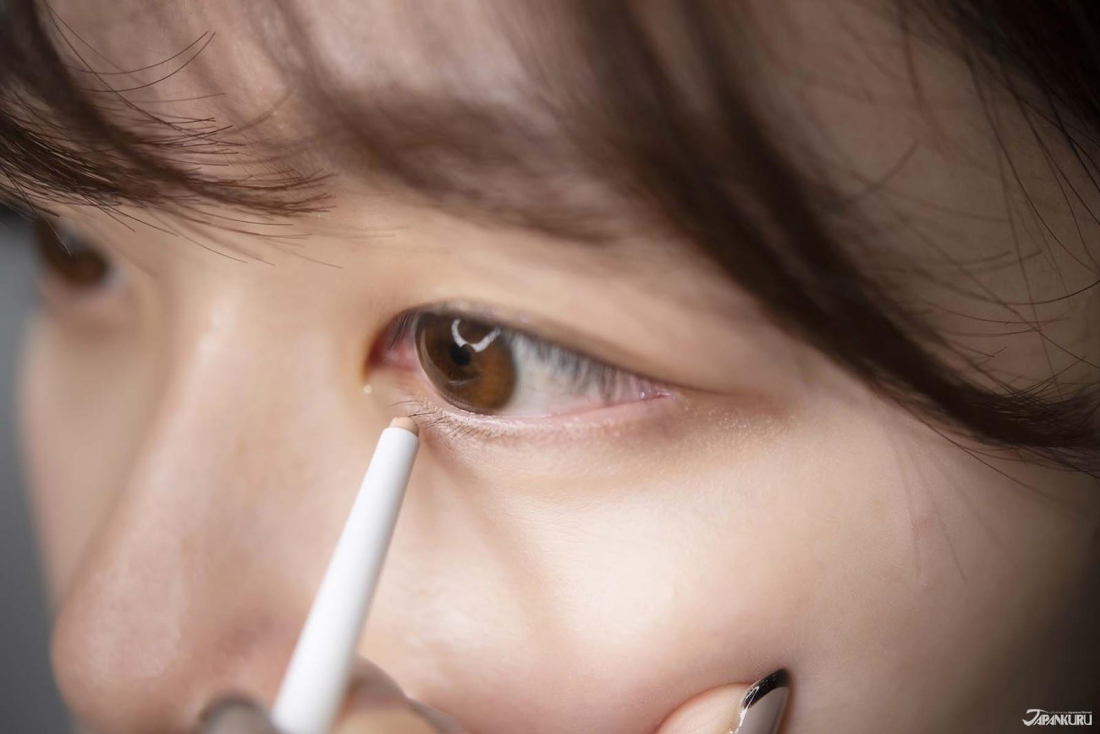 How to do your own natural-looking Japanese-style eye bag makeup:
① Squint your eyes slightly to find the natural lower line of your eye bags, and use a pale-colored eyeliner to draw a light border and define the bottom.
② Apply Canmake's Eye-Bags Concealer above the eyeliner mark, and immediately blend it in with the tips of your fingers to create a naturally plump look with a slight shadow. The end result will give you an extra dose of kawaii, and have you looking like Japan's cutest celebrities!
Canmake's Eye-Bags Concealer is affordable, easy to use, and well-reviewed within the online Japanese beauty community. If you're looking for a product to test out the "aegyo sal" look and cover up those dark circles, pick up this concealer at the drugstore during your next trip to Japan, and try it out!
Other Popular Products
Base Makeup & Finishing Powder
Marshmallow Finish Powder ~Abloom~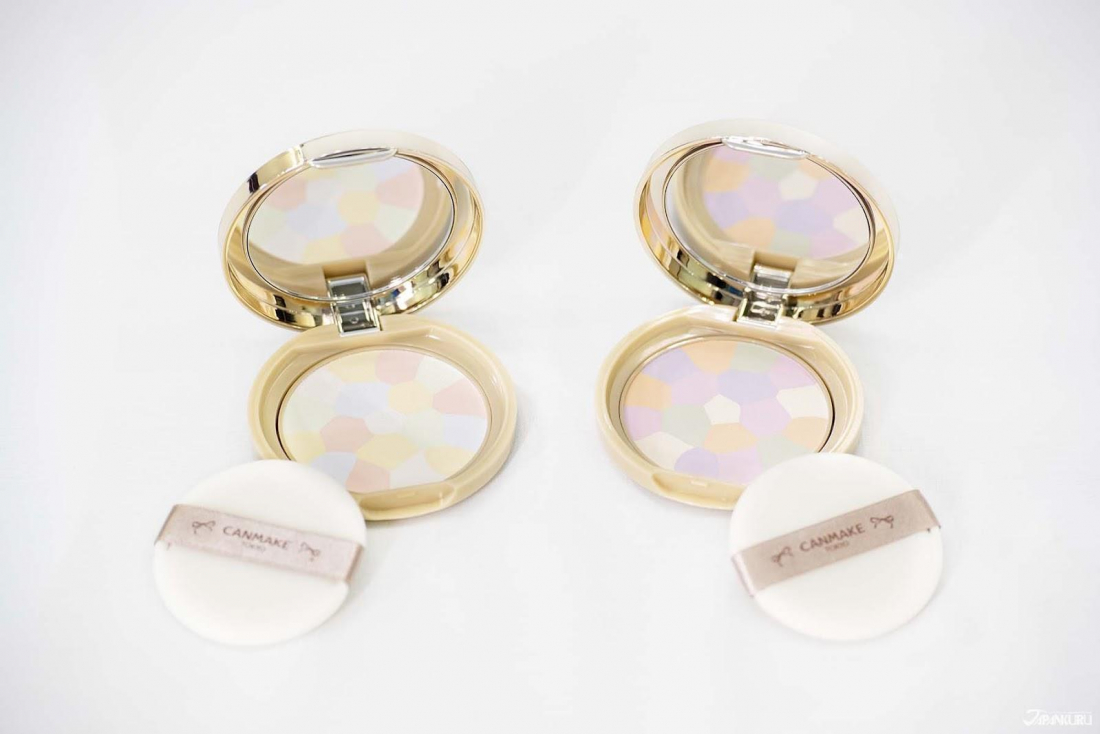 The Abloom powder is part of Canmake's Marshmallow Finish Powder series, which means it leaves skin with that same soft matte feeling, just with a particularly bright and translucent finish. The extra-fine powder feels light and airy, and using it to finish a look will add a luminous glow. Japanese beauty lovers are all about that soft, warm effect, quite different from the crisp and simple styles found in Korea, or the dramatic looks favored elsewhere in the world. This powder can help even out your complexion and create clear, radiant skin for those Japanese makeup looks, and at the same time, it protects from dryness with 15 different beautifying ingredients. The long-lasting Abloom products are great at warding off the shiny look of oily skin, but at the end of the day, the powder washes right off with your usual face wash (or soap or body wash) when you use it on its own.
There are currently two different ~Abloom~ colors available. The first, [01] Dearest Bouquet, lends skin a bright and vibrant finish. The second, [02] Sakura Tulle, adds a rosy glow that looks like a happy natural flush on your cheeks. This April, a third ~Abloom~ shade is hitting the market, called [03] Plumeria Wreath. Try it out for a fresh color that adds a touch of extra glamour!
All in all, Canmake's Marshmallow Finish Powder ~Abloom~ is a fantastic addition to your base makeup routine, giving you a soft, natural-looking palette as a backdrop for your makeup to shine!
Mermaid Skin Gel UV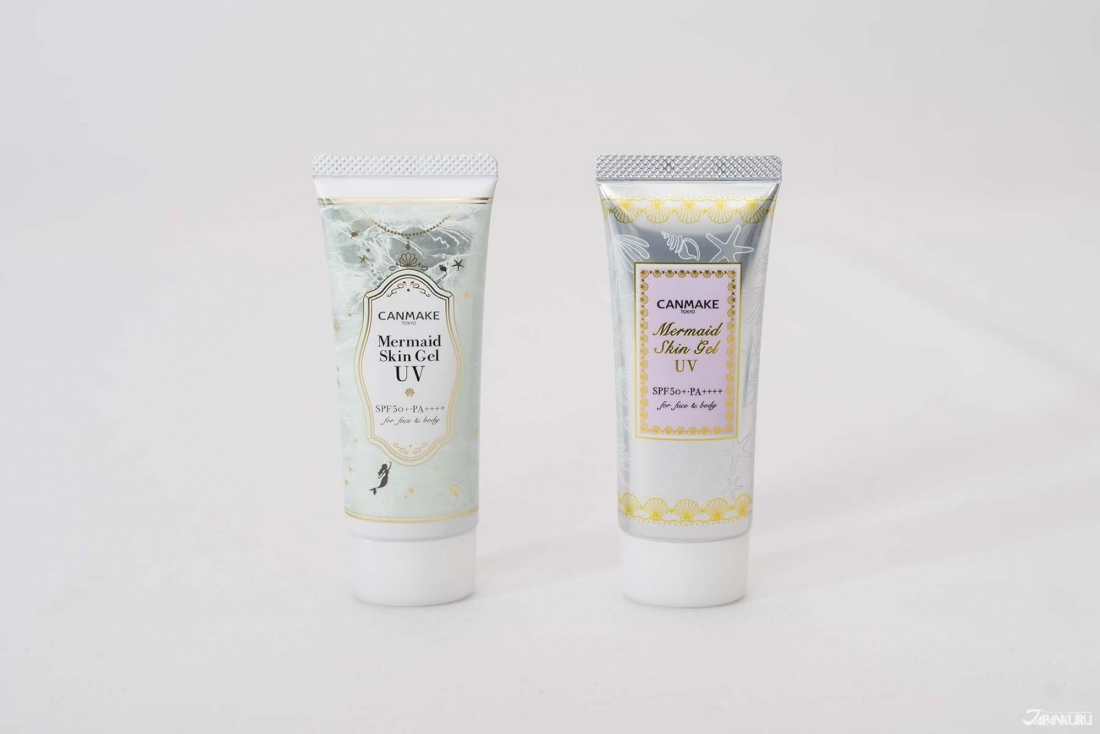 The texture of Canmake's Mermaid Skin Gel UV feels light and refreshing on the skin, and it absorbs quickly too. This sunscreen is made of 85% moisturizing ingredients, which means that it gives the skin a hydrated luster while also helping to prevent sun damage, skin aging, and dark spots. Use it to keep your skin happy and keep the sun and wind at bay!
Mermaid Skin Gel UV sunscreen's UV protection ratings come in at a powerful SPF 50+/PA++++ (defined as "extremely high UVA protection"). That means that this product has just about the highest level of protection you can get in Japan, so a layer on your face, neck, and wherever else the sun hits will create a barrier and protect from the ravages of fierce ultraviolet rays.
The [C01] Cica Mint version of the sunscreen is especially good at color correction, evening out redness or dull skin for a luminous look. It even has added "cica" extract, a natural moisturizer that comes from the Asian pennywort (or centella asiatica) plant, to calm the skin and keep it hydrated. Not only does it help skin to retain moisture and prevent dryness, but it also helps to prevent the formation of wrinkles and fine lines! With additional antioxidants and anti-inflammatory ingredients in the formula, the Mermaid Skin Gel UV protects from pollutants in the air, reduces the risk of sensitive and inflamed skin, and generally helps to keep your skin happy and healthy.
Eye Shadow & Blush
Silky Souffle Eyes (Limited-Edition Design)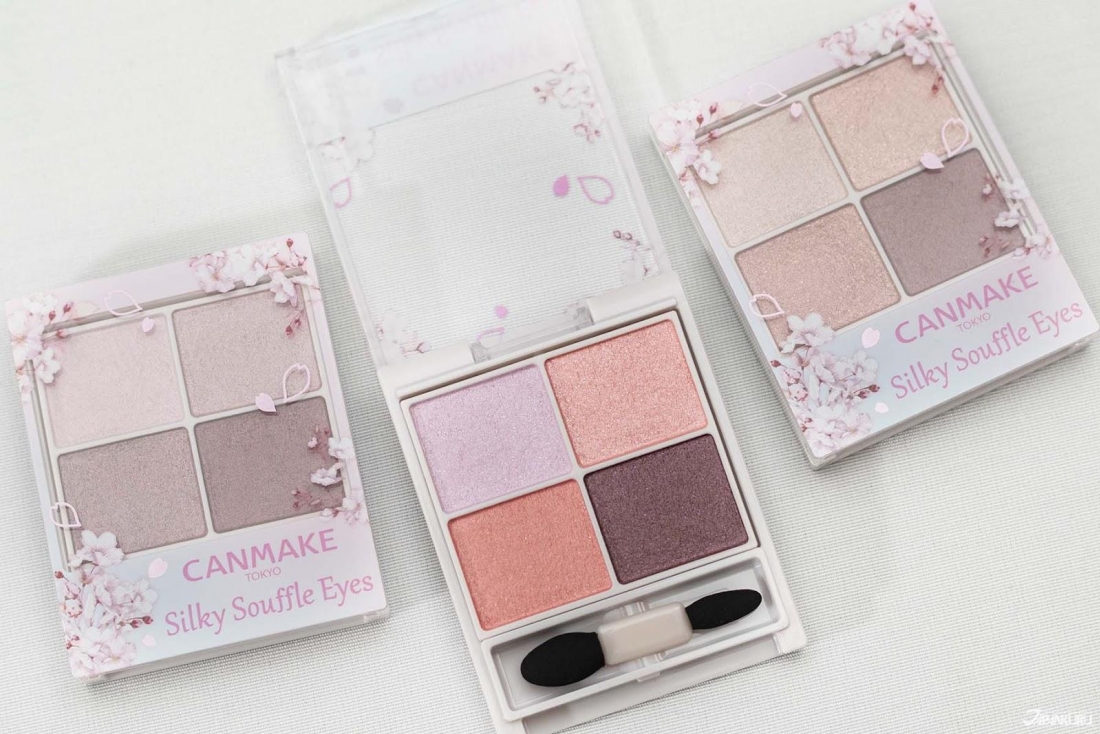 Big fans of the Japanese makeup scene are bound to have one or two eyeshadow palettes from Canmake easily accessible on the vanity at all times, and of the various different options, the Silky Souffle series is particularly popular. This dewy, lightweight, creamy eyeshadow can be used to put together natural looks, or add a little glam to the everyday.
The velvety texture of the Silky Souffle Eyes eyeshadows includes added pearlescence for a shimmering look, and the silky luster almost seems to melt into the skin. The effect is light and soft, whether you keep it simple with just one color, or stack and blend the colors for a more detailed eye look. That means these convenient palettes can be used for your everyday look, or to dress up for a special event. With this cute seasonal cherry blossom packaging only available for a limited time, you won't want to miss it!
Glow Fleur Cheeks (Blend Type)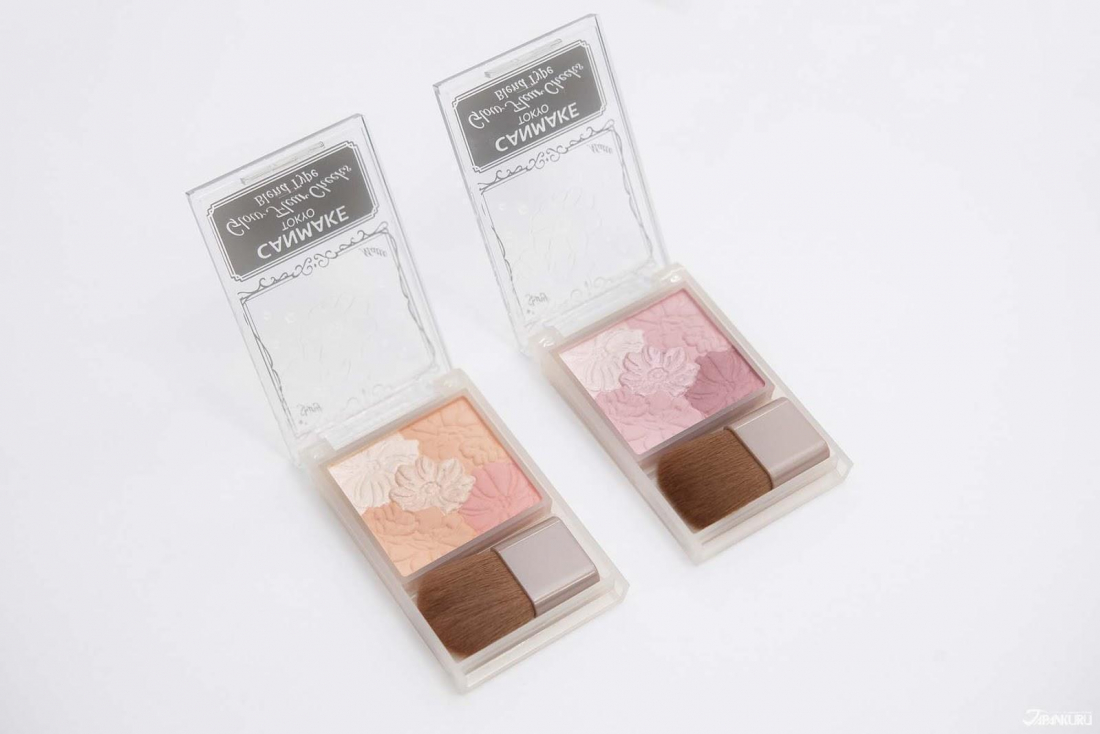 This next product is a favorite of some of the Japankuru team members, and a staple on their vanities, with each newly released color soon to become a part of the collection. Because when it comes to the Glow Fleur Cheeks blush, the price is right, and there's plenty of pigment too. The cute transparent cases let you see all the colors inside, which makes it easy to choose your blush color at a glance, and lets you enjoy the aesthetic effect of lining them all up in your drawers. Even when you want to change up your blush color every season, the wide selection of Glow Fleur Cheeks colors won't let you down.
Thanks to the pearl powder, honey extract, and a variety of other moisturizing ingredients, this blush powder won't dry out your skin – but it will help your makeup last even longer!
How to use the Glow Fleur Cheeks for a contoured blush:
① Using two or three circular motions, gently brush the blush onto the cheeks and blend it into the skin for a natural look.
② Take the shimmery color at the center of the palette and add it to the apple of your cheek for a glowy look.
Glow Fleur Cheeks (Blend Type) is a very practical product, so if you've never tried any of Canmake's cosmetics, this blush is a great place to start.
Quick Lash Curler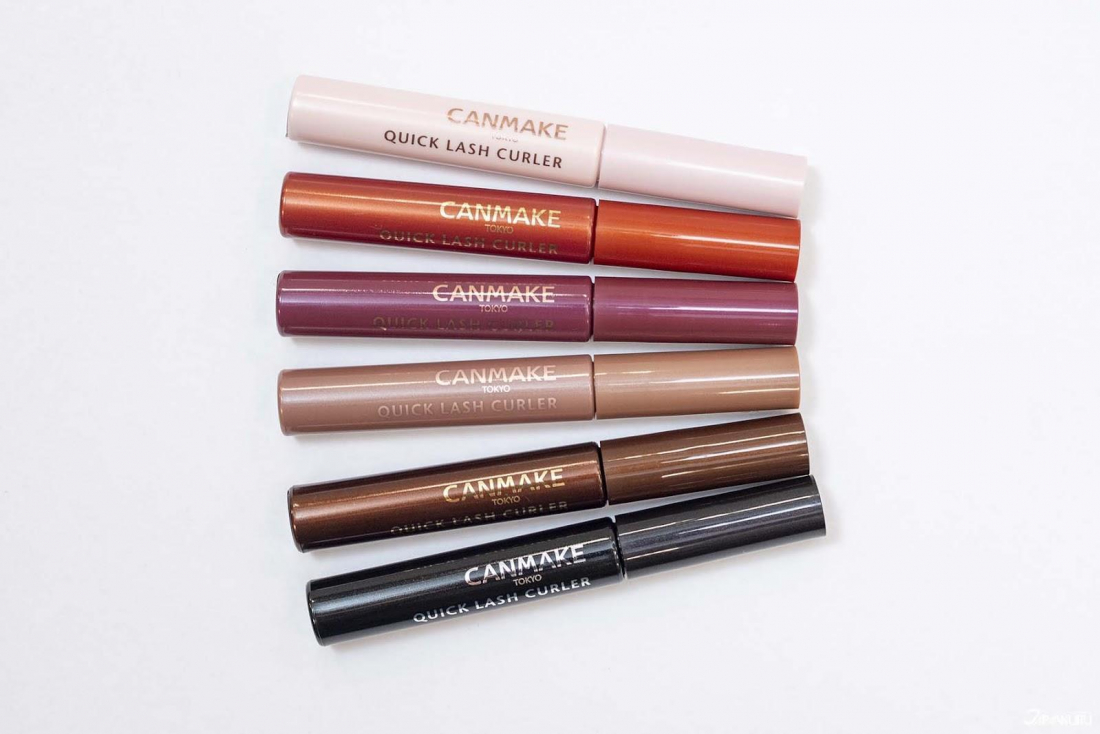 The Canmake Quick Lash Curler helps lashes bounce up into a defined curl in seconds, and promotes lash growth for long, strong, thick lashes with a natural upward curl. The formula includes squalane and hyaluronic acid, along with honey extract, to protect your lashes, prevent them from drying or falling out, and keep them curled at the same time. Long-lasting even in the face of natural oils, tears, sweat, and humid environments, this formula prevents the dreaded raccoon eyes of a rainy day or a good cry. It comes in a number of different colors, too, including a clear version that gives your lashes a protective curl without any pigment, like a little raincoat. Using the intense curling power of the Quick Lash Curler, your luscious lashes will be charming people with just the wave of a wand.
Canmake: The Makeup Must-Haves of Japan's Beauty Gurus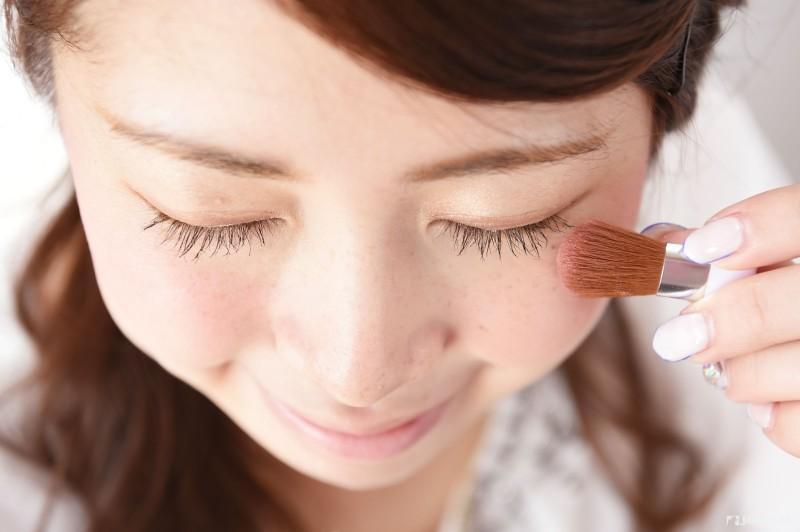 Break apart the Canmake brand name and you'll find "can make," which is a message to everyone from makeup beginners to beauty gurus – you "can make" your own looks too! Canmake's lineup includes a wide variety of products, including base makeup, concealer, blush, eyeshadow, and more, with different product lines to choose from too. The cute and simple package design makes it easy to find the right products with just a glance, without opening them up to find exactly what's inside, and it's easy to pick out just the products to meet your needs and perfect your own look!
Plus, with all the Canmake products that look as good to your budget as they do on your face, and high quality that surpasses the price point, the brand is a favorite for cosmetics lovers of all kinds and all ages. It's no surprise the brand is so popular in Japan! If you're looking for some new beauty products on your next trip to Japan, and you're not sure what to try next, don't hesitate to use this article to help you choose!
For more info and updates from Japan, check Japankuru for new articles, and don't forget to follow us on Twitter, Instagram, and Facebook!