What to Wear When Climbing Mount Fuji ・ Outfit Basics for Hiking in Japan
When it comes to climbing mountains in Japan, Mount Fuji is the go-to, but just what are you supposed to wear when the seasons seem to change from summer to winter as you climb this high peak?
The Yoshida Trail ・ Climbing Through "Autumn" and "Winter"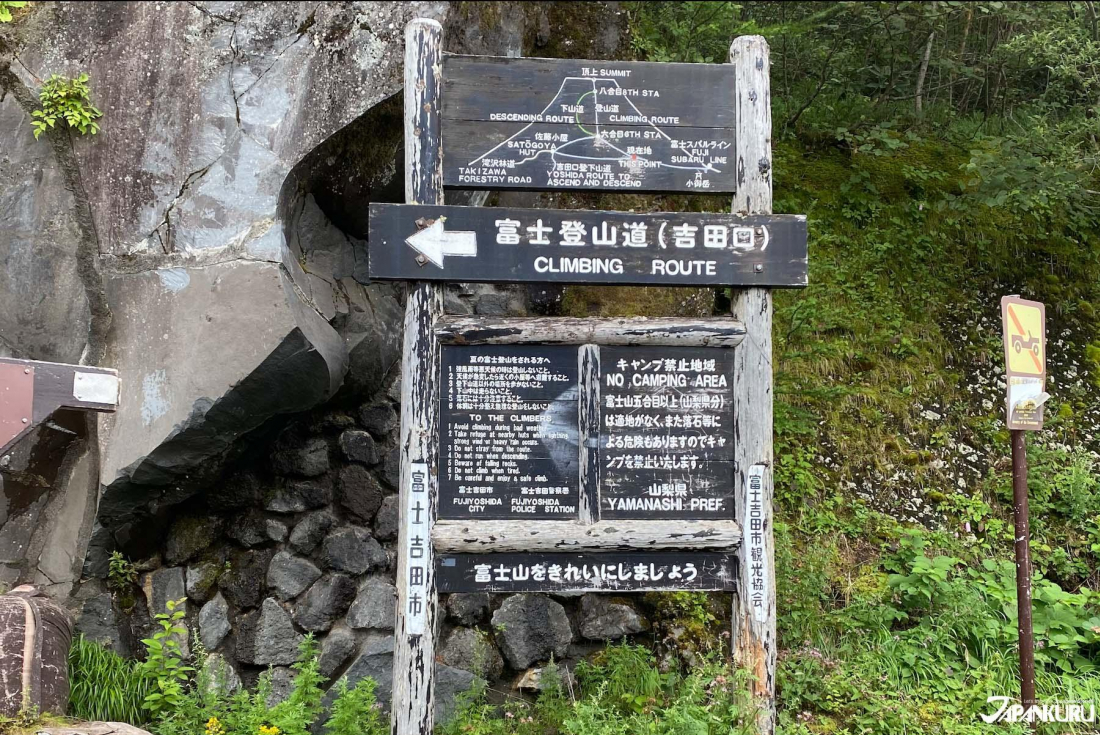 There are four major routes up the side of Mount Fuji, and when climbing the mountain for the first time, many will choose to take the Yoshida Trail. Easily reached via bus, the mountain's fifth station marks the starting point for most climbers, who then head off from the Yoshida Trail head. Visiting sightseers sometimes underestimate the mountain, but Mount Fuji's peak is 3,776 meters (12,388 ft) above sea level, and even the fifth station is 2,800 meters (9,186 ft) in the air. Despite the fact that Mount Fuji is only open for climbing throughout the summer, when stepping off the bus onto the mountainside, visitors are met with a blast of cool air. It already feels like autumn. Trekking up the mountain, the altitude difference from the fifth station to the peak is 1,400 meters (4,593 ft), and temperatures at the very top often get close to 0°C (32°F).
Japanese people will sometimes joke about tourists who sometimes show up to climb Mount Fuji in a t-shirt and flip-flops. To stay safe while climbing this iconic mountain, and Japan's many other beautiful peaks, it's important to remember to be prepared, and dress appropriately! These days, experienced hikers in Japan will tell you to "dress like an onion" to stay at a comfortable temperature while climbing. It's all about the layers!
Mountain Climbing Outfit Basics ・ Inner and Outer Layers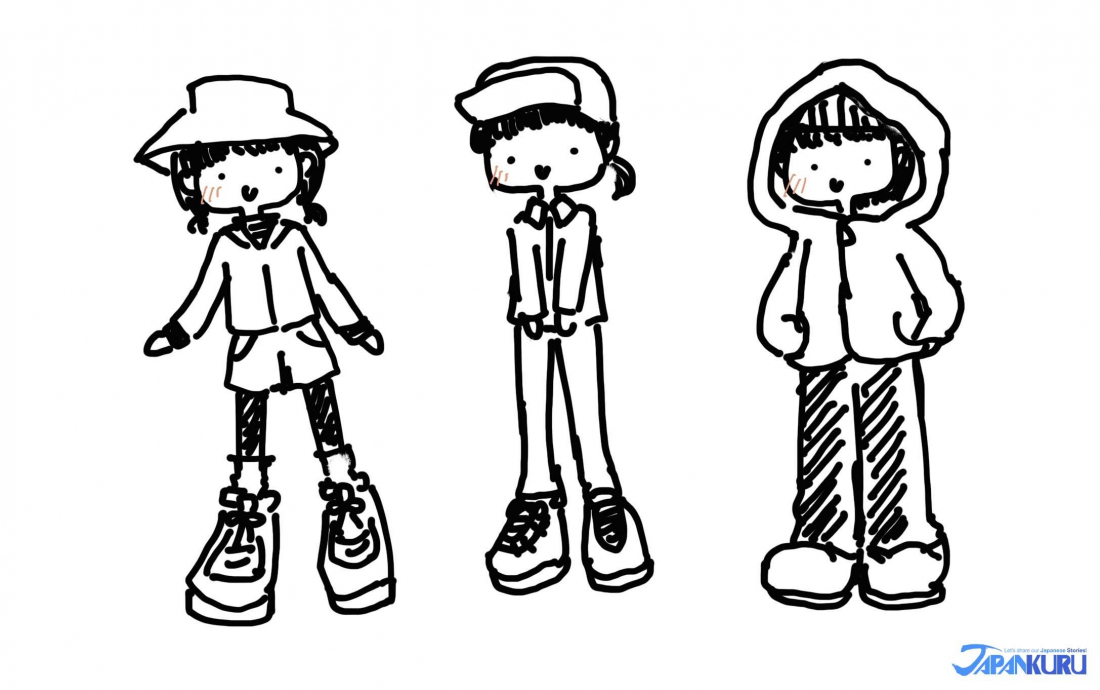 Your basic mountain climbing outfit can be divided into 4+1 layers, moving outward from the "close-fitting/quick-drying layer," to the "inner layer," the "middle layer," "outer layer," and finally the "rest/warmth layer." Let's take a look at each of those layers one at a time, and see what to keep in mind when putting together your outfit, or shopping for a new one.
Against the Skin: Sweat-Wicking
Temperatures drop as you climb towards the top of a high mountain, and so it's very important to avoid losing too much body heat, but this can be especially hard when you're sweating hard and the wind is whipping away at the perspiration. Your innermost layer plays a key role in wicking away moisture and keeping you dry, which means that functional t-shirts made from polyester and other synthetic fibers are a good choice. As a first step towards climbing the Yoshida Trail, we recommend throwing on something like this long-sleeve quick-drying base tee to keep you comfortable.
The Inner Layer: Multifunctional
Sitting on top of the important base layer, which is already doing much of the sweat-wicking work, your "inner" layer can serve a few different purposes. For maximum comfort, some will also use this layer to help out with absorbing all the sweat that comes with climbing the steep mountainsides. In that case, another shirt made from synthetic fibers is likely to be more functional than one made of cotton or linen. Others choose something simple like a functional hooded sweatshirt.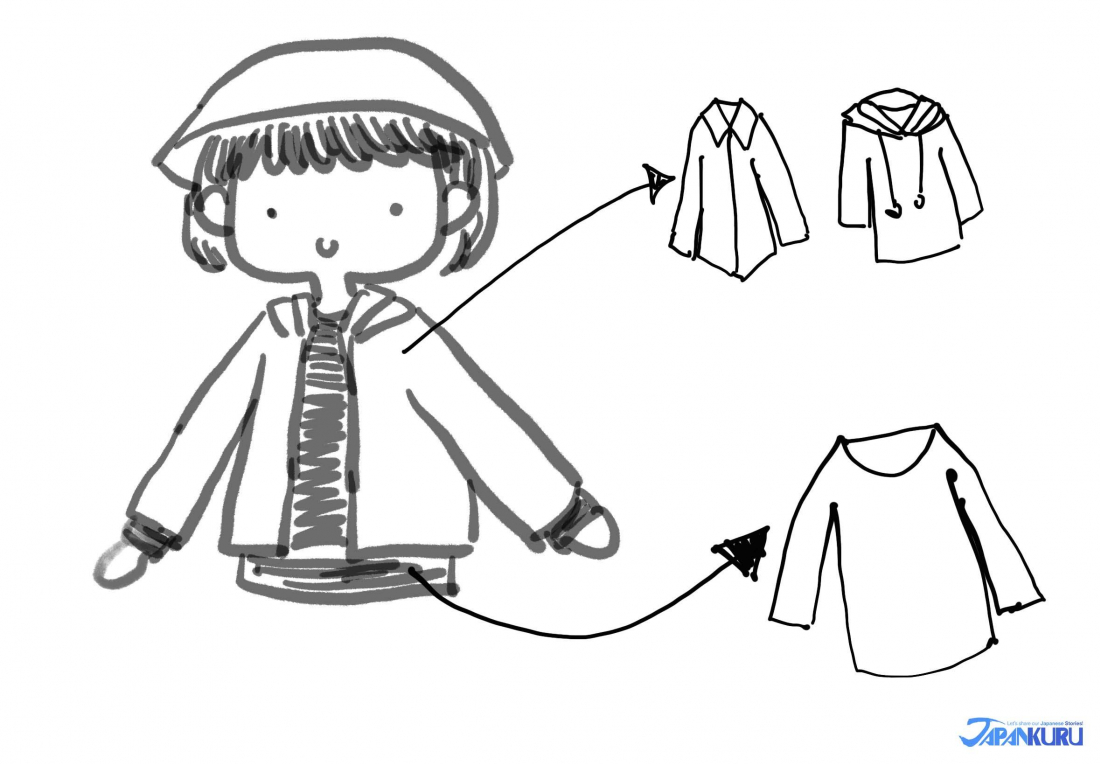 The Middle Layer: Warmth
Arriving at the third layer covering your torso, it's now time to start thinking a little less about perspiration, and more about warmth! Some people really do go all-out, and choose another quick-drying mountain-climbing shirt for this layer, but others will choose a brushed synthetic-fiber sweater for a little extra warmth. It's not a bad idea to choose something with a hood or a collar for the middle layer, or even something like a turtle-neck, to keep you warm and also protect the back of your neck from the sun.
The Outer Layer: Protection from the Elements
The quickest way to find yourself nearing hypothermia is to get caught unprepared in the wind and rain, so it's vitally important to make sure your outer layer shields you from the elements. (If the weather's really bad, though, it might be a sign to turn back down the mountain. Stay safe!) Frequent mountain climbers generally recommend buying raincoats and pants with Go-Tex waterproofing to protect against sudden wind and rain, and many sportswear brands sold in Japan also have their own special waterproof materials that are similarly effective. When looking for the right rain gear for your own outfit, check out each item's waterproof rating, measured in millimeters. Anything 10,000mm and up should do well even in heavy rain.
A Warm Rest Layer: For Waiting Till Sunrise
As you climb up the mountainside, the exercise of your working muscles keeps your body fairly warm, meaning you can make much of the climb in a few fairly thin layers. However, like many of Japan's longer mountain climbs, most trips up Mount Fuji include a rest stop in a mountain lodge. As soon as you sit down to take a break, get some rest, and maybe wait for sunrise, that excess body heat will disipate, and things will start to feel chilly while you stop moving. For those freezing cold break times, you'll definitely want a down jacket or other warm coat to keep the chill away. Down jackets and the like aren't usually made to stand up to water (like heavy rain), so they're best used when cozying up under a roof.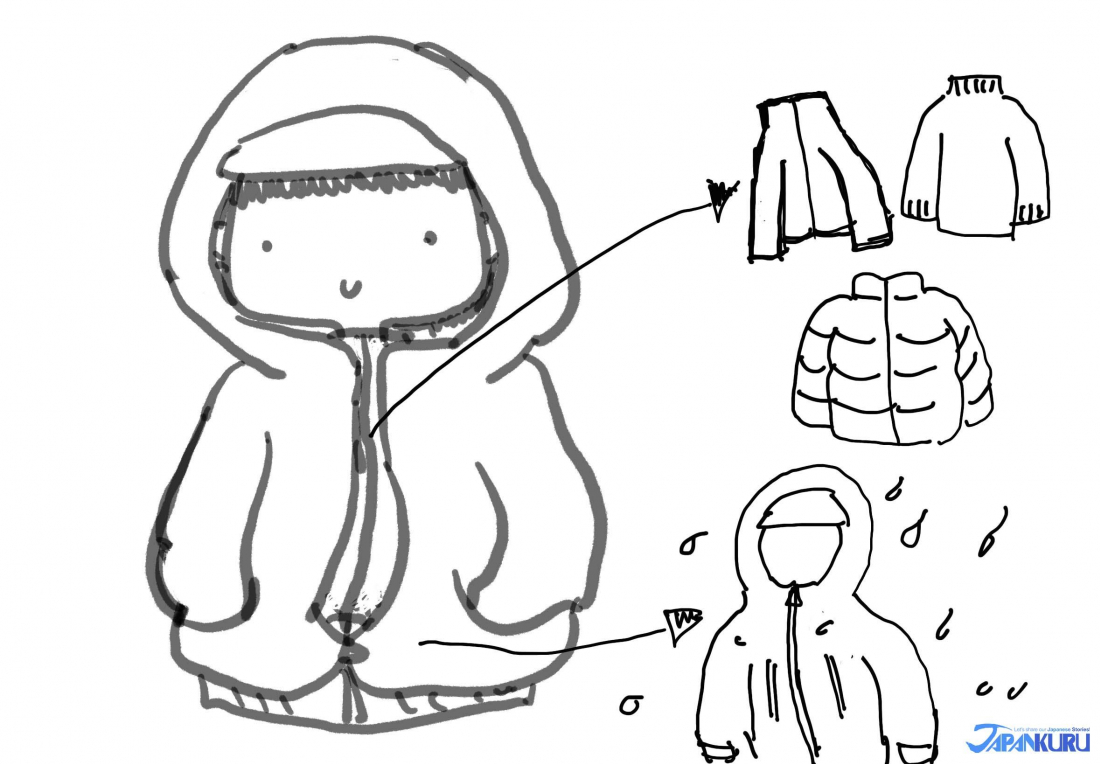 What to Wear on Your Legs
When doing any serious mountain climbing, even your legs should be "onions"! They may not need quite as many layers as your upper body, but wearing layers on all four limbs is a good idea, and your legs deserve their own inner, middle, and outer layers. The innermost layer should be functional leggings, ideally ones made to wick away sweat, just like for your torso. On top of that, people choose different pants and bottoms depending on what's comfortable, but it's not a bad idea to bring along an outer layer that can stand up to wind and rain. As long as it's not too cold out on the mountain, many Mount Fuji hikers tend to choose high-performance leggings paired with a looser pair of shorts on top.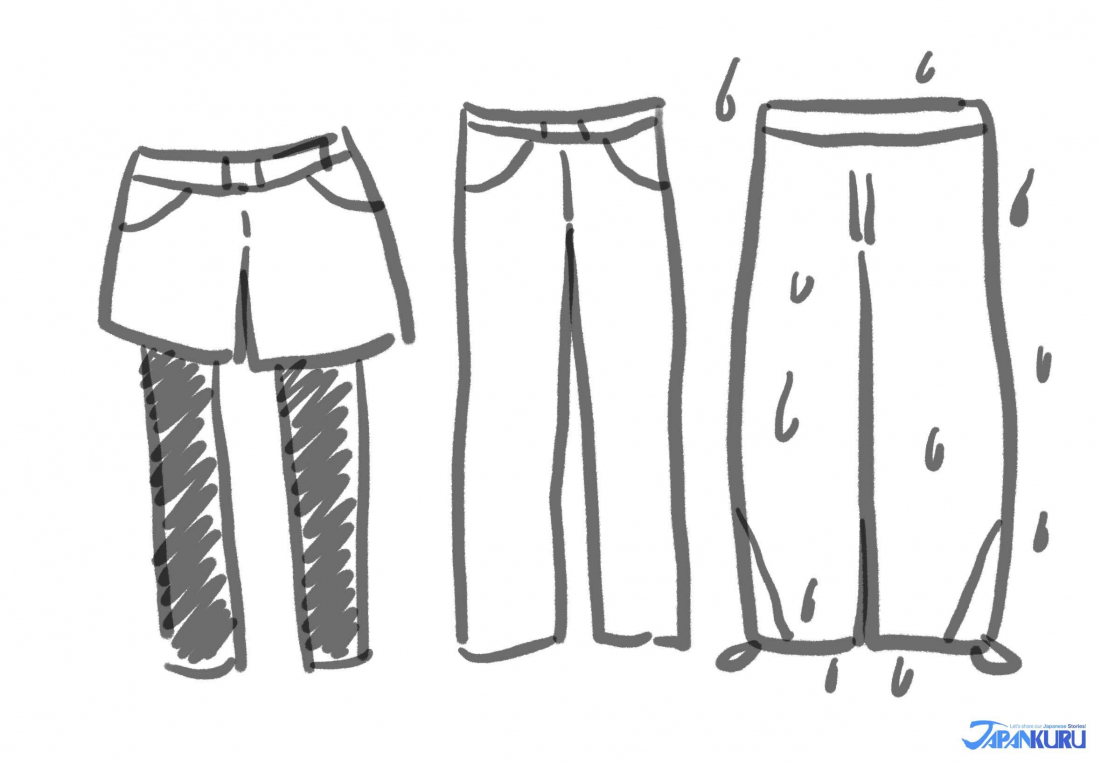 Reporting Back From Mount Fuji: Did It All Work?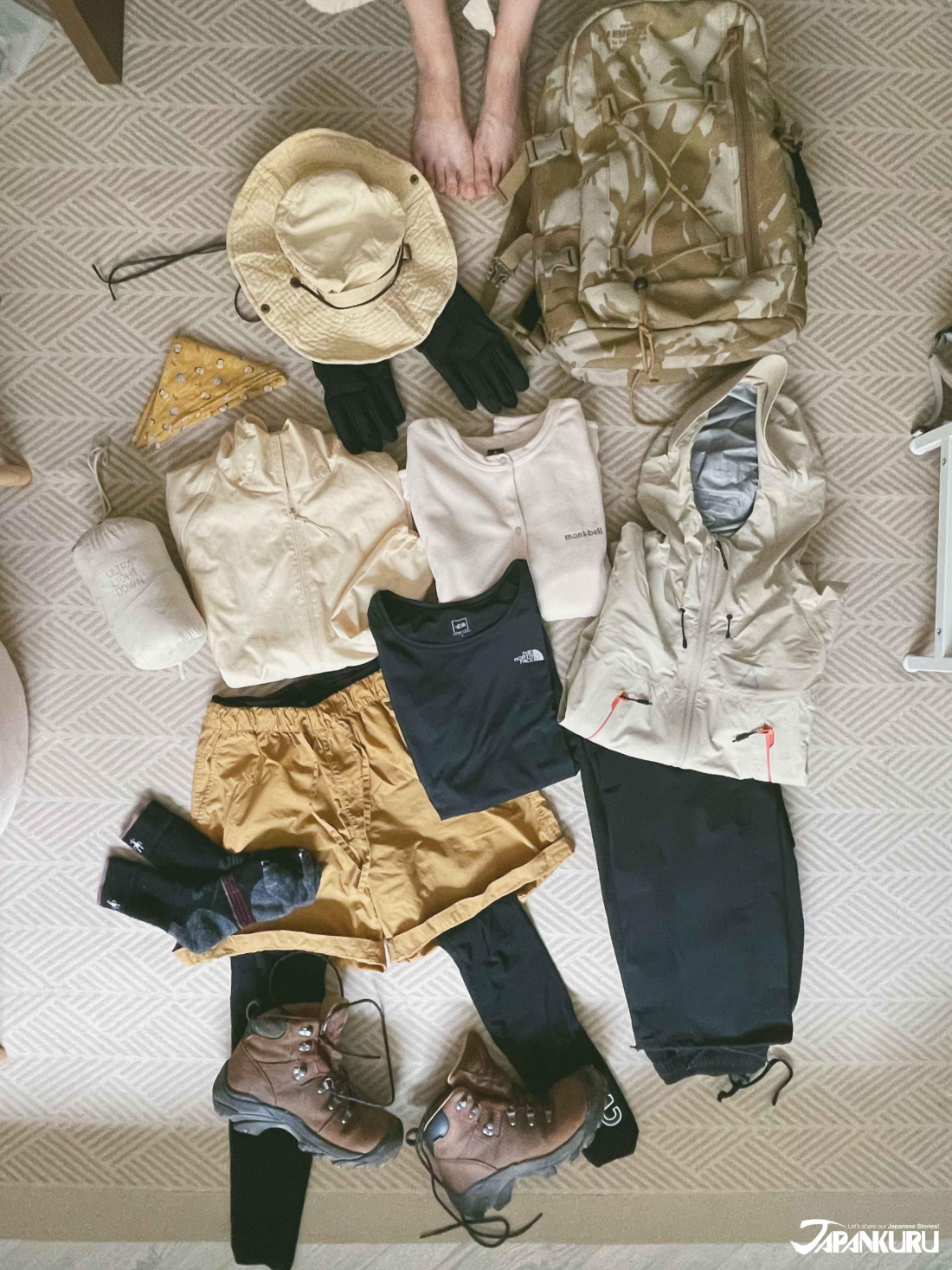 Wondering how all this gear works together once you're really making your way up the mountain? Then read all about how things worked out on Mount Fuji with the items shown above – courtesy of our writer who made the climb in mid-August. Her outfit started with a long-sleeved quick-drying t-shirt as a base, a thin, light rain jacket, and a light cotton hoodie. Extra layers included a polyester brushed fleece, a heavier wind-breaker/rain jacket, and an ultra light down jacket (shown stored in its pouch). On her legs she wore normal cotton shorts on top of a pair of high-performance leggings, and brought along an extra pair of leggings with a warm brushed inner layer, along with a pair of rain pants. Other accessories included two pairs of wool socks (one as a spare), warm gloves, and a general-purpose brimmed hat. This is how her trip went:
Fortunately, on this climb we lucked out with good weather throughout our two-day hike, and the gear I brought along was plenty. In the end, I never even took my down jacket out of its pouch! Looking back on what I packed, the only thing I might add would be a warm knit hat. After staying the night on the mountain and setting out early enough to catch the sunrise at the peak, the hat I brought was good for a little wind or rain, but a fuzzy wool hat would have done a better job keeping my ears nice and warm.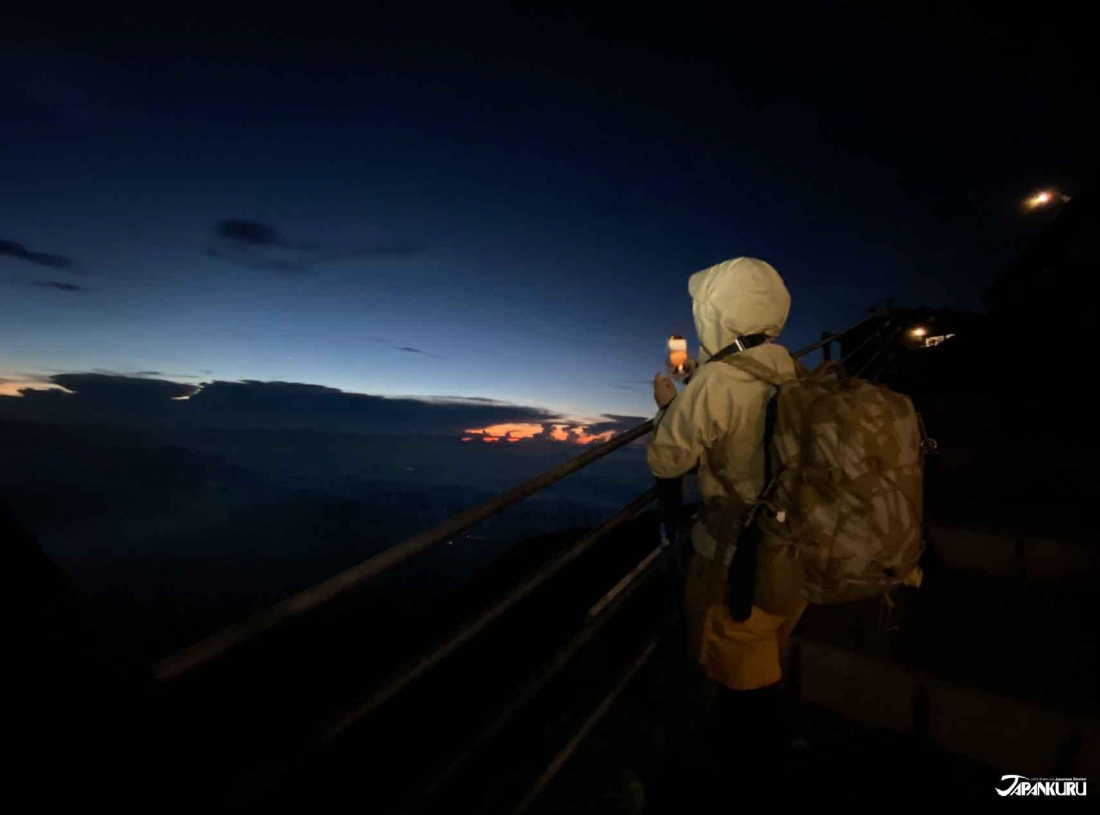 It can be hard to decide exactly what to wear for that early morning climb before sunrise. We were climbing in August and started this leg of the trip at 1 am, so I wore the quick-drying long-sleeved t-shirt, the lightweight hoodie, the brushed fleece, and the more robust wind and rainproof jacket, and pulled on the warm brushed leggings between the thinner high-performance leggings and the cotton shorts. As we made our way towards the very top, I did start to feel the chill when I stopped to enjoy the view and watch the sunrise, but most of the time I didn't really feel the cold. (Mostly, I just felt tired.) Once the sun came up, things started to warm up, and any worries about the cold went away entirely.

Of course, my experiences were all thanks to the beautiful clear skies, and lack of rain clouds. I got lucky and didn't have to deal with any rain, but the weather on the mountain can be pretty unpredictable, and it's always good to prepare for the worst. When the rain really starts to pour on Mount Fuji, it's a totally different level of cold!
To sum up the experience, what our writer wore to climb Mount Fuji isn't necessarily the perfect outfit for everybody. This outfit worked out well for one person's climb, and bringing plenty of layers to find stay comfortable is a good idea for most kinds of weather, but preferences can vary! Ultimately, the most important thing is to choose the clothes that work for you.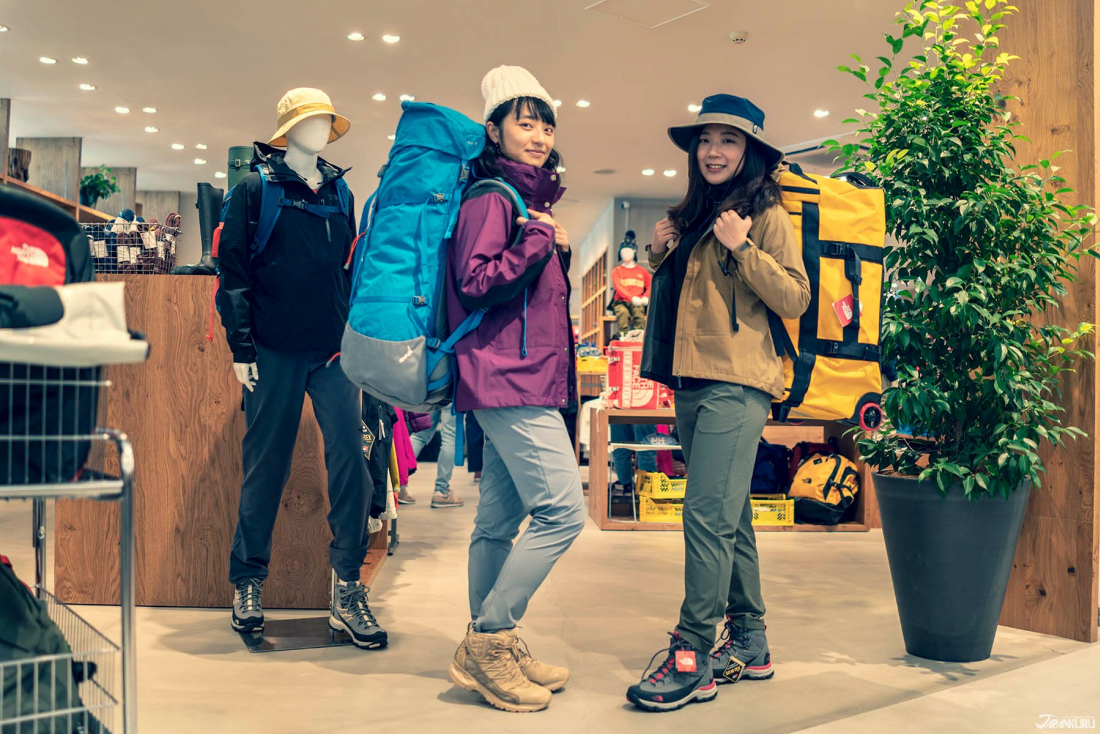 If you're getting ready to climb Mount Fuji, or you just like to spend time outdoors, we recommend building up your wardrobe with items from Yosemite and Losthills. If you're looking to get even more out of your time in the great outdoors, we recommend checking out the hiking and camping equipment at Nature Tones and Muranokajiya (Village Blacksmith).