3 of the (Official) Most Beautiful Villages in Japan, and Why They're Worth Visiting
These tiny villages dot Japan like beautiful jewels woven into the countryside, each one a unique destination!
Any traveler that has ventured out of the big city and into Japan's countryside can tell you that rural Japan is full of picturesque mountains, endless expanses of verdant rice paddies, and any number of inviting tiny villages. These little communities are filled with a jumble of modern homes and traditional houses built in centuries past, with unique local landmarks and surprising histories, and while more and more young people have fled the countryside to Japan's urban areas in recent years, warm welcomes still await the ambitious traveler who ventures off the beaten path to a tiny village in Japan.
Now that Tokyo has become a mainstream travel destination for international sightseers, and other big cities like Kyoto and Osaka are quickly following suit, some of Japan's smallest towns are looking for ways to find their own niche. To help, one nonprofit is working to target some of Japan's most appealing little villages, and support the communities as they protect their heritage while working to welcome in the world. Called "The Most Beautiful Villages in Japan," this NPO was inspired by a similar organization in France, and so far it has identified more than 60 of Japan's "Most Beautiful Villages" for support and preservation. Each of these spots, scattered from the tip of Japan's northernmost prefecture of Hokkaido to the southernmost islands of Okinawa, has its own unique draw and plenty to charm travelers, so we picked just a handful of our favorites to share with you in this list!
① Biei, Hokkaido (北海道美瑛町)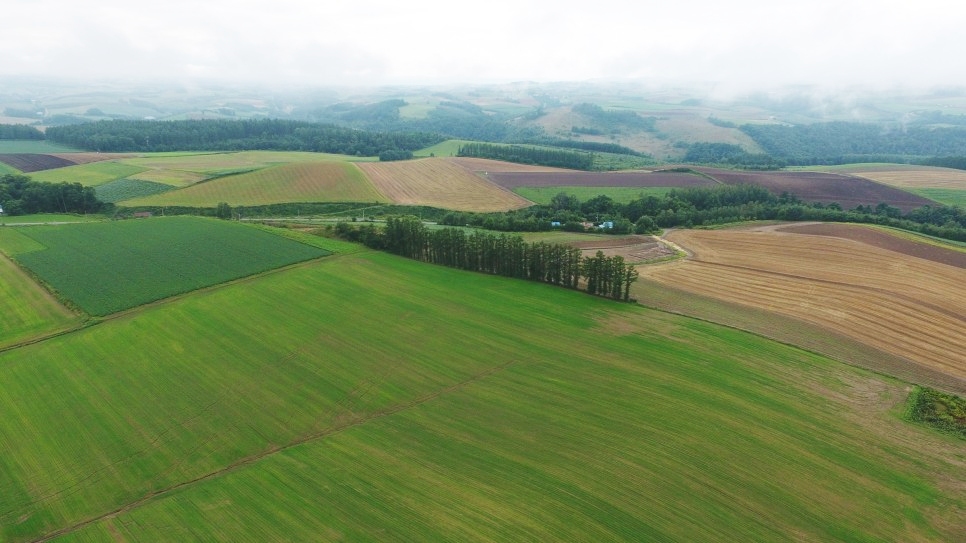 Biei was the very first "Most Beautiful Village in Japan," as the town's mayor jumpstarted the local Japanese chapter of the organization in 2005, simultaneously inviting another seven communities to join. But of course, Biei isn't only on this list because it was the birthplace of the Most Beautiful Villages in Japan – it really might be one of the country's most beautiful villages. The town is known for the beautiful scenery that tourists flock to Hokkaido for throughout the year, including bucolic green fields in the warmer months and heavy blankets of white, fluffy snow each winter. Like much of Japan's countryside, local public transportation just can't compare to fantastic network of trains and buses found in Japan's bigger cities, but that makes it a particularly popular stop on any road trip through Hokkaido! With the help of a rental car, travelers can slip between the area's green expanses and race past iconic rows of trees.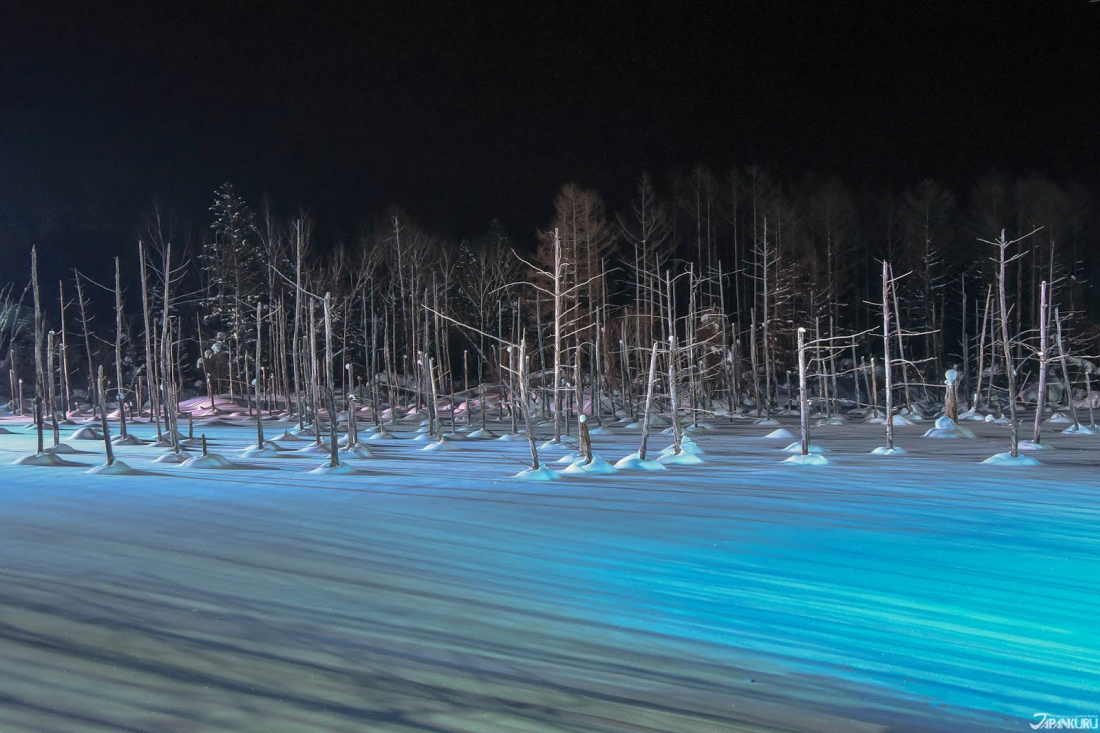 One of Biei's most popular destinations is this lake that almost looks like a spot on another planet, but is really found in the town's Shirogane area. Called Aoi Ike (青い池) or Blue Pond, trees grow up out of a pool of bright blue waters, giving the pond its very literal name, and during the summer the shining daylight sets off the magical blue tone. When the weather turns cold, however, the pond is even more popular at night. The water freezes over, snow piles up on top, and then colorful lights are set up to reflect off of each of the tiny snowflakes upon the pond's surface for a dazzling display.
Aoi Ike / Shirogane Blue Pond (白金青い池)
Shirogane, Biei, Kamikawa District, Hokkaido
Biei Official Website (en)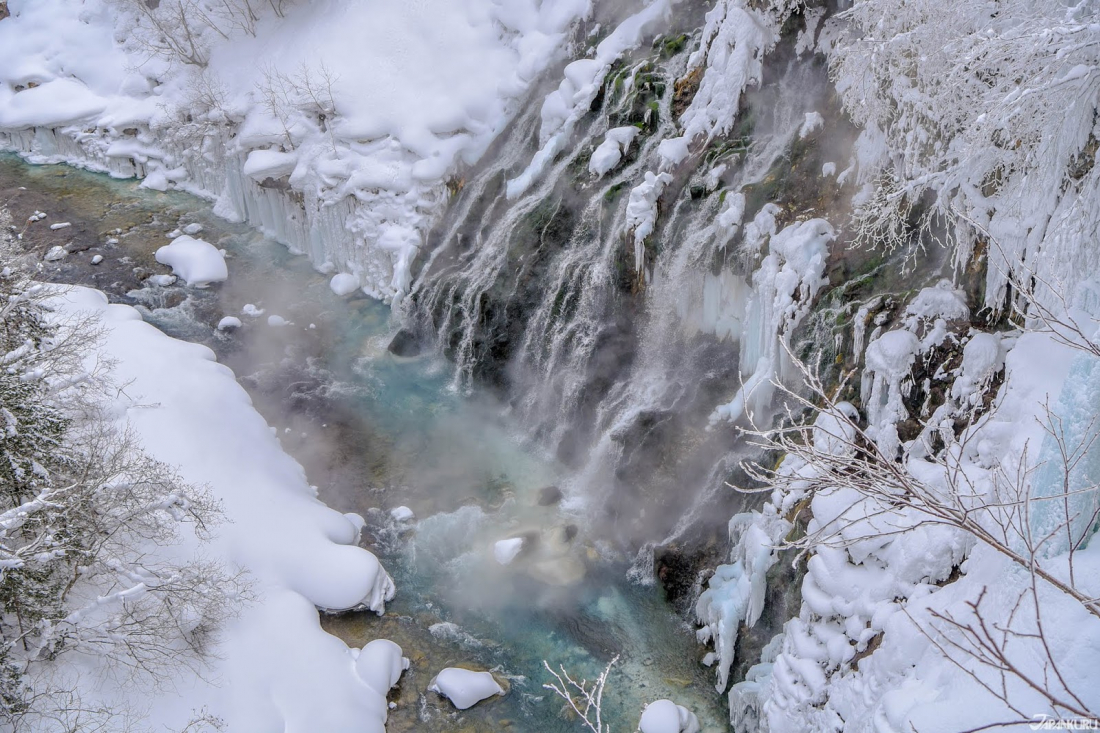 Shirahige Falls are just five minutes from the Shirogane Blue Pond by car, and the waterfall is famous for the blue hue of the water at the base of the cliff. The source of these falls is an underwater river that flows out through small cracks in the dark 30m (98ft) rock face, causing a rare variety of waterfall as the many white tendrils flow to the ground. This unique appearance is what earned the waterfall its name, Shirahige (白髭), which literally means "white beard."
Shirahige Waterfall (白ひげの滝 )
Shirogane, Biei-cho, Kamikawa-gun, Hokkaido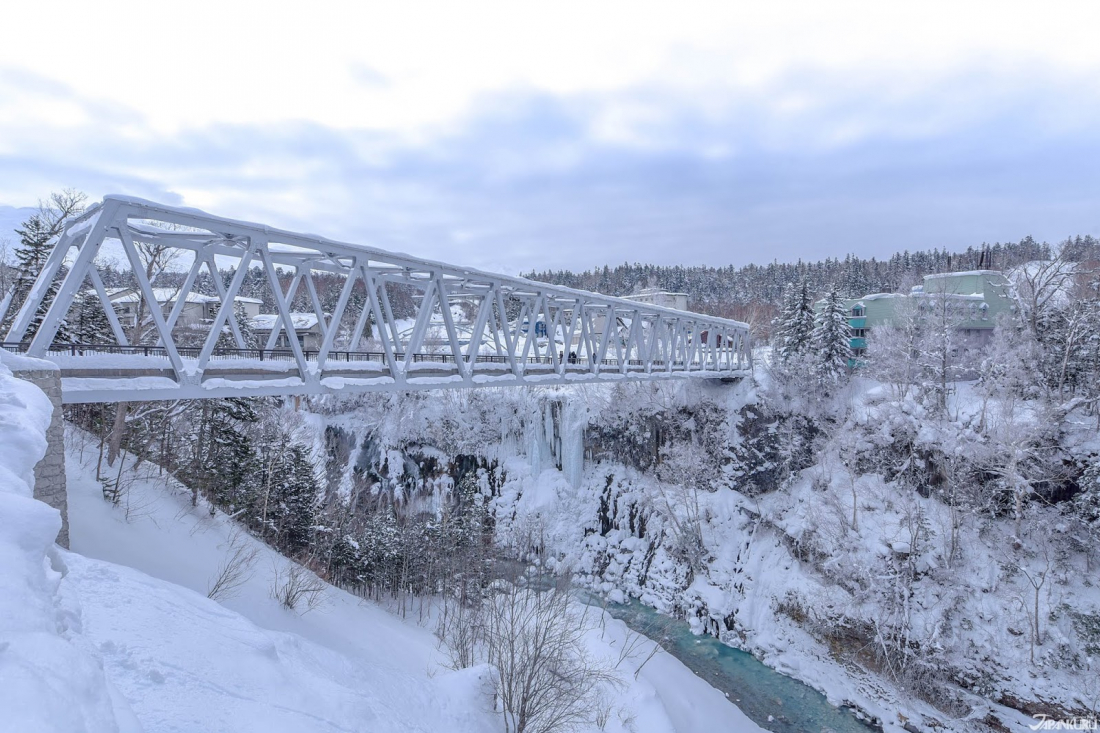 ② Ine, Kyoto (京都府伊根町)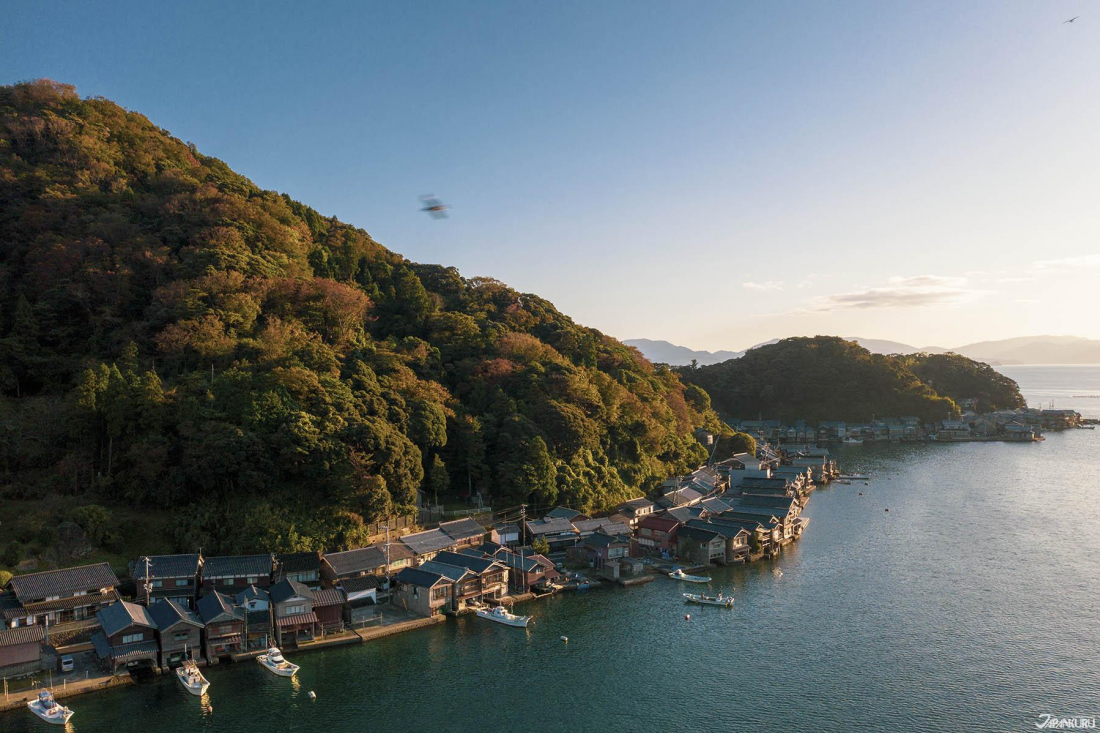 The little town of Ine has a long history as a fishing village, and as a stop on the trade routes between Kyoto and parts of Europe and Asia, and to this day the community has held onto and preserved the area's famous "funaya" (舟屋) – traditional wooden boathouses that still sit right on and even over the water. The amazing cultural heritage of these traditional homes earned Ine the very first official Japanese historic preservation designation of a group of traditional buildings in a fishing village, and a few years later the spot officially became one of the Most Beautiful Villages in Japan.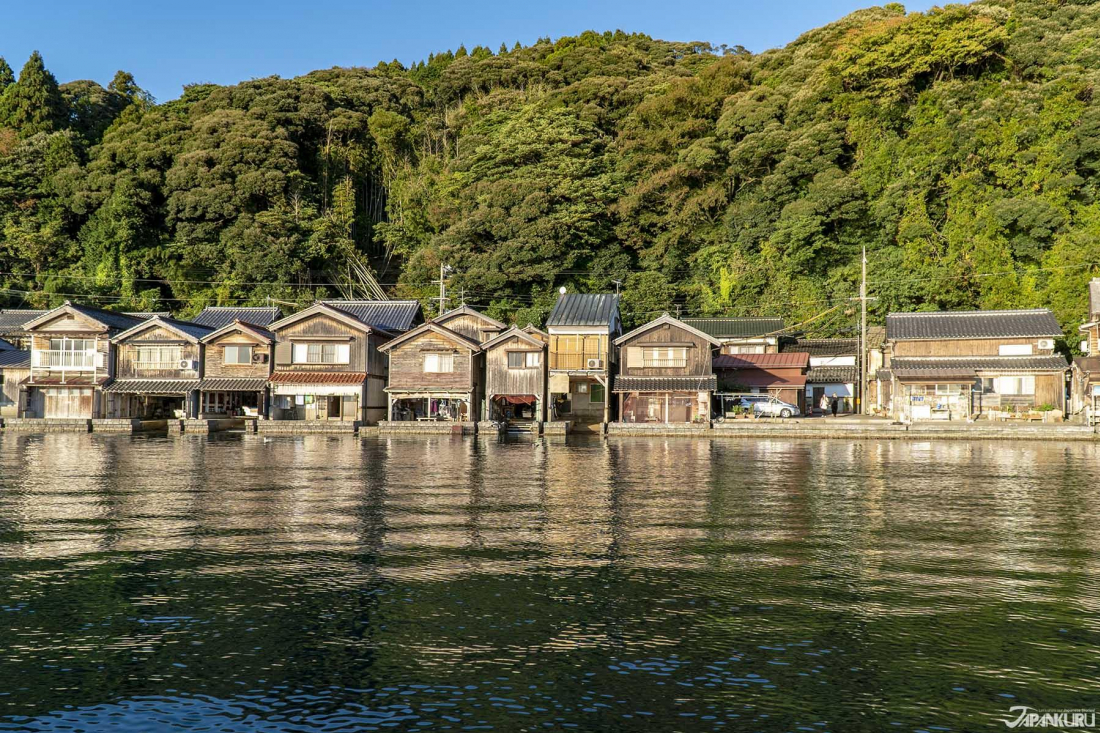 While traditional Japanese farmhouses and the old residences found in many regions of Japan tend to share certain designs and styles, the unique look and functional architectural quirks of Ine's funaya houses make them an unusual sight, and you won't find a scene quite like this anywhere else in Japan. Visitors who want to see the houses from another angle can take one of the town's water taxis out onto the bay for a truly splendid view of the scenery, as the water sparkles in the sun. (Water taxi drivers might even hand you some shrimp chips to feed the seagulls as you ride through the water, and they swoop past to grab the snacks right out of your hand!)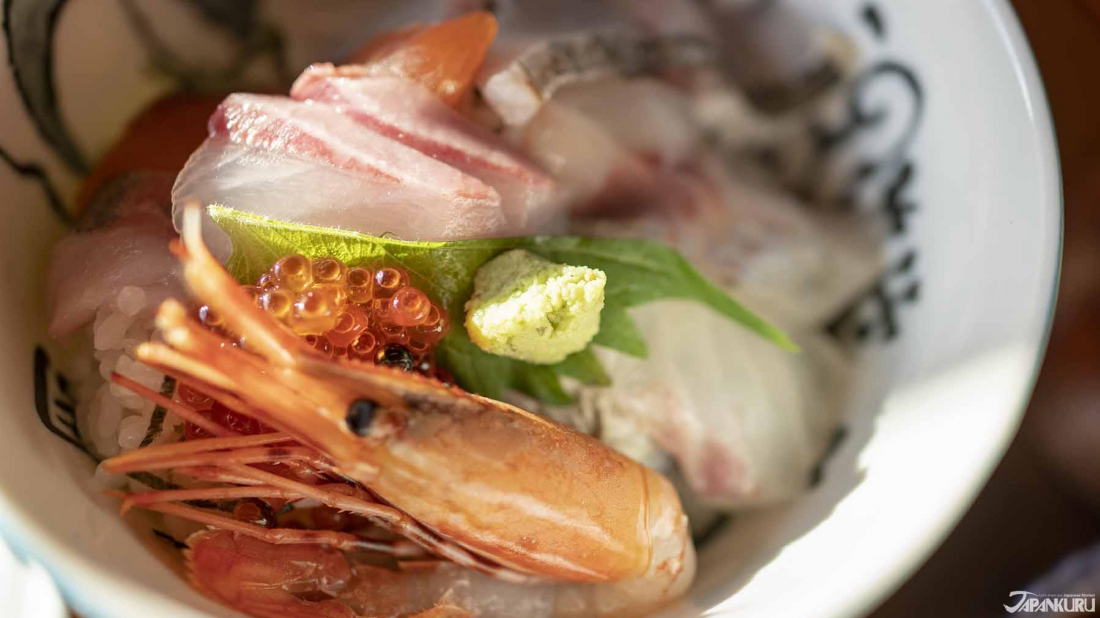 As a fishing village on the water, perhaps it's no surprise that Ine is also an excellent place to indulge in some fresh seafood! Just across the street from the water, with a wall of windows looking out over the bay, Funaya Shokudo is a popular spot for kaisen-don (海鮮丼) seafood bowls and dishes of squid and udon.
Funeya Shokudo (舟屋食堂)
491 Hirata, Ine, Yoza District, Kyoto
Hours: 8:00 – 16:00 (closed Thursdays)
Official Website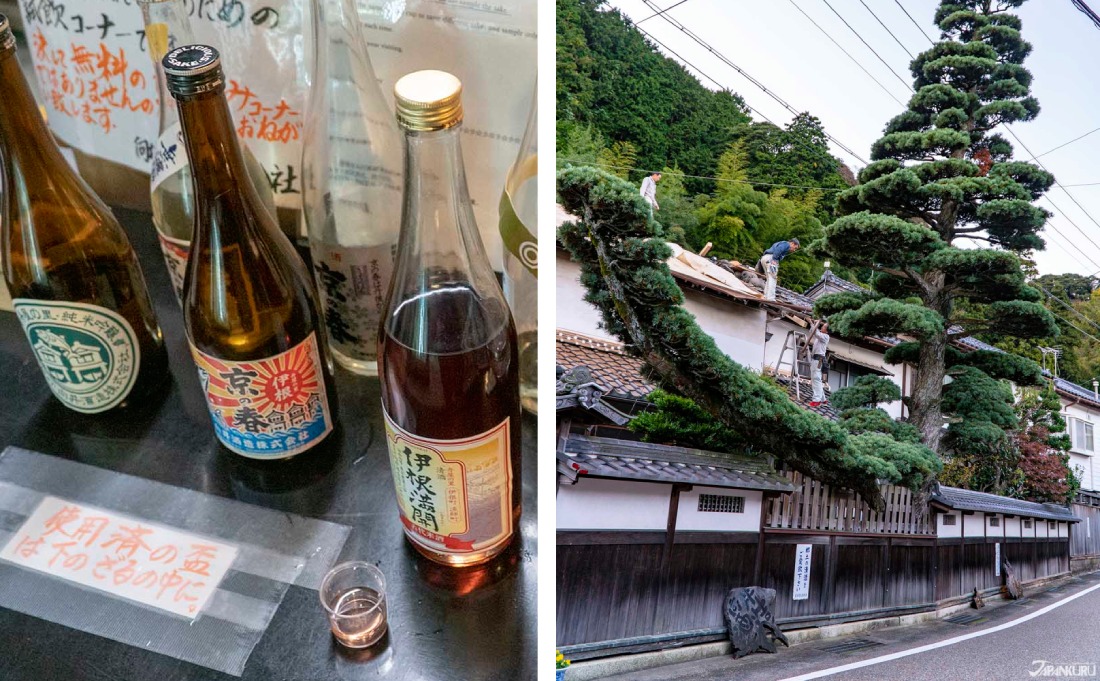 For travelers visiting the picturesque streets of Ine, Mukai Shuzo Sake Brewery is often a last stop before leaving the area. The 250-year-old brewery makes a few different varieties of Japanese sake, including a rather unusual brew with a tinge of red color and a surprisingly fruity flavor, which brings to mind the mellow aromas of red wine. It makes a great souvenir!
Mukai Shuzo Sake Brewery (向井酒造)
67, Hirata, Ine, Yoza District, Kyoto
Hours: 9:00 – 12:00 / 13:00 – 17:00
③ Kitashiobara, Fukushima (福島県北塩原村)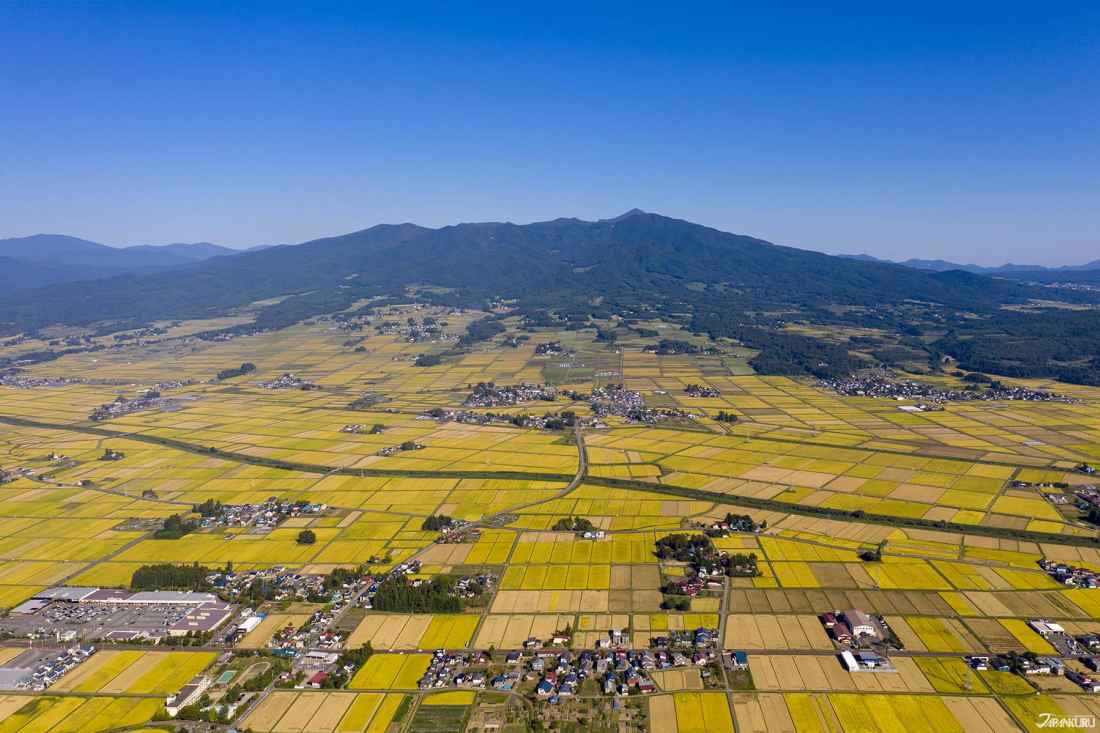 The western Aizu region of Fukushima Prefecture is known for its samurai history, historic sake breweries, and savory bowls of breakfast ramen, but local villages like the rural Kitashiobara also attract visitors thanks to their gorgeous natural features – which are what earned it a place among the Most Beautiful Villages in Japan in 2010. Spread out flat at the foot of the active volcano Mount Bandai, the green sprawl of Kitashiobara's endless rice paddies is uniquely Japanese, while the colorful marshes and lakes formed by volcanic activity are uniquely Kitashiobara.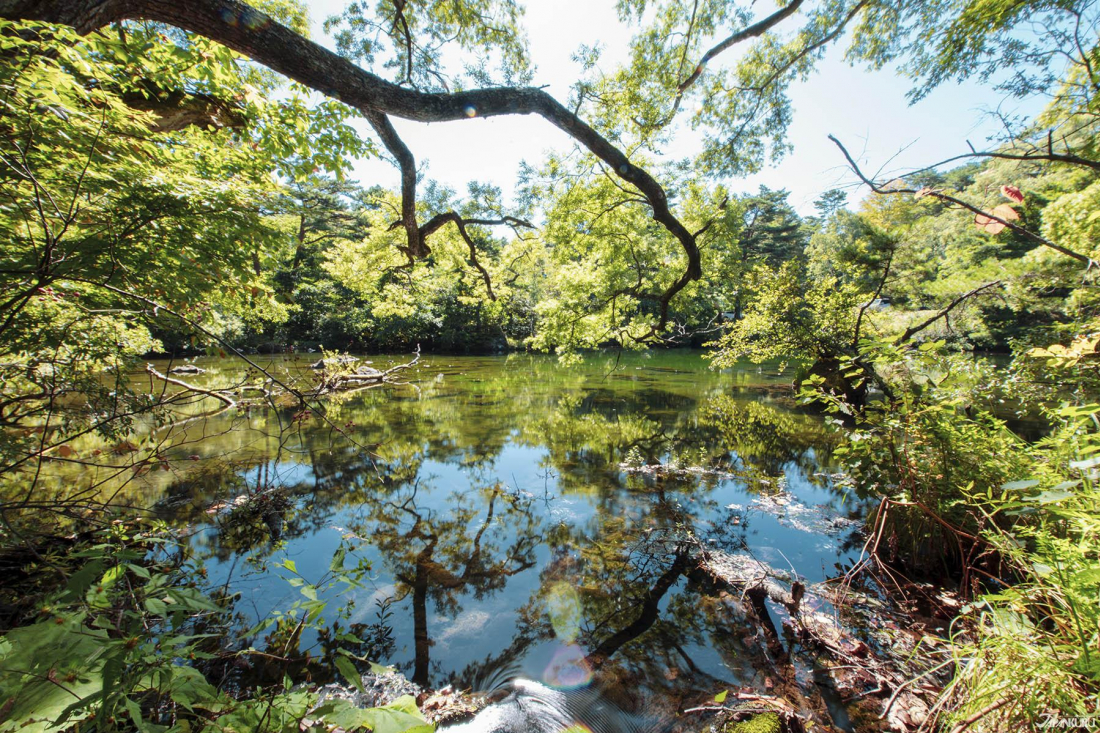 Kitashiobara's Goshiki-numa (五色沼), also called the Five Colored Marshes, became a part of the local landscape after a historic eruption from Mount Bandai back in the 1880s. Though the volcanic eruption was a tragic natural disaster at the time, killing hundreds and destroying the villages of many more, it left the area littered with hundreds of beautiful lakes and marshes (numa/沼 in Japanese) that now dot the landscape like brilliant jewels.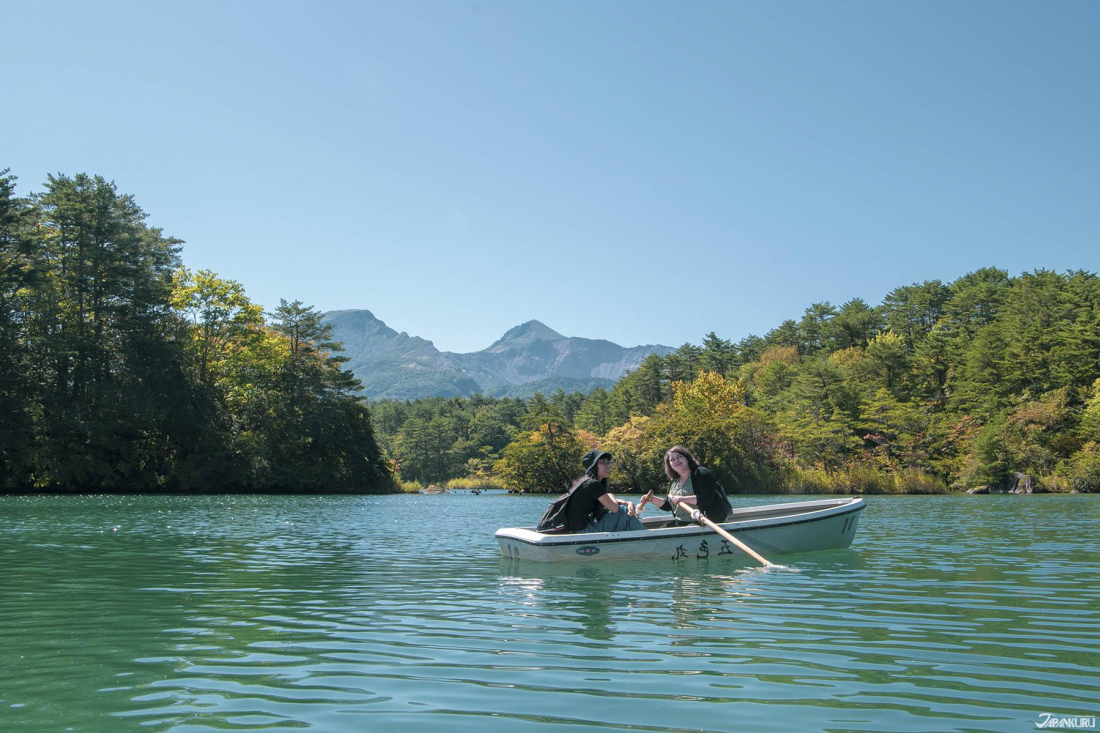 The Goshiki-numa are known for the range of brilliant blue-green hues that color each body of water, big and small, and travelers now traipse through the wooded countryside to see some of the more popular spots. The largest lake is Bishamon-numa, where visitors can head down the rocky steps to rent rowboats on the lakeshore and get out on the water, enjoying the dramatic backdrop created by the craggy shape of Mount Bandai. Bishamon-numa is also home to the "Goshikinuma Heart Koi", a white koi fish with a distinct orange heart on its side, and spotting the koi is said to bring good luck!
Bishamon-numa Rowboats (毘沙門沼 貸ボート受付)
1093 Kengamine, Hibara, Kitashiobara, Yama District, Fukushima
Hours: 8:00 – 16:30 (closed Dec. to Mar.)
Price: 700 yen/30 minutes or 1,300 yen/1 hour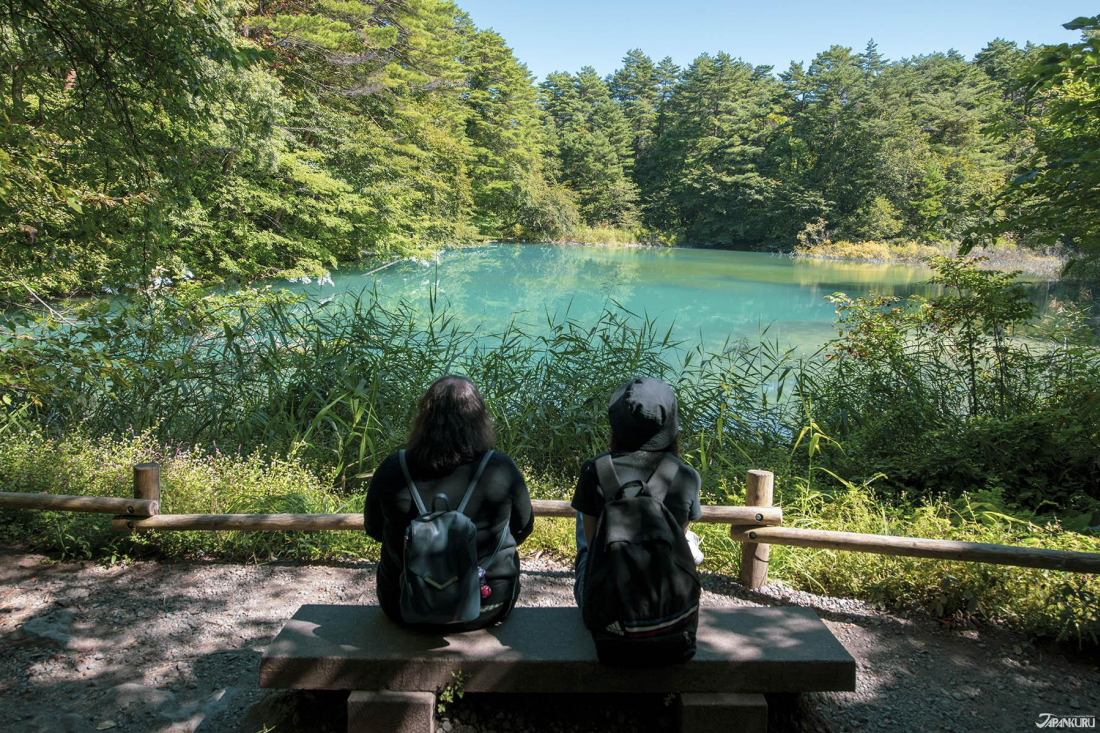 Hiking trails thread through the forest connecting many of the smaller marshes, which reflect the surrounding foliage in their brilliant surfaces. Ao-numa (青沼) and Ruri-numa (るり沼) are popular destinations, but Haha-numa (母沼) and Yanagi-numa (柳沼) are worth a look too, and a little further into the woods, past Ruri-numa, the uneven lakebed of Benten-numa (弁天沼) gives the view some colorful variety.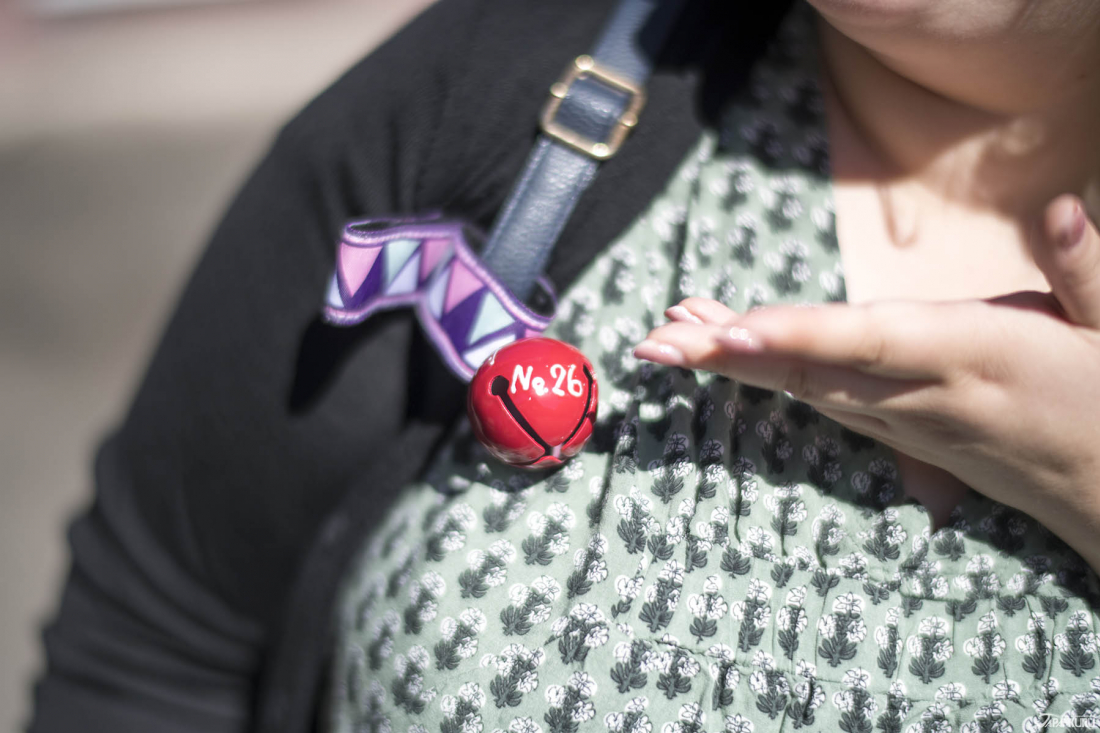 When the weather is nice, the trails through the woods are well-tread without being overly crowded – but for those worried about meeting a less friendly hiking companion, there are bear bells available at the trailhead for visitors to borrow as they explore the area!
★ Most Beautiful Village Bonuses ★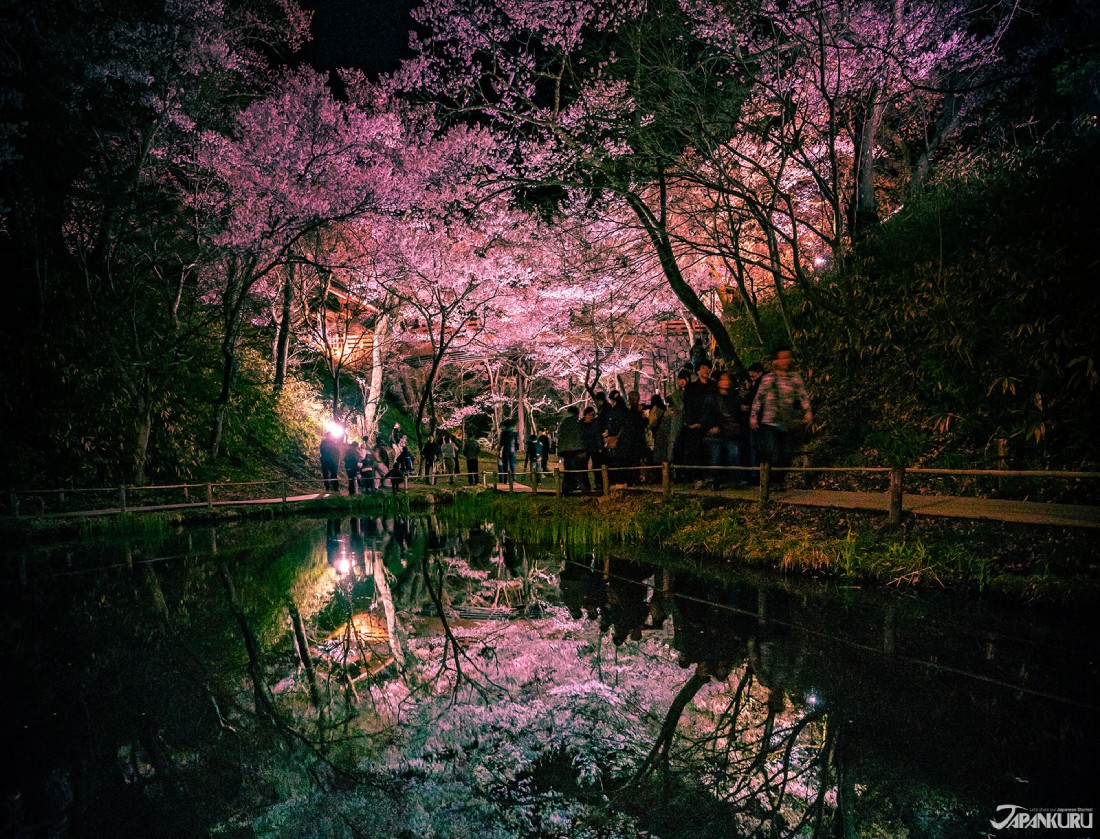 Looking for a most-beautiful destination for enjoying Japan's cherry blossom season? Takato Castle Site Park (高遠城址公園), in Most Beautiful Village Takatomachi, was the spot of the first Japanese cherry blossoms to ever bloom – according to local legend, at least. These days, the castle ruins are a particularly popular destination for night-time cherry blossom viewing, and the park is said to be one of the top three cherry blossom viewing spots in Japan. During the annual Takato Sakura Festival, the park opens during the day and stays open past sunset so that visitors can see the beautifully lit blossoms reflected in the water.
For those arriving in Japan during the colder months of the year, blankets of white snow and maple trees make Takato Castle Site Park a charming wintertime destination as well!
Takato Castle Site Park (高遠城址公園​)
Higashi Takato, Takatomachi, Ina, Nagano
Hours: 8:00 – 21:00
Price: adults 500 yen/children 200 yen (admission is free outside of the sakura viewing period)
Official Website / Takato Sakura Festival Website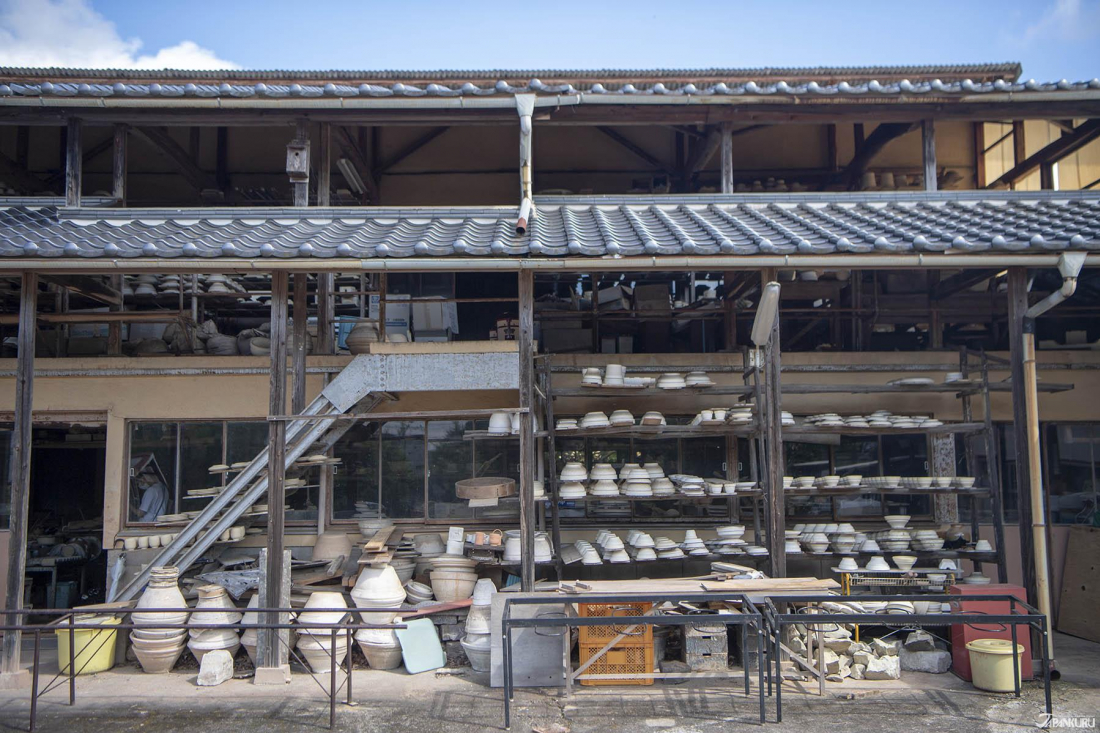 or those who like to get hands-on during their travels, the Most Beautiful Village of Koisago has a history entwined with local artisans and pottery culture, as the home of the Tochigi's popular Koisago-yaki ceramics. The local ceramics are known for colored glazes that shine with rich cinnabar reds and warm, golden yellows, a tradition passed on through generations of potters, and visitors can experience a little bit of the history for themselves by trying their own hands at Koisago-yaki. Fujita Pottery was founded 170 years ago, and now visitors can tour the artisan studios, paint dishes using the area's deeply pigmented glazes, try hand-sculpting, or even whip up their own cup or bowl using a pottery wheel (with some helpful tips from the workshop's experts).
Fujita Pottery (藤田製陶所)
2710 Koisago, Nakagawa, Nasu District, Tochigi
Official Website (jp)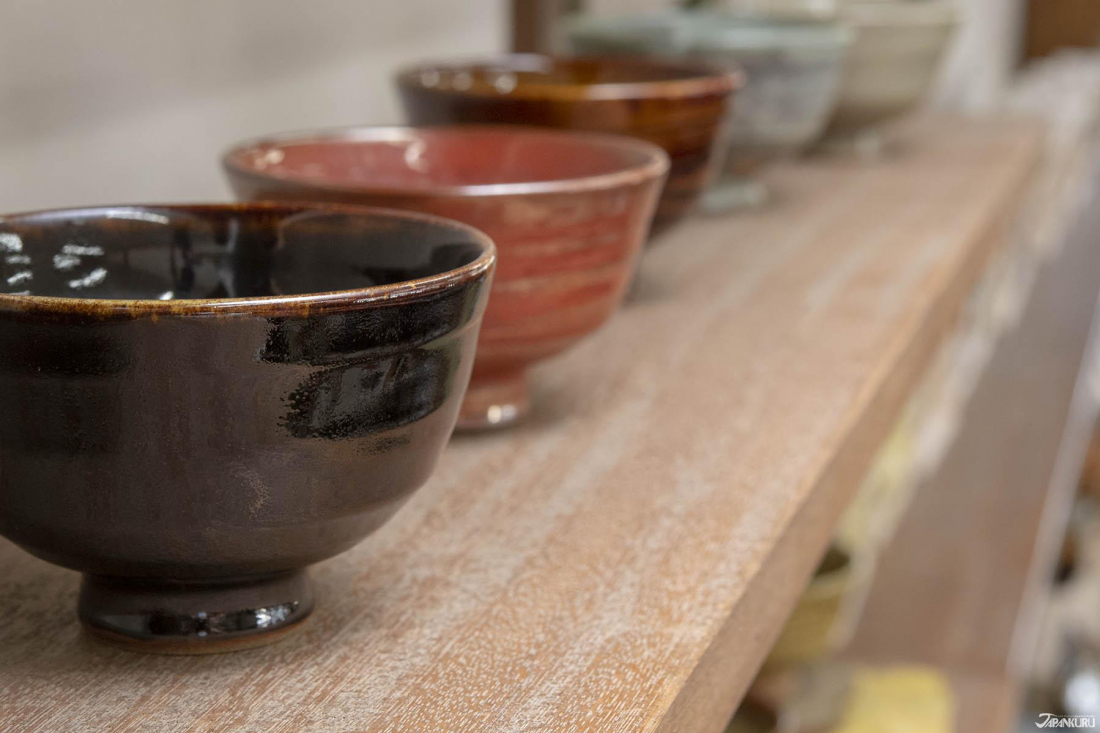 The Most Beautiful Village in Japan?
It turns out, finding the "Most Beautiful Villages in Japan" isn't really about weighing the pros and cons of each little village, and it's more about finding what makes each of Japan's tiny communities special and worth exploring. The NPO The Most Beautiful Villages in Japan adds new spots to their list every year, helping those regions to protect their cultural heritage and helping visitors to appreciate what each has to offer – and the list is just one great way to start looking for a unique destination outside of Japan's big cities. So, where do you think is the most beautiful village in Japan?
---
Basic Info
Name: The Most Beautiful Villages in Japan
Website: https://utsukushii-mura.jp/
---
For more info and updates from Japan, check Japankuru for new articles, and don't forget to follow us on Twitter, Instagram, and Facebook!
Source: JAPANKURU