A Quiet Oasis in Osaka's Most Popular Area | Namba Oriental Hotel
Try this Namba hotel to have Osaka's most beloved sightseeing spots at your doorstep, and still get a great night's sleep!
A Peaceful Escape at the Heart of Osaka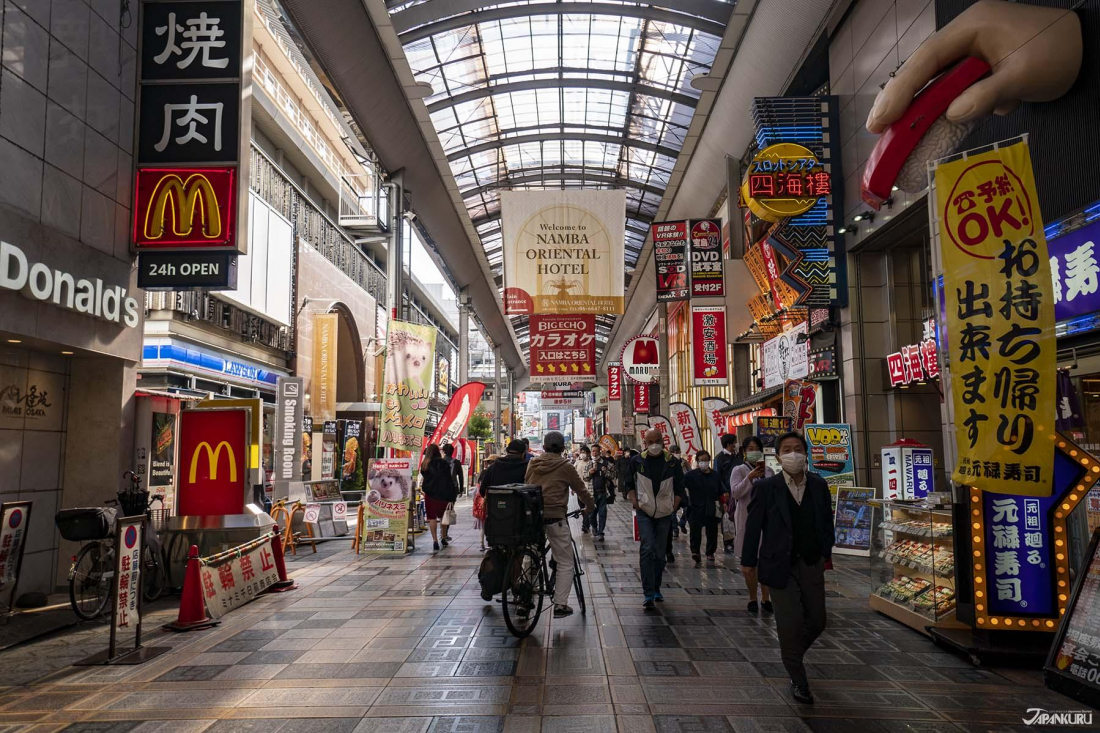 Namba is one of the most popular neighborhoods of Osaka, for locals and sightseers alike, thanks to its busy shopping arcades, fantastic food options, and iconic landmarks in every direction. But for trip-planners thinking they need to avoid all the noise and excitement for a good night of sleep, think again! Namba Oriental Hotel makes it easy to have all the food and fun of Osaka's city streets at your fingertips, just steps away from Shinsaibashi, Dotonbori, and the famous Glico Man, while still getting a chance to rest and recharge away from all the hustle and bustle every night.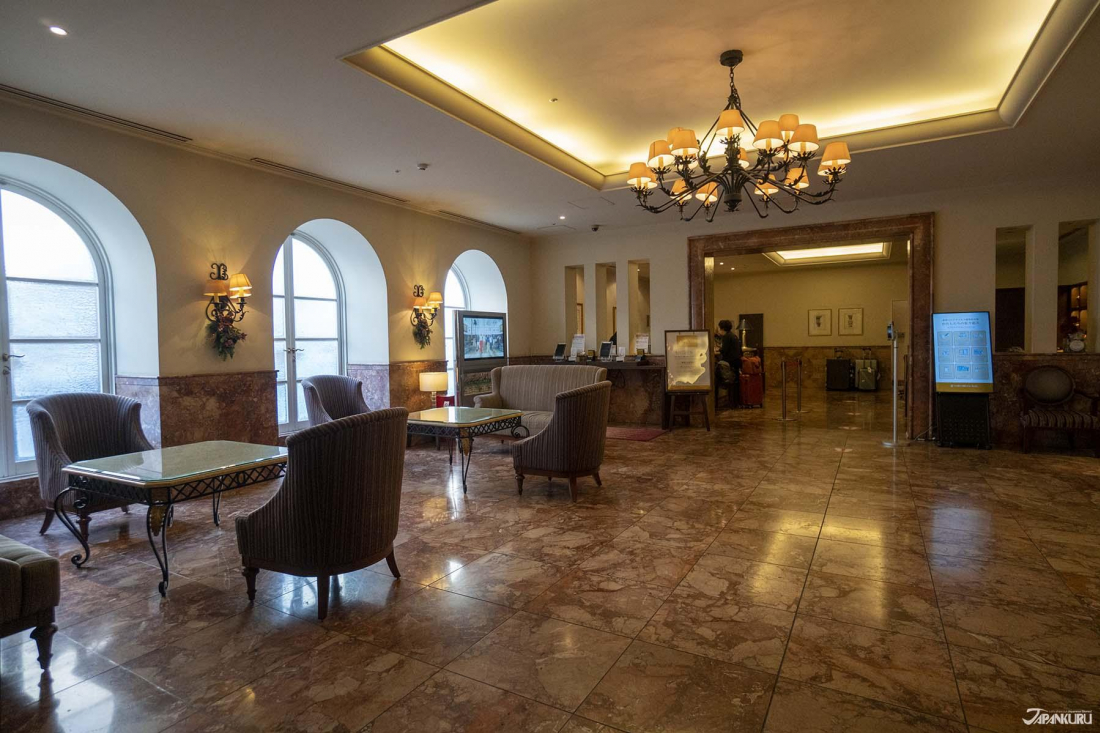 The streets of Namba and the surrounding area might be a tight grid of shopping, entertainment, and sightseeing, but with one step off the busy covered arcade and into the door of Namba Oriental Hotel, the rush of noise and people fades away, and a quick elevator takes guests up to the elegant hotel lobby. At a glance, Namba Oriental Hotel feels like the kind of charming classic hotel you might be delighted to find on a trip to Europe. Guests have been making this hotel into a home away from home for decades now because of the calm, welcoming atmosphere, with timeless armchairs and sofas to welcome tired travelers in the hotel lobby, retro quirks like the old-fashioned elevator signs, and spacious guestrooms all built around a one-of-a-kind 4th-floor courtyard patio and a flowing fountain. Namba Oriental Hotel is the obvious choice for travelers who want a comfortable stay in Osaka's most desirable neighborhood.
Namba Oriental Hotel (なんばオリエンタルホテル)
2-8-17 Sennichimae, Chuo Ward, Osaka
Check-in/Check-out: 15:00 / 11:00
Phone: 06-6647-8111
Official Website (en) ・ Reservations
Relaxing Rooms & Leisure Spaces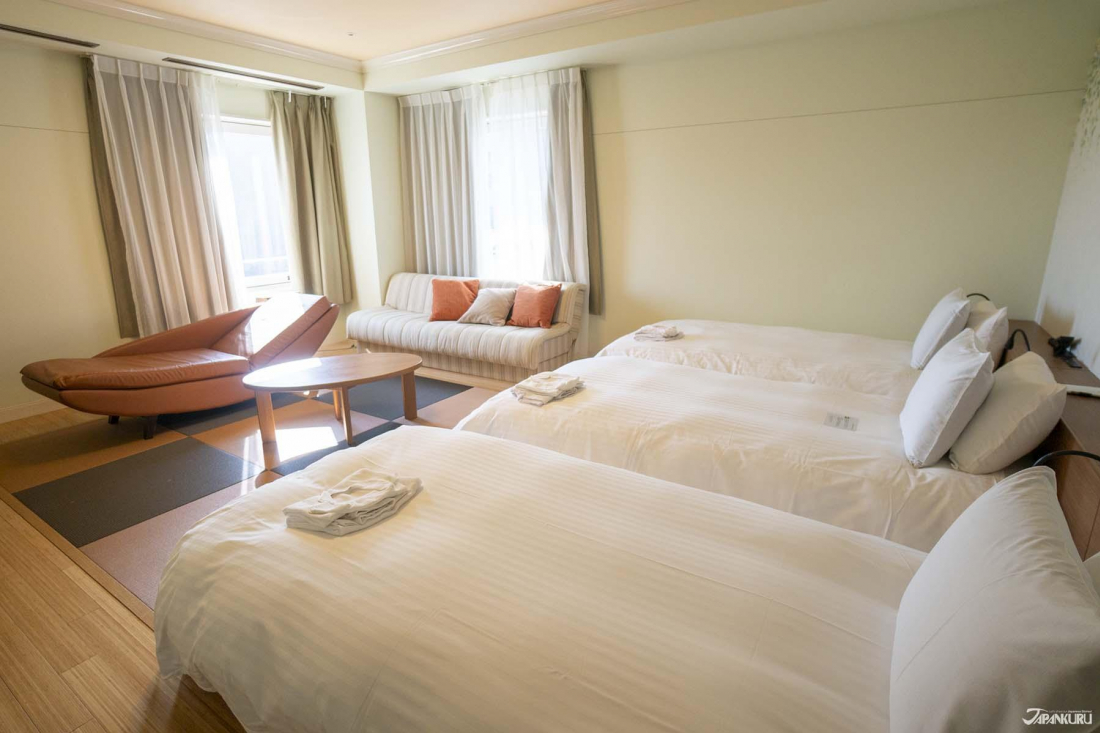 From the 6th to the 9th floor, the hotel's Oriental Quality Floors are lined with rooms decorated in warm earth tones, and hallway carpeting in a blue pattern that reflects the running water of the nearby Dotonbori canal. Kings, twins, triples, and suites – these relaxing rooms and their modern furnishings come in a variety of shapes and sizes, and room decorations take subtle hints from the city far below.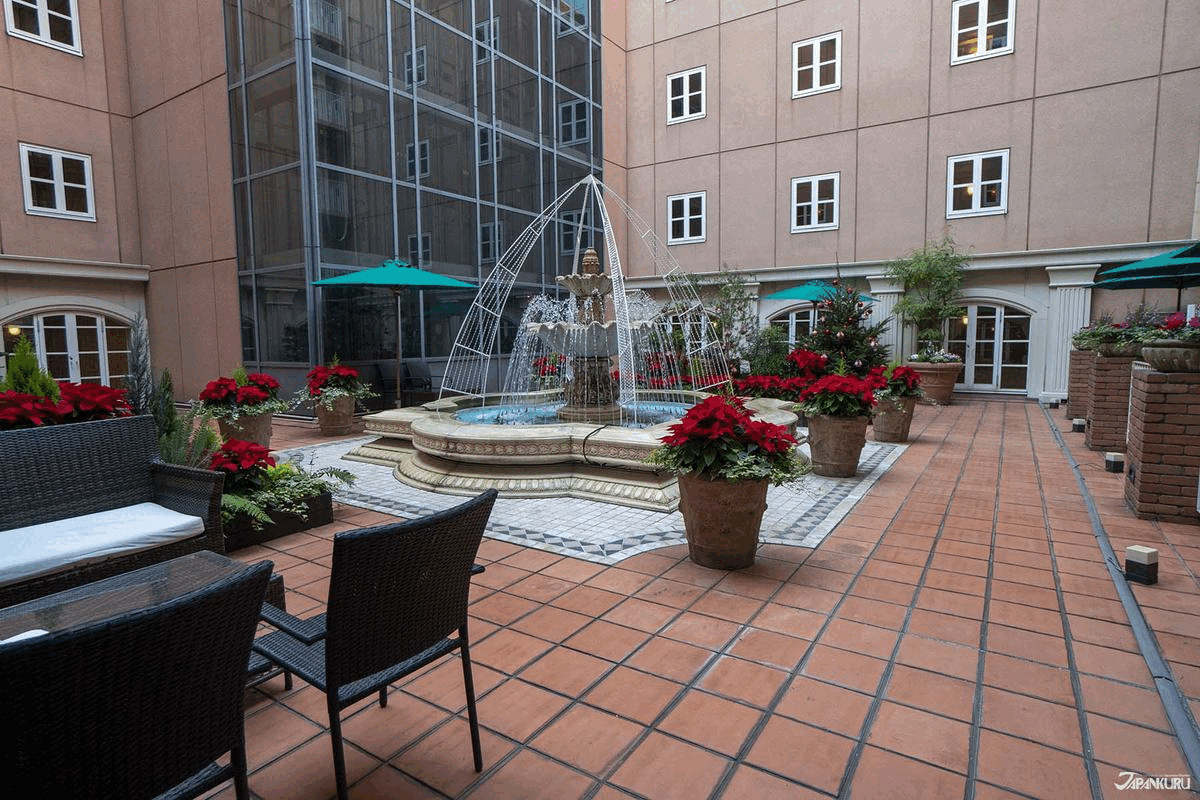 At the center of the building, Namba Oriental Hotel's most unique feature is open from morning to evening for all guests to enjoy: the patio. This central courtyard has elegant outdoor tables, chairs and sofas, plus plenty of seasonal foliage for decoration, and a magnificent fountain at the very center. The 4th-floor location of the patio keeps it far enough above the city streets that the noise fails to reach, and the peaceful resort-like space really does feel like something you'd find in a little town in Europe, instead of one of Japan's most crowded city blocks. It's the perfect retreat from the constant flow of people winding their way through the surrounding streets, and at night, the fountain is lit with glowing lights for a little light show at the heart of the hotel.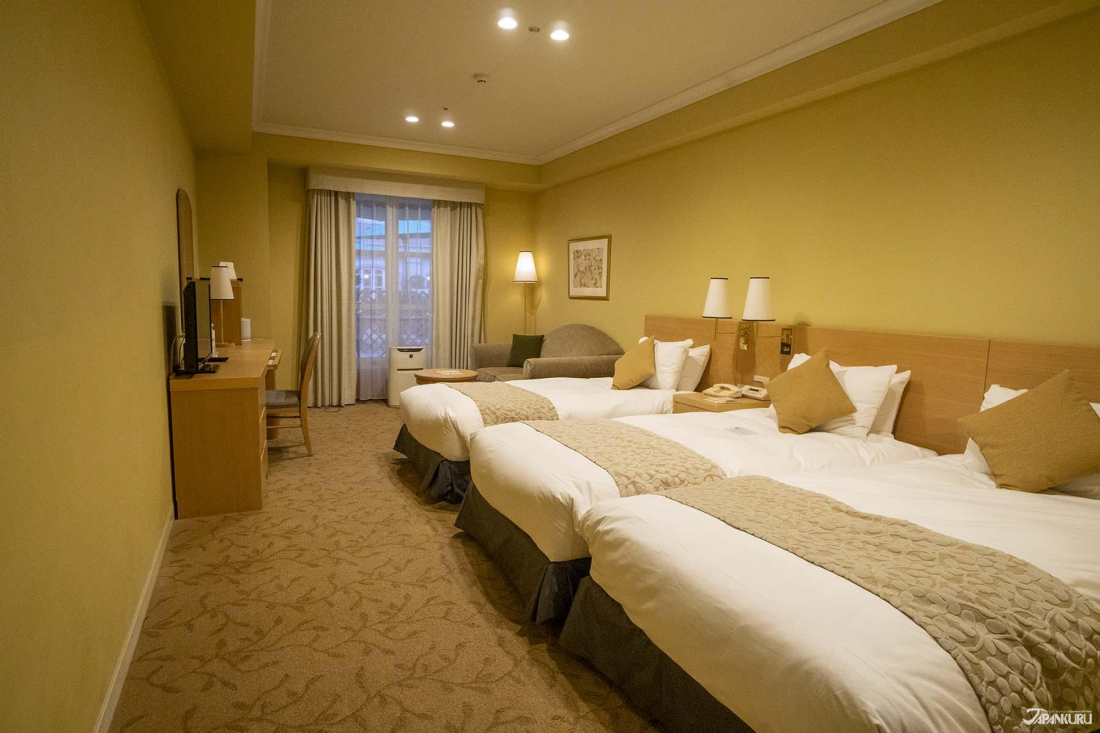 The 4th- and 5th-floor rooms, on the Oriental Floors, have maintained a little more of the hotel's retro stylings than the floors above, while still maintaining a selection of different room sizes and styles. Families are bound to love the hotel's triple rooms, which are great for accommodating larger groups (without needing to try and squish a cot into a tiny room). These rooms have plenty of big beds, and plenty of space to move around in, too! And a few lucky guests can even reserve a room right on the patio! These rooms come with a little private patio space, and can enjoy a little bit of the courtyard experience at any time of the day or night!
Start the Day Right with Breakfast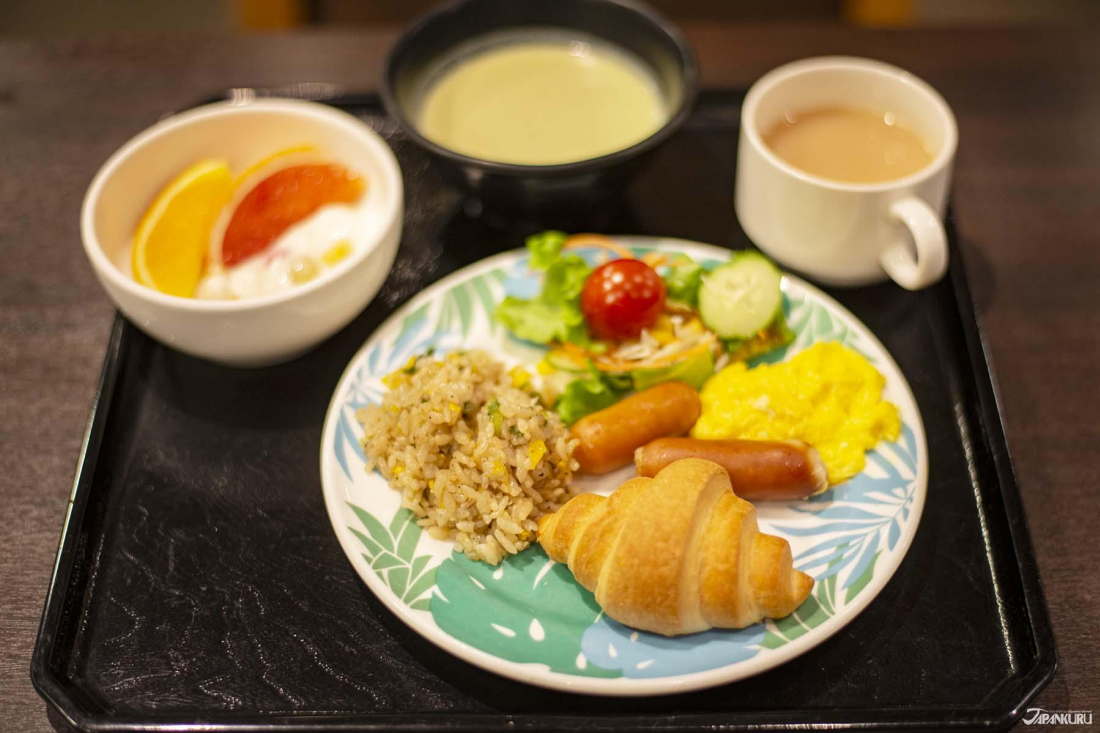 With so much to do and see in Osaka, the last thing you want to spend time just searching for a good breakfast. Fortunately, Namba Oriental Hotel offers the perfect little breakfast buffet each morning, with plenty of basics like eggs, sausages, croissants, fresh fruit, yogurt, and plenty of tea and coffee. They also have some Japanese options for any travelers who have grown to love rice, fish, and miso soup in the morning, plus some fun extras as well – don't miss the selection of tasty soup options on the buffet counter!
Explore the Neighborhood: Namba, Shinsaibashi, and More!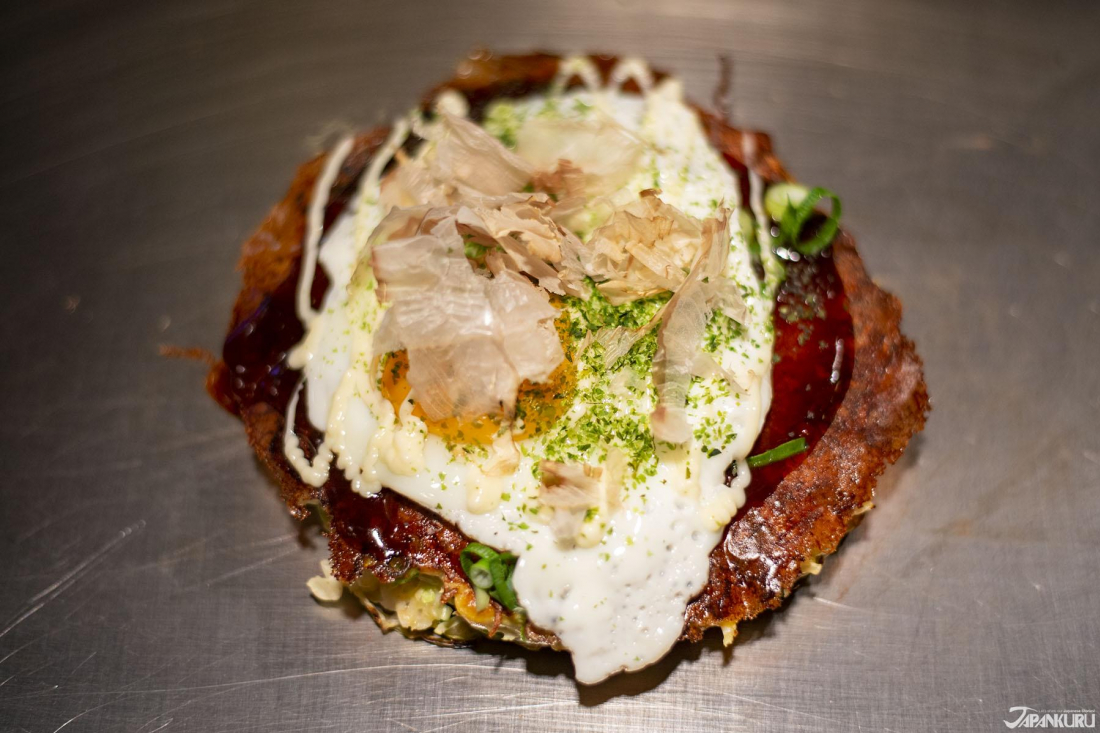 The Namba Oriental Hotel location is pretty unbeatable for anyone looking to enjoy the best that Osaka has to offer. Not sure where to start? Literally just outside the hotel entrance, shops and restaurants are lined up along the street, and each trip outside will bring you somewhere new and interesting. Take the time to look around the Namba (sometimes "Nanba") neighborhood, and don't forget to try some of Osaka's famously delicious local food, like okonomiyaki. This one (pictured above) is from a popular little hole in the wall about a block away from the hotel, called Takekurabe.
Takekurabe (たけくらべ)
3-2-14 Nanba, Chuo Ward, Osaka
Hours: 11:00 – 22:00
Official IG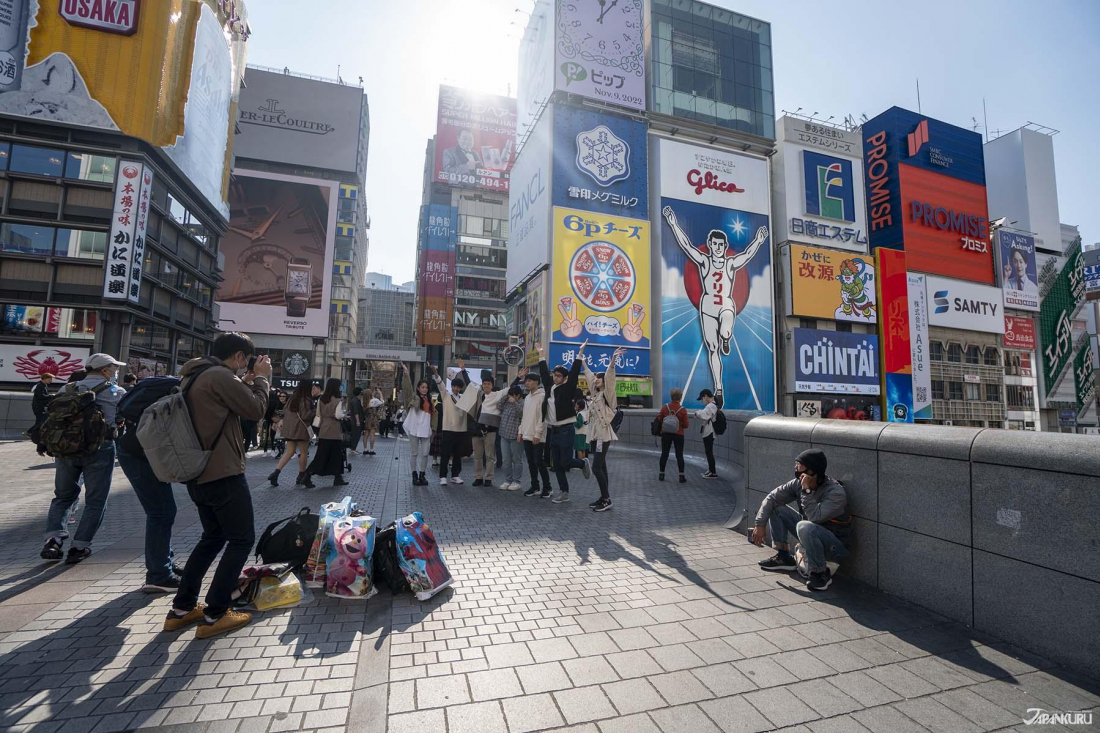 Just over a 5-minute walk from the hotel, the intersection joining the northern fringes of Namba to Shinsaibashi and Dotonbor is a major destination on just about any trip to Osaka. Not only is it the spot where some of the city's most popular entertainment and sightseeing areas come together, but it's also home to the iconic "Glico Man," a billboard that has now been a local landmark for almost 90 years. Don't forget to take a carefully posed picture with your hands in the air, sharing the Glico Man's victory!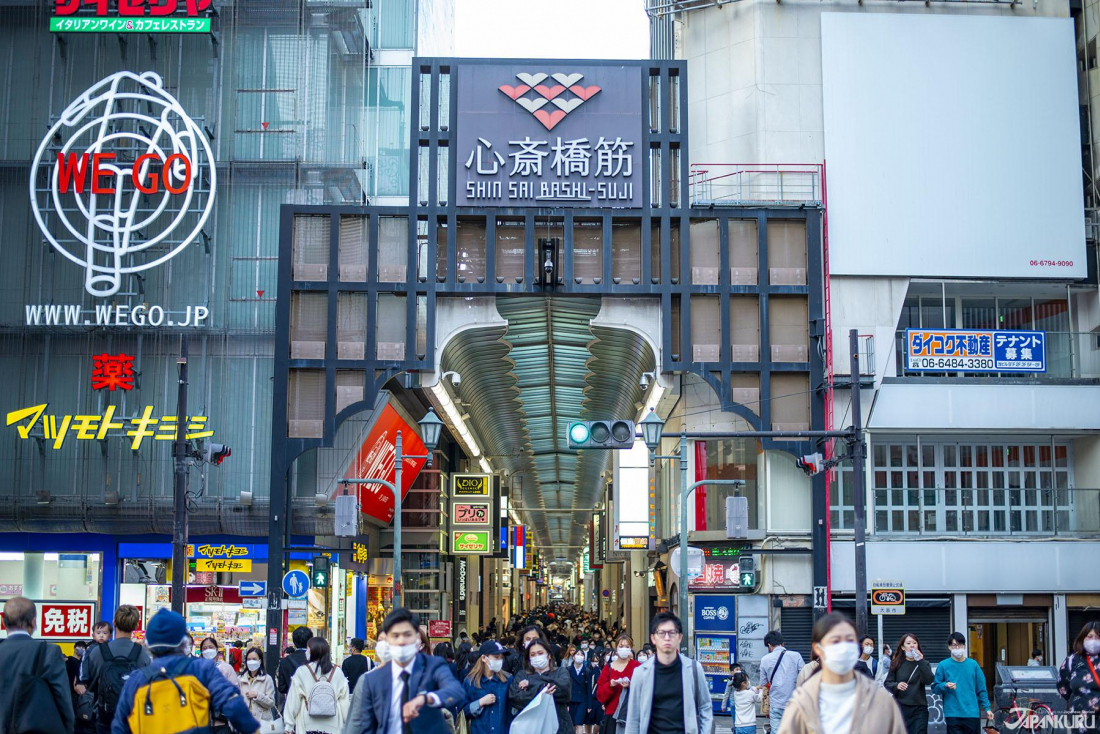 Stretching north from the intersection, the Shinsaibashi shopping arcade is crowded with shops selling clothing, cosmetics, souvenirs, and more, from brands both Japanese and international, and some of Japan's most popular department store chains as well. Despite being only about 650 m (~2,000′) in length, the festive crowds and numerous shops make it easy for big shoppers to spend hours exploring the area. It's also a great starting point for exploring some of southern Osaka's other popular shopping areas, like Amemura and Orange Street to the west.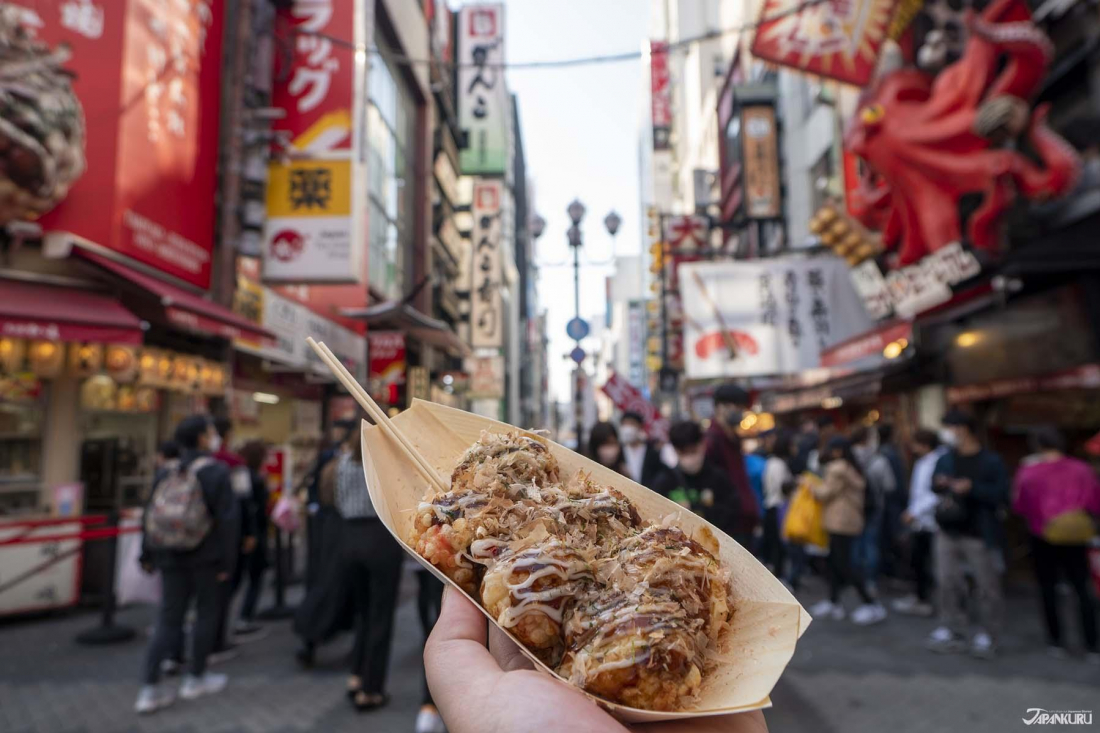 Going in another direction from the Glico Man intersection, Dotonbori is an absolute must-see for sightseers looking to soak up the Osaka atmosphere. Aside from a number of unique souvenir shops, much of the street is filled with eateries of all kinds, often advertising their specialties with enormous food-shaped signs out front. Dumpling shops use enormous plaster dumplings, and sushi shops have signs with pieces of raw tuna the size of a full-grown adult. The huge dragon sign is… actually just the facade of a popular ramen shop, but counters with huge octopuses out front are really selling takoyaki (octopus balls), piping hot and fresh from the takoyaki pan! At night, the area around Dotonbori is busy with nightlife, but even during the day it's hopping with sightseers and foodies.

Much of the local appeal comes from all the shopping, eating, and generally bustling atmosphere in this part of Osaka, but there's some more refined sightseeing to be done in the area as well. Art lovers shouldn't miss local museums like the Kamigata Ukiyo-e Museum, which focuses on Japan's beautiful traditional block prints. Tokyo ukiyo-e artists like Katsushika Hokusai are best known for their landscapes, particularly views of Mount Fuji. But Osaka's ukiyo-e artists often concentrated more on famous kabuki artists, committing the ephemeral beauty of their kabuki performances to paper using a truly amazing number of carefully-aligned wooden blocks. Visitors can even pay an extra fee to try their own hand at ukiyo-e block printing, and take home their own little hand-made print from the workshop.
Kamigata Ukiyo-e Museum (上方浮世絵館)
1-6-4 Nanba, Chuo Ward, Osaka
Hours: 11:00 – 18:00
Admission: 500 yen
Ukiyo-e workshop fee: 600 ~ 1,200 yen (advance reservations required)
Official Website (en)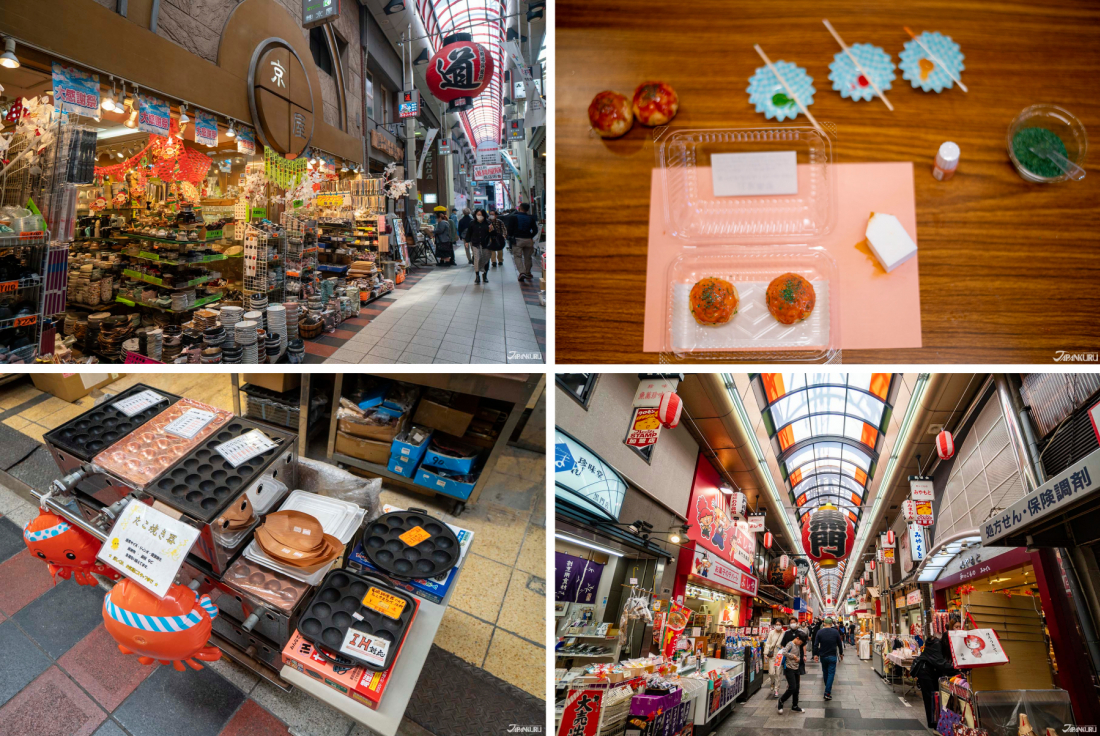 On the other side of the hotel, to the south and east, there are a few spots that are perfect for those travelers who want to take all the delectable flavors and cooking techniques of Osaka back home with them. Kuromon Ichiba is a huge market focused on food, with some vendors selling fresh ingredients like seafood and vegetables, others offering prepared street food like fresh-cooked scallops and roast chestnuts, and others showing off a selection of souvenirs, including plenty of shelf-stable ingredients to cook up later. Not far away (only about a block from Namba Oriental Hotel), Sennichimae Doguyasuji Kitchenware Street is the ideal place to pick up all the tools and gadgets needed to cook up all those Japanese ingredients, plus all the options you could want when it comes to plates, bowls, cups, utensils, and more. This "kitchenware street" has everything needed to outfit a Japanese kitchen and dining room, and some wonderful local Osaka products too, like takoyaki pans of all shapes and sizes.
The street even has a shop where you can make your own food sample takoyaki, instead of the real ones! Following simple directions, this workshop guides you through the process of dabbing paint onto the plastic base to look like browned batter, adding little dabs of color that resemble ginger and green onions, and even glazing the tops of the takoyaki with a "takoyaki sauce" glaze. The result looks good enough to eat!
Food Sample Workshop at Designpocket (デザインポケット)
10-11 Nanbasennichimae, Chuo Ward, Osaka
Hours: 11:00 – 17:00
Workshop fee: 2,480 ~ 2,980 yen
Official Website (jp)
Don't Miss Out on the Perfect Osaka Accommodations!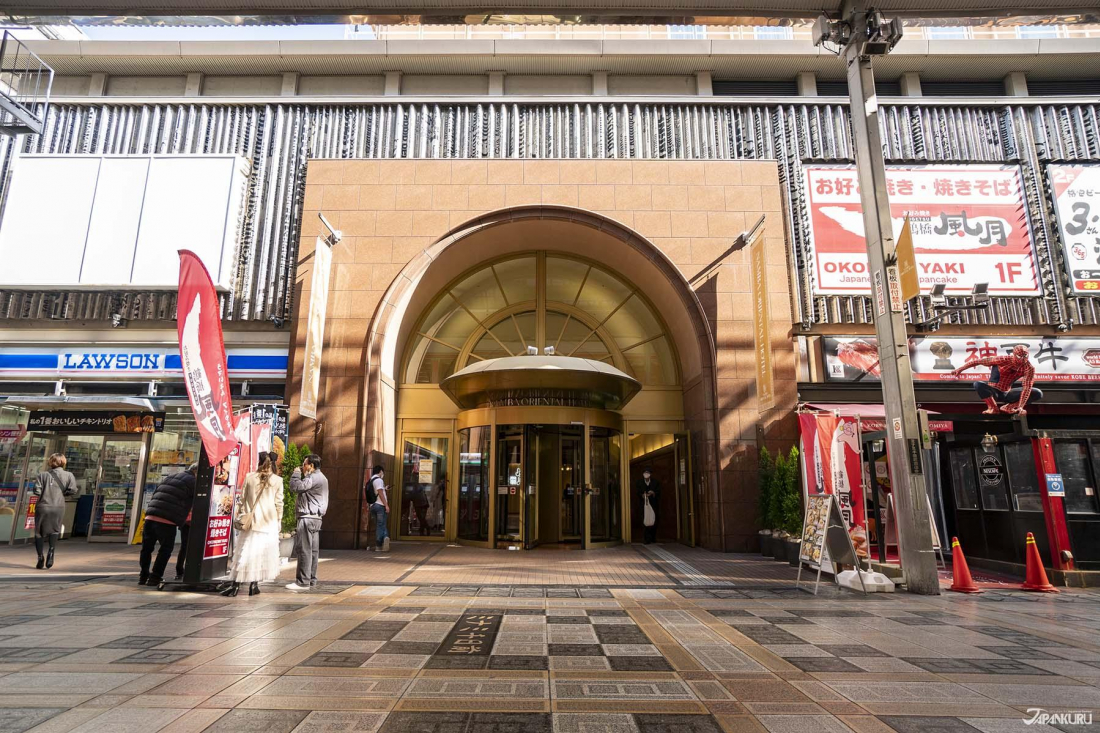 There's no need to sacrifice convenience or relaxation on your next trip to Osaka. All you need are accommodations with a central Osaka location and a peaceful atmosphere, plus classic decorations and a sunny central courtyard – in other words, Namba Oriental Hotel. So get a great night's sleep, and then head out for a full day of busy shopping arcades, mouth-watering okonomiyaki and takoyaki, traditional art, hands-on fun, and more – all in the heart of Osaka!
For more info and updates from Japan, check Japankuru for new articles, and don't forget to follow us on Twitter, Instagram, and Facebook!