A Trip to See the "Tensan" Silk of Azumino – Japan's Most Beautiful Silk You've Never Heard of
At the Azumino Tensan Center you can learn about the finest wild silk in Japan, see it being made, and even take home a piece as an elegant souvenir.
Tensan Silk in Azumino ・ What Is Tensan?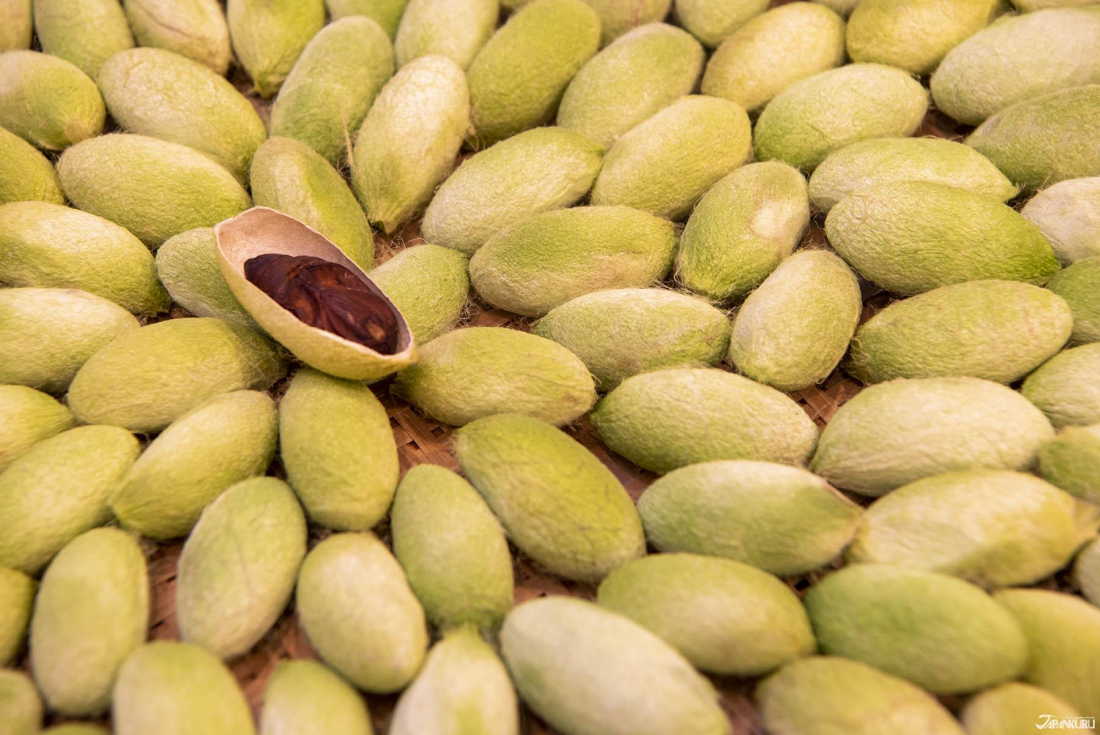 Tensan is a kind of Japanese wild silk, known for its luster, its flexibility, and its natural green tint. The Japanese name (天蚕) is literally written "heaven silkworm," so it's no surprise that the gleaming fabric is made from silkworms raised along the Japanese alps, nicknamed "the ceiling of Japan." The history of tensan culture goes back to the 1780s, when Nagano locals began raising them in a part of what is now the city of Azumino. While common silkworms feed on mulberry plants, the endemic tensan silkworms grow big on oak leaves instead, and they flourished in the Azumino area. By the 1850s, locals had started to produce tensan thread, and despite some roadblocks along the way, there are now about 100 farms around Nagano raising these rare silkworms. If you're looking for unique Japanese souvenirs made locally from the ground up, you won't find anything nicer than tensan silk.
By far the best place to learn about this lustrious, uniquely Japanese material is the Azumino Tensan Center (sometimes called the Tensan Silk Museum), a cozy facility tucked away in the woods of Nagano.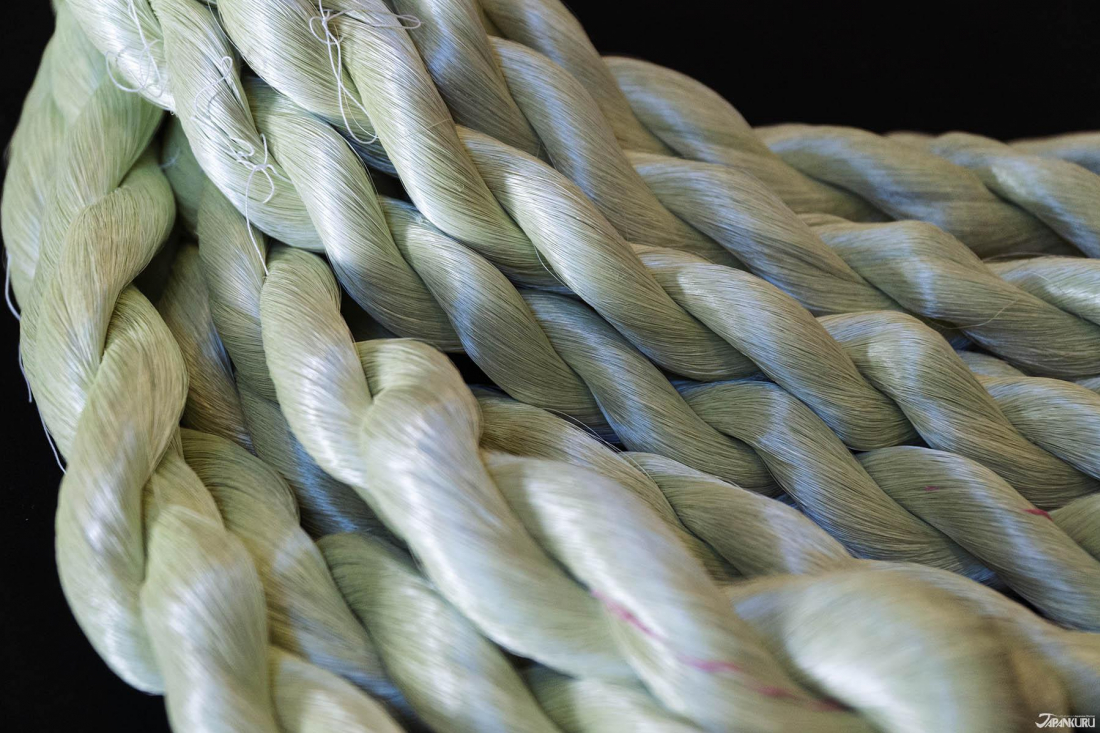 The Azumino Tensan Center is many things in one: a museum where you can learn about how tensan silkworms are raised and how the thread is reeled out, a weaving school where students practice using a loom to create delicate tensan fabric (plus visitors can try weaving themselves!), and an exhibit of the most elegant products being made out of tensan silk―both products you can buy, and also items too precious to sell. If you're interested in Japanese traditions, old-fashioned culture, artisan techniques, weaving, textiles, insects, or just beautiful things, see why you should add the Tensan Center to your itinerary next time you're in Nagano.
Visiting the Azumino Tensan Center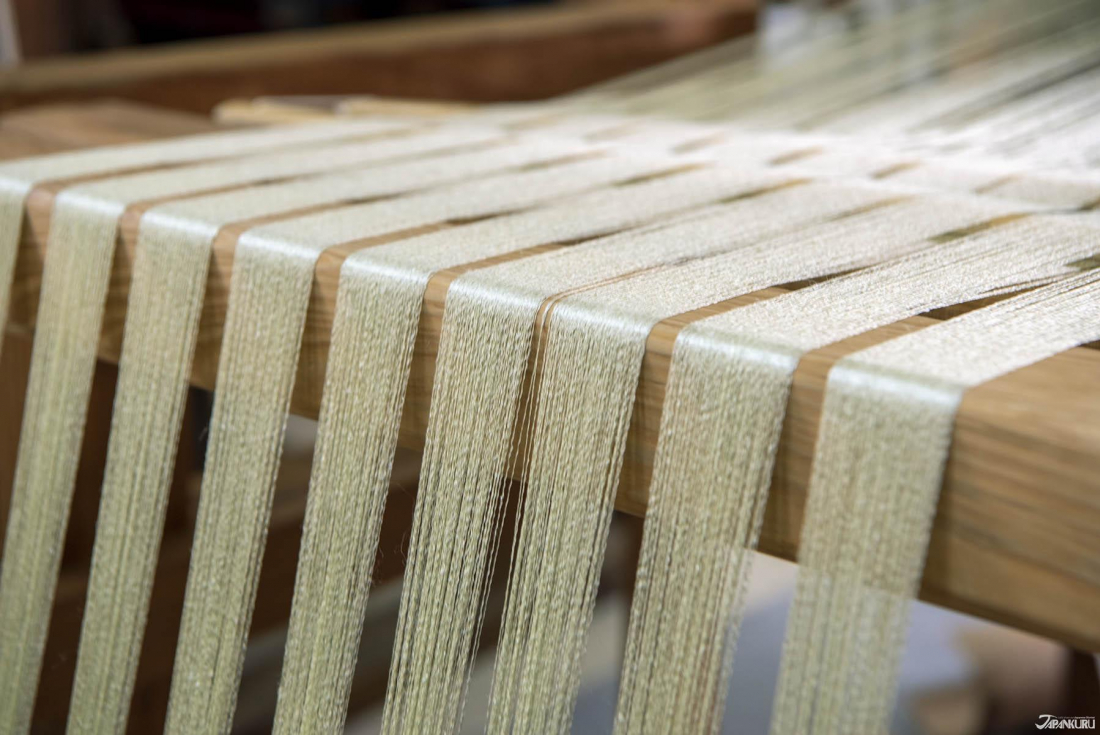 Visiting the Tensan Center, there are a few things you'll quickly learn about tensan silk, especially if you run into Tensan Promotional Committee President Tadashi Taguchi. The most important facts are of course the fabric's best qualities. Just by looking at the fibers, you can see that the silk threads carefully pulled from boiled tensan cocoons have a unique gleam to them, which translates to an almost shining luster when woven into a fabric. Normal silk might have a nice sheen, but tensan silk is called "the diamond of textiles," thanks to the way it reflects light. In addition, the hollow construction of tensan thread gives it great heat retention, but if that makes you think it must be fragile, it's quite the opposite! The fibers are especially strong and uniquely flexible, in a way that standard silk just isn't, giving the threads and fabric a distinctive stretch. All these factors add up to one valuable textile: tensan silk sells for about 700,000 ~ 1,000,000 yen per kilogram (about 6,000 ~ 10,000 USD/kg), while normal silk is more like 20,000 yen per kilogram (about 200 USD/kg).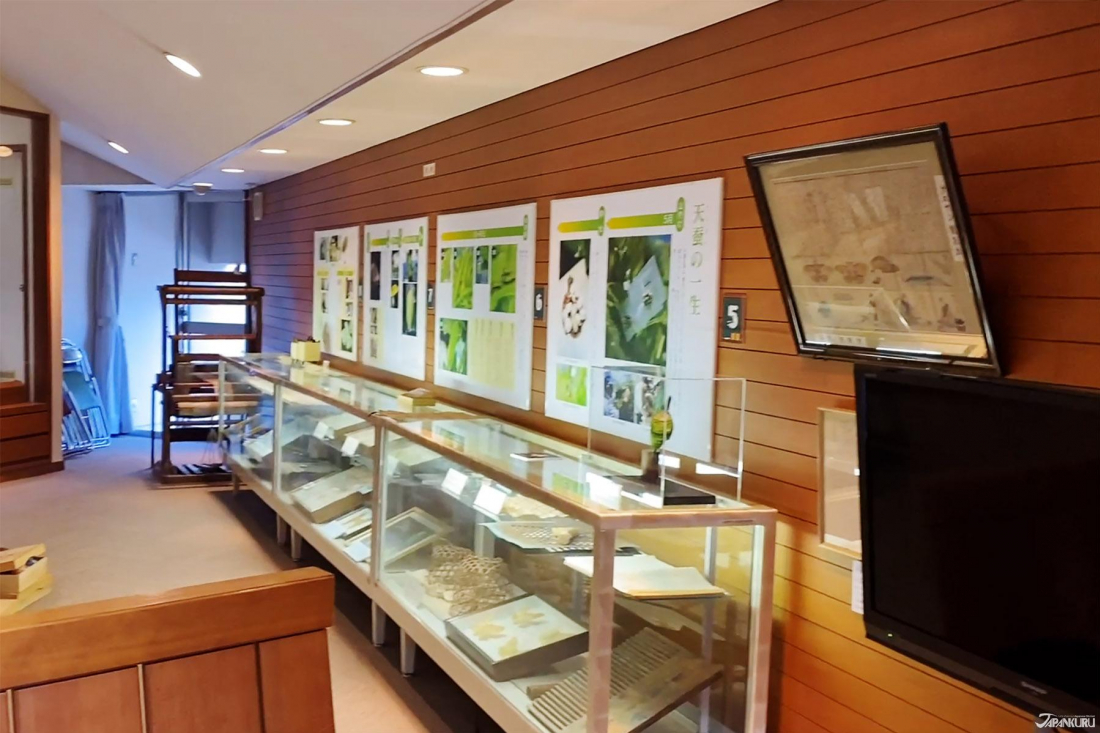 If you're ready to learn more about tensan, one half of the Tensan Center is dedicated to a variety of displays, some educational and some showing off beautiful tensan items. A whole wall tells the story of the tensan silkworm, which also called goes by the name yamamayu (ヤママユ) in Japanese, or the scientific name Antheraea yamamai. These silkmoths are related to other silkmoths that produce wild silk in places like China and Southeast Asia, but the tensan moth is only native to Japan!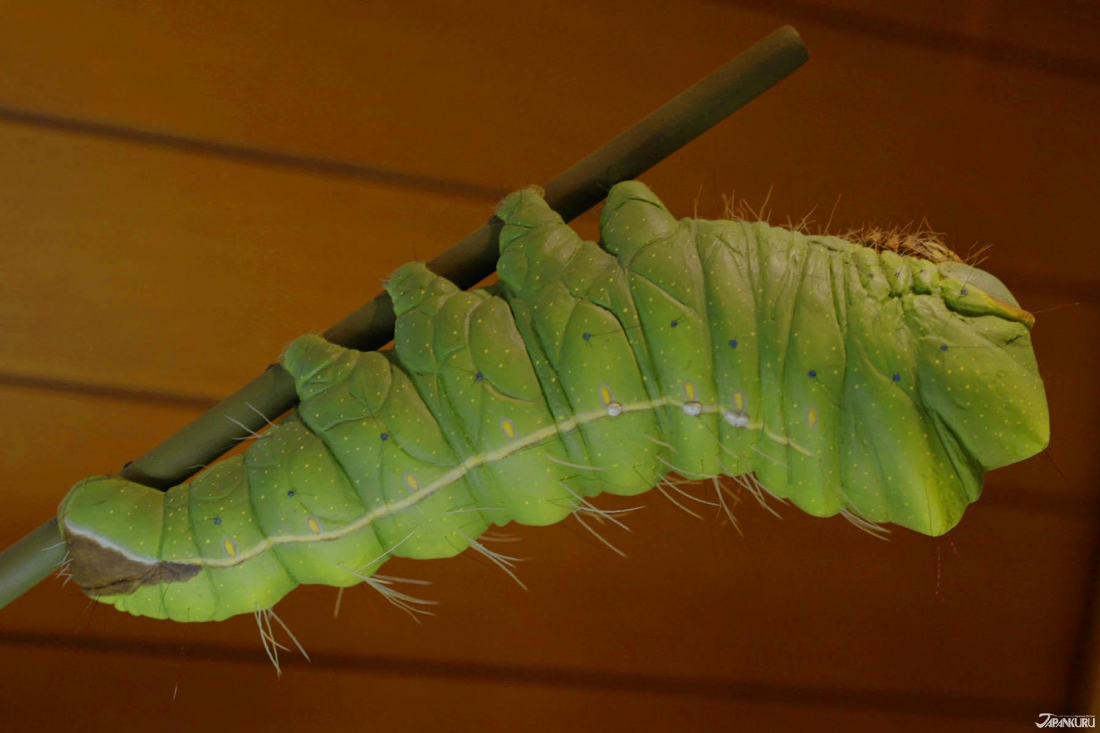 At the tensan center, the tensan silkmoths are bred in baskets, and the shy little silkworms are raised on a steady diet of oak leaves not far down the road. During the right season, you can even go out and see them, although they like to hide among the leaves! Finally, the cocoons are boiled and reeled into thread, the base for all tensan silk. Unblemished cocoons are turned into the most sought-after threads, but cocoons with imperfections certainly don't go to waste. Some of the fibers are fluffed up into a kind of silk wool, and spun into a thicker thread, and some of the cocoons are sent to brands like Shiseido to use as extracts in beauty products.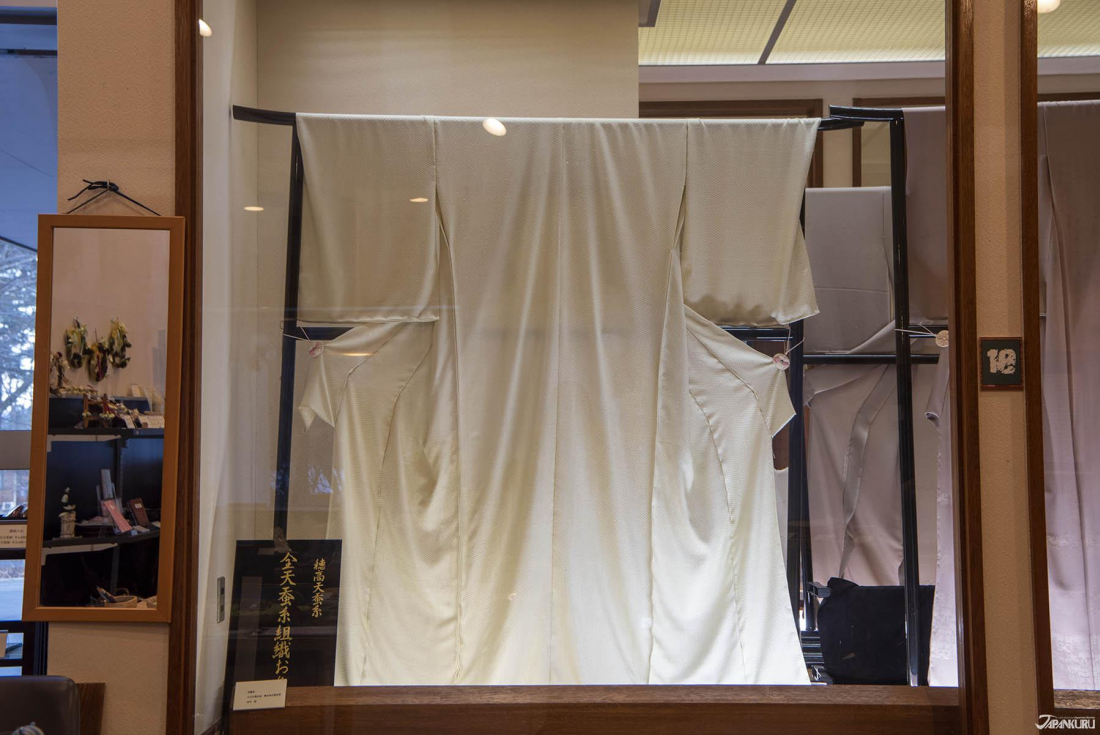 With such high shine (and also high value), tensan thread is traditionally used most often for decoration, and might be found in the embroidery gracing extremely high-end silk kimono. The Tensan Center has some rarer treasures on display, though, in glass cases dedicated to tensan silk items. This majestic kimono is made out of 100% tensan silk, and the photo doesn't do the fabric justice―you'll have to see it in person to appreciate the glow of the patterned wild silk.
Tensan Looms at Work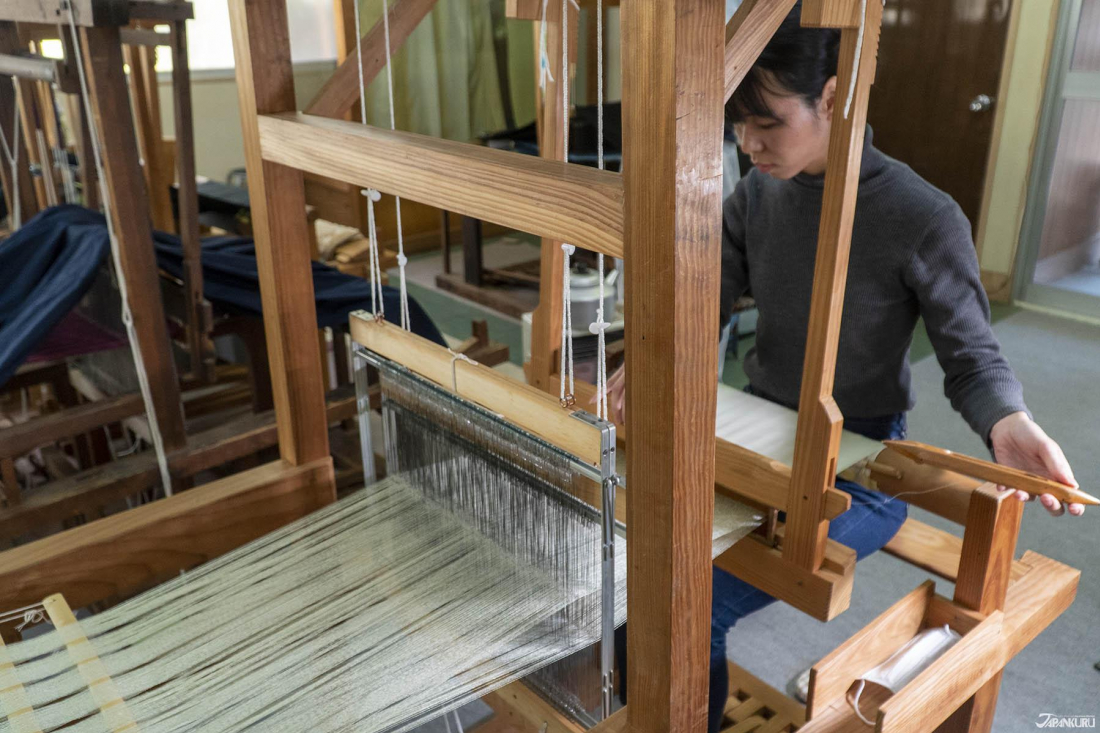 The other half of the Tensan Center is dedicated to a workshop with a handful of looms used for weaving the tensan threads into sheets of fabric, where visitors can also see how it's all made. One of the positive qualities of tensan fibers is that they're flexible and elastic, but that stretchiness makes it almost impossible to weave with tensan fibers on an electric loom, the way almost all fabric is produced these days. Instead, talented artisan weavers sit at large wooden looms and deftly shuttle tensan threads across, over and over, a slow and meticulous process.
Weaving with tensan takes a special set of skills and plenty of practice, and weavers with that kind of skill level are in short supply, so one mission of the Tensan Center is to support the growth of tensan artisans with their very own educational programs! Students from around Japan come to the center to learn how to weave on the huge looms with dozens of threadsーthe student above came to Azumino from Okinawa a year ago, to learn at the Tensan Center!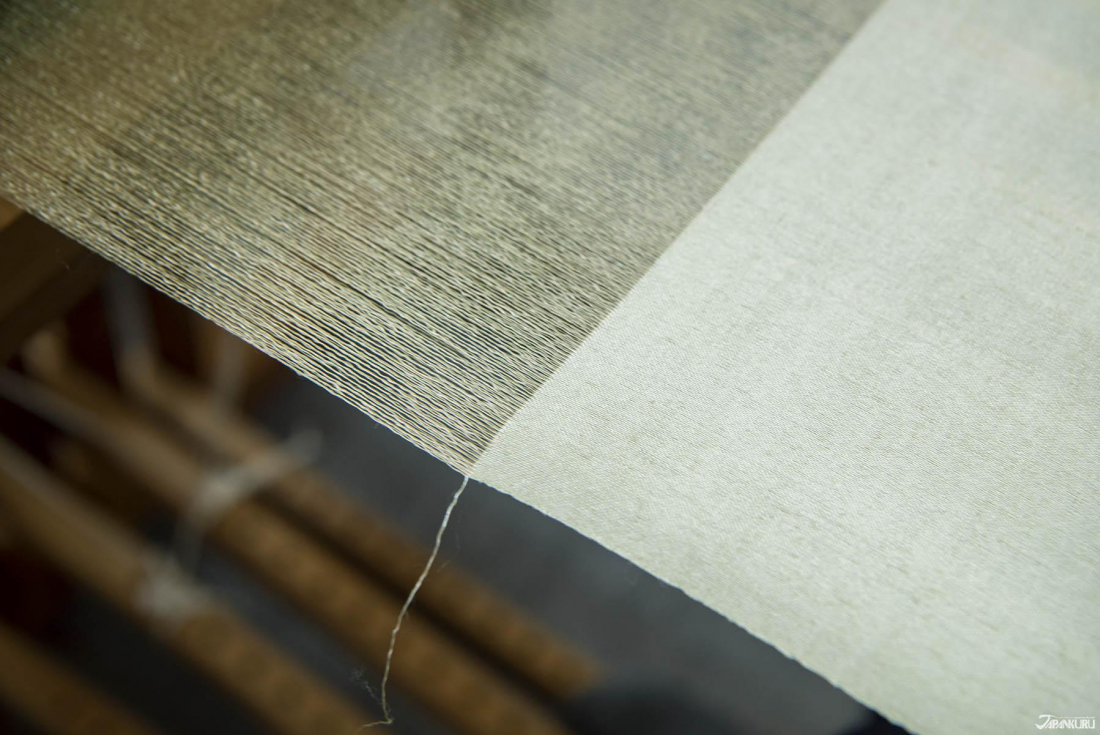 It takes almost two months, an average of about 50 days, for a practiced weaver to finish making a full "tanmono," which is the amount of fabric used to make a kimono.
During your visit, you might notice that the artisans at the center are sometimes busy dyeing silk threads, but those fibers actually aren't tensan wild silk at all, but standard silk! It turns out that tensan doesn't take very well to dye, so it always maintains its naturally elegant pale green color.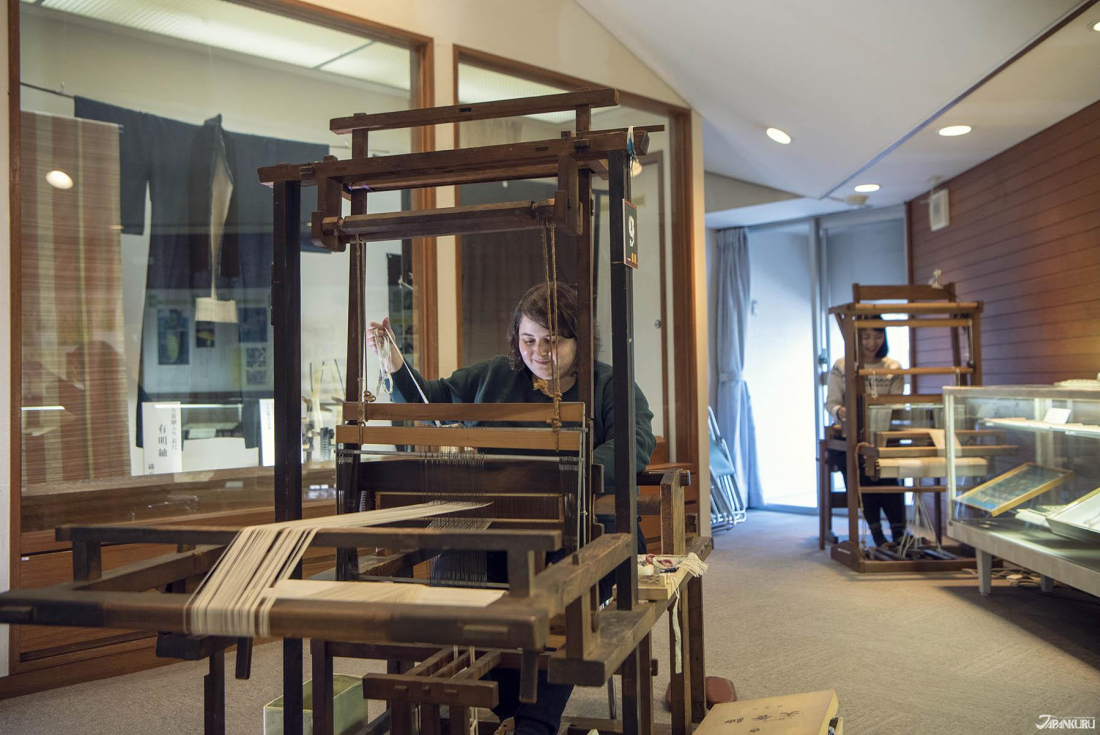 Of course, you can try weaving on a loom at the Tensan Center without dedicating years of your life to the art! They start you off with a simpler project, though. Instead of weaving fine threads into kimono fabric, they provide strips of fabric that can be woven into a cute little coaster! It's easy to see how the students studying at the center could fall in love with weaving on the loomsーall of us on the Japankuru team were addicted after just a couple minutes making a coaster! And they made for fun souvenirs to bring home.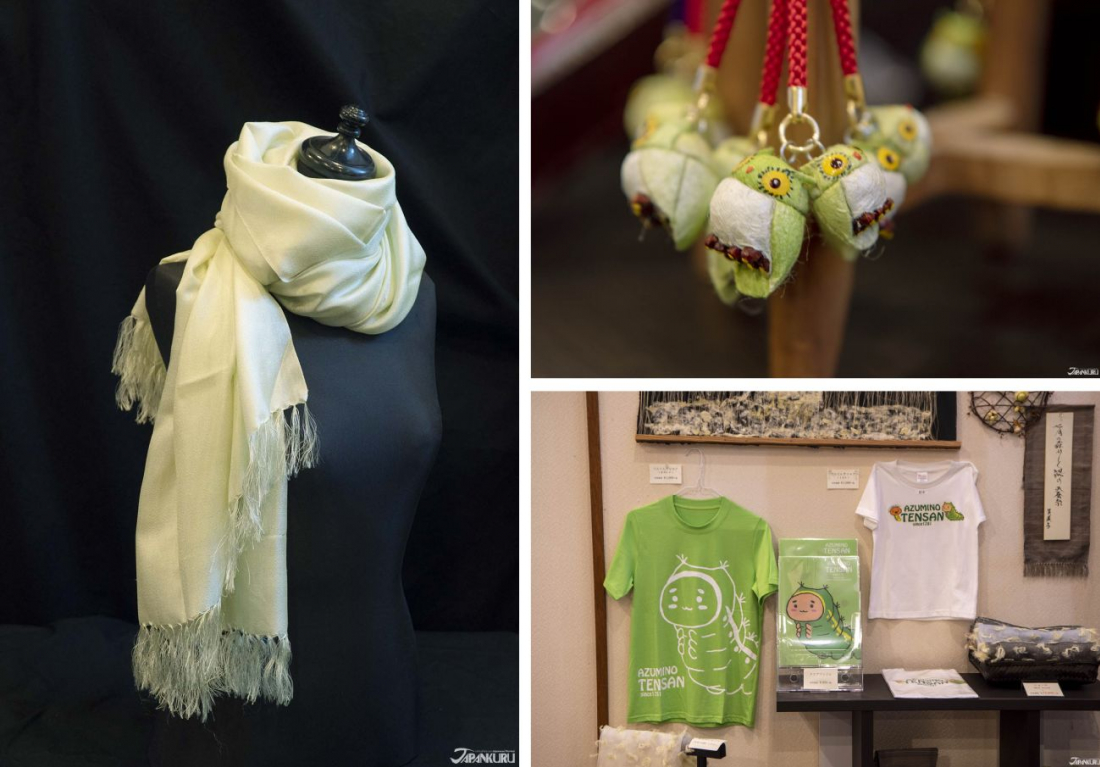 Then again, after a day spent appreciating the many unique qualities of tensan silk, you might just want to bring some souvenirs made of the beautiful material! The Tensan Center shop has all kinds of tensan products for sale, from cute keychains and accessories made of unprocessed cocoons, to finely woven items like wild silk ties and scarves, which are more of a splurge.
If you're visiting with any kids, don't be surprised if they fall in love with the surprisingly adorable Tensan Center mascot! The silkworm character was designed and illustrated by a member of the center's staff, and you can take home folders and t-shirts emblazoned with its funny little face.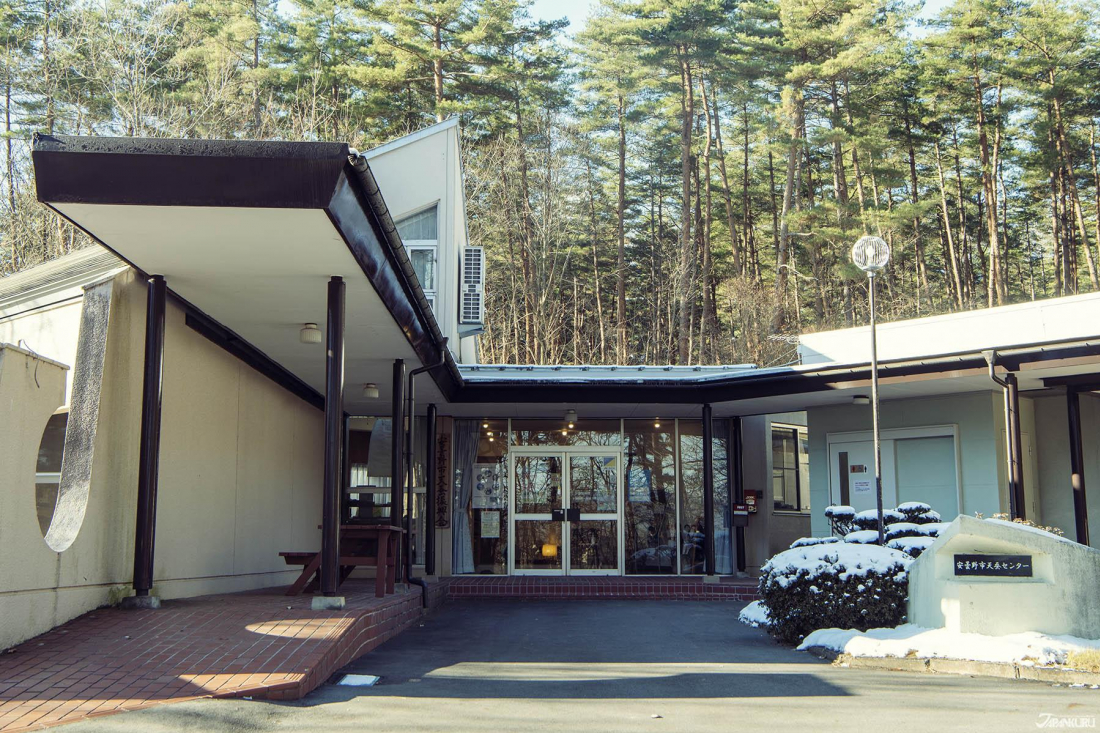 The Azumino Tensan Center is a surprisingly interesting and entertaining visit, just a bit off the beaten path. Next time you're in the area, don't miss a chance to drop by, see the little silkworms gorging themselves on oak leaves, try some loom weaving, and admire the gorgeous wild silk made with rare materials and a lot of artisan talent!
Azumino Tensan Center
3618-24 Hotakaariake, Azumino, Nagano​
Hours:
 April to October: 9:00 – 17:00
 November to March: 9:00 – 15:00
Free admission!
Official Website (en)
【動画】
▲ See the Tensan Center at work! ▲
Make a Trip Out of Azumino!
Matsumoto Castle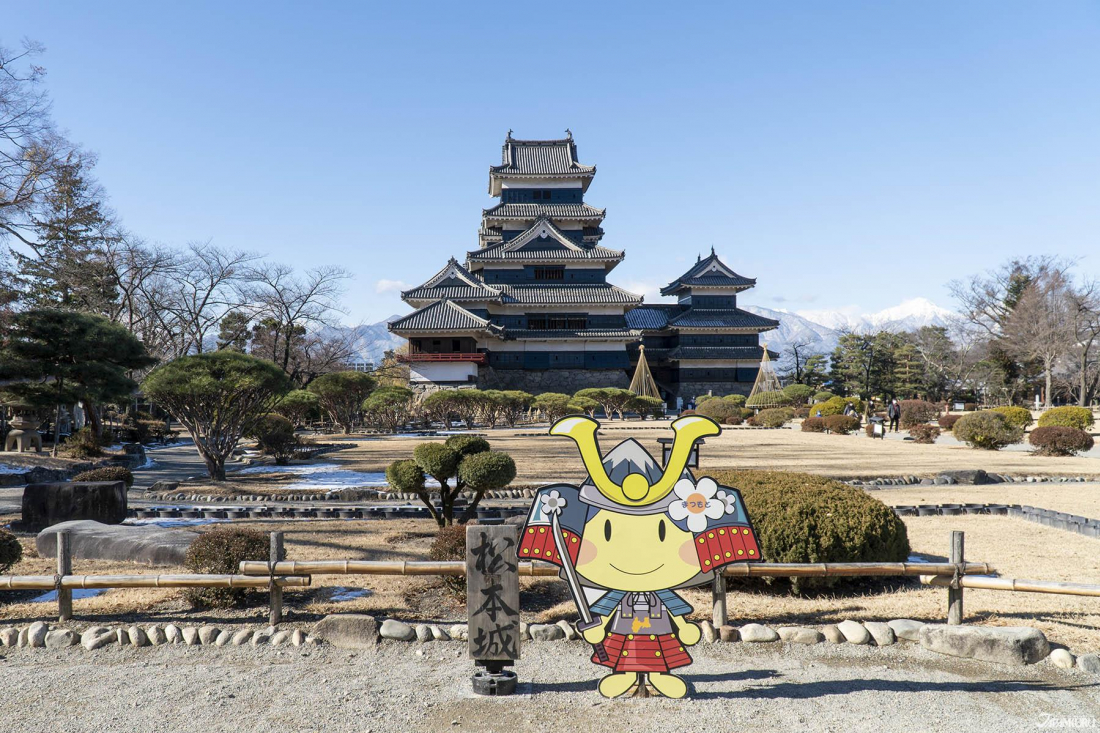 Ready to visit the Tensan Center, but looking to fill out your itinerary while traveling in Nagano? Well, chances are you're getting to Azumino via the city of Matsumoto, so there's no better place to start than Matsumoto Castle! This castle is one of the few remaining in Japan that hasn't been destroyed and rebuilt many times over in the past few centuries, and the current structure (including wooden interiors and external stonework) dates back to the year 1594! In those days, the castle hosted famous samurai and feudal lords like Tokugawa Ieyasu, one of the three "Great Unifiers" of Japan.
Now, you can climb up the unusually tall stairs and feel the history through the soles of your feet (and in the burning of your thighs). From the top of the tallest tower, you get a great view of the surrounding area, especially the mountains in the distance. And that's no coincidence! As a flatland castle, it was once a matter of safety for lookouts to be able to see any incoming enemies from afar, and so Matsumoto has a history of laws forbidding tall buildings in the vicinity.
Matsumoto Castle (松本城)
4-1 Marunouchi, Matsumoto, Nagano
Official Website (en)
EH Sake Brewery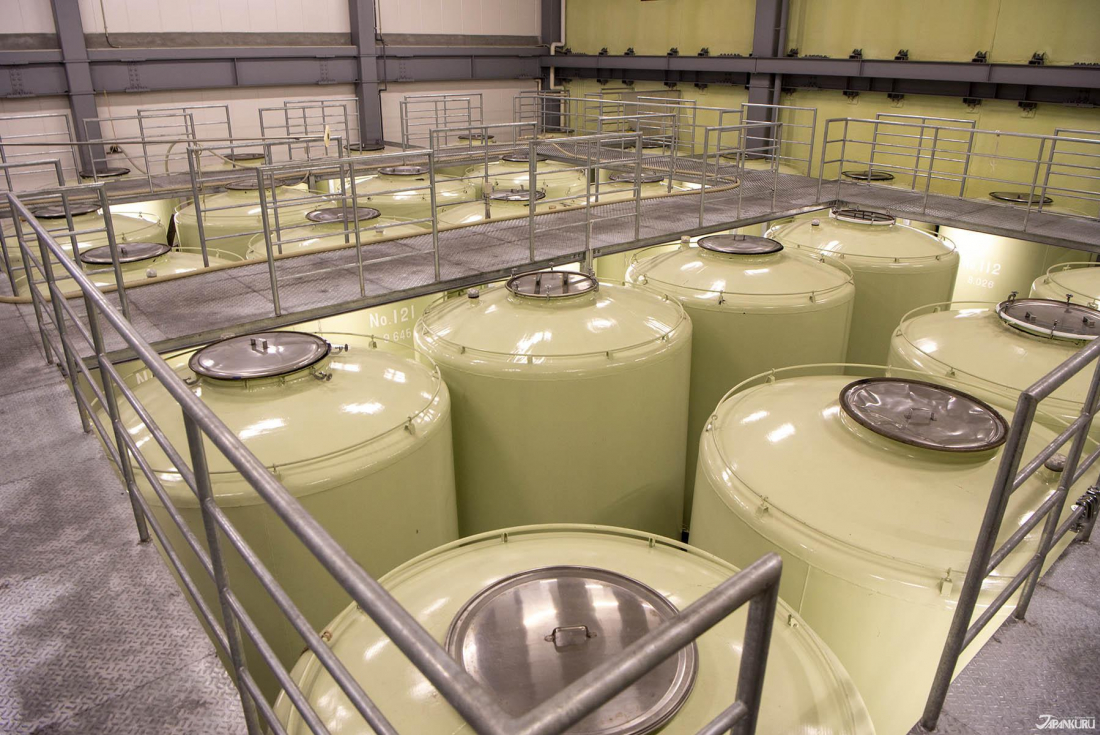 The name EH Sake Brewery might not sound particularly traditional, but it turns out that this brewery has been making sake since the end of the Edo period (1603-1868), mostly under the name "Suien" (酔園). Suien was purchased by a larger company in 2002, which is where the EH name comes from, but they still carry on the old-fashioned traditions of brewing Japanese sake, making use of the fresh, clear water that makes Azumino such a green city.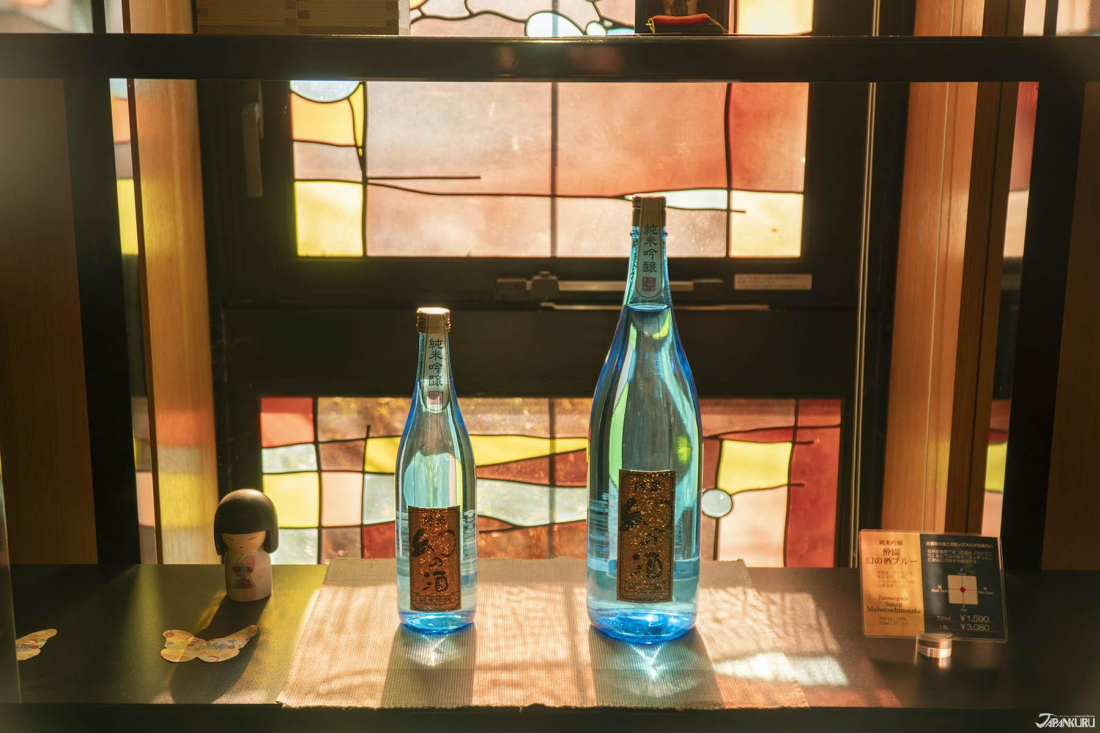 If you're a fan of sake and you'd like to see how its made, visitors can go behind the scenes at the brewery and take a look at the brewing process. You might even get to look into the enormous tanks, and see the bubbling of the fermenting sake. Afterwards, EH Sake Brewery offers tastings in a classy room off the lobby, complete with stained glass windows and a selection of their different bottles. One of their most popular varieties is called Otoko no Namida (男の涙), literally "Men's Tears"!
EH Sake Brewery (EH酒造)
1090-1 Toyoshinatakibe, Azumino, Nagano
Official Website (jp)
Daio Wasabi Farm ・ Wasabi in Azumino
Tensan silk is green, highly sought after, and hard to produce―quite a lot like this other local product of Azumino, wasabi! Azumino is home to a number of wasabi farms, including the largest wasabi farm in the world, Daio Wasabi, and the city is famous for high-quality wasabi production. If you're a true wasabi fanatic, you could spend days in Azumino paying each of the farms a visit. Most travelers, however, keep it to an afternoon or so at Daio Wasabi Farm. Daio Wasabi is something of a sightseeing destination, and you can take a walk along the rows of growing wasabi before tasting unusual treats like wasabi curry, wasabi-potato croquettes, and even wasabi ice cream!
For a much better look at the wasabi being grown in Azumino, check out the video above.
Daio Wasabi Farm (大王わさび農場)
3640 Hotaka, Azumino, Nagano
Official Website (jp)
See the Beauty of Azumino for Yourself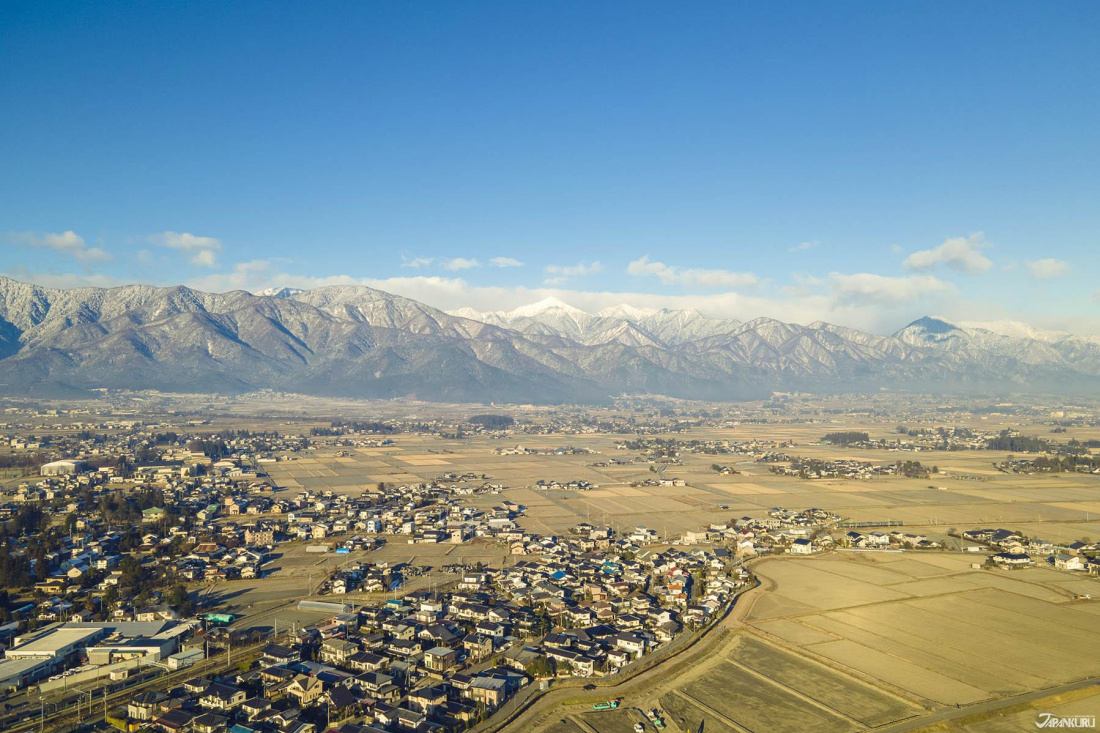 From the high snowy peaks of the Japanese alps to the oak-filled woods down below, you'll hear the people of Azumino extoling the virtues of the city's natural features again and again, and its that same natural abundance that makes it an ideal place for the tensan silkworm to flourish. Next time you're in the region, blue skies and pale green wild silk are waiting!
For more info and updates from Japan, check Japankuru for new articles, and don't forget to follow us on twitter, instagram, and facebook!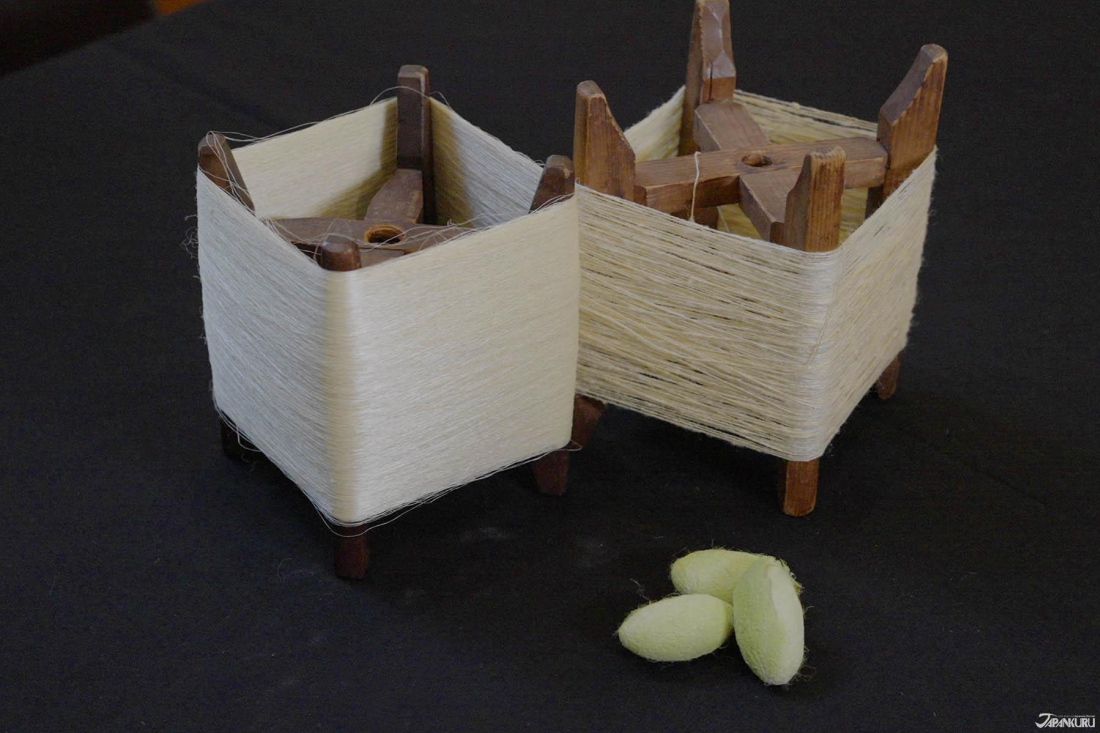 Source: JAPANKURU