An Osaka Hotel Next to Shinsaibashi & Namba – Spot the Glico Man from the Windows of Cross Hotel Osaka
Cross Hotel Osaka is literally steps away from Shinsaibashi and Dotonbori, some of the best shopping and nightlife areas in Osaka!A Good Choice for Sightseers & Night Owls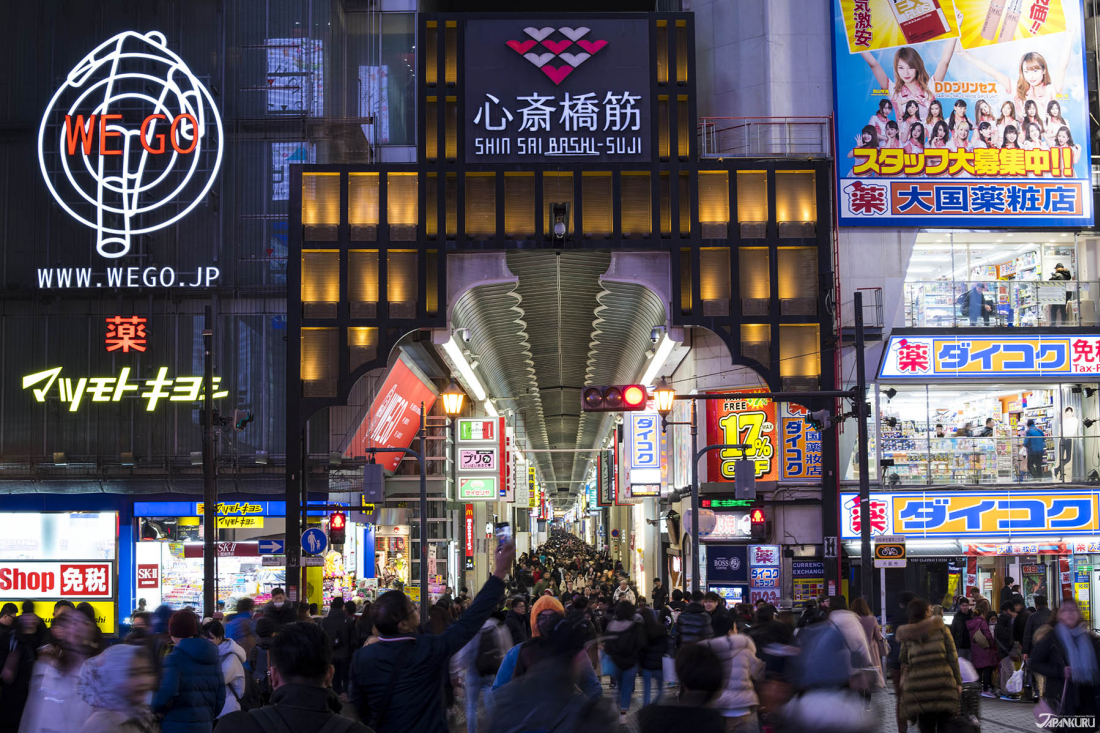 Thanks to easy transportation via Namba Station, Cross Hotel Osaka offers convenient access to anywhere in the city throughout the day, giving active sightseers plenty of reason to make it home base. What's most amazing about the hotel's location, however, is its proximity to the Namba area, Shinsaibashi, Dotonbori, and even the trendy Amemura ("American Village") area. Cross Hotel Osaka is quite literally around the corner from one of Osaka's bestshoppingareas during the day, and a nightlife hotspot once the sun sets. Whether you're heading to Osaka to see the sights, shop till you drop, or eat and drink all the local delicacies you can find, Cross Hotel Osaka is an undeniably convenient place to start your day in Osaka.

Only a 60-second walk from Cross Hotel Osaka you'll find the famous running Glico Man glowing above the canal water, and the delicious smells wafting from the many takoyaki and okonomiyaki restaurants of Dotonbori. Just a few minutes further you can also venture over to Hozenji Yokocho alley, a historic side street that maintains some of its Edo era (1603 – 1868) architecture for a bit of old-fashioned atmosphere. The glowing lanterns and retro style make it seem a bit like Kyoto, but it's surrounded by all the lively ambience of Osaka.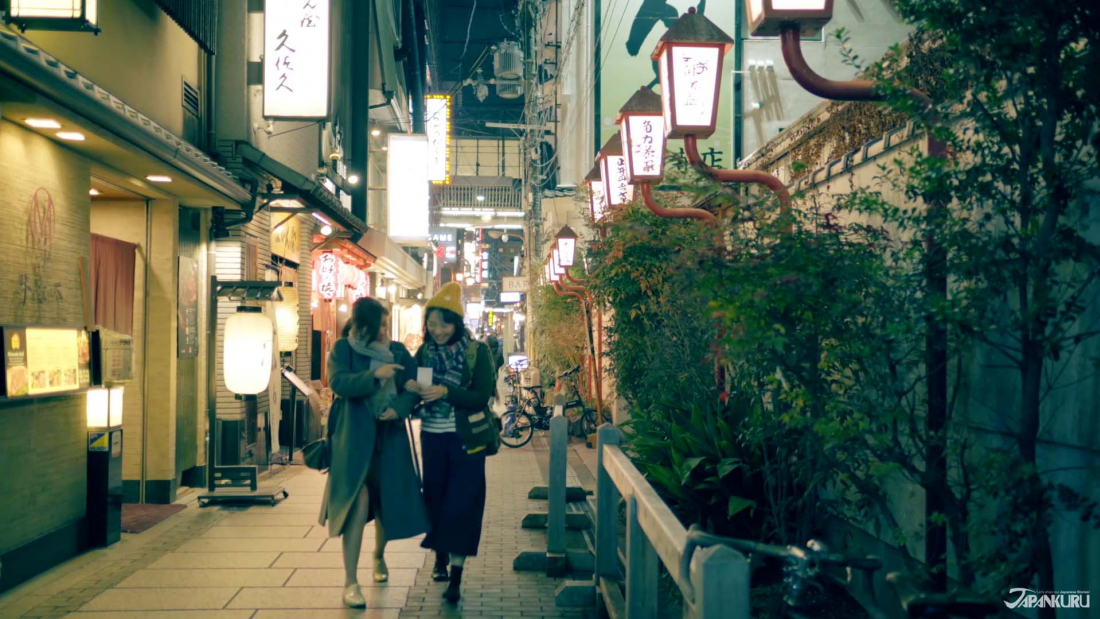 Japanese public transportation is fine, but if you enjoy a late night out, Cross Hotel Osaka is a pretty good option. Late-night shoppers fill the pedestrian areas until late, as they're slowly replaced by people slipping into nightclubs with thumping beats and small bars run by friendly locals. No need to worry about the last train at night when you can get back to your room on foot in five minutes!
If you've ever wanted to stay so close to Dotonbori and Shinsaibashi that you can see the Glico Man from your room, the Japankuru team can definitely recommend Cross Hotel Osaka.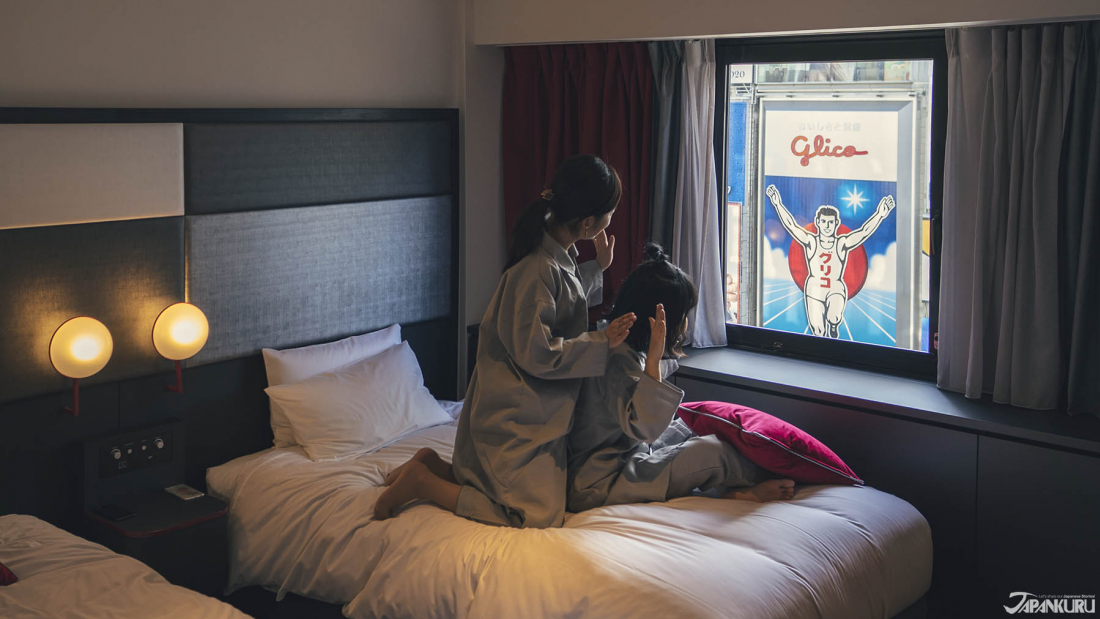 Cross Hotel Osaka
2-5-15 Shinsaibashi-suji, Chuo-ku, Osaka
Check-in/Check-out: 15:00 / 12:00
Access: 3 min from Namba Station, 5 min from Shinsaibashi Station
Official Website (en)
Just How Close is the Hotel to Shinsaibashi & Dotonbori?
The picture above frames the huge billboard of Glico's famous running man so perfectly, it almost looks like we photoshopped it. But we promise, the location is just that cool. A few of the hotel's rooms (both standard rooms and suites) lucked out with this amazing view of an Osaka landmark.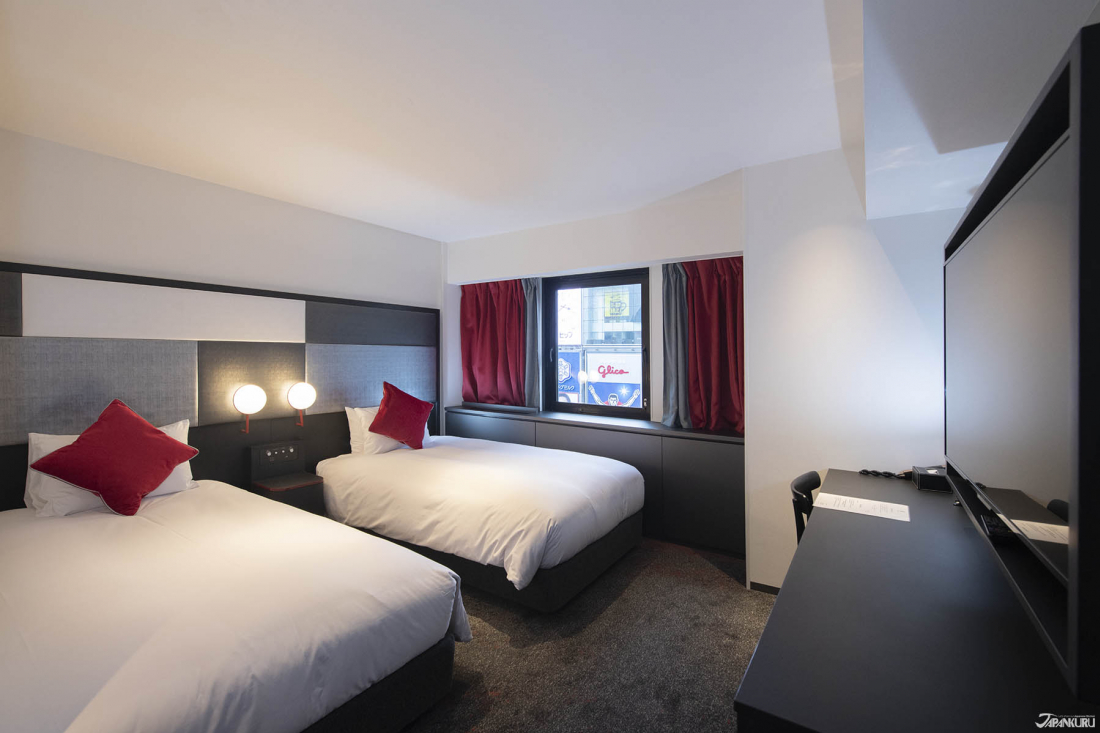 You can see the sights without ever getting out of bed in the morning, if you so choose! Don't worry if you're a light sleeper, though. The curtains block out the bright city lights.

Having the view from your hotel window be such an iconic spot is amazing, but many of the hotel windows look out onto a much more standard Osaka view – a busy Osaka street. Cross Hotel Osaka faces Midosuji, a major arterial road in Osaka, which sparkles every winter thanks to holiday lights hung up along the sidewalks. Fortunately, no matter what the room looks out onto, the guest rooms all get lots of natural light at Cross Hotel Osaka.
Diagonally opposite from the hotel entrance is Don Quijote (the Japanese discount store, not the man from La Mancha). For the uninitiated – Don Quijote might be one of the best places to pick up souvenirs, since they sell everything from snacks to clothes to home goods, all for a reasonable price. Of course, that also means you can pick up any necessities you might need during your visit, too. This location is usually open 24/7.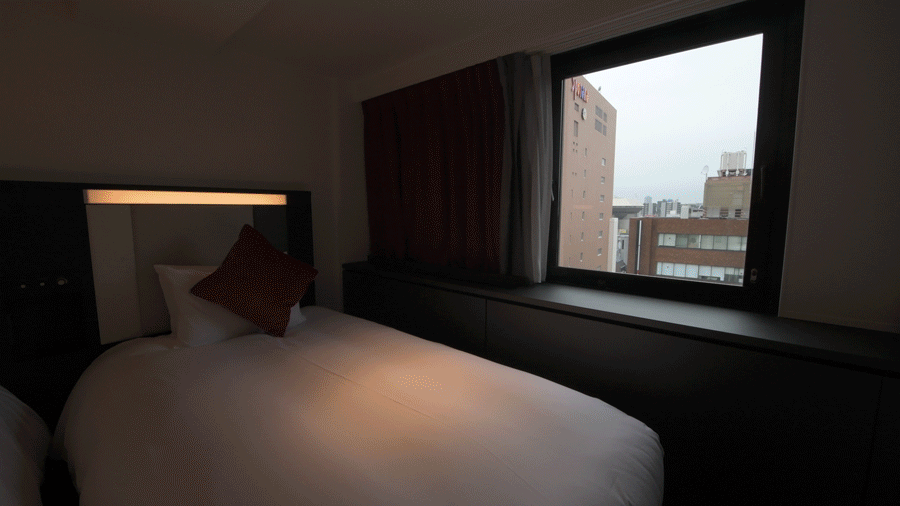 Arriving at the hotel, you can tell it fits right into the busy area. The stylish red glass facade glows every night when lit from within, and the lobby is unique in its own way, with a boutique area selling Japanese brands and a concierge ready to give sightseeing advice.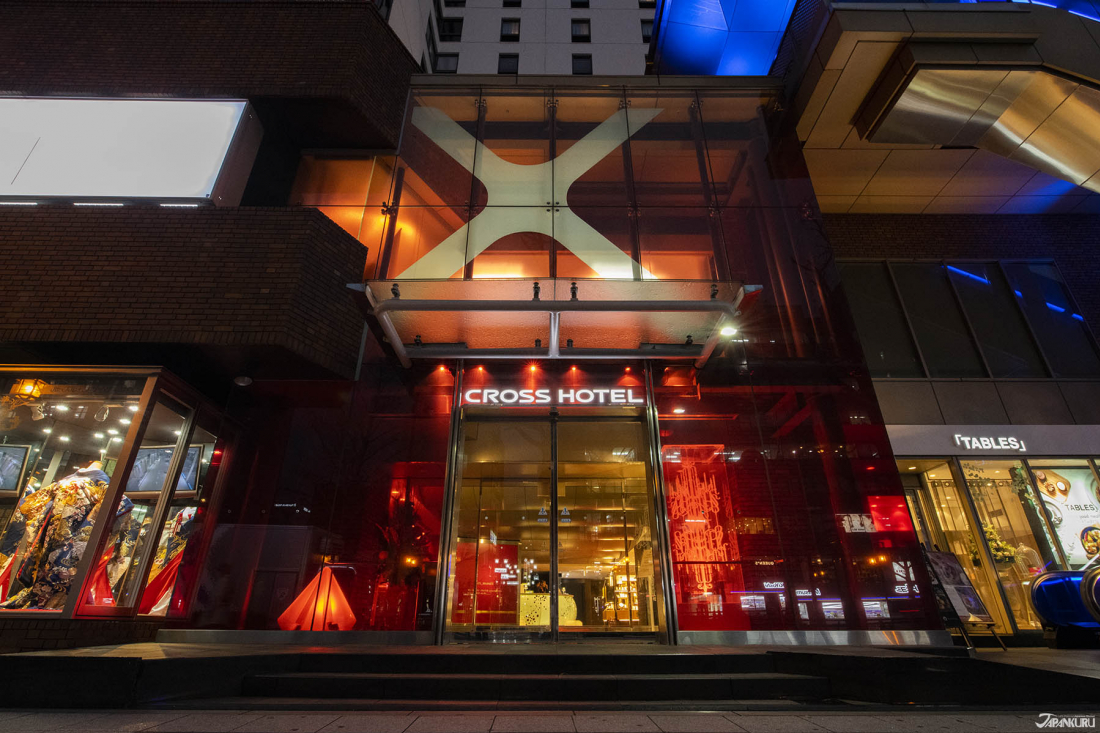 Newly Renovated Rooms with Modern Style
The recently renovated Cross Hotel Osaka has a variety of room types, divided generally into the Standard Floors and "Cross Floors," with suites. The standard rooms come in a few different arrangements, to cater to different travelers and groups, with up to three beds in their Standard Triples. All of the rooms are styled with a dash of urban minimalism, mainly monochrome black and white with touches of vibrant red to symbolize the friendly, lively spirit of Osaka.

The bathrooms maintain the sleek black and white theme, with conveniently separate toilets and bathtubs, and toiletries including salts for an extra-relaxing bath. After a long bath, guests can relax with large 50-inch TVs and a capsule coffee machine. The Cross Suite and junior suite offer extra space and more luxurious amenities, like bath powder made from natural Japanese onsen (hot springs).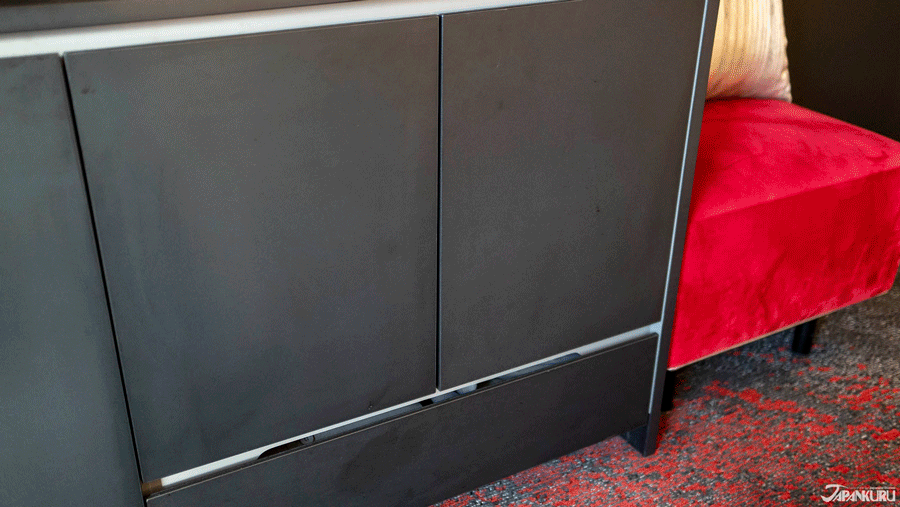 From Breakfast to Late-Night Drinks
Cross Hotel Osaka's restaurant is called Terrace & Dining Zero, and it's not just a continental breakfast room. From morning to night the restaurant serves high-end French cuisine, making it a popular destination for locals as well as hotel guests.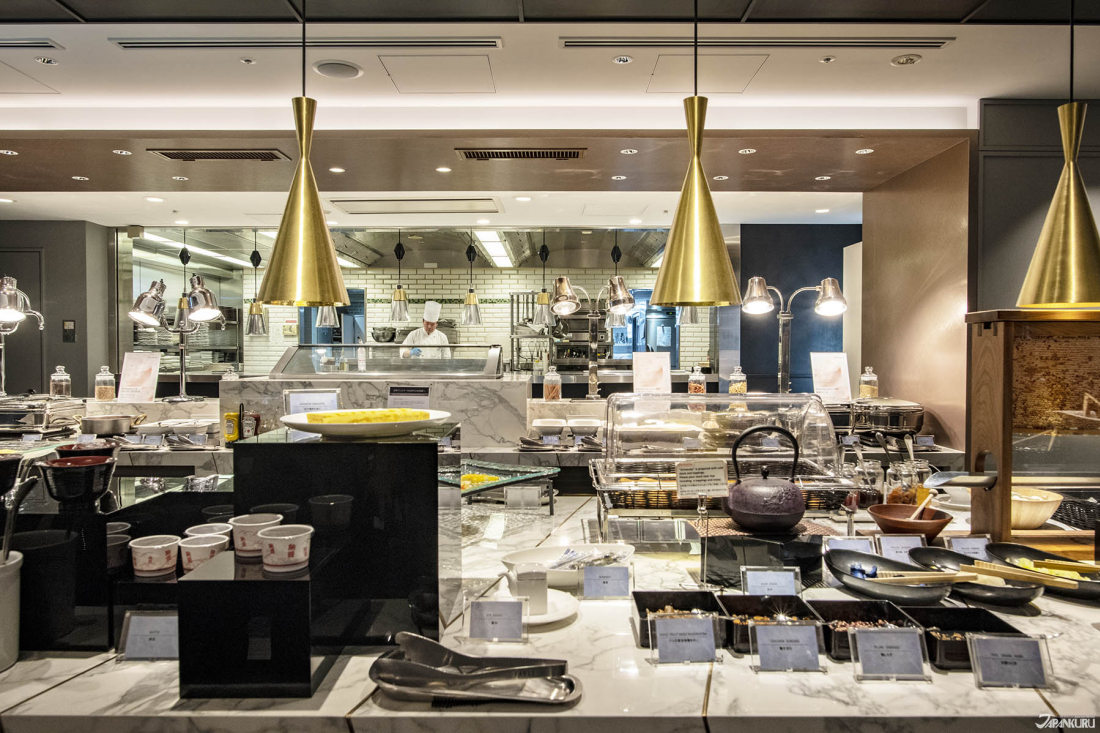 The restaurant is split into three areas, each with unique atmospheres good for different occasions. Plus, Terrace & Dining Zero has an outdoor terrace space, with welcoming seating perfect for sunny days and breezy evenings. While the lunch buffet is especially popular for friendly get-togethers, the romantic lighting makes it a date destination after sunset.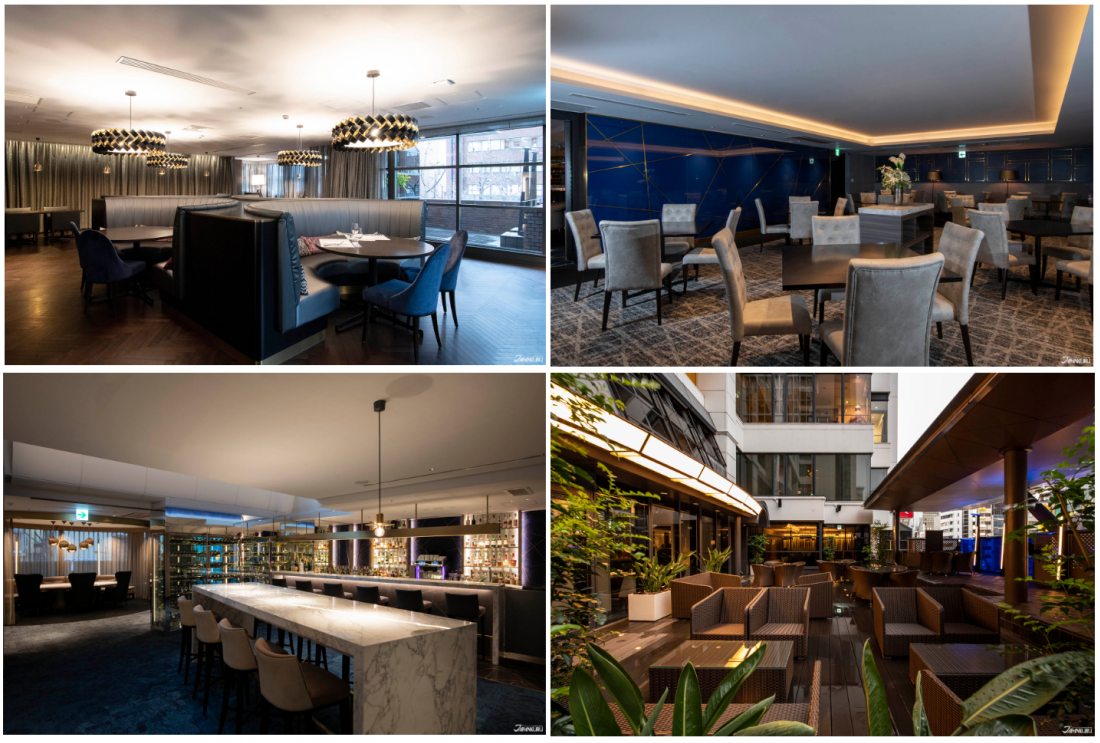 While we whole-heartedly recommend the lunch or dinner to travelers who love French dining, most travelers take advantage of the hotel breakfast and the bar, which are equally decadent.
A Luxe French Breakfast Buffet ~ with 6 Main Dish Options
7:00 – 10:00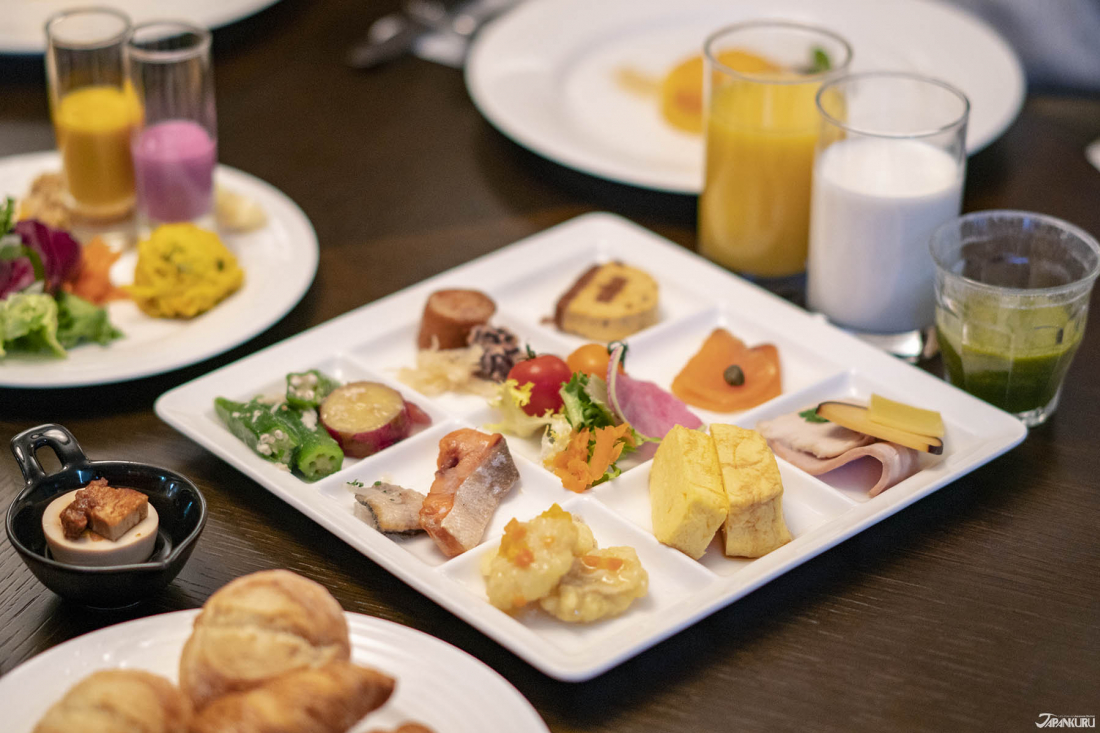 Thanks to a head chef with ample experience dishing up authentic French feasts, European dishes dominate the breakfast buffet at Terrace & Dining Zero. As a Japanese hotel, however, they also offer a variety of Japanese options, alongside healthy smoothies and drinks of all kinds. The variety is truly impressive, and since each thing looks more delectable than the last, your plate will fill up before you know it.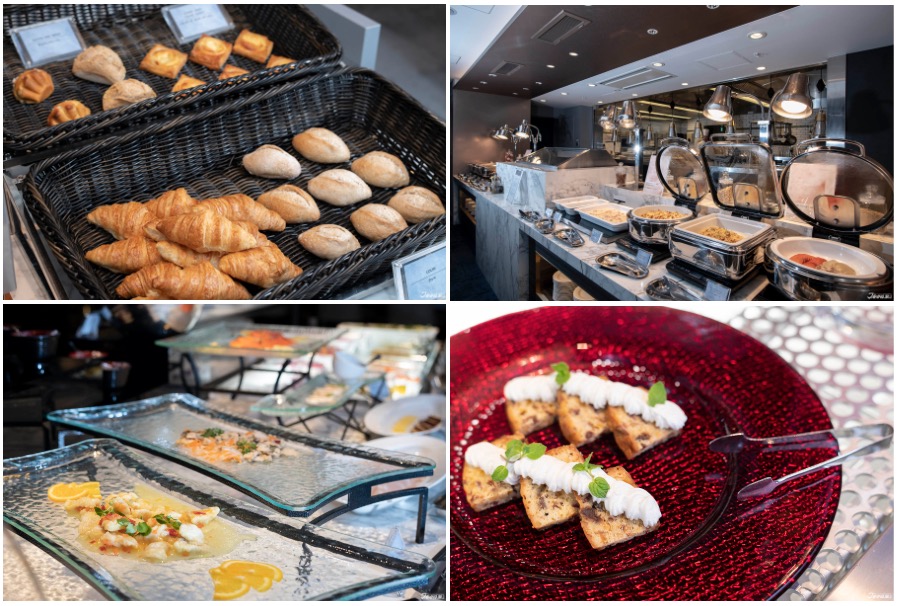 In addition to the buffet, each diner can choose from a menu of six breakfast main dishes, made to order. The options range from simple eggs, to traditional rice porridge.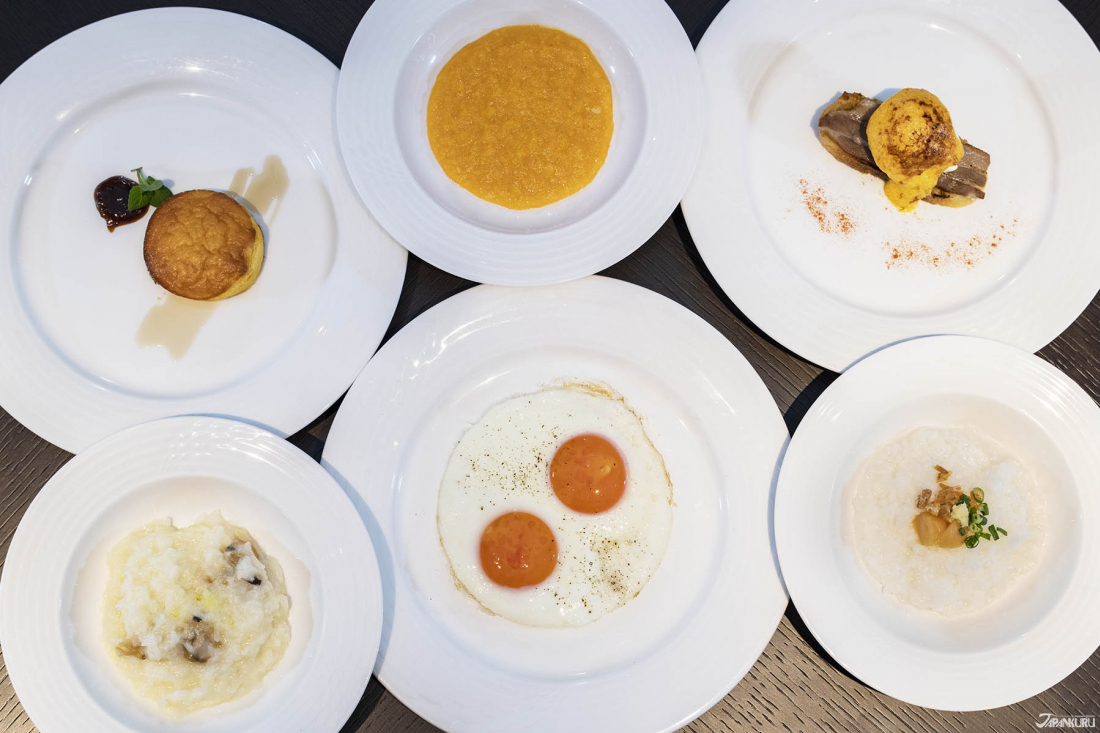 A Sleek Hotel Bar ~ with a Selection of Wines
14:00 – 23:30 (LO)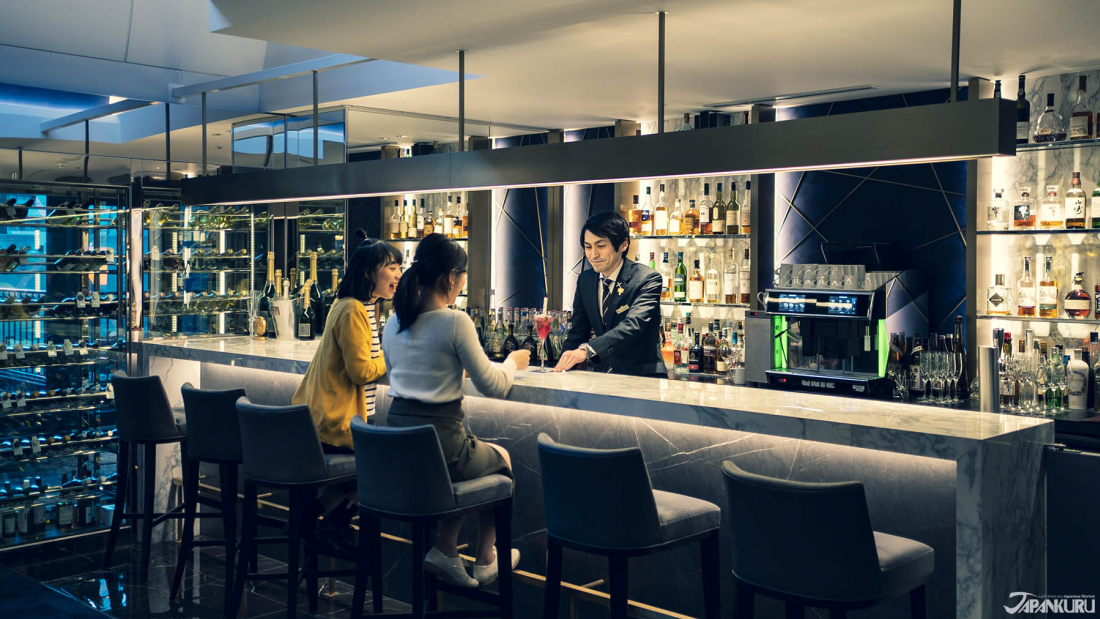 If you spotted the bar in the pictures above, you already know it's invitingly stylish. But the classy decor isn't its only appeal; as a bar in a French restaurant, it naturally has an excellent wine selection. Called their "wine cellar," restaurant staff are ready to suggest the perfect drink once you sit down at the counter, whether you're in the mood for wine or something a little different.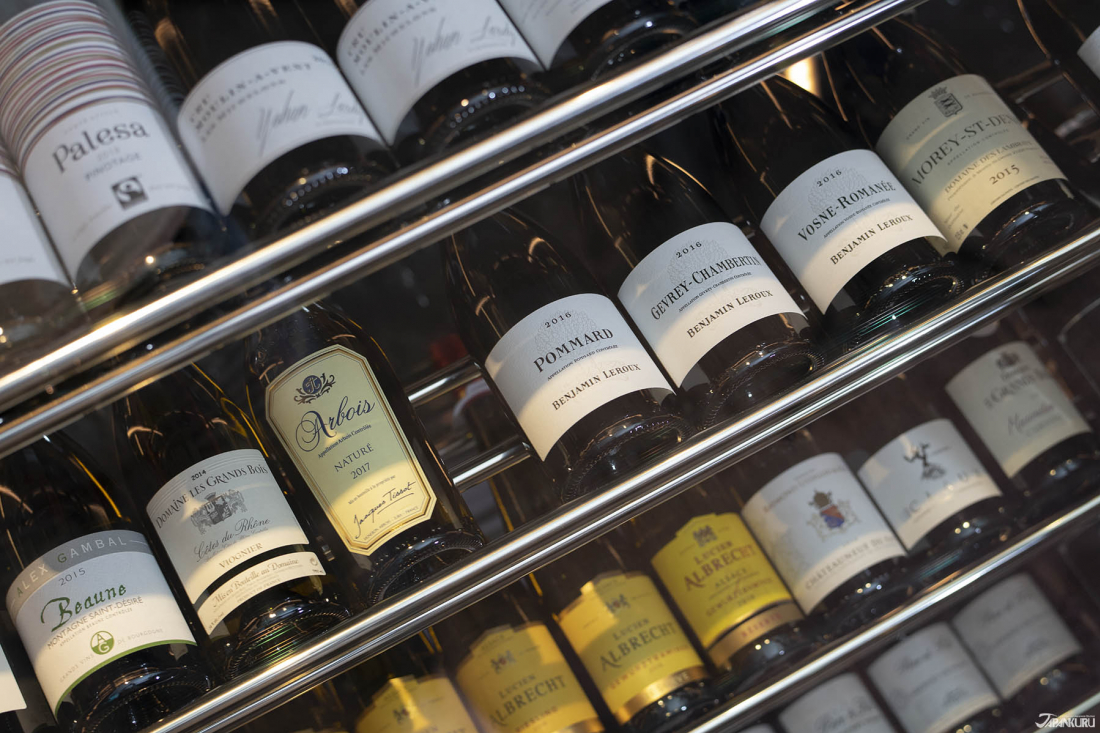 The wine selection includes plenty of popular vintages, but they also stock rarer wines produced in unusual locations. It's not a bad place to end the day, whether you're looking to conduct a little wine tasting, or just want to relax at the bar with a good drink.
An Oasis in Busy Downtown Osaka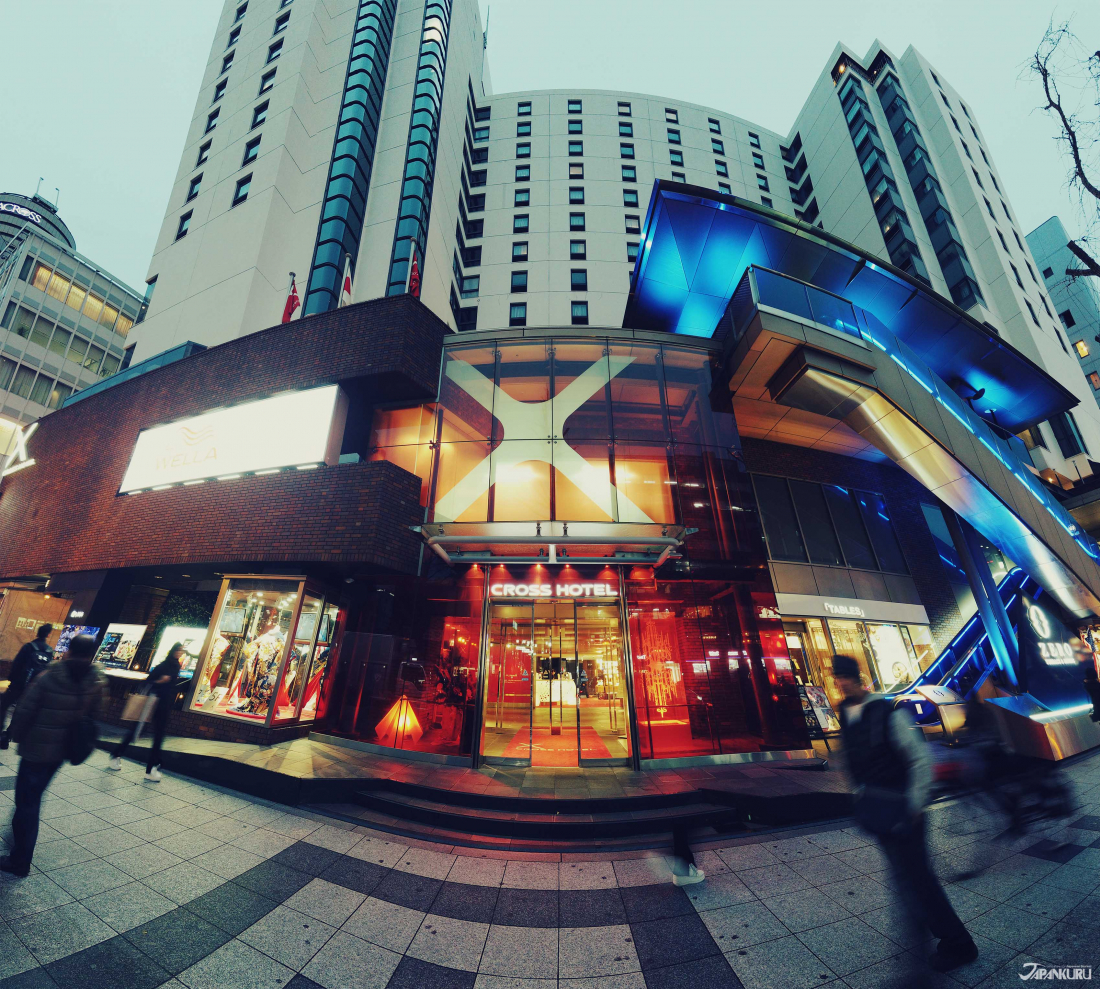 As the sun goes down and the bright lights turn on, Dotonbori and Shinsaibashi only get more beautiful, with the lively faces of locals and travelers reflecting off the canal waters and excited chatter bouncing off the walls. So don't worry yourself about running to catch the last train or paying for an expensive taxi. Stay in Cross Hotel Osaka and you'll be surrounded by some of Osaka's best sightseeing, shopping, and food, at all times of the day. The hotel makes it possible to be partying with the rest of Osaka one moment, and then heading up an elevator up to a quiet room looking down on the city the next. For travelers who love to be in the middle of things, Cross Hotel Osaka comes highly recommended.
Need help planning a trip to Osaka? Got some Japanese travel questions that need answering? Just waiting for a chance to share stories and pictures from your last trip to Japan? We'd love to hear from you on the Japankuru twitter, instagram, and facebook!
Source: JAPANKURU