Find Tokyo's Best Views at Asakusa's Most Convenient Hotel | Asakusa View Hotel
Asakusa View Hotel's convenient location (with a direct train station connection), spacious rooms, and amazing views of Sensoji Temple and Tokyo Skytree® make it a clear Asakusa hotel recommendation.
Staying in Asakusa, the Heart of Traditional Tokyo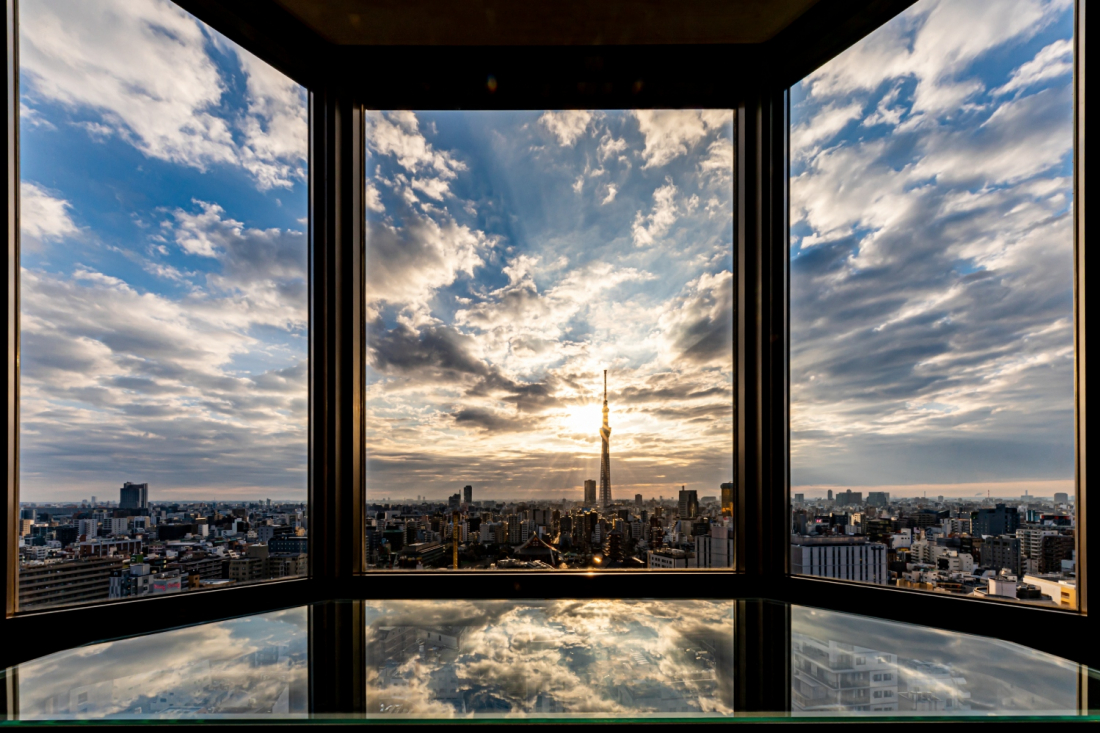 Tokyo's popular Asakusa area has been a bustling center of commerce and culture for Japan since the Edo period (1603-1868), and the neighborhood's historical landmarks have been around for even longer. These days, it's still a perennial favorite for travelers visiting Tokyo, thanks to the abundance of picturesque streets, traditional shops, tasty street food, and even Tokyo's oldest Buddhist temple, Sensoji. Not only is Asakusa a must-see for sightseers in the big city, it's also one of the best places in Tokyo to call home while traveling in Japan. When visiting Tokyo, the convenient location, comfortable amenities, and spectacular views of Asakusa View Hotel make it an obvious choice of accommodations.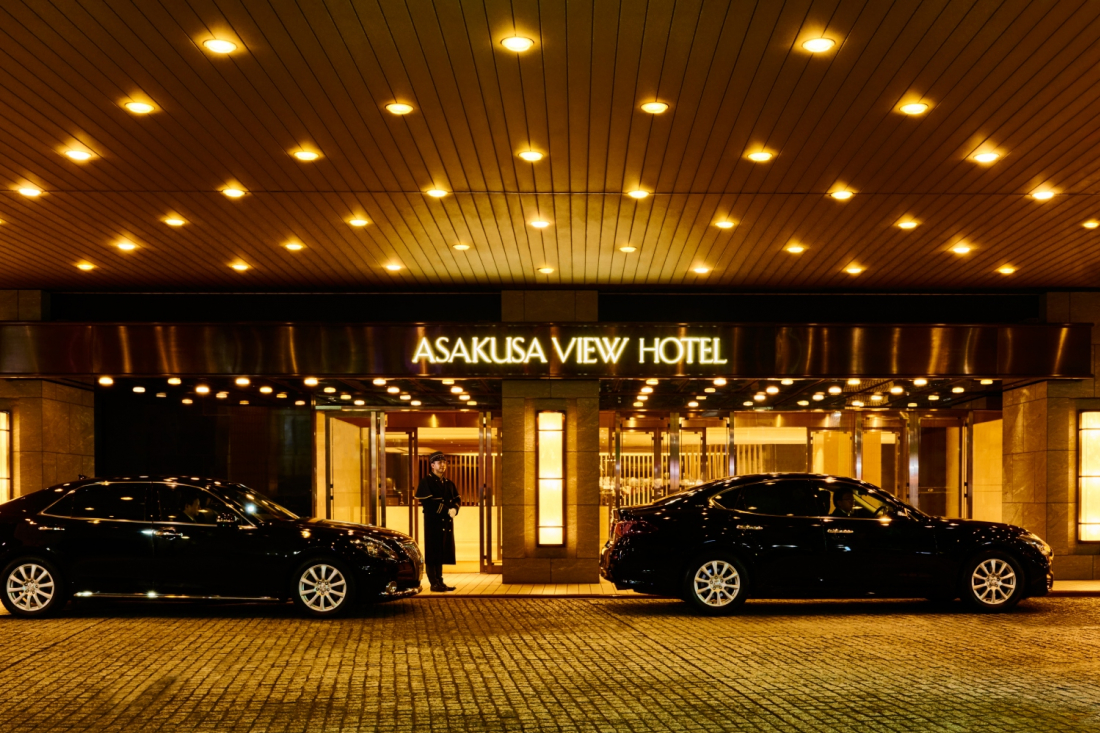 Not only is Asakusa View Hotel ideally located just a few minutes on foot from famous Asakusa spots like Sensoji Temple, it's also surrounded by streets packed with shops and restaurants, in addition to a number of dining options inside the hotel's own sleek highrise building. It's also directly connected to the Tsukuba Express Asakusa Station, making it a breeze to dash all around the city for plenty of sightseeing! Plus, the rooms come in a range of sizes to cater to everyone from solo travelers to families, and as the hotel's name suggests, the windows offer some jaw-dropping views of Asakusa and the city beyond.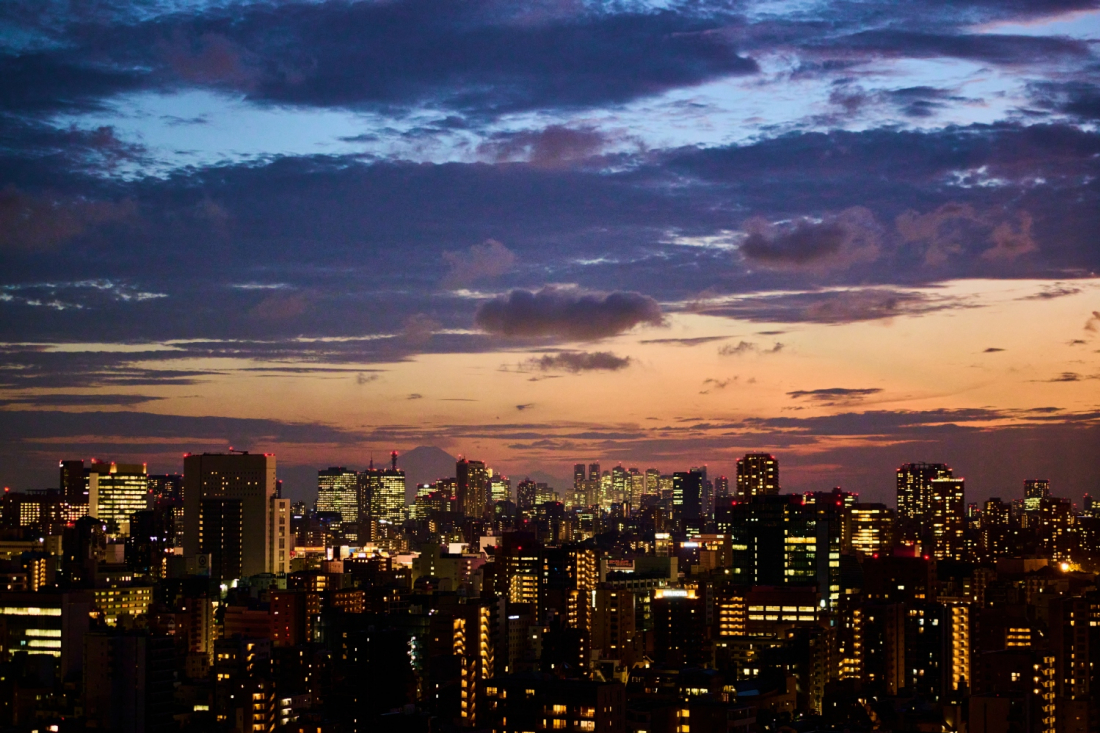 Depending on the floor and the side of the hotel, views from the guest rooms and hotel restaurants encompass everything from Sensoji Temple and Tokyo Skytree®, to the skyscrapers of the Shinjuku skyline in the distance, and even the stately silhouette of Mount Fuji on the horizon!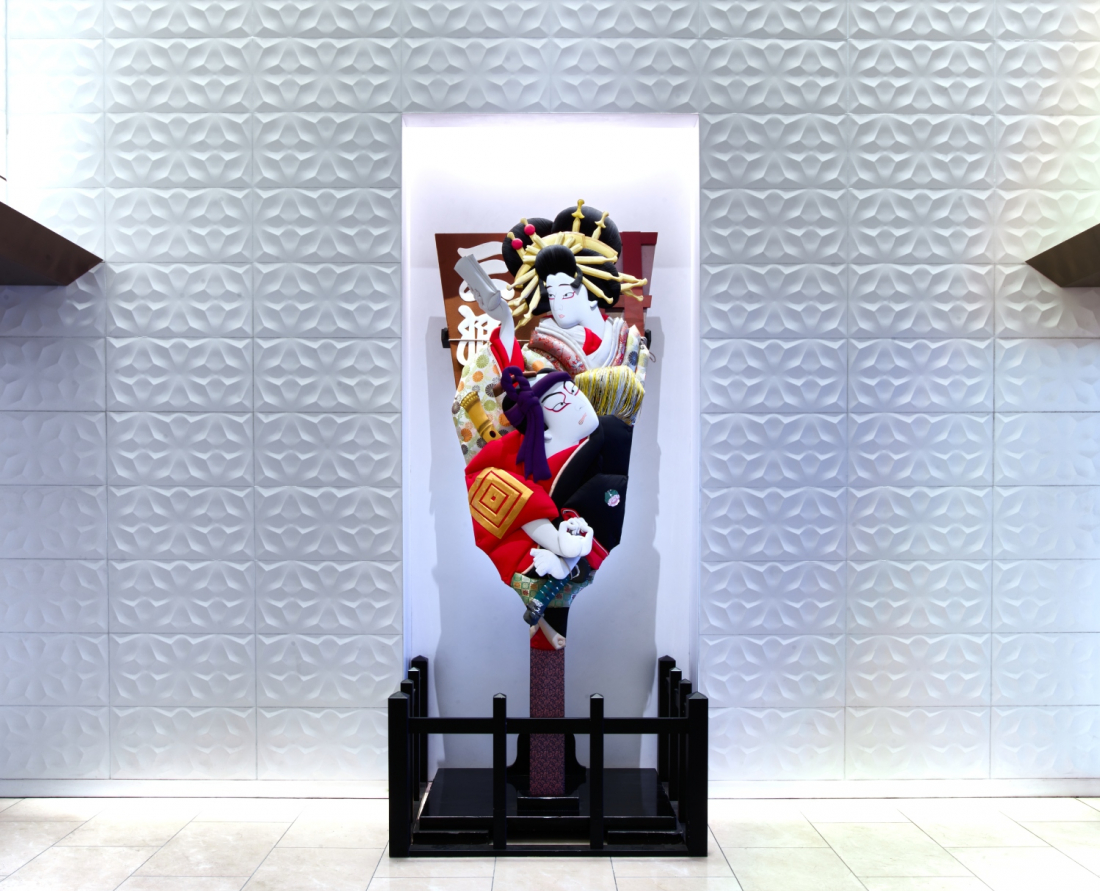 From the inside out, Asakusa View Hotel is immersed in Asakusa culture, and decorated with Japanese art. Inspired by Tokyo's illustrious kabuki scene, walls are decorated with a traditional floral pattern, and sculptural work is modeled after the paddles sold at the Hagoita-ichi Fair, featuring kabuki program motifs. A real portable shrine from the Sanja Festival sits on display in the hotel when not in use during the May event, so that guests can enjoy the traditional festival year-round. While visiting Japan, Asakusa View Hotel is the perfect place to explore Japanese culture and soak up the Asakusa atmosphere!
Asakusa View Hotel (浅草ビューホテル)
3-17-1 Nishiasakusa, Taito City, Tokyo
Check-in / Check-out: 15:00 / 12:00
Phone: 03-3847-1111
Official Website (en) ・ Reservations
Relaxing Rooms with a View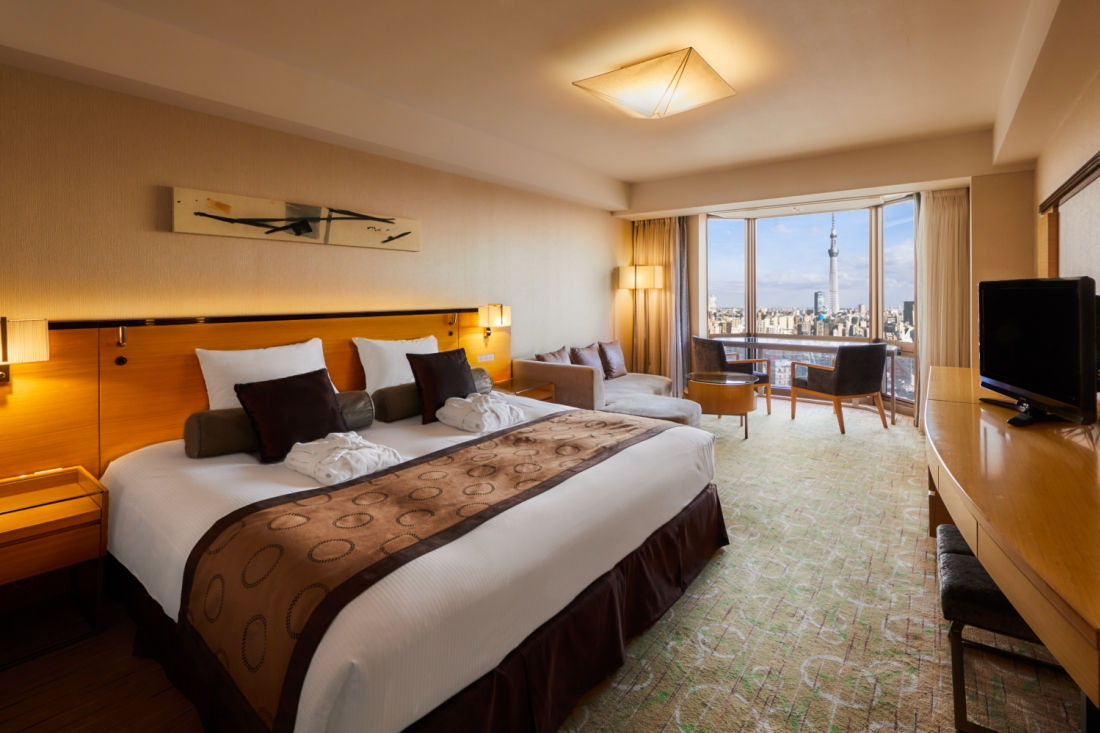 With guest rooms all the way from the 7th to the 24th floor, there are quite a few room options to choose from when staying at Asakusa View Hotel. Solo sightseers and business travelers are likely to enjoy the Single Rooms with their roomy semi-double beds, whereas families can opt for rooms with more beds and extra space to spread out a little more.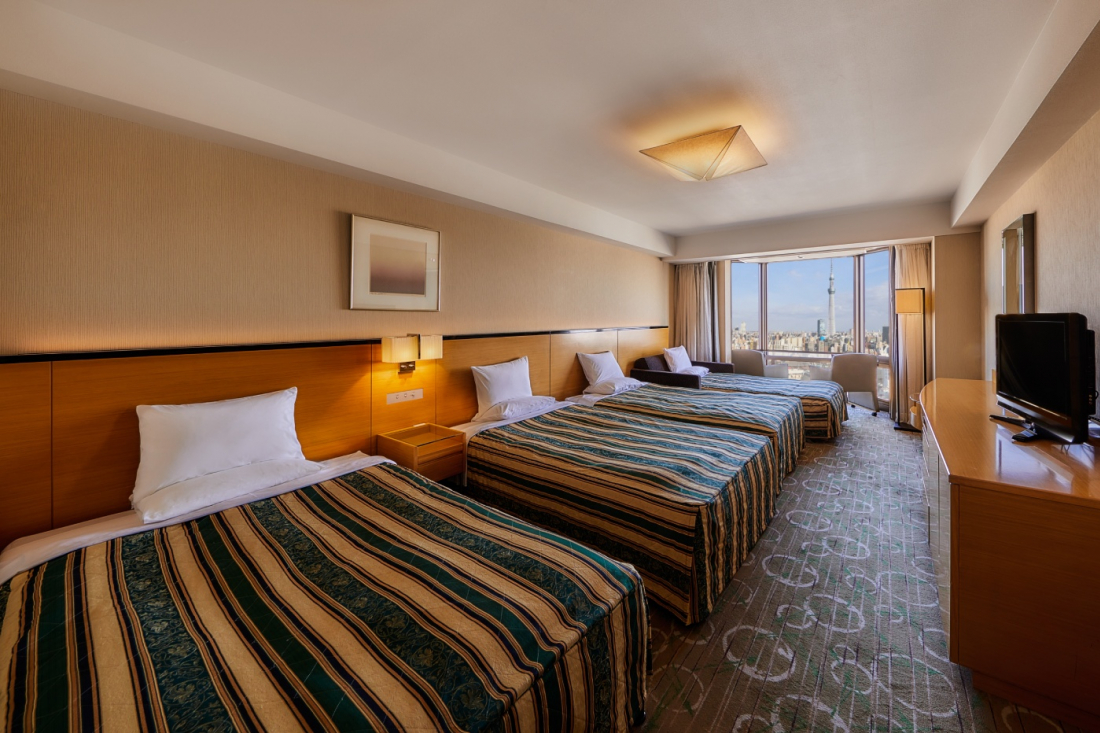 For big families and groups of friends, there are even Quad Rooms with four beds! But all of the rooms, from the simplest singles to luxury suites, have much more space to move around in than the average cramped Japanese hotel room. There's plenty of room to store luggage, and (in many rooms) comfortable armchairs to relax in while gazing out the window. Guests can book a room on the Sky Tree View Side for views of Tokyo Skytree®, Sensoji Temple, and the rest of Asakusa, or go for the City View Side to look out on the busy streets of central Tokyo, Shinjuku's skyscrapers, and Mount Fuji in the background.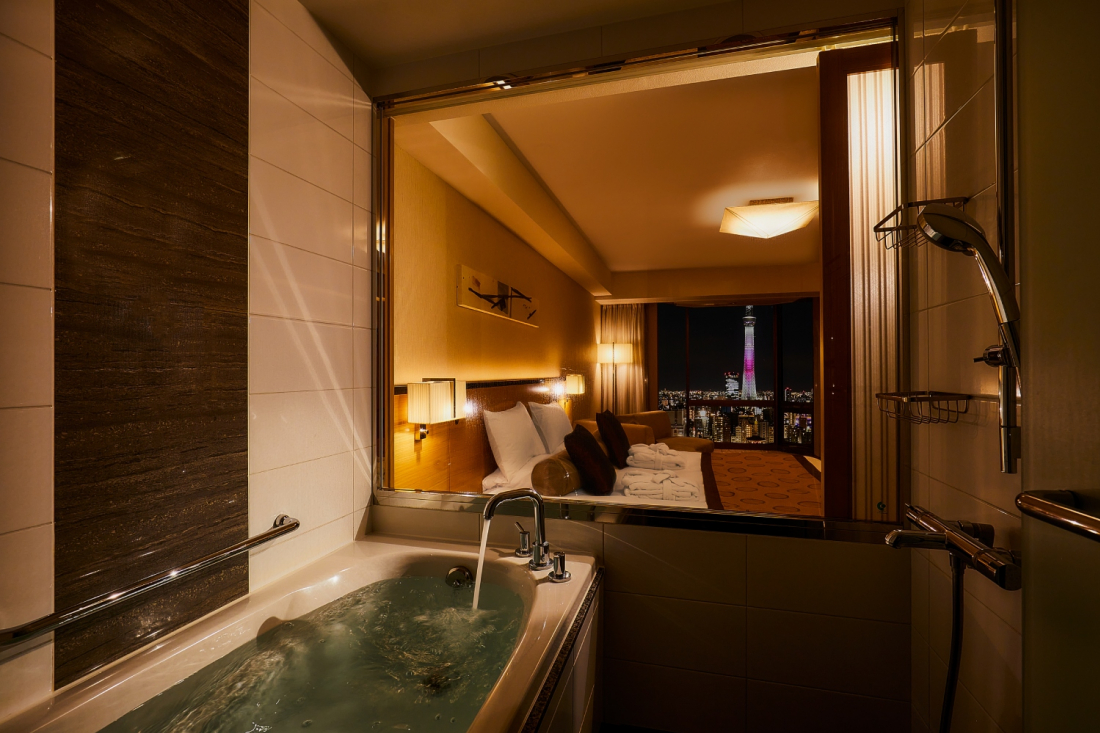 Floors 21 to 24 are home to the hotel's Executive Rooms, which offer a premium experience and even more space. With plenty of room to stretch out and relax, these rooms are a quiet oasis to return to after a busy day in Tokyo. The Executive King Room is particularly luxurious, however, and includes the ultimate relaxation experience: a bathtub with a view of the Tokyo skyline!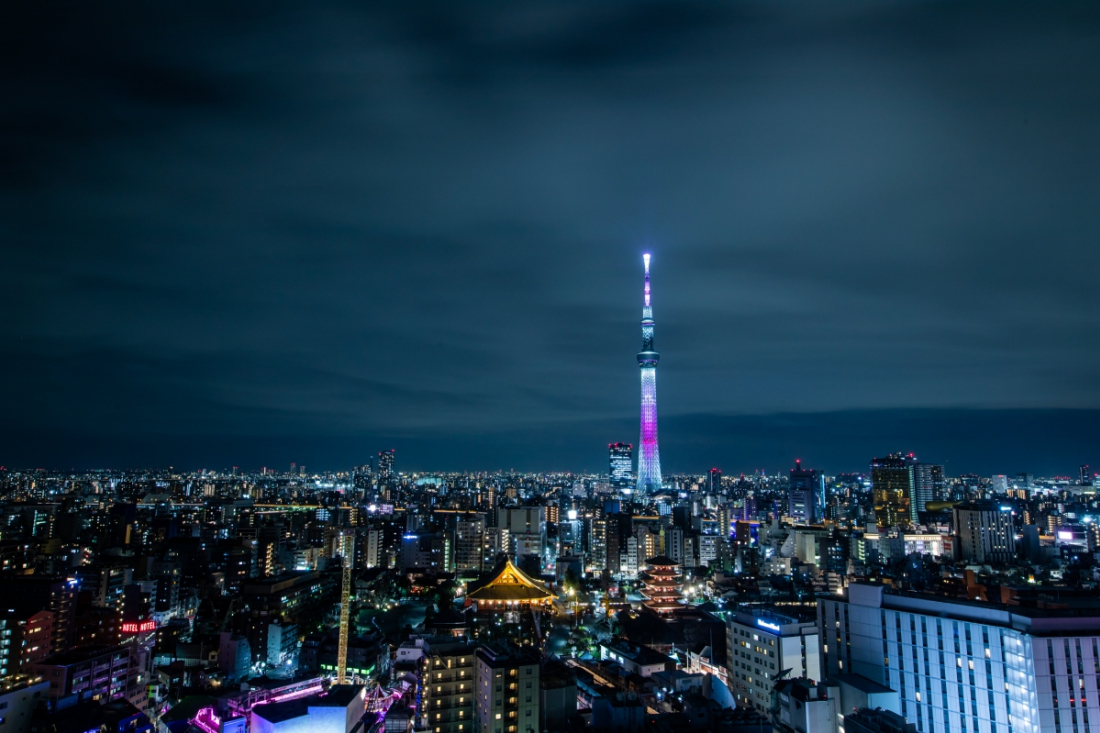 Rooms on the Sky Tree View Side have a fantastic view of some of Tokyo's most iconic buildings.
Dining at the Hotel

Asakusa is a great neighborhood for food lovers to find deliciously authentic Japanese cuisine and fine dining, and Asakusa View Hotel's very own restaurants offer excellent options for every meal of the day. To start the day right, the hotel's breakfast is served at Sky Grill Buffet Musashi, a sunny window-lined eatery on the 26th floor. From 7 to 10 in the morning, guests can enjoy a luxurious breakfast buffet with a wide range of dishes, all while gazing down at the city below. The buffet includes fluffy omelettes and fresh-baked pastries from the hotel's own bakery, but also Japanese breakfast staples like miso soup, grilled fish, and pots of steaming rice. Adventurous eaters might want to try Musashi's popular Hong-Kong-style rice porridge, or the vegetable shabu-shabu!
At other times of the day, the dining experience at Musashi is focused around the buffet's open kitchen. Standing just behind the counter, chefs use fresh seasonal ingredients to whip up new dishes throughout lunch and dinner. The restaurant's "pair seats" by the window are particularly popular with couples.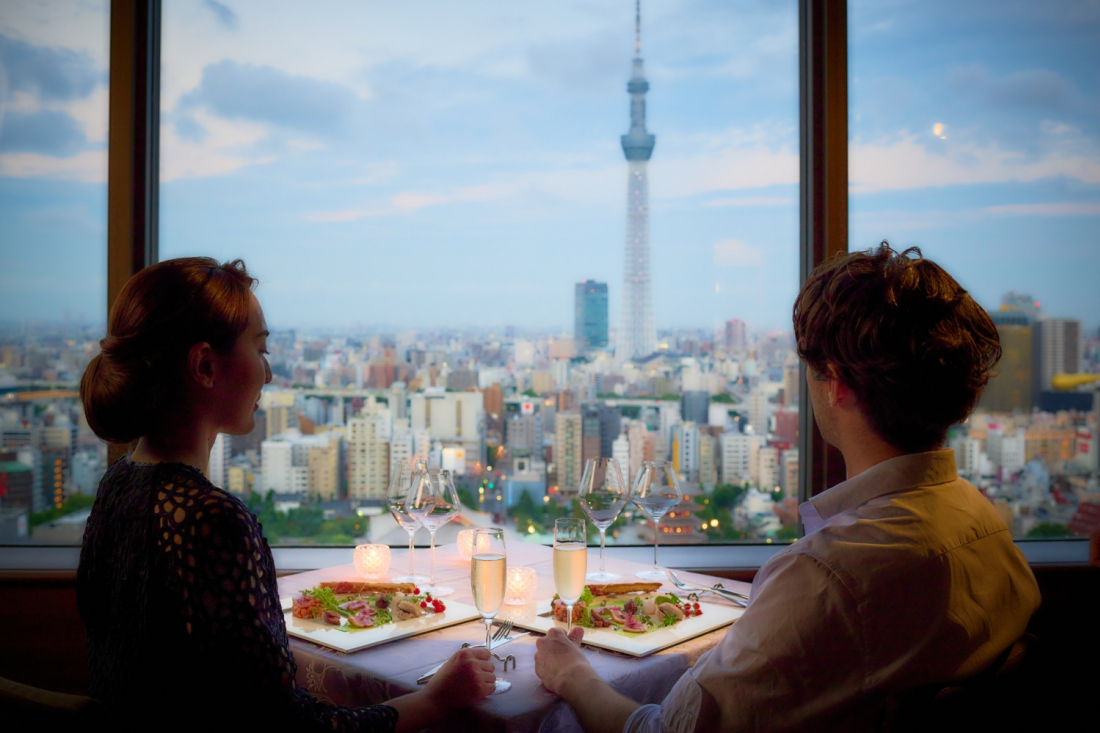 Another popular date spot at Asakusa View Hotel is the Chinese & French Restaurant Karakurenai and Makie – a shared dining space with two menus, where diners can order from both. Although both Karakurenai and Makie mix French cuisine with Asian inspiration, the Karakurenai menu focuses on "nouvelle chinois" with elevated Guangdong flavors, whereas Makie takes French cuisine and prepares it teppanyaki-style. The restaurant is just the place to enjoy a luxurious multi-course French-Chinese meal.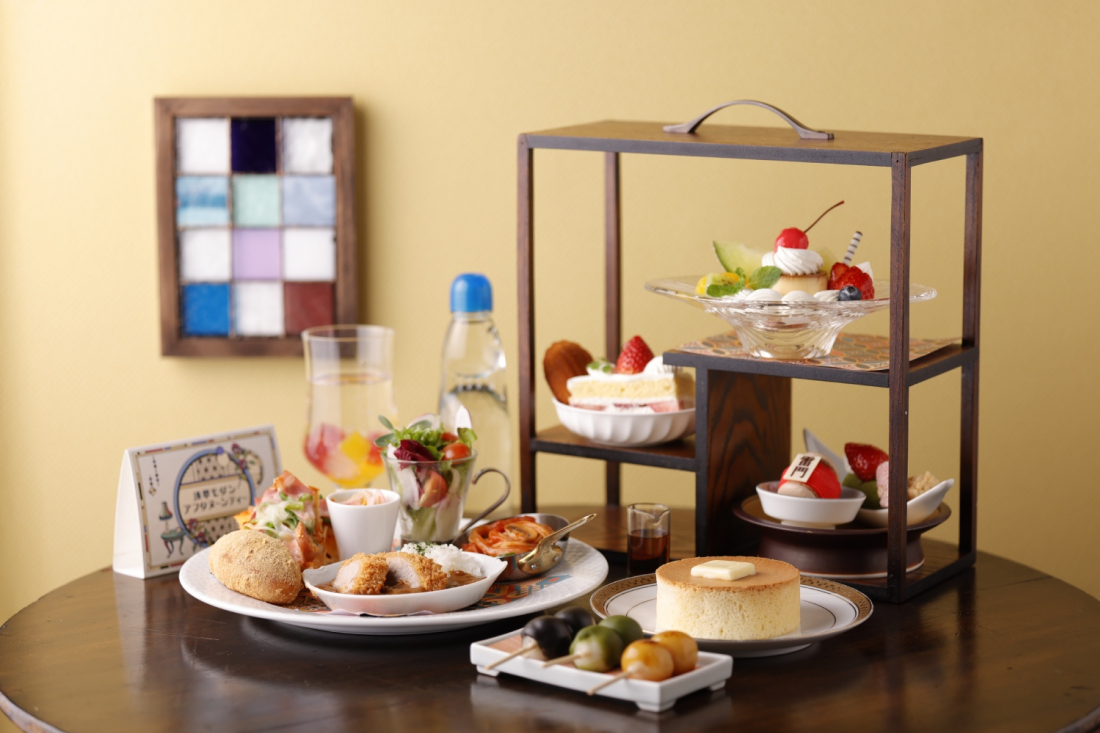 Up on the 28th floor of Asakusa View Hotel, Ice House is a sophisticated bar with fantastic views after 5 pm. Earlier in the afternoon, however, the same space is used as the venue for the hotel's popular afternoon tea! Every two months, the hotel offers a new afternoon tea set with a different theme, each one including a selection of sweets, savory bites, and over 10 different teas to choose from. As an example, the theme for January and February 2023 (seen in the photo above) is "Asakusa Modern," inspired by the trends and styles of Asakusa in the early 20th century!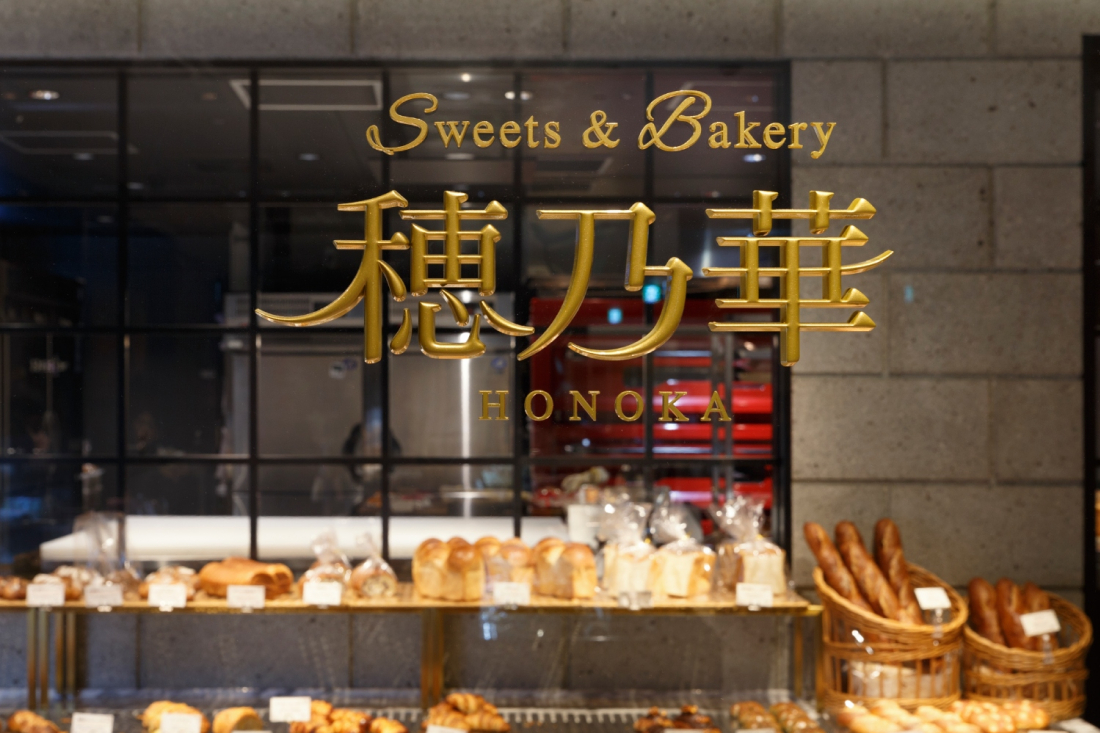 For a quick snack, sweet or savory, head to the hotel's very own bakery – Honoka! The busy bakery provides fresh baked goods for the Musashi breakfast buffet each morning, before offering customers a selection of pastries, breads, and even prepared savory dishes throughout the day. Japanese favorites like crunchy curry bread and red bean pastries make great afternoon snacks, and the bakery's convenient dishes are perfect for taking up to the room for a light meal with a Tokyo view.
Enjoying the Busy Streets of Asakusa

On foot, Asakusa View Hotel is just a few minutes away from Asakusa's most popular sightseeing attractions, which makes it an ideal home base while enjoying the area. Asakusa is a neighborhood steeped in history and tradition, with interesting spots and picturesque views down every narrow alley, and even a little retro amusement park (Asakusa Hanayashiki). But there's a reason why just about every tourist in Tokyo visits Sensoji Temple.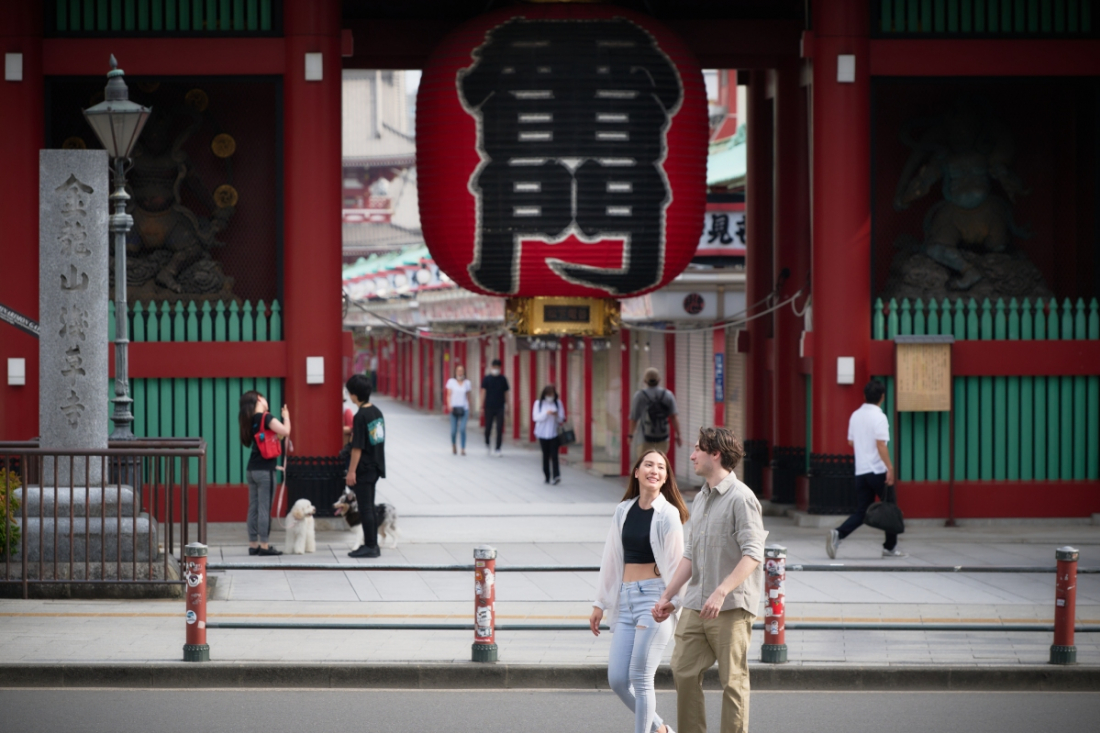 Legendarily established back in the year 645, Sensoji is Tokyo's oldest temple, and the grand buildings form the heart of Asakusa. Take a picture in front of the famous Kaminarimon Gate and its enormous lantern, walk down the temple's Nakamise shopping street and try some traditional Japanese street food, then get your "omikuji" fortune (おみくじ) in front of the main temple hall!

With so much to see (and even more to eat), there's no wrong way to explore Asakusa, but it's a great place to enjoy Japanese "tabearuki" (食べ歩き), which literally translates to "walking and eating." Asakusa street food classics include Japanese melon bread and mochi-like dango, but some new culinary specialties have become wildly popular among the local Asakusa crowd. Anshin'ya, a small counter located on Denboin Street, specializes in huge pieces of Taiwanese-style fried chicken, which often sell out in just a couple hours.
For a nice coffee break, head to the streets surrounding Asakusa Hanayashiki, Asakusa's amusement park. In recent years, the area has attracted a growing number of trendy little cafes, including the popular February Kitchen, which offers coffee, sweets, and light meals for lunch. Restaurants are scattered throughout the area, but more meal options can also be found at the recently-opened Asakusa Yokocho – a collection of colorfully-decorated restaurants that are worth visiting for the atmosphere as much as for the food. Travelers looking for the authentic Asakusa experience, however, might want to try eating at one of the many izakayas along Hoppy Street (AKA Hoppy-dori/ホッピー通り). In the evening, these crowded spots offer cold drinks and food options like yakitori grilled chicken.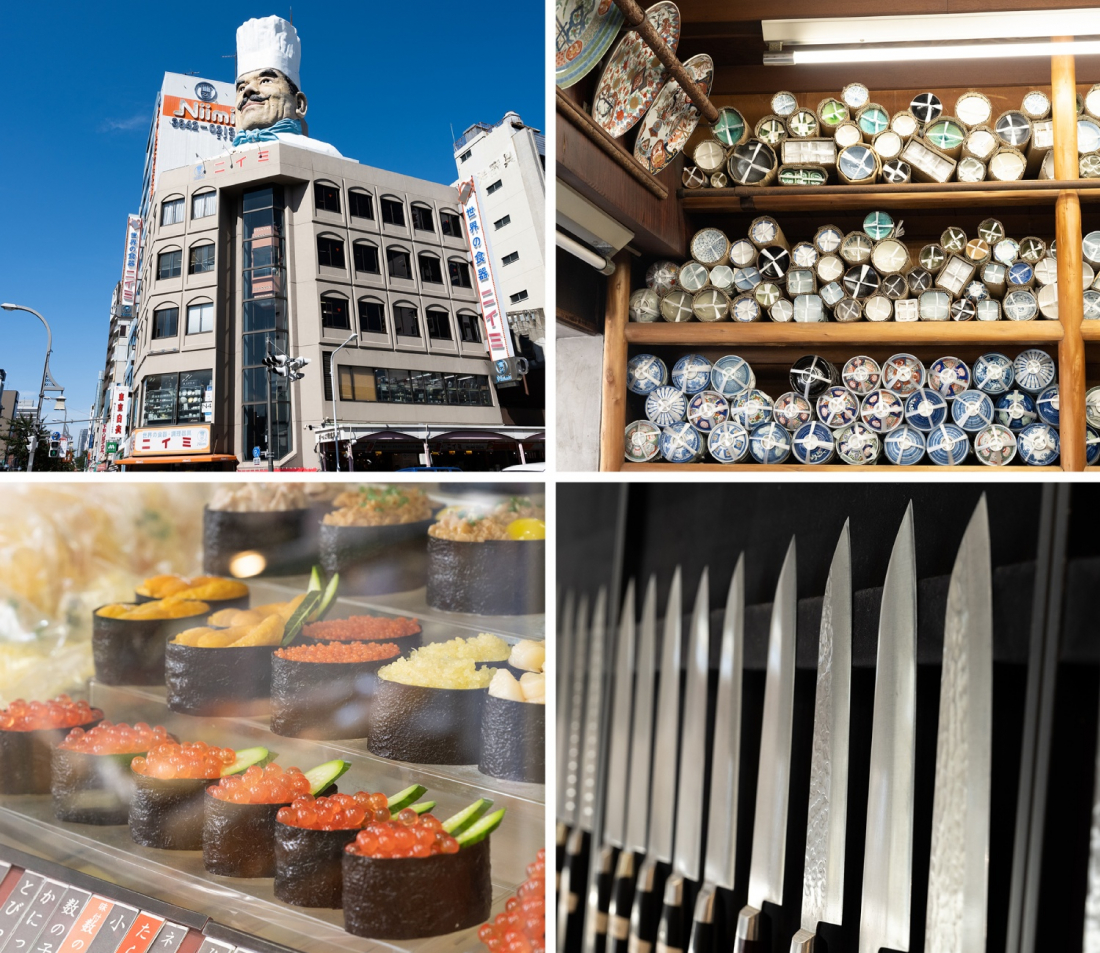 Food lovers who love to cook shouldn't leave Asakusa without visiting Kappabashi Dogugai (かっぱ橋道具街), an area sometimes given the nickname "Kitchen Town." There are fewer restaurants in this part of Asakusa, because the streets are instead lined with shops selling everything a chef might need to get cooking: high-quality pots and pans, beautiful Japanese dishes of all shapes and sizes, carefully-crafted Japanese cooking knives, and just about any tool that might come in handy in the kitchen. There are also a number of food sample shops, popular with sightseers searching for interesting souvenirs. The area caters to professional chefs and restaurant owners, but it draws a daily crowd of amateur chefs as well.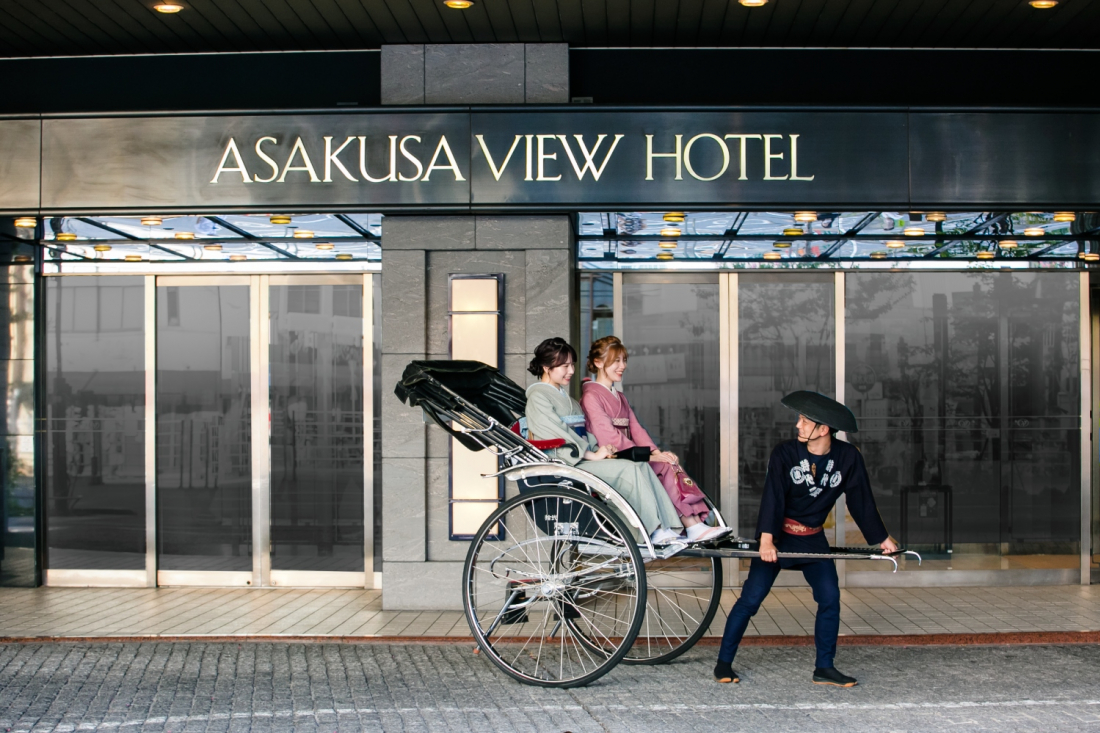 Thanks to the direct connection to the train station, Asakusa View Hotel's convenient location already puts it a step ahead of most Tokyo hotels, but that's just the beginning of what makes it a great choice for travelers visiting Japan. Not only does the public transportation make it easy to see the city, but all of Asakusa is waiting beyond the hotel's grand entrance! There are even old-fashioned rickshaws ready to take visitors on a tour of this uniquely traditional area. But within this modern hotel highrise, there are guestrooms with plenty of space to relax in, and eateries for every occasion, too. Even better, the hotel windows provide unbeatable views, from Tokyo landmarks to the grand silhouette of Japan's tallest mountain, Mount Fuji. Travelers searching for a convenient Tokyo hotel will definitely want to check out everything Asakusa View Hotel has to offer.
For more info and updates from Japan, check Japankuru for new articles, and don't forget to follow us on Twitter, Instagram, and Facebook!