Ginza's Hidden Treasures: 3 Tiny Shrines Tucked Into Tokyo's Alleys
Shinto shrines in the streets of Tokyo? There are more of these spiritual oases than you might expect.
Shinto Shrines in Tokyo's Glitziest Shopping Spot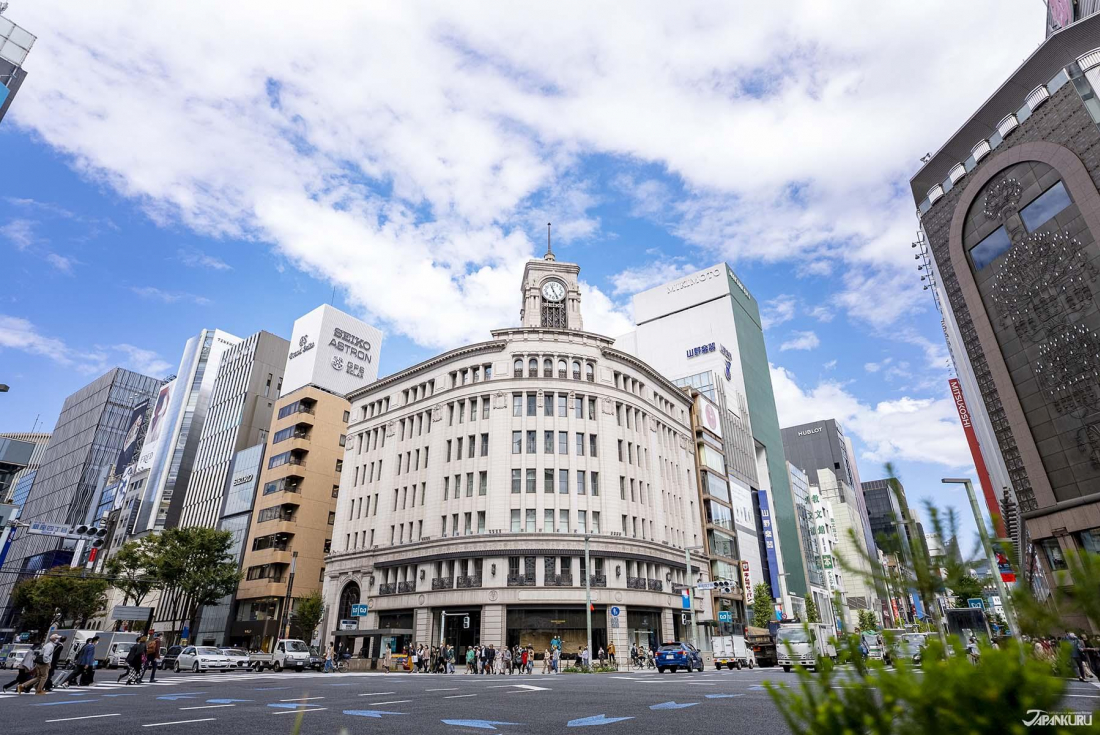 Walking the streets of Ginza, the storefronts show off the latest designer fashions and the hottest new items, with hints of retro Japanese style thrown in the mix. But no matter where you look, one thing is entirely evident: Ginza is a place for shopping, and it has been for over 100 years. After Ginza burned in a massive fire in the late 19th century and was just about completely rebuilt, travelers visiting this unique part of Tokyo said it looked more like cities in the US or Australia than like any other part of Japan, and to this day it's a haven for international brands. And yet, if you slip down the right alleys, or stop on the right street corners, you'll find Shinto shrines hidden away in Ginza's nooks and crannies. Even in this international commercial paradise, Japan's religious traditions have taken root and just won't budge, adding a touch of something a little more spiritual in the most unexpected places. Take a closer look, however, and the shrines make perfect sense. The majority of Ginza's little shrines are devoted to the god Inari, a deity believed to grant businesses success, and even prevent fires like the one that destroyed the whole neighborhood in the past. So next time you're in Ginza, look out for these little Shinto shrines for your own little dose of peace and prosperity!
① Asahi Inari Shrine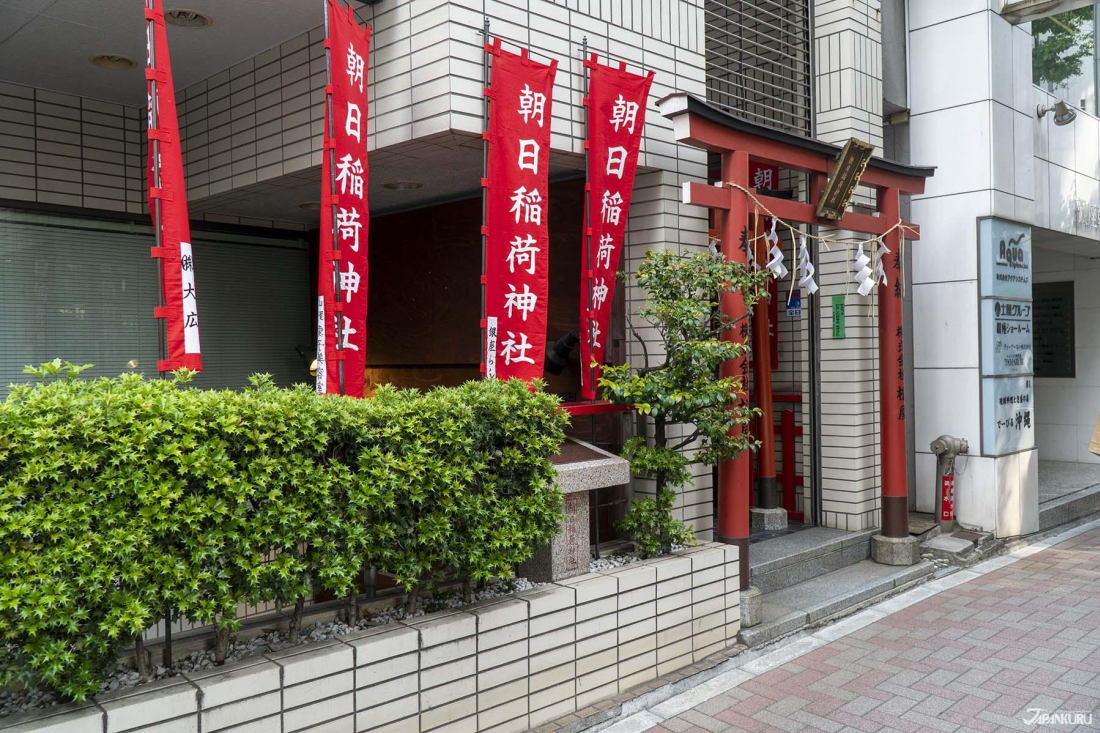 Next to a popular accessory brand and across the street from shops selling watches and cosmetics, Asahi Inari Shrine is carefully fitted into the side of an office building, with just a small altar peeking out from behind the iconic red shrine gate. The shrine has actually been in this spot in one form or another since ancient times, with a long history that includes some harrowing tales – destroyed in an earthquake, sunk into a canal, burned to the ground during the war, and finally reconstructed, time and time again.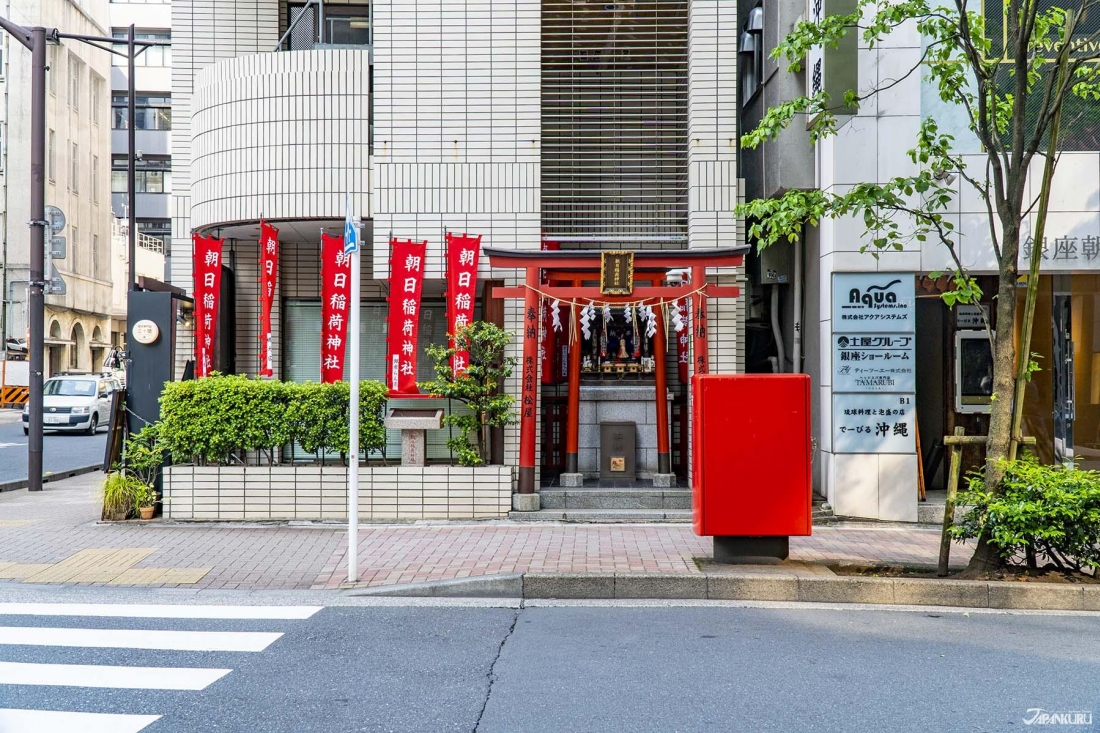 Asahi Inari Shrine's current form was constructed in the early '80s, and it now fits neatly into a city building that it shares with everyday office workers. The street-level portion that most passers-by get to see is actually just the front hall, where you can toss in your 5 yen coins and pray to Inari. Up on the roof of the building, there's a small main hall as well! Stop by the office and you can even collect a goshuin.
Asahi Inari Shrine (朝日稲荷神社)
Daiko Asahi Bldg, 3-8-12 Ginza, Chuo City, Tokyo
Official Website (jp)
② Azuma Inari Shrine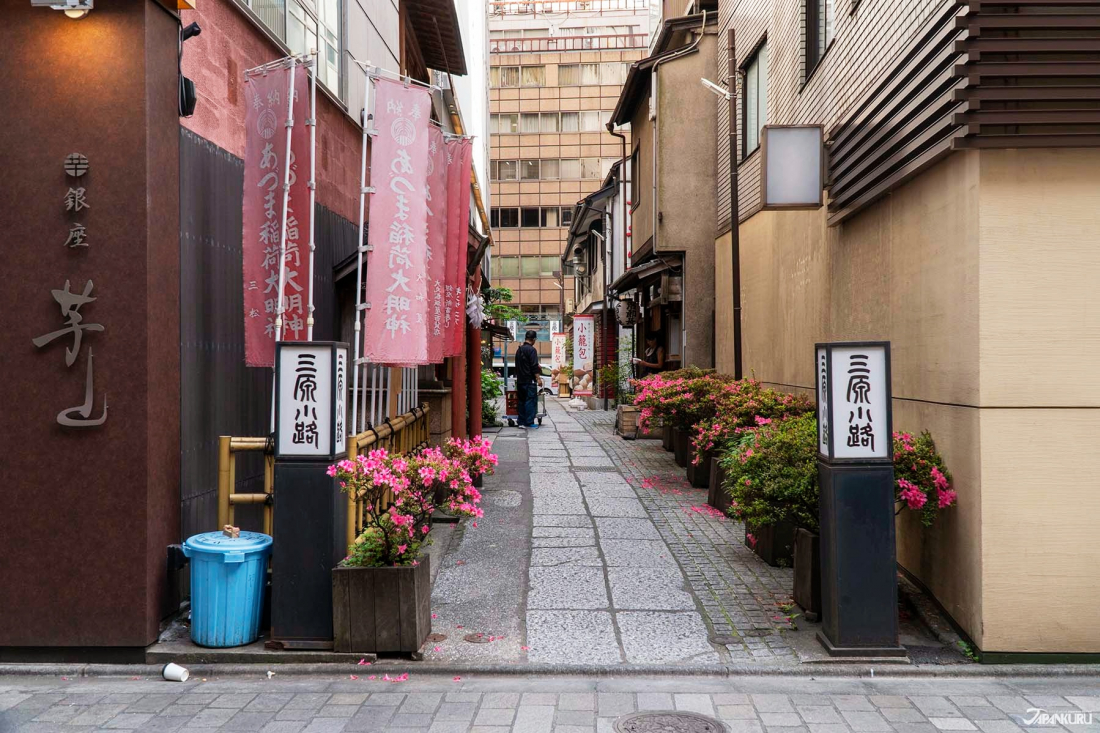 Turn off Ginza's Harumi-dori Avenue onto a smaller street paved with cobblestones and lined with shops (Azuma-dori Street), then turn again down an unsuspecting narrow alleyway (Sangen Alley) and you'll come upon Azuma Inari Shrine. Built like a tiny hut on top of a stone plinth and marked with an old vermillion gate, this little shrine plays an important role in the community, according to local legend!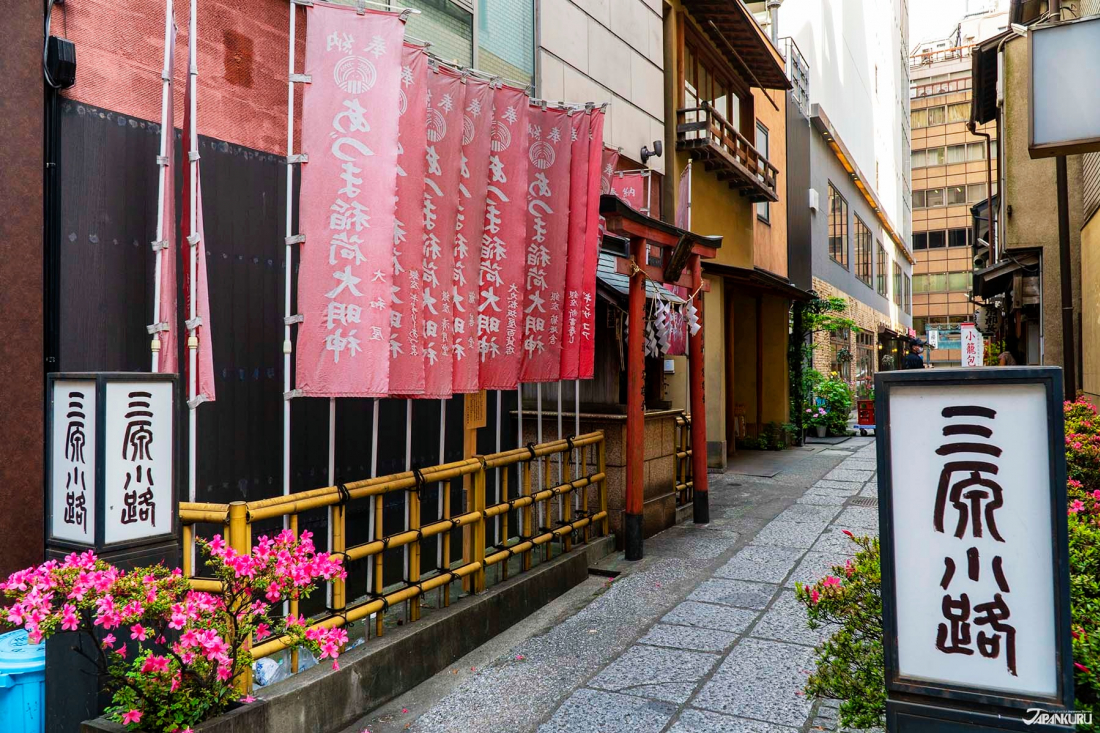 Azuma-dori Street became a busy road back in the postwar period, and the area where it intersects with Sangen Alley was bustling with bars and restaurants. Unfortunately, this little section of Ginza was also a fire trap, and it was hit again and again with fires that ruined local businesses. Suspecting something was amiss, perhaps in the spiritual realm, locals looked into the history of their neighborhood and found that the land along Sangen Alley had once been used to worship the deity Inari. Fearing that the fires were caused by an indignant god, locals quickly contacted Fushimi Inari Shrine in Kyoto, asking them to help reestablish an Inari shrine in Sangen Alley. They built the cute little shrine we now find down a Ginza sidestreet, and the area has been successfully protected from fires ever since.
Azuma Inari Shrine (あづま稲荷大明神)
5-9-19 Ginza, Chuo City, Tokyo
③ Toyoiwa Inari Shrine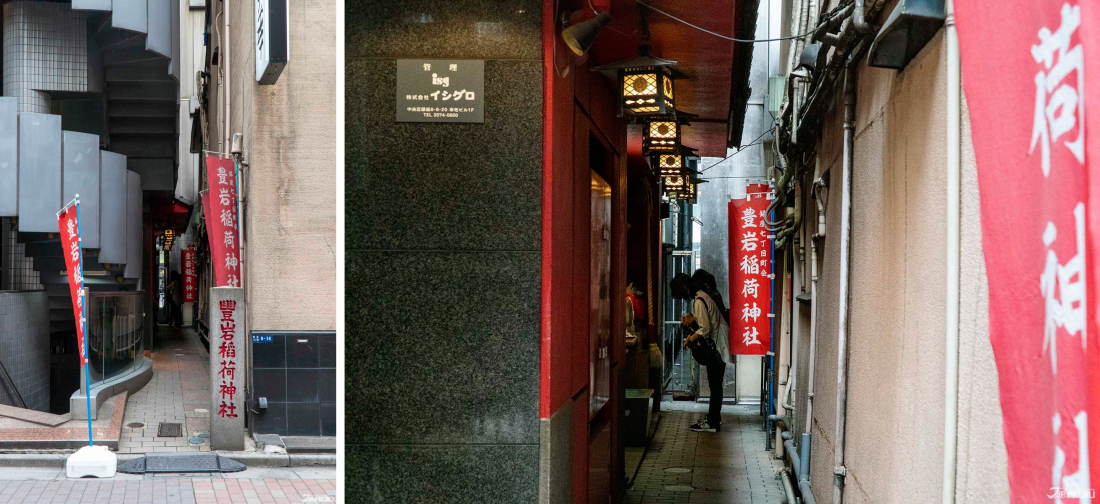 Hidden down a narrow alley off of Ginza's Suzuran-dori Street, Toyoiwa Inari Shrine is wedged between two tall buildings and lit with lanterns. This spot has been a place of worship since the early Edo period (1603-1868), with some locals coming to pray for protection from fires, others for plentiful food, and others for good luck in relationships (in Ginza, the gods have an impressively varied resume).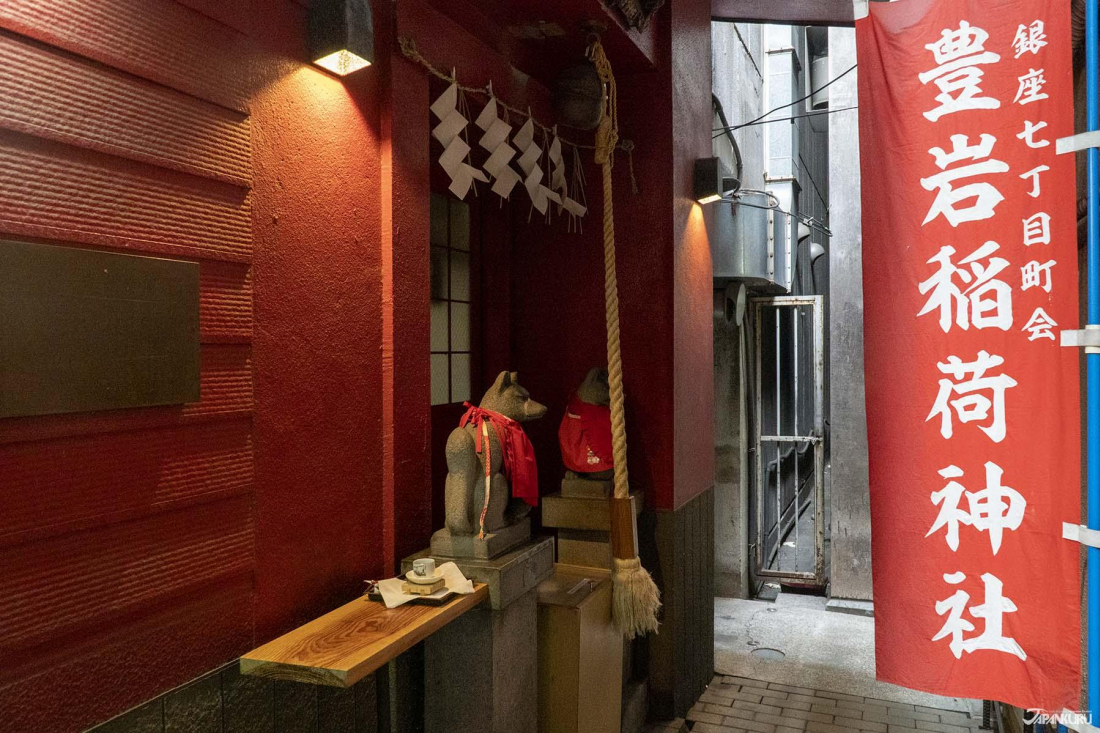 One of the shrine's most notable devotees was kabuki star Ichimura Uzaemon, who made it a popular spot among other kabuki performers in the early 20th century, but the support clearly wasn't enough to prevent the shrine's grounds from becoming significantly more cramped due to construction in the 1990s. Despite the tight quarters, once you slip down the dark alley the shrine makes a big impact, and it's not uncommon to see people stop by and pray to the enshrined deities. These days, word on the street is that the gods at Toyoiwa Inari Shrine are especially good at helping visitors find love! You can also head down to the basement of the building the shrine is attached to, to find the shrine office and get yourself a goshuin! (Beware of very short hours, though.)
Toyoiwa Inari Shrine (豊岩稲荷神社)
7-8 Ginza, Chuo City, Tokyo
★ Bonus ★ Floating in the Skies Above Ginza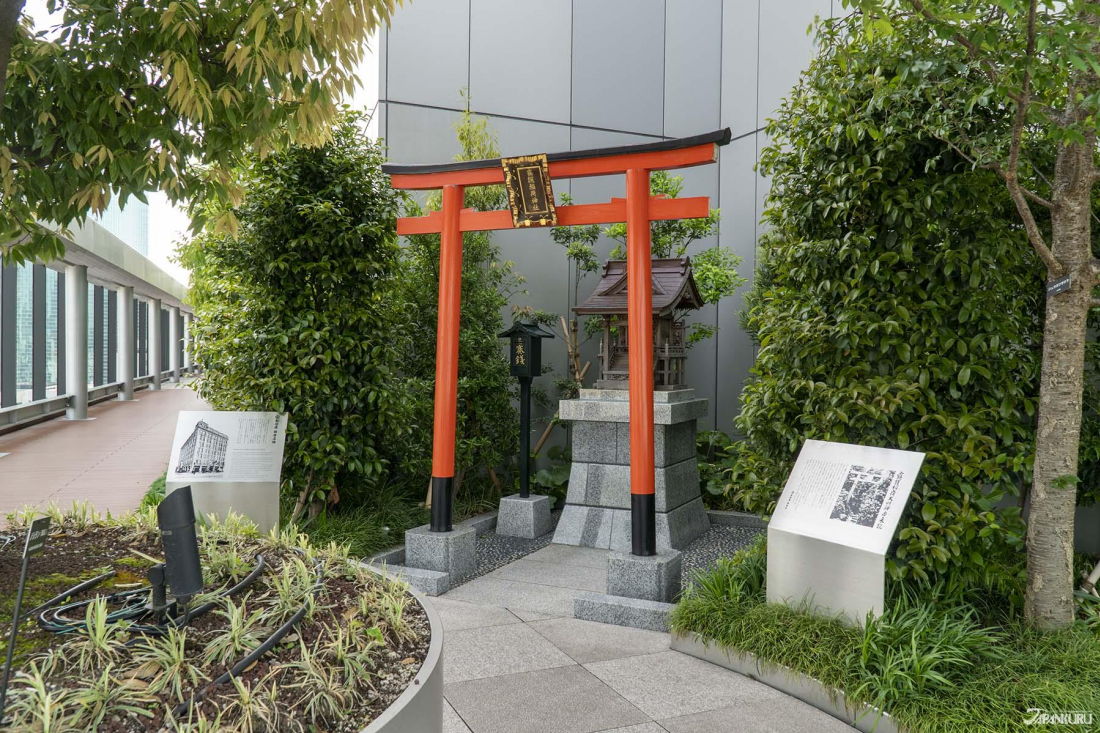 Kakugo Inari Shrine is compact, with a tiny altar and a gate that only a mouse might call "towering," but it sits firmly on the roof of the popular Ginza shopping facility Ginza Six, protecting its unlucky northeastern corner – the traditional location of the "demon gate" – from fires and other bad luck. Bathed in sunlight, surrounded by open blue sky, it might seem surprising to find a shrine so high above the city, but it's actually nothing new. Before Ginza Six was constructed in 2017, this spot in the center of the city was instead home to the Matsuzakaya Ginza department store, and Kakugo Inari Shrine was built on the older building's rooftop instead! This shrine has been floating among the clouds of Ginza for almost 100 years now, waiting for visitors to make their way to the top of the building and share their prayers.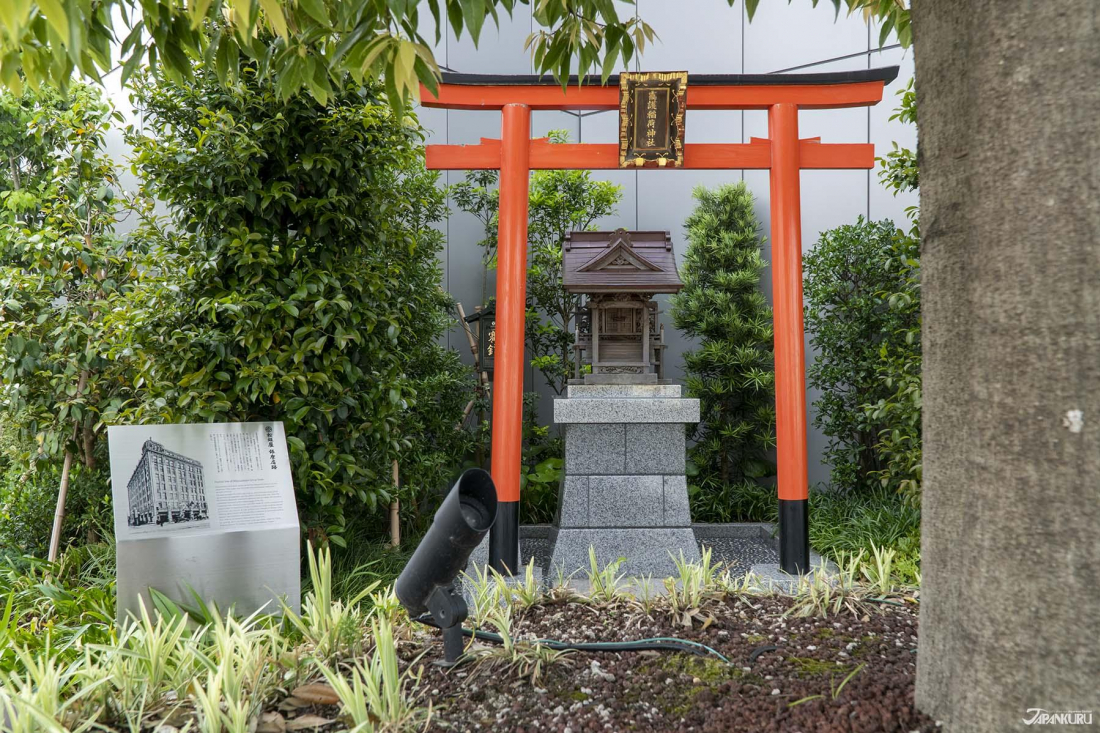 Kakugo Inari Shrine (靍護稲荷神社)
6-10-1 Ginza, Chuo City, Tokyo
Next time you head to Ginza, Inari is waiting!
For more info and updates from Japan, check Japankuru for new articles, and don't forget to follow us on Twitter, Instagram, and Facebook!