How to Use Tokyo Water Taxis to Cruise Across Tokyo
The Tokyo Water Taxi service is a fun addition to any trip to Tokyo, whether you want to whip across the city to see the sights, or just float around Tokyo Bay in the sunlight. Find out how to reserve a Tokyo Water Taxi for your own adventures!
What Is a Tokyo Water Taxi?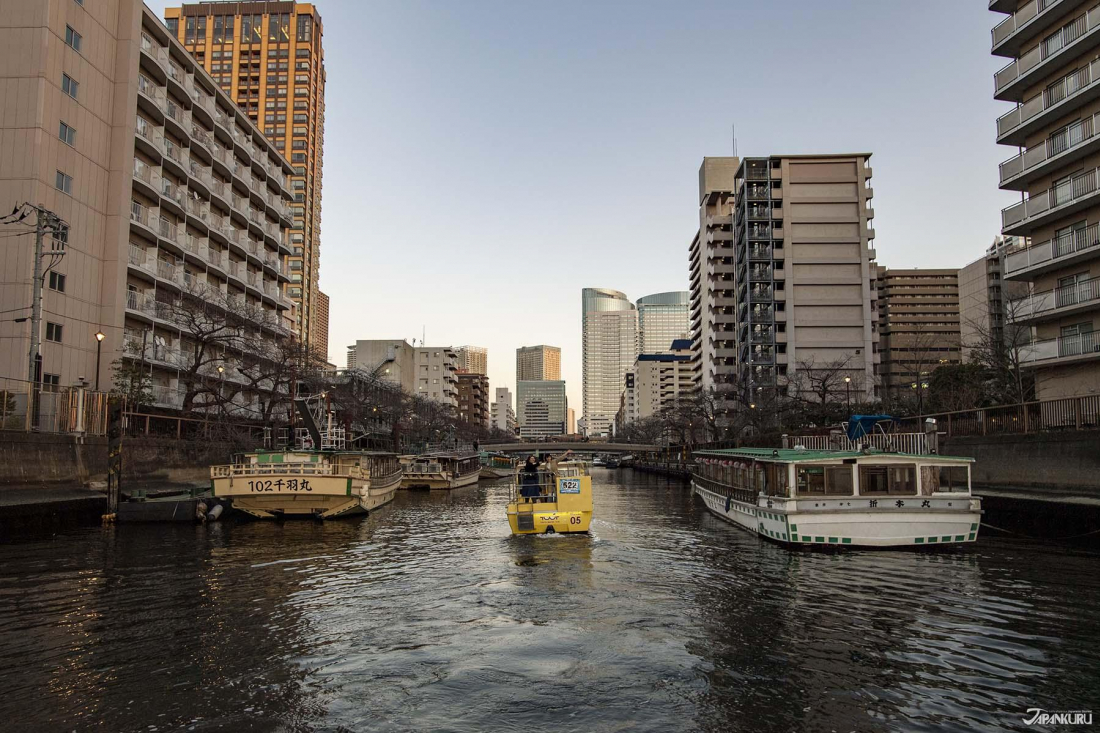 Unique sightseeing, convenient transportation, plus a relaxing cruise across Tokyo Bay – Tokyo Water Taxi offers a whole new way to see Tokyo. These small boats can be hired for a quick trip zipping through Tokyo's narrow canals, or a more leisurely escapade down the city's rivers and out onto Tokyo Bay, and all along the way the experience offers up views of the city that you won't find anywhere else. See Tokyo Skytree from the water and Odaiba across the waves, hold a party out in the open air, and enjoy this secret side of Tokyo!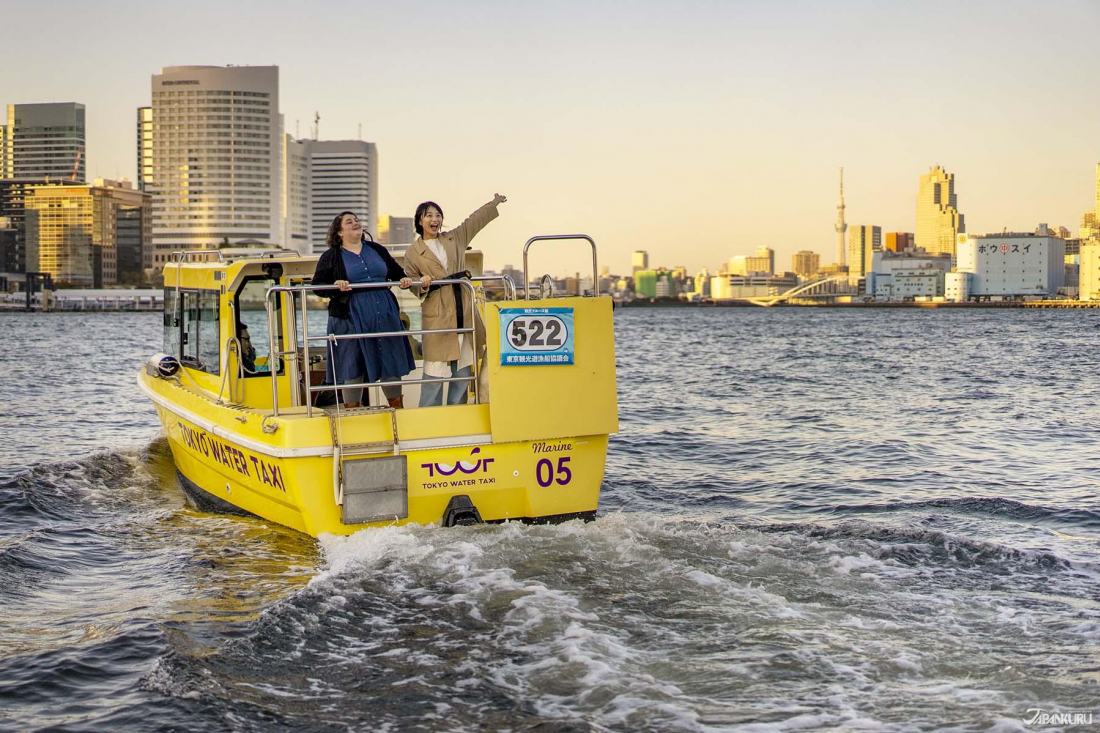 Just like Tokyo's crowded trains, a Tokyo Water Taxi can take you between some of the city's most popular neighborhoods and must-see attractions, but the similarities probably end there. Instead of getting bodily squished into a crowded train car, you can just hop on a Tokyo Water Taxi for a private trip through the city in a comfortable cabin (heated and cooled) with a total of up to eight of your friends (or more for families with young kids), complete with its own deck for taking pictures and enjoying the fresh air. The recently updated online reservation system makes it easier than ever to call a water taxi, so bring some snacks and drinks, even bring your dog if you want, and get ready to take a peek at the hidden heart of Tokyo!
Tokyo Water Taxi (東京ウォータータクシー)
Official Website (jp)
Popular Water Taxi Routes
① The Tokyo Cruise
Tokyo Skytree ~ Odaiba | Bay Zone Cruise | 90 min | 32,000 yen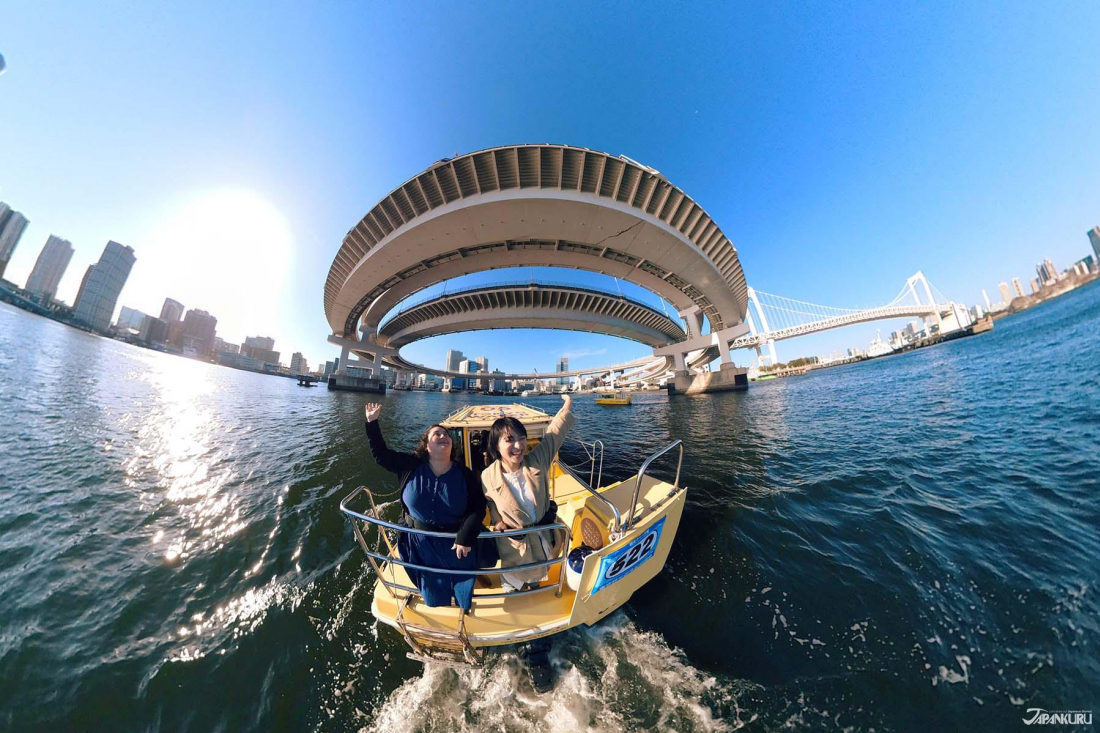 For travelers looking to experience the ultimate Tokyo Water Taxi ride, dive right in with this trip that starts from Tokyo Skytree, cuts through the peaceful canals of busy central Tokyo, and ends at the bayside parks and attractions of Odaiba. Not only does the route take you past Tokyo's two biggest towers (Tokyo Skytree and Tokyo Tower itself), under scenic bridges too low and waterways too narrow for big ferries, and within view of other Tokyo landmarks, but the "Bay Zone" option adds extra time out on the water. Bring your friends, your family, even your dog (allowed on board at most docks) for a relaxing outing on the water!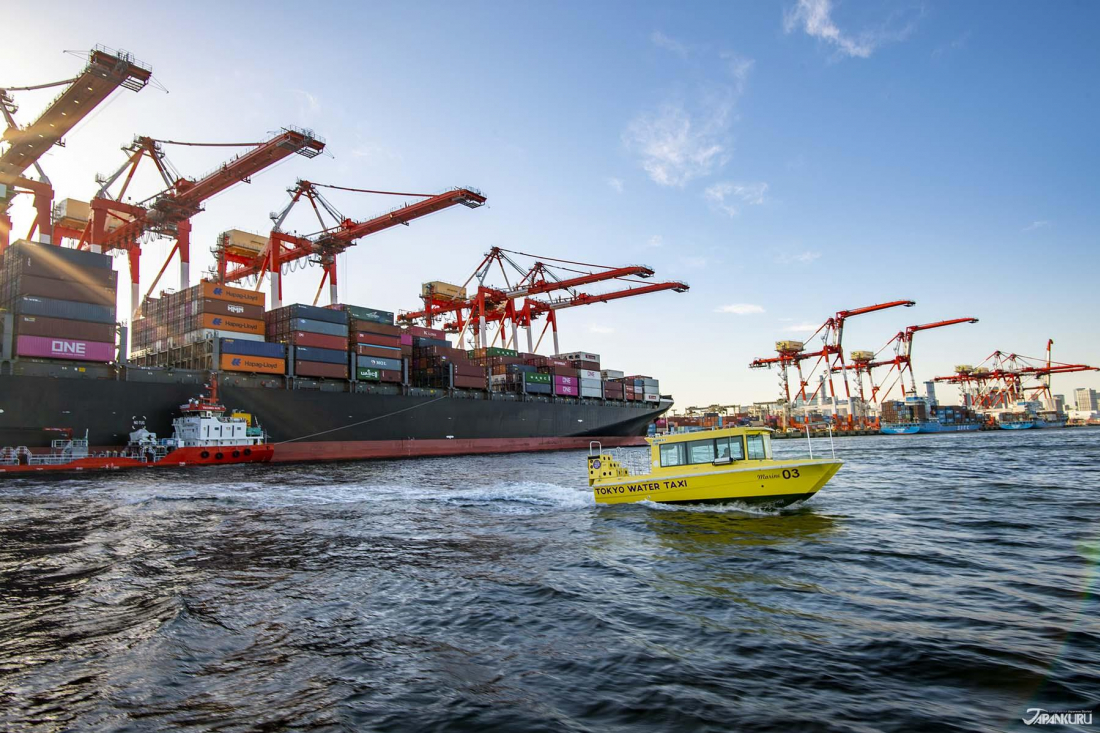 This particular plan heads out into Tokyo Bay, offering glimpses of Tokyo's port area that the average sightseer will miss out on entirely. See Rainbow Bridge and its "loop" from below, check out fortifications that have been standing in the water since the Edo period (1603-1868), and get surprisingly close to the enormous container ships and cranes that make Tokyo a working port to this day. Then head back towards Odaiba to see the iconic Fuji TV building, wave hello to Tokyo's own Statue of Liberty, and step off the boat right into Odaiba Seaside Park (steps away from the life-size Gundam robot).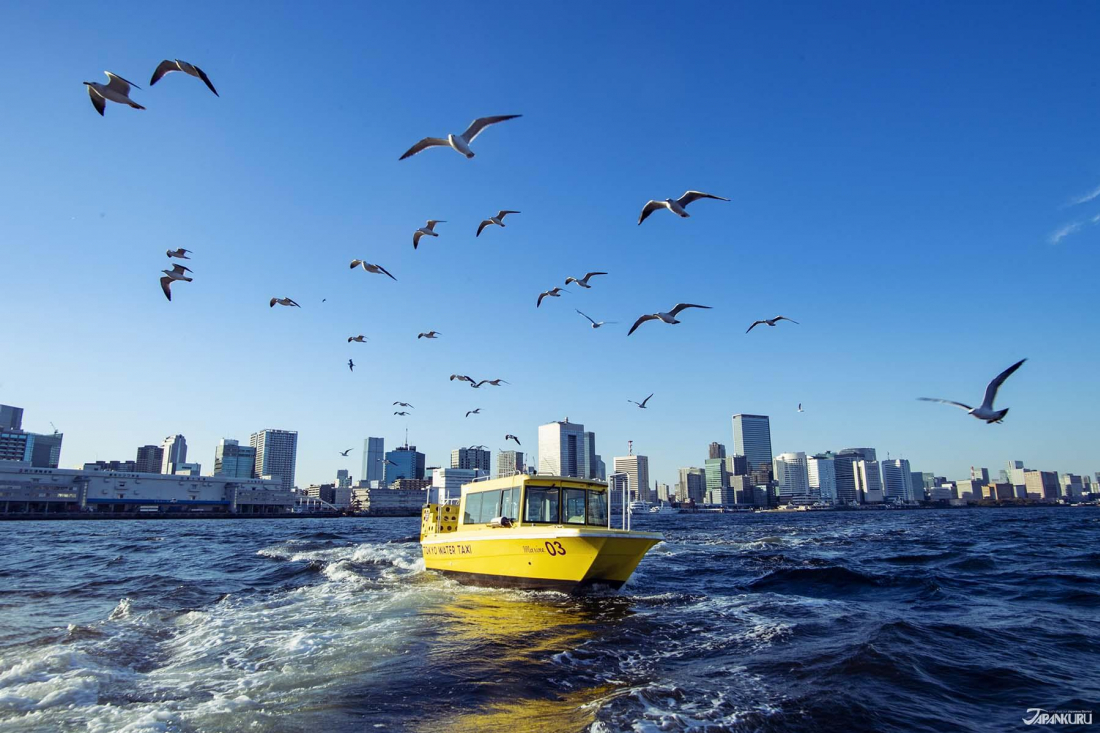 Hoping to see a little local wildlife on your trip to Tokyo? The concrete and steel of the big city doesn't give animals a lot to work with, but out on Tokyo Bay, the gulls come out to play! Book a ride during the colder months of the year to see black-headed gulls on their yearly migration, and call them over with bits of bread to help Tokyo Water Taxi collect data on the birds to share with a local wildlife research organization that tracks global migrations.
② The Sightseer's Delight
Asakusa ~ Toyosu | Heritage Zone Cruise | 75 min | 29,000 yen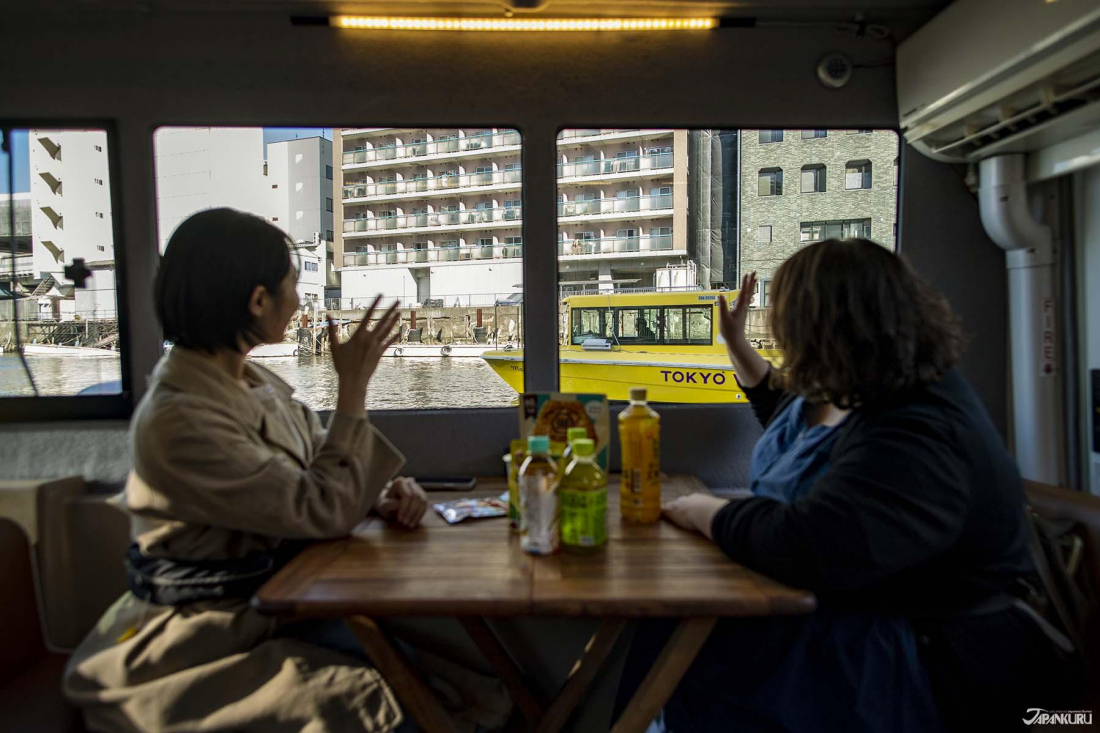 Is your travel itinerary all about packing historic Tokyo and its modern attractions together into one adventure? The city has actually had "water taxis" for hundreds of years (although they weren't always sunny yellow with purple detailing), so this is the traditional way to do it – with a route made for the consummate sightseer! Start your day in Asakusa at Tokyo's oldest temple, Sensoji, before catching your Tokyo Water Taxi at the nearby dock for a cruise down the Sumida River. You can even enjoy lunch aboard, either by picking up something to-go from around Asakusa, or ordering delivery right to the boat before you set off! (You can totally arrange a pizza party on board, or just bring some cold beers and blast your favorite tunes. Trust us, we checked.)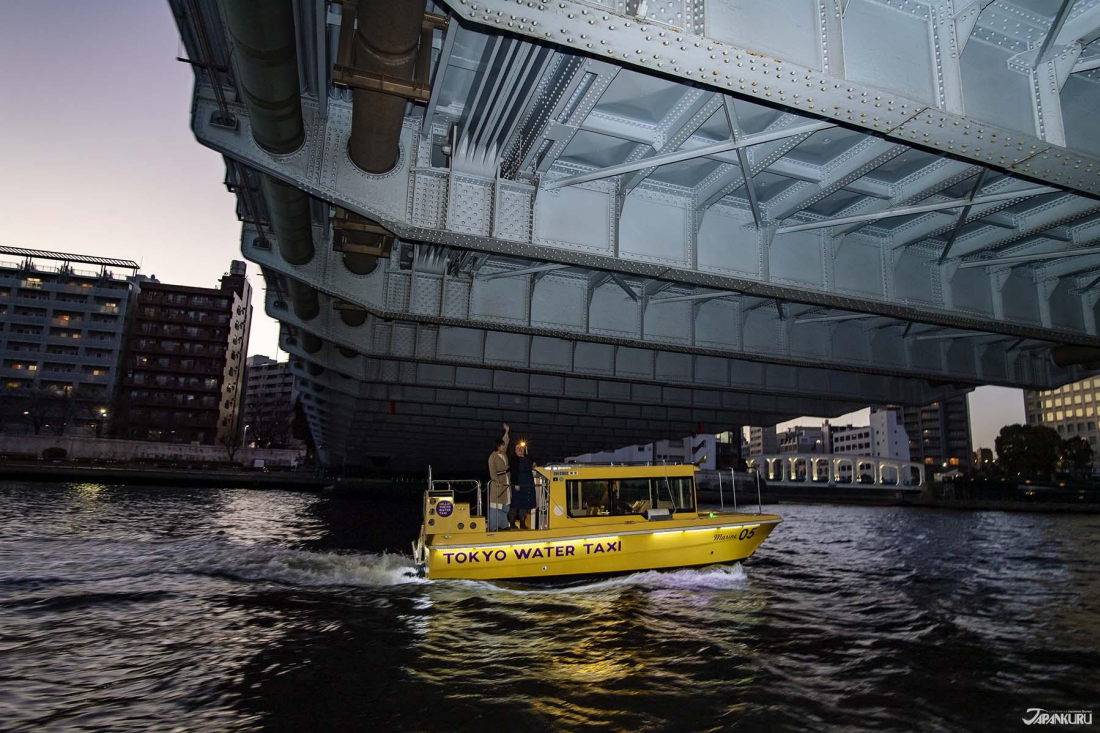 This route heads downstream past the sumo stables of Ryogoku and the busy office buildings spreading out from Tokyo Station, and offers views of Tokyo Tower and Tokyo Skytree as well (although not from quite as close as Skytree dock). Choosing the "Heritage Zone" option for this trip also adds some extra sights – the boat will veer off into the narrow canals around Asakusabashi, and then slip through the maze of recaptured land that fills the mouth of Tokyo Bay, passing by both Tsukiji Market and the wild beauty of Hamarikyu Gardens, which once belonged to the city's samurai. This trip finally finishes at Tokyo Water Taxi's Toyosu port, which is just a few minutes on foot from one of Tokyo's most innovative attractions, TeamLab Planets. Traverse your way from an ancient Buddhist temple to a modern digital art experience in the course of one relaxing cruise!
③ The Goodbye Tour
Nihonbashi ~ Haneda Tenkubashi | Direct Cruise | 77 min | 34,000 yen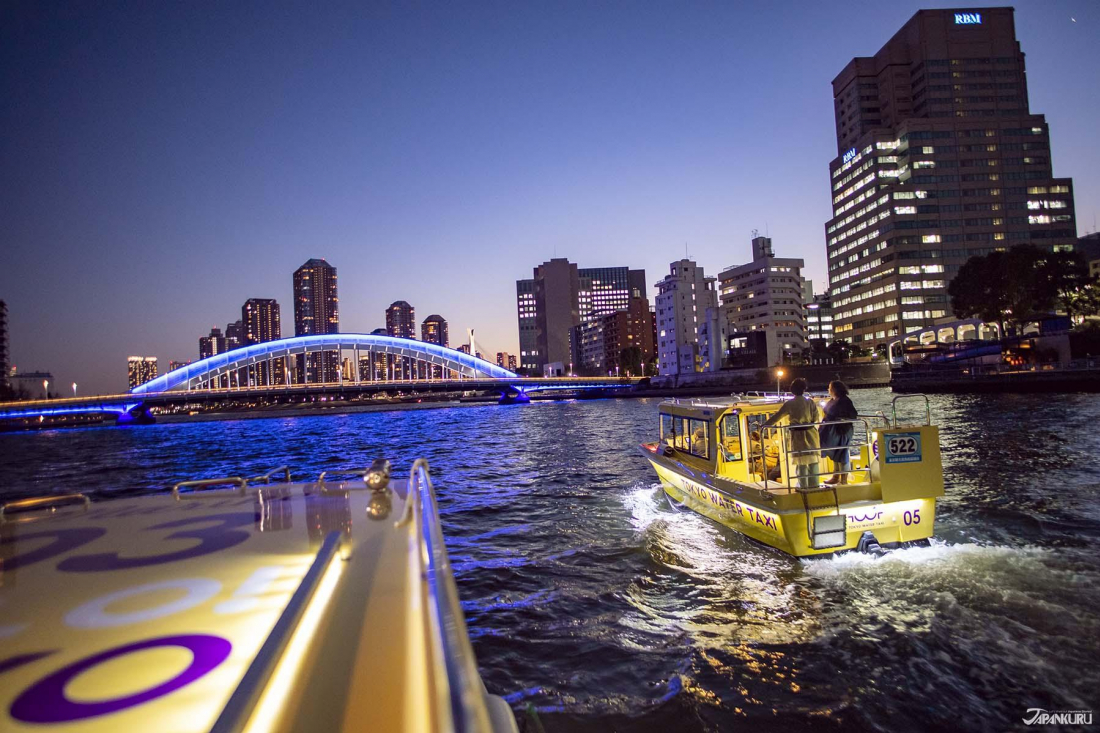 There's nothing so bittersweet as leaving Tokyo after a jam-packed stay in the city, but if you're flying out of Haneda Airport, you can at least use Tokyo Water Taxi to say one final farewell to Tokyo as you enjoy a relaxing trip across town! This is a great option if you're staying in a hotel near any one of Tokyo Water Taxi's dozen or more boat docks, including Nihonbashi – an area many travelers choose for its proximity to Tokyo Station. One of the missions of the Tokyo Water Taxi operators is to have a fleet of boats ready to help in case of a natural disaster emergency, which means the taxis have access to lots of little boat docks close to convenient hotels.
Even the "Direct" option for this route takes you on a unique path through Tokyo's waterways and past the Odaiba landmarks, offering up a chance to see Tokyo from a brand new angle! And after motoring quickly through the water, the boat drops you off at the port of Haneda Tenkubashi, which is just one stop (under five minutes) from Haneda Airport on the Tokyo Monorail. Forget busy trains or city traffic – getting to the airport has never been so refreshing.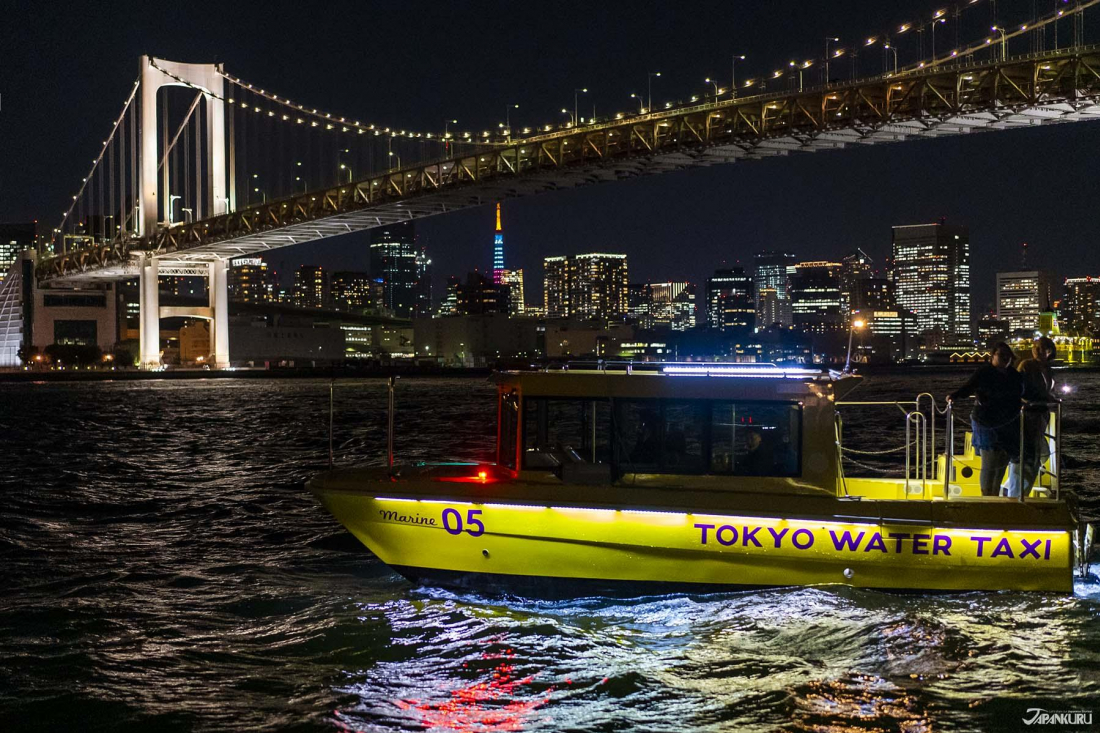 This journey might be even more magical at night, when Tokyo is lit with glittering lights. You can even do the trip backwards to get from the airport into the city when you arrive – let your first view of Tokyo be the twinkling skyline and the glowing beacon of Tokyo Tower in the distance!
How to Reserve a Tokyo Water Taxi
Thanks to Tokyo Water Taxi's brand new reservation page, it's easier than ever to plan your next trip across Tokyo Bay – or decide on something a little more spur of the moment. The reservation system allows you to book trips up to two months in advance, so while last-minute plans aren't out of the question, booking early will give you the best flexibility! It really is a convenient way to get across the city, before you even get to the great views that sweeten the deal. The reservation process isn't overly complicated, but you can follow the directions below for a step-by-step walk-through!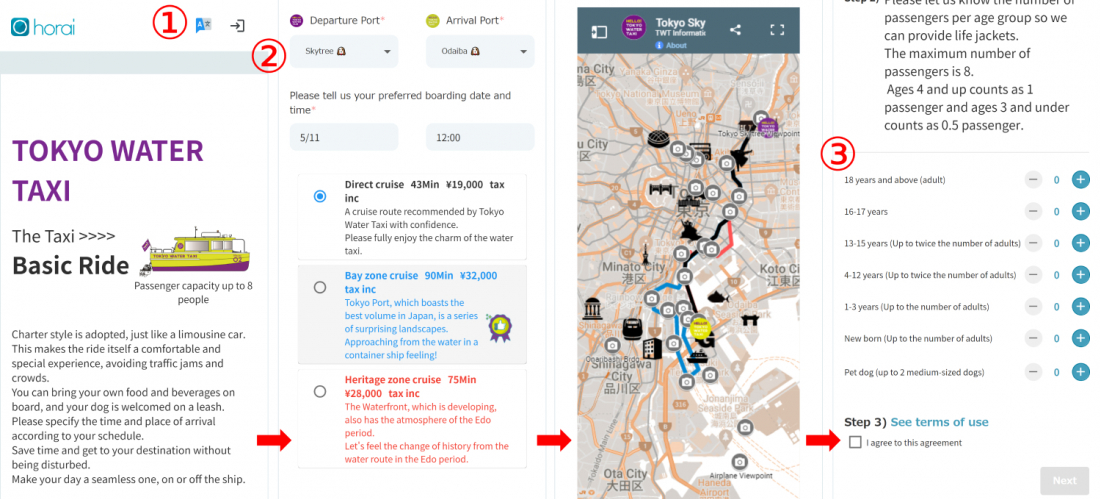 ① Once you've arrived at the reservation page, tap the translation icon to make sure you're it's set your preferred language. Options now include English, Chinese, Korean, and of course Japanese.
② Plan your trip with all the customizable options! You can choose departure and arrival spots, the date and time, and even adjust the length/route of the outing. As you might have noticed from the popular routes above, "Direct" is for a quick, direct ride, "Bay Zone" lets you spend some extra time out on Tokyo Bay, and "Heritage Zone" will shift the route to take you past extra historical sites. As you adjust your trip, the possible routes will show up color-coded on the map, alongside icons indicating landmarks and popular photo spots.
③ Up to eight adults, or a slightly larger number of adults and children, can ride a Tokyo Water Taxi. Choose the correct number of passengers, check the terms of use, and head to the next page!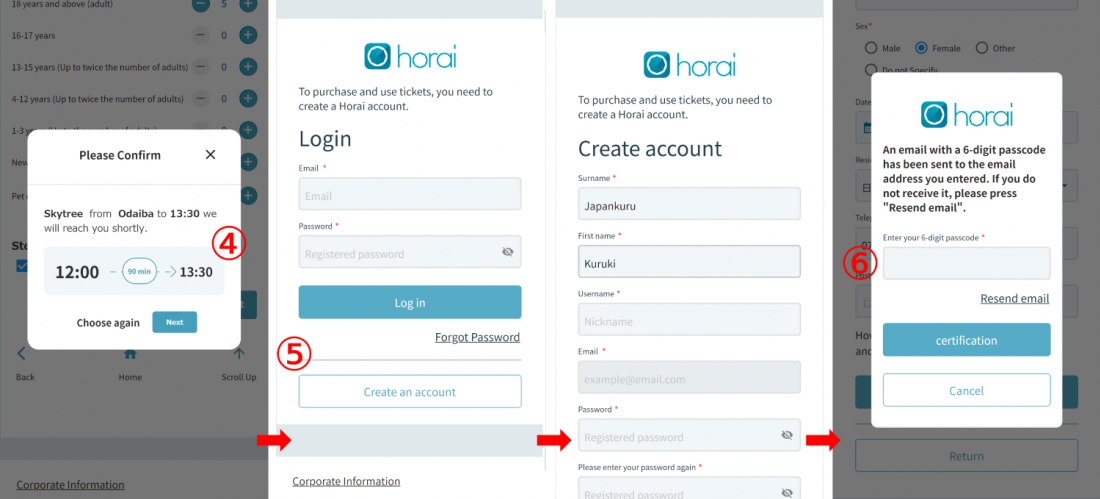 ④ But first, a quick pop-up! The language is a little confusing, but it's just confirming the time and location of your departure and arrival.
⑤ To complete the reservation, a Horai account is required. If you already have one, great! Otherwise, click "Create an account," enter your information and…
⑥ Confirm your e-mail address. Then continue on by pressing "certification."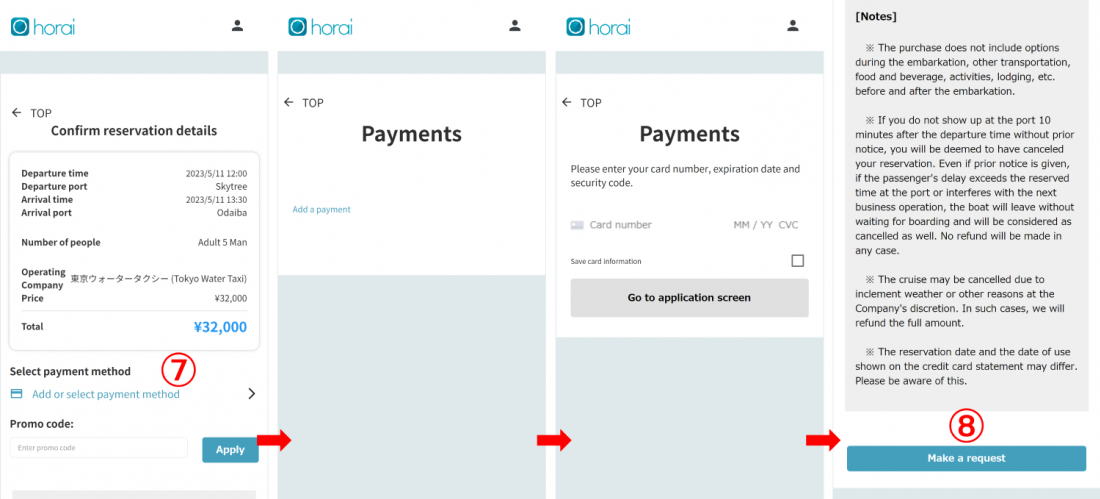 ⑦ The next page lists all your trip details, so once you've confirmed that all the information looks right, you can move onto entering payment information. Click "Add or select payment method" and then "add a payment" to enter your credit card details, and then confirm it by pressing "Go to application screen."
⑧ Once you're back on the confirmation screen with your credit card information submitted, just press "Make a request" at the bottom of the page to submit your reservation request, and you'll get an e-mail from the taxi operators once they've confirmed your reservation details. Now you're all set!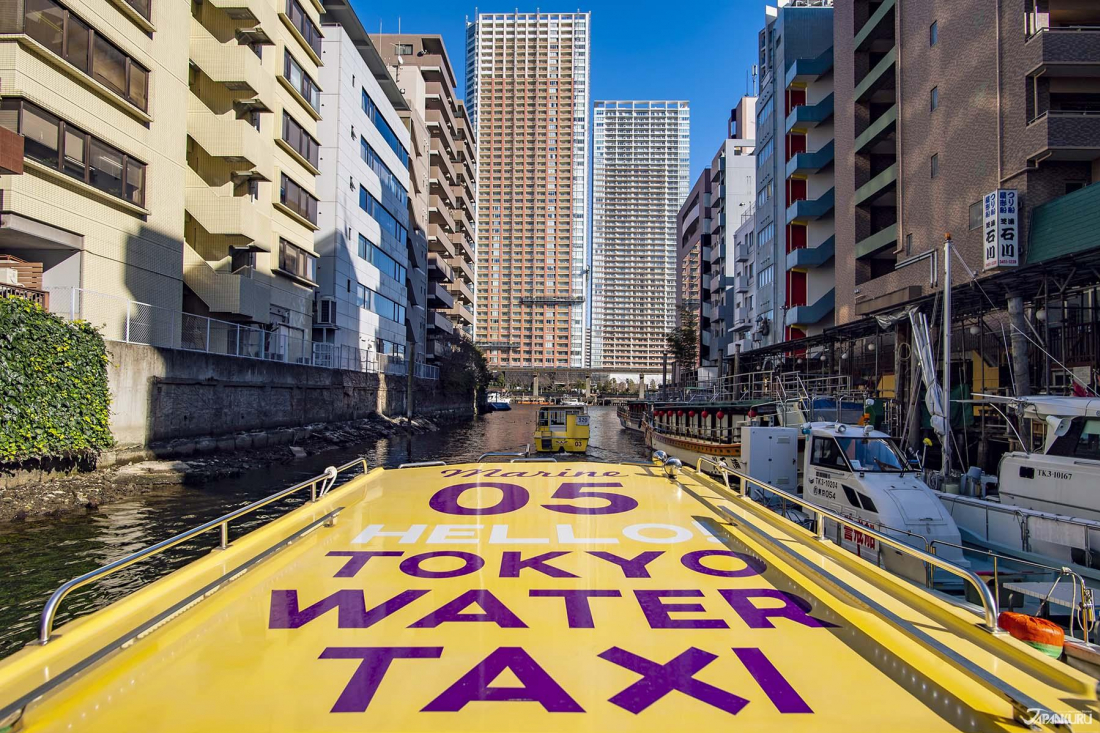 With your trip reserved and the route all planned out, all that's left is to enjoy the ride! Don't forget your camera, or at least an extra phone charger, and some snacks to enjoy on board. A new side of Tokyo is just waiting to be discovered!
For more info and updates from Japan, check Japankuru for new articles, and don't forget to follow us on Twitter, Instagram, and Facebook!