Odaiba's Most Convenient Hotel – Relax & Unwind in Tokyo at Hilton Tokyo Odaiba
A Tokyo hotel next to the station, or a hotel with views of Rainbow Bridge? You don't have to choose at Hilton Tokyo Odaiba!
Hilton Tokyo Odaiba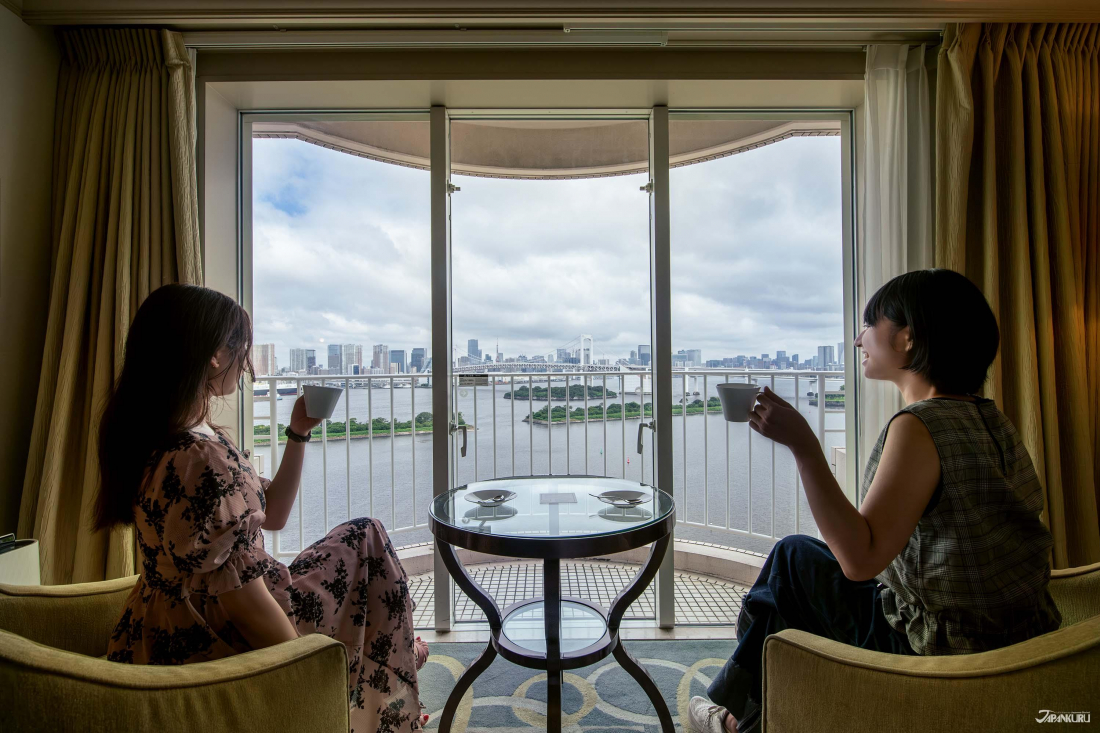 Wish your next trip to Tokyo could feel a little more like a resort getaway? Hilton Tokyo Odaiba sits right on the edge of Tokyo Bay with all the grandeur of a seaside resort, sweeping along the waterfront in a 15-story curve looking out at Odaiba and the Tokyo skyline. Despite the scenic surroundings, the hotel is also conveniently placed for sightseers and business travelers alike, with attractions in easy walking distance, and a station directly next door to take passengers anywhere in the city. Although guests might not want to go anywhere at all, with great food and leisure options right inside the hotel itself.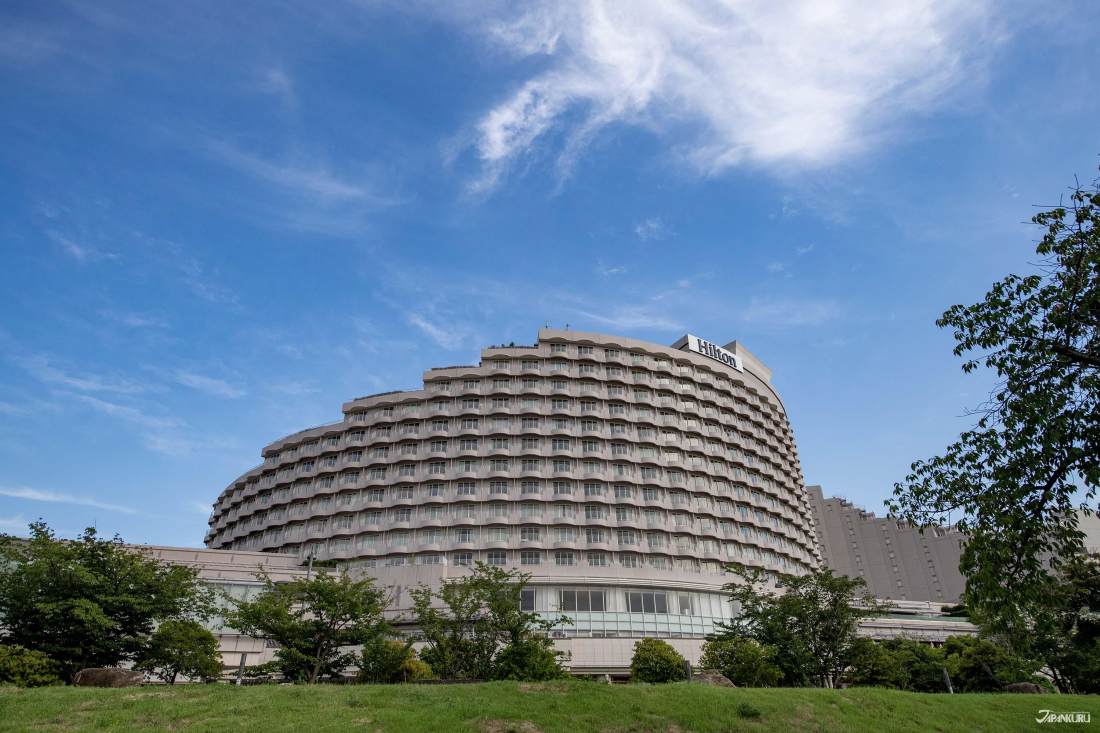 Hilton Tokyo Odaiba opened in 2015 with hopes of welcoming the increasing flow of international travelers arriving in Japan, which means the hotel is well-equipped to cater to the guests who arrive each day from around the world. There are plenty of opportunities to indulge in a little luxury as well, from complimentary glasses of sparkling wine at check-in to room amenities from popular brands like KOSE's Sekkisei, Decorté, and Crabtree & Evelyn. No matter what brings you to Tokyo, stay at Hilton Tokyo Odaiba for a relaxing trip to one of the world's biggest cities.
Hilton Tokyo Odaiba
1-9-1, Daiba, Minato-ku, Tokyo
Check-in/Check-out: 15:00/12:00
Phone: +81 3-5500-5500
Official Website (en) | Reservations
Only in Odaiba, Only at Hilton

To make the most of the spectacular location looking out over Tokyo Bay, check out Hilton Tokyo Odaiba's facilities that really take advantage of the great views. For a perfect Tokyo sunset, watch the sun sink behind the city skyline from the comfort of the hotel's terrace seating – available outside of the lobby restaurant Seascape, at the Japanese restaurant Sakura, or at the Executive Lounge. From many guestrooms, you can even open the sliding door to your balcony for an unobstructed view! Or for a novel way to enjoy the Odaiba landscape, head to An Spa Tokyo, on the hotel's 5th floor. The spa's large indoor pool is surrounded by tall windows, and the heated outdoor pool looks right out over Rainbow Bridge. (The spa offers massages and facials, too, for a little extra relaxation.)
Guestrooms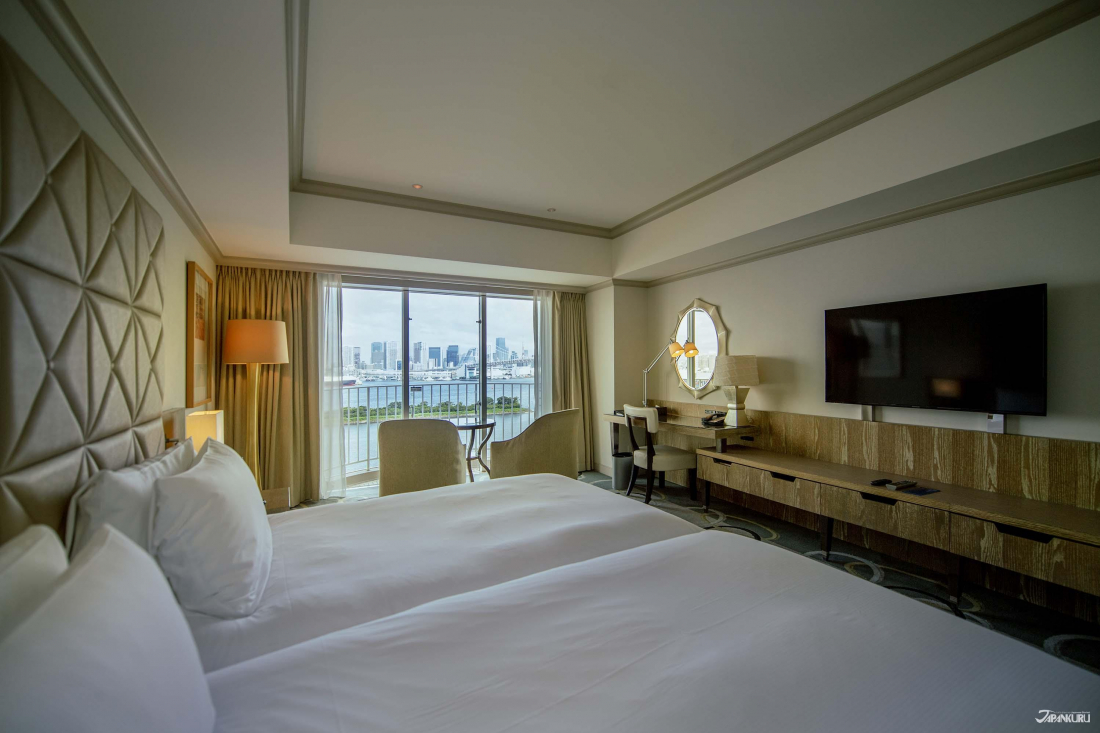 With over 450 guestrooms and more than a dozen different room options, there's something for every kind of traveler, including wheelchair accessible rooms and spacious family rooms that feel like a home away from home. Even the most basic rooms at Hilton Tokyo Odaiba have plenty of space to stretch out in (double the size of many Tokyo hotel rooms), a balcony, and comfortable seats to sit back in while you enjoy the view of Odaiba. Upgrade to any variety of Deluxe Room for an even more spectacular view of the waters of Tokyo Bay, with many rooms looking right out at the iconic Rainbow Bridge.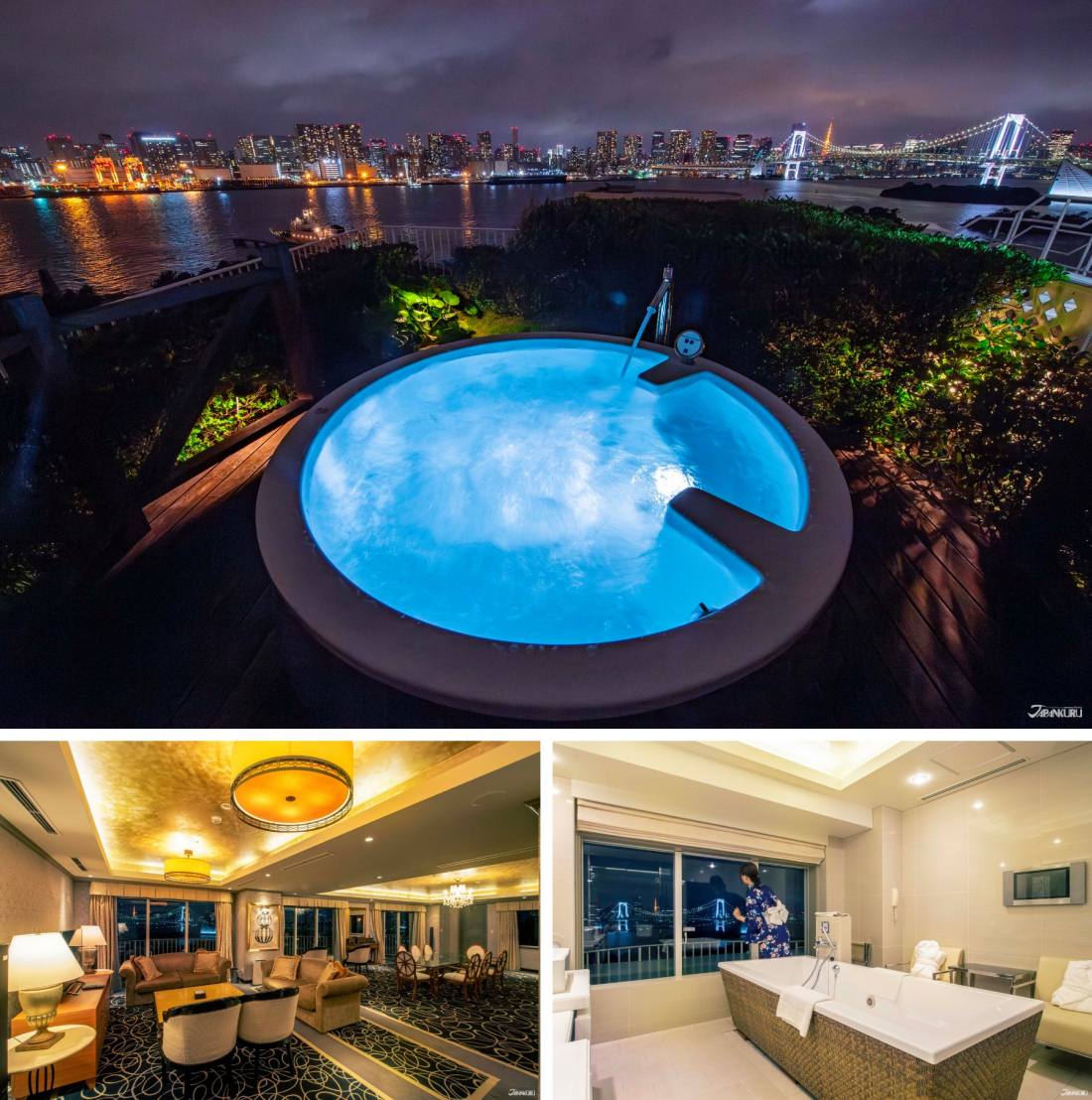 Executive Rooms come with additional access to the exclusive Executive Lounge, a stylish space with indoor and terrace seating to enjoy breakfast or a quiet drink while looking out at the Odaiba skyline. But for a particularly luxurious experience, choose one of the hotel's six different varieties of suite. These luxe options have enormous bathrooms, broad balconies looking out over the water, dedicated living areas, and extravagant additions like open-air jacuzzis.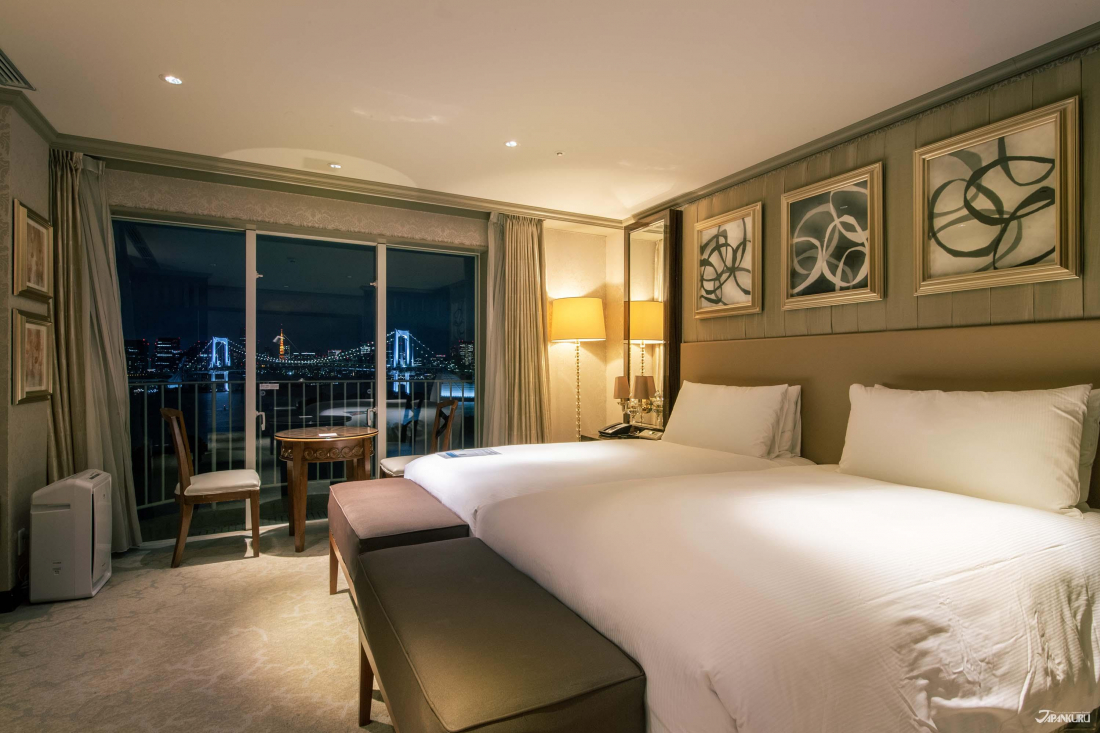 Of course, whether you're enjoying the view from your private jacuzzi, or just a normal guestroom balcony, the view is incomparably gorgeous after dark. You won't be able to take your eyes off the illuminated Rainbow Bridge and the glittering Tokyo Skyline.
Hotel Dining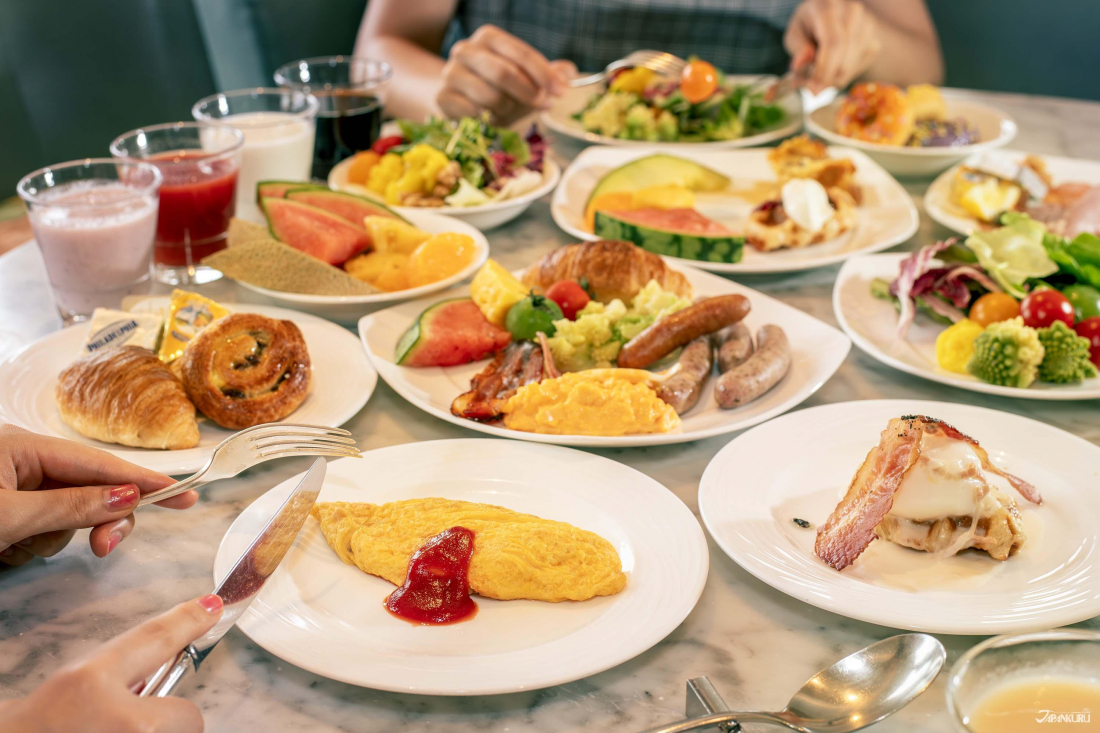 From morning to night, it's tempting to eat all your meals at the hotel's six different eateries. Starting at 7:00 every morning, the lobby restaurant Seascape serves a truly bountiful breakfast buffet. Want to try a Japanese breakfast? They've got rice, grilled fish, pickled plums, and more. Rather stick to bacon and eggs? No problem – they even have a counter serving up fresh omlettes and eggs benedict atop toasty croffles (croissant waffles). There are even more intriguing options to cater to a wide variety of palates, like Vietnamese pho-style noodle soup, rice porridge, and a colorful case of mini donuts too. All with a panoramic view of Odaiba right outside the window. (Seascape is open throughout the day for other meals, too!)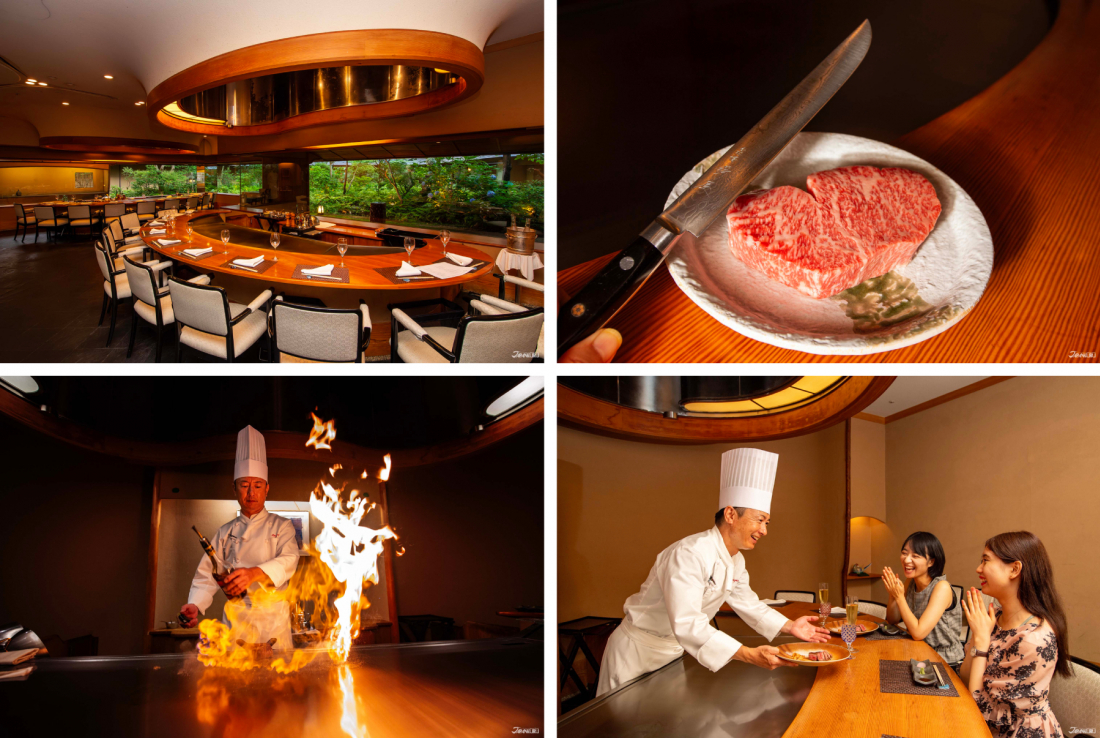 For an even more upscale dinner, a meal at Sakura is a must. The restaurant has curved walls and sculpted alcoves featuring traditional artisan crafts, plus windows looking in on traditional garden. It's divided into three areas for three different varieties of Japanese cuisine: traditional multi-course meals, sushi, and teppanyaki. Each area is tempting, but only one of the meal options comes with a dramatic flambé! Try the teppanyaki area of Sakura to see succulent seafood and marbled wagyu beef grilled to perfection in front of your eyes.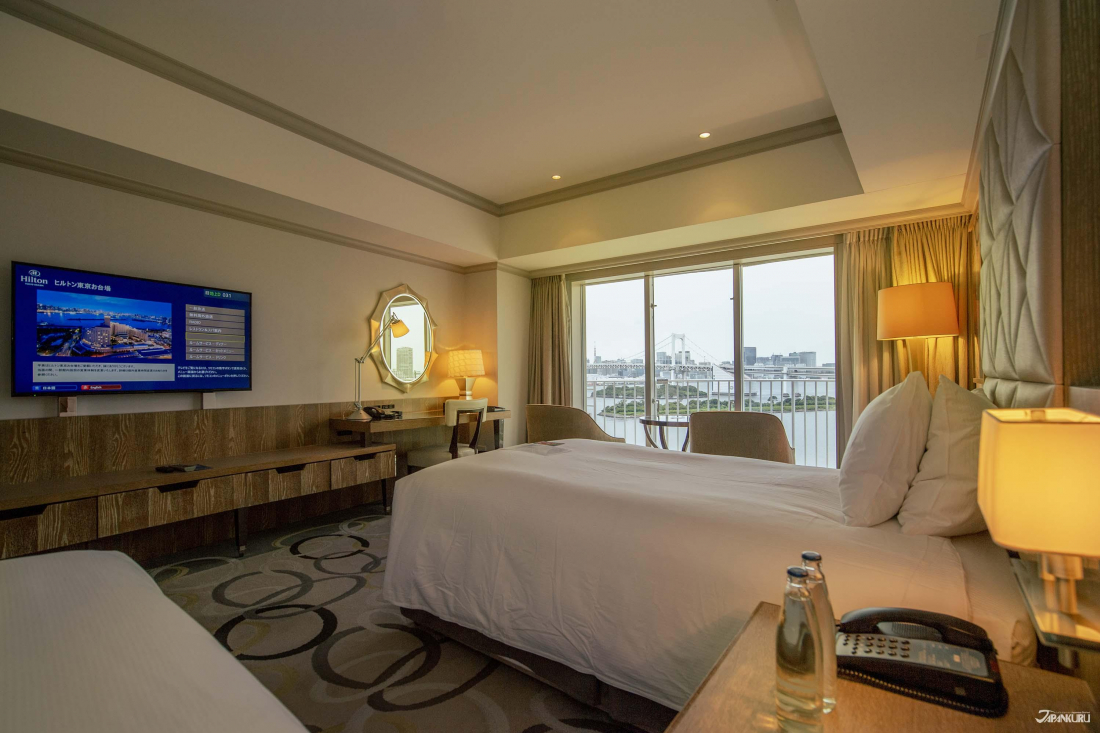 Of course, you could always get room service instead, for the ultimate breakfast in bed or relaxed dinner.
How to Get to Hilton Tokyo Odaiba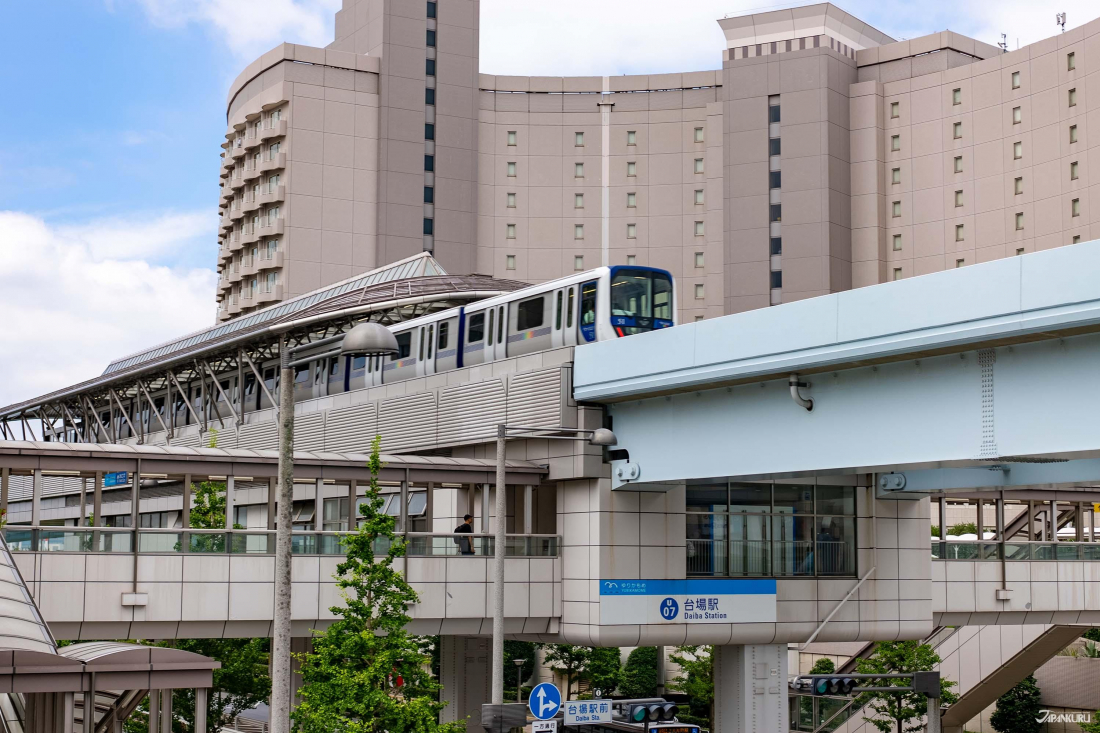 Getting to your hotel from the airport has never been easier thanks to the airport "limousine buses" that go directly from both of Tokyo's airports, Haneda and Narita, straight to Hilton Tokyo Odaiba. Haneda Airport is just 20 minutes away! Simply check the schedule for these shuttle buses on the official website and make your reservation for convenient door-to-door transportation!
The hotel is easily accessible for guests coming from anywhere other than the airport as well, along with guests whose schedules don't aline with the limousine bus. Daiba Station on Tokyo's Yurikamome Line is next-door to the hotel, and accessible via a short covered walkway. Transferring at Shimbashi Station, it's an easy trip from Tokyo Station (or either of the airports) right to the hotel.
Tokyo Sightseeing, Starting from Odaiba: 3 Recommendations to Get You Going
All Around Tokyo Bay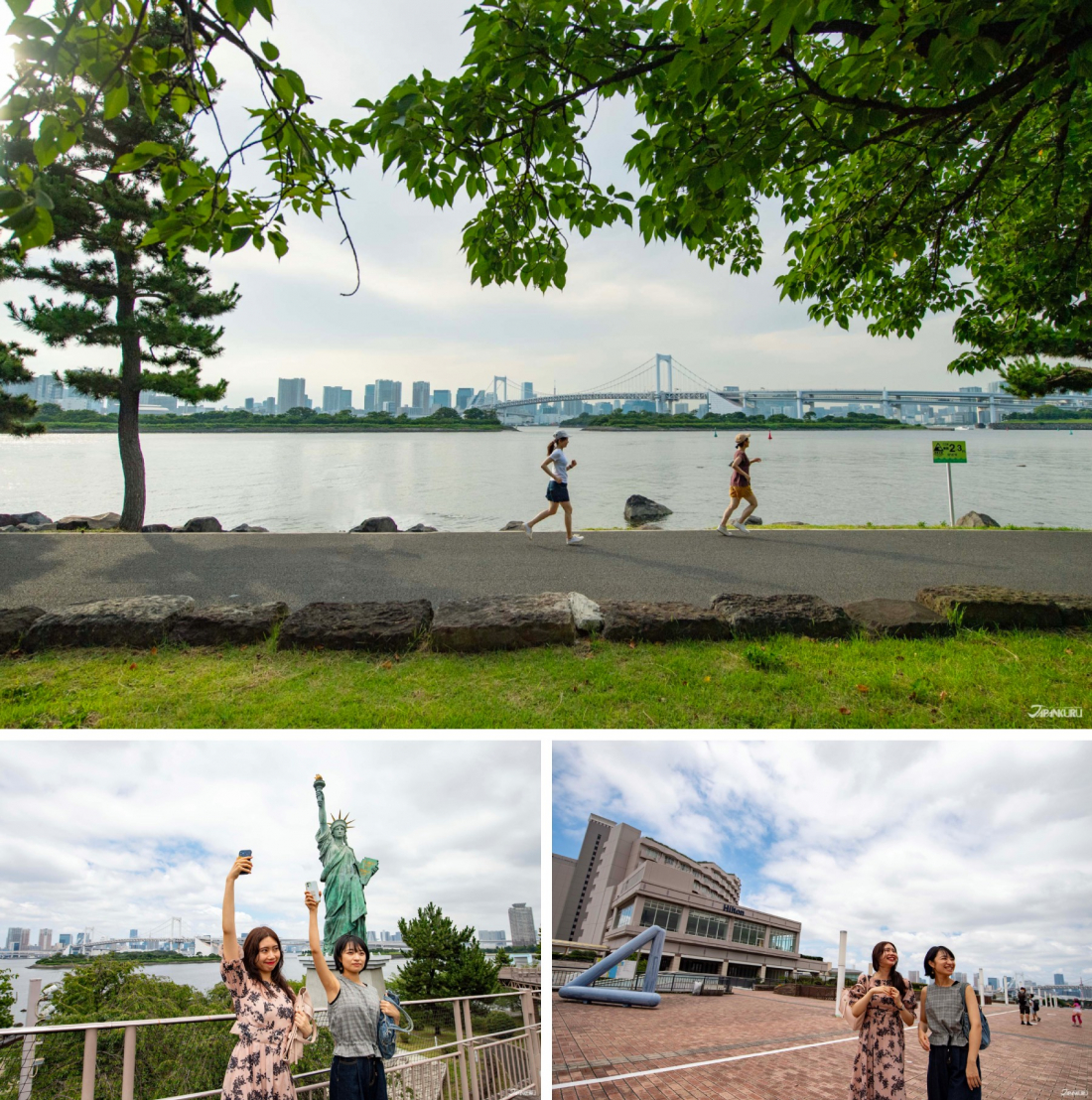 Hilton Tokyo Odaiba offers extremely easy access to Tokyo's excellent public transportation system, thanks to a station just outside the doors, which means the whole city is open for exploration. But guests staying in Odaiba don't have to go far to enjoy some of Tokyo's best shopping, eating, and entertainment. Popular tourist attractions like Odaiba's Rainbow Bridge, the mini Statue of Liberty, and the unique architecture of the Fuji TV building are even visible from many of the hotel windows! And Hilton Tokyo Odaiba offers guests the convenient opportunity to purchase tickets to some of Tokyo's most popular attractions right alongside their hotel reservations.
These days, the man-made islands built into Tokyo Bay are thriving, and there are some exciting developments post-pandemic. So start your day with a quick jog on the paths along the water, and a hearty breakfast at the hotel, then get ready for a full day all around Tokyo Bay!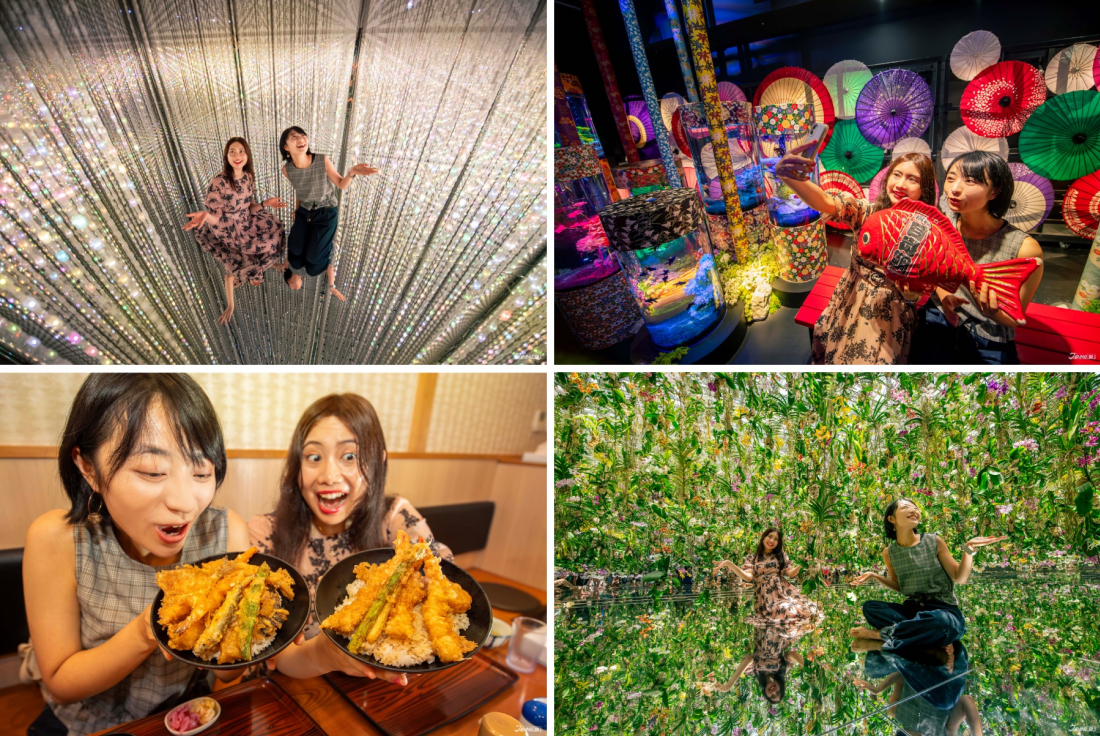 Walk just five minutes from the hotel through the bustling Aqua City Odaiba shopping mall to get to our first destination, the innovative UWS Aquarium GA☆KYO*. Despite being limited to a compact space inside a mall, this modern aquarium has five different zones each dedicated to "remixing" the elegance of Japanese design and the beauty of living goldfish in different ways, resulting in a kaleidoscopic feast for the eyes.
Take the Yurikamome Line just a few stops into the Toyosu area for our next stop, an even more immersive example of modern Japanese art and design: TeamLab Planets*. Japan's TeamLab artist collective has gained fame in recent years for their exhibitions and installation art made to experience with all five senses, equally beautiful in person and on camera. TeamLab Planets is their semi-permanent facility in Toyosu, famous for rooms of glittering LED lights and a digital koi pond for visitors to step right into!
Ready for lunch? The Toyosu area is famously the new location for Tokyo's wholesale fish market (the successor to Tsukiji Market), which means the restaurants surrounding the market offer some of the most fresh and delicious seafood in the city. We recommend the tempura rice bowls at Tenfusa Tempura, full of fresh fish, shrimp, or even scallops, all coated in a light shell of crisp tempura batter for the perfect crunch.
*Tickets available through Hilton Tokyo Odaiba.
UWS Aquarium GA☆KYO (アク和リウムGA☆KYO)
Aqua City Odaiba, 1-7-1 Daiba, Minato City, Tokyo
Official Website (en)
TeamLab Planets (チームラボプラネッツ)
6-1-16 Toyosu, Koto City, Tokyo
Official Website (en)
Tenfusa Tempura (天ぷら 天房)
6-3-25 Toyosu, Koto City, Tokyo

For a relaxing afternoon, we'll be heading just a few more stops on the Yurikamome Line to Ariake, where a lot has changed since pre-pandemic days – museums, shopping, and even hot spring spas have popped up in the past few years. Small Worlds Miniature Museum* hosts a whole world of miniatures with a whimsical sense of humor, creating scenes of real-life locations, fantasy realms, and even popular animes (Sailor Moon & Evangelion!) on a teeny-tiny scale. The miniatures are constantly moving, with places to interact and change the scenes, and there are plenty of easter eggs for visitors with a sharp eye!
About five minutes away on foot is Ariake Garden, a new shopping mall with one of the world's biggest Muji locations. There's plenty of shopping and eating to be found here, but even better, the facility also has its own onsen! Called Izumi Tenku no Yu, this spa facility has natural hot spring baths and saunas, high in the sky on the edge of Tokyo Bay.
Before calling it a night, take the Yurikamome Line back to Odaiba (Odaiba-kaihinkoen Station) for a taste of retro Tokyo! "Daiba 1-Chome Shopping Street" can actually be found on the 4th floor of Decks Tokyo Beach shopping mall, but walking down the "street" feels like stepping into a vintage Japanese movie. Posters advertise the biggest hits of the 1960s, '70s, or '80s, shops sell old-fashioned snacks and classic candy, and the 1-Chome Playland arcade has all the best retro games of decades past. Play until closing time to relive old memories, and create some new ones here in Tokyo!
*Tickets available through Hilton Tokyo Odaiba.
Small Worlds Miniature Museum (スモールワールズ)
Ariake Butsuryu Center, 1−3−33 Ariake, Koto City, Tokyo
Official Website (en)
Izumi Tenku no Yu, Ariake Garden (泉天空の湯 有明ガーデン)
2-1-7 Ariake, Koto City, Tokyo
Official Website (jp)
Daiba 1-Chome Shopping Street, Decks Tokyo Beach (台場一丁目商店街 デックス東京ビーチ)
1-6-1 Daiba, Minato City, Tokyo
Official Website (jp)
River Routes & Deep Dives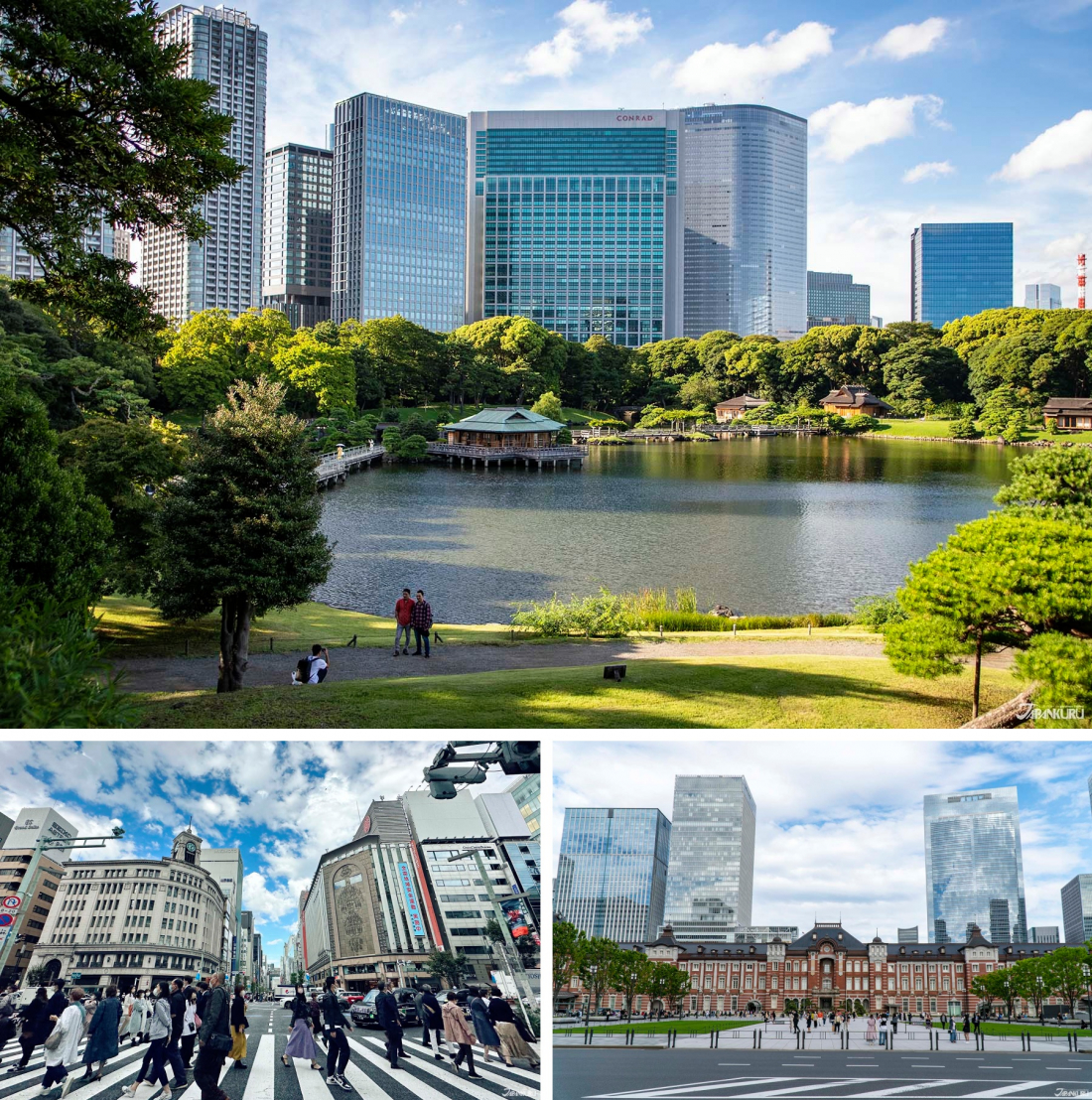 Tokyo's waterways offer a fresh new angle on some of the city's most popular areas, very different from the views you see when traversing the bustling sidewalks. So we recommend a day seeing some of Tokyo's liveliest neighborhoods on foot before admiring it all from on deck! Start your morning by taking the Yurikamome Line to Shiodome Station to visit Hamarikyu Gardens for a refreshing morning walk, soaking up the atmosphere of this parkland that acted as a hunting ground on the edge of Tokyo Bay for Tokyo's samurai in centuries past. Then head north from the park to see some of Tokyo's busiest business and shopping areas, humming with crowds of office workers and sightseers: pass through the office-lined streets of Shinbashi, do some high-end shopping in Ginza, then catch a glimpse of the iconic red-brick building of Tokyo Station! When you're done, find the nearest stop on the Asakusa metro line – we're heading to Tokyo Skytree!
Hamarikyu Gardens (浜離宮恩賜庭園)
1-1 Hamarikyuteien, Chuo City, Tokyo
Official Website (jp)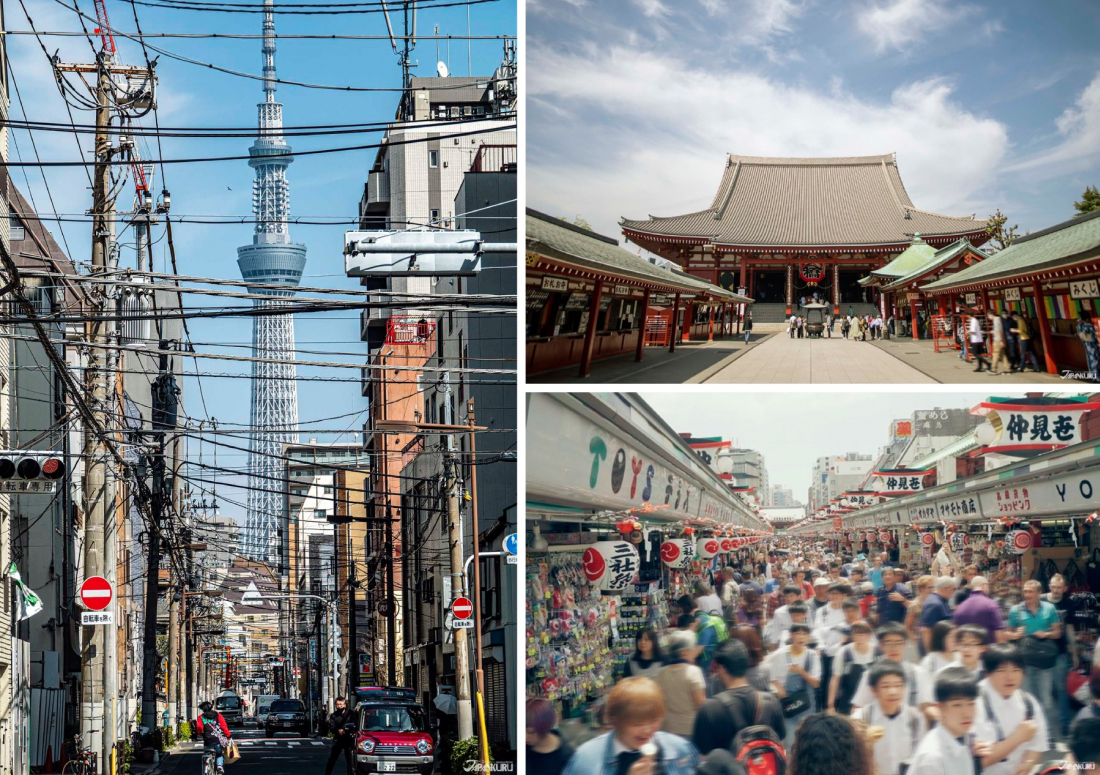 Tokyo Skytree is the highest tower in the world, so it's no surprise that the observatory windows look out over the whole city, giving the impression you might be flying over the tiny streets down below. It feels like you could almost jump to the peak of Mount Fuji, clearly visible on the horizon on days with good weather. Down below, Tokyo Skytree is surrounded by shops and restaurants, an aquarium, a planetarium, and even the Postal Museum Japan, making it a pretty good spot for a mid-day break!
Don't spend too much time at Skytree, though, because the rest of this afternoon is devoted to Tokyo's most traditional neighborhood, Asakusa (easily accessible via the Tobu Line). Rent a kimono to get into the Asakusa spirit, then explore the area's traditional charms! Sensoji Temple is Tokyo's oldest, and the bustling Nakamise shopping street bridges the gap between the temple halls and the iconic Kaminarimon Gate with its big red lantern. The covered shopping streets branching off from this central destination are full of shops selling traditional items that make great souvenirs, alongside counters offering more and less traditional Japanese sweets (everything from manju buns to cream-filled melon bread). It's easy to while away the hours wandering through Asakusa, but tonight's grand finale is still to come. Return your kimono rental or keep it on for more great pictures – plenty of rental places offer overnight options!
Tokyo Skytree (東京スカイツリー)
1-1-2 Oshiage, Sumida-ku, Tokyo
Official Website (en)
Sensoji Temple (浅草寺)
2-3-1 Asakusa, Taito City, Tokyo
Official Website (en)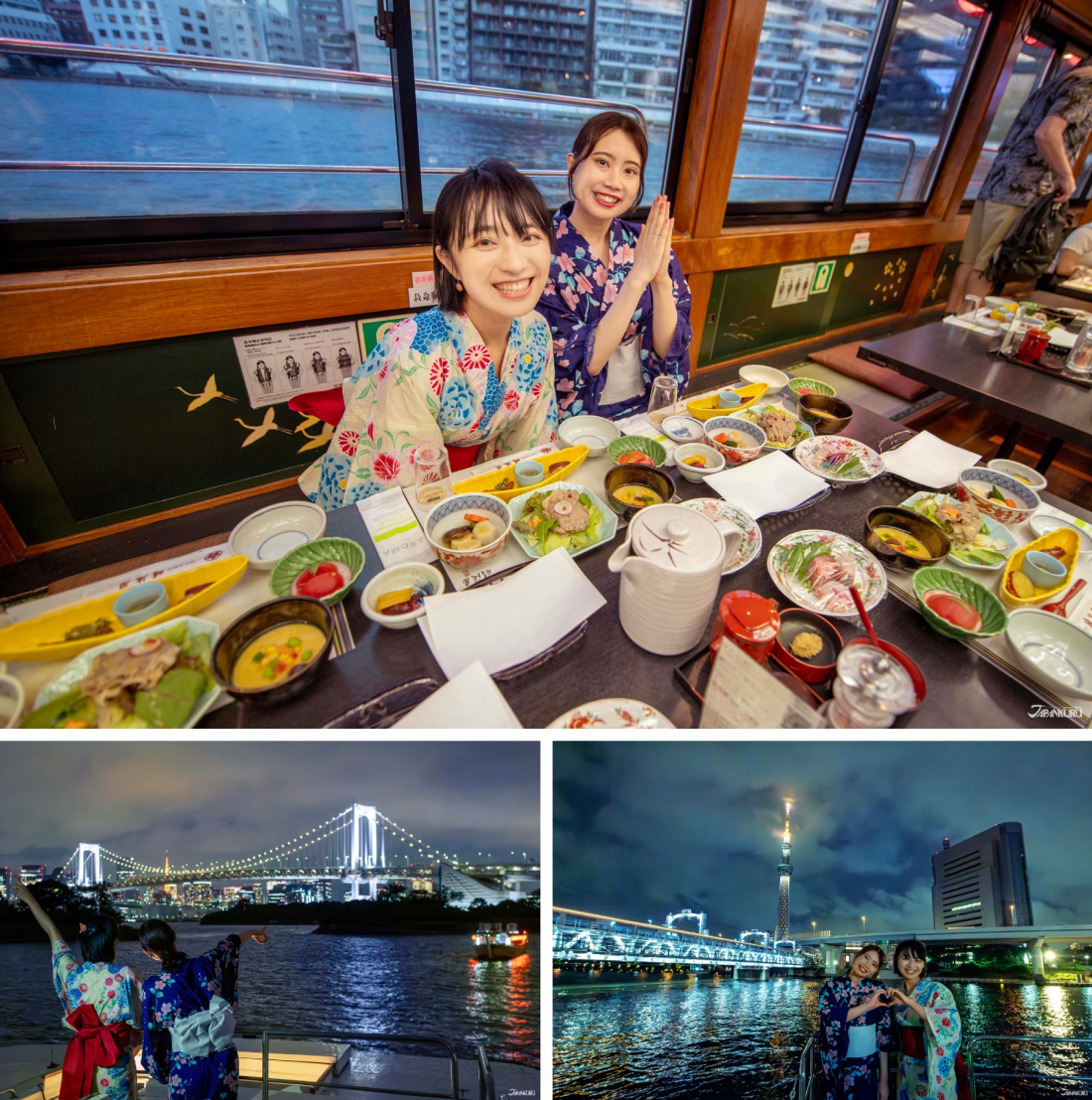 Walk along the Sumida River to get to the Ryogoku area (or take a bus to skip the 15~20 minute walk), and head to the riverside dock for a luxurious night on the water! Tokyo's yakatabune boats* offer traditional river cruises with history reaching back close to 1,000 years. Heian-era (794-1185) Japanese nobles enjoyed relaxing yakatabune trips much like the ones offered today! Modern yakatabune cruises use modern motors, but they still take passengers all along the Sumida River as it flows through central Tokyo and out into Tokyo Bay, on a trip that comes with a decadent Japanese meal onboard. Savor fresh sashimi while the boat pulls away from the dock and starts along the water, nibble on Japanese-style stewed vegetables and crisp salads as the glowing red Tokyo Tower comes into view, and move on to freshly-fried tempura (it's prepared onboard!) as the boat dips into the waters off of Odaiba for a trip under the illuminated Rainbow Bridge. Then head above deck to the viewing platform after the boat heads back up the river, to get some unforgettable snapshots of Tokyo Skytree lit up after dark! It's an experience that will stick with you forever.
*Tickets available through Hilton Tokyo Odaiba.
Yakatabune Harumiya (屋形船 晴海屋)
Ryogoku Dock #2, 1 Yokoami, Sumida City, Tokyo
Official Website (jp)
*Advance reservations required.
Away from Odaiba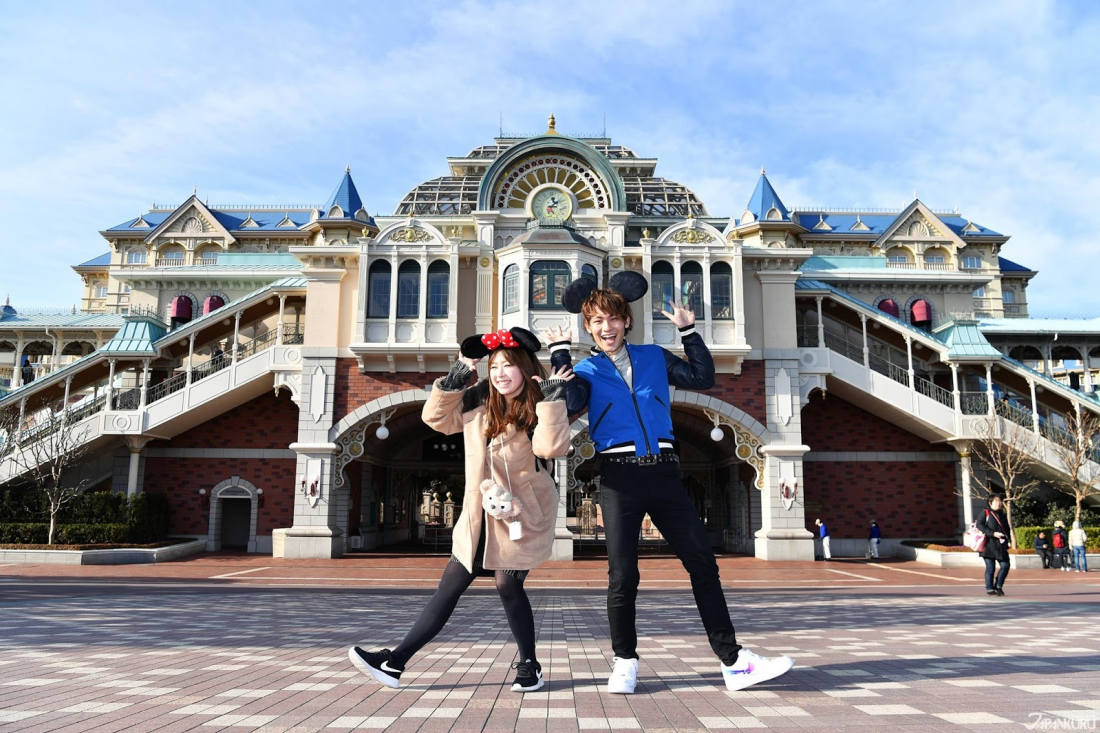 Ready to get out of Tokyo and see what's out there beyond the city limits? By now it's clear how easy it is to hop on the Yurikamome Line and see the sights, and going one step further to get out of Tokyo is no trouble at all. Disney lovers will be pleased to hear that, as an official Disney Good Neighbor Hotel, Hilton Tokyo Odaiba not only has the most up-to-date information on Tokyo's Disney parks, but also a complimentary shuttle bus that goes straight from the hotel to both Tokyo Disneyland and Tokyo DisneySea. Just make a reservation at the front desk, and the shuttle bus will bring you to see all the magic of these massively popular parks!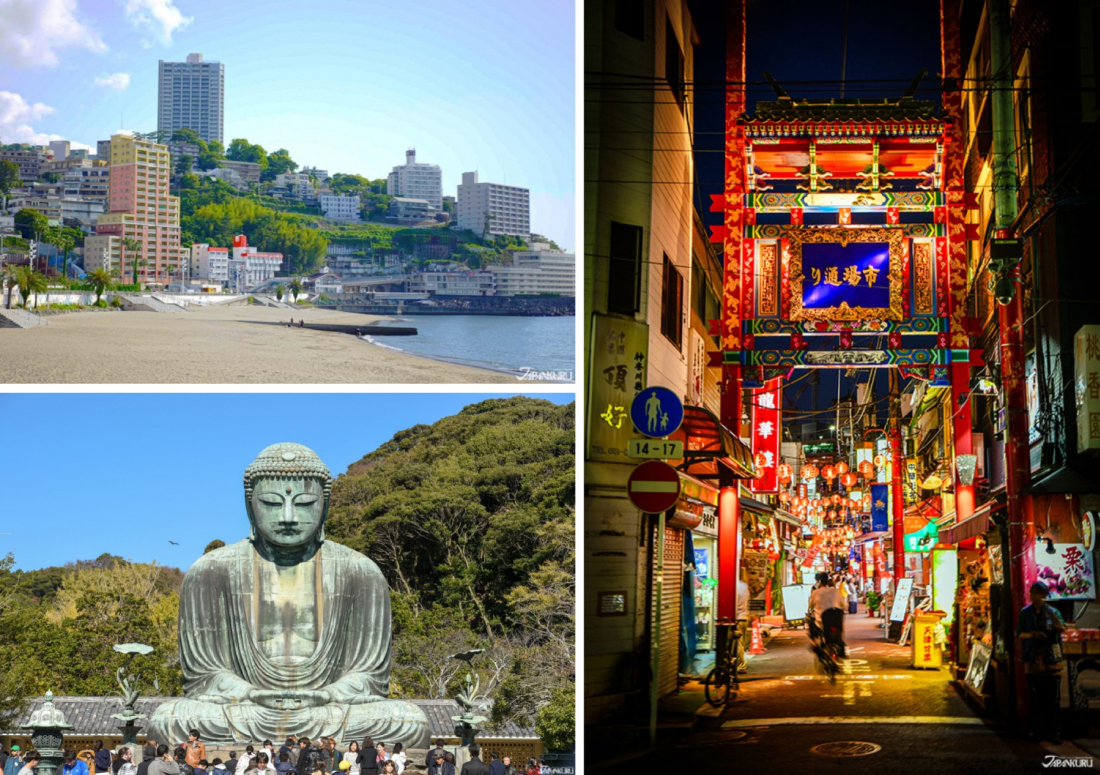 For travelers hoping to find a day trip just an hour or two away, there are plenty of options easily accessible from Daiba Station, outside the hotel. Take the Yurikamome Line to Shimbashi Station, and JR can take you all over the region. Take the train to Atami (1~2 hours) for beautiful beaches and luxurious onsen, head to Kamakura (1 hour) for famous shrines and giant Buddhas along the coast, or stop in at Yokohama (1/2 an hour) to enjoy the parks of Minato Mirai and the fabulous food of Yokohama Chinatown!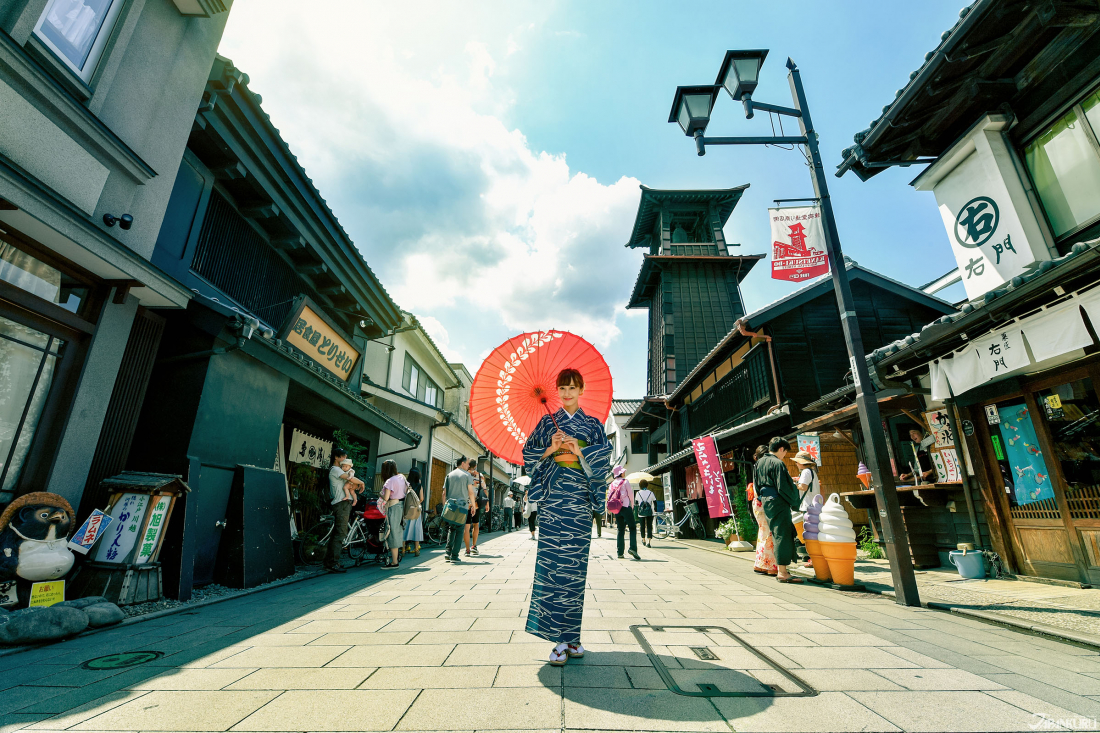 So far we've depended a lot on Odaiba's Yurikamome Line, but the Rinkai Line is the other major route running through the area. Walk a few minutes further from Hilton Tokyo Odaiba to Tokyo Teleport Station, and you can take the Rinkai Line straight to the city of Kawagoe (2 hours). Knicknamed "Little Edo," Kawagoe has some beautifully-preserved Edo-era (1603-1868) streets that look straight out of a history book, recalling the Tokyo streets of centuries past. Enjoy the atmosphere, and visit local attractions like Kawagoe Hikawa Shrine for a day of experiences unlike anything you'd find in Odaiba.
Make Hilton Tokyo Odaiba Your Home Base in Tokyo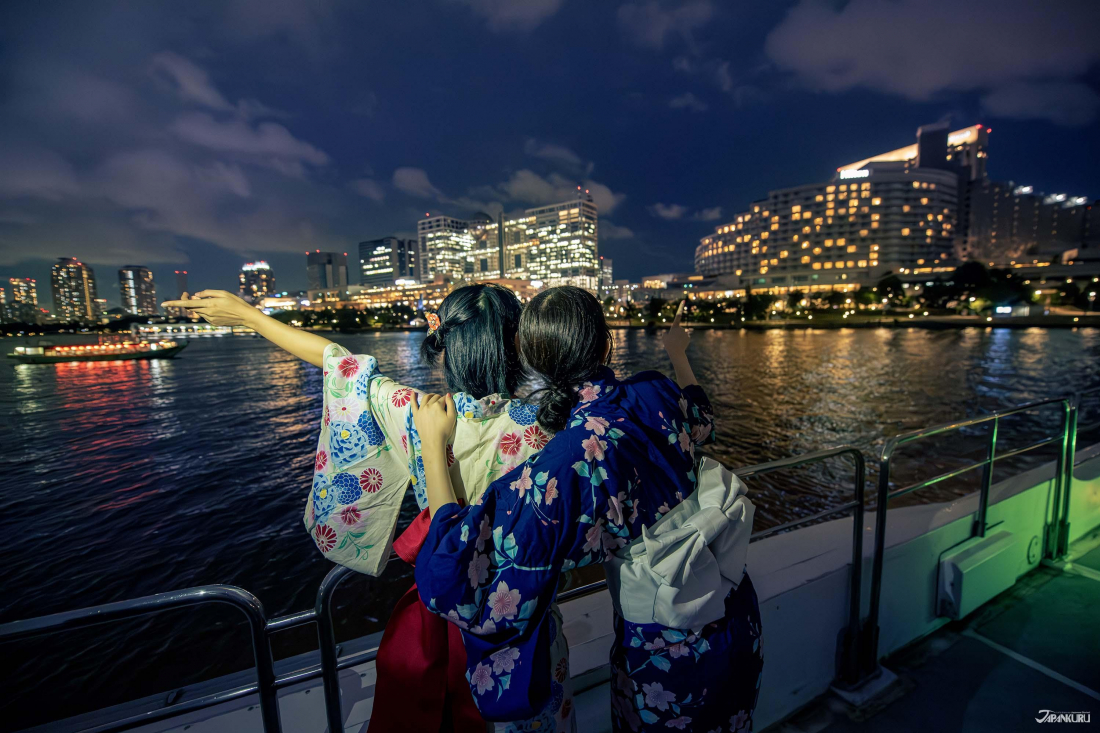 Whether you want to spend your days in Tokyo simply relaxing in Odaiba and enjoying leisurely breakfasts and walks around Tokyo Bay, or you'd rather get out there and see as much of the city as you can, Hilton Tokyo Odaiba is a peaceful oasis to return to at the end of the day. And at night, there's nowhere better to see the sparkle of the city skyline and Rainbow Bridge glowing above the water. For great views and a seaside getaway atmosphere, try Hilton Tokyo Odaiba on your next trip to Tokyo.
For more info and updates from Japan, check Japankuru for new articles, and don't forget to follow us on Twitter, Instagram, and Facebook!