Relax on an Ocean Cruise Aboard This Tokyo ↔ Hokkaido Ferry Trip
This Japanese ferry between Tokyo and Hokkaido is not only a relaxing escape from the stress of work, it's also an 18-hour excuse not to check your e-mail!
"Out of Office: Currently at Sea, Get Back to You Later!"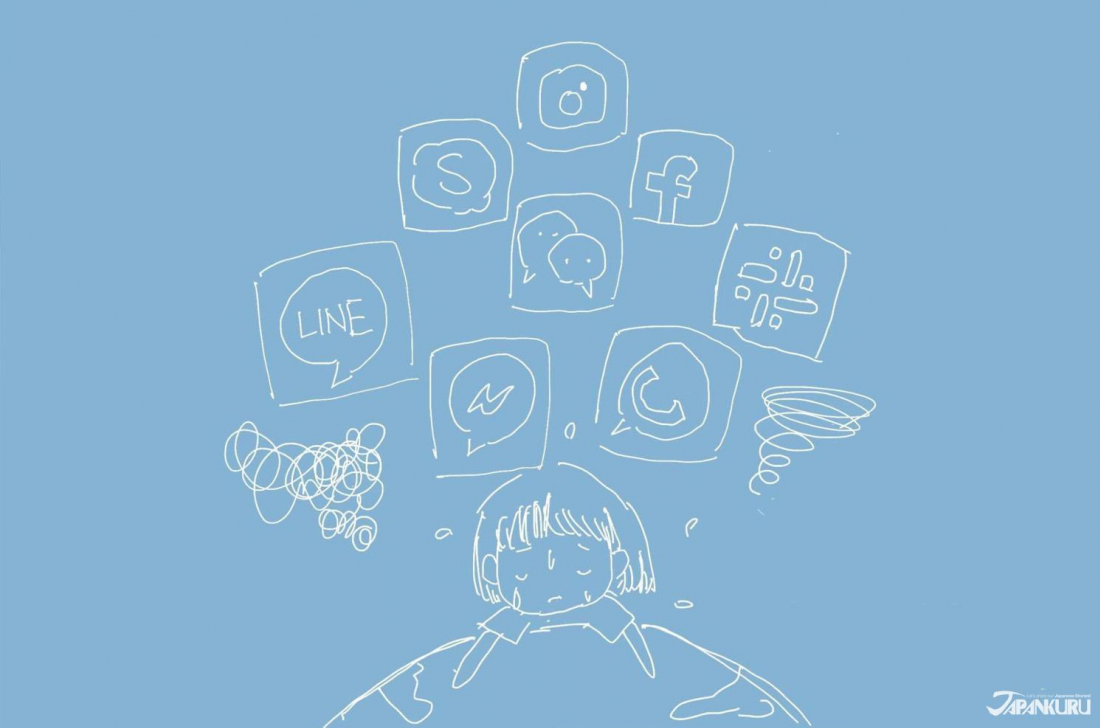 In this day and age, where we're expected to be always online, it can feel impossible to escape from the internet, and all the information it bombards us with each and every day. There's always a work e-mail to respond to, social media to check, and endless notifications to distract us on a regular basis. Sure, we could always turn on "do not disturb," or even go so far as to set our phones to airplane mode, but choosing to really cut off contact with the outside world takes a level of self-control that can be hard to muster when needed most. Sometimes we even end up feeling guilty for "abandoning" our phones and everyone on the other side of the screen. The internet anxiety that comes with owning a smartphone is a modern curse, and sometimes it seems like the only escape is an actual getaway – to the mountains, to the countryside, or anywhere where the service is so terrible that using the internet becomes untenable.
For those looking to escape the grip of their phone screens, a ferry across the ocean is a great choice.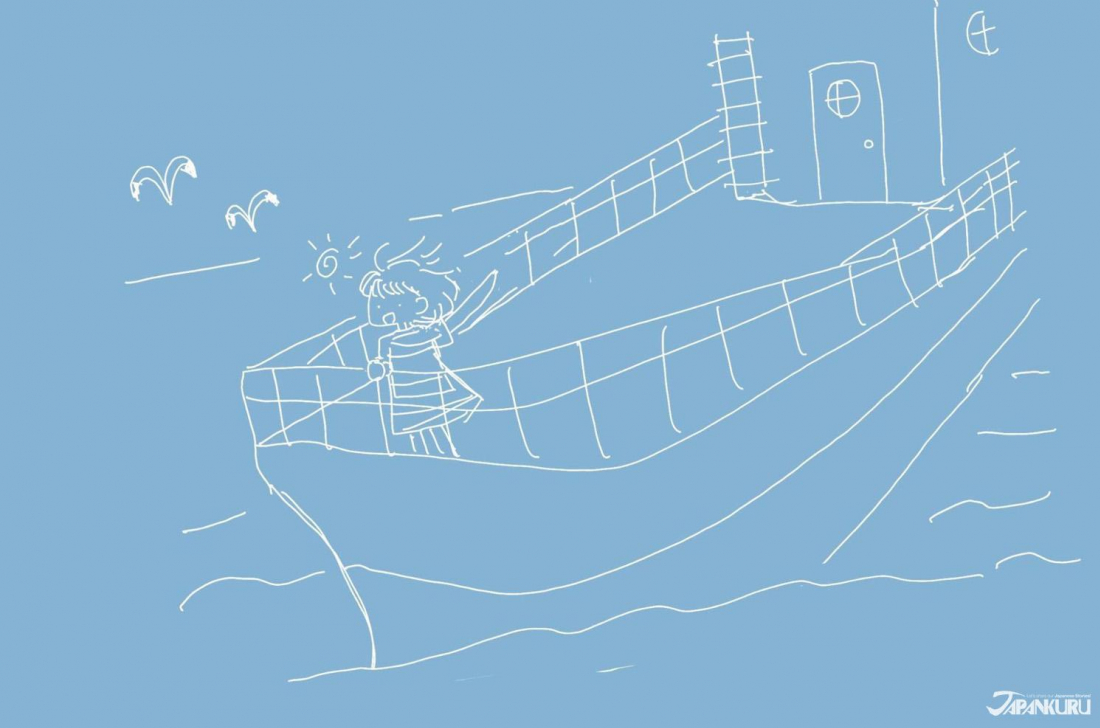 Frequent travelers in Japan might have heard of the Ferry Sunflower, from Mitsui O.S.K. Lines. To be entirely clear, the Ferry Sunflower isn't completely cut off – phone signal can be found, and wi-fi is also available in certain areas of the ferry. However, being at sea, reception inevitably gets a little unstable from time to time, dropping calls or slowing down internet speeds… which gives guests the perfect excuse to put down the phone, leave all the e-mails and messages for later, and enjoy a relaxing journey over the blue seas surrounding Japan!
From Tokyo to Oarai, Then Overnight Aboard the Ferry
In these days of lightning-fast internet speeds, there's nothing like the old-fashioned feel of slow travel, including the Ferry Sunflower's leisurely route to Hokkaido's little port city of Tomakomai, departing from Oarai, Ibaraki (just north of Tokyo). The most popular departure time for this 18-hour journey is in the evening (Oarai departures at 19:45, Tomakomai departures at 18:45), providing plenty of time to enjoy the rooms and facilities on board.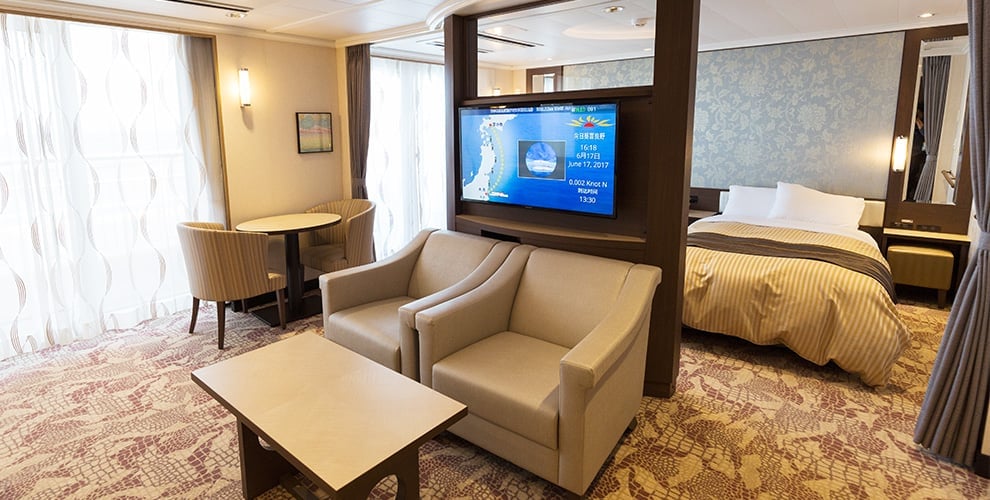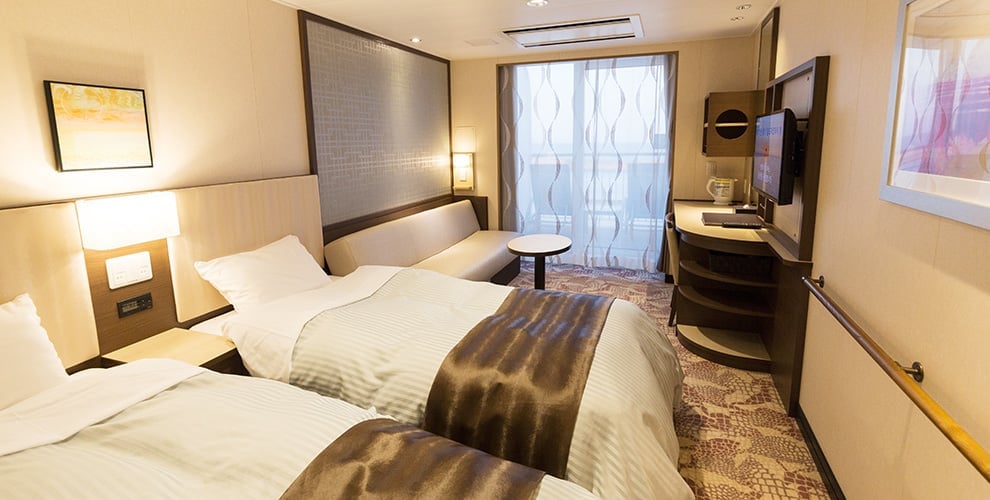 There are all kinds of rooms on board the ferry, for a range of budgets and travel groups. There are generally 9 room categories: dorm-like Tourist Rooms, Comfort Rooms with capsule-style bunks, Inside Rooms with private bathrooms, Ocean View Rooms with their own windows, Inside Superior Rooms with upgraded beds, Japanese-Style Ocean View Superior Rooms, Japanese-Style Ocean View Superior Rooms with beds, Premium Rooms that come with their own balconies, and Suite Rooms – plus pet-friendly rooms, and accessible rooms too!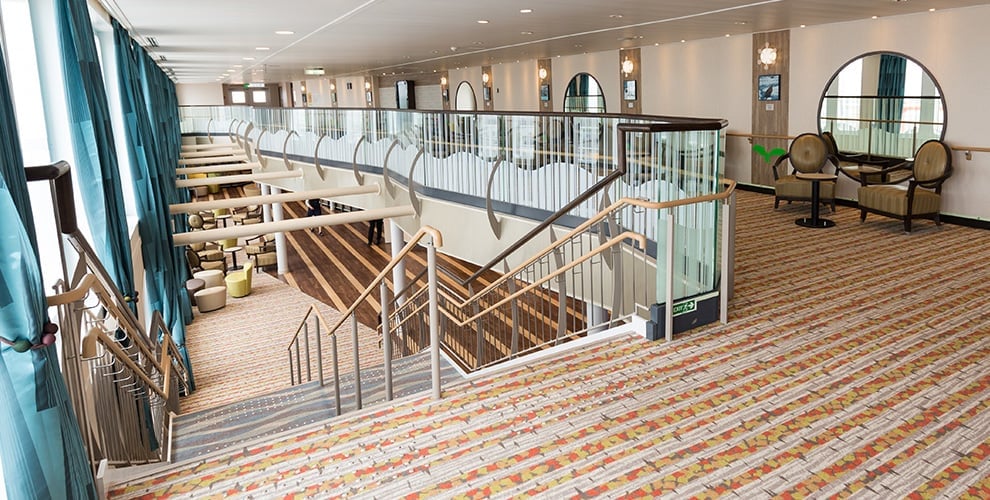 The ship is full of comfortable spaces to spread out and relax, as well as a little arcade, a laundry room with coin-operated machines, a public bath, souvenir shops, and plenty of Japan's famous vending machines.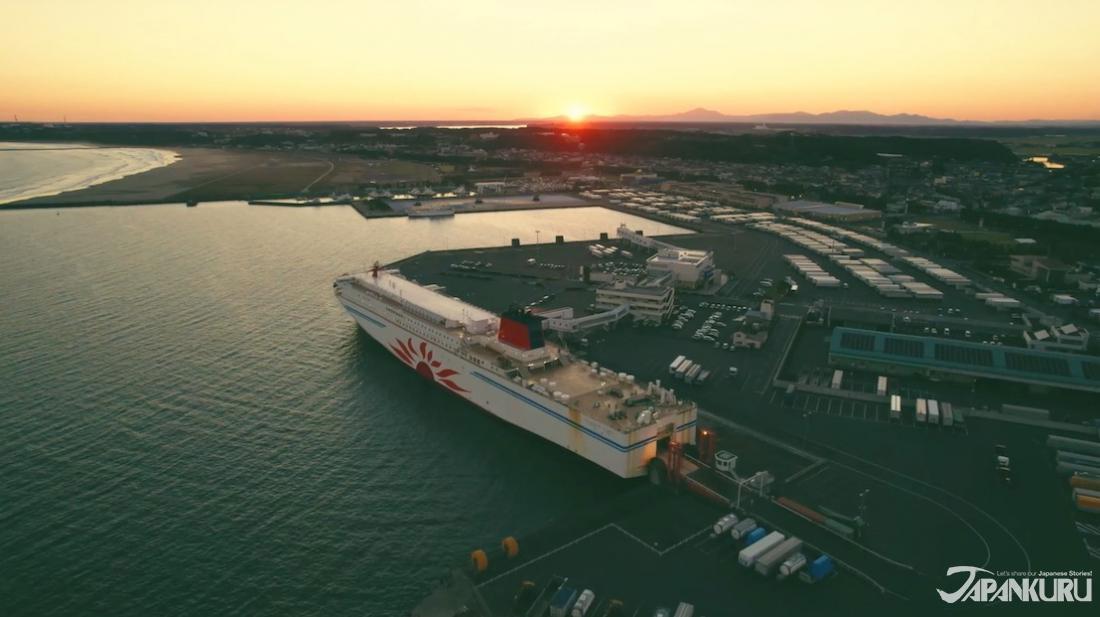 Passengers planning to take the evening ferry departing from Oarai at 19:45 need to arrive at Oarai Ferry Terminal around 17:30 to prepare for boarding procedures. To get to Oarai from Tokyo, passengers can either take the train (JR Joban Line) or catch a bus from Tokyo Station (the Mito-Nakaminato Express/高速みと号・那珂湊線) to the city of Mito in Ibaraki, and then transfer to an Ibaraki Transportation bus heading towards the Oarai Ferry Terminal. After disembarking in Tomakomai, Hokkaido, passengers can then take the Tomakomai Express bus (高速とまこまい号) from Tomakomai's port all the way to downtown Sapporo.
Mitsui O.S.K. Lines has also started offering one-way transportation-accommodation packages, which include bus tickets from Tokyo to Oarai and from Tomakomai to Sapporo, valid an extra day before and after the ferry ride to make it extra easy to plan your itinerary in Ibaraki and Hokkaido.
It's finally time to head aboard and embark on our journey away from the information overload of everyday life! Here are a few ways to make the most of this relaxing trip as you rest and recharge aboard the Ferry Sunflower.
Relaxation Tip ①: Bask in the Ocean Sunrise and Under the Stars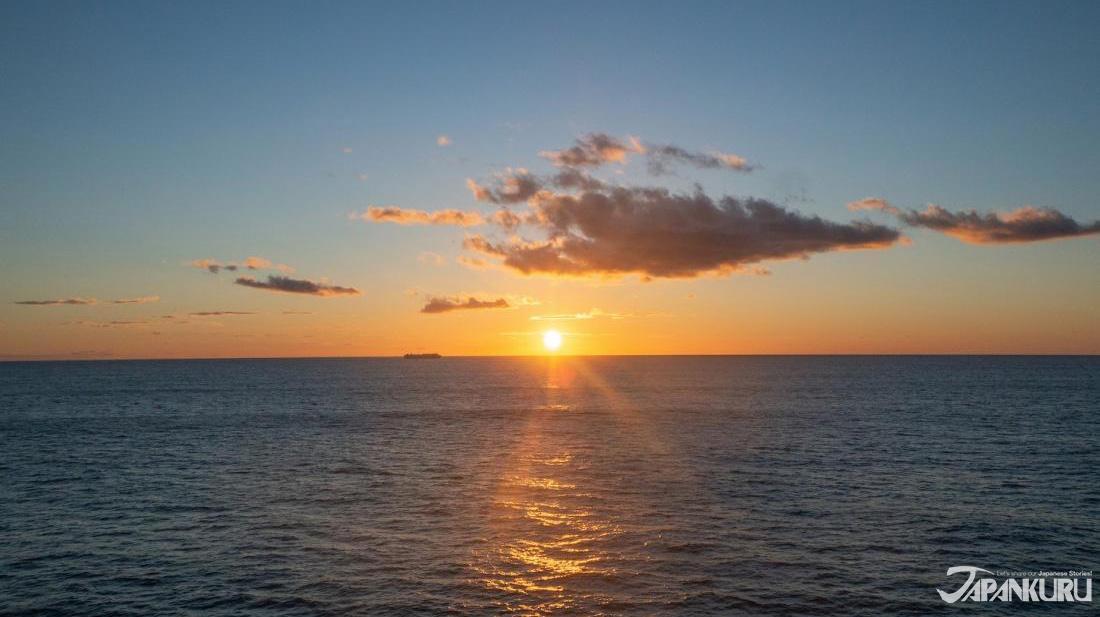 Whether we attribute it to biology, philosophy, or spirituality, watching the sunrise can feel like recharging in the brilliant rays, as the sun shines with the positive energy to face the new day. When staying the night aboard the Ferry Sunflower, we highly recommend getting up early in the morning to watch the sunrise from the ferry deck. From this unique viewpoint, passengers can watch the color of the morning sky and the placid waves start to change as the sun's glow peeks up over the horizon. It's a lovely chance to admire the natural beauty of Japan's open seas.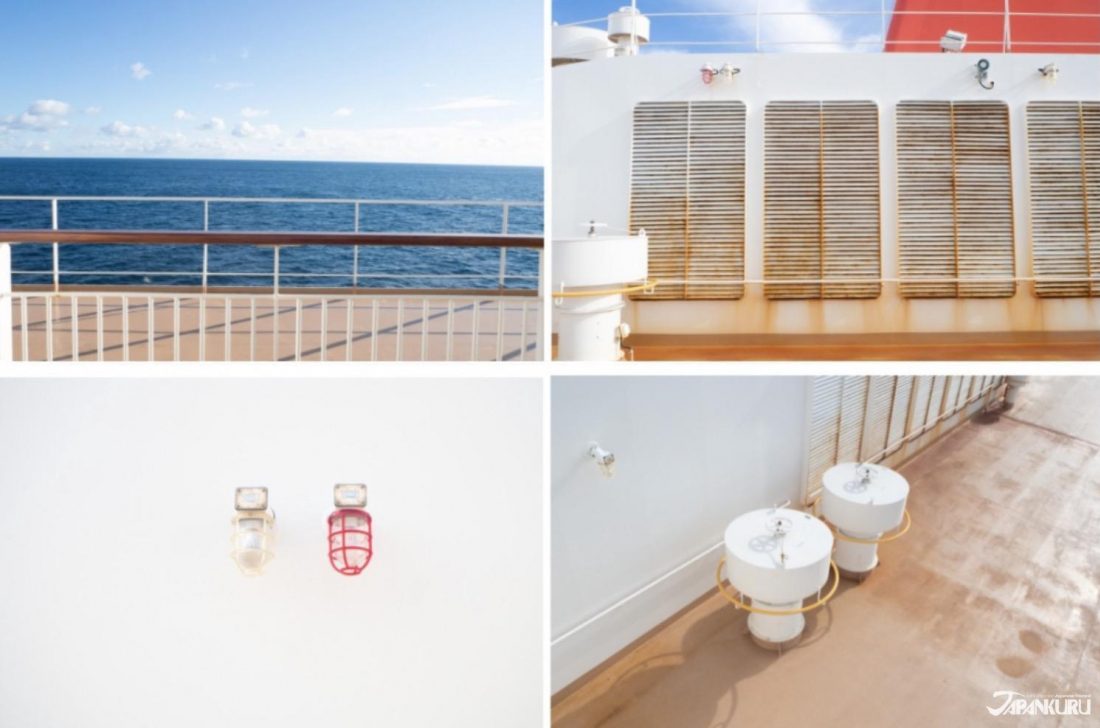 Just after dawn is also a great time to explore the deck of the ship and take lots of photos. When the weather is clear, the blue sea and blue sky are a brilliant backdrop for the white hull of the Ferry Sunflower, with the light and shadows from the morning sun providing appealing contrast. There are lots of hidden photo spots around the ship just waiting to be discovered by a curious explorer, and some great places to pose for artsy snapshots. After dark, the starry sky above the pitch-black seas is a little harder to photograph, but the brilliant glimmer from far above creates a magical atmosphere, perfect for quiet enjoyment without a camera.
Relaxation Tip ②: Nourishing Ibaraki & Hokkaido Cuisine with an Ocean View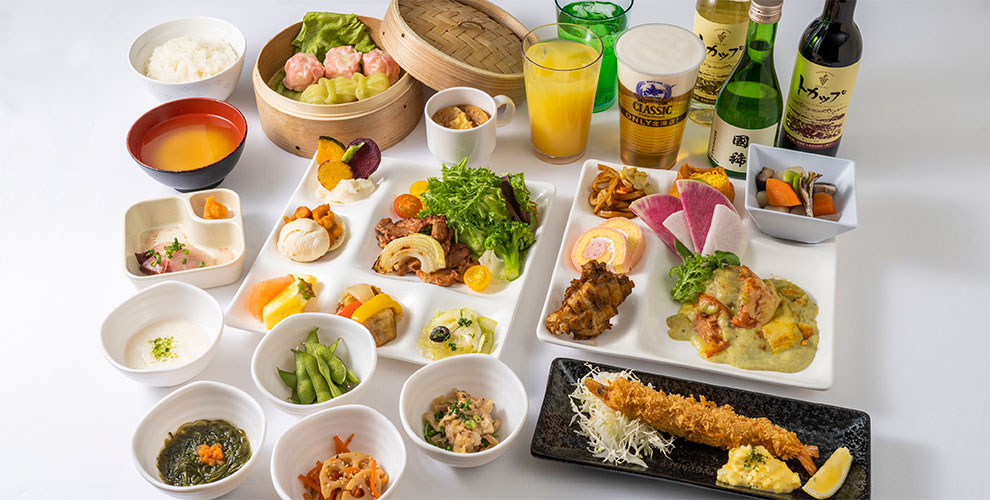 Meal times aboard the Ferry Sunflower generally consist of dinner on the first day, and then breakfast on the second day, followed by "tea time" around noon. The ship has its own kitchen and team of chefs, and they prepare each trip's plentiful food selection with fresh ingredients from Ibaraki and Hokkaido. Dinner and breakfast are served buffet style, with counters full of colorful dishes to cater to a range of tastes, while tea time offerings include lighter meal options and drinks available a la carte, perfect for lunch.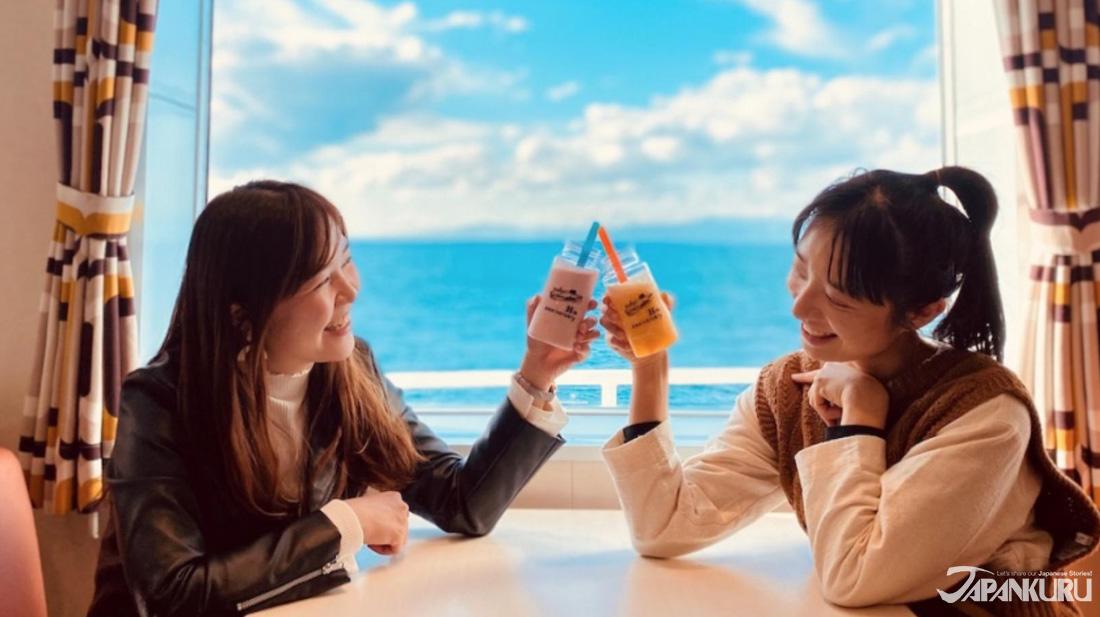 At dinner time, the Hokkaido jingisukan barbecue (grilled lamb) is particularly popular, along with the Japanese-style braised beef, fresh clams steamed in sake, and a squid stirfry with seasonal vegetables. During tea time, many passengers tend to go for the ferry's ramen, along with a selection of desserts and fruit smoothies.
*Dishes served are subject to seasonal change.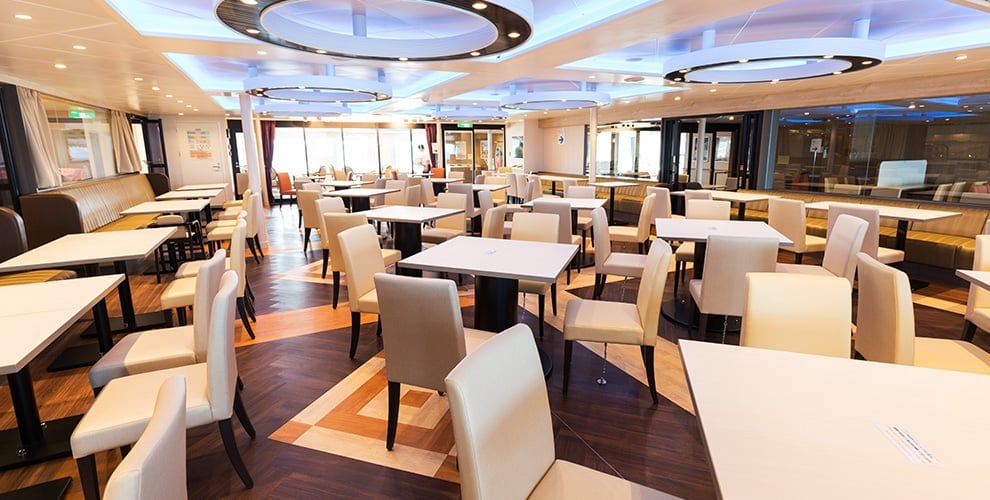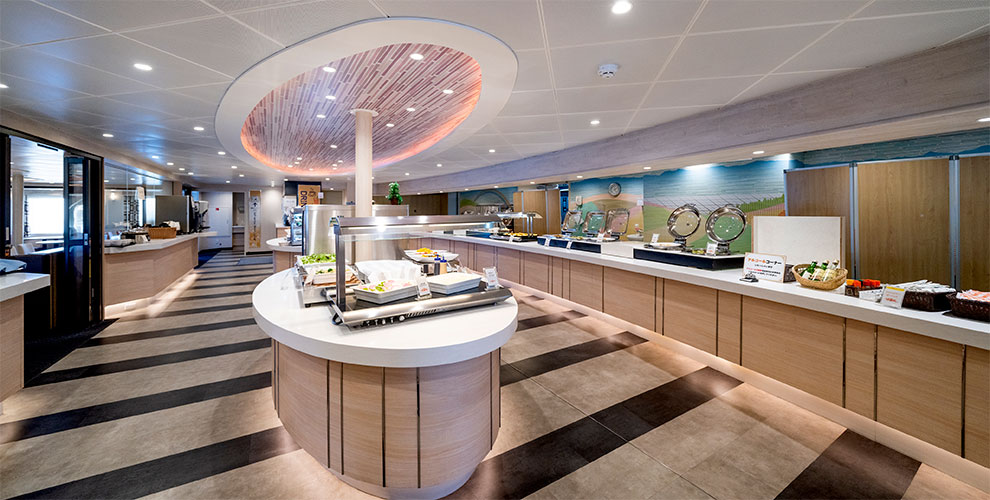 Not only is the ship's dining area comfortably spacious, but there are even seats with a fantastic sea view! It's usually a little dark to see much at dinner time, but during breakfast and tea time on the second day, guests can grab one of the luxurious window seats to look out at the passing sea while enjoying their meal.
Concerned about safety with COVID-19 still around? Guests are asked to wear a mask and use plastic gloves when taking their food from the buffet, and restaurant staff also keep an eye out to prevent crowding in the dining area.
Buffet-Style Dinner
Dining Hours:
 Oarai Departures: 18:30 – 20:30 (LO 20:00)
 Tomakomai Departures: 18:00 – 20:00 (LO 19:30)
Meal Ticket Price: adults 2,000 yen | elementary school students: 1,100 yen (younger children eat free)
*Meal ticket includes unlimited soft drinks. Alcoholic drinks can be ordered for an additional cost.
Buffet-Style Breakfast
Dining Hours: 7:30 – 9:30 (LO 9:00)
Meal Ticket Price: adults 1,200 yen | elementary school students: 900 yen (younger children eat free)
*Meal ticket includes unlimited soft drinks.
Tea Time
Dining Hours: 11:30 – 12:30
A La Carte: 300 yen~
Buffet Dinner + Breakfast Deal
Meal Ticket Price: adults 2,700 yen | elementary school students: 1,700 yen (younger children eat free)
*Meal tickets include unlimited soft drinks.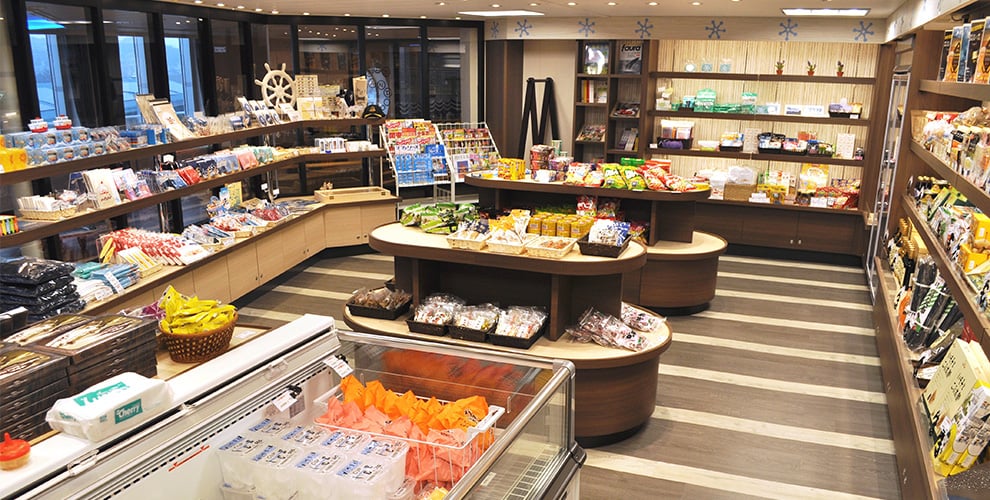 Even outside of meal times, the ferry's onboard shop offers plenty of tasty snacks and quick bites. Perfect for a trip over the ocean, there are some great seafood options like dry firefly squid and smoked Hokkaido scallops, which go great with Abashiri's Okhotsk Blue Draft beer, from Hokkaido. The shop has plenty of popular souvenir snacks, too, like Hokkaido's Shiroi Koibito cookies and Jaga Pokkuru potato snacks, or items made with Oarai's famously delicious monkfish.
Onboard Souvenir Shop
Hours:
 Oarai Departures: ~22:00 | 8:00 – 12:30
 Tomakomai Departures: ~21:30 | 8:00 – 12:30
Relaxation Tip ③: Soak Away the Stress, Before Bed and in the Morning

There's nothing better than a long, hot bath to soak away the stress and fatigue of a long day, and scientists agree that a relaxing bath before bed leads to a restful night of deep sleep. The Ferry Sunflower actually has large communal baths on board, and most Japanese passengers end the day with a trip to one of these huge, steamy tubs. We recommend checking it out in the morning as well! The windows next to the bath don't show much after dark, but at dawn, the bath offers a unique opportunity to relax in the hot water while watching the ocean waves rush past.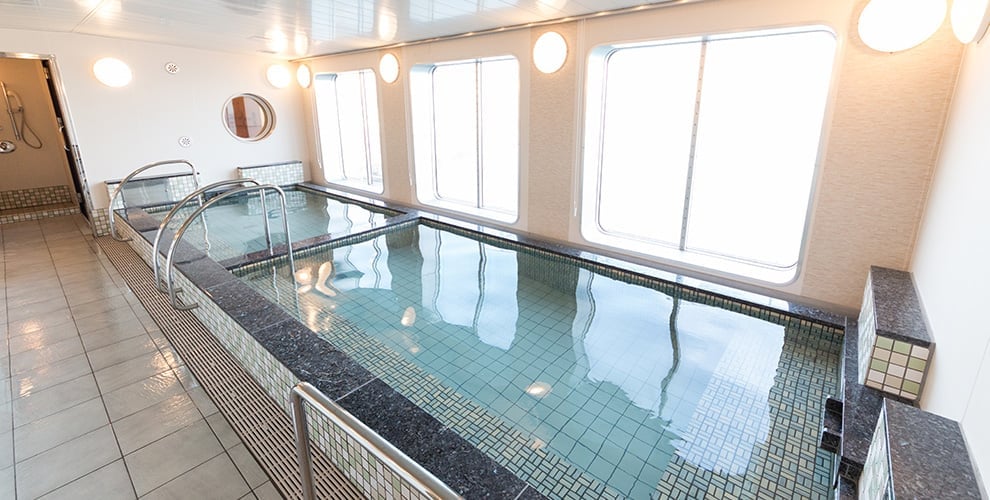 Communal Baths
Hours:
 Oarai Departures: ~22:00 | 6:30~
 Tomakomai Departures: ~21:30 | 6:30~
Relaxation Tip ④: Ignore the Notifications, and Spend Some Quality Time with Friends or Family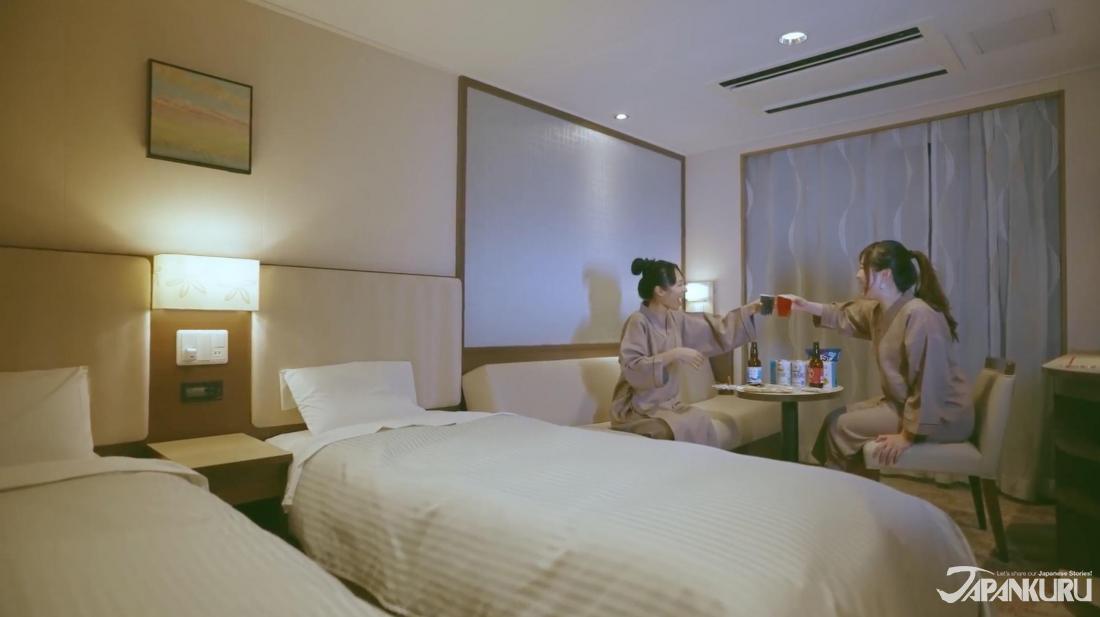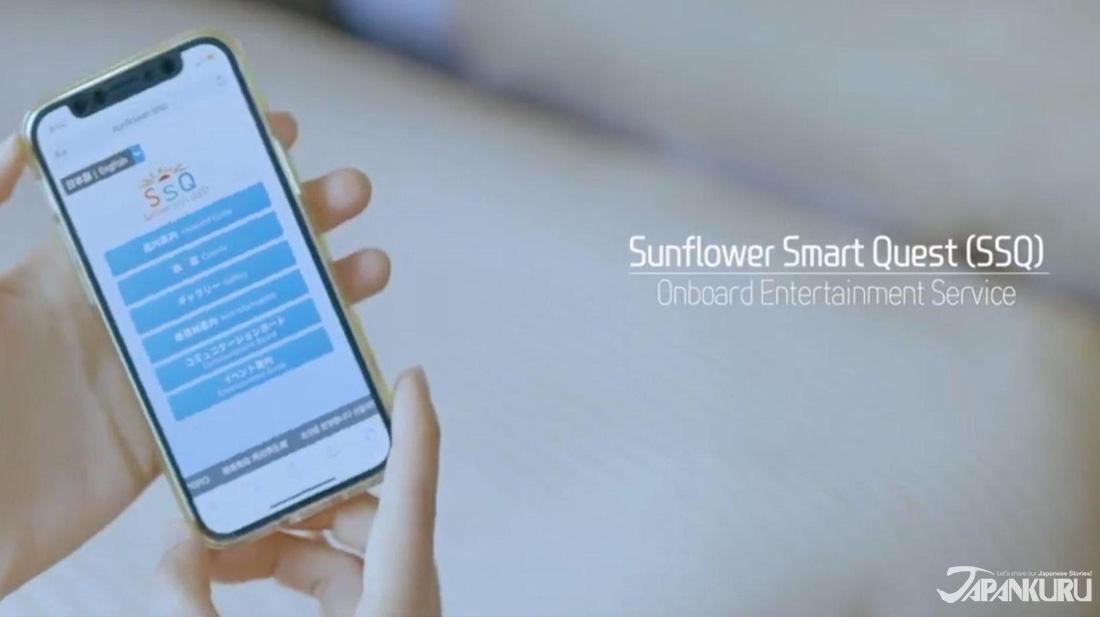 For anyone heading out on the seas hoping to escape the stress of the internet, this is the time to enjoy a little peace and quiet, whether that takes the form of alone time, or a chance to connect with travel companions. Go for a walk on the deck after dinner, chatter away while stargazing under the dark night sky, or grab some drinks (from the shop or a vending machine) to enjoy in your room!
Mitsui O.S.K Lines has also developed its own onboard entertainment app called "Sunflower Smart Quest," which offers sightseeing guides and movies for guests to enjoy, far from the pressure of social media. Enjoy a little relaxation time enjoying a new movie, or plan an itinerary for after the ferry trip!
Need a Break? This Ferry Tour Is a Unique Escape from the Ordinary!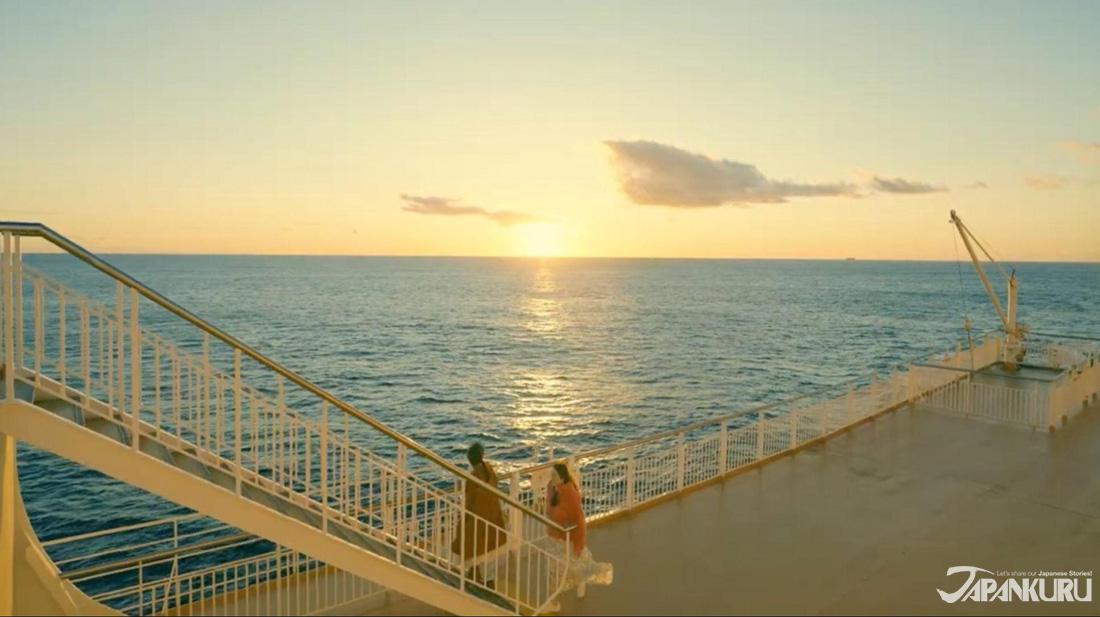 These days, sometimes it seems like life is all about being efficient, available, and always online. But when it all leads to burnout, or just a feeling of being stuck in a rut, that's a sign that it's time to shake things up! It might just be time to put aside "efficiency" for a few days in search of something a little more relaxing, and in this day and age, the retro travel of a ferry trip along the coast feels less old-fashioned, and more like a fresh new experience. Come aboard and let the slow rhythm of the sea waves, the brilliance of the sunshine, and the glittering moon and stars provide a little peace far from the chaos of everyday life.
For more info and updates from Japan, check Japankuru for new articles, and don't forget to follow us on Twitter, Instagram, and Facebook!