See Sapporo Through the Seasons From This Hokkaido Hotel: Sapporo View Hotel Oodorikouen
A convenient hotel next to Odori Park and some of Hokkaido's biggest events, complete with newly renovated rooms, Sapporo View Hotel Oodorikouen is a great place to stay when exploring Japan.
Catch the Best Views in Sapporo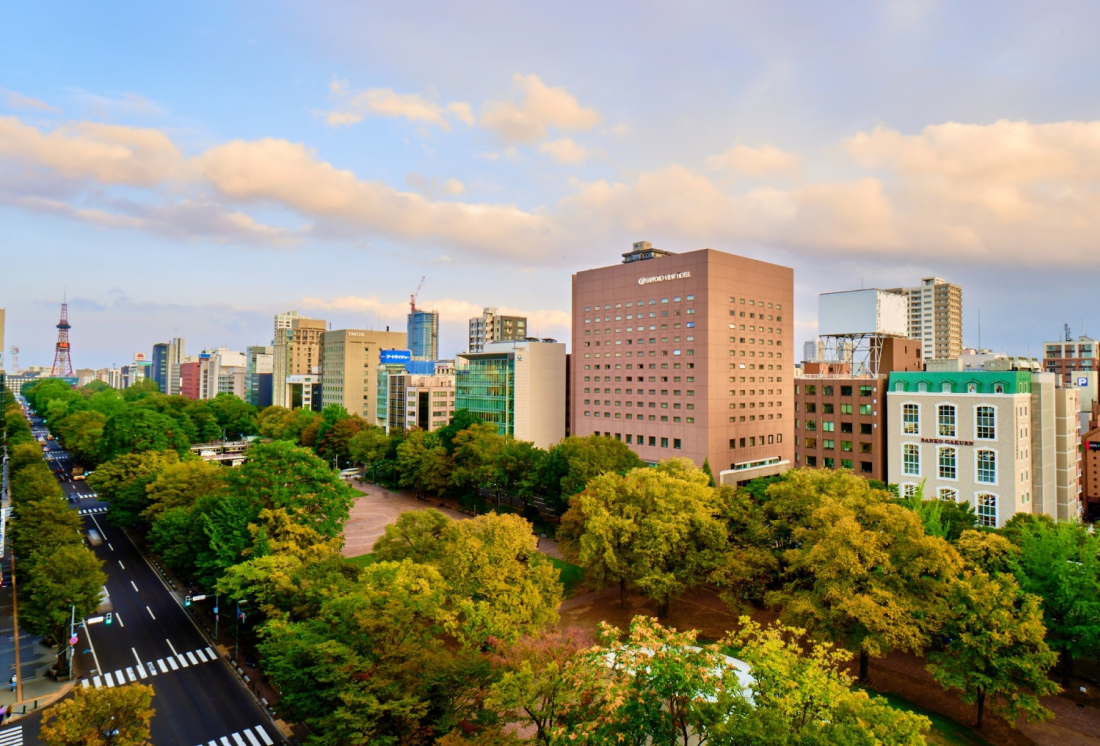 Japan's northernmost island of Hokkaido is known for mild summers fragrant with lavender, crisp winters covered in blankets of sparkling white snow, and a packed schedule of beautiful seasonal events in the lively capital city of Sapporo. And for many of Hokkaido's most popular events throughout the year, Odori Park is the main venue, from the famous Sapporo Snow Festival to celebrations of the park's lilacs. But right next door to this gorgeous public park you'll find Sapporo View Hotel Oodorikouen, convenient accommodations with rooms newly renovated to reflect the natural warmth of the park outside, and a commitment to offering Hokkaido's best ingredients for breakfast. Just steps from public transportation, with views looking out at Odori Park's spring flowers, summer greenery, fall foliage, and winter snow, Sapporo View Hotel Oodorikouen is the perfect place to stay to get the most out of Sapporo.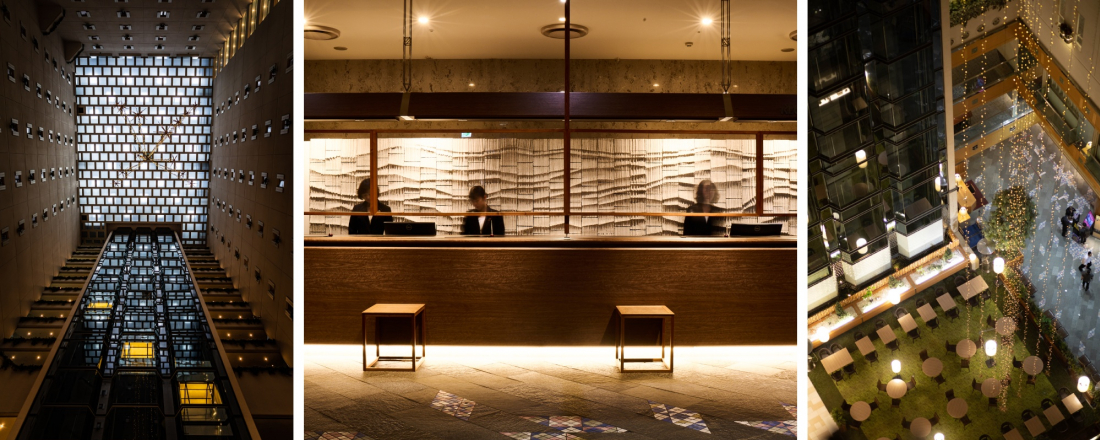 Despite being located on a busy city street across from Odori Park (and five minutes from the rush of people flooding in and out of Odori subway station), the grand entrance at Sapporo View Hotel Oodorikouen leads to a serene atrium with natural light filtering through the transparent ceiling. For any traveler searching out downtown Sapporo convenience, facilities made for relaxation, and a breakfast buffet abundant with all that Hokkaido has to offer, Sapporo View Hotel Oodorikouen has a variety of comfortable rooms to enjoy while soaking up Hokkaido's one-of-a-kind atmosphere.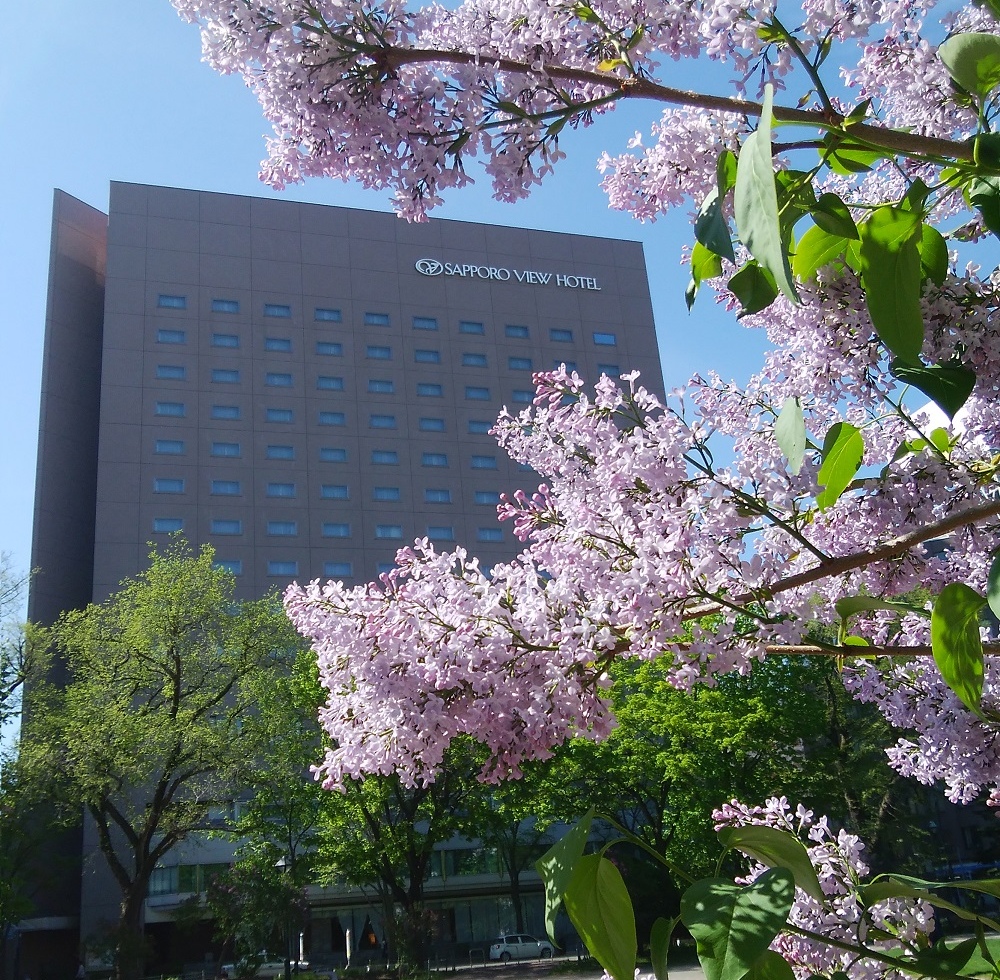 Sapporo View Hotel Oodorikouen (札幌ビューホテル 大通公園)
Check-in / Check-out: 15:00 / 11:00
Phone: 0570-000-933
Official Website (en) ・ Reservations
Staying in Sapporo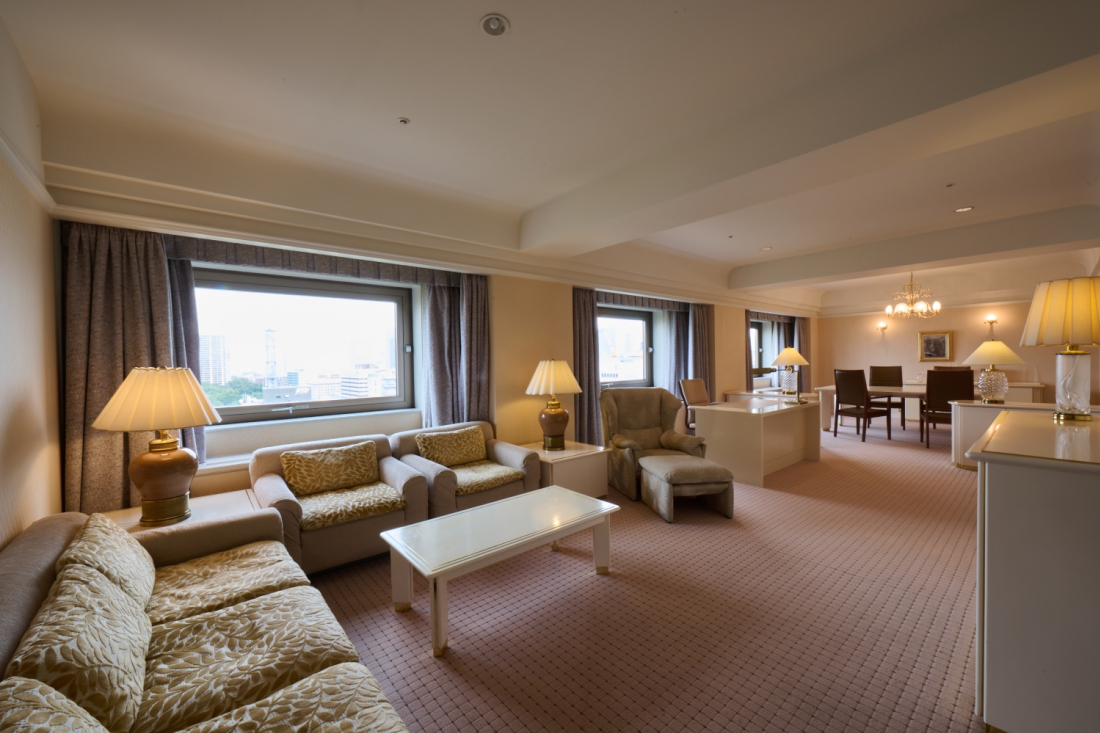 Whether it's a sunny Sapporo day, or the view outside is covered in a dusting of white snow, each of the guest rooms at Sapporo View Hotel Oodorikouen provides a cozy retreat from the city streets outside. The parkside highrise building has 13 floors of guest rooms ranging from simple singles to spacious quads made to fit big families, along with more luxurious options like their penthouse suite (complete with a living and dining area, a sauna, and a jacuzzi).
Newly Renovated Guest Rooms

In order to provide an elevated overnight experience, Sapporo View Hotel Oodorikouen has recently renovated many of its guest rooms, with the latest refresh occurring on floors five through fourteen. The hotel's Moderate Floors, from five to twelve, have been redone with bright minimalist interiors that play off the natural beauty of the park outside, using warm wood fittings for the room's classic conveniences. Of course, even the simplest rooms come complete with all the amenities needed for a comfortable stay on Japan's northernmost island!
The hotel's very best views can be found on the 13th and 14th-level Excellency Floors, where the recently renovated rooms have elegant decorations and extra space to stretch out. Here, too, the wooden floors bring a little of the tree-lined park atmosphere right into the hotel, and the comfortable seating areas are perfect for relaxing in as you admire the view out the window.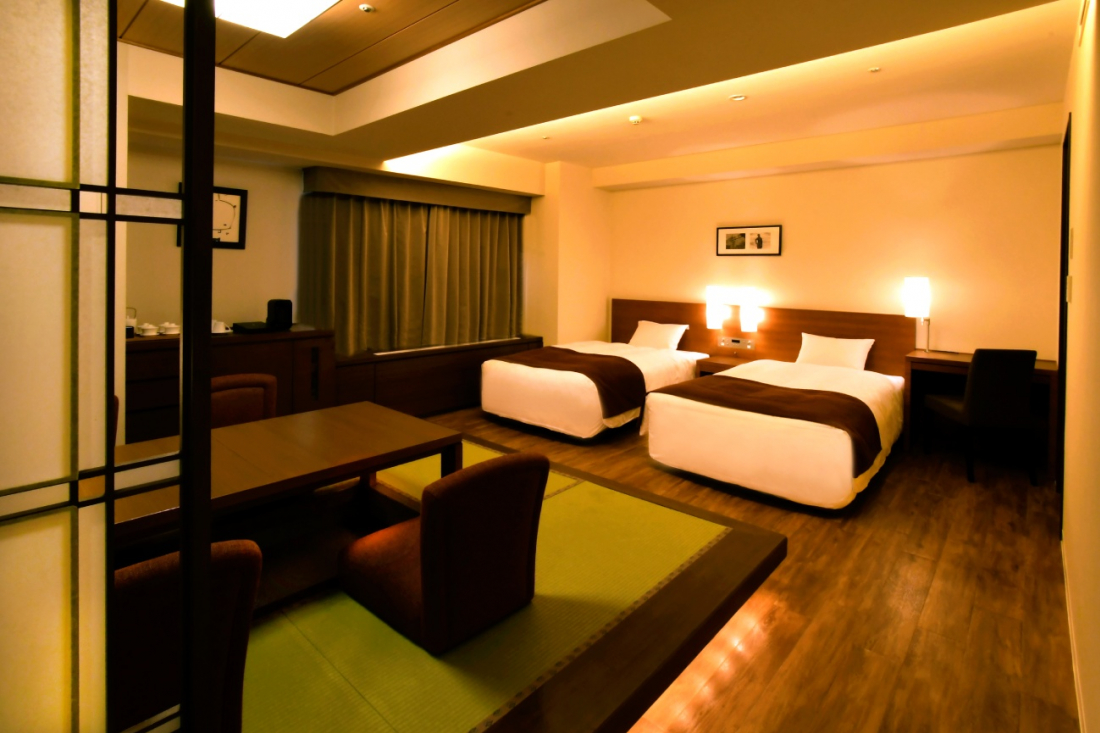 Some of the Excellency Floor rooms even have interiors that take elements from both Japanese and Western design, utilizing raised beds and Japanese-style tatami mats for the ultimate hotel experience. But guests with a tighter budget might be interested in the traditional Japanese Room suites on the Moderate Floors instead!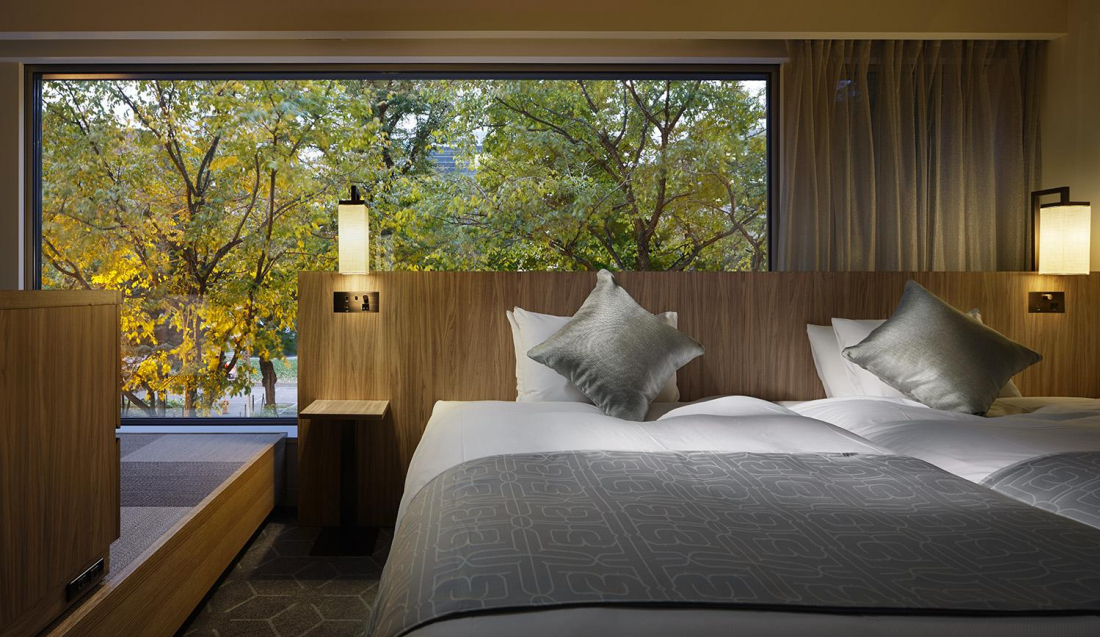 Down closer to park level, floors two to four are the North Resort Floors, with guest rooms designed to feel like a parkside resort. Natural materials and Hokkaido-themed art come together to echo the elegance found right outside the window.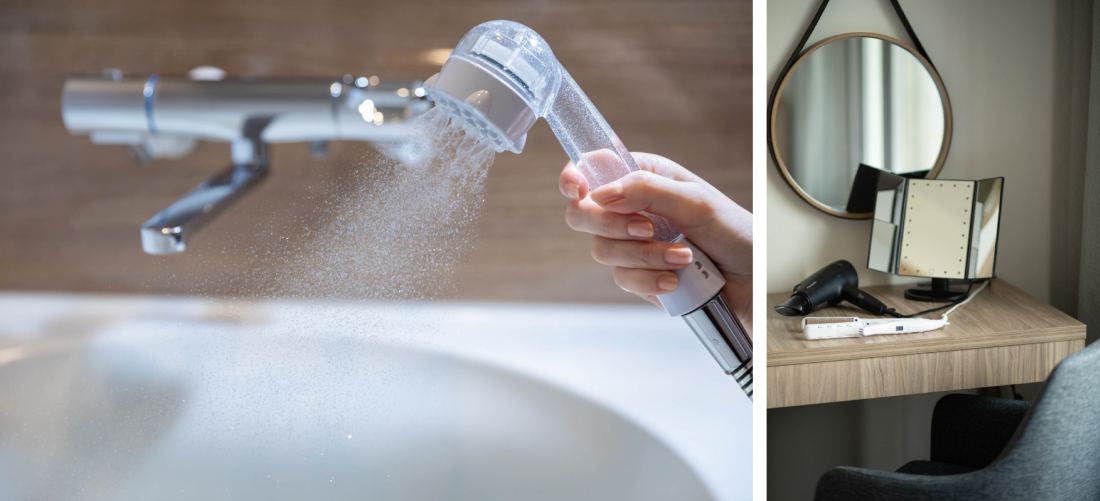 Looking to provide the ideal accommodations for each and every guest, Sapporo View Hotel Oodorikouen offers a few rooms with some unique designs and amenities. One innovative idea from a few members of the hotel's more beauty-minded staff created the Mirable Room, which comes equipped with a luxurious Mirable shower head, as well as a high-quality hair dryer and straightener. It's the perfect room for all those travelers planning to take plenty of picture-perfect selfies during their trip to Hokkaido!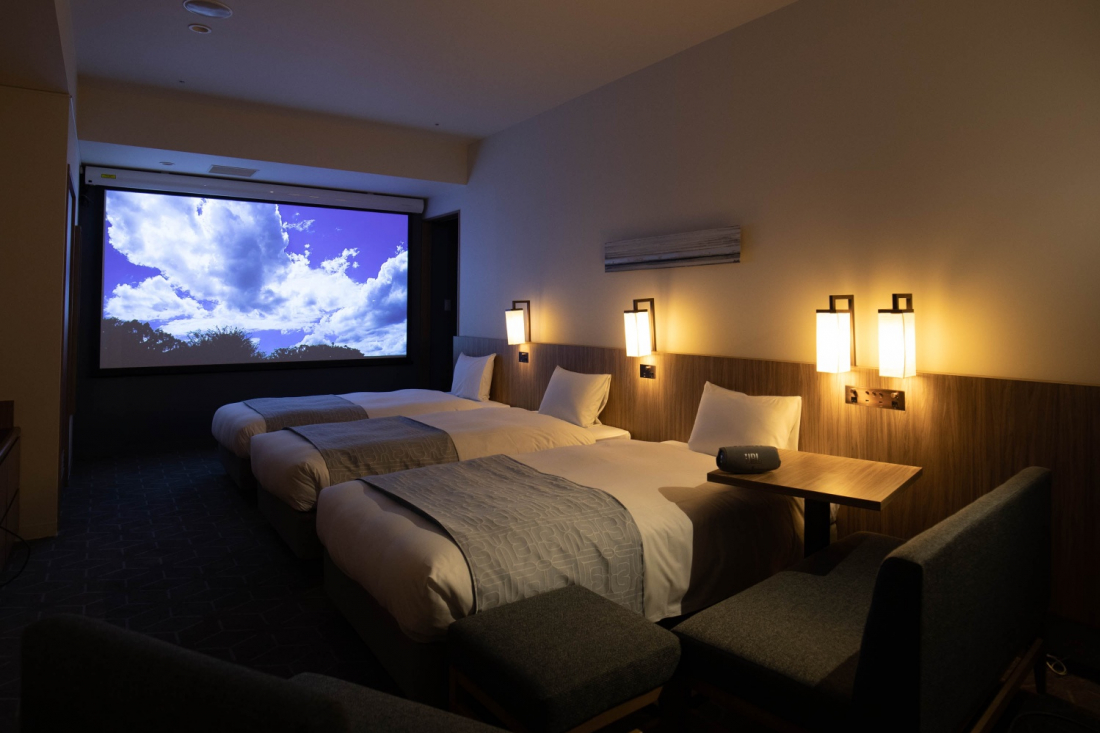 For guests who look forward to cozy nights in, the Theater Room comes equipped with a 120-inch screen, a projector, and JBL speakers, so guests can recreate the movie theater experience in their pajamas! The setup even includes a DVD/Blu-ray player, perfect for families with young kids who want to watch their favorite flicks far from home.
Dining at Sapporo View Hotel Oodorikouen

Sapporo View Hotel Oodorikouen's restaurant Audrey boasts large windows looking out onto the picturesque paths of Odori Park, so diners can enjoy its beauty throughout the seasons, but that's not the only view worth seeing! The restaurant also has an open kitchen where chefs expertly prepare dishes from an extensive menu full of Hokkaido flavors. The food at Audrey focuses on fresh seasonal ingredients, and many of the dishes are grilled up on a stone grill made from volcanic rocks brought in from Mount Fuji, to bring out their natural flavors.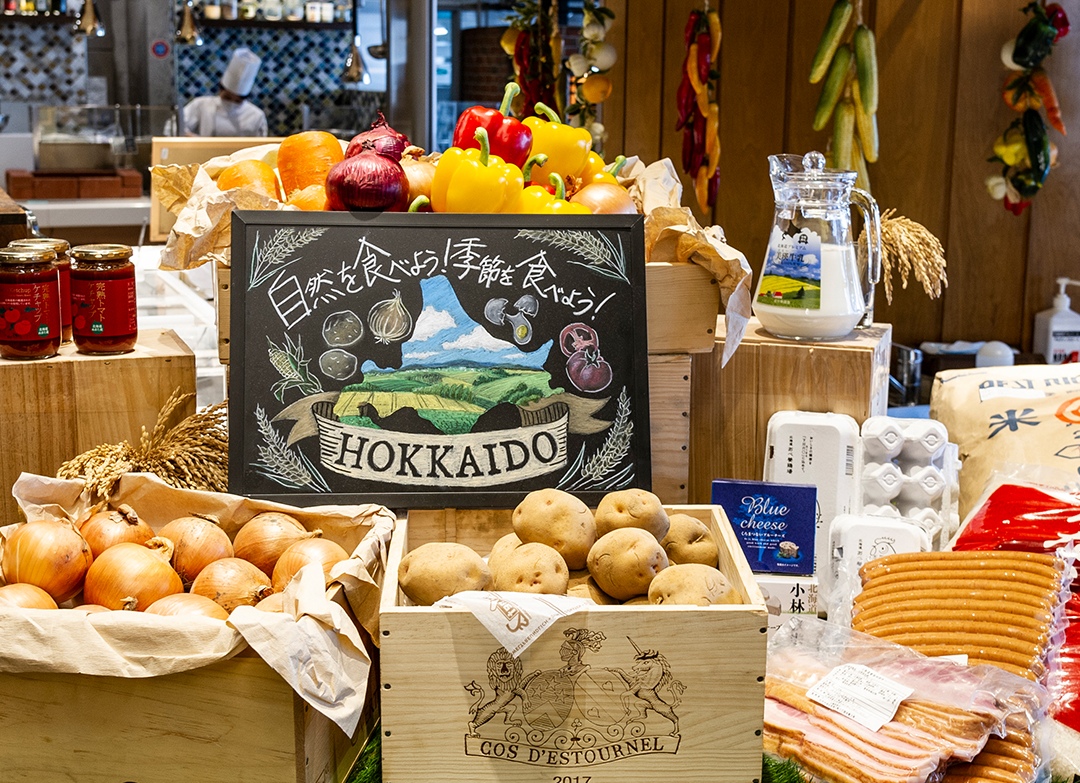 The daily breakfast buffet is one of the most delicious benefits of staying at Sapporo View Hotel Oodorikouen, thanks to the chefs' dedication to food that is seasonal, local, and naturally healthy. Hokkaido is known for its vast farmlands and rich soil, and local farms produce an abundance of produce, meat, and dairy, so the chefs have plenty to choose from. You might say that this breakfast offers an opportunity to "eat Hokkaido," from the eggs and milk used to make their fluffy omelettes (both from famous Hokkaido farms), to decadent grilled meats like locally-raised lamb and pork shoulder. Not to mention the salad bar full of fresh Hokkaido vegetables, and a selection of breads and pastries baked in the hotel's own bakery. Thanks to the fresh local ingredients, it's the kind of food that nourishes the soul and the body, and your tastebuds will be pretty pleased too.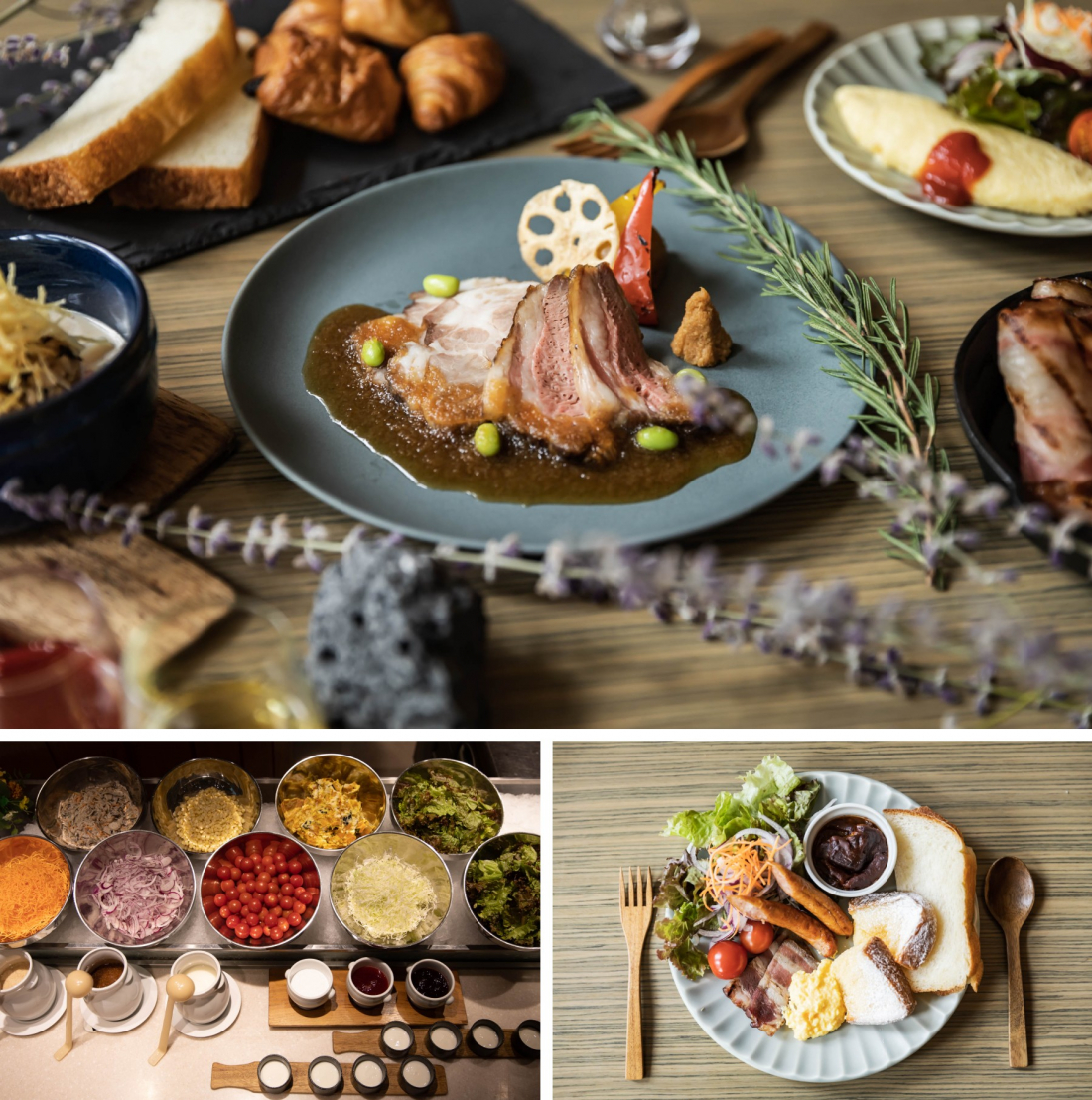 With such a wide selection available each day, it's up to each diner to choose their own ideal breakfast to begin the day ahead – and with all the delicious Hokkaido ingredients going into every recipe, it's hard to go wrong.
Soaking Up the Sapporo Atmosphere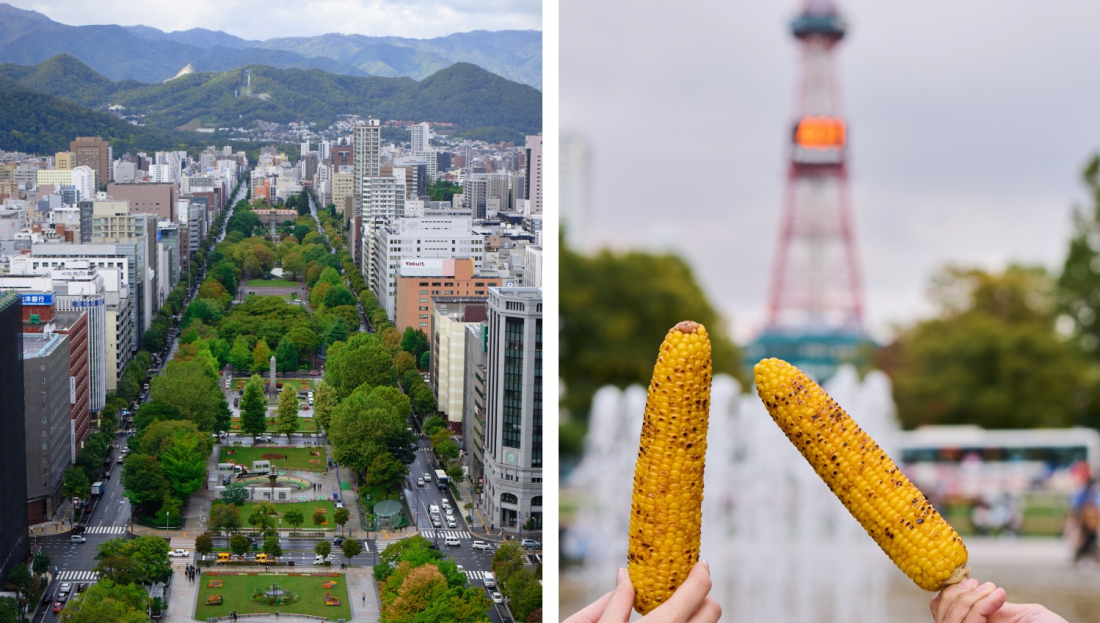 Planning a trip to Sapporo, but not sure where to go or what to see? Since Sapporo View Hotel Oodorikouen is located in the heart of the city, it's always a convenient place to start the day in Sapporo, but the easiest destination to get to is right across the street! Odori Park was originally planned as a firebreak cutting through central Sapporo in the 19th century, but these days it's a leisure hub, slicing through the busy city with a green swath of gardens, park facilities, and event spaces. Throughout the year, sightseers will stop by to enjoy a relaxing walk along the broad paths and through the elm trees, but crowds really pick up for the seasonal events throughout the year. Each year starts with a bang thanks to the Sapporo Snow Festival, when snow sculptures decorate the park, but spring brings the Lilac Festival to celebrate Odori Park's many lilacs, summer means dance festivals and beer gardens, and the Odori Park Autumn Fest is all about Hokkaido cuisine!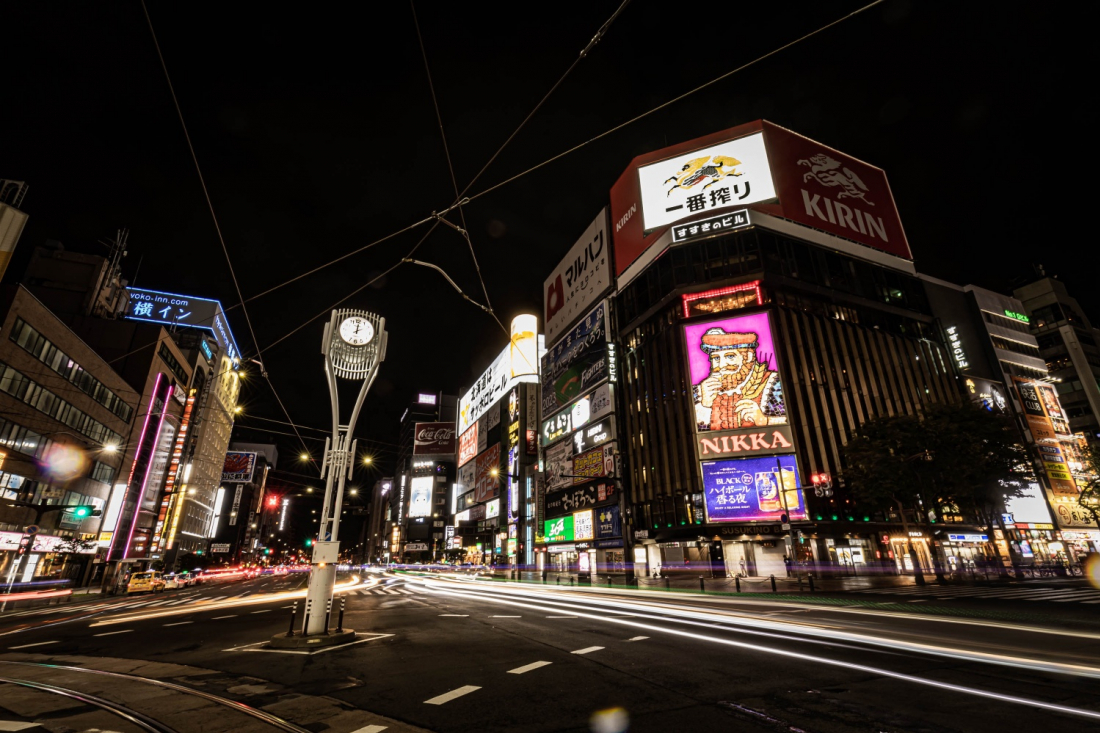 While Odori Park might be a relaxed city-center oasis, Sapporo's Susukino area is one of the busiest entertainment districts north of Tokyo, and only about 15 minutes away on foot. The area is packed with shops and restaurants, including the city's famous Ramen Yokocho, where foodies flock to find some of Japan's most richly flavored broth and deliciously chewy ramen noodles. For travelers looking to document their trip in photos, the brilliant Nikka whiskey billboard is a symbol of Sapporo – don't forget to take a snapshot!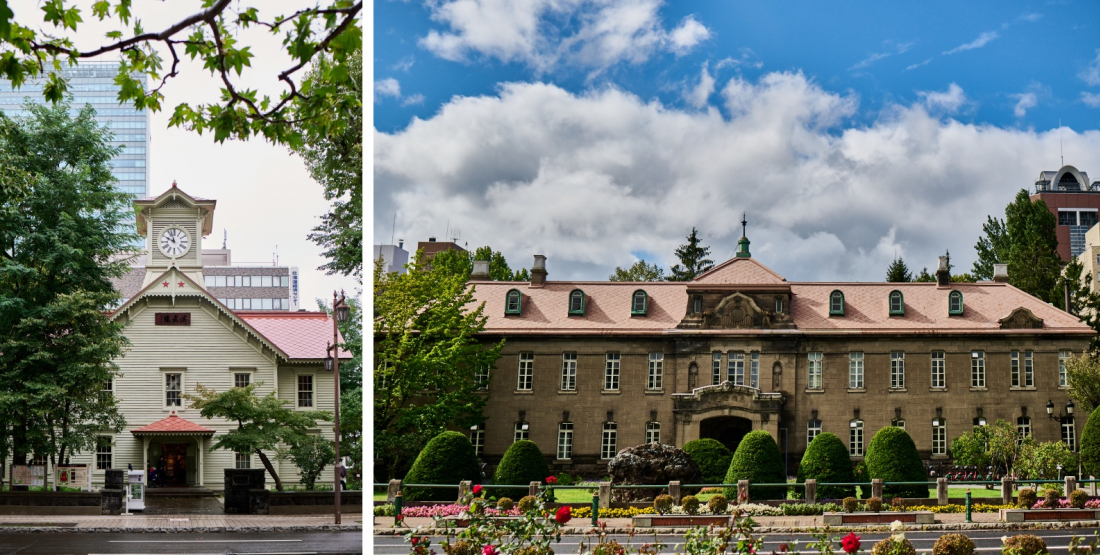 These days, Hokkaido is just a quick hop away from Tokyo by plane or ferry, but for most of human history this northern island has been the setting for its own unique stories, with culture, politics, and society somewhat separated from the main swing of Japanese society. Even in more recent centuries, Sapporo's history books are populated with notable local figures, under the sway of unique cultural influences, and the city's historic buildings offer a peek into that past. Two of the most popular historic destinations are the Sapporo Clock Tower (a former school building) and the Sapporo Shiryokan (a former courthouse), each of which now houses its own museums and exhibition spaces while maintaining the old eye-catching architecture.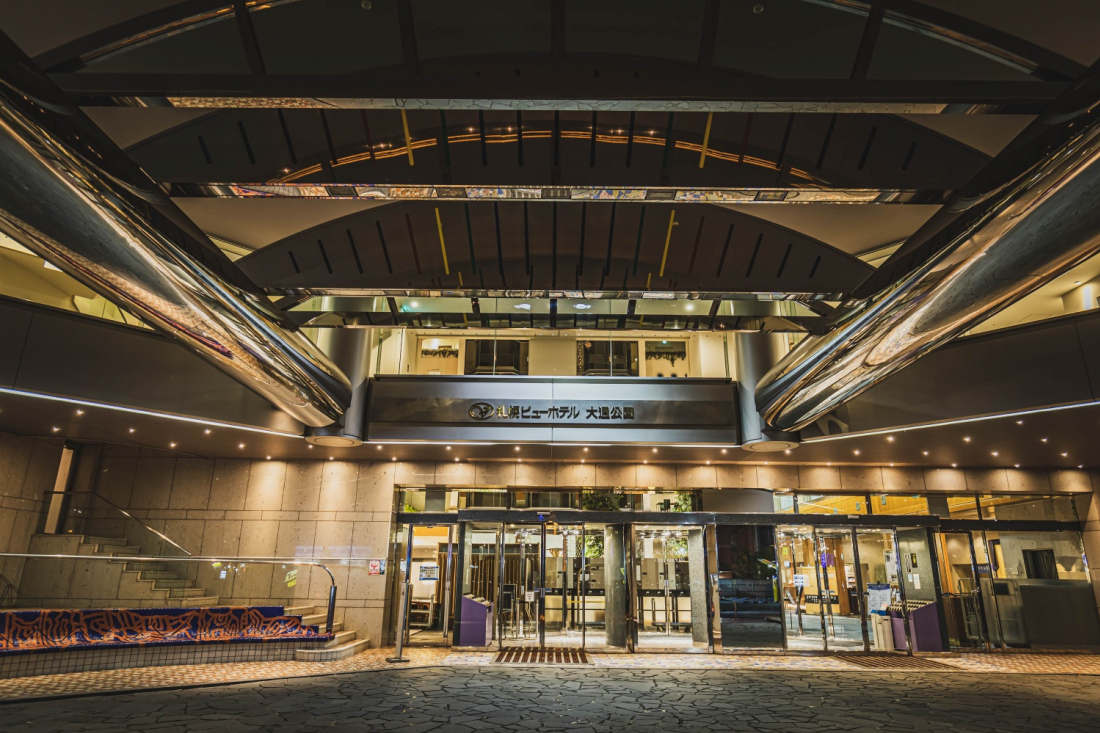 Fourteen floors at the heart of Sapporo, endowed with views of Odori Park throughout the four seasons, all within easy walking distance of everything from historic museums to bouncing nightlife. The location alone is reason enough to choose Sapporo View Hotel Oodorikouen, but add the selection of renovated rooms and a breakfast bursting with local flavor, and it's hard to look elsewhere. Odori Park's peaceful paths and the city's busy event calendar are calling – on your next trip to Sapporo, try a stay at Sapporo View Hotel Oodorikouen!
For more info and updates from Japan, check Japankuru for new articles, and don't forget to follow us on Twitter, Instagram, and Facebook!