The Onsen-Loving Snow Monkeys of Jigokudani Monkey Park
There's nothing better than a dip in a hot spring on a cold winter day, and the snow monkeys of Nagano couldn't agree more. Soaking up the warm water and tranquil atmosphere of an onsen (温泉, hot spring) is an essential cultural pastime for many people in Japan, and in Nagano, the hot springs are especially popular among an unusual group of local residents. Those locals are the snow monkeys of Jigokudani Monkey Park! They might be wild animals, but when the weather gets cold and snow begins to fall, the monkeys slip into the onsen daily and soak in the hot water, enjoying the hot springs just like the humans bathing not so far away. In recent years these onsen-loving monkeys have become a must-see for tourists visiting the area, one of Japan's many animal-themed attractions (like deer parks and cat train stations). And thanks to Jigokudani Monkey Park's location within Joshinetsukogen National Park, practically next-door to Shiga Kogen Ski Resort, the area has become a wintertime destination.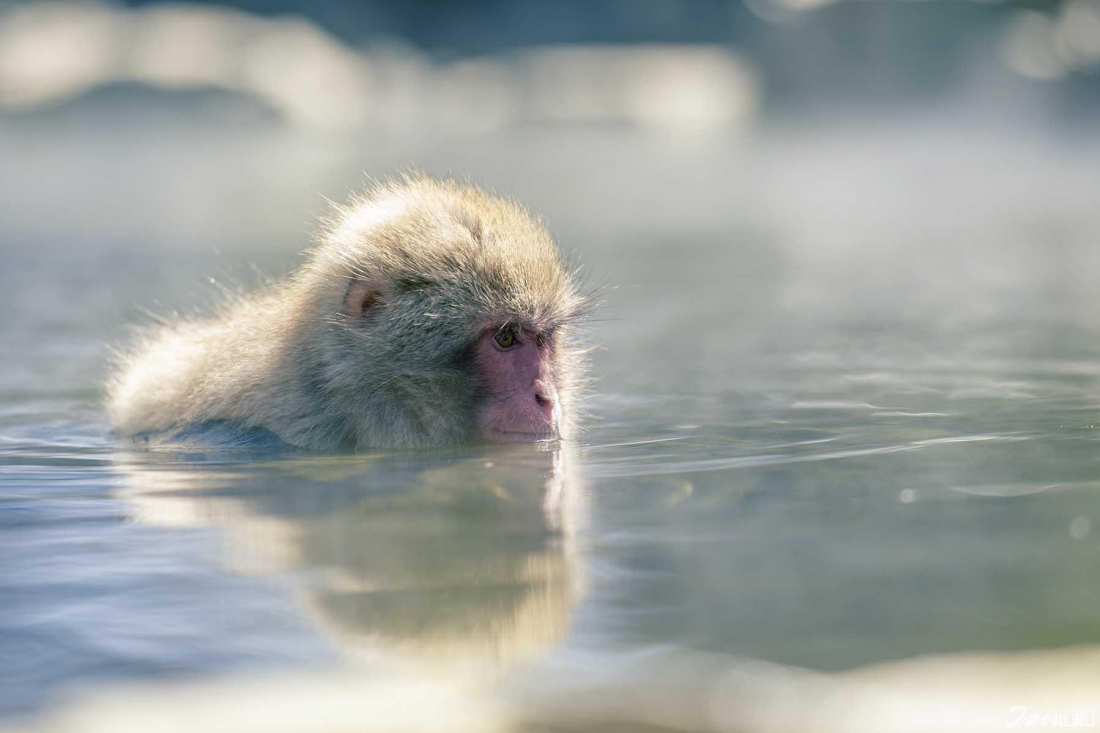 Jigokudani Monkey Park (Jigokudani Yaen Koen, 地獄谷野猿公苑) has been operating since 1964, and after the 1998 Nagano Olympics, the bathtime-loving monkeys became an international phenomenon. Brought into the spotlight by Olympic athletes, the monkey park is still a popular destination for skiers staying at Shiga Kogen Ski Resort. Buses run regularly between Shiga Kogen and Jigokudani Monkey Park, a trip of about half an hour.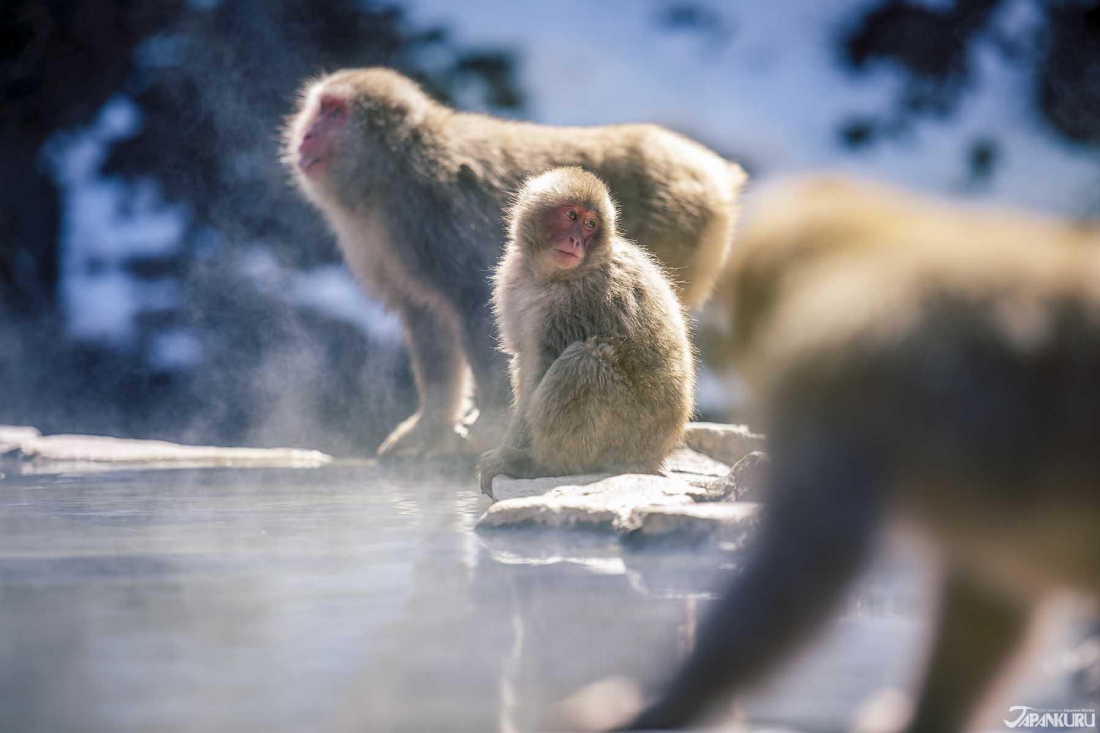 The park is open from 8:30 am to 5:00 pm, but they recommend you come earlier rather than later! The monkeys tend to come down from the mountains to soak in the onsen and observe the humans during the day, and then head back into the trees in the late afternoon. If you show up just before the park closes, the monkeys might already be returning home for a good night's rest!
There are no barriers at the park, and the monkeys can go where they like. Sometimes they come pretty close! But mostly they like to keep their distance. To keep both you and the monkeys safe and happy, Jigokudani Monkey Park has a few rules for visitors:
Don't get too close to the monkeys! They're still wild animals, and they might be tempted to snatch your bag if you come too near (or even scratch you if they're scared). It's best not to approach them.
Don't stare at their eyes. Humans like eye contact, but monkeys, it seems, do not.
Don't put your hands out towards the monkeys.
Don't show them any food or feed them. Really, it's best not to bring any food at all. You don't want the monkeys stealing it away, and the food could make them sick.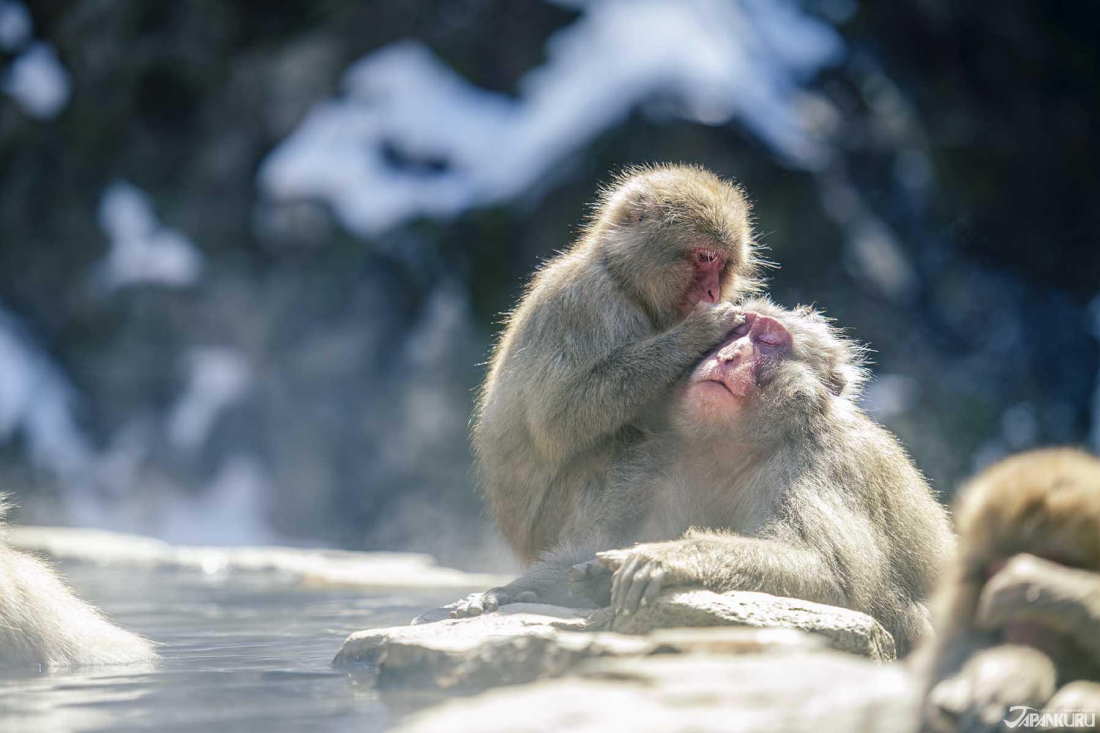 As long as you stick to the rules, there's nothing more relaxing than watching monkeys soak to their heart's content in an onsen, without a care in the world. Savor the experience!
Jigokudani Monkey Park (地獄谷野猿公苑)
6845 Hirao, Yamanouchi, Shimotakai District, Nagano Prefecture
Hours: 8:30 – 17:00
Entry Fee: Adults 500 yen, Children 250 yen
Official Website
What else is there to do at the national park? Find out more about the Joshinetsukogen National Park at "National Parks of Japan," provided by the Ministry of Environment of Japan.
Source: JAPANKURU