The Wisteria Festival at Ashikaga Flower Park ・ A Perfect Springtime Day Trip from Tokyo
Like a fairytale garden filled with whispy, beautiful wisterias hanging in lacy curtains, this Tochigi destination is an ideal day trip from the big city.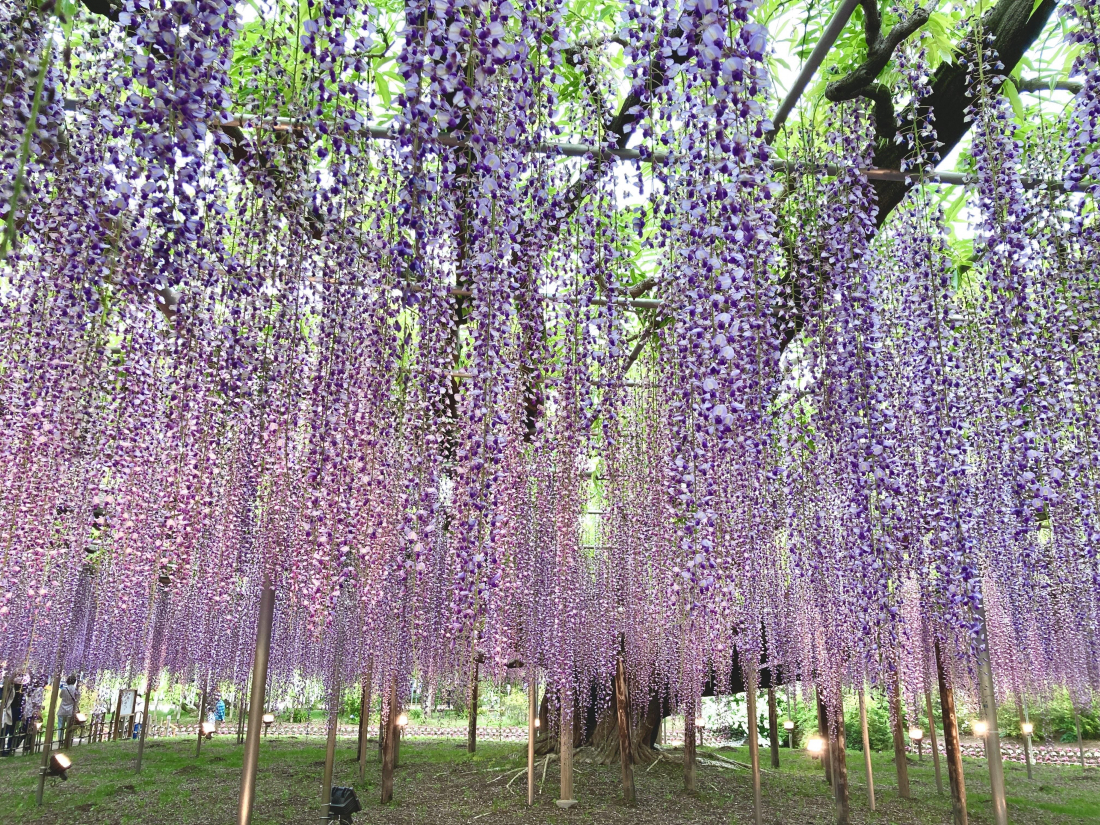 Ashikaga Flower Park is one of Japan's most popular seasonal flower viewing destinations, known particularly for the enormous wisteria trees that burst into purple and white blooms each spring, just about a month after Japan's more famous cherry blossom season. Wisteria season generally starts in mid-April and lasts through the first half of May, with different varieties blooming at slightly different times in different regions. But when it comes to must-see wisteria spots, Ashikaga Flower Park is undoubtedly top three. From individual wisteria trees with branches stretching out 1,000m² from the trunk, to wisterias in different shapes, sizes, and colors, plus plenty of other plants arranged in unique formations to complement the flowers, Ashikaga Flower Park is just about wisteria heaven, and it's only an hour or two outside of Tokyo!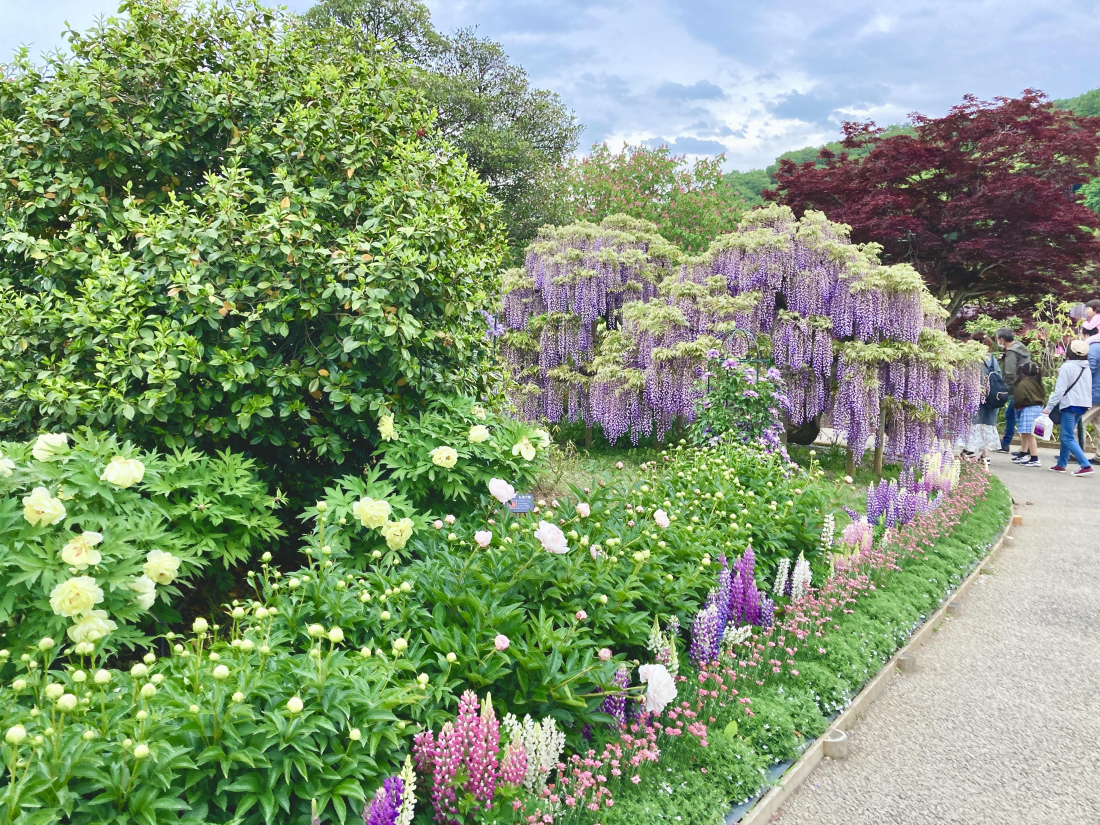 To celebrate the blooming of the famous wisteria trees, Ashikaga Flower Park holds a festival every year during the peak blooming period. While not too much changes in the park during the festival (except the wisterias coming into bloom), they do lengthen the park's opening hours, and of course sell plenty of special wisteria-themed merchandise. If you love pale purple, take a look at some of the souvenirs available!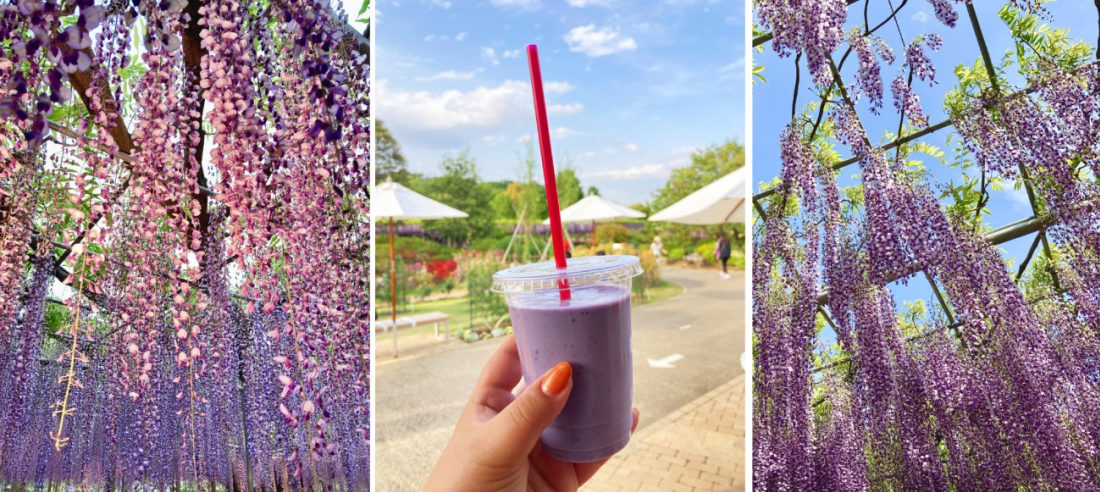 The festival is also the perfect time to try some wisteria-themed sweet treats, as well. I can't in all honesty recommend the "wisteria smoothie" to you, unless you particularly like mildly blueberry/blackberry flavored purple yogurt, but the equally purple wisteria-flavored soft-serve ice cream seemed to be a crowd-pleaser!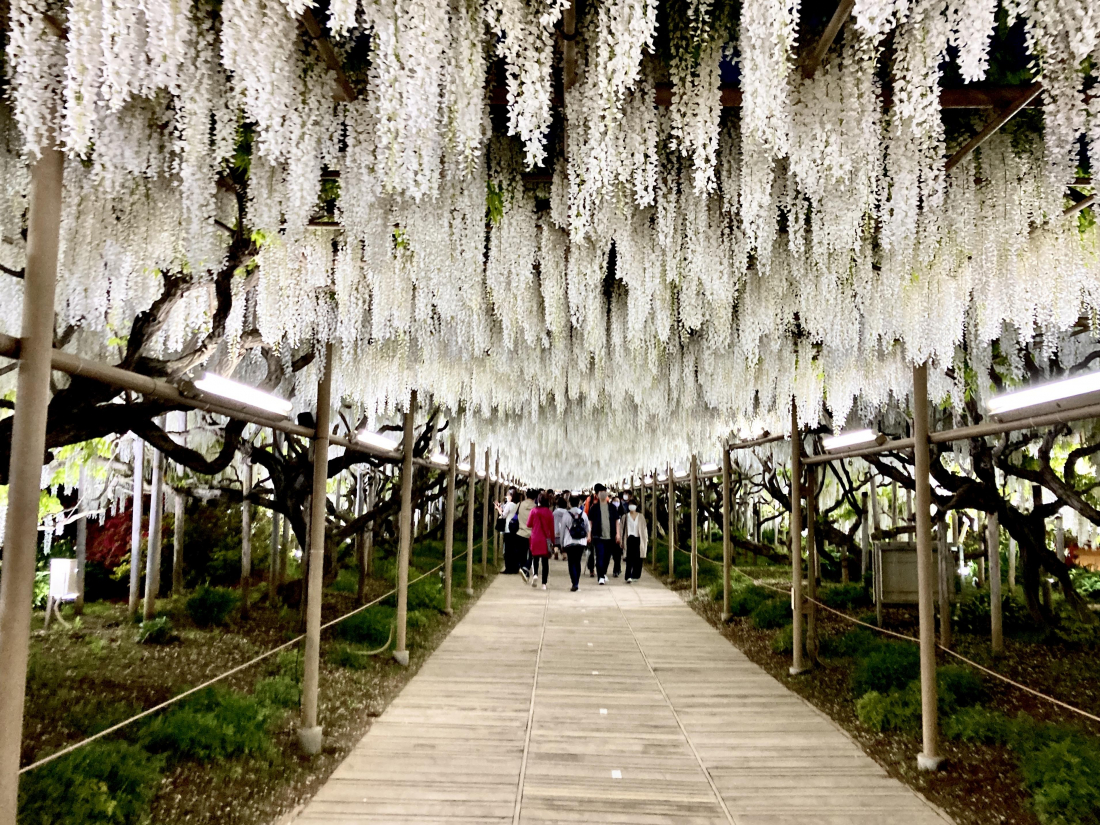 Part of the fun of a visit to Ashikaga Flower Park is enjoying all the less common varieties and colorations of wisteria the park grows alongside the standard purple strands. Some trees trail especially low with long bunches of flowers, while others have extra petals and look a little like purple popcorn. Their tunnel covered entirely with white wisterias trailing down from the heavens is always a popular spot, as are the "sakura-colored" pink wisteria, a ceiling of heavenly white wisterias, and a trellis covered in golden-yellow Kibana wisterias is a special treat, blooming at the very end of the season (and found nowhere else in Japan)!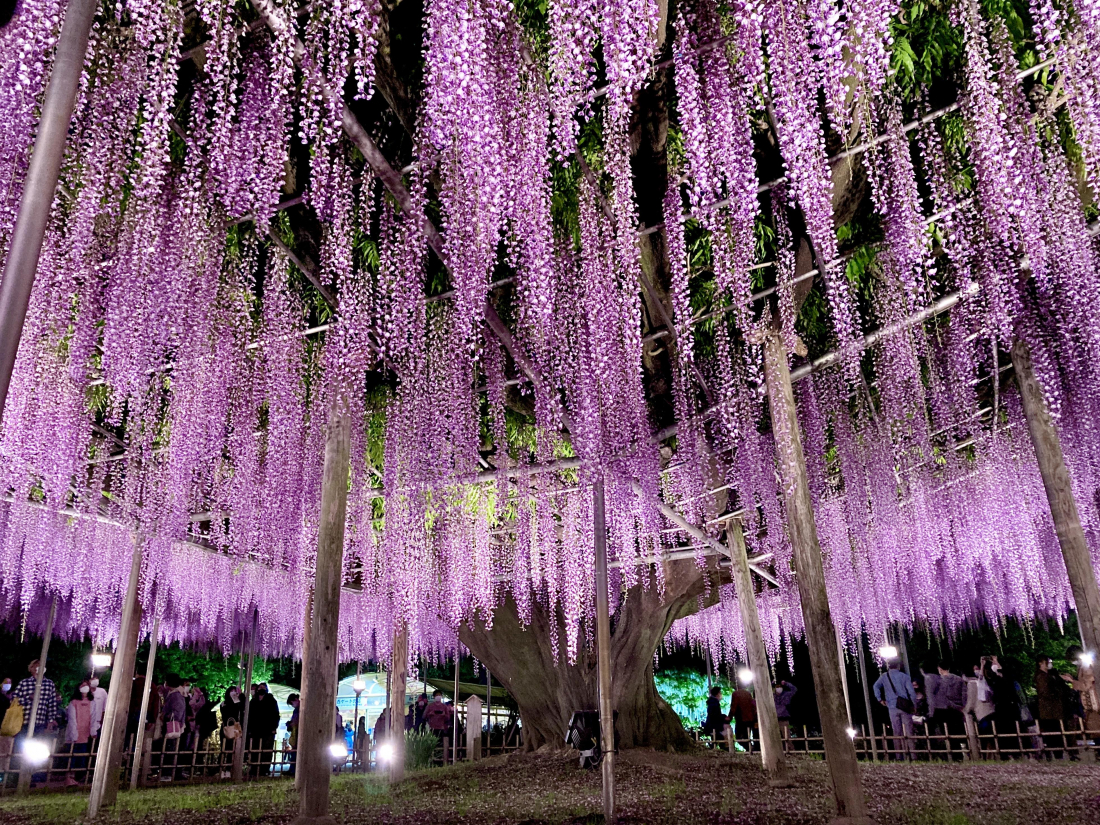 There's a good reason for lengthened hours during the wisteria festival, though, and that's because at night the flowers are lit with bright lights to create a whole new, extra-romantic atmosphere. The tendrils of purple and white flowers seem to glow in the lights, as they hang down from the dark tree canopies. It truly is like walking into a magical garden from a fairytale. Or maybe the wisteria-covered mountain of Demon Slayer: Kimetsu no Yaiba.
If you can't quite time your trip to coincide with the Ashikaga Flower Park Wisteria Festival, don't worry! Try for winter instead! During the colder months of the year, when not much is truly in bloom, the park transforms into a world of beautiful light displays, where flower-shaped fairy lights take on the role of wisterias. Sparkling in the cold winter air, the lights aren't quite the same as real flowers, but they might just be equally gorgeous.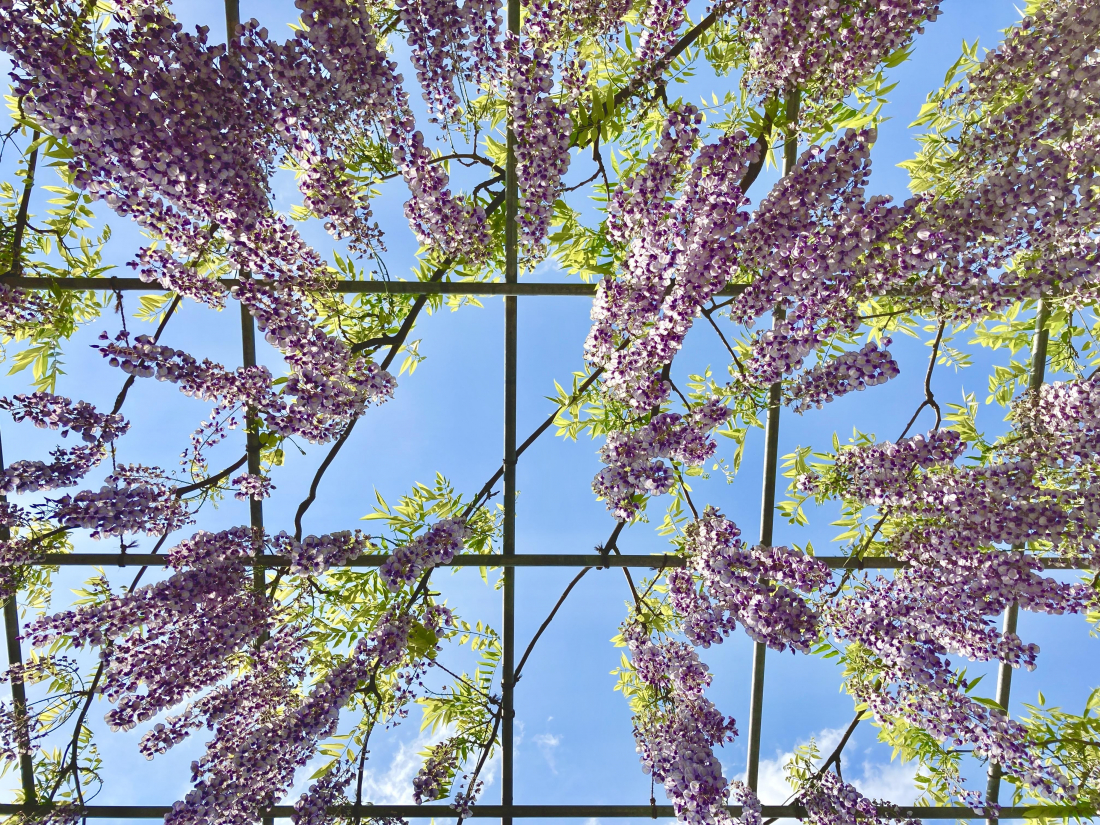 Ready to venture out of Tokyo and north into a world of purple flowers? Ashikaga Flower Park is a little out of the way and far from any major train stations, so in the past, the only practical way to access it was by car. Fortunately, in recent years a small train station was built alongside the park, and now visitors can take the train and get from central Tokyo to Ashikaga Flower Park Station in just about 2 hours. With a JR pass it gets even more convenient, as a short trip on the Tohoku-Hokkaido Shinkansen cuts the travel time down to under an hour and a half. During peak flower-viewing seasons, there are even special trains that run direct from Tokyo to Ashikaga Flower Park Station, with no train changes necessary! So next time you need a fresh of breath air, don't hesitate to seek the wisteria-perfumed breeze of Tochigi Prefecture, and Ashikaga Flower Park in particular.
For more info and updates from Japan, check Japankuru for new articles, and don't forget to follow us on Twitter, Instagram, and Facebook!
Source: JAPANKURU