Tokyo Sightseeing with Tokyo Mega Illumination: See the Best of Tokyo!
Check out the dazzling lights of Tokyo Mega Illumination and the fantastic views from Tokyo Tower and Tokyo Skytree, plus the busy streets of Shibuya and Shinjuku!
Enjoy Autumn and Winter in Tokyo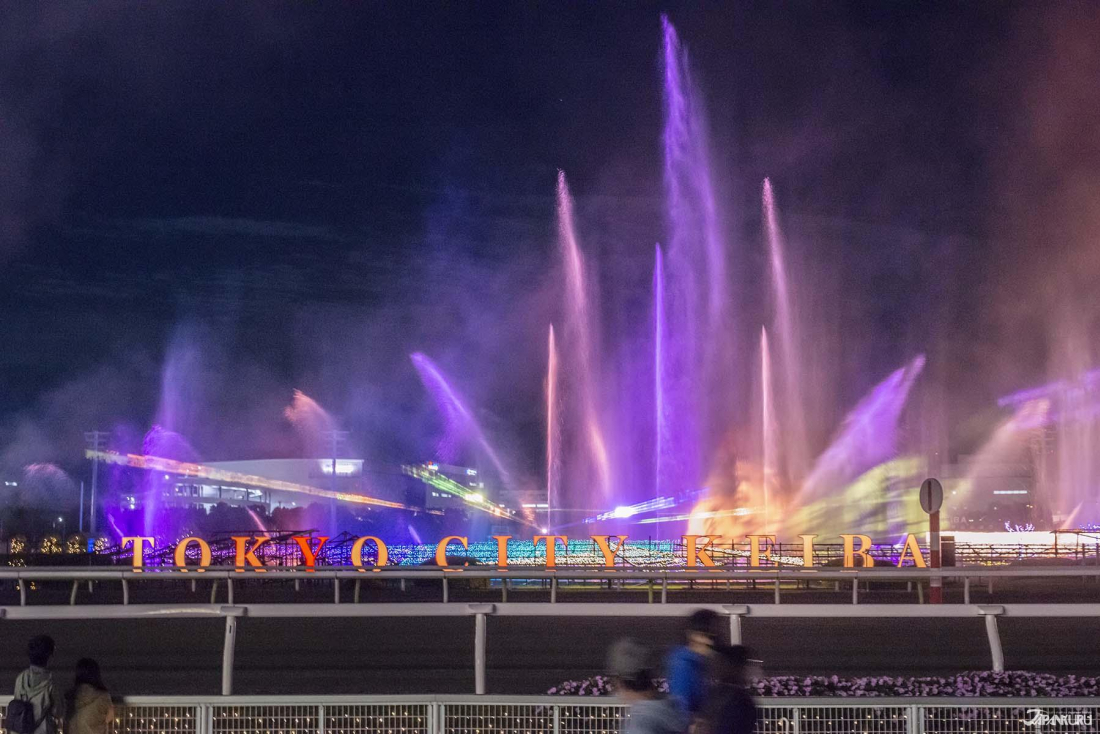 Between the cool breezes and the clear air, it's no surprise that many travelers love Tokyo in the cooler months of the year, when the city is easy to explore on foot and nighttime lights shine a little bit brighter. Not only is the crisp air a comfortable relief after Japan's hot and humid summers, but locals generally agree that the lack of excess humidity makes everything look a little more beautiful, which means there's no better time to see the big city's most famous sites, explore its most bustling neighborhoods, and of course check out Japan's spectacular "illumination" events, which feature breath-taking light shows and twinkling displays. After dark, Tokyo Mega Illumination is the go-to destination for anyone exploring Tokyo, and it's a delightful way to bring a full day in the city to an end. Add it to your Tokyo itinerary along with the city's most beloved spots to make the most of your time in Japan!
Tokyo Mega Illumination 2023~2024


Japan's tradition of "illuminations" takes advantage of the cold, clear air each year to show off the artistry of twinkling lights and the latest in projection technology, which makes these events an absolute must-see for travelers visiting the country throughout the autumn and winter. Fortunately for anyone planning to go sightseeing in Tokyo, one of the country's top illumination events is right in the city! Tokyo Mega Illumination is held yearly at the Oi Racecourse, a quick train or taxi trip from many of the city's most popular spots, and the event has now taken 1st place on the "Must-See Japanese Illumination Event" ranking three years in a row. With two light display zones (the Twinkle Area and the Japanese Glitter Area) plus an interactive "Twinkle Tunnel" to connect them, real horses to take pictures with, tasty bites to eat, and a generally festive atmosphere, it's no wonder that the event is always a hit with everyone from young couples to big families.
First things first when visiting Tokyo Mega Illumination, don't miss the Twinkle Fountain and Aurora Borealis, some of the most impressive sections of the illumination. A rippling glow plays throughout the branches of the Aurora Forest, just like the northern lights seen around the Arctic Circle, while the fountain nearby puts on a colorful show to the sound of music, combining lights and tall sprays of water!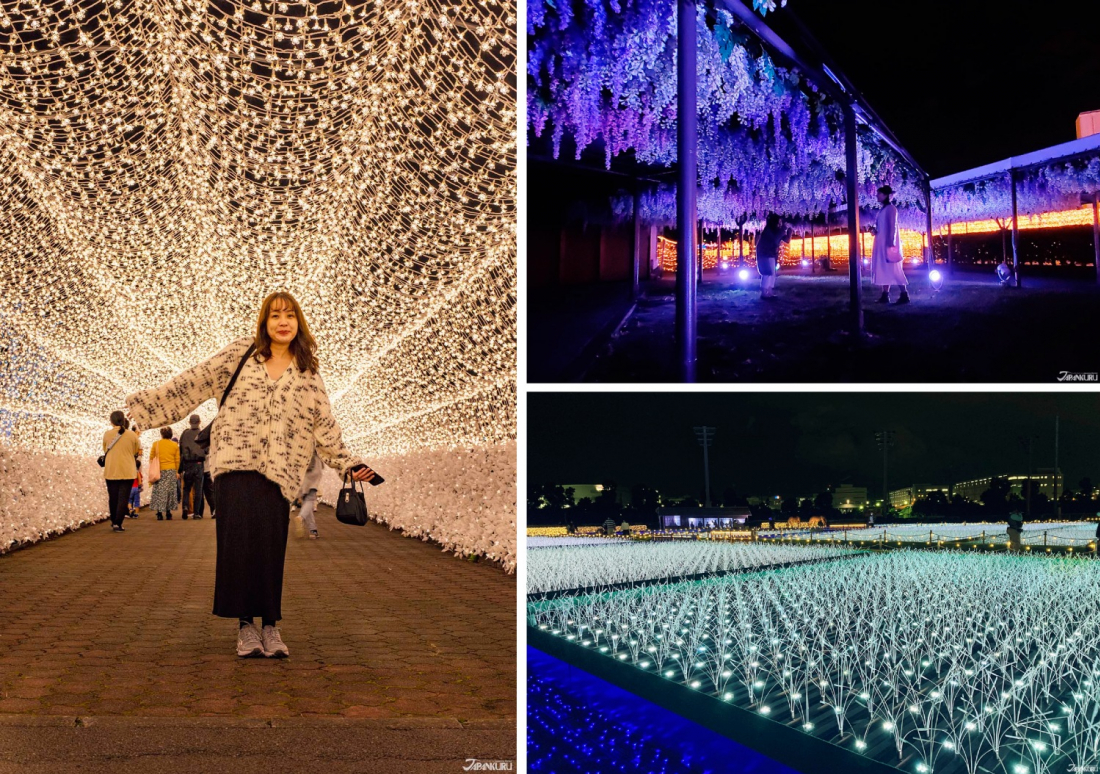 For visitors looking to pose for the perfect picture, Tokyo Mega Illumination's flower spots are a must. The Edo Cherry Blossom Tunnel is a yearly favorite, and the 100-meter length (328ft) is entirely covered in tiny lights in the shape of cherry blossoms, recreating Japan's springtime beauty even throughout the winter. Fans of a certain popular demon-slaying anime might also be especially excited to see the event's Nighttime Wisteria Pergola, a nearby area covered entirely with illuminated "wisteria flowers," which hang down in elegant tendrils just like the real springtime flowers. (The effect is not unlike the demon-repelling wisteria flowers found in that popular anime.) Even on Tokyo's most freezing nights, these flowers light up the night with an irresistibly romantic glow.
Nearby, rice paddies are made with lights sprouting up from the ground, recreating the Japanese countryside on a vast scale. Get a glimpse of Japan's rural landscape without leaving Tokyo!

When it's time to take a break from all the dazzling lights, Tokyo Mega Illumination offers two good options: food and (equine) friends. Dining options range from dinner options like Japanese curry, udon, and ramen, to all kinds of sweet and savory snacks, and even craft beer. The rounded horseshoe churros are a racecourse favorite, but the variety of light-up drinks and candies make for even better props when taking pictures.
Of course, Oi Racecourse is a real, active horse-racing racecourse (the illumination event is held during off hours!), so it would be a shame to leave without saying hello to some of the horses. The miniature horses are easy to find dressed up in cute costumes to take pictures with guests, and on certain days, the racecourse's lead ponies (guides and companions for the race horses) even join in on the fun by parading along as part of the light shows. All the miniature horse and pony profiles are actually up on the Tokyo Mega Illumination website – check it out to get to know them before heading over!
Between the spectacular light shows, the magical tunnels of flowers straight from some kind of fairyland, and all the horse-themed fun, Tokyo Mega Illumination is really a must-see during a trip to Tokyo!
Tokyo Mega Illumination (東京メガイルミ) 2023~2024
Oi Racecourse, 2-1-2 Katsushima, Shinagawa City, Tokyo
Event Period: November 11, 2023 (Sat) ~ January 8, 2024 (Mon)
*Not including holidays, see the full schedule on the official website.
Hours: 16:30 – 21:00 (final admission 20:00, some areas close at 20:30)
Transportation: 2 min. walk from Tokyo Monorail Oikeibajo-Mae Station
*Easily accessible from Haneda Airport or central Tokyo, via taxi or public transportation. See recommendations below!
Advance Tickets: adults (18+) 800 yen, children 400 yen
*Find ticket details on the official website.​
Official Website (en) | Tickets Available from Klook | Tickets Available from asoview!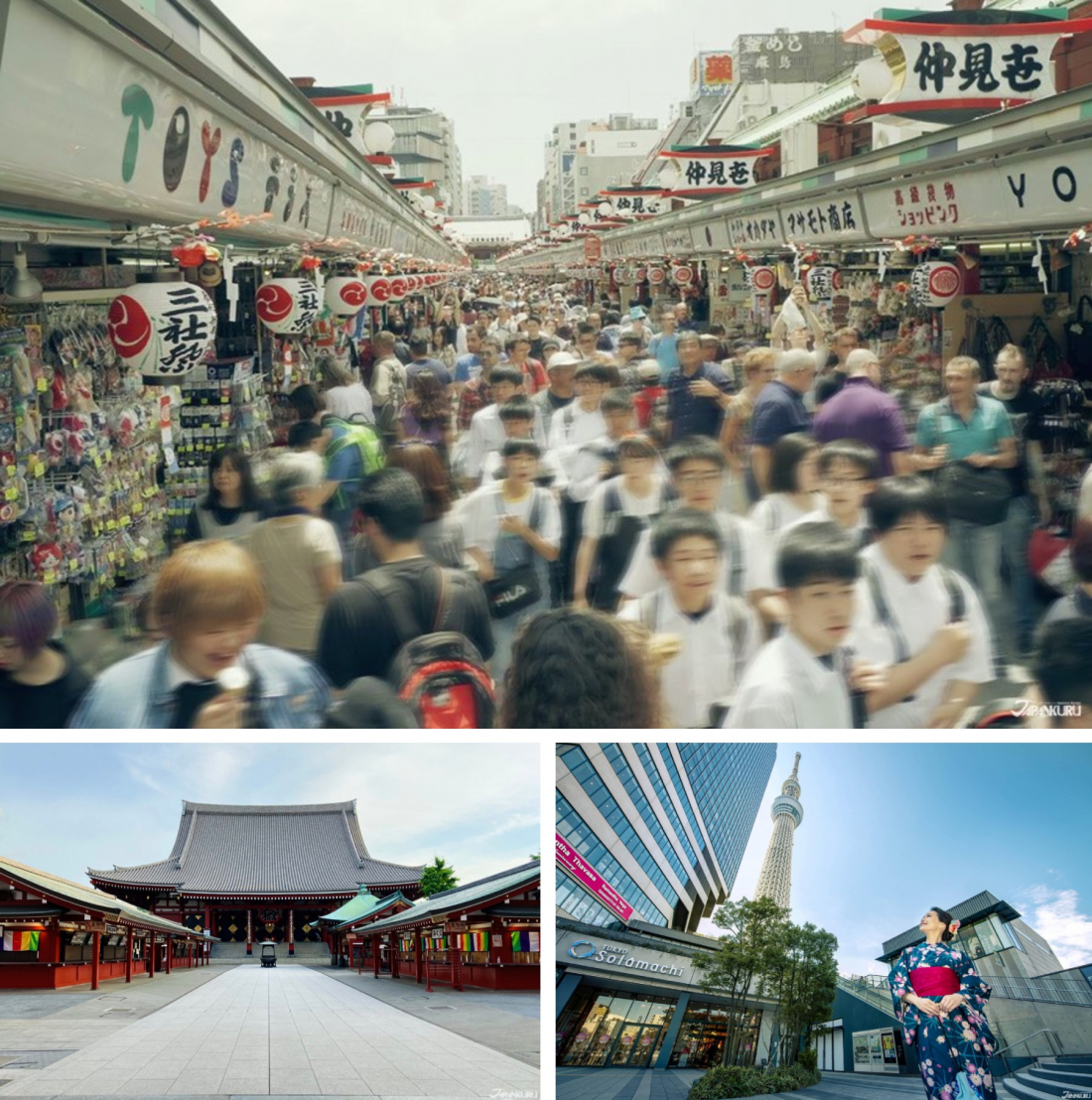 The Asakusa neighborhood is beloved amongst travelers thanks to its traditional atmosphere, old-fashioned shopping streets, Japanese street food, and of course the venerable Sensoji Temple – Tokyo's oldest. It's not hard to spend an entire day in just this one little area! Dress up in traditional kimono, soak up Sensoji Temple's millennium and a half of history, walk down the bustling Nakamise shopping street, take pictures in front of Kaminarimon Gate, and don't forget to try cream-filled melon bread and some of the old-fashioned Japanese sweets. Adventurous sightseers can even ride a rollercoaster while still in kimono, at the little retro amusement park tucked in beside Sensoji Temple, called Asakusa Hanayashiki.
After seeing Tokyo's oldest landmarks, move on to its newest! Tokyo Skytree (opened to the public in 2012) is a pleasant 20-minute walk across the Sumida River and along the length of Tokyo Mizumachi (or one stop away by train instead), and visitors can go all the way to Floor 450 to see the most amazing bird's eye view of Tokyo. Turn south towards Tokyo Bay to spot Tokyo Mega Illumination as a tiny speck far below! Tokyo Skytree is the tallest free-standing tower in the world, but far below at ground level, it's surrounded by the shops and restaurants that make up Tokyo Solamachi. After sunset (another great time to visit the Skytree observation decks), take the train from Oshiage Station or Asakusa Station, to get to Tokyo Mega Illumination in just over half an hour.
▶︎ Purchase a set ticket for Tokyo Skytree and Tokyo Mega Illumination to get a great deal on both! Find details here.
Sensoji Temple (浅草寺)
2-3-1 Asakusa, Taito City, Tokyo
Official Website (en)
Tokyo Skytree (東京スカイツリー)
1-1-2 Oshiage, Sumida-ku, Tokyo
Observation Deck Hours: 8:00 – 22:00
Official Website (en)
Plan a Full Day in Tokyo
With a full day in Tokyo, there's so much to do and see that it can be hard to choose! But once nighttime entertainment plans are taken care of (with a trip to Tokyo Mega Illumination), our next step is deciding how to spend the morning and afternoon.
Asakusa & Tokyo Skytree
Tokyo Tower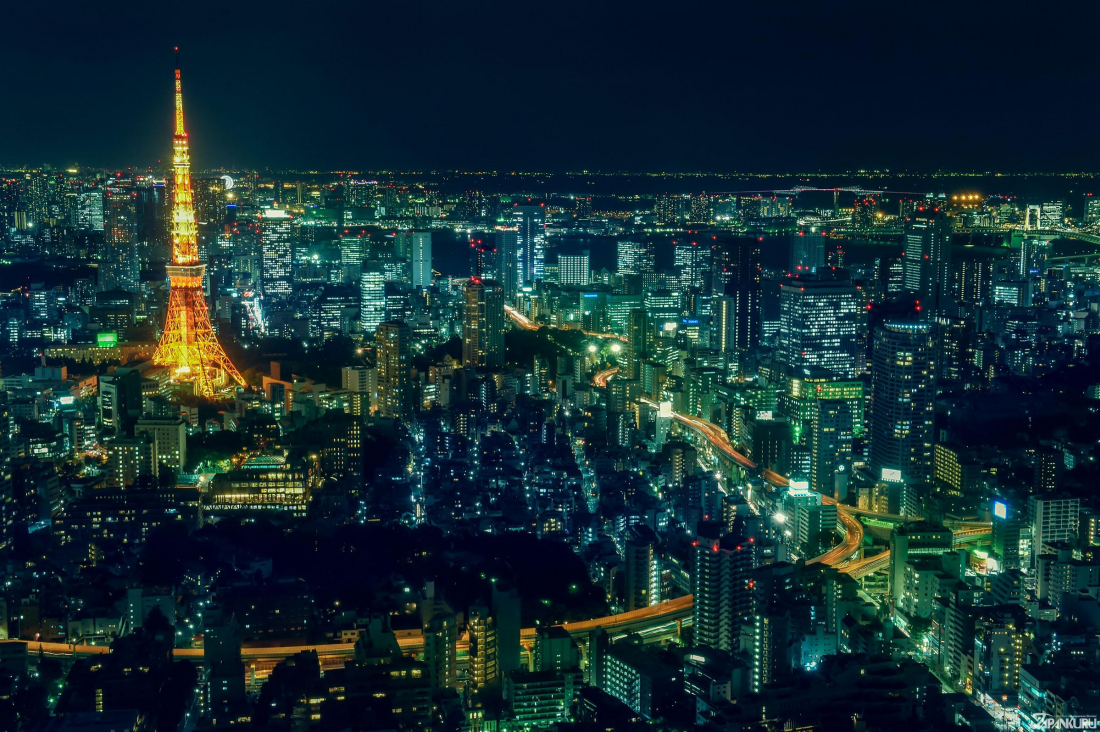 Tokyo Tower was the world's tallest when it first opened in 1958, and this iconic tower is still a landmark close to the hearts of Tokyo locals and visitors alike. The bright red structure even has its own emoji (🗼), an honor bestowed upon few other destinations! Tokyo Tower is still open to the public, and sightseers flock to the 360° observation decks located 150m (492ft) and 250m (820ft) in the air, alongside a selection of exhibitions and other events. To this day, the historic tower is an imposing presence in the middle of the city, and the windows offer great views of central Tokyo in all directions.
Tokyo Tower is also surrounded by Shiba Park, which is filled with green lawns, flower patches, and park benches made for sitting and admiring the Tokyo Tower view. Make sure to stop by Zojoji Temple to admire the 600-year-old temple, before heading south to Tokyo Mega Illumination, a little under 30 minutes away on the Tokyo Monorail.
▶︎ Purchase a set ticket for Tokyo Tower and Tokyo Mega Illumination to get a great deal on both! Find details here.
Tokyo Tower (東京タワー)
4-2-8 Shibakoen, Minato City, Tokyo
Main Deck Hours: 9:00 – 22:30 (final admission 22:00)
Official Website (en)
Shibuya & Shinjuku

Tokyo is such a big city that there's no single city center, but the central area encompassing Shibuya and Shinjuku is undeniably at the heart of Tokyo life, with huge office buildings towering over commercial districts, cultural institutions, and much more. For a sense of the city, take the train to Shibuya or Shinjuku Station, go out any exit, and just walk around – there's life in every direction, with many of the city's most popular shops and restaurants clustered around each of the transportation hubs.
There are plenty of more specific destinations worth seeing in the area as well. Throughout the fall, Shinjuku Gyoen National Garden is a beautiful place to watch the leaves change color, and Meiji Jingu Shrine (located a little way to the south next to Harajuku Station) is surrounded by its own small forest with colorful trees of all kinds. Of course, Harajuku is also the place to see the latest in colorful Japanese street fashion and the trendiest, most instagrammable street food, thanks to its status as the heart of Japanese subculture. Right next door is Omotesando, lined with flashy flagship stores for international brands and high-end designers.
From Harajuku/Omotesando, it's actually an easy walk right to Shibuya via Cat Street (known for trendy cafes and fashion), so the iconic views of Shibuya Crossing, Hachiko the loyal dog, and Shibuya 109 are just a few minutes away on foot. Head over to Miyashita Park to see the stylish Studio Ghibli merchandise at GBL and grab something to eat before heading on to Tokyo Mega Illumination – again, just about 30-40 minutes away from Shibuya Station, Harajuku Station, or Shinjuku Station.
Haneda Airport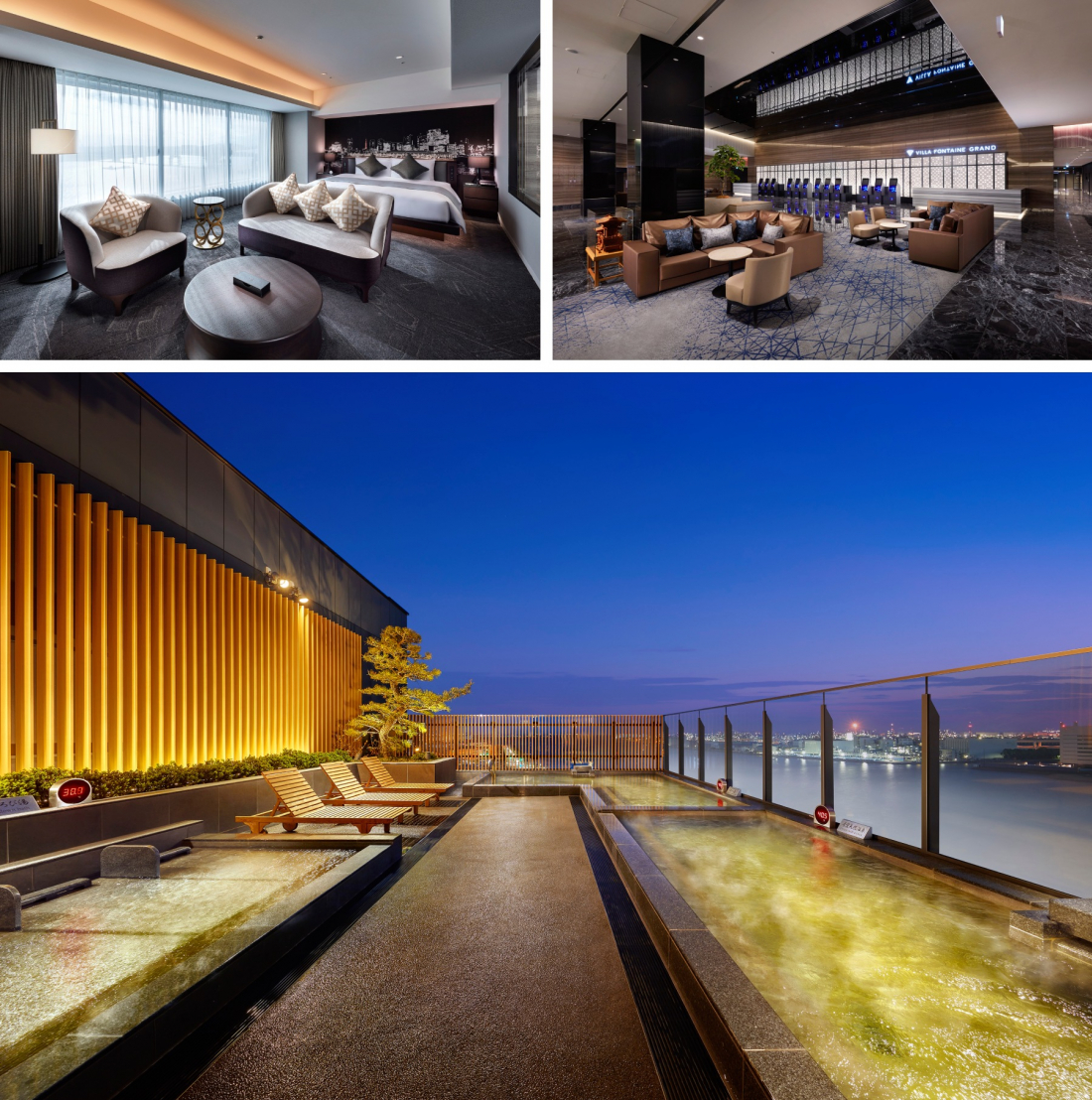 Planning to fly home via Haneda Airport? Tokyo Mega Illumination is actually a great place to visit on the last day of a trip to Japan thanks to its proximity to this major Tokyo airport. Enjoy a day in Tokyo and a night full of sparkling lights, then hop on the Tokyo Monorail (from Oikeibajo-mae Station) for just over 15 minutes to reach Haneda Airport. The airport has quite a few new facilities just recently opened to the public, making it easy to enjoy a relaxing night in Haneda, and then float through a stress-free final morning before boarding a flight home.
Connected directly to Haneda Airport Terminal 3, the latest additions at the airport are the high-grade hotel Villa Fontaine Premier/Grand Haneda Airport and Haneda Airport Garden, a shopping and dining facility, each designed to help make Haneda Airport the gateway to Japan for people arriving from around the world. The hotel not only has 1,717 guest rooms, but also a luxurious natural hot spring spa facility with open-air baths (with views of airplanes and also Mt. Fuji!) called Izumi Tenku no Yu, its own laundromat, a hotel restaurant, and a fitness room, to make each stay comfortable and convenient. Haneda Airport Garden has around 20 restaurants and another 60 or so retail shops, all offering glimpses of Japanese culture from around the country. It's an ideal place to spend a final night relaxing in Japan, and pick up some last-minute souvenirs at the same time.
Villa Fontaine Premier/Grand Haneda Airport (ホテル ヴィラフォンテーヌ プレミア/グランド 羽田空港)
Haneda Airport Garden (羽田エアポートガーデン)
2-7-1 Hanedakuko, Ota City, Tokyo
Official Website (jp)
From Tokyo Icons to Tokyo's Best Illumination, All in a Day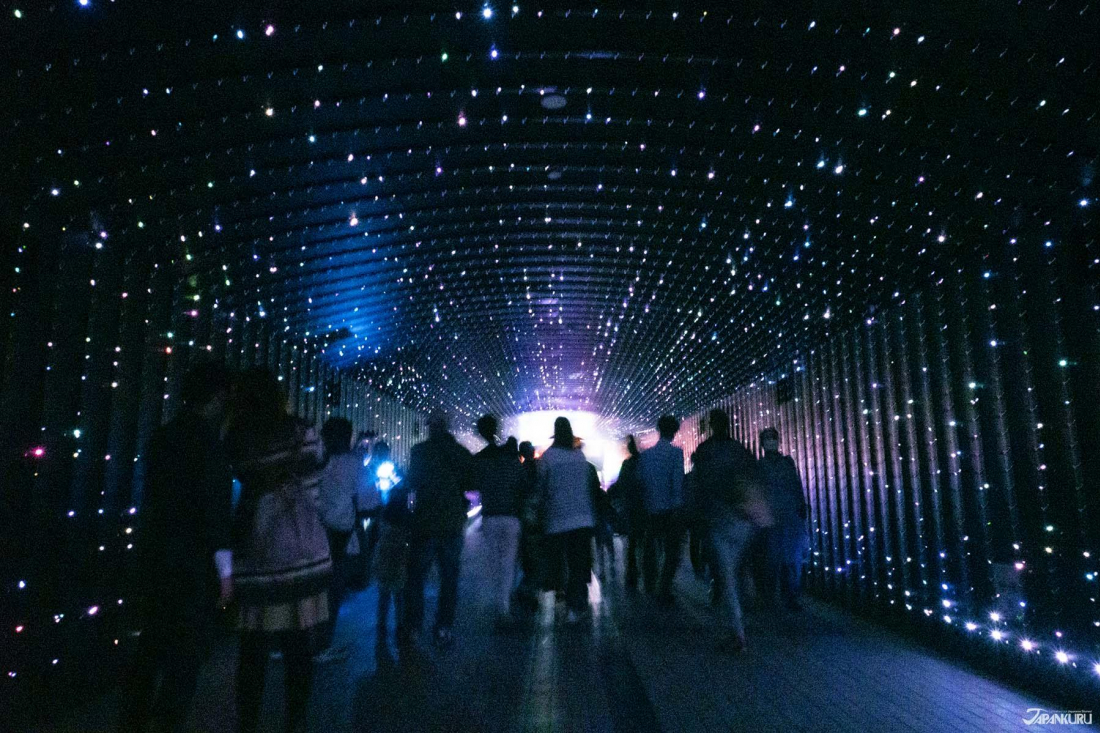 Both locals and visitors often say that the cool months of autumn and winter are the best parts of the year to explore Japan, and it's hard to disagree, between the dreamy walking weather and the gleaming lights after dark. So this season, don't miss the best of Tokyo! Spend an afternoon in kimono around Asakusa, take a trip to the top of one of Tokyo's towers, or shop till you drop in the city's busiest neighborhoods. And to bring that perfect day to an end, bathe in the glow of glimmering lights, say hi to the horses, and snack on sweet churros at Tokyo's best illumination event: Tokyo Mega Illumination. Tokyo is waiting!
Find all the details and the latest news from Tokyo Mega Illumination on the official website!
For more info and updates from Japan, check Japankuru for new articles, and don't forget to follow us on Twitter, Instagram, and Facebook!