2022 Japanese Cherry Blossom Forecast + 11 of the Best Places to See Japanese Cherry Blossoms in Japan!
Looking for the best places to see cherry blossoms (AKA sakura) in Japan? Ready for a day of hanami picnics? Here's a little guide to get you started!
🌸Cherry Blossoms in Japan🌸
The exact dates for cherry blossom blooms around Japan vary year to year, and from city to city (and even from one spot to another!), but the very best times to see them are generally from late March through April, with peak periods a little later in the north due to cooler weather!
But experts take a look at the weather every year and make much more specific predictions for that spring's sakura season! As you can see on this map from Weathermap.jp, in 2022 cherry blossom blooms will be a little early but nothing unusualーkey spots like Tokyo and Osaka will start around March 19th and 24th respectively. For some of the best cherry blossom viewing destinations to visit in those two cities and throughout Japan, check out our guide below!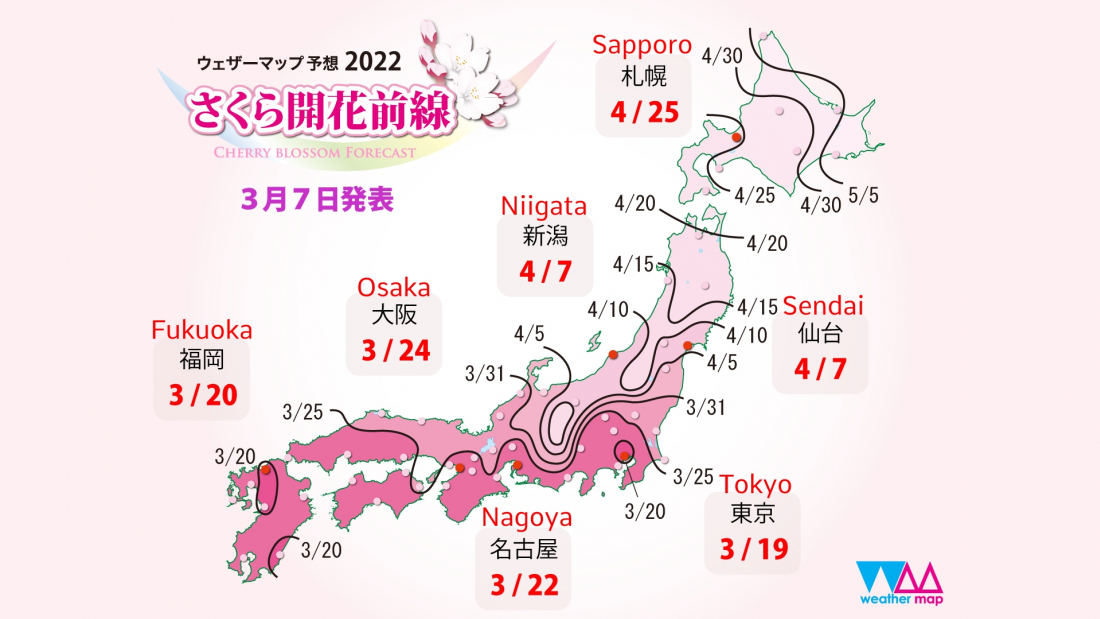 🌸Best Places to See Cherry Blossoms (Sakura) in Tokyo🌸
Ready to surround yourself with pink petals and sweeping cherry boughs? Many Japanese hanami enthusiasts rely on the Japanese website Walker Plus for cherry blossom viewing recommendations, so we've collected a few of their top spots in Tokyo just for you!
① Meguro River (目黒川の桜)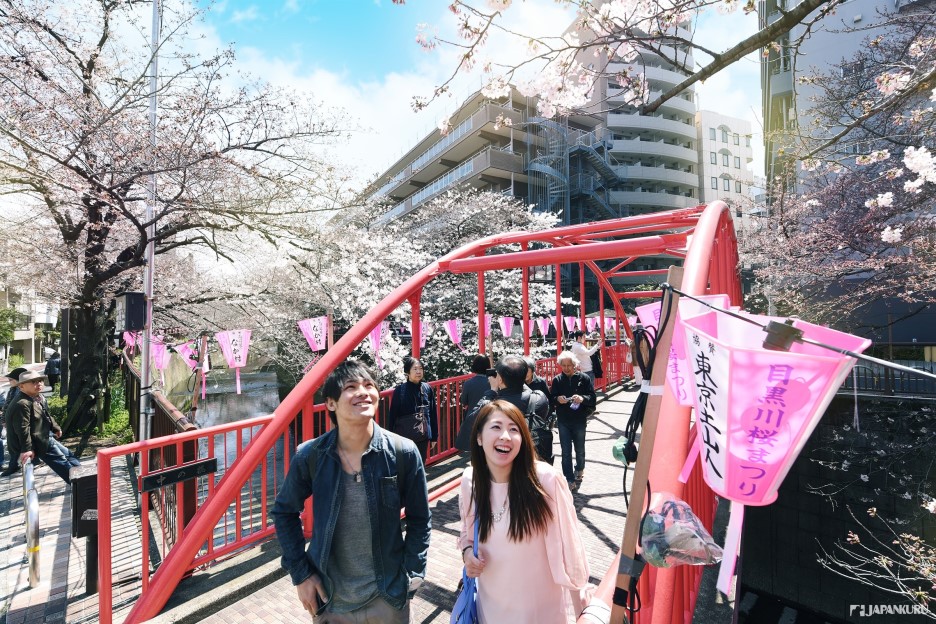 Located in the Nakameguro area near Shibuya, Meguro River (目黒川) is consistently one of, if not the, most popular place to go cherry blossom viewing in Tokyo. There are over 800 cherry blossom trees lined up along the riverbanks, stretching on for almost 4km (2.5 miles). Lanterns hang along the river in front of the trees, making the spot equally beautiful in the sunshine and after sunset, when the lanterns cast a soft glow on the flowers. While there are a few restaurants and convenience stores nearby, and food and drink stands set up during the Meguro River Cherry Blossom Festival season, this isn't really a good place for the hanami picnic tradition. There isn't much space to lay down a tarp and spread out! So join the crowds and take a nice walk among the flowers instead!
Google Maps
Access: 5min walk from JR Meguro Station
② Rikugien (六義園の桜)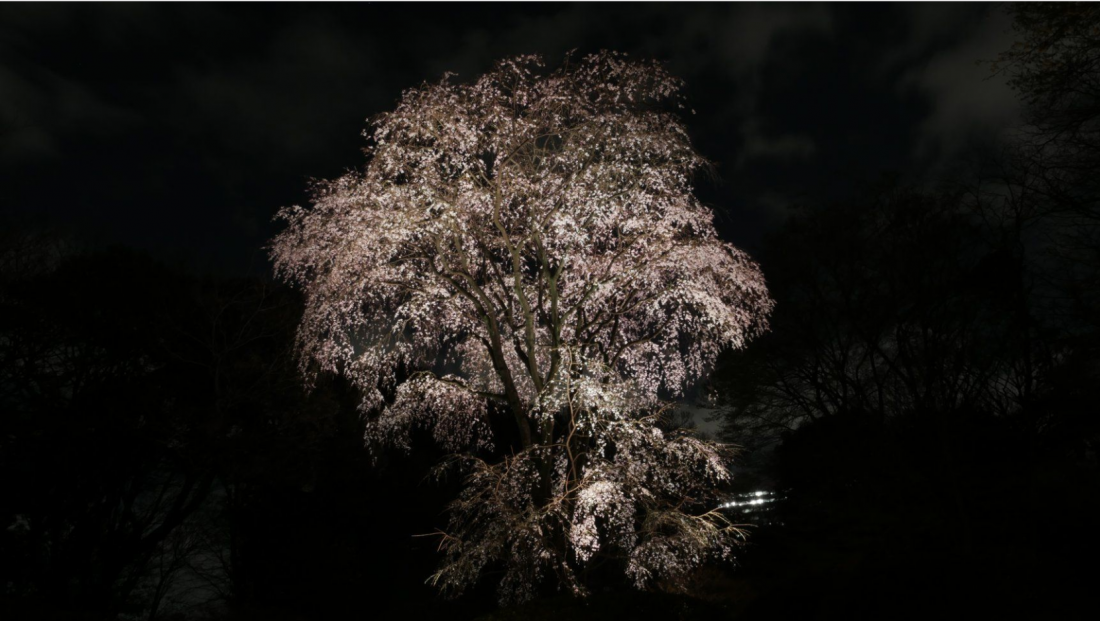 uring the cherry blossom season, Rikugien is most famous for the garden's huge weeping cherry blossom tree, which towers above at 15m (almost 50ft) high and 20m (65ft) wide, with blooms said to "pour like a waterfall." At night the weeping cherry blossom tree is lit from below, making it one of Tokyo's most famous nighttime cherry blossom viewing spots. Aside from its spectacular sakura, Rikugien is a traditional Japanese garden, first constructed by a local samurai in 1695, with permission from the Tokugawa shogunate.
Google Maps
Access: 7min walk from JR Komagome Station
⏰Park hours: 9am~5pm
Light up: sunset~9pm
💴300yen
③ Sumida Park (隅田公園)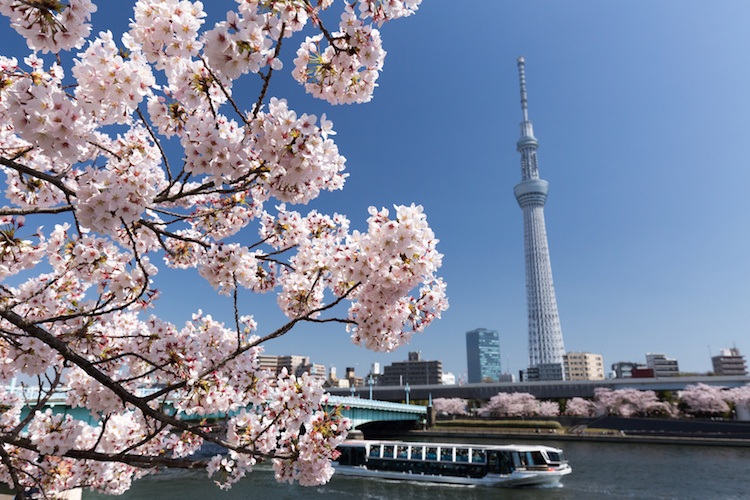 Right next to the popular sightseeing area of Asakusa, and with a great view of Tokyo Skytree in the background, the many sakura trees that grow along the water on the Sumida River make it a beautiful place to take a walk under the fluttering pink petals and breathe in the fresh spring air.
Google Maps
Access: 5min walk from Asakusa Station
④ Chidorigafuchi Park (千鳥ヶ淵公園)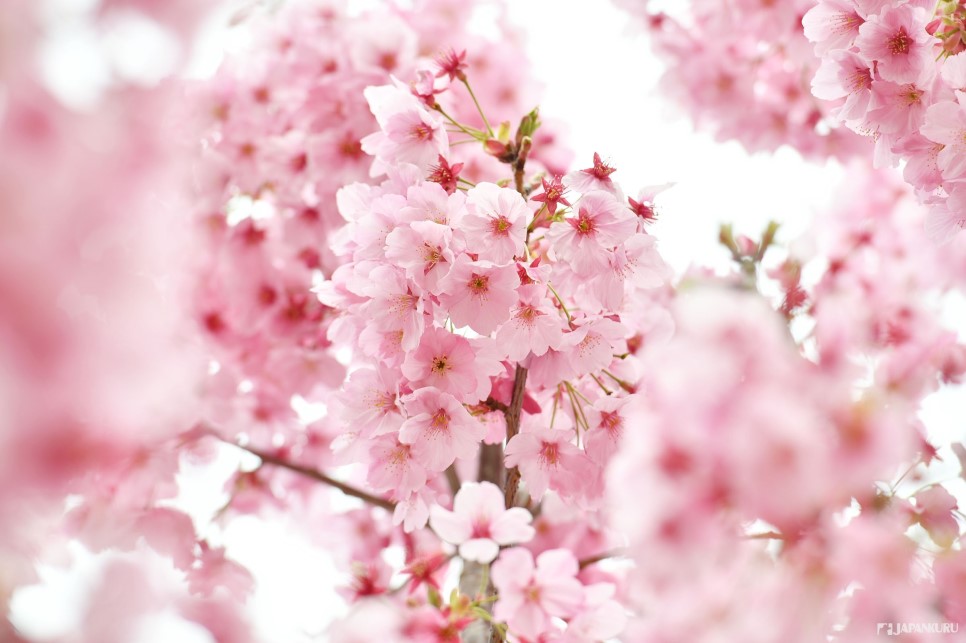 One of the most impressive cherry blossom viewing spots in Tokyo is just five minutes from the nearest station, with about 170 cherry trees spread between Tokyo's Imperial Palace and the British Embassy. The reflection of the cherry blossoms in the water is noted as being particularly beautiful, and the area is always crowded with people during sakura season.
Google Maps
Access: 5min walk from Tokyo Metro Hanzomon Station Exit 5
⑤ Shinjuku Gyoen National Garden (新宿御苑の桜)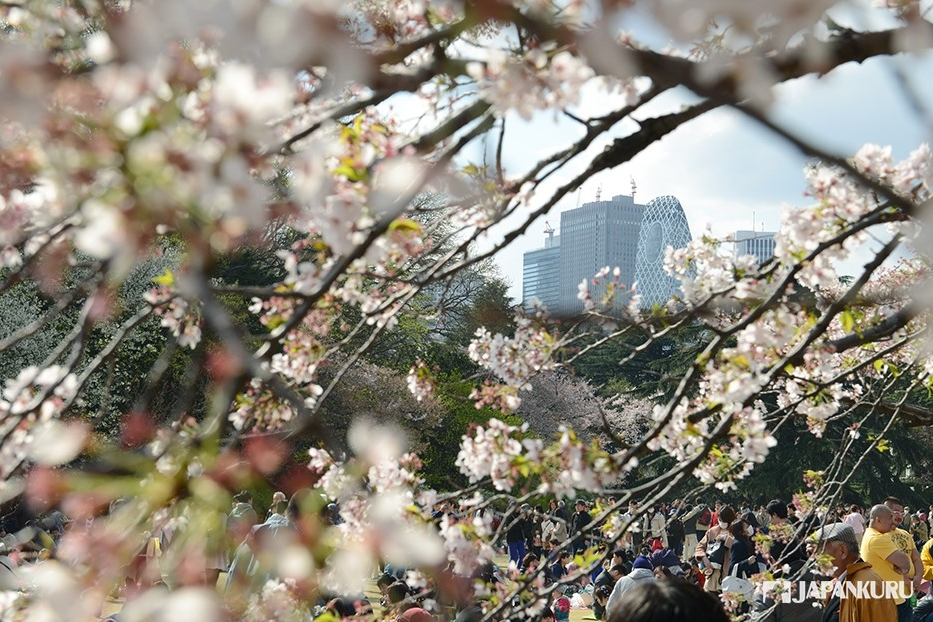 Shinjuku Gyoen National Garden, where over 1000 cherry trees of 65 different species bloom each year, has an incredibly long cherry blossom season thanks to the trees' variety! Visit the popular park any time in late March or early April to see different sakura blooming throughout the different gardens, each blooming at a slightly different time, and many with slightly different flowers as well. Plus, Shinjuku Gyoen is (unsurprisingly) right in Shinjuku, so after a picnic in the park you can spend the afternoon exploring one of Tokyo's busiest neighborhoods.
Google Maps
Access: 5min walk from Shinjuku Gyoenmae Station (Exit 1 on Marunochi Line, Exit C1 or C5 on Toei Shinjuku Line)
10min walk from JR Shinjuku Station South Exit
Ueno Park Sakura Festival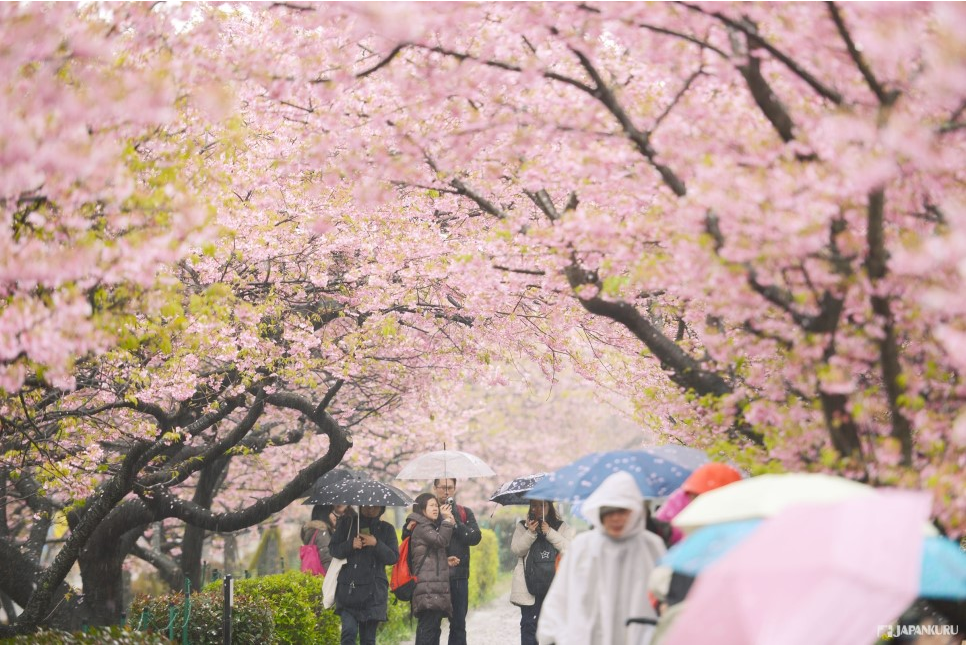 Other great places to see cherry blossoms in the Tokyo area include Ueno Park (上野公園), Inokashira Park (井の頭公園), Yoyogi Park (代々木公園), and Hibiya Park (日比谷公園). Tokyo's cherry blossoms generally begin blooming towards the end of March, but they'll usually stick around through early April!
🌸A Fun Place for Hanami in Kanagawa🌸
Nishihirabatake Park (西平畑公園)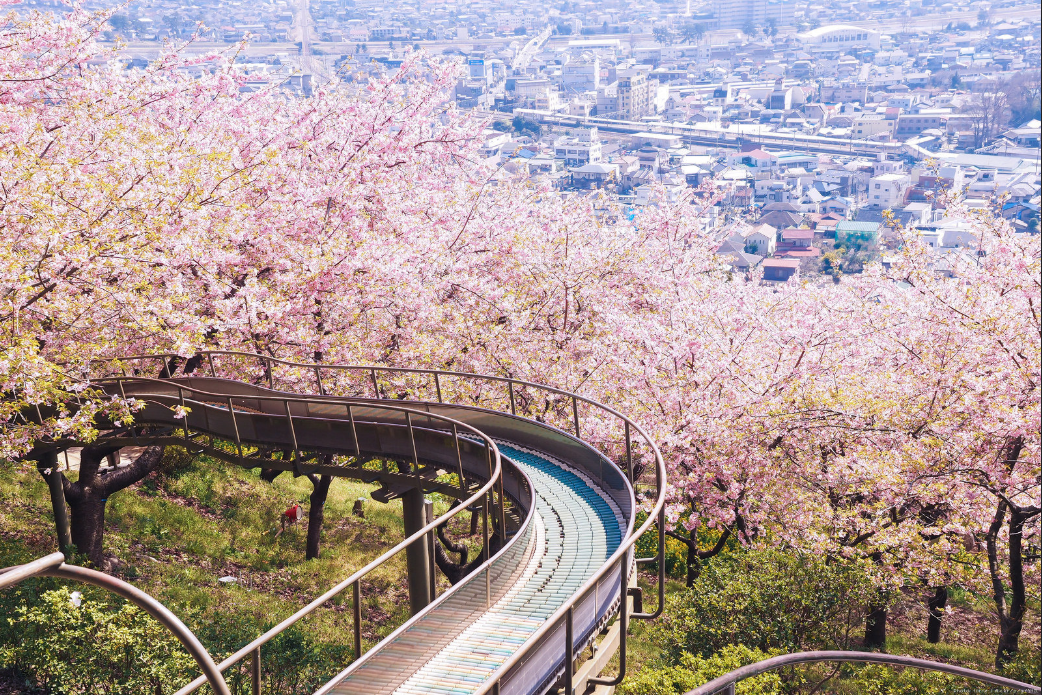 Located in the Matsuda area of Kanagawa Prefecture, many people visit Nishihirabatake Park for the spectacular view, which encompasses the tower of Odawara Castle and even Mount Fuji off in the distance. The other reason people visit? A huge slide that twists and turns through the groves of cherry trees and their many blooms, making for a particularly unique form of hanami. The park also has a scattering of ladders below the trees, so visitors can climb up into the flowers and take close-ups.
Google Maps
Access: 20min walk from Matsuda Station (there is a free shuttle bus that leaves every 30mins from the station)
🌸Cherry Blossom Viewing Spots in Osaka🌸
Osaka Castle (大阪城)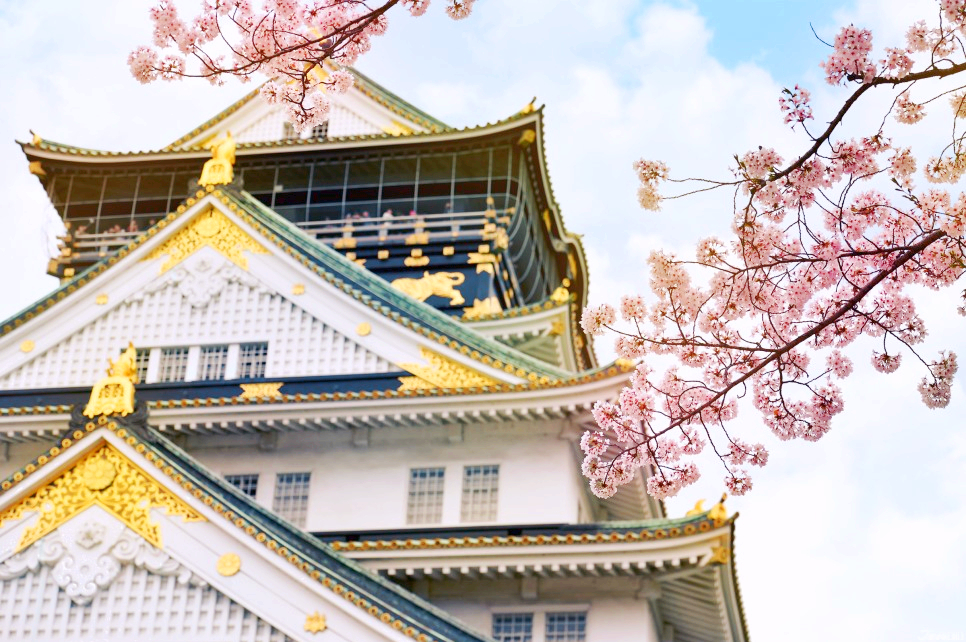 One of Osaka's most famous sightseeing spots, Osaka Castle is the perfect venue for hanami (cherry blossoms viewing). Osaka Castle has a long history of being taken and (unfortunately) destroyed by many Japanese warlords like Oda Nobunaga and Hidetada Tokugawa, making it an extremely important historical site, but the surrounding park is also filled with sakura! The park area covers around 494 acres, filled with trails and grassy areas perfect for picnics or frisbee under the cherry blossoms. There are over 4,000 cherry blossom trees all around the castle, and at night the cherry blossoms are lit up by surrounding lanterns and lights, for a romantic touch.
Google Maps
Access: Osakajo Koen Station on the JR Osaka Loop Line
💴Park entrance is free, but to enter the castle it costs 600yen for adults
Expo'70 Commemorative Park (万博記念公園)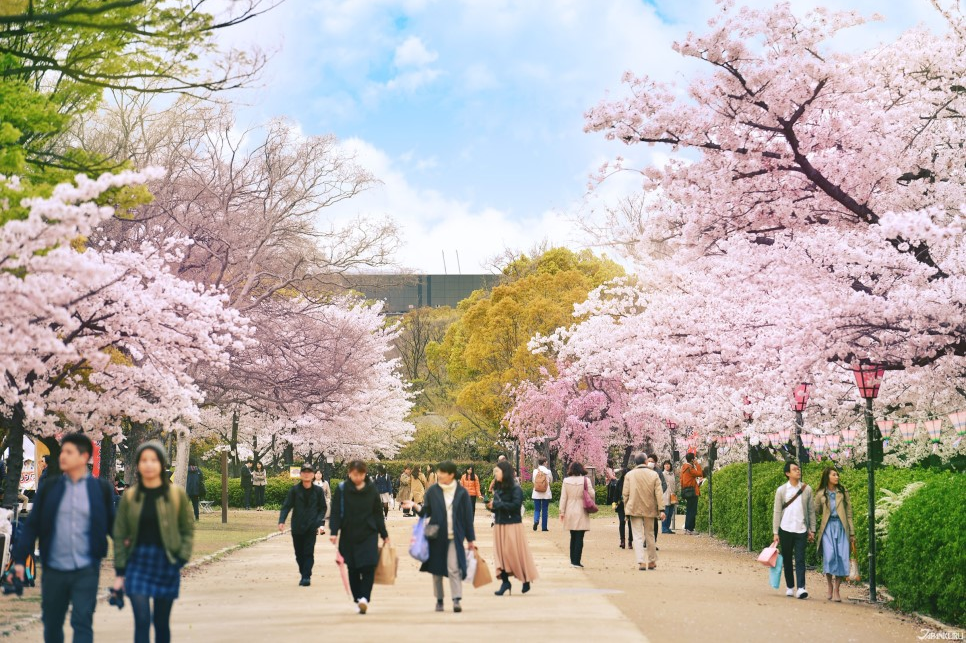 A symbol of Osaka, the Expo'70 Commemorative Park is about 260 hectares (642 acres) packed with not only a Japanese garden, but also the Japan Folk Crafts Museum, National Museum of Ethnology, and many sports and recreation areas. It's a little like the Ueno Park of Osaka! There are some 5,500 cherry blossom trees planted around the park, with nine different varieties of cherry blossoms. Ever since the park was chosen as one of "Japan's Top 100 Cherry Blossom Spots," they've extended the hanami hours until 9pm every night, and they light up the trees at night as well!
Google Maps
Access: 1min walk from Banpaku-Kinen-Koen Station on the Osaka Monorail
⏰Park hours: 9:30am~9pm (last entry 8:30pm)
🌸Seeing Cherry Blossoms in Nagoya and Kanazawa🌸
Nagoya – Nagoya Castle (名古屋城)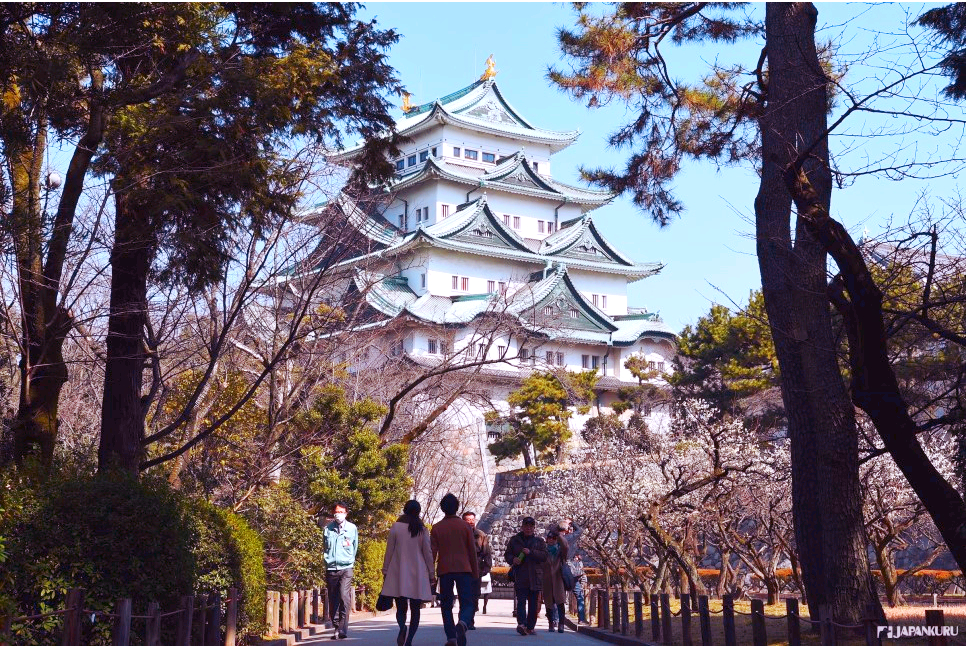 Nagoya Castle, with about 1000 cherry blossom trees, full bloom, is the second most popular place for hanami in Aichi Prefecture (first is Dogo Park (道後公園) near Dogo Onsen). This is another great place that blends culture and nature, that has a lovely light-up show on the castle grounds.
Expected start of the sakura season: around March 17
Google Maps
Access: Shiyakusho Station or Sengencho Station
💴Park entrance is free, but to enter the castle it costs 500yen for adults
Kanazawa – Kenrokuen Garden (兼六園 )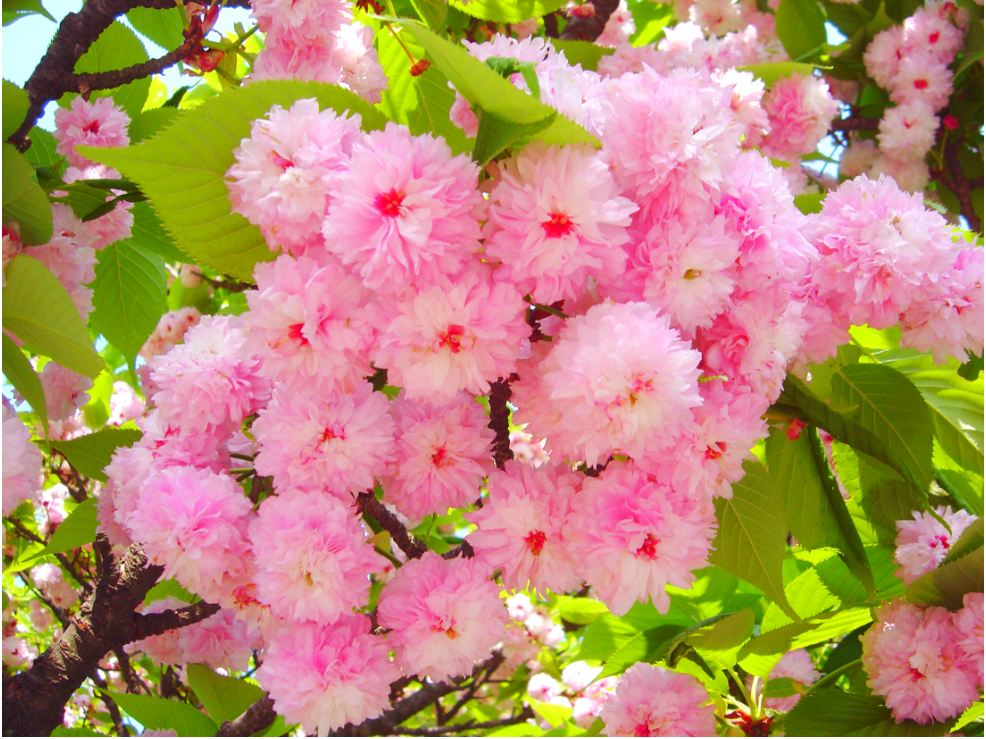 Being one of Japan's three most beautiful gardens (along with Kairakuen Garden in Ibaraki and Okayama Korakuen Garden in Okayama), this is the leading tourist spot in Kanazawa, especially when it comes to the cherry blossom season. Kenrokuen Garden has an area of about 110,000 square meters (27 acres)
with more than 400 cherry blossoms of approximately 40 varieties, and in the evening, they are illuminated. While this garden doesn't have areas where you can lay out tarps and have a picnic, it is a truly beautiful spot to see cherry blossoms.
Expected start of the sakura season: around March 19
Google Maps
Transportation: Take a shuttle bus from Kanazawa Station (get off at Kenrokuenshita bus stop)
🌸Sendai and Sapporo's Popular Cherry Blossom Viewing Spots🌸
Sendai – Nishi Park (西公園)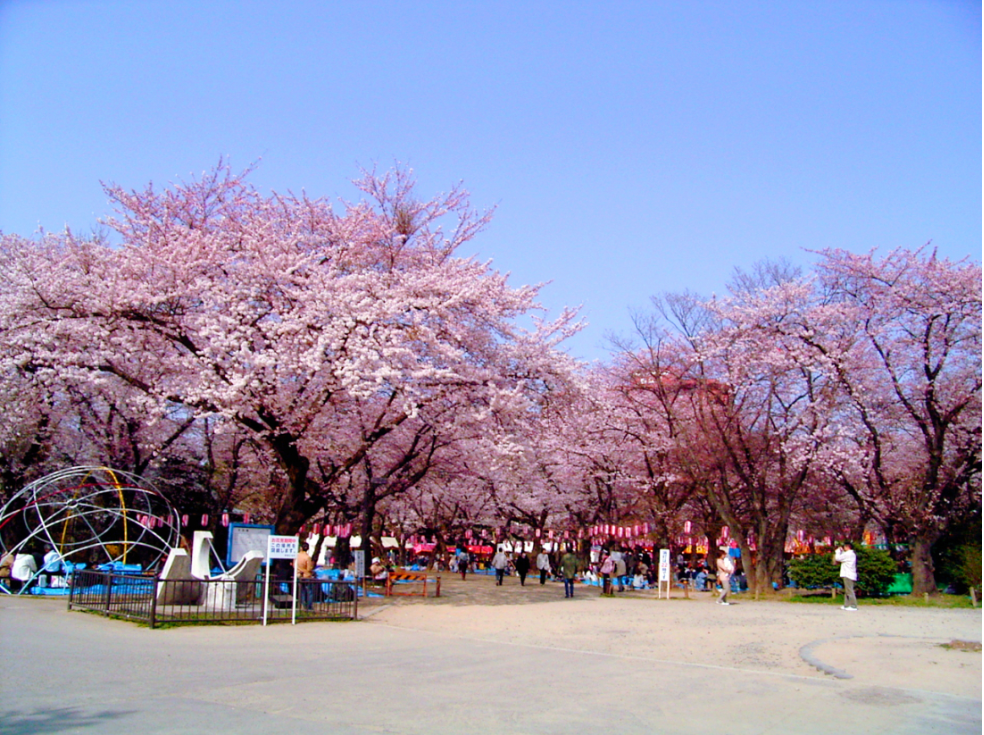 Nishi Park, literally "West Park," is the oldest public park in the city of Sendai, having opened in 1888. The park was originally given the name Sakuragaoka Park (桜ヶ丘公園), which means "Sakura Hill Park," but the convenience of calling the park on the west side of town "West Park" won out, earning it its current moniker. Nishi Park is known for cherry blossom trees that form a tunnel over the wide pathways, and the area is full of places to sit down and have a hanami picnic.
Google Maps
Access: 1min walk from Omachi Nishi-koen Station (大町西公園駅)
Sapporo – Maruyama Park (円山公園)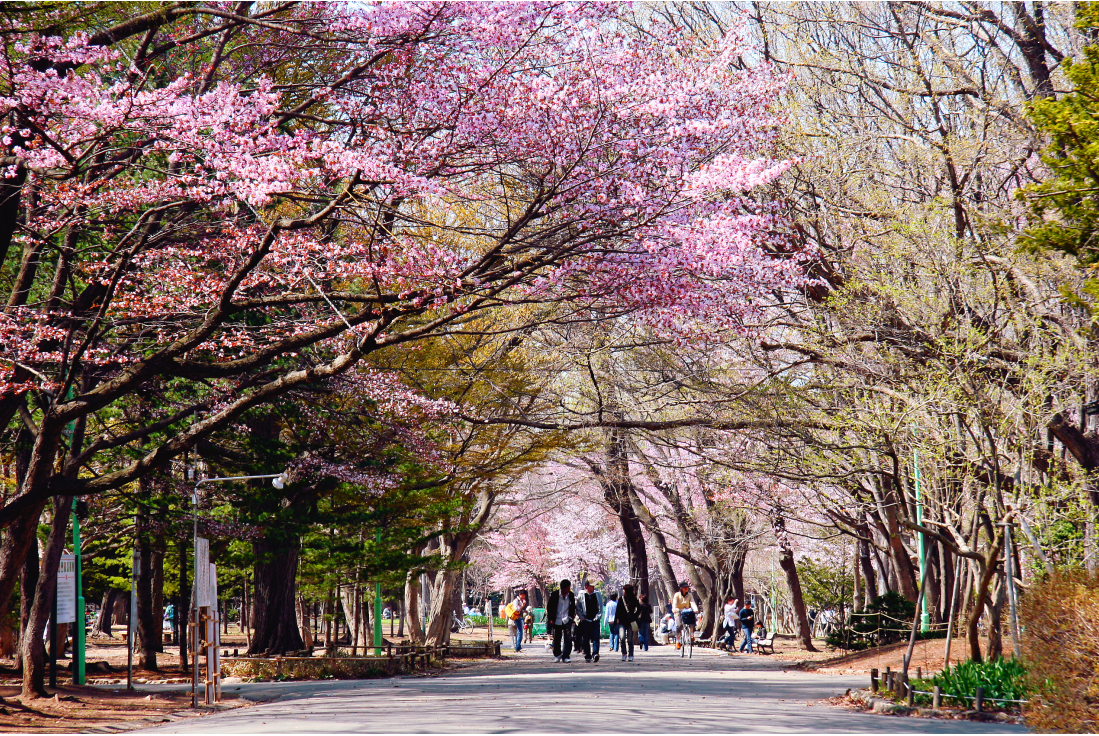 If you have any image of Sapporo (the city, not the beer), you probably imagine it as a winter wonderland, covered in blankets of white snow. But in the spring, around late April once the snow has finally melted away, Sapporo has some great cherry blossom viewing as well! The most famous local spot is Maruyama Park, which is known for preserving areas of virgin forest, but also has beautifully cultivated sakura spots, with over 1,500 cherry trees. While you're there, don't forget to stop by the park's Hokkaido Jingu Shrine and Maruyama Zoo.
Google Maps
Access: 10min walk from Maruyama Park Station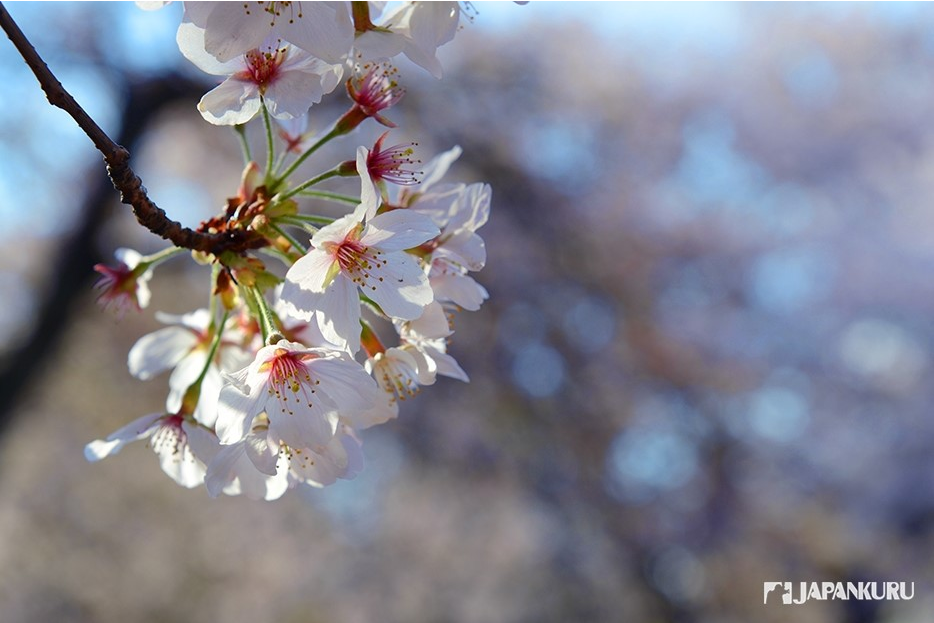 Sakura and hanamiーcherry blossom viewing is an iconic part of springtime in Japan, and one of the biggest reasons why so many travelers choose to visit the country during March and April each year. With so many great places to view the flowers throughout Japan, we couldn't even begin to list them all! But armed with a few popular spots, hopefully you'll know where to get started next time you find yourself surrounded by Japan's pink flowers and hanami traditions!
For more info and updates from Japan, check Japankuru for new articles, and don't forget to follow us on Twitter, Instagram, and Facebook!
Source: JAPANKURU