3 of Tokyo's Most Beautiful Flower Spots for Flower Viewing in the Fall
Beautiful weather and colorful blooms makes autumn a fantastic time to go flower viewing in Japan!
Flower Viewing… in the Fall!?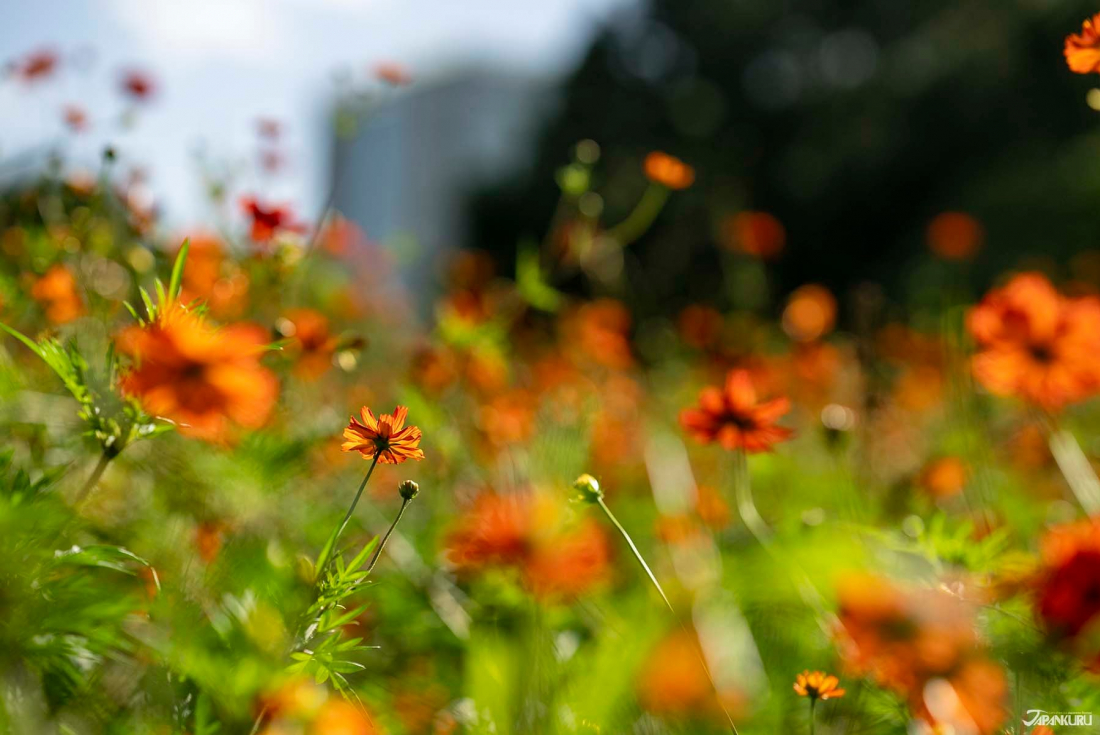 Autumn in Japan brings a breath of fresh air, sweet treats packed with chestnuts and sweet potato, and the changing of the leaves called "koyo"… but also fresh new flowers! Japan's tradition of "hanami" (花見) is so strongly tied to the spring that in English the word is often translated as "cherry blossom viewing" instead of the more direct "flower viewing," but hanami has long encompassed all kinds of flowers, and this celebration of the seasons can be enjoyed year round! In some parts of Japan, you can even find cherry blossoms that bloom in October and November, but you don't need to rely on the elusive fall cherry blossom to enjoy beautiful flowers as the weather cools each year. Cosmos, spider lilies, bush clover (and much, much more) are just waiting to be enjoyed in parks and gardens around Tokyo, and all over Japan.
① Cosmos at Hamarikyu Gardens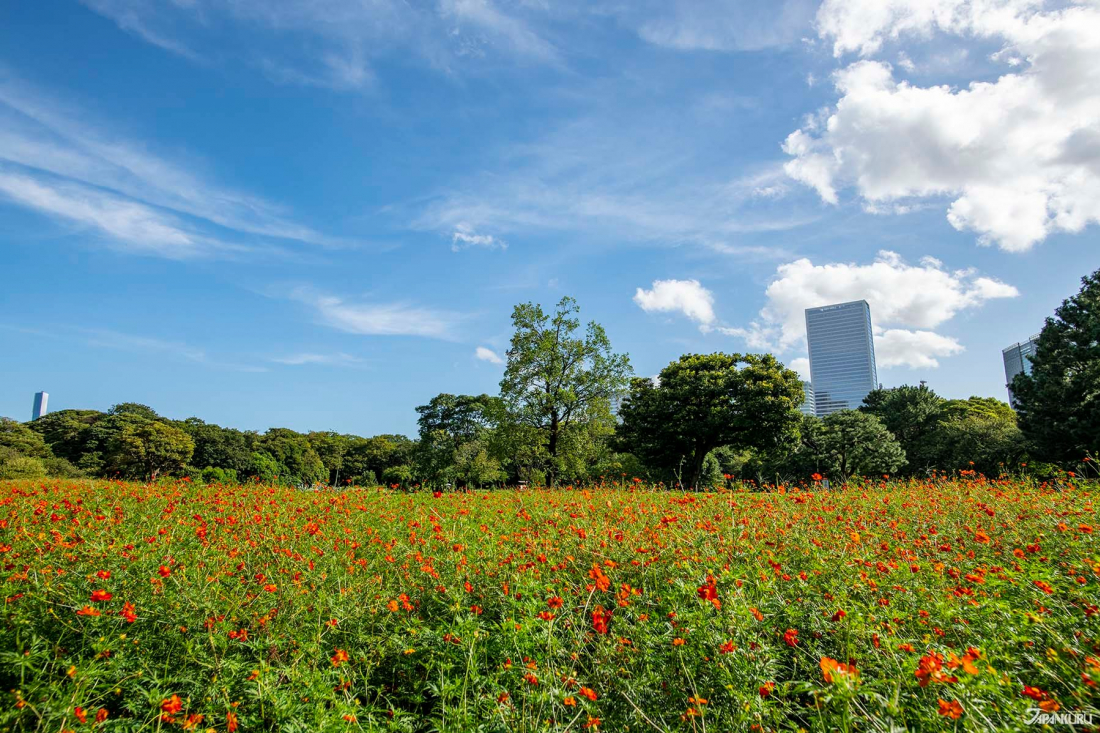 The Hamarikyu Gardens were originally duck hunting grounds for Edo-era (1603-1868) nobility, and a palace was built on the land for members of the Tokugawa clan, before it all slowly transformed into the mishmash of gardens found along the edge of Tokyo Bay in the present day. These large and waterlogged urban parklands are located at the mouth of the Sumida River, and the Shioiri-no-Ike (Tidal Pond) with a waterline that rises and falls with the tide is still a major attraction, along with a little island teahouse serving refreshments, and plenty of seasonal flowers and foliage to provide enticement for visitors throughout the year. Despite being destroyed by both the Great Kanto earthquake in 1923 and Tokyo air raids in 1945, Hamarikyu is still a green oasis surrounded by the highways and highrise office buildings of central Tokyo.
While the gardens are quite popular during any season, the end of summer and early fall bring a wave of orange and yellow cosmos flowers to the grassy fields, and the vibrant petals take the place of bright rays of sunshine during the typhoon-plagued days of September. These simple, pretty flowers pop up in huge meadows all over Japan, turning them shades of orange, yellow, and even hot pink, which is likely why one traditional Japanese name for the cosmos is "akizakura" (秋桜), literally "fall cherry blossom."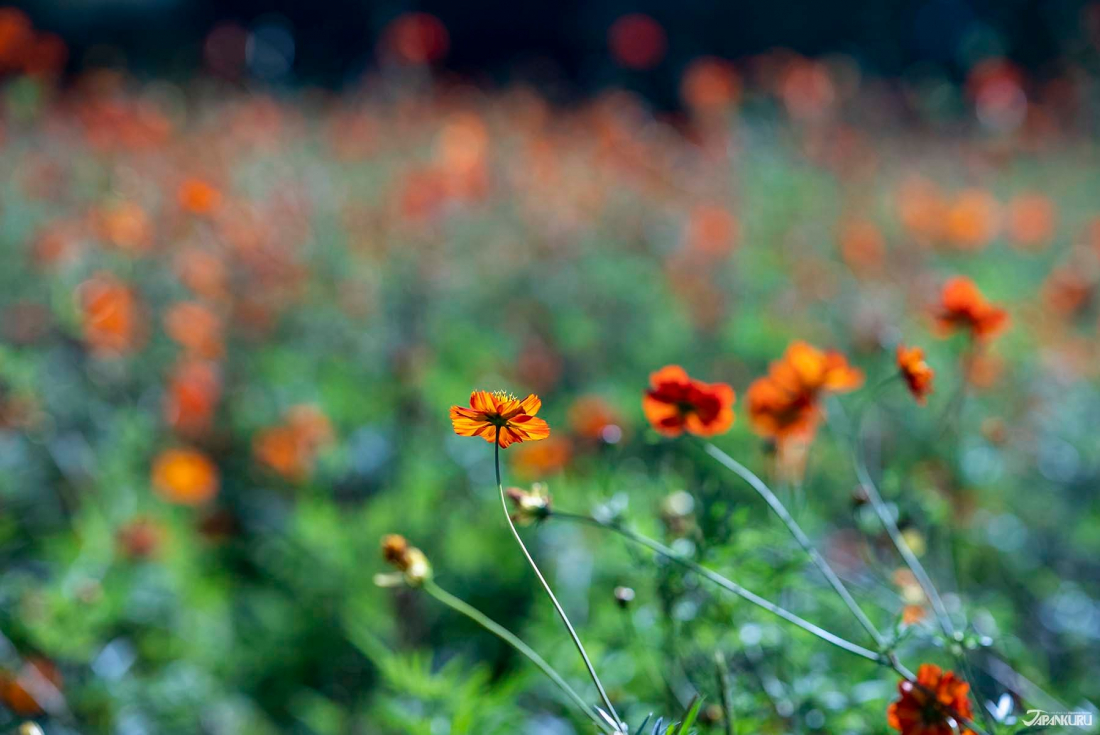 Hamarikyu Gardens (浜離宮庭園)
1-1 Hamarikyuteien, Chuo City, Tokyo
Open 9:00 – 17:00
Admission 300 yen
Official Website (jp)
② Spider Lilies at Yokoamicho Park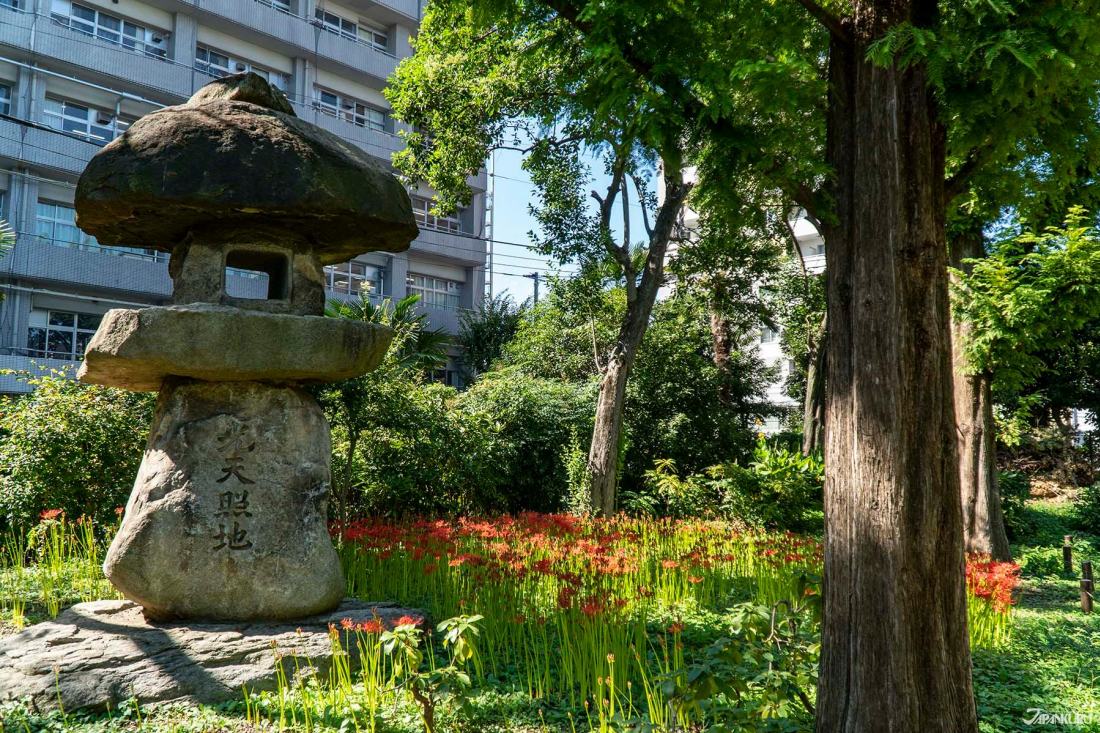 Yokoamicho Park is a quiet, sunny Tokyo park, with a shady Japanese garden, and a small playground buzzing with local families, but the memorial hall and museum on the grounds hint at the park's sad history. Just like Hamarikyu Gardens, Yokoamicho Park was scorched by the fires following the Great Kanto earthquake back in 1923. Unfortunately, the park was being used as evacuation grounds in the aftermath of the natural disaster, and strong winds fanning the flames resulted in the deaths of many taking shelter. These days visitors are welcomed into the Great Kanto Earthquake Memorial Museum to learn about the disaster with the aid of plenty of real items and photographs from the time, and the enormous memorial hall is open to those who wish to pay their respects.
Of course, a trip to the park isn't all doom and gloom. Yokoamicho Park is a great place to learn about a somber time in Tokyo's history, but it also has some of the prettiest red spider lilies in the city, clustered around an enormous stone garden lantern. Celebrations of the fall season in Japan are all about fall colors, or "koyo," which usually refers to the leaves changing color – but the vivid red of the spider lily is its own sign of the fall, alerting all to the changing of the seasons. The Japanese name for the flower, "higanbana" (彼岸花), literally refers to the autumn equinox and surrounding days, making them a true fall flower!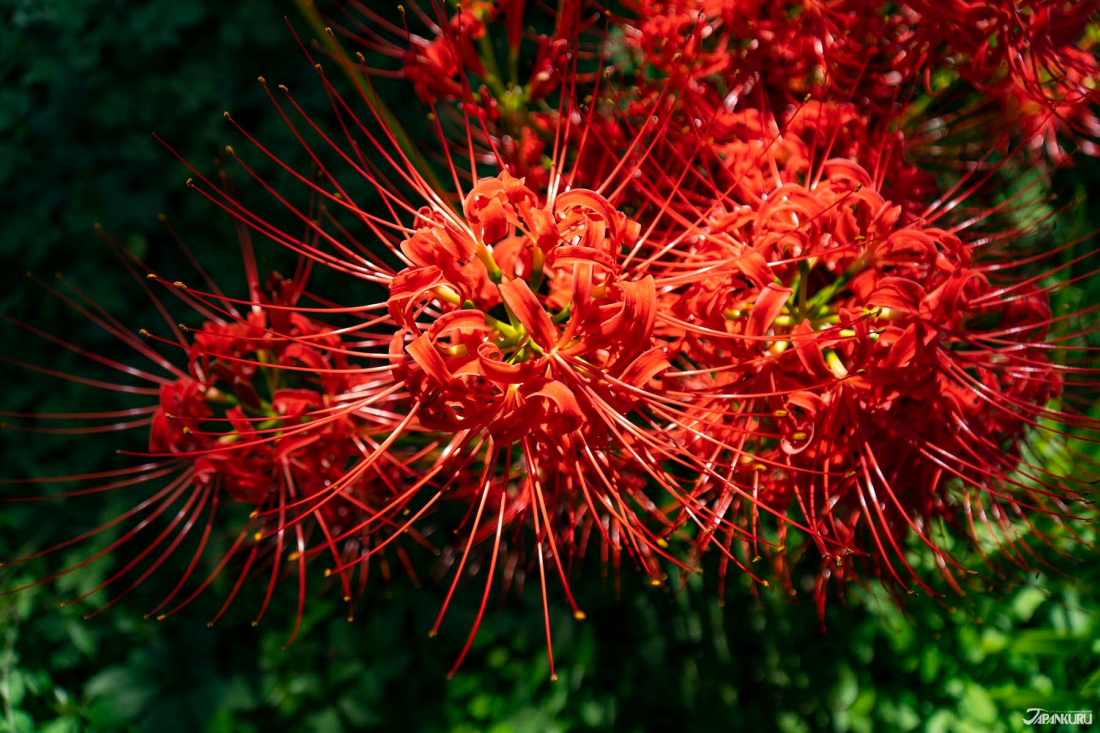 Yokoamicho Park (横網町公園)
2-3-25 Yokoami, Sumida City, Tokyo
Open 24/7
Free admission
Official Website (en)
③ Bushclover at Mukojimahyakkaen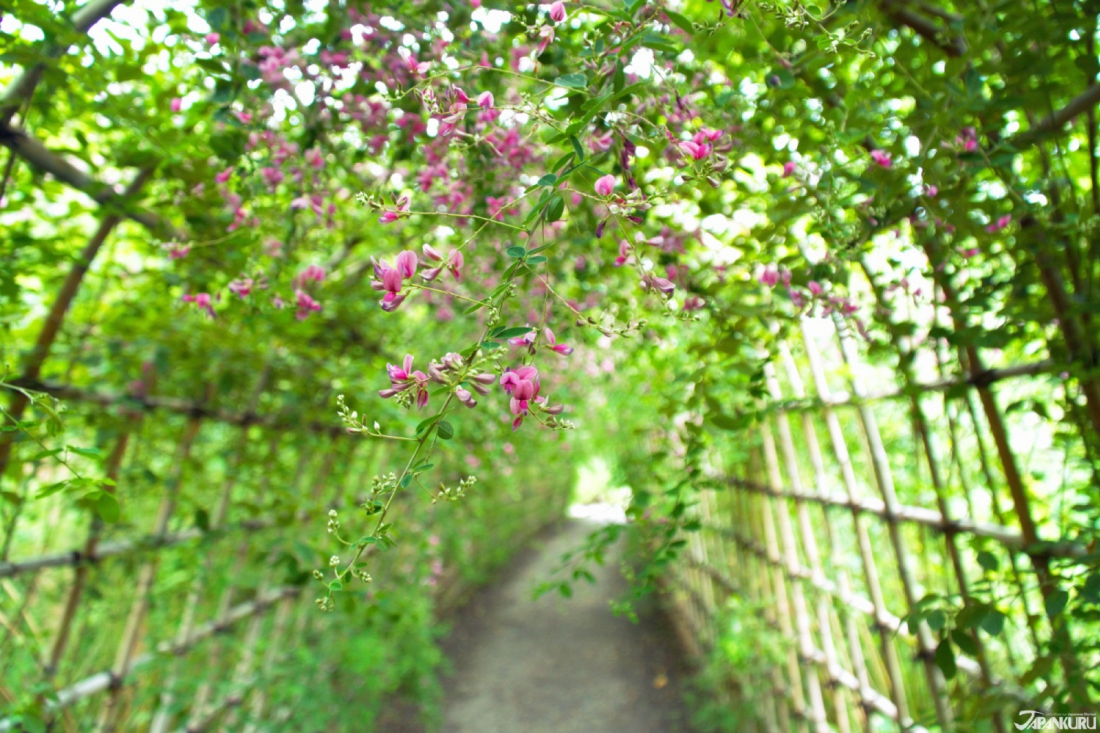 Many of Japan's most famous gardens started as leisure grounds for one samurai or another, but the landscaping of Mukojima-Hyakkaen Garden is a sign of how it took shape in a different way, as the flower gardens of an Edo-era merchant. Translated directly, the name means Mukojima Hundred Flower Garden, and construction started back in when an antiques dealer from northern Japan named Sahara Kiku planted a whopping 360 ume plum trees on the grounds. As the years went on, Sahara turned the gardens into a gathering place for poets, painters, and other artists, and the gardens flourished alongside his literary salon, filling with ponds, pathways, and plenty of new flowers as well. Like so many gardens, Mukojima-Hyakkaen faced all kinds of hard times throughout the first half of the 20th century, but restoration efforts in later decades leave us now with a beautiful garden open to the public, officially designated a Japanese National Place of Scenic Beauty.
Mukojima-Hyakkaen still has poem-inscribed stones left behind by the literary figures who once walked the paths in addition to all kinds of flowers for budding artists to admire, but perhaps the most popular spot in the garden is the bush clover tunnel. This long trellis tunnel, just high enough to walk through mostly unimpeded, is covered with a heavy layer of green leaves and scattered with clusters of pinkish-purple flowers that bloom in mid-to-late September, while leafy tendrils drape down into the tunnel to brush the heads of those who pass through. In Japan, the bush clover is traditionally a symbol of unrequited love, but for modern couples, Mukojima-Hyakkaen's long flower tunnel is really a rather romantic destination.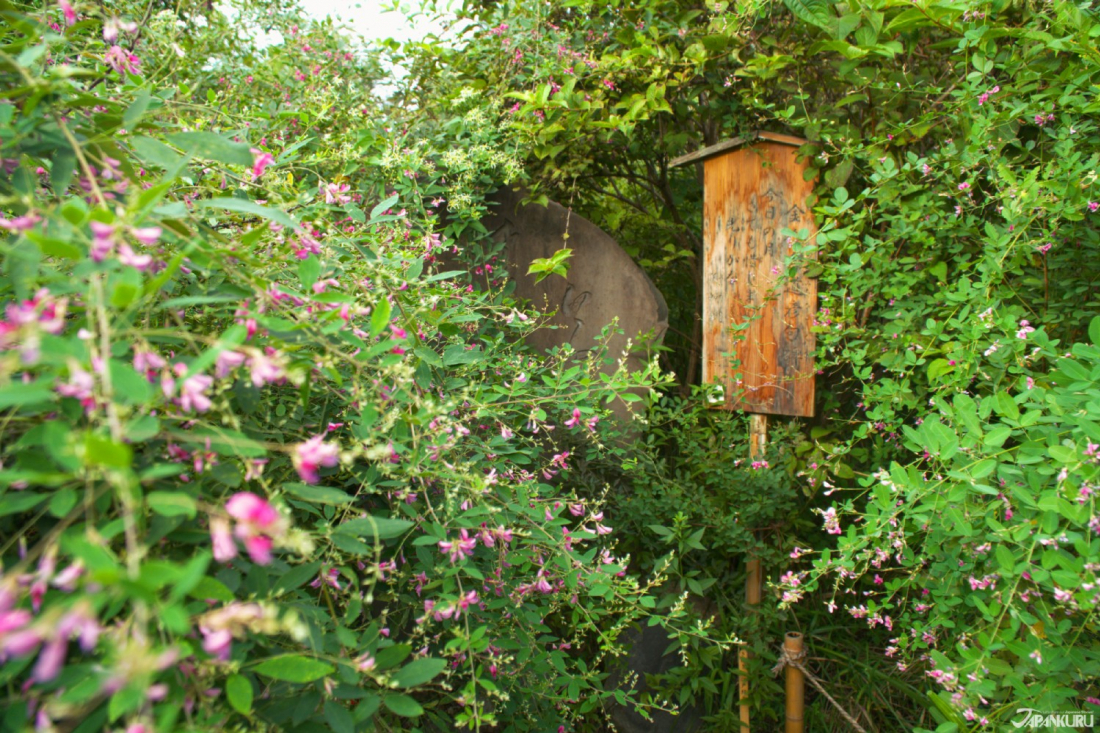 Mukojima-Hyakkaen Garden (向島百花園)
3-18-3 Higashimukojima, Sumida City, Tokyo
Open 9:00 – 17:00
Admission 150 yen
Official Website (jp)
Flowers in Fall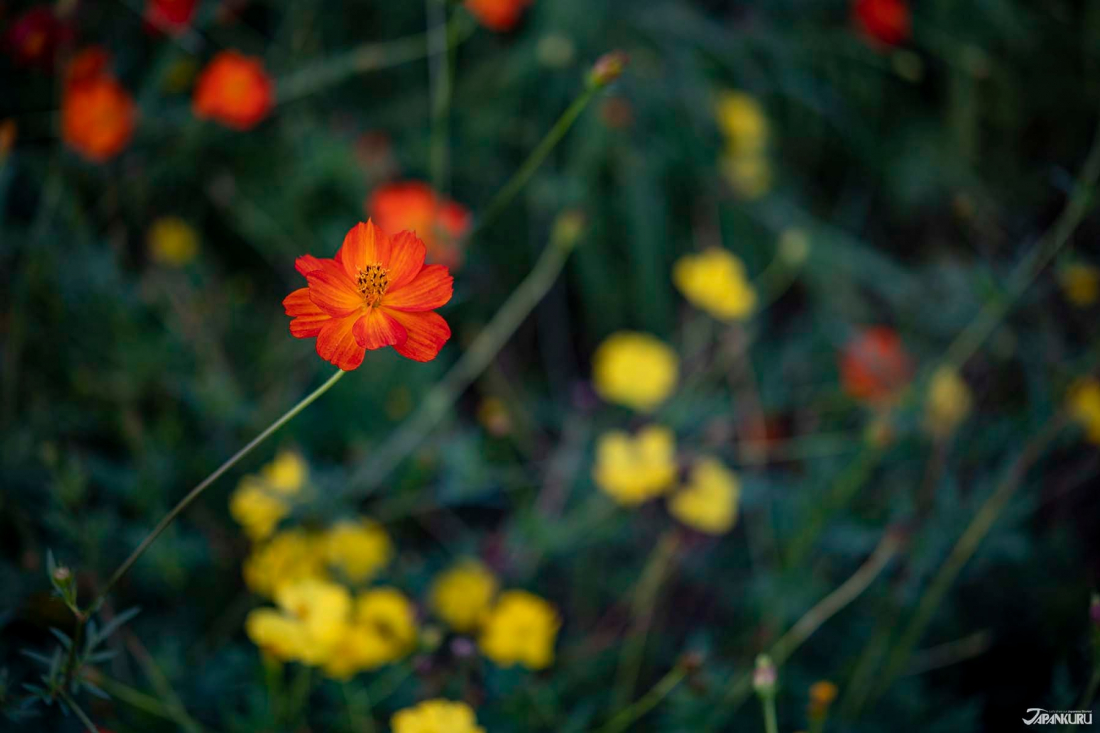 With lots of great places to enjoy the fall flowers around Japan, the next question is this: what's the best way to make the most of your hanami outing? In spring, the answer is easy, since the people of Japan have been laying out mats, digging into bento boxes, and drinking sake under the cherry blossoms trees for centuries. In fall, there's no reason not to do the same! Aside from the occasional typhoon to rain on your parade, Japan boasts mild autumn weather perfect for spending the day out among the flowers, making it a great time for a picnic. Get yourself a classic picnic basket from Minne, pack up a luxurious meal in this bento box from Uchill, and bring along these obscenely adorable shaped sugar cubes from Komahei to add to a thermos of hot tea, in case a cool breeze blows by. If you're not sure how to dress for the occasion, you'll find Japanese fall fashion guides all over the place, from department stores Mitsukoshi and Isetan to the minimalists at Nakagawa Masashichi – just don't forget to bring along an extra layer to keep the chill away even in the shade, like these options from Iichi. Or go all out in a fall-themed kimono, to keep things traditional! However you choose to enjoy your autumn hanami outing, the flowers will be just as lovely, so don't miss this chance to enjoy the beauty of fall!