5 Easy Day Trips from Tokyo | Get Out of the Big City and Explore Japan!
Tokyo is a huge sprawling metropolis, but for travelers based in the city, or Tokyoites who just want a day away from it all, there are some pretty lovely options just outside the city limits!

The big city of Tokyo is an amazing place to visit or to live in long-term, but it's a busy, crowded, bustling place, and sooner or later, it's tempting to get out of town for a day and feel the atmosphere of somewhere a little different. Fortunately, the huge metropolitan area of Tokyo is surrounded by a number of interesting destinations, from seaside towns and preserved historic treasures, to other cities with their own unique vibes, making fun day trips out of the city an easy undertaking. When it comes to the Kanto region, all around Tokyo, the list of travel possibilities is endless, but here are a few of the Japankuru team's favorite must-sees in the area.

① Kawagoe (川越)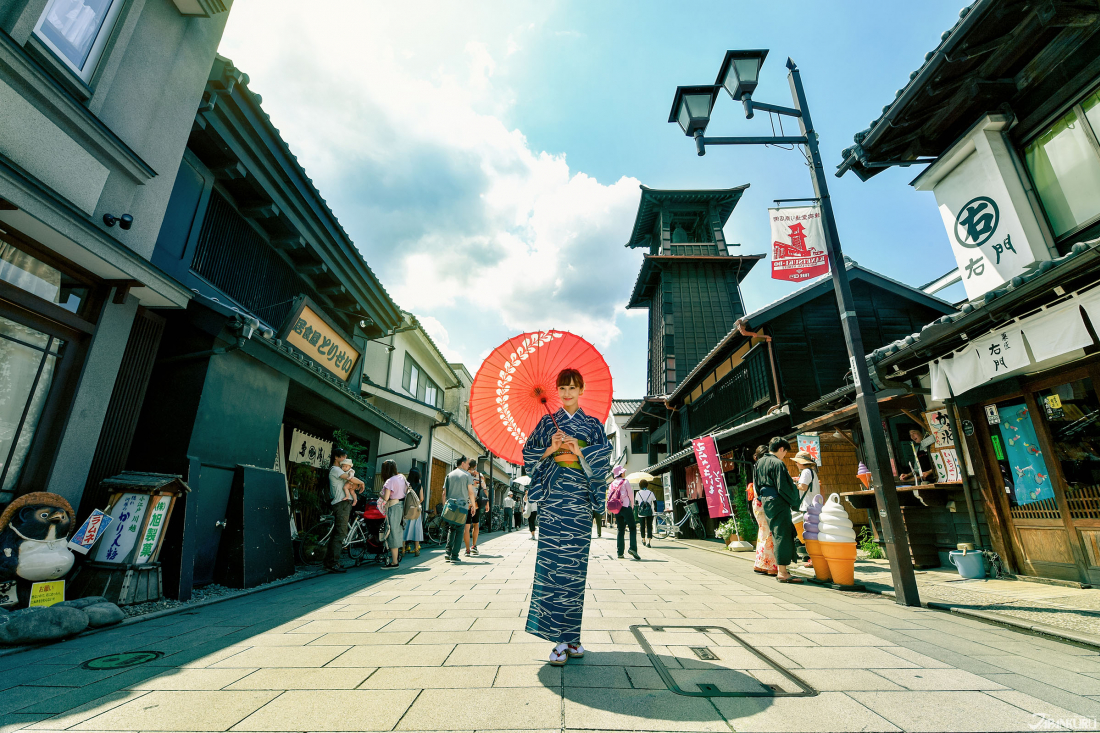 Getting to Kawagoe or Honkawagoe Station: about 35 minutes from Ikebukuro Station, or an hour from Shinjuku
Before the massive political upheaval that transformed Japan in the 1860s, Tokyo was known by the name Edo, and a little way north of the big city is the town of Kawagoe, sometimes called "Little Edo." Over the past century and a half, many things have changed in Japan, and even Kawagoe has largely become a modern community with plenty of commuters working in Tokyo, but one corner of Kawagoe has kept things a lot like they were back in the 19th century. Thanks to the streets lined with lovely old fashioned buildings and the laid-back atmosphere, in recent years Kawagoe has become an easy sightseeing spot just outside of Tokyo, attracting visitors who often dress up in kimono to take a little trip back in time.
The most iconic street is Kanetsuki Dori, which is named for the "Toki no Kane" (時の鐘), or "Bell of Time", a wooden bell tower that has stood beside the street for 400 years, becoming a symbol of Kawagoe along the way. This street is not only lovely to look at, but is also lined with restaurants, shops selling local snacks and street food, and Kawagoe's special Starbucks – built within an old-fashioned Japanese-style house.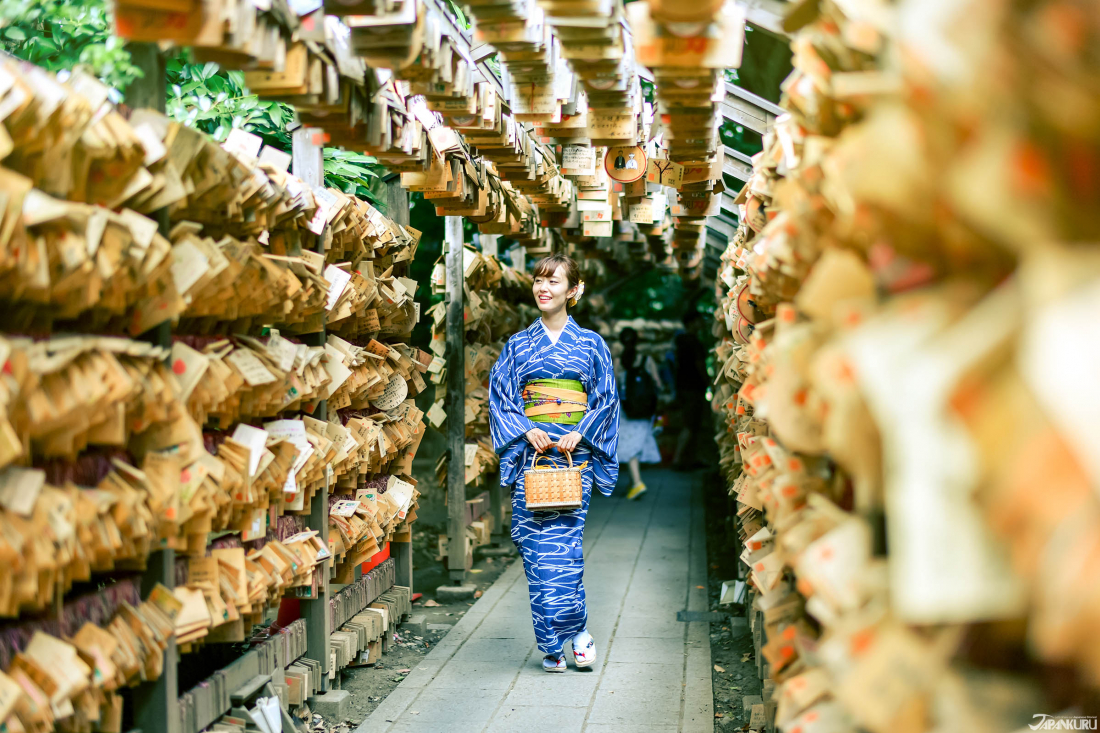 Kawagoe's Hikawa Shrine, though it has a history of about 1,500 years and a reputation as a spot for finding love, has found its own popularity rise in recent years alongside the growth of social media. The shrine's tunnel-like path lined with ema plaques, and the yearly summer festival celebrated with almost 2,000 wind chimes, are both magical scenes to see with your own eyes, but they make for great pictures too.
​Kawagoe Hikawa Shrine (川越氷川神社)
2-11-3 Miyashitamachi, Kawagoe, Saitama
Official Website (jp)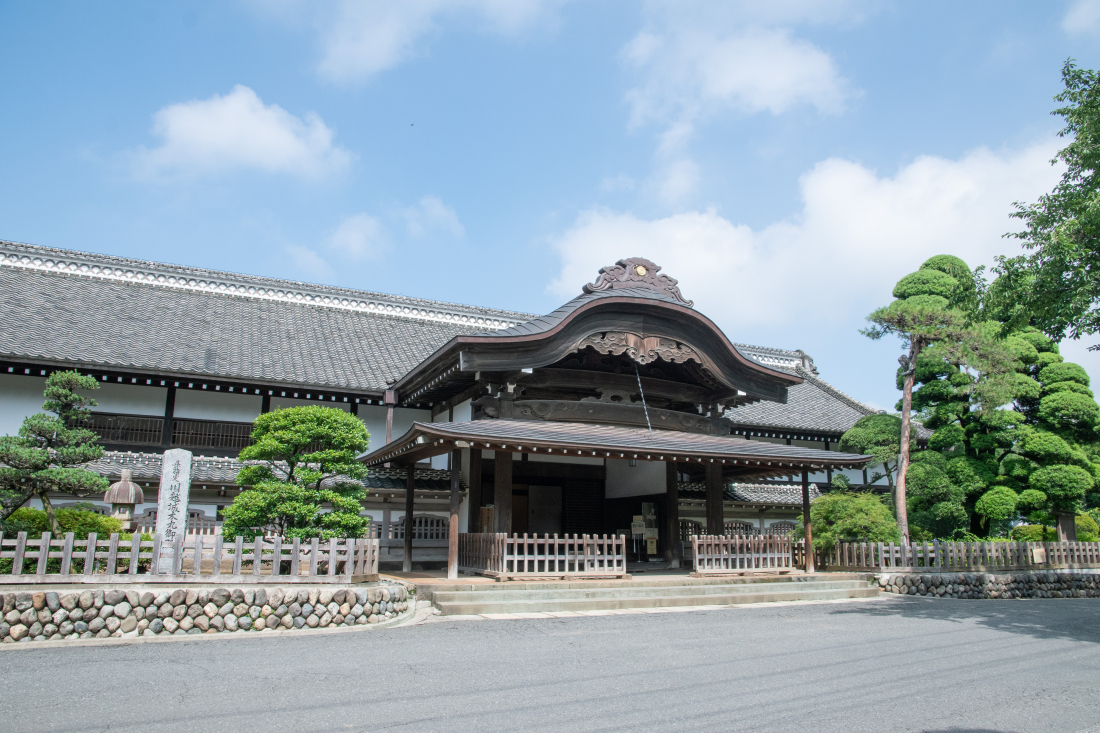 For history buffs and samurai lovers, a trip to the nearby Kawagoe Castle is a must! Much of the castle complex has been chipped away over the centuries, and now only the main palace hall remains, but for just 100 yen visitors are free to take a look around inside and see what it was like to live as Japanese nobility once upon a time. Beautifully painted sliding doors, cool tatami mats, and views from the long, thin porch out onto the garden – it's tempting to become a samurai yourself and move right in.
Kawagoe Castle Honmaru Palace (川越城 本丸御殿)
2-13-1 Kuruwamachi, Kawagoe, Saitama
Official Page (jp)

② Yokohama (横浜)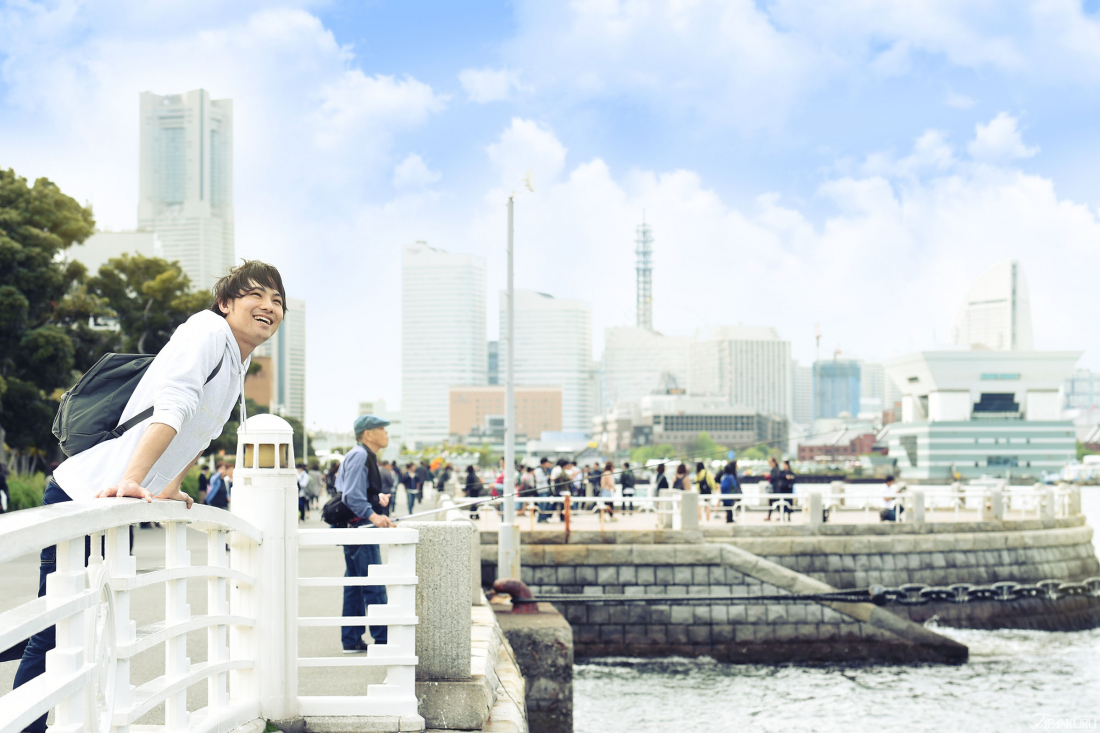 Getting to Yokohama Station: about 25 min from Tokyo Station or Shibuya Station
South of Tokyo along the bayside, Yokohama is actually Japan's second-largest city, and the two cities are sometimes lumped together to become the enormously populous "Tokyo-Yokohama Metropolitan Area." But anyone who's visited Yokohama can tell you that it's not just a part of Tokyo, and the area has its own unique history, culture, and atmosphere. The opening of Yokohama International Port in 1859, not long after Japan started to inch open its long-closed borders, brought a huge wave of foreign influence to the city, with people and goods from all over the world arriving in Japan through Yokohama's port. For the past century and a half, the constant flow of commerce and new ideas passing through the city have kept it growing, and some of the biggest draws for modern-day visitors include the well-kempt grassy parks and paved paths along the breezy waterfront, including the popular Minato Mirai area. Yokohama is now a town of business and of leisure, with high-rise office buildings towering over the boardwalks, carnival rides, museums, shopping centers, and more, all busy with locals and visitors alike.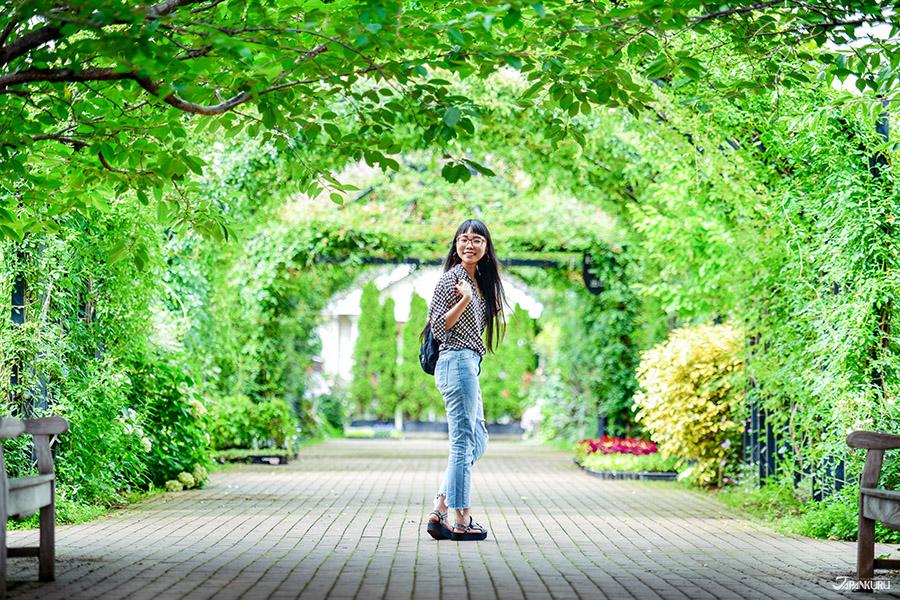 Years of foreign influence have left their mark on Yokohama in a number of ways, including leaving the city with some of its popular sightseeing spots, like the Yokohama English Garden. Leafy green canopies and vine-covered trellises make it feel like a mysterious secret garden, a little different from the broad-open green spaces by the bay waters, but the star of the show at the English Garden is the rose. With 1,800 different types found throughout the garden, there are virtually always roses of one kind or another in bloom, and visitors throughout the year will spot different roses as the seasons change. Just outside the entrance, the garden cafe also offers treats like rose ice cream, decorated with real violets.
Yokohama English Garden
6-1 Nishihiranumacho, Nishi-ku, Yokohama, Kanagawa
Official Website (jp)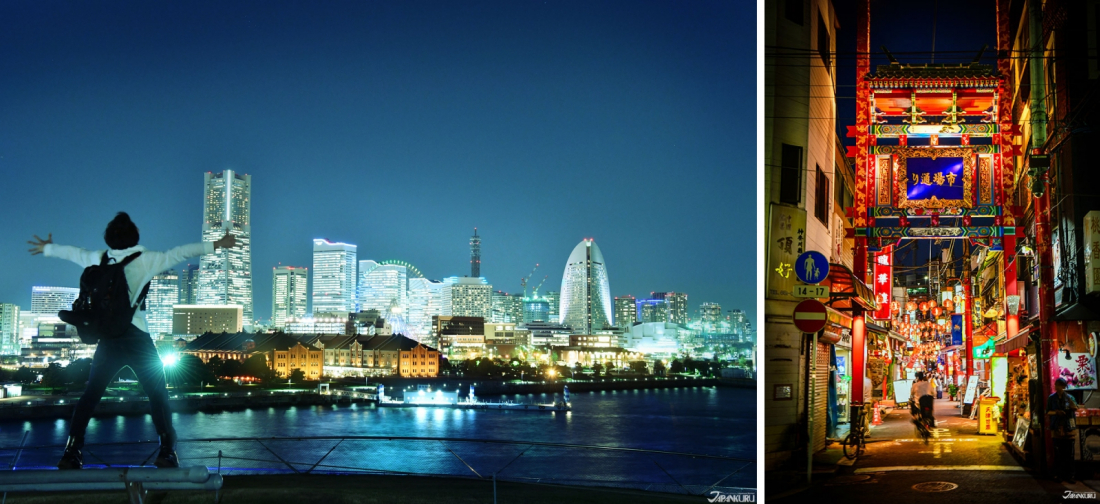 With the construction of an international port, Chinese translators and interpreters made their way to the newly-opened city of Yokohama to set up shop, eventually settling in and building what is now Japan's largest Chinatown. Yokohama Chinatown is home to unique sights like the vibrant gates that welcome visitors into the neighborhood, and a Chinese-style temple/shrine (關帝廟, Kanteibyo) dedicated to an emperor from China's Three Kingdoms Period, now worshipped by some as a god. Decorated with colorful splashes of red for good luck and lanterns that light the pavement after sunset, the streets of Chinatown are a great place for a walk, and an even better place to try some of Japan's best Chinese food: soup dumplings as street food, steamed buns stuffed with fillings both savory and sweet, or luxurious multi-course meals with seafood fresh from the water. Just make sure you're not so full you can't enjoy Yokohama's sparkling nighttime skyline – or that you fall asleep on the ride back to Tokyo!

③ Kawasaki (川崎)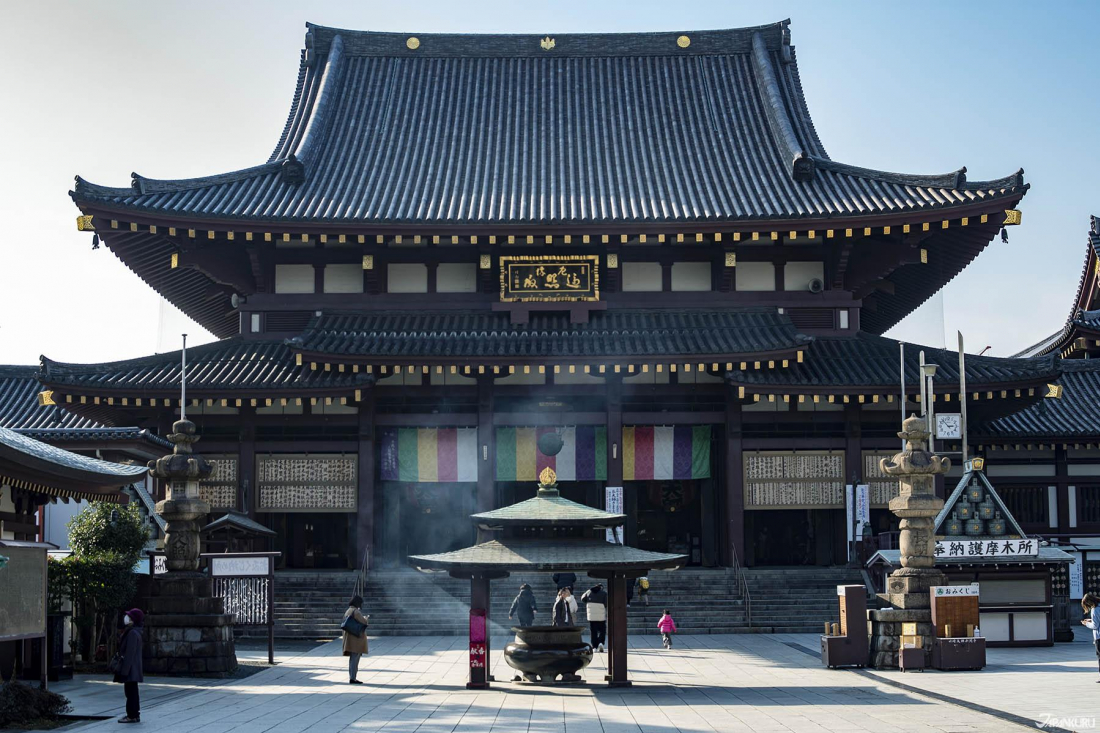 Getting to Kawasaki Station: 17 min from Tokyo Station
Kawasaki is sandwiched between the two big cities of Tokyo and Yokohama, but this smaller area has carved out a place for itself with some unusual and historic sightseeing destinations, friendly atmosphere, and convenient access. The roots of this little city start at the grand temple of Heikenji (平間寺), better known these days as Kawasaki Daishi, which was founded all the way back in 1128. The flow of visitors making pilgrimages to the famous temple helped fuel the growth of the surrounding community, and today the temple is especially popular for hatsumode (the first shrine visit of the year), when millions of visitors arrive over the course of just a few days. Not only is Kawasaki Daishi a beautiful example of a temple verging on being a part of "ancient history," but the surrounding shops that have popped up in more recent decades have their own nostalgic charm, selling popular local sweets and snacks.
Kawasaki Daishi Heikenji Temple (川崎大師 平間寺)
4-48 Daishimachi, Kawasaki Ward, Kawasaki, Kanagawa
Official Website (en)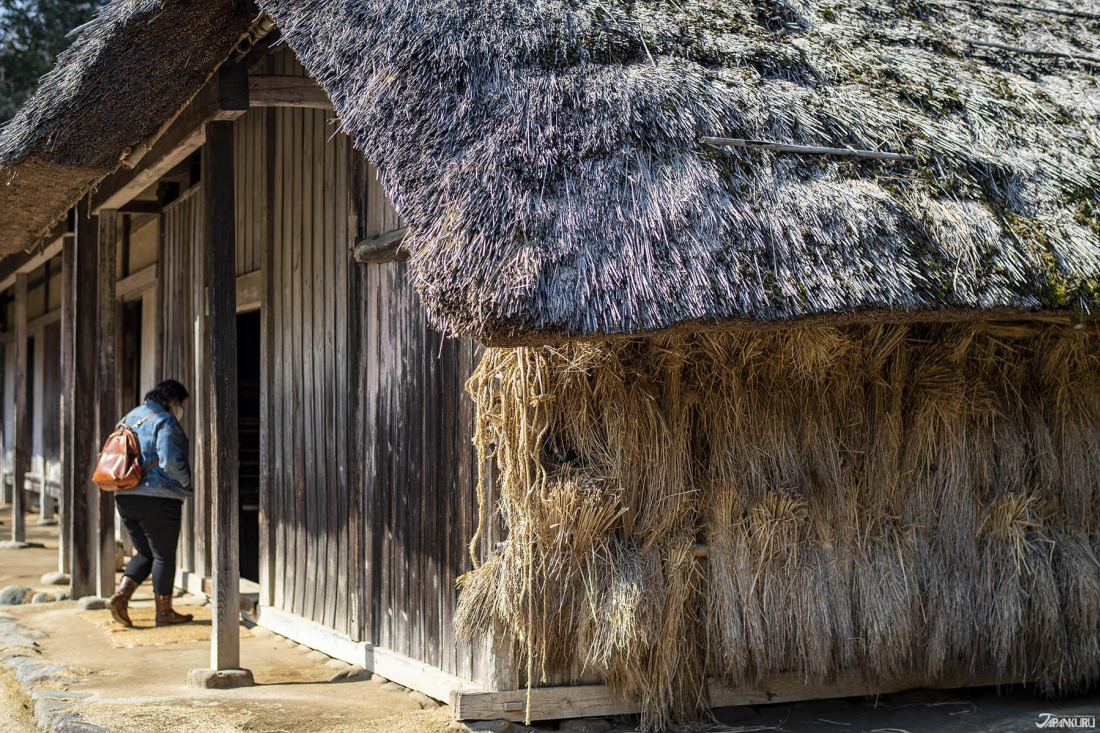 After growing up around Kawasaki Daishi, the city of Kawasaki found its footing as a stop along the road from western Japan to Edo, where samurai came to rest before arriving in what is now Tokyo. To get an idea of what that was like for the intrepid Edo-era travelers, a visit to the Kawasaki City Japan Open-Air Folk House Museum (AKA Nihon Minka-en/日本民家園) is a little like time travel, as visitors can wanter through a whole village-worth of traditional Japanese homes and other buildings, from local kominka farmhouses originally built back in 17th century Kawasaki, to huts from northern Japan made with straw roofs to withstand snow, oil merchant shopfronts straight out of the 18th century, and even a kabuki theater once used over 100 years ago in western Japan. The museum also has a great exhibition area, fascinating demonstrations, aizome indigo dye workshops, and even a soba shop inside one of the old houses.
Japan Open-Air Folk House Museum (日本民家園, Nihon Minka-en)
7-1-1 Masugata, Tama Ward, Kawasaki, Kanagawa
Official Website (en)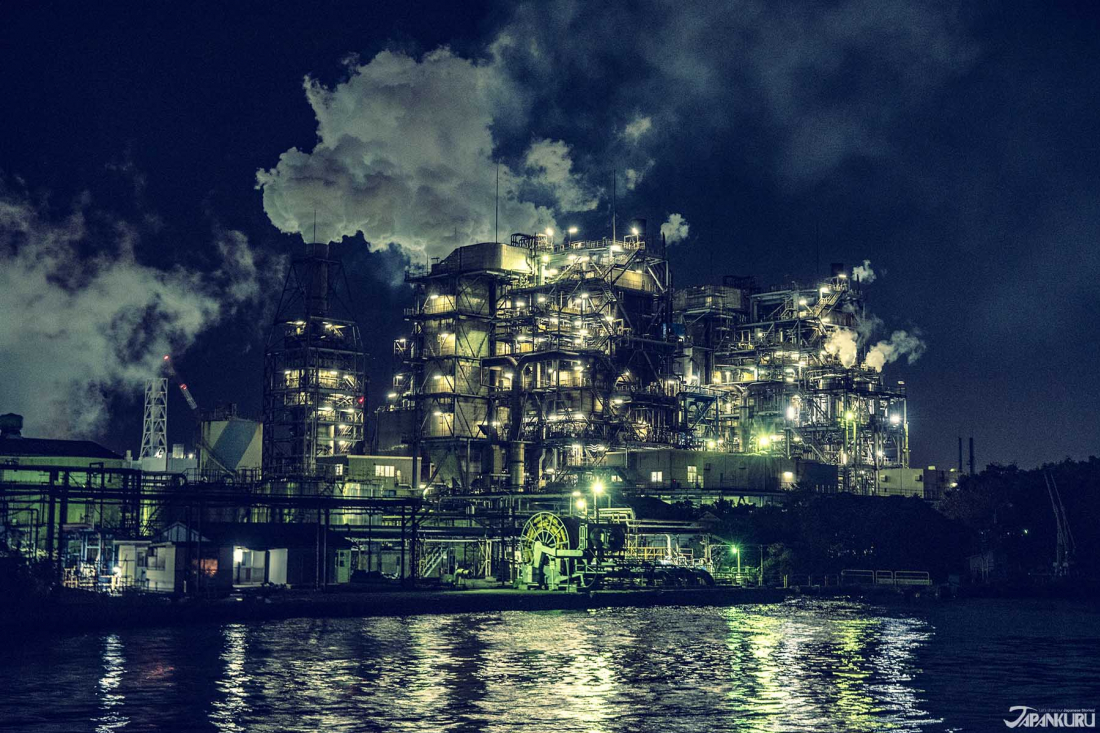 The last big change in Kawasaki's history came with the industrialization of the city's little chunk of shore along the bayside, where port facilities and modern facilities like factories and recycling plants popped up and transformed the area. This neighborhood is now surprisingly popular as a nighttime tourist destination, thanks to the kind of scenery that looks like it could be a backdrop in a futuristic robot-filled anime, or perhaps a gritty 80's sci-fi flick. Before heading home for the night, many travelers like to take the city buses out to the water's edge (or even book a spot on an "industrial night view cruise" ship) to catch a glimpse and a snapshot or two of the shining lights, gleaming pipes, and billowing smokestacks.

④ Kamakura & Enoshima (鎌倉・江ノ島)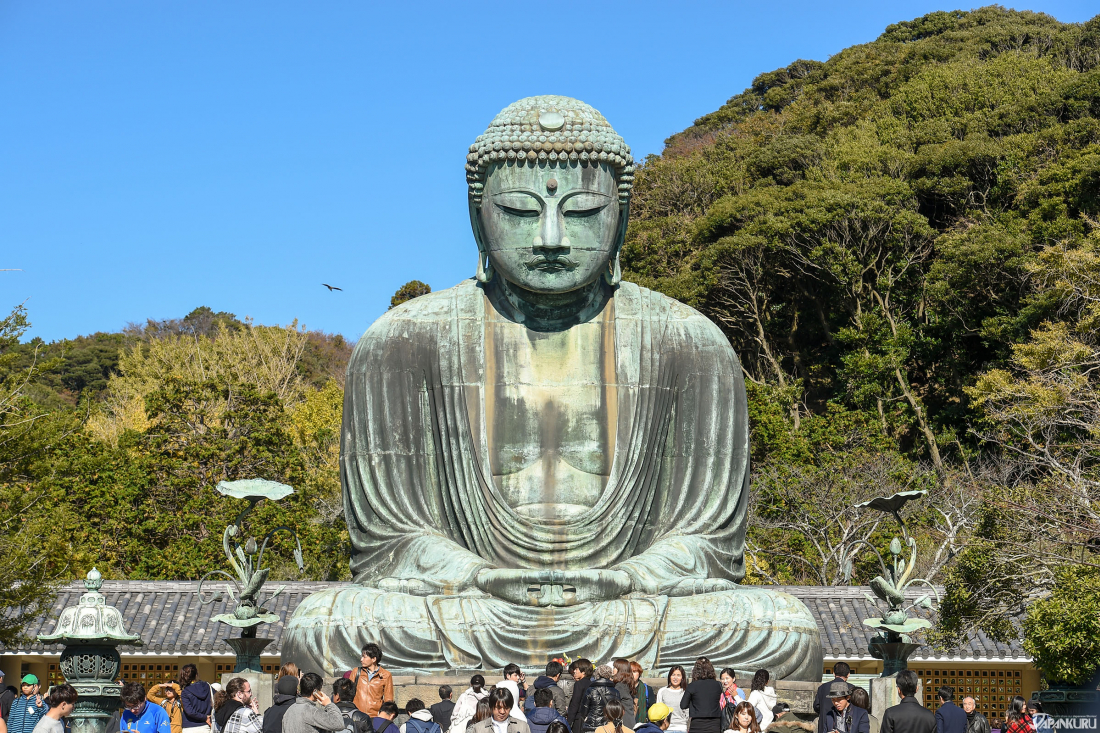 Getting to Kamakura Station: about 1 hour from Tokyo Station or Shinjuku Station
The neighboring cities of Kamakura and Enoshima are known for many things – temples, beaches, flowers, cafes, Enoshima Aquarium, and even the manga/anime Slam Dunk, which makes the area an extremely popular destination for day trips and weekends away from Tokyo. Kamakura in particular is known for its Great Buddha, a bronze statue so large that visitors are sometimes allowed to climb up inside it, which reaches over 13m (43′) into the air at Kotoku-in Temple. And while this Buddha has become an iconic symbol of the area, Kamakura and Enoshima are both dotted generously with enough popular shrines and temples that a busy day trip might only cover a portion of the most famous ones, like Hasedera Temple, Hokokuji Temple, and Tsuruoka Hachimangu Shrine. For travelers hoping to stop in at some of the area's many stylish cafes as they walk between historic sites, a longer trip might be in order.
Kamakura Daibutsu Buddha (鎌倉大仏)
4-2-28 Hase, Kamakurashi, Kanagawa
Official Website (en)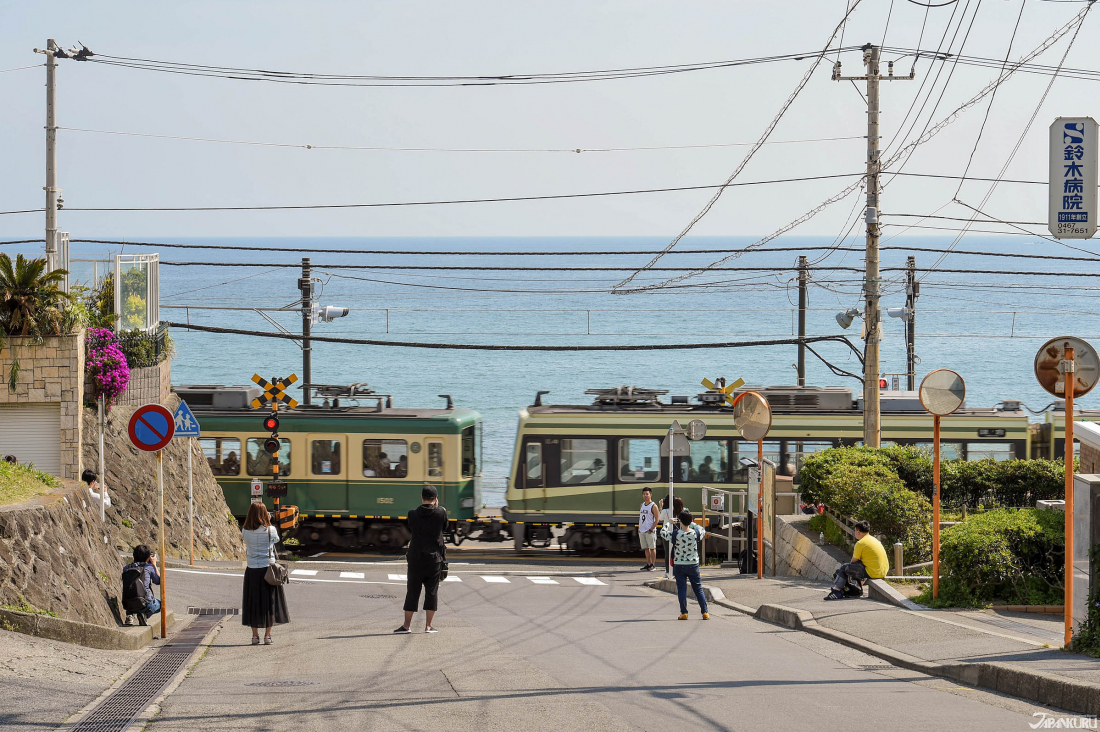 Is our reference to Slam Dunk what caught your interest? Then you might recognize this particular view of the ocean! An iconic backdrop for this manga-turned-anime, found in the anime's opening animation, is the train crossing that happens right before the Enoden train line reaches Kamakurakokomae Station – the station in front of Kamakura High School.
Kamakurakokomae Train Station(鎌倉高校前)
1-1 Koshigoe, Kamakura-shi, Kanagawa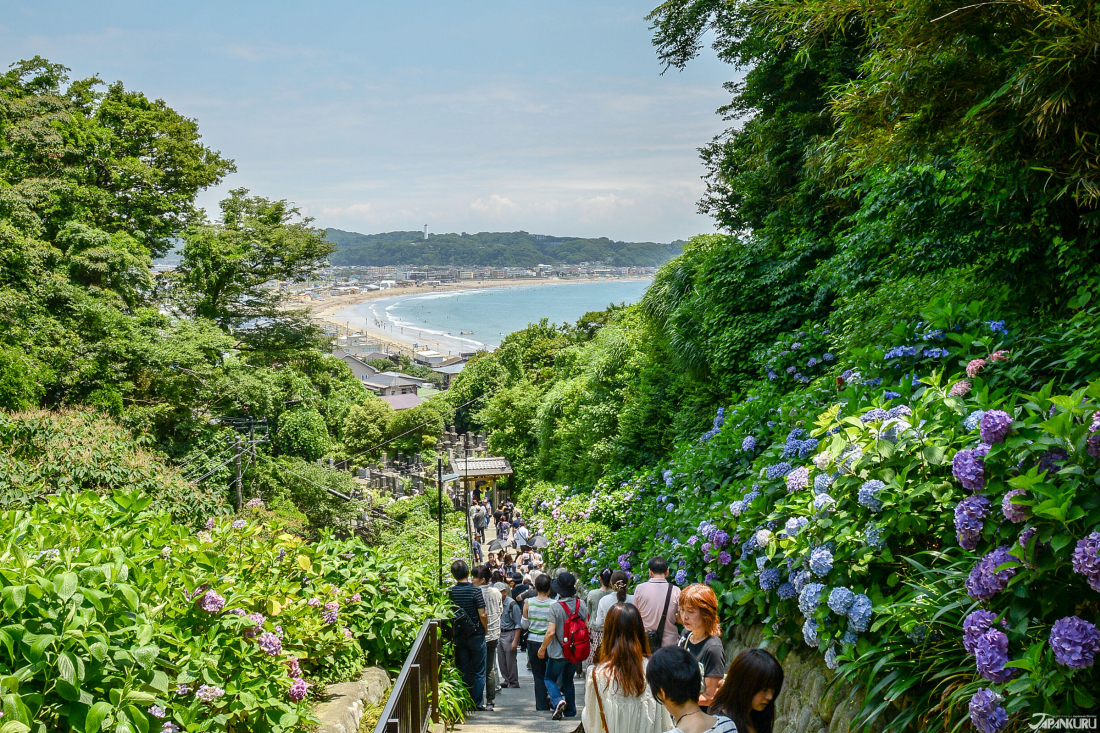 Kamakura and Enoshima are in many ways a summer destination, and that season starts with the early-summer bloom of the region's hydrangeas, which famously cover the hillsides in clumps of glorious little pink, blue, and purple flowers. There are some lovely views of the flowers out the window for passengers taking the Enoden train to Enoshima Island, but many of the most popular hydrangea spots are actually within the area's shrines and temples, particularly Meigetsuin Temple, Hasedera Temple, and nearby Goryo Shrine. For flower lovers looking for a hydrangea-filled day trip, these are the must-sees!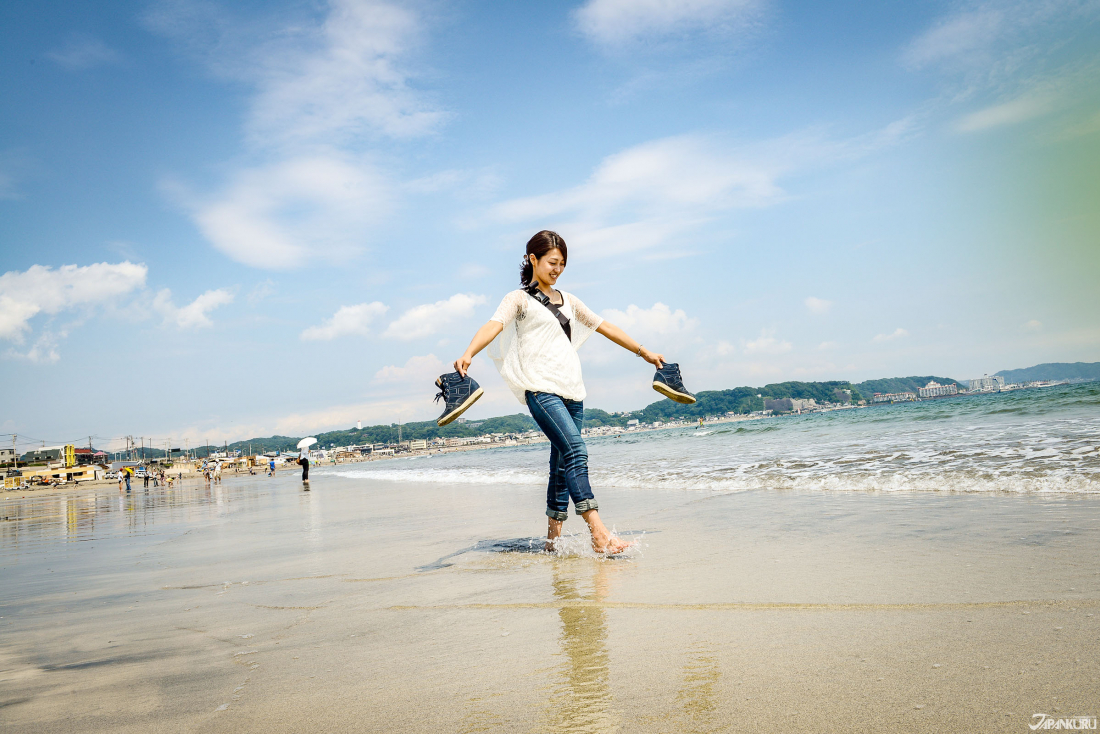 As the season continues and Japan's hot and humid summer shows its face, Kamakura's sandy beaches become a go-to spot for the people of Tokyo, who flock to Yuigahama beach to lay out their towels, splash in the waves, and even practice their surfing skills. Nearby Shichirigahama Beach is the place for one last evening walk before heading home, as the sun sinks behind the silhouette of Enoshima Island.

⑤ Narita (成田)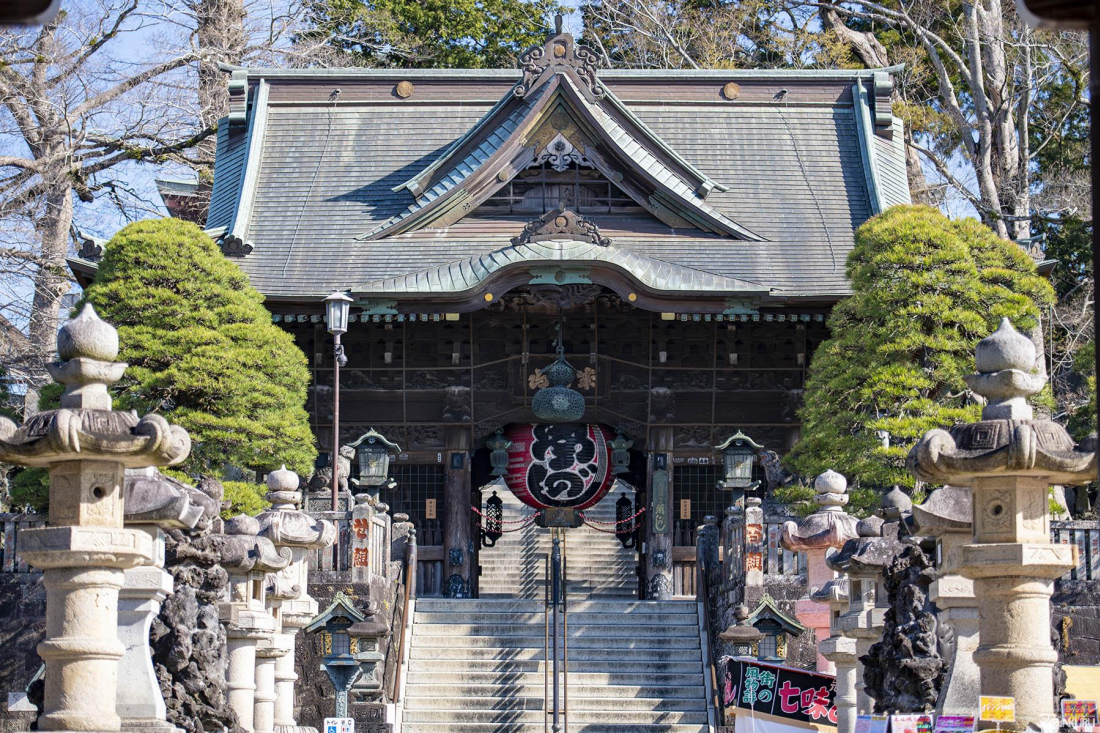 Getting to Narita or Keisei-Narita Station: about an hour from Tokyo Station
Thanks to Narita Airport, a huge number of international travelers who enter Japan from the air end up spending at least a few minutes in Chiba Prefecture's city of Narita. But the vast majority of travelers arriving in Narita Airport end up going straight to Tokyo and then back to the airport without stopping to enjoy Narita itself and the surrounding area, missing out on cobbled roads, historic temples, beautifully preserved samurai mansions, sake breweries, museums of all kinds, and perhaps even the oldest shrine in Japan. There's plenty to keep travelers interested for far more than a day, but the quaint historic neighborhood around Narita Station (about 10 minutes from the airport station) is a great place to start. Naritasan Shinshoji Temple was founded over a thousand years ago, and became particularly famous when Tokugawa Ieyasu moved the government of Japan to Edo. Similar to Kawasaki Daishi, Naritasan Shinshoji is another temple that gathers enormous crowds on New Year's day, but on a normal weekday visitors with a little good timing might be able to sit in on the monks' daily prayers.
Naritasan Shinshoji Temple (成田山新勝寺)
1 Narita, Narita, Chiba
Official Website (en)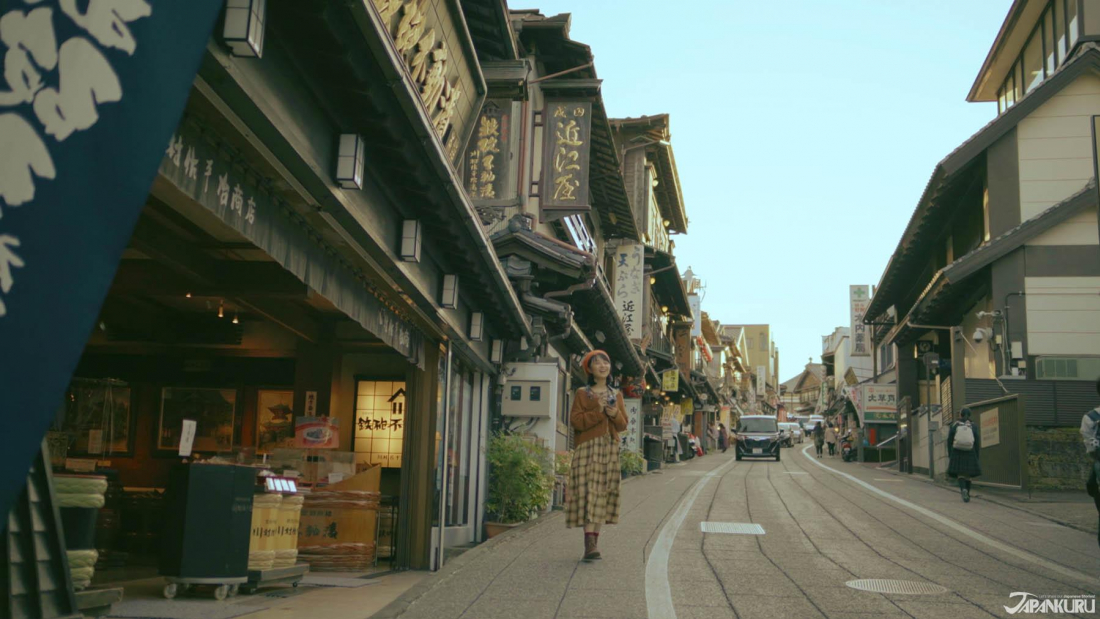 Like many temples, pilgrims coming to see the temple over the centuries helped the surrounding area thrive, and the street leading from the train station to the temple is still lined with shops and restaurants catering to modern-day travelers. Many visitors will stop to snack on a freshly grilled senbei rice cracker (煎餅) covered in a soy-based sauce, or sit down for lunch or dinner at a restaurant specializing in unagi (うなぎ, freshwater eel), a luxurious local specialty.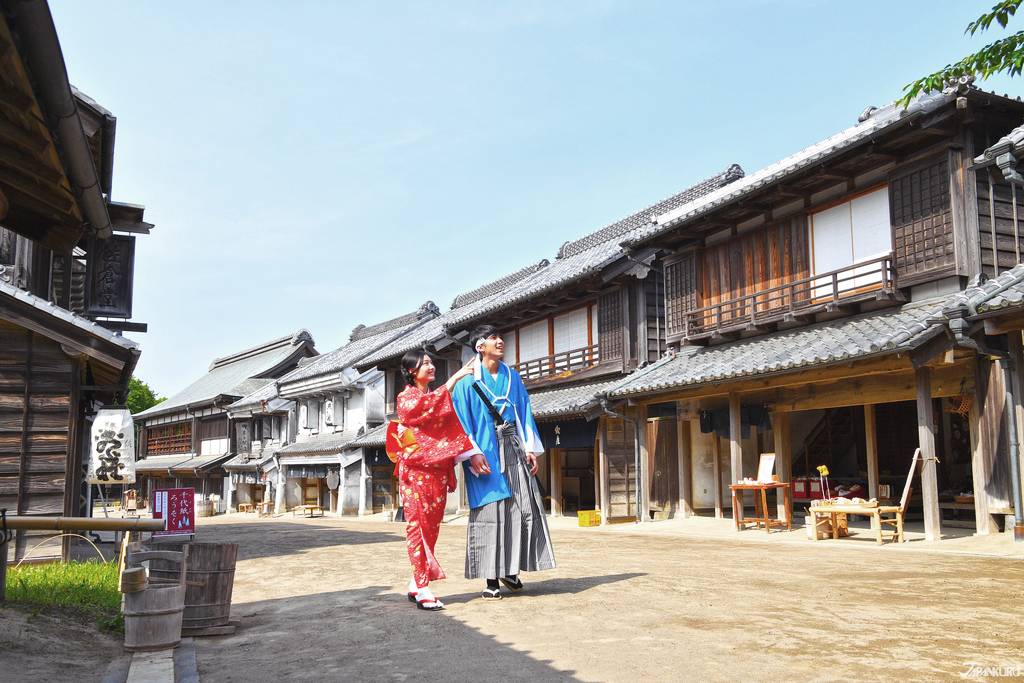 One of the more popular sightseeing destinations found in the area just outside of Narita is a unique open-air museum called Boso no Mura, which recreates a street from the Edo era, and offers visitors a number of fun costumes for rent at the dedicated Cosplay Annex. Dress up like a samurai or put on a colorful kimono styled to look like the age when Japan was just beginning to adopt Western fashion, and then explore the old-fashioned buildings and the many workshops available inside. Popular options include a tea ceremony in the spacious tea house, or crafting at the blacksmiths!
Boso no Mura (房総のむら)
Ryukakuji, Sakae, Imba District, Chiba
Official Website (jp)

For a little break from Tokyo, and a fun look at what else Japan has to offer, a day trip out of town is the perfect way to see more of the history, culture, and beautiful sights found all over this country. So whether you're hoping to see a little more of small-town Japan, or just want a different taste of city life, don't overthink those travel plans – head out for the day and see what you can find!
---
Basic Info
Name: Tokyo's Outskirts
---
For more info and updates from Japan, check Japankuru for new articles, and don't forget to follow us on Twitter, Instagram, and Facebook!
Source: JAPANKURU