A Guide to Kusatsu Onsen | A Mountainside Hot Springs Getaway in Gunma
This famous onsen resort has winter sports to get the blood pumping, and luxurious hot springs made for ultimate relaxation!
Kusatsu Onsen, Gunma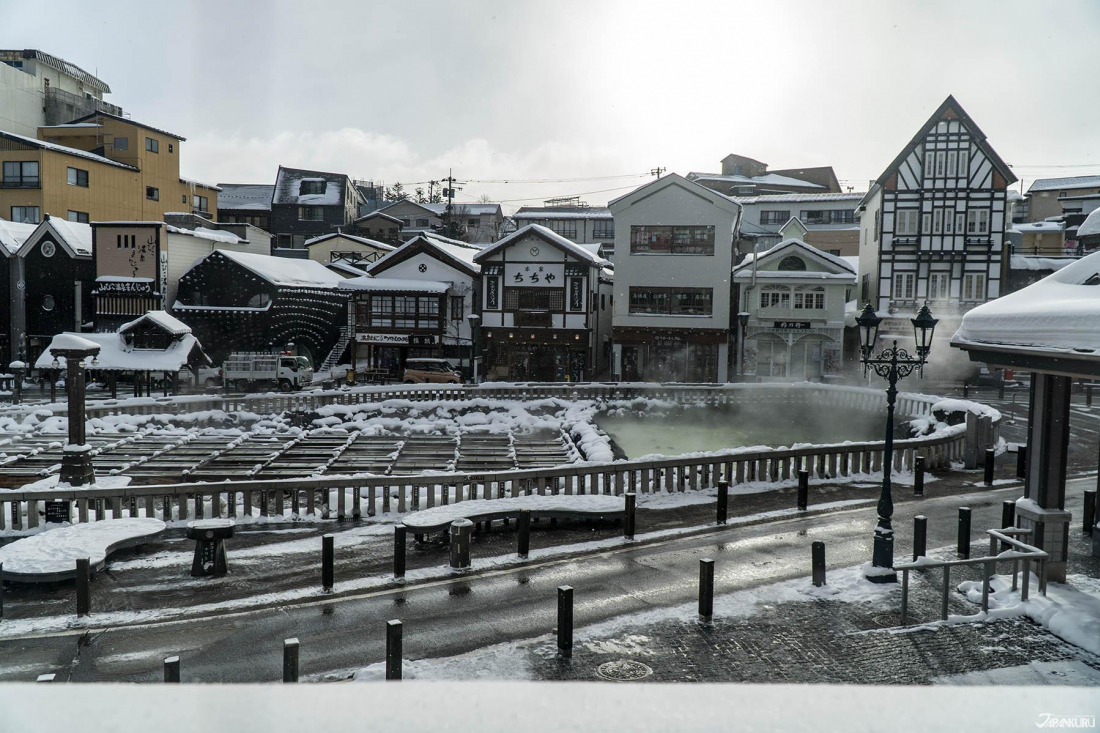 A few hours northwest of Tokyo lies a small onsen resort with dozens of natural hot spring baths, hundreds of years of history, and many more reasons to visit: Kusatsu Onsen. This hot springs getaway in Gunma Prefecture has been a known destination for locals for centuries, or maybe longer, but it started to attract broader attention when the late 19th-century doctor to the Japanese imperial family, Erwin von Bälz, decided to publicly extol its virtues. Nowadays, Kusatsu Onsen is generally considered one of the top three most famous hot springs around Japan! Although the geothermally-heated hot spring water reaches the surface in a number of spots around this town that sits 4,000 meters above sea level, all the springs stem from nearby Mount Kusatsu-Shirane, and the water is known for its particularly intense heat and high acidity. Locals say the water can heal a myriad of hurts, and so visitors arrive in Kusatsu from far and wide to enjoy the extra hot water of the baths, walk the quaint streets, and see the sights. For travelers looking for a little rest and relaxation, Kusatsu Onsen's sulfurous onsen mist, crisp mountain air, and local Japanese atmosphere might be just the thing!
What to Do in Kusatsu
Netsunoyu Yumomi: Learn a Little Kusatsu History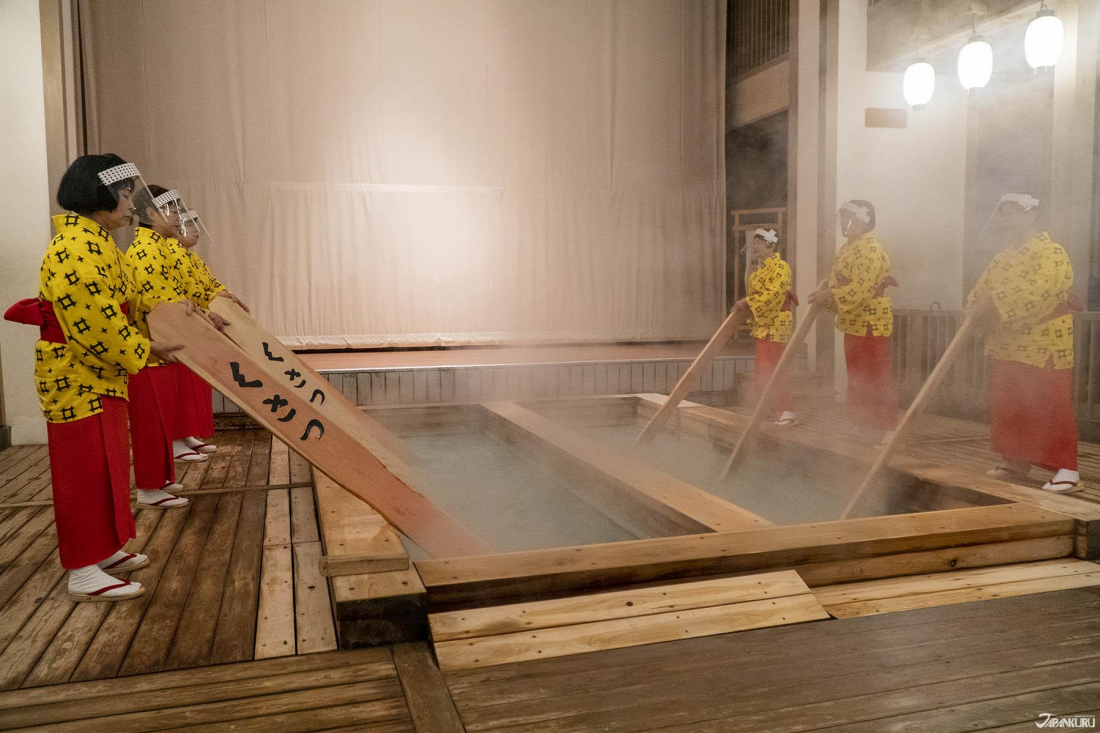 You've arrived in Kusatsu, what should you do first? Well, if you want to get a sense of the town's roots, the Netsunoyu Yumomi show is a great place to start. Because the natural hot spring water of Kusatsu Onsen generally comes out of the ground at a temperature much too hot for people to safely bathe in, locals have long been dreaming up ways to cool down the water to a more comfortable temperature. Of course, the saying goes that "the onsen of Kusatsu can heal any pain but that of a broken heart," and those supposed healing powers are attributed to both the high heat and the many natural additives in the water. This means cooling methods that involve diluting the water are avoided at all costs! Back in the Edo period (1603-1868), the cooling was done through a process called "yumomi" (湯もみ), which literally means "water massage"! Using long wooden paddles, the hot water was beaten and mixed with the cool air, which not only let some of the excess heat escape from the water, but mixed the natural additives and apparently lent the water a silky, soft quality as well. These days, the cooling process is instead accomplished by Kusatsu's famous Yubatake, but visitors can still see how yumomi was done by watching the performances that are put on six times a day, complete with the traditional dance and songs that were sung while the women worked!
Netsunoyu Yumomi Show
414 Kusatsu, Agatsuma District, Gunma
Times: 9:30/10:00/10:30/15:30/16:00/16:30
Tickets: adults 600 yen / children 300 yen
Official Website (jp)
The Yubatake: Where the Onsen Flows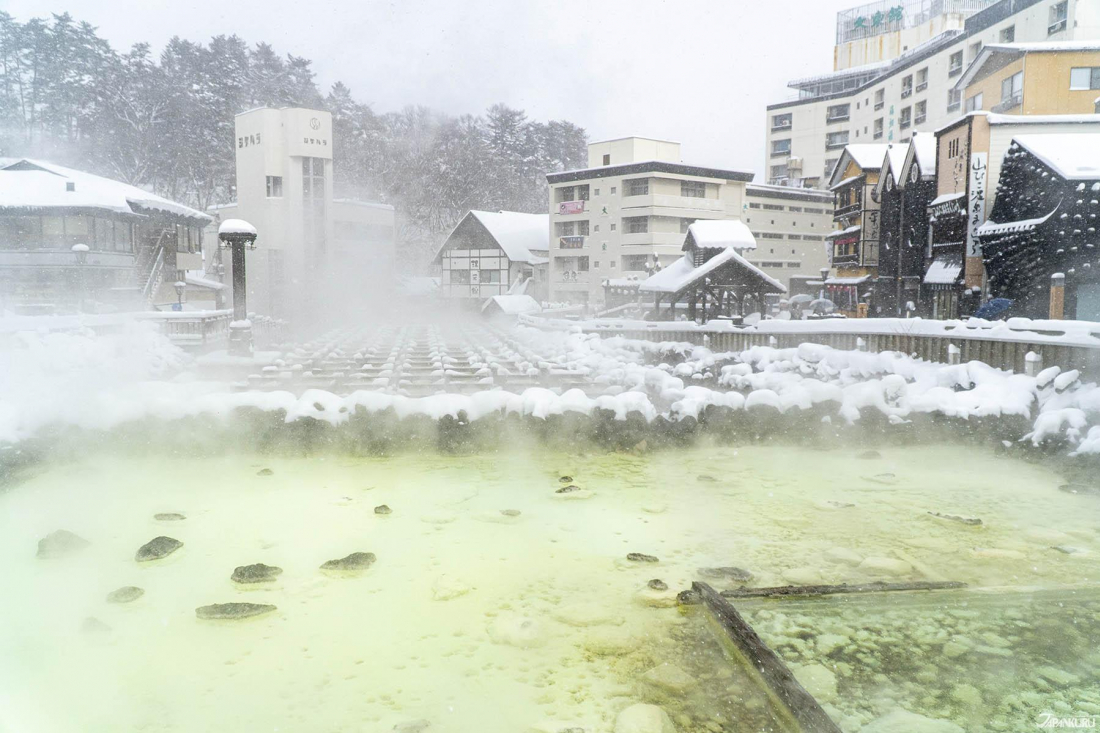 The Yubatake was built to cool the hot spring water as it comes out of the ground, and the name literally means "hot water field," but these days it forms a sort of plaza at the heart of the Kusatsu Onsen community. Each day, visitors crowd the railings around the rushing pools and chutes of hot water, soaking up the intensely sulfurous steam as more than 32,300 liters of water rush by per minute, flowing through the Yubatake and into many baths nearby. In fact, Kusatsu Onsen has seen a number of famous visitors over the past centuries, and a glimpse at the fence surrounding the Yubatake reveals a list of some notable figures who came to enjoy the baths. Notable inclusions range from Minamoto no Yoritomo, a 12th century samurai who ruled over Japan, to Dr. von Bälz himself, who helped popularize the area, and even a number of more recent actors and celebrities.
The hot springs of Kusatsu Onsen are more acidic than you might expect, and the water in the Yubatake has a PH of 2.1, which is about the same as lemon juice! Between the heat and the acidity, it's actually somewhat effective as an antibacterial, and in the midst of the COVID-19 pandemic, the town has even set up little "handbath" stations to kill germs around the Yubatake!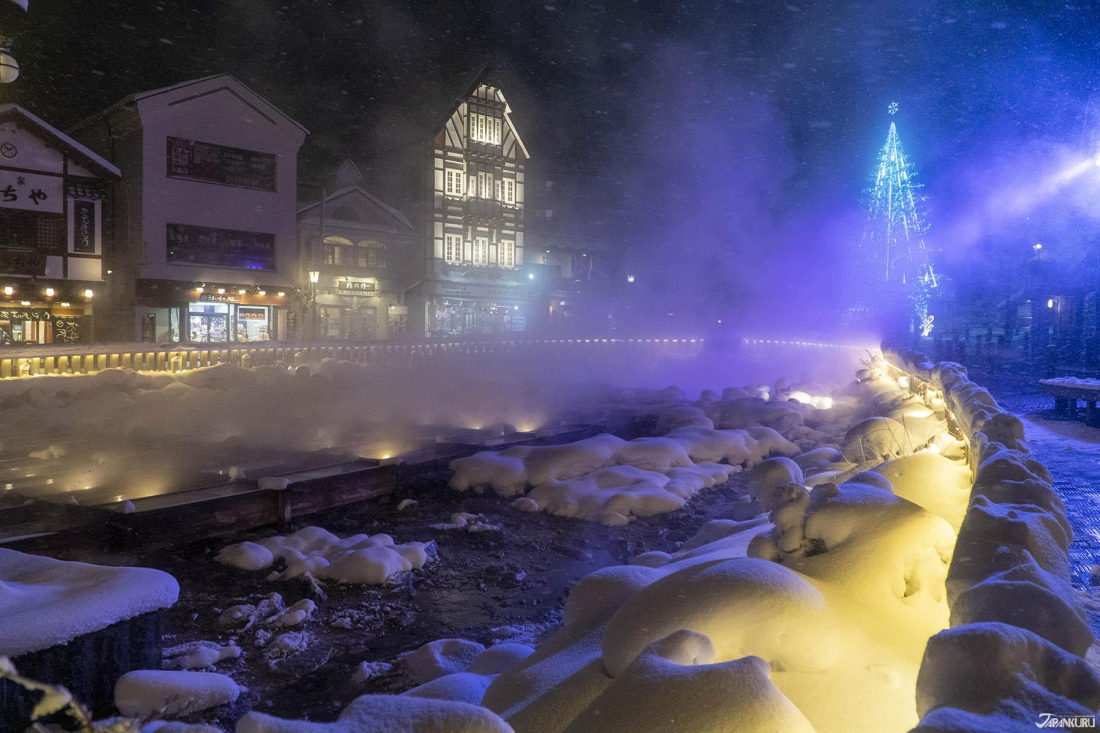 At night, the Yubatake is the location of one of Japan's famous "illuminations," and this symbol of Kusatsu is brightly lit under the dark mountain sky! In the winter, things are taken to the next level with the addition of the Yubatake Tree, which is an enormous tree covered in brilliant lights, across the street from the light displays of the Yubatake.
Kusatsu Onsen Ski Resort: Winter Sports & Zip Lines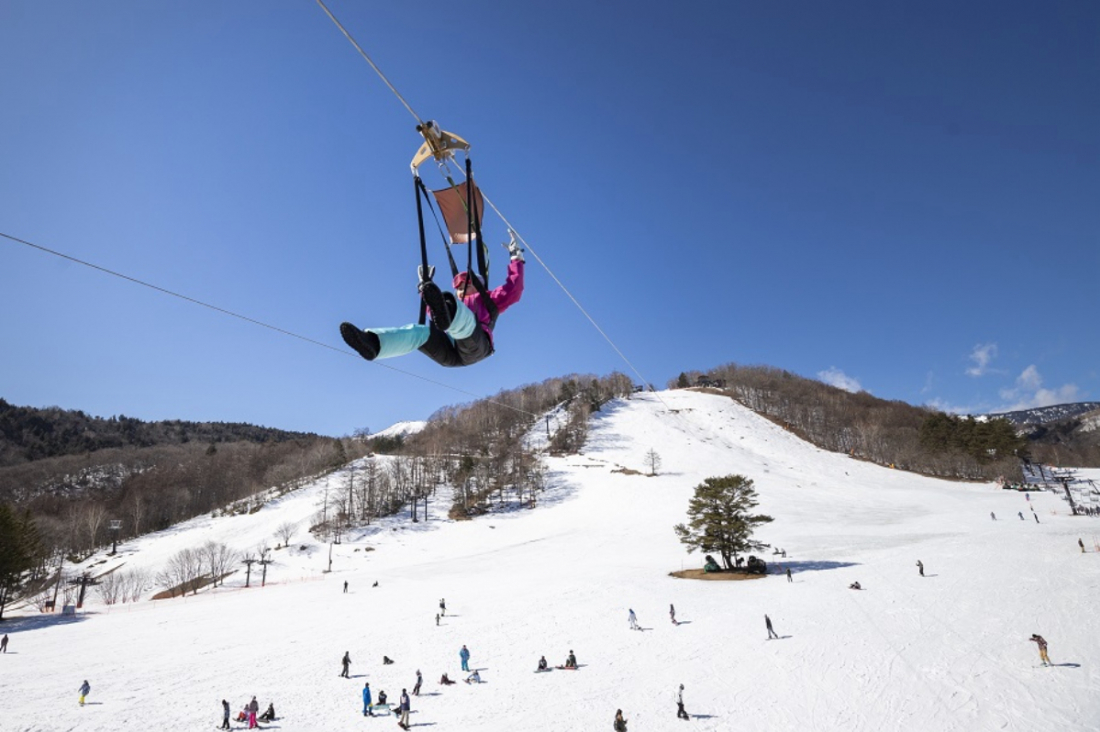 A hot bath is especially satisfying after a day having fun out in the cold, and the Kusatsu Onsen Ski Resort gives visitors a chance to make the most of the snowy mountainside location. Though compact, the mountainside offers a variety of ski slopes for both beginner and advanced winter sports fans, and they make it extra convenient for anyone to spend the day there – even if hadn't planned to go skiing in Kusatsu! Just walk on over, or take the free shuttle bus from the Kusatsu Onsen Bus Terminal, and rent everything you need from the Tenguyama Rental Shop!
For anyone who wants to venture out onto the mountain without committing to a whole day on the slopes, the BanZipTENGU zip line is a quick, exhilarating way to spend a few minutes in the brisk mountain air! The zip line is open year-round, so you can enjoy the green of the mountain during the warmer months, or revel in the snowy slopes in the winter. Get yourself set up at reception, make your way up the ski lift, and zip down the mountain! 
Kusatsu Onsen Ski Resort (草津温泉スキー場)
58 Kusatsu, Agatsuma District, Gunma
Official Website (jp) / Ski Slopes / BanZipTENGU
Where to Bathe in Kusatsu
Gozanoyu: A Bath Facing the Yubatake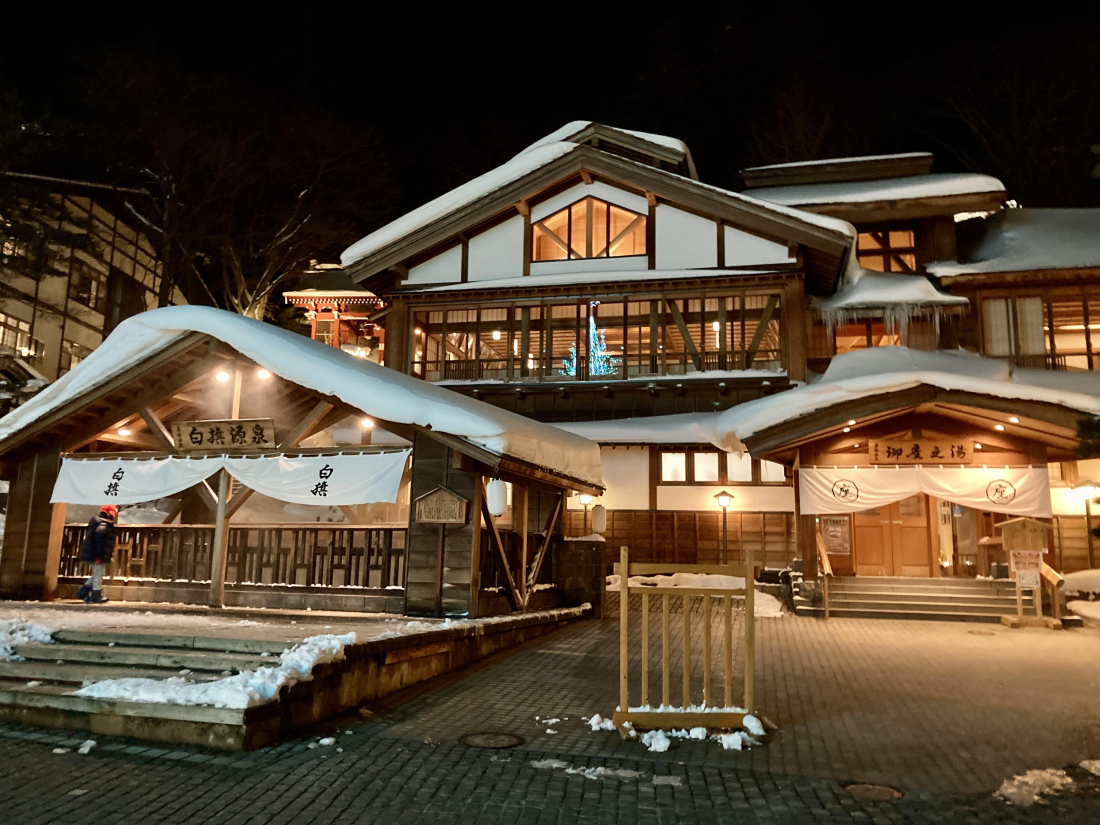 At last, the most important part of any trip to Kusatsu – the onsen! Most visitors staying in Kusatsu will take advantage of the onsen bath in whichever hotel they choose to stay at, but once you've made it to Kusatsu, it's a waste not to try out a few different options! Many of the onsen throughout Kusatsu collect their water from slightly different sources, and each bath itself is a little different, with its own unique charms. They say you probably shouldn't take more than three onsen baths a day, but that's no reason not to make the most of the time you have! (For those who are nervous about visiting the onsen with tattoos, the following three are tattoo-friendly, too!)
Gozanoyu is a traditional onsen in a very grand wooden building with a beautiful Japanese-style facade. The color scheme is quite different from the bathhouse in Spirited Away, but the majestic feeling might satisfy Studio Ghibli fans who want to experience a bath just like the movie's gods and spirits. This place is located right across the street from the Yubatake, which makes it unbeatably convenient for sightseers!
Gozanoyu (御座之湯)
421 Kusatsu, Agatsuma District, Gunma
Official Website (en)
Ohtakinoyu: Sunny Atriums & Private Baths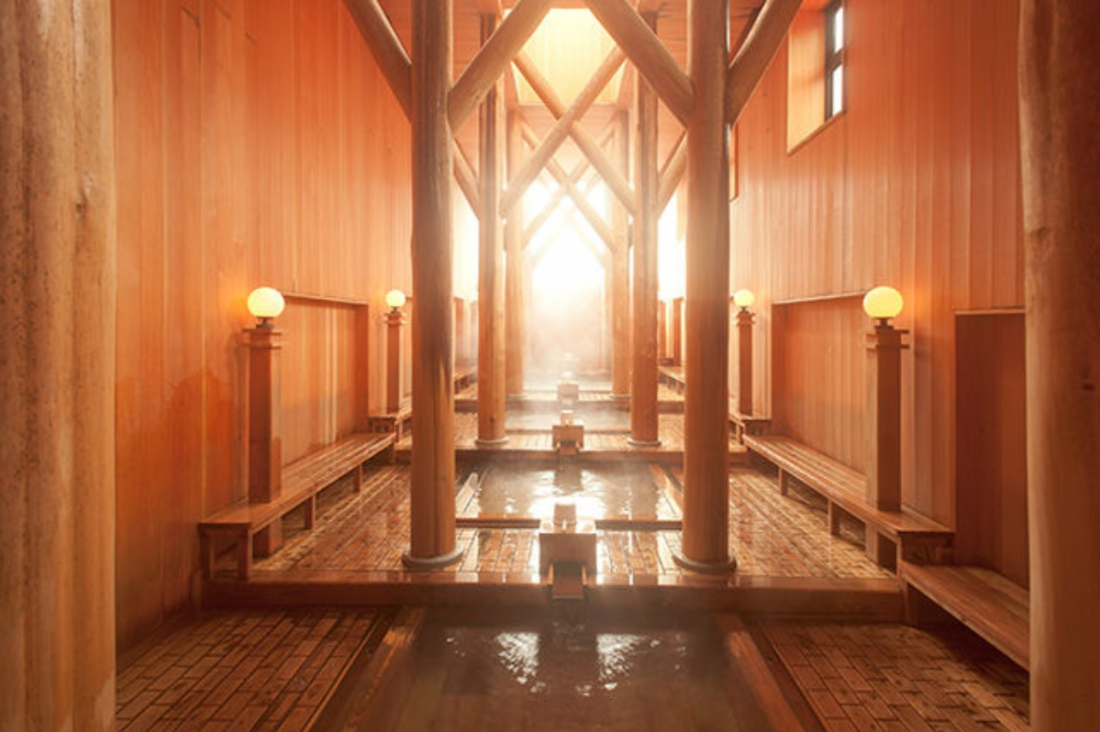 The roof at Ohtakinoyu is held up by wooden pillars that seem to grow out of the tiled floor like trees in a sun-filled forest, and the baths come in a series of different heats, to help guests slowly adjust to the intensely hot Kusatsu Onsen water. Ohtakinoyu is also popular thanks to the many extra facilities connected to the baths, including relaxation rooms for guests, places to eat, and even a smaller private bath available for rental! (This is a great choice for anyone who is still a little nervous about sharing a public bath!)
Ohtakinoyu (大滝乃湯)
596-13 Kusatsu, Agatsuma District, Gunma
Official Website (en)
Sainokawara Rotenburo: A Hot Bath Surrounded by the Great Outdoors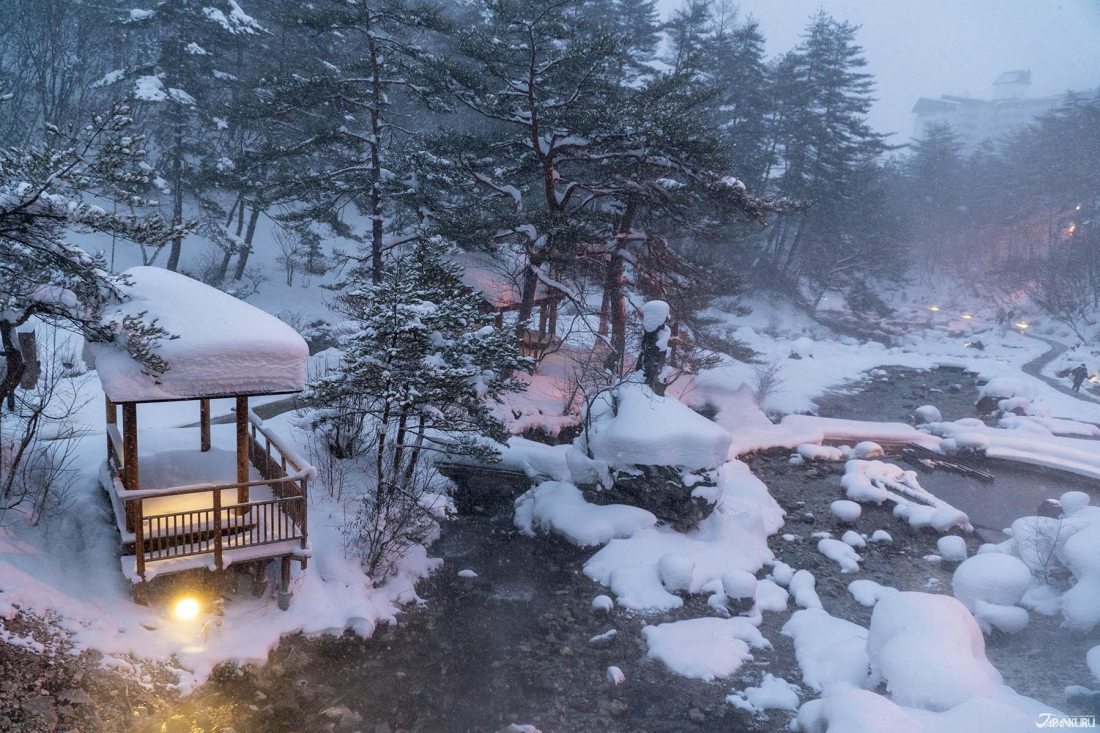 Deep inside the beautiful Sainokawara Park, where a river of hot onsen water streams down the mountainside, travelers can make their way to another popular kind of onsen bath. A rotenburo (露天風呂) is any bath that is out in the open air, and it's not uncommon for bathhouses or onsen ryokan (traditional Japanese hotels) to maintain their own small rotenburo for guests, but the Sainokawara Rotenburo is on a different level. There is no bathhouse with indoor baths at this onsen – just two enormous outdoor pools at the top of a hill, filled with steaming hot natural spring water, and surrounded by artfully placed boulders and bamboo fences. There is truly nothing like a bath out in the great outdoors, with nothing but sky above your head. Sainokawara Rotenburo is open throughout the year, and from early morning well past sunset, which means the atmosphere is always changing. (But here on the Japankuru team, we think nighttime baths when the snow is falling might just be the most magical experience of all.)
On Friday nights, Sainokawara Rotenburo also offers a rare opportunity for visitors to enjoy "konyoku" (混浴, mixed baths). This old Japanese tradition is harder and harder to find in practice, but just once a week, Sainokawara turns their men's bath into a mixed bath for a few hours, where they have guests wear bathing suits or other cover-ups. This unique onsen offering is great for families and couples, who can enjoy the outdoor bath together!
Sainokawara Rotenburo (西の河原露天風呂)
521-3 Kusatsu, Agatsuma District, Gunma
Official Website (en)
What to Eat in Kusatsu
Lunch: Sainokawara Street, Soba, & Udon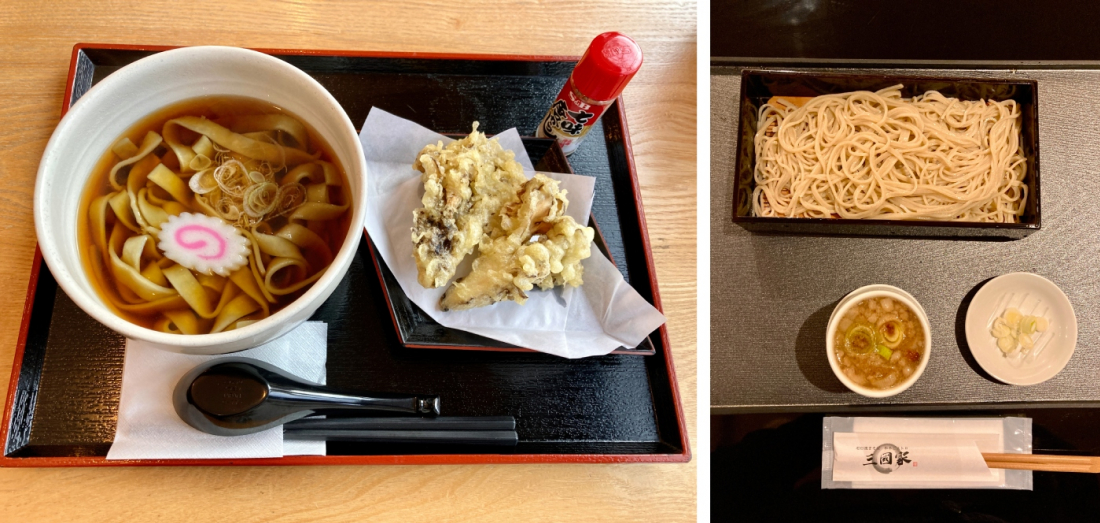 Between exhilarating trips flying through the mountain air and long soaks in hot tubs, spending the day in Kusatsu Onsen will certainly leave you with an appetite! Fortunately, there are plenty of tasty meals to be found in this cozy little town. Restaurants are squeezed in between the many onsen ryokan and along popular paths like Sainokawara St., serving everything from quick lunches to decadent meals made to take all afternoon. In order to save some room for dinner, though, noodles are a solid midday choice – warm and filling enough to keep you happy even in winter, but not so heavy as to weigh you down on your next trip to the baths!
Both soba and udon are popular in the area, and lines will sometimes form outside of restaurants like Mikuniya Soba, where diners rave about the soba noodles served with a duck-based dipping sauce. For bathers who time their trip to Ohtakinoyu Onsen well, the bathhouse has an attached restaurant that specializes in "kumasasa udon," which are udon noodles made with bamboo grass!
Mikuniya Soba (石臼挽蕎麦 三國家)
386 Kusatsu, Agatsuma District, Gunma
Official Website (jp)
Yunohana (御食事処 湯の華)
Ohtakinoyu Onsen, 596-13 Kusatsu, Agatsuma District, Gunma
Official Website (jp)
Snacks: Pudding, Manju, & Cute Cafes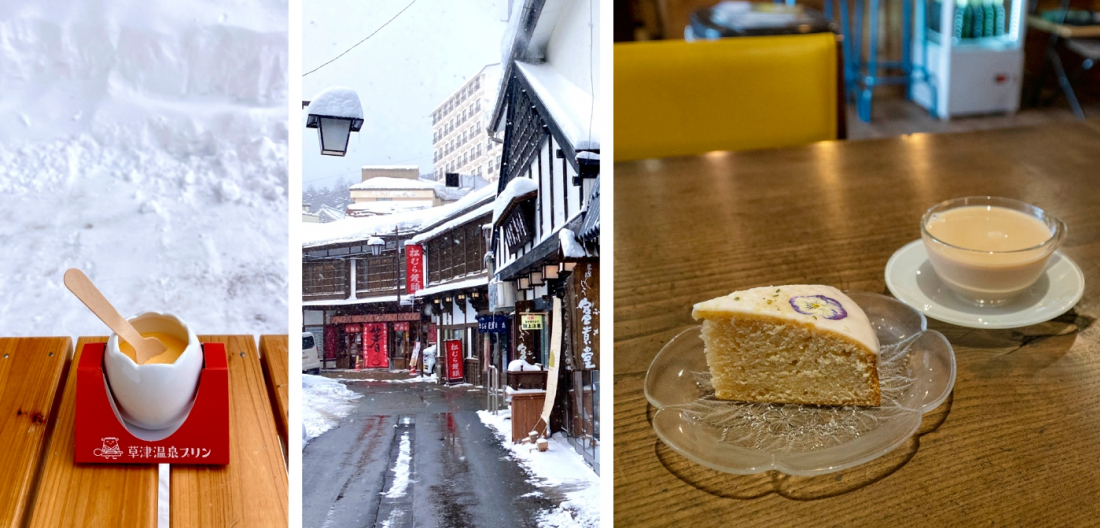 Looking for a little refreshment between dips in the onsen, or some souvenirs to take home and share with friends? Sainokawara St. has plenty of restaurants, but it's also a great place to start when looking for snacks! The area is full of shops selling one of the area's most popular souvenir options, manju cakes, which are little steamed cakes full of red bean filling. Another snack that's probably better eaten while you're still in Kusatsu is Kusatsu Onsen Pudding, which is about as popular for the adorable pictures that travelers take with the little egg-shaped cups, as it is for its deliciously fluffy texture! The pudding is sold warm from a counter facing passers-by on Sainokawara St., and customers huddle around the shop on cold days with their steaming cups of Japanese-style pudding in hand!
When you need a minute to sit down and take a longer break, there are a handful of nice cafes scattered around Kusatsu that are made for the job, including one that also provides delicious vegan options! Cafe Watowa offers drink made with soy milk, plant-based meals, and some impressively delicious and indulgent vegan cakes as well.
Kusatsu Onsen Pudding (草津温泉プリン)
407 Kusatsu, Agatsuma District, Gunma
Official Website (jp)
Cafe Watowa (カフェわとわ)
60 Kusatsu, Agatsuma District, Gunma
Official Instagram
Dinner: Head to Your Hotel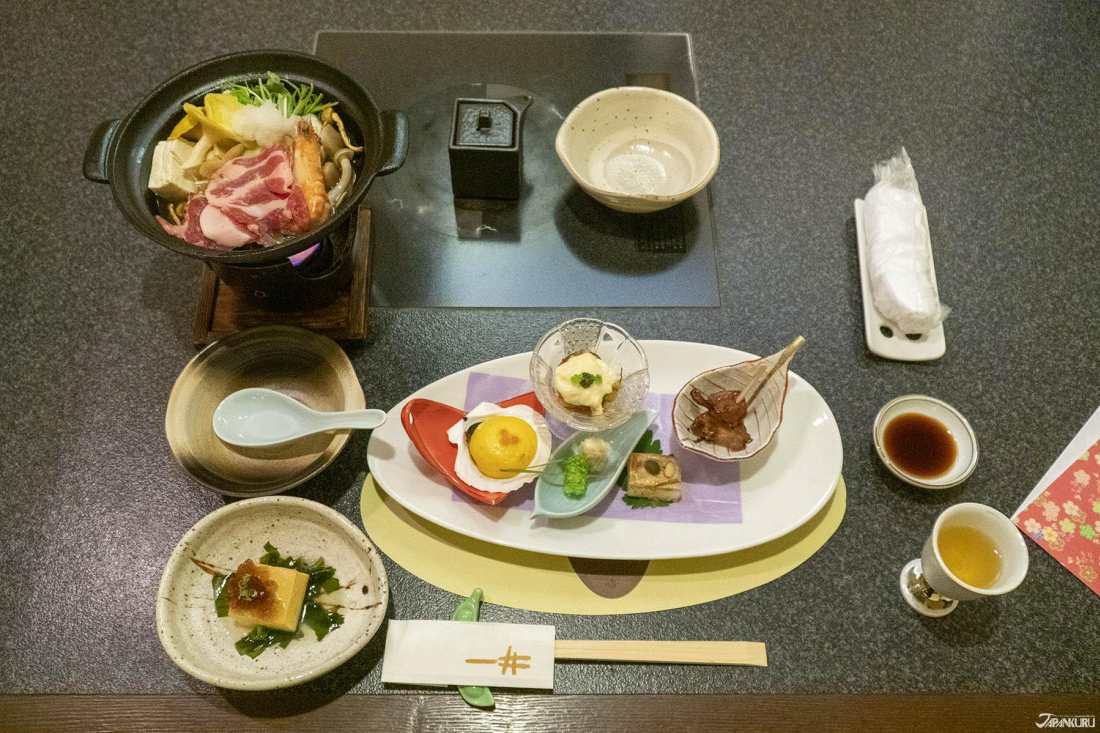 When the sun begins to set in Kusatsu, most travelers tend to head back to their hotels. Of course, there are restaurants open for dinner throughout the town, but dinner and breakfast are included in the price for many of the hotels in Kusatsu, and it's worth heading down to the hotel restaurant to eat. Dinner at a ryokan is no casual affair, and nicer establishments provide decadent meals with multiple courses and endless variety, each bite containing a new taste of traditional Japanese cuisine. You're bound to try something you've never seen before, and it will probably be delicious!
The meal above was at Hotel Ichii, where the Japankuru team stayed during our last trip to Kusatsu. It's right across the street from the Yubatake!
Hotel Ichii (ホテル一井)
411 Kusatsu, Agatsuma District, Gunma
Official Website (jp)
Getting to Kusatsu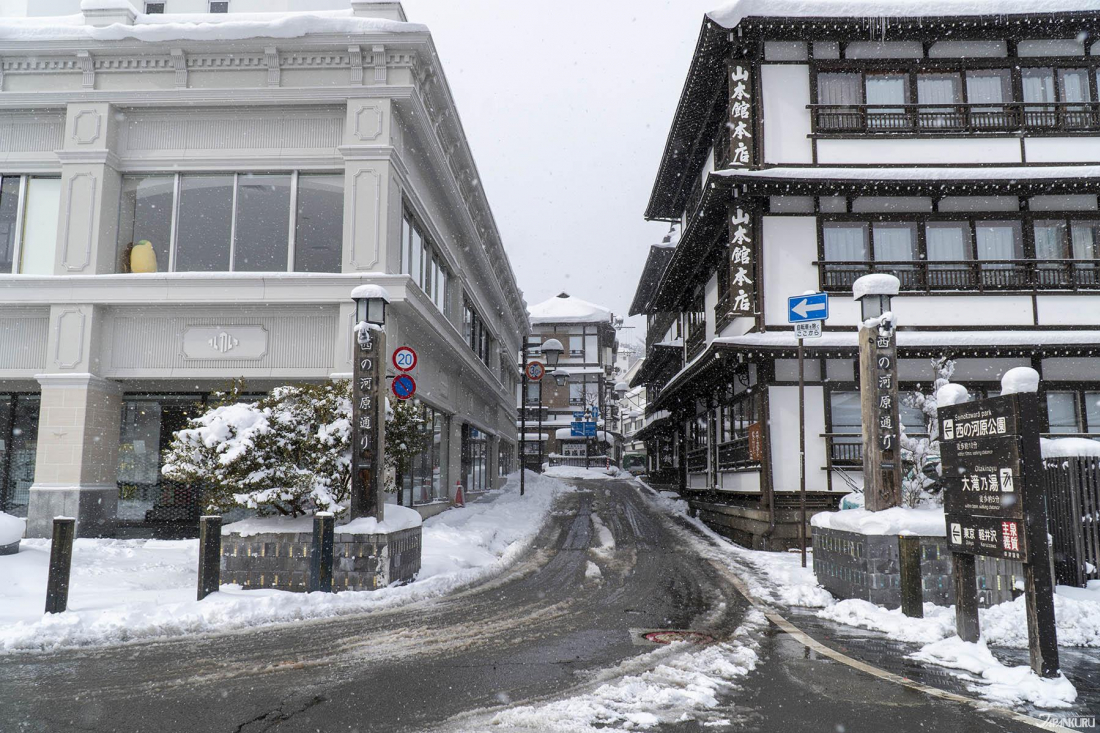 Are you ready to spend a weekend in Kusatsu yet? Fortunately, this remote onsen resort is actually quite easy to get to from the big, bustling city of Tokyo! Here are three ways to make your way over:
① By Car
For those who like a good road trip, renting a car is a simple way to get to Kusatsu Onsen while catching a little glimpse of the countryside in between, too! Just rent a car, check the roads, and enjoy the 3-hour route through Saitama and Gunma, before soaking away the fatigue of the day in the onsen. Winter travelers should keep in mind, though – the roads around Kusatsu can get snowy!
② By Train
From Tokyo to Kusatsu there are two common train routes, although both of them actually use a local bus as the last leg of the trip and end up at Kusatsu Bus Terminal, because the onsen area has no train station! Between shinkansen tickets and local transportation, costs vary between about 5,000 and 10,000 yen one-way. The trains run throughout the day, though, which makes them especially useful for anybody who wants to be on the move early in the morning or late at night! Plus, some travelers like to take a break in Karuizawa to see the sights and get some shopping in!
Ueno Station (shinkansen) → Takasaki Station (Agatsuma Line) → Naganoharakusatsuguchi Station (bus) → Kusatsu Bus Terminal
OR
Tokyo Station (shinkansen) → Karuizawa Station (bus) → Kusatsu Bus Terminal
③ By Bus
The easiest and cheapest way to get to Kusatsu is, unsurprisingly, also the slowest! Buses run from both Shinjuku and Shibuya a handful of times every day, directly connecting Tokyo to Kusatsu Bus Terminal, and tickets are only about 3,000 to 4,000 yen one way. The trip tends to take a little longer (up to about 4 hours), as the bus meanders a little and makes some extra stops, but the simplicity of taking a nap on the bus and waking up to find yourself in Kusatsu makes it very stress-free. (Don't miss the Japanese-style rest stop, though!)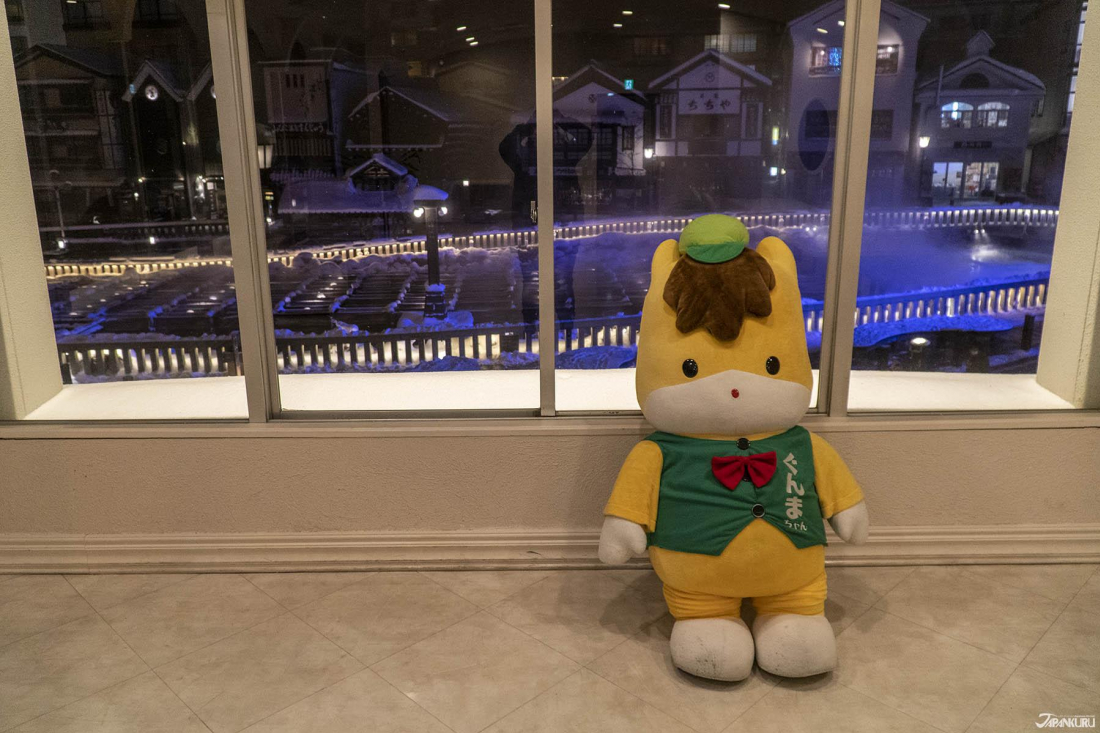 The tickets are booked, hotel reservations made, and the itinerary is full to the brim: daring fun in the cold mountain air, intense relaxation in the sulfurous steam of the onsen, and tasty bites sprinkled all in-between. It's time to head to Kusatsu Onsen – are you ready!?
(↑ Gunma-chan is waiting!)
---
Basic Info
Name: Kusatsu Onsen, Gunma Prefecture (群馬県草津温泉)
Website: https://www.kusatsu-onsen.ne.jp/
---
For more info and updates from Japan, check Japankuru for new articles, and don't forget to follow us on Twitter, Instagram, and Facebook!
Source: JAPANKURU