A Shopping Guide for Japanese Stationery: From Shops in Tokyo to Around the World
Love the neat designs and consistent quality of Japanese stationery? We've got some stationery shopping tips for you.
Japan: A Country of Stationery Lovers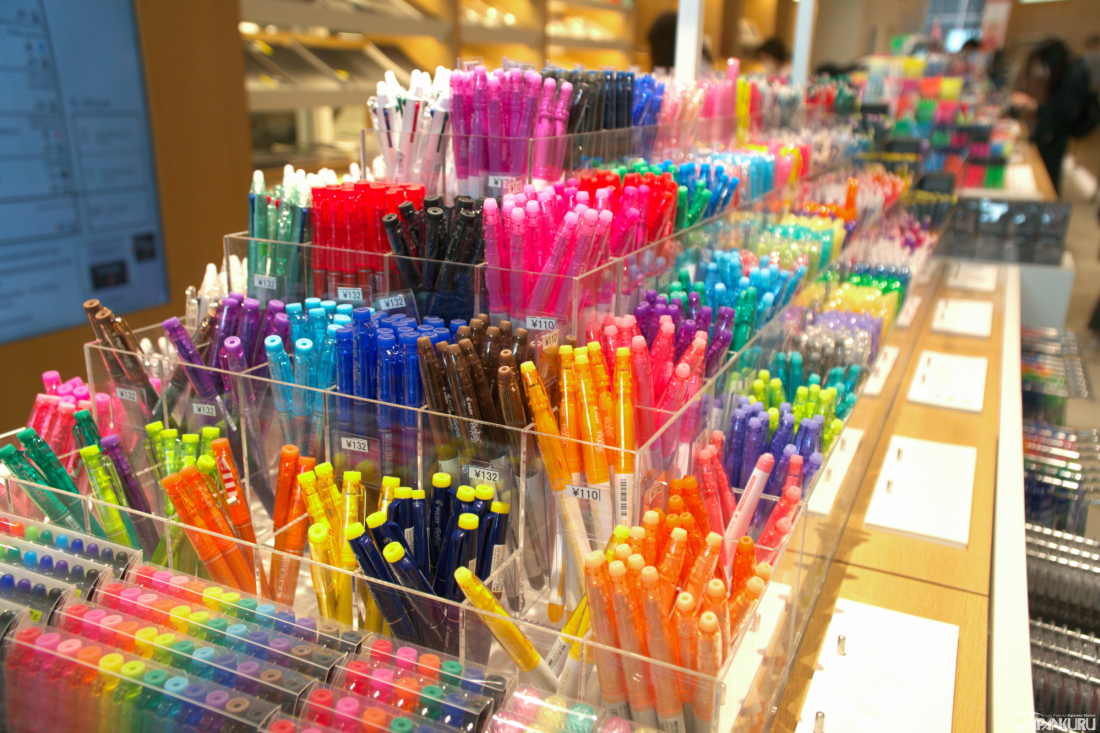 Thinking back to the elegant ink paintings and calligraphy found throughout the centuries of Japanese history, perhaps it's no surprise to find that the country has long had a love for all things stationery. The tools of the trade have changed over the years, and for most people in Japan scrolls of washi paper and natural hair calligraphy brushes have been replaced by colorful notebooks and things like erasable pens, but the love of pens, paper, cards, letter sets, notebooks, stickers, office supplies, and much more, can be seen in the wealth of products that still hit store shelves year after year. In recent years, Japanese stationery has earned an international reputation, due in part to a handful of Japanese manufacturers that have found niches overseas (ever bought a pen made by Pentel, Pilot, or Uni?), but also thanks to the unique innovation that comes from producers big and small throughout Japan, and the consistent quality. Travelers arriving in Japan from all over the world come hungry for cute stationery creations and sleek styles – if you've got a hankering for some new pens and paper, we've got some suggestions for where to find the right Japanese stationery for you.
➤ Itoya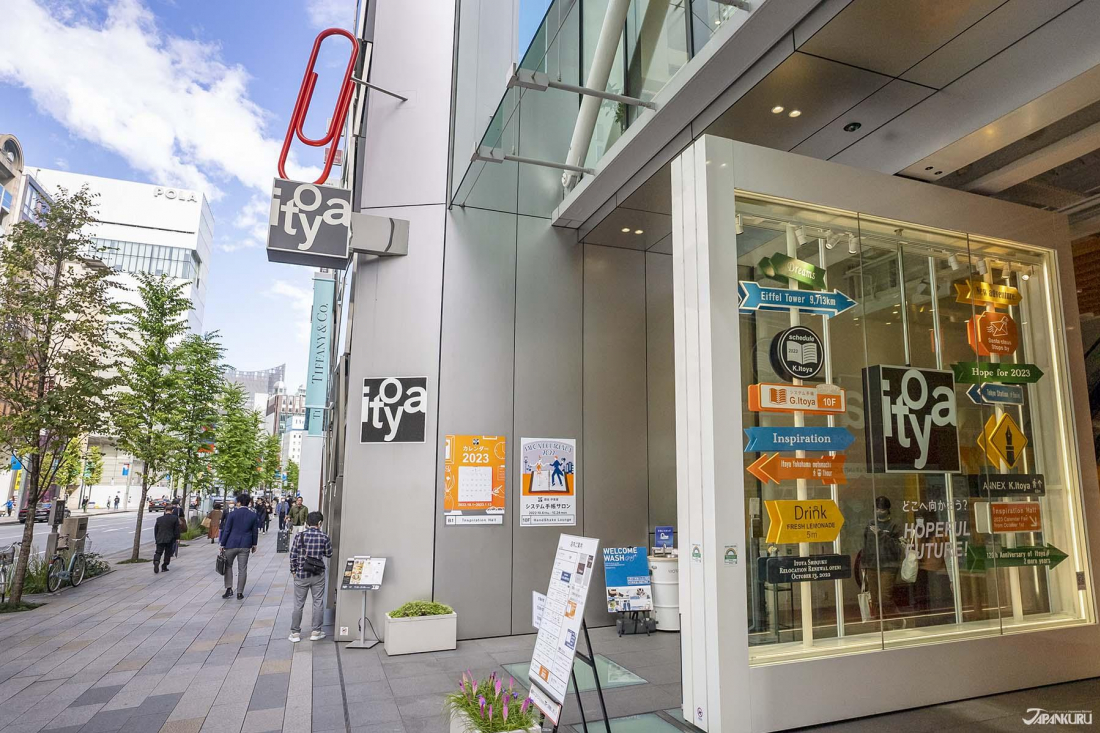 If you've got some time to shop for stationery in Tokyo, Itoya is the place to start. With 10+ floors of shelves and beautifully designed displays in two buildings, ample spaces set aside to test out pens and paper or even design your own notebooks, and areas for activities like letter writing – plus a breadth of products that will take your breath away – we could see spending a whole day on stationery shopping in Itoya. They can even keep you fed at their cafe (which uses lettuce grown in-store)!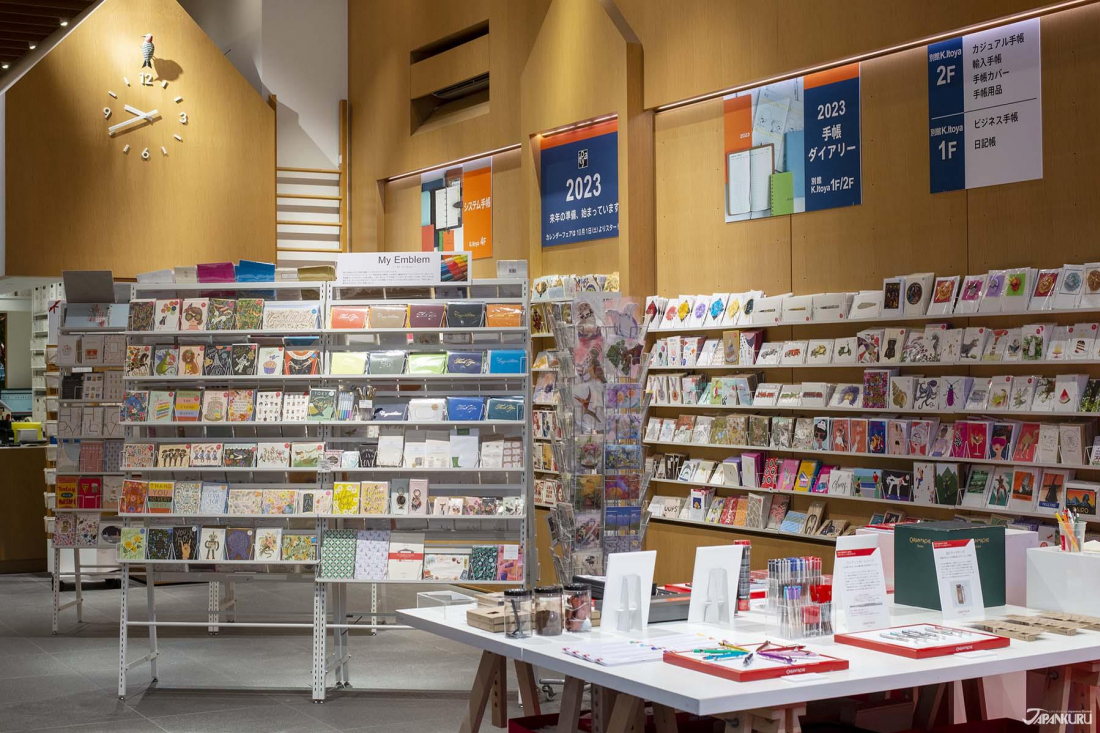 Itoya's stock ranges from the most basic pen and paper great for taking notes or writing a postcard, to designer fountain pens that cost as much as a car, and walls of craft paper in every shade of the rainbow. But that doesn't come close to covering the variety! The many floors, divided into themes, hold pens, pencils, notebooks, greeting cards, staplers, and scissors of course, but also paints and canvases, laptop bags and notebook covers, office furniture and home goods, scrapbooking supplies and multi-colored origami paper, plus much more. The brands on display also come from all over the world, including plenty of Japanese manufacturers, carefully selected international favorites, and quite a few products from Itoya's own brand – like a set of beautifully designed fish notebooks inspired by delicious Japanese fish dishes!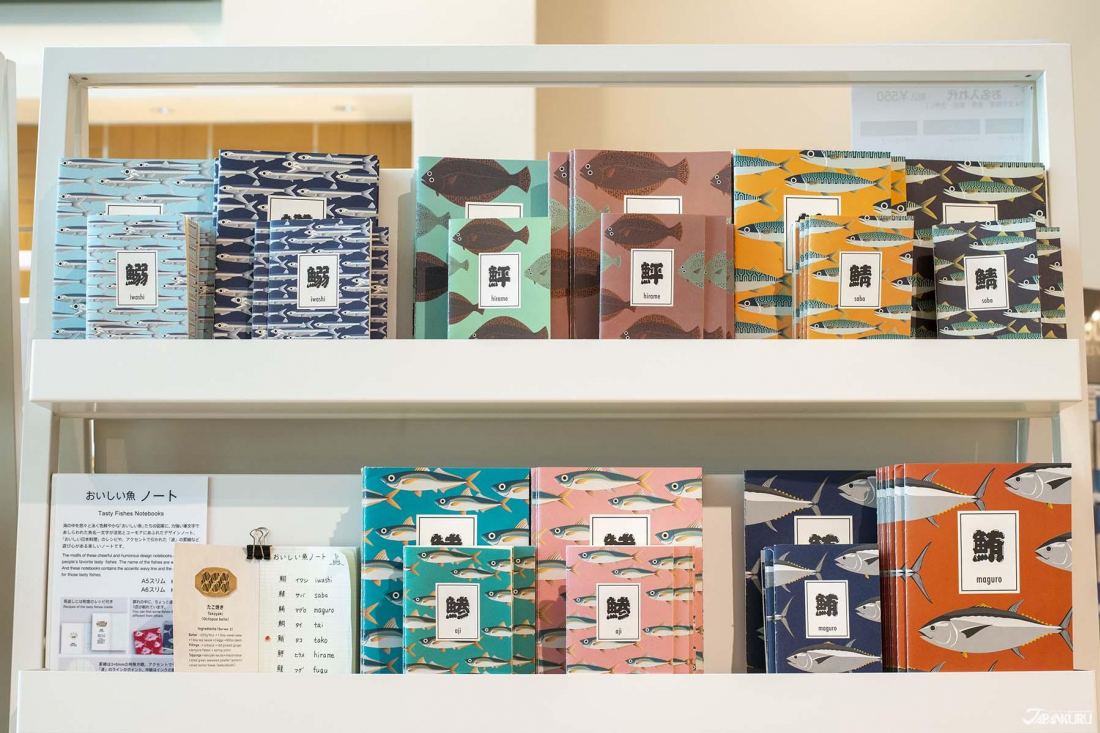 Other than the fantastic selection and beautifully designed spaces, Itoya also has quite a few areas that let stationery lovers get the most out of their hobby. You can customize your own notebooks or postcards, with all kinds of paper and printed designs, or put together your own pen in a variety of colors. You can even sit down in their postcard-writing corner (perfect for those of us who like to write postcards but never seem to get it done), write your message with a selection of pens from the shop itself, purchase one of their original (real) postage stamps, and send it off in their own sleekly-designed (real) mailbox! Itoya feels a little like a stationery theme park, and the bright red paperclip sign out front (a nod to old-fashioned shop signs) is there to guide you right to the entrance!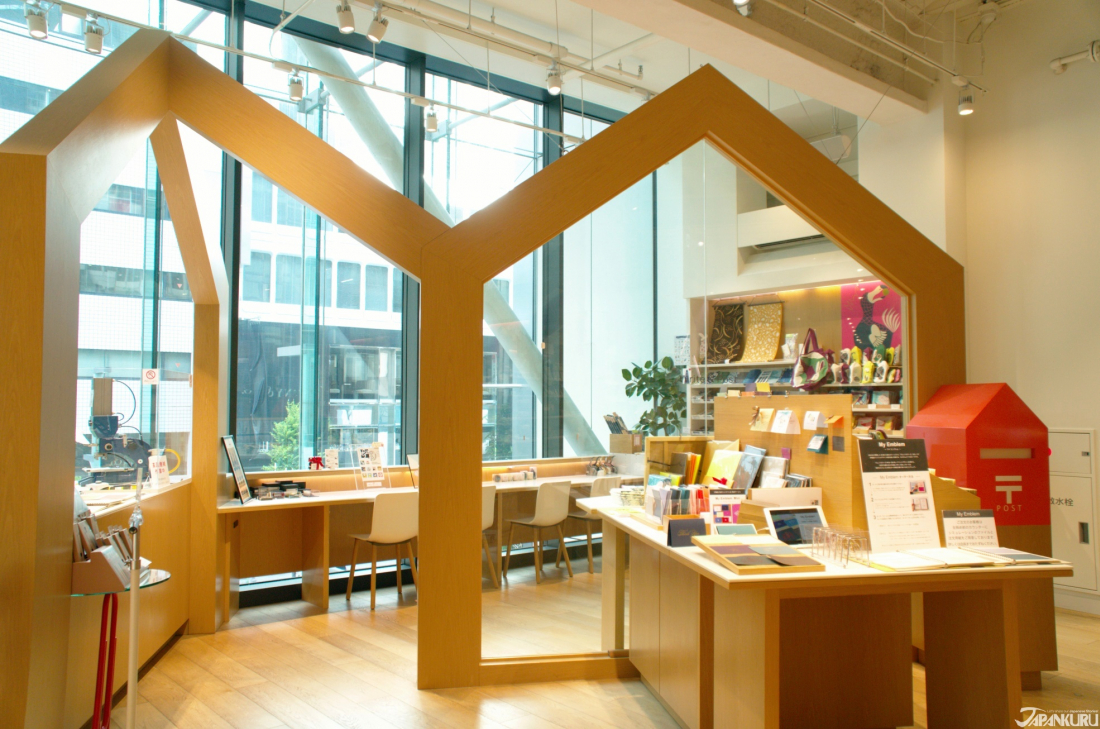 Itoya (伊東屋)
2-7-15 Ginza, Chuo City, Tokyo
Hours:
 Mon ~ Sat: 10:00 – 20:00
 Sun & Holidays: 10:00 – 19:00
Official Website (en)
➤ Kyukyodo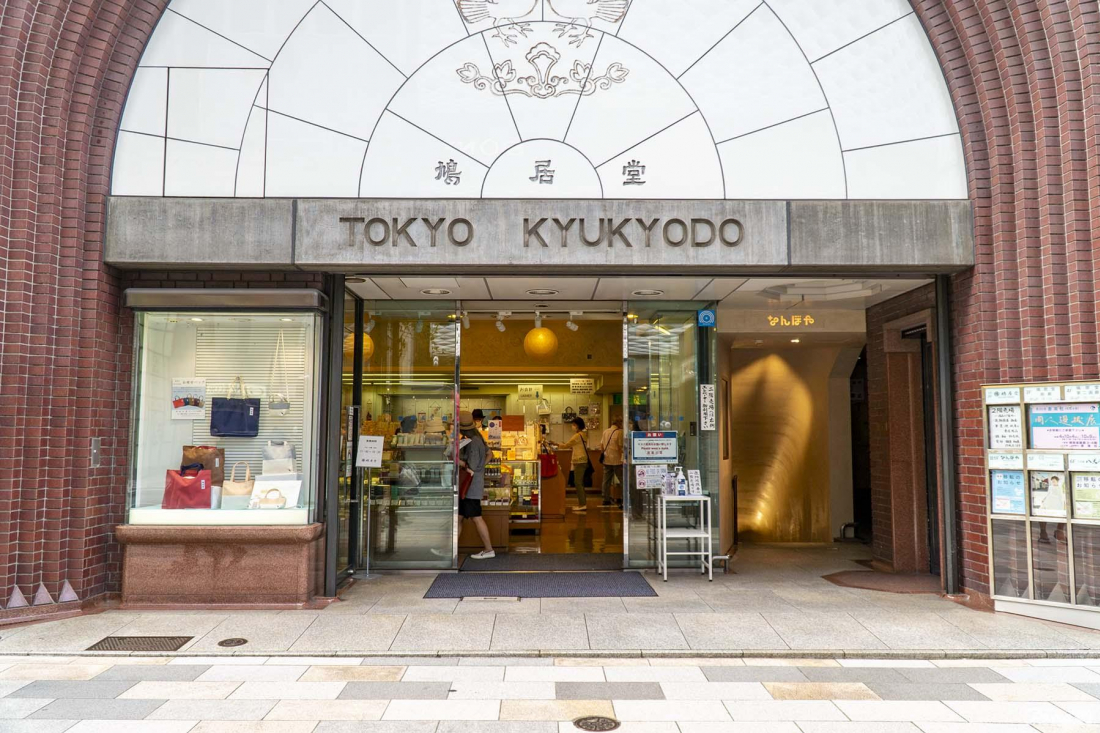 Kyukyodo is a stationery shop for those who love a little tradition, with more Japanese calligraphy brushes than colorful pens to fill the shelves. It might be conveniently located just down the street from Itoya, but this is a very different kind of store! Kyukyodo has been around since 1663, and while the current building might not reach back that far, even the modern facade features a rather majestic brickwork arch, and the shop's logo etched into stone above the entrance.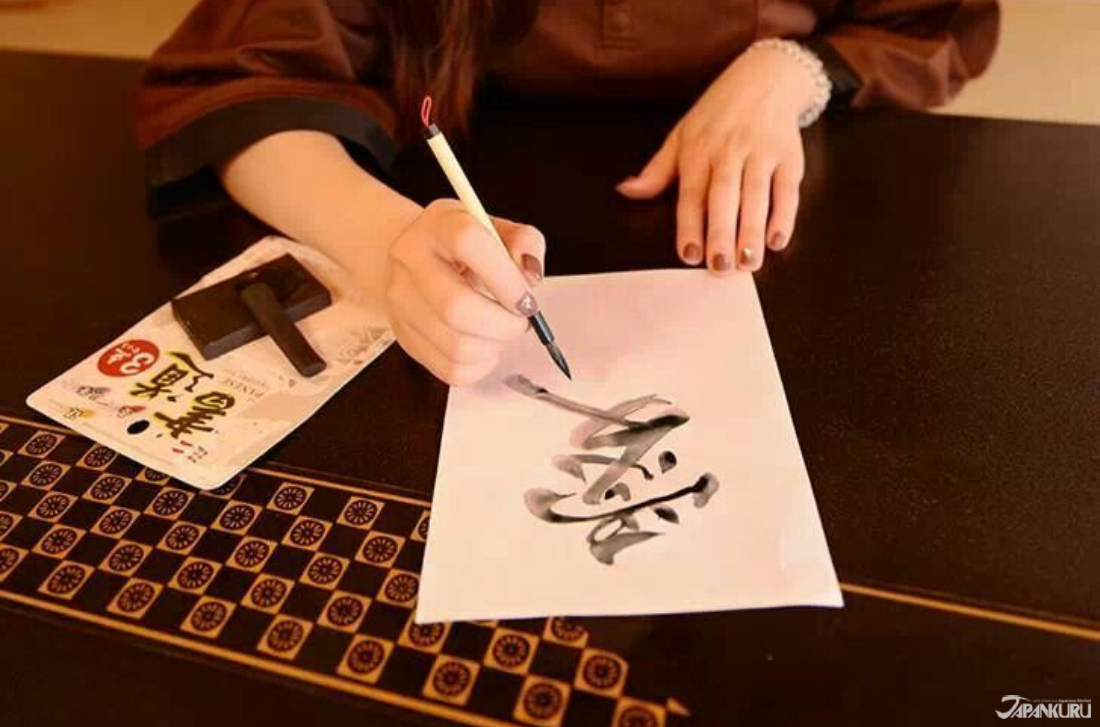 Walk in, and you'll find a wall of colorful paper printed with old-fashioned Japanese designs, and racks of greeting cards decorated with traditional imagery, particularly seasonal flora. There aren't very many spiral-bound notebooks, but there are plenty of accordion-bound Japanese-style books filled with pages of creamy blank paper! Many of these are meant to be goshuincho, but there's nothing wrong with filling them with sketches or your own calligraphy. Just don't forget to pick up a nice new calligraphy brush at Kyukyodo while you're there, along with some ink and a beautiful box to keep your calligraphy things in. Kyukyodo has been focused on their core offerings of "pens, ink, inkstones, and paper" for more than 350 years, with a selection that now ranges from beautiful new items to precious antiques, so if you love Japanese calligraphy, you'll find what you need here!
Even for those who don't need any new brushes or sumi ink, the store is full of beautiful items, with plenty of products that don't necessarily fit neatly into the "stationery" label, like a whole shelf of Japanese incense!
Kyukyodo (鳩居堂)
5-7-4 Ginza, Chuo City, Tokyo
Hours: 11:00 – 19:00
Official Website (jp)
➤ Gekkoso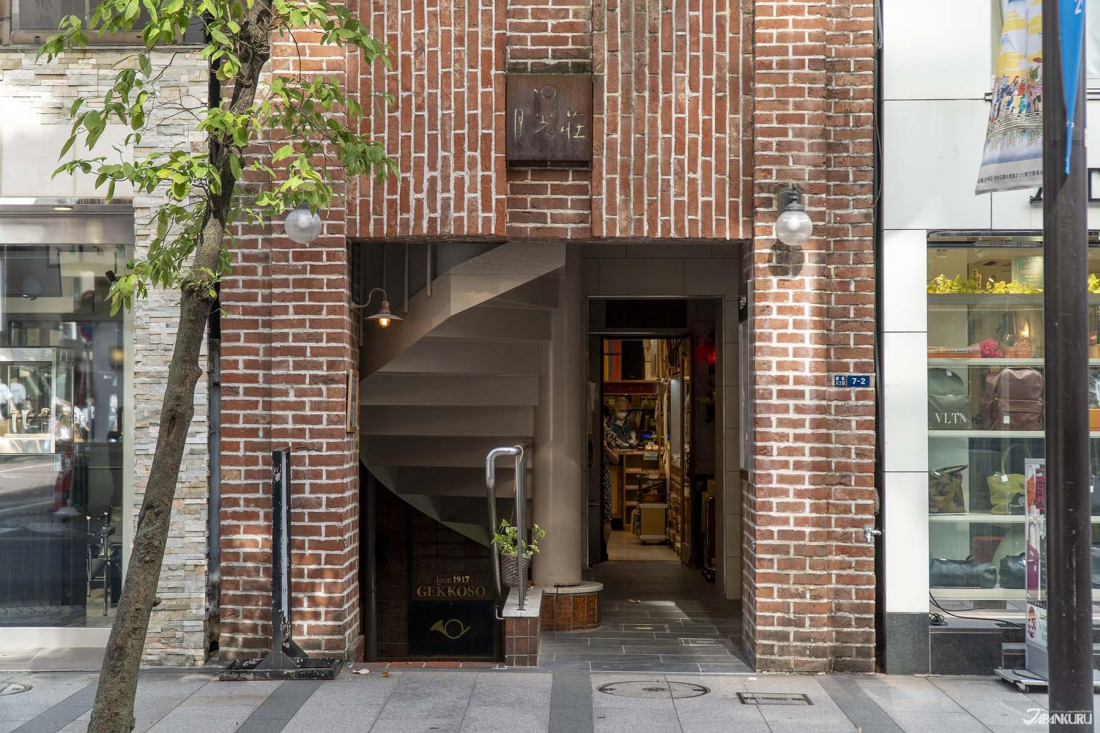 Down a Ginza sidestreet, Gekkoso is a third-generation family-owned shop that sells a small but carefully produced selection of products made for artists and stationery lovers, all on a tiny shop floor with an art gallery in the basement. With a poetic motto like "color and sound are the treasures of life" (色感と音感は人生の宝物), perhaps it's no surprise that the shop was founded over 100 years ago in 1917, and they've been making paints, brushes, and sketchbooks ever since.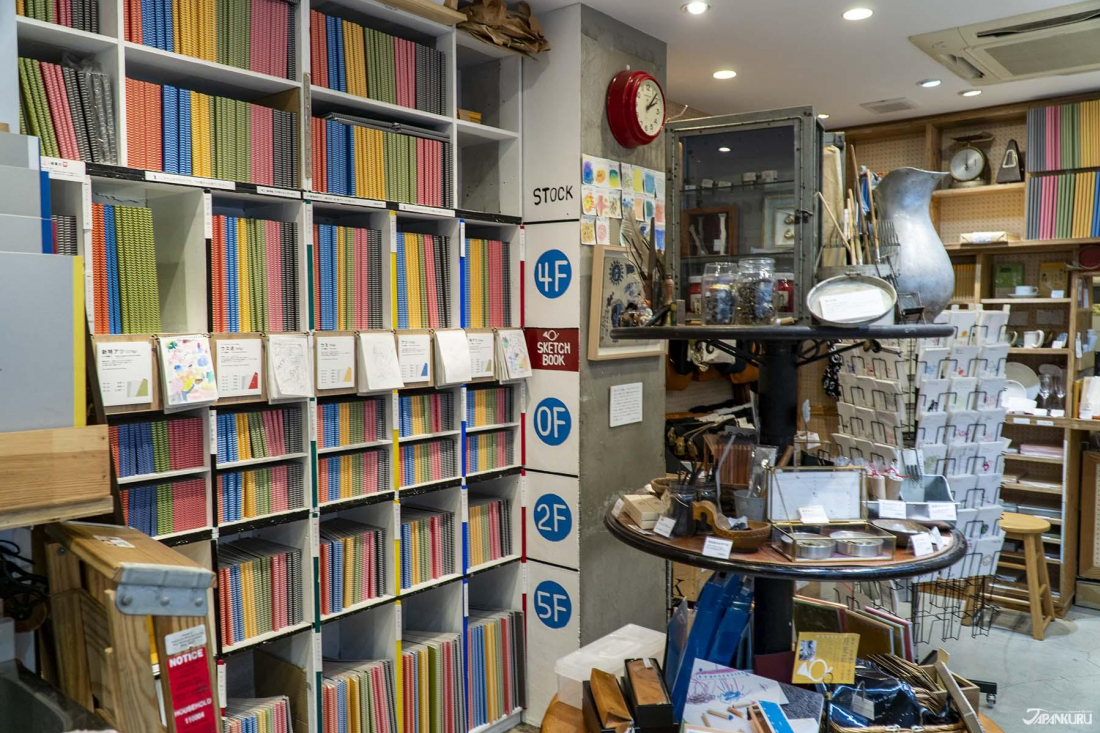 The shop is comfortably compact, making it easy to chat with staff about the products on display, like the rows of colorful oil paints and watercolors, or the dozens of different brushes that come in all shapes and sizes. Most of the other wall of the shop is taken up by notebooks and sketchbooks, so appealingly designed that Gekkoso has won awards for them, made with dots or plain paper for writers and visual artists. Their postcard notebook, made with pages of cardstock cut into a convenient postcard size, is a particularly fun choice! Even if your artistic ambitions are limited to scribbles, it's easy to draw a quick sketch of Tokyo and send it to a friend!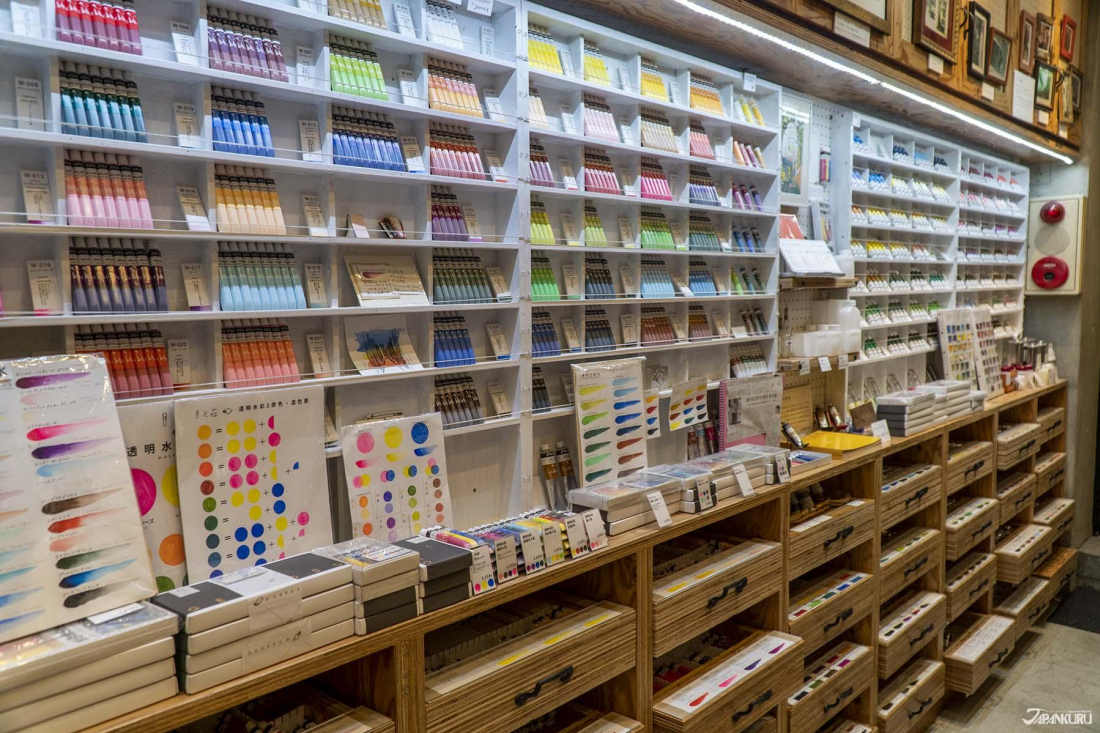 Love to try out pencils and paints before you buy them? Gekkoso has a huge "canvas" set up for testing out their products! Even if you aren't planning on taking home a set of paints, or aren't much of an artist, they encourage you to try your hand and see what the brushes feel like just for fun!
For shoppers who aren't all that interested in "art supplies," even aside from the notebooks, there's plenty to look at in the store. Their custom accessories, featuring the shop's horn logo, are effortlessly stylish, and the racks of Gekkoso greeting cards at the center of the shop feature some pretty cute and funny designs. If you love to send postcards, you'll want to take a look!
Gekkoso (月光荘)
8-7-2 Ginza, Chuo City, Tokyo
Hours: 11:00 – 19:00
Official Website (jp)
Do Your Japanese Stationery Shopping Online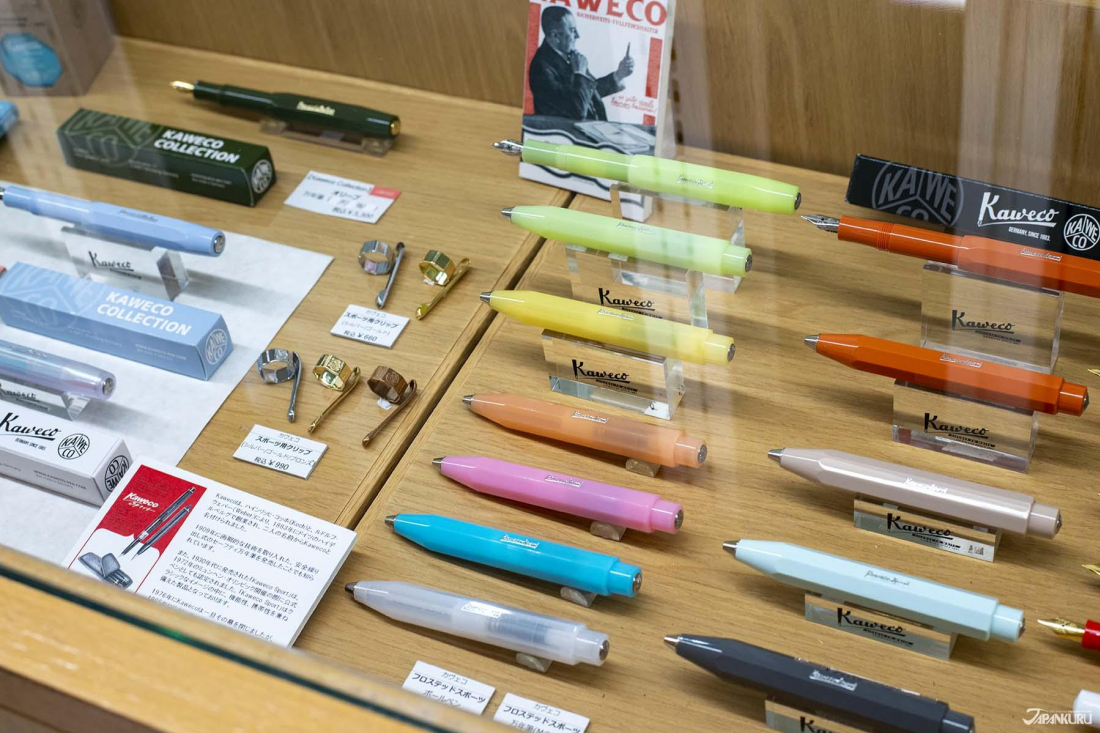 Can't get to Tokyo right now, but still longing for some fresh new stationery from Japan? Fortunately, there are plenty of great Japanese products available online! Some of Japan's most beloved stationery brands are those that specialize in planners and date books, a perfect choice for the fall with a new year coming up soon, so make sure to check out Japanese brands like Nolty, Ashford, and Delfonics (equally popular for their classic series of Rollbahn notebooks and accessories)! Those who like to personalize their calendars (or anyone with an unceasing passion for bullet journaling) might be particularly drawn in by the little rubbers stamps made by Torinoha, which feature templates for everything from simple dates to body temperature, complete with a thermometer. For a great selection of standard notebooks, and all kinds of other fun stationery bits and pieces, check out shops like Mark's or Ishimaru, which also sells a colorful selection of their own bottled inks. And if you're looking for the pens to write up a storm in those new notebooks, don't miss the choices at Bundoki or Pentonote! Whether you shop from home, or make the trip all the way to Tokyo, there's no reason to be writing with boring stationery when it's so easy to refresh your stock with exciting new Japanese supplies!