A Tokyo Entomophagy (Insect Eating) Adventure
For a bite of cricket or a sip of giant water bug juice, there's nowhere better than this spot between Asakusa and Ueno.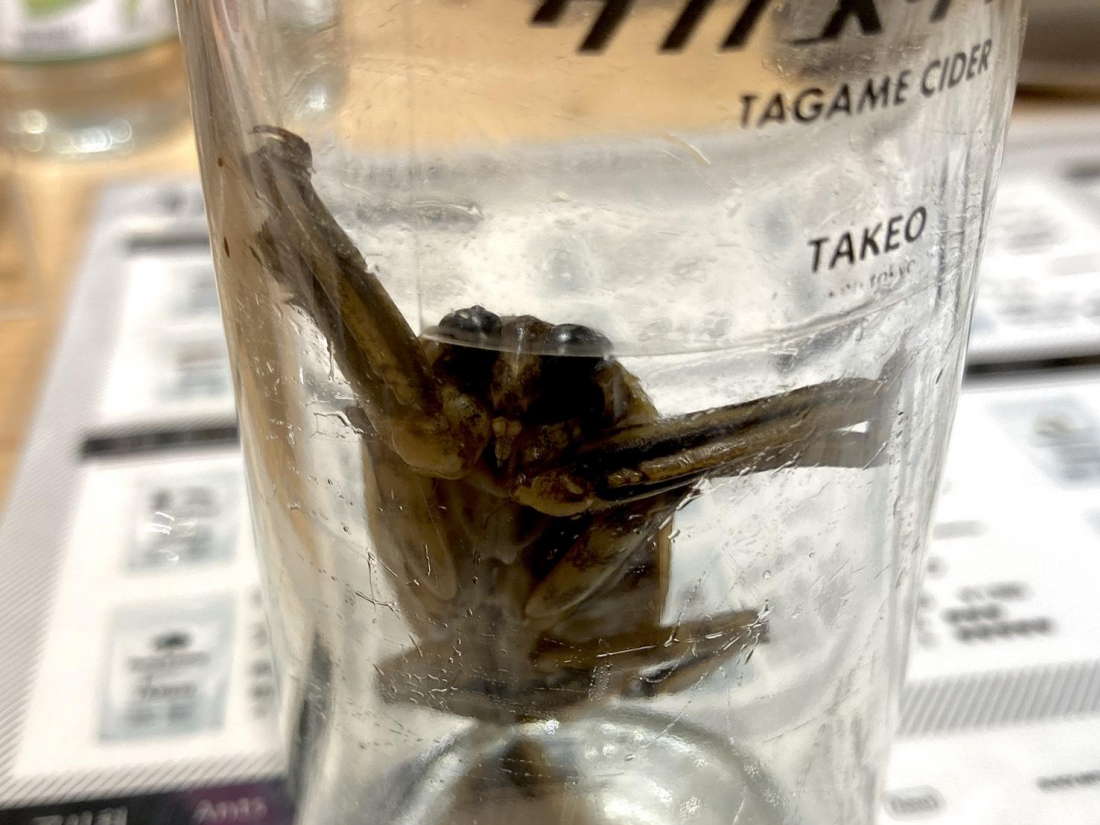 Insect-eating, called entomophagy in English or konchushoku (昆虫食) in Japanese, has long been a part of Japanese food culture. From bee larvae (ハチの幼虫) to grasshoppers (イナゴ), insects were once a part of the everyday diet for many people across Japan, and this bug-eating culture still hangs on in small pockets of rural Japan to this day. In recent years, however, a new wave of entomophagy has appeared in Japan alongside those local traditions, bringing with it the roasted insects popular as street food in Southeast Asia, the cricket meal that has become trendy in the West, and plenty more. Konchushoku is growing in popularity once again across Japan.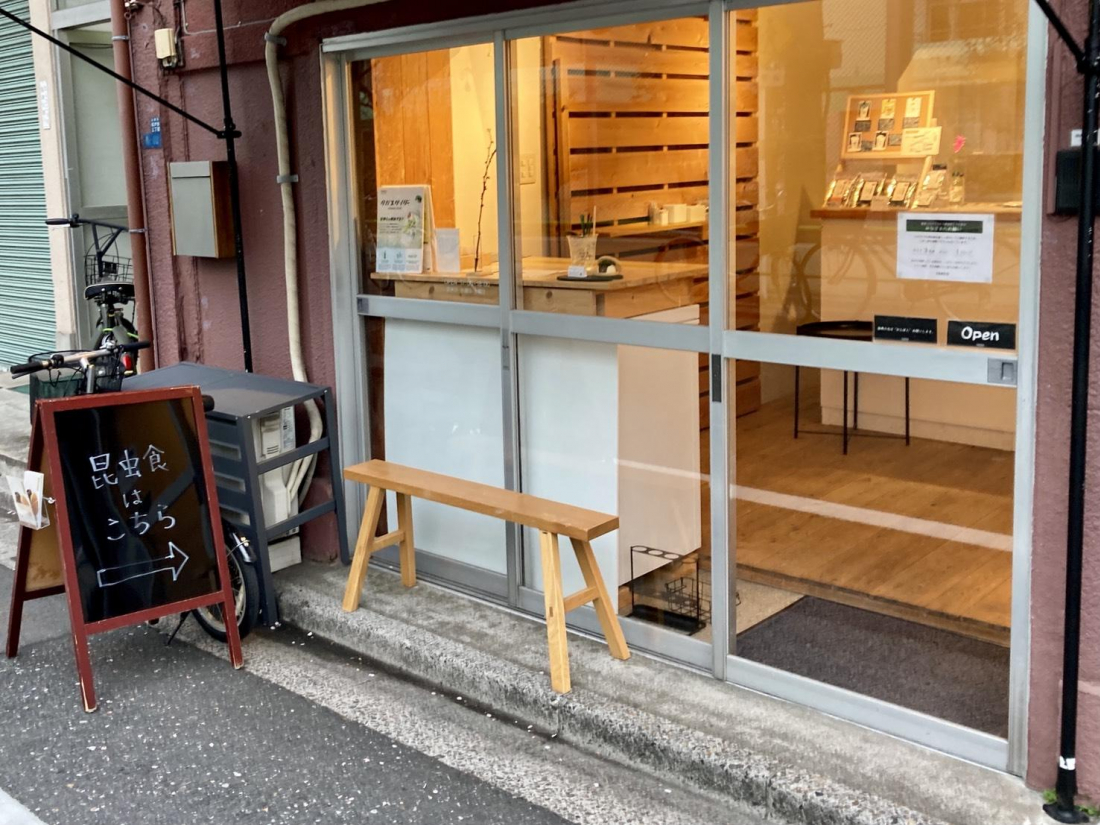 At least, that's what I learned when I happened upon this sign in front of a tiny Tokyo storefront, tucked away down a side street midway between Asakusa and Ueno. Lured in by the sign proclaiming "entomophagy this way," I rang the doorbell, and a friendly shopkeeper appeared at the entrance to let me in. Inside was an unexpected insect-eater's paradise, which I found out was actually the storefront of Japanese entomophagy specialty shop Takeo (which does much of its business online).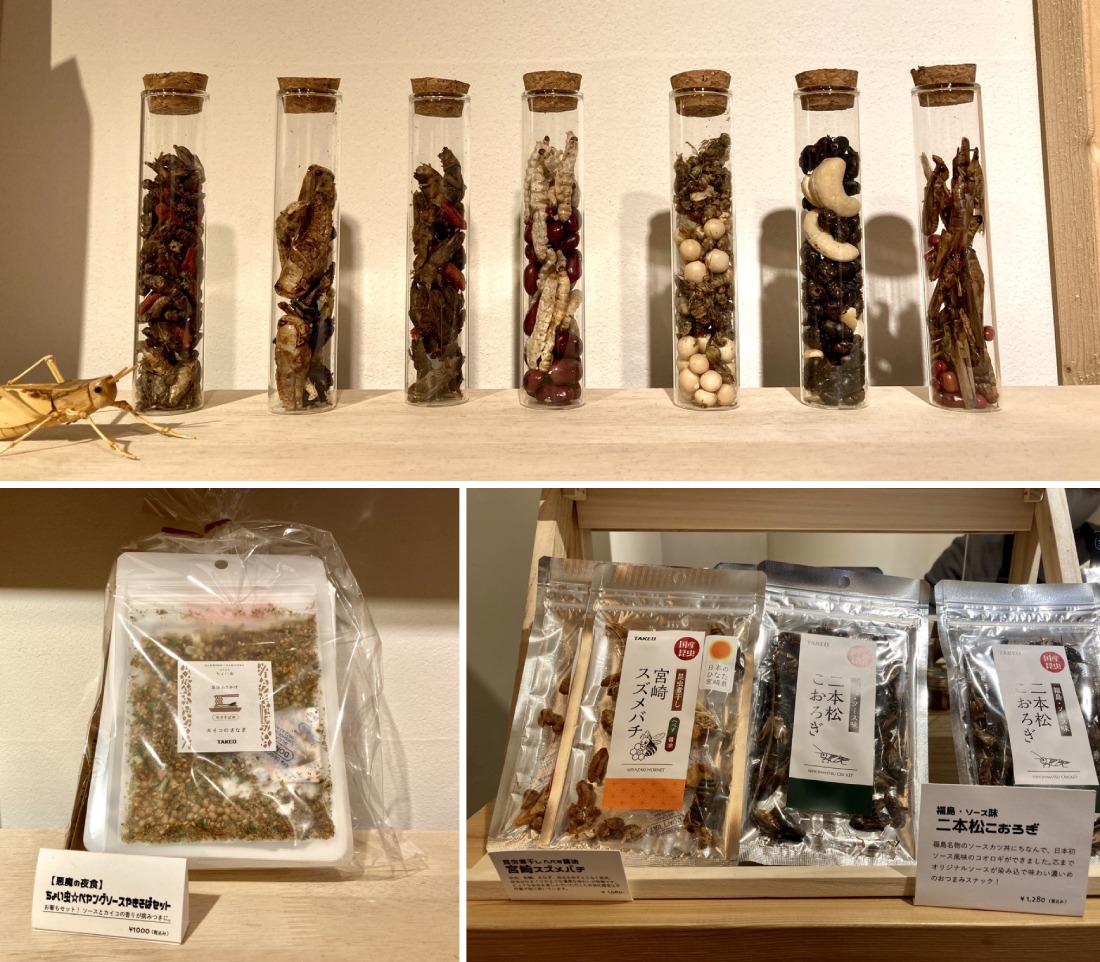 The store is small, but the displays are stocked with insect-edibles of all kinds. Takeo sells bugs that are roasted, dried, fried, and more, and flavored with seasonings of all kinds (or nothing at all, if you want that pure insect flavor). Little jars and plastic bags show off their contents: samplers of various species of cricket, dried Miyazaki hornets, insects flavored with the sauce used in Fukushima's famous katsu-don sauce, the list goes on. They even sell a set that comes with a container of Peyoung instant yakisoba, and a special topping pack made with silkworm pupae!
Apparently the grown insects are best eaten crunchy, as-is, but some of the larvae will plump back up when submerged in a little hot water, making for a new and different mouthfeel. You can then drink the remaining water as a sort of insect broth, which also came highly recommended.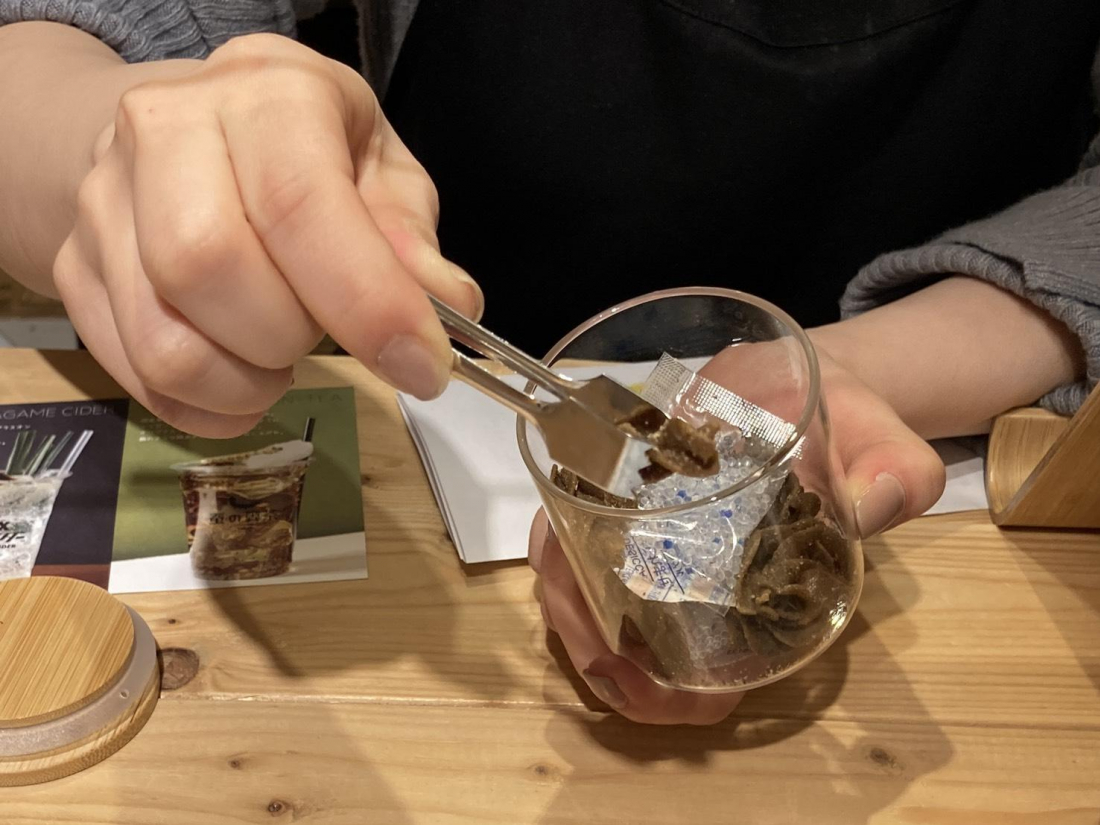 Curious customers are clearly a common occurrence in the shop, and shopkeeper Michiko quickly started offering samples of some of their more popular products. The first one was this dried pasta snack they call "Hard Bug," similar to snacks you might see in an average Japanese convenience store, except that these are made with 20% cricket. The morsels were a little harder than your average savory snack, giving them some serious crunch, but the flavor was altogether fairly mild and appealing. (If you're reading this but also terrified of eating insects, you'd never have any idea these snacks contained crickets, so they're a good place to start!)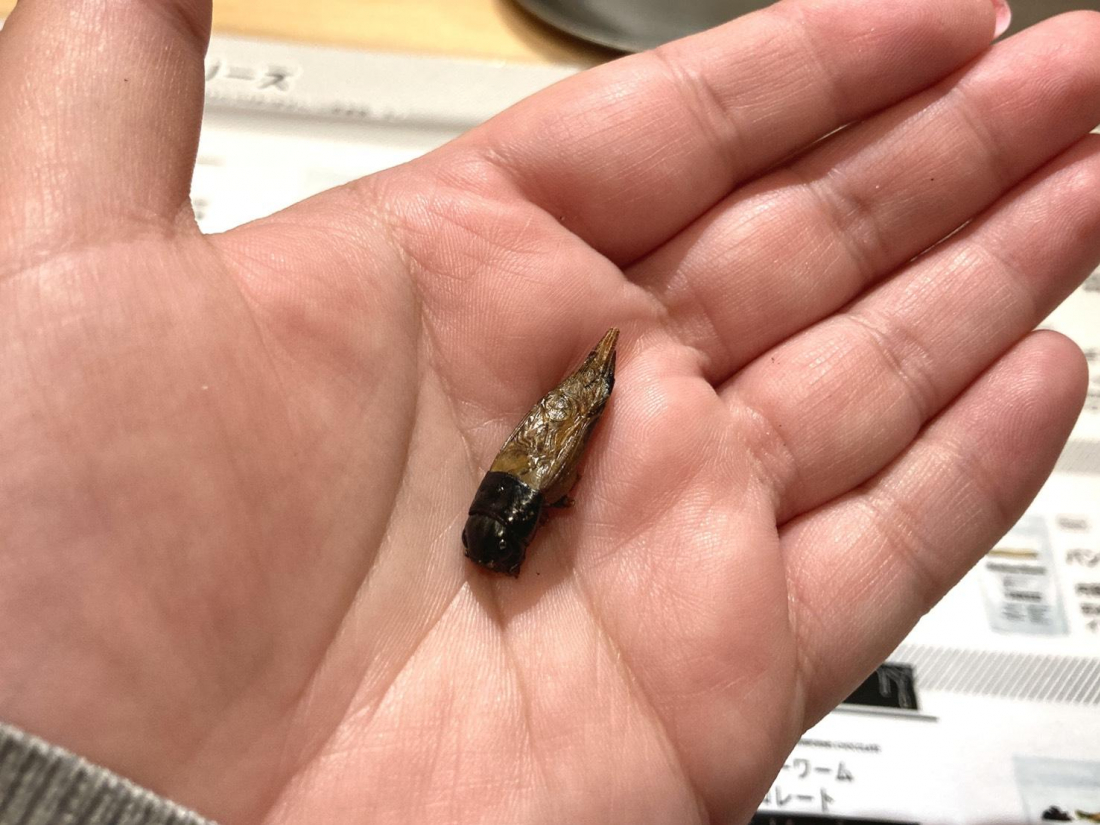 Next came the real deal: katsu-don sauce cricket. After I explained to Michiko that bugs seemed okay to me, but I was terrified of the little legs getting stuck in my throat, she kindly picked out a small one… without its legs. Apparently the fragile limbs fall off of the cooked crickets pretty frequently.
So I put it in my mouth…
…and really, it was perfectly tasty. Without the horror of tiny legs, I had no trouble with the light, crunchy cricket texture, and the flavor was gently savory (with no strange "buggy" flavors or unappealing aftertaste). I suspect most people probably wouldn't even have an issue with the legs.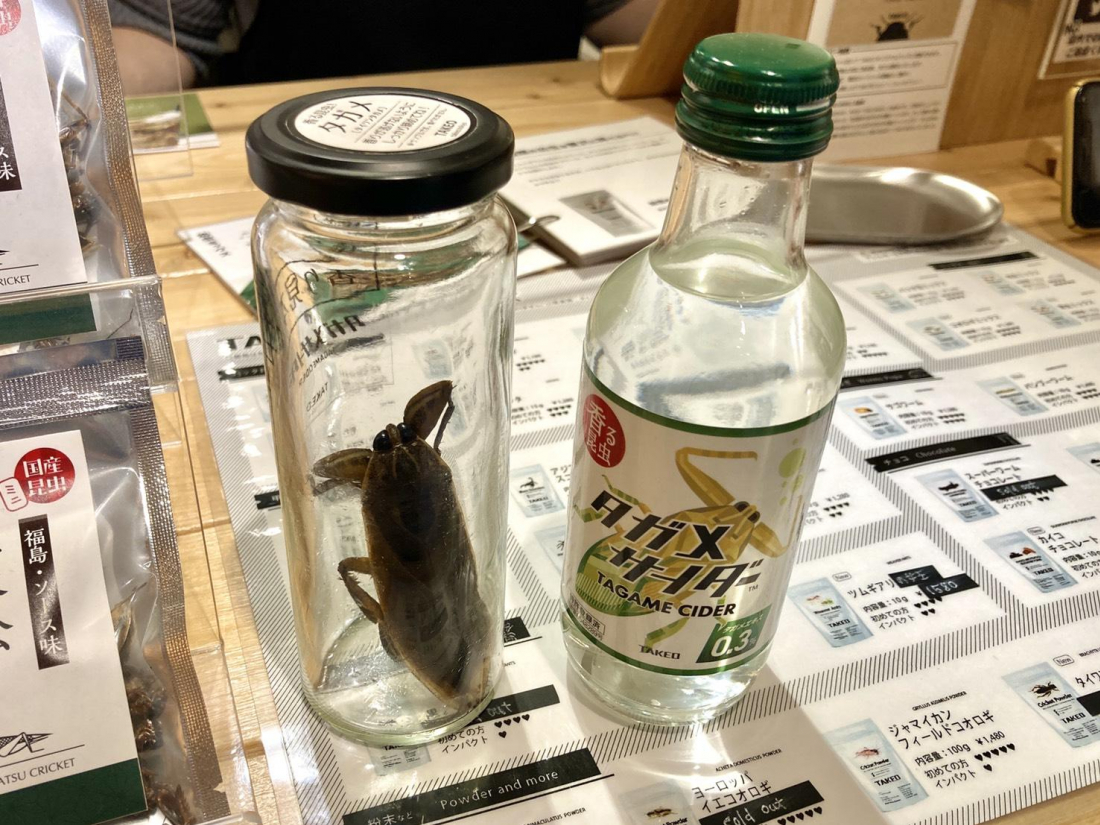 The next real challenge was Takeo's Tagame Cider. Tagame (タガメ), AKA Lethocerus deyrollei, is a species of large, predatory, nocturnal giant water bug found in Japan and throughout Asia. Cider is a kind of Japanese soft drink, with a bubblegum-esque flavor similar to ramune. And tagame cider is a soda made with 0.3% tagame extract.
After I expressed my interest in this unique drink, Michiko produced a jar containing a tagame preserved in syrup, and told me to give it a sniff. It turns out, tagame actually have a strong, distinct smell, and that scent is surprisingly similar to green apple candy. Easily convinced, I bought a bottle of the cider to take home.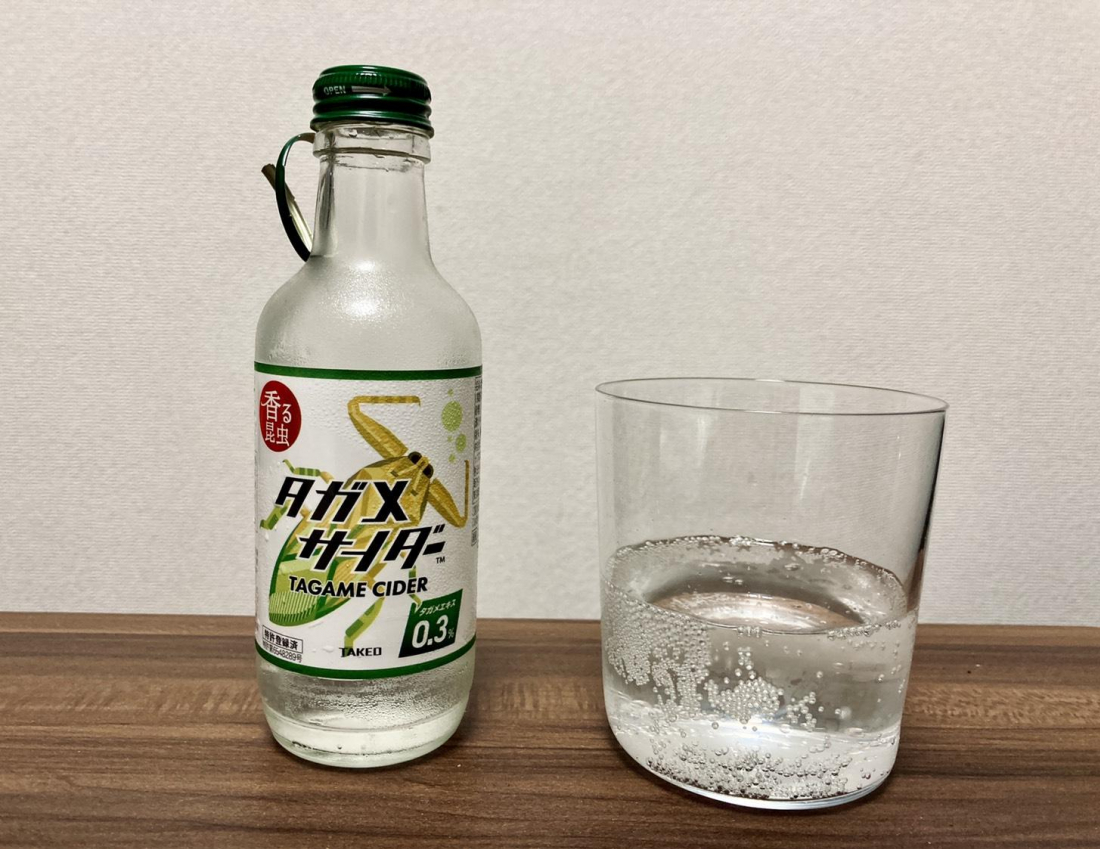 After chilling the bottle at home, I couldn't resist anymore, and I finally took a sip of the tagame cider. This actual bug juice really does taste a lot like green apple candy! The drink was very sweet, as cider tends to be, with a fresh fruity flavor that you would never expect to come from a bug.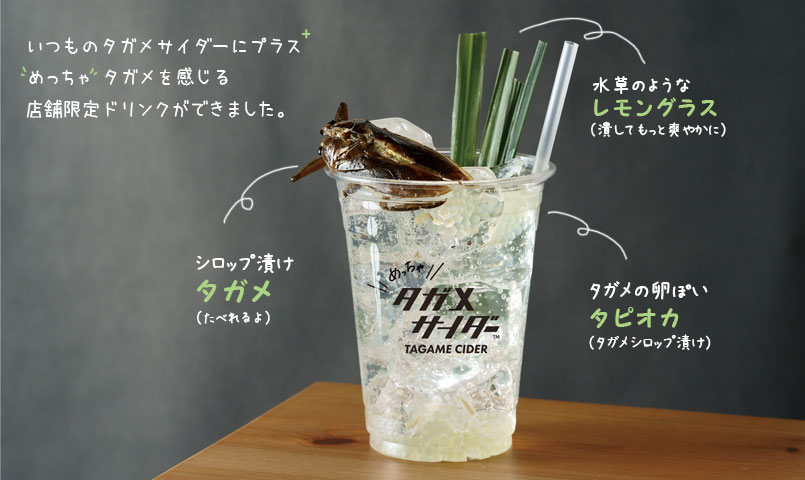 Takeo has a huge selection of different insect snacks on their website, but the storefront offers a few specialty items that you can eat at their little counter, or get to go. Next time I visit, I might have to pluck up some courage and go for their "Meccha Tagame Cider" specialty drink, which creates a natural scene in a cup. Stalks of aromatic lemongrass stand in for the reeds of the bugs' natural habitat, and small translucent pearls of tapioca soaked in tagame syrup resemble clusters of tagame eggs. Finally, of course, a whole syrup-soaked giant water bug sits atop the drink, like the cherry on a sundae. Yes, you can eat it.
Or maybe I'll get their monaka ice cream sandwich with sweet soy-sauce crickets instead.
To see what products Takeo has to offer, take a look at their official website, or just head directly to the storefront and ring the doorbell. For more info and updates from Japan, check Japankuru for new articles, and don't forget to follow us on twitter, instagram, and facebook!
Source: JAPANKURU