Celebrate Meijiza's 150th Anniversary with a Tokyo Theater Experience
Meijiza is a beloved landmark in the world of Japanese arts and theater, and this year, they're celebrating 150 years with great performances and much more.
150 Years of Meijiza History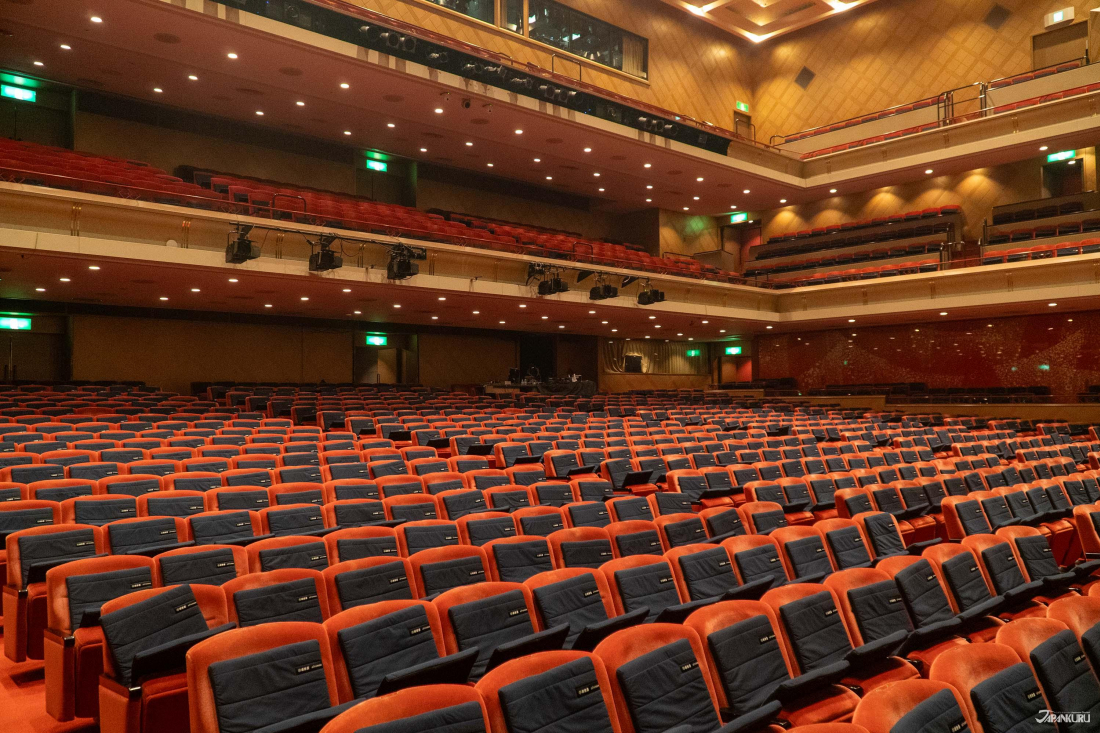 Meijiza is Tokyo's oldest theater still in business, and to this day the modern 1368-seat hall is a favorite among performing arts lovers in the city. When it was founded in 1873, however, Meijiza went by a different name ("Kishoza"), and it earned an early reputation as one of Tokyo's most popular kabuki theaters. By the year 1893, the Meijiza name had taken over, but history was tough on the busy theater, with Tokyo's infamous raging fires burning down the building multiple times over the decades. We can only be grateful that the performing arts community helped Meijiza to persist despite the setbacks, repeatedly rebuilding with new facilities and a few new names along the way. Over the years, between the fires, Meijiza became a major name on the Tokyo scene thanks to fabulous performances in an increasing variety of genres, often welcoming beloved actors and kabuki performers on stage, and hosting premiers for new and innovative works. A century and a half of Tokyo performing arts history has made Meijiza what it is today, and Tokyo theater-goers are clearly eager to see what the next 150 years will bring as it continues to evolve.
These days, performers of all kinds walk the Meijiza stage, and the yearly schedule always includes a wide variety of shows: musical theater, serious drama, popular musicians belting out Japanese classics, comedy shows, and of course traditional Japanese performances like kabuki. To celebrate 150 years of Tokyo theater, Meijiza is putting on a major anniversary event called "Marutto Meijiza" for the end of 2023, featuring traditional Japanese dance, beautiful costumes, talented performers, lots of fun activities, and even a peek backstage behind the curtains!
Meijiza Theater (明治座)
2-31-1 Nihonbashihamacho, Chuo City, Tokyo
Official Website (jp) | Upcoming Shows | Tickets
Anniversary Events: Marutto Meijiza
See Traditional Dance and Ninja Acrobatics on Stage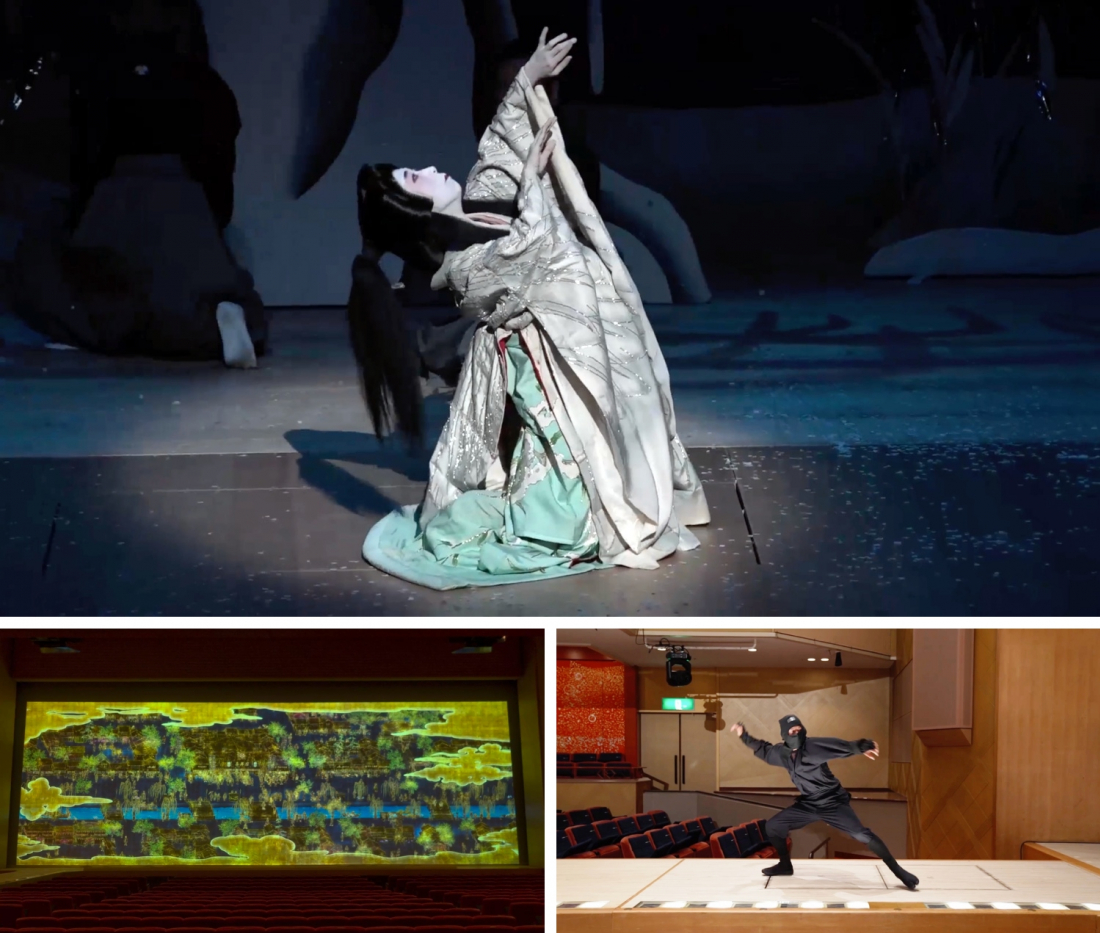 The name "Marutto Meijiza" (まるっと明治座) means something along the lines of "The Complete Meijiza," and it's an event designed to look back on the rich Japanese culture that Meijiza has cultivated over its long history. But even before the curtain is raised, this special anniversary event is bringing Meijiza all the way from the 19th century to the 21st. While the audience finds their seats, the event starts with a unique work from the digital art collective TeamLab, with scenes of nearby Nihonbashi as it might have looked when Meijiza first opened, projected as a "digital curtain" on stage. Not only does the moving work of art resemble a digitalized version of traditional Japanese paintings, but it actually changes to reflect the weather outside, and even the shifting of the season! Of course, the real excitement is still to come. One of the highlights of Marutto Meijiza is a performance of "Fuji Musume," also known as "The Wisteria Maiden," a piece of traditional Japanese dance ("nihon buyo") born from kabuki theater. First performed almost 200 years ago, Fuji Musume is still one of the most popular dances of its kind, showing off the elegance and intricacy of Japan's kabuki traditions. The show at Meijiza shakes things up by following this traditional dance with a portion that shines a light on a very different part of Japanese culture: ninjas. Skilled performers sneak across the stage and perform acrobatic feats, all while guiding the audience through the history of ninjas in Japan! These two performances include subtitles in three languages (English, Korean, and Chinese), so audience members from all over the world can enjoy this deep dive into Japanese culture without missing a thing.
Enjoy an Intermission Meal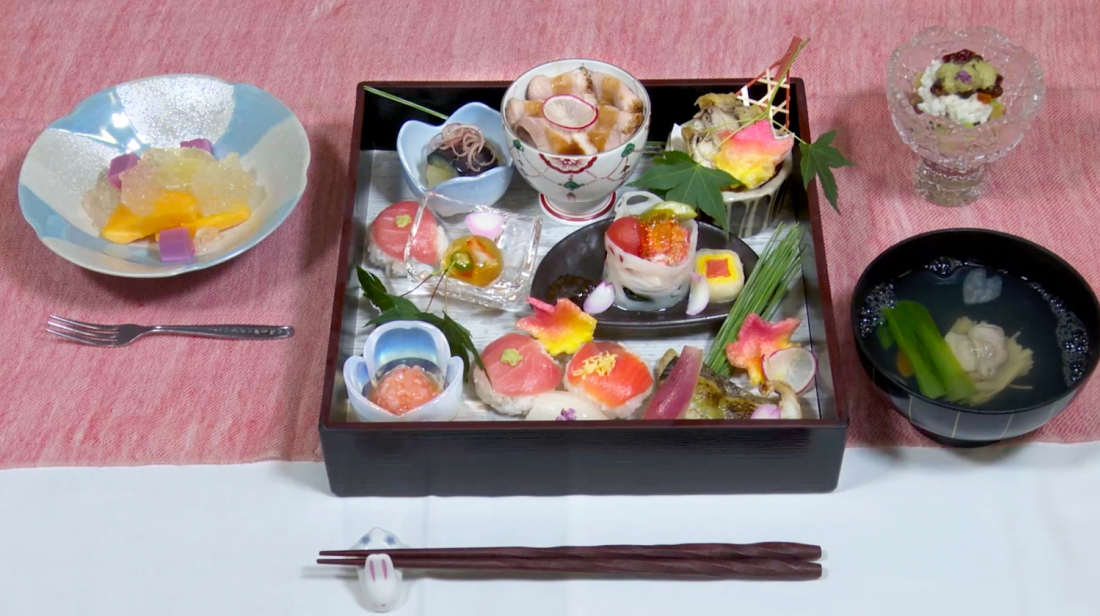 One of the benefits of seeing any kind of show at Meijiza is the theater's famously delicious bento boxes offered during intermission. Depending on the show, bento offerings differ, often taking inspiration from the themes that appear on stage. For Marutto Meijiza, it only makes sense that the meals are full of traditional Japanese delicacies, carefully arranged to bring out both flavor and color. (Exact contents may vary from the photo above.) With performances at midday and in the evening, a Meijiza bento is perfect for lunch or dinner, and it's a fun chance to try the kind of classic Japanese cuisine that's often found at fancy restaurants.
Take Pictures, Throw Shuriken, and Try Your Hand at Origami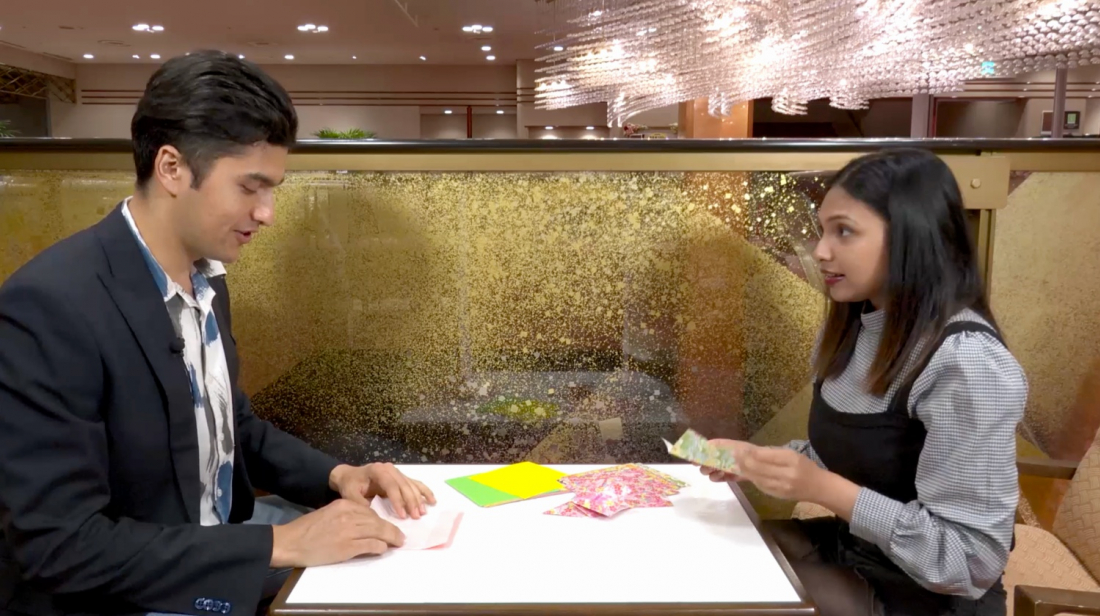 After the performance, there's still a lot to enjoy at Meijiza during their 150th anniversary event. Not only can you take pictures with many of the performers, but for anyone inspired to pick up some ninja skills after watching the show, there's a workshop where you can learn to throw shuriken (ninja stars) like a natural. Another workshop focuses on origami, teaching you the Japanese art of folding paper into a variety of fun shapes. Meijiza even has a unique gallery set up, called the "Meijiza Digital Art Museum," with some of the theater's treasured paintings collected over the past century and a half on display, and convenient QR code labels that jump to full descriptions.
Peek Backstage for Some Theater Magic

One of the most exciting parts of this special anniversary event is the Backstage Tour, a unique chance to go behind the scenes and see how a simple stage can transform into any number of shapes and configurations for Meijiza's many varied performances. Tour participants will get the rare chance to see how actors are able to dramatically rise onto stage or disappear in an instant, and then get an up-close look at what traditional kabuki theaters call the "naraku," a word that translates to "the underworld" but really refers to the space underneath the stage. After seeing a full performance on the Meijiza stage, a tour of its inner workings is the perfect way to finish off a trip to the theater!
Marutto Meijiza (まるっと明治座)
Dates: December 5~7
Official Event Page (en) | Tickets Available at KKday (en)
Make the Most of Meijiza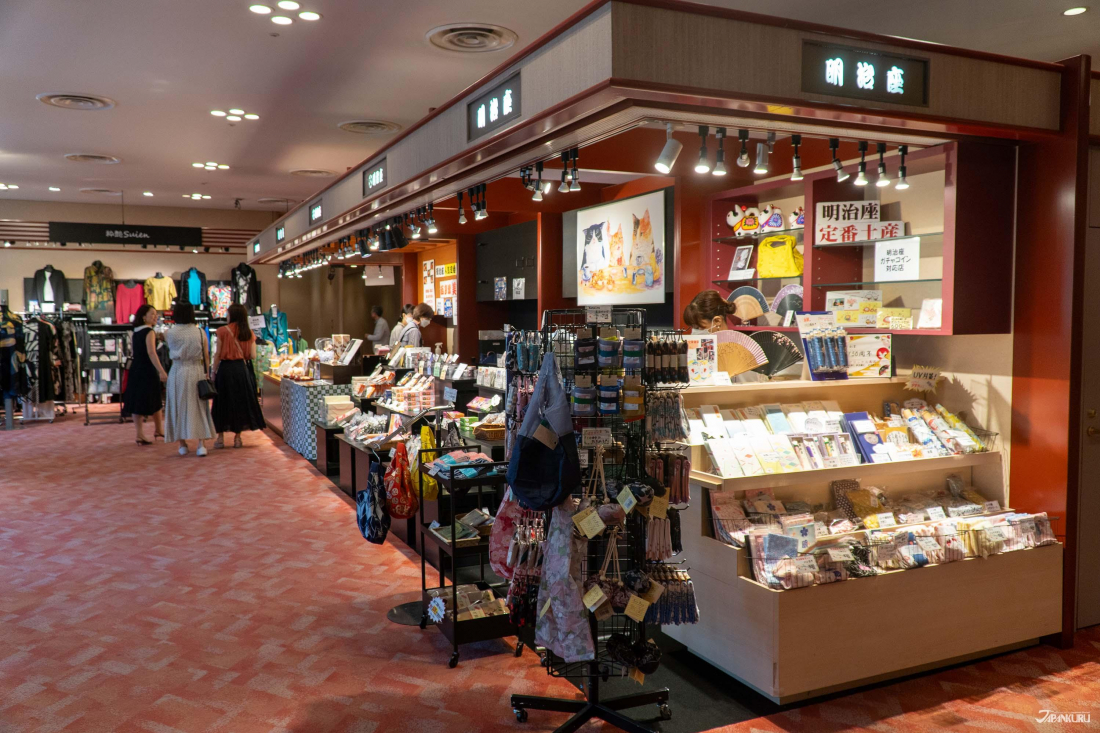 For theater-goers who arrive with plenty of time to spare, or those who aren't quite ready to leave after the show ends, Meijiza has shops and a lounge to check out. The shops on the third floor sell a surprisingly wide variety of products, from food and drinks to accessories, and even women's fashion. If you get to the theater early, you can browse the snack options from all over Japan to choose the perfect intermission nibbles (although the bento won't leave much room in your stomach), and you might find some great souvenirs too. One surprisingly popular option is the saikyo-yaki, which consists of salmon, Japanese mackerel, or other fish that's marinated in miso and grilled to bring out a natural sweetness and tender texture. Saikyo-yaki is often used in Meijiza's bento meals, but you can also take it home to enjoy later!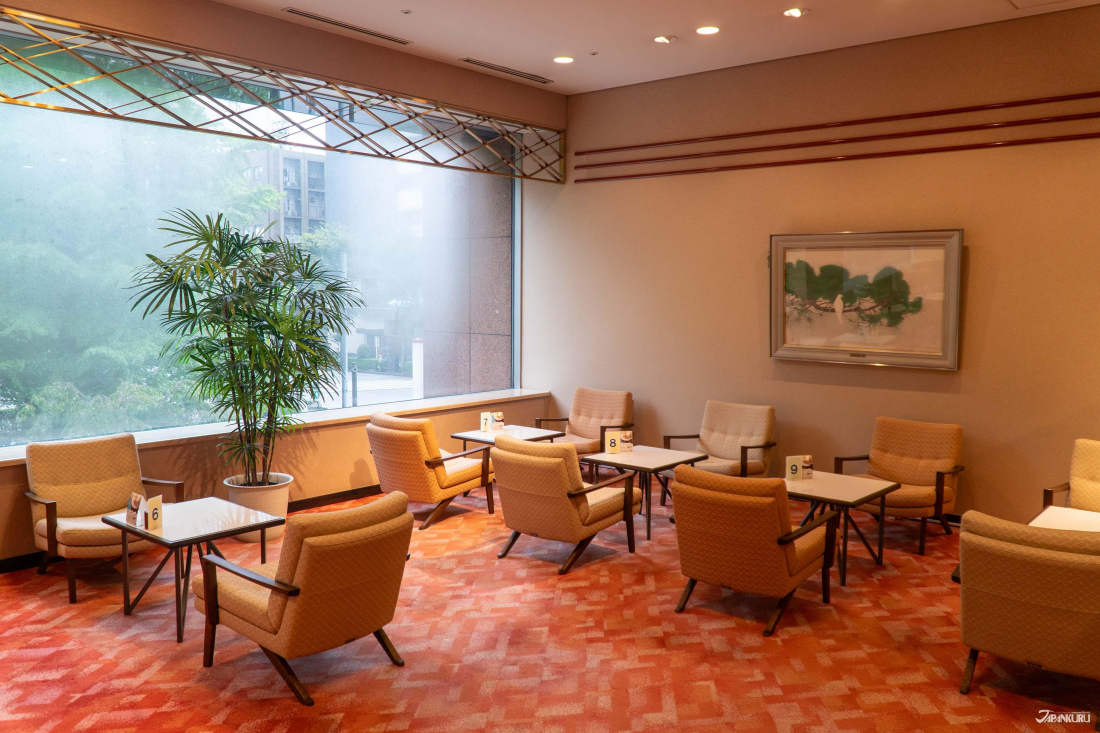 For a cup of coffee or a bite to eat, Meijiza has an elegant lounge on the second floor, only accessible to ticket-holders inside the theater. The comfortable seating feels exclusive, with tall windows looking out onto the street below, and it's a convenient place to relax with some traditional Japanese sweets or a cup of coffee before the show starts. During the Marutto Meijiza event, the lounge is also offering some extra drinks and snacks for a limited time only, all inspired by the traditional Japanese performance.
Explore Meijiza's Tokyo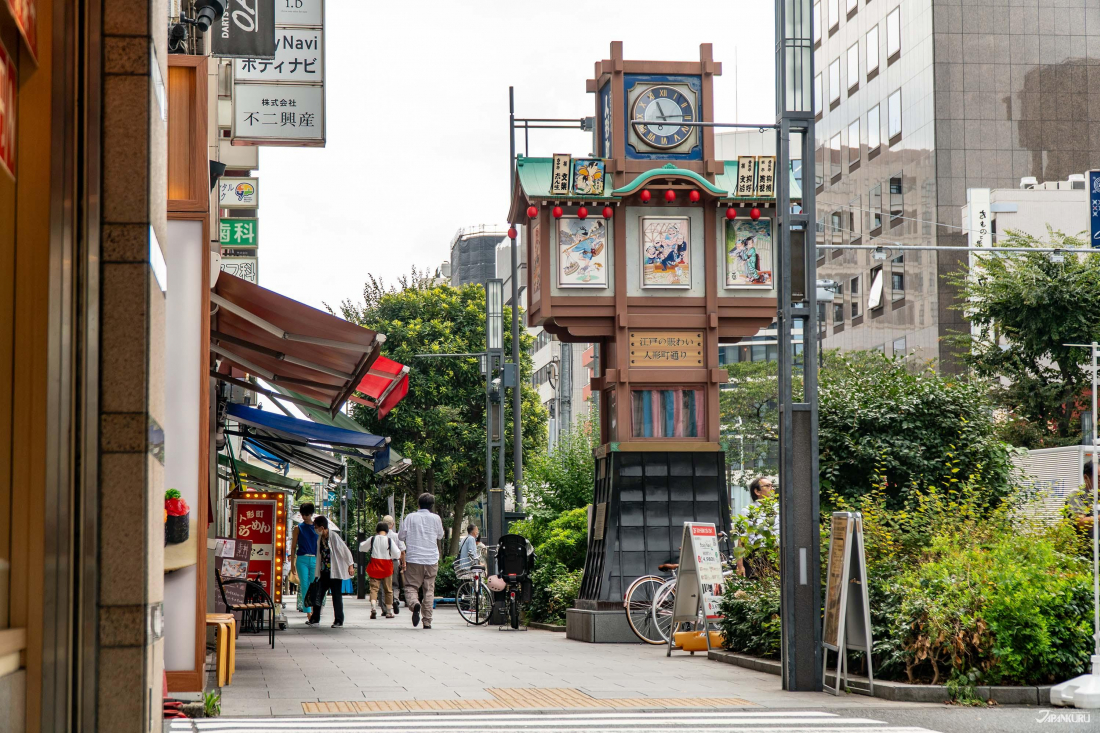 Meijiza is right next to Hamacho Station, which is convenient for any audience members rushing to make it to their seats on time, but the theater is also an easy walk from Ningyocho Station and the bustling Ningyocho neighborhood. A show at Meijiza and an afternoon exploring the sights of the surrounding neighborhood is a great recipe for a unique day in Tokyo, giving you the chance to see some of the city's best-kept secrets!
Fun fact: Ningyocho literally means "doll town," a name it got from the many professional dollmakers who once crafted their wares and sold them in the area. Nowadays, there are a pair of iconic mechanical clock towers in Ningyocho that display some of the little dolls once made nearby.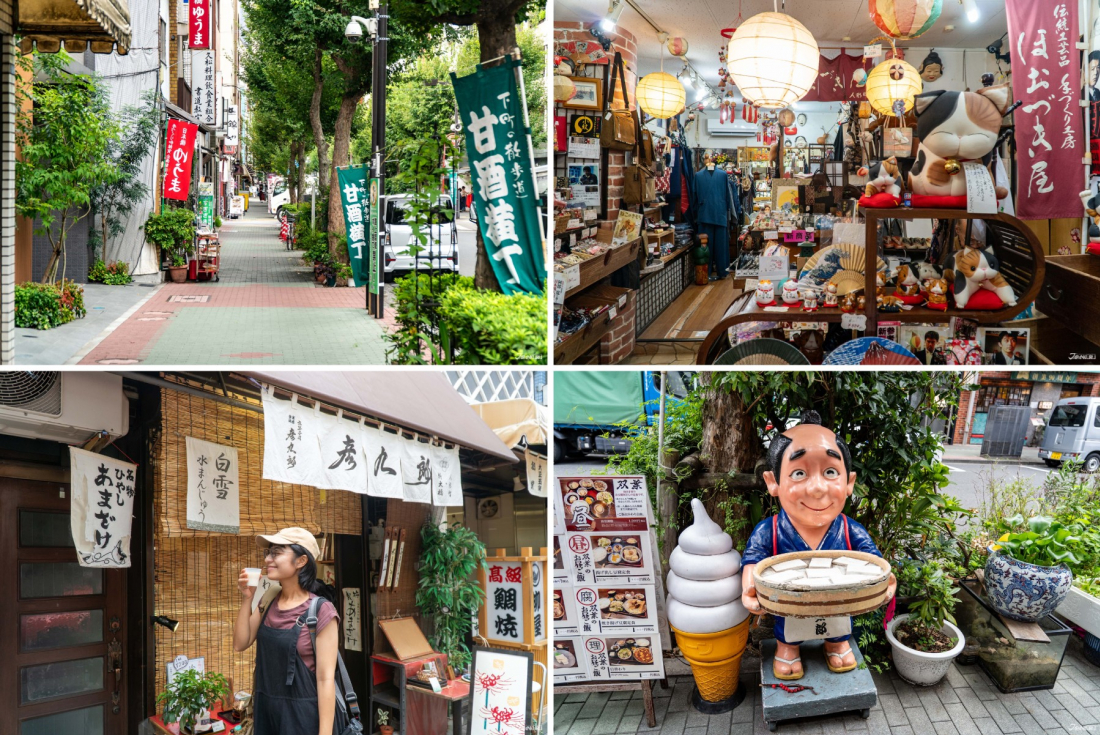 Whether you've got a full day to devote to Meijiza and Ningyocho, or just a little extra time before the show starts, a walk through Amazake Yokocho is a must. This little street runs directly from the southeastern exits of Ningyocho Station almost all the way to Meijiza's front door, and it's dotted with traditional shops selling Japanese food or crafts. Stop in at Yuma for a selection of traditional handicrafts made with Japanese fabric, from small pouches and accessories to cute dolls in the shape of cats or bunnies. It's a great place to pick up some original handmade souvenirs. Down the street, Tofu no Futaba (as you might guess from the name) sells tofu prepared in more ways than you could imagine, from simple blocks to tofu ice cream, and even fried "tofu karaage" that makes a great snack. If you're looking for lunch before an evening show at Meijiza, Tofu no Futaba also has a restaurant space around the corner that serves tofu-centric meals.
Of course, you'd be missing out if you didn't try any of the amazake that gives Amazake Yokocho its name! Amazake is a sweet fermented rice drink, and although the name means "sweet sake," it doesn't actually contain alcohol. Vendors along the street sell it chilled during the summer, or piping hot during the cooler months!
Yuma (祐馬工芸 日本橋ゆうま)
2-32-5 Nihonbashiningyocho, Chuo City, Tokyo
Hours: 10:00 – 18:30 (closed Wednesdays)
Official Website (jp)
Tofu no Futaba (豆腐の双葉)
2-4-9 Nihonbashiningyocho, Chuo City, Tokyo
Hours:
 Mon ~ Sat: 7:00 – 19:00
 Sun: 10:00 – 18:00
Official Website (jp)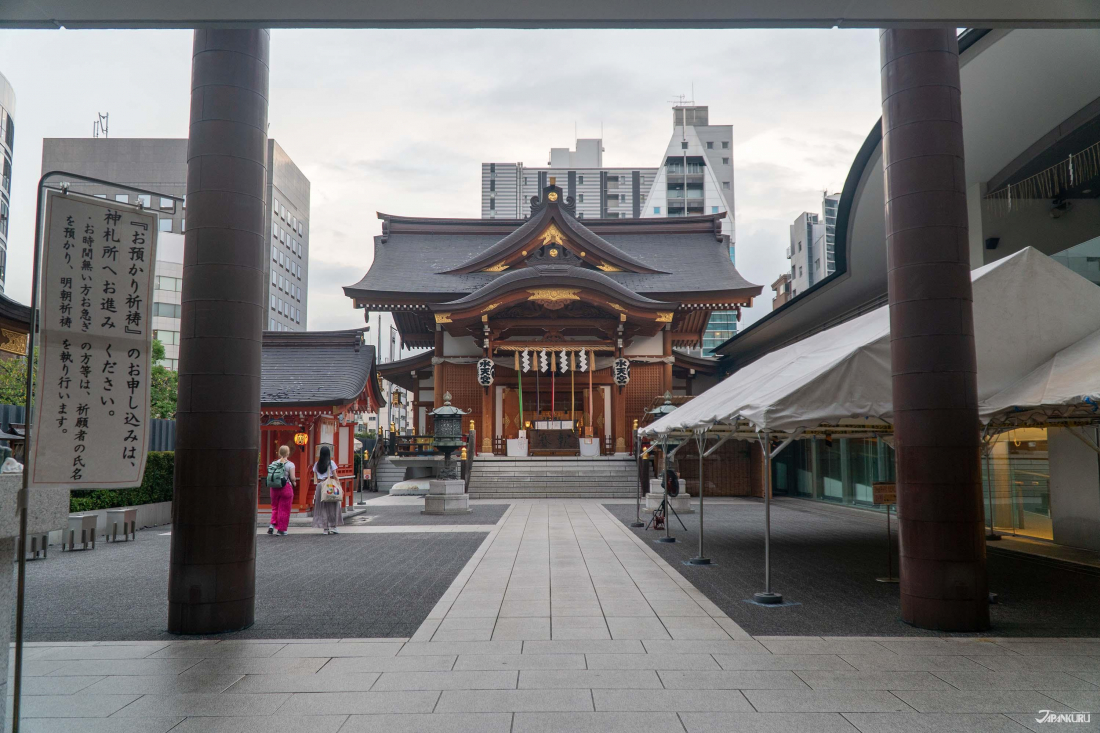 For a little bit of local sightseeing, try making a loop around the area via the Shichifukujin Shrine Course! The route consists of eight Shinto shrines in the area, and if you visit all of them you're in for an extra dose of good luck. One of the shrines, the Kasama Inari Shrine, actually has a little satellite shrine located on the corner of the Meijiza building! But the most famous of the eight is probably Suitengu Shrine, which has a traditional shrine building, but sits at the center of a surprisingly modern and unique structure that houses the shrine office. Suitengu is especially popular with locals praying for safe childbirth, but anyone can come pray for a little luck and check out the shrine's many cute statues while there.
Suitengu Shrine (水天宮)
2-4-1 Nihonbashikakigaracho, Chuo City, Tokyo
Hours: 7:00 – 18:00
Official Website (jp) | Shichijinfuku Shrine Course (en)

Looking for a spot to just relax and enjoy the Tokyo atmosphere? There are a handful of trendy cafes in the area that serve tasty drinks, and when the weather is good, also offer outdoor seating to watch Tokyo life go by. For a selection of single-origin coffees and careful blends, check out the Australian-inspired menu and zany wall art at Single O Hamacho. For premium farm-to-table matcha whisked into a whole menu of tasting sets, lattes, and sweet treats, sit down in the chic seats of Atelier Matcha.
Single O Hamacho (シングルオー 浜町)
3-16-7 Nihonbashihamacho, Chuo City, Tokyo
Hours:
 Mon ~ Fri: 7:30 – 19:00
 Sat ~ Sun: 8:00 – 19:00
Official Website (en)
Atelier Matcha
1-5-8 Nihonbashiningyocho, Chuo City, Tokyo
Hours: 11:00 – 18:00 (closed Tuesdays)
Official Website (jp)
Here's to Another 150!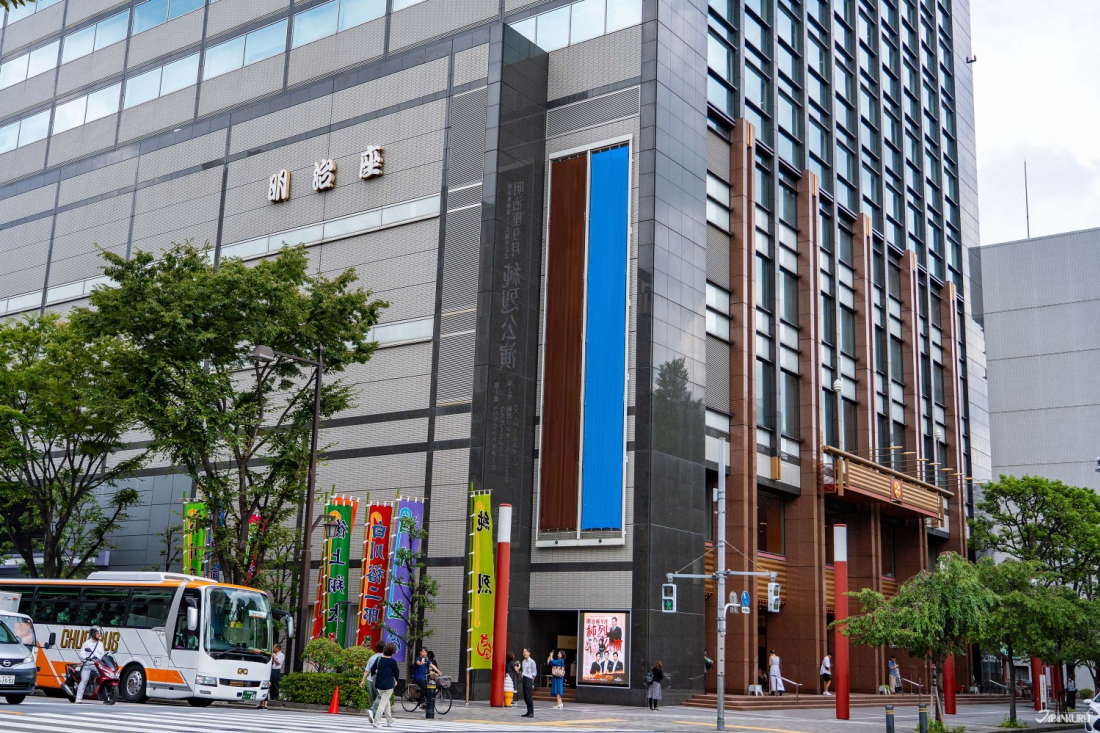 The past century and a half have made Meijiza into the venerable theater it is today, via the ups and downs of Tokyo history, as well as the long list of successful performances that have graced the theater's stage. With 150 years of great shows under its belt, Meijiza is the perfect place to experience the world of Japanese performing arts, and this 150th anniversary event with its multi-lingual subtitles is an especially accessible way to check it out. This winter, see what Meijiza is all about at the Marutto Meijiza event. Then, watch out for what this theater has planned for the future!