Daiso's "Standard Products" Is a New Concept Shop in Shibuya, With a Stylish Twist
Wait a second, is this Daiso, or is it Muji!? Standard Products offers a new angle on interior decorating for the 100 yen giant.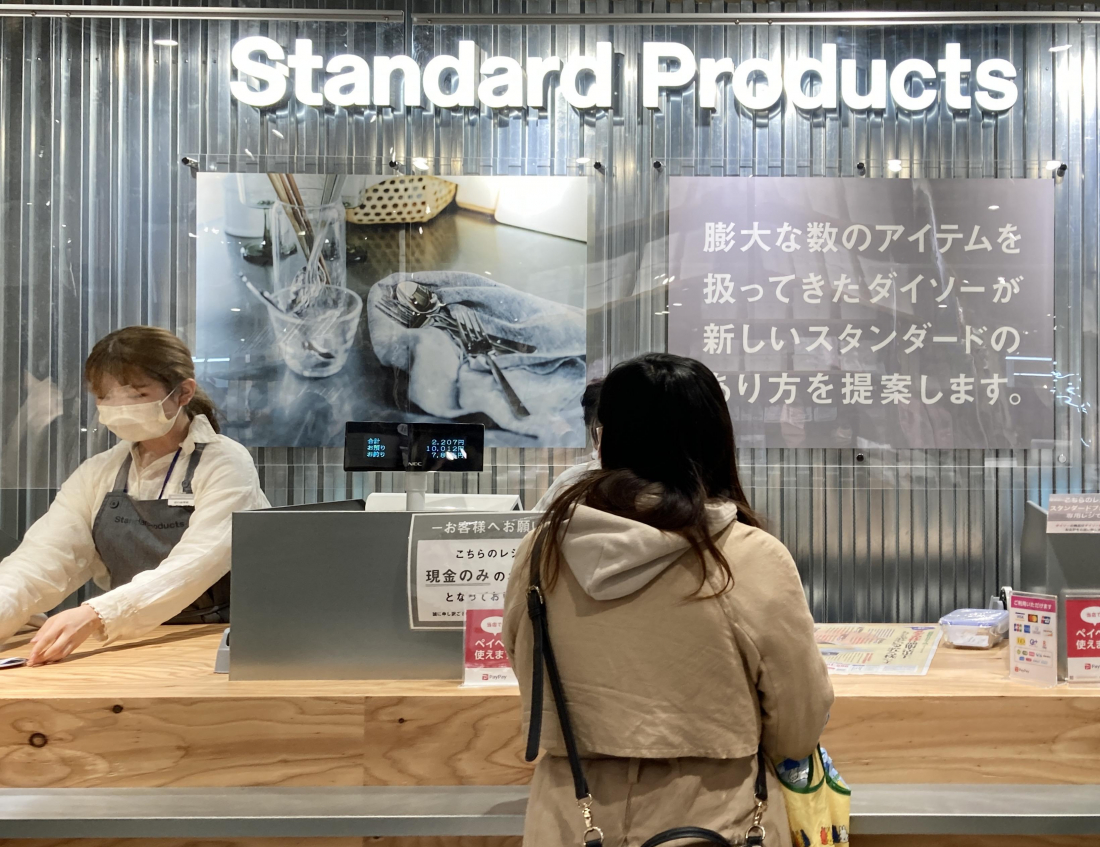 Standard Products is a brand new venture from Daiso, taking things from 100-yen basics to a "new standard." Travelers are often amazed by Japan's hundred yen stores, Daiso being the best example, thanks to the shops' offerings, which are on a totally different level from equivalent retailers overseas. For years, Daiso has been expanding its many product lines, providing everyday necessities, stationery and craft supplies, accessories and toys, plus home goods of just about every kind, and they've been slowly adding more expensive items to the repertoire as well. Their new store, Standard Products, takes it a step further: the separate shopping area and cash registers are set aside for a collection of interior goods and miscellany sold at a consistently higher price point (generally from 330 to 770 yen), but mostly with an equivalent bump in size, quality, or style. When the shop opened in Shibuya's Mark City on Friday, March 26th, I knew I had to go take a look at what Daiso was up to.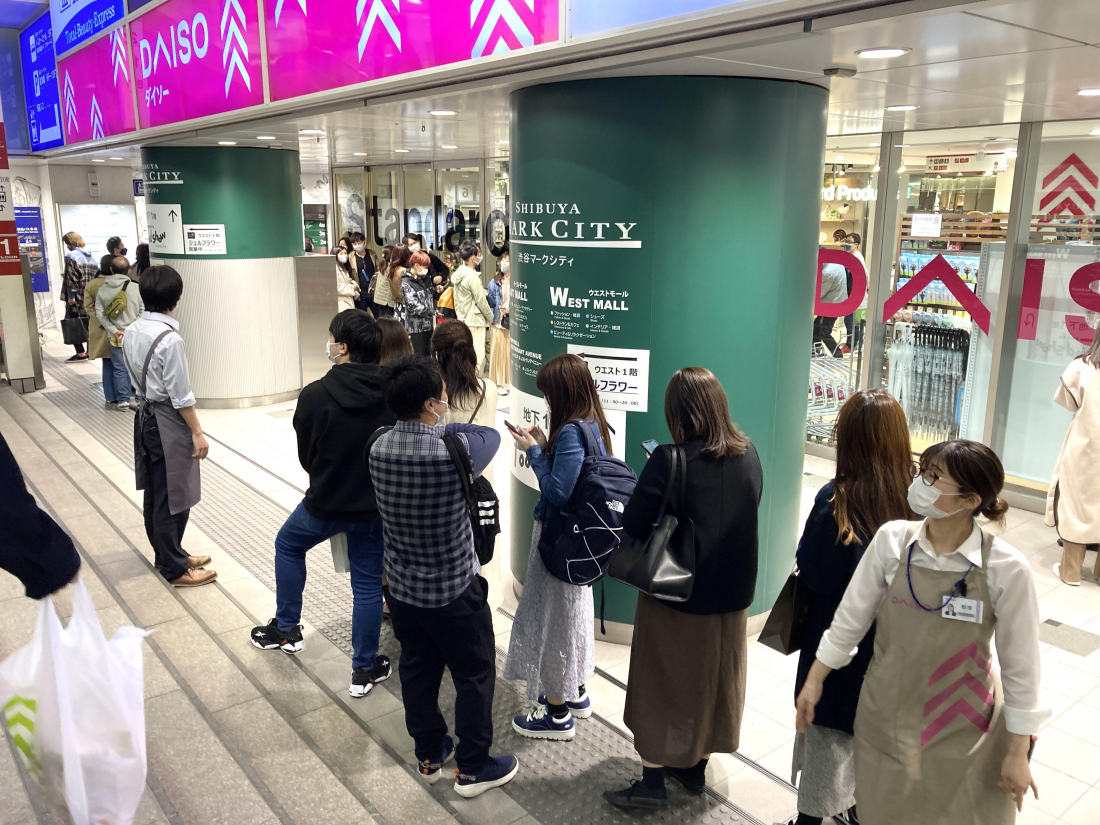 Unsurprising for the shop's second day in business, when I finally made it over on Saturday, a line had formed out front. Customers were waiting just to enter the shop in the first place. Due to a limited amount of space out front, shopkeepers were frantically telling customers that they couldn't line up yet, which meant that a secondary, less-organized crowd formed next to the official line. Perhaps not the best system in the world, but eventually I made it into the line.
Even before entering, the difference between the Daiso brand and Standard Products was clear. Daiso has opened a large new shop (selling standard Daiso goods) around the Standard Products corner, and the hot pink logo and brightly lit signs of the Daiso brand contrasted clearly with the simple neutral palette being used by their new offshoot brand.
The copy on the new Standard Products website says that they hope to offer new everyday items: things that will become a standard part of your lifestyle. Their motto seems to be "ちょっといいのが、ずっといい," which translates loosely to "a little nice is nice forever," and the simple style and slightly higher quality do make the products seem like practical options.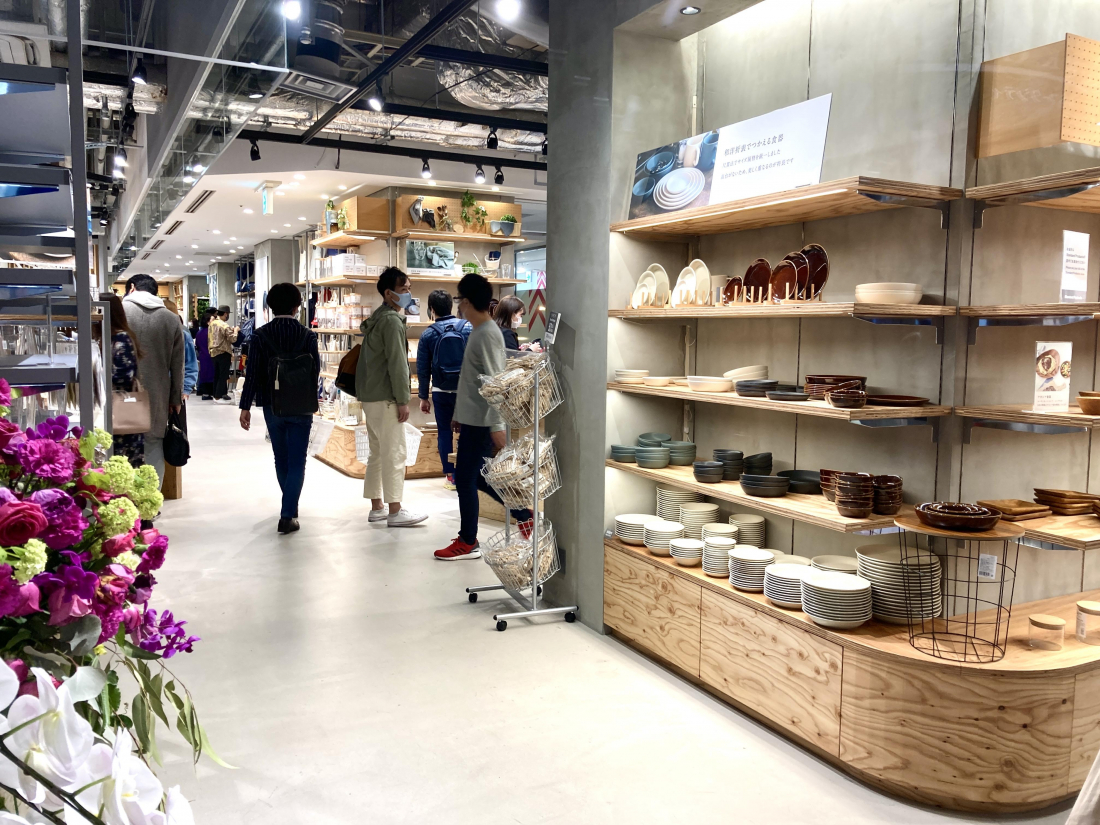 I got a first look into the storefront while waiting in line, and the influences are clear. Daiso's general products come in a multitude of different styles and materials, with plenty of colorful plastic and design aimed at customers of all kinds. Standard Products, on the other hand, is obviously Daiso's take on the simple, neutral-toned interior style favored by Japanese home goods store Muji. Products aping this kind of design have been showing up on Daiso's shelves for years, many of them becoming Daiso's newer 300 yen or 500 yen items, but the higher price point comes standard at Standard Products, which seems to have given the company a chance to use better materials and get closer to that Muji ideal.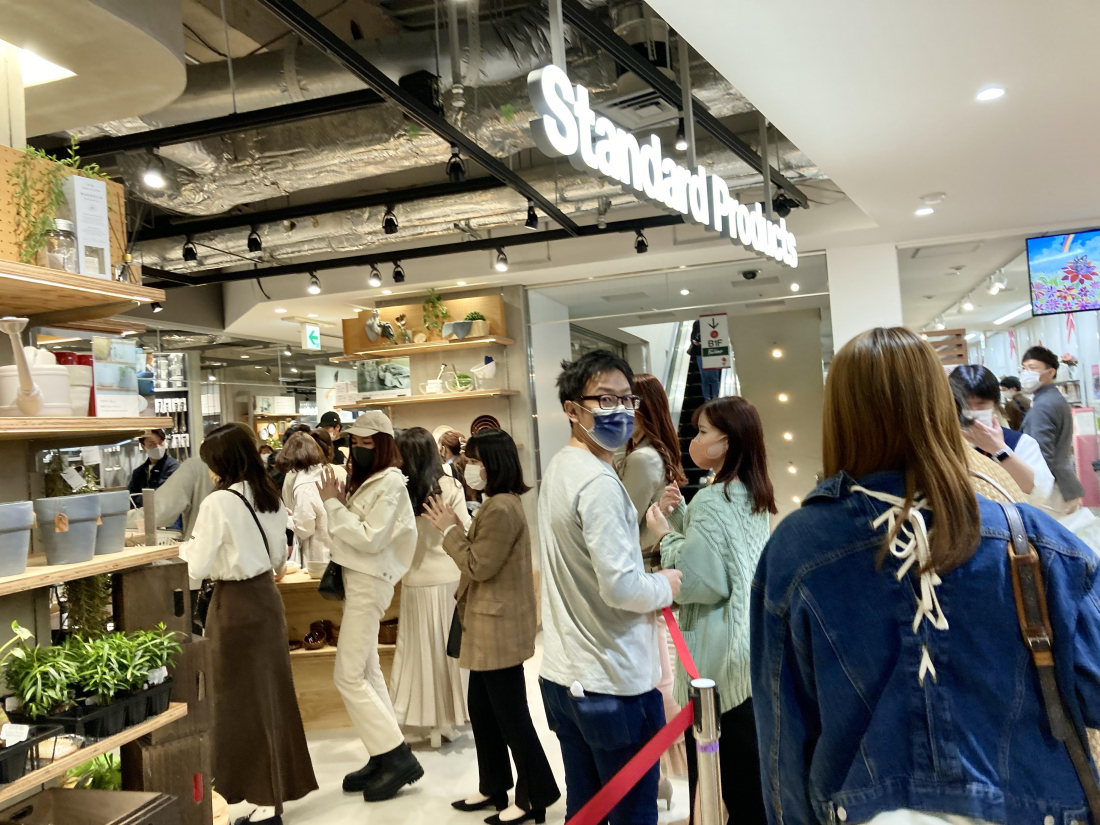 After ten minutes or so waiting in the jumbled crowd out front, and another 10 minutes or so actually waiting in line, I finally made it into the store.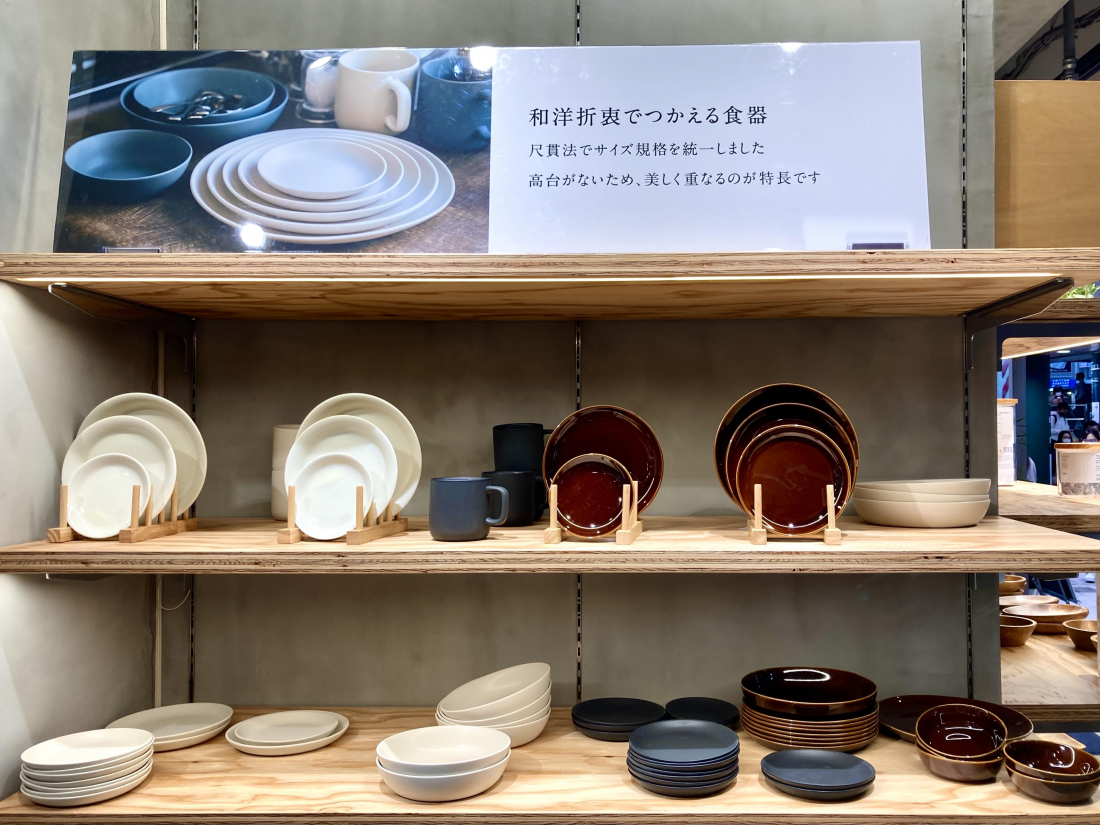 Kitchenwares are a major part of the Standard Products collection, and take up the front half of the store. Their line of ceramic plates and bowls comes in white, brown, and an extremely stylish matte slate blue, with a surprising variety of sizes and shapes. The aim is to offer designs that are a blend of Japanese and Western styles, meaning they work for whatever food you might be eating. In one corner, staff were frantically opening cardboard boxes to restock the shelves before the plates disappeared entirely, and chatting about how the medium-sized plates were probably the best selling items in the store.
Nearby, glass food storage dishes and glass baking pans took up their own whole nook in the shop. Anyone who loves to bake brownies (or gratin, as they suggested) will love the conveniently sized glass bakeware.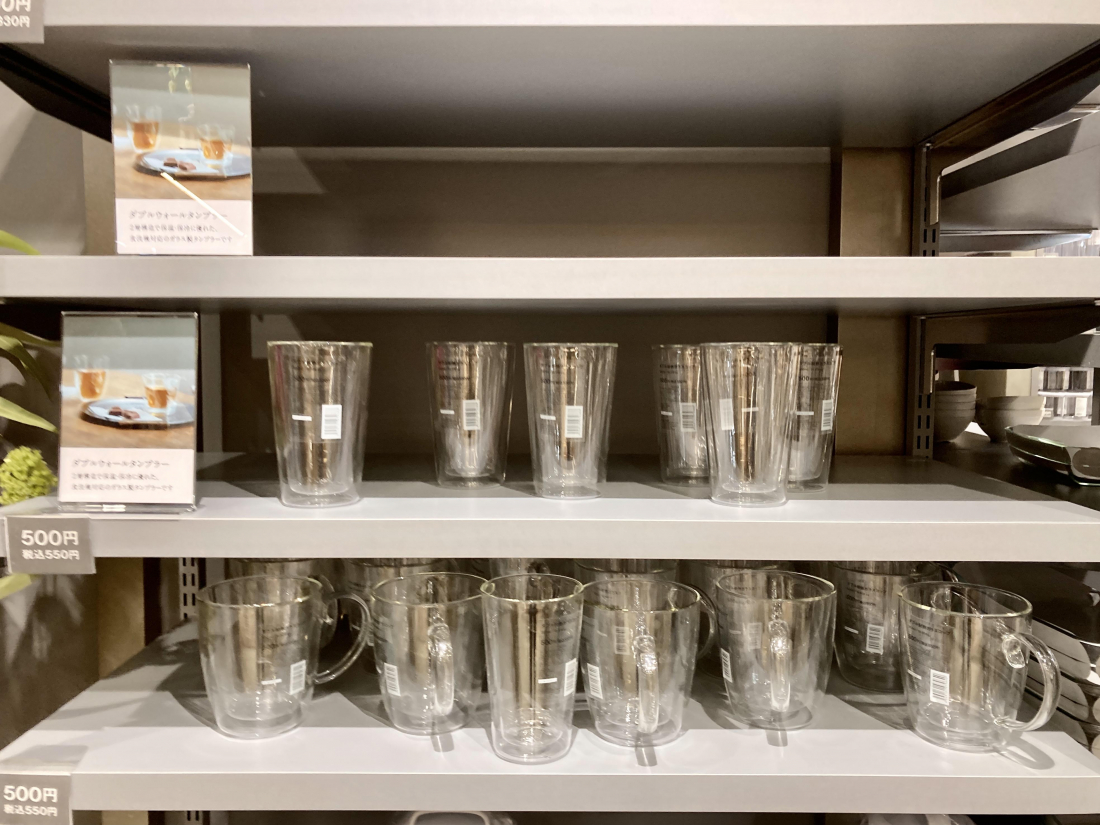 Although there is more price variance at Standard Products, items are mostly in the 330 to 770 yen price range, and you can see similarities between Daiso's pricing strategies and Standard Products. In both shops, some items seem like an unbelievably good deal, while other items are just about reasonable, balancing out profits for the company.
Some of the more interesting products I noted included items that were extremely similar to products being sold at standard Daiso, right across the hallway. Similar glass cups and mugs for hot drinks have been on Daiso's shelves for years now, but the designs have generally been smaller or simpler than the glassware at Standard Products.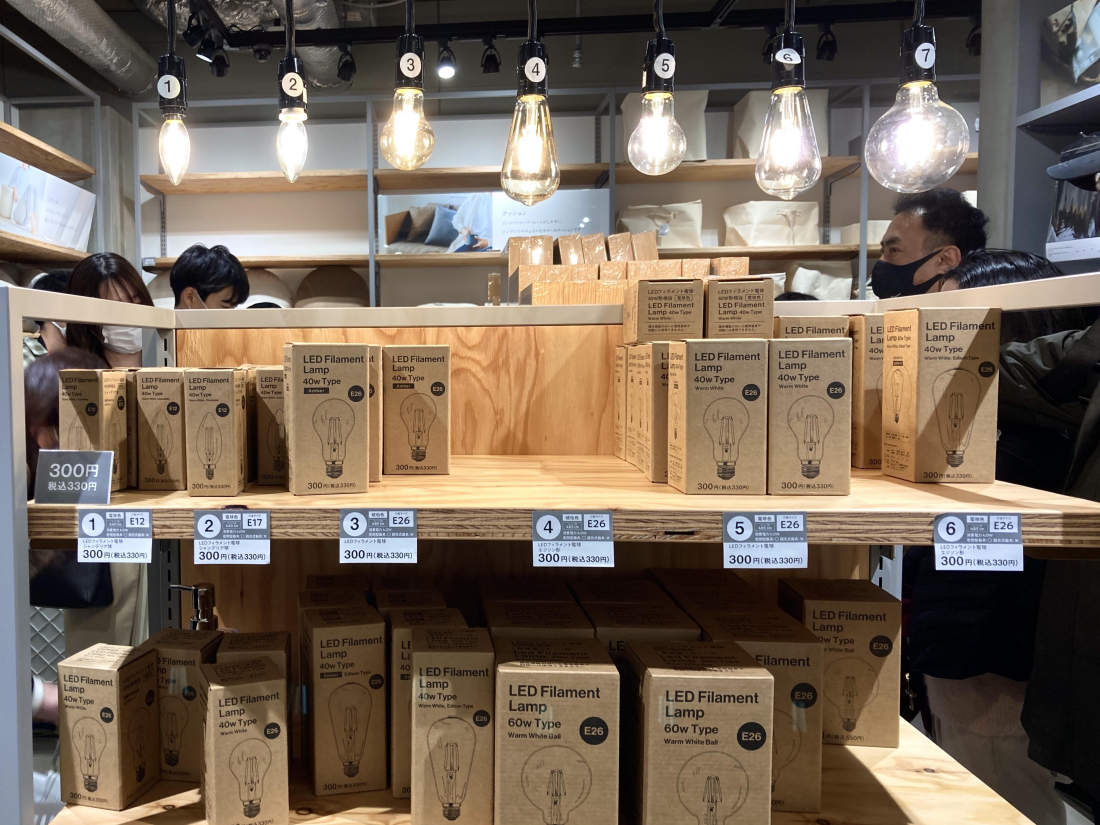 There was no missing the places where a little bit of Ikea influence has crept into the collection, as well!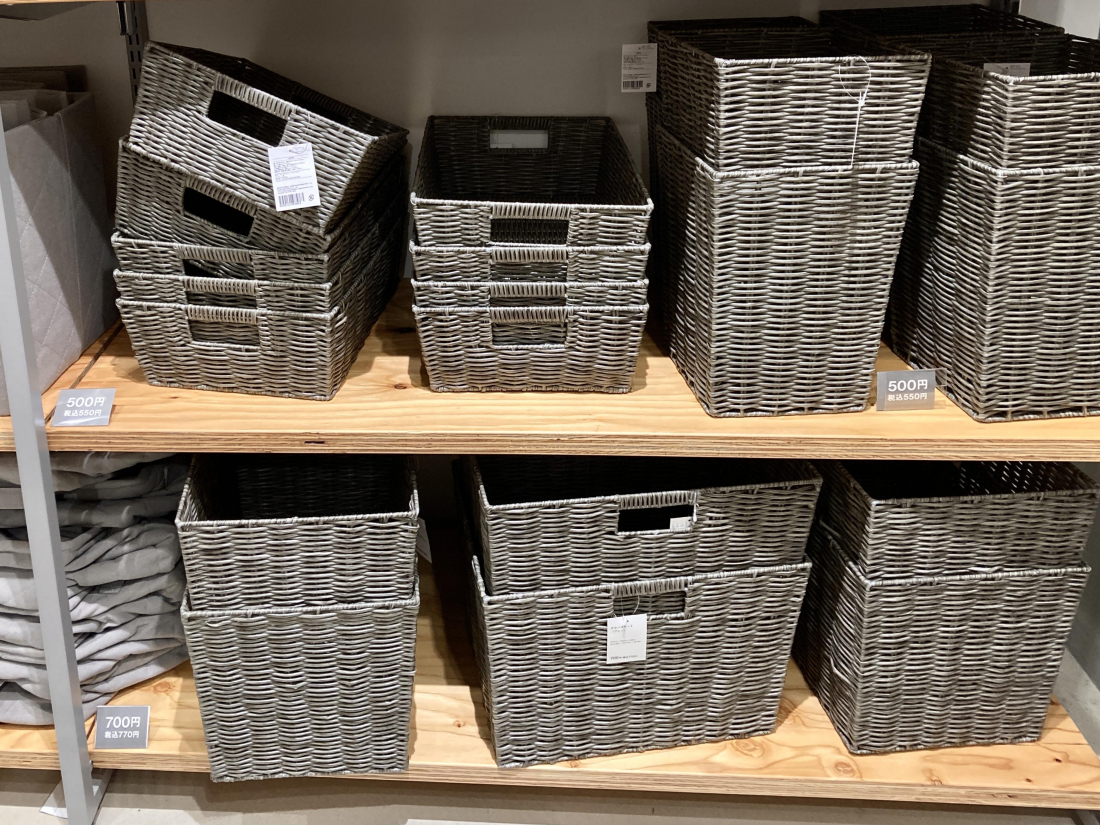 If Standard Products becomes successful on a large scale and continues to grow, it might just become a competitor for Japanese furniture and home goods store Nitori, which offers similar basic home goods at a similarly low price point.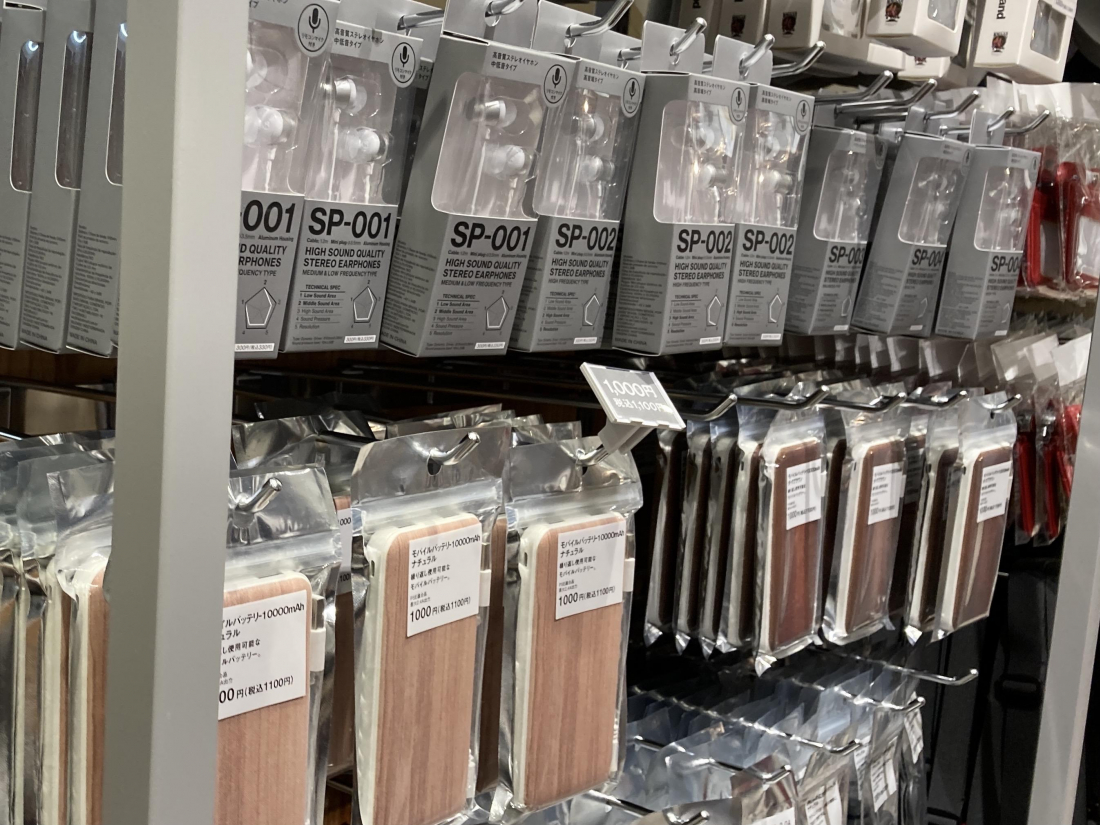 Alongside basic kitchen items and organizational goods, Standard Products also had a shelf of plant pots and outdoor lighting, a wall dedicated to pet beds and other pet goods, a collection of masks, water bottles and some basic camping gear, and other miscellaneous items. The small selection of phone accessories almost seemed a little out of place, but the 1100 yen mobile batteries were being audibly fawned over by young women admiring the products, so clearly that's just a lapse in my own judgment.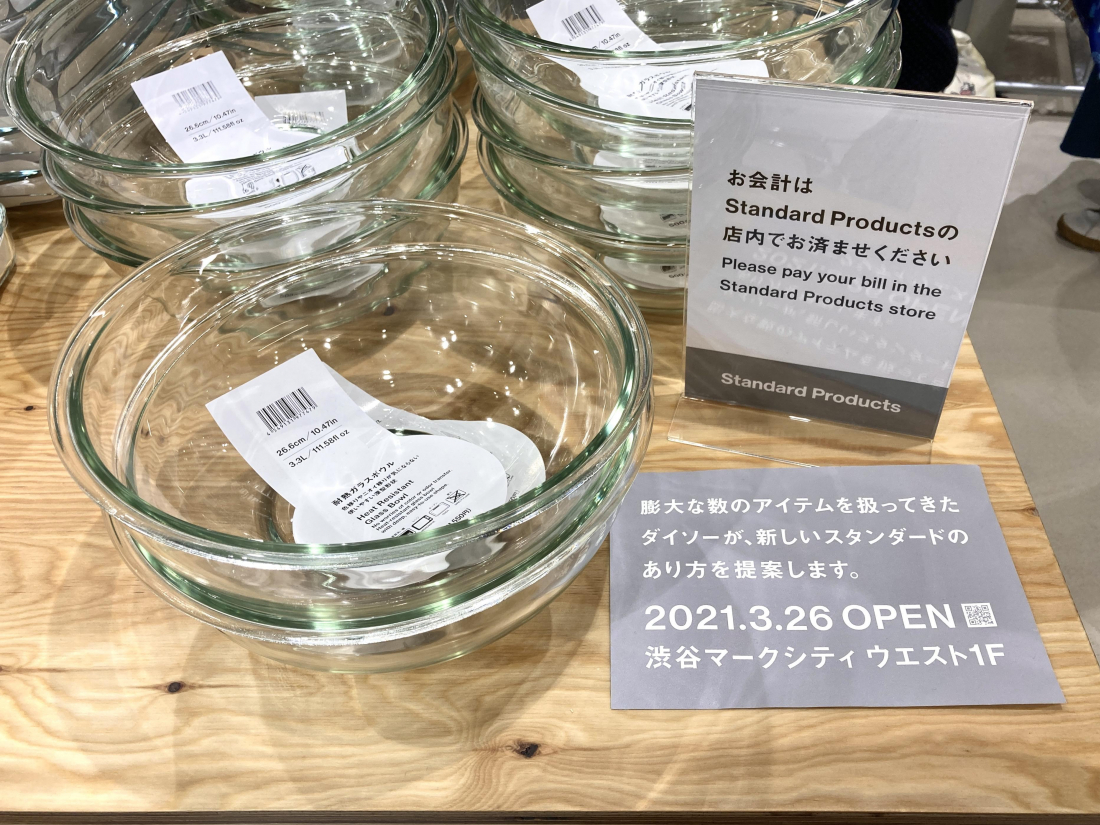 In the end, while there were certainly some products that seemed similar to what Daiso's been offering for years, the new Muji-inspired aesthetic that encompasses Standard Products is an intriguing direction for the company to go in, and I can see the shop being beloved by young people looking to outfit a new apartment with a little style (and not much of a budget). Within a matter of weeks, the crowds will die down and Standard Products will likely be about as busy as any other home goods shop in central Shibuya. Where it goes from there, we'll have to wait and see!
Source: JAPANKURU