Do You Know Mobile Suit Gundam!? An Intro to Gundam & Gunpla
What do you know about Gundam and its popular plastic models? Here are the basics!
Do You Know Gundam? How About Gunpla?
Hello everyone! This might seem like it's coming from nowhere, but do you know Gunpla? That's right, Gunpla is an abbreviation of "Gundam plastic models," referring to the sets sold by Bandai.
Gundam is a Japanese robot anime that began broadcasting back in 1979, and to this day the show has a wildly enthusiastic fanbase. Including me – I am one of those wildly enthusiastic fans! Just about every day, I spend a little of my time searching out new Gundam news, sharing Gundam information, and just generally enjoying it all. Anyone reading this is probably a Gundam fan too, I bet!
Wait, what's that? You don't know Gundam? "What is Gunpla?"??
Don't worry! Today I'll be sharing a quick intro Gundam and Gunpla that you can enjoy even if you know nothing about the fandom.
What Is Mobile Suit Gundam?
The very first edition of Mobile Suit Gundam (機動戦士ガンダム/Kido Senshi Gundam in Japanese) first aired in 1979, and this historic production is generally referred to as "First Gundam" or "First Generation Gundam" (ファーストガンダム/初代ガンダム). That's right, you might have already noticed, but "Gundam" didn't just stop at the end of this one work of animation. It's a long continuous multi-media series that has been going on ever since!
To quickly sum up the main gist of the show, Gundam is set in the future, half a century after people have started immigrating to space, in the "Universal Century 0079." It's been half a year since the space colony Side 3 (called the "Principality of Zeon") began fighting a war of independence with the Earth Federation. It seems like the destructive war has come to an impasse, when the Zeon Lieutenant Char Aznable, AKA the Red Comet, tails the Earth Federation's new battleship called the White Base, following it to the neutral Side 7 colony. The story truly starts here, where Char finds weaponry that the Earth Federation has been building on the sly.
That's right, that secret weapon is none other than a "Gundam"! And when the Principality of Zeon attacks, a young man named Amuro Ray, who has found himself in the wrong place at the wrong time, tries to fend them off by manually piloting the Gundam with one hand and taking down Zeon's mobile suit Zaku. Amuro is eventually appointed to be the official Gundam pilot and gets wrapped up in war, evading persistent attacks from Char, and moving from one battle to another. The story follows Amuro as he meets and parts ways with all kinds of people, fights with his arch-enemy Char, and of course learns and grows from his struggles alongside the rest of the White Base crew.
But What About Gunpla?
Despite writing a little bit too much about the Gundam plot, that's really just an outline of what happens before the story starts – but today we'll have to leave it there. Because next, I want to talk about Gunpla!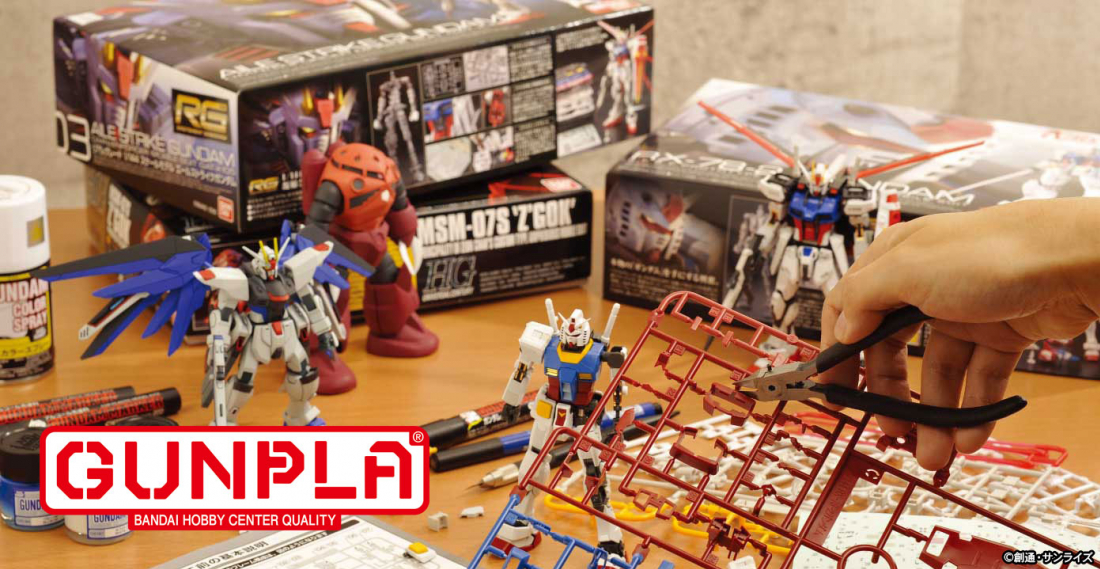 Gunpla, Gundam plastic models, were first sold after the original TV anime finished airing, in 1980. The very first one was the "1/144 Gundam." The 1/144 in the name refers to the model's size, meaning it will be "1/144th the size of the height of the Gundam that appears in the anime," and the following model was called a "1/100 Gundam." Since the anime had been successful from the start, sales for the plastic models also looked promising, and the so-called "Gunpla Boom" began in early 1981. The new models spread among elementary and middle school students like wildfire, driven on by special features in model-building magazines. With this huge surge in popularity, stores were having trouble keeping the model kits in stock, and when news spread of a shipment at one department store or another, waves of children would advance. Sometimes, there would be such a rush that kids would be pushed to the ground and trampled, resulting in injuries both minor and major.
To this day, 40 years on, Gunpla kits still fly off the shelf, and, in total, more than 700 million of the models have been sold! Of course, compared to the original models from the 80s, today's Gunpla technology is on another level. In the past, model-making tools like wire cutters, sharp knives, and special adhesives were necessary before even getting started, but these days there are Gunpla series that can be put together without any model-making tools at all. I'm a huge fan of putting together Gunpla, and I usually make five to seven models a month!
Check Out My Twitter, Too!
I have a deep and abiding love for Gundam and Gunpla, so I could keep talking about it all forever, but this time we'll just have to leave it at that lol. But before you go, I'd like to show off a Gunpla I made myself!
By the way, I talk kind of a lot about Gundam and Gunpla on my Twitter account, so make sure to follow me if you're interested!