For Your Attack on Titan Wedding, Reservations Have Begun for Attack on Titan Diamond Rings
Getting engaged to an Attack on Titan fan? Celebrating a special event with a Shingeki no Kyojin specialist? These are the rings for you.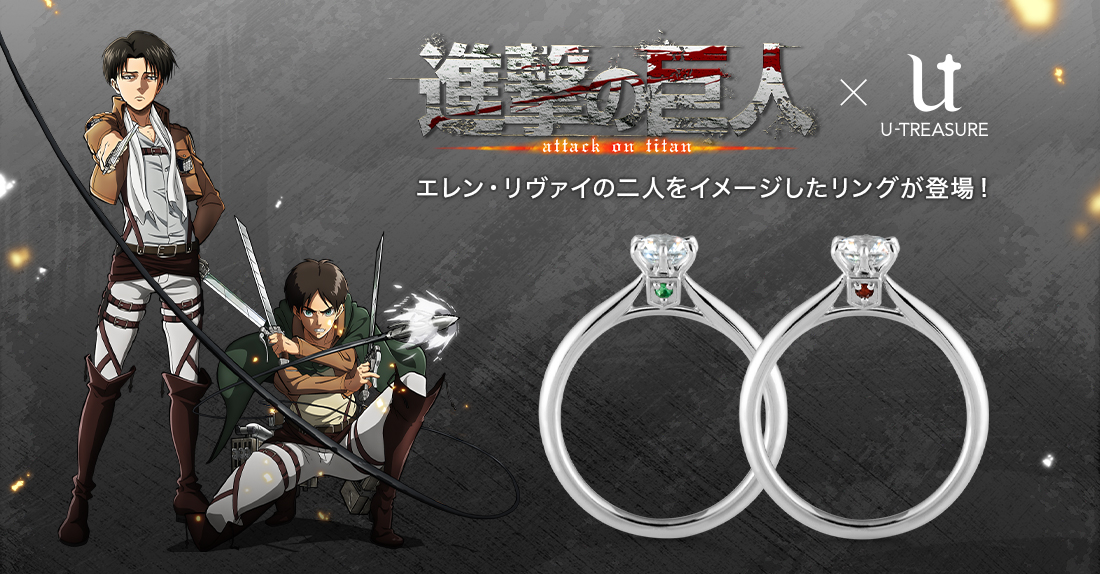 With the Attack on Titan (進撃の巨人, Shingeki no Kyojin) anime and manga coming to an end at just about the same time, merchandisers are taking advantage of the fanfare to really go all out on collaborations, like we saw with the recent Attack on Titan bathtime event. Now, they're giving true fans of the series a unique way to remember Attack on Titan for years to come: Attack on Titan wedding rings.
Made by U-Treasure, a company specializing in high-quality character jewelry, this new line of rings is a way for fans to show off their passion by showing off a pretty unique ring on their big day.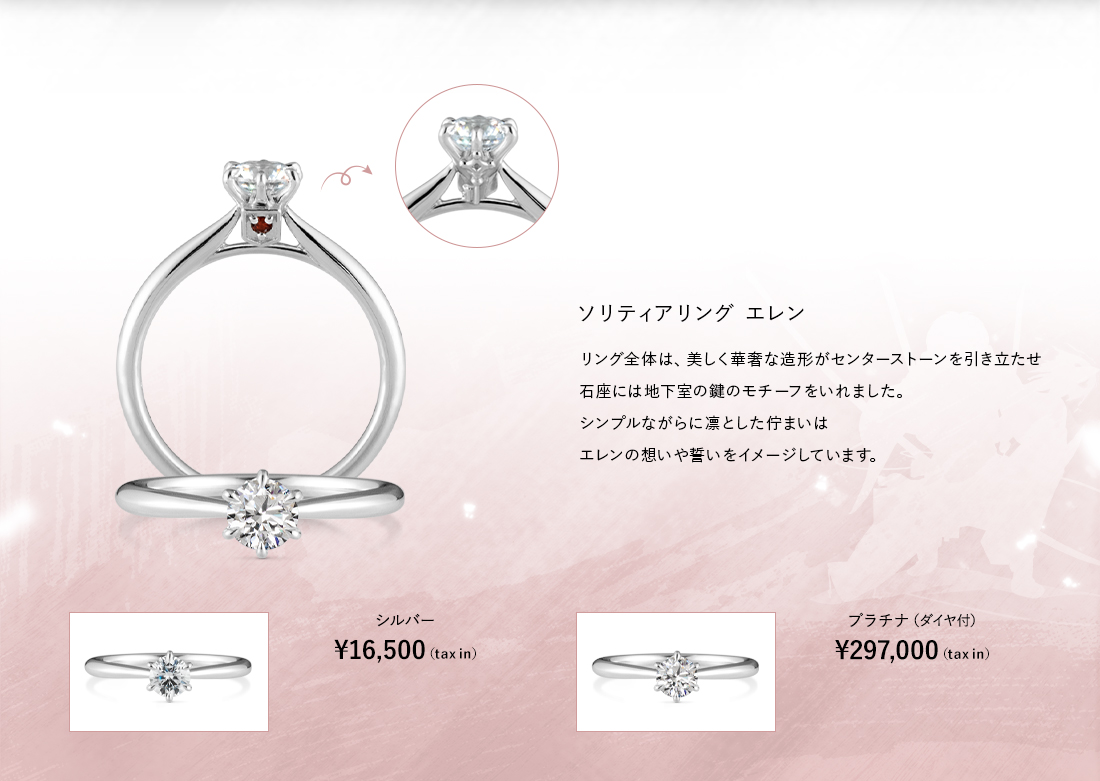 The centerpiece of the collection is of course the diamond engagement ring, which features a surprisingly subtle design that's really not likely to stand out as an obvious "otaku ring"!  To start, a very simple platinum band is the base for a 0.3 carat diamond, which sounds like it could be any old engagement ring. What makes it an Attack on Titan ring? Well, on either side of the stone are small decorations, which come in two options: Eren and Levi. The Eren design features the key to Eren's basement on one side, and a shield-shape that resembles the Attack on Titan military crests on the other. Inside the crest is a small garnet, because apparently Eren = red! The small embellishments don't jump out at you, but for a committed fan, they could be a fun way to keep the series with you at all times.
This solitaire design also comes as a fashion ring made with silver and cubic zirconia for 16,500 yen, which might be a more reasonable option for anyone who loves the design, but isn't getting married (or doesn't want to spend 297,000 yen on a ring).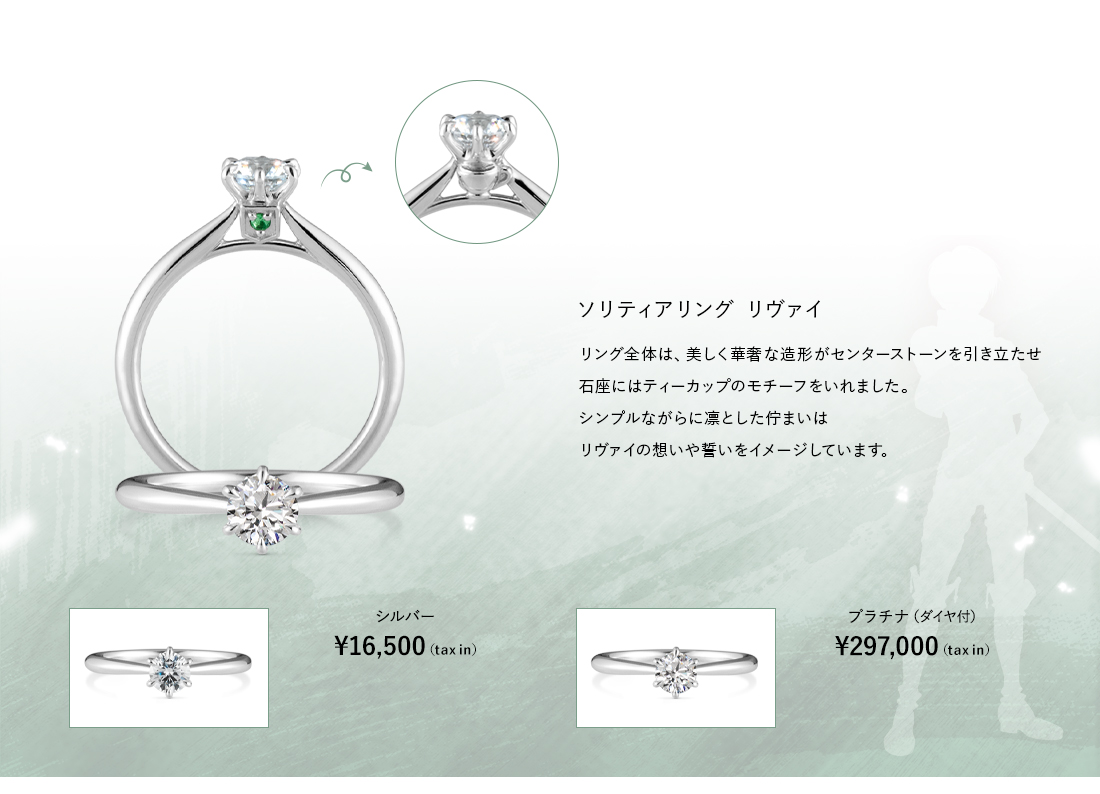 For all the Levi lovers out there, his ring has the same crest design but with a green garnet instead, and on the other side of the diamond is a little teacup. Fans just can't resist Levi's cute side.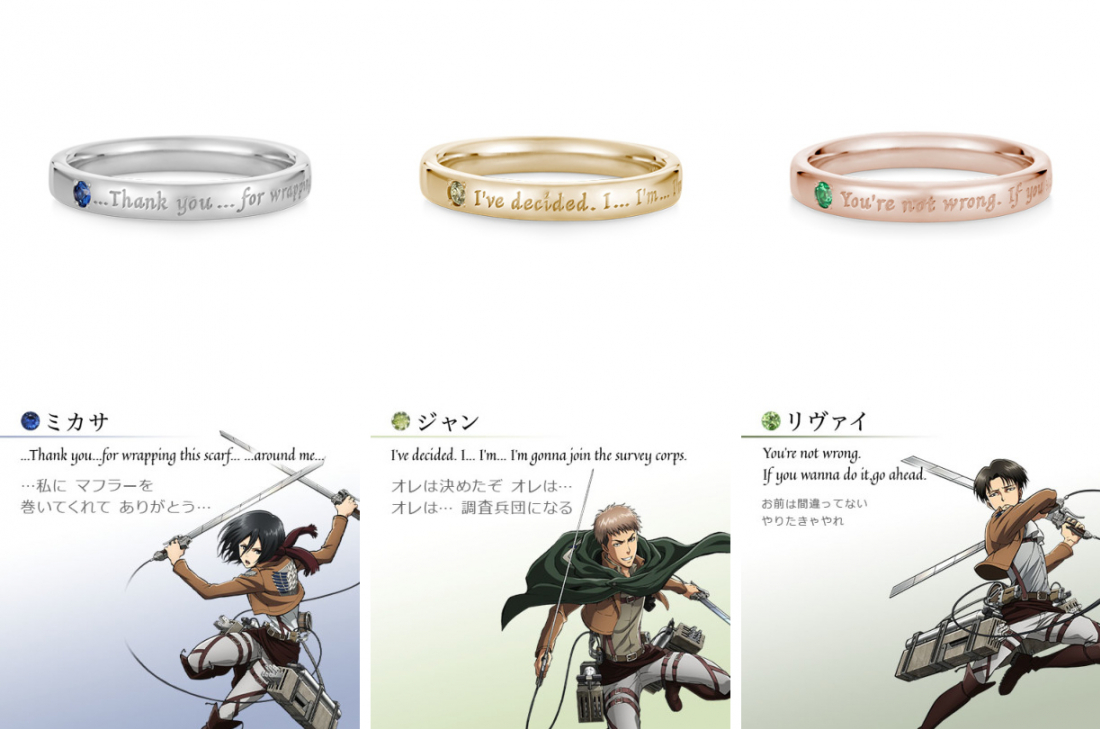 Aside from the platinum engagement rings, U-Treasure is also making quite a few rings featuring simple designs with small semi-precious stones and engraved quotes from Attack on Titan, each one available in silver, gold, or rose gold. Some choice options include Mikasa's quote "…Thank you… for wrapping this scarf… …around me…" which no doubt includes a few too many ellipses, and the extra-romantic option of "What do you see? Who do you think the enemy is?" courtesy of Commander Erwin.
They could certainly be used as wedding bands… if you're brave enough.
Thinking of taking the plunge? We await your wedding photos or engagement shots with burning anticipation―please, please send any pictures featuring Attack on Titan merchandise to the Japankuru twitter, instagram, or facebook, so we can admire your Attack on Titan passion!
Source: JAPANKURU