Get Glasses in Tokyo & Explore Shibuya With JINS, All Day & After Dark
Love the look of Japanese eyewear? JINS Shibuya can make you new glasses in as little as 30 minutes, and to fill that waiting time, we've got some Shibuya, Tokyo sightseeing and shopping recommendations for first-timers and experts alike, even after sunset!
First Stop: JINS Shibuya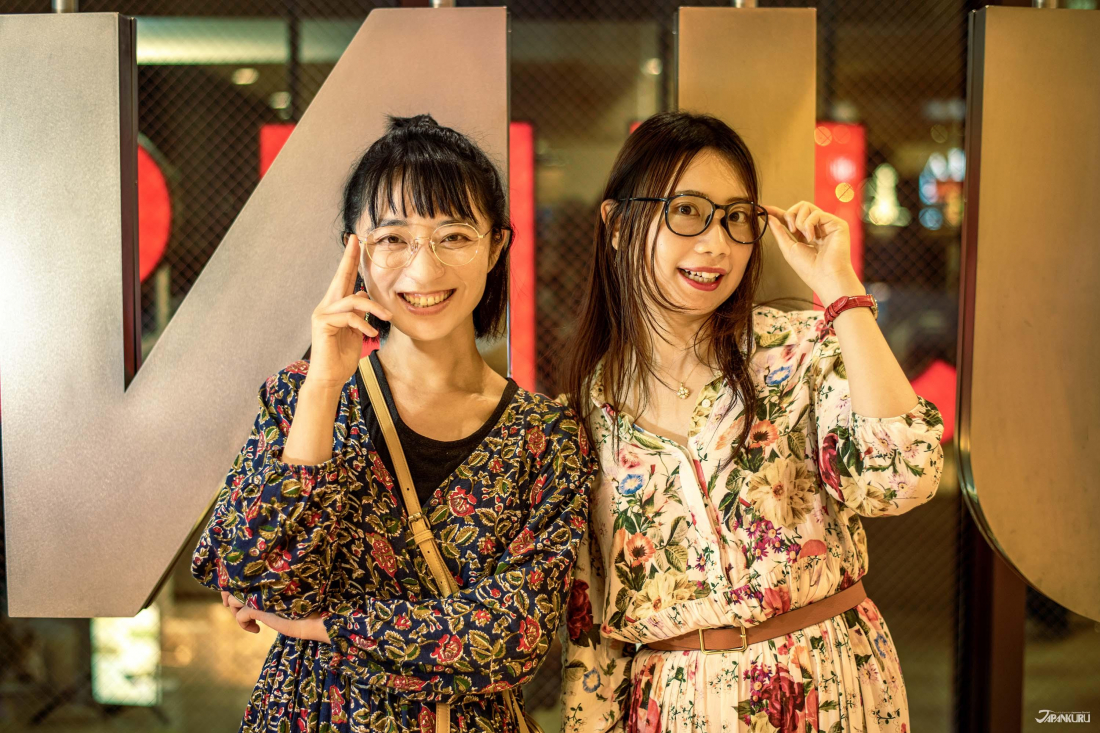 JINS is a staple of the Japanese eyewear industry, known for producing high-quality Japanese glasses at low prices, all with shockingly short wait times. With basic frames and lenses starting at a combined price of 6,600 yen and ready as quickly as 30 minutes from start to finish, foreign shoppers tend to be blown away by the convenience. Their Shibuya shop in particular is a hotspot for eyewear shopping in Tokyo, open as late as 9 pm for a fun nighttime shopping experience. Customers can even enjoy Shibuya's nightlife while getting new glasses – it's not hard to spend 30 minutes in Shibuya! And the shop is especially popular among foreign travelers thanks to the easily-accessible location in the heart of Shibuya, chic modern interior filled with the latest JINS glasses, and multilingual staff ready to help customers in English or Chinese. (They also have Pocketalk automatic translators ready for other languages!) With easy to understand pricing (the price on the frames includes the cost of basic lenses), plenty of payment options, and tax-free services for visiting travelers, the whole shopping experience is stress free, too. With so many design options and such affordable prices, JINS fans will tell you that it's tempting to buy a new pair for every day of the week. If you're not already a fan of Japanese eyewear, you will be soon.
JINS Shibuya (JINS渋谷店)
31-1 Udagawacho, Shibuya City, Tokyo
Hours: 11:00 – 21:00 (hours may vary, check the official website for details)
Access: 5 minutes from Shibuya Station
JINS Shibuya Official Website (jp) | JINS Official Website (jp)
Choose the Right Frames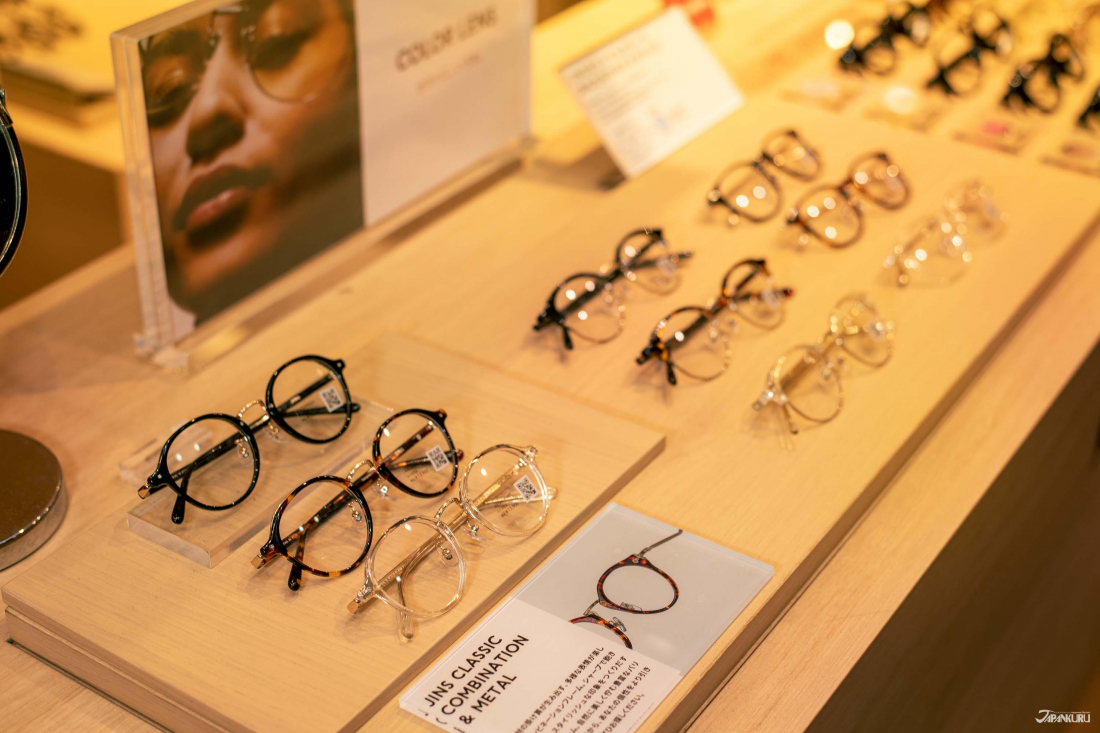 With so many styles available at JINS Shibuya, which should you take home with you? It's not uncommon for customers to buy two or three new pairs at once, but there are a lot more options than that! When it comes to frames, the majority are made from metal or acetate, and glasses that use both materials (called "combination frames") have been popular at JINS for a while now. Some of the recent trends at JINS Shibuya include especially large frames and the use of clear acetate, which really emphasizes the cool look of combination frames. Many of these styles can be seen in their CLASSIC line, which focuses on simple, sophisticated frames that never go out of style. Others are part of the TODAY line, which focuses on bold looks and all the latest fashion trends!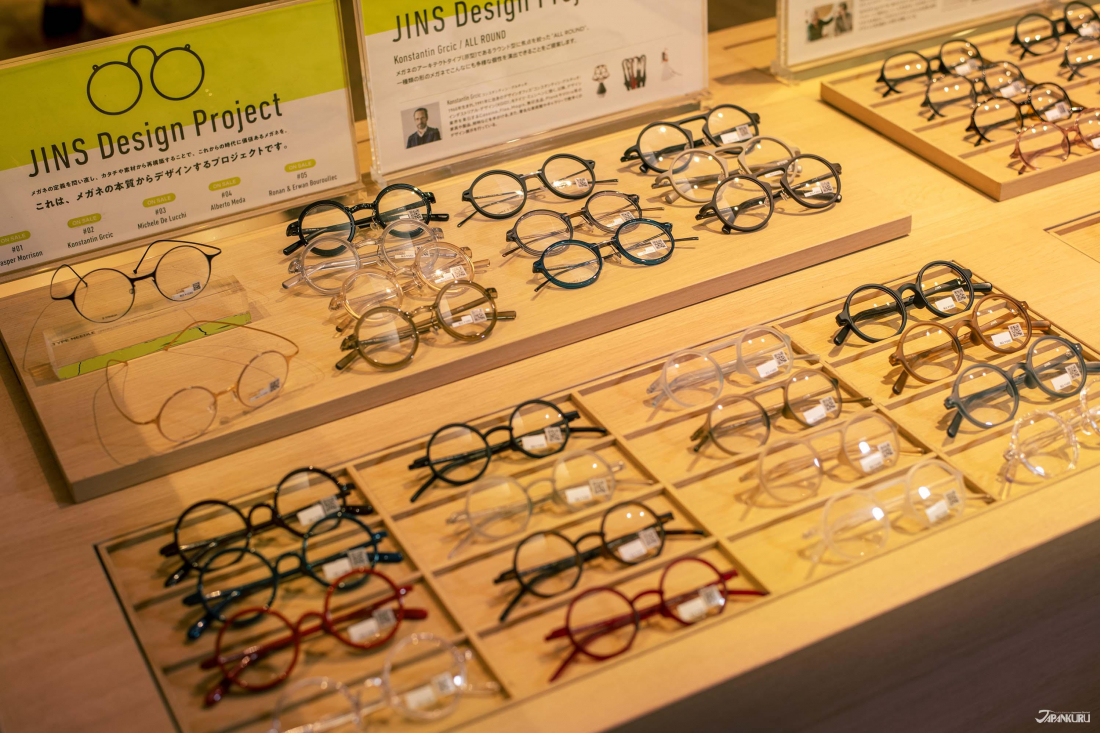 Some of the frames at JINS are popular thanks to the unique designs made in collaboration with other brands, characters, or designers, like their "Design Project" glasses. Other product lines are popular due to their practicality! Airframe glasses are especially lightweight, and many of them are "hingeless" styles made of super-flexible material. JINS PROTECT glasses can block out dust and pollen, or even create a moist environment just around the eyes. And JINS Switch frames not only look good as normal glasses, but also come with magnetic sunglass lenses that are easy to pop right on top.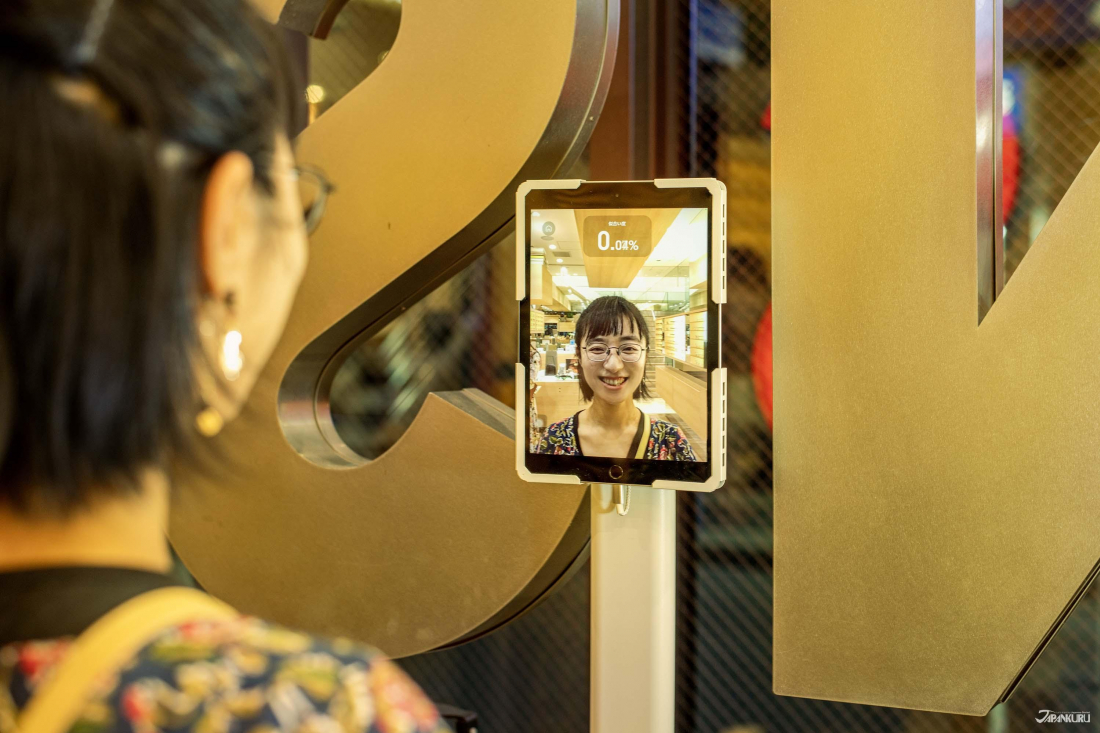 When you can't quite decide which frames you think look the best on your own face, you can rely on "JINS BRAIN" instead! This AI system is available online or on tablets in stores, and it analyzes your face to find the glasses that suit you best. You can either have it suggest some options, or have the system analyze a particular pair of glasses while you try them on, to find the perfect fit.
Choose the Right Lenses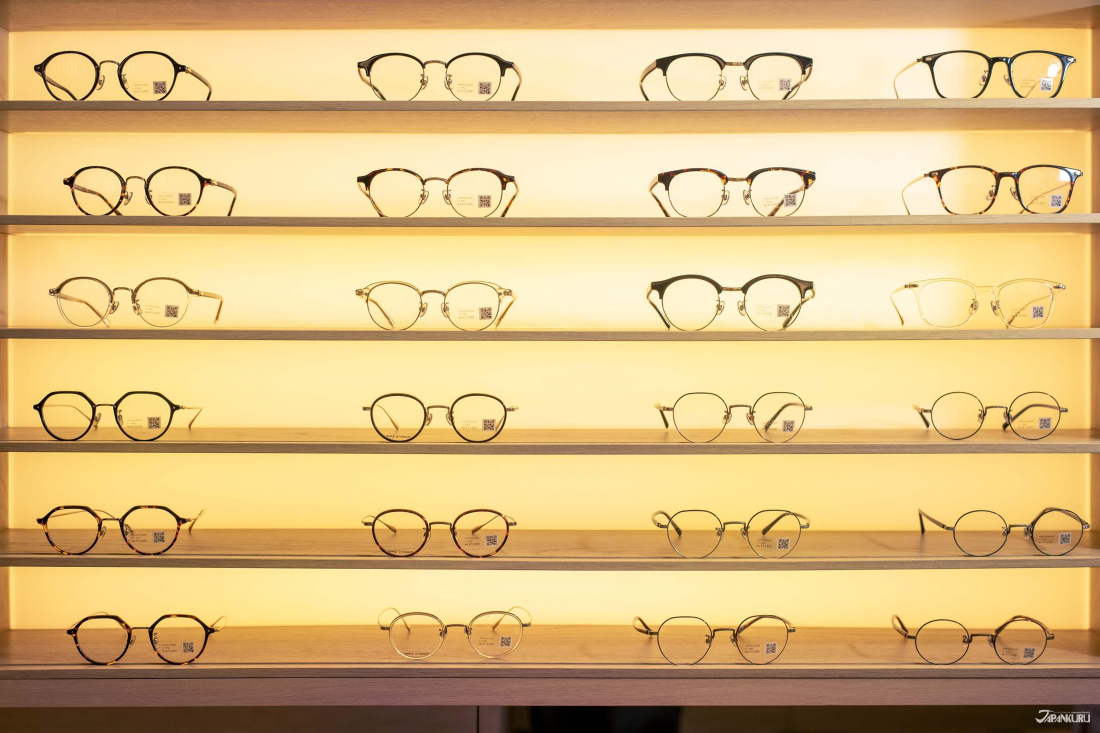 When it comes to lens types, JINS offers more choices than you might expect, with all kinds of special features and custom lens technology. Some of these need to be special ordered (which means they might take a week), but at JINS Shibuya, quite a few of the brand's special lenses are in stock and ready to go.
Find yourself staring at screens all day? Try the blue light cut glasses, which are offered with and without prescription lenses. Or protect your eyes from the sun by choosing photochromic lenses that transition between clear and dark when hit with sunlight. Fashionistas might want to consider the unique cheek color lenses that have become especially popular at JINS in recent days. These fun lenses replicate the look of a dusting of blush by tinting just the bottom portion with a subtle pink or red color – perfect for makeup lovers on lazy days!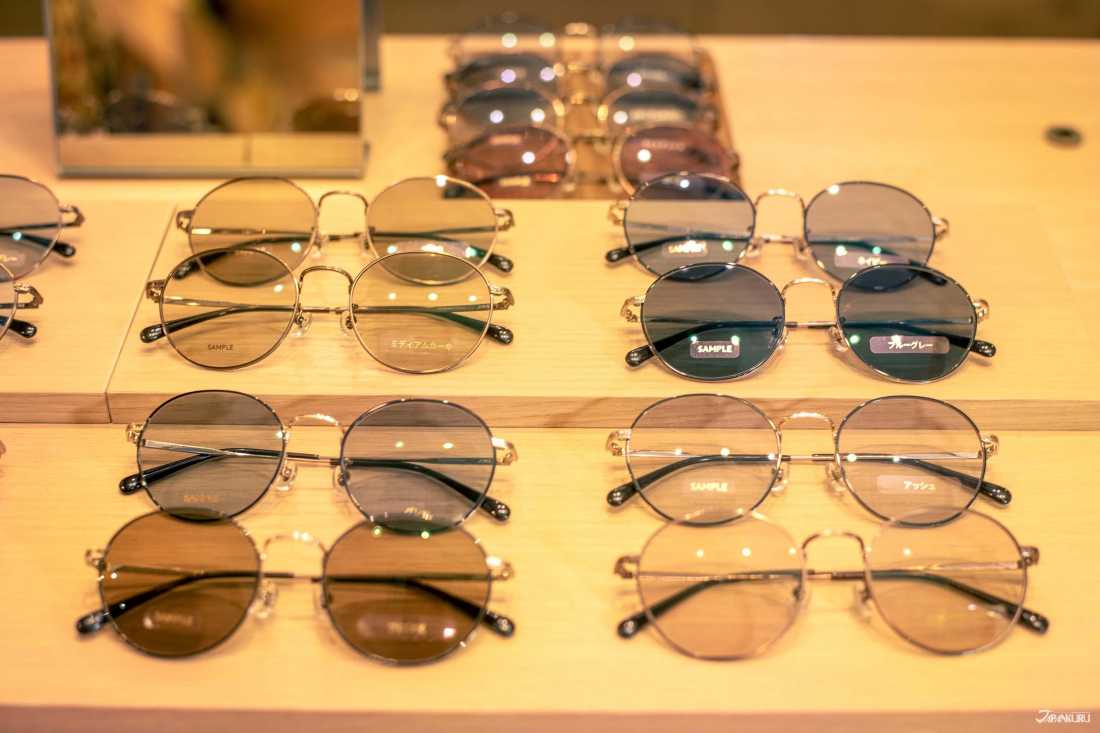 The JINS line of fully tinted "color lenses" comes in a surprising variety of colors (they often offer more than 40 colors at any one time), and varying levels of opacity. Some of the lens colors are pale tints that can actually be added to everyday glasses for a touch of unique style – they're light enough that you're still safe wearing them when driving at night. Other lens colors are deep and vibrant, and make fantastic sunglasses. By combining your favorite lens color and the perfect frames, you can put together a custom pair of sunglasses in just half an hour!
Enjoy the Automation

Already picked out your favorite frames, and ready to get your glasses made? JINS BRAIN isn't the only convenient technology at work in JINS Shibuya. When the shop is busy and staff are helping other customers, automated systems help speed up just about the entire glasses-buying process, from start to finish. Start your purchase by filling out basic information on a tablet, then try an automated vision test on one of the machines upstairs. The whole process is available in multiple languages. (If you don't want to recheck your vision, JINS can also make your new glasses using your latest prescription information, or they can check your current glasses and make the new ones the same strength!) Before they start making your eyewear, you can even choose which colorful glasses case you want your new glasses to come in.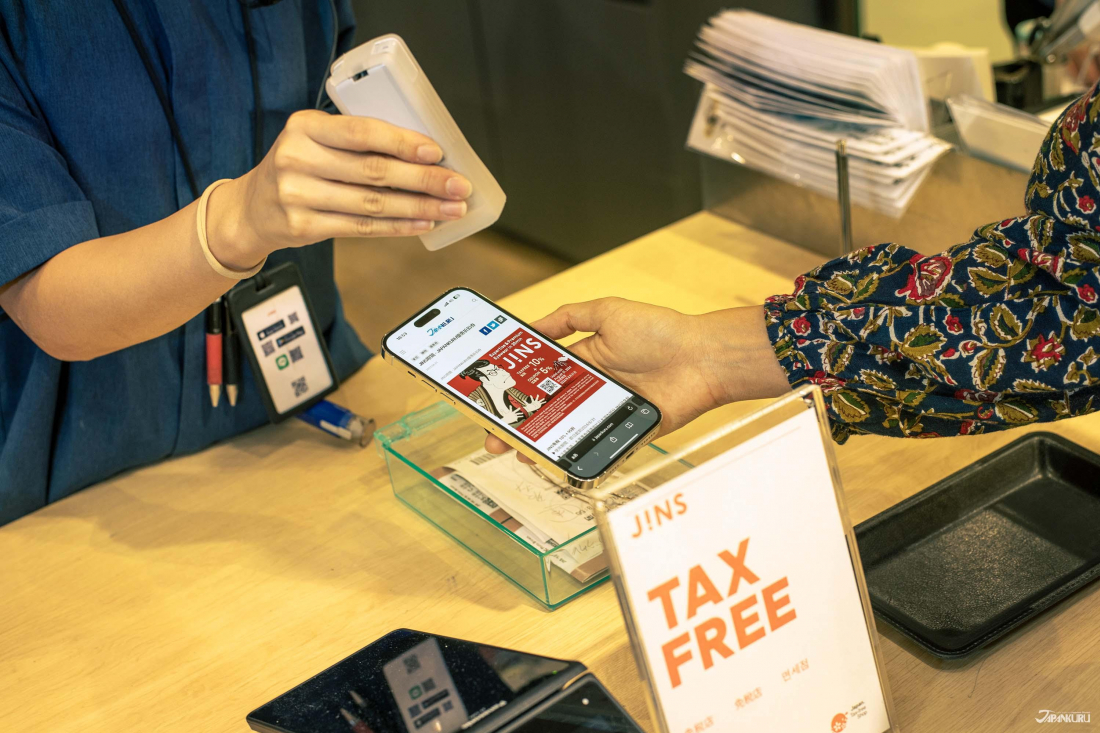 At checkout, JINS offers some especially good deals for foreign travelers shopping in Japan. First of all, JINS Shibuya and many of their other locations offer tax-free services, so visiting shoppers are immediately exempt from Japan's 10% sales tax. But they also have some special promotions going on! Get an additional 5% off using Japankuru's exclusive JINS eyewear coupon, which you can simply pull up at checkout.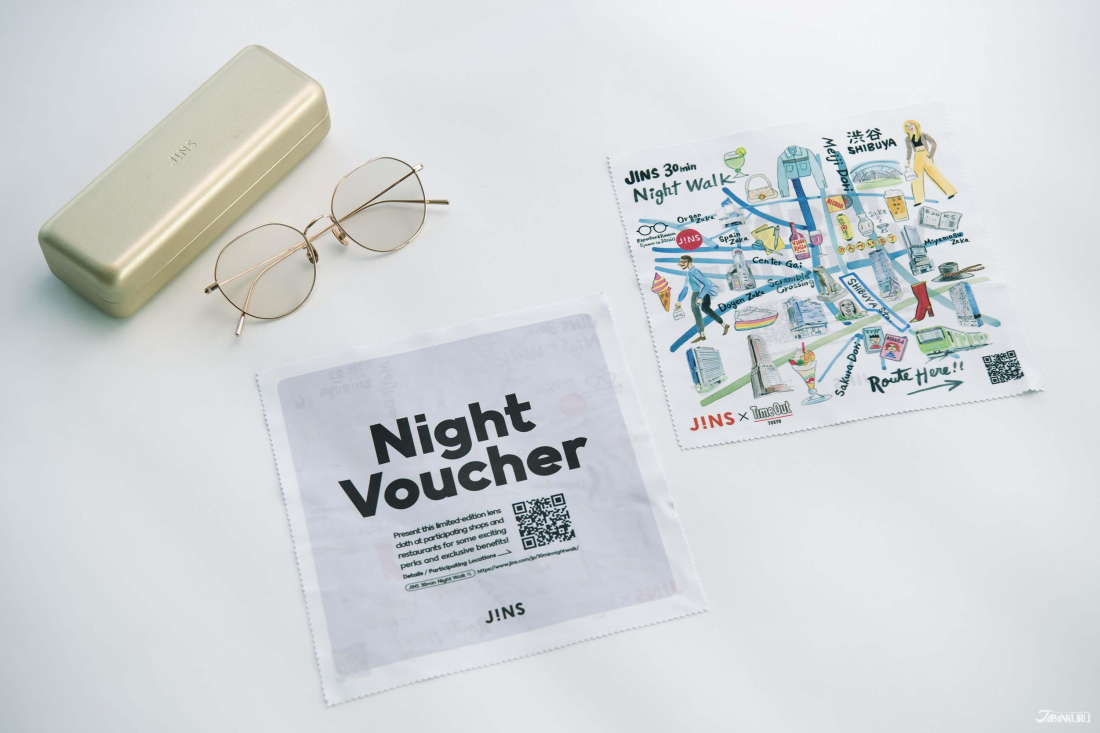 Plus, shoppers spending 3,900 yen or more will receive a limited-edition "night voucher" lens cloth, which can be shown at a selection of nearby shops and restaurants for special perks. (Find more details on the official website.)
Once you're all checked out and your glasses are being made, you can head out and enjoy Tokyo while the JINS staff are busy at work.
Next Stop: See Shibuya While You Wait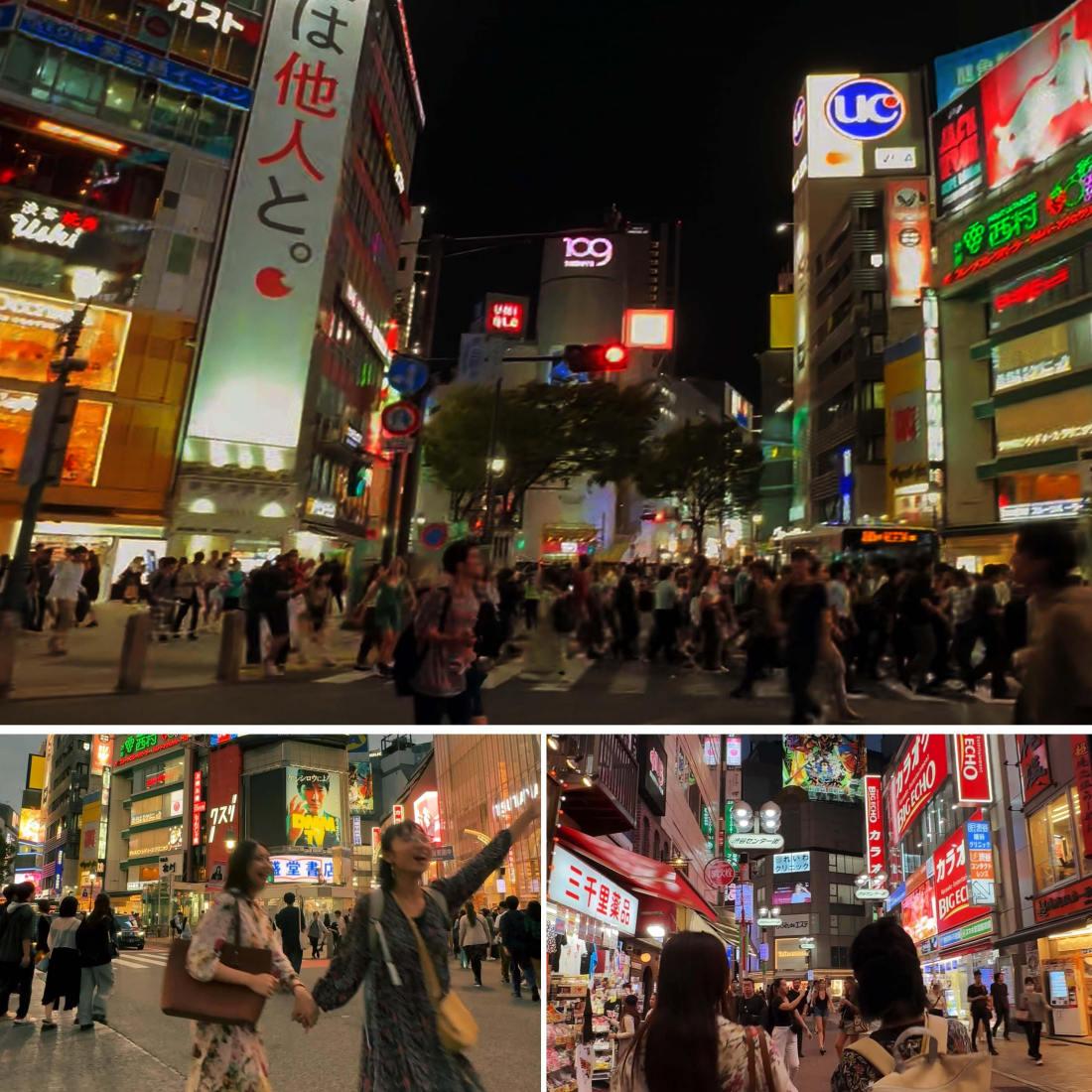 You've got about half an hour while your glasses are being made, so how do you make the most of every minute in Japan? To help you avoid just waiting around, JINS has been working on a new project called the "JINS 30min Night Walk," dreaming up a series of fun plans and things to do around some of their most popular stores. That includes local shops and restaurants offering perks for customers with a JINS "night voucher"! Their night walk suggestions range from areas all the way north in Hokkaido to southwest in Fukuoka, but today we'll just be focusing on one of their major Tokyo locations.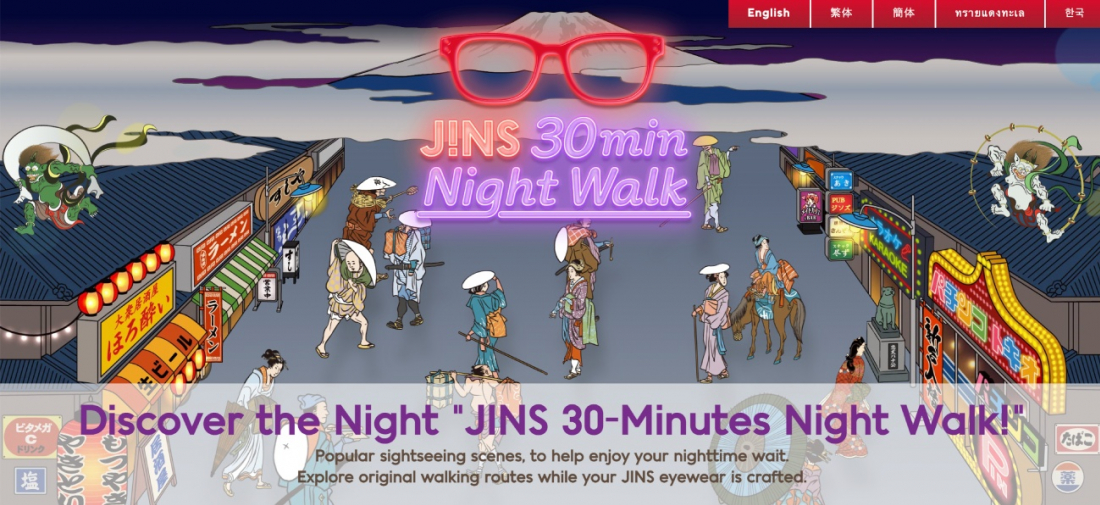 There are lots of ways to kill time in Shibuya, so to get you started, the Japankuru team has a few of our own recommendations for fun ways to spend 30 minutes. With so much to do, your new glasses might be ready to go long before you are!
For First-Timers in Shibuya: See It From Above!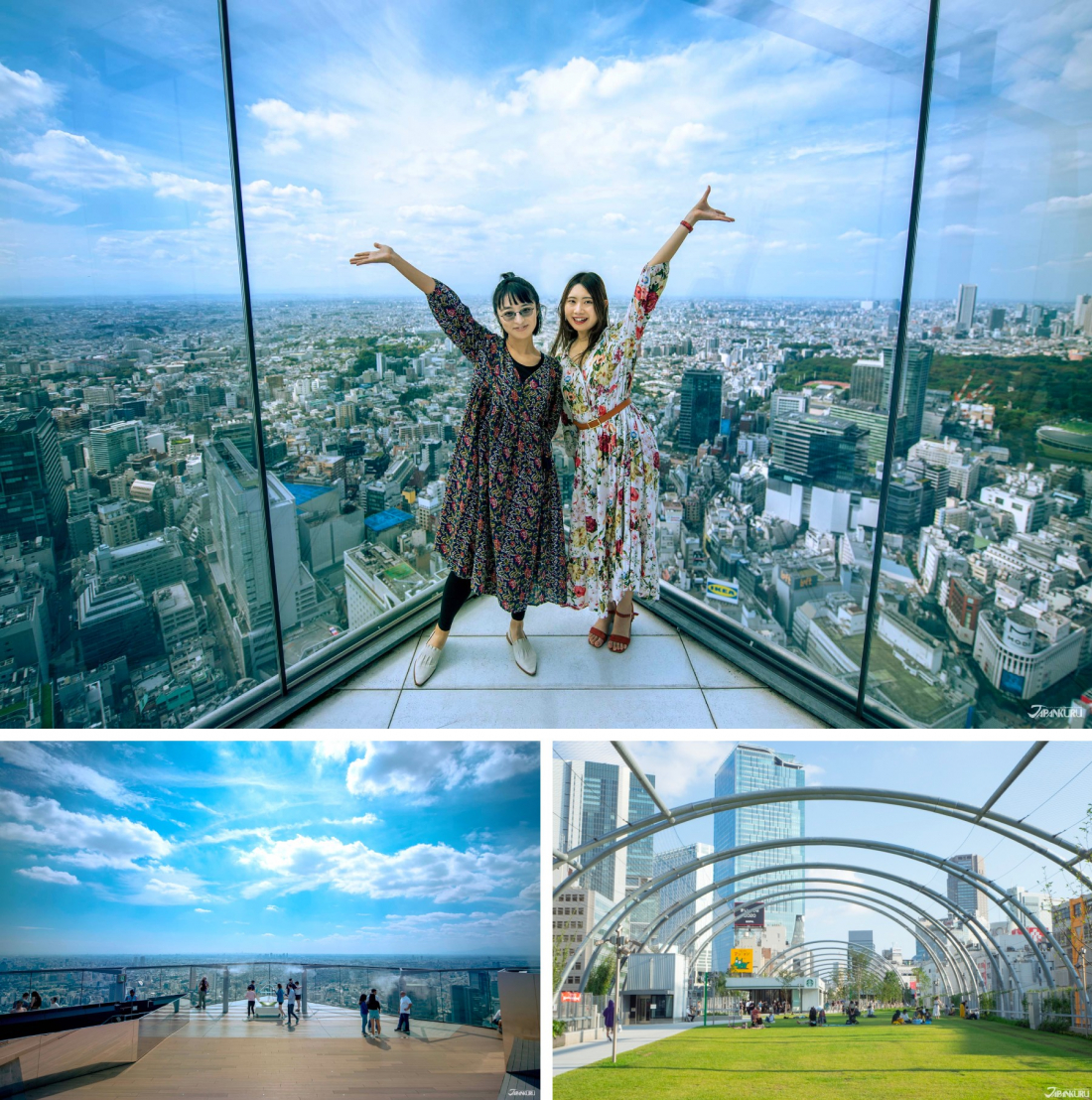 Shibuya crossing is the massive intersection at the center of Shibuya where countless waves of locals and sightseers spill out onto the roads during each green light, with the endless crowds somehow weaving through the oncoming masses to make their way across the street each and every day. Nicknamed "Shibuya Scramble" in Japan, this spot is located right next to Shibuya Station, which means that most shoppers and sightseers will inevitably get to see it from street level. But the latest trend is to look down on the iconic intersection from high in the sky! Shibuya Sky is an observation deck located at the top of Shibuya Scramble Square (a shopping facility that opened just before the pandemic), and the new facility is already a popular spot for sightseers to get a bird's eye view of Shibuya and the rest of Tokyo. Sunset is probably the most popular time slot at Shibuya Sky, but after dark the neon signs and the constant flow of moving lights all make Shibuya look like a sci-fi movie set, just laid out in front of you. Familiarize yourself with the city from a brand new angle, and take some amazing snapshots while you're up there!
Hop from one Shibuya rooftop to another, and head to Miyashita Park if you've still got some time. This trendy shopping destination is another new pandemic-era addition to Shibuya, and the 4th-floor rooftop green space (complete with a Starbucks) is a popular hang-out spot throughout the day and well into the evening. It's an ideal place to sit back with a cup of coffee (or something stronger) and enjoy the Shibuya vibes, looking out at the crowd of surrounding skyscrapers and mingling with hip young locals.
Shibuya Sky (渋谷スカイ)
Shibuya Scramble Square, 2-24-12 Shibuya, Shibuya City, Tokyo
Hours: 10:00 – 22:30
Official Website (jp)
Miyashita Park (宮下パーク)
6-20-10 Jingumae, Shibuya City, Tokyo
Hours: 8:00 – 23:00
Official Website (jp)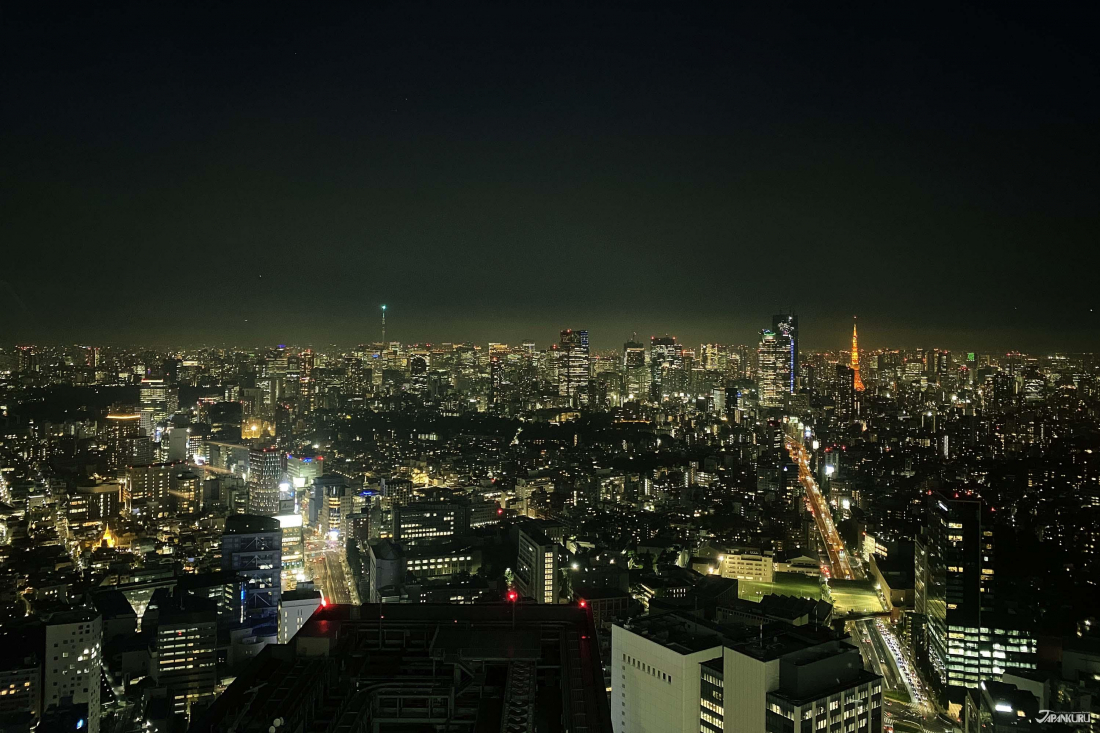 This is the view from Shibuya Sky at night! The city really sparkles, and you can see both Tokyo Tower and Tokyo Skytree in the distance.
For Japanese Pop-Culture Lovers: Meet Mario and Mewtwo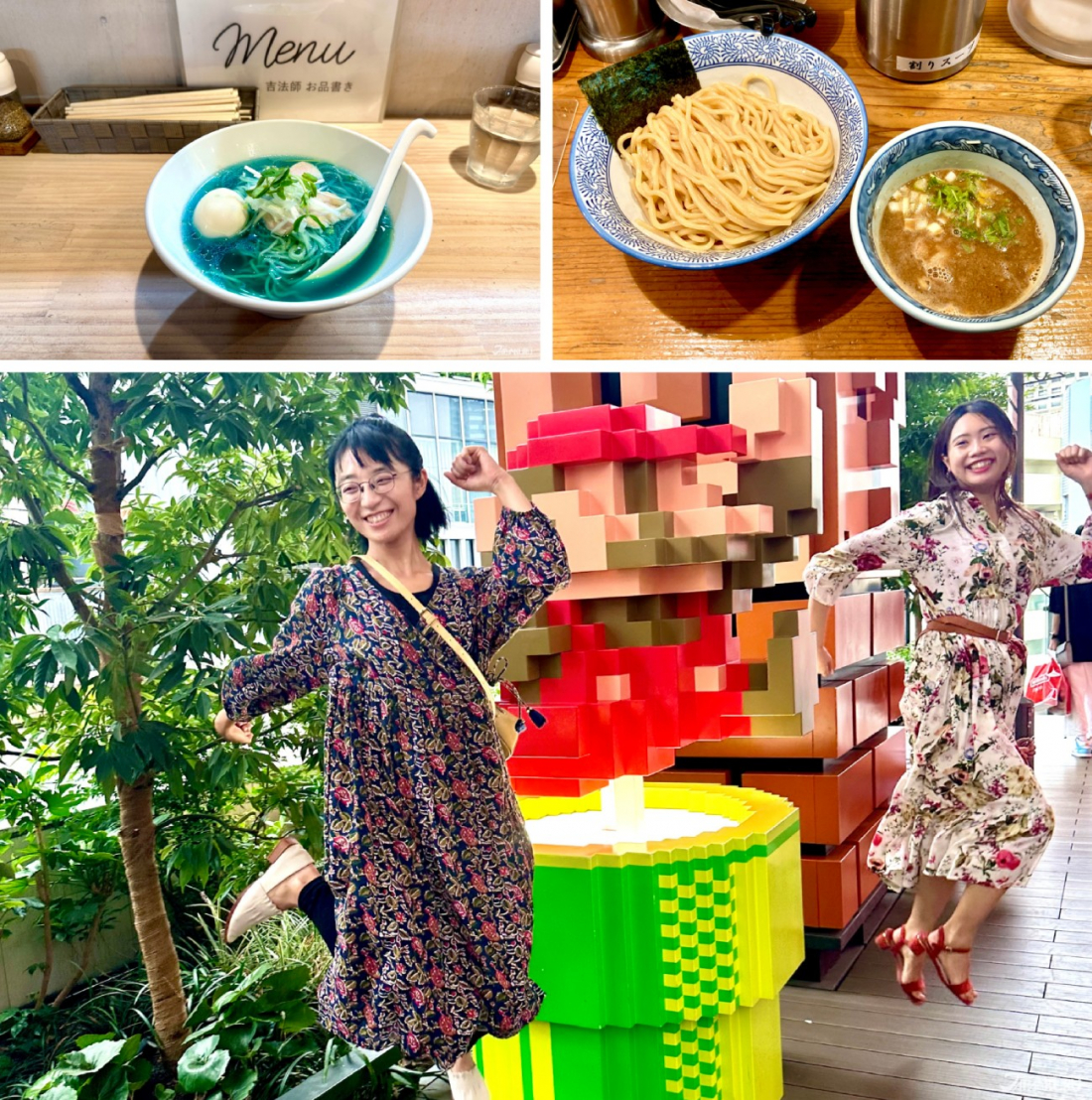 Japan is known for creating some of the world's most beloved characters and the trendiest cuisine of the 21st century, so it only makes sense that the cultural hotspot of Shibuya is a great place to indulge in all things modern Japan. First, go shopping for your favorites! Directly next door to JINS Shibuya is a Mandarake, one of Japan's most popular outlets for used manga, anime, and related merchandise of all shapes and sizes. But for a spot that will really knock your socks off, you need only walk a few minutes to the major Shibuya shopping center of Shibuya Parco. The entirety of Parco's 6th floor is devoted to the kind of big-name anime, video games, and characters that have grown a following overseas. Take pictures with Mario before exploring the Nintendo shop, or gawk at the larger-than-life Mewtwo asleep in his tank before shopping at the Pokemon Center. (Not to mention the Jump Shop, Capcom Store, and the so-called "Koei Tecmo Spot.") Open until 9 pm, this might just be the nerdy nighttime destination of your dreams.
If you're feeling hungry for classic Japanese grub, grab dinner while you're waiting for your glasses, and slurp up some noodles at one of Shibuya's many ramen shops instead. Kipposhi is known for ramen with bright blue soup that looks like it belongs in an anime more than in real life. Dogenzaka Mammoth favors a more traditional recipe, dishing up tsukemen (dipping ramen) with thick, chewy noodles and a rich, almost creamy broth full of umami flavor.
Shibuya Parco (渋谷PARCO)
15-1 Udagawacho, Shibuya City, Tokyo
Hours: 11:00 – 21:00
Official Website (jp)
Mandarake Shibuya (まんだらけ 渋谷店)
31-2 Udagawacho, Shibuya City, Tokyo
Hours: 12:00 – 20:00
Official Website (jp)
Kipposhi (吉法師)
1-11-5 Jinnan, Shibuya City, Tokyo
Hours: 11:30 – 15:00 / 18:00 – 22:00
Official Website (jp)
Dogenzaka Mammoth (道玄坂マンモス)
2-10-1 Dogenzaka, Shibuya City, Tokyo
Hours: 11:30 – 22:00
Tabelog Page
For Tokyo Experts (& Dog People): Find Hachiko x3!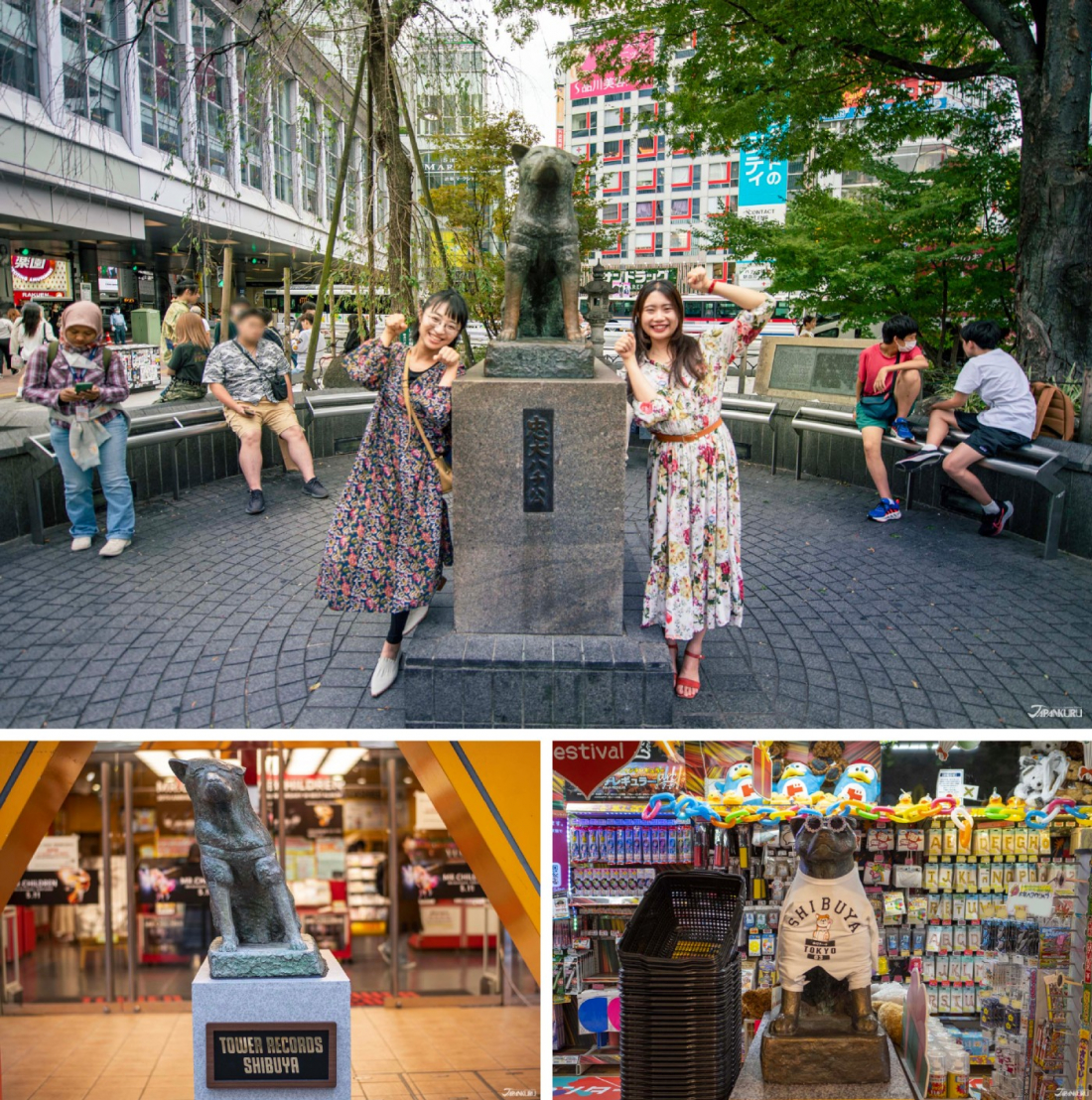 If you've been to Shibuya before, chances are you've seen Hachiko by now, seated in his place of honor between Shibuya Station and Shibuya Crossing. The iconic dog statue was constructed in remembrance of a real dog who lived in the 1920s and '30s, and became a symbol of loyalty when he came to wait for his human (Hidesaburo Ueno) in front of Shibuya Station every single day for over ten years, even long after Ueno had passed away. In the decades since, as Shibuya has grown into the urban paradise it is today, Hachiko has become a permanent part of the local landscape. Live out your slice-of-life anime dreams and meet a friend at the original Hachiko statue in front of Shibuya Station, or go on a hunt for even more Hachikos around Shibuya!
There are actually a handful of Hachiko statues now scattered around Shibuya, and knowing where to find them all is one sign of a true Tokyo connoisseur. Create your own little Hachiko-themed tour of Shibuya by going from the stationside statue to find the Hachiko in front of Tower Records (a wind-blown looking dog built to celebrate the shop's 20th anniversary), and then visiting the Hachiko at the Shibuya Mega Don Quijote. You can shop for souvenirs and city pop records as you go – just make sure you don't get distracted and stay out shopping so late that you have to pick up your glasses the next day! JINS is open until 9 pm!
Hachiko Statue (ハチ公像)
2-1 Dogenzaka, Shibuya City, Tokyo
Tower Records Hachiko (タワーレコードのハチ公)
1-22-14 Jinnan, Shibuya City, Tokyo
Hours: 11:00 – 22:00
Official Website (jp)
Mega Don Quijote Shibuya (MEGAドン・キホーテ 渋谷本店)
28-6 Udagawacho, Shibuya City, Tokyo
Hours: 24/7
Official Website (jp)
Last Stop: Back to JINS for Your New Glasses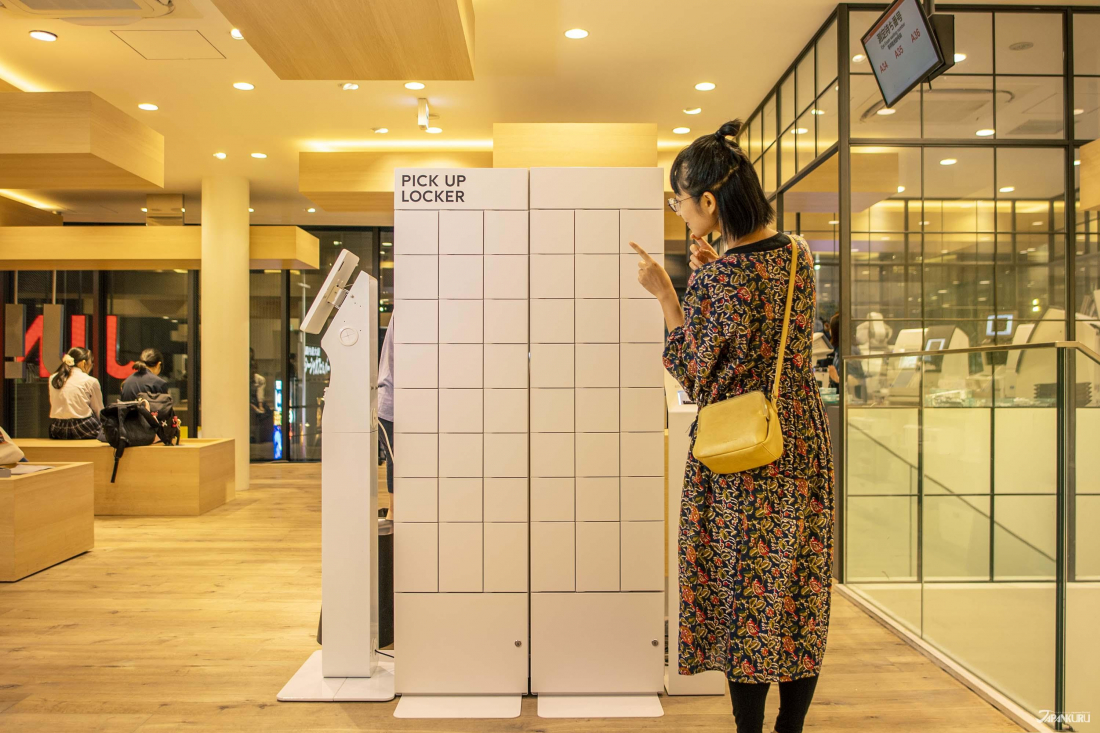 After a quick trip to see the sights of Shibuya, your glasses are ready! Thanks to the surprising speed of JINS eyewear manufacturing, there's a good possibility that you'll take a lot longer enjoying all that Shibuya has to offer than the shop will take to make your new glasses. From the early hours of the morning until late at night, Shibuya is full of things to do, so just make sure you don't lose track of time during your JINS 30min Night Walk! Head back to the JINS Shibuya shop, and your eyewear will be waiting in the shop's new self-service pick-up locker. Just scan the QR code and a little door will pop open with your glasses waiting inside. What else would you expect in a neighborhood like Shibuya, that looks straight out of a futuristic sci-fi flick? With your new glasses, you'll be ready to see Tokyo in a whole new way!
For more info and updates from Japan, check Japankuru for new articles, and don't forget to follow us on Twitter, Instagram, and Facebook!