Japanese Beach Styles to Keep You Cool, Comfortable, and Looking Good This Summer
Heading to the beach? Check these Japanese brands for sleek styles, cute and comfy coverups, plus perfectly practical sportswear!
At the Beach in Japan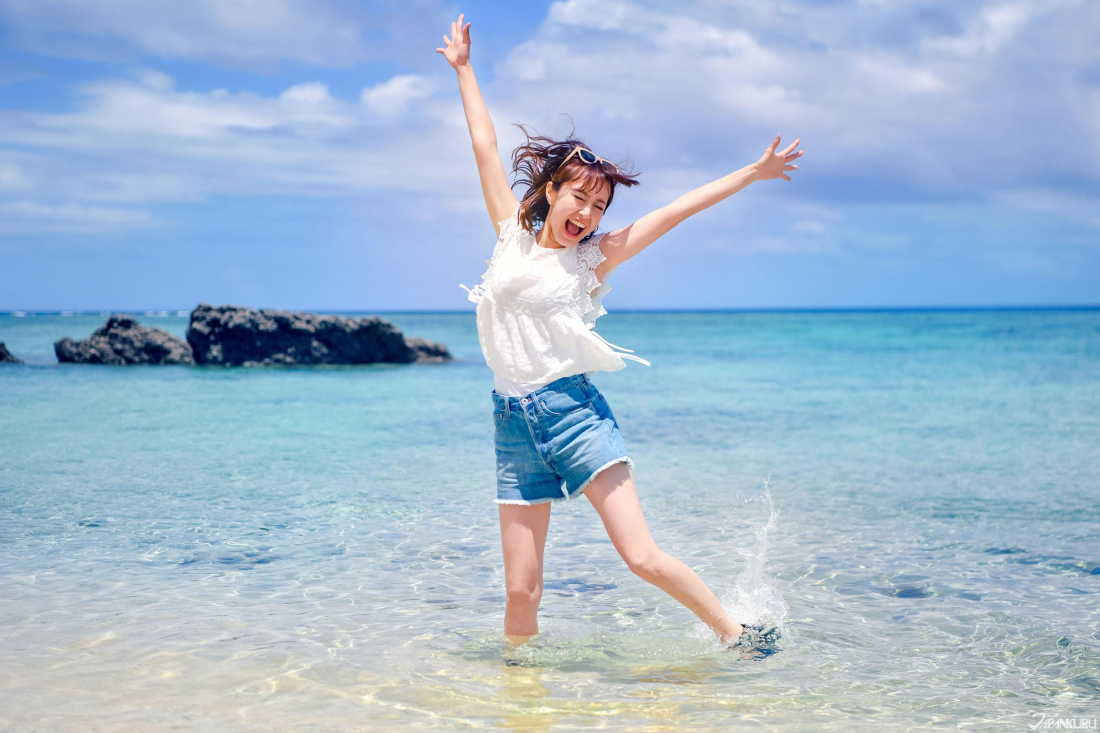 What's the best way to escape the long, hot, humid days of summer felt throughout Japan? Well, on this island country, you're never far from a beach! From the easy-to-reach spots favored by Tokyo locals, to Okinawa's white sandy shores and tropical beach atmosphere, there are great options up and down and all around Japan's coastline, and the long summer gives everyone in Japan ample opportunity throughout the season to throw on a swimsuit and an easy, beachy look, and head out for a day of fun by the sea. While the phrase "Japanese fashion" might call up more adventurous looks for some readers, the Japanese fashion scene is full of classic styles, trendy streetwear, plentiful frills, and starkminimalism, so let's take a look at what Japan is wearing to the beach!
Strolls in the Sand: Japanese Shorts, Sundresses, and Coverups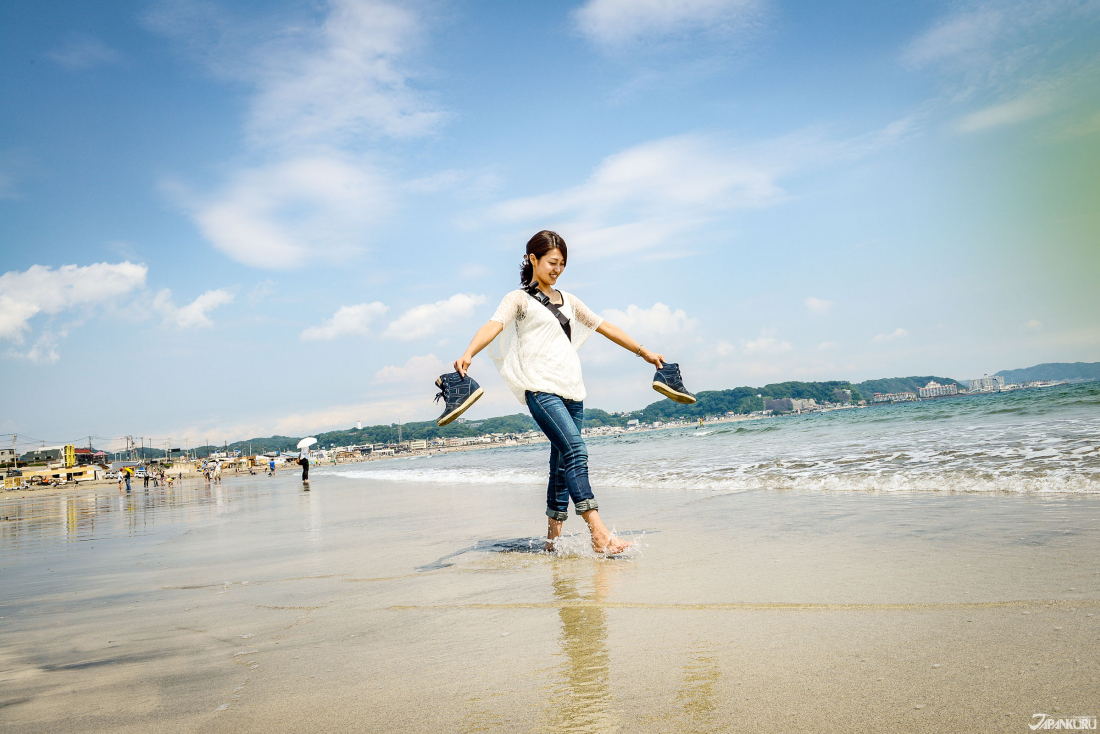 What do you like to wear to the beach? Summer styles in Japan tend to keep shoulders and chests fairly well-covered, but show no such restraint when it comes to legs, which means that shorts are always a go-to option for days on the water! In recent years, the Japanese short-shorts that are so popular with younger women (they're even worn well into the cooler months) have started to creep into men's fashion as well. But for those who want to keep their thighs out of the sun, these days cropped pants are common across a range of ages and styles – perfect for walks in the sand, or dipping just a toe in the water.
For ladies looking to throw on something a little flowier and let in the sea breeze, loose floral dresses are a summer staple in Japan, and mermaid skirts are all the rage at the moment. For men and women less interested in skirts and dresses, in recent years light linen tops and bottoms, or even items made from cotton gauze, have been a popular choice to keep cool under the boiling sun! (This simple gauze dress would be a pretty ideal coverup to pull on over top of a sandy swimsuit, but so would this lacy cotton minidress.) You can always go the Okinawan route, too! Traditionally, the people living on the islands of Okinawa once wore kimono-like robes made of light linen-like material, but more recent fashions include the "Kariyushi shirt," which are a lot like the floral Hawaiian shirts found on beaches worldwide!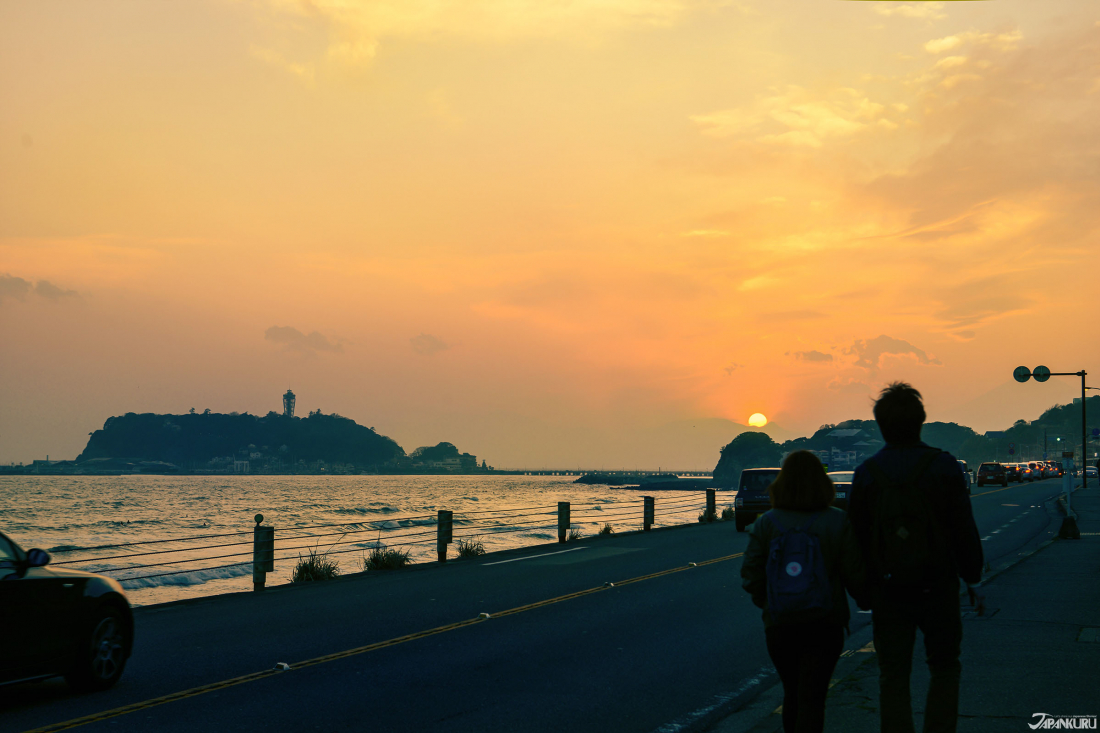 Swimming in the Sunshine: Japanese Swimsuits & More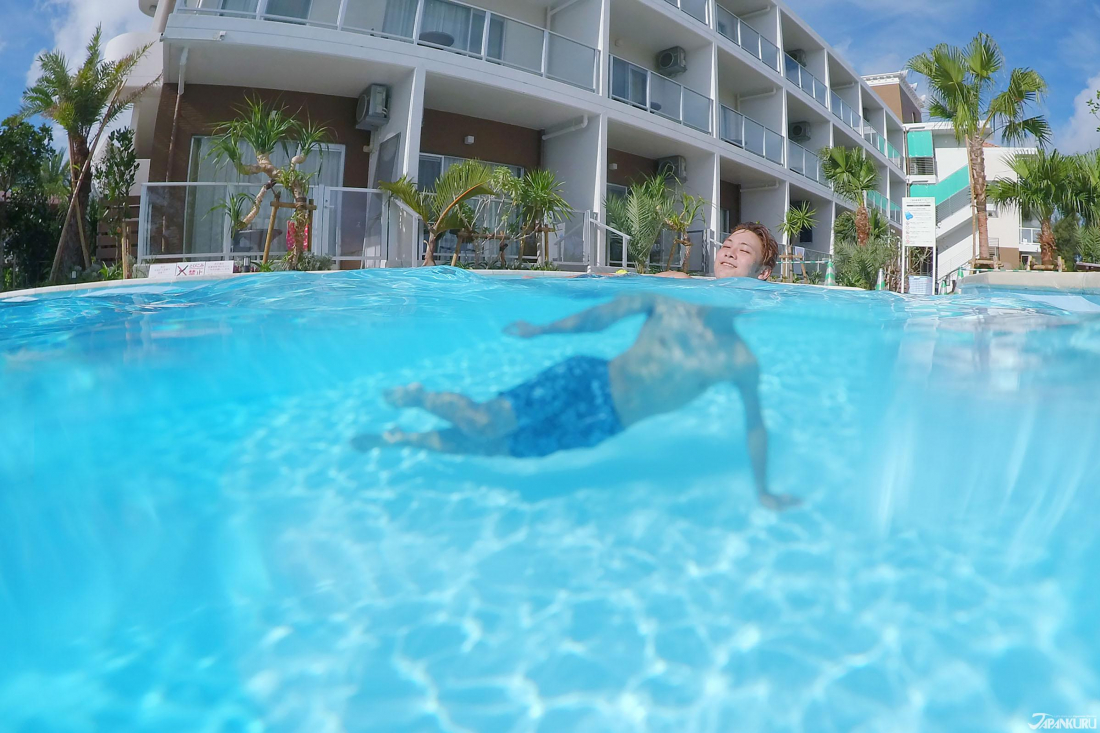 When it comes to swimsuits, men's trunks in Japan tend to follow international trends, coming in simple styles and solid colors, or standard beachy prints. If you look hard, though, you might just find a fun pair or two printed with fun Japanese designs!) For the bigger trends, Japanese style is much more obvious in the world of women's swimwear, where you're not likely to find many simple suits like the triangle bikini that is such a perennial favorite overseas. In Japan, it's not uncommon for women's swimsuits to have large fluffy bows, or ruffles running in every direction. Of course, not every woman goes for the girly look, but even more mature styles come with a surprising amount of flounce or floral touches. In a word, Japanese swimsuits are pretty kawaii!
Staying Active in the Ocean: Japanese Sportswear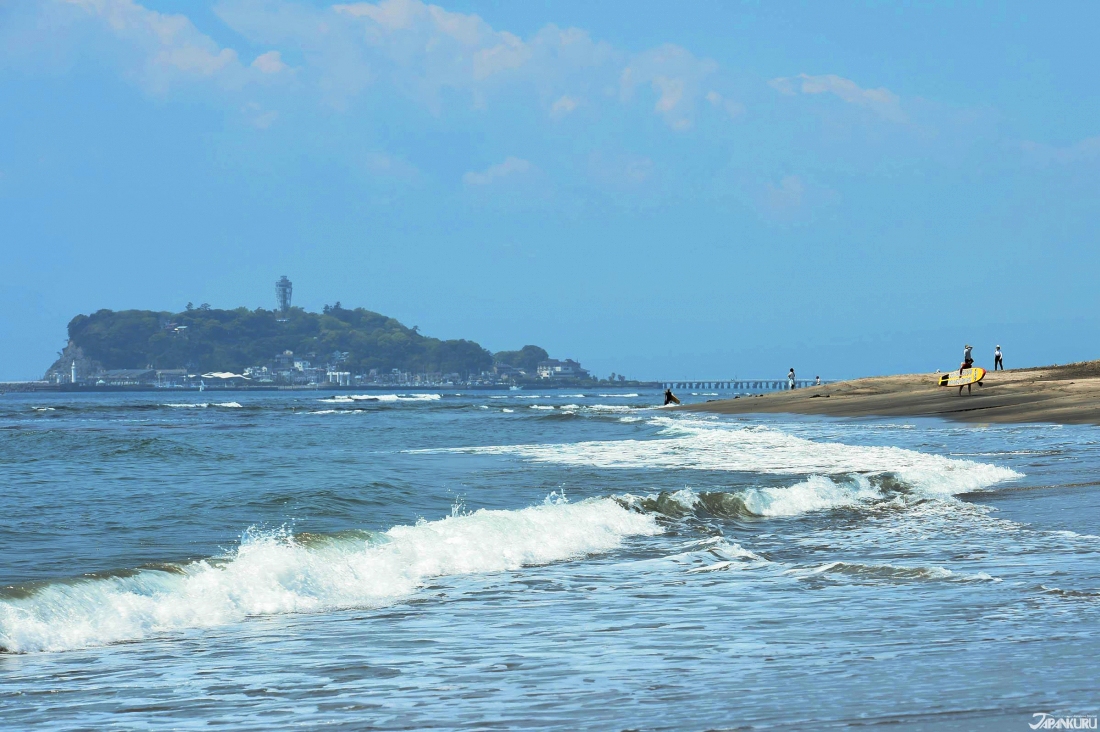 Not one for lazing around on the beach and "working on your tan"? Well, Japan has the activewear you need to keep you comfortable as you break a sweat! While athleisure has never quite reached the fever pitch found in other parts of the world, it's not hard to find, and a quick look will turn up leggings and sports bras perfect for a little yoga on the beach, and plenty of stylish sweats that are good for jogging through the sand, or just laying around afterward. In recent years, fashion brand Punyus (from popular Japanese entertainer Naomi Osaka) has found particular success with their line of sweats covered in all-over food prints. There's nothing like going out for a run in sweats covered in cute bottles of ramune soda! (It comes in a much wider size range than most Japanese brands, too!)
For surfers ready to hit the waves off Enoshima, Japanese retailers offer some cool options when it comes to rash guards. A lot of the time, the rash guards are clearly just for style, with impractically loose silhouettes or wide-sleeved fits complete with a hood. But there are also moderately practical items that still give you that Japanese look, with gingham prints or puffed sleeves.
Festivals & Fireworks: Yukata at the Beach!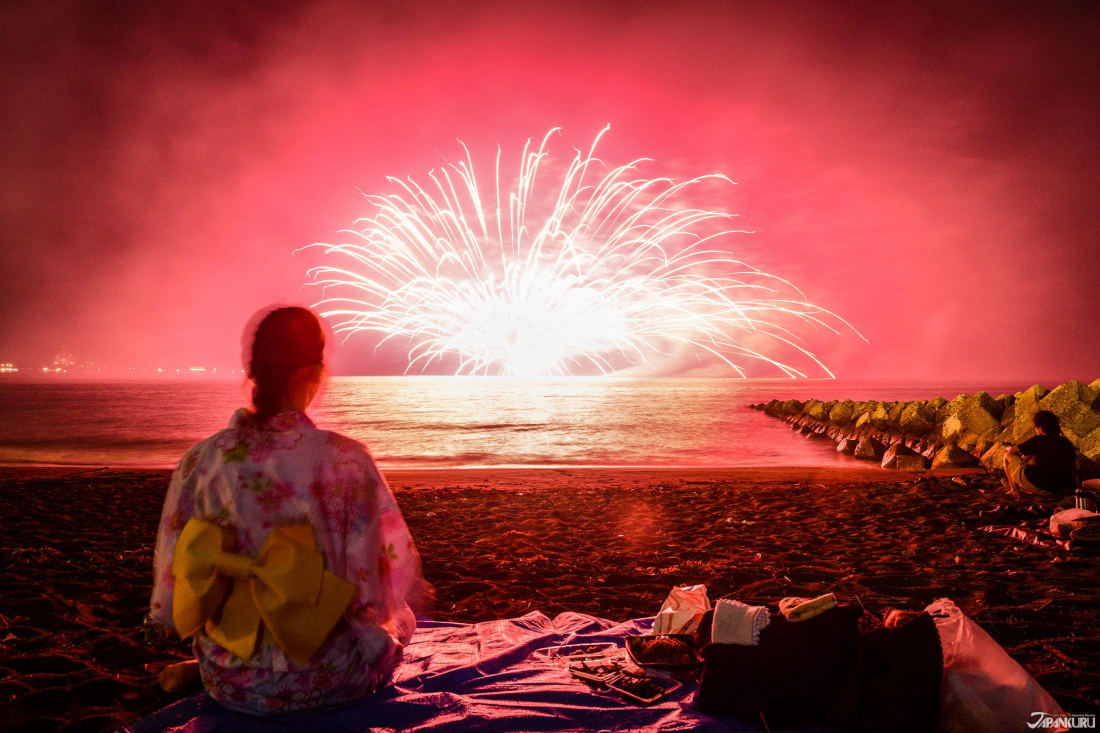 Not ready for your day at the beach to end when the sun goes down? Luckily, summertime in Japan brings a wave of traditional evening festivals, often held at the beach, and fireworks displays, which look most spectacular when set off over the water, with the audience sat along the shore. But what should you wear to these festivals? The answer is, of course, a yukata!
The lightweight, casual kimono called yukata are the time-honored choice for summertime festivities, and these days they come in just about any color and pattern you could ever want. The most traditional choice is a floral pattern on a navy blue background, which will give you that classic yukata look, but it's not uncommon to see yukata these days decorated with everything from umbrella prints to modern patterns in neon colors, and even geometric prints filled with retro illustrations.
All that not to mention the obi that wraps around the middle of each yukata, and comes in its own variety of styles to provide elegant contrast. Classic obi are usually broad fabric rectangles that are neatly folded into secure shapes in back, but in the past few years, obi made from silky and transparent fabrics have been all the rage, lending yukata and kimono outfits a new softness not seen before. You don't have to follow any rules when it comes to choosing a yukata and an obi for your night of summer festival fun on the beach – that's all up to you!
Heading Home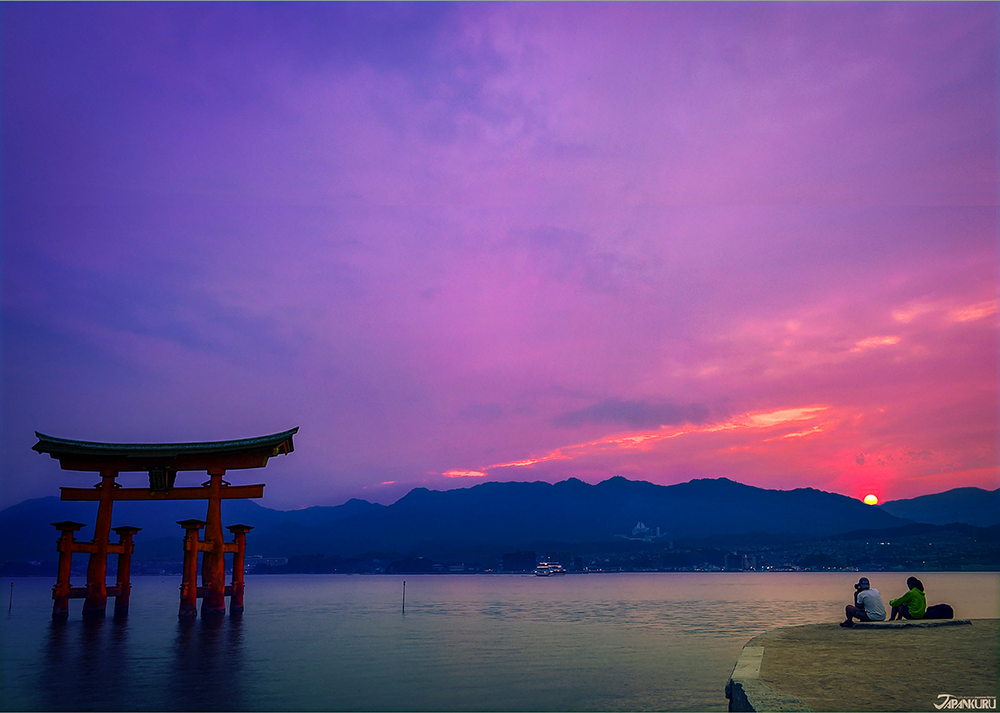 Whether you love every day of the Japanese summer, or you find it a little hard to enjoy, there's no better way to make the most of it than to lean into the sea-scented breeze, put on an outfit that makes you feel great, and head straight for the ocean! From casual beach day staples to swimsuits, and sportswear to traditional yukata, Japan has a wide range of styles to choose from while you're at the beach, so it's not hard to get ready! Just don't forget your towel, the beach is calling your name!
For more info and updates from Japan, check Japankuru for new articles, and don't forget to follow us on Twitter, Instagram, and Facebook!