Japanese Hot Springs, Hotels, Shopping, and Dining at Haneda Airport! Enjoy it All at Haneda Airport Garden
A new 2023 addition to Haneda Airport Terminal 3, Haneda Airport Garden is not just a shopping facility, it also has food, hot springs, and Japan's biggest airport hotel. Plus, it connects directly to departures and arrivals at Haneda Airport. With all that and a new bus terminal, Haneda Airport Garden is set to be a new hub for airport travelers exploring Japan!
Fun, Delicious, and Convenient – Haneda Airport Is Evolving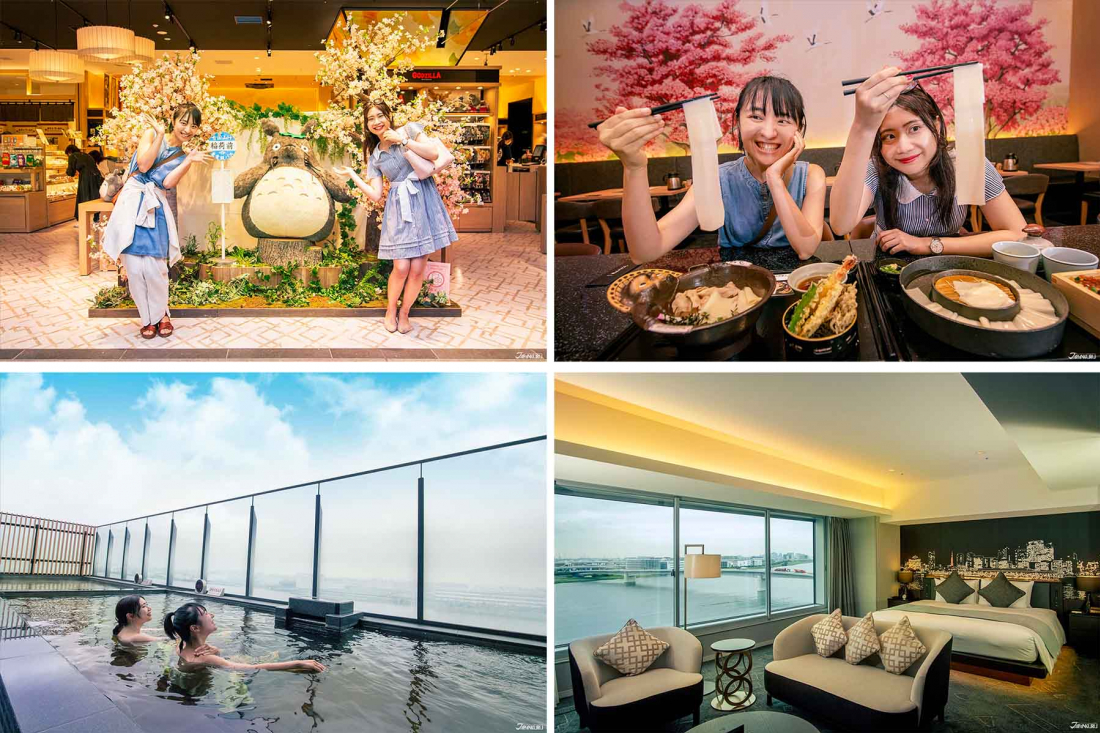 Whether it's the vacation of your dreams, or a quick business trip, a visit to the airport is often an unavoidable part of your journey. But when the airport has delicous food and the kinds of shops you actually want to look around, your next trip becomes a chance to make the most of all the airport has to offer! With all that shopping and eating to do at the airport, it's worth setting aside a little extra time, and maybe even staying overnight.
Haneda Airport Garden opened in January 2023 as a brand new place for travelers to make the most of their time in and around Haneda Airport, with shops and restaurants from regions all over Japan, and a 24/7 natural hot spring called Izumi Tenku no Yu Haneda Airport. Not to mention Japan's largest airport hotel, Villa Fontaine Grand and Premier!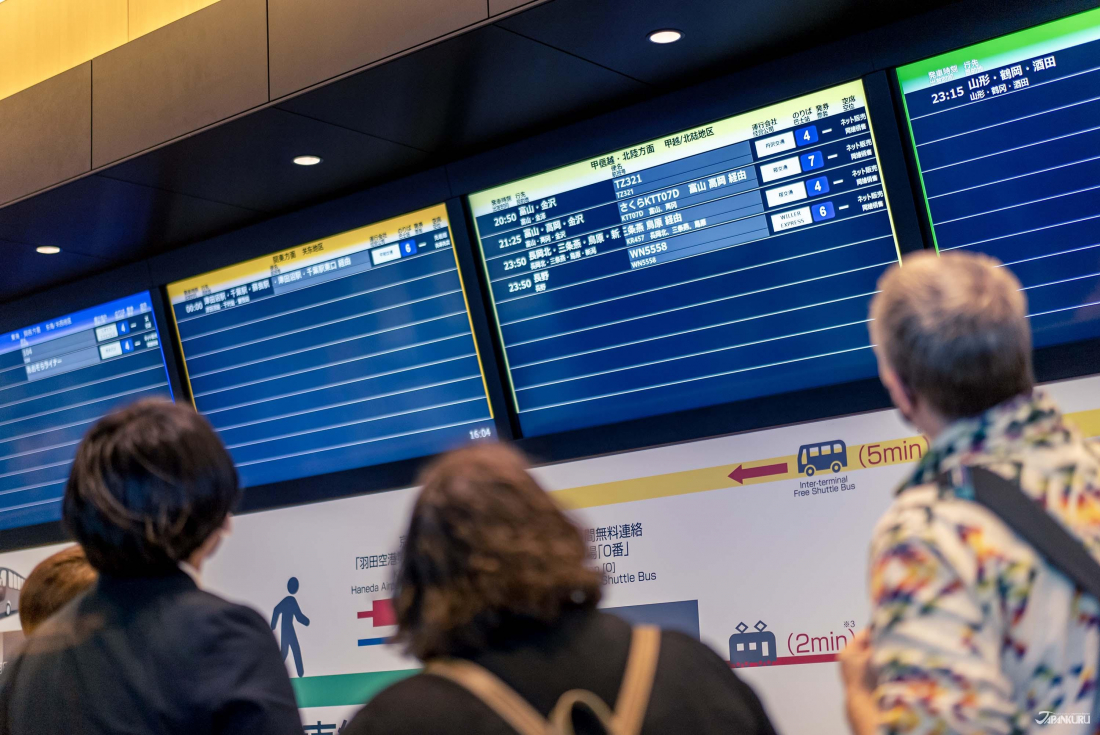 The new Haneda Airport Garden facility is also home to a Haneda Airport's new bus terminal, which will be taking passengers straight from the airport to cities all over Japan. Routes are set to include the Tohoku region up in northeast Japan, Hokuriku, Chubu, and of course Kansai (where Kyoto, Osaka, and Universal Studios Japan are located).
With so much new to see at Haneda Airport, travelers might want to make a little time in their itinerary in order to explore. Arriving early before you head home is a great way to see all the new additions to the airport! To enjoy it all, we've got a whole host of Haneda Airport Garden recommendations to share – whether you're planning to arrive a few hours before your flight, or a full night ahead of time!
Half a Day at Haneda Airport: Eat Your Fill and Shop Till You Drop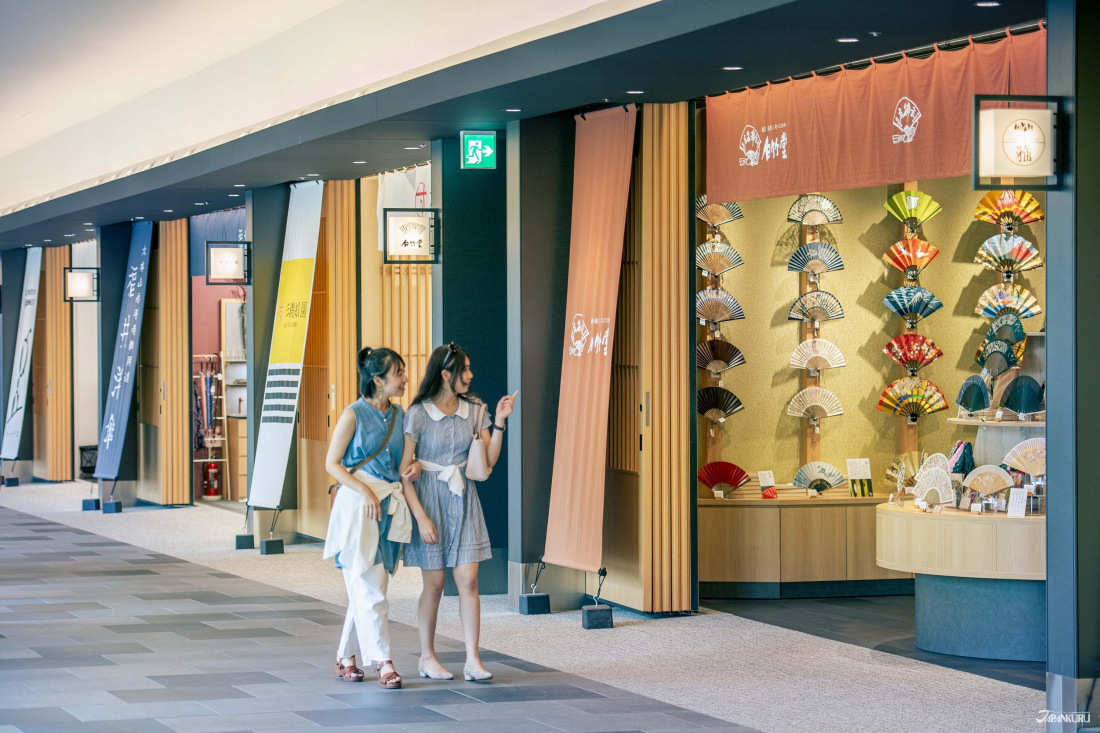 Haneda Airport is a major gateway to Japan, and Haneda Airport Garden is directly connected to Terminal 3, which is why the 80 or so different shops have been carefully selected from all over Japan, catering to travelers enjoying Japan to the fullest. There are restaurants and cafes lined up alongside drugstores and convenience stores, plus shops selling Japanese souvenirs of all kinds, from fashion to sweets, and more. It's definitely a convenient spot for travelers to get some last-minute Japanese shopping (and eating) done before heading home. The facility's shops and restaurants are largely spread across two floors, and divided into a handful of areas: the Haneda Food Selection, the Oedo Food Hall, the Japan Promenade, the Haneda Collection, and Haneda Sando. And if you love to shop, or just love to eat good food, we recommend leaving a little extra time to explore this airport facility – you'll want to check out these shops and restaurants.
Dining: Godaime Hanayama Udon
Originally established in Gunma prefecture, this udon specialty shop has been passed down through five generations over the course of close to 130 years, and it's not stopping anytime soon. Thanks to the passion held by the shop's fifth-generation owner, Hanayama Udon is on a mission to bring Gunma's extra-wide udon noodles (himokawa udon/ひも川うどん), all the way to Tokyo and beyond. Their Ginza location has made a splash on the Tokyo dining scene, but now that they've opened a location in Haneda Airport, it's easier than ever for foodies to try Hanayama's delectable udon.
Godaime Hanayama Udon (五代目花山うどん)
Location: 1F Haneda Food Collection
Hours: Lunch 11:00 – 15:30 / Dinner 17:00 – 21:00
Haneda Airport Garden Page | Official Website (jp) | Read More About Hanayama Udon!
Gourmet Souvenirs: Japanese Tea Kimikura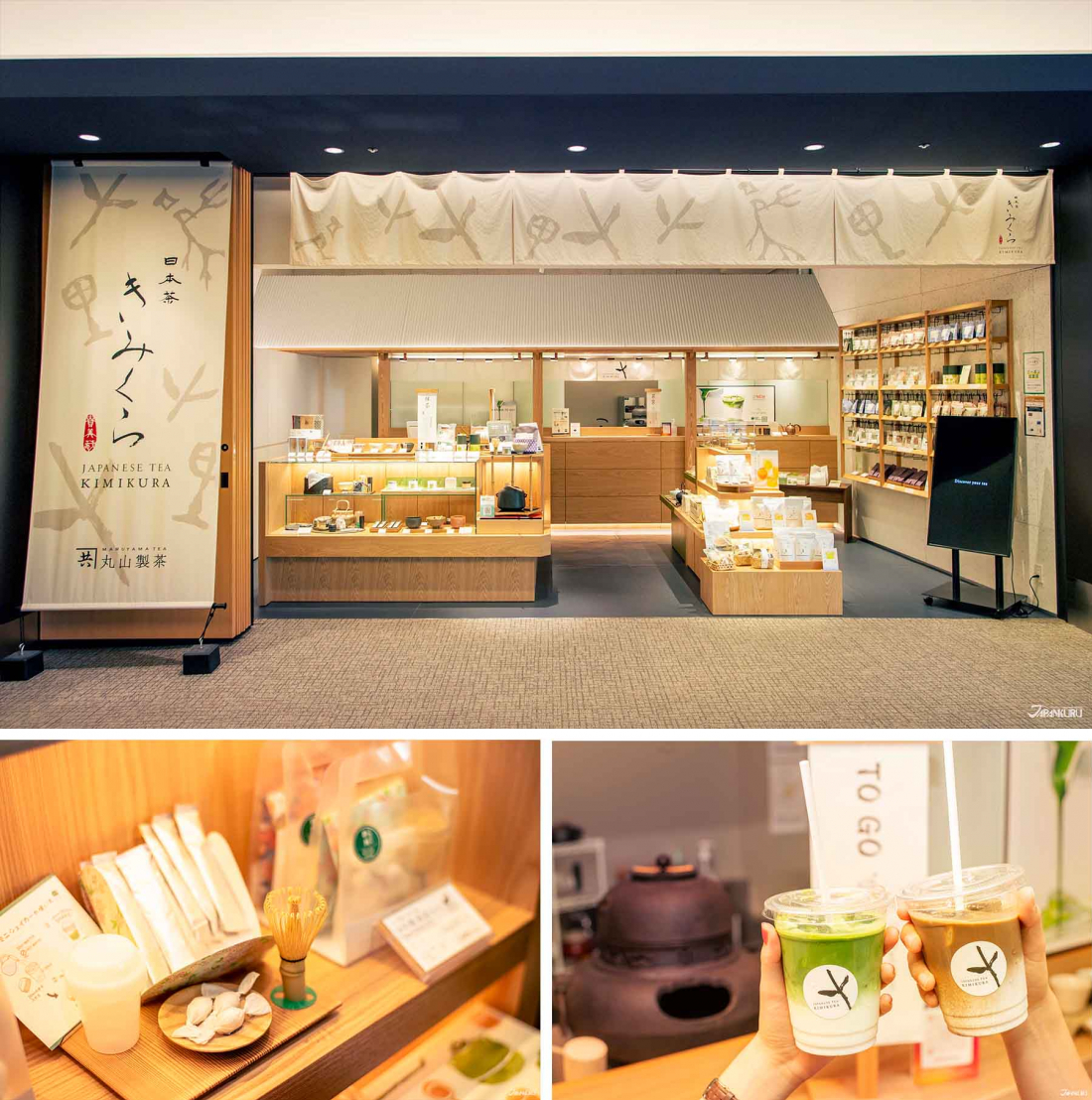 Japanese Tea Kimikura is a tea brand with a long history in Shizuoka Prefecture, a region especially famous for green tea in Japan. For almost a century since its establishment in 1933, not only has Kimkura carefully selected their tea leaves for the best possible flavor, but they've also hired highly skilled tea masters to provide delicious and artistic tea experiences. At their Haneda Airport Garden location, the shop offers specialty teas and tea-related souvenirs, including a variety of products found nowhere else, but their freshly-made matcha lattes are also an absolute must for any matcha lovers passing through Haneda. The hojicha roasted tea lattes are popular too!
Japanese Tea Kimikura (日本茶きみくら)
Location: 2F Japan Promenade
Hours: 10:00 – 20:00
Haneda Airport Garden Location | Official Website (jp)
Souvenirs: KOKUYODOORS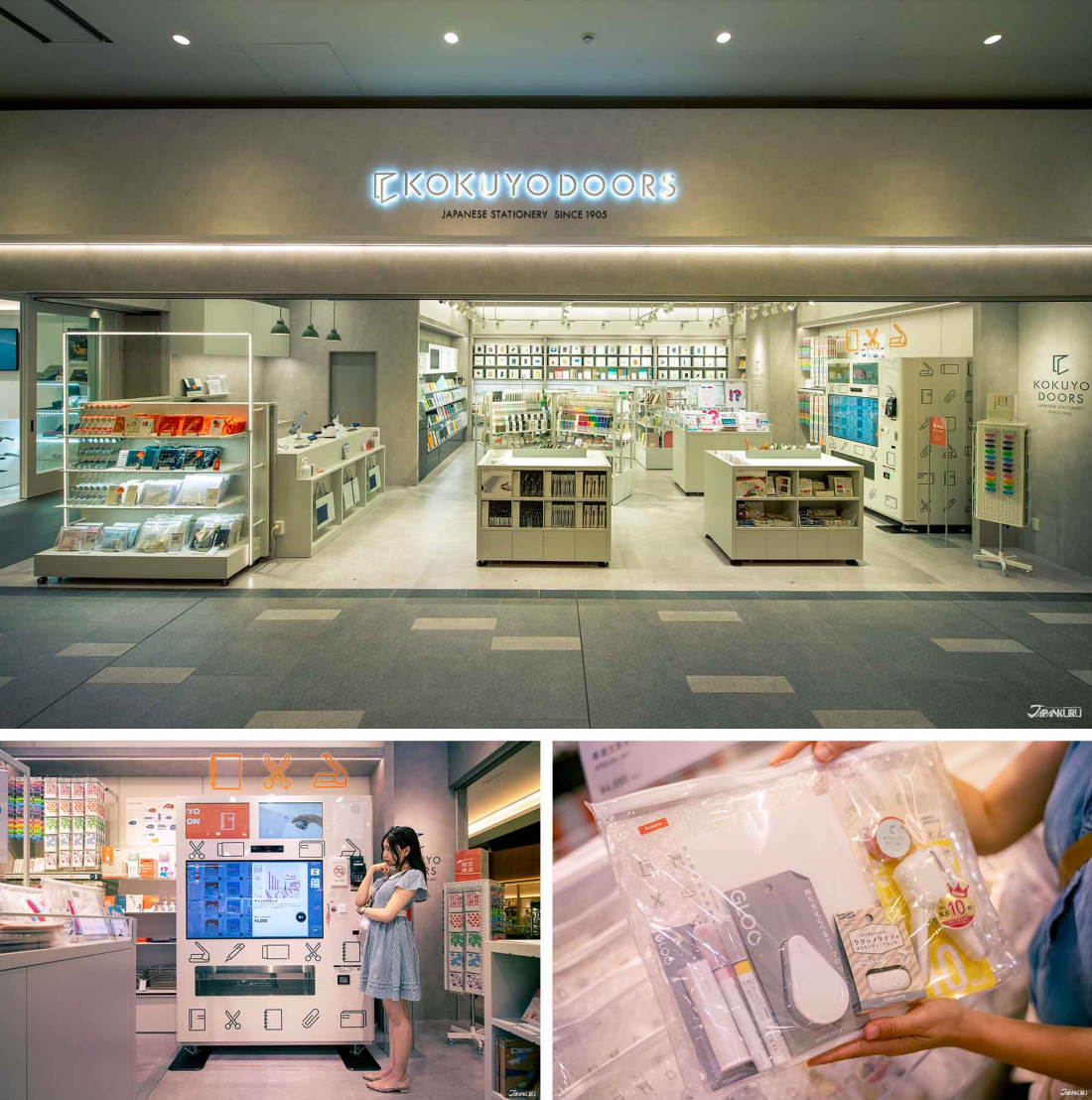 The unique ingenuity and sense of style found in Japanese stationery has earned it fans all over the world, and among the country's many popular brands, Kokuyo is as classic as it gets. This major Japanese stationery maker now has its own specialty shop stationed in Haneda Airport Garden, called KOKUYODOORS, and stationery lovers can stop in to find practical items and some fun novelties as well. There are big displays for trying out a variety of writing utensils, and stationery sets perfect for bringing home as a gift for a stationery-loving friend, but the mystery-filled vending machine is especially worth a look if you love stationery of all kinds.
KOKUYUDOORS
Location: 2F Shops & Services
Haneda Garden Airport Page | Official Website (en)
Souvenirs: TOBI・BITO SWEETS TOKYO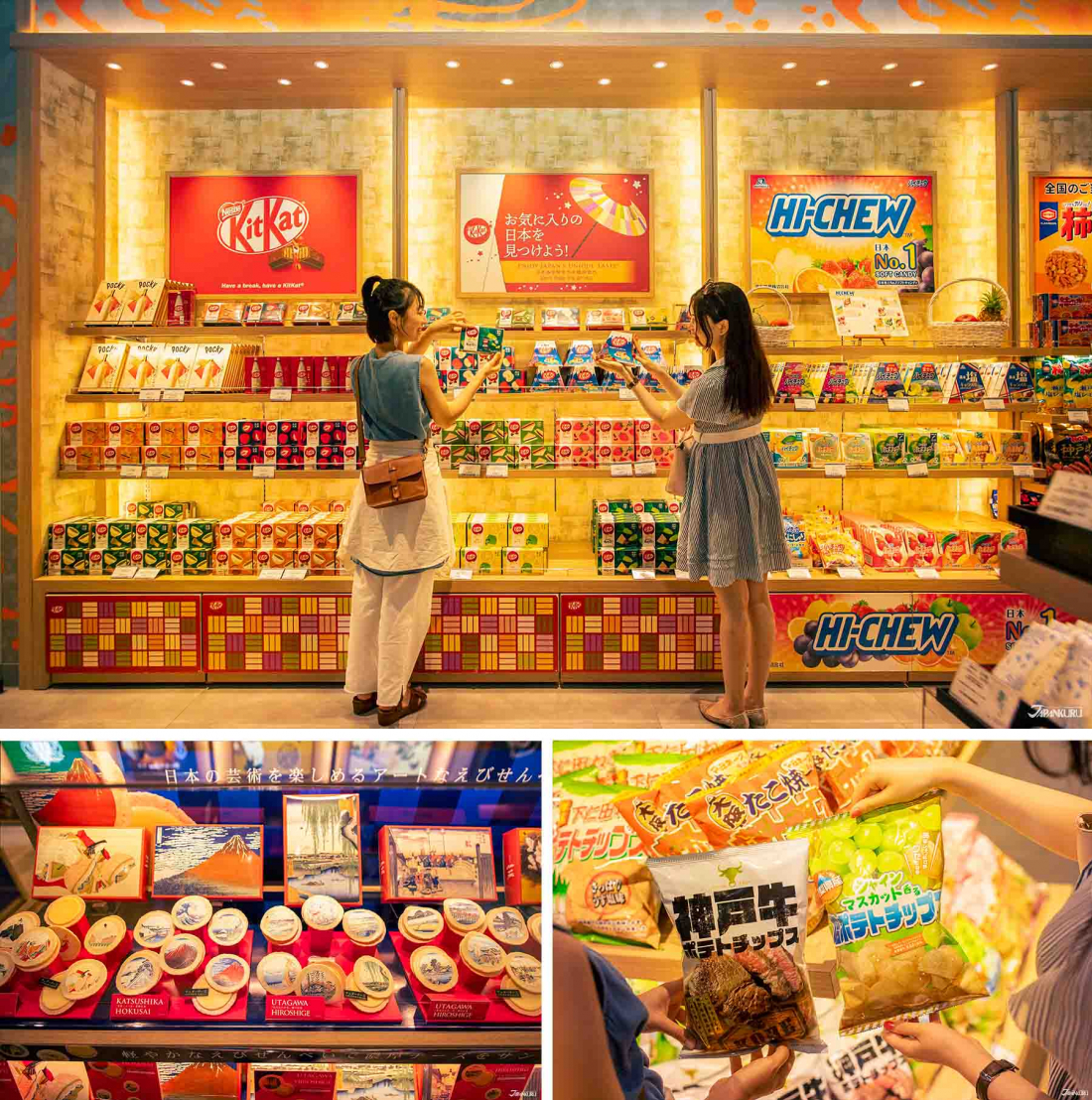 When it comes to souvenirs in Japan, most locals tend to give eachother locally-produced snacks or sweets. So when in Rome…! If you'd like to bring back some Japanese snack souvenirs, you can't go wrong shopping at TOBI・BITO SWEETS TOKYO. The shop has some of the most popular souvenir snacks from all over Japan, all dressed up in the kind of beautiful packaging that screams Japan! There's a wide selection of Kit Kats and potato chips in all kinds of special regional flavors, but some of the most popular products at the store are made in collaboration with the Tokyo National Museum, in packaging featuring famous Japanese art. There's a little something for every palette.
TOBI・BITO SWEETS TOKYO
Location: 2F Shops & Services
Haneda Airport Garden Page
Souvenirs: TOBI・BITO SOUVENIR TOKYO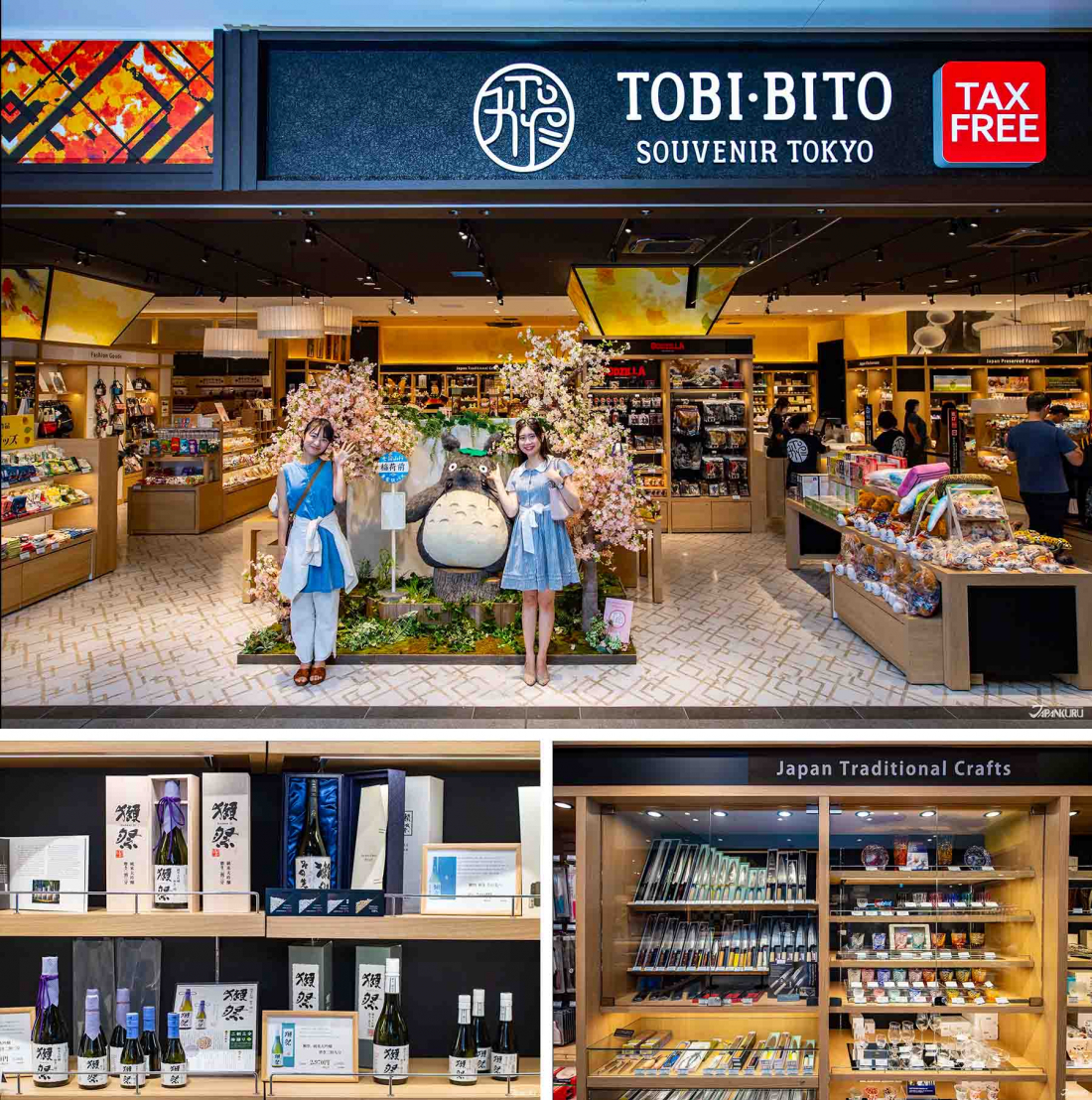 Where TOBI・BITO SWEETS TOKYO mainly focuses on sweets and snacks, its sister shop TOBI・BITO SOUVENIR TOKYO has proclaimed its theme to be "Tokyo Miracle!" The shop offers traditional Japanese crafts like kitchen knives and ceramics, a selection of regional sakes, plus more modern merchandise from some of Japan's most popular anime series and games.
Of course, if you're a big fan of traditional crafts, don't miss some of Haneda Airport Garden's other souvenir shops like Hakuchikodo or Si Gu Sa, which specialize in folding fans and chopsticks respectively.
TOBI・BITO SOUVENIR TOKYO
Location: 2F Shops & Services
Haneda Airport Garden Page
Souvenirs: Yamakoshihonpo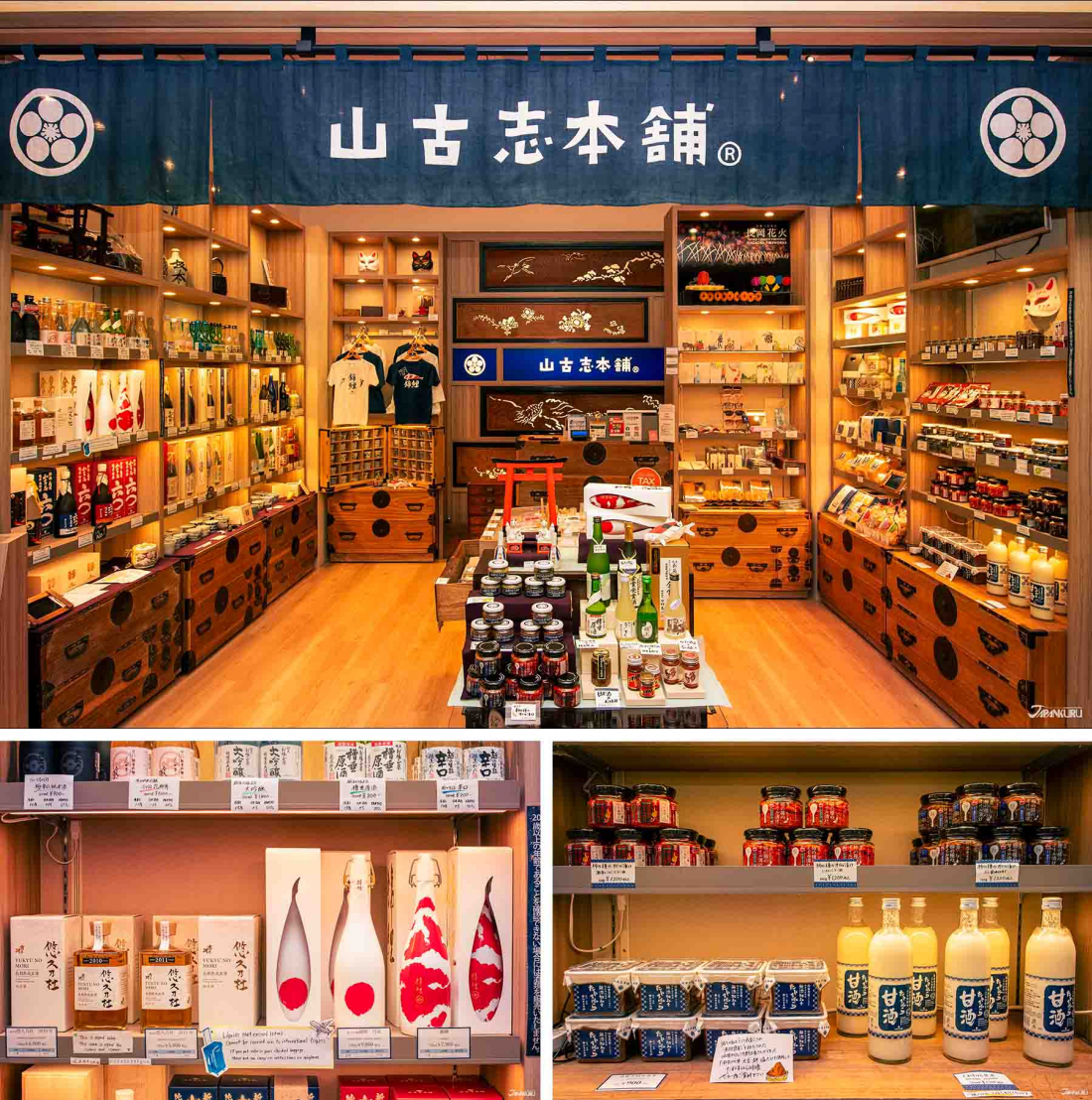 Hailing from one of Japan's most famous rice-producing regions, this shop specializes in Niigata-made rice products like sake (rice wine), rice crackers, and the non-alcoholic "sweet sake" fermented drink called amazake (甘酒) – plus a selection of Niigata sauces, seasonings, and culinary specialties. Yamakoshihonpo is even one of the few places you can get your hands on Japan's award-winning Tanesuhara rice* (たねすはら米)! Sake lovers and foodies alike will want to check it out.
*It's so popular, in fact, that the 2022 crop is already sold out!
Yamakoshihonpo (山古志本舖)
Location: 2F Haneda Sando
Haneda Airport Garden Page | Official Website (jp)
Travel Goods: Haneda Collection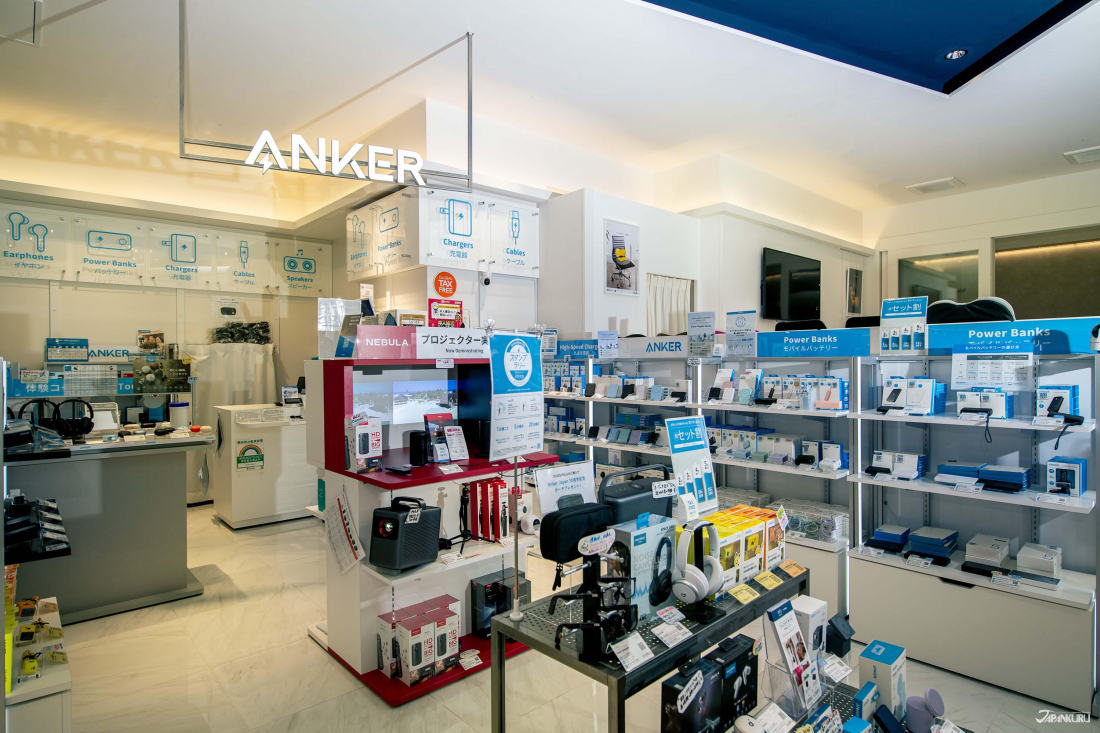 This section of Haneda Airport Garden is set aside to improve the travel experience for the many travelers passing through the airport, so the area has a collection of shops selling the kinds of products that make traveling just a little bit easier, nicer, and more comfortable. One of those shops is an Anker specialty store, selling the brand's many popular electronics, including phone chargers, power banks, earphones, Bluetooth speakers, and even some larger home appliances. If you lost an earphone on the way over, or your phone charger is on the fritz, you'll definitely be glad to find Anker at Haneda Airport Garden. They even have some great options for souvenirs, like limited-edition Japanese products!
Anker Store
Location: 2F Haneda Collection
Haneda Airport Garden Page | Official Website (jp)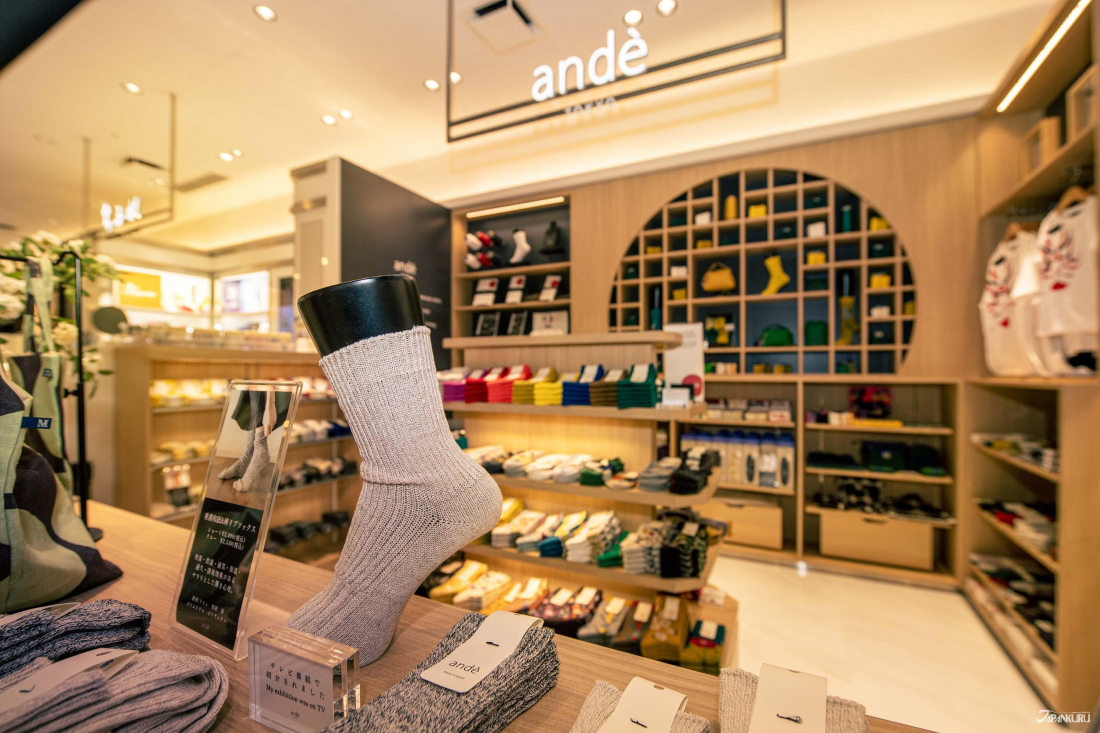 Another shop in the Haneda Collection lineup is Andè, the first specialty shop from this Japanese sock brand known for producing its wares domestically in Nara and Aichi Prefecture factories. Andè has a reputation for using natural materials that are gentle on the skin, along with detailed patterns and elegant designs, and their socks are perfect for keeping your feet comfortable during the long plane ride home! If you're curious about the lightweight "arm warmers" often worn by people in Japan to keep the sun off their arms in the summer, Andè also makes their own arm covers woven on a hosiery loom for a seamlessly comfortable final product. They're an extra-comfortable way to try out the trend!
Andè Tokyo
Location: 2F Haneda Collection
Haneda Airport Garden Page | Official Website (jp)
Hot Spring: Izumi Tenku no Yu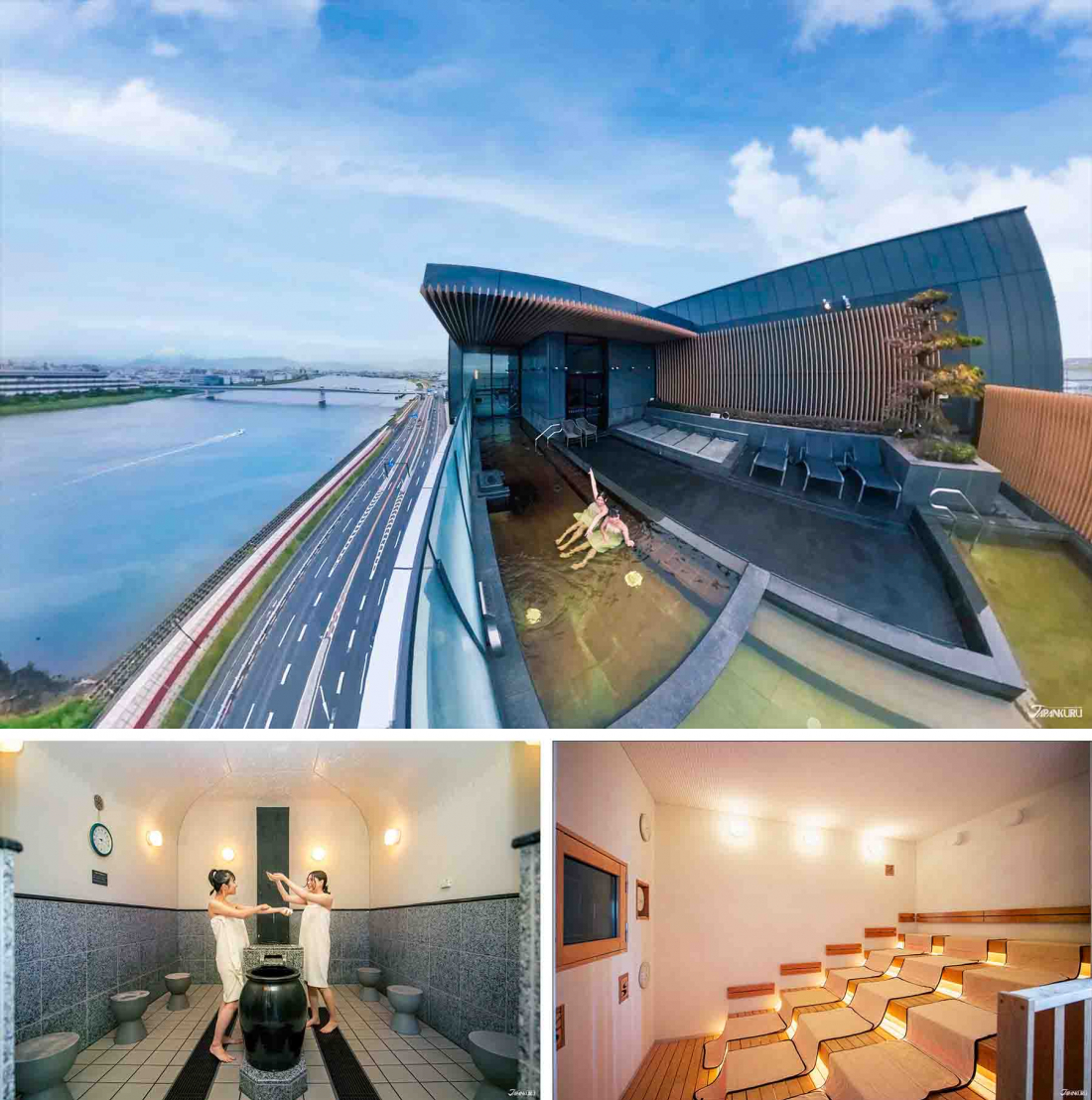 Haneda Airport Garden isn't just shops and restaurants – this unique facility also has its very own natural Japanese onsen, called Izumi Tenku no Yu. Located on the top floor of the Villa Fontaine Haneda Airport hotel, this hot spring spa is open 24/7, 365 days a year! Facilities include a variety of natural hot spring baths, from open-air baths with a view of the airport (or even Mt. Fuji!) to carbonated spring water tubs. Plus, there's also a whole selection of different saunas, alongside "bedrock baths" to sooth away the stress of air travel. After a long, relaxing soak, you can grab a meal at the spa's own restaurant, which offers drinks, snacks, and even full meals.
Izumi Tenku no Yu Haneda Airport (泉天空の湯 羽田空港)
2-7-1 Hanedakuko, Ota City, Tokyo
Hours: 24/7
*Baths closed 10:00 – 13:00 for cleaning.
*Open all year round, except for possible monthly inspection or maintenance days.
Official Website (jp)
Enjoy the Night Before Your Flight: Stay at Haneda Airport's Spacious New Hotel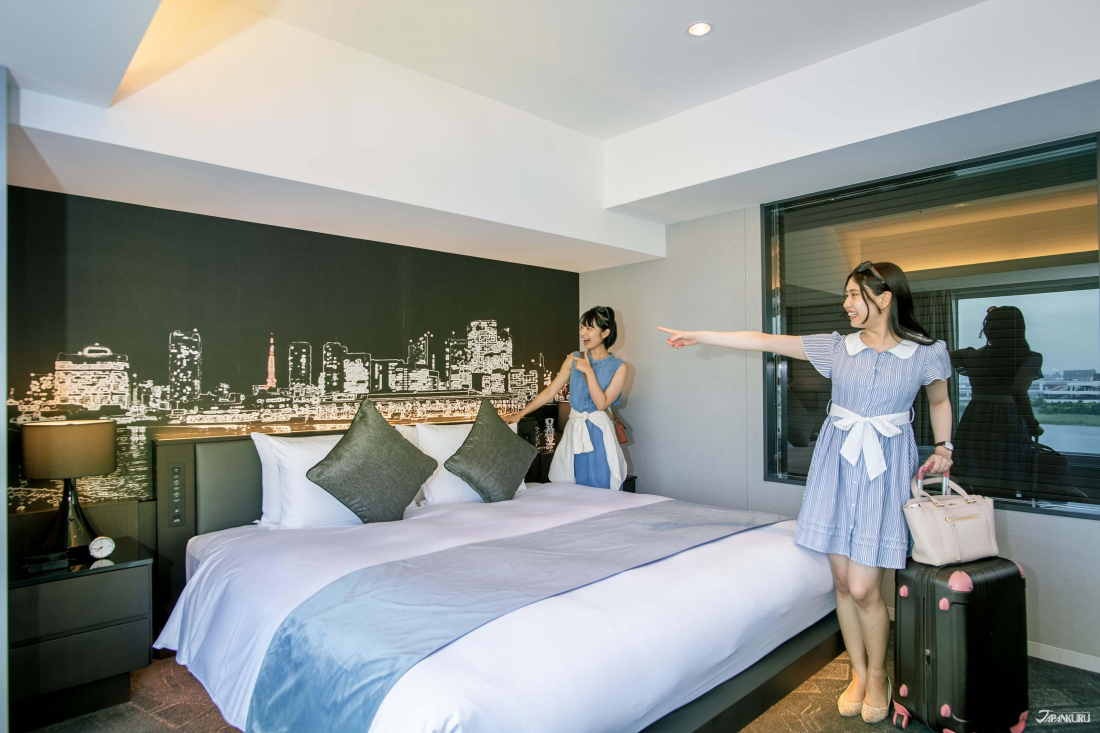 Whether you're traveling for business or pleasure, staying a night at an airport hotel is a logical choice when you're trying to cut down on travel stress, and now you can make the most of your time in Japan too. Connected directly with Haneda Airport Terminal 3, Haneda Airport Garden's airport hotel facilities are the largest of their kind in Japan, separated into two areas and a total of 1,700 rooms to cater to a variety of guests. Villa Fontaine Grand offers airy rooms with comfortable ammenities and an unbeatable location, while Villa Fontaine Premier provides an extra level of luxury.
Villa Fontaine Grand Haneda Airport: Convenience & Room to Relax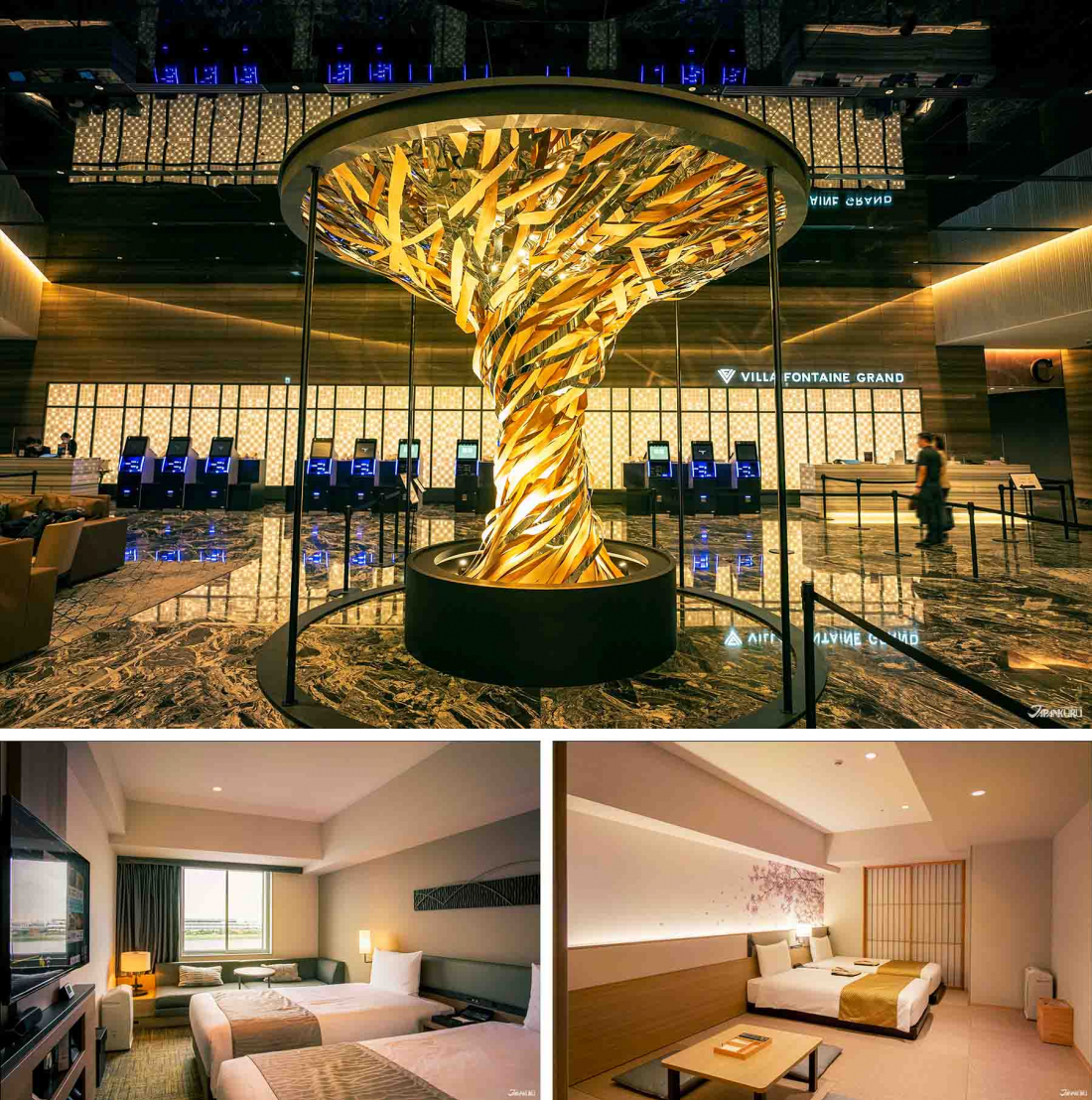 Take the escalator up to the 4th floor of Haneda Airport Garden, and you'll find yourself in the Villa Fontaine Grand Haneda Airport lobby. This hotel is just about as convenient as it gets for travelers using Haneda Airport, with both Terminal 3 and the airport train stations at hand, but it's also designed for comfort. The rooms leave plenty of space for opening up big suitcases and doing one last round of repacking! Guests can choose from a variety of different room types and layouts, including everything from standard doubles to multi-bed family rooms, or stylish guestrooms with a Japanese twist. Many rooms even look out on the Tama River, Kawasaki's famously sparkly industrial zone, or relaxing views of airplanes taking off and landing.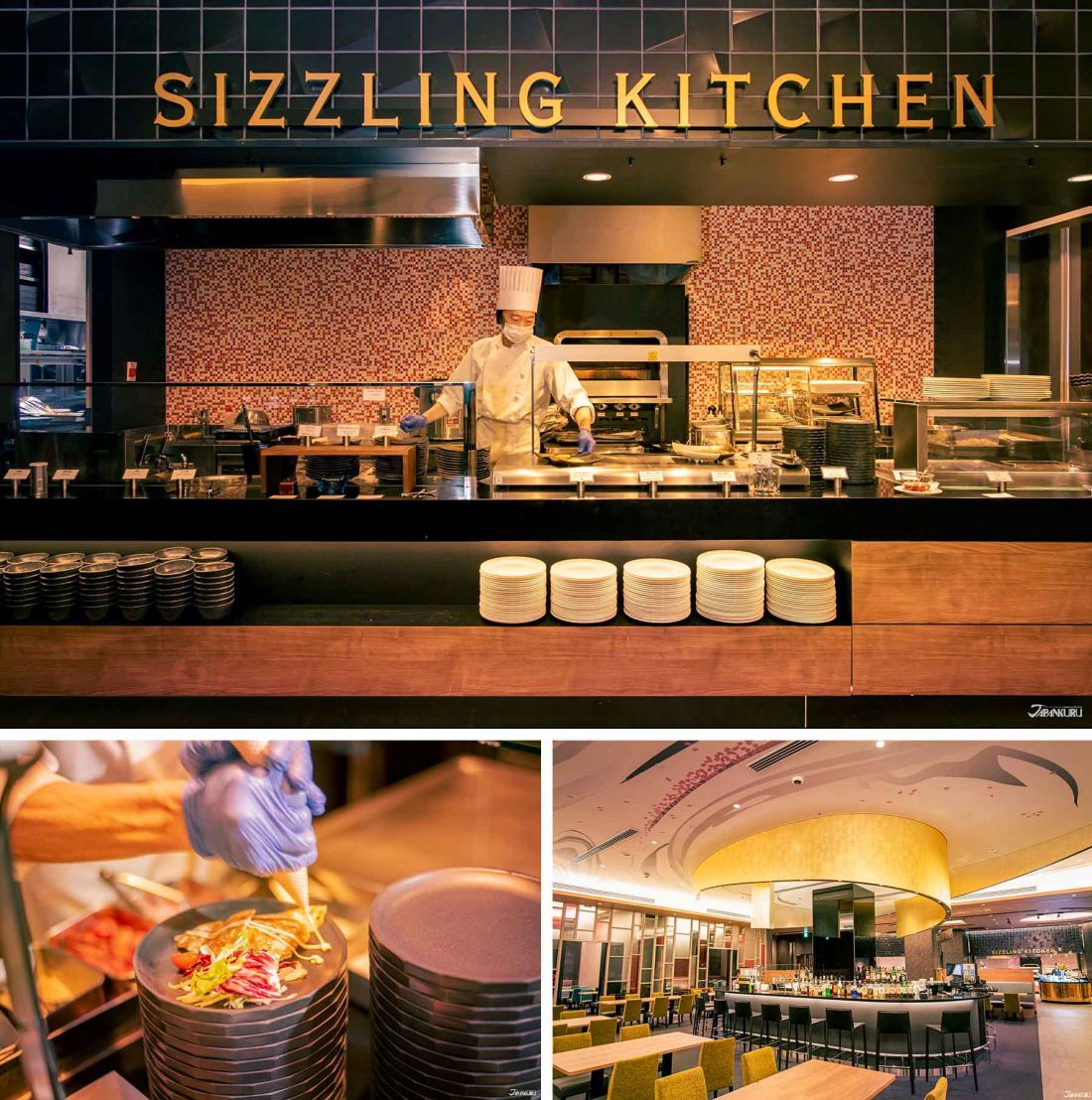 Hopefully your flight isn't taking off too early in the morning, because you'll want to stay for breakfast at Villa Fontaine Grand Haneda Airport. The hotel's buffet restaurant GRAND AILE offers Japanese specialties like udon noodles and freshly grilled fish, alongside international treats like French galettes, and there's plenty of space to sit back and enjoy a relaxed breakfast.
Villa Fontaine Premier Haneda Airport: Luxury & Tama River Views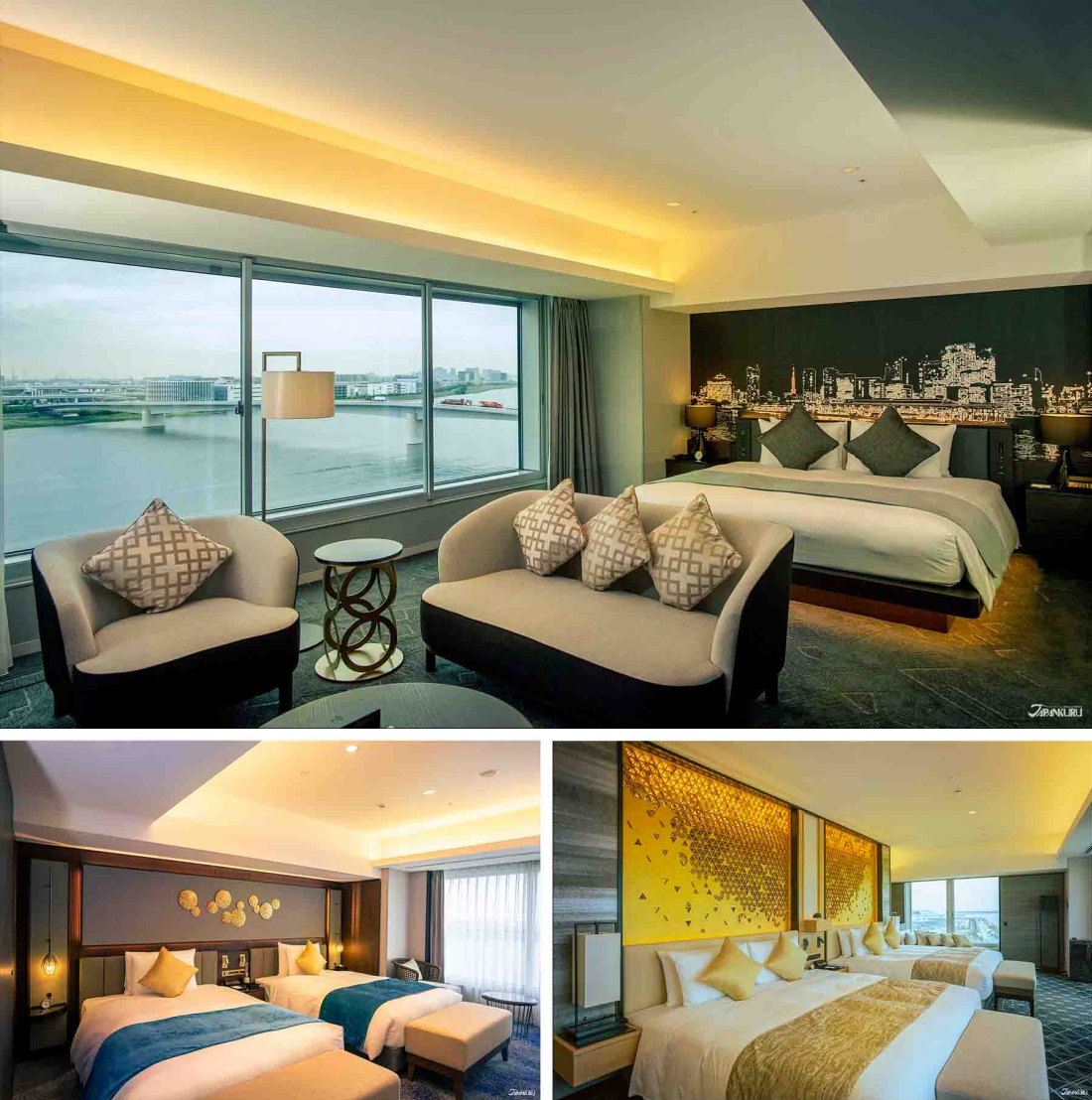 Offering a slightly more luxe alternative, Villa Fontaine Premier Haneda Airport is an elegant oasis for tired travelers, with a chic but relaxed atmosphere. From the lobby to design of each room, and the many facilities, everything is designed to offer an elevated experience, with six different room types each uniquely inspired by Tokyo's landmarks and the waterfront landscapes of Tokyo Bay. Every one of the rooms at the hotel comes with a view of the Tama River, and when the weather cooperates, Mt. Fuji is visible in the distance.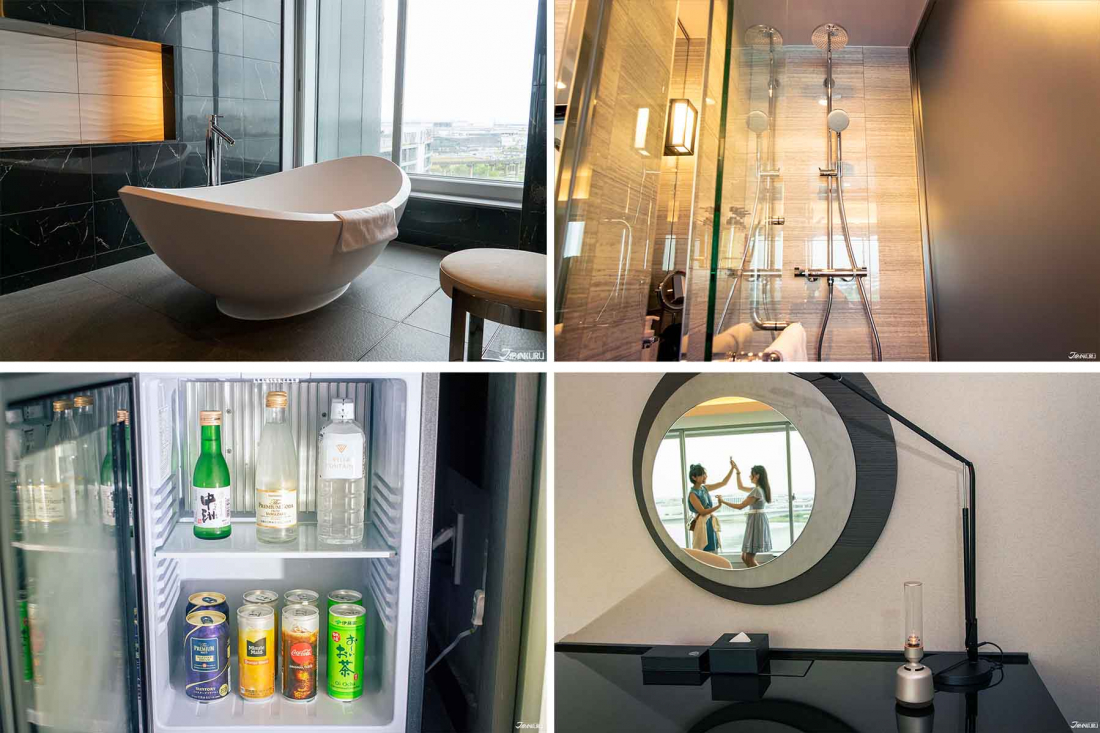 All the rooms come equipped with Simmons mattresses, large sofas and seating areas, and high-quality Bluetooth speakers, while the Premier and Fontaine Suites go above and beyond with lavish bathrooms that come with their own unique views. Each room's refrigerator comes well-stocked with soft drinks and alcoholic options like Japanese sake (at no extra cost), along with a small selection of traditional Japanese sweets.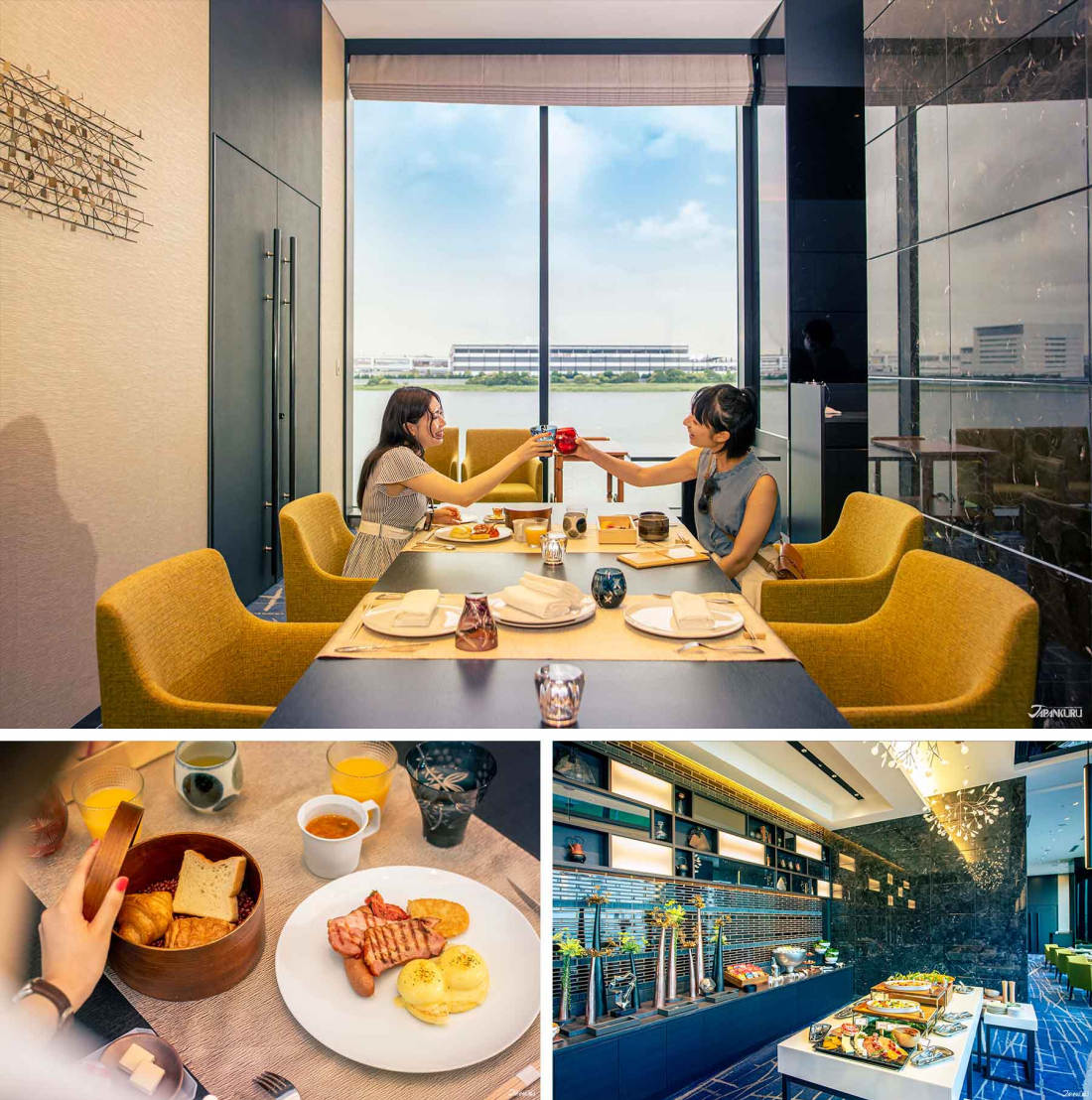 The premium breakfast offered to Villa Fontaine Premier guests centers around two main dishes – a Japanese-style breakfast of grilled fish and rice, or an elevated plate of eggs and bacon with pastries on the side. To round things out, however, the salad bar includes fresh vegetables and side dishes made with seasonal produce, and even a cheese board. From the windows of "Il Ristorante Tokyo," where breakfast is served, diners can gaze at the rushing Tama River outside (or maybe catch a glimpse of Mt. Fuji when the weather is clear)!
Smart & Thoughtful Hotel Services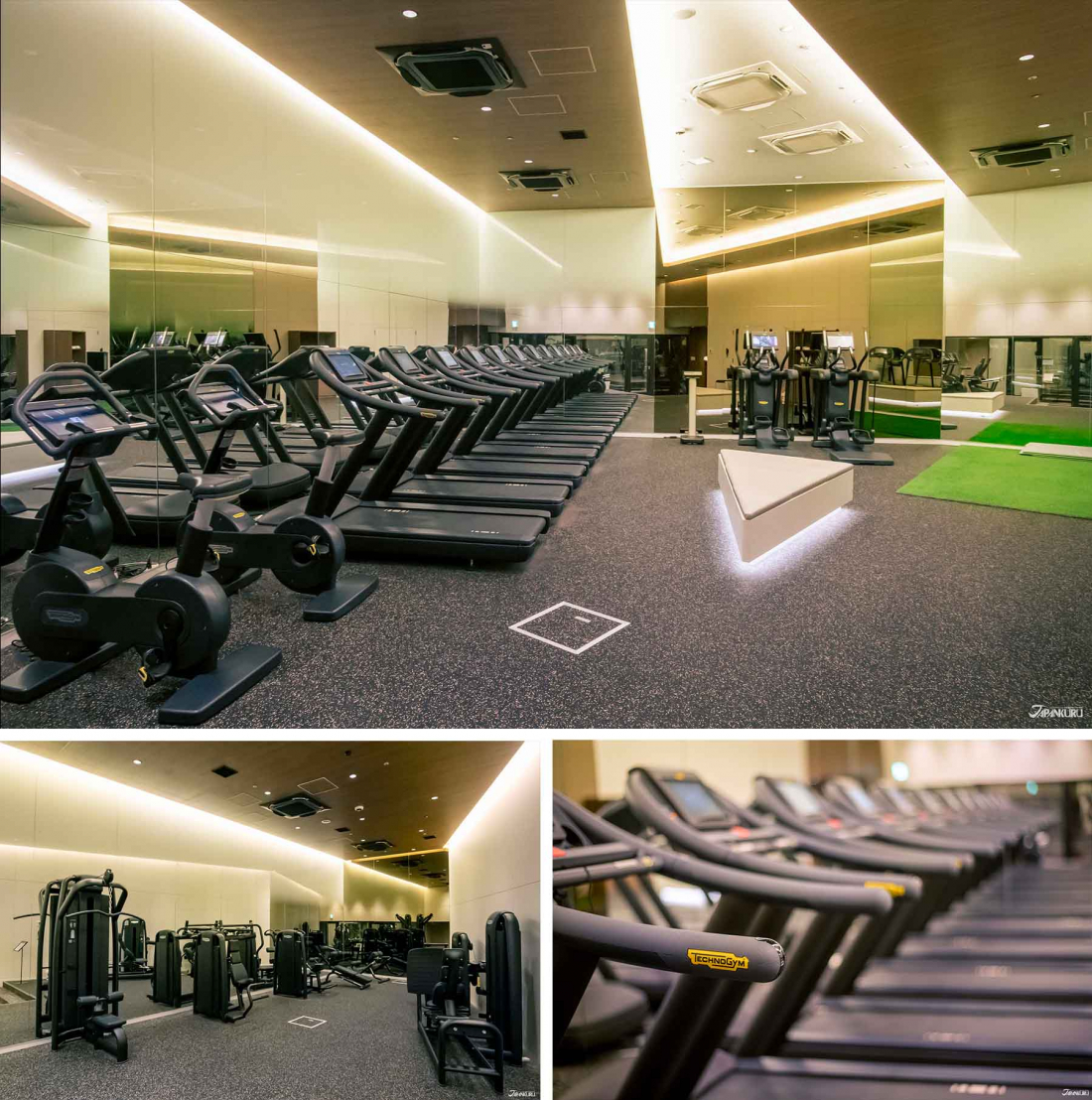 Both hotel options have access to a variety of convenient facilities, including a gym outfitted by the high-end Italian fitness brand TechnoGym, which is open from five in the morning until midnight every day. Passengers staying in Grand rooms can pay for a gym pass at the front desk (2,200 yen/person), while gym access is included in the room fee for Premier guests.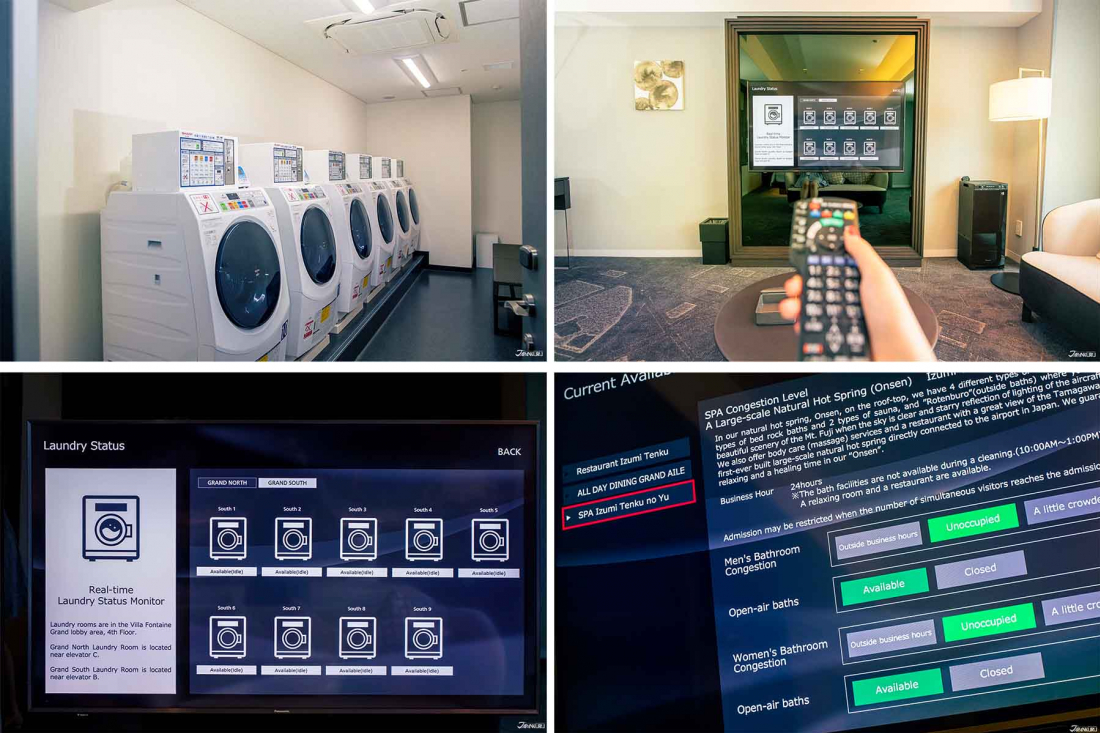 Travelers in the middle of a longer trip will be happy to hear about the hotel's laundry service and self-service laundry rooms. The current status of the laundry machines is tracked by a system that you can check right on the TV screen in your room, which means you can see how many machines are open or if your laundry is dry without even getting out of bed. You can also use the same TV system to check the status of other facilities like the Izumi Tenku no Yu hot springs, so you can scope out the perfect time to visit.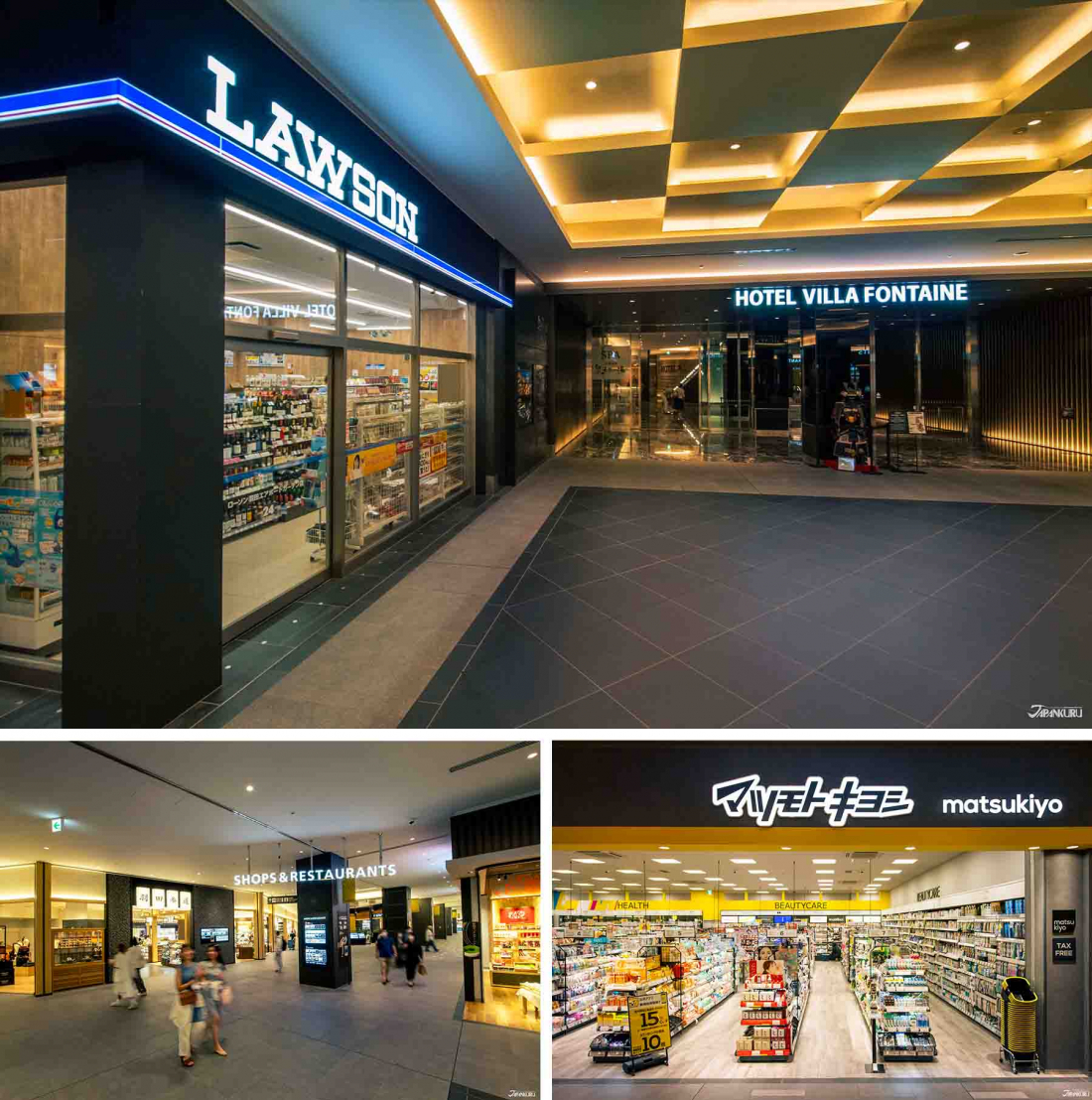 Of course, since the hotel is connected directly to the shopping and dining areas of Haneda Airport Garden, guests have easy access to all of the shopping facility's conveniences as well. It's just a few steps to the drug store Matsumoto Kiyoshi, and a Lawson convenience store. Whether you want some extra snacks, last-minute souvenirs, or a few extra Japanese cosmetic products, just head down the escalator!
Villa Fontaine Grand Haneda Airport (ヴィラフォンテーヌ グランド 羽田空港)
Villa Fontaine Premier Haneda Airport (ヴィラフォンテーヌ プレミア 羽田空港)
Location: 4F Lobby
Check-in/Check-out: 15:00 / 11:00
Official Website: Grand | Premier
Travel Tips: Services & Facilities for Foreign Visitors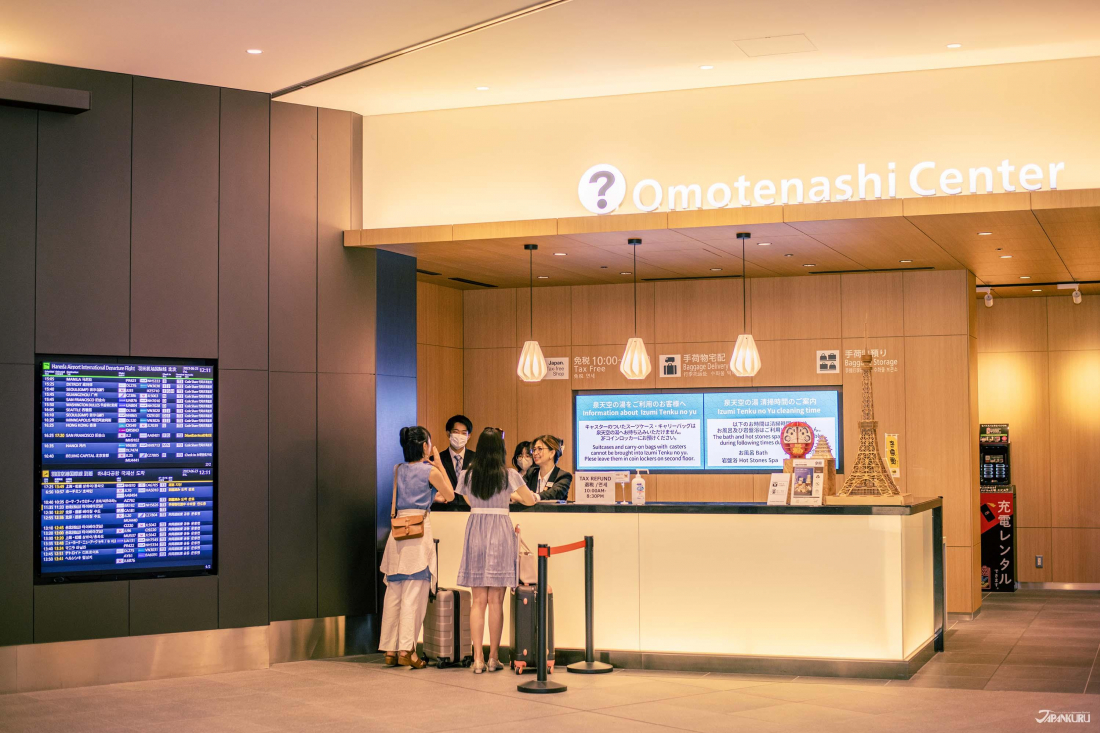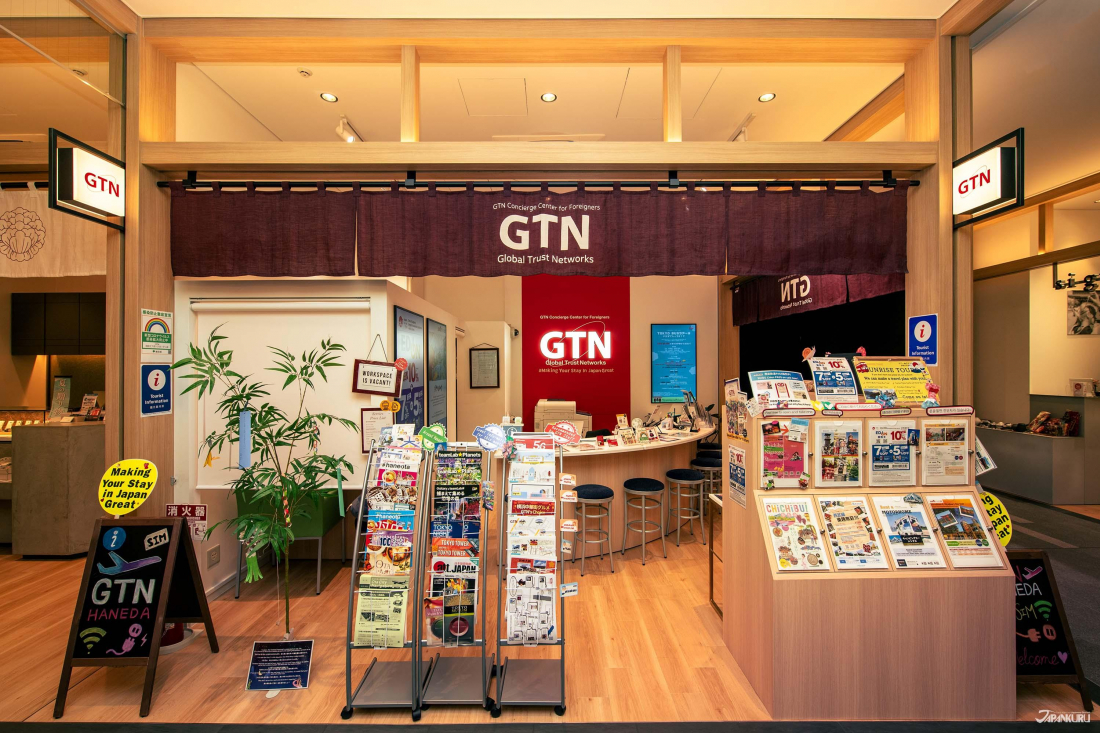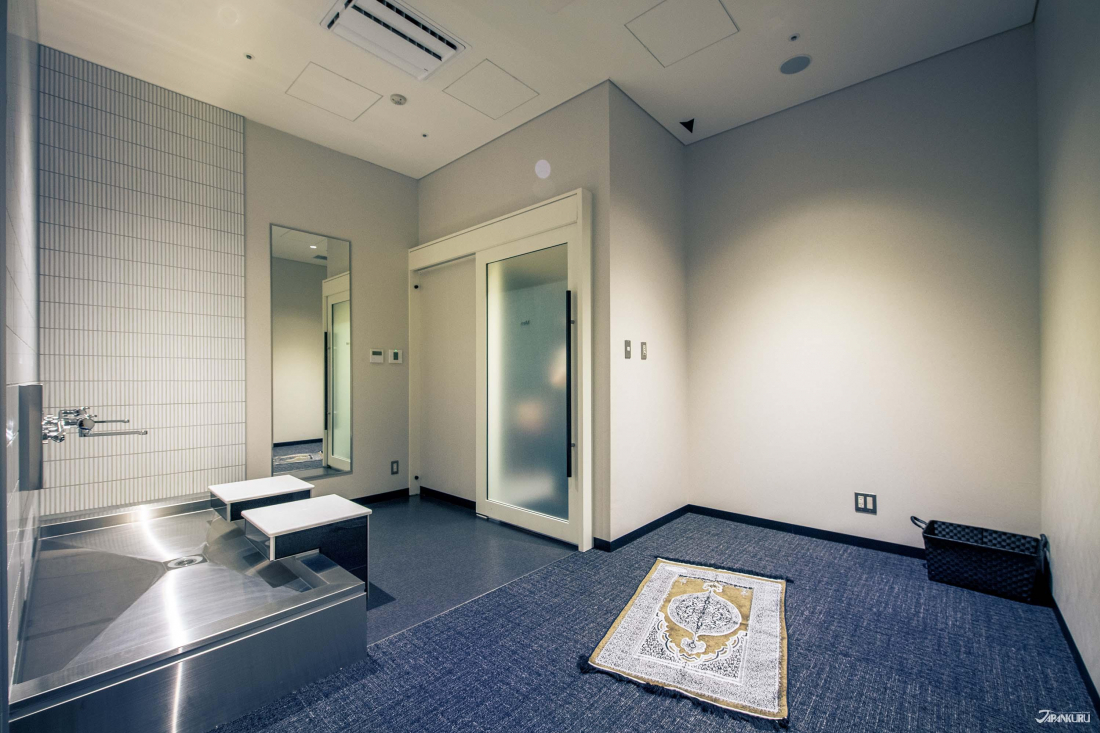 On top of all the shopping, dining, and accomodations, Haneda Airport Garden also has a handful of facilities to smooth any wrinkles that foreign visitors might encounter during their travels. There's a 24-hour information desk (the Omotenashi Center), coin lockers and paid luggage storage, and a counter from GTN – a company that sells Japanese SIM cards, but whose multi-lingual staff can help tourists make reservations and plan their trip! Haneda Airport Garden even has its own well-equipped prayer rooms.
Bonus! A Bus Terminal to Take You All Over Japan & a Shuttle to Ariake Garden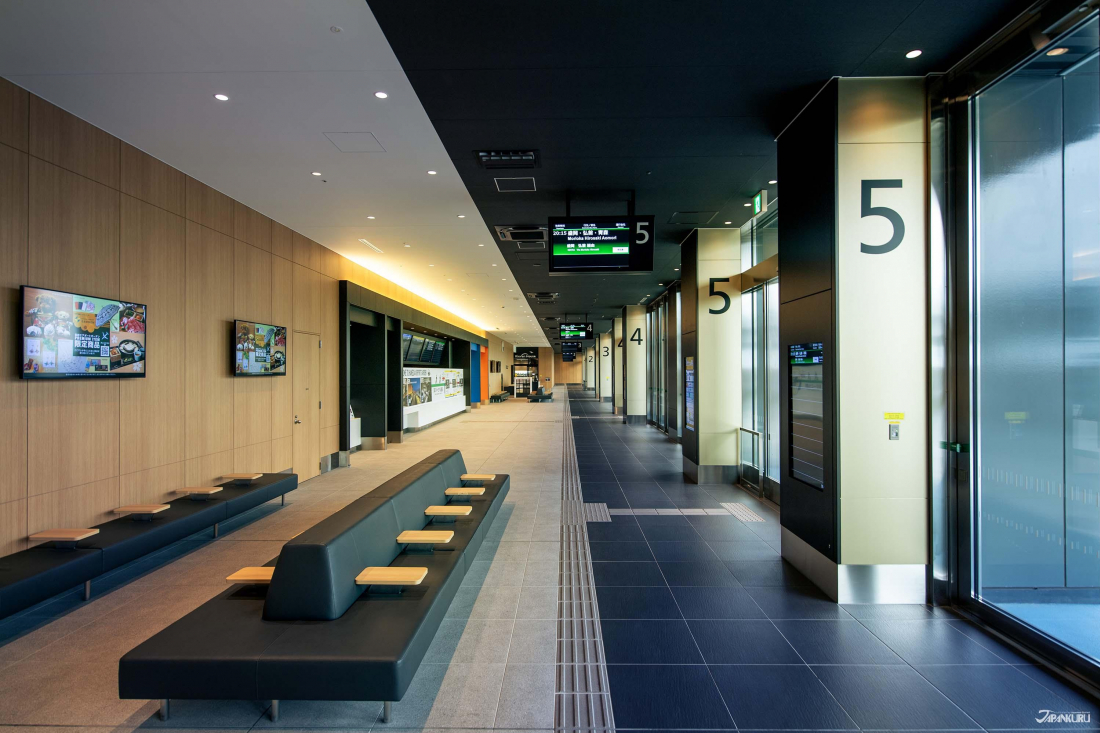 In order to help travelers get from Haneda Airport to regions all over Japan, Haneda Airport Garden is now home to a sparkling new bus terminal. Current buses go to Sendai, Aomori, Nagano, Niigata, Kanazawa, Toyama, Shizuoka, Nagoya, and Osaka – this last option being particularly popular among the many travelers heading to Universal Studios Japan. The bus terminal operators have big plans to add even more medium and long-distance routes in the future, and schedules are of course subject to change, so operation details are best checked on the official websites for each bus company – easily found via the bus terminal's own site.
Travelers planning to stay in Tokyo will also be interested to hear about the free shuttle bus that goes straight from the airport to Haneda Airport Garden's sister facility, Ariake Garden, which has even more shopping and accommodation options.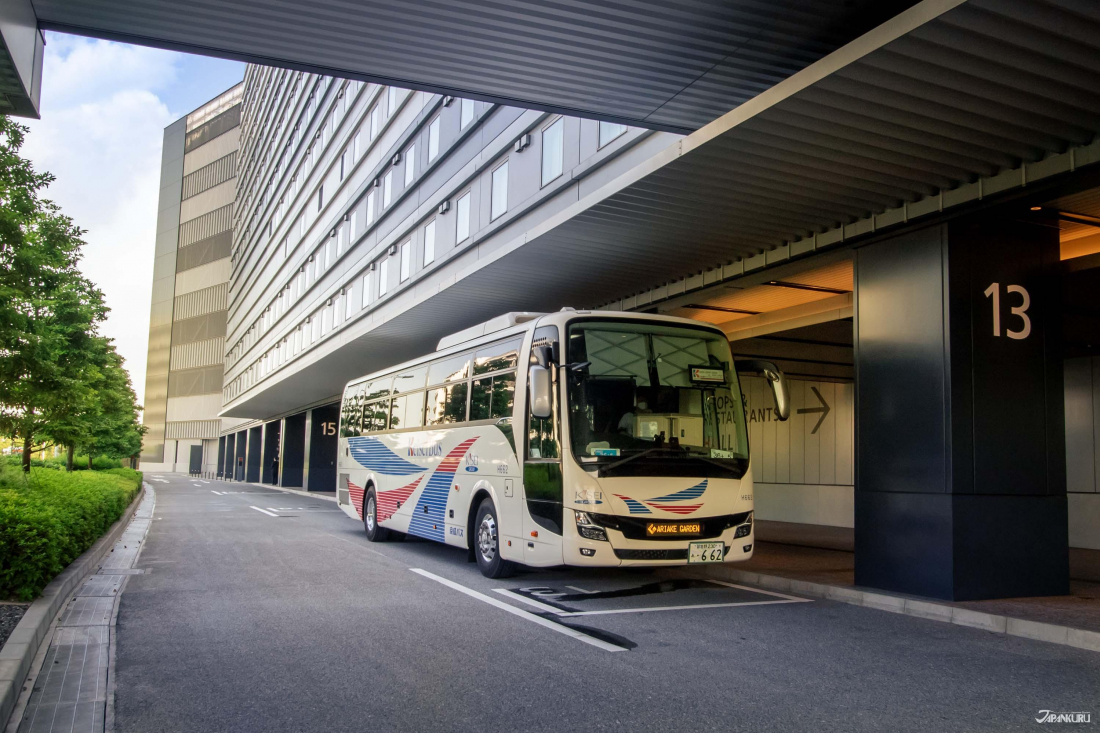 The first bus from Haneda Airport to Ariake Garden departs at 9:30 in the morning, and the last bus of the day leaves at 21:30, with buses leaving every two hours throughout the day. Starting from Ariake Garden, the first bus leaves at 8:30 and the last one at 20:30, also every two hours. The ride is about 40 minutes – you can see the current timetable below.

The buses traveling this route from the airport may vary slightly, but they all come equipped with conveniences like free wi-fi and USB charging ports! They're also wheelchair accessibl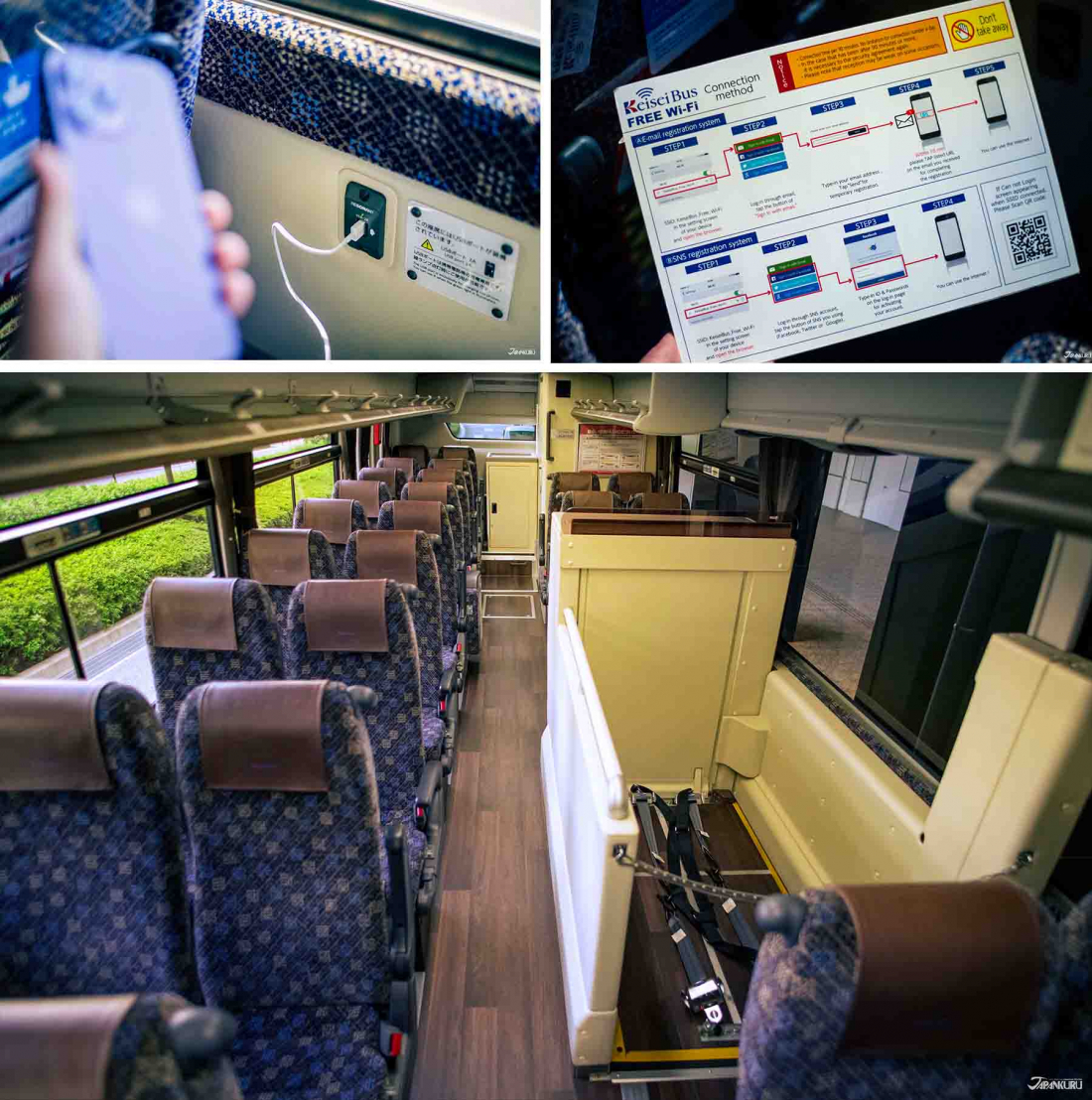 A word of warning – the shuttle bus goes about once every two hours, and additional buses will not be provided in case of large numbers of passengers. You can't reserve a seat, and each free shuttle bus can only carry 45~50 people, so make sure you line up early or you might not be able to ride!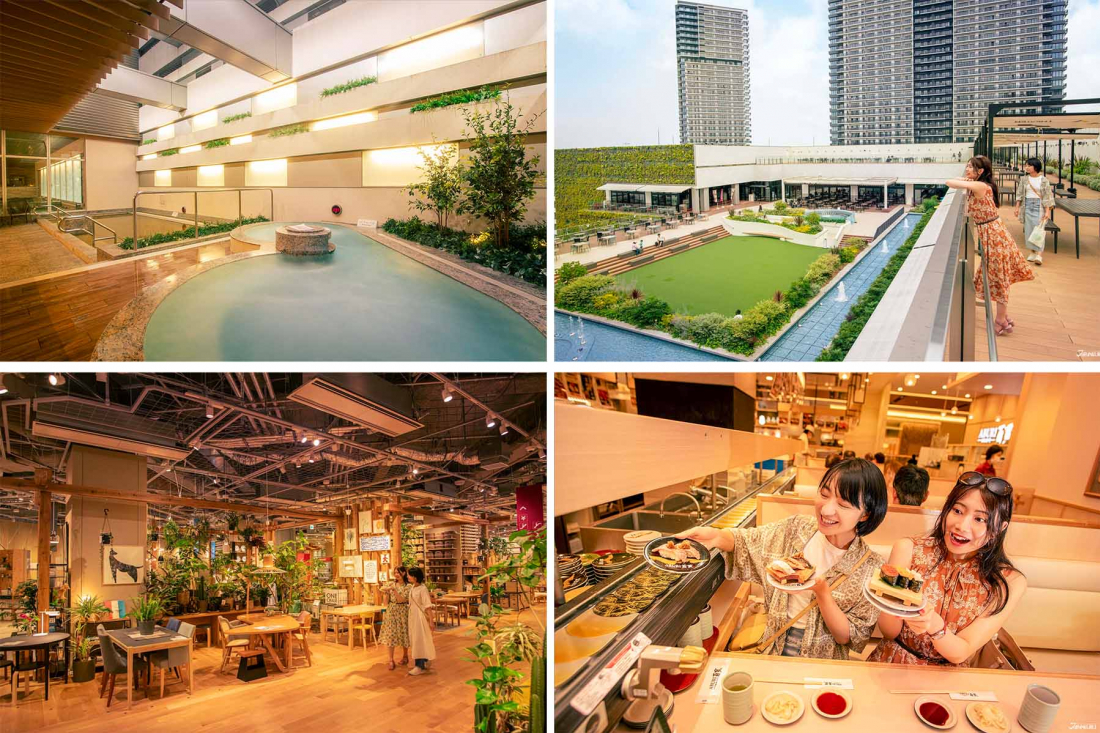 Ariake Garden is a new shopping facility in Tokyo's bayside Ariake area, with restaurants, a theater, and its own hot spring spa, in addition to a broad selection of shopping options. Ariake Garden's expansive Muji has drawn particular attention since its pandemic-era opening.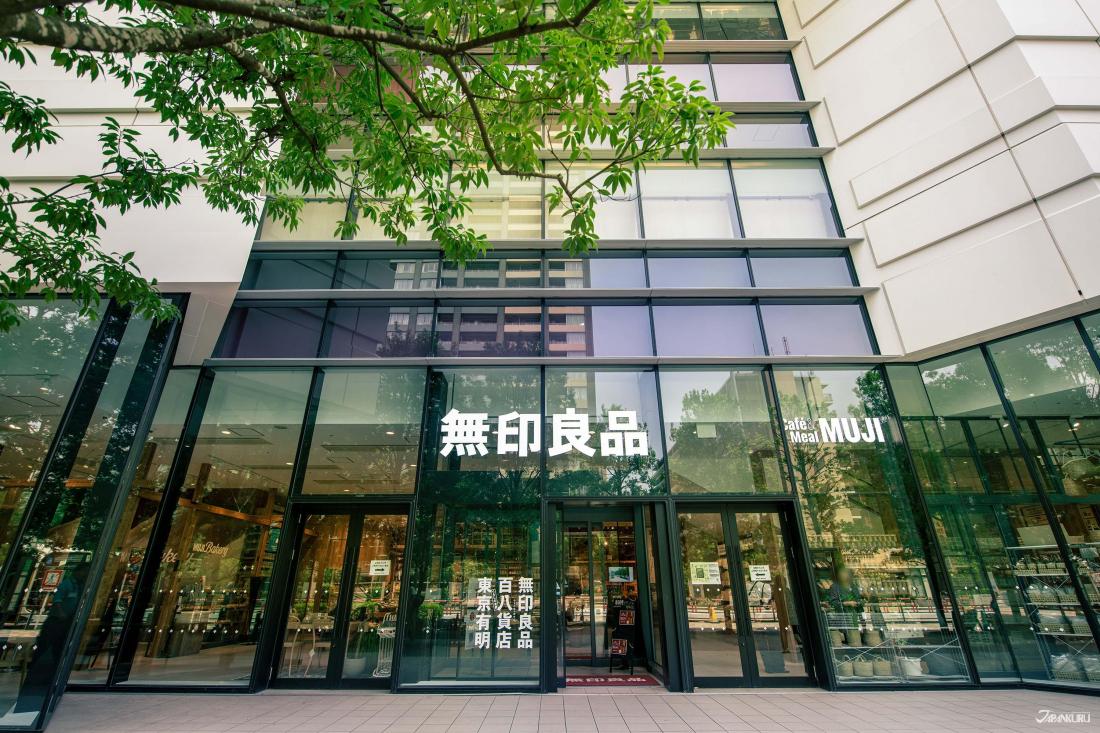 Muji Tokyo Ariake is enough to excite any fan of this popular Japanese brand, with multiple floors constructed under a theme along the lines of "making homes, making communities, everything for daily life." This Muji has all the clothing, stationery, and snacks you might expect, but it also sells fresh produce, bulk groceries, and other unexpected products. It also has model rooms and design displays to show off Muji's unique design sense – a must-see for anyone who appreciates that distinct Muji style.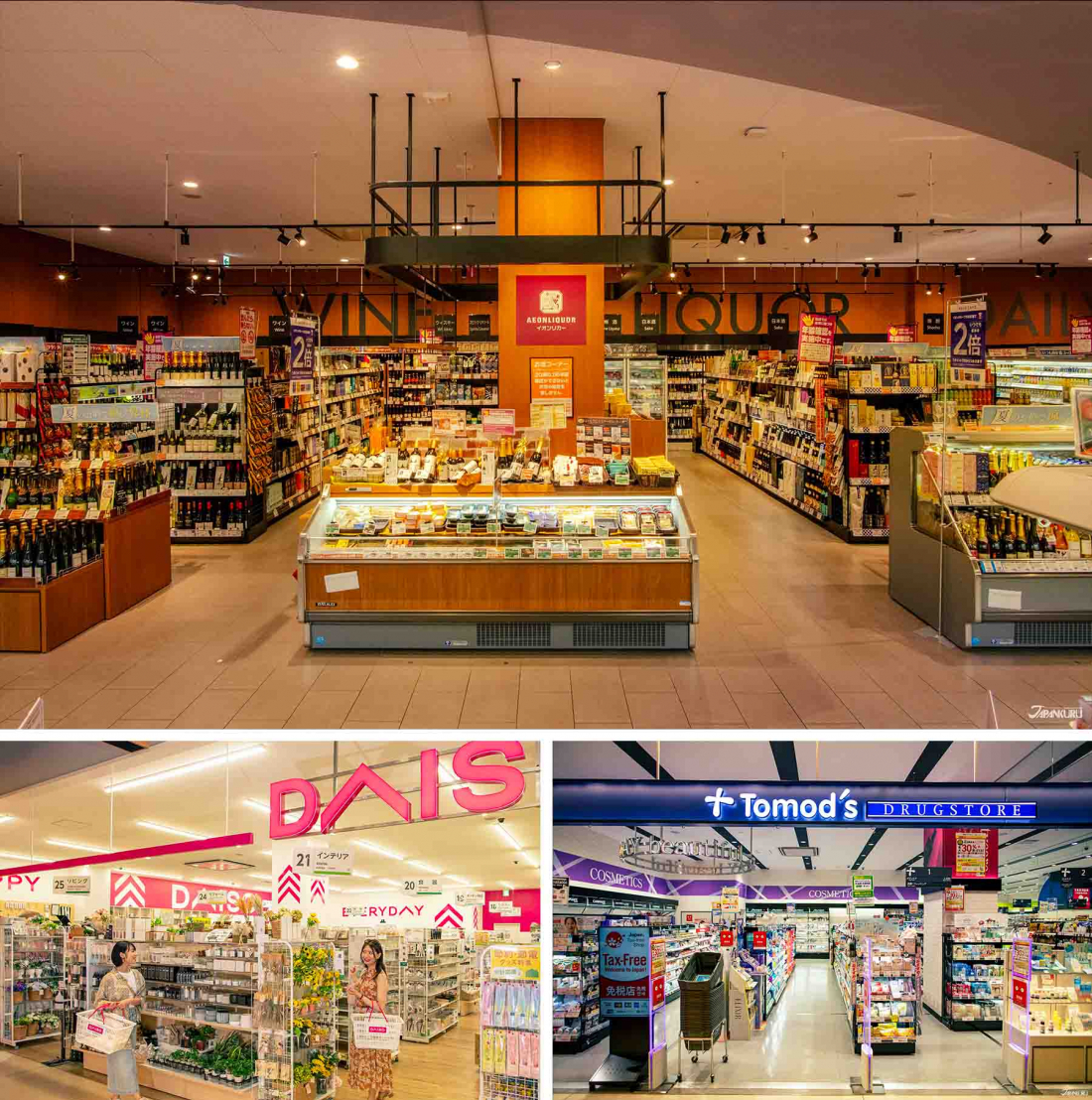 Ariake Garden also has a generously-sized AEON STYLE supermarket, the popular 100-yen store DAISO, a Tomod's drugstore, and the newly-opened KOJIMA x Bic Camera Ariake Garden, where you'll find shelves lined with Japanese electronics and appliances.
And when you're ready to take a break from all the shopping and eating, you can stretch out in Ariake Garden's own hot spring spa, Izumi Tenku no Yu Ariake Garden. For much more information, check out our article on Ariake Garden!
Check the shuttle bus schedule between Haneda Airport Garden and Ariake Garden on the official website.
On Your Next Trip to Tokyo, Stay a Little Longer at Haneda Airport Garden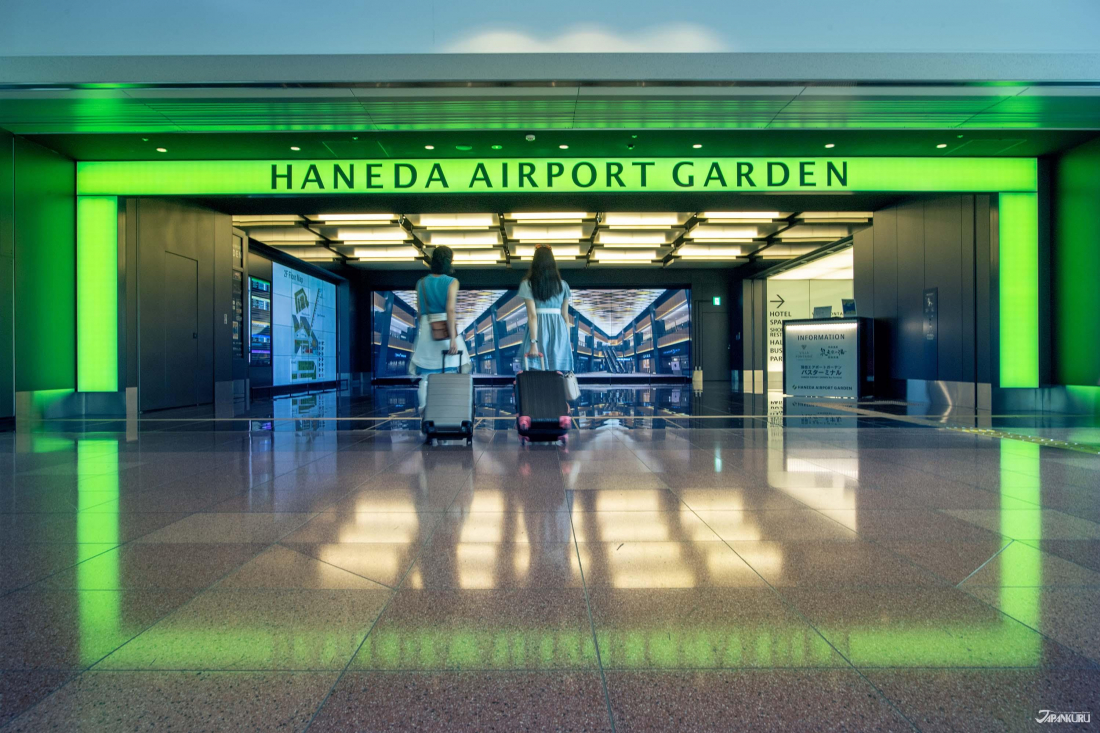 Conveniently located just off Terminal 3, Haneda Airport Garden is quickly becoming an important stop on the itinerary for any traveler passing through Haneda Airport, thanks to all its conveniences and creature comforts. So if your next trip to Japan includes transit through this Tokyo airport, you'll want to plan for a little extra time to relax and recharge at Haneda Airport Garden – you never know when you'll find something new at the airport!
▶︎ Get your hands on this special Haneda Airport Garden coupon before you go!
Haneda Airport Garden (羽田エアポートガーデン)
2-7-1 Hanedakuko, Ota City, Tokyo
Public Transportation:
  1 min from Keikyu/Tokyo Monorail Haneda Airport Terminal 3 Station
  Local/long-distance buses from Terminal 3 Limousine Bus Terminal & Haneda Airport Garden Bus Terminal
Official Website (jp)
For more info and updates from Japan, check Japankuru for new articles, and don't forget to follow us on Twitter, Instagram, and Facebook!