Japan's 5 Best Tanabata Festivals in 2023: Summer Events, Japanese Folklore, and a Romance for the Ages
These summer festivals around Japan are inspired by the literally star-crossed lovers of Japanese legend.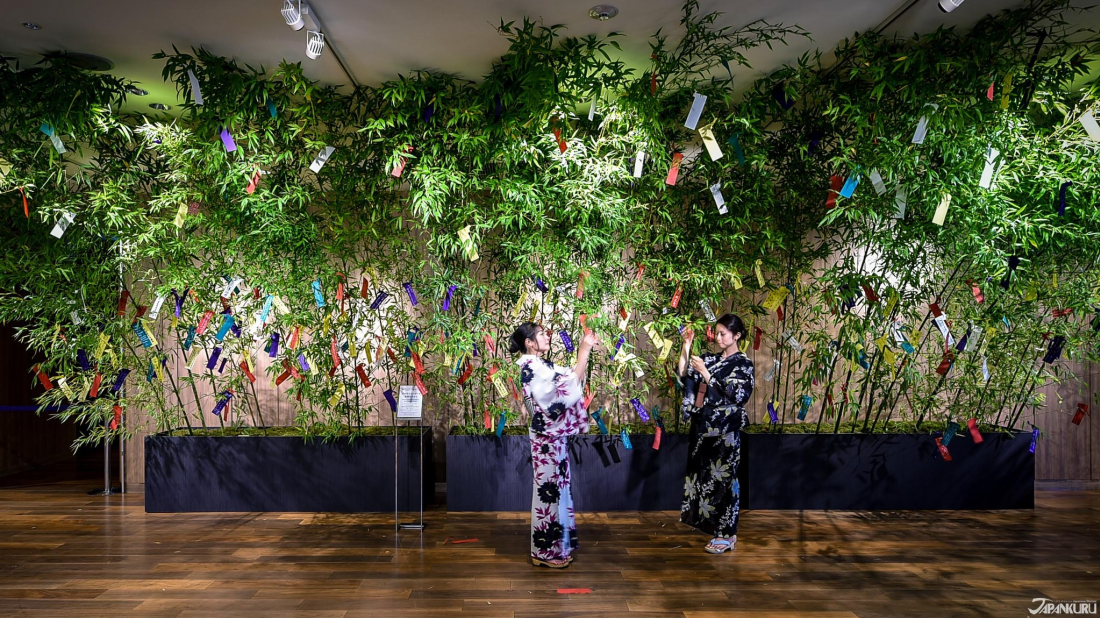 Each year, on the seventh of July, two stars appear to dance around each other in the nighttime sky, and in Japan this day is celebrated as the festival called Tanabata (七夕). Japan's Tanabata story focuses on two stars, which they call Orihime (the weaver star) and Hikoboshi (the cowherd star) but these are actually two very real stars in the sky – we usually call them Vega and Altair in the English-speaking world. The legends of Orihime and Hikoboshi come from the movements of the heavenly bodies above, and now that the lovers have become the stars of a great romance in Japanese mythology, the 7th of July is a day to celebrate their story. Some even like to call Tanabata a traditional Japanese take on Valentine's Day, making it a particularly fun day for couples. (Although Japan takes actual Valentine's Day quite seriously as well!) But anyone can celebrate the holiday by visiting shrines or gathering with loved ones, writing down their wishes for the year, and hanging them on long lengths of bamboo in hopes that they come true. Like Japan's other major festivals throughout the summer, Tanabata events around Japan are fun to check out no matter who you're with, so don't miss this summertime holiday!
Jishu Shrine's Love Fulfillment Tanabata Festival
The Jishu Shrine is a little Shinto shrine in the shade of the larger Buddhist Kiyomizudera Temple in Kyoto. But it has its own popularity and a strong following, since it's dedicated to the Shinto gods of love! (Since even before the formation of Japan itself!) Whether you're looking for new love, hoping to maintain a strong relationship, or even trying to fend off a love rival, this shrine is set up to aid you in your attempts. During the shrine's Tanabata festival, you can write down your heart's desires on little paper dolls of Orihime and Hikoboshi, and hang them on the conveniently placed bamboo plants.
*In 2023, the shrine is actually undergoing restoration work, so many of the festivities are being downgraded (or put on hold), but instead you can actually order a special prayer on your behalf through the internet! If your love life isn't much to write home about, ask the Shinto priests for a little help!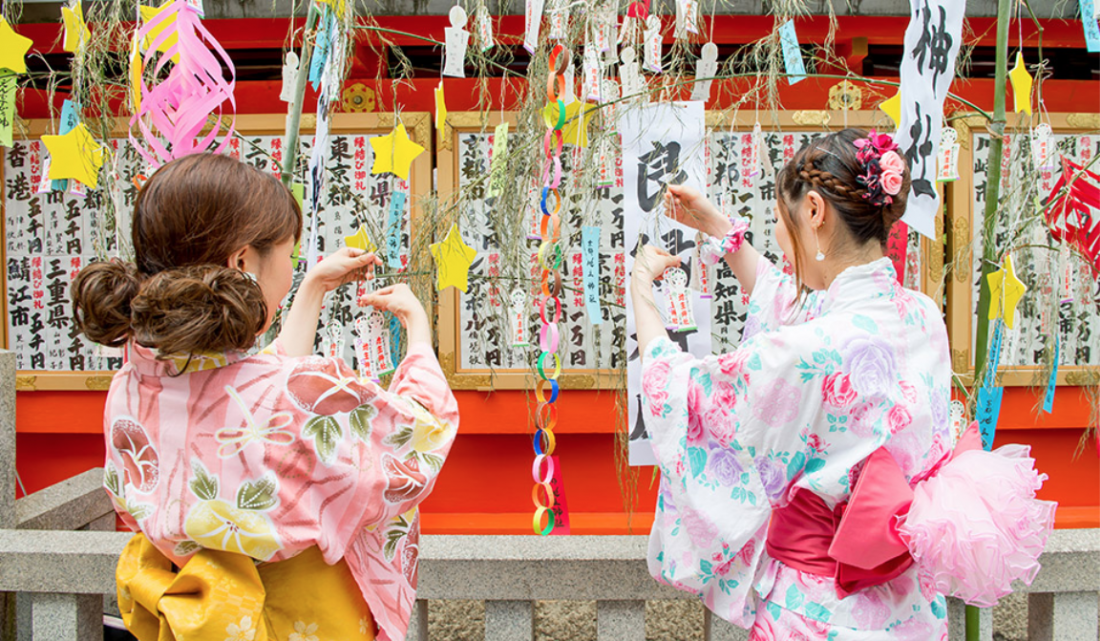 Jishu Shrine's Love Fulfillment Tanabata Festival (地主神社の恋愛成就七夕祭) *scaled down for 2023
Address: 1-317 Kiyomizu, Higashiyama, Kyoto
Date/Time: July 7, 2023 | 14:00~
Access: From Tokyo Station, take buses 86, 206, or 100 to Gojozaka Bus Stop, walk 10 min., or 30 min. walk from Keihan Kiyomizu Gojo Station.
Official Website (jp)
Sendai Tanabata Festival: Colorful Streamers Abound!
Thanks to differences in the lunar calendar and Gregorian one, Sendai chooses to have its Tanabata festival in August! Probably the biggest Tanabata celebration in the country, the most striking feature of this festival are the brightly colored streamers and paper decorations that are hung above the streets and shopping arcades. The Sendai Tanabata celebration has been going on since the time of Date Masamune, who became the first lord of the Sendai area in the 17th century. Now the locals work hard to create these paper decorations and transform the area into a scene straight from the Japanese fairytales, in the sunshine and long after dark. There's even a big fireworks festival in Sendai the night before Tanabata is celebrated, making it a perfect time to check out this city in Japan's northern Tohoku region.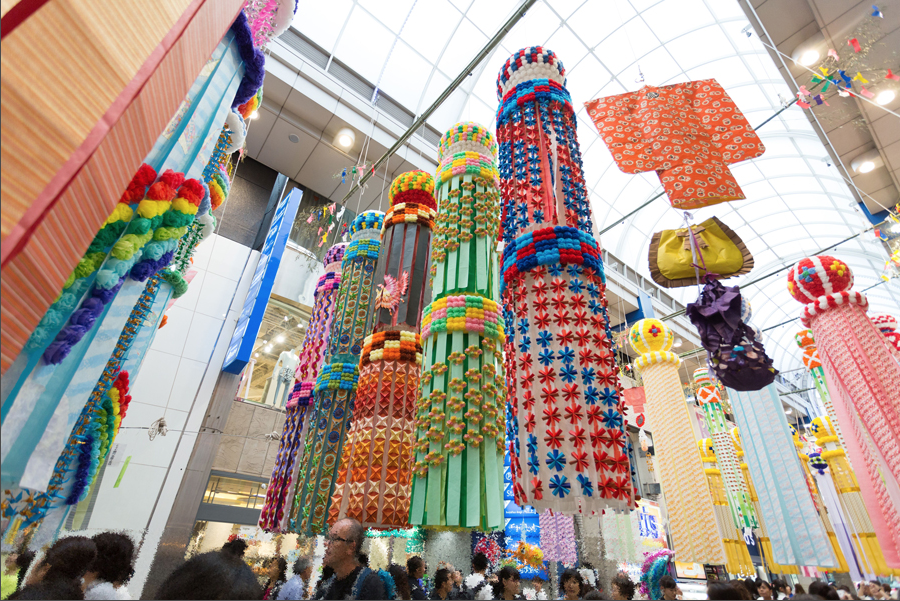 Sendai Tanabata Festival (仙台七夕まつり)
Address: Sendai City Center, Miyagi
Date/Time: Aug. 6~8, 2023 | 10:00 – 21:00
(Fireworks the evening of Aug. 5th.)
Access: Sendai Station
Official Website (jp)
Shonan Hiratsuka Tanabata Festival: Dancers and Much, Much More
The Shonan Hiratsuka Tanabata Festival is always a major Tanabata celebration in the Kanto region, and this year shouldn't be any different. With traditional ceremonies, parades and impressive floats, Tanabata weddings, stages with a variety of performances, and more, it's an event with plenty to do. The three-day festival includes plenty of Japanese festival stalls and classic festival fun around Hiratsuka Station, but one of the particular draws is a parade of 1,000 dancing participants. Dressed in yukata, the dancers make their way through the streets, attracting locals and foreign visitors alike to watch the progression.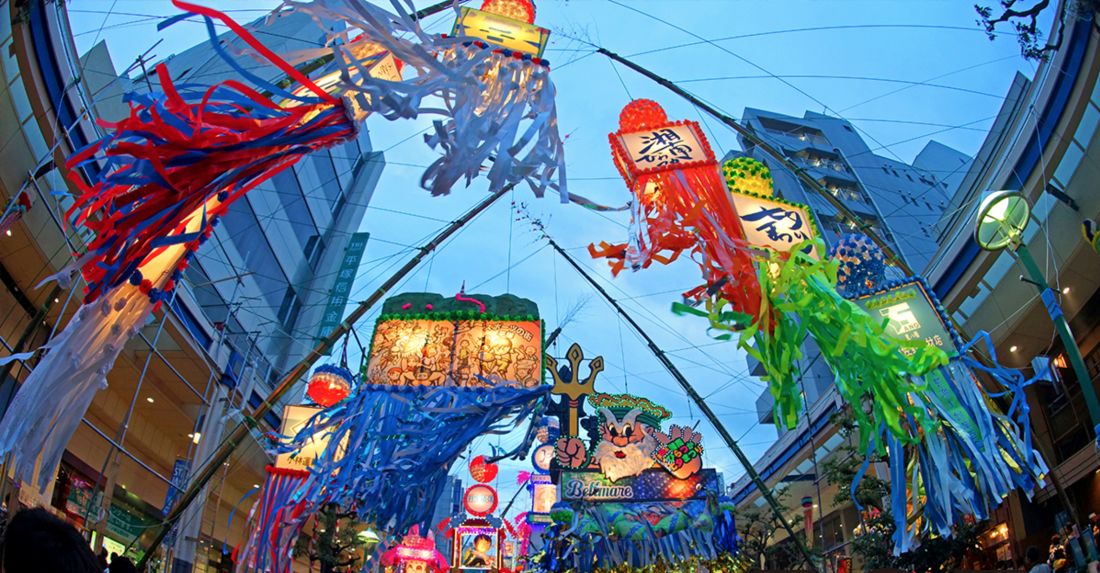 Shonan Hiratsuka Tanabata Festival (湘南ひらつか七夕まつり)
Address: Hiratsuka Station Area, Kanagawa
Date/Time: July 7~9, 2023 | ~20:00 (final day ~19:00)
Access: Hiratsuka Station
Official Website (jp)
Asagaya Tanabata Festival: An Intersection of Traditional and Pop Culture
The Asagaya Tanabata Festival has been going on for more than 60 years since its start in 1954, and it's so popular that other festivals have supposedly been created to compete for popularity. But the festival has evolved with the times in a fascinating way, taking advantage of the Japanese Tanabata tradition of large paper lanterns, and showing off some extremely modern forms. From anime and movie characters, to athletes, political figures, cute animals and more, visit the festival for a variety of interesting paper creations. If you're interested to see how the decorations have changed over the years, from (slightly) more traditional lanterns to the modern ones we see today, the festival's web page includes links to great galleries from past years' celebrations!
If you're near Asagaya Shrine a little earlier in the year, don't forget to take a look at the shrine's adorable cherry blossom season protective lace bracelets.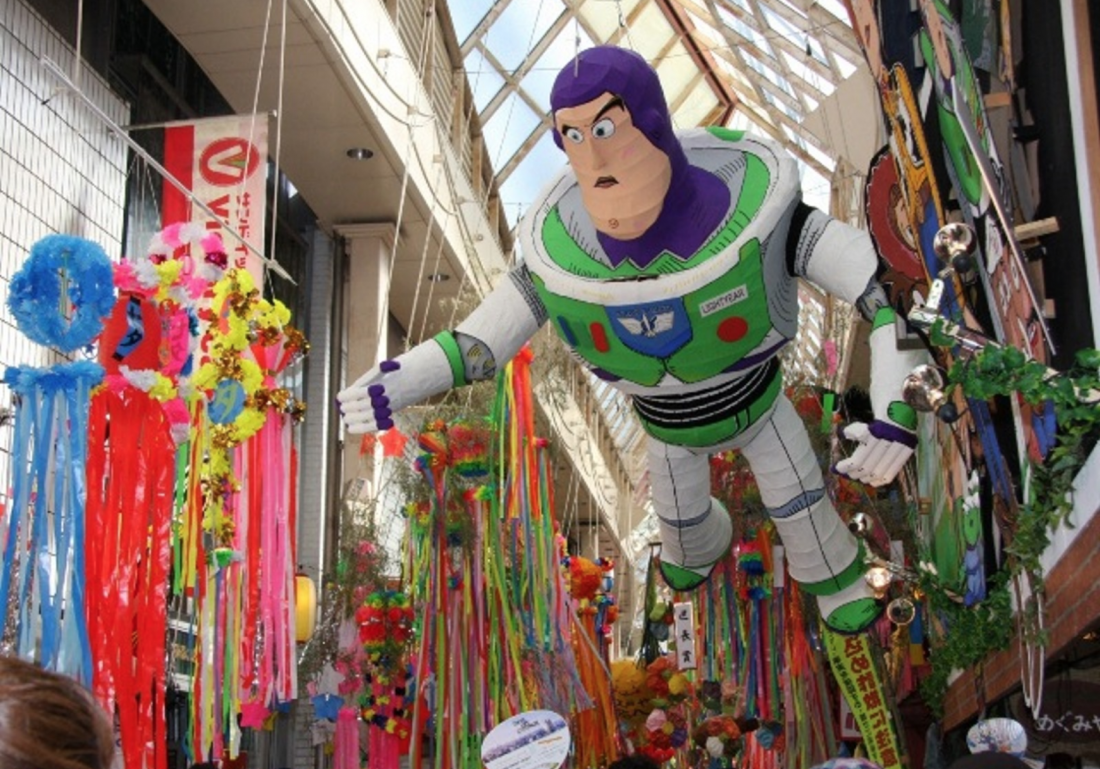 Asagaya Tanabata Festival (阿佐谷七夕まつり)
Address: Asagaya Station, 3-1-20 Asagaya, Suginami-ku, Tokyo
Date/Time: Aug. 4~8, 2023 | 10:00 – 22:00
Access: Asagaya Station
Official Website (jp)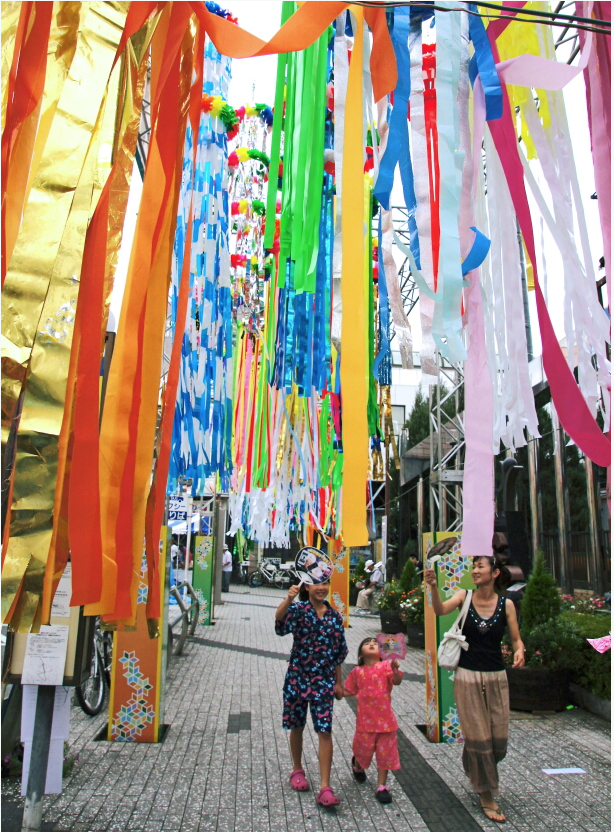 Fussa Tanabata Festival: Participants Give it that Local Charm
Located in the Fussa area of western Tokyo, the Fussa Tanabata Festival has lots of local flair. With more than 100 stalls set up as part of the street festival, there are plenty of neighborhood shops out and ready to serve food and fun to the masses. Plus, the festival includes a stage scheduled with lots of performances from neighborhood residents, in addition to their yearly Princess Orihime Contest.
Fussa Tanabata Festival
Address: Fussa Station, Honcho, Fussa, Tokyo
Time/Date: July 8~9, 2023 | 13:00 – 21:00
Access: Fussa Station
Official Website (jp)
So, do you have plans for Tanabata yet? If you're in Japan during July or August, go find your nearest celebration!
Or, if you want some other fun things to do in Japan this summer, take a train to enjoy some beautiful hydrangeas, see some of the world's best fireworks, or take a trip down to Okinawa.
For more info and updates from Japan, check Japankuru for new articles, and don't forget to follow us on Twitter, Instagram, and Facebook!