JINS Glasses in Shibuya, Tokyo: Stylish, Quick, and a Bargain
Looking for glasses in Japan? JINS is probably the best place for Japanese eyewear, with tons of great glasses designs, on-trend options, and cutting-edge optical technology, all available in as little as 30 minutes! And with so many options at their Shibuya, Tokyo shop, it's almost like an eyewear museum.
JINS Shibuya Isn't Just Any Old Glasses Shop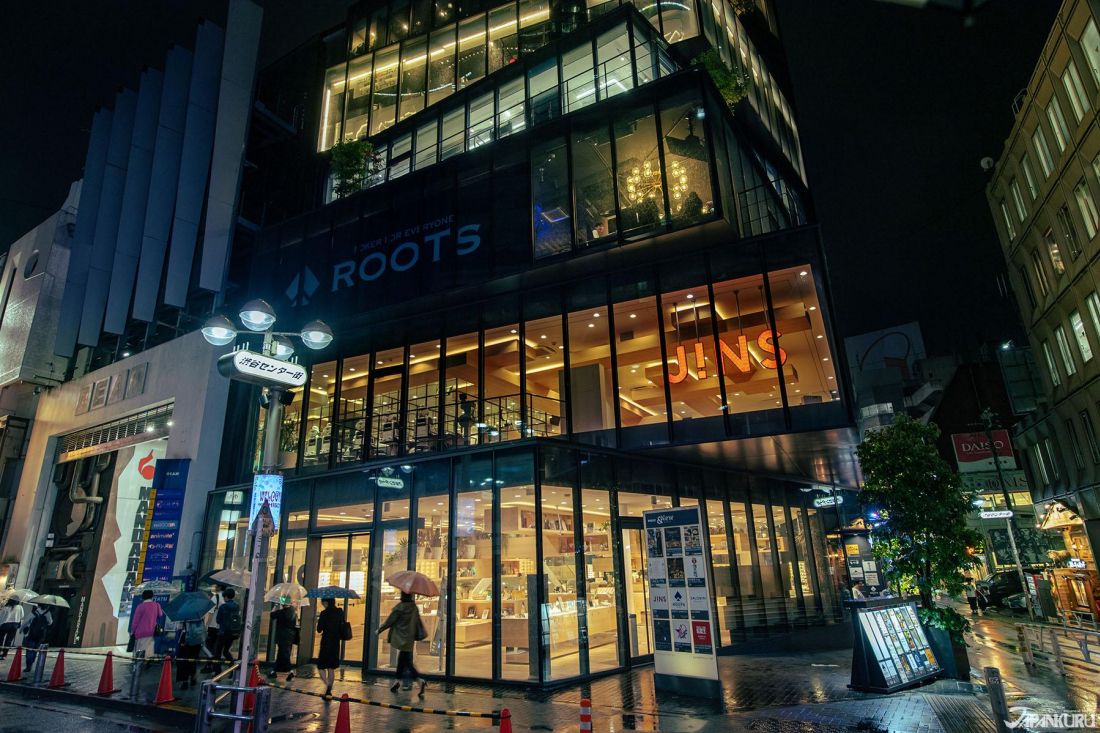 Shibuya is one of Japan's most fashionable shopping areas, and a quick walk through the neighborhood is like a tour of all the latest trends: apparel, accessories, eateries, entertainment, technology, and of course eyewear as well. JINS is Japan's leading brand in the world of reasonable eyewear, and their Shibuya shop is a 2-floor construction from architect Masayo Fujimoto that fits right into the stylish city streets. Expansive fresh wooden interiors and floor-to-ceiling windows provide the perfect backdrop to the extensive range of JINS eyewear, and attentive staff are always waiting to offer their expertise.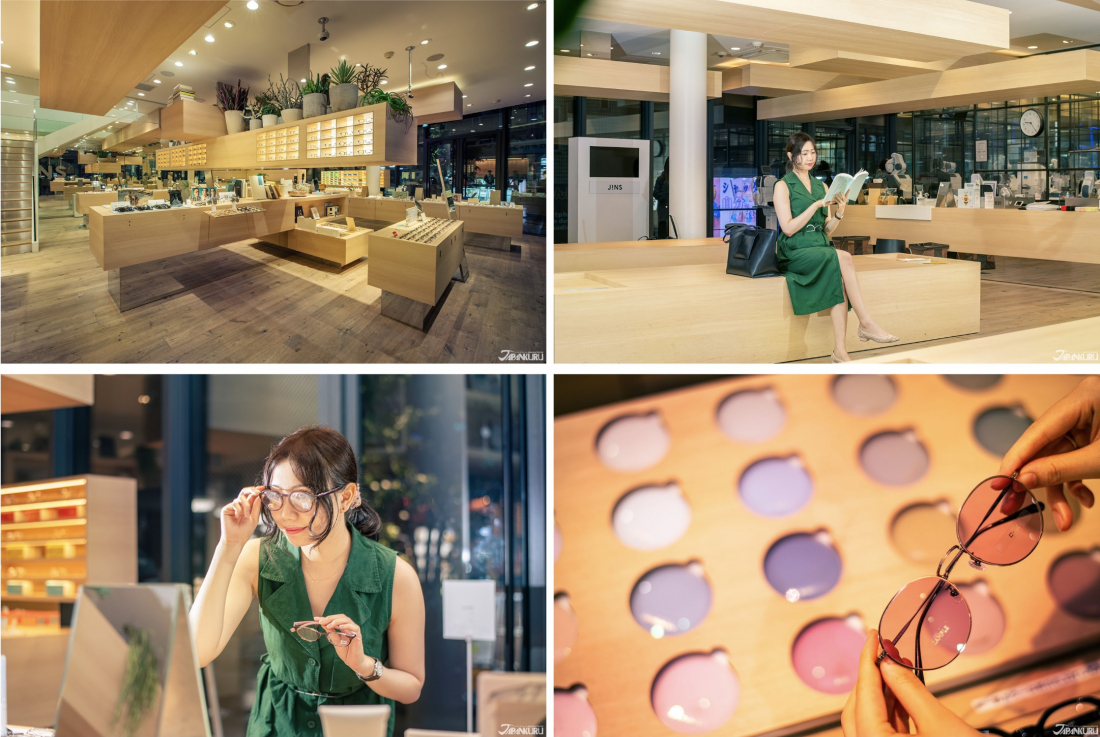 Rather than just a plain old glasses shop, the JINS location in Shibuya feels like an eyewear gallery or museum, where you can try on any pair on display. The shop doesn't just offer fittings to find the perfect pair of glasses for you, but a whole aesthetic eyewear experience. To find out exactly what a visit to JINS Shibuya is like in the year 2023, join the Japankuru team on our trip to this unique shop!
① Get Your Glasses in 4 Steps – And as Little as 30 Minutes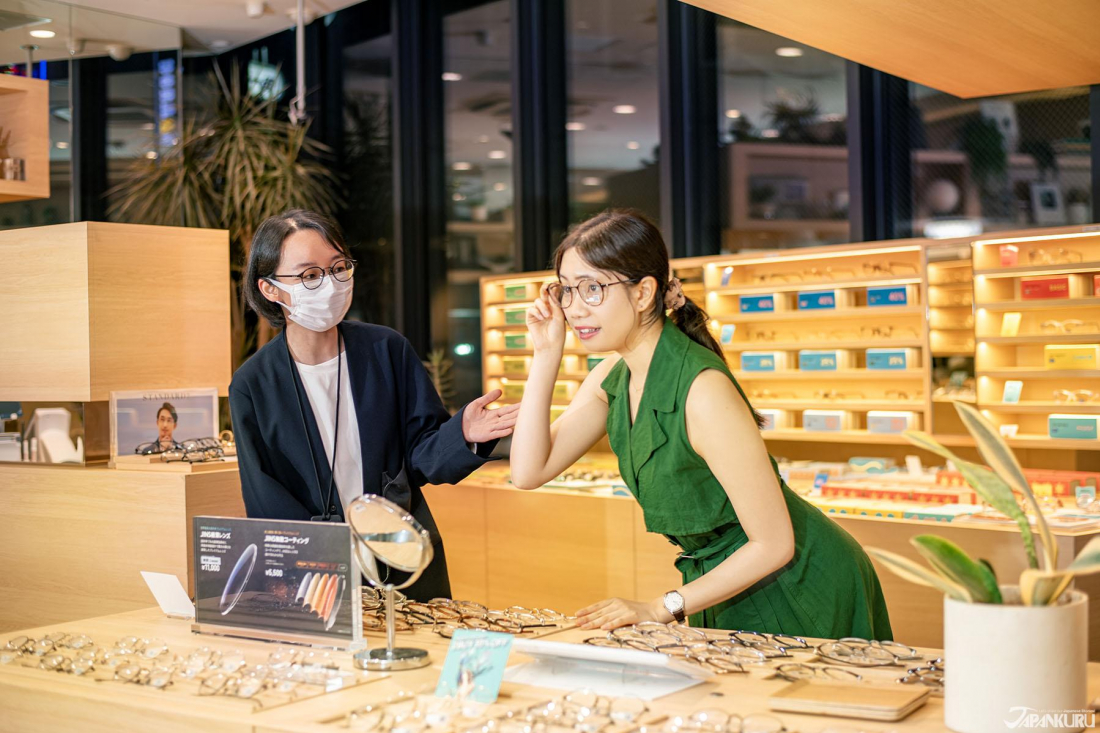 For customers coming from overseas, the sheer speed of JINS' service is often a pleasant surprise. Instead of waiting a week, many pairs of glasses are available for you to take home and wear in as little as just 30 minutes! This is a simple rundown of how the fitting and purchase process works for glasses at JINS, in 4 easy steps.
Step 1. Choose Your Favorite Frames
At JINS, eyewear options start at just 5,900 yen tax included, and that includes basic lenses and a large selection of frames. Customers get to choose from frames in all shapes and sizes, along with a considerable lineup of lenses with a variety of special functions, available for an additional 3,300 to 5,500 yen. Once you've found the perfect frames and lenses for you, just pay at the counter and take a number to wait.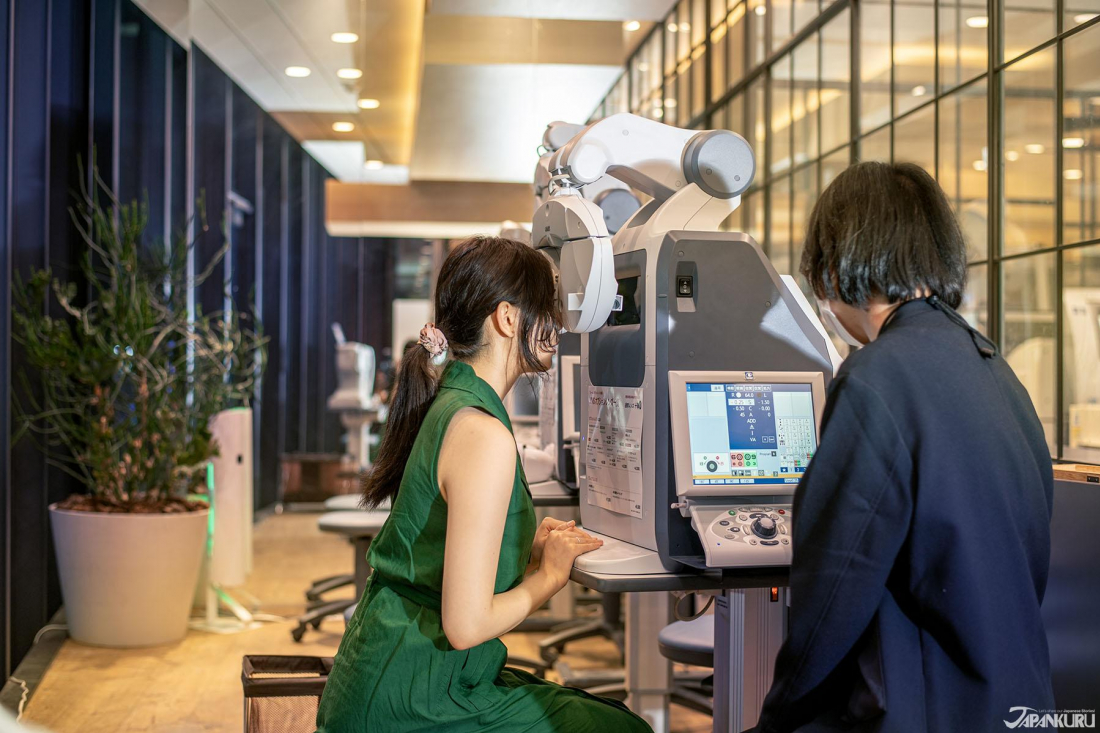 Step 2. Optometry & Eye Exams
Taking an eye test in Japan can be an interesting experience! If you're sure of your prescription, you can simply let JINS staff know, but you're always welcome to use one of their optometry machines to make sure your new glasses are just the right strength. The eye exam machines set up at JINS Shibuya offer two different kinds of tests, one that uses Japanese hiragana characters, and another more international test that uses Es facing various directions. Most foreign customers go for the easy-to-understand E test, but if you've been studying Japanese and are confident in your hiragana skills, you can always try that test as well – it's similar to eye exams using the alphabet! Customers are also free to try out the self-service eye exams, available in multiple languages including English, which guide you automatically through the process to find the right strength for your new lenses.
Step 3. Confirm Your New Frame & Lenses
Before the actual production of your new glasses begins, JINS staff will give you your new frame and lenses in the correct prescription in a red case. Give them the final okay, and they'll get started on your new specs.
Step 4. Relax and Wait for Your Glasses to Be Made
As long as the frames and lenses are all in stock, your wait time will depend mainly on how busy the shop is, but it's often as short as just half an hour! If you need particularly strong lenses, or choose a special kind of lens technology, it may take up to a few days for the lenses to be ordered in.
② With So Many Choices, Don't Even Worry About Finding Frames You Love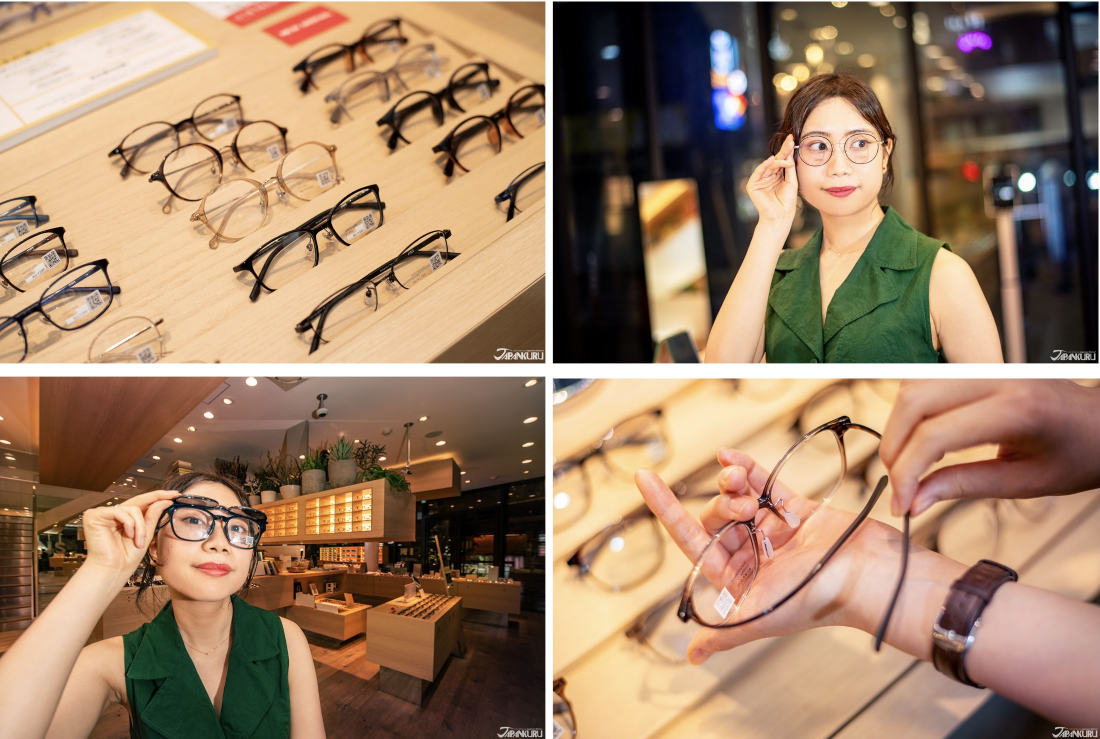 JINS has its own in-house eyewear designers and works directly with factories to produce optical lenses, giving them the freedom to develop a wide variety of eyewear lines and unique products. The timeless JINS CLASSIC series, the blue light blocking JINS SCREEN series, JINS Switch frames with convenient retro magnetic clip-on sunglasses, and JINS VIOLET+ glasses for kids and teens are just some of the many eyewear options. To help meet the diverse needs of glasses-wearers everywhere, the anti-fog JINS SAUNA series was launched in response to both the issue of pandemic-era mask fog, and also a recent boom in popularity for saunas in Japan. The JINS PROTECT MOIST line, on the other hand, was developed as an answer for customers who suffer from dry, itchy eyes, especially during allergy season.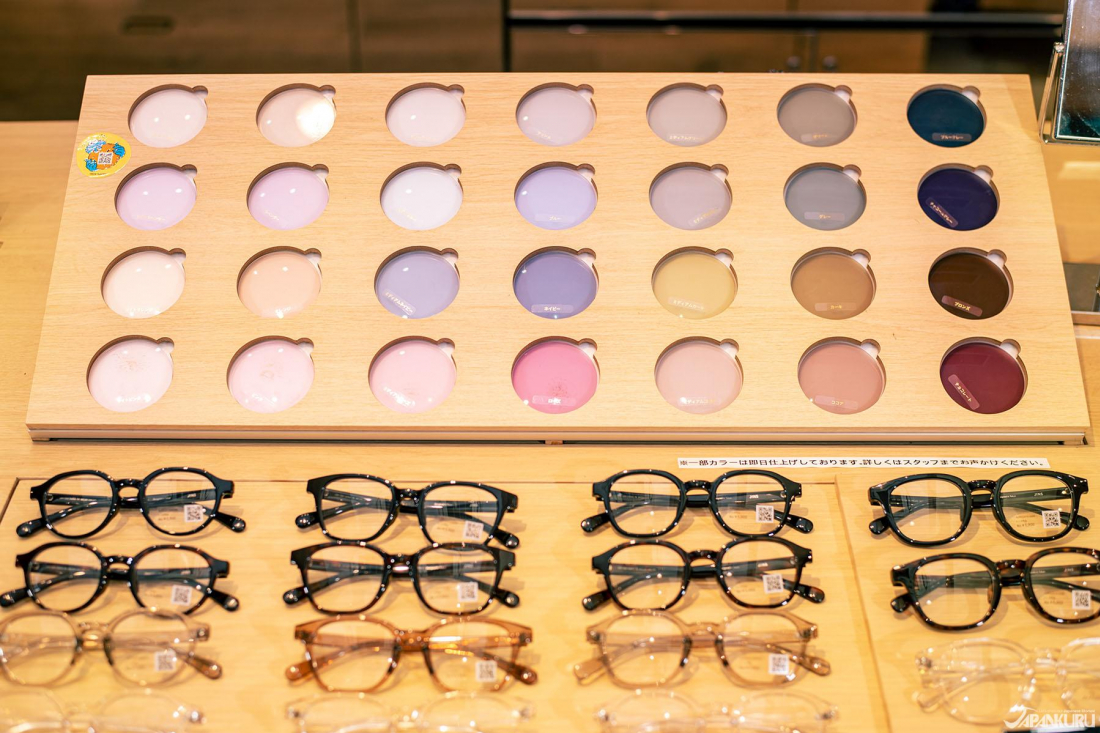 It should come as no surprise that the JINS shop at the heart of stylish Shibuya features some of the brand's trendiest styles. Among other fashionable options, JINS Shibuya keeps an especially wide range of their "color lens" tinted lenses in stock all the time. Match the numerous different tints and tones of the lenses with the shop's many different frames, and you can put together a new look that's all your own. Thanks to their focus on lens technology and their long-established lens manufacturers, JINS already has a reputation for lenses that are thin, lightweight, and affordable, but these tinted prescription lenses also protect your eyes from 99% of UV rays.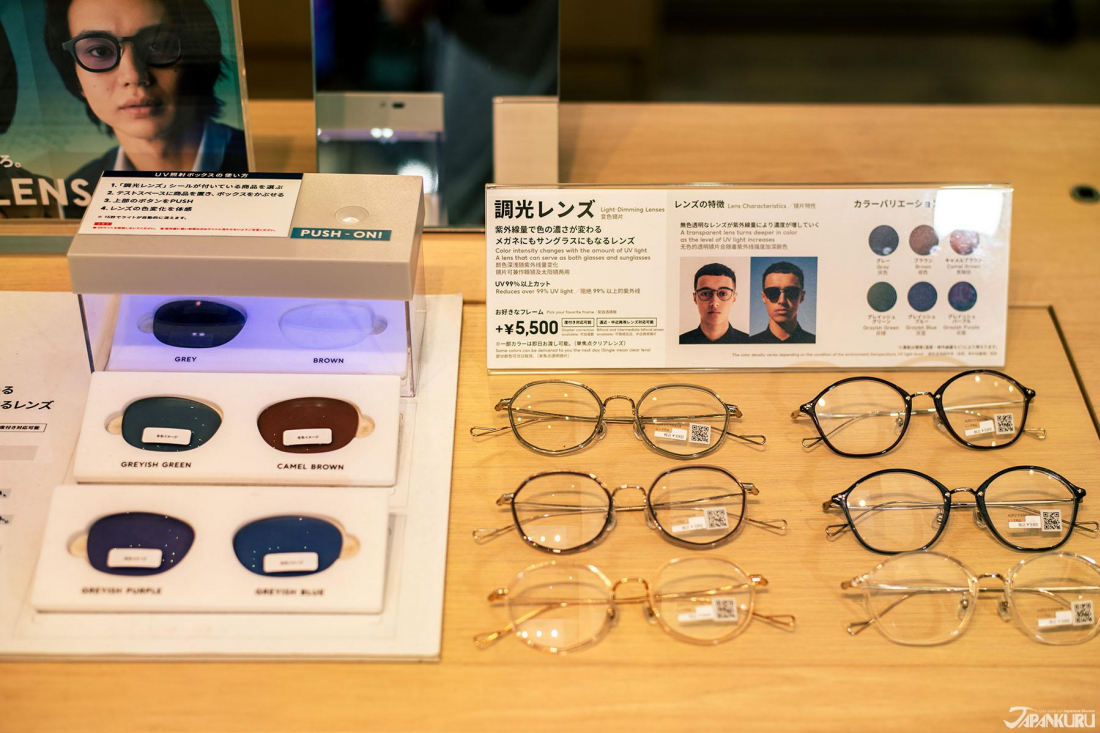 The expert lens technology at JINS is especially apparent in their lenses perfected for aging eyes, like photochromic bifocal lenses that can transition between clear and tinted sunglass styles when you step outside, and progressive lenses that go a step further. The progressive lenses at JINS have been carefully engineered to cut down on distortion, giving wearers a broad, clear field of vision. Progressive lenses are an additional 5,500 yen regardless of your prescription, and can be used with whatever frames you like, giving you a stylish pair of glasses to help you see both near and far.
③ Special Eyewear Collabs You'll Want to Start Collecting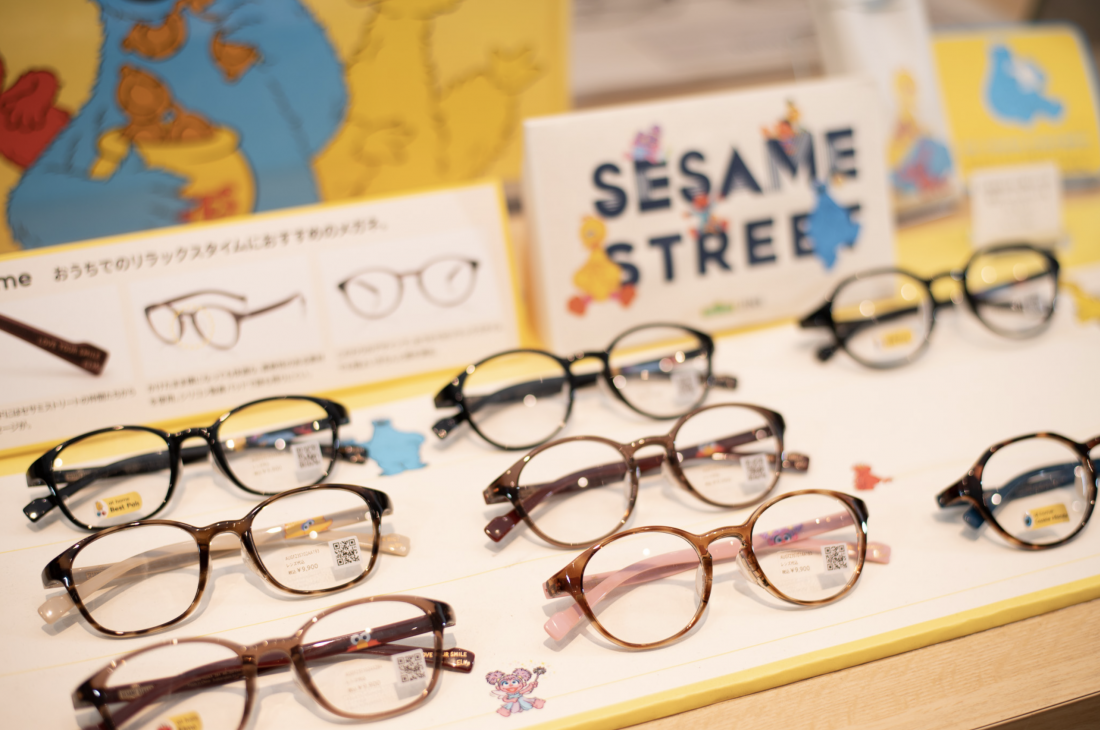 Shoppers who've already checked out JINS eyewear might already be aware, but JINS is known for collaborating with other brands and popular characters from time to time, producing some especially popular eyewear lines.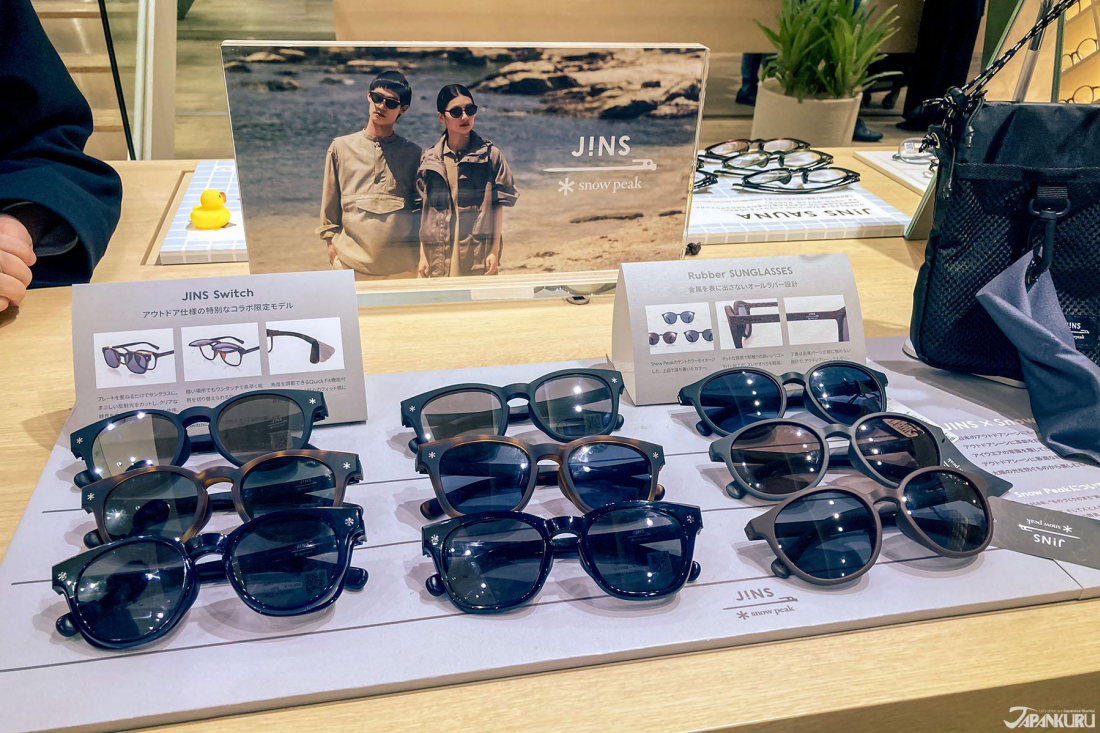 On top of their special crossover collaboration lines with other brands, JINS also has a whole category of "Design Project" items, produced together with designers from around the globe. If you're interested in the world of design, you'll want to give these lines a good look.
④ Eye-Opening Eyewear Tech Experiences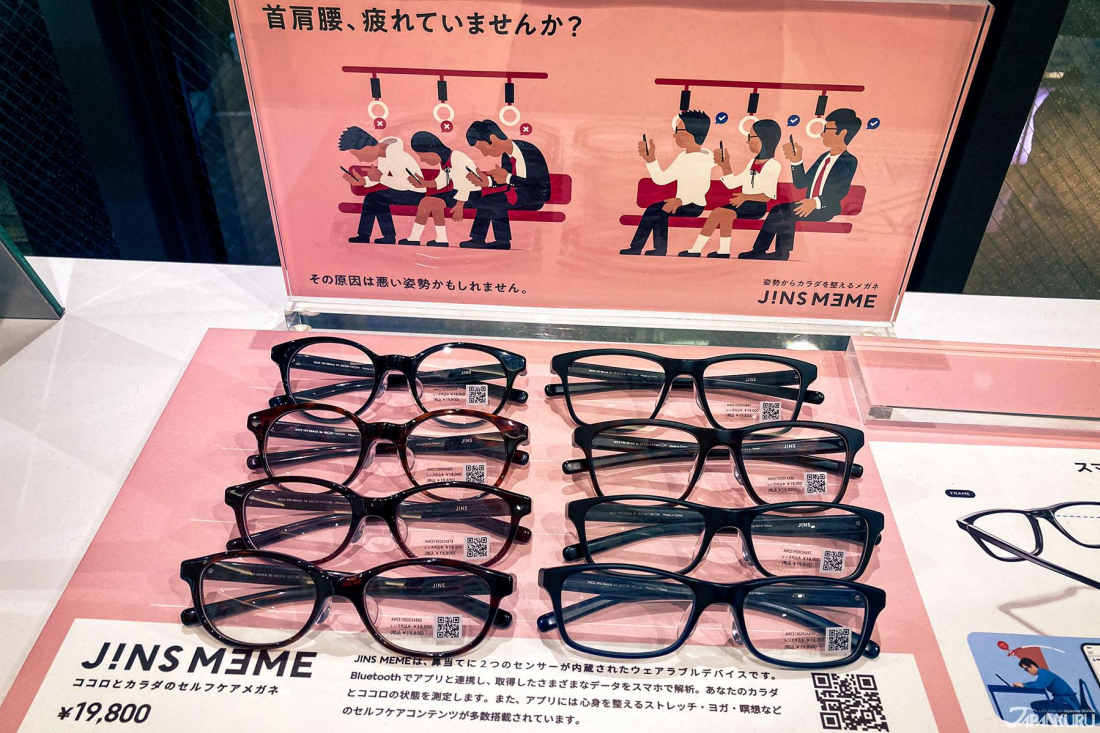 One of the most surprising aspects of visiting JINS Shibuya is seeing just how "smart" eyewear can really become, with all the potential that comes from combining traditional optometry and cutting-edge technology. Even before you arrive, you can use the JINS Virtual Try On system (on their website or on screens in-store) to digitally try on the frames that fit your face best, as recommended by the system's AI. Once you get to the Shibuya boutique, the second-floor eye exams can be done entirely through the automatic multi-lingual self-service system. And perhaps most impressive of all, their new high-tech JINS MEME glasses are equipped with special sensor chips and a Bluetooth connection. Use the dedicated app to analyze and correct your posture, or even detect the current state of your mind and body!
Glasses That Will Leave You Looking Smart, and Feeling Even Smarter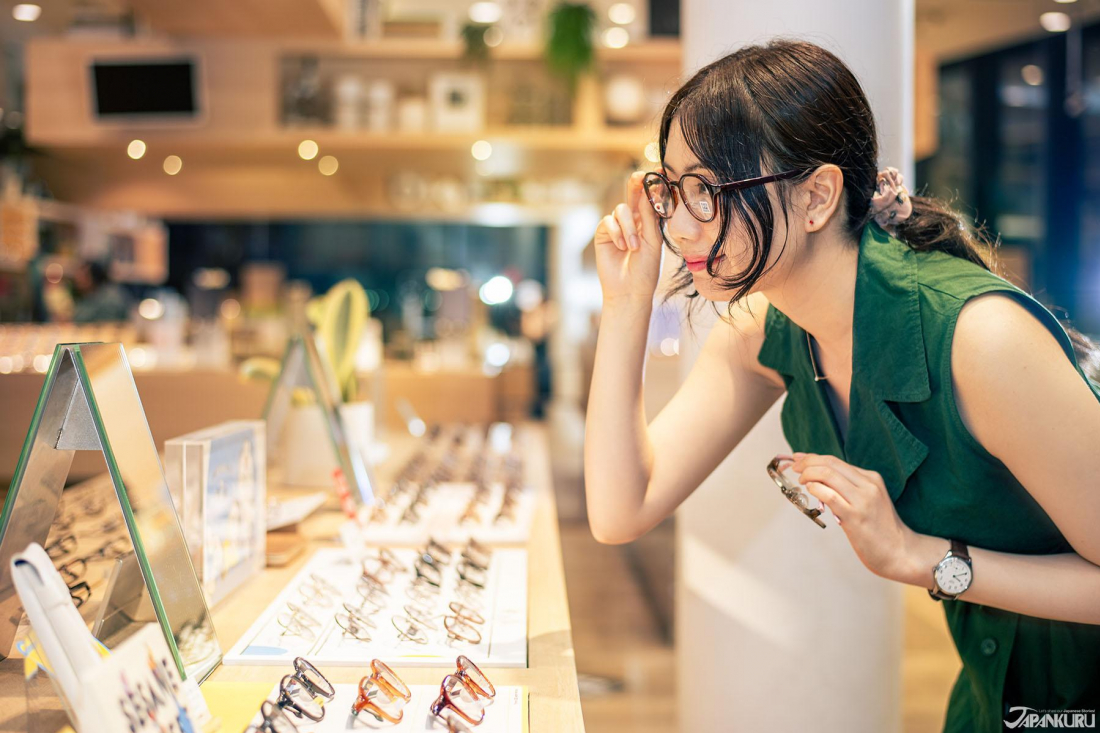 When you visit JINS Shibuya, a new pair of glasses isn't the only thing you'll be bringing home with you – you'll also find yourself walking away with new thoughts about fashion trends, design, and even the latest technology! And with so many options to choose from, it's clear that JINS has put a lot of thoughtful work into catering to each and every glasses-wearer who walks through their doors. Wearing glasses can be frustrating for a whole host of different reasons, but at JINS you'll find unique products that answer all of your complaints.
If you happen to be looking for a new pair of glasses (perhaps a travel mishap?), or if you just enjoy eyewear as fashion (there's nothing wrong with a pair for every occasion), you'll want to stop in at JINS Shibuya during your next visit to Tokyo – there's a lot to see!
Don't Miss This JINS Coupon From Japankuru!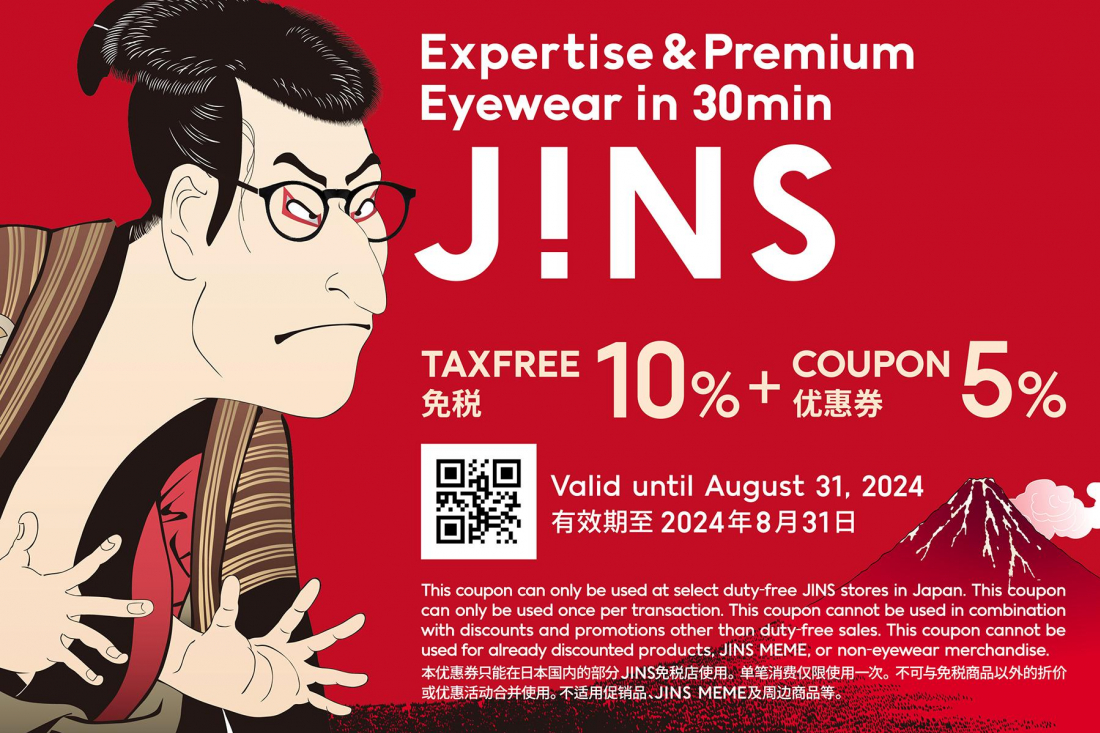 For a limited time only, show this Japankuru Coupon at JINS shops in Japan for a special discount! Foreign customers will not only get the 10% tax-free discount, but also an additional 5% off. The coupon is valid through August 31st, 2024, so make sure to take advantage of the discount on your next trip to Japan!
JINS Shibuya (JINS渋谷店)
31-1 Udagawacho, Shibuya City, Tokyo
Hours: 11:00 – 21:00 (hours may vary, check the official website for details)
Access: 5 minutes from Shibuya Station
JINS Shibuya Official Website (jp) | JINS Official Website (jp)
For more info and updates from Japan, check Japankuru for new articles, and don't forget to follow us on Twitter, Instagram, and Facebook!