Outlet Shopping Near Tokyo ・ Find the Best Deals on the Biggest Brands at MITSUI OUTLET PARK MAKUHARI
Do your Japanese outlet shopping at MITSUI OUTLET PARK MAKUHARI for international staples like Coach and adidas, Japanese favorites like URBAN RESEARCH, and much more.
MITSUI OUTLET PARK MAKUHARI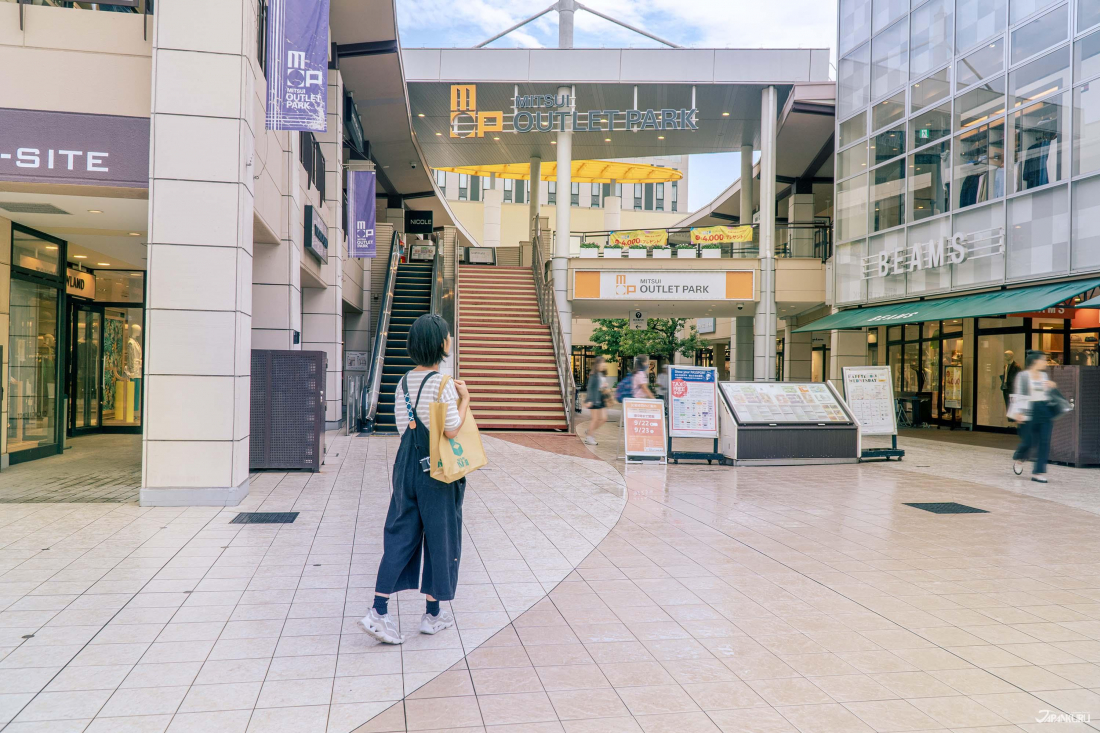 The lively streets of Tokyo and all the magic of Tokyo Disney Resort are must-sees on a trip to Japan, but when you're looking for a day of shopping and great deals, MITSUI OUTLET PARK MAKUHARI is the go-to outlet mall in the Tokyo area! The convenient shopping facilities have all the local Japanese favorites, international luxury brands, and Japanese souvenirs you're looking for, and many shops offer tax-free benefits as well. Accessible via a quick direct train from Tokyo Station (about 30 min) or Maihama Station (less than 20 min), or an easy bus ride from either Narita or Haneda Airport, this outlet mall next to Tokyo is located directly outside Kaihin-Makuhari Station for the ultimate in convenience. The location in Chiba Prefecture's Makuhari area is also close to Tokyo Disney Resort, and a quick walk from the ZOZO Marine Stadium (home to the Chiba Lotte Marines baseball team) or the major event venue of the Makuhari Messe, making it a handy shopping destination for park and event-goers. With around 140 different shops divided into four zones, brands from all over the world, souvenirs for friends, family, or yourself, plus relaxed cafes to keep you energized and all the great deals of an outlet mall, MITSUI OUTLET PARK MAKUHARI offers everything you need for a shopping day around Tokyo!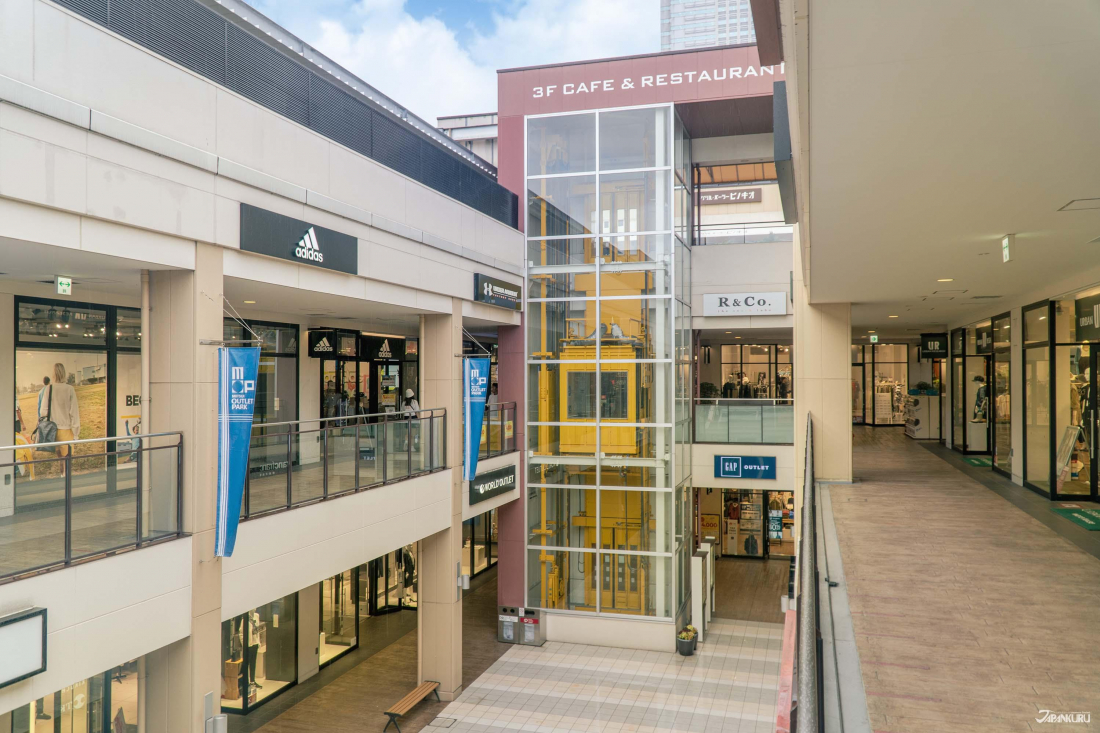 MITSUI OUTLET PARK MAKUHARI (三井アウトレットパーク 幕張)
2-6-1 Hibino, Mihama Ward, Chiba
Hours: 10:00 – 20:00 (restaurant/cafe hours may vary)
Access: Kaihin-Makuhari Station (JR Keiyo Line), or direct bus from Haneda or Narita Airport
Official Website (en)
Makuhari's Must-See Shops
COACH / COACH Men's Pop-Up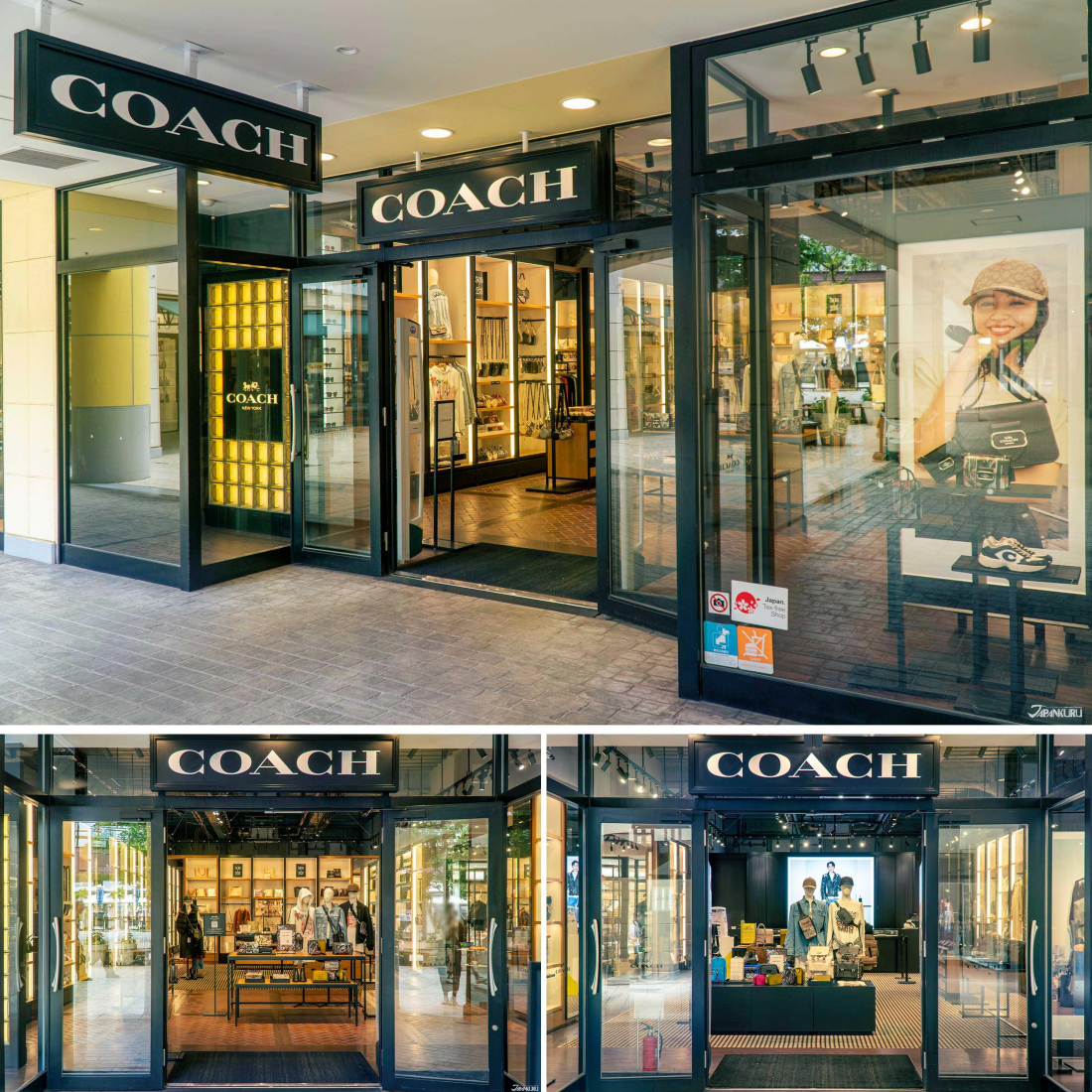 Head out the south exit of Makuhari Station, turn left to enter the MITSUI OUTLET PARK MAKUHARI shopping complex, and the broad expanse of this impressive Coach location is laid out right before your eyes in the mall's A-Site area. This American brand's broad selection of leather accessories and apparel is can be found all across the shop's spacious floorplan, offering everything from classic wallets and glove-tanned leather shoulder bags, to the trendiest new styles. With a focus on inclusivity and a commitment to quality, Coach fans of all ages will find something they love! In recent seasons, Coach has taken inspiration from the youngest generations of up-and-coming trendsetters, which means the current styles are especially fresh and colorful.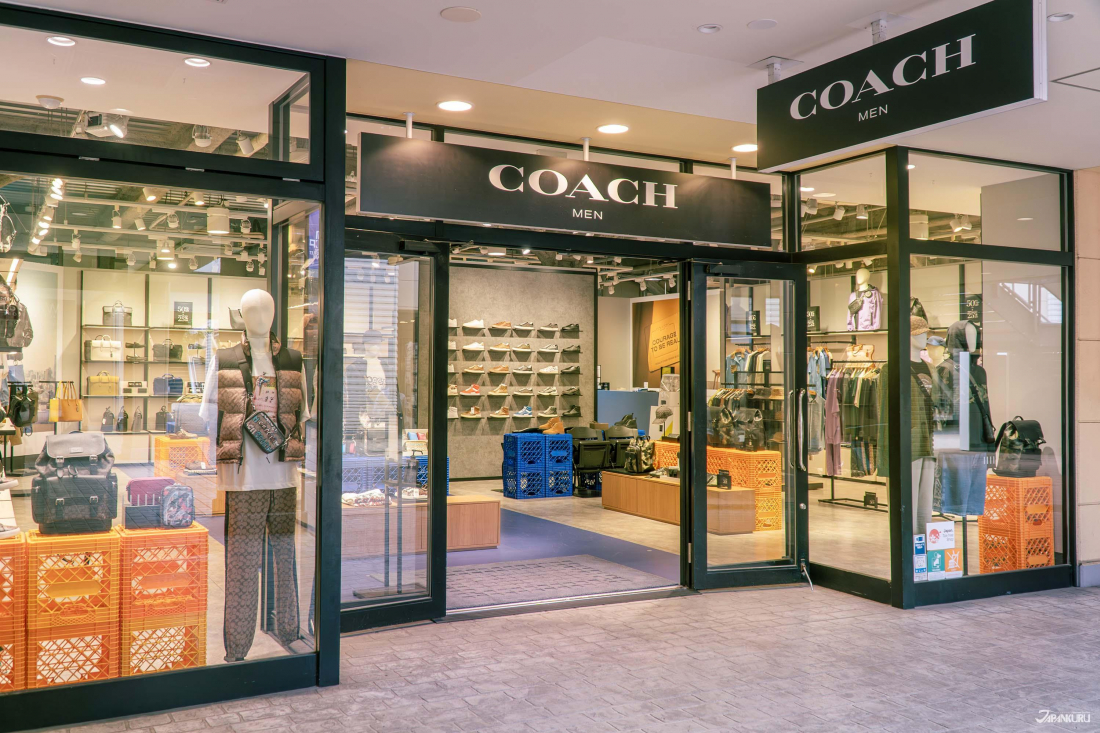 Nearby in MITSUI OUTLET PARK MAKUHARI's B-Site area, a specialized Coach Men's Pop-up boutique offers a wide selection of the brand's most popular menswear styles, arranged on sleek and neon crates. There are shoes and sneakers in a range of styles and colors, classic Coach accessories, graphic tees and sweatshirts with the latest designs, and a variety of other casual but luxe fashion options – perfect for enjoying a trip to Japan in style.
URBAN RESEARCH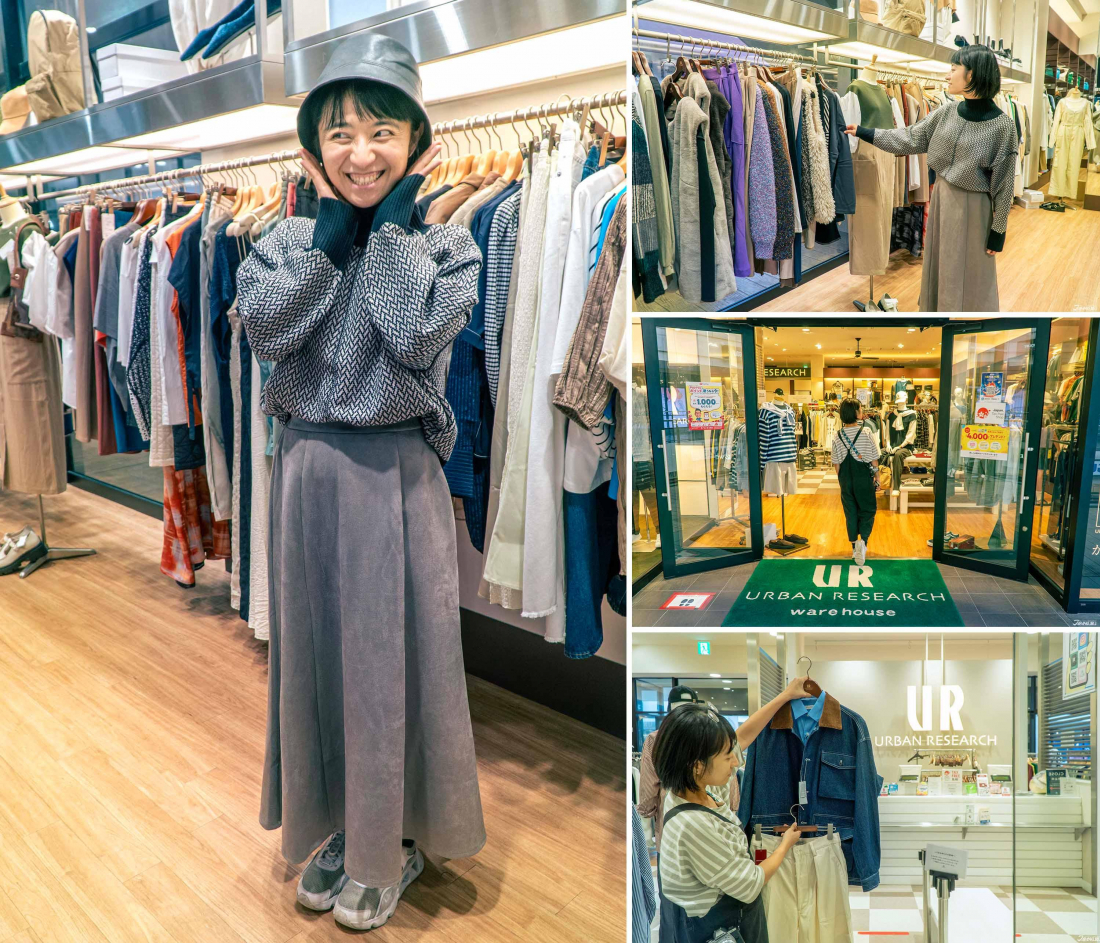 The motto of this Japanese brand is "Design Your Lifestyle," and their chic but casual fashion is designed with an eye on the styles dominating city streets around the world – thus, URBAN RESEARCH. For fall/winter 2023, the brand is offering up cozy knits, long skirts, and comfortable jackets as staples for the quickly cooling weather, along with some unique designs from their sub-brands. In addition to their core designs, URBAN RESEARCH also offers a few fashion lines with their own styles and seasonal trends, like the playful accessories of "Smelly," or "Kagure" with its focus on natural materials. Together, the many brands of URBAN RESEARCH create a cohesive whole with a selection of fun styles to suit customers from all over the world.
Tommy Hilfiger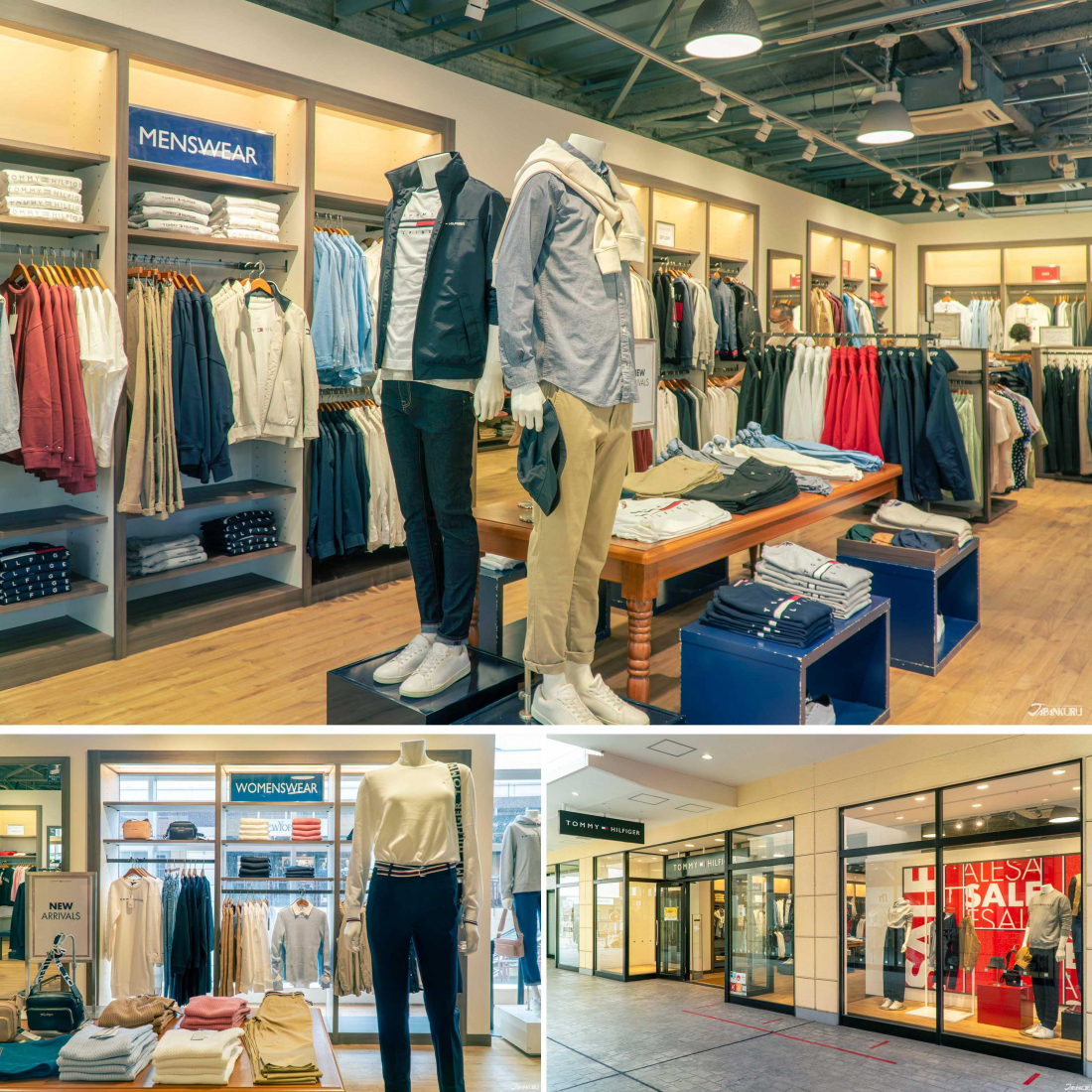 Classic, cool, and all-American – Tommy Hilfiger has been a reliable source of effortless style for decades, and the outlet boutique in Makuhari offers premium apparel for men, women, and kids as well. The brand is known for elevated essentials with a little twist, so in true Tommy Hilfiger style, the store's racks are packed with polo shirts, sleek cotton trousers, cable-knit sweaters, and other preppy styles, in Tommy Hilfiger's classic subdued red, white, and blue palette. With cooler months on the horizon, the shop will soon be full of warm flannel and cozy sweaters. Even when traveling in Tokyo, you can't go wrong with Tommy Hilfiger's all-American New York look!
Columbia Sportswear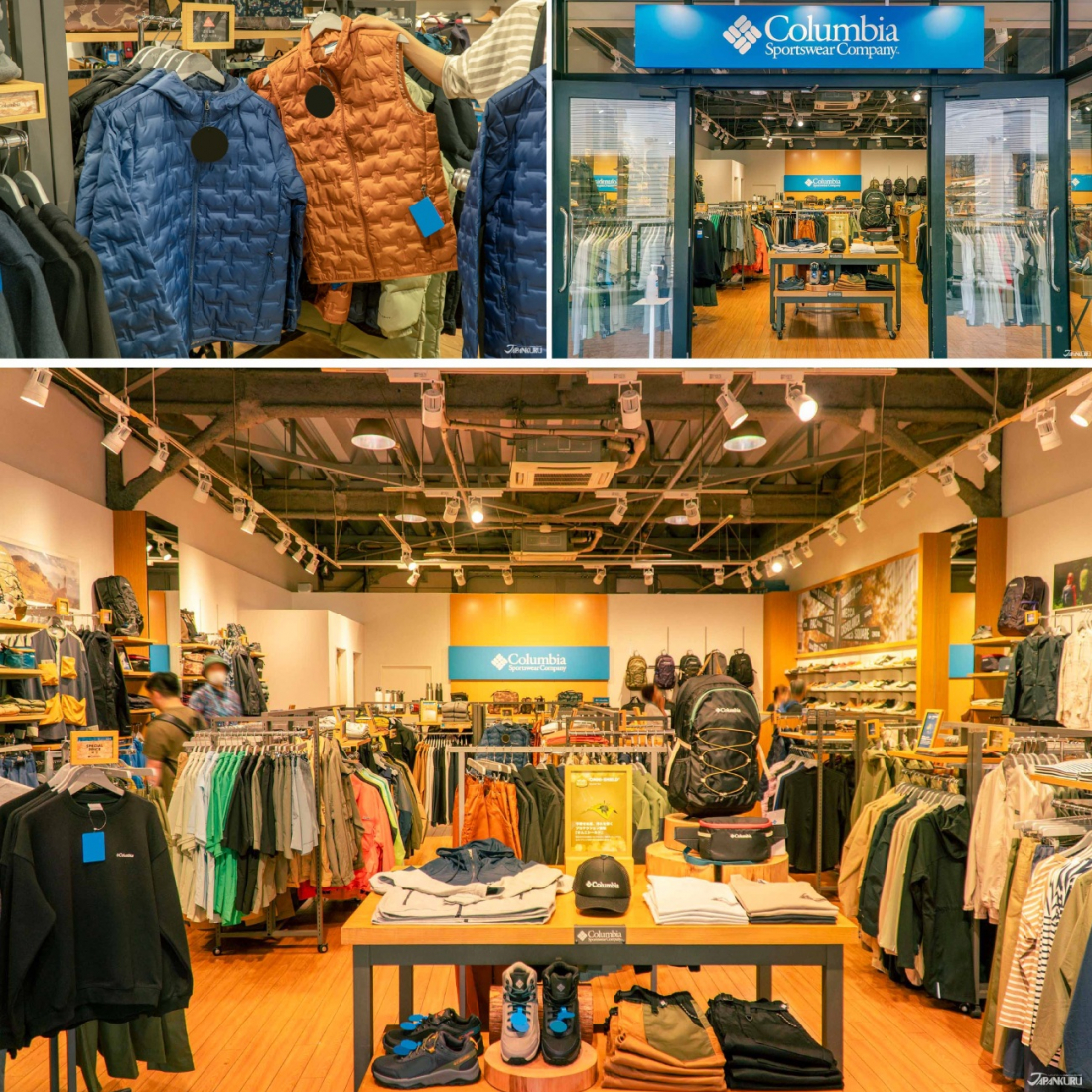 Columbia is known for high quality and ever-evolving cutting-edge apparel technology, with the kinds of outdoor and sportswear options that will leave you ready to tackle just about any terrain in any weather. Over the past eight decades, the brand's practical and comfortable apparel has become a staple among hikers, campers, skiers, snowboarders, fishers, and just about anyone who likes to spend time outdoors, but a quick look at the shop in MITSUI OUTLET PARK MAKUHARI will show you that they have an eye for outdoorsy style as well. Many of their more casual pieces and accessories would look just as good on the streets of Tokyo as they would at the top of Mt. Fuji! For any shoppers worried about the cold wind and rain of Japan's fall and winter (or the colder months back home), the brand's OMNI-TECH and OMNI-HEAT items are the latest in outerwear technology, using waterproof constructions and down quilting to keep you warm and cozy and ready throughout the season. Just ask the shop's knowledgeable staff for help finding just the right options for your lifestyle.
adidas / adidas Golf Factory Outlet Makuhari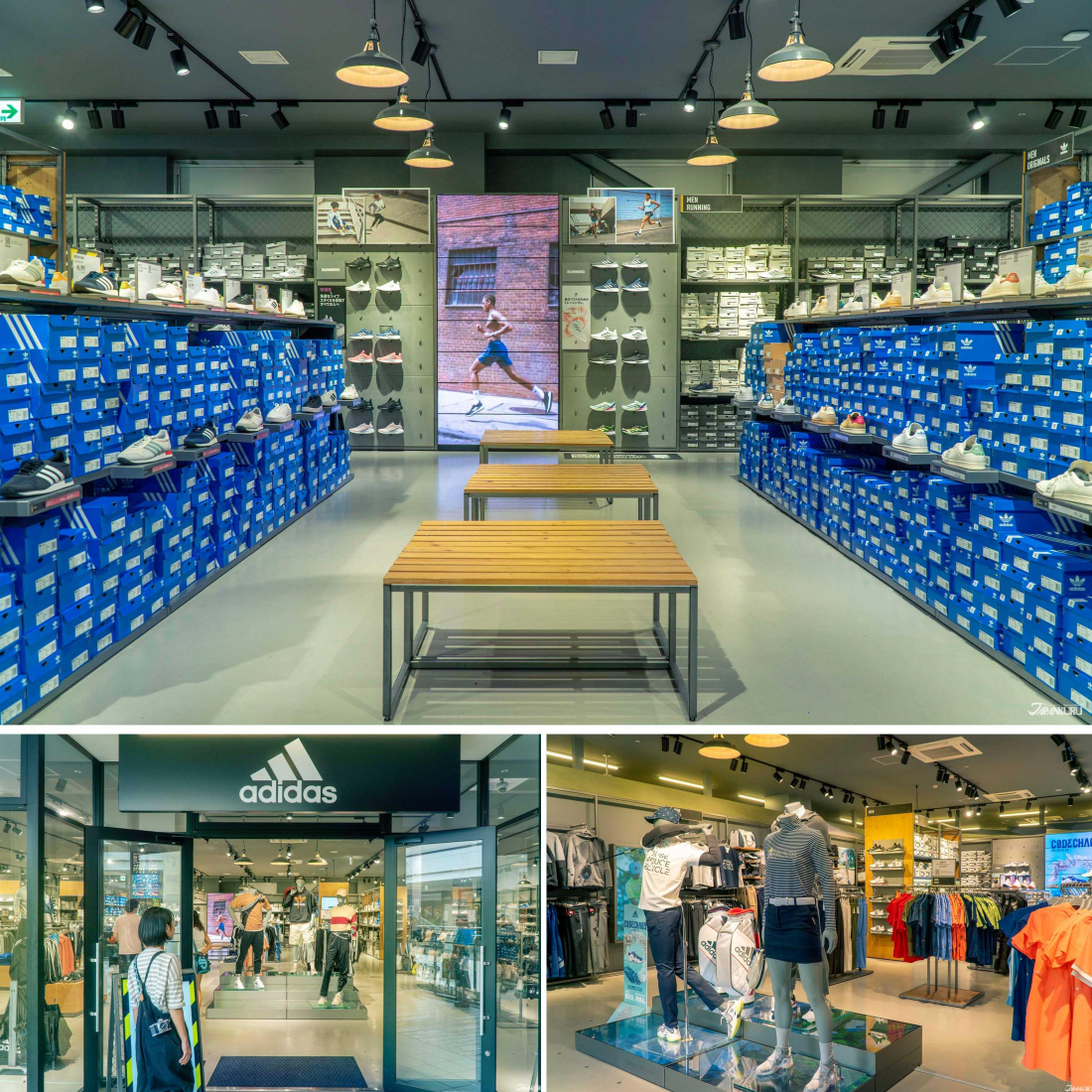 With classic athletic styles, reliable quality, and an ever-expanding range of products, adidas is a favorite among athletes and the style-conscious around the world. And thanks to the great selection, fans of the brand will find themselves in heaven at the adidas shop/adidas Golf Factory Outlet at MITSUI OUTLET PARK MAKUHARI. The expansive retail space offers a variety of shoes and apparel, including more specialized products for passionate athletes looking for the best technology to support their training, and also plenty of items that will appeal to fashion-forward shoppers who want to add both comfort and style to their wardrobes with a little athleisure. Find great prices on adidas sneakers and running shoes, and make sure to check out the impressive selection of golfwear, golf club bags, shoes, and accessories in the Golf Factory Outlet section.
A Quick Break at gelato pique cafe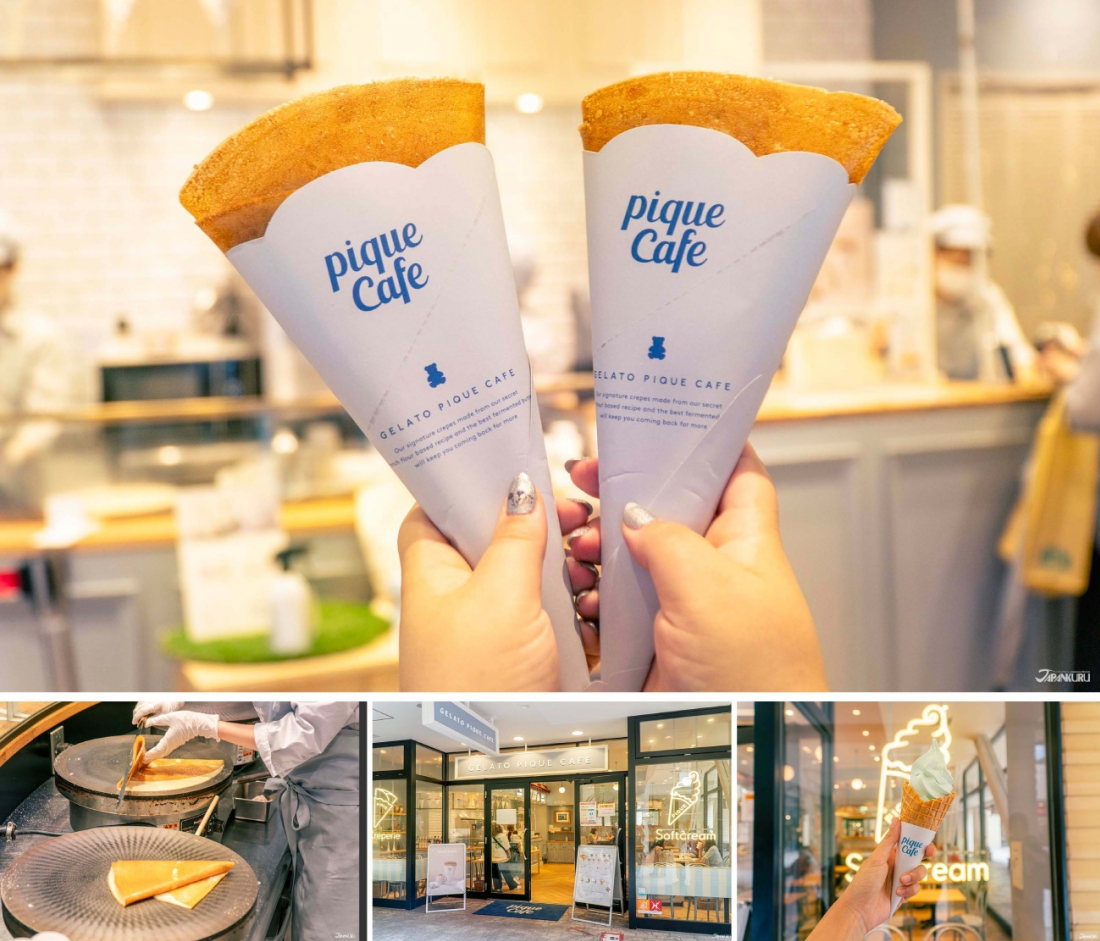 MITSUI OUTLET PARK MAKUHARI has a handful of restaurants and cafes, including options offering pizza, steak, and pancakes. But when you've shopped till you dropped and you're ready for a little break, the gelato pique cafe [sic] is the perfect spot for a sweet treat and a cup of coffee. The "gelato pique" brand is known in Japan for offering the fluffiest, softest, most luxuriously comfortable loungewear, so it's no surprise that now that they've branched out into the world of cafes, the menu includes soft, bouncy crepes with crispy-crunchy edges and creamy-smooth ice cream. There are crepe fillings both savory and sweet, but the most popular option is the simplest of all, with just rich butter imported from France and sweet, crunchy sugar. Of course, the gelato pique cafe does offer gelato in flavors like pistachio, vanilla, and dark chocolate! But many customers go for their soft serve as well, which has a subtle milky flavor, and a cute pastel blue color to match the shop's cute interior! Between the sweet atmosphere and the sweet snacks, it's all extremely Instagrammable, and a trip to the cafe will leave you refreshed and ready to get back to shopping.
Conveniences for Foreign Shoppers

Brought cash from home? MITSUI OUTLET PARK MAKUHARI has a few conveniences that make it especially easy for foreign visitors to shop to their hearts' content, including lockers and currency exchange. The foreign currency exchange machine is located on the ground floor in the C-Site area, and it accepts Chinese yuan, Taiwanese dollars, Hong Kong dollars, Korean won, Thai baht, Singapore dollars, US dollars, and Euros, letting you exchange them into Japanese yen to use while shopping. Most shops in Japan only accept Japanese yen, so for travelers who decide to bring the bulk of their money to Japan in other currencies, this is an easily accessible place to get some of it exchanged. For travelers who prefer to use a debit card and get local cash directly from an ATM, there's a Seven Bank ATM that accepts foreign cards right near the currency exchange machine, too!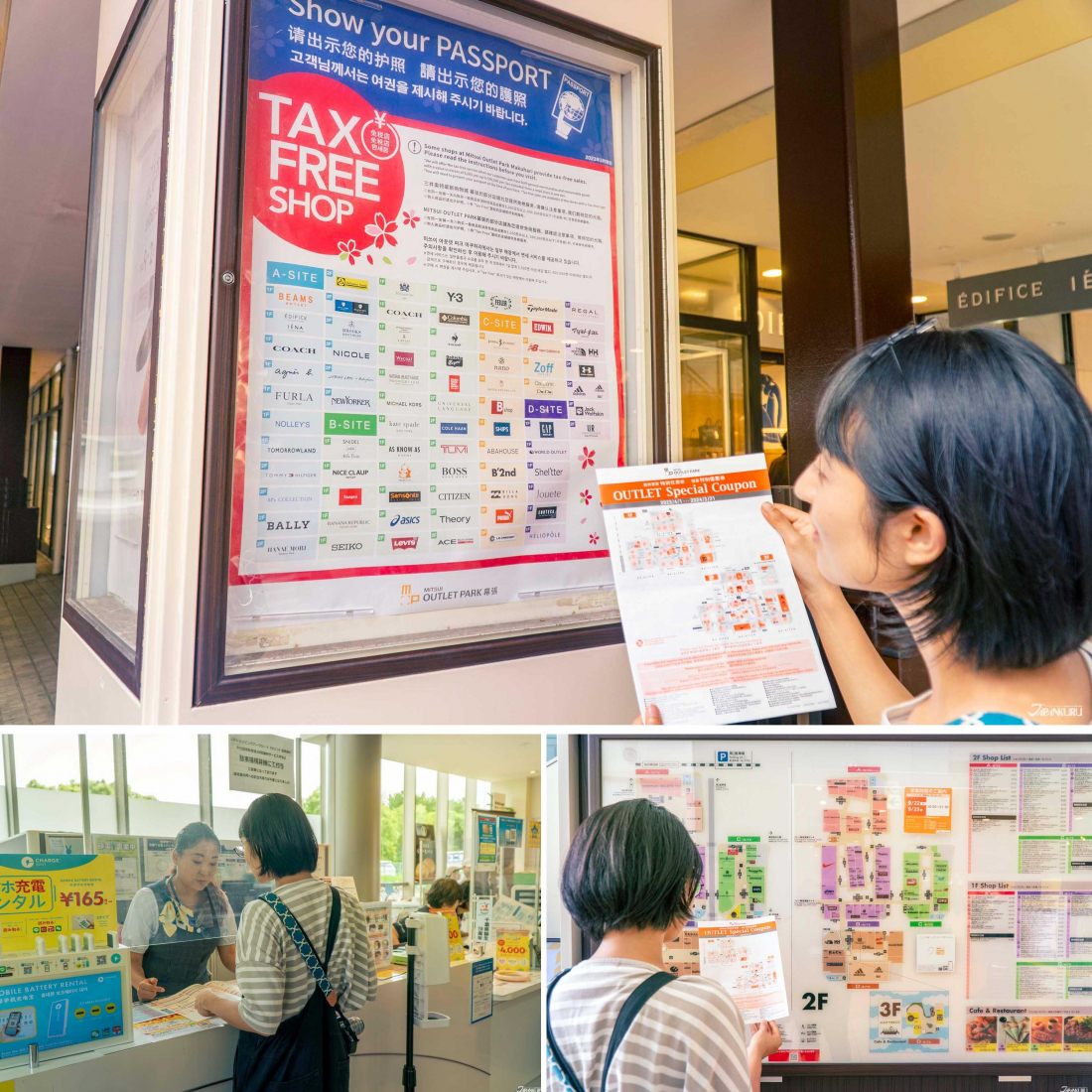 Of course, foreign sightseers also get the privilege of tax-free shopping in Japan, and that extends to many of the shops at MITSUI OUTLET PARK MAKUHARI. There are signs scattered throughout the complex and stickers posted outside shops showing which shops offer tax-free services, along with a special booklet for foreign shoppers offering special coupons as well, with perks like an extra 5% off! To pick up a coupon booklet (shoppers are required to present their passports first), and find answers to any questions you might have, simply stop by the Information Desk in the C-Site area, where staff are waiting to help!
Make the Most of Makuhari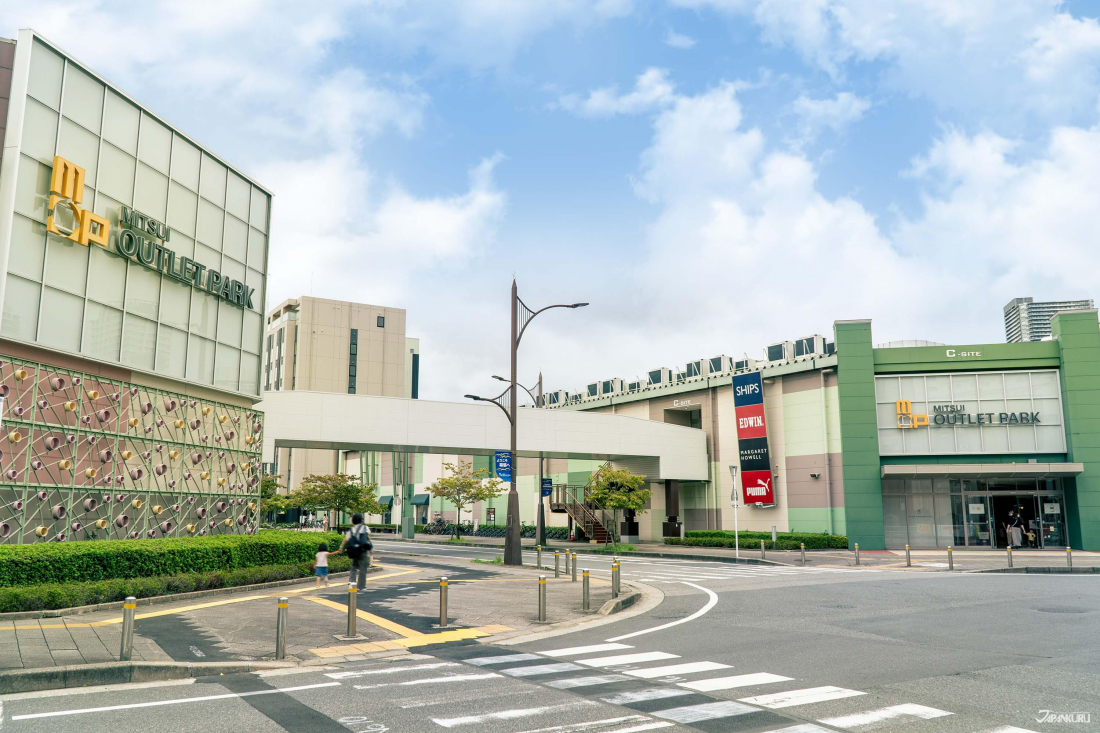 Outlet prices, tax-free benefits, popular Japanese brands, international luxuries, and even some delicious treats! There's a lot for shoppers to enjoy at MITSUI OUTLET PARK MAKUHARI, and it doesn't hurt that the outlet mall is a quick train trip from both Tokyo Station and Tokyo Disney Resort (and an easy bus ride from either Tokyo airport). When it comes time for some serious shopping in the Tokyo area, take a little trip to Chiba to see everything MITSUI OUTLET PARK MAKUHARI has to offer!
For more info and updates from Japan, check Japankuru for new articles, and don't forget to follow us on X (Twitter), Instagram, and Facebook!