Seeing Japanese Women's Pro Wrestling in Tokyo (And Why You Should Probably Go)
Flashy costumes, devastating takedowns, and plenty of smack talk. Japan loves to add its own original flair to just about everything, and when it comes to pro wrestling, these women sure know how to put on a show!
Japanese Women's Pro Wrestling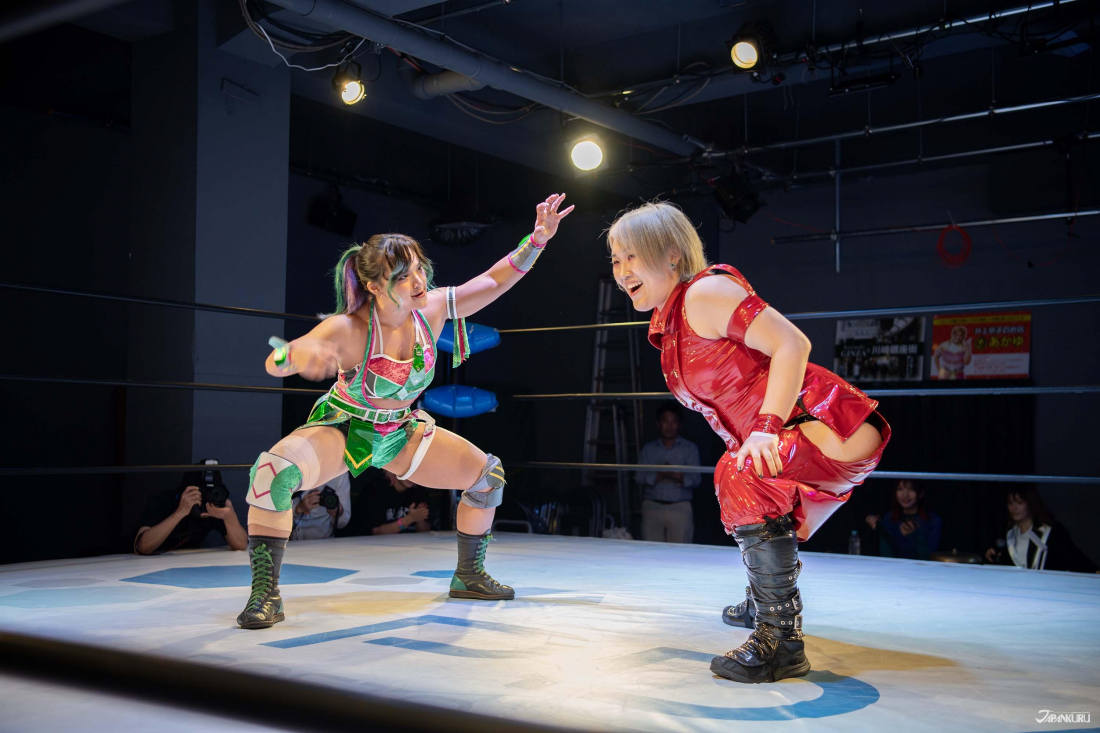 Pro wrestling, with its theatrical flair and flamboyance, first grew to popularity in Japan in the postwar years when sumo wrestlers started exploring new styles arriving from the US and Europe. In the following years, though, it didn't take long before Japanese pro wrestling became its own thing, nicknamed "puroresu" (プロレス, a Japanese abbreviation), with its own fusion of overseas styles plus a little something all Japanese. And while the puroresu trend might have started with male wrestlers, the ladies were quick to catch up with "joshi puro" (literally "women's pro"), and the rest is history! These days women's pro wrestling has its own substantial fanbase in Japan and abroad, with a number of different organizations putting together matches, and the most charismatic wrestlers attract crowds of their own devoted fans. It turns out there's a whole world of muscley Japanese women who think that dressing up in colorful pleather and sequins and throwing each other around a wrestling ring sounds like a good time, and they're good at what they do, too. So when the Japankuru team found out that Stardom (one of Japan's major joshi puro organizers) was putting together a wrestling event with an English-speaking announcer and a rare post-match meet and greet, we knew that we couldn't miss this unique chance. Despite the pouring rain, we headed to the ring to check it out.
Joshi Puro in Tokyo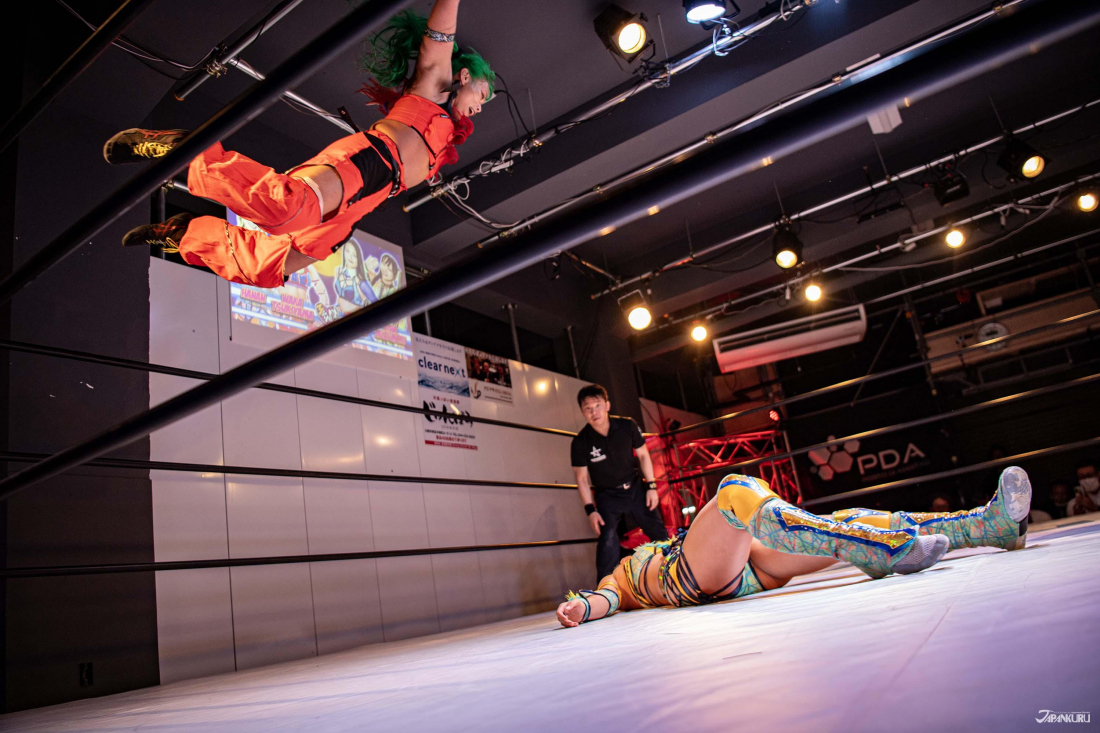 A women's pro wrestling match was a new experience for everyone on the Japankuru team, despite a shared love of Japan's more bombastic side, and a team member or two with a fondness for mixed martial arts. We came to the event with eyes full of wonder, without any knowledge of the nitty-gritty rules of wrestling, or any familiarity with the popular wrestlers on the roster that night. But we were ready for a spectacle, and we sure got what we asked for. By the end of the event, we were rooting for our favorites.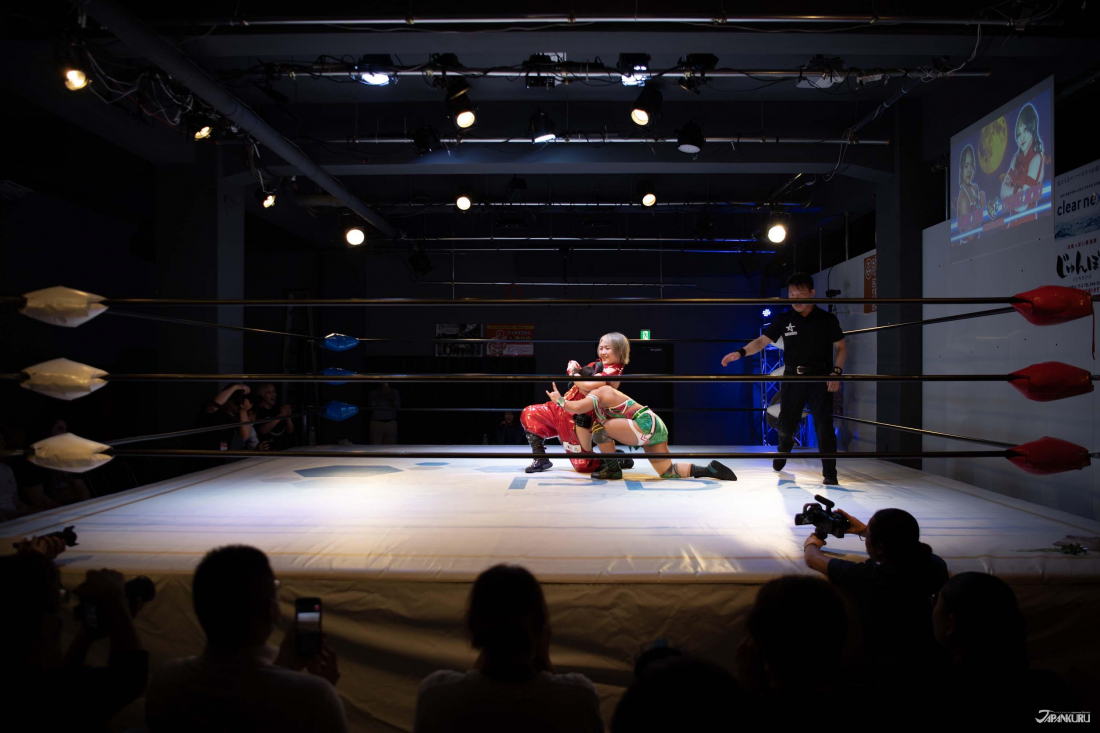 The special English-language event we attended was called Moondom (sort of a spin-off of the Stardom brand), and it was specially organized by wrestler Waka Tsukiyama as an experimental outreach event for the English-speaking world, ready to welcome everyone from dedicated fans to sightseers with an interest in Japanese pop culture. It was actually held in a small venue in Kawasaki, just outside of Tokyo, but Stardom has been known to host and participate in wrestling events held all over the place, from Tokyo venues big and small, to spots halfway across the world. Tickets were available online ahead of the event, but in the end it was probably easiest to simply buy them at the door, where you could also pay extra to participate in the post-fight meet and greet. When we arrived, English-speaking staff were ready and waiting at the ticket table by the entrance, and a small crowd of Japanese and foreign fans were gathering, chatting about the fights to come, and which they were most excited to see.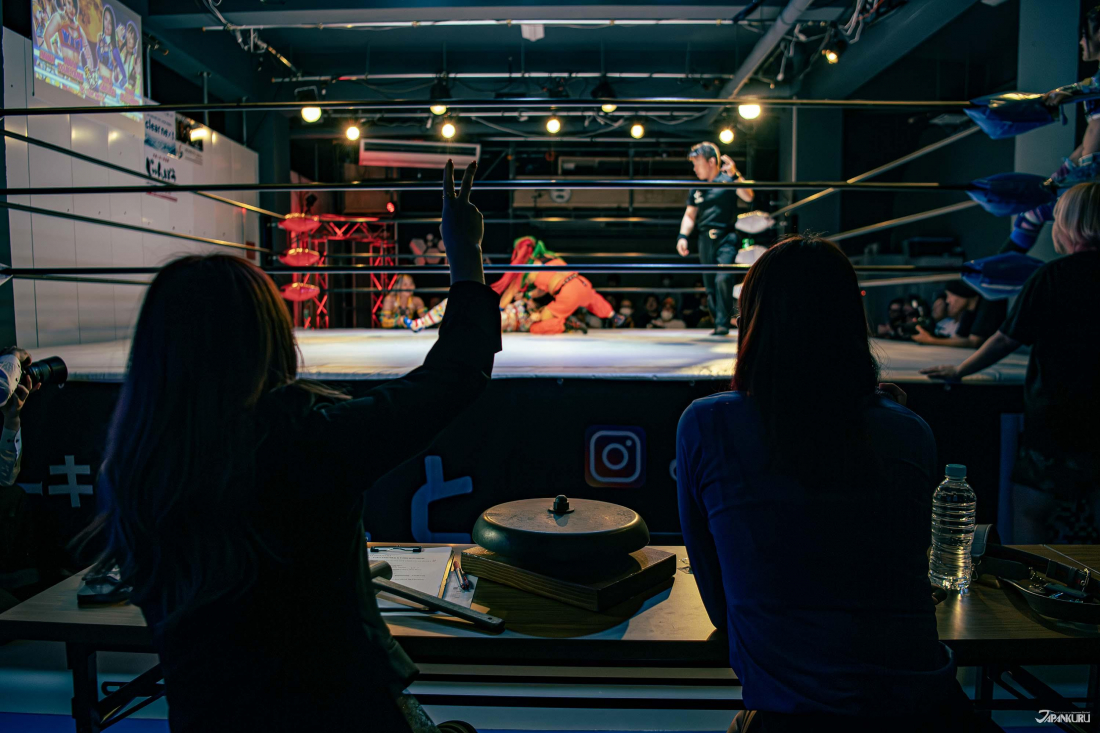 When it was finally time to take our seats, we were excited to see just how close they were placed, with front-row seats located about arm's reach away from the ring! Every seat in the house had a great view, so we quickly settled in and readied ourselves for the program ahead: one singles match, followed by two tag team matches, with a total of 10 wrestlers. The lineup included Waka Tsukiyama, of course, who had been indispensable in organizing the event, but also crowd favorites like Hanan and Maika. Soon enough, Waka Tsukiyama herself appeared on stage to explain the basic rules of wrestling for any newbies in the room (read: us), before the first bell was wrung, and the event began in earnest.

Each joshi puro match starts with the wrestlers hopping onto into the ring for their intro, where they pose and flex, show off their latest costumes, and tell the world what they're all about. This was our first real introduction to the wrestlers of the joshi puro world, other than a cursory glance at the flyer, and it was great to see how differently each of the wrestlers portrayed themselves. There were rough delinquents, and happy gyaru girls, and while we didn't necessarily see the sharp face vs. heel character distinction found in classic pro wrestling, there were distinct characters and styles of all kinds, which became even more visible once the matches began. The fighting itself was just as dramatic, over the top, and acrobatic as you might hope, and the stream of English commentating from the announcer kept us in the loop, despite the constant back and forth. There were intricate holds, painful-looking throws, clotheslines, dropkicks, wrestlers jumping off the ropes to tackle each other to the ground, last-minute comebacks, and some loud smacks and punches sprinkled in for good measure. Say what you want about joshi puro, but these women are athletes and performers, and they look like they're having a ball while they beat each other up in the ring. It's a lot of fun to watch.
Meeting the Wrestlers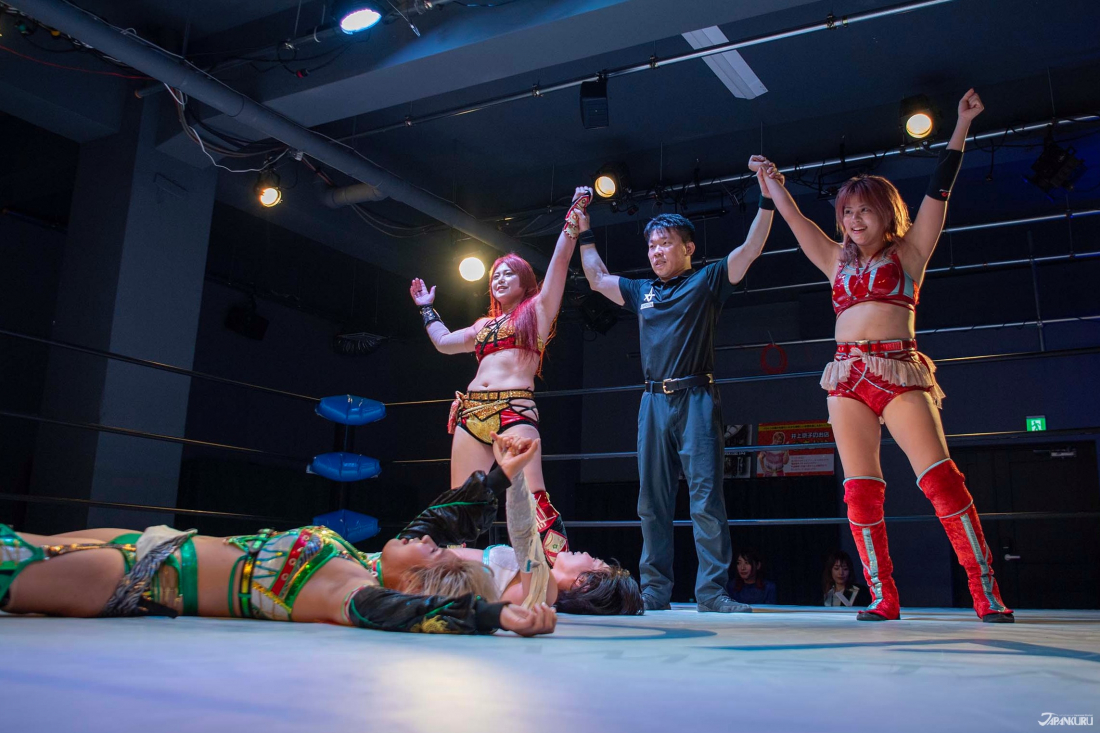 Will all three fights started and finished, winners were found, and the main portion of the competition came to an end. But for this special Moondom event, the night was still young, and things weren't over yet. Next came the meet and greet, which is almost unheard of in the world of Japanese women's pro wrestling, meaning it was a truly special event for the small crowd of dedicated joshi puro fans who had gathered from Japan and even overseas. Even for those of us who were new to it all, it was an exciting chance to meet the stars of the ring who we'd just seen brawling it out.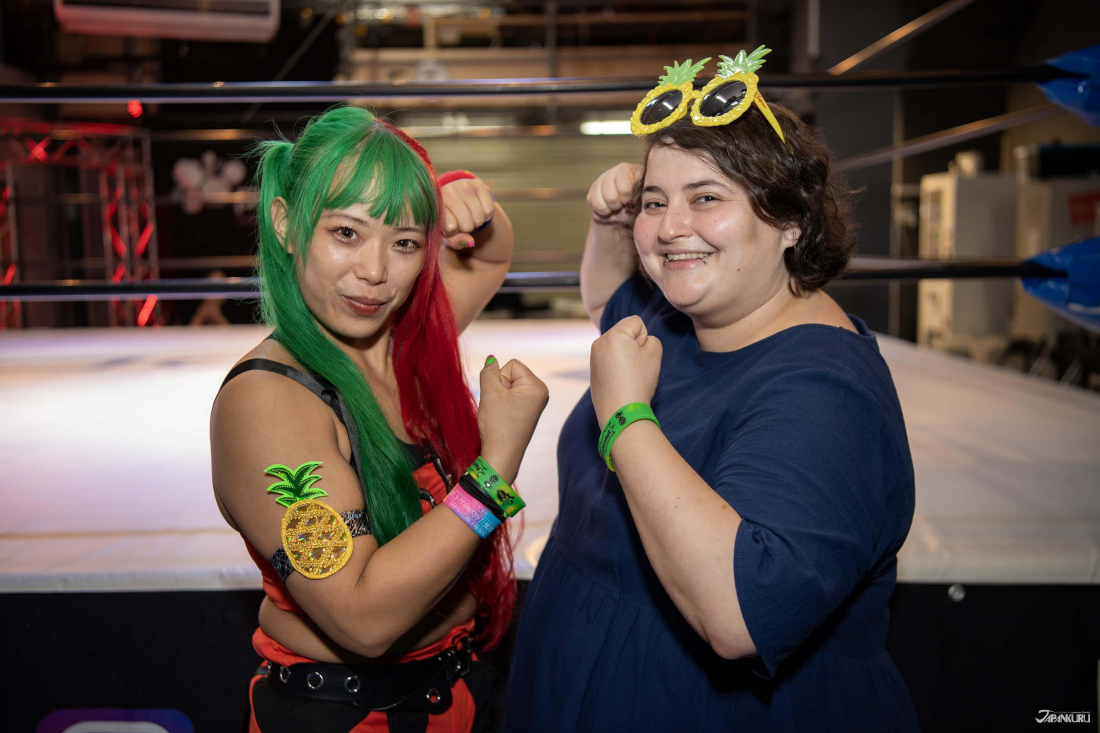 The wrestlers stood together in one corner of the venue, and the line of fans were allowed in a couple at a time, to shake hands, take pictures together, and even just chat a little – as much as language barriers allowed. Of course the Japankuru team had to join in on the meet and greet, taking our own pictures (thanks for the sunglasses, Yuna Mizumori!), and even snagging a shot with all of the wrestlers together. The Japankuru team's very first Japanese women's pro wrestling event was something we'll never forget – and the world of joshi puro has earned a few new fans.
How to See Japan's Women Pro Wrestlers for Yourself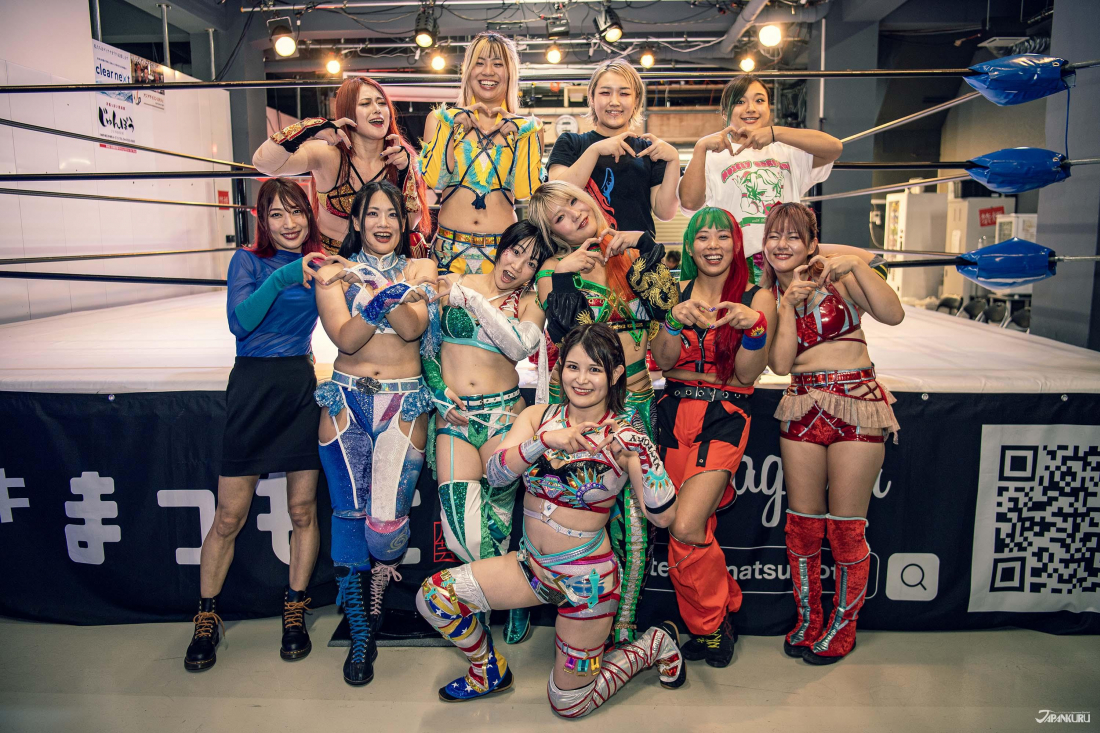 If you've gotten this far, chances are you're as fired up and excited to see a joshi puro match as we are. Fortunately, it's pretty easy to check out the scene while you're in Japan! This Moondom event, with an English announcer and more, was a little bit experimental, which means that Stardom is still feeling things out – the next event of its kind might not be for a little while. But there are plenty of normal Japanese joshi puro events going on in the meantime, and while the English announcements were neat, it's pretty easy to enjoy even when you don't understand a word anyone's saying. Sequin covered costumes and full-body takedowns might be the purest form of communication.
To find an event to attend, just browse Stardom's calendar and look for an event around when and where you'll be in Japan. (If your Japanese isn't great, the website works pretty well when you just run it through google translate!) For most events, you can either buy tickets online ahead of time, or get them at the door, making it easy to consider joshi puro matches even as a spur of the moment entertainment option. If you're not a joshi puro fan already, there's a whole world of women's pro wrestling waiting to be explored!
For more info and updates from Japan, check Japankuru for new articles, and don't forget to follow us on X (Twitter), Instagram, and Facebook!