Starbucks Japan Offers 47 New Frappuccinos for All 47 Japanese Prefectures
Continuing their Japanese anniversary celebrations, Starbucks has a whole bunch of new flavors coming out, and some are pretty intriguing.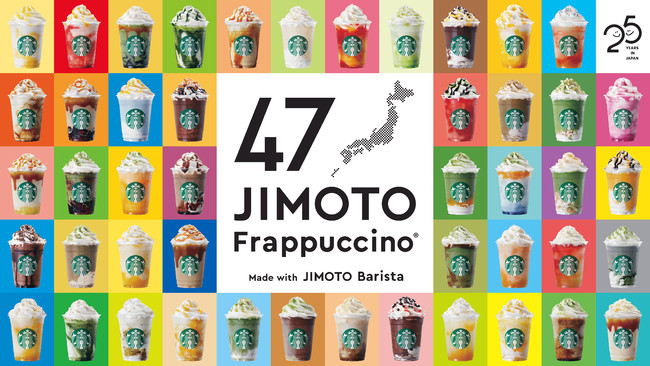 Ever wondered what every single prefecture of Japan would taste like in sugary Starbucks drink form? This year, Starbucks is celebrating 25 years in Japan, a quarter-century since their very first Japanese location opened in Ginza, and after releasing plenty of anniversary merchandise, they've moved on to special celebratory drinks! Nobody does specialty limited-time drinks like Starbucks Japan. If you've never visited a Starbucks here, then you should know: there is always a special seasonal drink (or 3 or 5) available, at all times of the year, and it's usually something totally new and unique. But these drinks are generally available nationwide, unlike this anniversary promotion.
Showing off the coffee chain's presence in every part of Japan, city and countryside alike, this summer Starbucks is selling 47 different frappuccinos for each prefecture of Japan for their "47 Jimoto Frappuccino" promotion ("47 home town frappucinos"), and each of those drinks is only available at Starbucks locations in that prefecture! So if you lived in Hokkaido and wanted to try the new frappuccino made for Okinawa, you'd have to get on an airplane and go!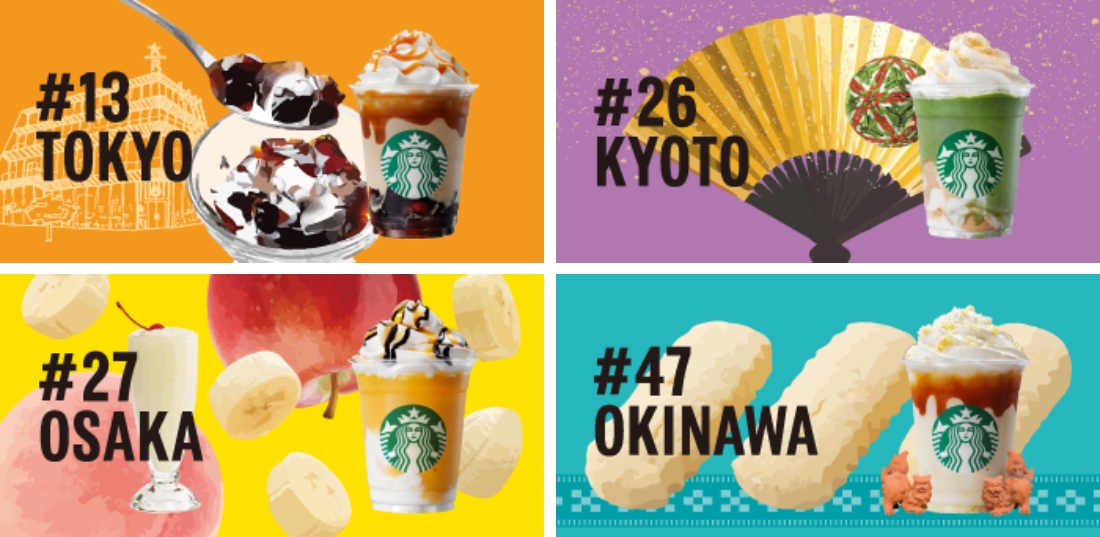 Each of the drinks was designed by local Starbucks baristas to represent their prefecture, using ingredients and flavors iconic to each region. Kyoto, for example, is one of the more obvious drinks. The "Kyoto Hannari Matcha-Kinako Frappuccino" (京都 はんなり 抹茶きなこ フラペチーノ) is an "elegant" ("hannari") matcha drink with kinako roasted soybean powder. It's a drink full of traditional Japanese flavors, perfect for a region known for its traditional Japanese culture. Tokyo, as the birthplace of Starbucks (in Japan), went for a drink full of coffee flavor to represent Starbucks' origins. The coffee jelly and caramel sauce creation even uses the local Starbucks Tokyo roast, which is prepared right in Tokyo's Meguro neighborhood, at the Starbucks Reserve Roastery.
While the webpage for each of the drinks includes a fairly long description of all of the feelings, ideas, and concepts that the local baristas were inspired by and hoped to communicate with their local drinks, some of the final drink flavors are quite simple. Prefectures like Osaka and Okinawa chose to design their frappuccinos around the flavors of popular local foods and drinks. Osaka's drink is a creamy, fruit-filled concoction made to taste a lot like the popular local drink they call "mixed juice" (ミックスジュース), made of milk and various fruit juices. Okinawa's "Karii Chinsuko Vanilla Caramel Frappuccino" (沖縄 かりー ちんすこう バニラ キャラメル フラペチーノ) uses chinsuko cookies as a base, incorporating the shortbread-like flavor of the local cookies so frequently brought back from the islands of Okinawa as souvenirs! (Karii means cheers, if you were wondering!)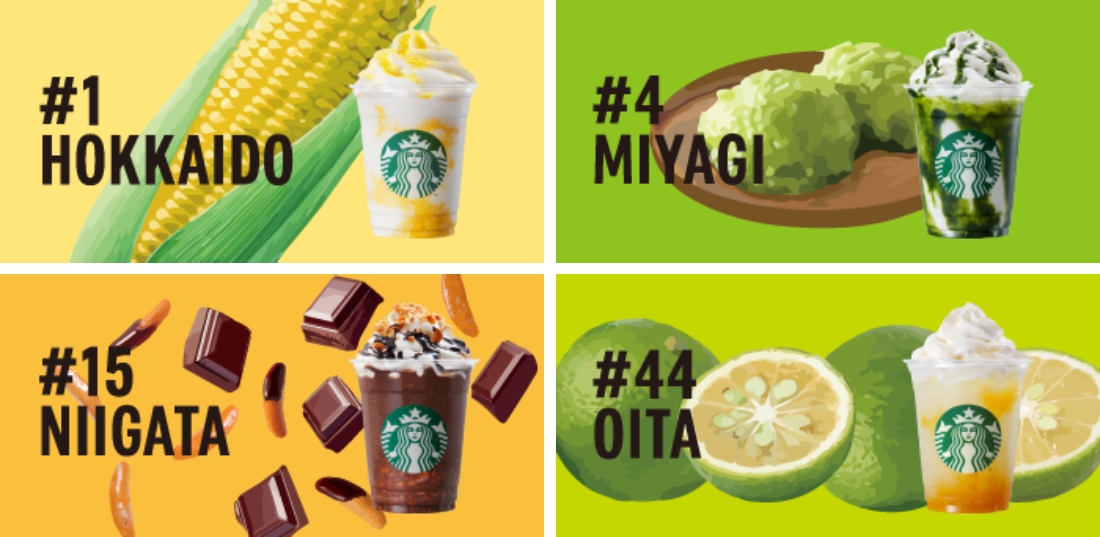 Fruit-lovers will be glad to hear that at a good half of the frappuccinos are based on local fruit flavors! Anyone who has traveled to Japan's countryside will know that this country really treasures the flavors and variety of local, regional produce. Oita Prefecture, for example, is offering a kabosu (かぼす) frappuccino, taking advantage of the unique citrus flavor inherent to this fruit grown fairly exclusively in Oita Prefecture. It would be hard to get much more local than that!
But some of the other flavors are a bit more surprisingーor at least they might be to visitors unfamiliar with all the local quirks of regional Japan! Hokkaido's drink flavor is corn, which is indeed a local product, but a little hard to imagine as a cold, creamy frappuccino. And Niigata's kaki-no-tane (柿の種) and chocolate creation is similarly difficult to imagine in frappuccino form. The drink uses kaki-no-tane, which are little rice crackers with a hard crunch and a light coating of soy glaze, originating from Niigata Prefecture. Chocolate-covered kaki-no-tane are actually a somewhat common snack sold in stores, but making it all into a drink seems like a strange combination of texturesーalso, definitely intriguing and possibly delicious.
Miyagi's zunda-matcha drink might sound a little off-putting if you happen to learn what zunda (ずんだ) is before ever tasting it. That's because zunda is ground edamame, which makes this drink a combination of matcha and soybeans. But zunda is actually a mild, sweet flavor, made with edamame and plenty of sugar, so it might just be the perfect match for the bitter green tea notes of matcha!

Obviously there's not much that Starbucks Japan can do about their 25th anniversary coinciding with a terrible nationwide pandemic, but the timing of this promotion is a little disappointing. Japan has been slow to start with its COVID-19 vaccination initiatives, and most Japanese residents are only now starting to make vaccine appointments, meaning it's far too early in the process for Starbucks to encourage frappuccino fans to travel throughout the country and try all 47 drinks. (Drinks available from June 30th to August 3rd, or while supplies last.) Some of those drinks far from Tokyo look delicious, and it's a shame we can't all go try them all right now! But perhaps it's a good opportunity for those of us in Japan to appreciate the beauty of whatever part of the country we might be in, and enjoy whichever "jimoto" frappuccino is available nearby.
(Tokyo's coffee jelly and caramel frappuccino does sound a little run-of-the-mill, doesn't it!?)
(…At least it also sounds delicious, I guess.)
---
Basic Info
Name: Starbucks Japan
---
For more info and updates from Japan, check Japankuru for new articles, and don't forget to follow us on Twitter, Instagram, and Facebook!
Source: JAPANKURU