The Best Sightseeing Spots in Okayama and Kagawa ・ From Legends of Momotaro and Urashima Taro, to Traditional Workshops and Great Views!
Okayama on the island of Honshu and Kagawa on the island of Shikoku sandwich the Seto Inland Sea on either side, connected by the Great Seto Bridge, but also connected by similar legends and historical spots. Take a look at what this area has to offer in terms of gourmet meals and udon noodles, traditional crafts and workshops, and breathtakingly beautiful experiences!
Okayama: The "Fruit Kingdom" and Legendary Home of Momotaro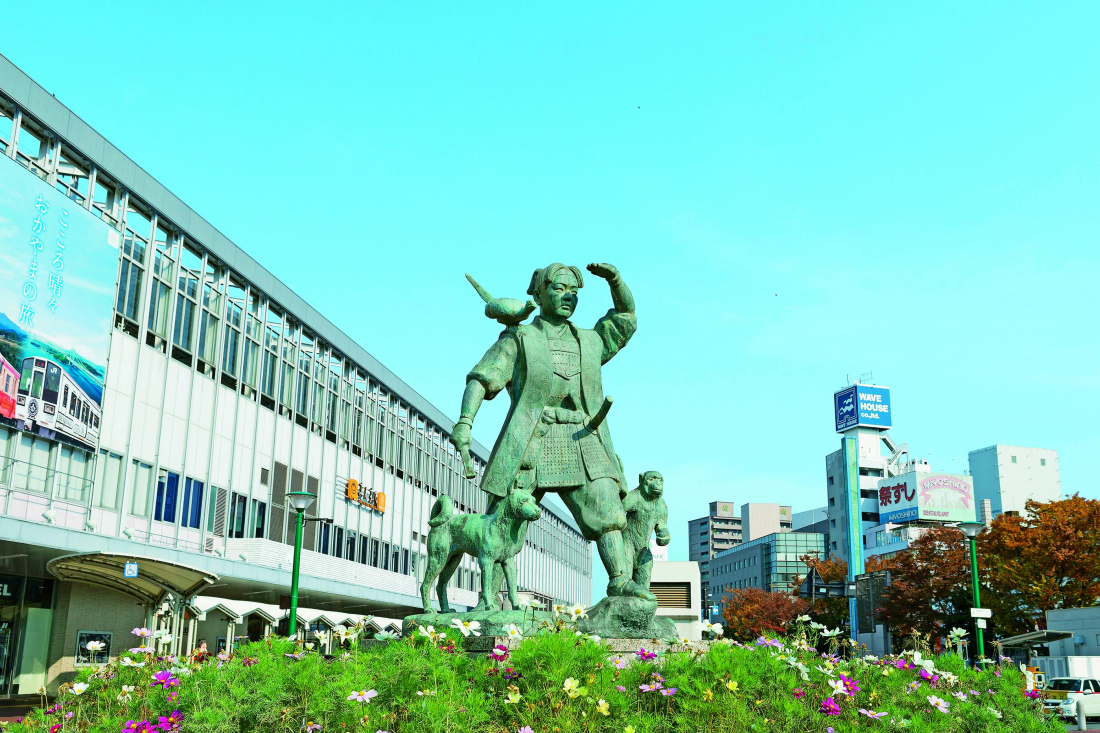 Okayama earned its nickname of the "Fruit Kingdom" thanks to the plentiful fresh fruit grown in the prefecture, but the area is abundant with not just produce, but also history and legend. One of Japan's most famous fairytales is the story of Momotaro, sometimes nicknamed "Peach Boy," a baby born from a huge peach who grows to become a demon-slaying warrior. This legend is now a common cultural touchpoint across Japan, having even become an officially recognized part of Japan's cultural heritage along the way, but it's said that Momotaro himself lived in Okayama! To recognize the local hero, there's even a statue of Momotaro in front of Okayama Station, accompanied by the three animal companions whose loyalty he gained by sharing his ration of "kibi-dango" rice cakes: a dog, a monkey, and a pheasant.
Kibutsu Shrine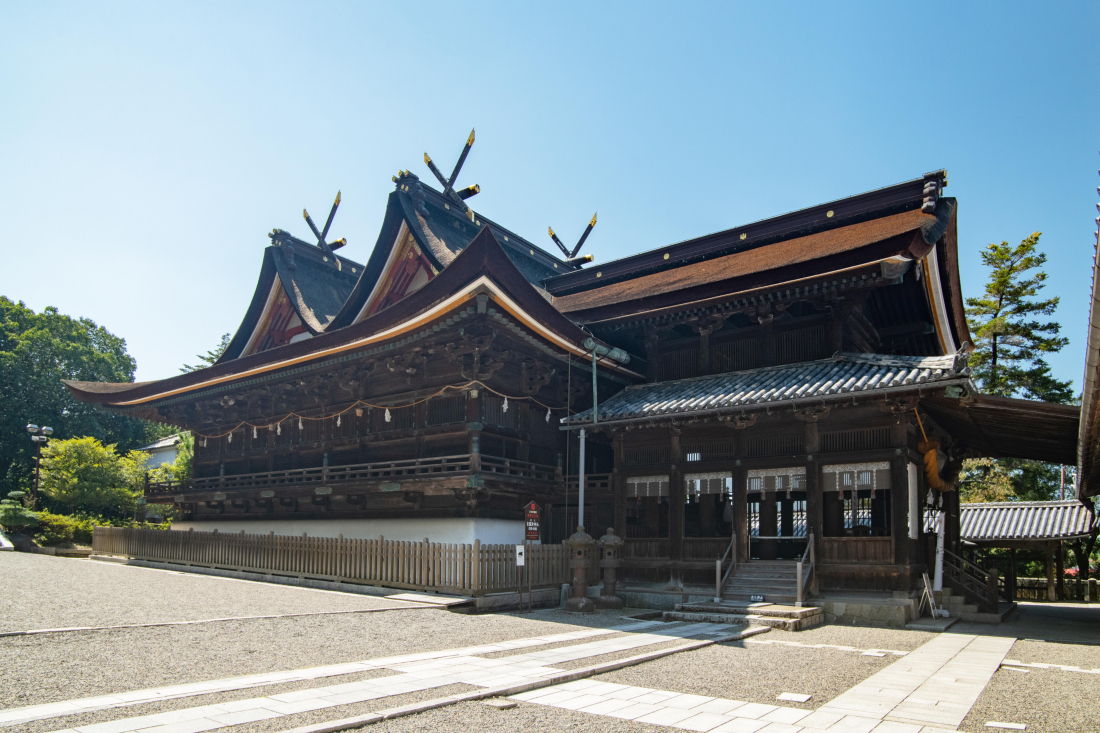 At the root of Okayama's Momotaro fairytale is the Japanese prince Kibitsuhiko-no-mikoto, whose own story is shrouded in myth and legend, and is now enshrined at Kibitsu Shrine. This prince was said to have slayed an ogre called Ura, a story bearing a strong resemblance to the famous Peach Boy himself. But the Kibutsu Shrine is famous for more than its deityーthe main hall is a national treasure, built over 500 years ago with a unique architecture style seen nowhere else!
Kibitsu Shrine (吉備津神社)
931 Kibitsu, Kita Ward, Okayama
Official Website (jp)
Kibitsuhiko Shrine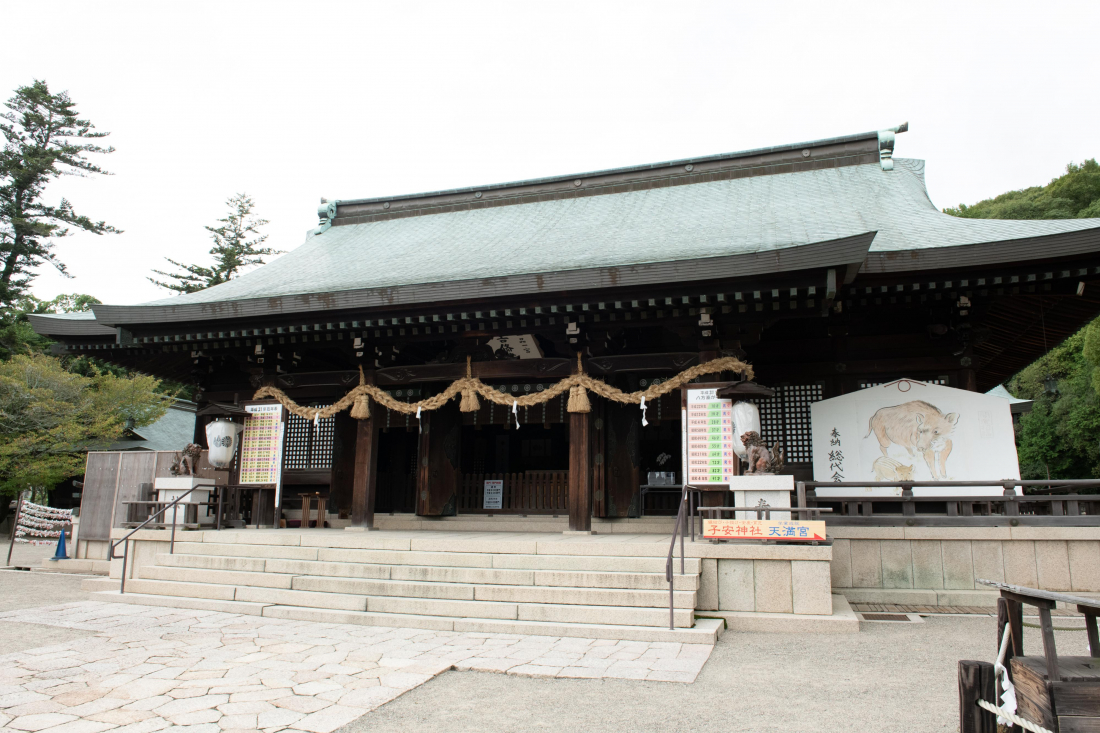 There's more than one shrine in this area with a claim to Prince Kibitsuhiko-no-mikoto, however, and just 25 minutes or so on foot from Kibitsu Shrine is Kibitsuhiko Shrine, often thought of as a slightly "cuter" shrine! It's a bit smaller, and doesn't have quite the same imposing architecture of its neighbor, Kibutsu Shrine. But since this shrine also has ties to Momotaro, Kibitsuhiko Shrine makes just about everything peach-shaped, from protective good luck charms, to fortunes, and even "ema" votives.
Kibitsuhiko Shrine (吉備津彦神社)
1043 Ichinomiya, Kita Ward, Okayama
Official Website (jp)
Fruit Filled Parfaits in the Fruit Kingdom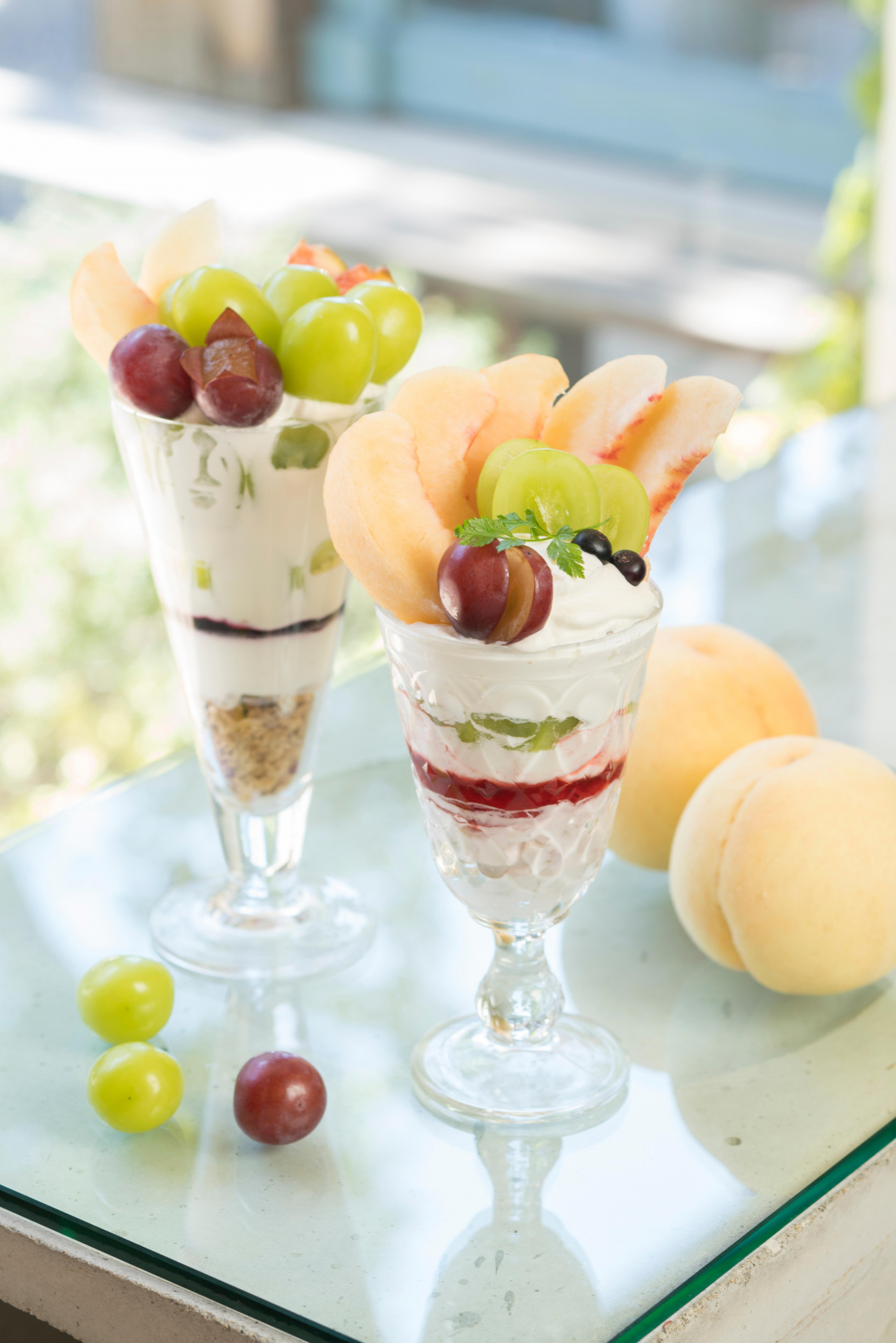 If you've heard enough about Peach Boy and you're craving some real fresh fruit, Okayama certainly won't disappoint. The prefecture's nickname was earned thanks to its abundant crops, and locally grown fruit is harvested throughout the year. Of course, peaches are particularly plentiful, especially at the very end of summer! One of the best ways to enjoy this sweet fruity bounty is in a fruit-filled parfait, available at cafes around Okayama. Parfaits, piled high with fruit, cake, ice cream, and more, are quite possibly more popular in Japan than anywhere else in the world, and they tend to be beautifully presented (totally insta-bae). Okayama Prefecture even publishes a list (found here) of some of the most amazing parfaits available in the region.
Kagawa: Not Just Udon, But Also Scenic Views, Urashima Taro, and Hands-on Fun
In Japan, the name "Kagawa" brings up images of Sanuki udon, a variety of delicious udon noodles that are a specialty of the region. But, while Sanuki udon might be reason enough to visit Kagawa, the area has plenty of other unique charms as well!
Kagawa's Picturesque Views and Insta-Bae Hotspots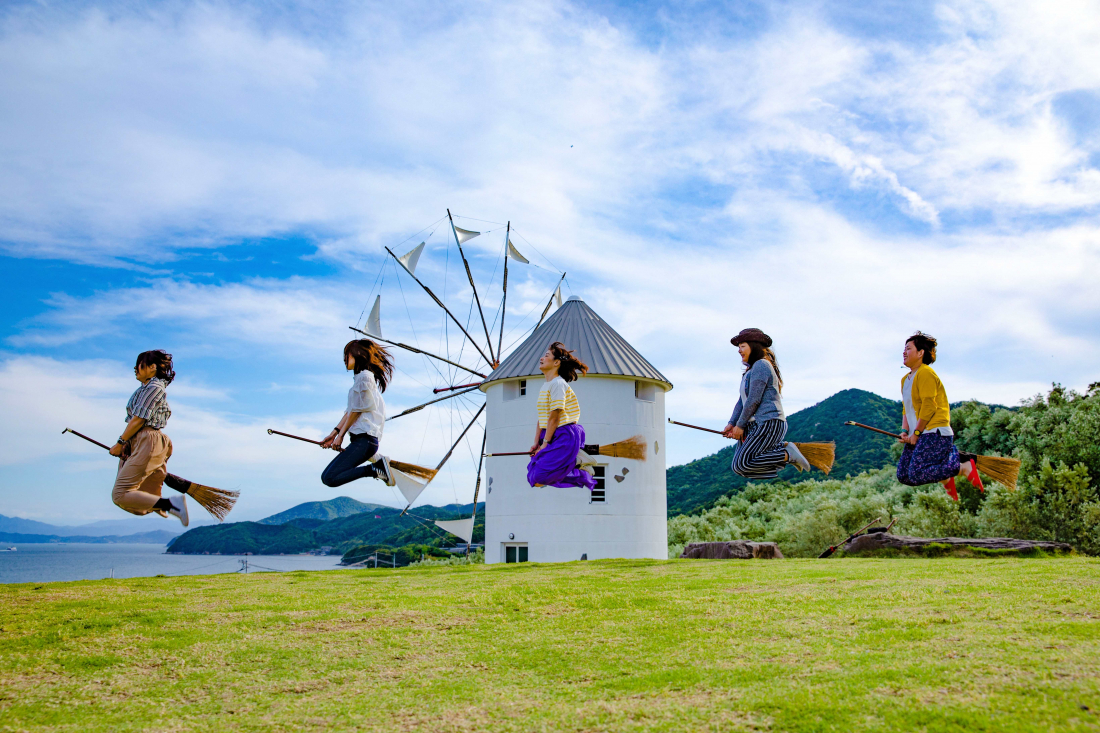 Shodoshima Olive Park (小豆島オリーブ公園)
Kagawa might not rival the Mediterranean quite yet, but this unique park has an olive grove of about 2,000 trees, in the middle of Japan! Explore the park to appreciate the contrast between the blue of the Seto Inland Sea, the green of the natural plant life, and the white of the iconic windmill. If just admiring the olive trees themselves isn't enough to satisfy you, there's moreーdon't forget to try the soft-serve ice cream made with olives, and pick up some olive souvenirs to bring home.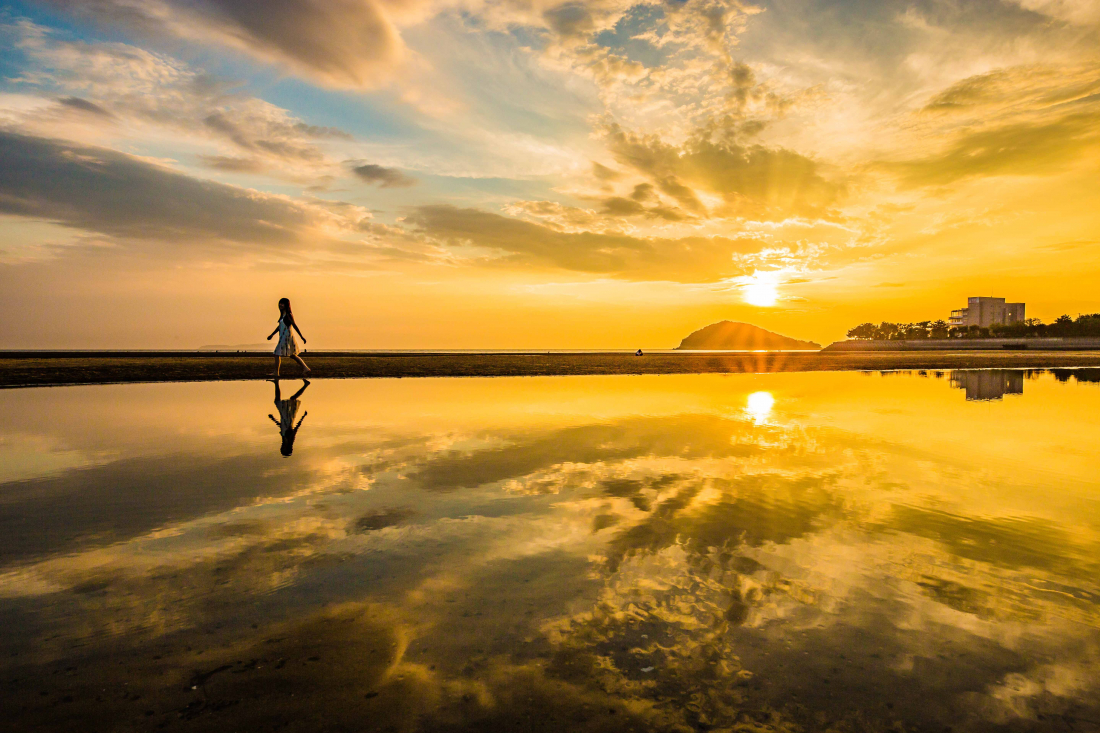 Chichibugahama Beach (父母ヶ浜)
This Kagawa Beach has exploded in popularity lately thanks to the spectacular sunset photos that have become a standard part of any visit, similar to the stunning photography taken in places like Bolivia's Uyuni salt flat. The thin film of calm water on Chichibugahama Beach reflects the sky, the clouds, and the setting sun like a glassy mirror, with gentle ripples only adding to the magical effect. The view has been chosen as one of Japan's 100 best spots to see the sun set!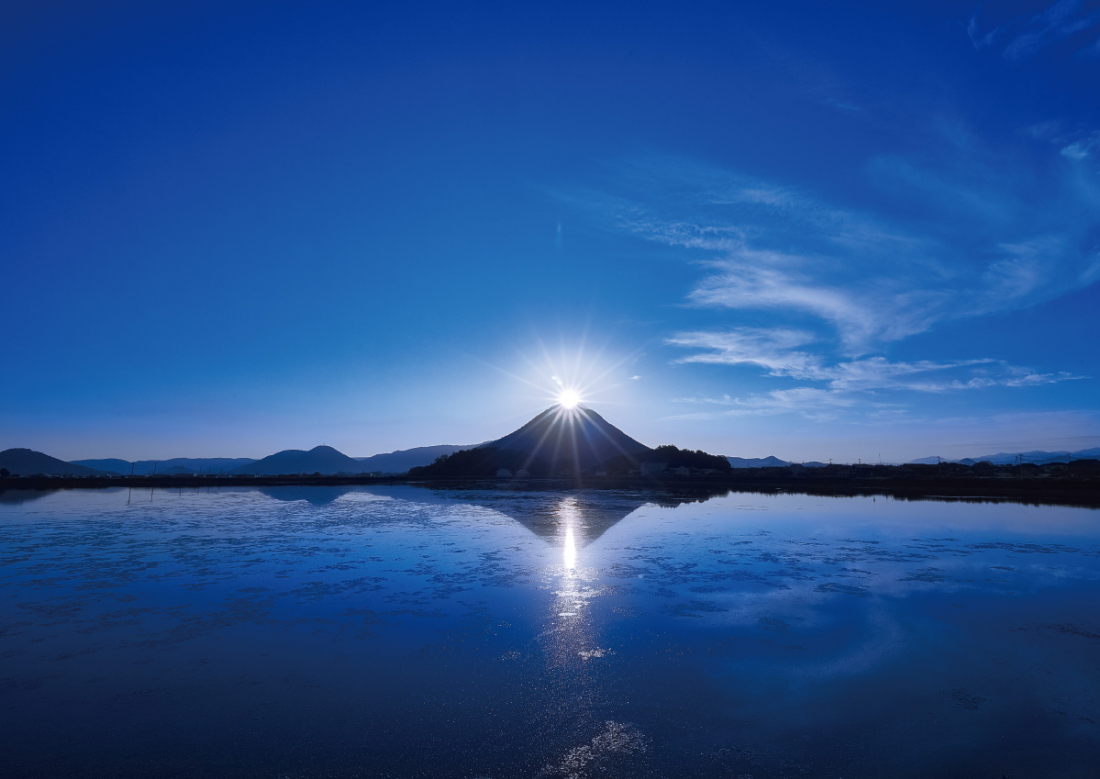 Double Diamond Sanuki Fuji (ダブルダイヤモンド讃岐富士)
Moving on from sunset to sunrise, twice each year the brilliant morning sun rises up and out of the peak of "Sanuki Fuji" (also called Mount Iino), shining bright and reflecting in the waters below, a view dubbed "Double Diamond Sanuki Fuji." Just once in mid-April and again towards the end of August each year, this unique alignment of sun, mountain, and water draws locals and travelers alikeーespecially photographers and nature-lovers.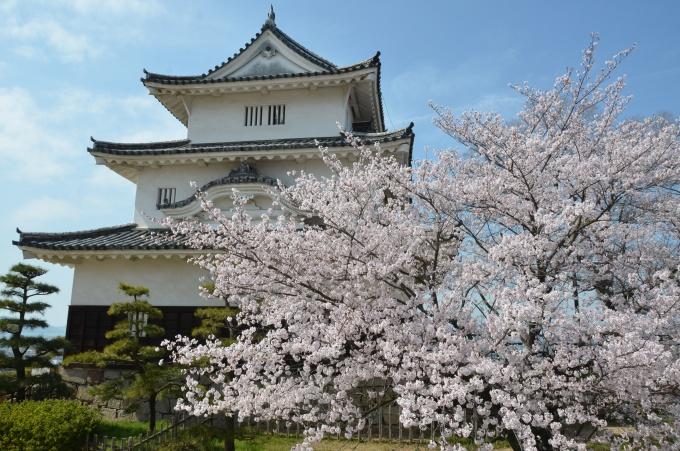 Marugame Castle (丸亀城)
A castle known for its famous stone walls, Marugame Castle is one of the 12 castle towers still around within Kagawa's city of Marugame! Marugame Castle was chosen as one of Japan's 100 Most Famous Castles thanks to the fine stone walls, built using the era's most advanced technology, and also the petite size of the castle tower. It's the smallest castle out of all 12 in Marugame, and it's thought of as being especially cute!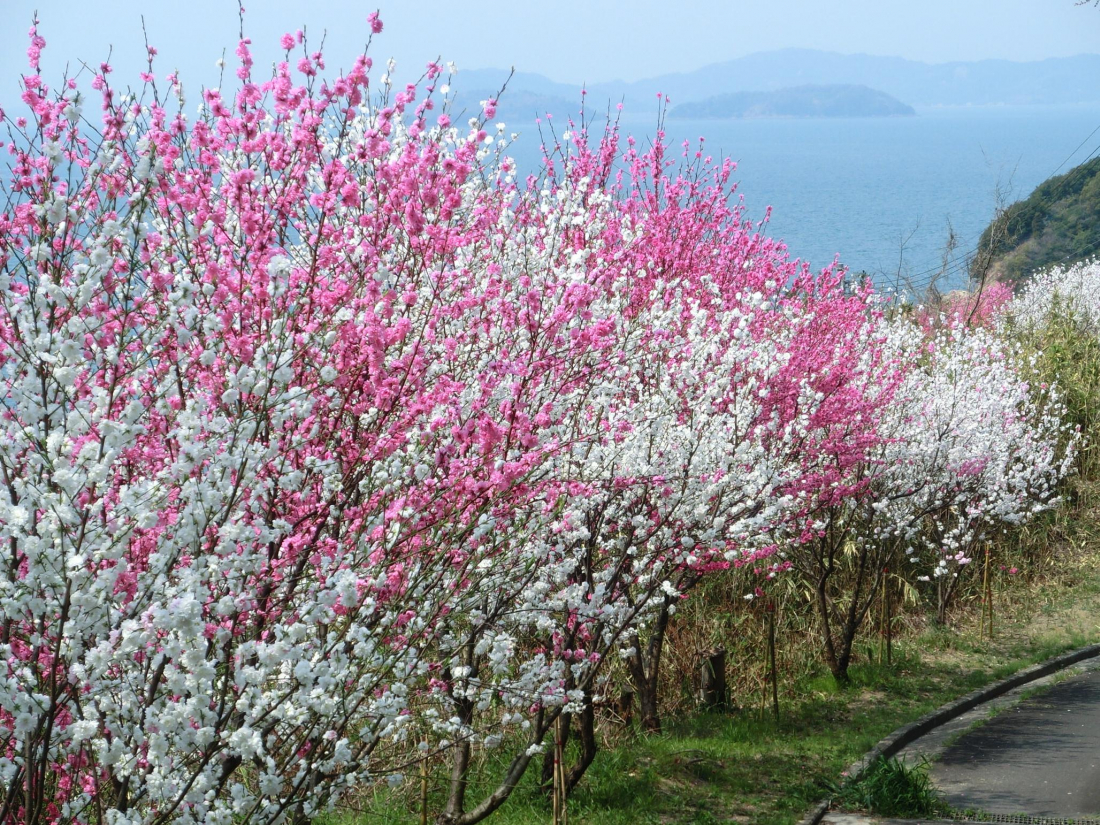 Oteshima's Genpei Peach Blossoms (小手島源平桃)
Peach blossoms of two different shades, blooming together on one tree. These are Genpei peach blossoms, named after Japan's historic 12th-century Genpei War, when the Genji clan (white) and Heike clan (red) were thoroughly entangled in battle, just like the white and red peach blossoms on each peach tree. Oteshima locals have slowly cultivated the trees and added to the grove over time, eventually turning the peach blossoms into a local attraction. The exact blend of red and white blooms depends on the weather each year, so every March and April, visitors get to enjoy a new mosaic of colorful petals.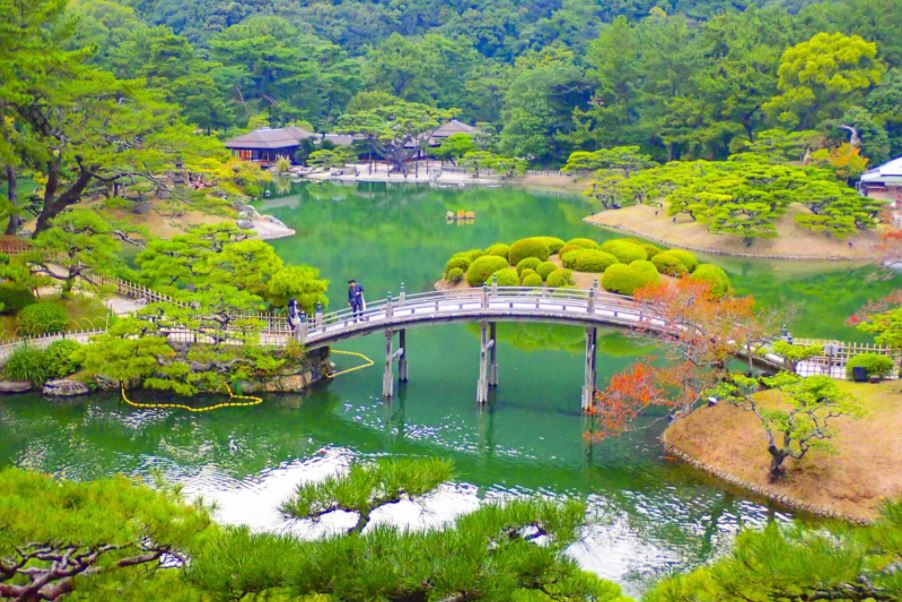 Ritsurin Garden (栗林公園)
This traditional garden sprawls out to 3.5 times the size of the Tokyo Dome baseball stadium, making it the largest garden officially recognized as a Japanese cultural heritage site. At its inception, the park was a small garden belonging to a powerful family in the area, but the grounds eventually became a second home for the Matsudaira clan rulers of the Takamatsu Domain, and Ritsurin's history as a majestic garden has continued for the past 400 years. Some name Ritsurin as one of the Three Great Gardens of Japan, alongside Kanazawa's Kenrokuen and Korakuen in Okayama, and others maintain that Ritsurin is even a level above that. It's no surprise that the destination has earned three Michelin stars, designating it a location worth traveling for. With so much to see, it's a great place to enjoy fresh, vivid greenery, flowers that bloom anew each season, historic buildings, and stones arranged elegantly with the utmost care.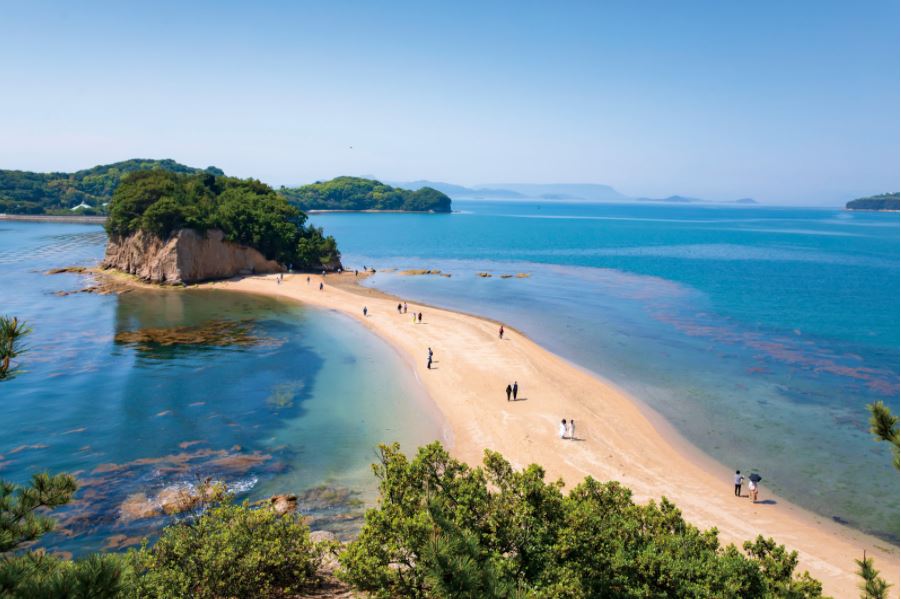 Angel Road (エンジェルロード)
rn
rnConnecting Shodoshima Island and the small rocky outcrop of Bentenjima just twice each day, this sand bar rises out of the water and forms a walkable road at low tide. Appearing from the low water, only to get swallowed up again by the tide, and materialize once more later that day… this disappearing bridge is a romantic spot particularly popular with couples, and it's said that walking across the sand holding hands will also hold the happy couple together into the future.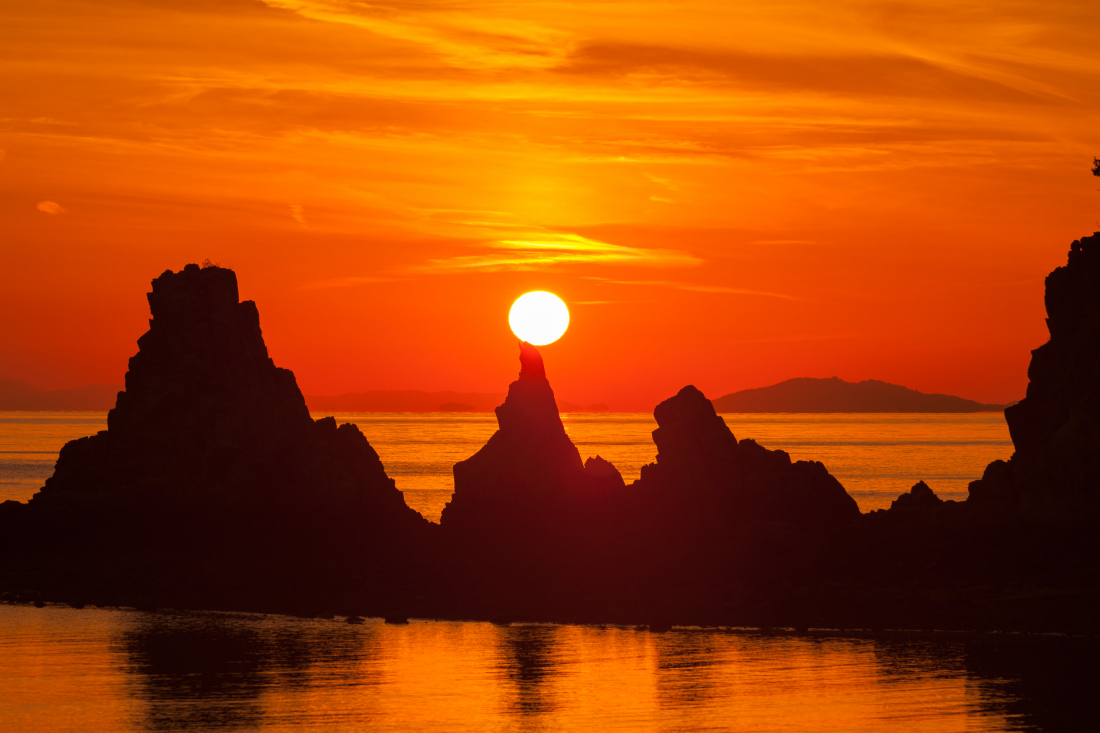 Shonai Peninsula (荘内半島)
The standard telling of the Japanese tale says that the legendary Urashima Taro, having rescued a turtle, was taken into the sea as thanks for his deed, brought to the seafloor Palace of the Dragon King, and treated to a feast with the princess. As Urashima Taro aimed to return home, he was given a mysterious and told that he absolutely should not open it. But when he arrived in his hometown, Urashima Taro found that while he'd only spent a short time at the Palace of the Dragon King, many years had passed on land, centuries even. Thrown into despair, he opened the casket, and in a puff of smoke he turned into a grey old man!
Many places around Japan try to claim ownership of Urashima Taro, using local folklore handed down over the ages or "signs" of his presence, and there are a plethora of similar myths using different names. But Kagawa's Shonai Peninsula, on the western part of Takuma, Mitoyo, was once known as "Urashima," and numerous legends concerning Urashima Taro are still passed down in the area. When 14th-century shogun Ashikaga Yoshimitsu visited Urashima's Misaki Shrine, his poetry implied that the region was the setting for the ancient tale. So spots all around the Shonai Peninsula are still said to be connected to the mythical character.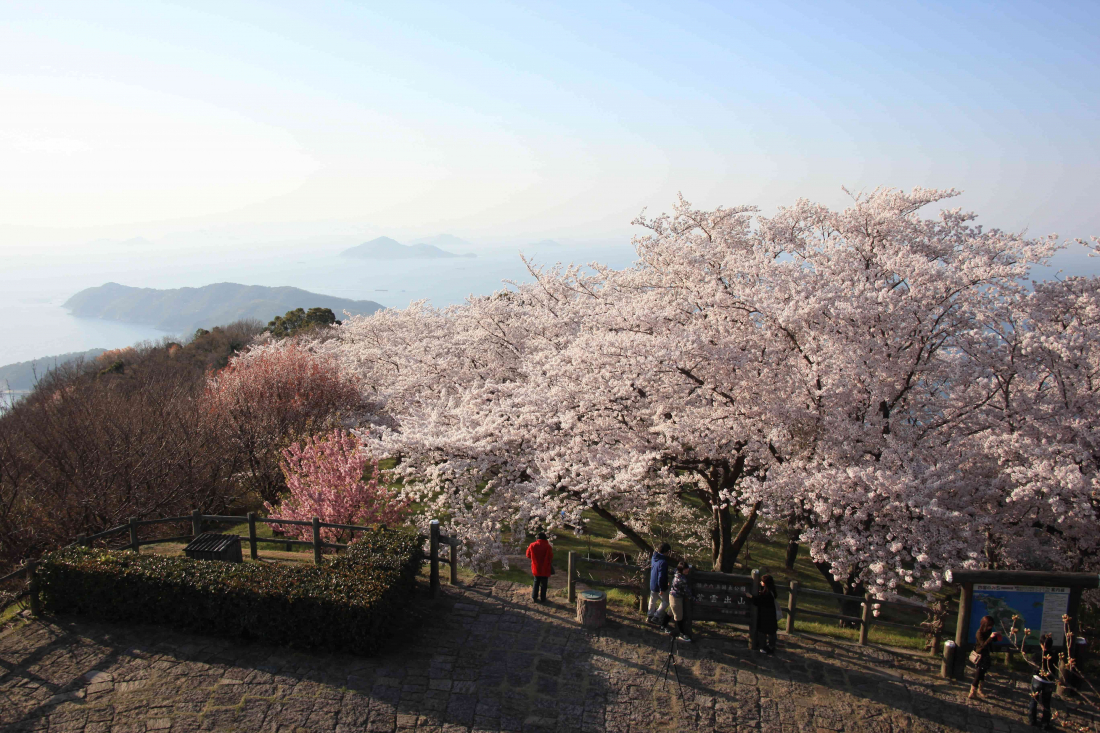 According to legends told in the Takuma area, the clouds gathered around the nearby mountain of Shiudeyama (or Mt. Shiude) are said to resemble the smoke that came out of Urashima Taro's box when he cracked it open. No misfortune will befall you if you climb the tree-lined paths to the mountain's peak, though, where you'll find a breathtaking view of small islands dotting the water. It's said to be the best lookout spot for the Seto Inland Sea in all of Kagawa.
The mountain has made it onto a number of scenic must-see lists, including in the New York Times, thanks in part to the beautiful flowers that bloom on the mountainside. The cherry blossoms that bloom in spring make it an amazing spot for mountain-top hanami, and in early summer bushes of hydrangeas burst into color.
Local Udon Cooking Classes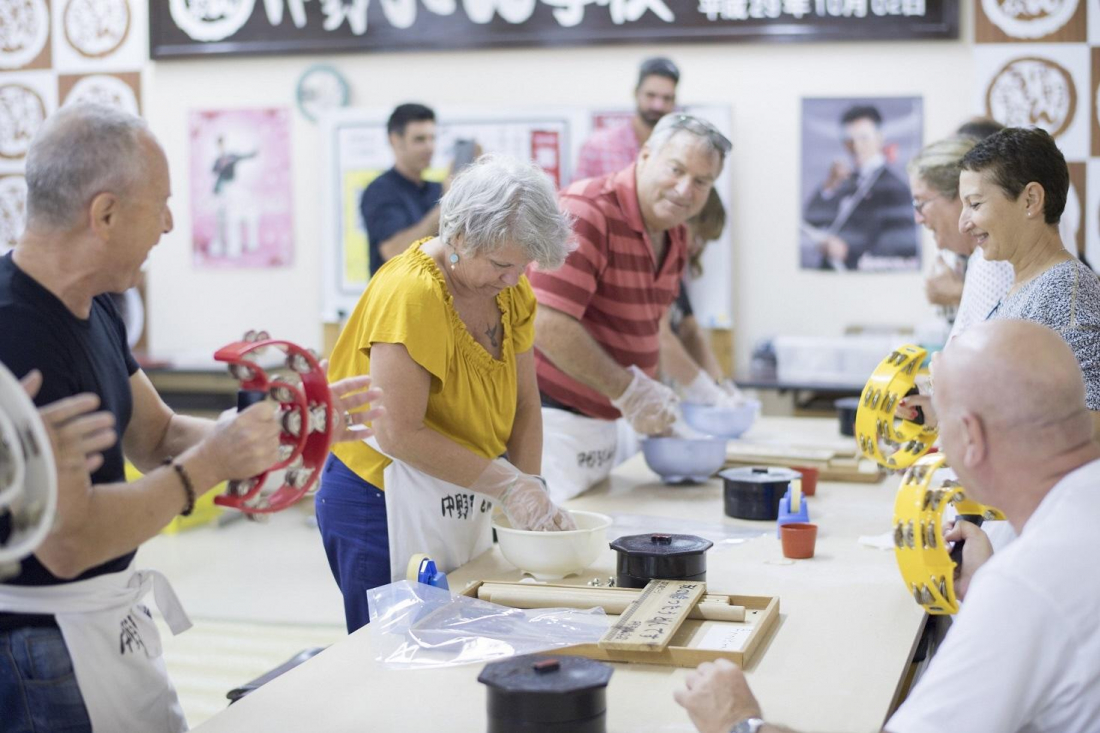 As mentioned above, Kagawa Prefecture is famous throughout Japan for the fantastic udon noodles made locally, called Sanuki udon. So you definitely shouldn't miss the chance to make your own Sanuki udon noodles while you're there! Whether you're a pasta pro or a total amateur in the kitchen, there are a number of places in Kagawa where you can learn to make udon!
Aizome Dyeing & Uchiwa Fan Workshops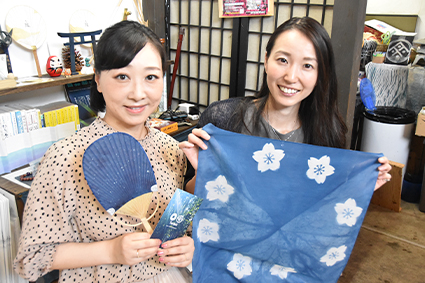 Interested in getting hands-on with some of Kagawa's local handicrafts? Not only can you stay the night at Tonbiii, a guesthouse just ten minutes from Marugame Station, you can also make traditional Japanese crafts in the very same building. The guesthouse offers workshops on aizome (藍染, indigo dye), and classes where you make your own "uchiwa", using split stalks of bamboo to form a flat, hand-held fan.
Tonbiii
Official Website (en)
Olive-Fed Wagyu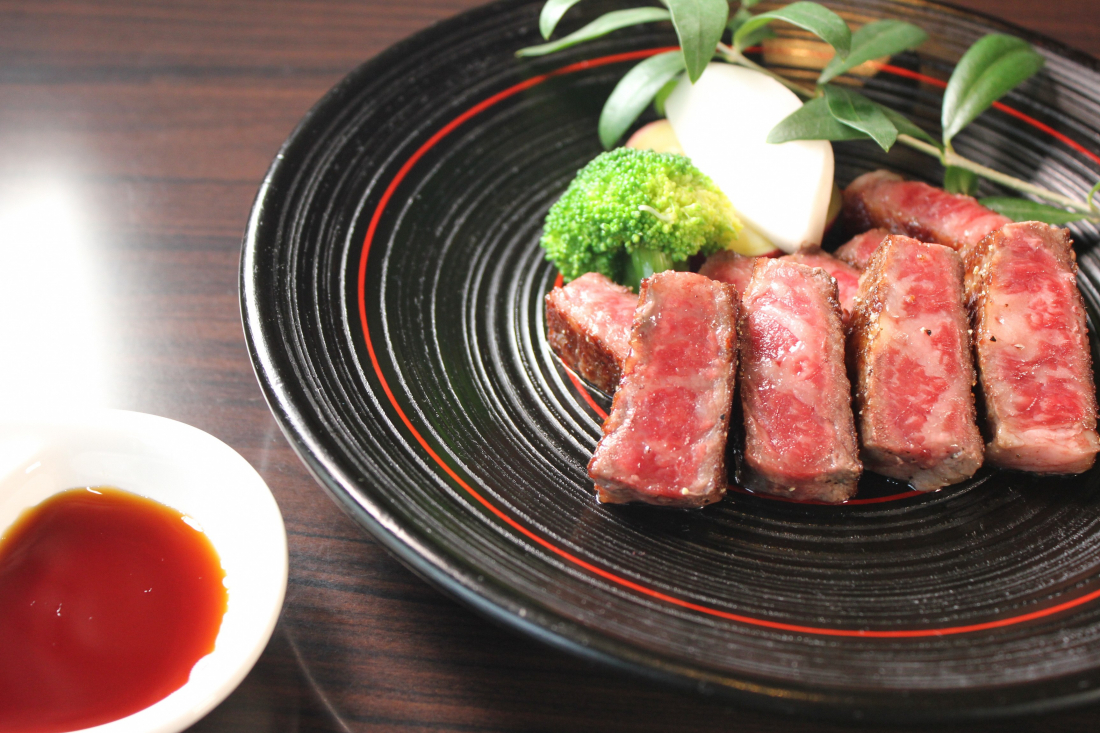 Once you've worked up an appetite making Kagawa handicrafts, it's time to try one of the prefecture's most gourmet delicacies: olive wagyu beef, from Sanuki cattle fed on local olives. After the olives have been pressed for making olive oil, the cows are given the leftover fruit as feed. The beef is said to be light and flavorful, without sacrificing the richness that is inherent to wagyu! Find a list of restaurants offering this unique beef here.
Exploring Setouchi
From ancient legends of Japanese demon slayers and turtle rescuers, to amazing sunset views and supremely instagrammable peach parfaits, plus plenty of ways to get hands-on and dive into local tradition, Okayama and Kagawa are divided by the Seto Inland Sea, but they're connected by cultural ties. So next time you're ready to spend some time in the Setouchi area, where will you head first?
For more info and updates from Japan, check Japankuru for new articles, and don't forget to follow us on twitter, instagram, and facebook!
Source: JAPANKURU