Tokyo Cherry Blossom Spots | Yanaka Cemetery
Peaceful and quiet, this famous Tokyo sakura spot is a must-see for history buffs and cherry blossom fans.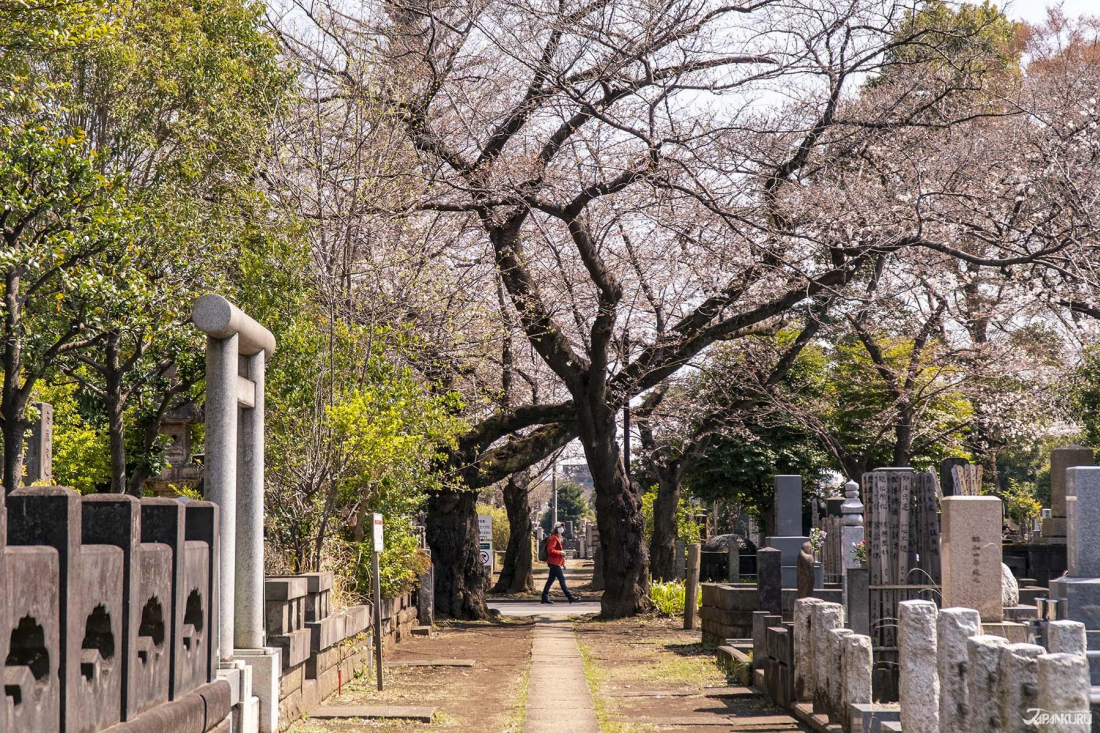 For many sightseers, a cemetery isn't on the top of their bucket list (if not only because it's a reminder that we're all going to kick the bucket someday), but this one should be. Yanaka Cemetery is very much worth the detour during the end of March and beginning of April! This sprawling cemetery on the edge of the Yanaka neighborhood of Tokyo – an area mostly known for its relaxed retro atmosphere and quaint shopping – is actually a fairly well-known spot for hanami each spring, particularly among those who spend time in the Yanesen area. Thanks to the dozens of cherry trees that spread their flower-filled canopies over the paths and the many stone gravestones, Yanaka Cemetery is known more for its scenic beauty than for any spooky ghost stories, and quiet crowds arrive each year to admire the flowers and stop by the gravestones of famous historical figures.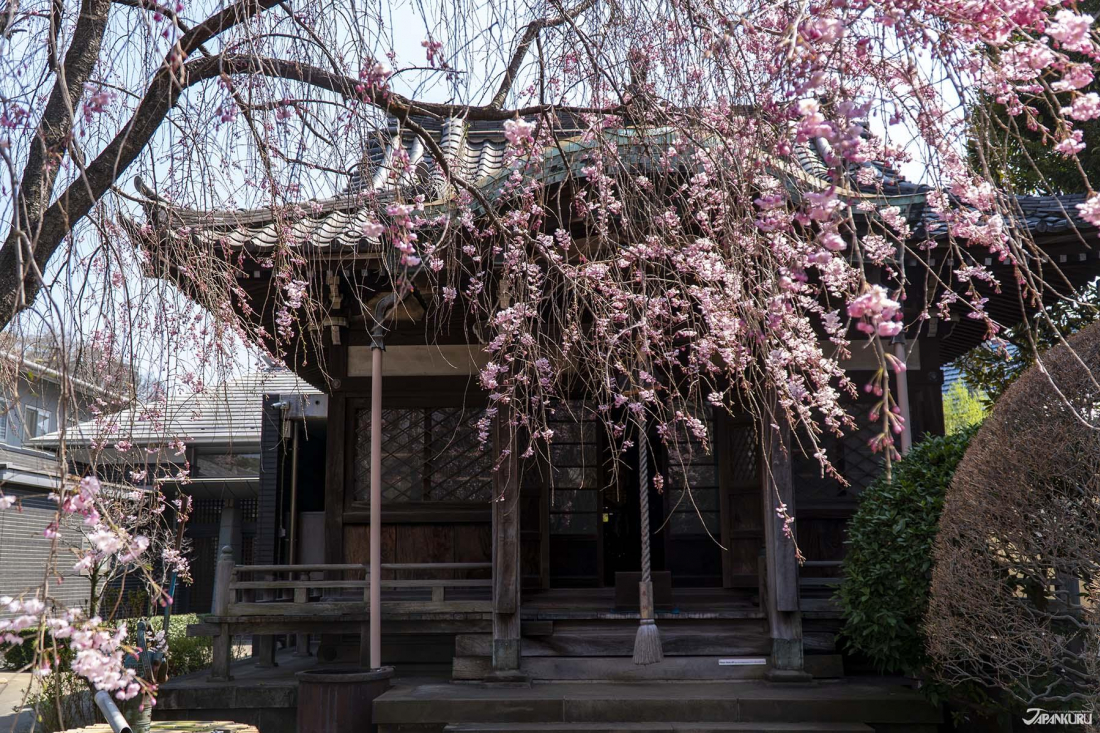 Yanaka Cemetery was established at the end of the 19th century, not long after the start of Japan's Meiji period, when the emperor (or at least his supporters) wrested power back from the samurai shoguns who had been ruling Japan for hundreds of years. Since Japan has historically leaned towards Buddhist ceremonies surrounding death and funerals, cemeteries are also mostly connected to Buddhist temples, and this one was once attached to the nearby Tennoji Temple (seen above), which still stands at one end of the cemetery. Though the land is now classified as a park, it was once the largest cemetery in all of Japan, and the grounds are still densely packed with thousands of gravestones, monuments, old temple structures, and miscellaneous historical spots like the empty pedestal that once provided a space for a bronze Buddha from Tennoji Temple. Narrow paths run in between the jumble, and it can sometimes be hard to scope out a respectful route between the headstones and monuments, but intrepid explorers can search out the graves of a number of important political figures and artists from the past century or two. Yanaka Cemetery is the resting place of Japan's final shogun before the start of the Meiji period, Tokugawa Yoshinobu, and also the novelist Ichiyo Higuchi, whose face can be seen on the current 5,000 yen bills. Another cemetery resident, Shibusawa Eiichi, is sometimes called "the father of Japanese capitalism," and will be featured on the new upcoming design for Japan's 10,000 yen bills.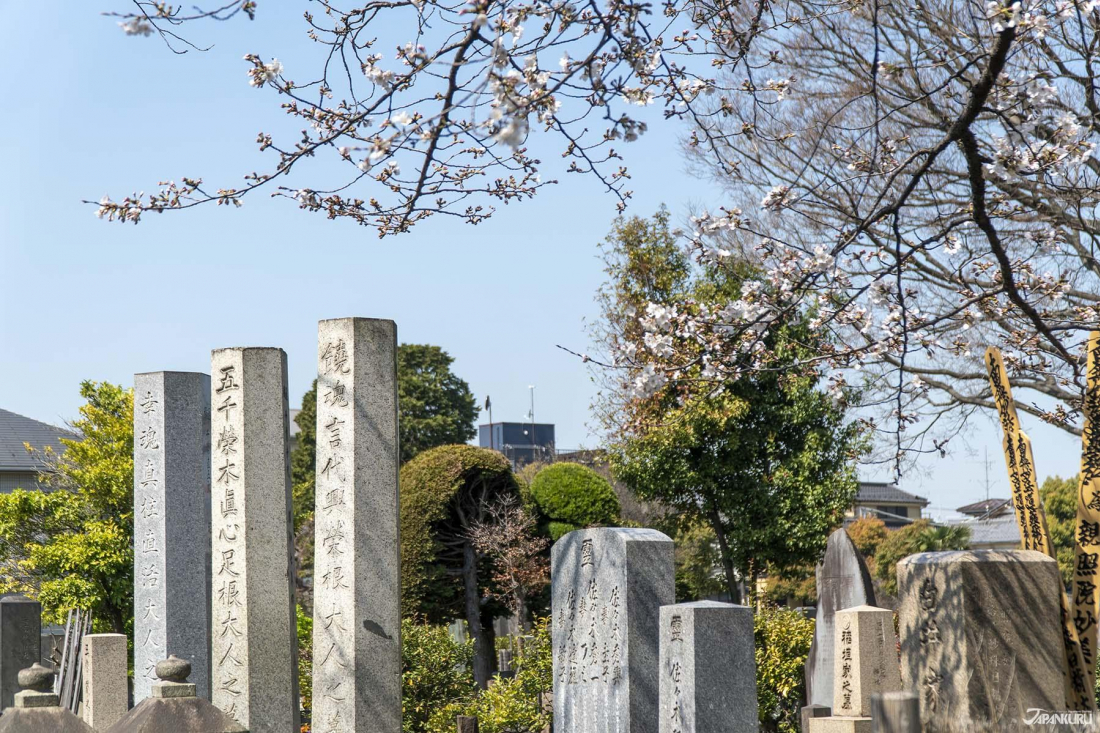 Despite the very visible cemetery scenery found in every direction at the Yanaka Cemetery, it truly is a pleasant location for a cherry blossom outing, although there's not much space for a traditional hanami picnic. The main road at the center of the park-like area is bordered by long lines of tall cherry trees, which create a picturesque tunnel of cherry blossoms when in full bloom (the pictures in this article were taken a little too early in the season for the full effect), and the stone-paved paths among the graves provide peaceful routes for a quiet stroll. You might even see one of Yanaka's many stray cats daintily pawing their way through the graveyard, or looking for the perfect patch of sunlight to nap in. And after enjoying the flowers, Yanaka Cemetery is just a couple minutes on foot from Yanaka Ginza – a popular shopping spot with retro vibes and tasty street food! Perfect for a relaxing day in one of Tokyo's quieter neighborhoods.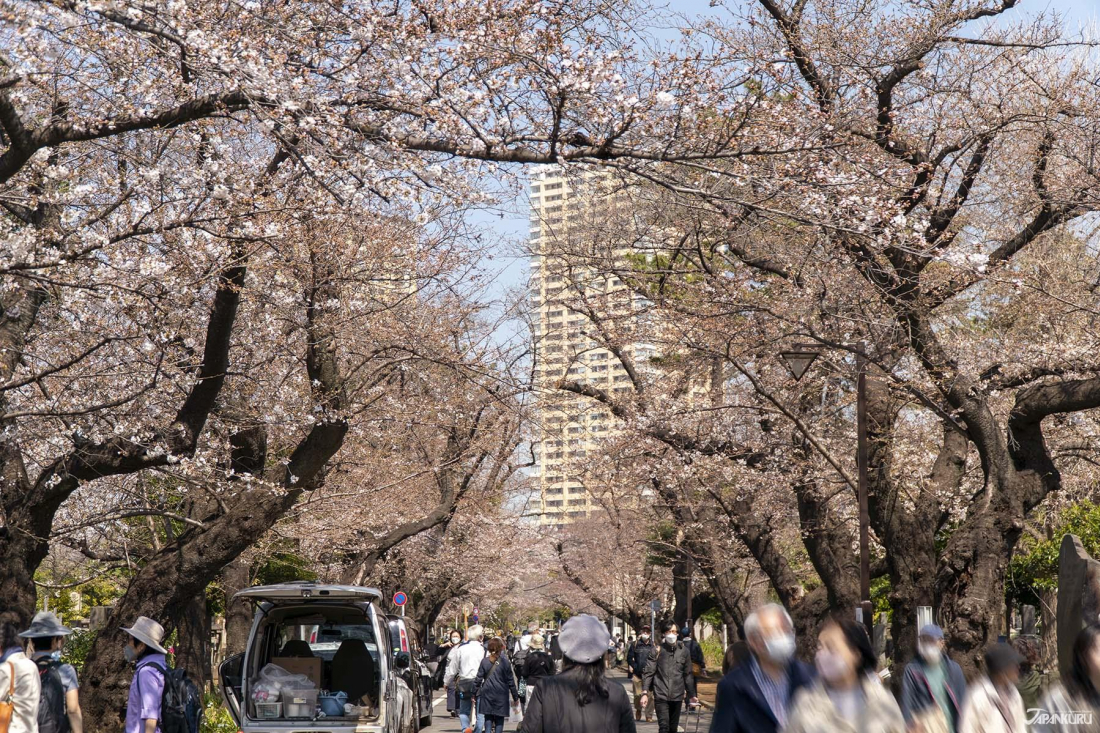 Yanaka Cemetery (谷中霊園)
7-5-24 Yanaka, Taito City, Tokyo
Access: 2 min from Nippori Station
Official Website (jp)
For more info and updates from Japan, check Japankuru for new articles, and don't forget to follow us on Twitter, Instagram, and Facebook!