Tokyo's 3 Best Hydrangea Gardens
Tokyo's most beautiful early summer flowers are easy to find in these three hydrangea gardens!
Hydrangeas in Tokyo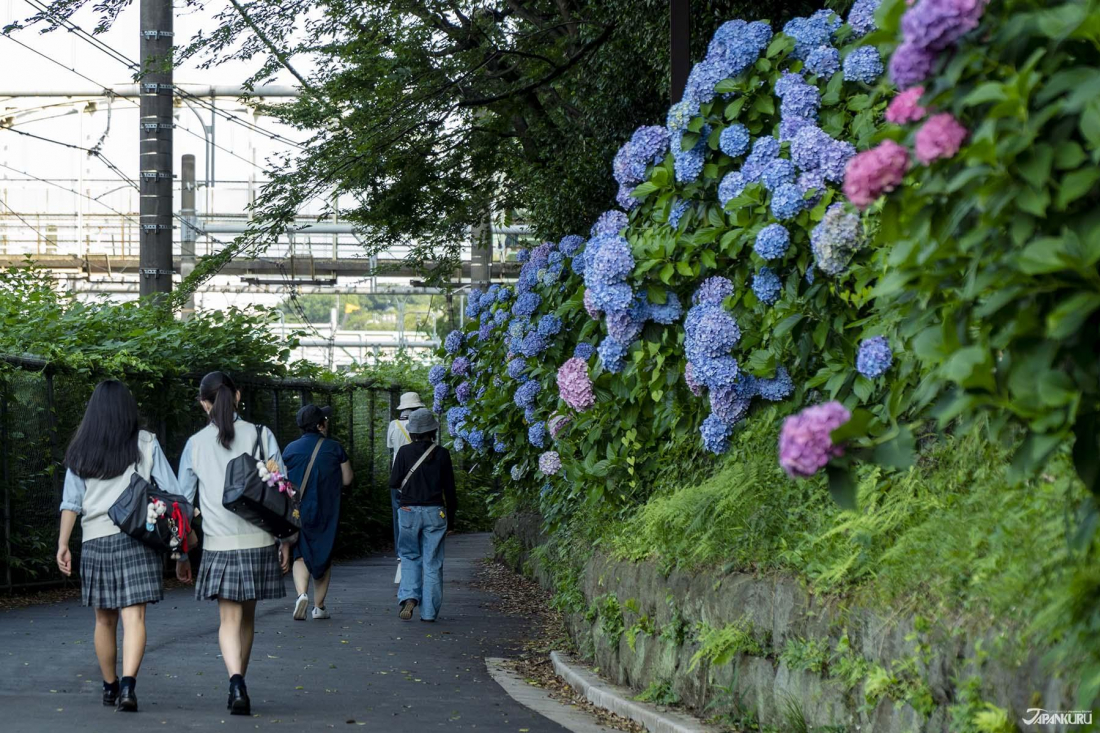 As spring turns to summer in Japan, the cherry blossoms fade fast, but in their place come the . First-time visitors to Japan may not realize, but the early-summer hydrangea bloom is a big seasonal event! Unassuming bushes in Japanese parks and gardens suddenly burst into color with big puffs of multicolored petals, while temples and shrines open their gates to reveal tranquil hydrangea gardens, full of hundreds of the plants. In Japan, hydrangea season coincides pretty perfectly with rainy season (aka "tsuyu"), but fortunately these beautiful flowers are just as gorgeous when glittering with fresh raindrops. Don't miss these three Tokyo hydrangea hotspots on your next summer trip to the city!
Asukayama Park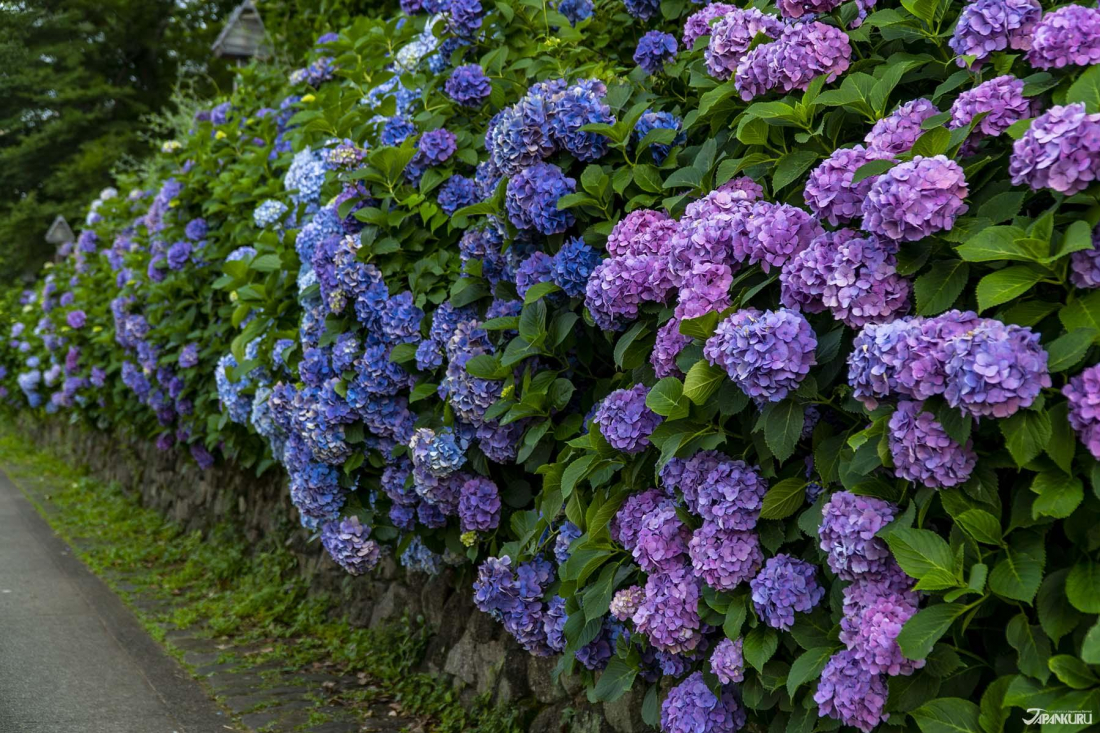 Tucked in beside the train tracks, the Hydrangea Road (also called Asuka Lane/飛鳥の小径) at Asukayama Park is literally just outside the central exit of Oji Station (on the JR Keihin-Tohoku Line/Metro Namboku Line), and you can watch the trains go by as you wander down the long, long line of beautiful bushes. Despite the inconspicuous location, a little out of central Tokyo and hidden behind the train station, this is probably one of Tokyo's most beautiful hydrangea gardens, and (like all the spots on this list) it's totally free to enter!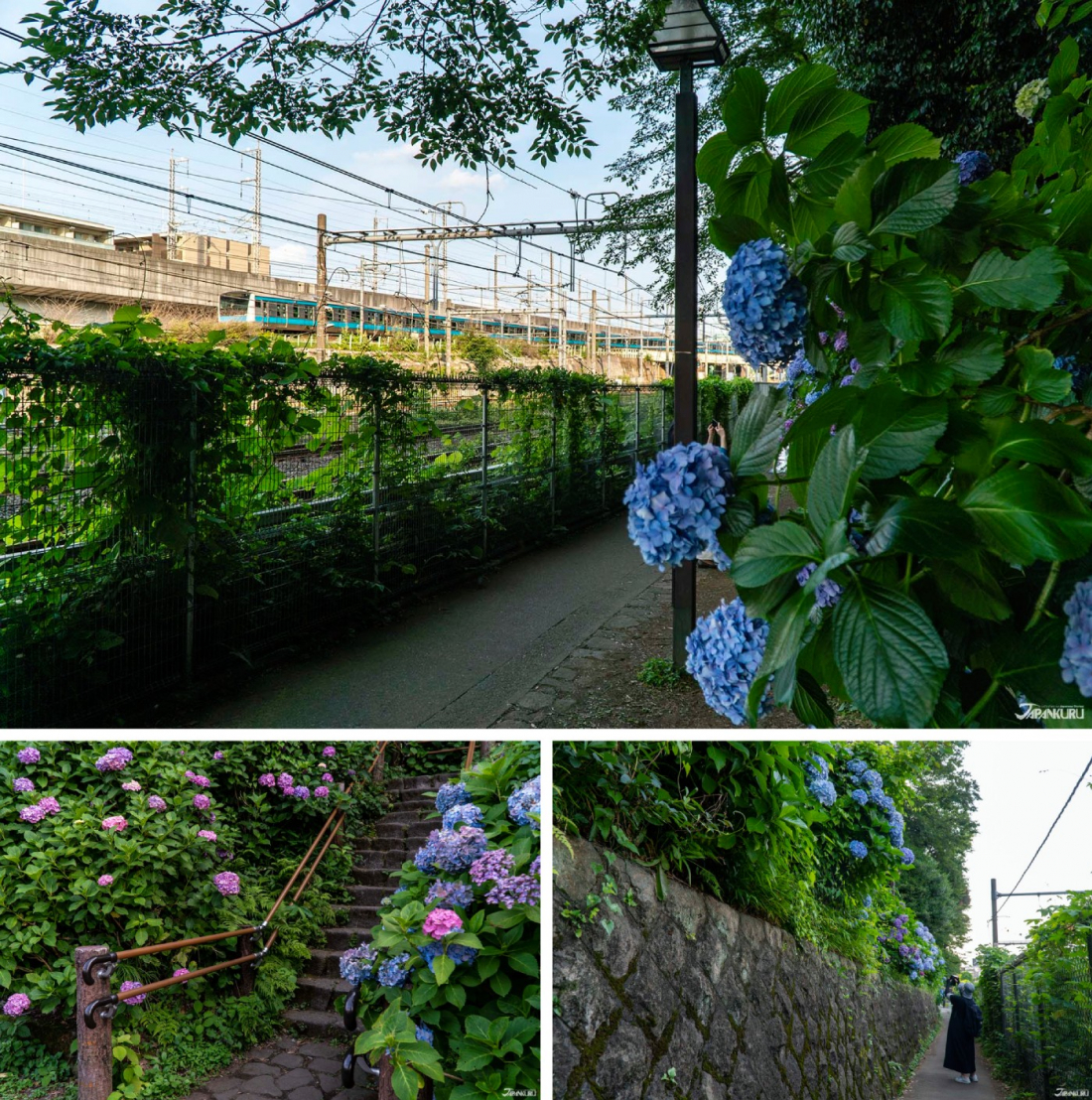 Asukayama Park was established by the early-18th-century shogun Tokugawa Yoshimune as a place for the people of Tokyo to relax and enjoy the city, and a few decades later it was established as one of Japan's first official public parks. These days, the main body of the park is accessible from the train station via a number of long staircases, which lead up to a plateau that holds multiple museums and quite a few cherry blossom trees that bloom each spring. But the park's hydrangeas are largely separate, lined up all along one side of the park at the bottom of the tall hill, a profusion of blues, purples, pinks, and whites peaking out from the verdant greenery!
▶ Read more about nearby attractions on the Toden Arakawa Line.
Asukayama Park (飛鳥山公園)
1-1-3 Oji, Kita City, Tokyo
Official Website (jp)
Ueno Park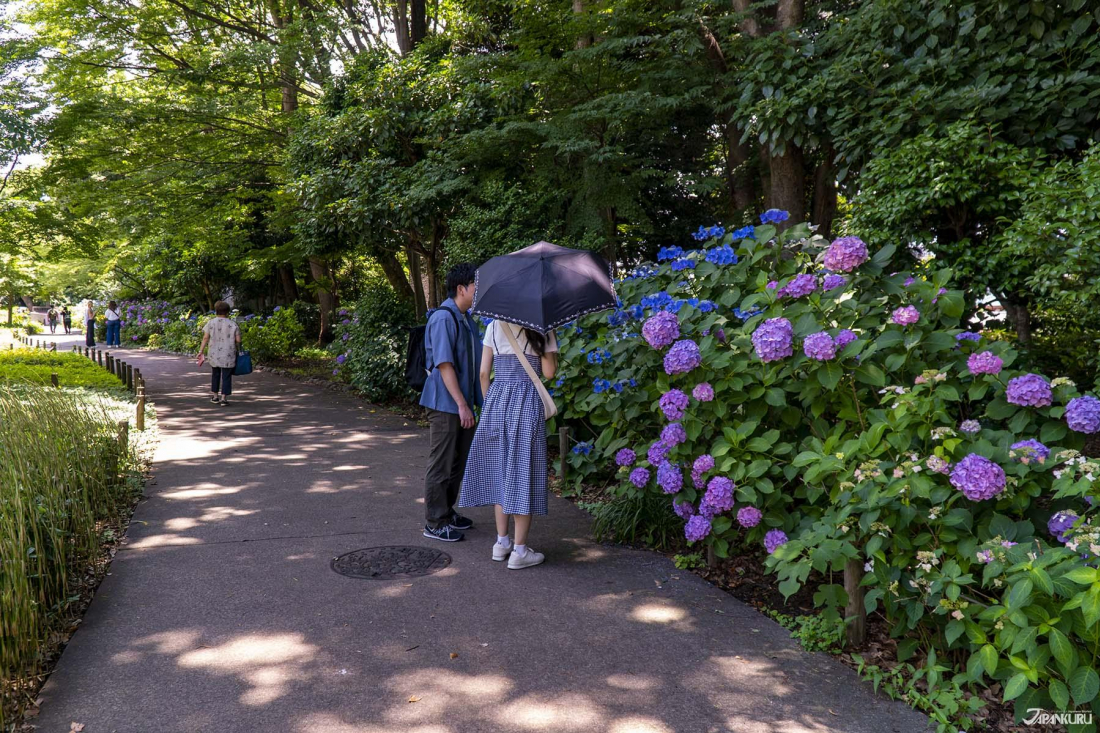 Ueno Park is quite possibly Tokyo's best-known park, with centuries of history as a temple ground, a battlefield, and finally as a place for rest and relaxation in the heart of Tokyo's hustle and bustle. Many tourists visit for the art and science museums, Japan's oldest zoo, and of course the spring cherry blossoms. But for flower enthusiasts in the know, Ueno Park is also a go-to spot during hydrangea season!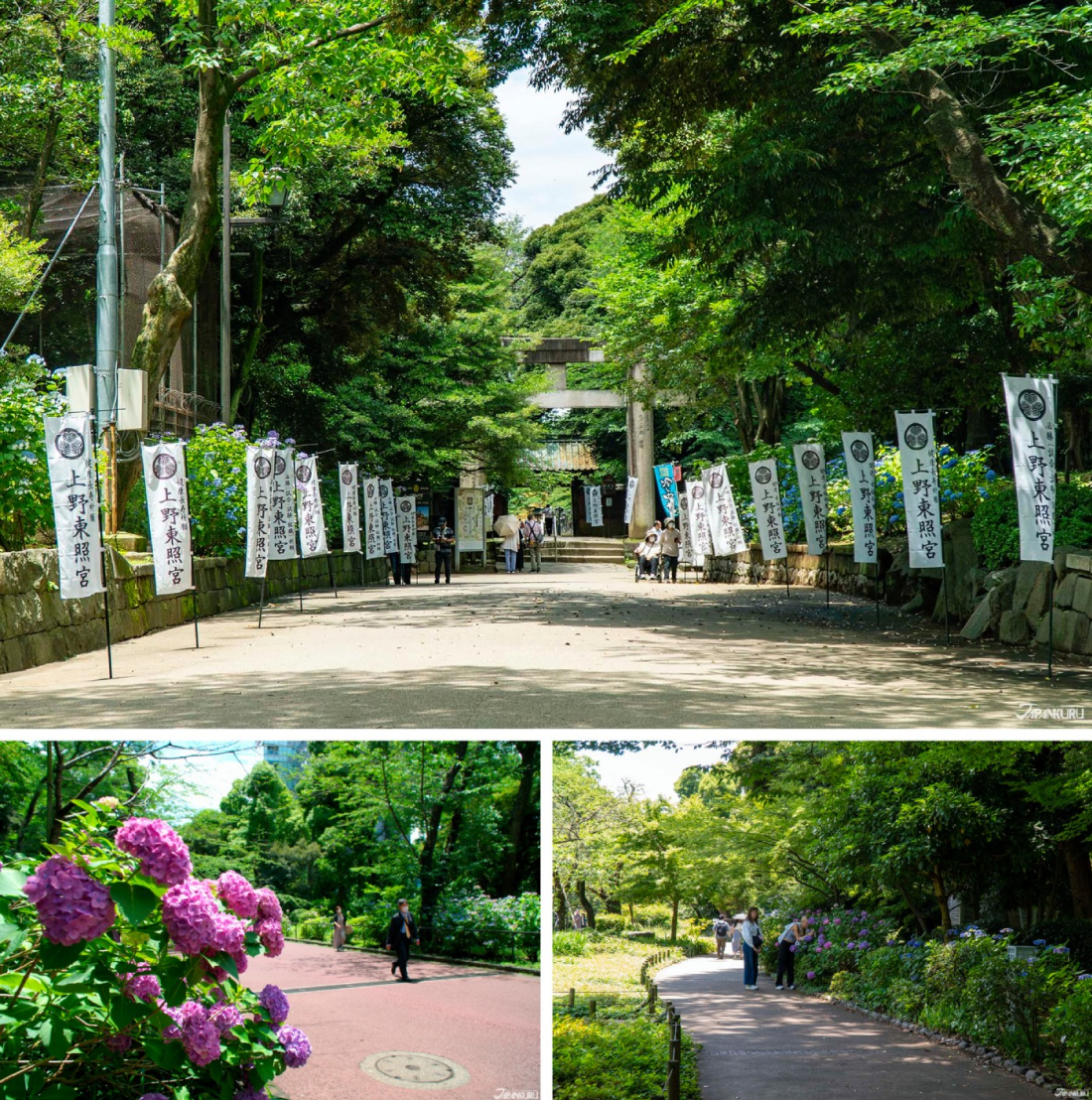 Hydrangeas can be spotted along Ueno Park's main path, in the shade of the now-green cherry blossom trees, and also down the stone steps by the water of Shinobazu no Ike Pond. Bright blue hydrangeas also line the path of Ueno Toshogu, a quiet shrine hidden at the center of Ueno Park. Everywhere you look, the bundles of pretty hydrangea petals are peaking out from amongst the plantlife of the park!
Ueno Park (上野恩賜公園)
Uenokoen, Taito City, Tokyo
Official Website (en)
Hakusan Shrine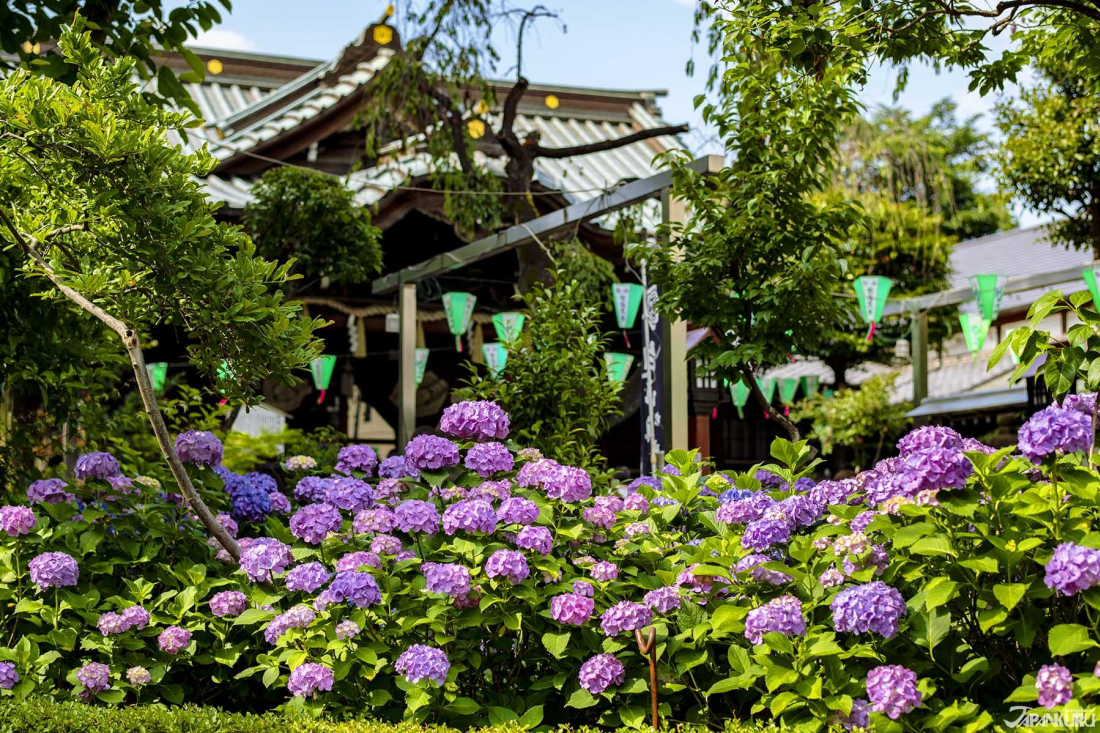 Like so many of Tokyo's tiny shrines, Hakusan Shrine has a surprisingly long and largely quiet history, dating back to the mid-10th century. What makes the shrine worthy of notice despite its uneventful past, however, is the flowers now growing in its garden! Hakusan Shrine hosts the local Bunkyo Hydrangea Festival every year at the height of hydrangea season, inviting visitors to enjoy more than 3,000 hydrangea bushes throughout the shrine grounds and Hakusan Park.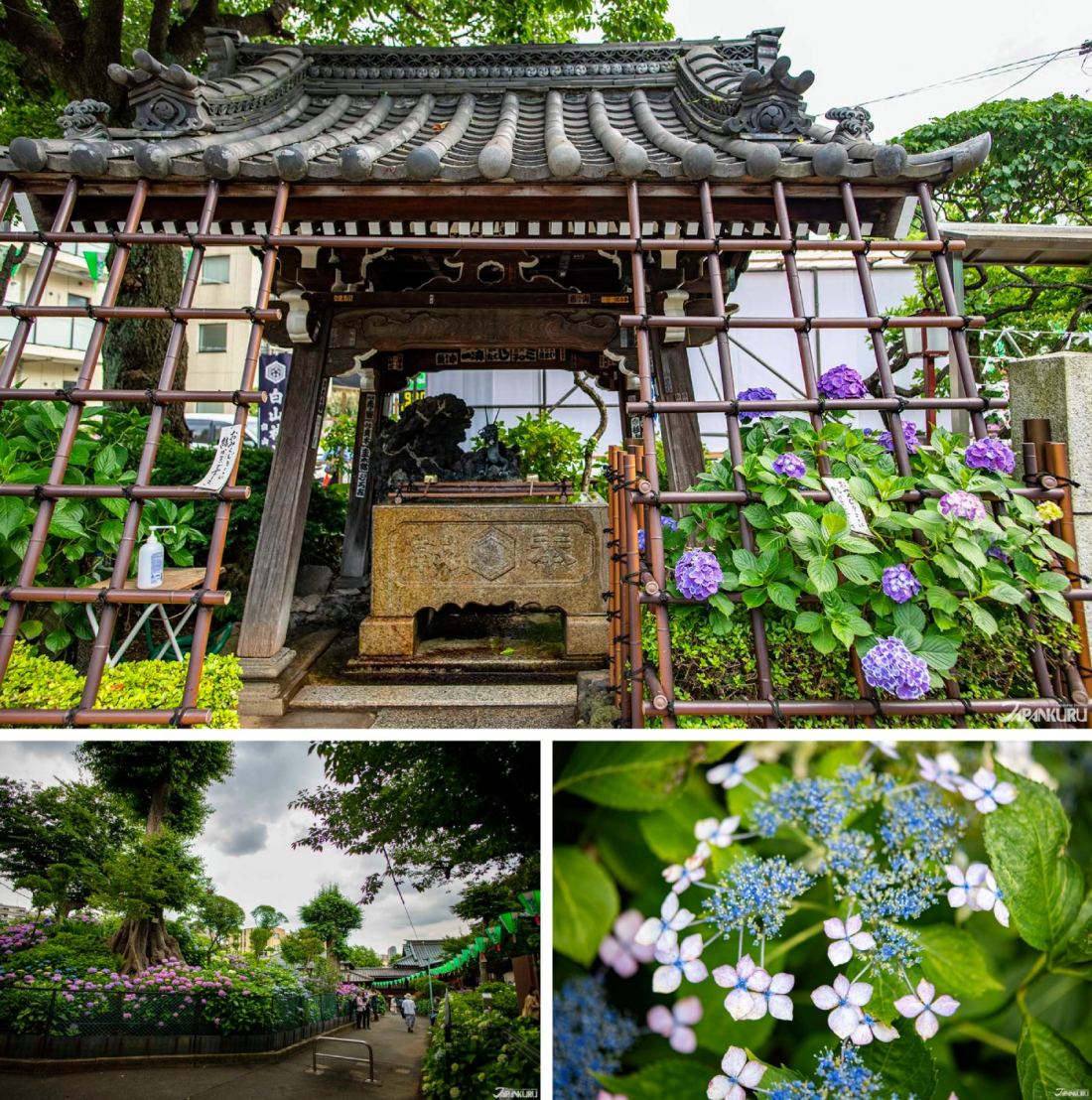 Hydrangeas bloom along the paths, gracing the road to the shrine's main hall, and lining the walkways running along the sides of the buildings. It's not just common hydrangeas either, thanks to Hakusan Shrine's collection of rare and unique varieties, like the uniquely-shaped "tea of heaven" bushes brought down from Japan's high mountaintops. The star of the show, however, is "Hydrangea Mt. Fuji" – a gated hydrangea garden comprised of a little hill covered entirely in a dense crowd of colorful hydrangea bushes. The gates open for just a few days every year during the hydrangea festival, and visitors line up to take a stroll to the top of the mountain, to be surrounded by some of Tokyo's most beautiful early-summer flowers.
▶ Read more about Hakusan Shrine.
Hakusan Shrine (白山神社)
5-31-26 Hakusan, Bunkyo City, Tokyo
Official Website (jp)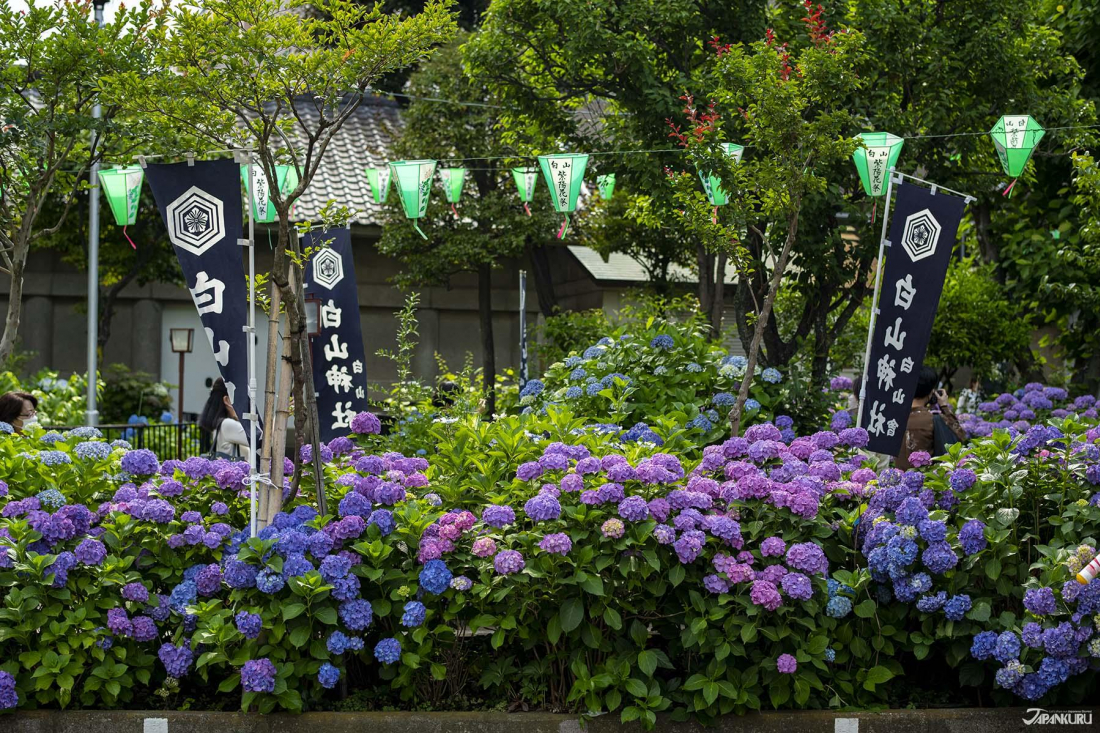 From hallowed shrine grounds to narrow paths tunneled along the train tracks, Tokyo is full of the blues and purples of hydrangeas, if you know when and where to look for them! So this summer, bring an umbrella for rainy season drizzles, and spend your days searching out the city's hydrangeas. You'll head home with some great pictures and even lovelier memories.
For more info and updates from Japan, check Japankuru for new articles, and don't forget to follow us on Twitter, Instagram, and Facebook!