Tokyo's SMALL WORLDS Miniature Museum ・ A World of Miniatures in the Big City
This must-see Tokyo attraction is a hit with anime fans and great for families with kids, but anyone with a love of minis can appreciate the minuscule detail of Tokyo's own Small Worlds.
Small Worlds: A Little World of Big Ideas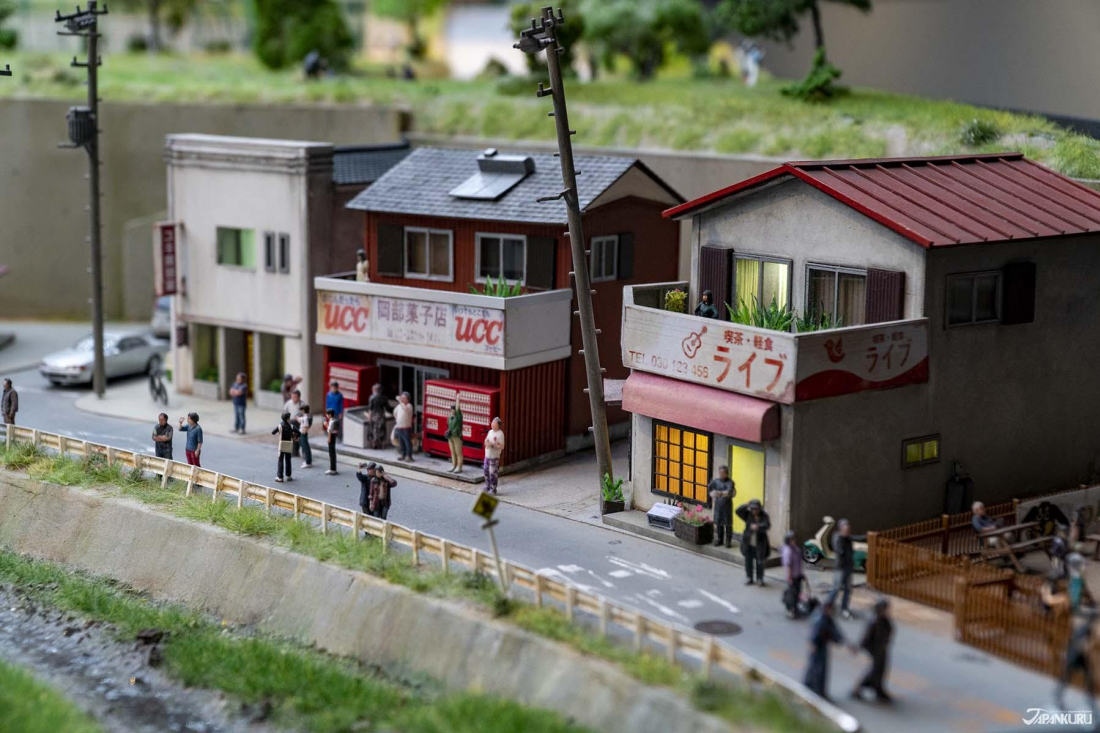 A whole world of miniatures, right on Tokyo Bay? Perhaps we can blame the small size of all the exhibits at Small Worlds for letting it slip under the radar, but this miniature museum in Tokyo's Ariake neighborhood makes a big impact – it's undeniably Ariake's best attraction. Created by a dedicated team of meticulous artists focused on the most minute details, Small Worlds has minuscule dioramas of everything from the fictional Tokyo-III of Evangelion and Pretty Guardian Sailor Moon's Azabu-Juban, to Japan's very real Kansai International Airport, all at 1/80th the size of real life. The small scenery is full of tiny details that suck you right into each tiny town, and the artists' sense of humor gives each new angle a lighthearted feel, with funny characters and silly stories told through the many moving pieces. After opening during the pandemic, Small Worlds has already become popular among Japanese families and anime fans in recent years, but now visitors from around the world are finally catching on to this mesmerizing world of minis.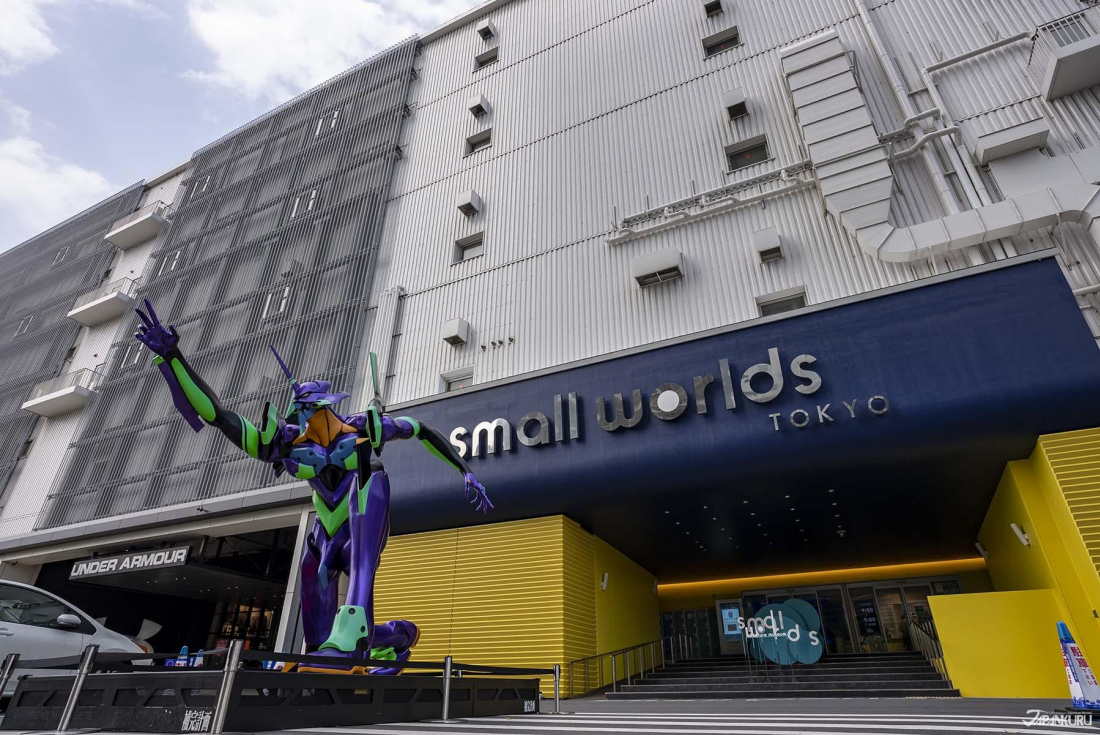 SMALL WORLDS Miniature Museum (スモールワールズ)
Ariake Butsuryu Center, 1−3−33 Ariake, Koto City, Tokyo
Hours: 9:00 – 19:00 (final admission 18:00)
Official Website (en)
3…2…1… Taking Off Towards a Miniature New World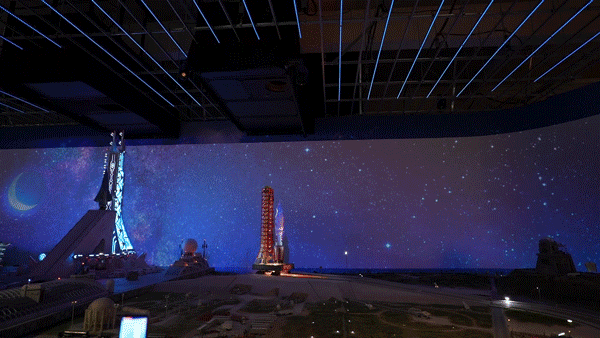 Perhaps it only makes sense that the route through Small Worlds starts with a rocket launch, as we find ourselves launched into a brand new world much smaller than our own. The miniature exhibits throughout Small Worlds take inspiration from real life, including the kind of little off-beat characters and funny vignettes that add a little down-to-earth personality to each museum area, but at the same time the artists add their own fantastical spin to each new scene. Watch an "enormous" rocket the size of a baseball bat take off from a realistic American-style launch pad and literally fly into the ceiling, before moving over to the space-age scenes straight from some miniature creator's imagination. Just don't miss the suited-up astronaut running from a Florida alligator!
Exploring a "Small" Planet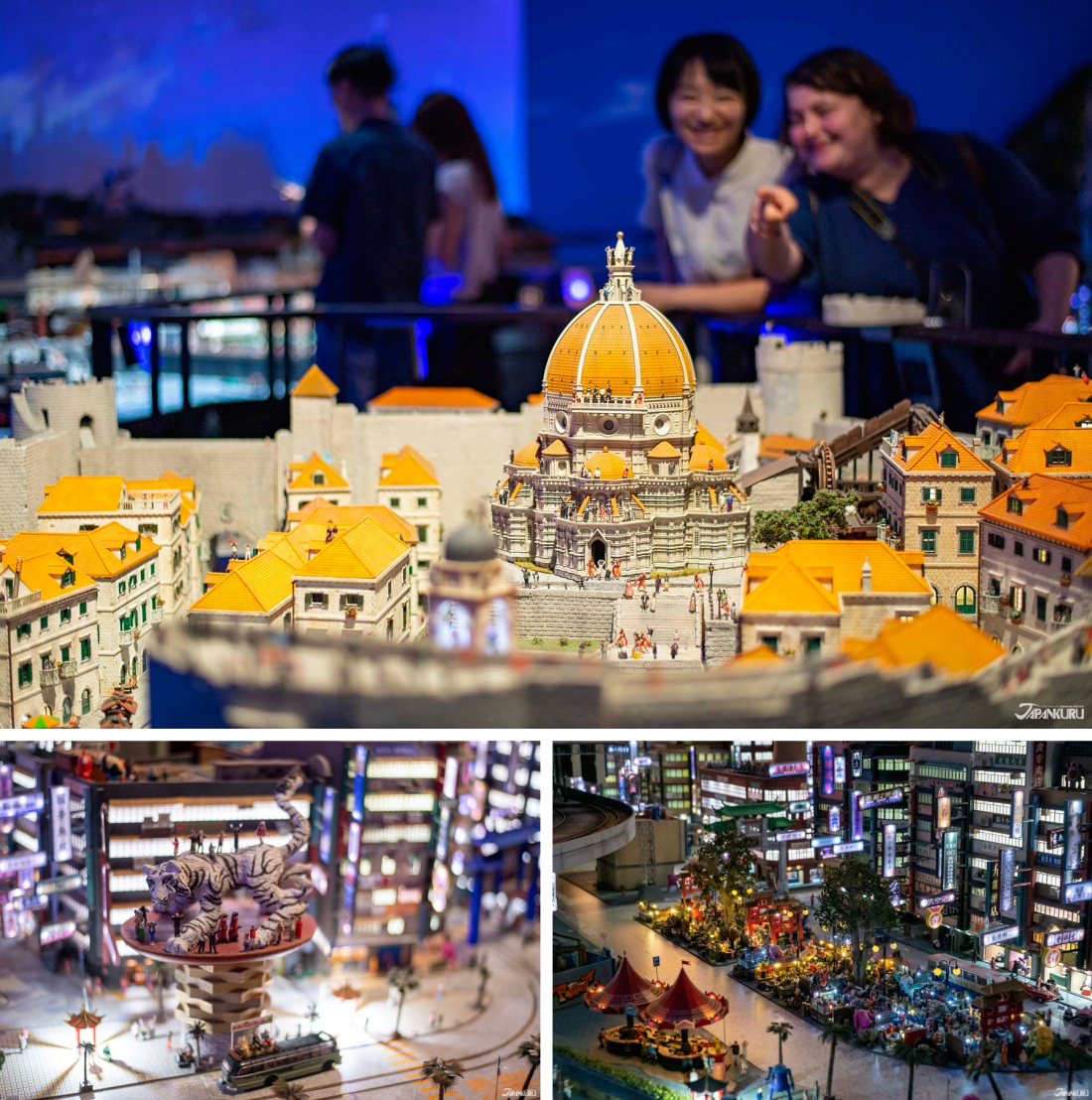 What would the world look like if it were all at 1/80th scale? Well, according to the artists at Small Worlds, it might be a lot more exciting. The Global Village area consists of a series of islands scattered across the room, each one with its own unique culture and local vibe, reflected in every feature from the architecture to the characters living within. There are European-style villages, with dragons taking off from the rolling green hills, and a busy urban area that looks plucked straight from the heart of Hong Kong… with the addition of some carnival rides and pandas exploring the city. It's easy to imagine that it might be fun to live in these tiny cities with all their bustling excitement, but where? It might be hard to choose a home with all these wild choices. It's a whole new world of minis, and they're not all stuck in place, either.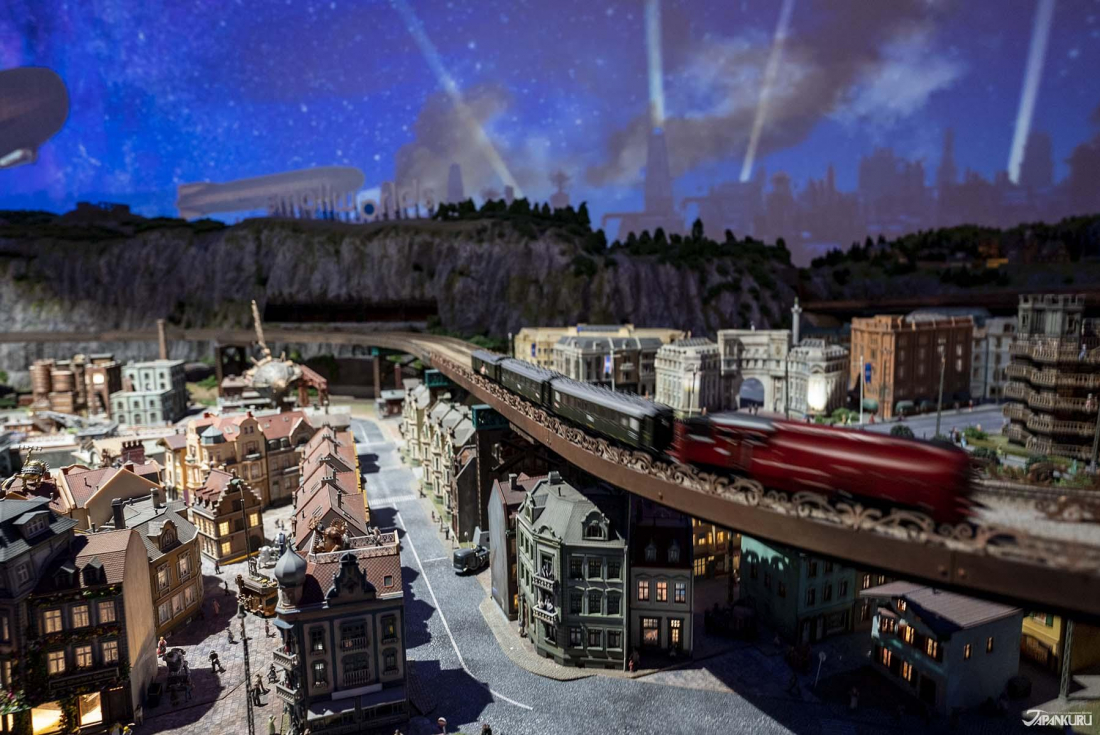 Small Worlds makes it clear from the start – these exhibits might be tiny and detailed, but they're always changing and full of movement. Railroad fanatics will go nuts over the trains that rush across tiny mountains and mine carts that clunk along through rocky caves, while horse girls will no doubt fall in love with the bright white Pegasus struggling to take off into the air – all at the press of a button. The cars and bikes that skim the pencil-thin streets don't even need a button to get them going! Those all work automatically, programmed to run along the roads and even stop at the red lights found at major intersections! It makes you want to pretend your phone is a high-tech drone, flying above the Global Village for some breathtaking aerial shots.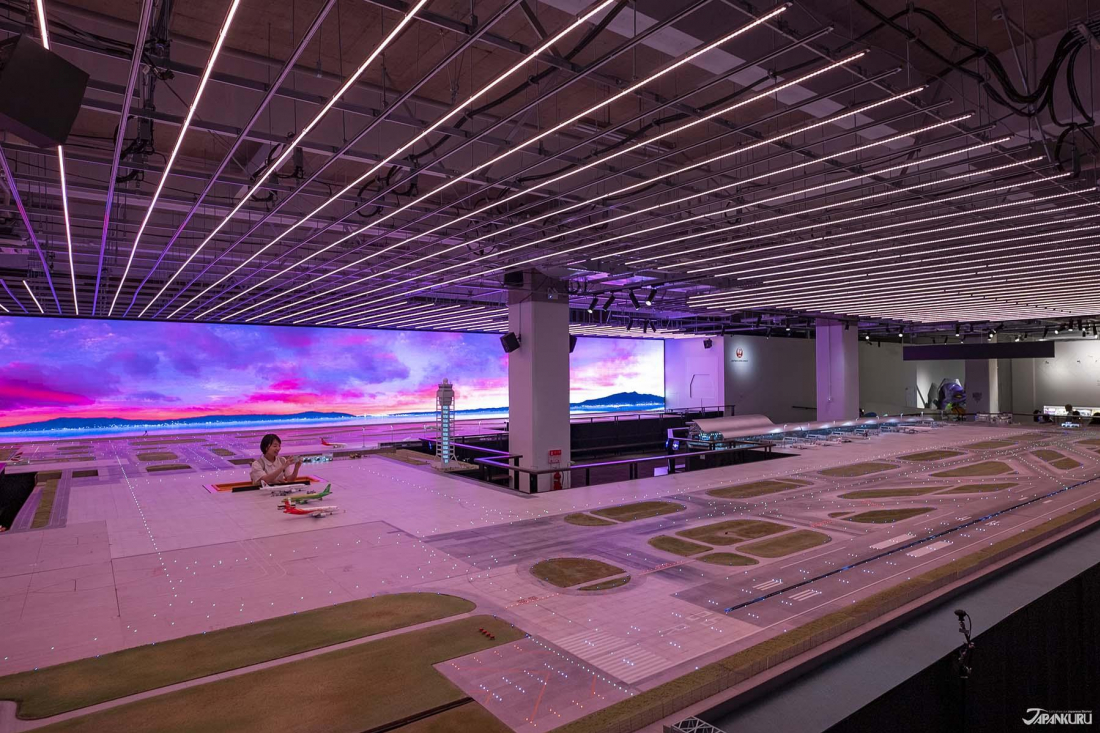 For a miniature scene that's much closer to reality, Small Worlds also has a huge replica of Kansai International Airport, complete with terminals, runways, air traffic control staff, passengers, and of course plenty of airplanes. This major Osaka airport is one of the largest in Japan, and it's all here on a tiny scale. Duck under a section of the exhibit and into a narrow opening in the middle of Kansai International Airport's many runways to get a good look at the airplanes as they take off and land in front of your eyes, slipping into the wall as they fly off into the sky. The museum even has an "airport lounge," where you can watch the daily goings-on in all the comfort of first class.
The Pretty Guardian Sailor Moon Area

In the name of the moon, it's finally time to dip into the world of the Sailor Guardians at the Pretty Guardian Sailor Moon Area, a clear favorite among comic and anime fans visiting Tokyo. This miniature of Japanese city life invites visitors to see Tokyo just as it's drawn in the mega-popular Pretty Guardian Sailor Moon series, complete with tiny cars and bike riders zipping along roads that look straight from real-life Azabu-Juban, but also itty-bitty Pretty Guardian Sailor Moon characters interspersed with the city's general population. Search the streets, spy through building windows, and scan the rooftops to discover Sailor Guardians (including Ms. Usagi Tsukino herself) and other recognizable characters in half-a-dozen different places. There's also a secret base and multiple buildings that actually open up to reveal detailed scenes inside! Can you find them all?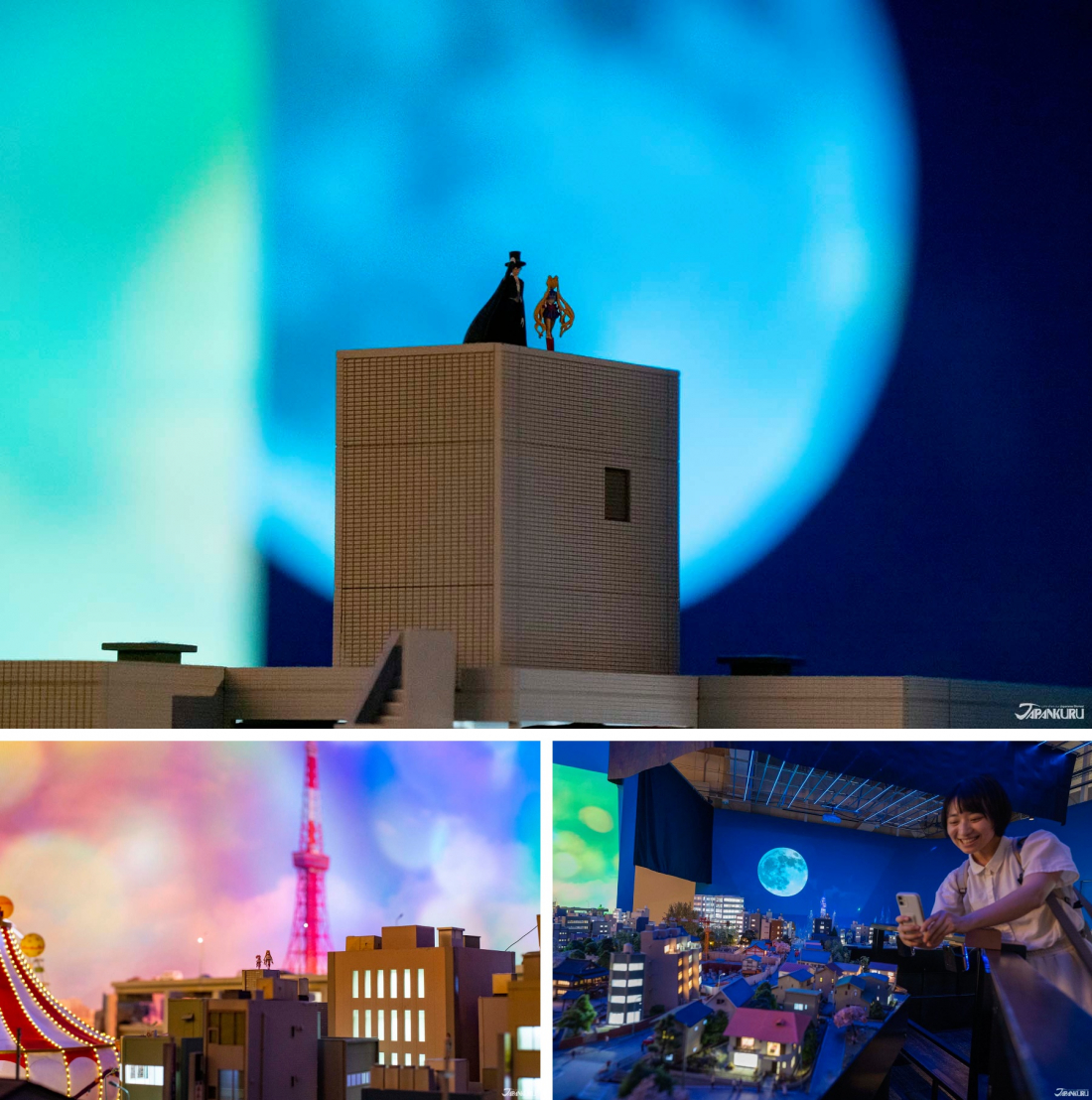 The Pretty Guardian Sailor Moon Area is one of the best places to enjoy a cool feature at Small Worlds: the day and night cycle. Every few minutes the "daylight" dims as it illuminates each of the exhibitions around the miniature museum, setting like a real sun, only to be replaced by the soft glow of streetlamps and minuscule windowpanes. In the world of Pretty Guardian Sailor Moon, the moon shines bright in the night sky, and reflects off the gleaming crystalline towers of 30th-century Crystal Tokyo for a magical display.
The Evangelion Hangar & Tokyo-III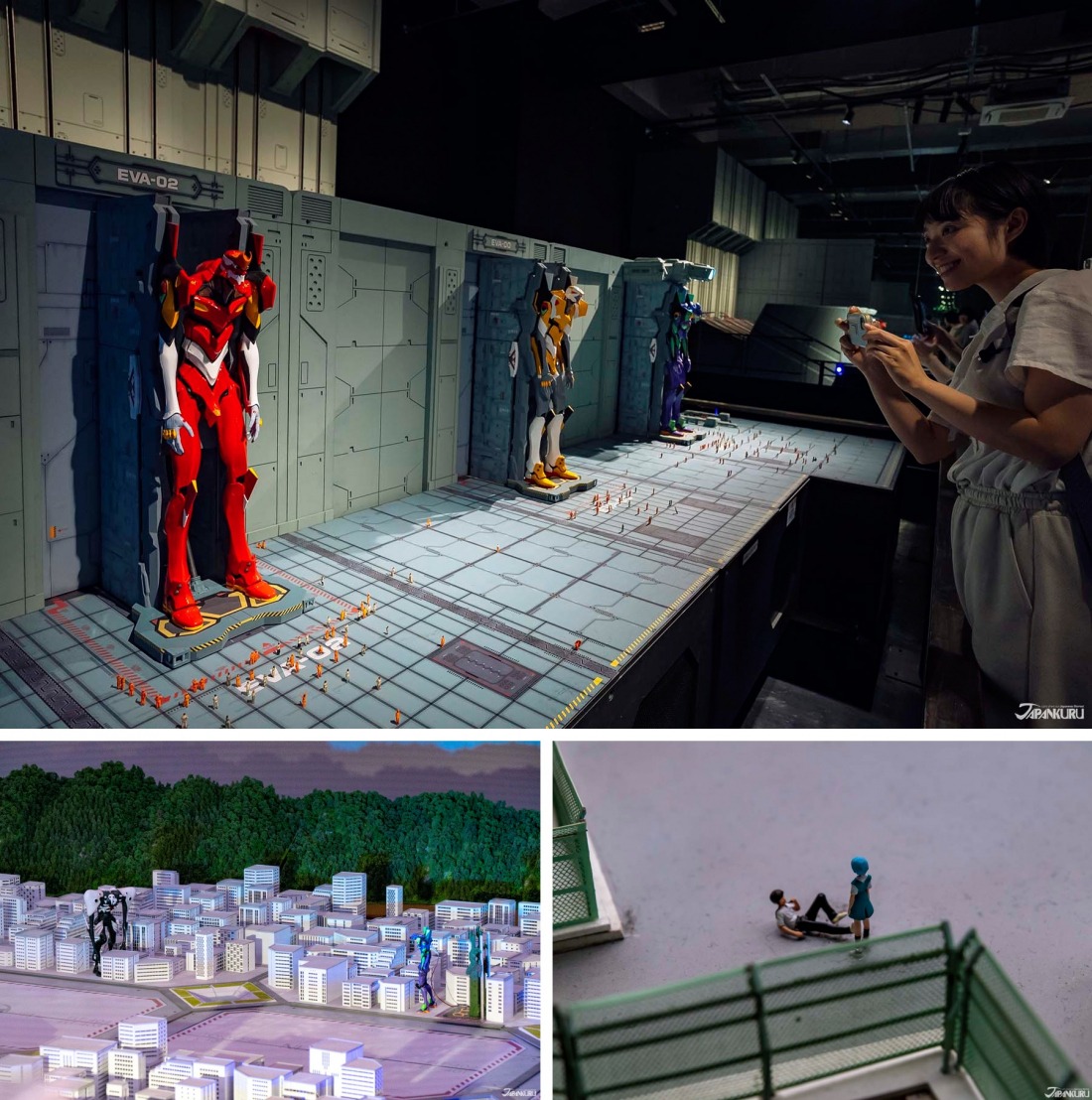 The future imagined by the creators of Evangelion balances the mundanity of life in Tokyo-III and the drama of sci-fi battles, which is probably why the Evangelion Area at Small Worlds is popular amongst both huge fans of Evangelion and regular museum-goers alike. Enter the hangar of Evangelion cages at NERV headquarters (the Evangelion Hangar Area) first to see the giant stars of the series in miniature form, still so massive that it's hard to believe they're only at 1/80th scale, as the launch sequence pushes Evangelion Unit-01, Unit-00, and Unit-02 up from the floor and into the ceiling. Further on, in the area containing the expansive recreation of Tokyo-III, dramatic music from the original anime plays as the ground opens to reveal Evangelions battling it out with the Angels. When the fighting ends, Shinji's everyday life in Tokyo-III resumes, if only for a little while.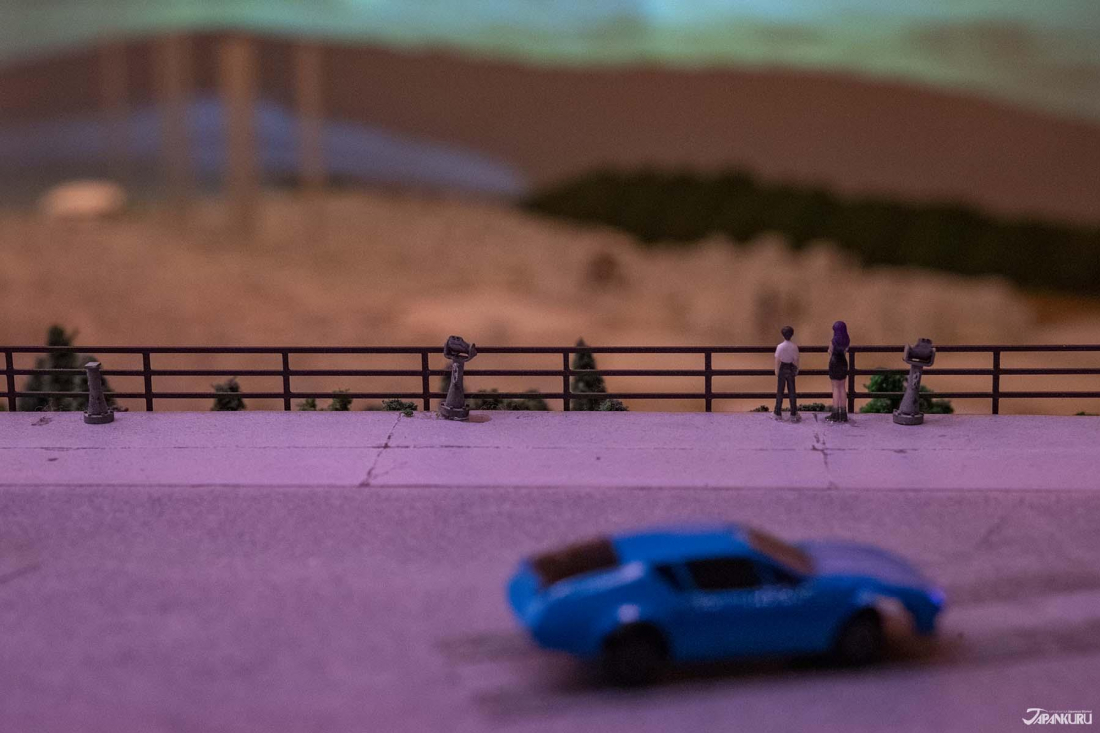 The Small Worlds Evangelion area has its own share of easter eggs, with characters from the anime placed throughout the two sections, and even some iconic Tokyo-III scenes recreated in miniature. You can just about trace the path that Shinji and Rei take to school, and if you search hard enough, you might even find Misato Katsuragi sunbathing with Pen Pen by her side. The music swells and sinks alongside the rising and setting sun, and it's easy to get lost in the world of Evangelion as you search through every tiny vignette and moving part of the city scenery.
Munching on Not-So-Mini Meals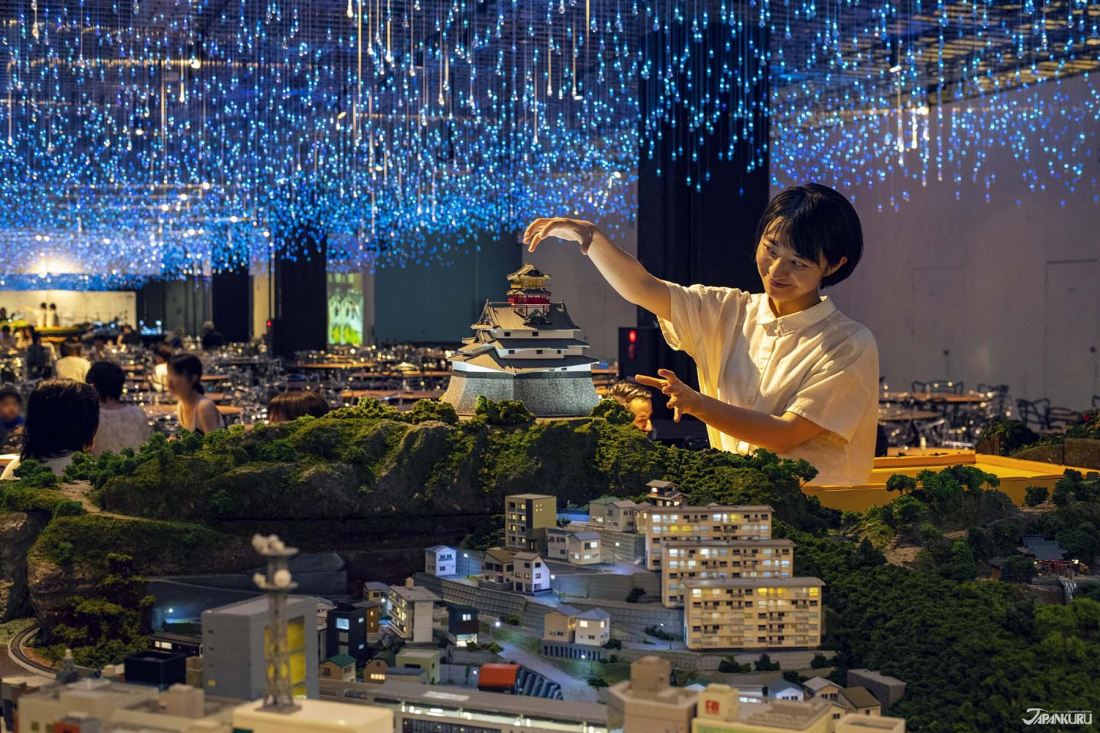 At Small Worlds, even the Museum Cafe is part of the experience, with miniature decorations on each table and exhibitions around the room. The theme of the cafe is Japan after dark, so you can grab lunch or an afternoon snack as you admire some of the country's most popular nighttime scenic views, from futuristic industrial scenery to illuminated cherry blossoms. Azuchi Castle is the star of the show, and you can poke your head up through a hole in the ground of the castle park to see it all up close. Fortunately, nothing about the Museum Cafe menu is miniature at all, so you can enjoy the Japanese classics like omurice and curry rice to the fullest.
Becoming a Real Resident of Tokyo's Small Worlds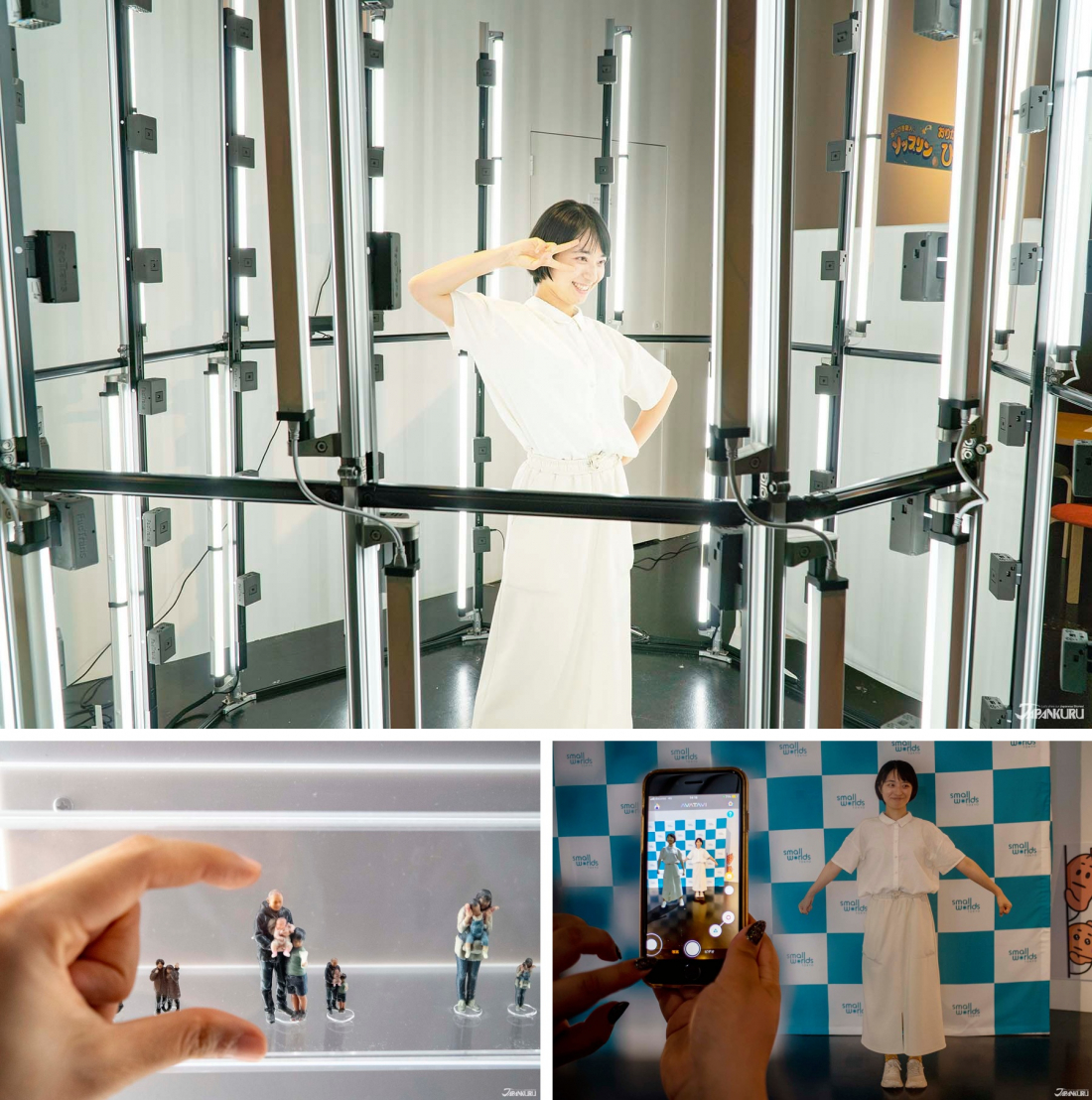 The gift shop at Small Worlds offers original merchandise and popular items with Evangelion and Sailor Moon designs, but the most exciting souvenir option of all is a totally-customized miniature 3D figure of your very own. Stop by the 3D figure studio to pose for a photo in the futuristic 3D camera, and turn the scans into a mini-me figure that's either 1/80th scale (the absolutely tiny size used in the Small Worlds diorama) or 1/35th scale (a slightly more practical but still very small 5 cm or so). After 2~3 weeks of processing, the figure can be sent directly to you in the mail, ready to live in a diorama of your making, or perhaps hang out on your bookshelf. To see the 3D camera results even quicker, they'll give you a QR code to scan into the Avatavi app for a little digital augmented reality avatar!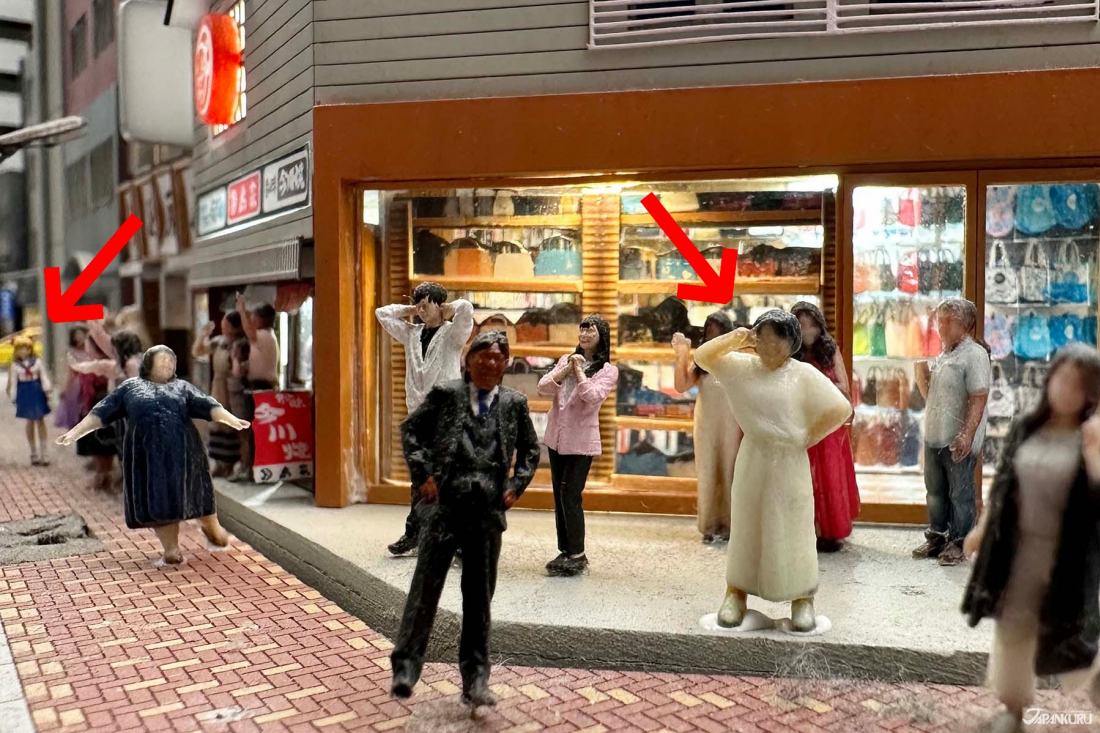 But that's not all – Small Worlds also offers Resident Rights Plans, so that you too can become a part of the museum. After peering down into each of the exhibits, you might have noticed some of the tiny humans look a little different – looking out at the crowds, or pulling silly poses – because some of those figures are actually real museum guests. Purchase a Resident Rights Plan with your 3D figure, and you'll not only get a figure sent to your home, but another one will be placed right into the museum exhibits, in whichever area you choose! There are a lot of waving spectators, but your pose can be anything and go anywhere (practicality permitting). Show off your creativity by cringing from a bucking dragon or sidling up to an "enormous" panda in the Global Village, or choose to spend your days hanging out with your favorite anime characters instead, with "residency" in the Sailor Moon and Evangelion areas. This small world is your oyster! (To get a picture of yourself in your new Small Worlds home, make sure to come back and visit soon, or get a friend visiting the museum to do it for you!)
Peek Behind the Scenes on Your Way Out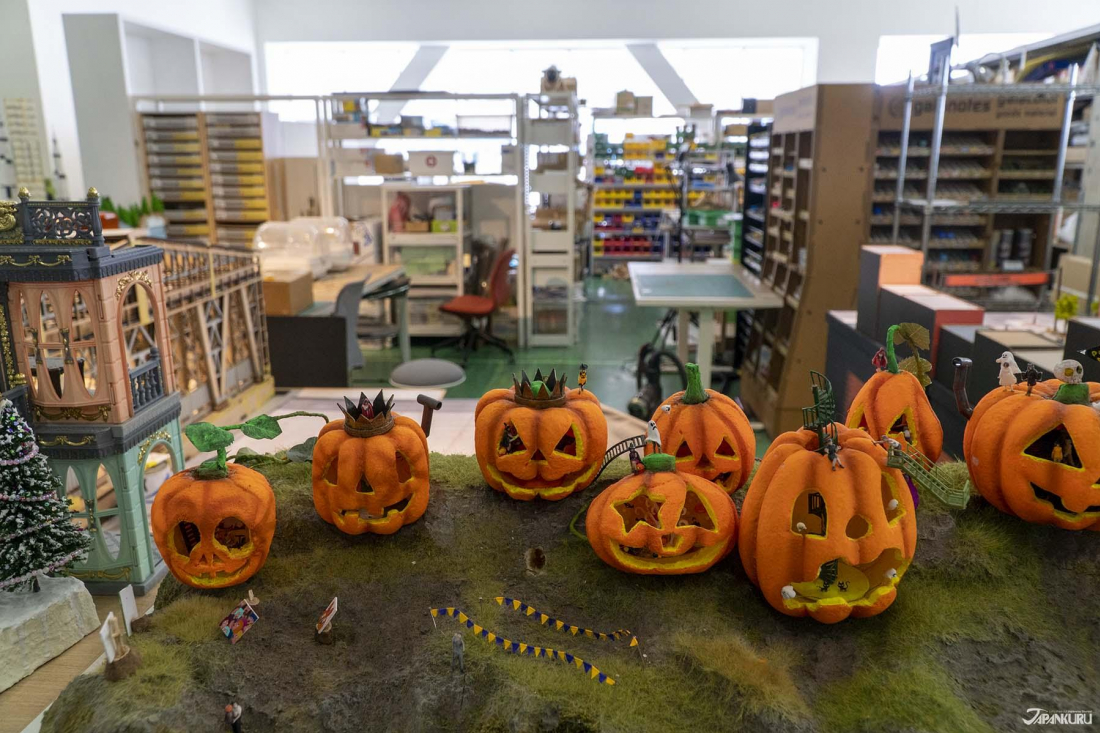 From Tokyo to the wide world beyond, and even into outer space, Small Worlds offers a small glance at an expansive world of minis, populated with your favorite anime characters and maybe even yourself. So finally, after exploring each of the exhibits, you even get a chance to sneak a peek behind the scenes! The Workshop Area offers visitors the chance to get hands-on by creating their own miniature models, and the Small Worlds Creative Studio even lets you see the museum's artists at work. Scattered with materials used to make the museum's many dioramas, this space is an amazing chance to see how the miniature worlds are created and maintained, and even check out some seasonal and holiday decorations temporarily added to the museum exhibits in years past. For all the new additions the artists are working on now, well, you'll just have to return to Small Worlds again soon to check them out!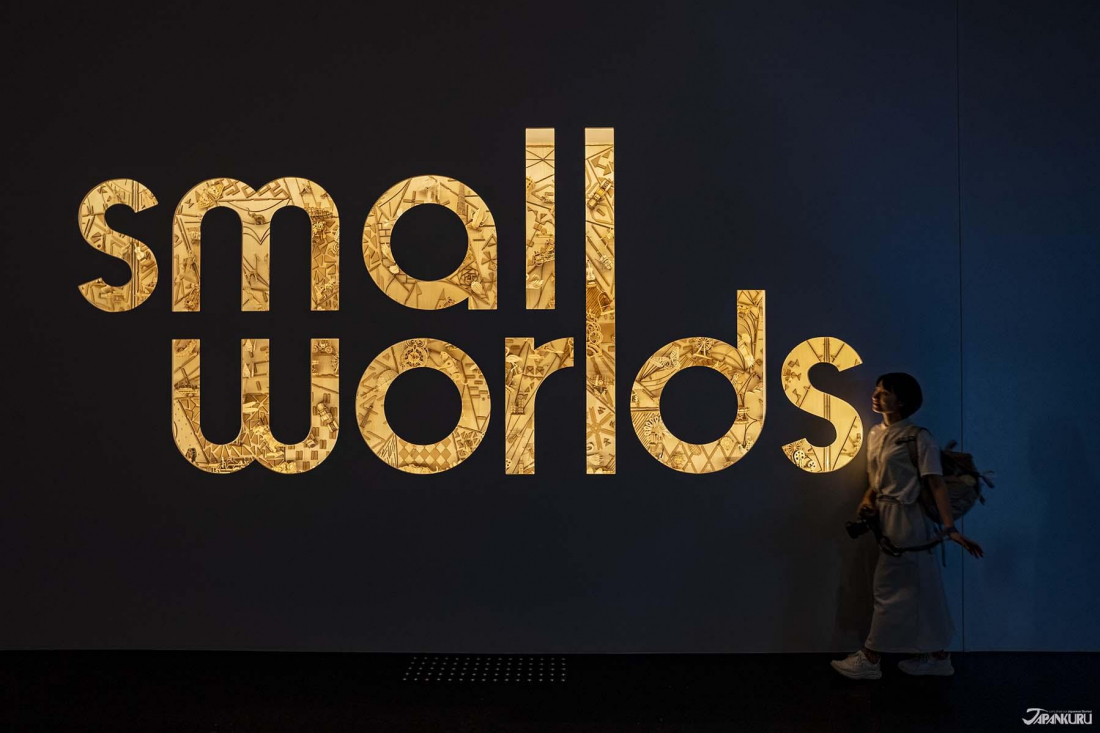 For more info and updates from Japan, check Japankuru for new articles, and don't forget to follow us on Twitter, Instagram, and Facebook!