Tottori's White Rabbits Named Japan's Best Lesser-Known Souvenir Snacks in Nationwide Competition
In Japan, souvenirs are food, and this competition was made to choose some of Japan's best underdog snacks and sweets.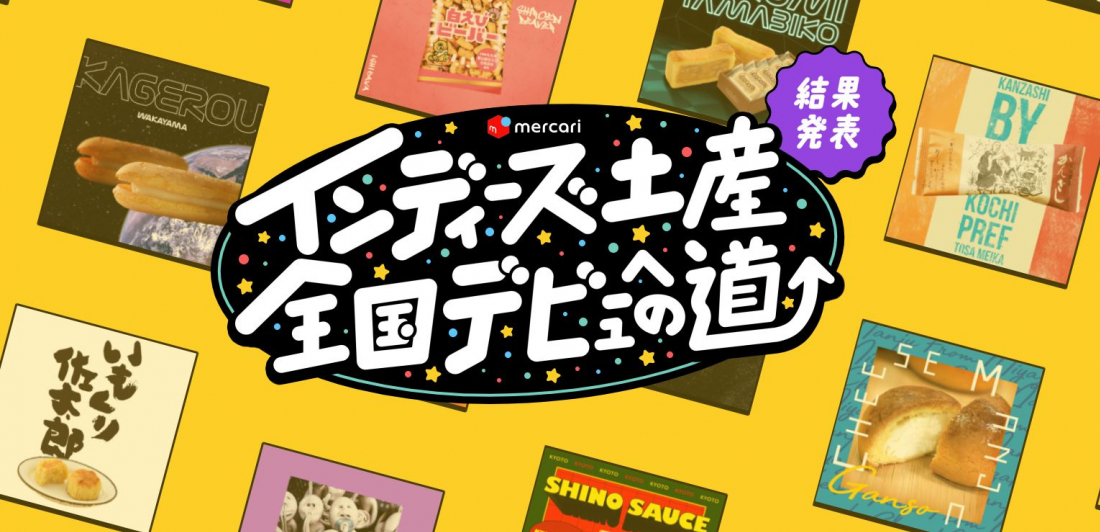 Souvenirs are a part of life in Japan. Whether it's a summer vacation to the beach or a journey halfway around the world, when you get back home, your friends, families, peers, and even coworkers will expect a souvenir from your travels, an "omiyage" (お土産). And in Japan, souvenirs are almost always food-based. Anywhere you go, you will find souvenir shops, and those souvenir shops will sell carefully packaged boxes of cookies and cakes, mochi and manju, sometimes made with popular local ingredients, or sometimes just an arbitrary symbol of the region.
Some of these regional souvenir snacks are so popular that people are familiar with them around Japan. Take a trip from a small town up to Tokyo, and your friends might request Tokyo Banana custard cakes. Venture all the way to Hokkaido, and your coworkers won't be surprised to find a box of Jaga Pokkuru potato snacks on the lunch table. But some regional delicacies haven't quite made a name for themselves yet, and so popular online marketplace Mercari put together the "Indies Souvenir Nationwide Road to Debut" (インディーズ土産全国デビューへの道) to bring our attention to some of the best souvenir snacks we've never heard of, all around Japan.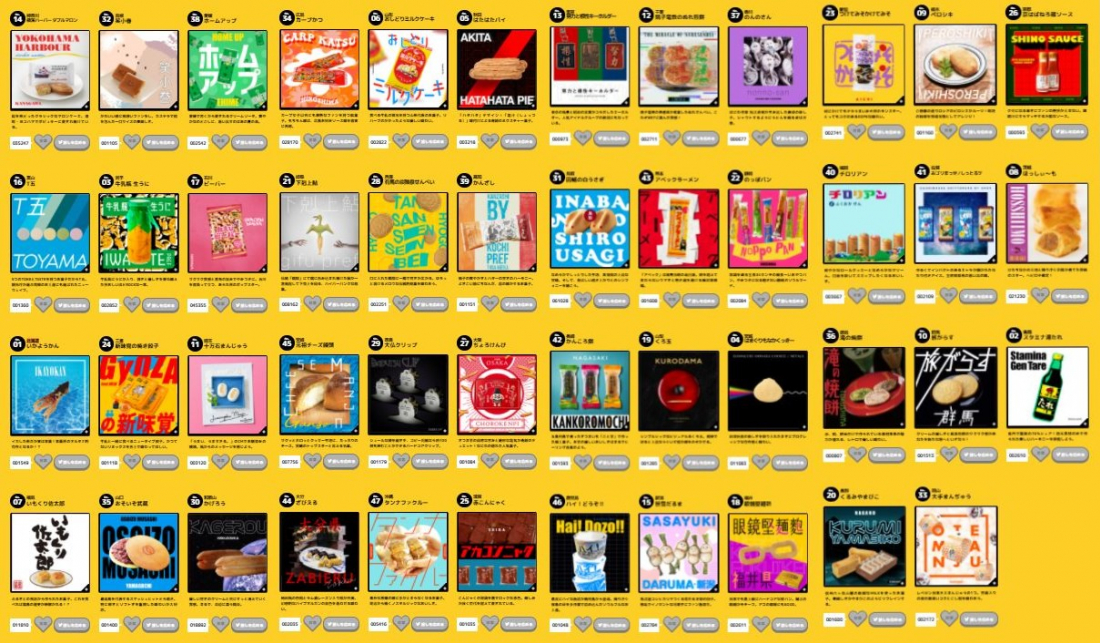 The competition was put to a public vote between July 29th and August 11th, with a dedicated website offering voters a choice of 47 underdog souvenirs, one for each of Japan's 47 prefectures―and even a few non-edible souvenir options mixed in for variety! Each prefecture's representative was clearly trying to steer away from the stereotypical local souvenirs, which was particularly clear for places like Hokkaido. Instead of featuring something made with the island's famous dairy products, mutton, or crops like potatoes, Hokkaido's souvenir was "Ikayokan," a snack made with the traditional Japanese jelly-like red bean sweet youkan, and formed into the shape of a squid. Going in the other direction, Kyoto Prefecture―famous for green tea and traditional Japanese sweets―offered up a Kyoto-made hot sauce, Shino Sauce, made with locally grown habaneros.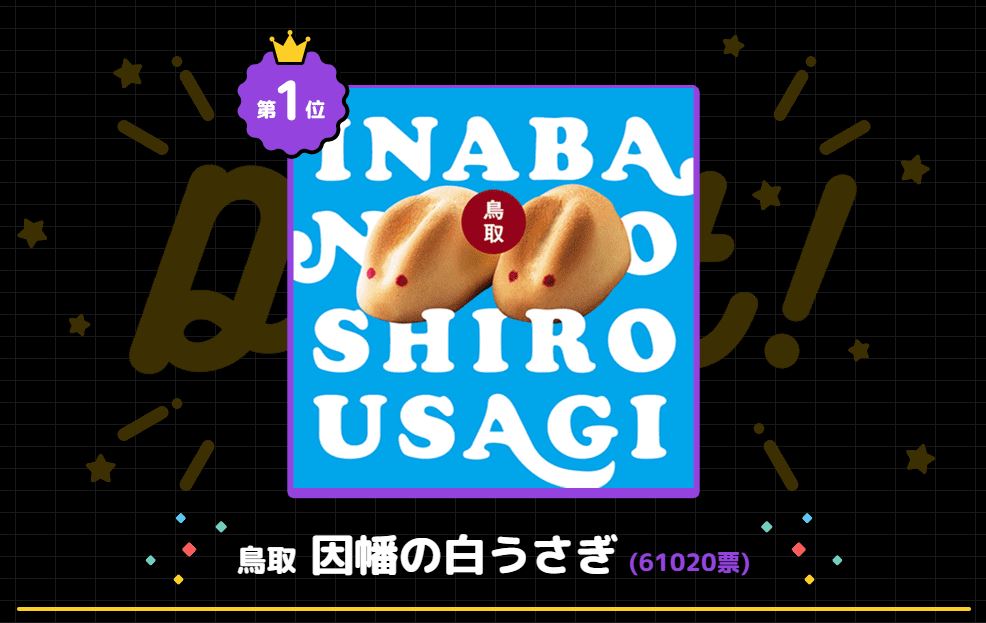 In the end, after collecting votes from over 320,000 people, the winner was announced: an adorable sweet treat hailing from the prefecture of Tottori that received more than 60,000 votes, Inaba no Shirousagi (因幡の白うさぎ), meaning "the white rabbit of Inaba." These little cakes are filled with a smooth, sweet filling of white bean and egg yolk, and shaped like rabbits in honor of a local ancient legend. The eastern portion of Tottori Prefecture was once known as Inaba, and this rabbit (or hare, as is much more likely) got up to all sorts of legendary adventures, like leading the god Amaterasu to a mountaintop plain for her temporary palace, or getting into trouble with some sharks and being saved by the kindly Onamuchi. Between the cute bunny shape, the rich flavor of the cakes, and the mythological connections, Inaba no Shirousagi made it to the top, and it will be rewarded with a specially-made music-video style web commercial.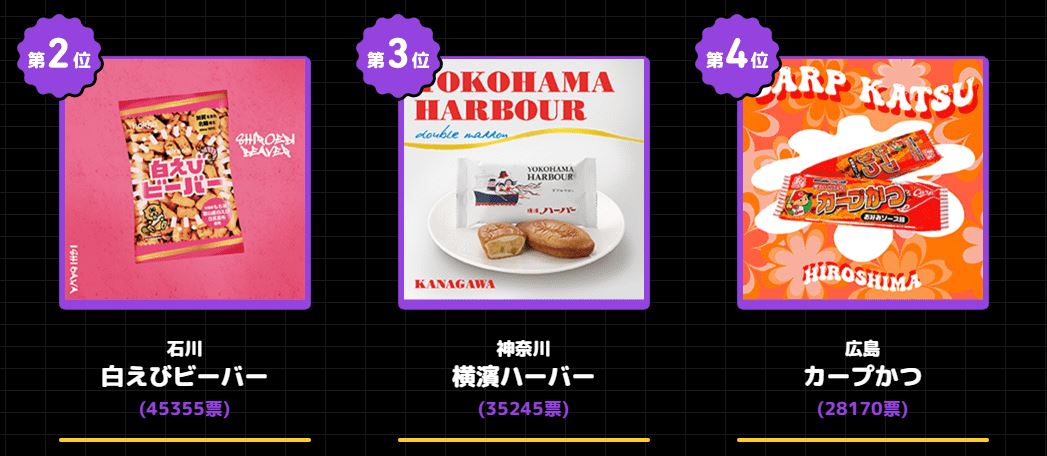 The runners-up each had their own fair share of support, of course. Coming in at number two are Ishikawa's savory Shiraebi Beaver snacks, crunchy shrimp-flavored rice crackers shaped, they say, like beaver teeth, and in third place are Kanagawa's Yokohama Harbour Double Marron cakes, soft and fluffy with a chestnut filling. The last winner, in fourth place, are Hiroshima's "Carp Katsu" snacks, a far cry from the prefecture's popular momiji manju cakes. Carp Katsu are breaded, fried thin sheets of dried fish and squid, similar to a common snack found at grocery stores across Japan (called Big Katsu), except that these souvenirs are augmented with a stripe of brown Carp Sauce, used for Hiroshima's popular okonomiyaki.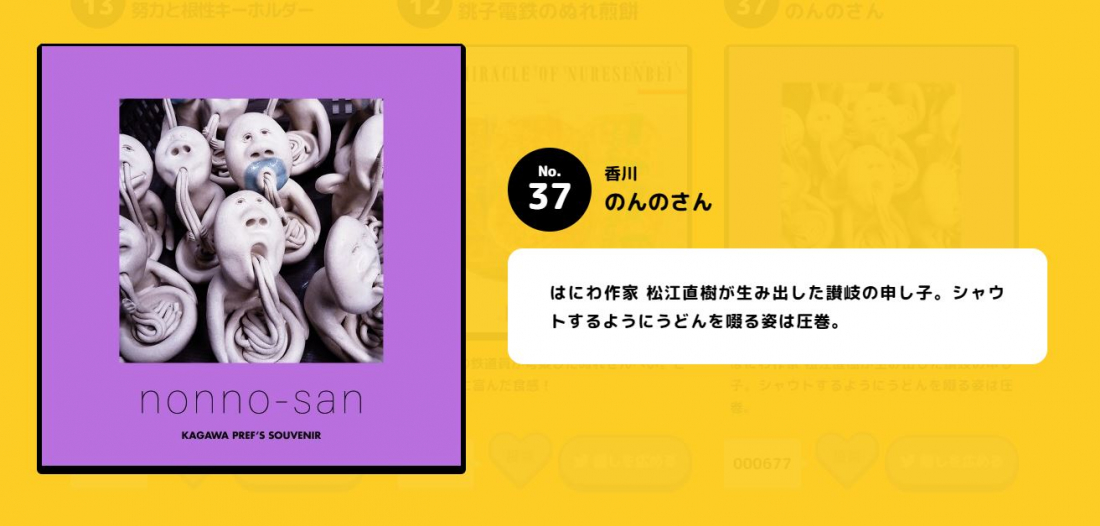 The Japankuru winner for "by far the most terrifying and goosebump-inducing souvenir of all" is the entry from Kagawa Prefecture, "Nonno-san." One of the few non-food options, these little figurines are sculpted with shouting faces and big open nostrils, all filled with thick drooping strands of Kagawa's famous Sanuki udon. Truly horrifying. Nonno-san received 677 votes.
---
Basic Info
Name: Indies Souvenir Nationwide Road to Debut
Website: https://jp-news.mercari.com/localmitsukete/miyage/
---
For more info and updates from Japan, check Japankuru for new articles, and don't forget to follow us on Twitter, Instagram, and Facebook!
Source: JAPANKURU