Traveling Through Aizu ① Japanese Gardens, Trains, & Gourmet Experiences in Aizuwakamatsu
With traditional Japanese culture from railway culinary experiences to custom tea blends and historic garden-side tea ceremonies, if you've never thought of visiting Aizu before, think again!
New Flavors and Unique Experiences in Aizuwakamatsu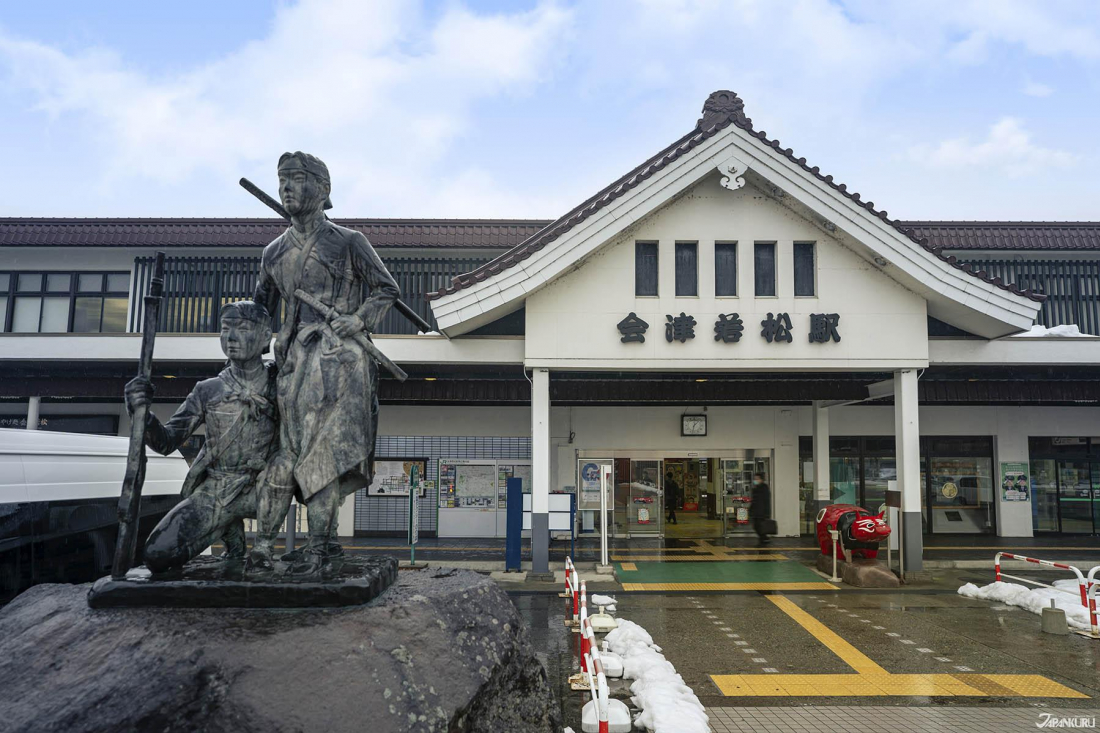 The Aizu area of Fukushima has a long history of samurai and military power, alongside a rich culture including agriculture and sake brewing, all of which is still seen in the present-day city of Aizuwakamatsu via the castles and homes of feudal lords, and some flavorful food culture. On this trip to Aizu, the Japankuru team stopped in at three parts of the regionーAizuwakamatsu, Shimogo, and Minamiaizuーto find new and interesting ways of experiencing local culture to the fullest, from toasty-warm winter train rides to a garden made for tea lovers.
Aizu Gastronomy Train – Winter Edition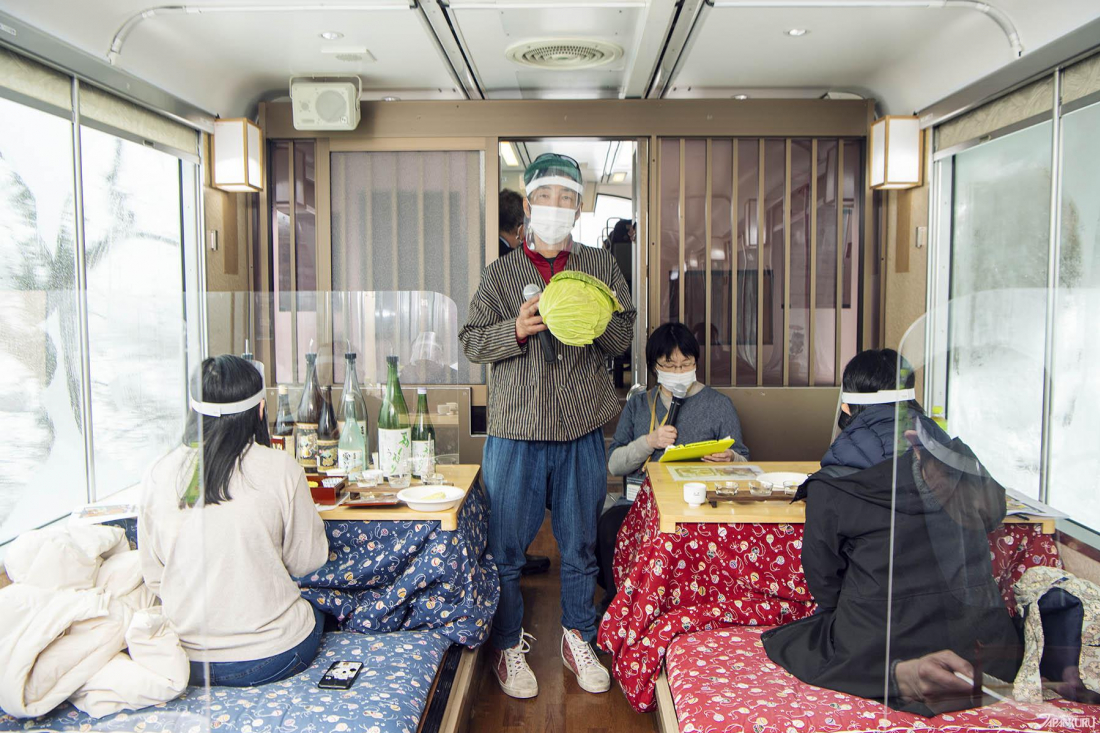 First stop: all aboard the Aizu Gastronomy Train, for a special railway experience on the Aizu Line! During the winter, instead of normal seats this special train car comes fitted with kotatsu (こたつ), heated tables made extra cozy with warm blankets. But this isn't just a cozy train ride, it's a gastronomy event, and travelers can grab lunch on the train while traveling across the Aizu area, and tasting some of the best "nihonshu" (日本酒) sake around.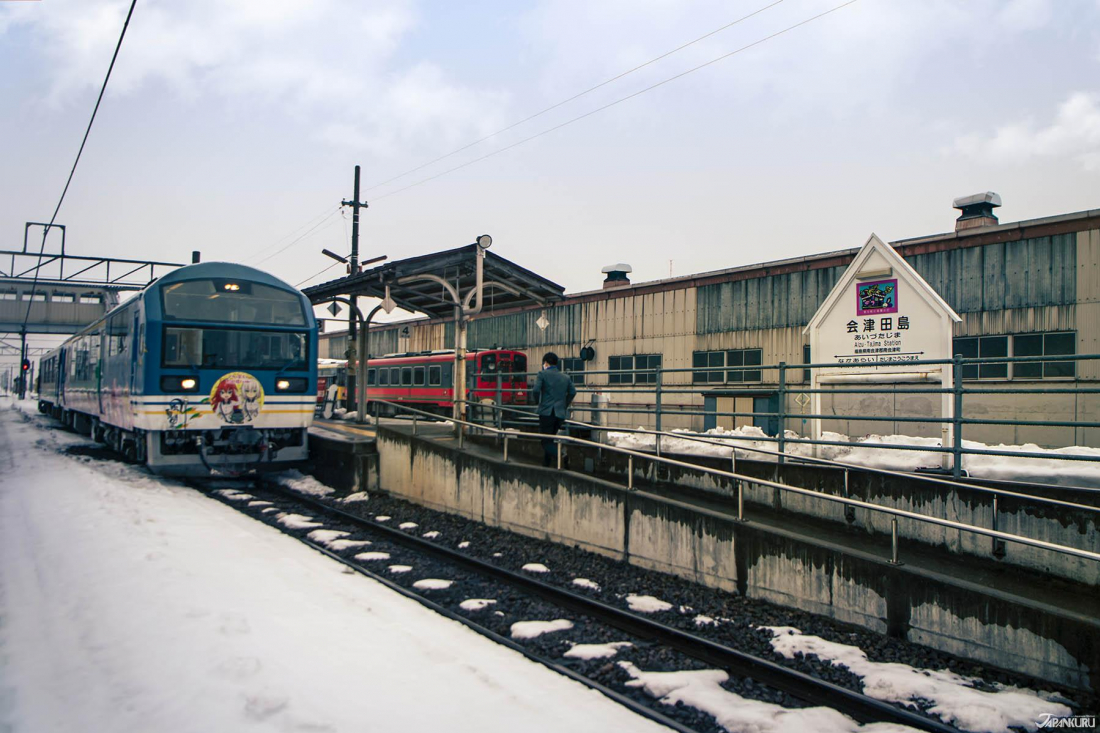 Travelers board at Aizu-Tajima Station for a leisurely lunch and a tour of the Aizu Line.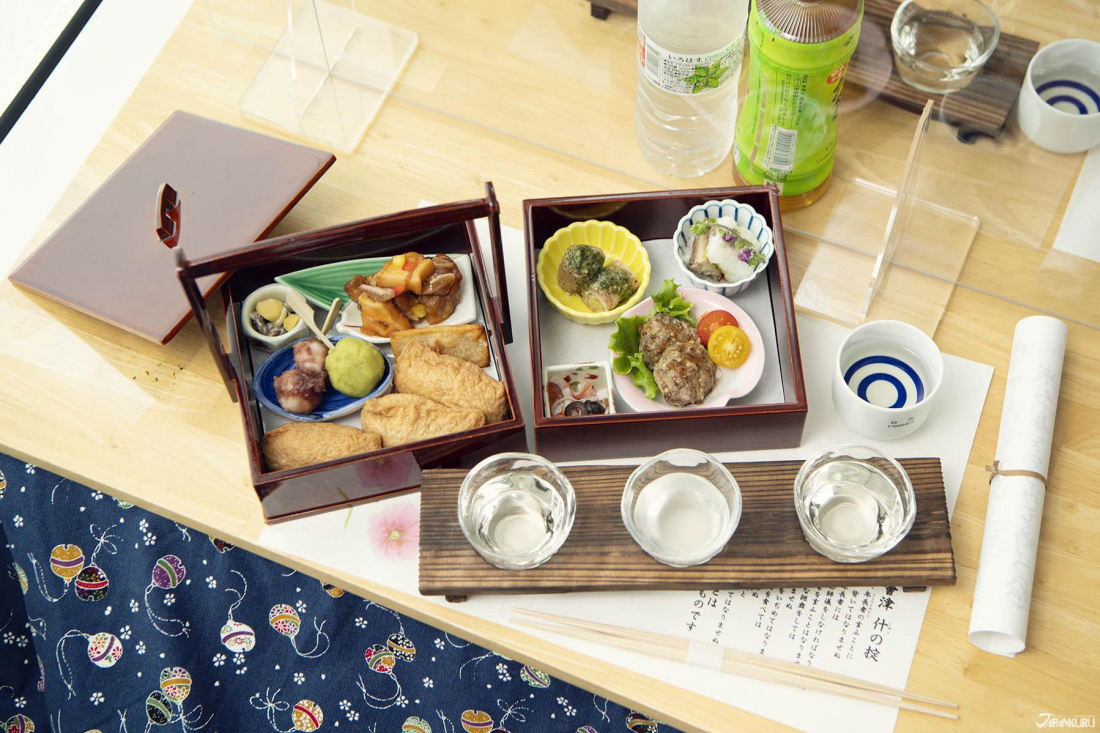 While it's lovely to watch the northern Japanese countryside rush past the window, the real pleasure of this train trip is the many gourmet treats provided. Each passenger gets their own bento box full of local cuisine, arranged with the artful touch of Japanese fine dining. Among the treasures hidden in the bento box, you might find unique sushi made with Pacific herring and cabbage grown locally under huge piles of winter snow (giving the vegetable a unique sweetness), a local variety of Aizu chicken cooked in a tangy sweet and sour sauce, or zunda mochi (ずんだ餅), rice cakes covered in a delicately sweet edamame coating.
The meal is accompanied by a handful of sake varieties, each made by a different local Aizu brewery, and as the meal goes on, each sake is recommended as a pairing for one or another of the foods tucked into the bento boxーthe combination of flavors bringing out different aromas and tastes for the foods and brews alike.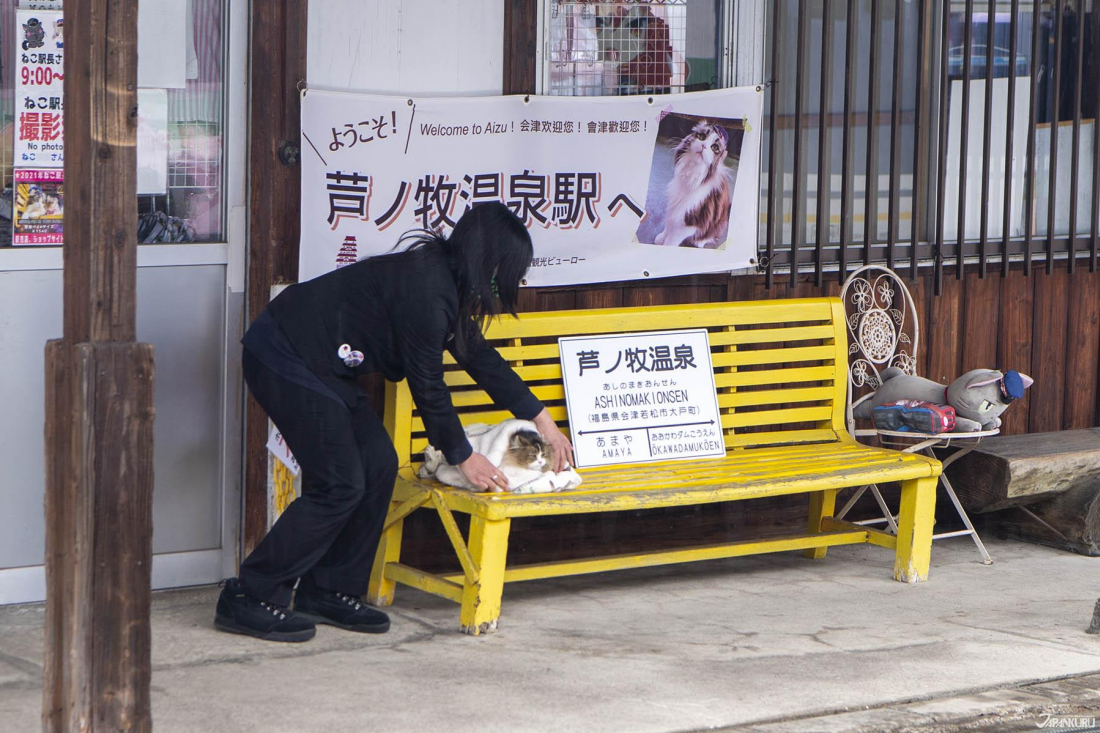 Thanks to the train's friendly local translator, throughout the ride a steady stream of information flows about the food, the sake, and the world outside the window. When the Japankuru team went for lunch, the trip even included a little talk from the farmer who grows that cabbage deep under the snow!
While you eat, keep an ear out for the announcements that come when passing over a particularly beautiful river, or when the train makes a brief stop at Ashinomaki-Onsen Station, where you might just see a glimpse of the local station master and his assistantsーa team of fluffy, adorable cats!
Aizu Gastronomy Train (Winter)
Aizu-Tajima Station to Aizuwakamatsu Station
Aizu Railway Official Website (jp)
Tea Time at Oyakuen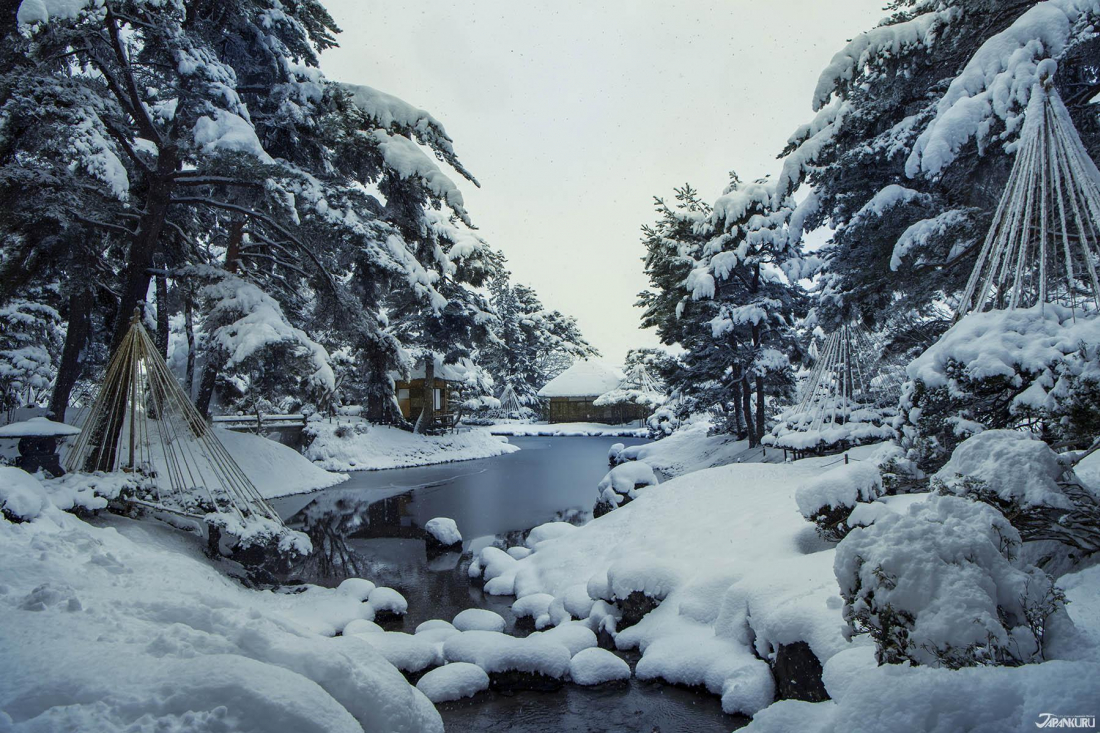 The final stop on the Aizu Gastronomy Train is Aizu-Wakamatsu Station, where you can disembark and explore this historic castle town with a full stomach. Tsuruga-jo, or Aizuwakamatsu Castle, was the seat of power for the whole region during Japan's days of samurai and feudal lords, and the setting for many historic military confrontations. But the garden of Oyakuen (御薬園), just 20 minutes away on foot, was a tranquil escape for the lord of the Aizu Domain, with a second home and peaceful gardens.
Oyakuen isn't just a pretty garden built around a daimyo's summer home, although that's certainly part of it. One whole half of Oyakuen is devoted to landscaping that's a little less glamorous and a lot more practical: a garden of traditional medicinal plants, each variety used for hundreds of years to treat aches, pains, and whatever else they could manage. Originally inspired by traditional Chinese medicine, Japanese "kampo" (漢方) medicine uses a variety of natural remedies, and in the 17th century Oyakuen Garden was added to the original 15th-century leisure garden, as a new place to grow the kampo plants for use treating local residents. To this day, the historic buildings of the daimyo's residence and his elegant gardens are joined with the neighboring medicinal plant field.
Turn Japanese Kampo Herbal Remedies Into a Personalized Tea Blend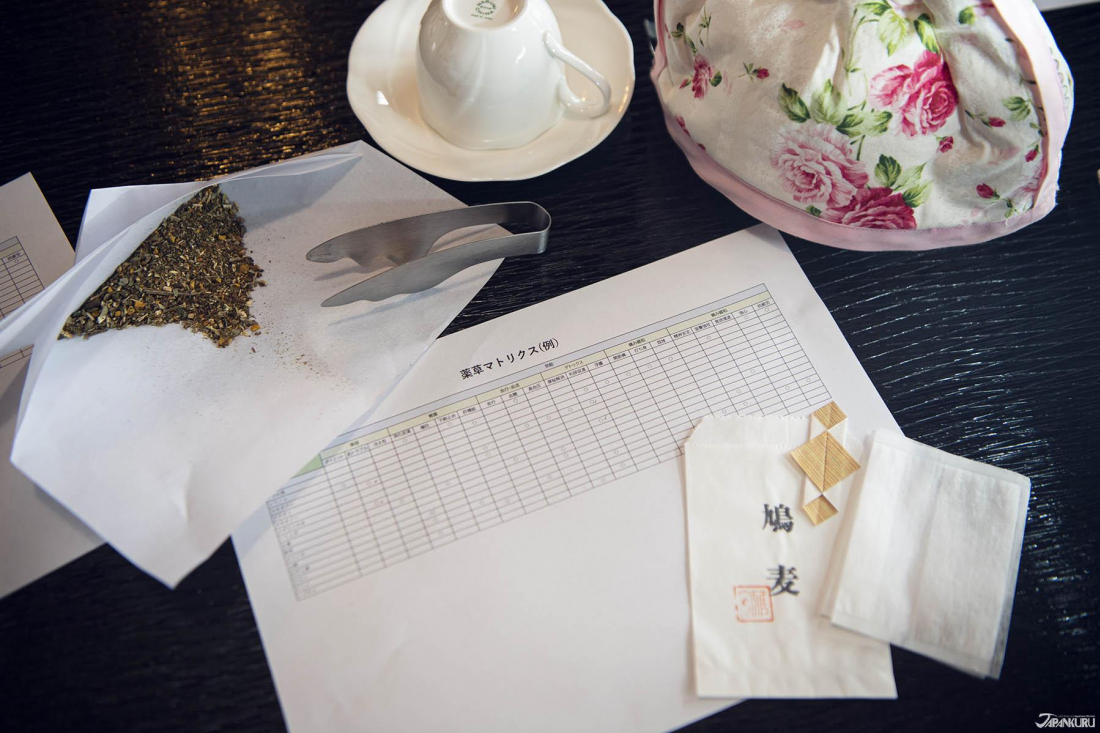 Are you a tea fanatic? Oyakuen is worth a visit even if all you do is take a loop around the gardens (they say that May is a great time to see the medicinal plants), but the facilities also hold workshops that visitors can participate in, like a personalized kampo tea blending class.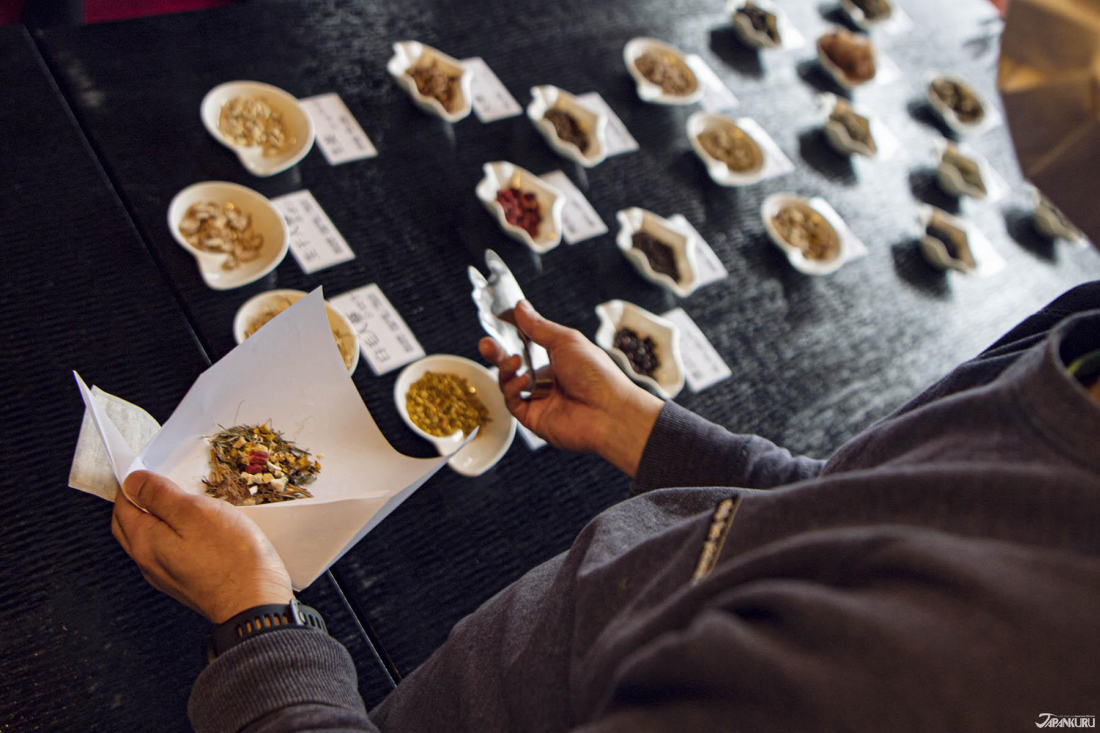 Led by a local kampo expert, participants in this unique workshop get to see and smell well over a dozen different ingredients used as traditional herbal remedies in Japan, before using them to brew up a personalized tea, all while learning about the history of Japanese kampo medicine and why it still thrives in Aizuwakamatsu. You won't find a class like this anywhere else!
Each plant has its own traditional usesーbits of wood from the Japanese angelica tree are said to be good for high blood sugar among other complaints, and ginger not only adds a bit of spice to any tea blend, it's also said to warm you up from the inside out. Tea ingredients are mostly chosen for their effects, but they each impart unique flavors as well. If you want to add a pile of oolong tea leaves to your blend for a more familiar tea flavor, there's nothing stopping you! And if you look at the spread of different ingredients and don't know where to start, the workshop leader is always ready to swoop in with some expert advice on what might make the perfect tea blend for you.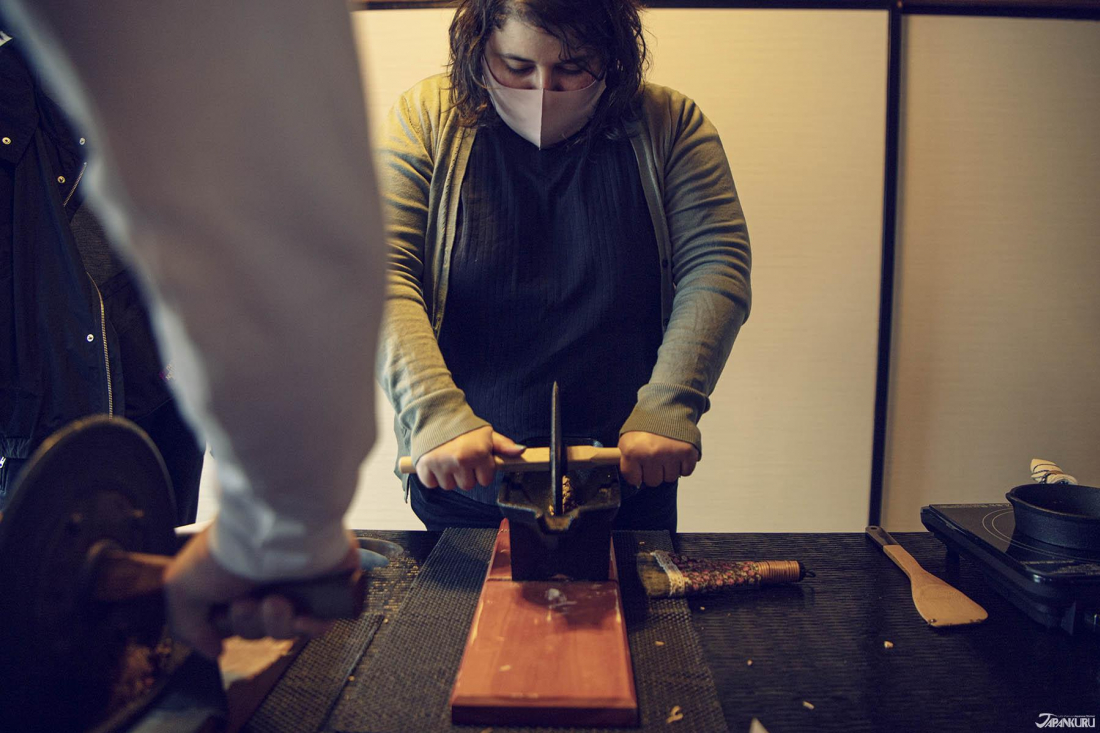 Part of the fun of the workshop is preparing the ingredients before brewing any tea! Participants can use a traditional "yagen" (薬研) to crush the ingredients with a heavy wheel and release all the goodness inside, just like kampo experts have been doing for centuries.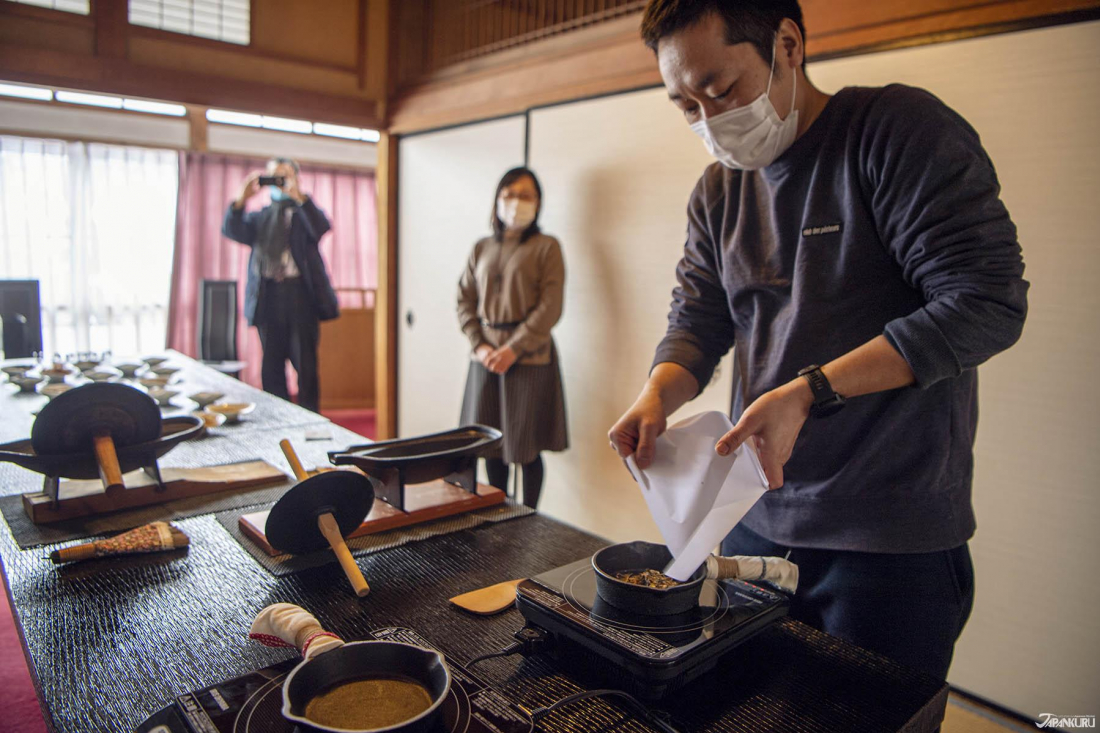 The final preparation step is a quick toasting in a hot pan, and finally your own custom kampo tea is ready to be brewed!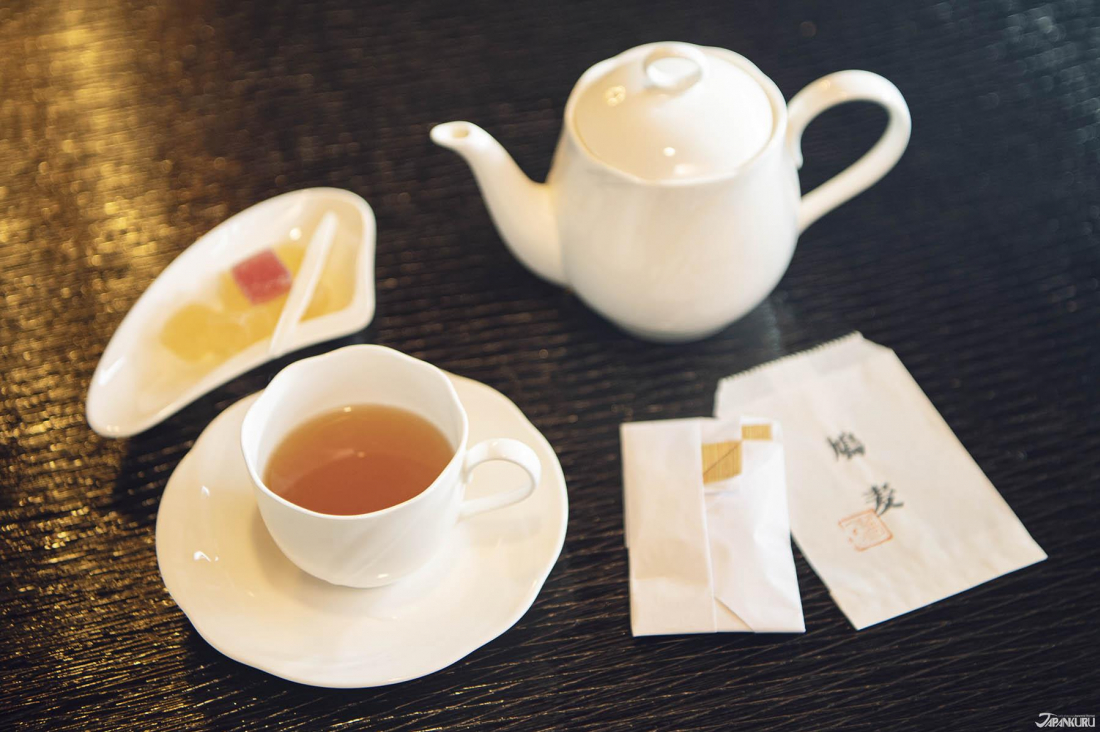 The class finishes with each participant dividing their prepared ingredients into two little teabags, and enjoying a pot of their very own new tea blend with some traditional sweets. Whether the traditional medicinal ingredients work any magic on your aches and pains is up to you to decide, but either way, just about every mix turns into a lovely soothing infusion, and a satisfying way to end the workshop. The second tea bag is for participants to take home, and enjoy some other day when a kampo-style pick-me-up is in order!
A Garden-Side Tea Ceremony Fit for a King (Or a Feudal Lord)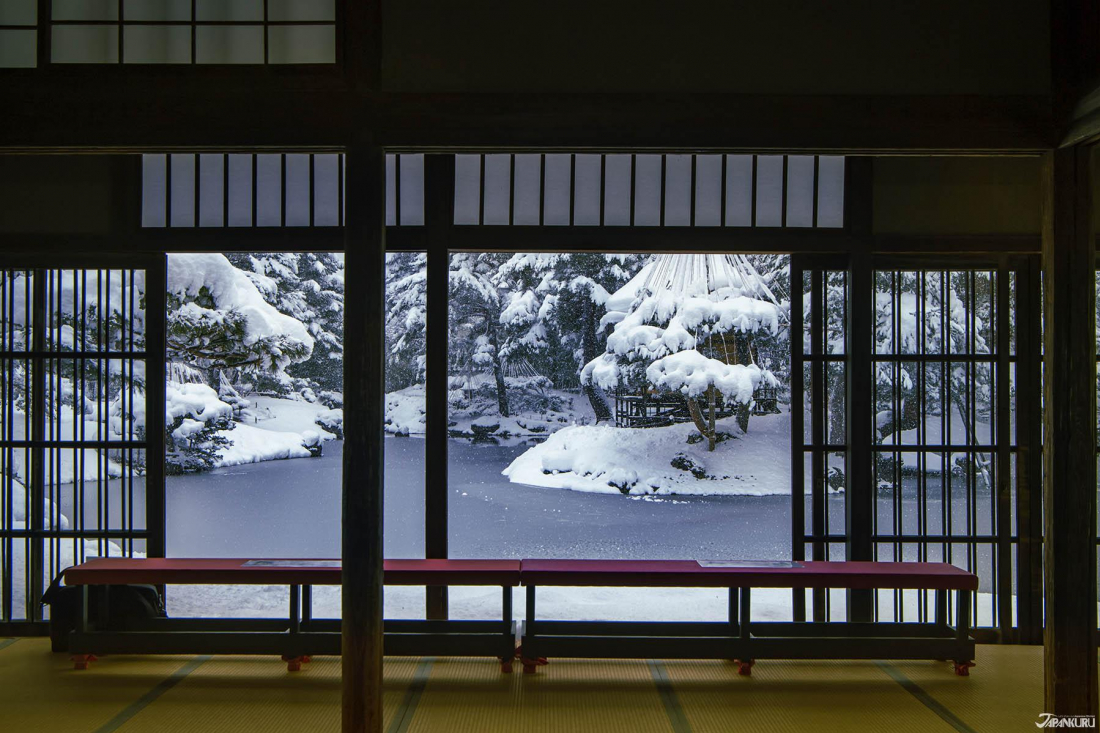 The second tea experience at Oyakuen is held on the other side of the gardens, in the area once reserved exclusively for the use of the Aizu Domain's daimyo (大名), a feudal lord. Next to the majestically landscaped grounds, looking out onto the water, you'll find a traditional house that has been preserved for centuries. It once served as the local lord's second homeーa peaceful escape, ideal for relaxation or receiving high-class guests.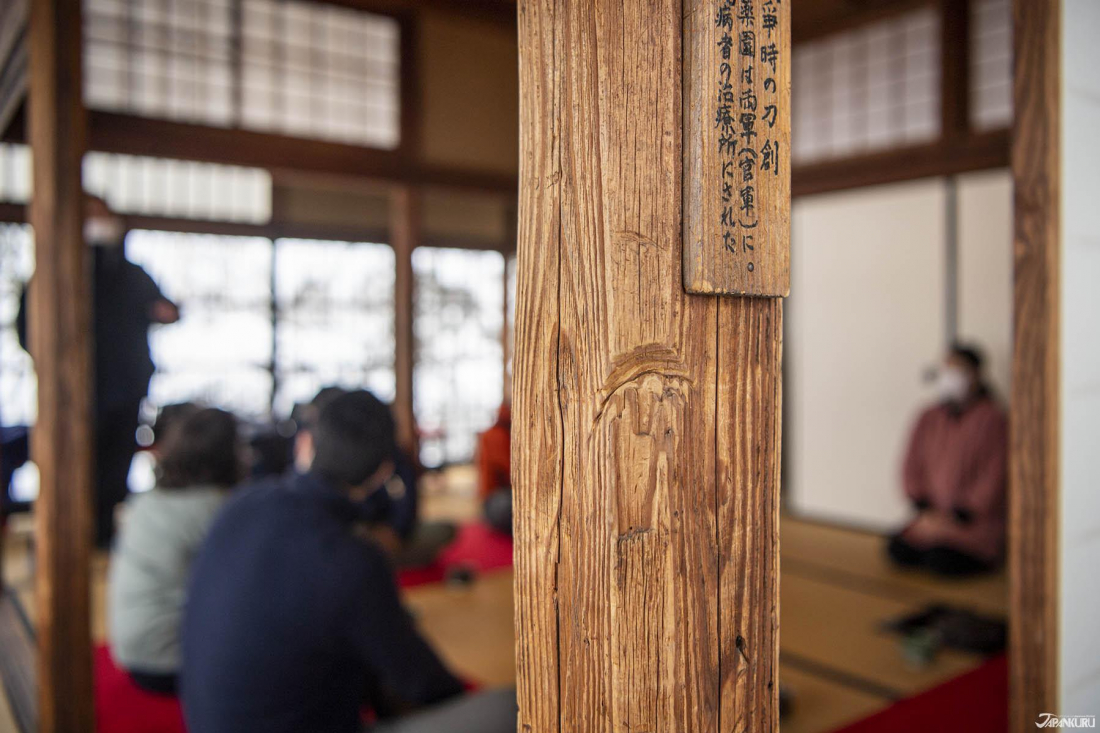 The scars of history are still visible in the wood of the building itself, like this deep cut where a sword once chopped into the column. During wartimes, this house was turned into a hospital, saving it from distruction through to today.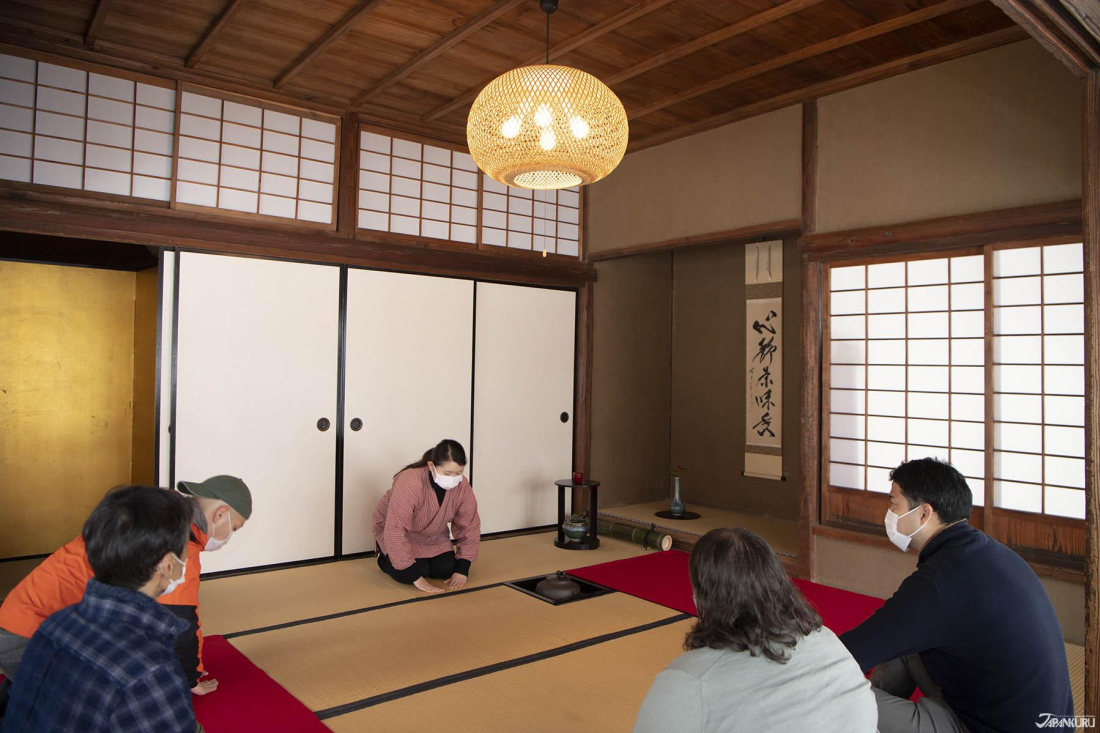 Modern-day visitors get to enjoy this special tea room just like the daimyo would have in his day, though, with a peaceful Japanese tea ceremony. With a whole wall of the room looking out onto the gardenーa view only the lord and his guests would have enjoyedーyou can now learn and take part in the traditions of Urasenke tea ceremony (裏千家), one of the major schools of the art.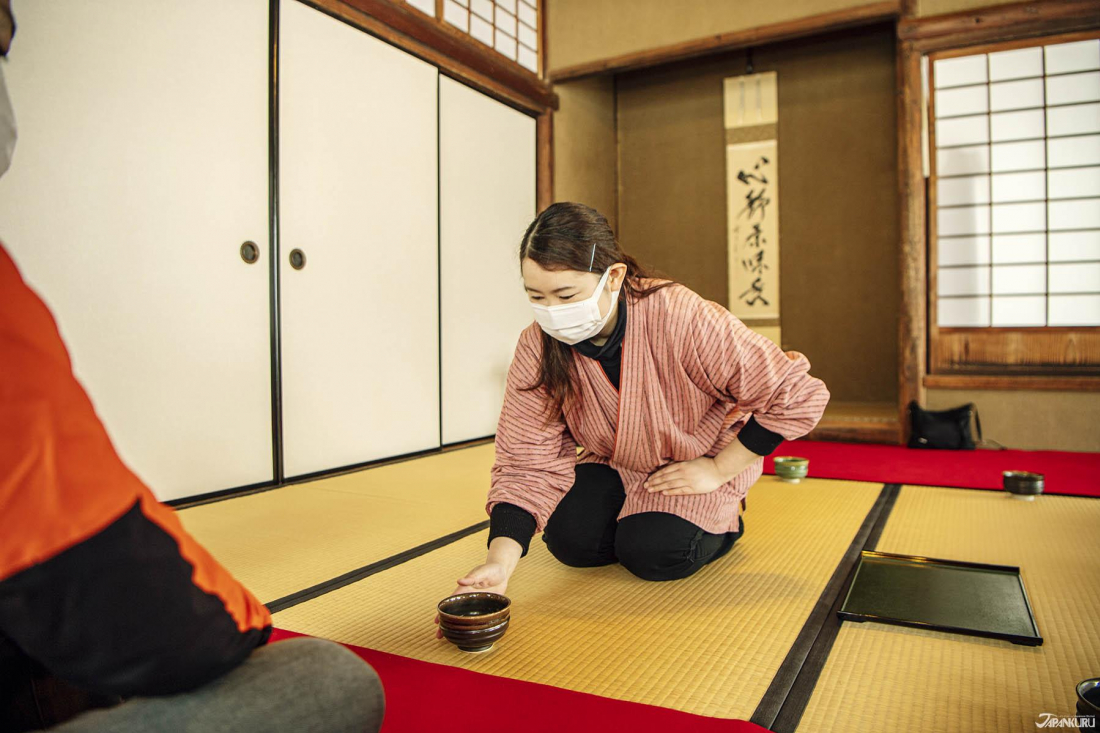 The soothing voice of Oyakuen's tea ceremony expert guides you through the process, as you learn to bow and give thanks for your tea, sip up the last drops of matcha, and admire the elegant tea bowls themselves.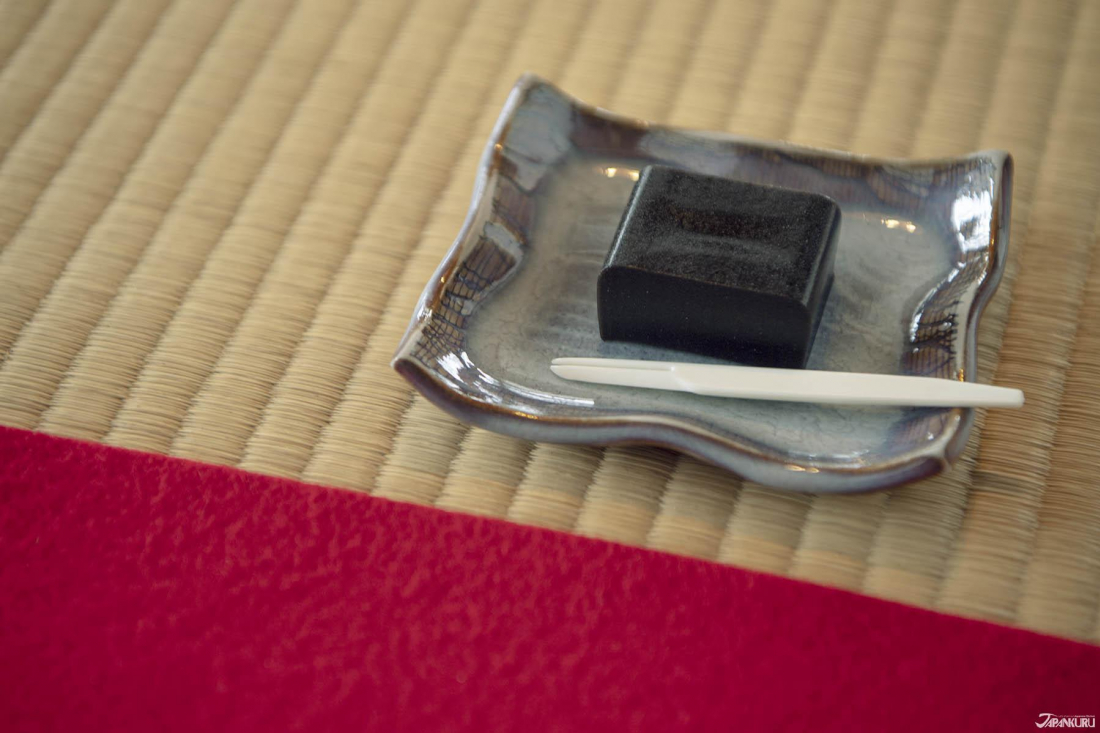 Of course no lordly tea time would be complete without a little snackーin this case, the sweets come before the tea! As we pretended to rule all of Aizu and looked out on our beautiful gardens, the Japankuru team got to snack on delicious black sesame yokan (羊羹).
Kampo Tea Workshop & Tea Ceremony at Oyakuen Garden (御薬園)
8-1 Hanaharumachi, Aizuwakamatsu, Fukushima
Oyakuen Official Page (jp) / Oyakuen Official Facebook (jp)
Aizuwakamatsu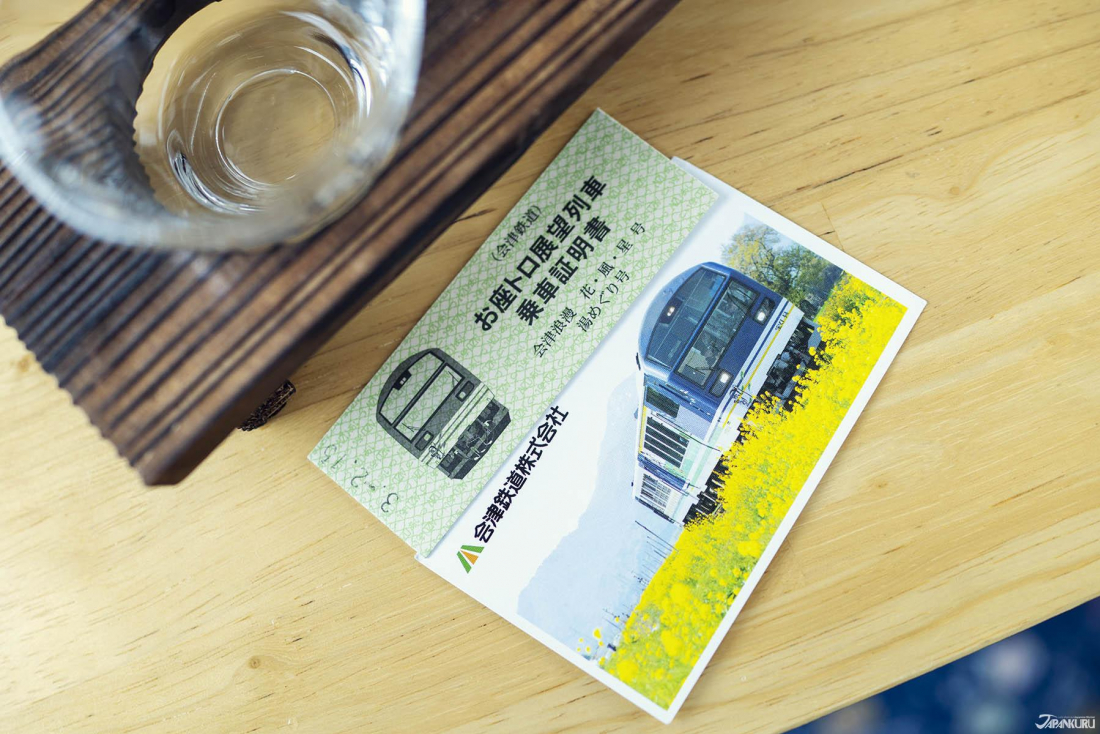 Aizuwakamatsu is full of fun experiences. Depart from Aizu-Tajima Station for a unique trip on a local Japanese railway and bento lunches packed full of local cuisine and sake. Then head off from Aizu-Wakamatsu Station to beautiful gardens where you can dive deep into Japan's many teatime traditions of green tea and herbal infusions! On your next trip to Japan, don't forget to turn north and make a stop in the Aizu area! But for now, keep an eye out for more on our trip to Aizu, coming soon.
For more info and updates from Japan, check Japankuru for new articles, and don't forget to follow us on twitter, instagram, and facebook!
▶︎ Interested in making a reservation for one of these experiences? Look for them coming soon on Beauty of Japan.
Source: JAPANKURU