Visit San'in! From Izumo to Mt. Daisen, a Guide to the Central San'in Region
This trip through Shimane Prefecture and Tottori Prefecture promises fresh flavors and fresh experiences, with sacred Japanese traditions and peaceful natural landscapes. Relax in central San'in for a unique glimpse of Japan!
See the San'in Region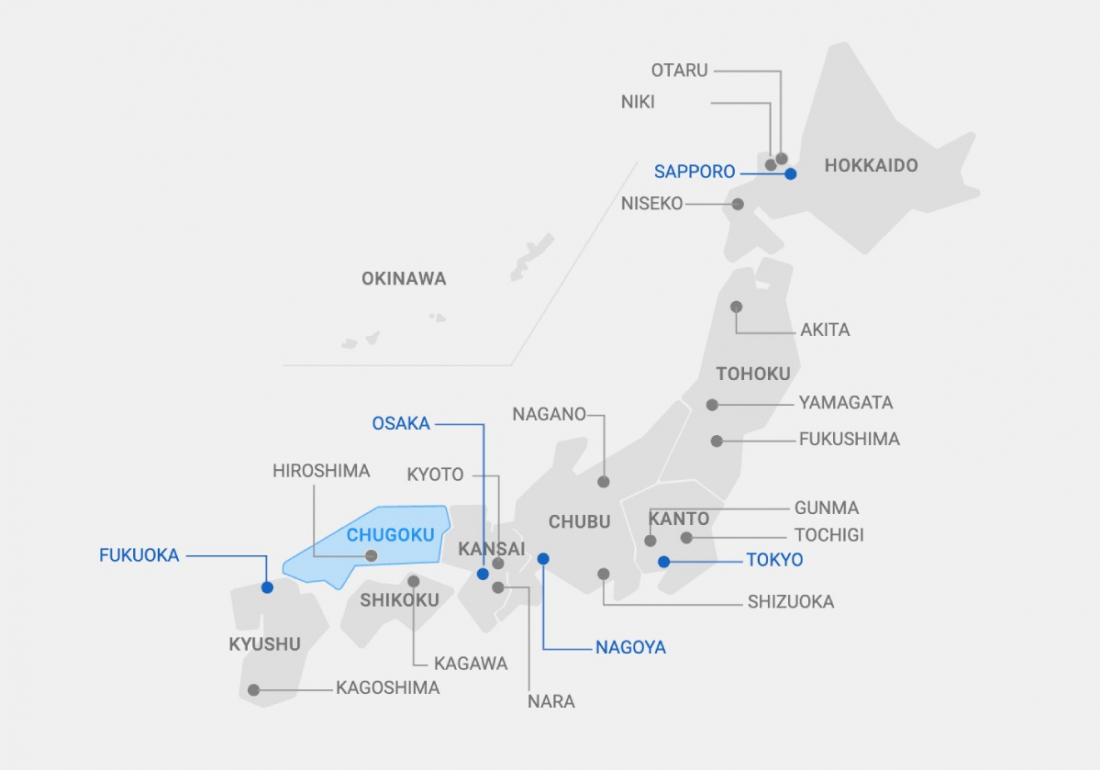 Take a look at a map of Japan, and imagine the chain of islands as one big walrus swimming through the Pacific Ocean. For this Walrus Japan, the Chugoku region is located somewhere on its round behind, just before its flapping tail. Chugoku is an underappreciated region on Japan's main island of Honshu, still largely unexplored by many overseas travelers, but it's made up of five different prefectures: Hiroshima Prefecture, Okayama Prefecture, Yamaguchi Prefecture, Shimane Prefecture, and Tottori Prefecture. Those last two (Shimane and Tottori) sit along Japan's south-western coast, bordering the Sea of Japan, and the area goes by the name San'in (山陰). San'in means something along the lines of "in the shade of the mountains," and the mysterious area positively vibrates with the sacred energy of Japanese Shintoism, particularly around the Grand Shrine of Izumo (Izumo Taisha/出雲大社). As a religion that grew straight out of the Japanese landscape, perhaps it's no surprise that Shinto history is so strong in a region graced with fresh lakes, sandy beaches, and the majestic Mt. Daisen.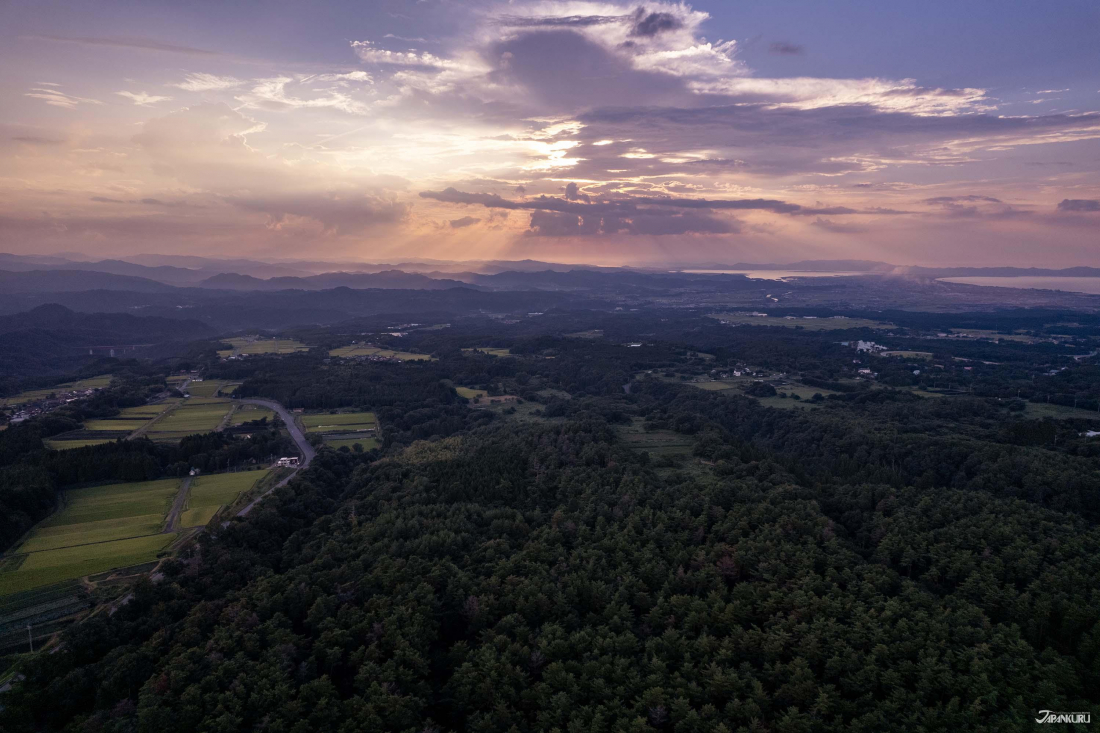 Time and time again, the serene skies and shady mountainsides of San'in welcome us back with open arms. So year after year, we find ourselves returning for a leisurely tour through Chugoku by the shore. Join us on a trip that's sure to leave anyone feeling relaxed, refreshed, and in love with Japan all over again.
Izumo, Shimane: Divine Meets Everyday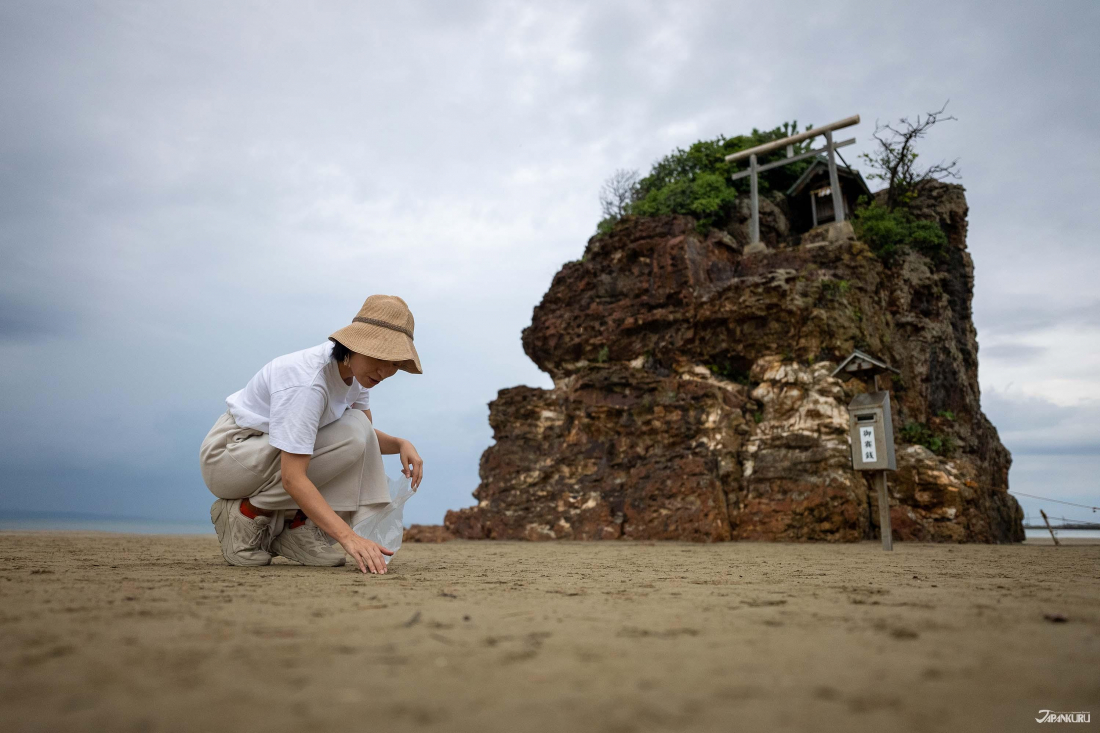 The Grand Shrine of Izumo
There's no better way to begin a journey through central San'in than with a trip to Izumo Taisha Shrine, AKA the Grand Shrine of Izumo, and all the sacred spots surrounding it. Usually the very first stop is the shrine itself, to see the enormous sacred "shimenawa" (しめ縄) rope that decorates the Kaguraden hall. But this time a visit to Inasanohama Beach (稲佐の浜) came first, in order to gather some sand from the legendary beach. It's about a ten minute walk from the shrine.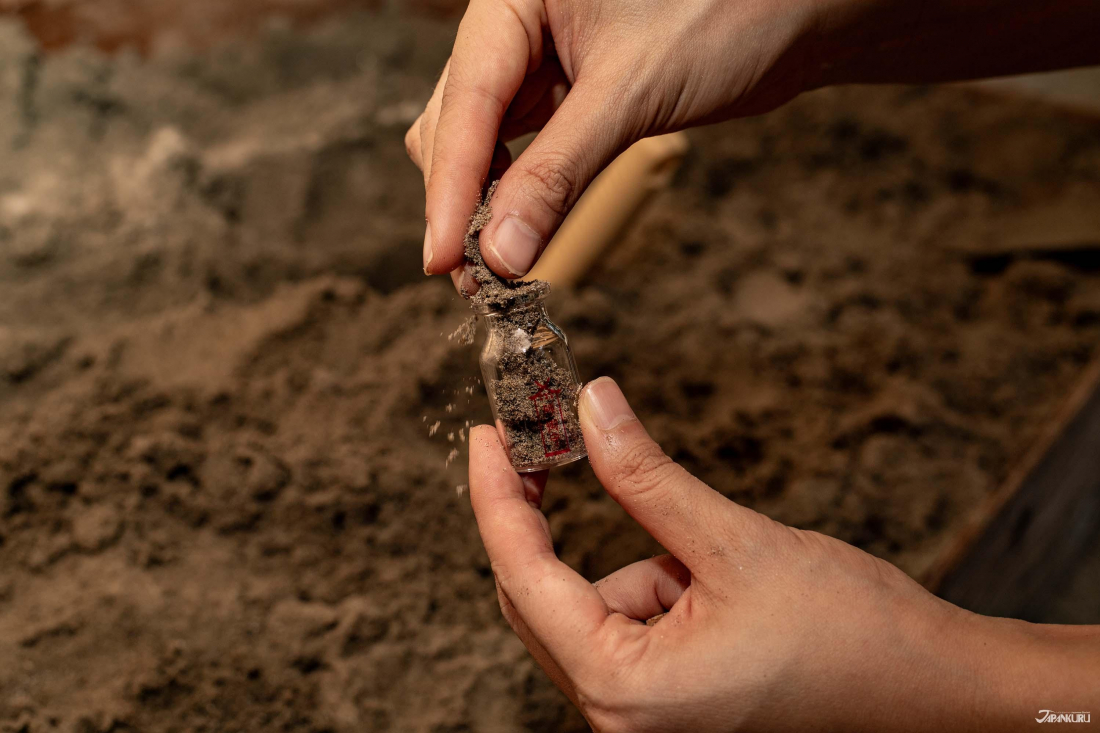 Sand collected at Inasanohama can be brought to a collection box at Izumo Taisha's Soga no Yashiro auxiliary shrine to receive a special blessing, and many people purchase a small glass bottle or other talisman to bring home a small amount of the collected sand as a good luck charm. Tradition dictates that you only take a handful of sand from Inasanohama Beach, gathered from directly under your own feet, and only once! Just remember to bring a plastic bag or other container to transport the sand to the shrine. (We don't recommend trying to carry a fistful of sand in your hand for ten minutes.)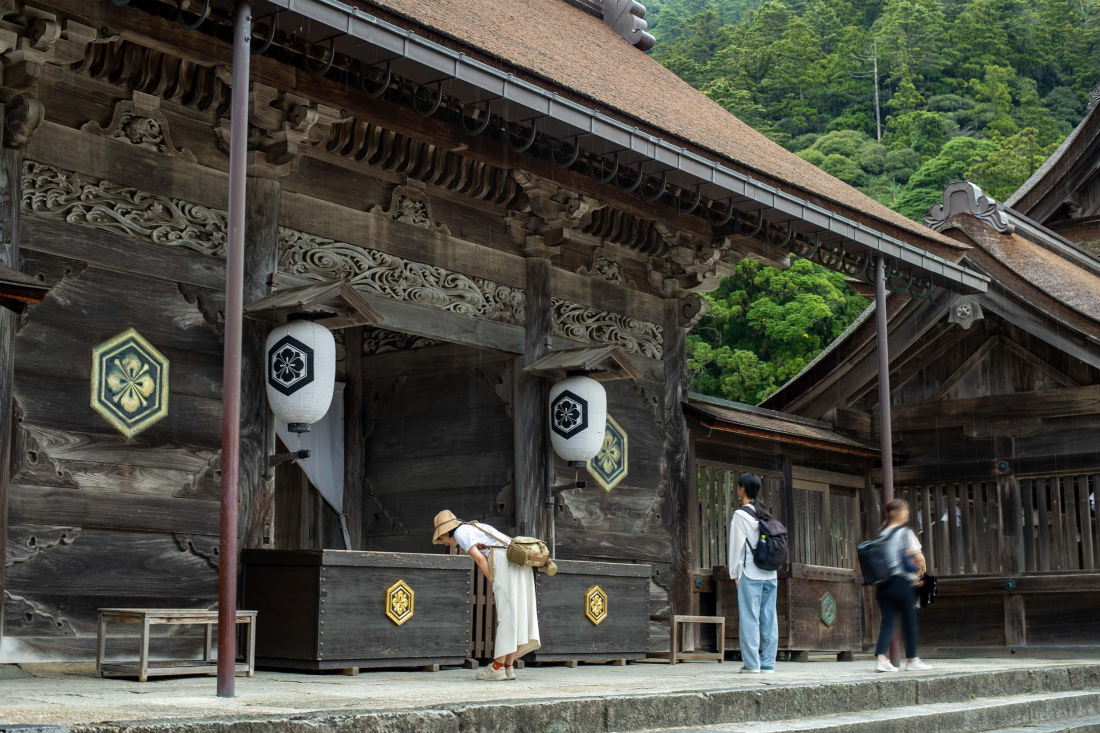 After bringing the sacred sand to the shrine, make your prayers or pay your respects at the main shrine hall or the kaguraden, and make sure to soak Izumo Taisha's ancient history. Shinto Shrines might be religious institutions, but they're also repositories for centuries of Japanese culture, and Izumo Taisha in particular is known to bless relationships. Deepen your connection with Japan by participating in the traditions at this famous shrine!
Izumo Taisha Shrine (出雲大社)
195 Taishacho Kizukihigashi, Izumo, Shimane
Hours: 8:30 – 17:00
Official Website (jp)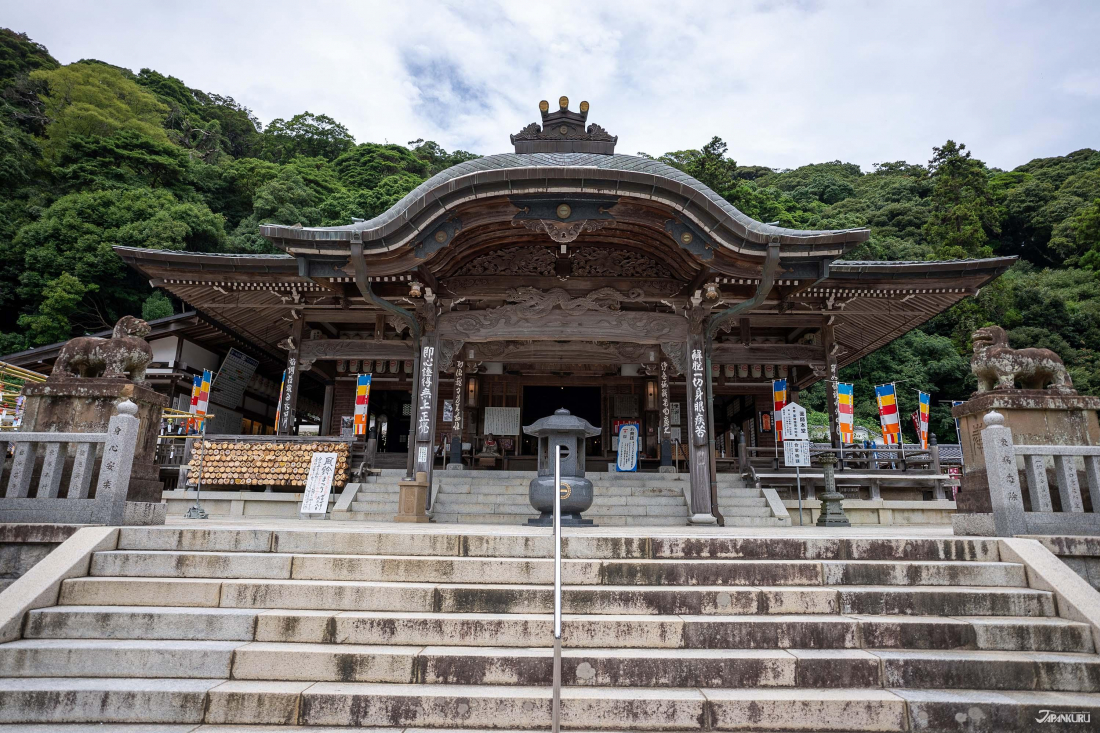 Ichibata Yakushi Temple & Sauna
One of the most famous temples in Shimane Prefecture, Ichibata Yakushi is focused on a statue of Yakushi Nyorai that was pulled from the sea by local fishermen. Yakushi Nyorai is said to help those suffering from eye disease, and the tea that's grown and brewed on temple grounds is even said to improve eyesight. Drink a cup while enjoying the fantastic views of Lake Shinji and Mt. Daisen, or stay a night at the temple's "shukubo" accommodations built for visitors and religious pilgrims. This fully equipped little cottage even has its own sauna, which the temple abbot says they built for guests to purify themselves as they enjoy the natural environment. Listening to him talk, though, you get the idea that the abbot might just really like saunas!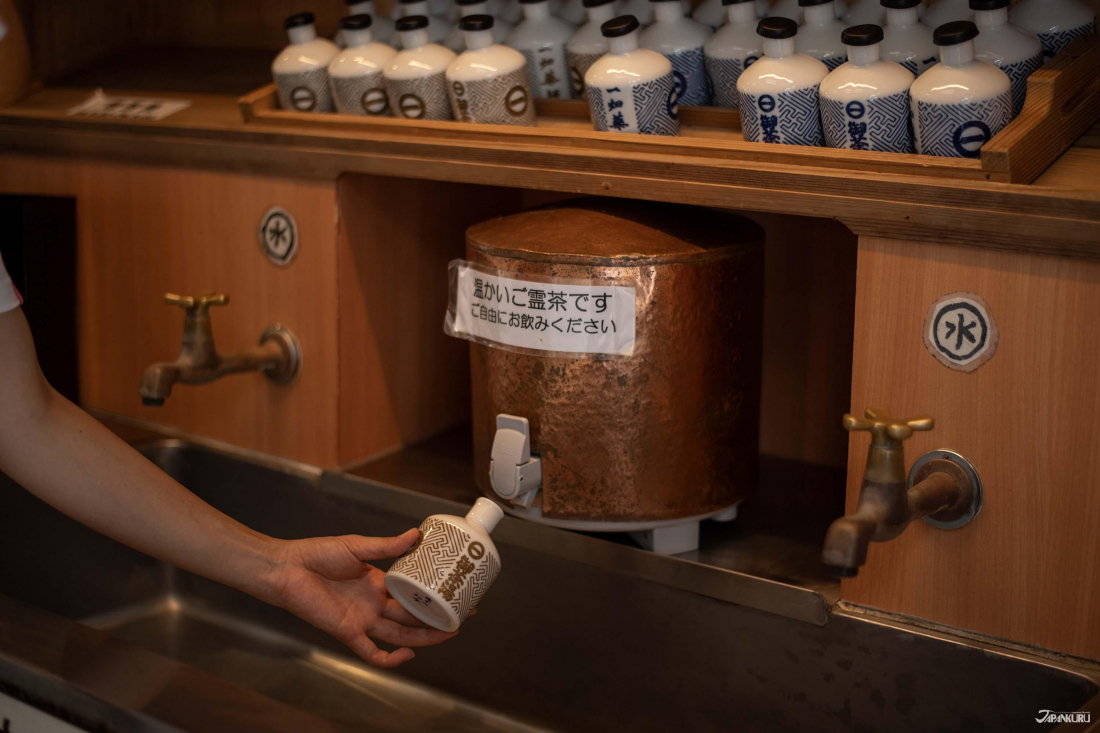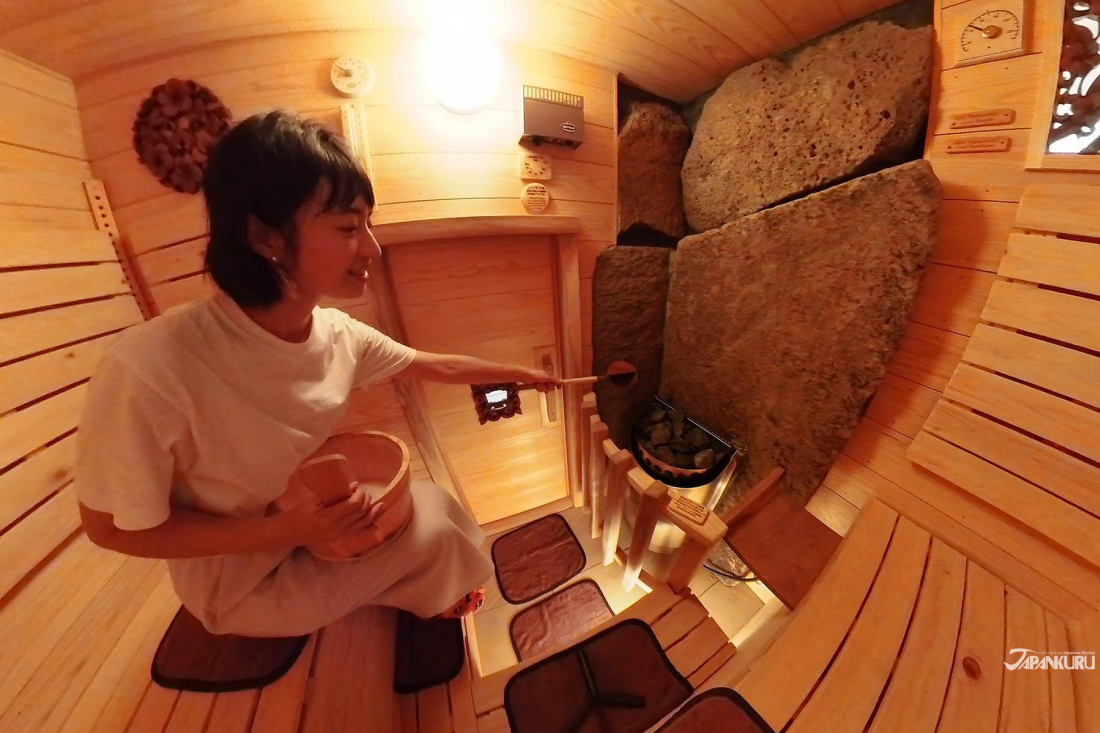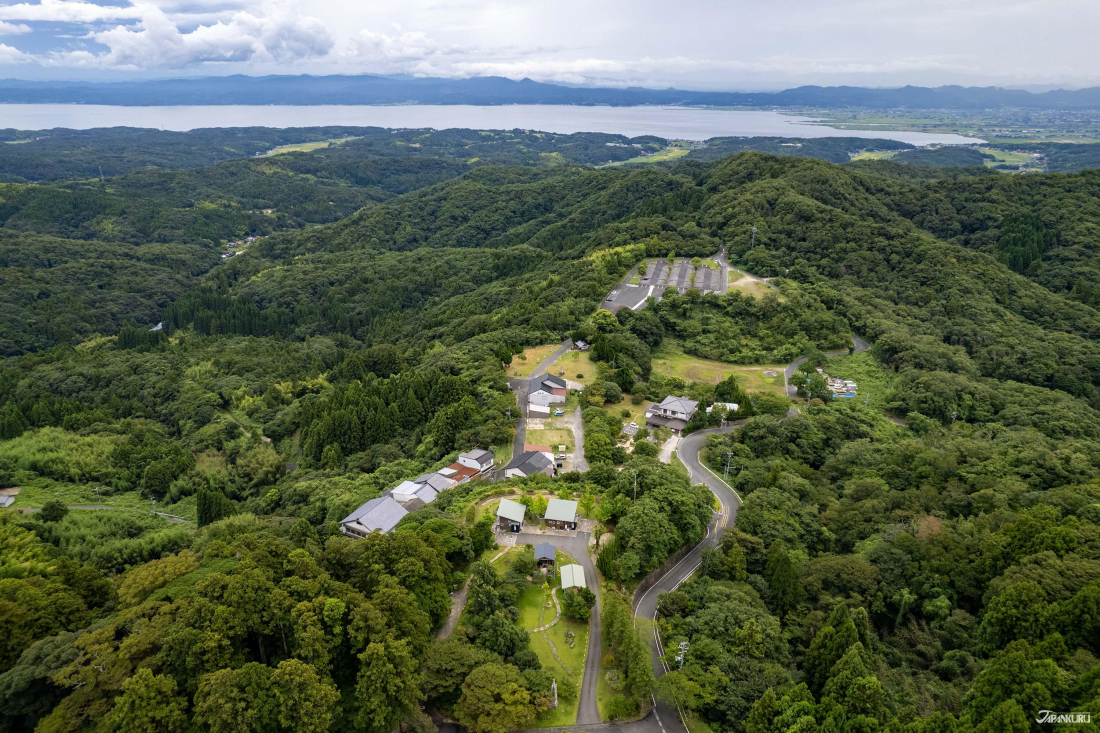 Ichibata Yakushi Temple & Shukubo Ichibata (一畑薬師/宿坊一畑)
803 Kozakaicho, Izumo, Shimane
Hours: 8:30 – 17:00
Official Website (jp)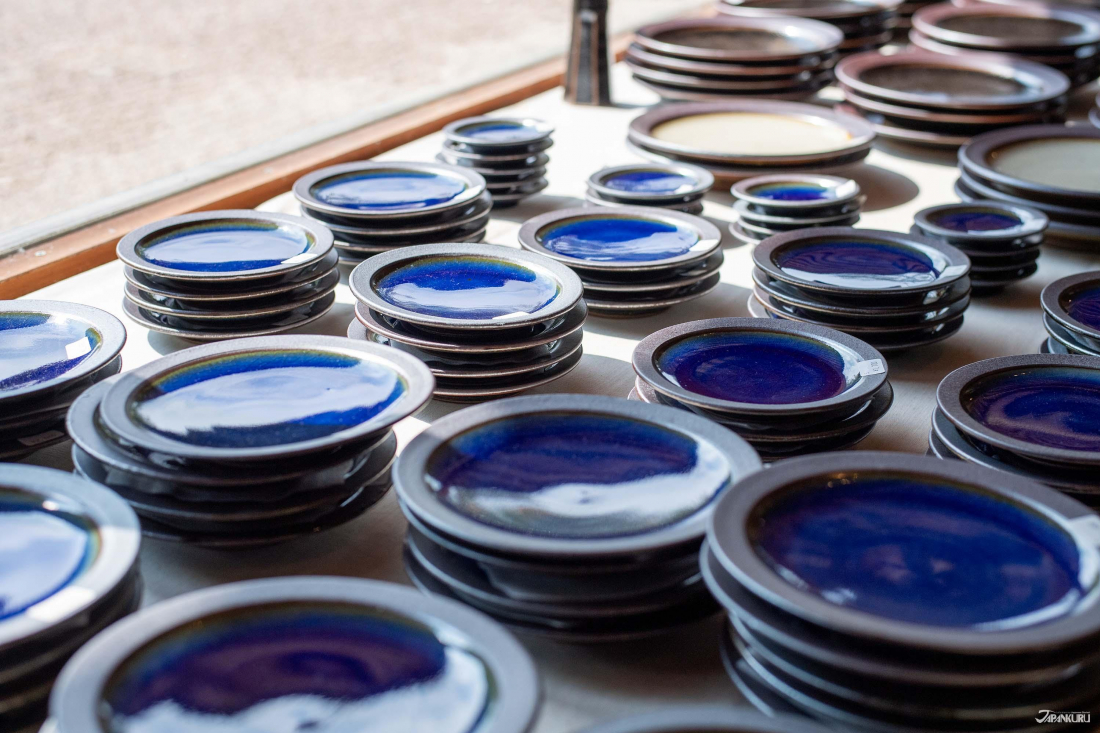 Shussai Kiln
Shussai Kiln opened in 1947 under the guidance of pioneers from Japan's folk crafts movement, aiming to be a tool for potters to create practical, quality items that could stand up to everyday use. Over the decades, the kiln has been used to create any number of useful products, selling cups, bowls, and plates, and much more, often glazed in a deep indigo called "Shussai blue."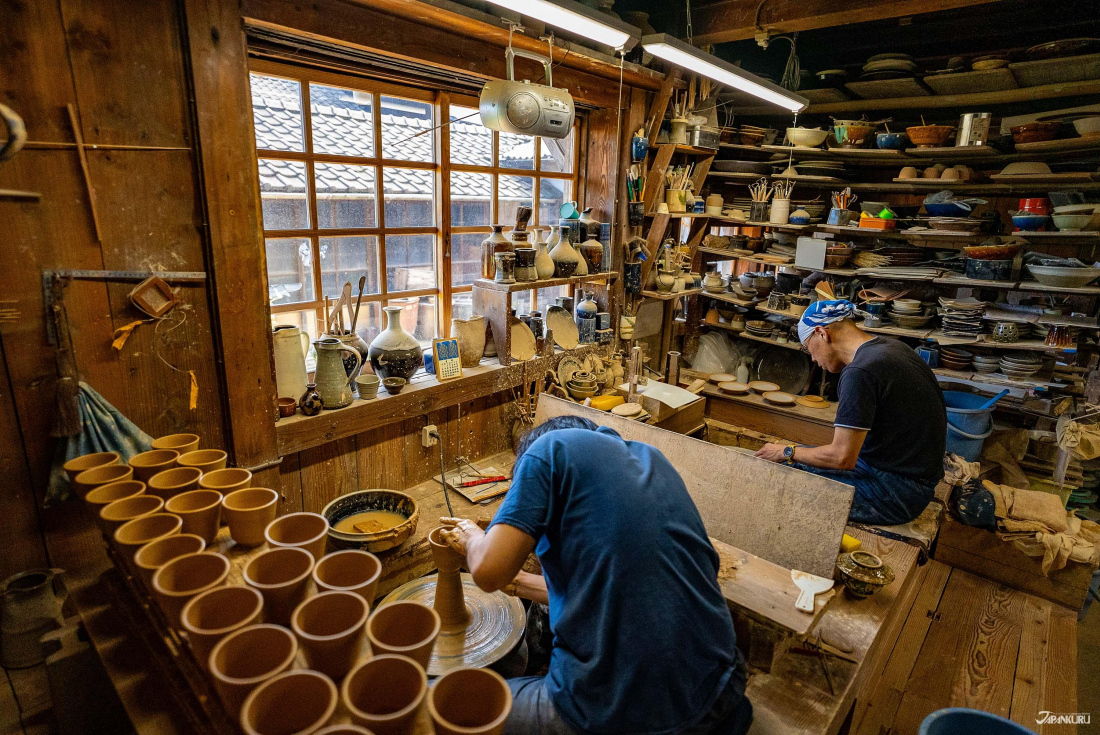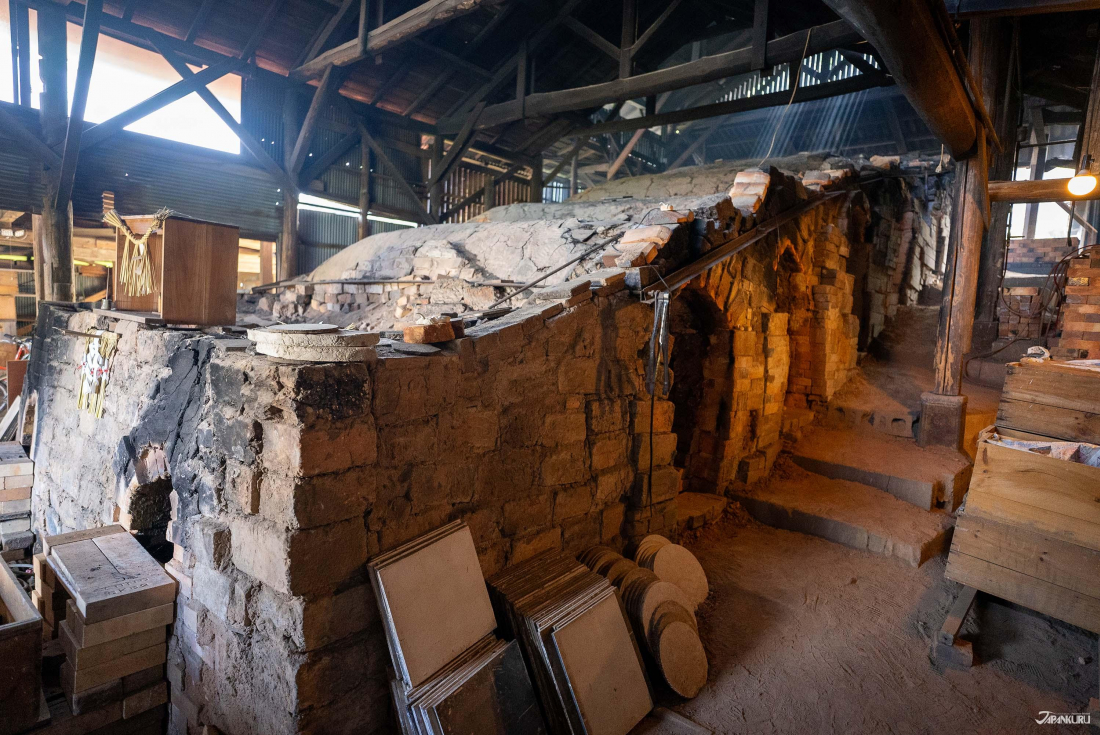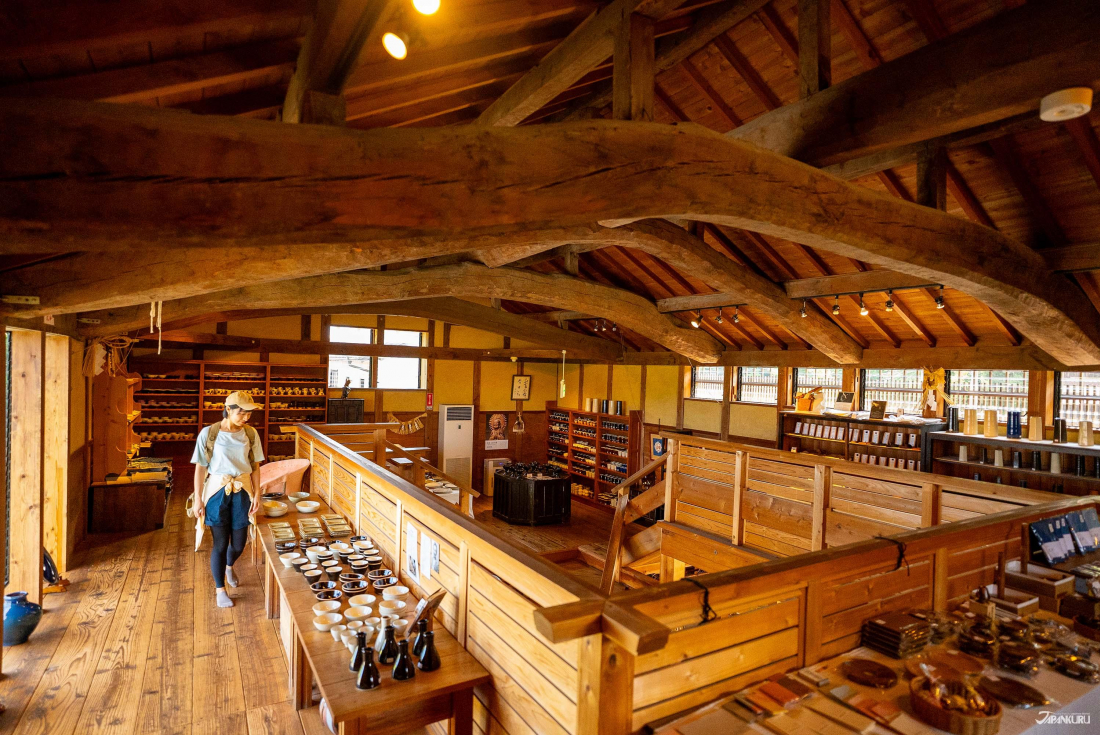 As a part of Japan's "mingei" (folk craft/民藝) movement, the ceramics made at Shussai Kiln are not just practical, they're also works of art, and the work has been recognized with important awards from organizations like the Japan Folk Craft Association. The rustic charm of the products made at Shussai Kiln makes them a popular choice as a gift from the area, but just a look around the active workshop and the many item displays is reason enough for a visit.
Shussai Kiln (しゅっさいがま)
3368 Hikawacho Shussai, Izumo, Shimane
Hours: 9:30 – 18:00 (closed Tue)
Official Website (jp)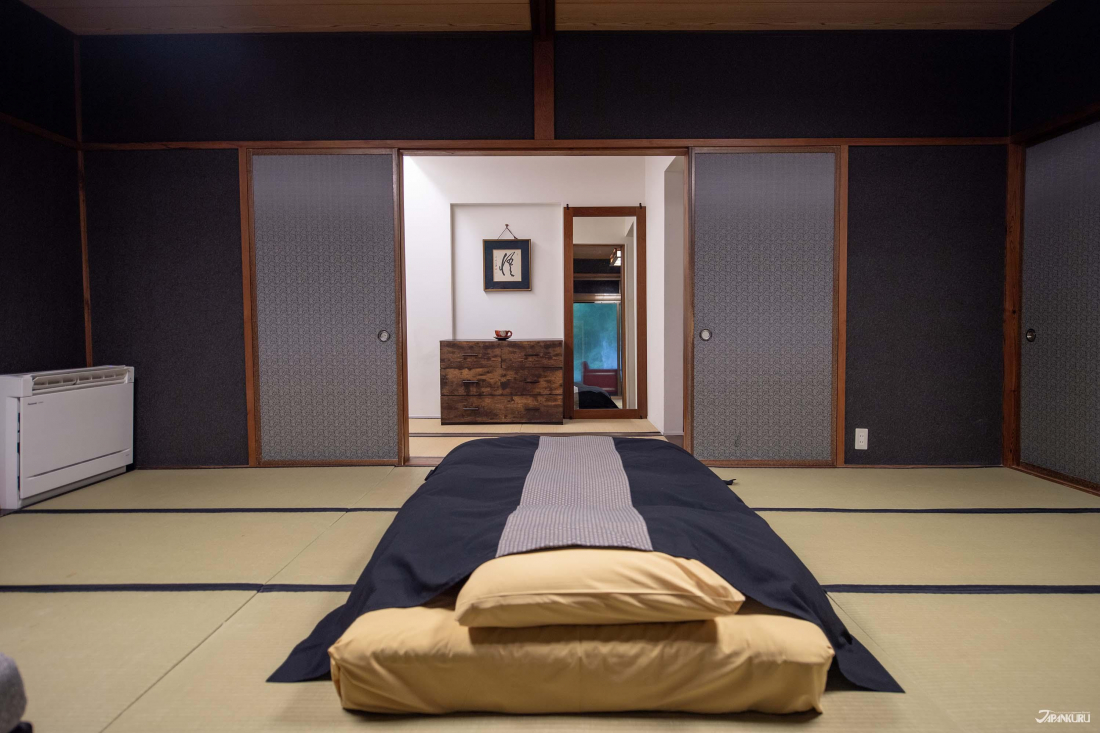 Yunokawa Onsen
In the prefecture of Shimane, beautiful skin is said to be common thanks to the natural hot springs dotted throughout the region. The most famous of these Shimane onsen is Tamatsukuri Onsen, but for this trip, we chose a smaller spot instead. This little ryokan hotel at Yunokawa Onsen is a true oasis of relaxation.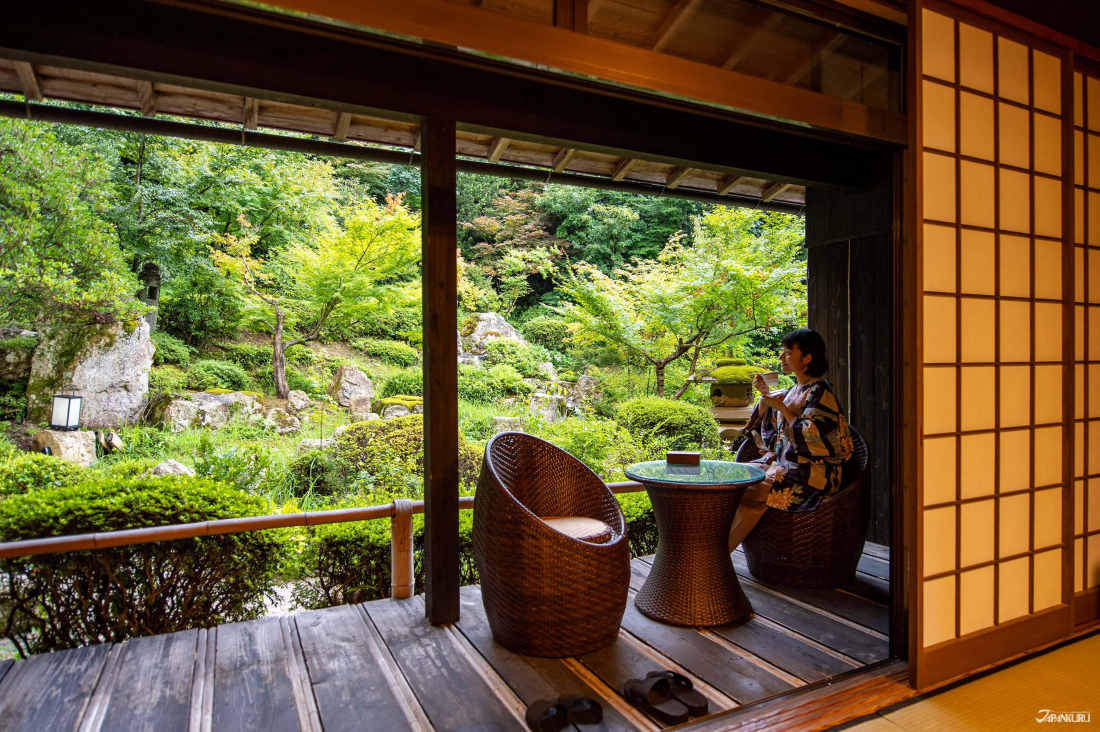 Yuyado Souan is easily accessible from Izumo Airport, but the quiet surroundings and unique interiors are a far cry from the busy terminals, with traditional Japanese architecture surrounding European antiques. The ryokan's five hot spring baths can be used at your leisure, and private terraces look out at a green garden like a watercolor painting.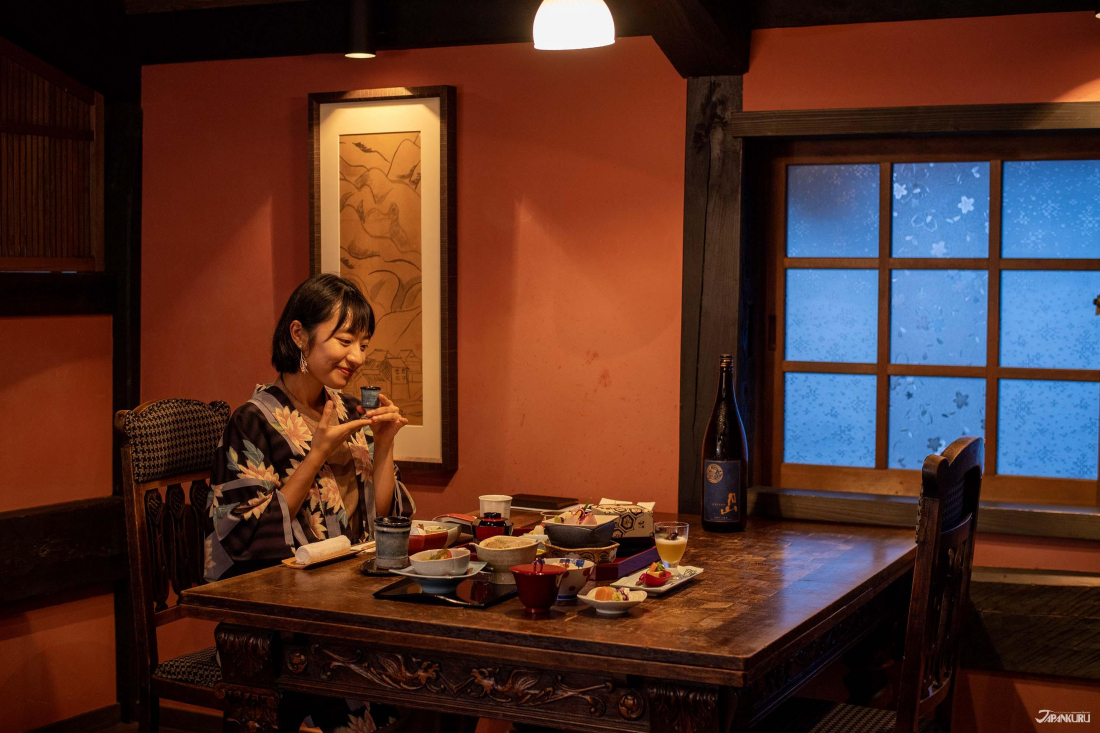 For dinner, the traditional Japanese kaiseki meals are carefully plated, contrasting elegantly with the European-style interior design. (At this point, we couldn't help but congratulate ourselves on making such a great choice of ryokan.)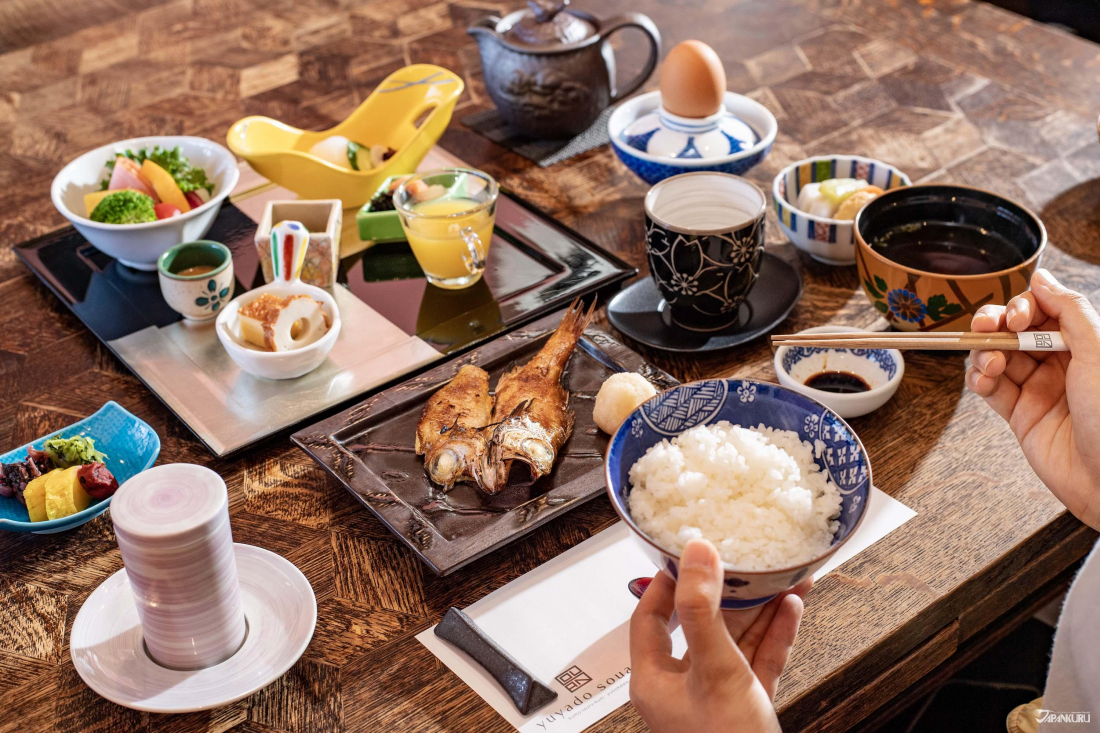 Even breakfast is decadent, but still light enough to leave you feeling ready to see more of San'in!
Yunokawa Onsen Yuyado Souan (湯の川温泉 湯宿 草菴)
1491 Hikawacho Gakuto, Izumo, Shimane
Official Website (en)
Matsue, Shimane: Sea Shanties, Agodashi Ramen, and Shopping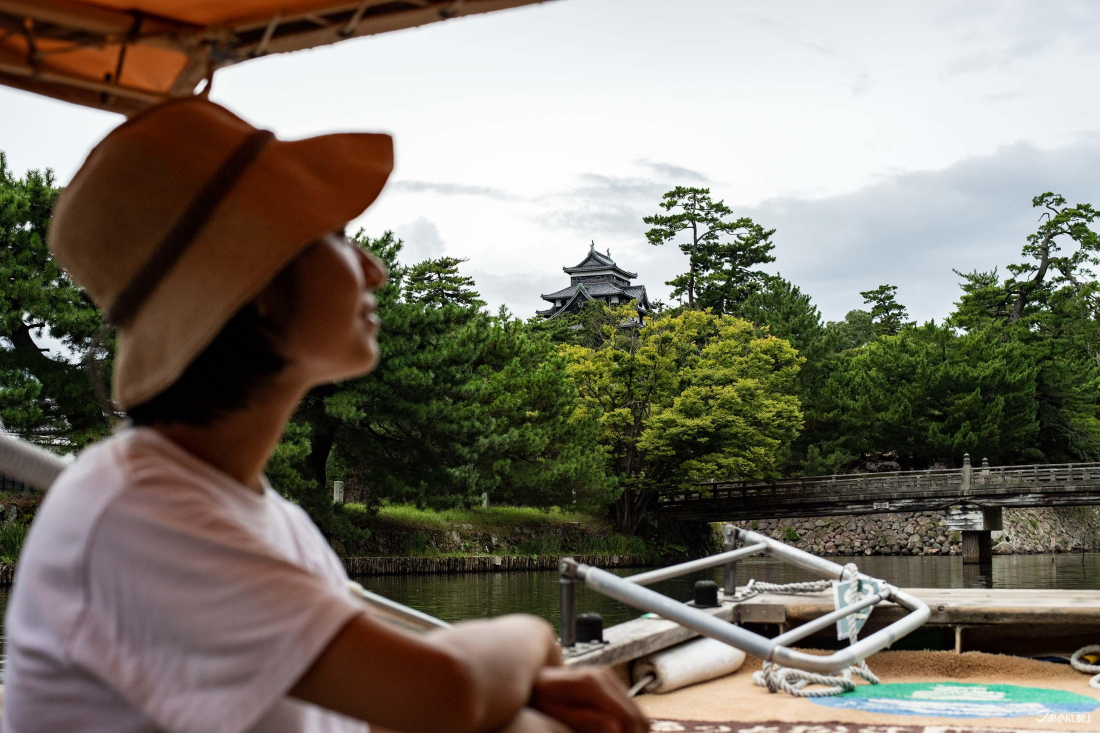 Horikawa River Cruises
The Horikawa River that winds its way through Matsue might look like a natural water way, but it was actually dug as a moat centuries back, to ward off attacks and invasions at Matsue Castle. For a long time, the waterway was a vital transportation tool for the city, moving people and goods back and forth all day long. These days, most passengers on the Horikawa River are just there to see the sights in the city of Matsue!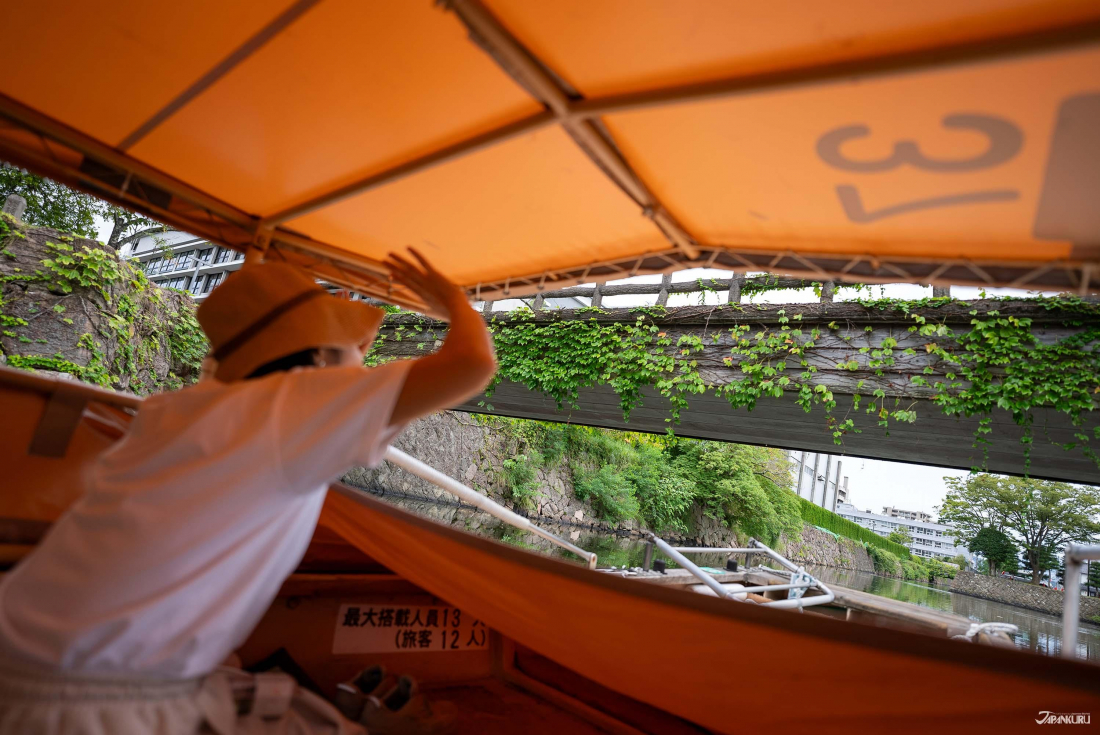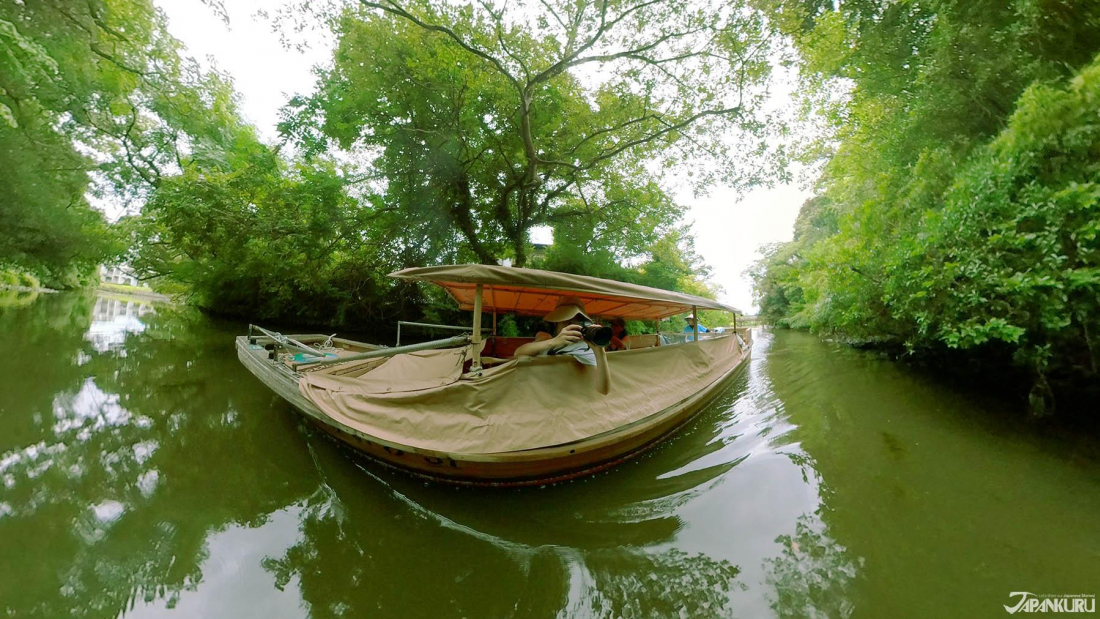 River cruises last about 50 minutes, with friendly boatmen chattering away about Matsue's historic and important landmarks, and even singing traditional boating songs along the way.

Horikawa River Cruises (堀川遊覧船)
507-1 Kurodacho, Matsue, Shimane
Hours: Cruises run every 20 minutes from 9:00. (Final cruise times depend on the season.
Fees: adults 1,200 yen | children 600 yen (including foreigner discount)
Official Website (en)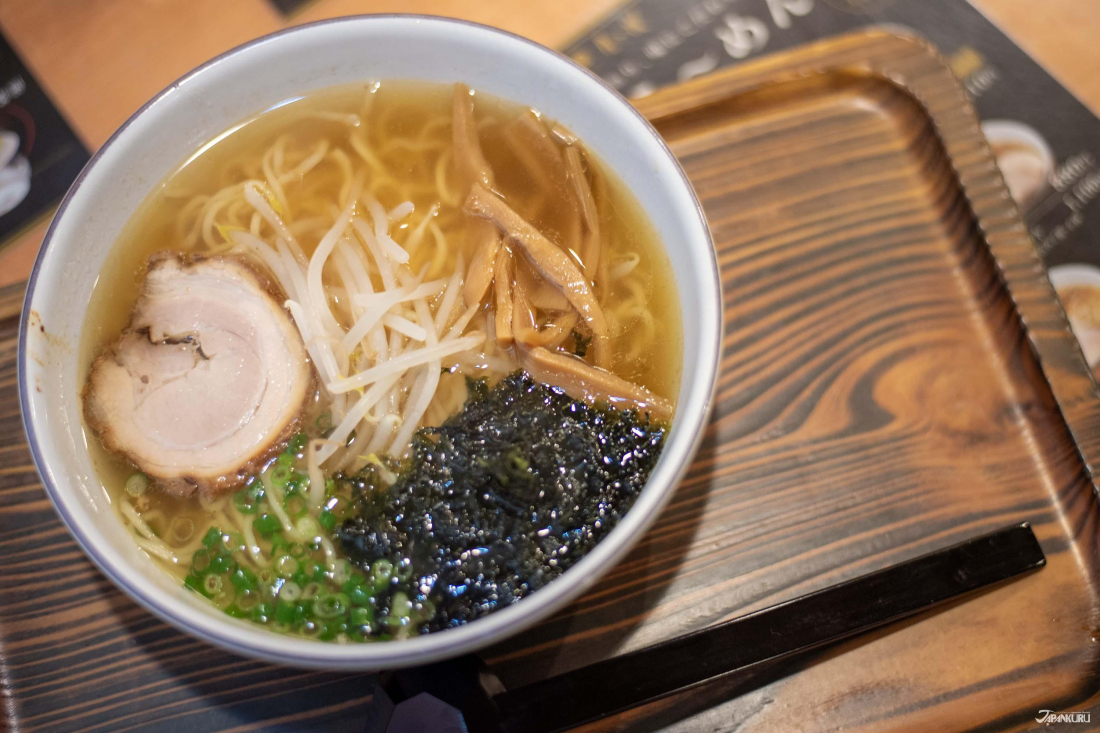 Matsue Cuisine: Agodashi Ramen & Dango
Regional ramen specialties can be found around Japan, from Hokkaido's miso broth to the tonkotsu ramen found in Fukuoka, and in Matsue the local specialty is "agodashi ramen" (あごだしラーメン). If you speak Japanese, you might already be able to tell that this ramen gets its rich umami flavor by using broth made from dried flying fish! You can try Matsue's flying fish ramen at restaurants all over the city, but at Tsukigase, you can get a great bowl of ramen and also dango – rice flour dumplings that come on a skewer. The sweet and salty pairing is popular among locals!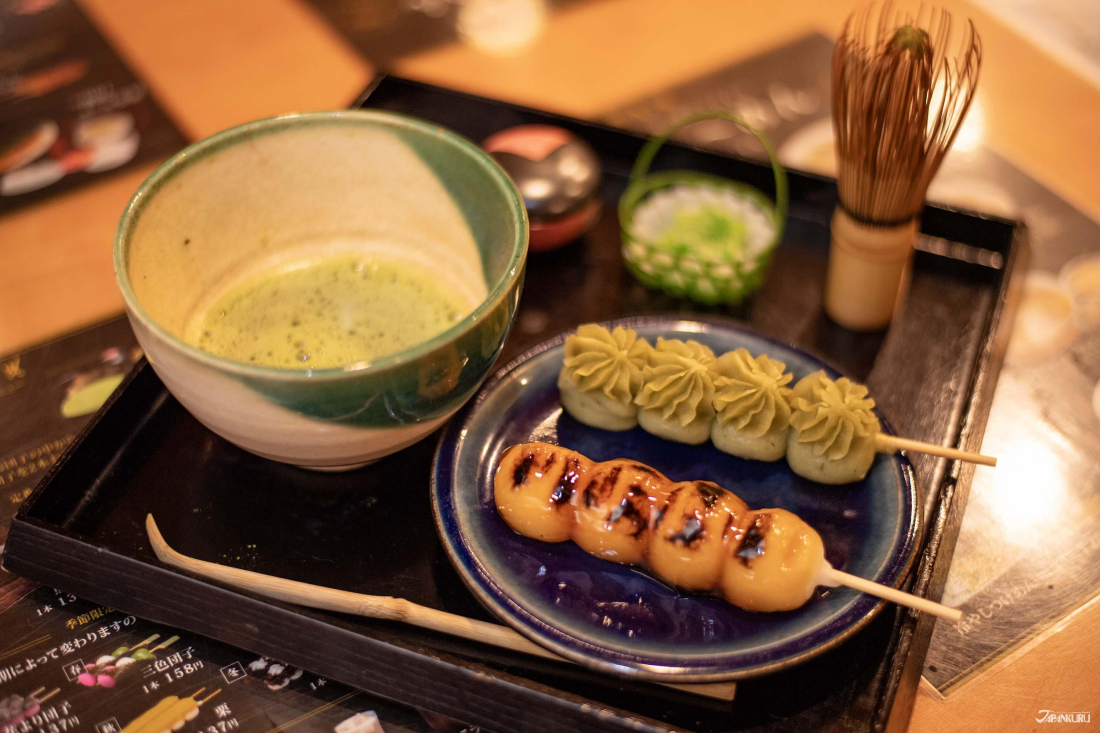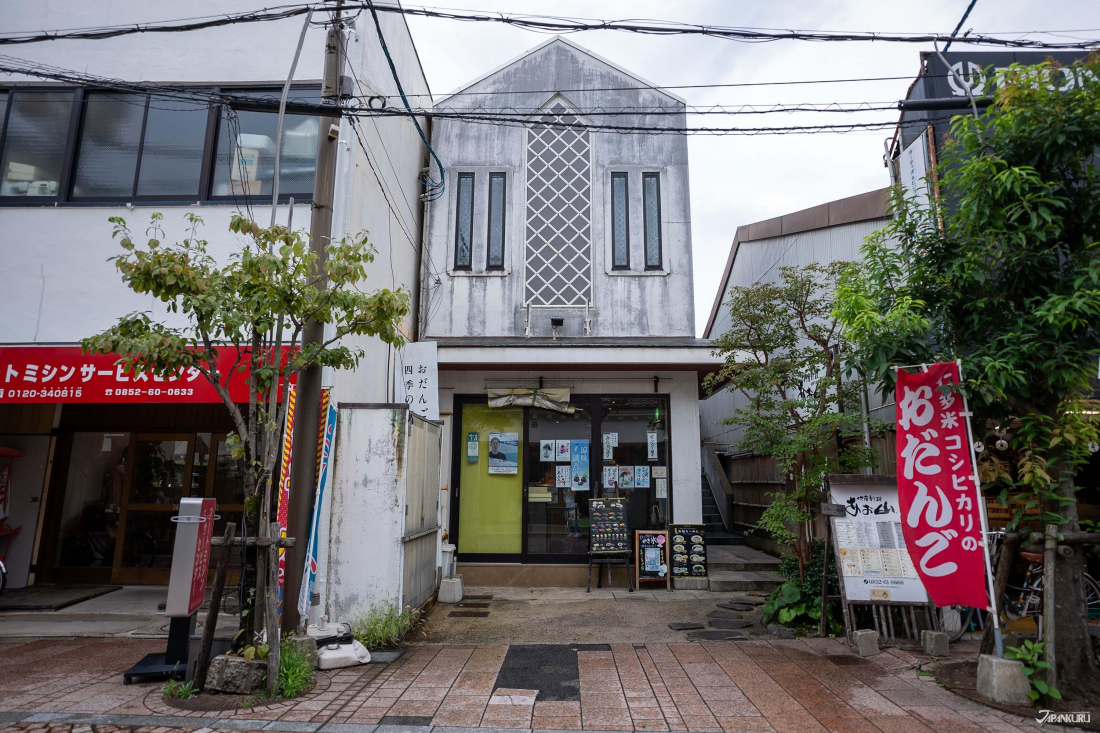 Tsukigase (月ケ瀬京店 本店)
87-91-2 Kyomise, Suetsugu Honmachi, Matsue, Shimane
Hours: 10:00 – 18:30
Official Website (jp)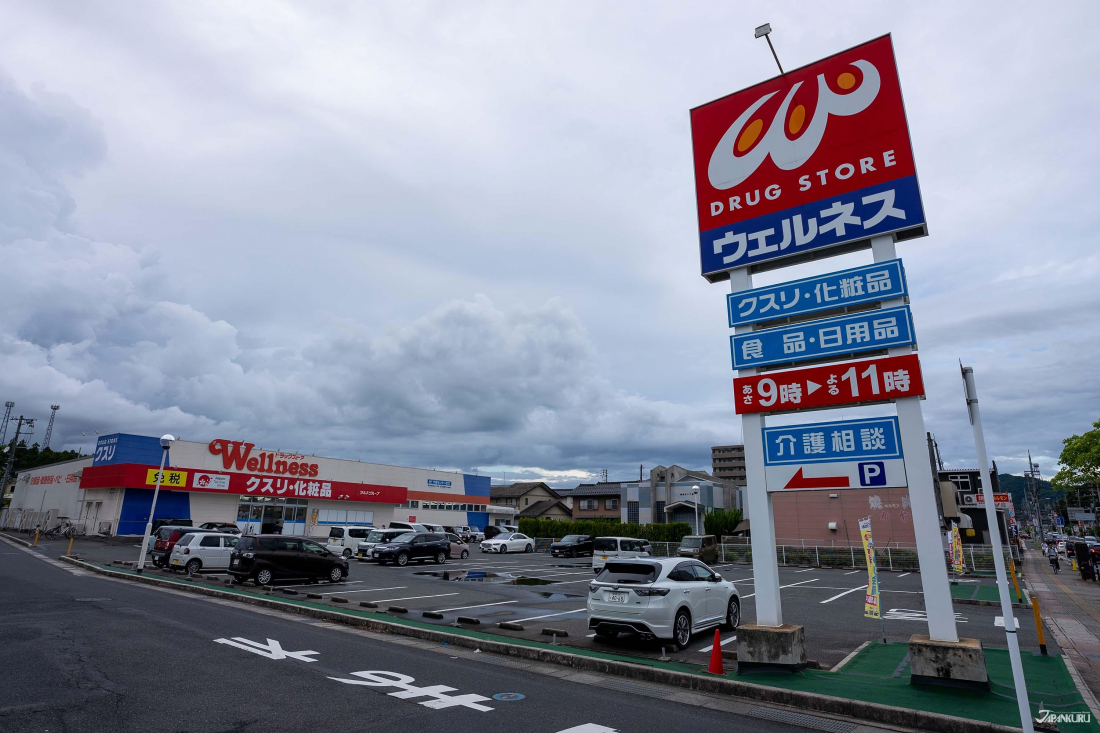 Wellness (Kuroda Branch)
Matsue is a city alive with history, with castle moats and flying fish ramen… but when you need to get some shopping done, it's good for that too! The city is dotted with shopping (including some duty-free stores), and when we stumbled upon this convenient drug store on a walk around the area, we were pleased to find that it sold a huge selection of cosmetics, medicines, snacks, alcohol, and other things on our go-to Japan shopping list. You don't need to be in Tokyo to get some serious shopping done!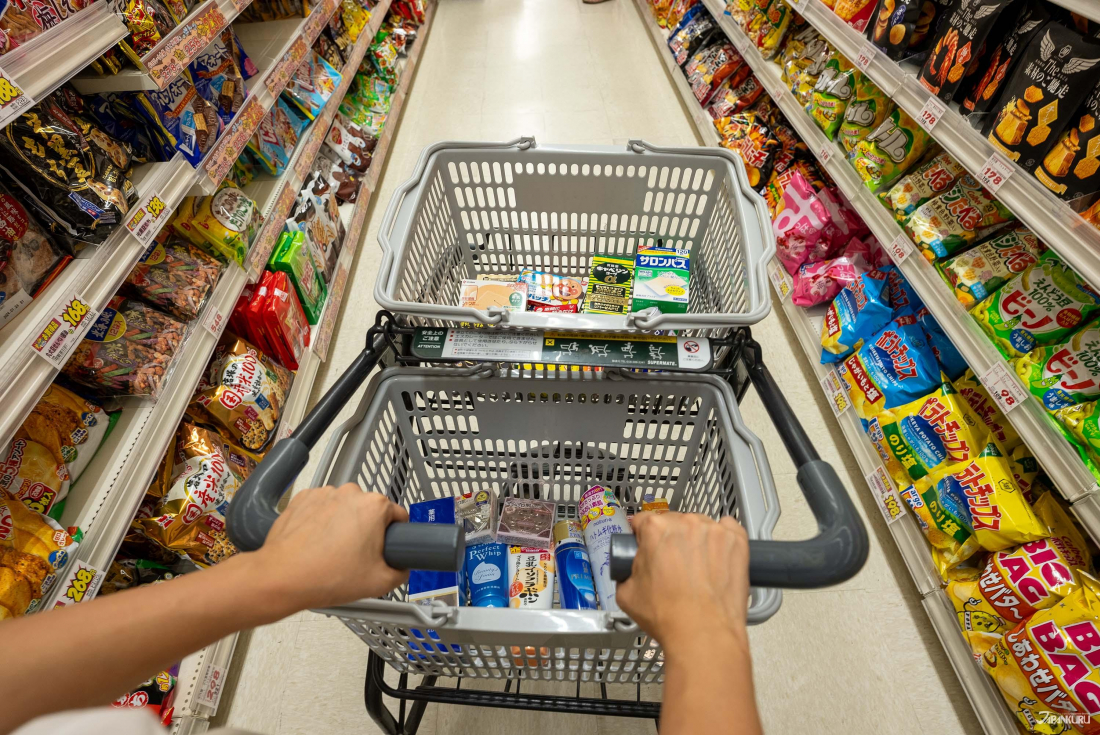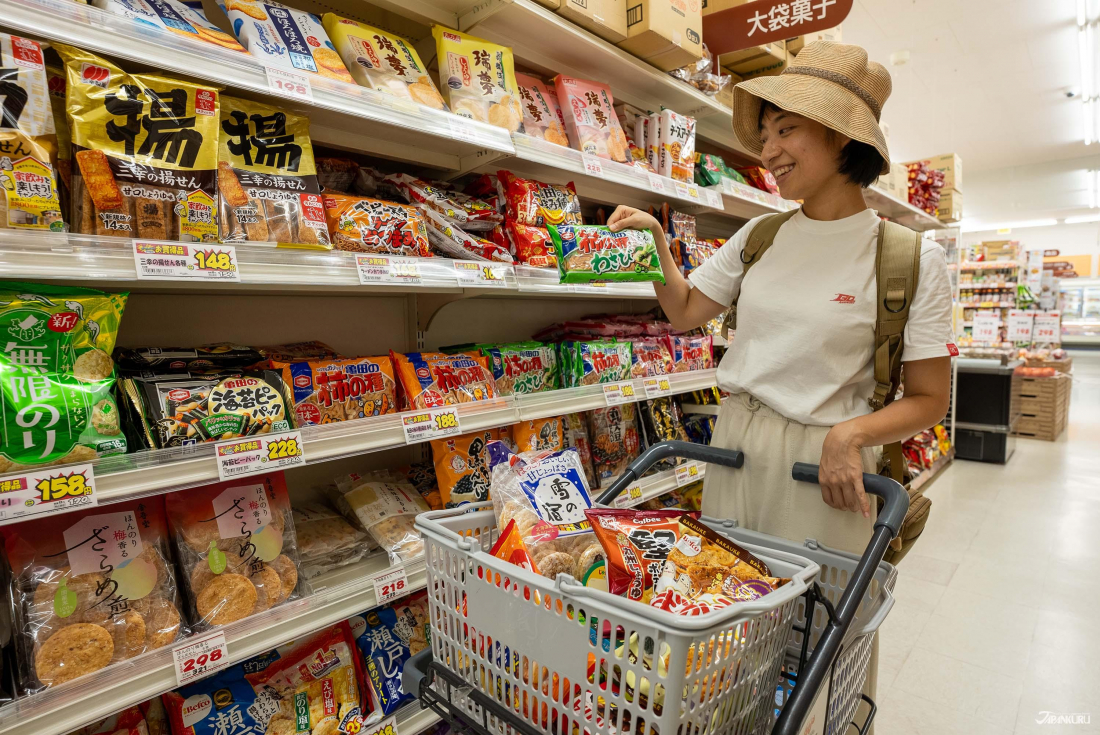 Wellness (Kuroda Branch) (ウェルネス 黒田店)
454-1 Kurodacho, Matsue, Shimane
Hours: 9:00 – 23:00
Official Website (jp)
Yasugi, Shimane: Life-Changing Snapshots and Hot Springs by the Museum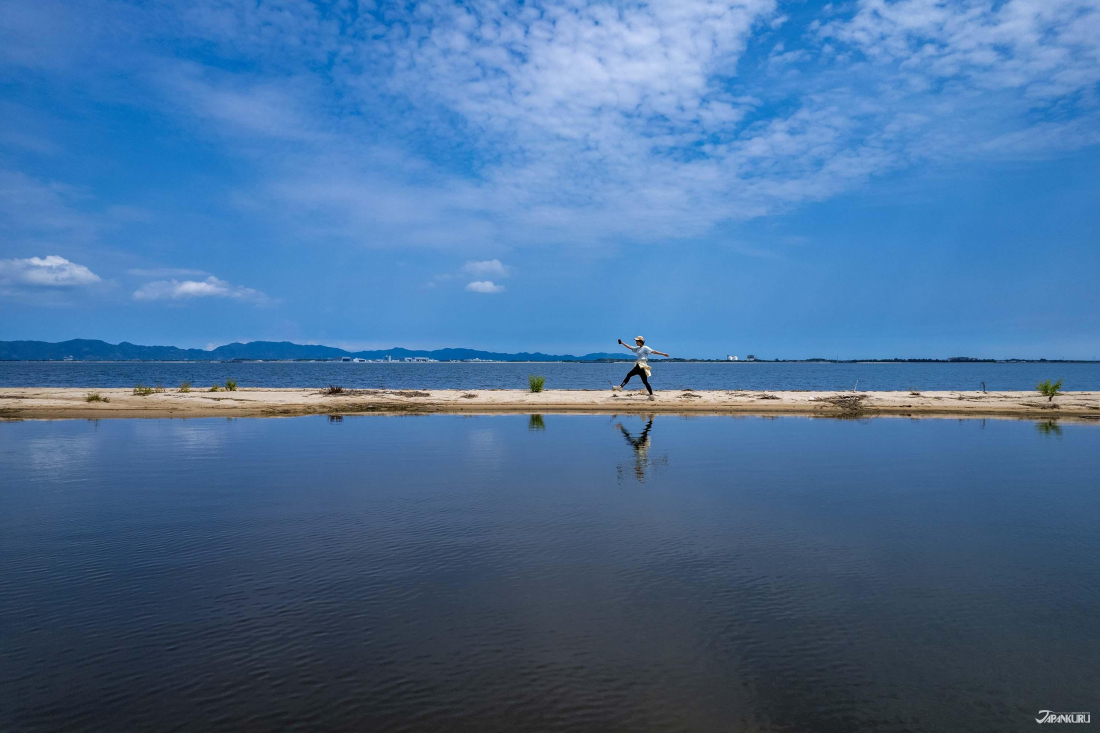 Iinashi River Estuary
The mouth of the Iinashi, where the rushing river meets the brackish Lake Nakaumi, is one of just a few hidden spots in Japan where the calm waters let you take some rather dramatic photos. Located on the border between Shimane and Tottori Prefectures, the symmetry of the sky and the ground create a stunning backdrop, and at the right angle, it's almost like you're walking on water. The area is sometimes compared to the Uyuni Salt Flat in Bolivia, where the shallow waters reflect the sky. Here in San'in, that blue sky comes with occasional planes taking off and landing at nearby Yonago Airport. Nature lovers can also search out the eels and migratory birds that call this estuary home!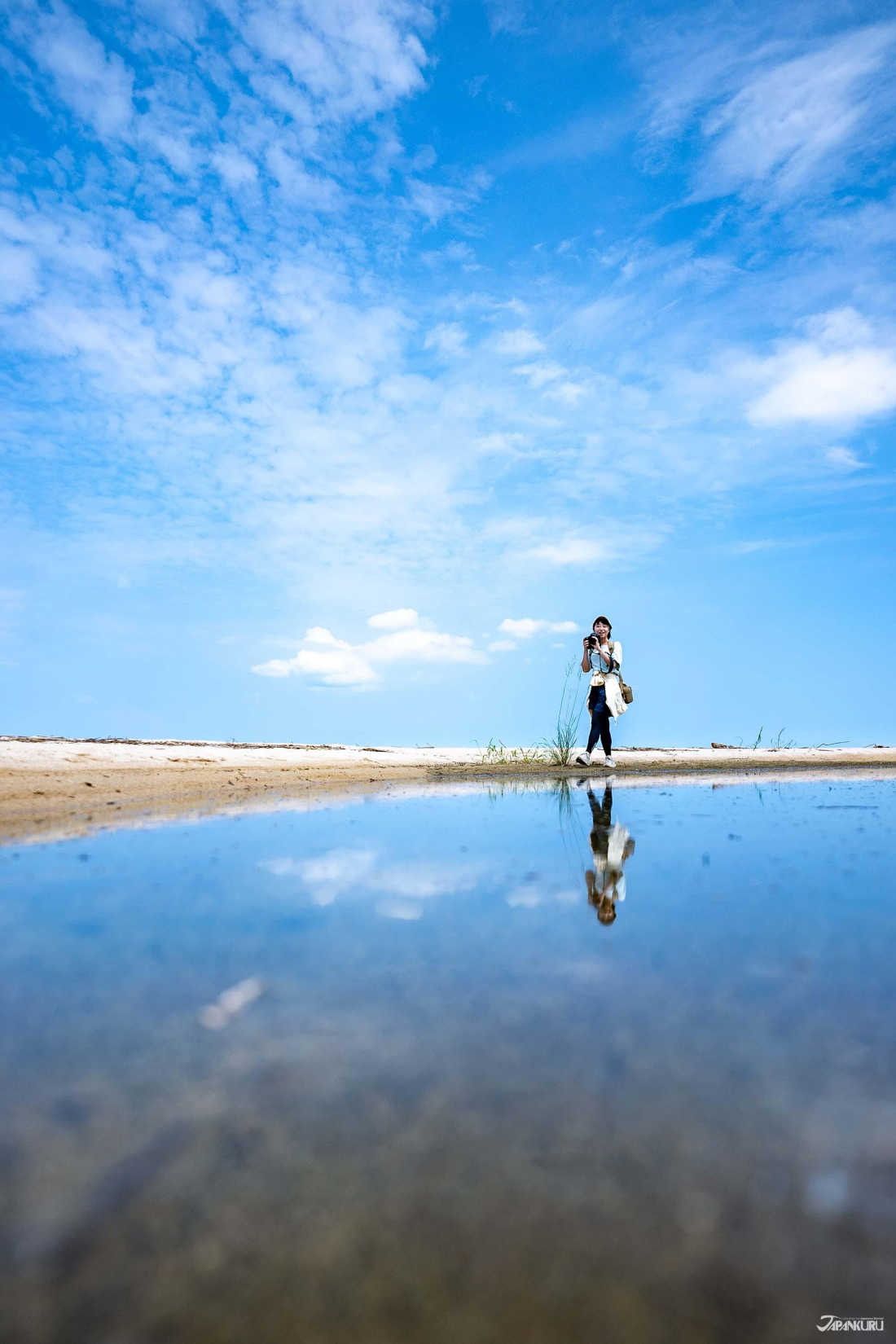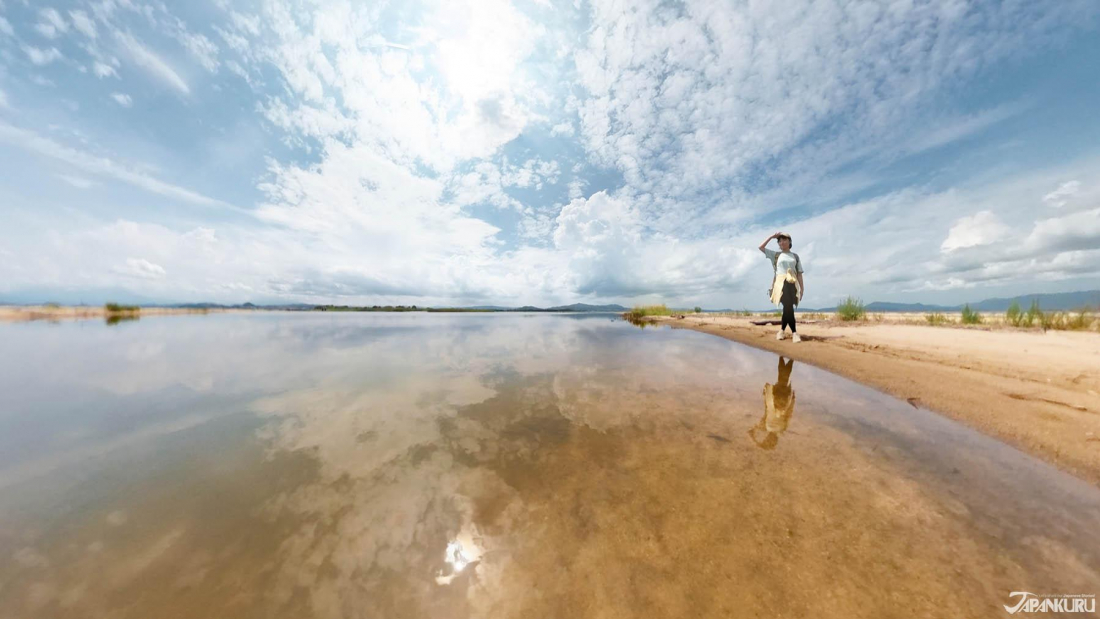 Iinashi River Estuary (飯梨川河口)
Akae-cho, Yasugi City, Shimane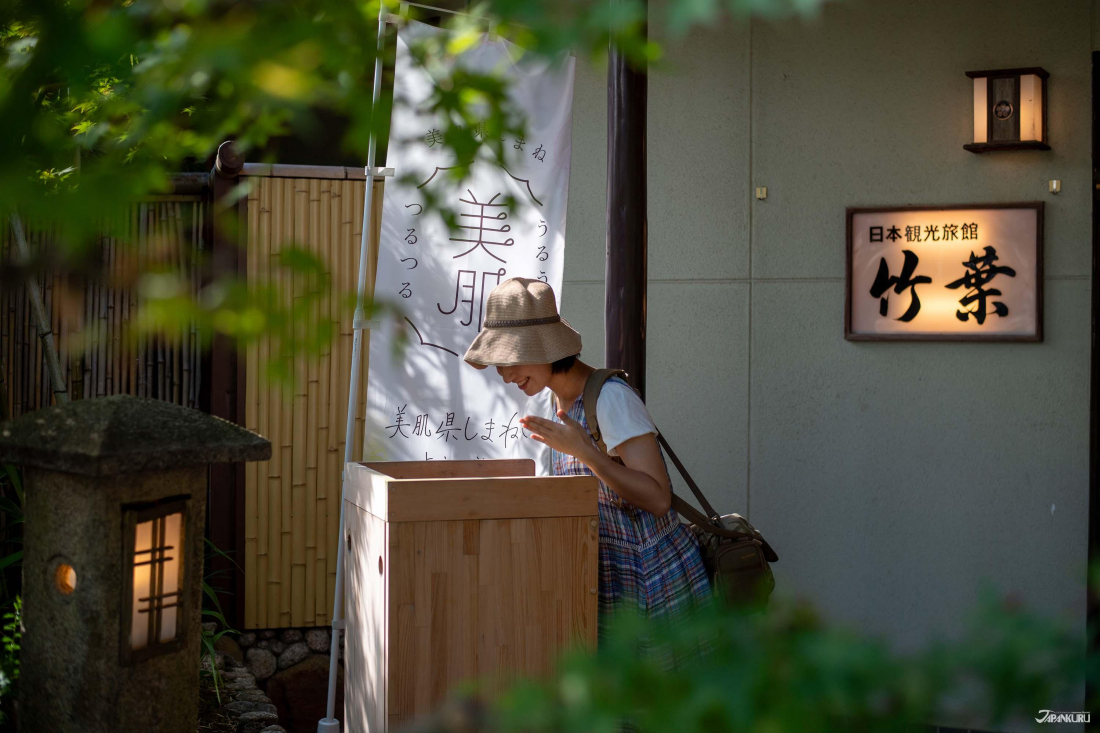 Saginoyu Onsen Chikyou
Locals will tell you that in Yasugi, the Adachi Museum of Art is a must-see, thanks to the museum gardens that functions as its most prized piece of artwork. What you might not realize is that the area around the museum is actually a 1,300-year-old onsen village called Saginoyu, named for a white heron of local legend that healed its injured leg in the hot spring waters. In the Japanese Sengoku period (1467-1568) the onsen was frequented by local feudal lords, and to this day visitors praise the mineral-filled water said to beautify the skin.
Just next to the art museum, Chikuyou is a small onsen ryokan with a handful of cozy rooms, and a tranquil open-air bath. In recent years, the bath facilities have been upgraded to include high-quality shower heads and hair dryers, and by the entrance they even set up a "kaoyu" (顔湯/"face bath"), where you can let your face soak up the natural onsen steam. To make you feel invigorated from the inside out, they offer macrobiotic meals centered on whole grains and vegetables, too.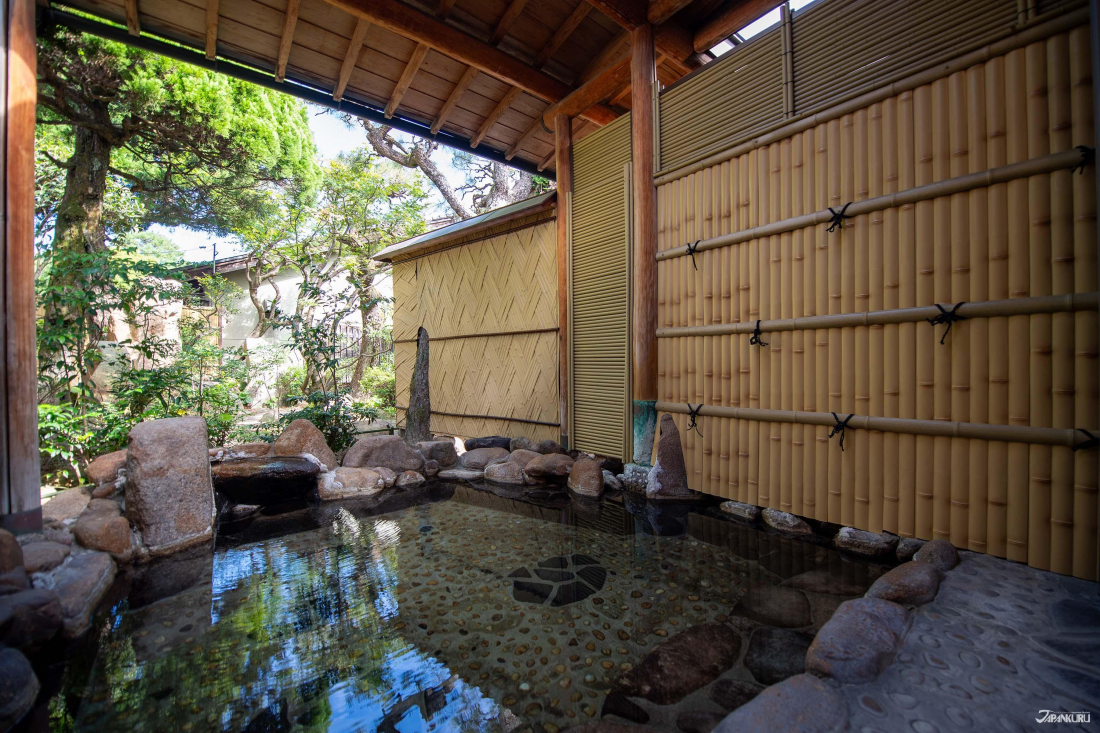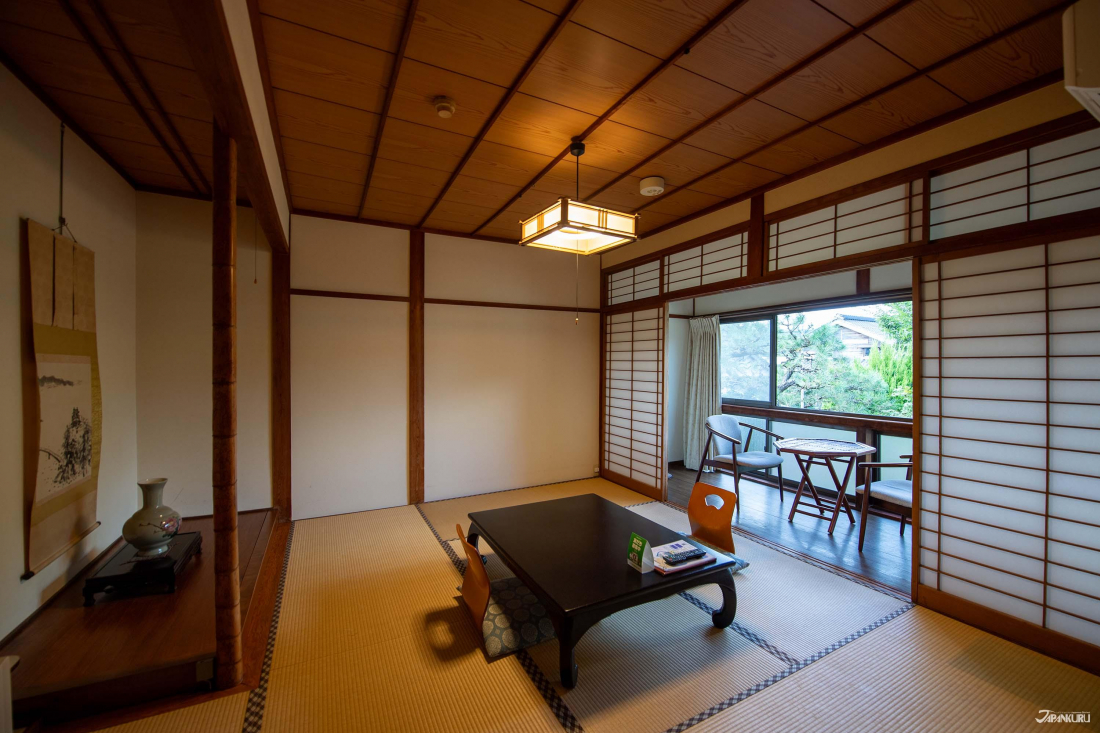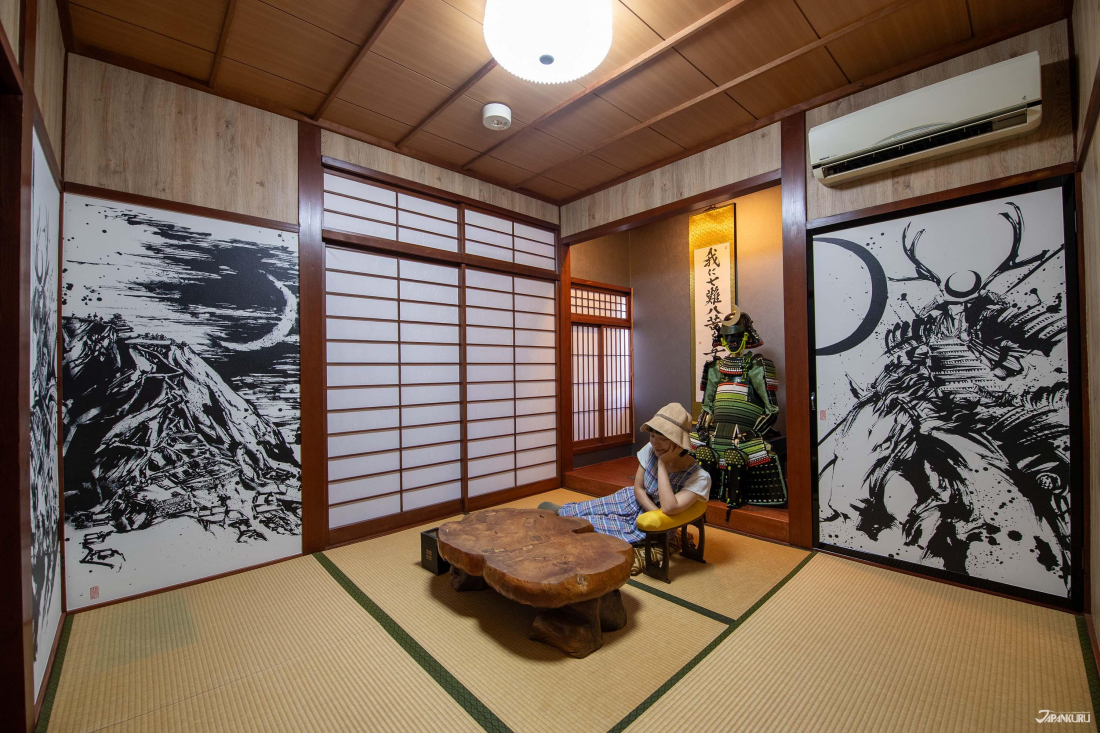 One of the six guest rooms is a specially decorated concept room with a unique local theme, featuring Yasugi's own Yamanaka Shikanosuke (AKA Yamanaka Yukimori), who ruled over the nearby Gassantoda Castle and helped build its reputation as the Amago clan's "impregnable fortress." A model of his samurai armor is the focal point of the room, but the surrounding walls are covered with art of the warlord himself, and his castle stronghold.
Saginoyu Onsen Chikyou (さぎの湯温泉 竹葉)
438 Furukawa-cho, Yasugi, Shimane Prefecture
Official Website (en)
Yonago, Tottori: Leather & a Castle of Desserts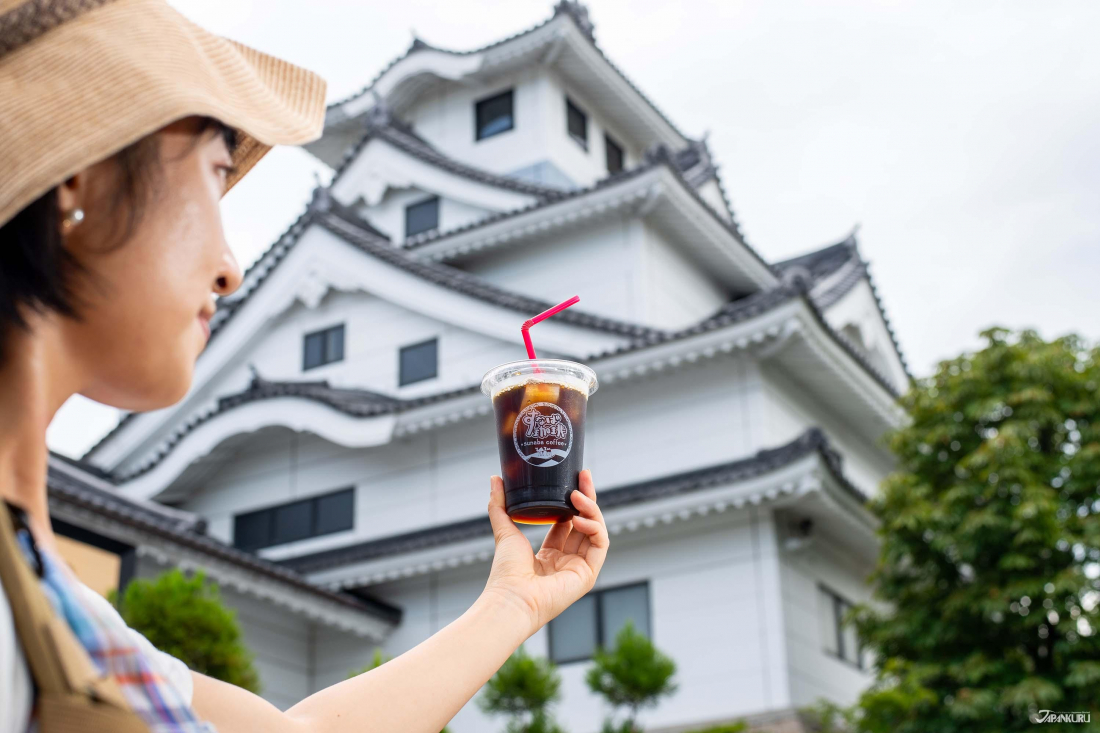 Kotobuki Castle
At first glance, this majestic building looks like a castle from Japan's Edo period (1603-1868), but step inside, and you'll find a whole world of desserts. Like a scene from a fairytale, this Japanese castle of sweets is filled with an active factory producing local sweets, and a shop selling treats made with local San'in ingredients, like milk, eggs, green tea, and ginger. Their pear-flavored jelly is popular, but the real star of the show is their traditional Japanese "tochimochi" (栃餅), a kind of mochi made with Japanese horse chestnuts and stuffed with sweet red bean!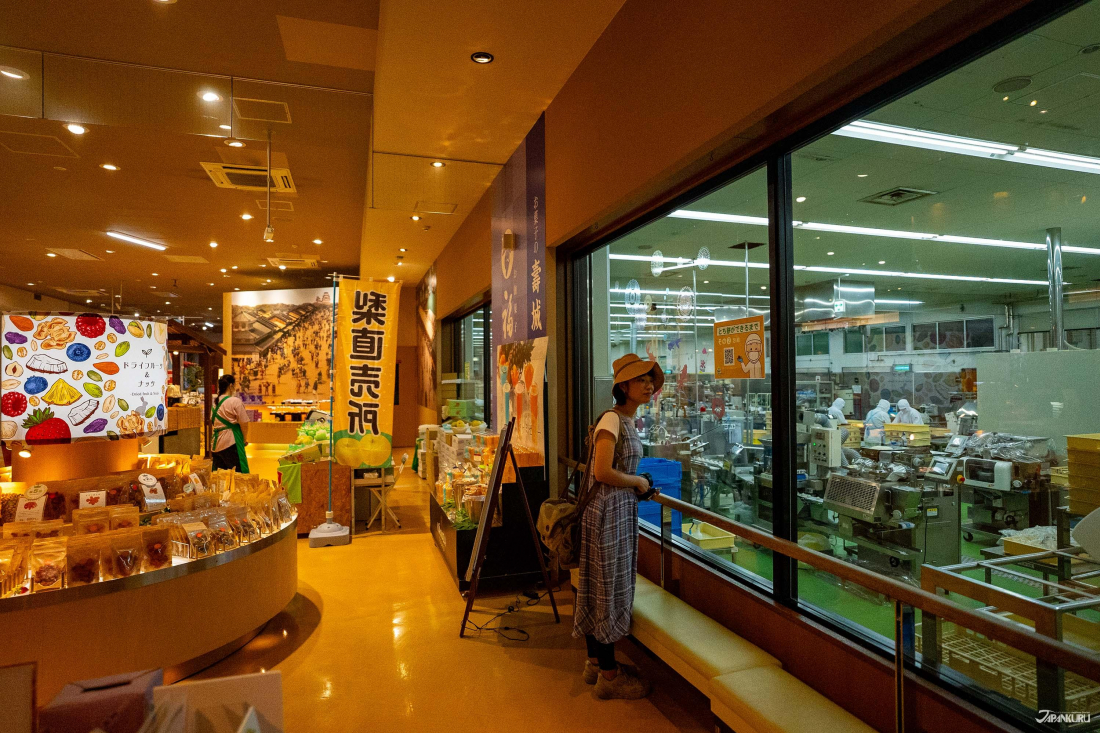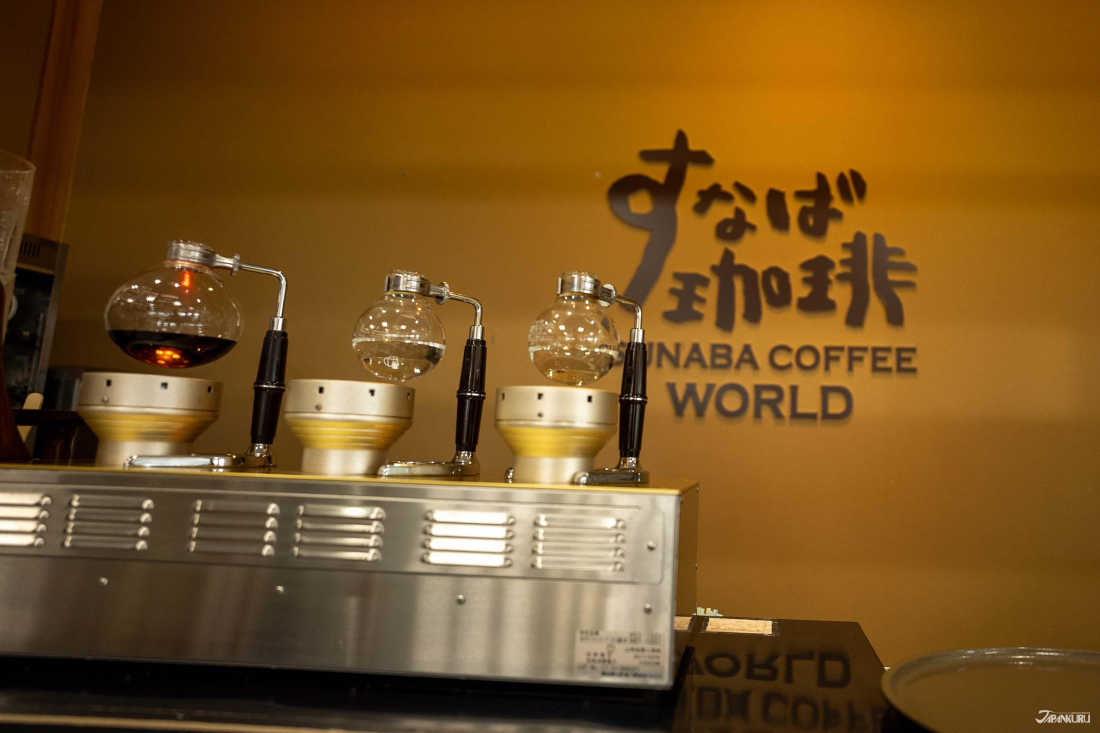 On the first and second floors of Kotobuki Castle, you'll find a Sunaba Coffee, widely known as "The Starbucks of Tottori." Until quite recently, Tottori was the only prefecture in Japan without a single Starbucks, and Sunaba found success even with a name that's kind of a silly play on words. Sunaba literally means "sand dune," referencing Tottori's famous dunes, but it also sounds an awful lot like "Sutaba" – a common nickname for Starbucks in Japan. In the end, Sunaba has gained its own reputation for making coffee that fans say is way better than Starbucks, and out-of-town visitors often end up buying a bag of beans to take home with them!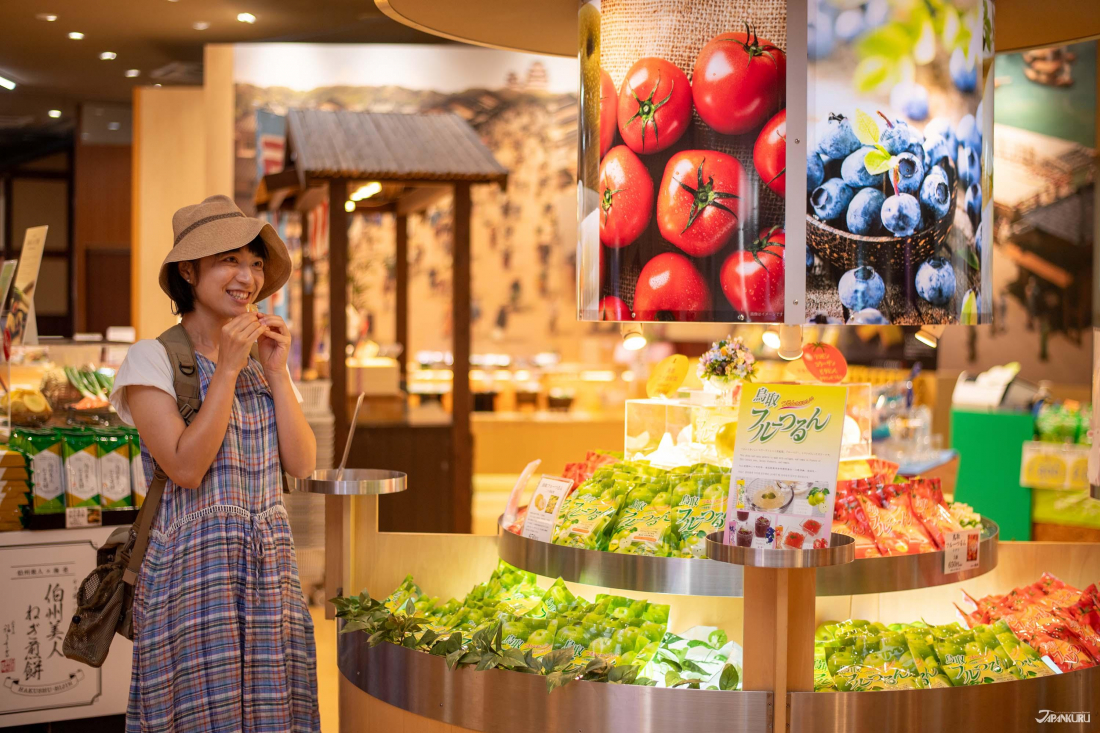 Kotobuki Sweets Castle (お菓子の壽城)
1605-1 Sada, Yodoe-cho, Yonago, Tottori
Hours: 9:00 – 17:00
Official Website (en)
475 Parfaits
The city of Yonago is truly a sweet-tooth's dream, because alongside traditional tochimochi, it's also the place to go for "475 parfaits." These layered desserts became popular in Yonago during the covid pandemic, when hard-hit businesses were looking for something new and special to bring to the city and boost morale. They landed on the humble parfait, and gave it the name 475 (which can be pronounced yo-na-go in Japanese) to honor their hometown. Yonago's 475 parfaits are made with a variety of ingredients, and they can now be found in cafes, izakayas, hotels, and restaurants across the city (some places even have 17 different seasonal types), but they all have one thing in common: five layers, just like the tiered tower of Yonago Castle.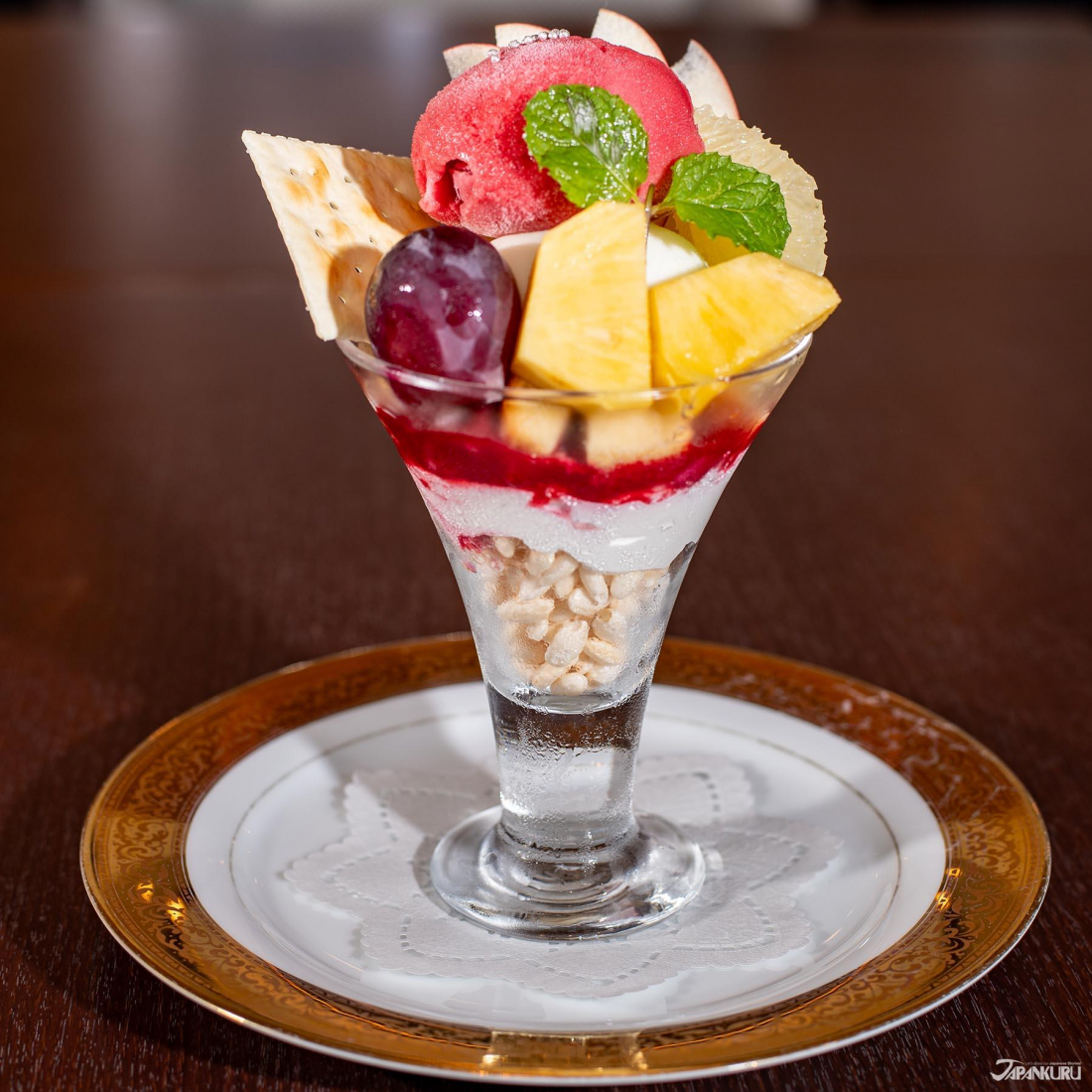 The five layers of the Crown Parfait at the ANA Crowne Plaza Hotel Yonago include seasonal fruit and ice cream from the nearby Oyama Dairy, along with sponge cake, raspberry sauce, whipped cream, and crunchy bits of puffed rice.
ANA Crowne Plaza Yonago (Crowne Plaza – ANA ホテル米子)
53-2 Kumecho, Yonago, Tottori
*Parfaits are served from 11:30 to 16:00. Parfait ingredients may change depending on the season.
You can find more 475 parfait spots at the 475 Parfait Homepage!
Motoike Musuem of Leather Art
Believe it or not, all of the pieces seen in the photo above are made from just one material: leather. Of course, the elephant isn't made of elephant skin and the giraffe isn't made of giraffe skin – it's not a museum of taxidermy. (When you look in from the outside and see a giraffe head in the window, though, you might start to wonder "what's going on in there??") Instead, cow and sheep skin is carefully tanned and meticulously manipulated to create a variety of different shapes and textures, transforming into detailed works of art. It's all housed in the Motoike Museum of Leather Art, which opened in 2021 as the first of its kind, commemorating 50 years of leather art from local artist Hideo Motoike. Motoike's brand MOTO offers simple leather clothing and accessories, but the museum exhibits include more than 100 works that range from leather dolls to life-size animals, and even little miniature dioramas.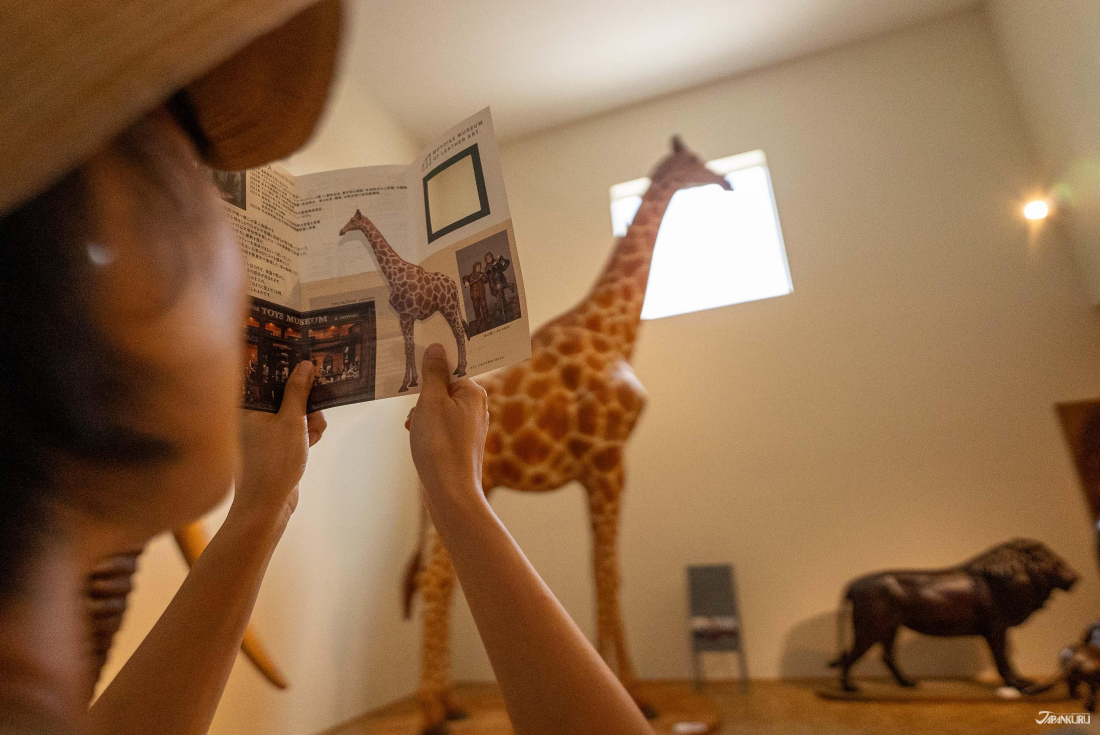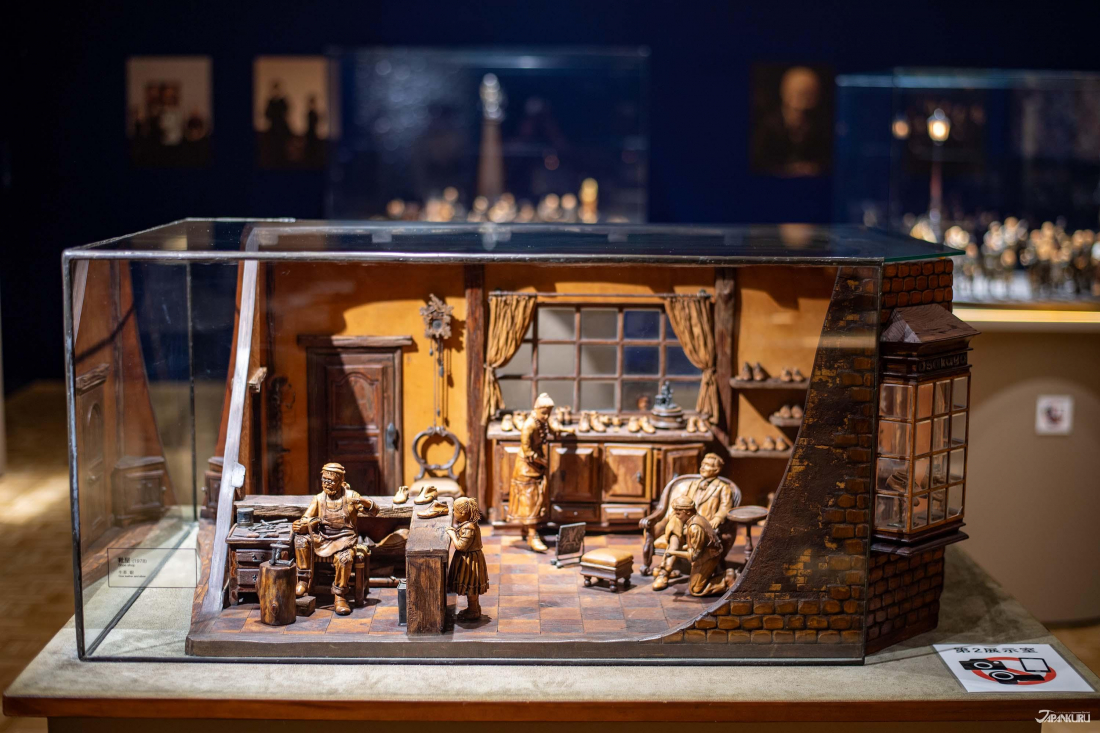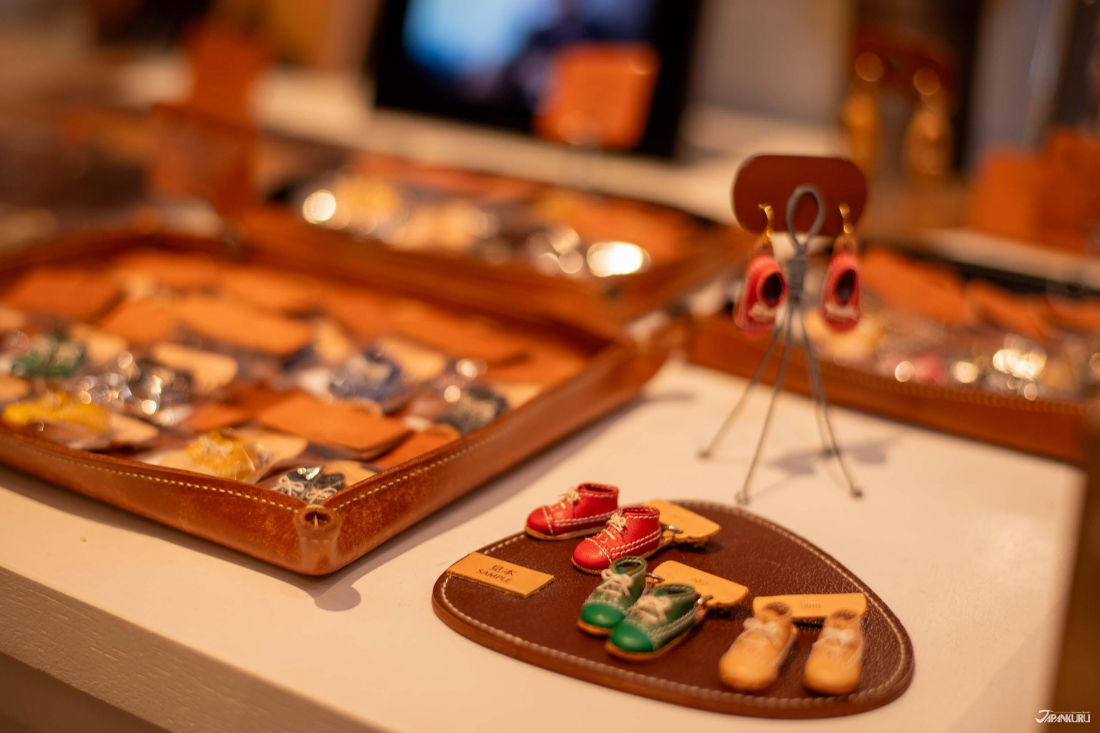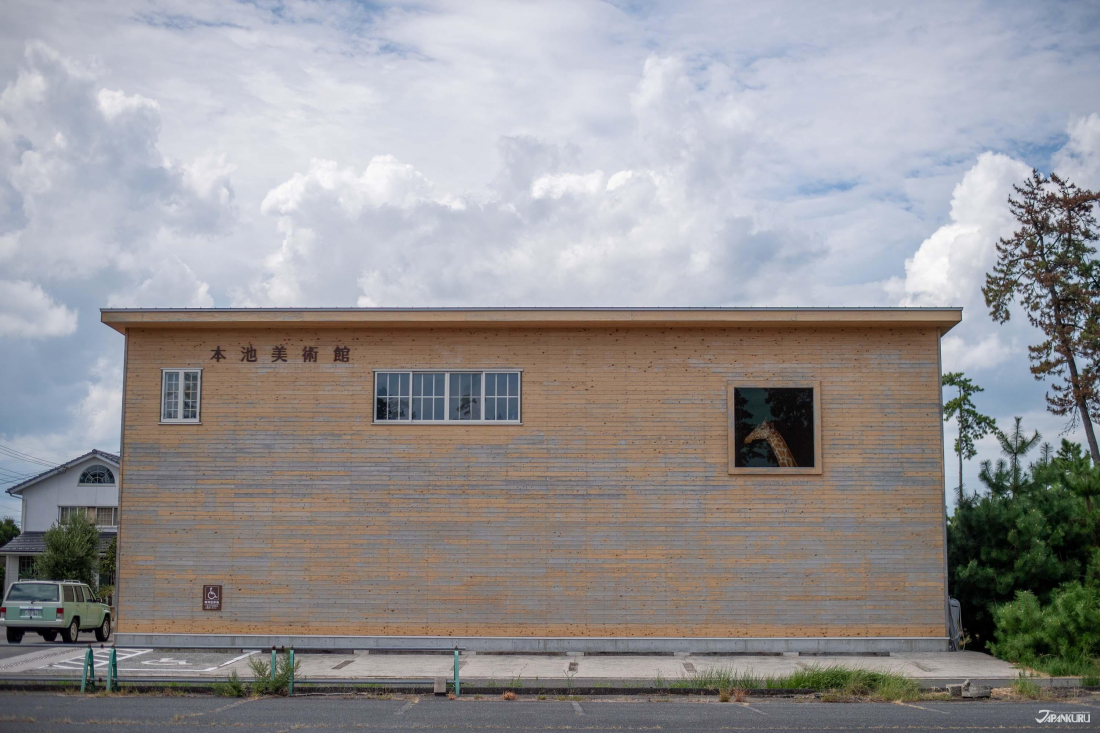 Of course the museum giftshop is well-stocked with leather goods, and while many of the items are fairly simple, there are also plenty of fun pieces with all the same whimsy seen in the museum's art. The Japankuru team favorite might have been the tiny leather shoe earrings.
Motoike Museum of Leather Art (本池美術館)
4841 Oshinozucho, Yonago, Tottori
Hours: 10:00 – 17:00
Official Website (jp)
Sakaiminato, Tottori: Cycle Along the Coastline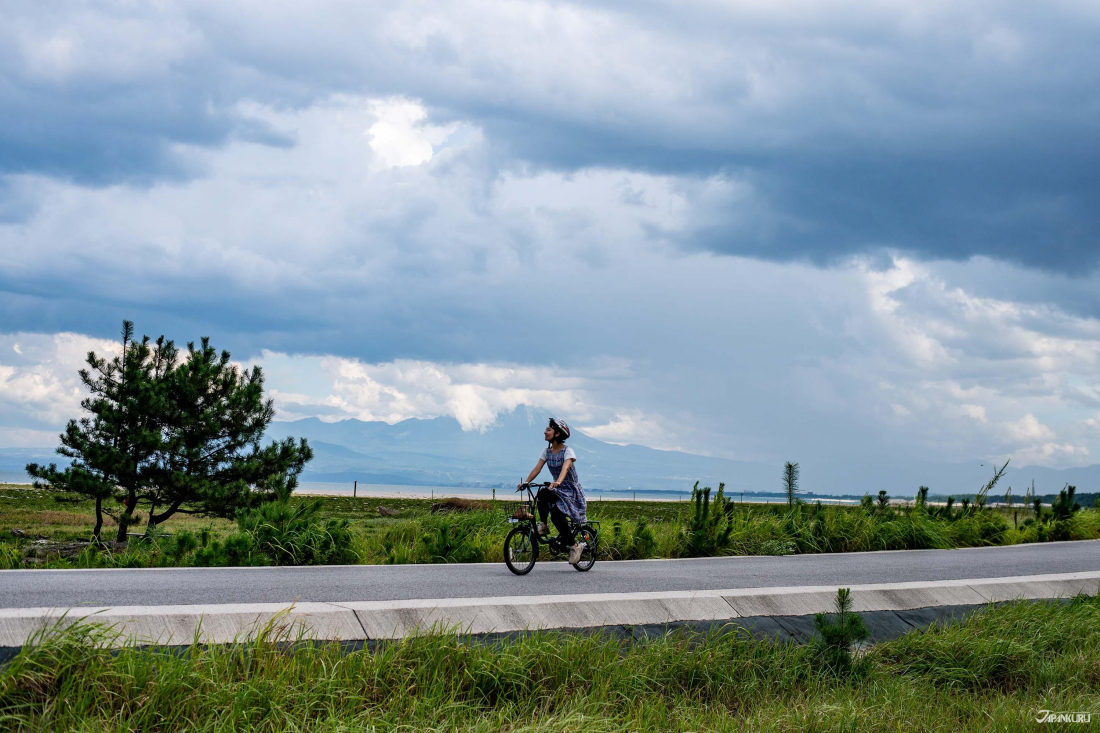 Yumigahama Bike Path
White sandy beaches and patches of pine forest stretch across the coastline of Yumigahama (弓ヶ浜) for over 20km, following a bow-like arch between Yonago and Sakaiminato that gave the area its name (bow is "yumi" in Japanese), and all along the route bike paths provide the perfect way to admire Mt. Daisen on the horizon. Rent a bicycle at Yumeminato Tower to enjoy the cool sea breeze as you skim over the well-maintained roads.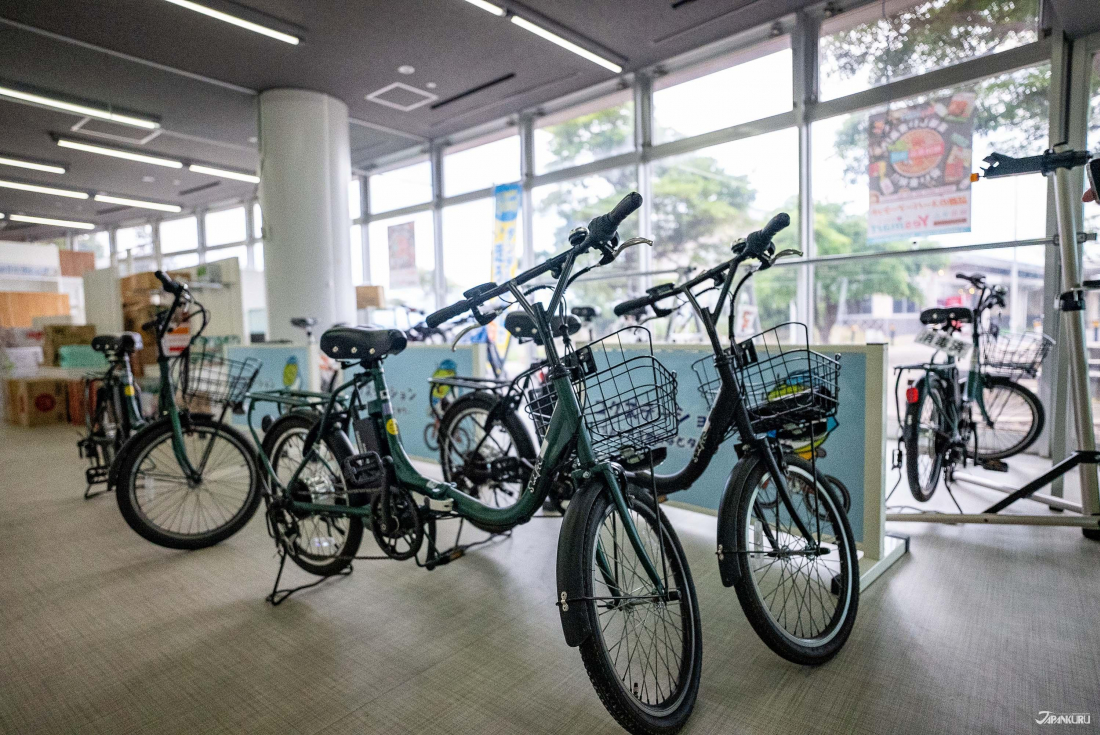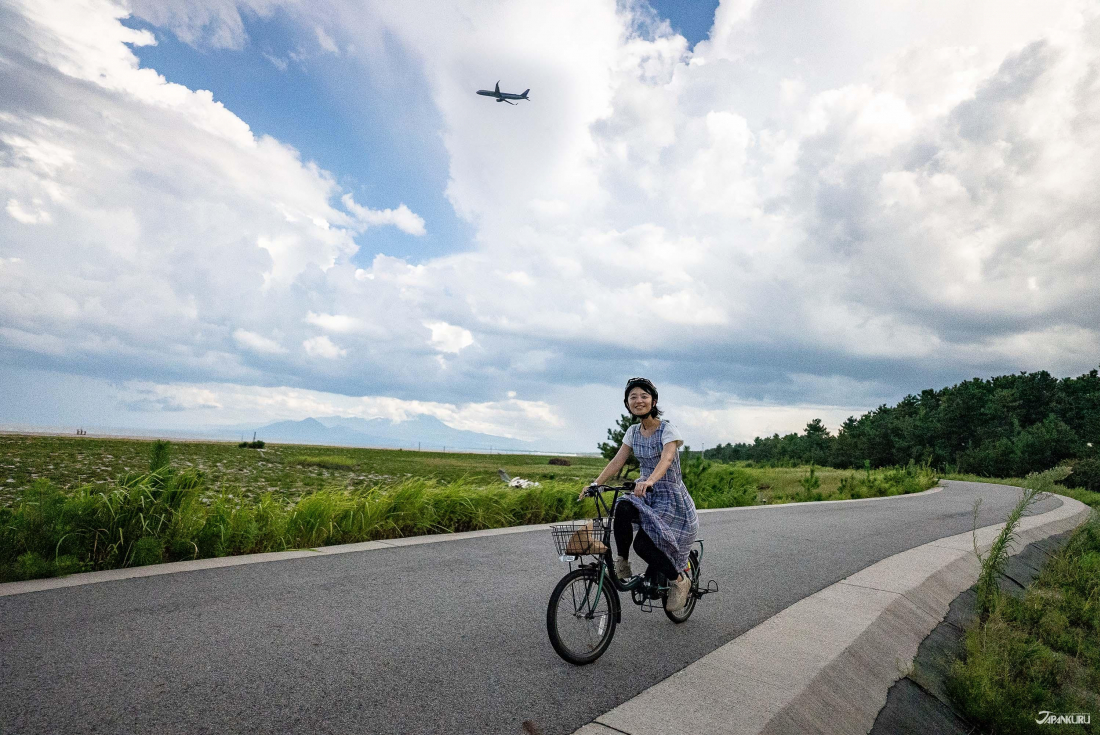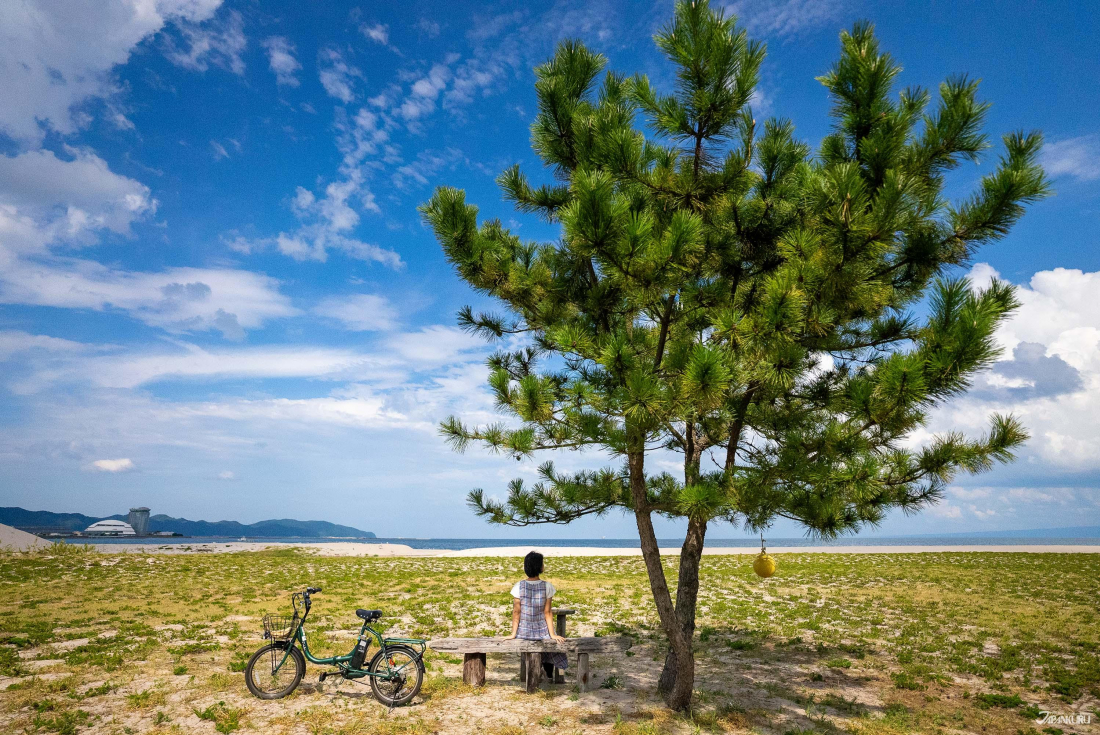 During the Japankuru trip to the area we had to focus on the white sand and green pines, because some pesky clouds obstructed our nice view of Mt. Daisen. Fortunately, our travel plans included a visit the mountain as well, to see it up close!
Yumeminato Tower (夢みなとタワー)
255-3 Takeuchi, Sakaiminato City, Tottori Prefecture
Observation Deck Hours: April to September 9:00 – 18:00|October to March 9:00 – 17:00
*Closed 2nd Wednesday of the month.
*Bike rentals on the 1st floor.
Official Website (jp)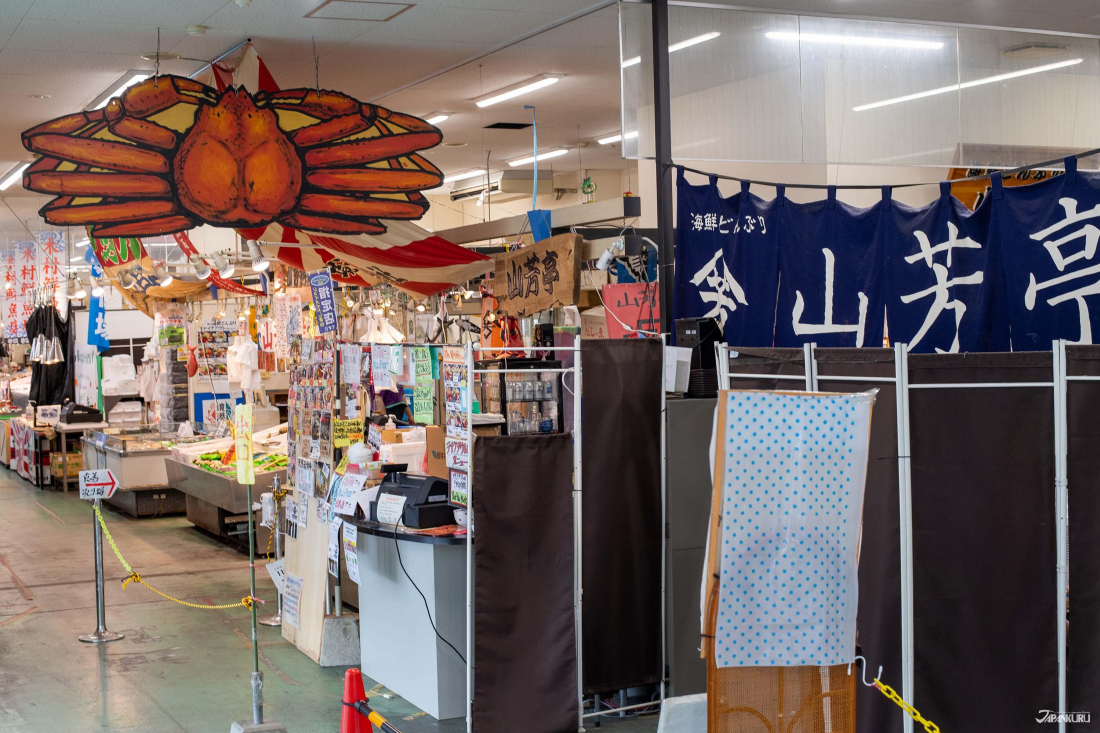 Yamayoshitei Kaisen-don (Seafood Bowls)
Sakaiminato, a town surrounded by water, is famous for having delicious fresh crab. But the truth is, with so much locally caught seafood at your fingertips, just about all of it is delicious. For proof, just visit outside of crab season – the reputation of Sakaiminato's seafood is especially evident at a restaurant called Yamayoshitei. Tucked away inside a local seafood market, Yamayoshitei specializes in kaisen-don (海鮮丼), rice bowls topped with fresh seafood, and the shop maintains a long line all year round.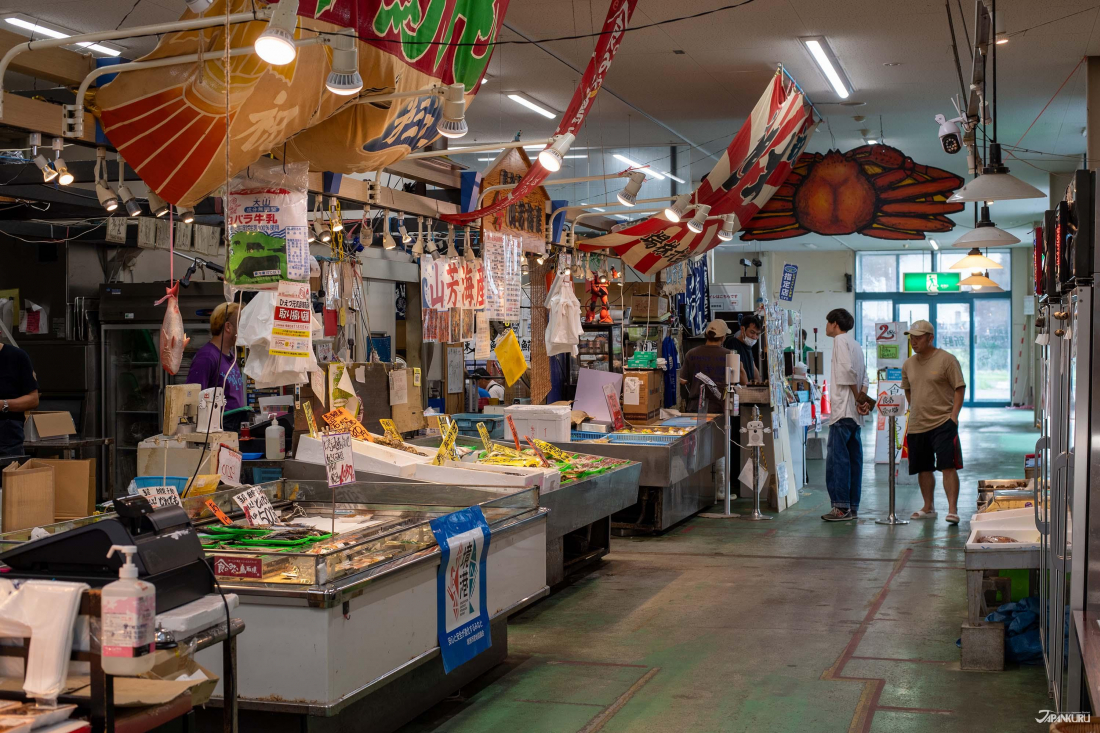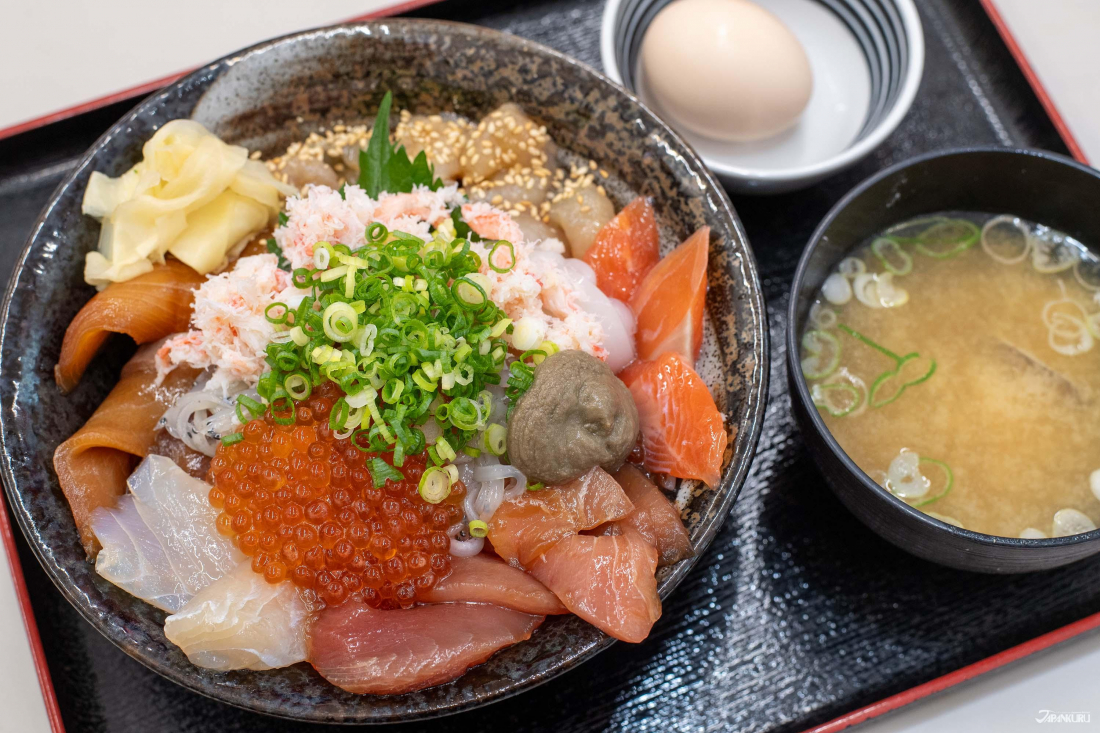 The go-to order at Yamayoshitei is their "Yamayoshidon" seafood bowl (1,800 yen tax included), which is piled high with fresh-caught seafood, along with marinated (or lightly pickled) seafood ingredients. The variety means you'll never get bored as you make your way through the bowl, and if you ask for a smaller portion of rice, they'll even give you a soft-boiled "onsen egg" with your meal!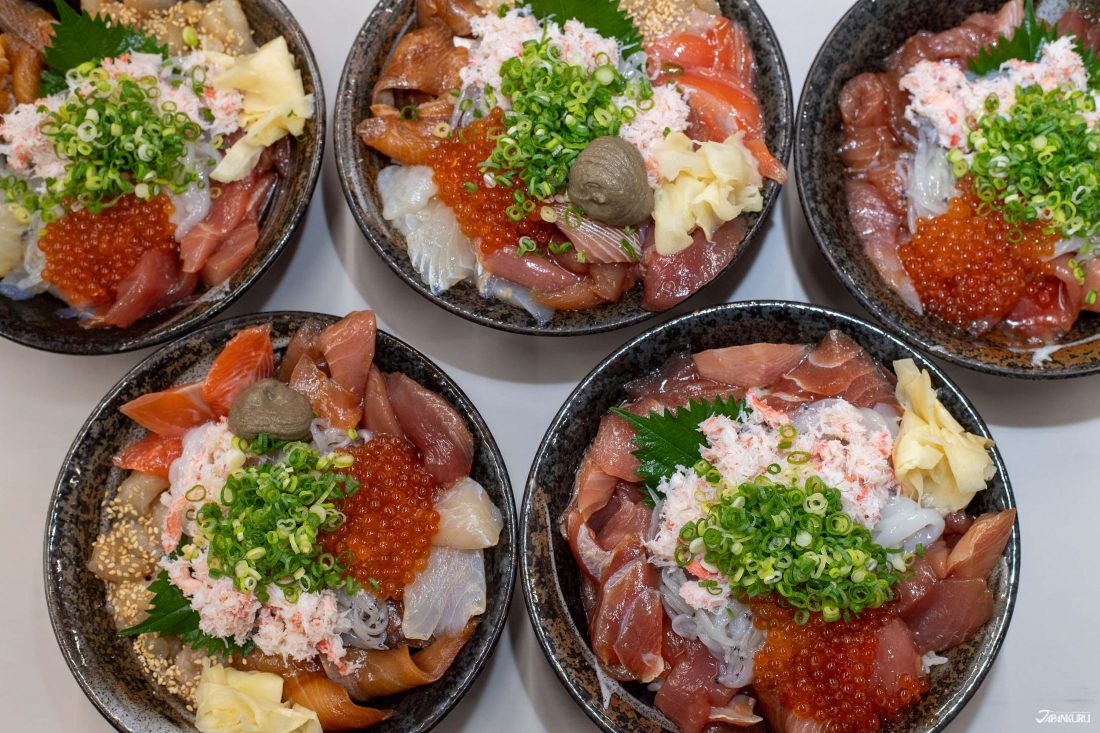 Plus, Yamayoshitei offers multiple kinds of soy sauce, so you can sample all the different subtleties. We could go on and on, but we'll stop here – you'll just have to try it for yourself when you visit Sakaiminato!
Yamayoshitei (海鮮どんぶり 山芳亭)
1026-1 Hiezu, Saihaku District, Tottori
Hours: 11:30 – 15:00
Official Website (jp)
Mt. Daisen: Outdoorsy Mountainside Adventures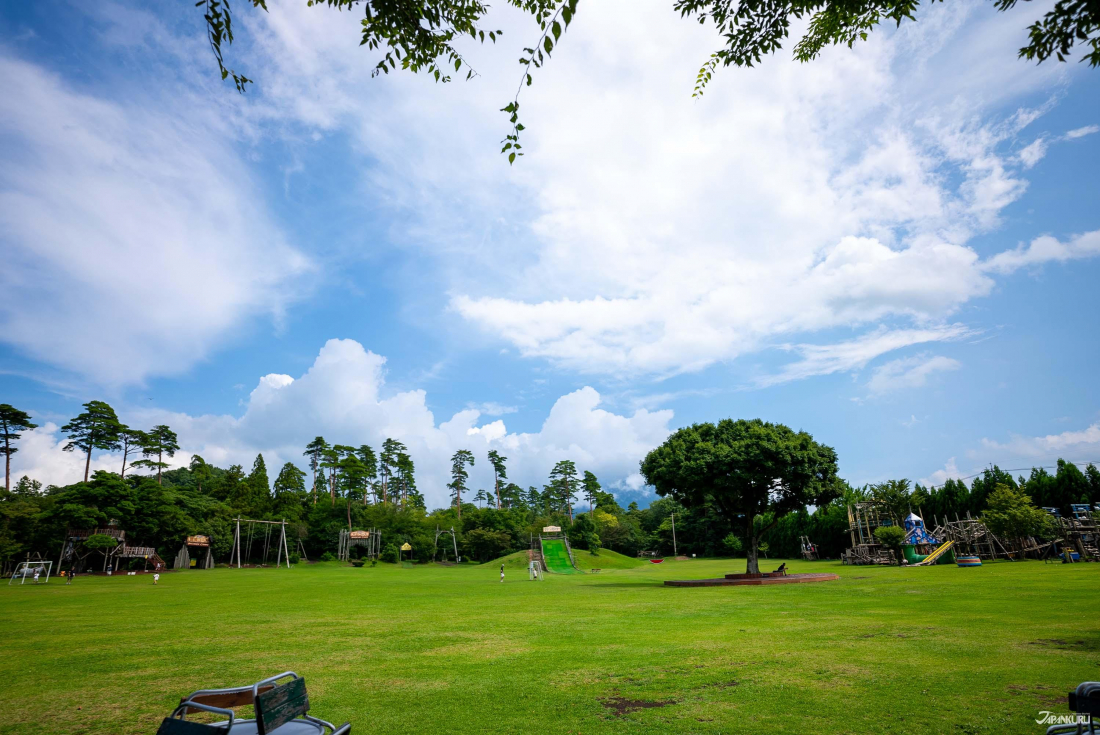 Mori no Kuni Adventure Park
Mori no Kuni is a "Forest Kingdom" at the foot of Mt. Daisen, with wide lawns and tall trees, and it's hard to find a local who doesn't have memories of Mori no Kuni picnics or family outings. With playground equipment, slides, ropes courses, zip lines, and more, it's a fun destination for adults and kids alike.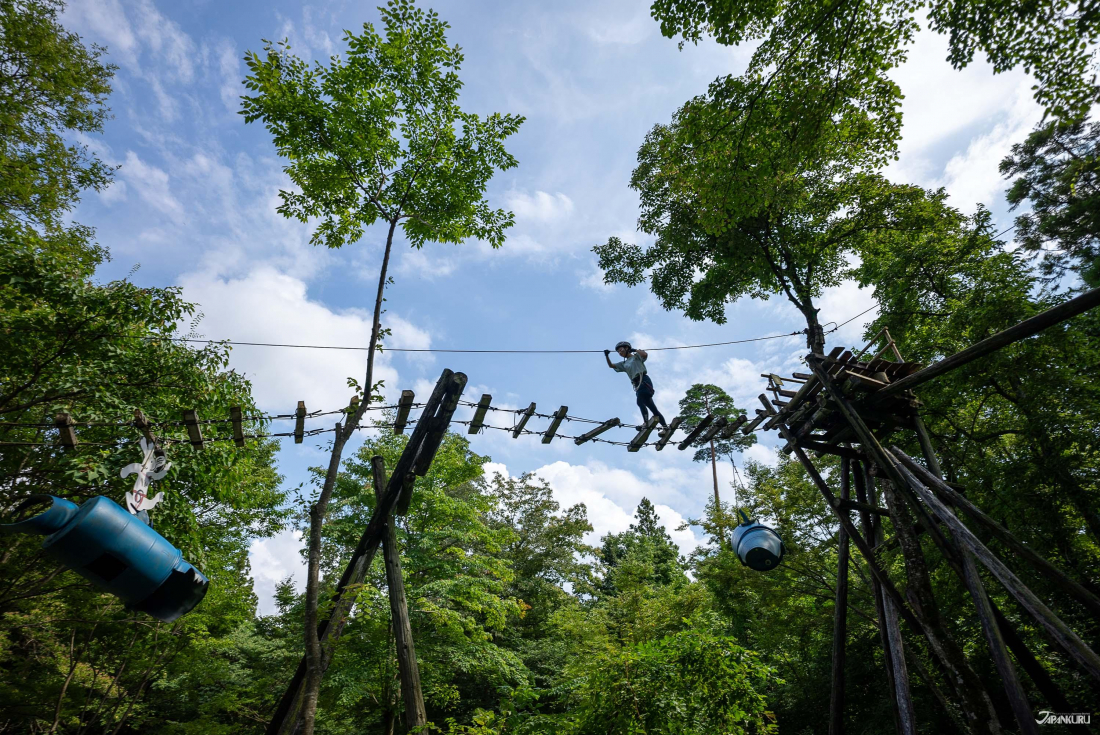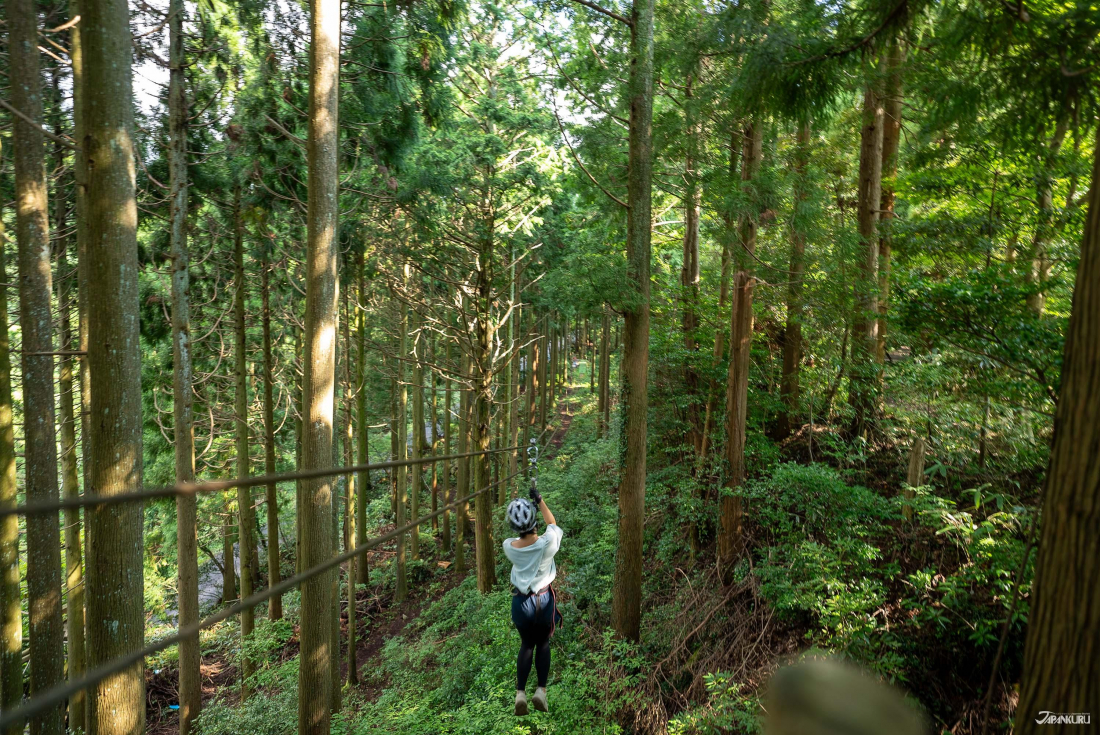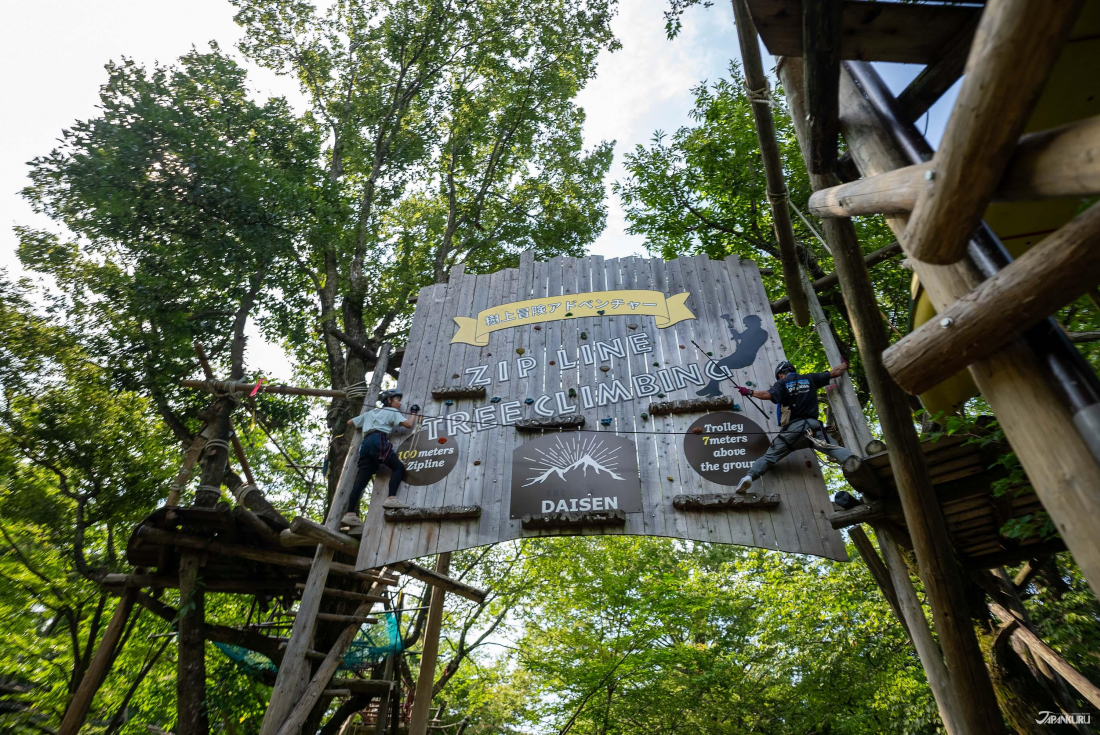 Out of all the activities offered at Mori no Kumi, we chose to take on the challenge of the "Tree Top Adventure," which had us climbing up into the forest canopy, navigating our way through 13 different structures, and riding zip lines through the woods. Between the height and the successive obstacles throughout the course, some spots might leave your heart beating fast, but there's nothing like the rush of making it through to the end and zipping through the trees!
Mori no Kuni Adventure Park (森の国 空中アスレチック​)
634 Akamatsu, Daisen, Saihaku District, Tottori
Hours: 9:00 – 17:30 (closed Wed)
Official Website (en)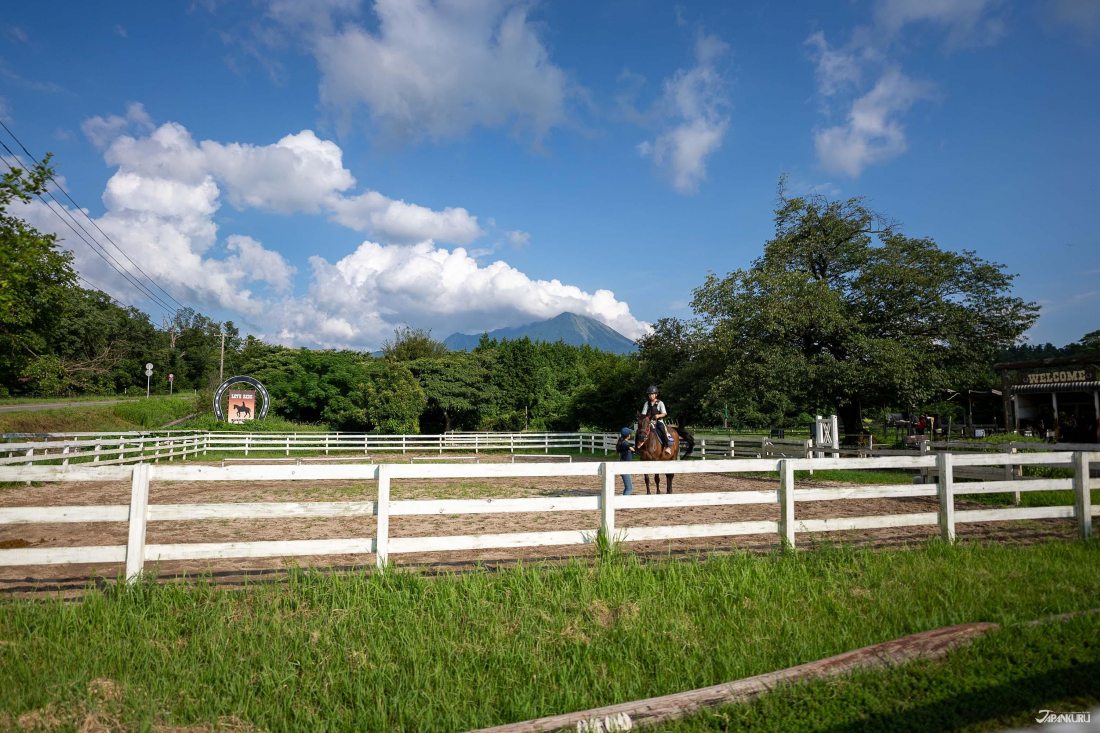 Daisen Horseback Riding Center
Located in an idyllic meadow halfway up Mt. Daisen, this horseback riding center is equipped to help even first-time riders feel comfortable and have a fun time with the horses. If you just want to give horseback riding a try, friendly instructors are happy to lead you through a little practice session before taking you and your new horse buddy on a ride along the wooded mountainside.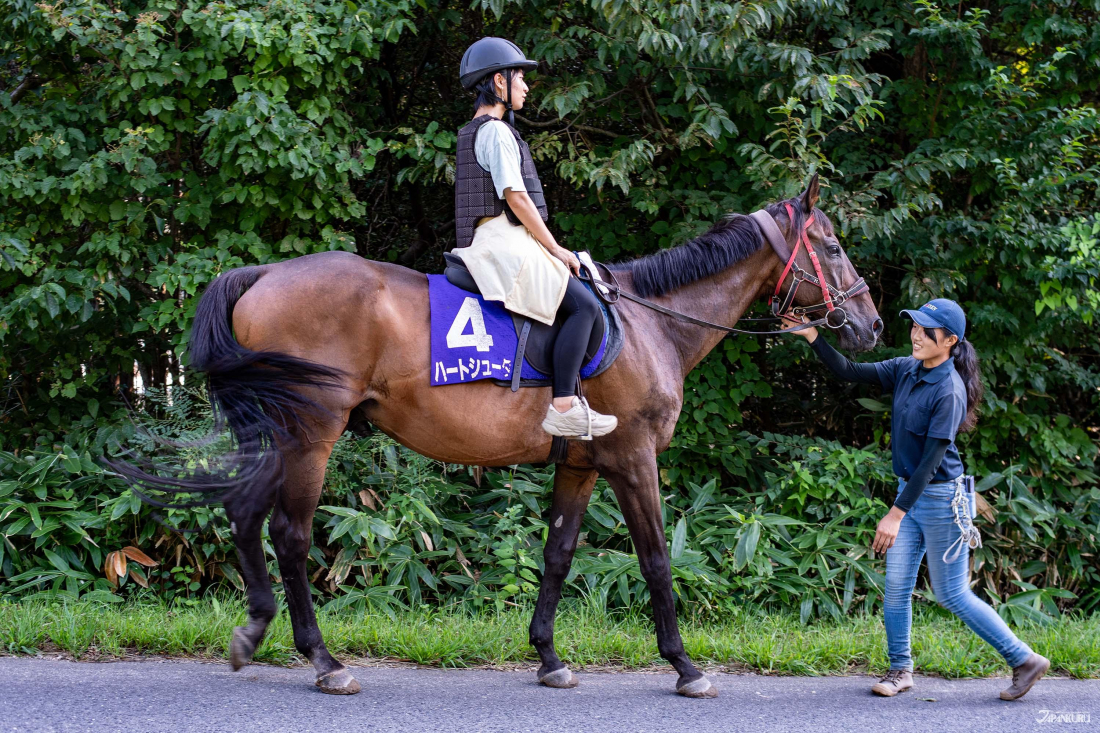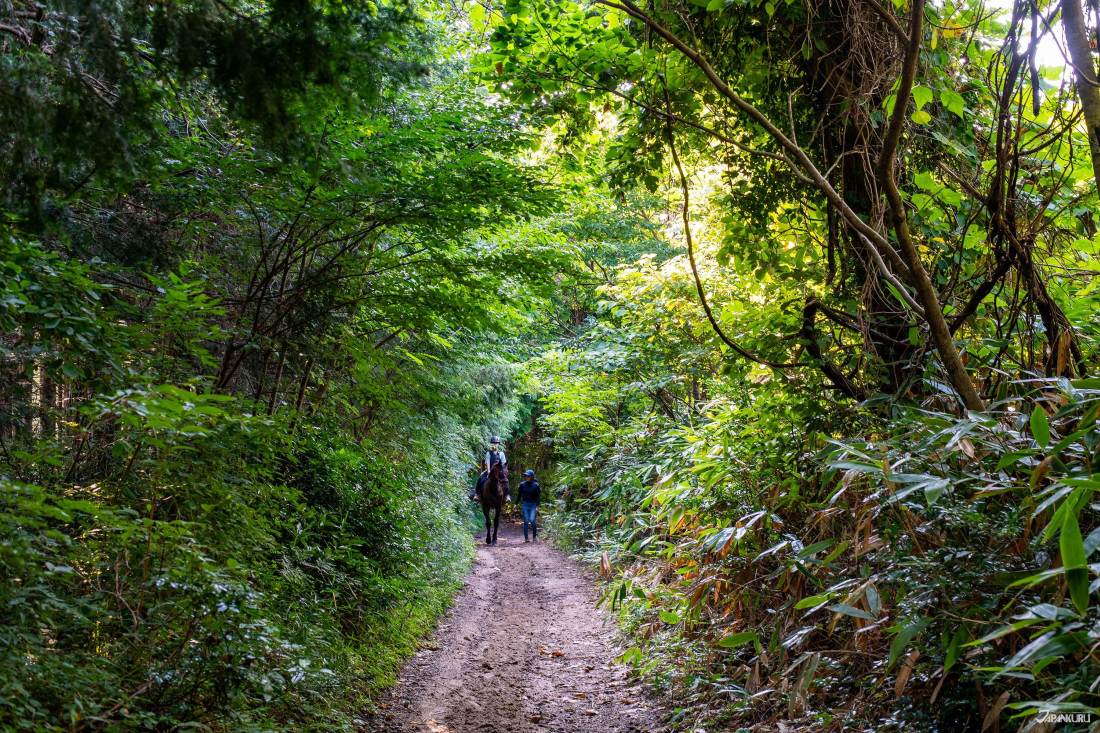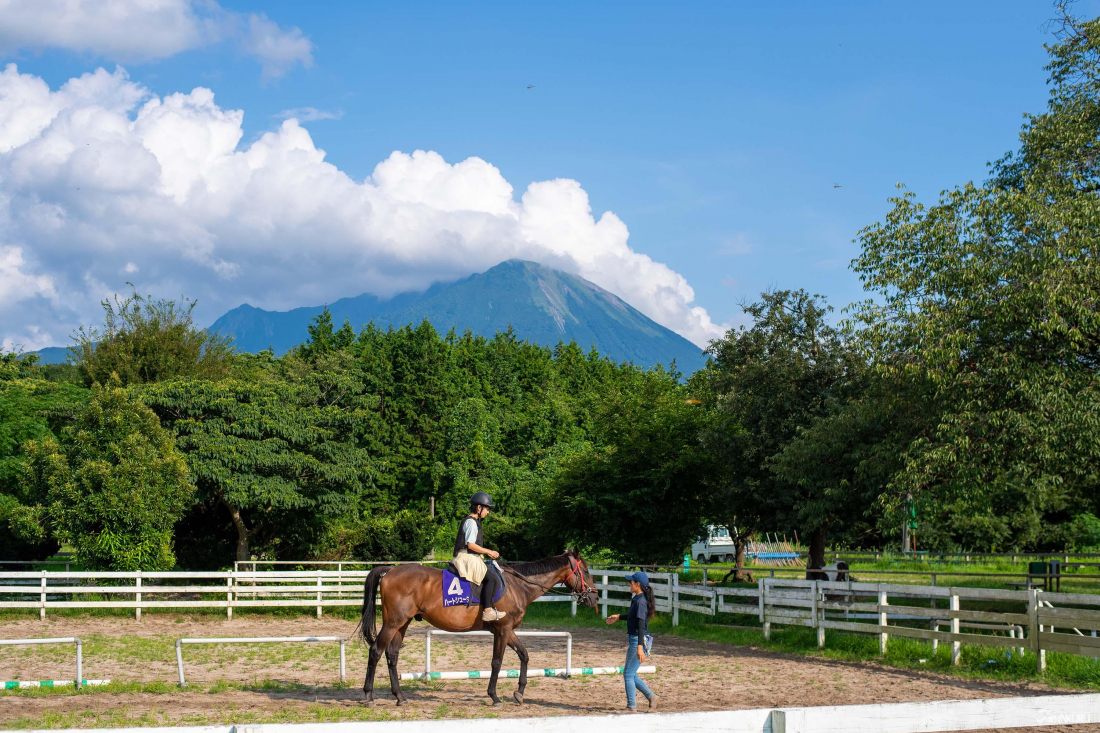 Daisen Horseback Riding Center (大山乗馬センター)
2459-130 Akamatsu, Daisen, Saihaku District, Tottori
Hours: 9:00 – 17:00 (closed Wed, and closed mid-July to late August)
Fees: admission 500 yen (including horse snacks) | horseback rides 3,800 yen and up
Official Website (jp)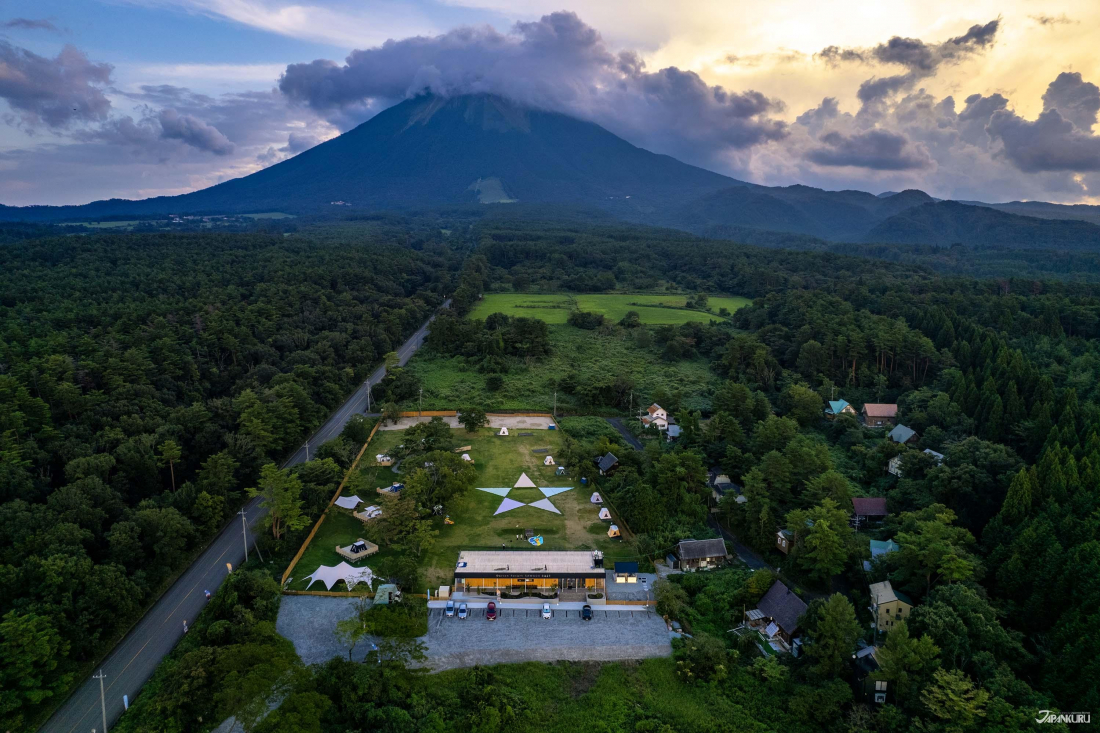 Sawada Base Campsite
The picturesque area around Mt. Daisen is one of the best parts of Japan for camping, which means it's speckled with campsites and glamping facilities. One of the newest of these sites is Sawada Base, which attempts to bring together only the best parts of glamping and traditional camping.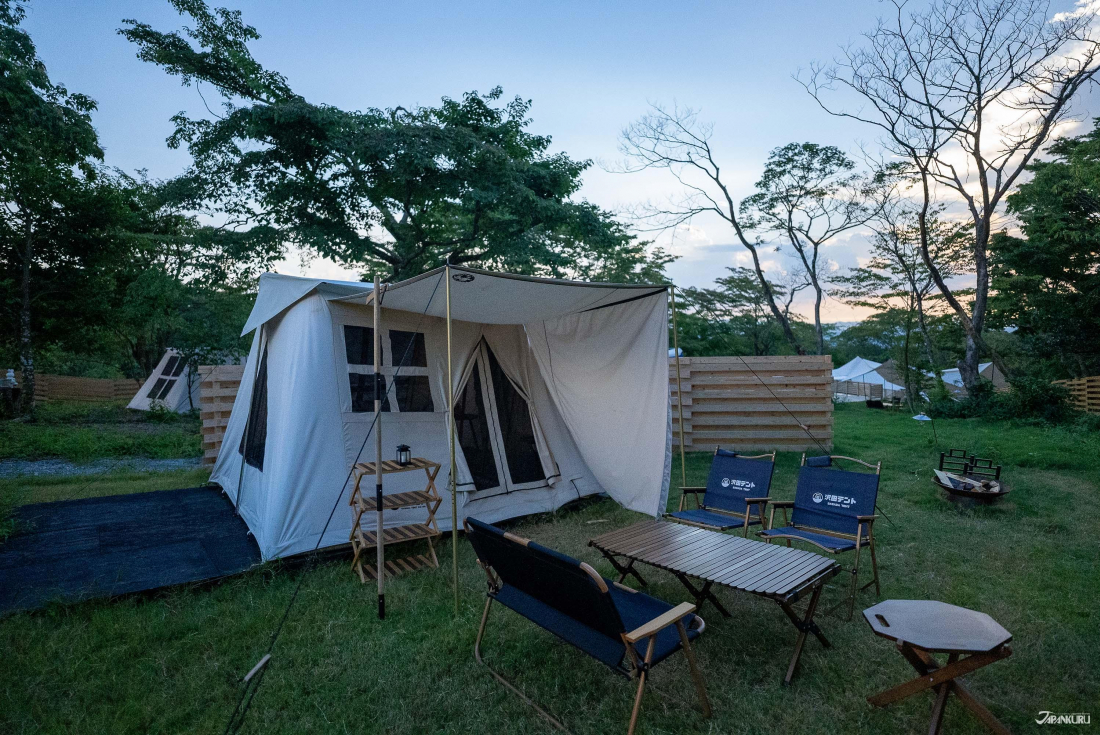 The campsite is run by Sawada Tent, a Japanese outdoor brand known for their cotton tents, and the well-equipped camping setup they provide for each guest makes it feel a little like a glamping experience. But instead of the huge domes so often found at Japanese glamping sites, Sawada Base uses Sawada brand cotton tents, so it also feels a bit like normal camping with a whole bunch of newly purchased equipment!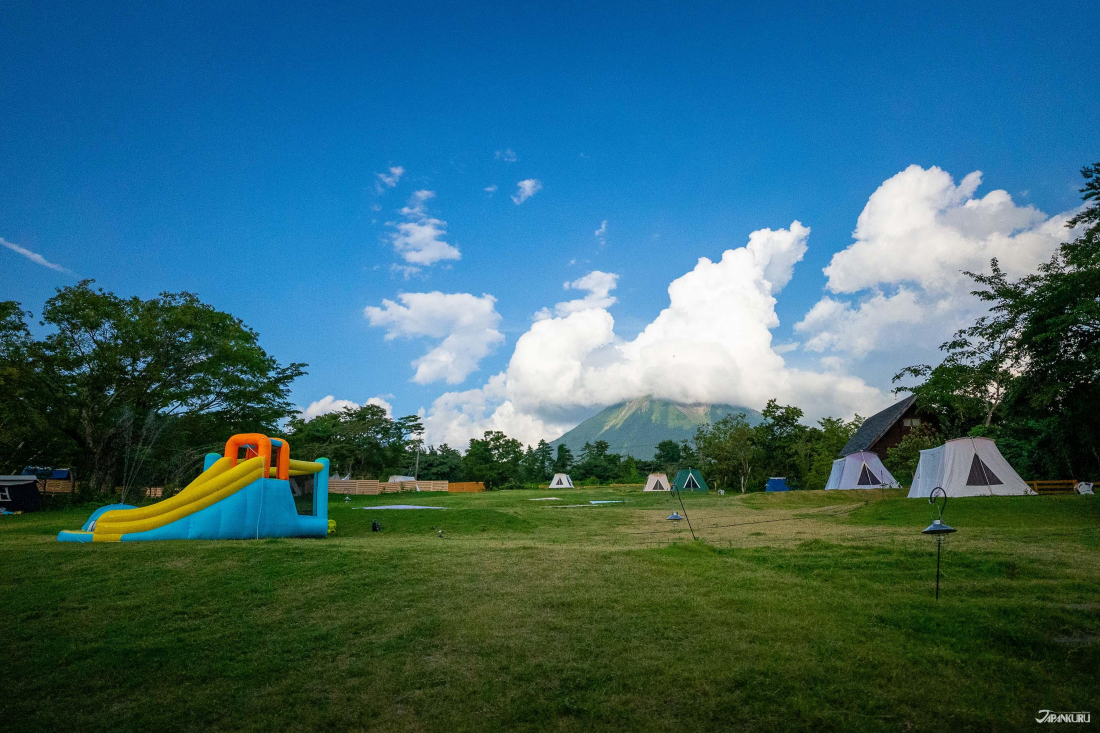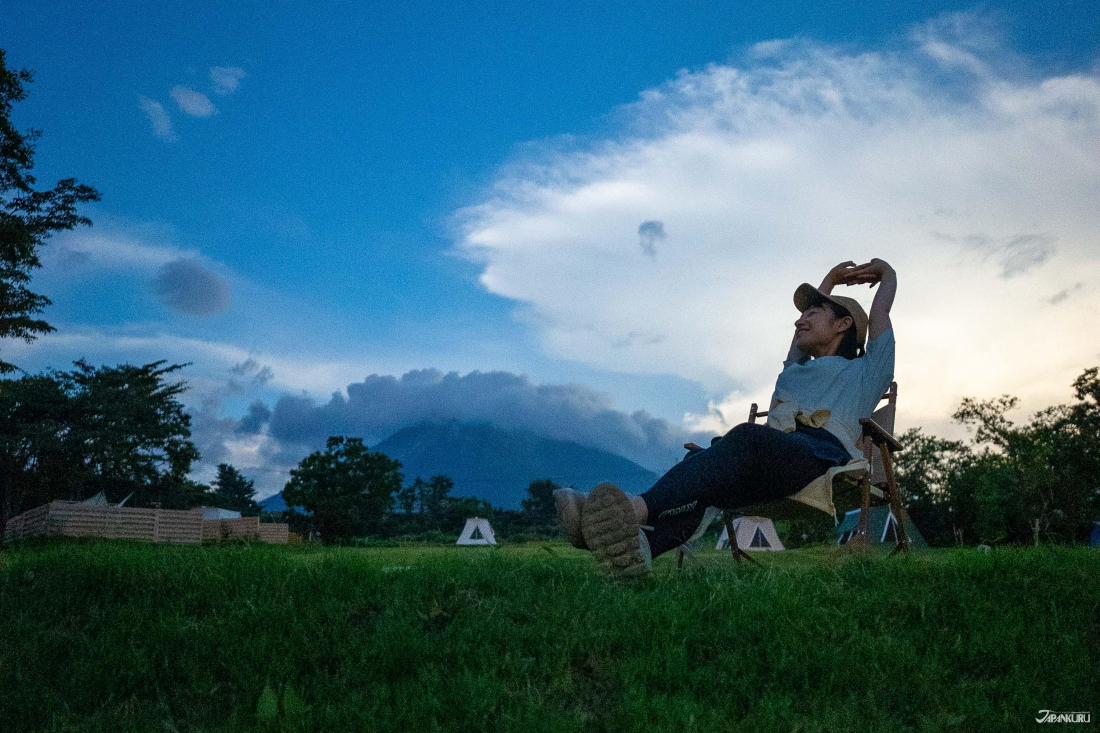 Sawada Base is perched on a gently sloping grass-covered hill, with the mighty Mt. Daisen spread out on the horizon in all its majesty. Weather permitting, every night at the campsite provides what they aptly call a "feast of falling stars."
Daisen Resort Sawada Base (大山リゾート 沢田ベース)
16-9 Owada, Iwatate, Hoki, Saihaku District, Tottori
Official Website (jp)
Find Your Own Peace in San'in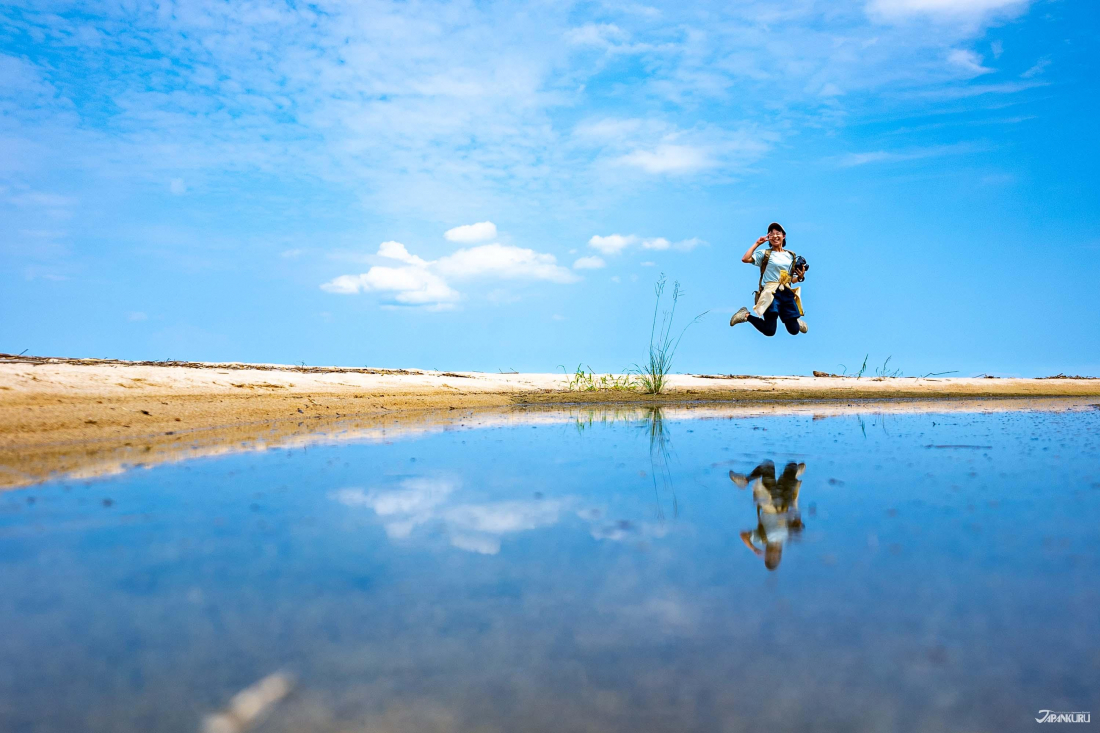 The plan for this trip to central San'in was to move slowly and soak up each moment, seeing the sights while still finding moments of serenity in these beautiful surroundings. When traveling to another country, it's easy to pack your days to the bursting, dashing across the landscape until you forget what you were really traveling to see. But the peaceful atmosphere found in central San'in, and all its sacred spaces, offer visitors an opportunity to take a step back and enjoy the little things: the sand between your toes, a face full of onsen steam, or perhaps a morsel of some of the freshest seafood you've ever tasted. Each time we visit San'in, we find new things to appreciate about the region, and we think you will too!
For more details on the area, check out some of our past articles following different routes through central San'in below, and make sure you take a look at the Heart of San'in Official Tourism Site!
▶︎ Meet the Gods and Monsters of Japan in San'in, the Land of Love
▶︎ Five Cities in San'in ・ Traveling Shimane, Tottori, and Japan's Otherworldly Realms
▶︎ A Road Trip Guide From Izumo ・ Through the Mountains, Onsen, and Seas of San'in
For more info and updates from Japan, check Japankuru for new articles, and don't forget to follow us on X (Twitter), Instagram, and Facebook!